13 Best Side Dishes to Pair With Pork Chops
Don't be afraid to pair your pork chops with something out of the ordinary. Here's some inspiration!
If pork chops are on the menu tonight you better have some delicious side dishes in mind. Pork, while flavorful when cooked correctly, can be described as rather bland-tasting at times. Also, on how many occasions have you accidentally dried out your pork chop in an attempt to cook it all the way through? In the event that the flavor is lacking or the meat is a bit tough to chew, you may just be in need of some ideas for dazzling side dishes for pork chops.
Here are 13 of our favorite side dish recipes that will complement any pork chop.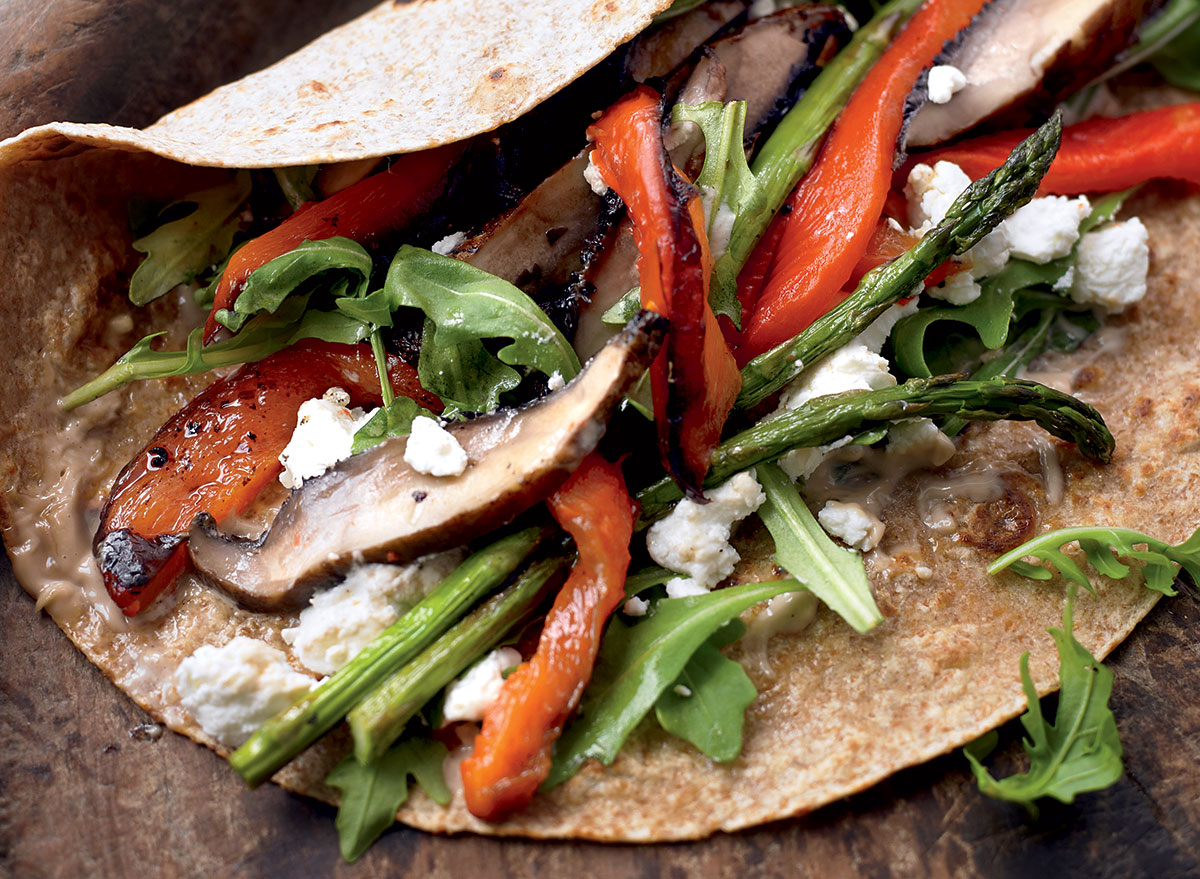 A juicy pork chop can be bland on its own, which is why you need to have memorable side dishes to accompany it. This grilled vegetable wrap is a perfect side to have with a small pork chop. Portobello mushroom caps, asparagus spears, and arugula all adorn the inside of this whole wheat tortilla. The balsamic is a delicious finishing touch, and it pairs nicely with the juices of the pork.
Get our recipe for Grilled Vegetable Wrap with Balsamic Mayo.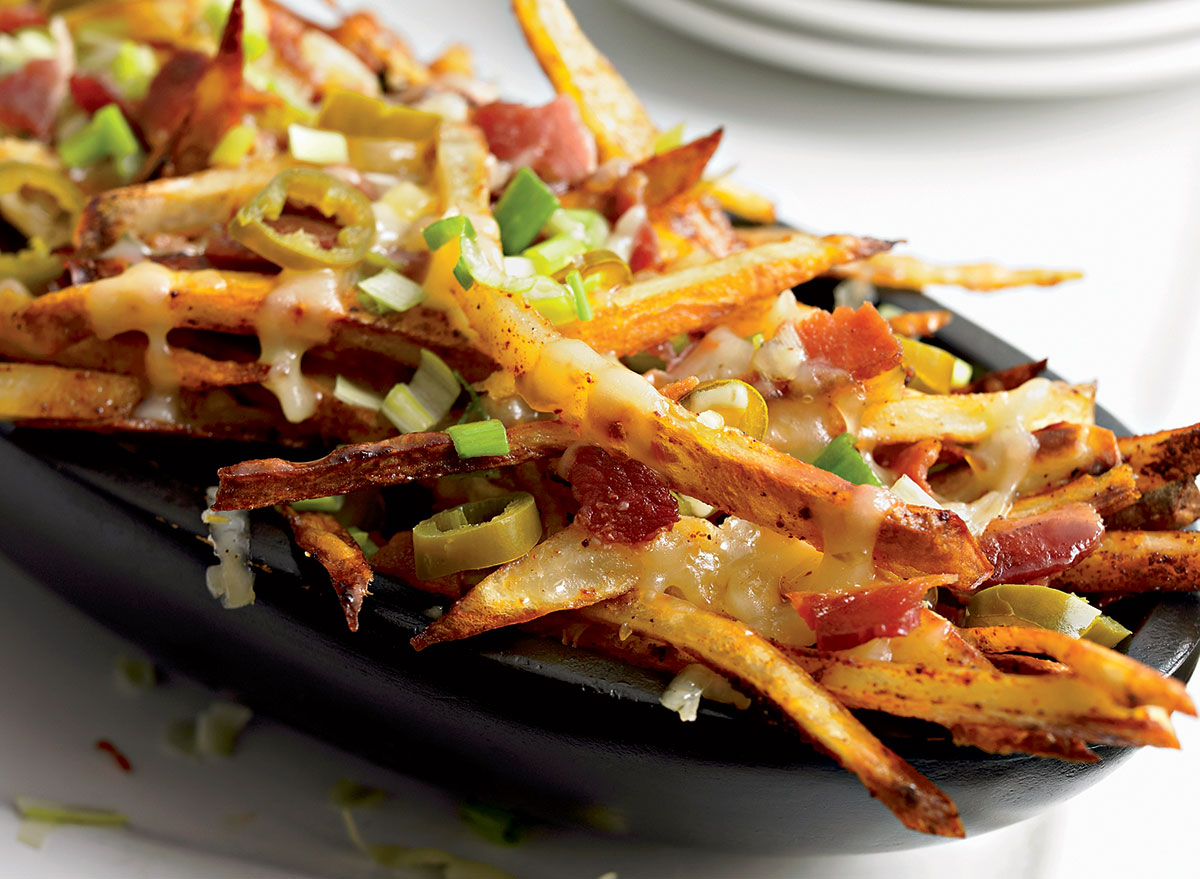 When you think of cheese fries, do you think of state fair or carnival food? If you do, then you are probably thinking of the unhealthiest cheese fries one could purchase. Luckily, our recipe doesn't include gobs of frying oil or pounds of cheese. Whip up a batch of these health-conscious cheese fries to go with your pork chops.
Get our recipe for Not-So-Unhealthy Cheese Fries.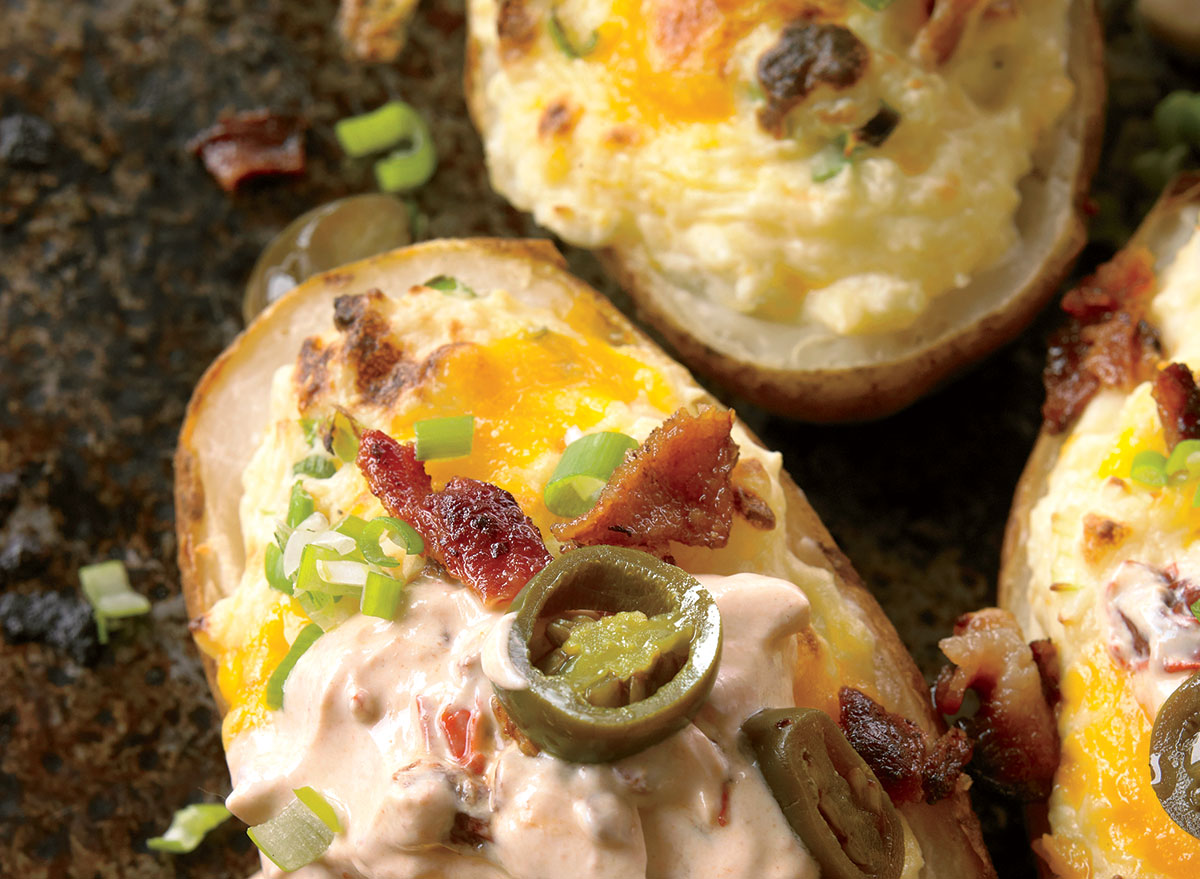 It doesn't have to be game-day to whip up some spicy potato skins. How satisfying does it sound to pair potato skins with a tender pork chop? Stop fantasizing and make it happen! How does tonight for dinner sound?
Get our recipe for Game-Day-Ready Spicy Potato Skins.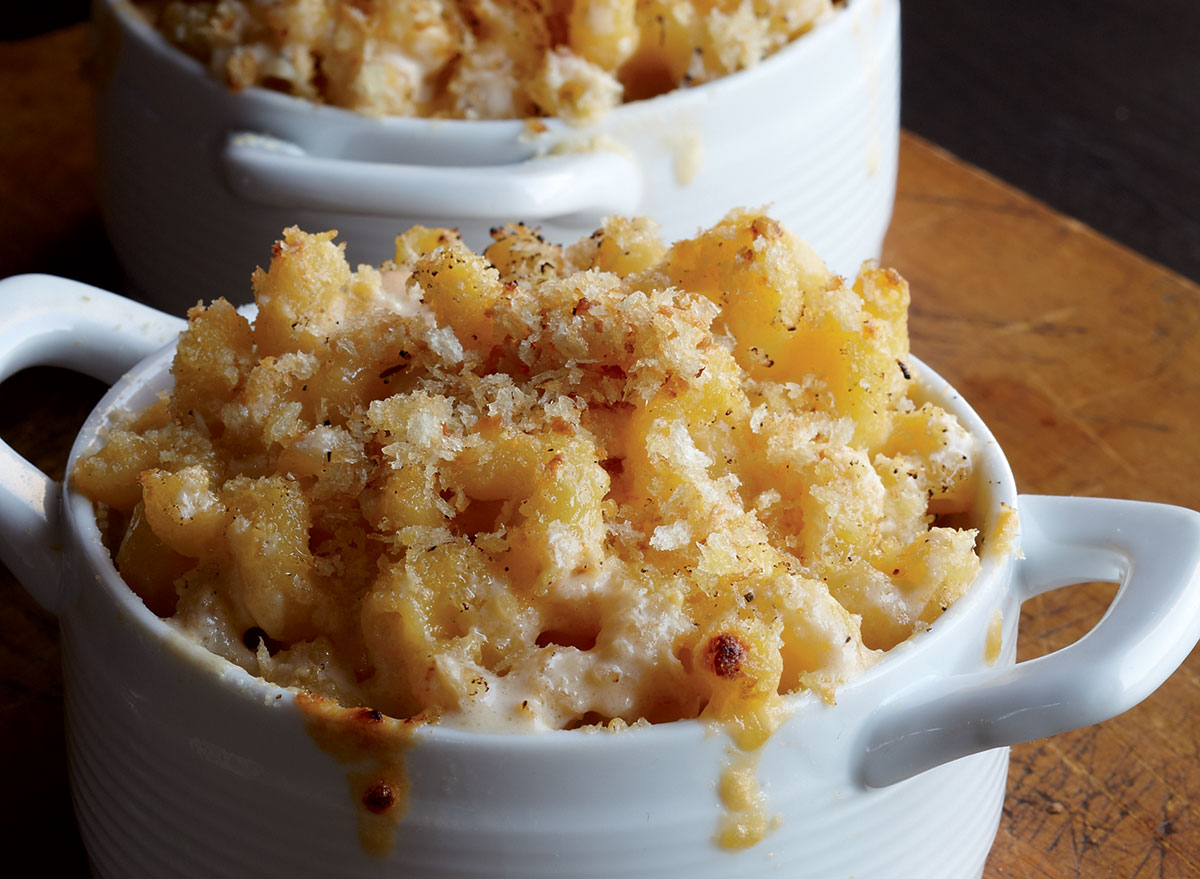 Gooey macaroni and cheese that isn't totally unhealthy for you? Sign us up, please and thank you. Any recipe with creamy cheese makes for a great side dish for pork.
Get our recipe for Healthier Mac and Cheese.
French onion soup has a distinctive yet delightful taste that marries well with the flavors of grilled or sautéed pork. If you can withstand the inevitable crying that will occur as you chop an onion, we say give this recipe a test run next time you are cooking up some pork.
Get our recipe for French Onion Soup.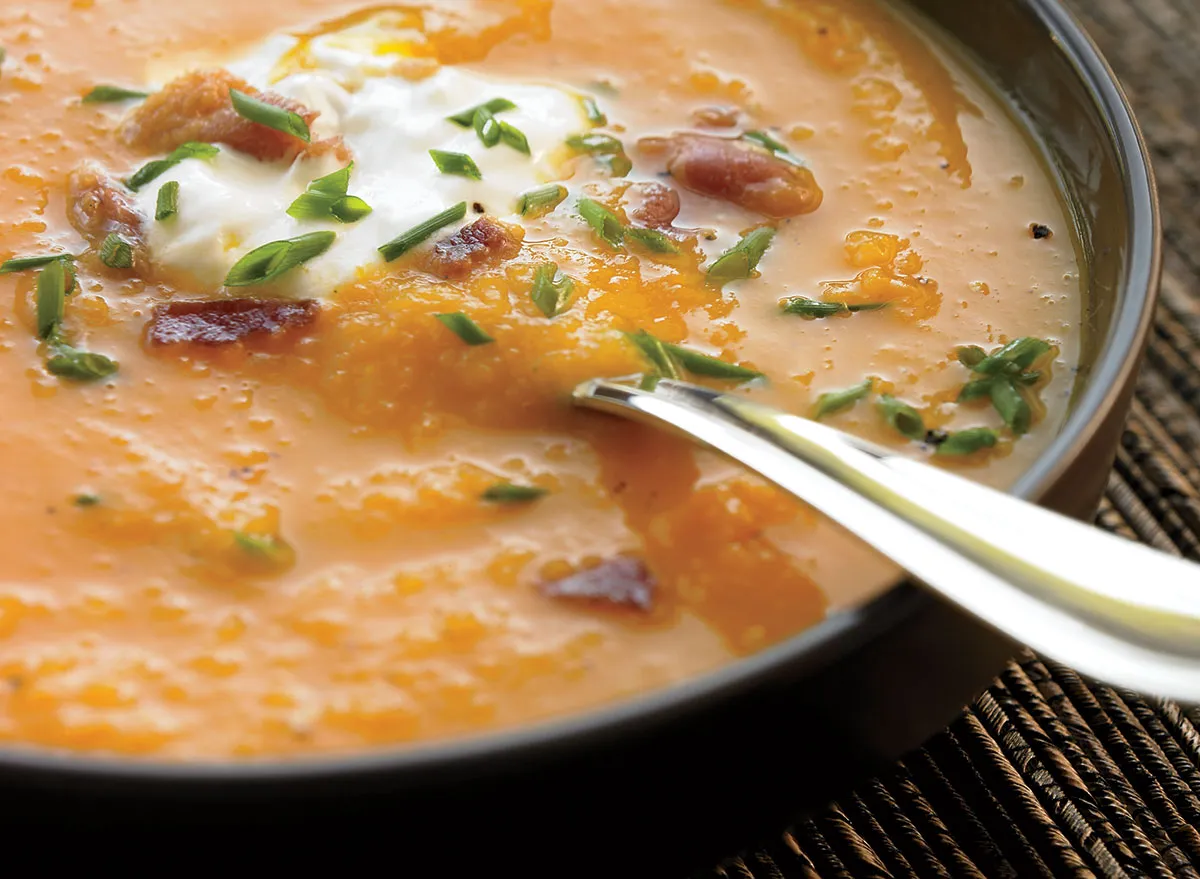 Speaking of soup, if you prefer a creamier soup over a broth-based one, this may be your new go-t0, especially when you're making pork chops. Butternut squash is most enjoyed in the fall and winter months as that's when the vegetable is in season. Keep that in mind as when you plan your dinner menu!
Get our recipe for Classic Butternut Squash Soup.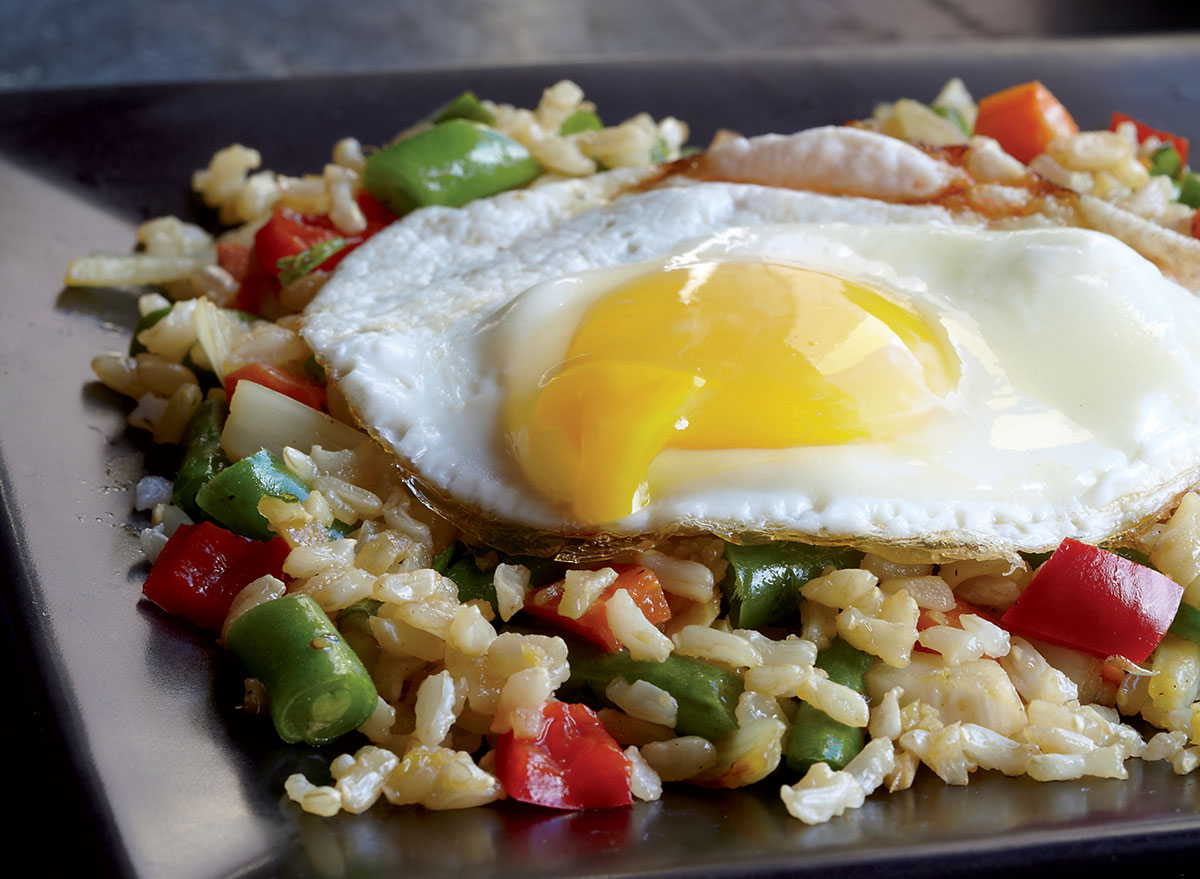 At Asian restaurants, you can order fried rice with strips of pork in it, so what better incentive than to make your own veggie-filled rice with egg as a side for some pork chops? This is a low-maintenance recipe too, which means it won't take many steps to get to that delicious end result.
Get our recipe for Takeout-Level Vegetable Fried Rice.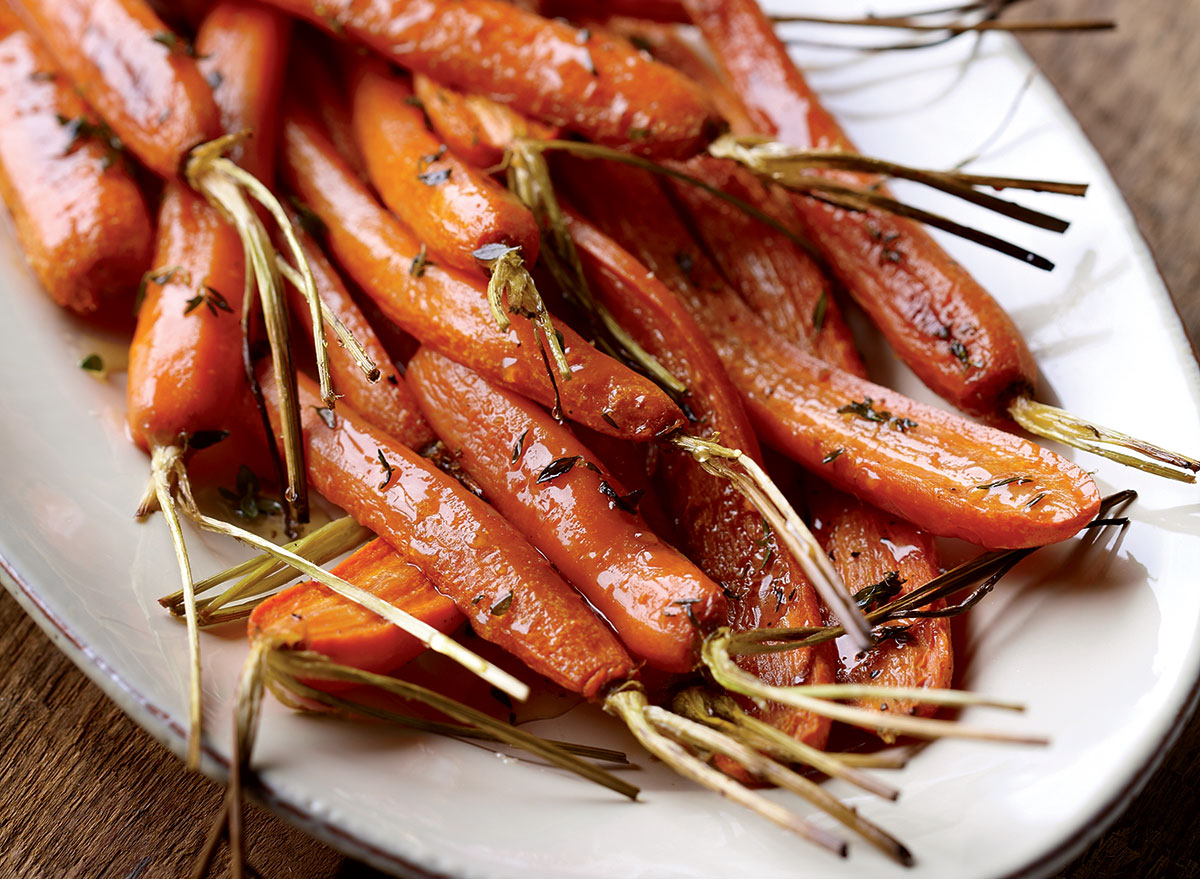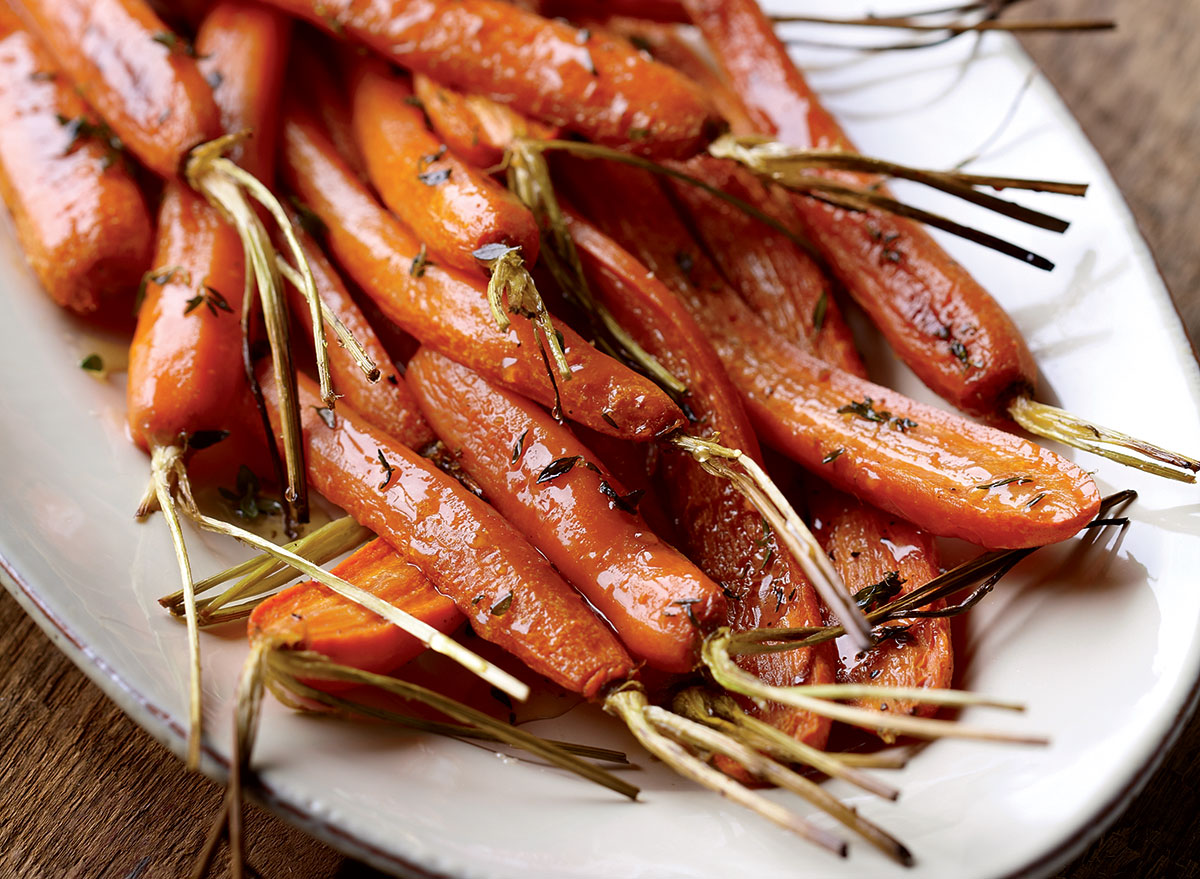 If you exclusively seek out simple recipes, consider our recipe for honey-roasted carrots. There are only five ingredients in this recipe, so it's super easy to make.
Get our recipe for Roasted Carrots. 
Bacon and Cheese Twice-Baked Potato
Baked potatoes seem to pair well with just about any meat whether that be steak, grilled (and fried) chicken, or pork chops.
Get our recipe for Bacon and Cheese Twice-Baked Potato.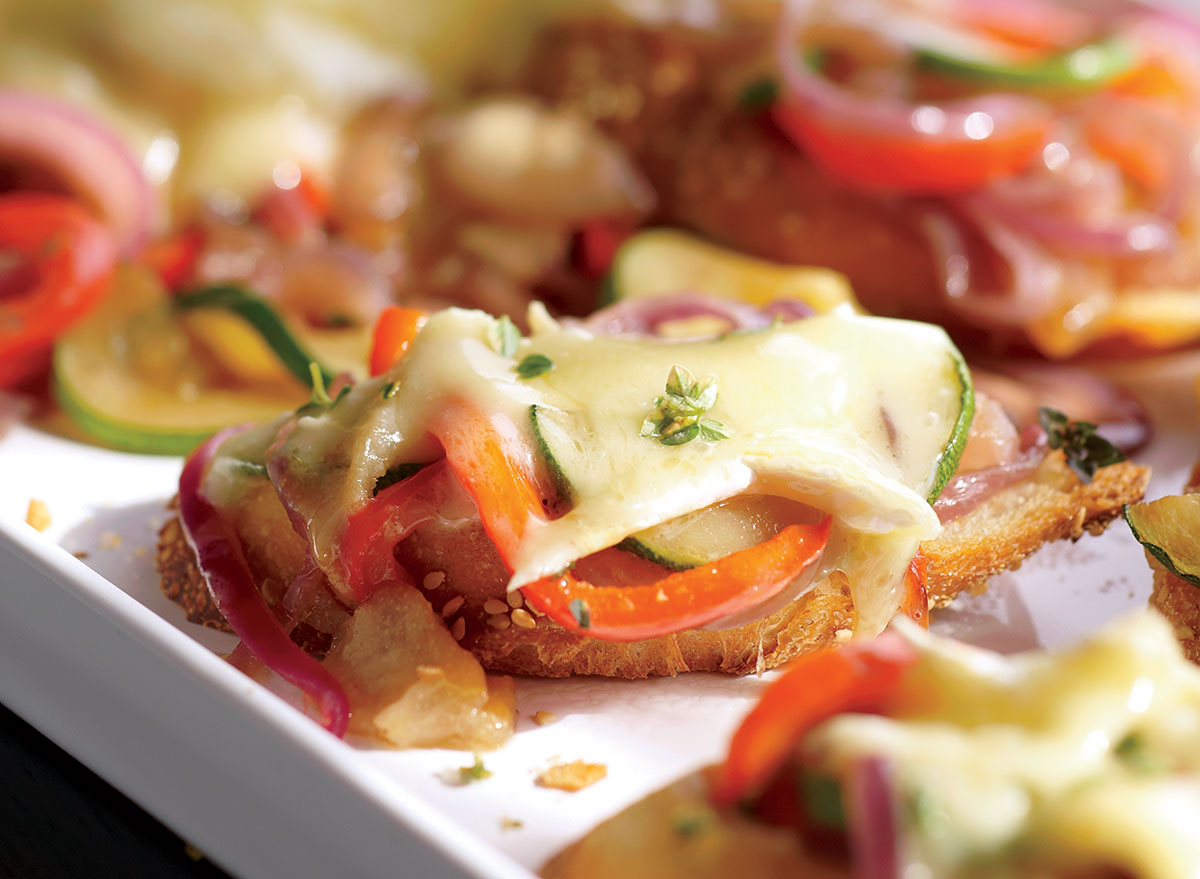 Melted brie coats thin slices vegetables and pear on a warm sliver of baguette. You could pair two of these alongside a balsamic and honey-glazed pork chop.
Get our recipe for Melted-Brie Vegetables. 
How lovely does this side dish look? Your pork chop dish will never feel bland again with this warm, goat cheese-stuffed tomato.6254a4d1642c605c54bf1cab17d50f1e
Get our recipe for Stuffed Tomatoes.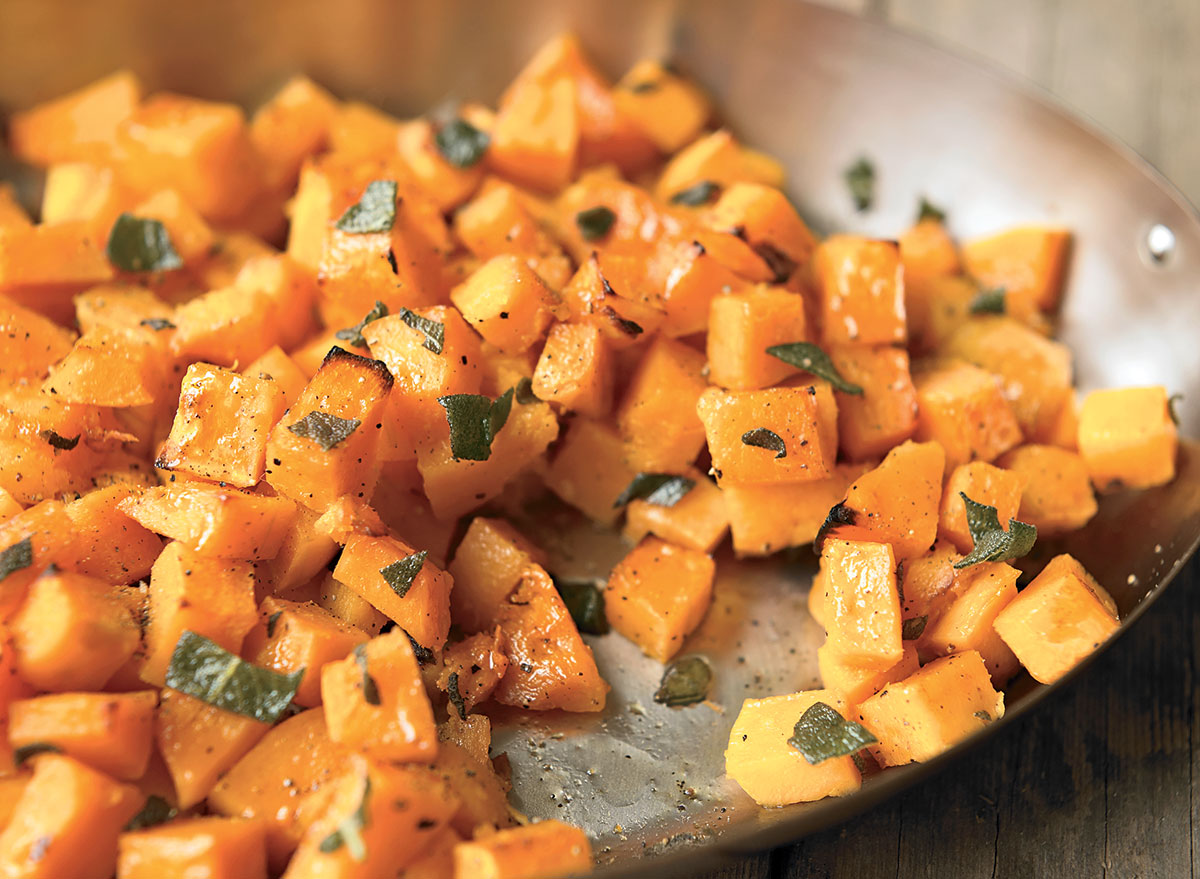 Sweet and buttery, butternut squash is a great additive to any dish that needs a dash of color. The sage leaves accentuate the vegetable's earthy flavor.
Get our recipe for Roasted Butternut Squash.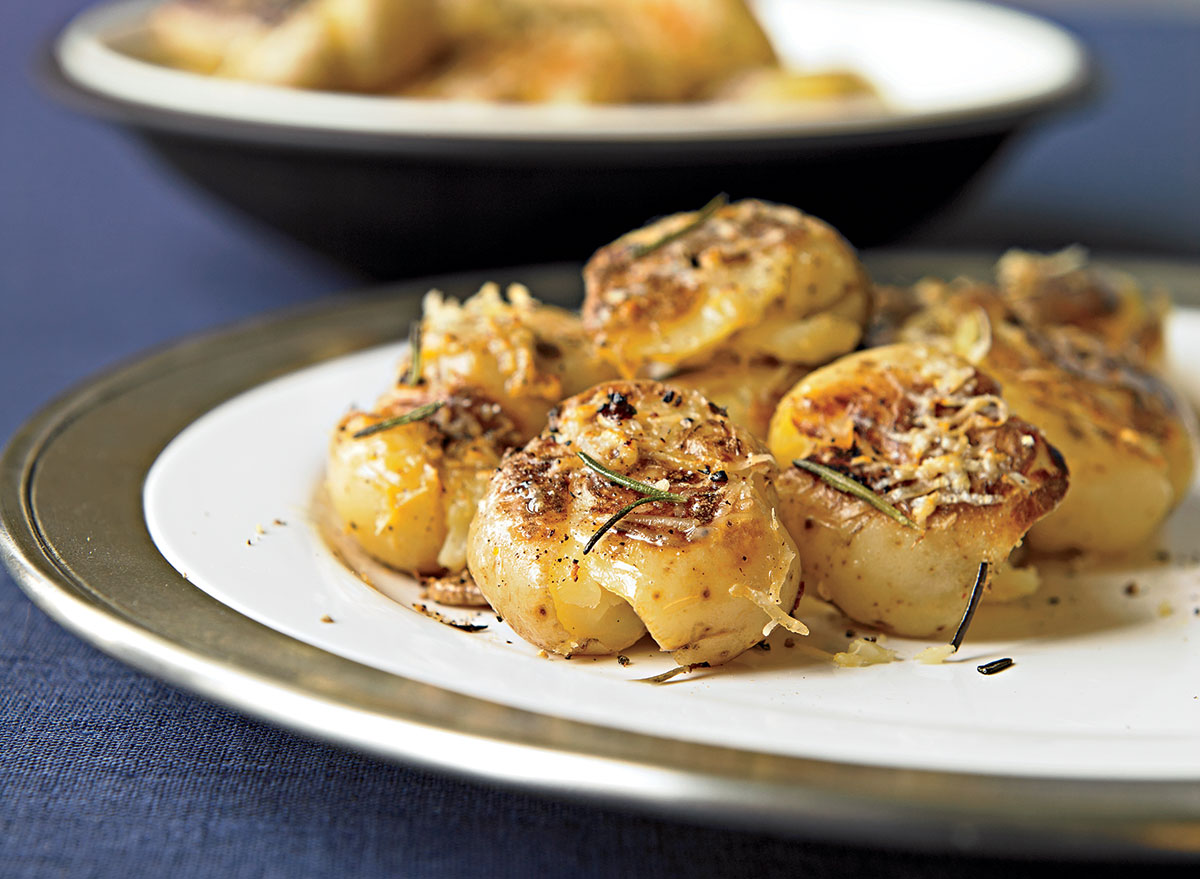 How darling are these little potato spuds? Once they have cooled, we encourage you to gently press down on them with the palm of your hand, which may just be a surprising stress-alleviating tactic. You'll only know if you try it.
Get our recipe for Vegan Smashed Potatoes.