23 Best Soft Foods to Eat After Surgery
Here's what's best to slurp and sip while you recover.
You've had your wisdom teeth removed, or maybe you're struggling through strep. Ouch! Whatever the cause, the effect is an inability to nosh on your normal menu, and now, you have to turn to soft foods.
When do you eat a soft foods diet?
A doctor may propose a soft foods-only diet for patients with:
Dental pain
A loose tooth
Recent oral or throat surgery or tonsillectomy
Recent endoscopy
A sore or scratchy throat
Current radiation treatment for cancer of the head or neck
Digestive system irritation
Any condition that leads to dysphagia, or difficulty swallowing
Luckily, "a day of soft foods doesn't have to mean a day of bland foods or poor nutrition," says Karen Z. Berg, RD, CDN, a registered dietitian in East Hills, New York. Vary your diet to keep fueled during your down time by trying these 23 soft foods before you make your way back to the land of solids.
Note: "Always consult with your doctor first before advancing your diet and wait until you are cleared to introduce more solid foods," says Cedrina Calder, MD, a preventive medicine doctor in Nashville, Tennessee.
Scrambled Eggs
Don't just reserve these for breakfast! The overall nutrient quality of eggs makes them a nice option from morning to night, says Julie Upton, MS, RD, a registered dietitian in San Francisco, California and the co-founder of Appetite for Health.
"Scrambled eggs are an excellent source of protein and provide 13 essential nutrients. These nutrients assist the body during recovery from illness or surgery," Upton says. For a flavor and fat boost, fold in some cheese, Berg recommends. Plus, who can resist the fluffiness of the perfect scrambled eggs?
Applesauce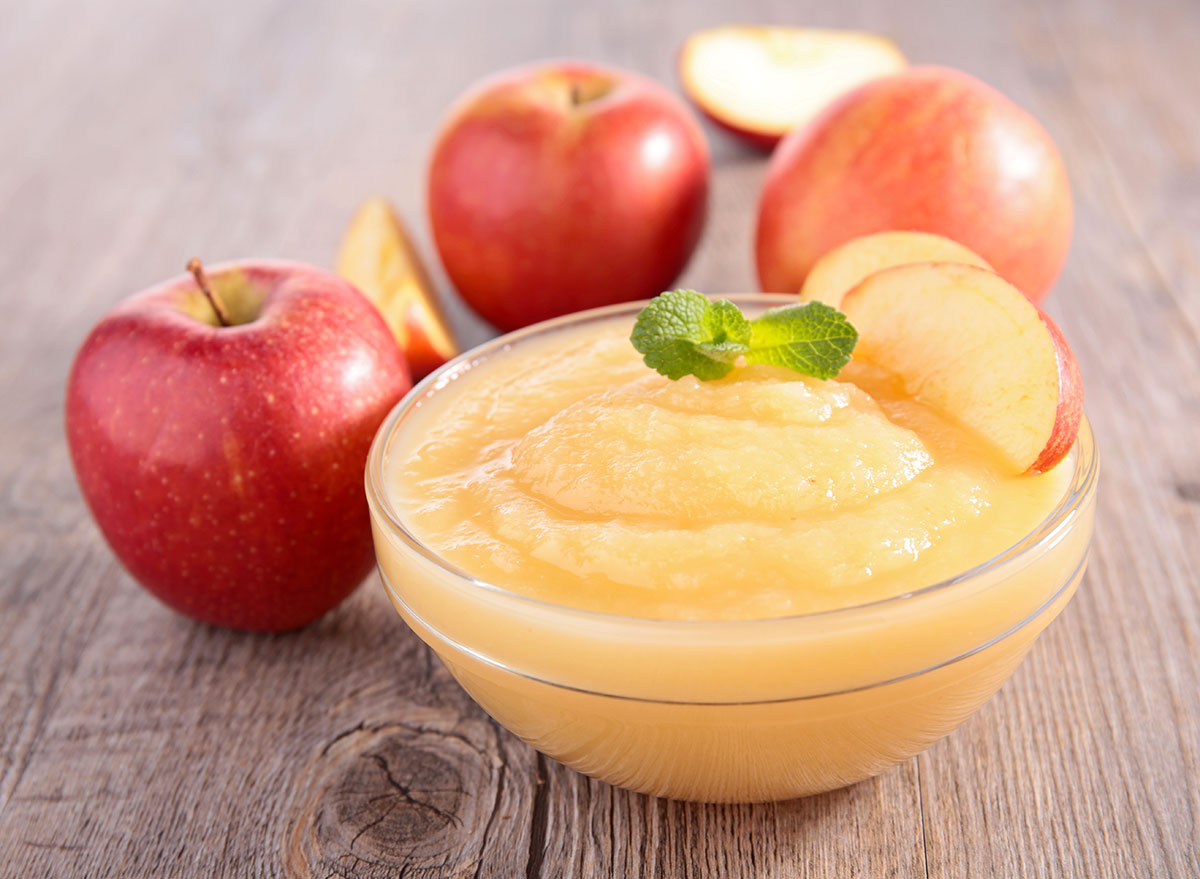 While crunchy fruits like apples and chewy ones like pineapple are best avoided after surgery, applesauce is a smart option to score similar benefits.
"Since you can't eat most fruit post-surgery or toothache, unsweetened applesauce is a good choice. It provides nutrients you need from fruits and veggies in an easy to swallow and digest form," Upton says.
Mashed Bananas
And while applesauce is an easy choice, you don't have to just munch on mashed-up apples! Bananas are another option you can try out.
"Applesauce is a standard recommendation, but you don't have to limit yourself just to sauce of apples," says Kristin Koskinen, RDN, LD, CD, a registered dietitian nutritionist in Kennewick, Washington, and the founder of Eat Well, Live Well. "Mashing or blending other foods to a similar consistency works, too."
Try this by mashing up a banana first, then experiment with blended peaches or pears. While this method does open your options up quite a bit, not every fruit is ideal to mash up though.
"Be cautious with berries, as the small seeds may be difficult in a post-operative mouth and can end up in the wounds. If you use berries, strain out the seeds before eating or serving," Koskinen says.
Smoothies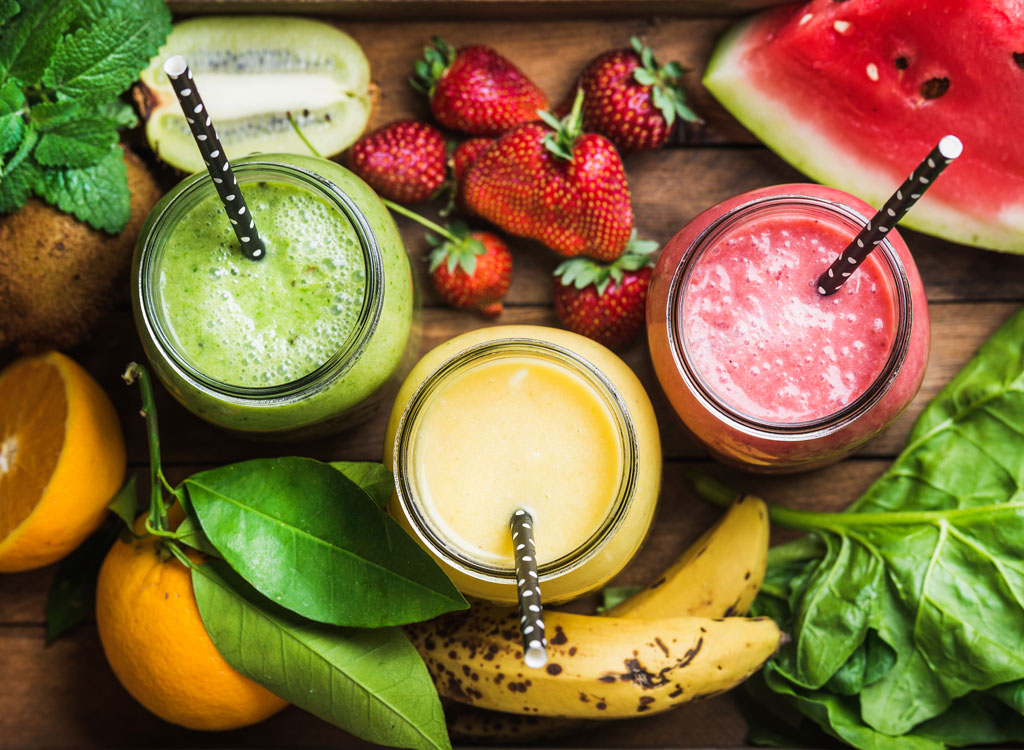 Soothe a sore throat with a cold temperature.
"I advocate going dairy-free when treating sore throats or any other symptom that comes with a cold. Keep it cold, fruity, and icy," Koskinen says. Yogurt and other dairy products can potentially thicken or increase mucus production, so for cold-afflicted clients, Koskinen's ideal smoothie recipe is a mix of kale or spinach, frozen fruit (such as pineapple), and 100 percent grape juice.
"The resveratrol that gives red wine its health reputation is also found in purple juice grapes. Taken early enough, it can ward off a sore throat or minimize the duration," Koskinen says. If your soft foods diet is related to surgery instead of a cold, add a scoop of Greek yogurt for a protein boost.
"A fruit-and-vegetable-packed smoothie with Greek yogurt as the base is a great option any time of day for vitamins, minerals, carbohydrates, and protein. Vitamin C and protein are both very important for wound healing," Berg says.
Mashed Potatoes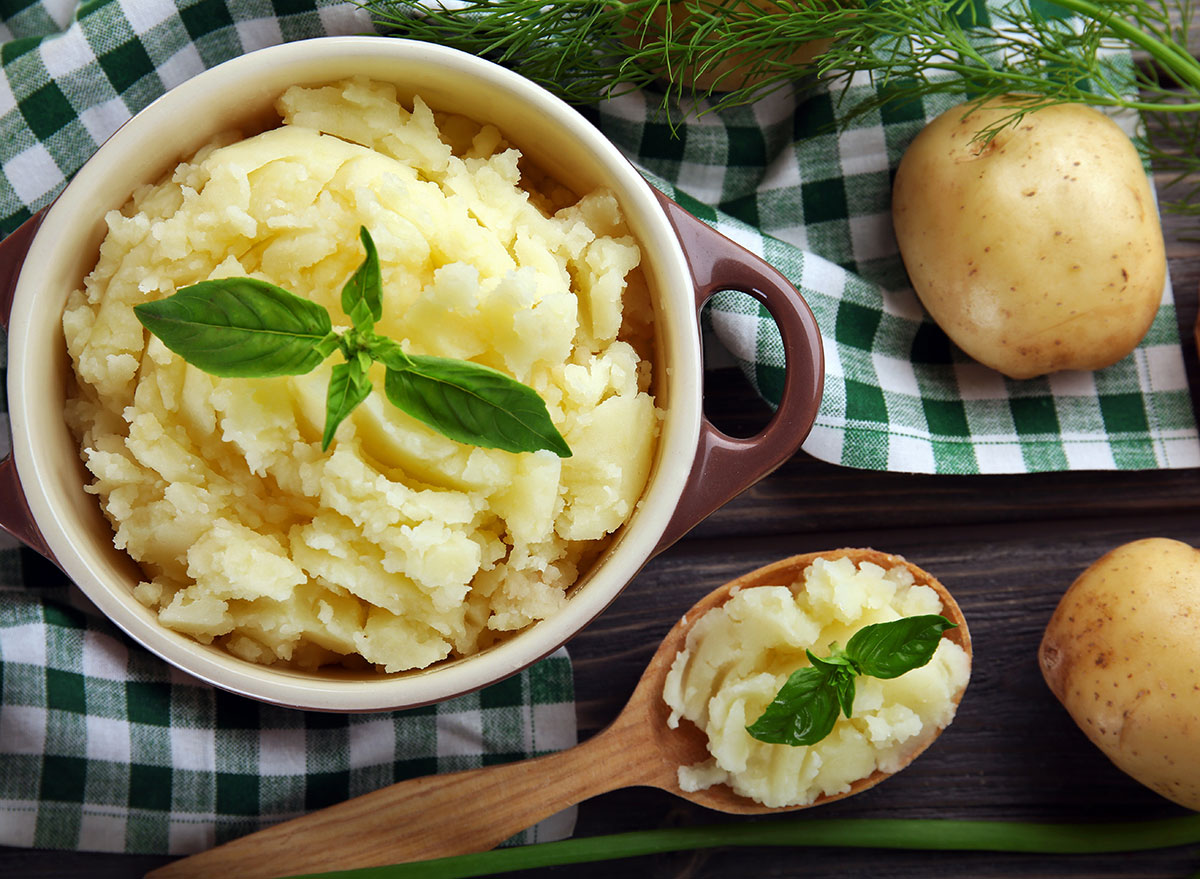 We, of course, have to include the staple velvety mashed potatoes—not chunky smashers—that slide right down a sore throat. But don't stop there though: Koskinen suggests mashing or food processing other options that mimic the classic potatoes in texture for a variety of vitamins.
"Cauliflower, parsnips, and sweet potatoes can all be mashed to an easy to eat and swallow consistency," she says.
Yogurt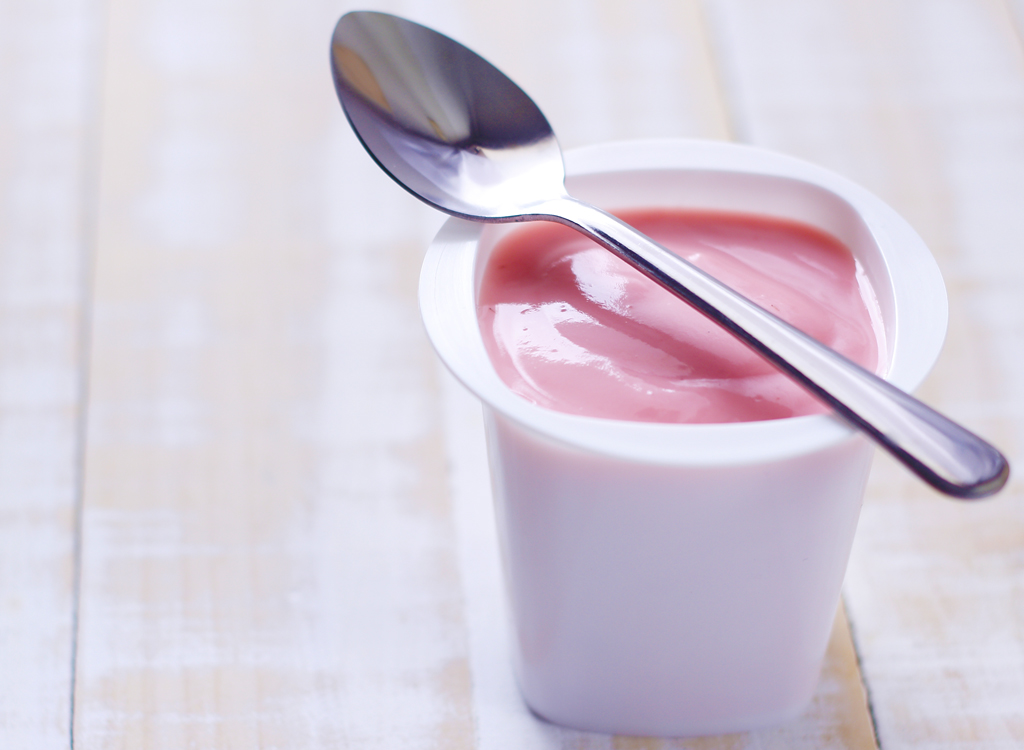 "Yogurt and cottage cheese are nutrient-rich, and if you've had dental surgery, cold foods often feel better than warm ones on the throat," Upton says. "Yogurt also has the benefit of providing probiotics that can help bolster your immune system, so it may help you recover faster."
If your treatment includes antibiotics, those probiotics will also help your gut microbiome balance back out again.
Jell-O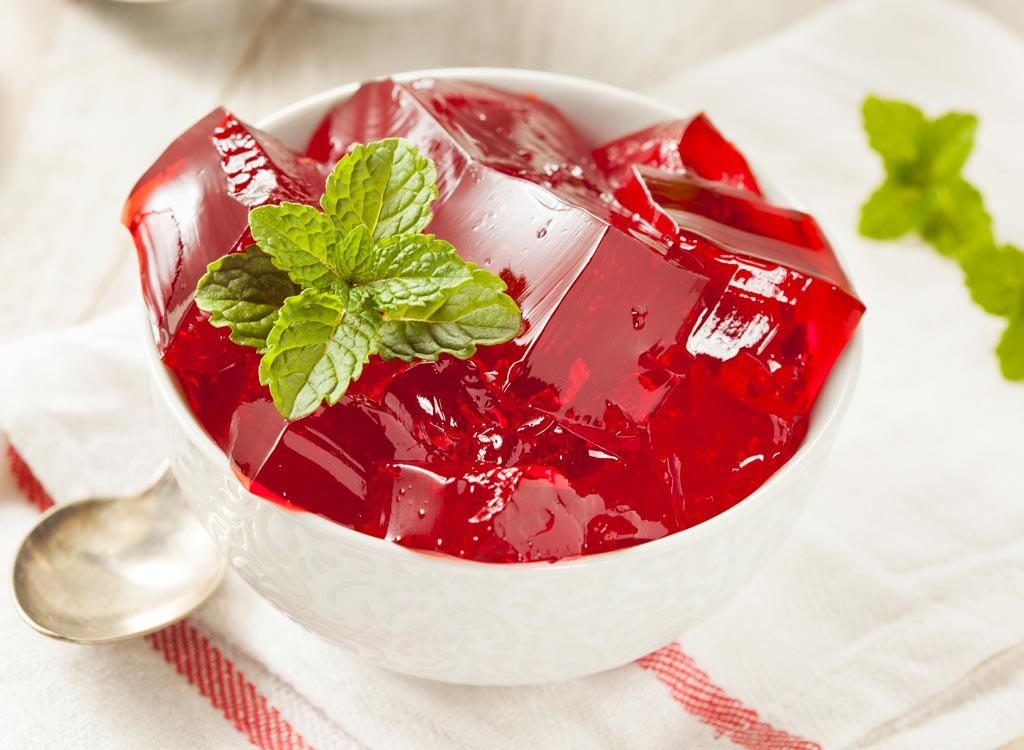 Because it holds its shape so well, cubes of this jiggly kid-favorite is a smart choice for those with throat-related conditions, says Melanie Potock, a pediatric speech-language pathologist and feeding specialist.
"The mixture maintains a nice shape for transport and won't scatter, like a cracker. That helps the food glide down 'the right pipe,' the esophagus, and not enter the airway," she says.
Pudding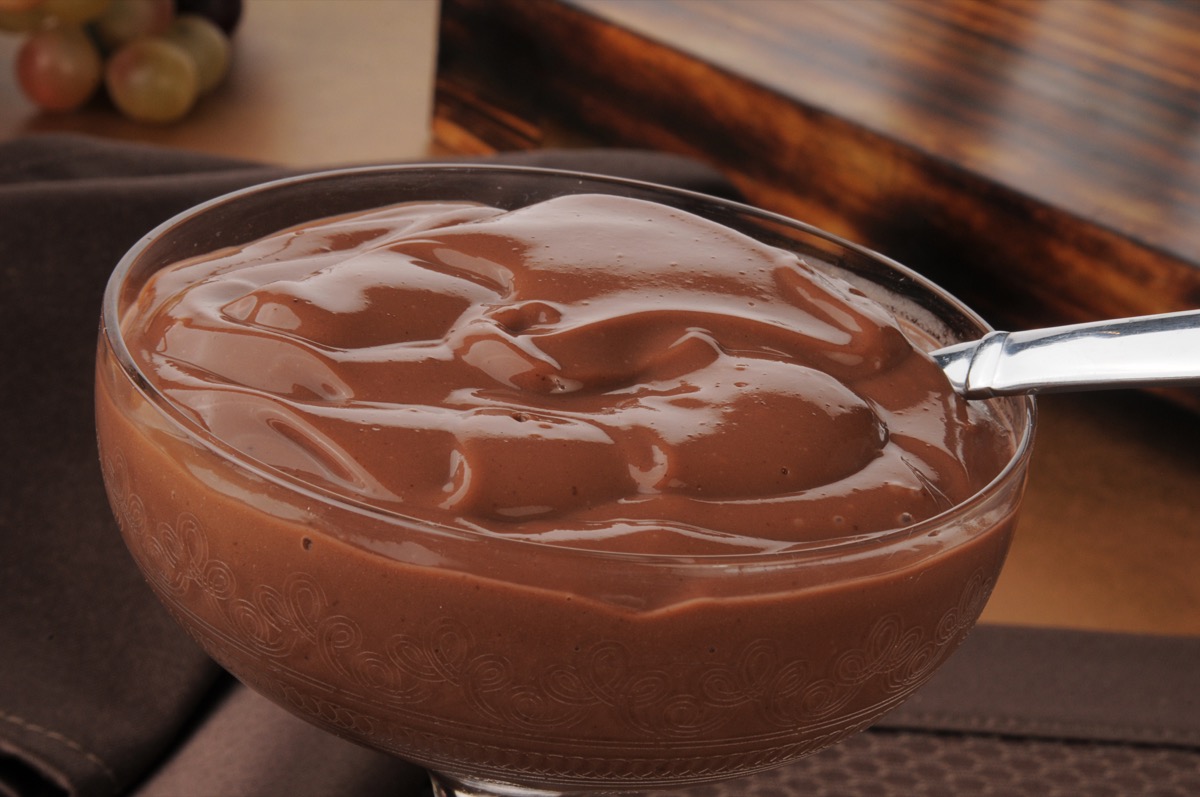 While you're thinking of whisk-chill-serve selections that can be purchased by the box in the baking aisle, pick up some pudding mix as well.
"For those with a sweet tooth, pudding is great. If you don't need to avoid dairy and can use milk, it's a wholesome option rich in many important nutrients like calcium, vitamins A and D, and potassium," Upton says.
Pasta
Get saucy for the best results.
"Noodles are great for patients who need soft foods, particularly if they are served with a sauce," says Summer Yule, MS, RDN, a registered dietitian nutritionist in Avon, Connecticut. Now you have full permission to whip up a batch of mac and cheese or slurp up some ramen.
Lentil Soup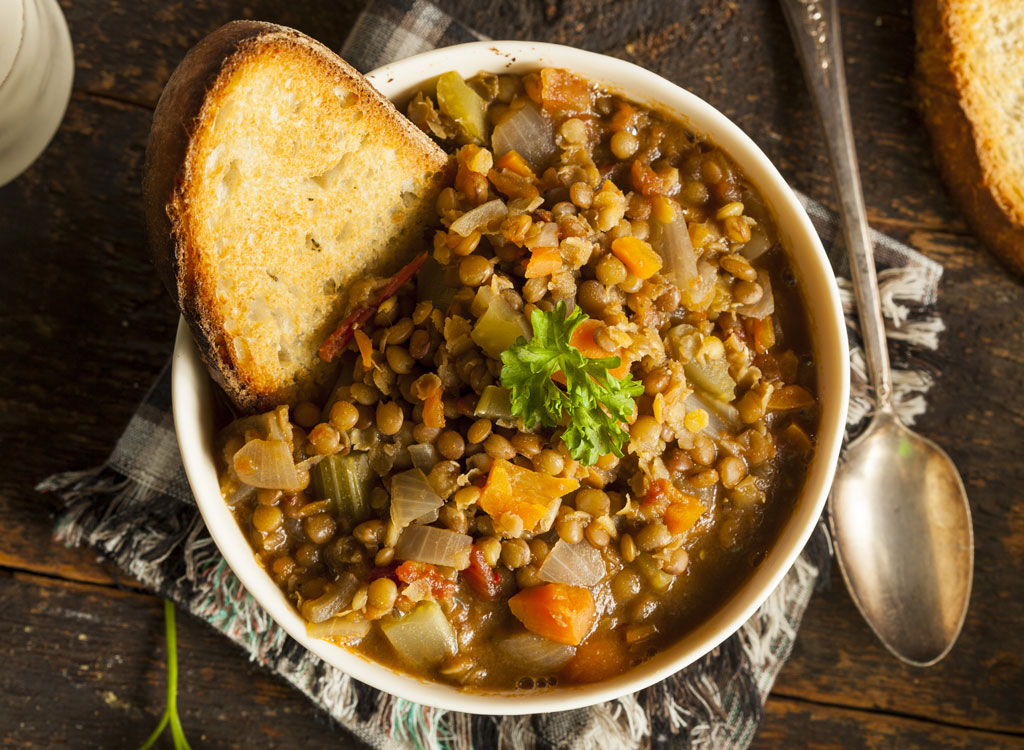 Hungry? Hearty soups—including lentil or split pea—are packed with protein and fiber, Berg says.
"If hot soup doesn't sound good, you can always try a cold soup, such as gazpacho or borscht," Koskinen counters. Because oregano and rosemary have antimicrobial properties, season generously with either or both.
Canned Fruit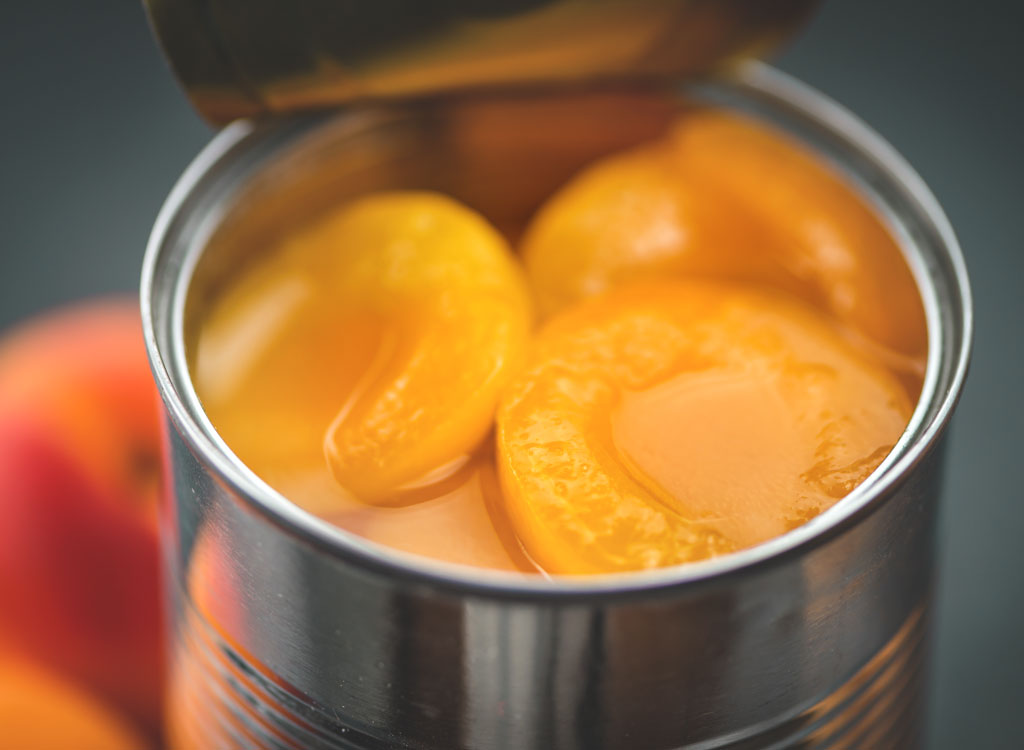 Moist soft foods are often better than dry ones, Yule says, one of several reasons why she is a proponent of canned or cooked fruits without peels. Consider no-sugar-added canned peaches, pears, or fruit cocktail.
"Compared to fresh, canned fruit tends to be soft and easy to chew," Berg says.
Creamed Spinach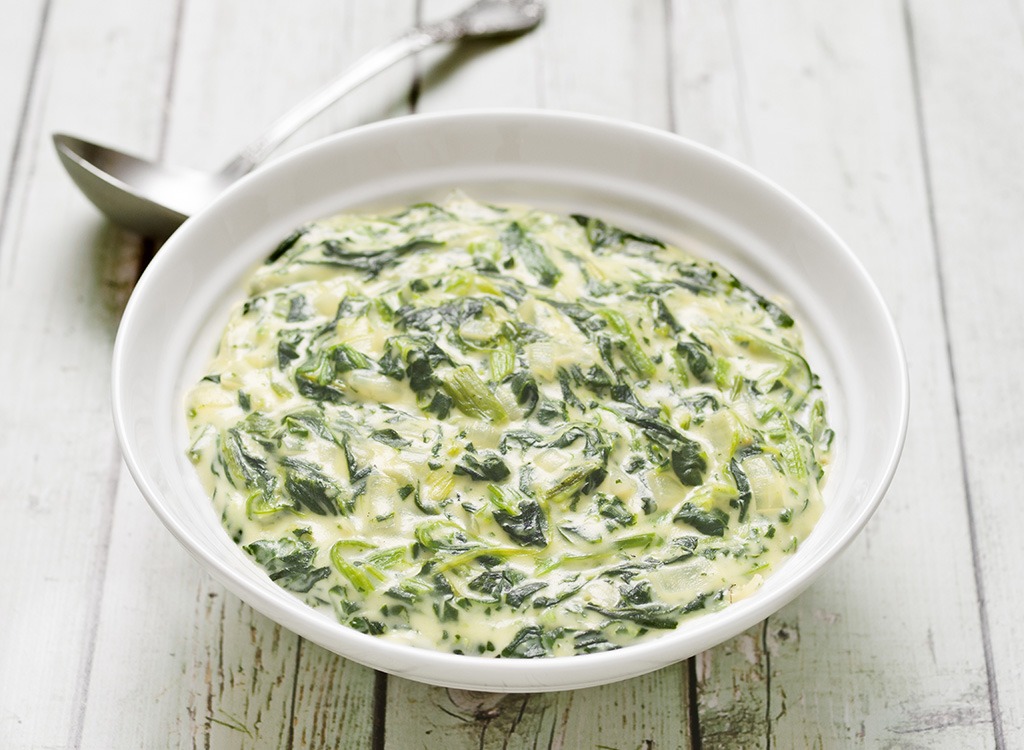 This common steakhouse side is a surprisingly good addition to your dinner menu—and will ease you into enjoying family dinner again. (Try a serving of mac and cheese casserole with a scoop of creamed spinach, and you're practically back to 100 percent!)
"Creamed spinach is a nice side dish while on a soft diet because it's full of vitamins and minerals," Berg says. If made with a sauce of goat cheese or plain Greek yogurt instead of butter and heavy cream, it can also provide a decent amount of protein.
Popsicles
When swallowing feels painful, it can be a challenge to stay hydrated.
"Popsicles and other frozen treats that melt into a fluid can help make it easier," Berg says. Make your own, or seek out whole-fruit, no-sugar-added options for the healthiest soother.
Goulash, Meat Loaf, or Sloppy Joe Meat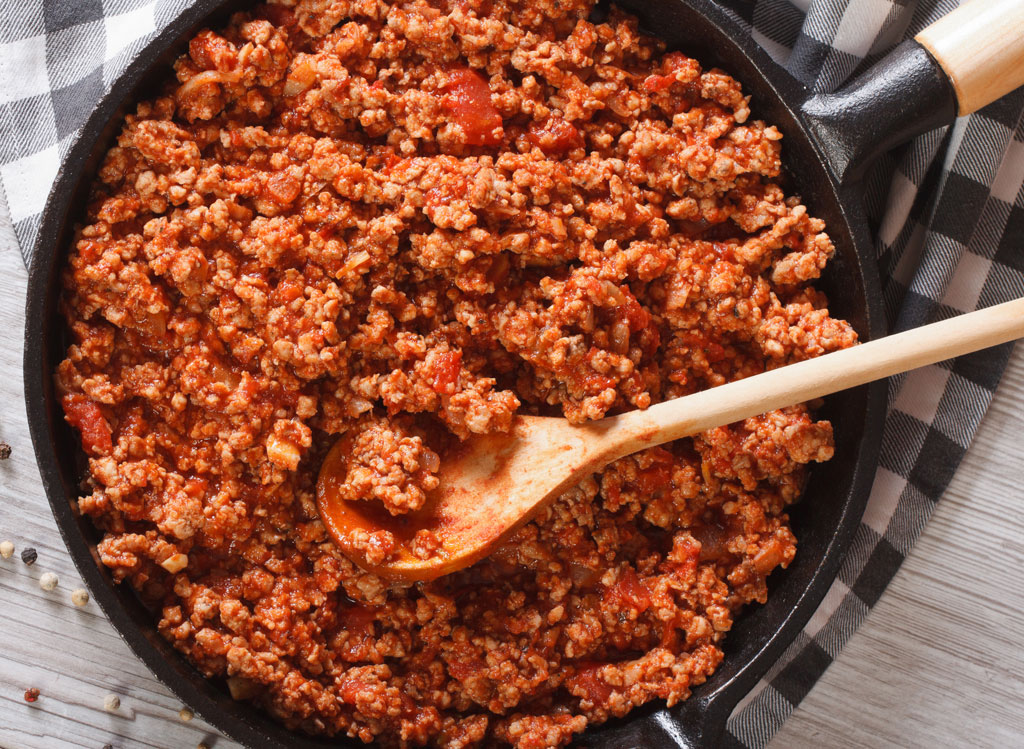 6254a4d1642c605c54bf1cab17d50f1e
Beef is a boon for those in the midst of the healing process, Koskinen says. While you can't chow down on a charbroiled ribeye, you can scoop up a more tender ground meat mix.
"Beef offers high-quality protein, which is important for healing. It's also a good source of immunity-boosting bioavailable zinc," she adds.
Papaya
Now that you've scored some "vitamin Z" from the beef, it's time to see to your C.
"Strong sources of vitamin C, such as papaya, kiwi, and cantaloupe, support healing and recovery," Koskinen says. "Vitamin C has a long-standing reputation for its ability to reduce the severity and duration of the common cold and lessen the symptoms." For the quickest and best results at combating that cold—and the sore throat that comes along with it—load up your menu with plenty of vitamin C as soon as you begin to notice symptoms.
Ice Cream
Sore throats will practically melt away with a scoop of ice cream. Choose smooth flavors, such as vanilla, chocolate, or Neapolitan over chunky ones, like butter pecan, cookies and cream, or cookie dough, so you can swallow without chewing.
Honey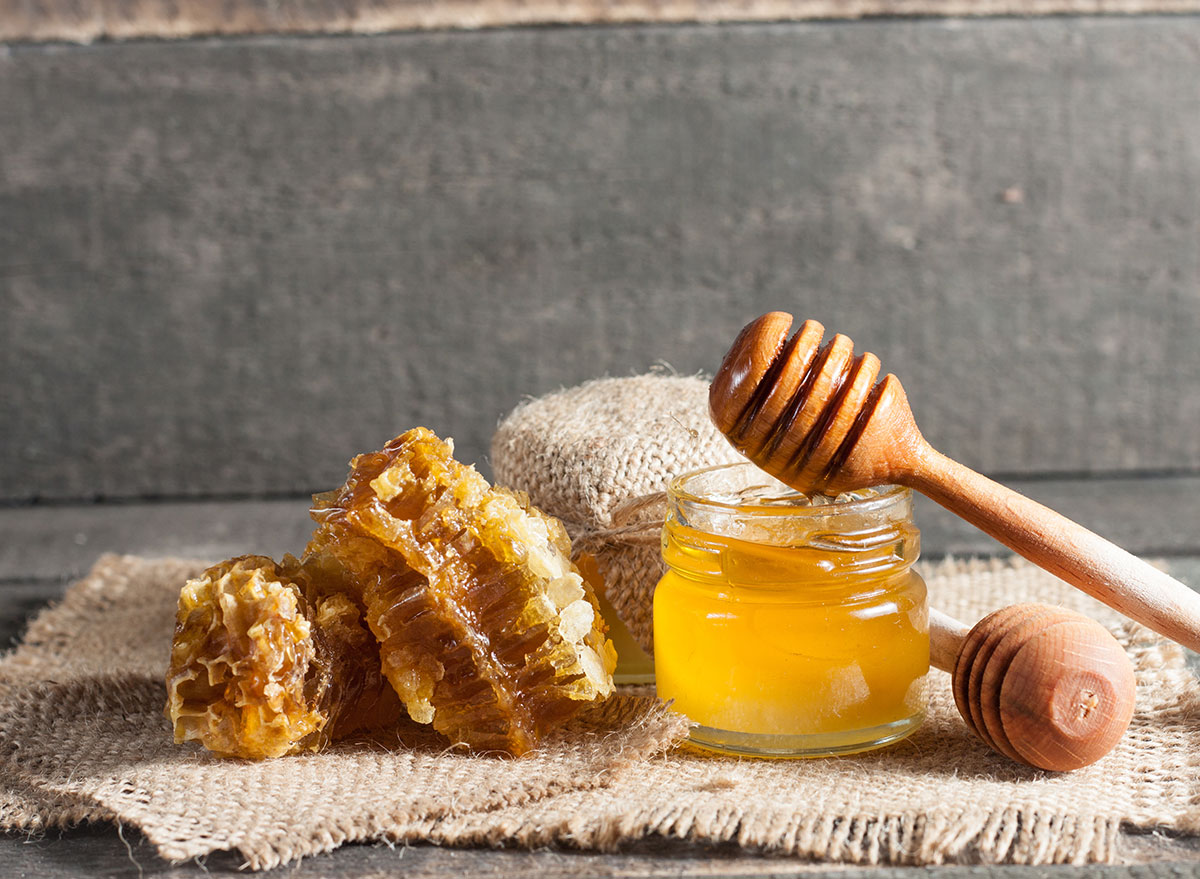 Get sweet on this sugar replacement, Koskinen says. It's her secret weapon to combat household sore throats.
"Honey has antimicrobial properties that are clutch for fighting colds. Seek out raw, unfiltered honey or manuka honey for the most benefits," she says. "Then brew a hot tea and spike it with lemon juice and a tablespoon of your honey of choice."
Pancakes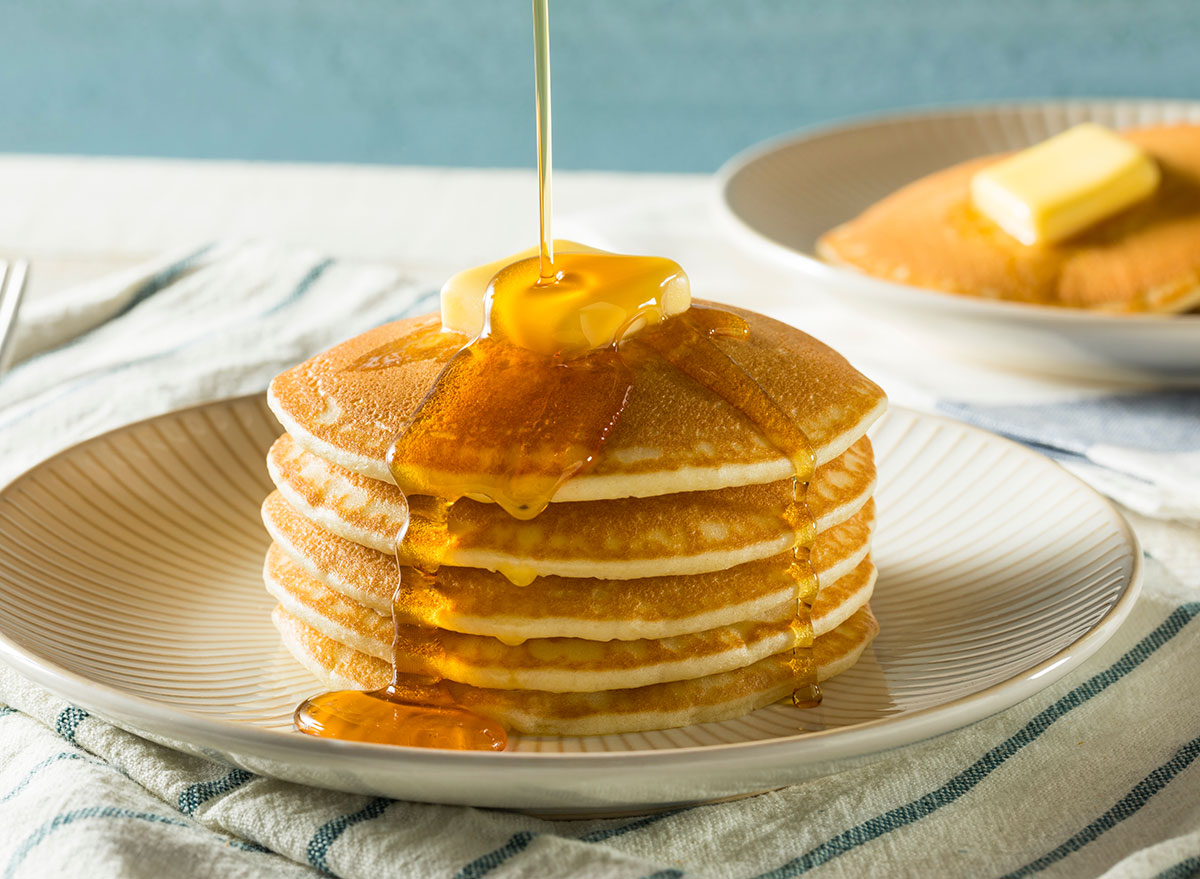 Breakfast can be a bummer when toast, cereal, and bagels are all banned. But cheer up: The American Dental Association says a short stack of pancakes is A-OK for those recovering from oral surgeries.
Whisk together a batter using whole-wheat flour, then drizzle with honey (rather than syrup) for a one-two healing, fiber-boosted punch.
Salmon
There's no catch: Salmon makes an excellent soft food supper.
"Fish doesn't require much chewing, and choices like salmon are loaded with omega-3 fats and protein," Berg says. Other silky seafood options like scallops and mussels slide down with ease, too.
Avocado
Trouble swallowing? Start with liquids, say, a smoothie featuring some avo, then work with your doctor to select the best moist or minced meals. Mashed avocado (sans tortilla chips for scooping!) is often recommended, Potock advises.
Bone Broth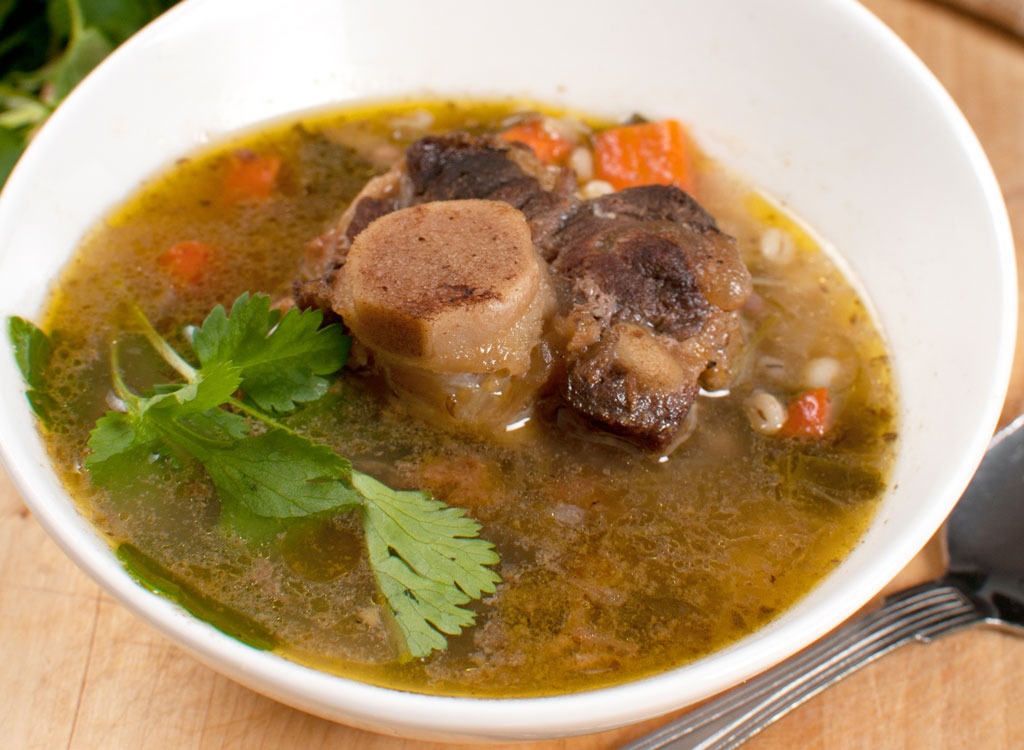 We've already mentioned thick, pureed soups, but Koskinen doesn't want you to overlook the simplest of them all: broth.
"Bone broth supplies collagen, which supports repair and healing of tissues. Stocks and broths made with herbs and vegetables offer vitamins and minerals that encourage healing," she says.
Protein Shakes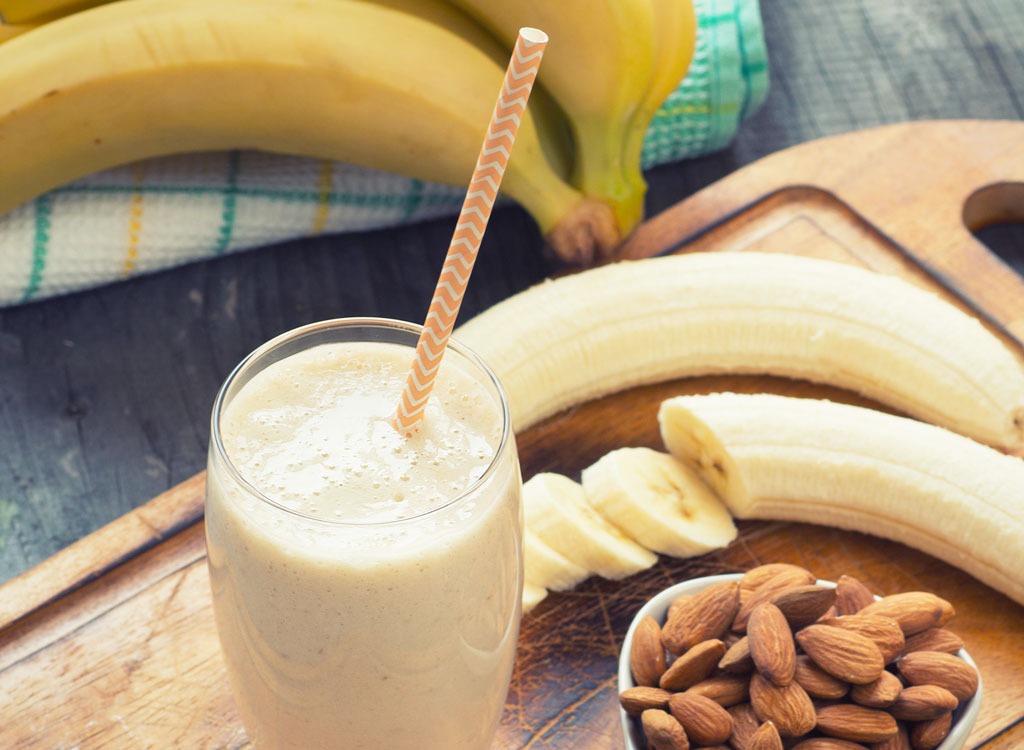 "I work with a lot of cancer patients who also turn to nutritional supplements when chewing and swallowing becomes difficult. I always prefer whole foods first, but supplements can really help a person maintain weight during times when mastication is difficult," Berg says.
Shake up a protein drink with a powder that fits your dietary needs. The market has expanded in recent years, so you'll find protein powder products that fit whether you're vegan, dairy-free, gluten-free, or paleo.
Polenta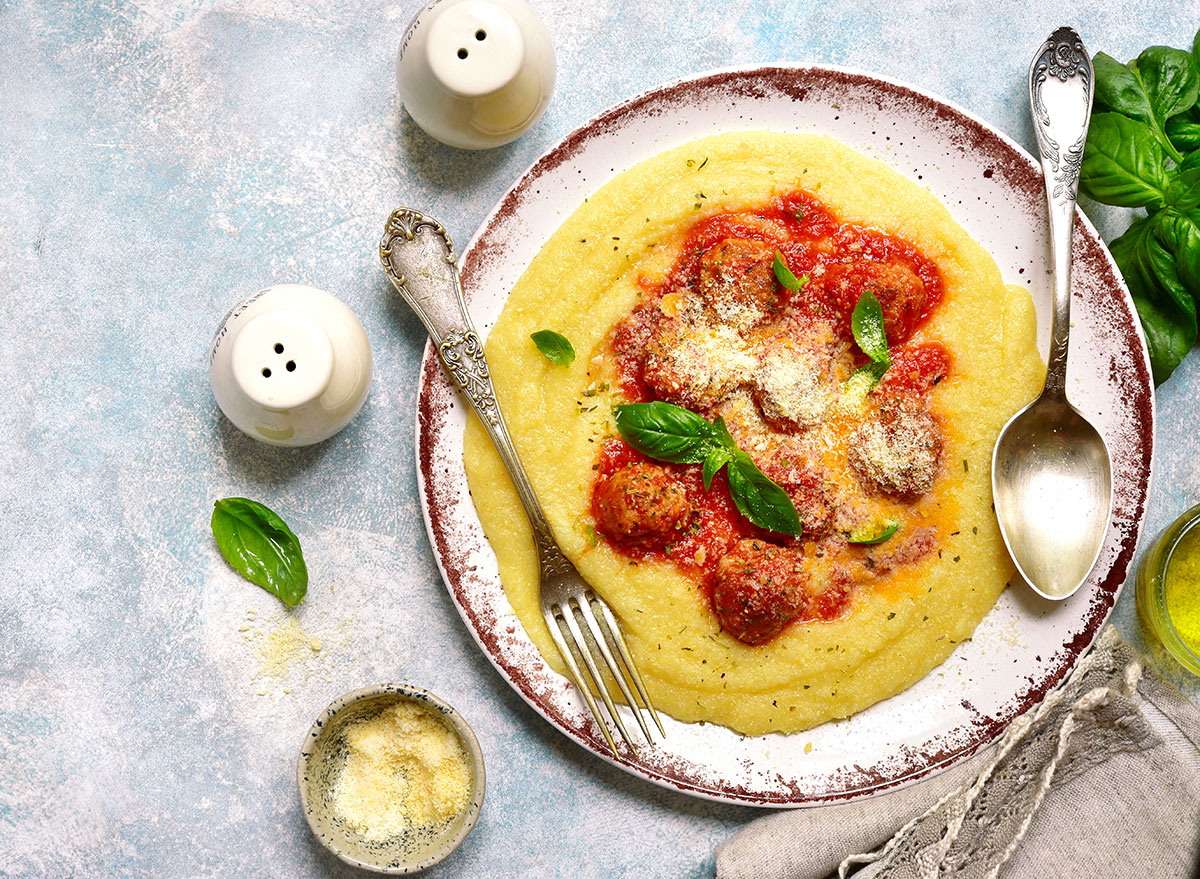 It's not just a comfort dish Italian nonnas like to make! Polenta—or boiled cornmeal—is creamy, comforting, and customizable with a variety of toppings. Sprinkle on herbs or cheese, top with a poached egg, or spoon on marinara for a soul-satisfying bowl that will go down easy. For the temporary bit of time you can only turn to soft foods, at least you now have some stellar options that will keep you full and healthy as you recover.
Karla Walsh
Karla Walsh is a freelance writer, editor and restaurant brand manager based in Des Moines, Iowa, where she reports on fitness trends, wellness research, psychology, and healthy recipes.
Read more about Karla