8 Best Supplements To Help You Debloat Instantly
Make that uncomfortable gas and bloat go away with these affordable supplements.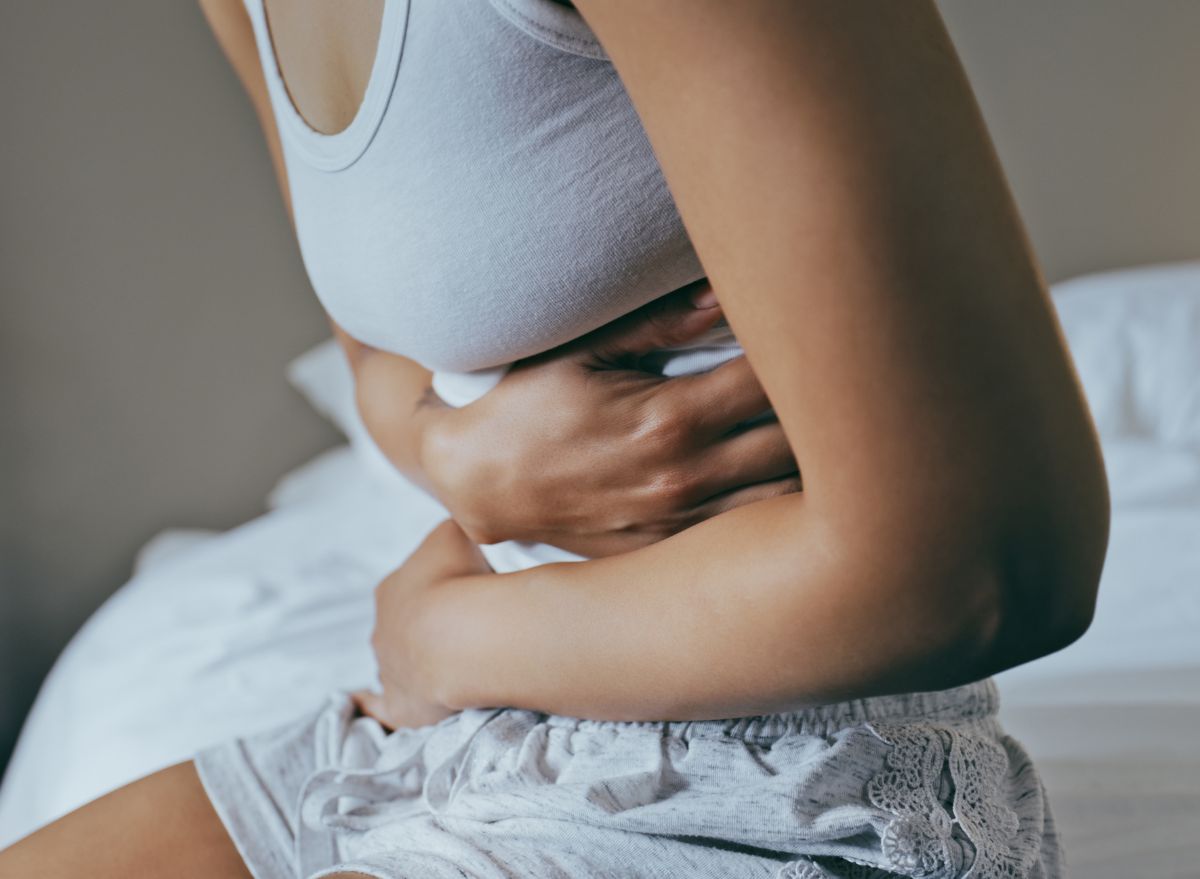 The product recommendations in this post are recommendations by the writer and/or expert(s) interviewed and do not contain affiliate links. Meaning: If you use these links to buy something, we will not earn a commission.
Occasional, mild bloating is normal and can happen to anyone. About a third of us deal with it on the regular, according to a 2011 report in Gastroenterology & Hepatology. But some folks experience it more often than others due to various factors. "Frequent bloating can be a symptom of food intolerance to a component of food such as lactose, fructose, or gluten," says Megan DeChatelets, RDN, CDN, nutrition advisor for Hilma. "Gastrointestinal conditions like irritable bowel syndrome, inflammatory bowel disease, or small intestinal bacterial overgrowth also lead to excess bloating." Thankfully, when bloating strikes, there are helpful supplements to debloat that you can buy and keep on hand.
Oftentimes, healthy habits can also lead to bloating as well. For example, eating nutritious foods that tend to produce more gasses in the digestive tract, such as beans, lentils, broccoli, cauliflower, cabbage, onions, and carbonated beverages, can all contribute to a puffy belly. "And while fiber is essential for digestive health, a sudden increase in fiber intake or excessive fiber consumption can cause bloating, especially if the body is not accustomed to it," DeChatelets says. What's more, eating habits, such as eating too quickly or overeating, can also trigger bloating.
When your distended belly isn't related to a larger issue that warrants medical treatment, you may turn to anti-bloating supplements. Before purchasing the picks below, check with your doctor first as some herbal supplements might interfere with medication.
What makes the best supplements to debloat?
Over-the-counter supplements can be very beneficial in combating bloating. According to DeChatelets, some of the most effective ingredients to look for in a debloating supplement include:
Peppermint: Peppermint is rich in oils that have been shown to calm the digestive tract and reduce bloating, gas, and cramping.
Lemon balm: Lemon balm relaxes the digestive tract, and it's especially effective when discomfort is triggered by stress.
Fennel: Fennel acts as an antispasmodic in the colon to reduce bloating and relaxes the smooth muscles of the digestive system to stimulate bile flow and reduce pain during digestion.
Anise: Anise is a GI relaxant that calms the digestive tract by breaking up intestinal gas.
In general, most products meant to target bloating provide almost immediate relief, DeChatelets says. However, it's worth noting that some supplements, such as probiotics, may take up to three months to notice a change in symptoms while they work to rebalance the microbiome. Read on, and then try these 12 Easy Ways To Get Rid of Bloating.
The best supplements to debloat instantly
Hilma Gas + Bloat Relief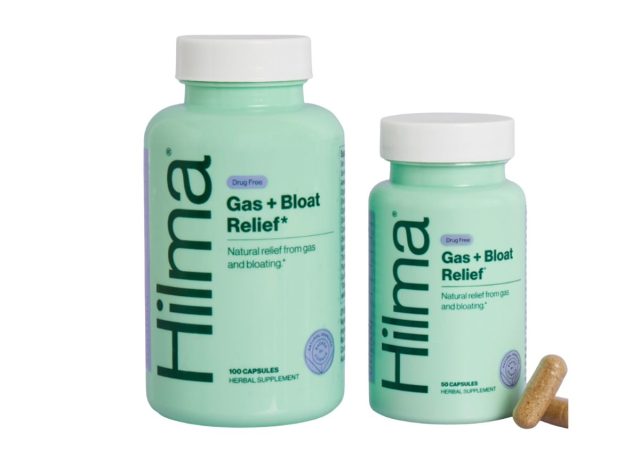 Hilma's Gas + Bloat Relief supplement contains several herbs—including peppermint leaf, fennel, lemon balm, caraway, and anise—to calm the digestive tract and reduce symptoms quickly. "Hilma only uses natural, clinically studied ingredients, and their products are third-party-tested so you can be sure they're both safe and effective," DeChatelets says.
Aside from being third-party-tested, Hilma is vegan and free from GMOs, gluten, and artificial sweeteners, so it doesn't include any potential culprits that may cause additional bloating. The serving size is two capsules, but you can take up to six per day depending on the severity of your bloat.
HUM Flatter Me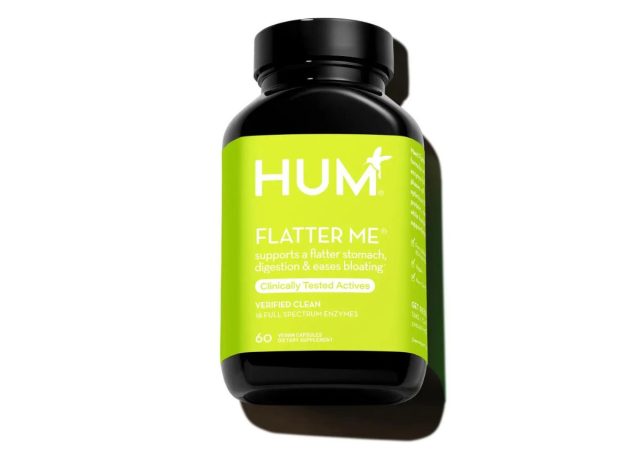 This supplement from HUM contains a handful of different digestive enzymes to help break down proteins, fats, carbohydrates, fiber, and lactose in the food you eat as well as ginger, peppermint, and fennel to help soothe digestion woes. It's recommended to take one capsule twice a day, before your two main meals. HUM's supplements are third-party-tested for purity, and we love that the brand posts links to clinical research that backs up the ingredients' benefits on its website.6254a4d1642c605c54bf1cab17d50f1e
Love Wellness Bye Bye Bloat
Love Wellness' supplement beats bloat with a blend of digestive enzymes and herbs, including fennel, dandelion, fenugreek, ginger, and parsley. It's free of GMOs as well as artificial colors, flavors, dyes, and sweeteners. The brand recommends taking two capsules every day (or night), or whenever you feel like you need to debloat. We especially love that this supplement is produced in an FDA-regulated Current Good Manufacturing Practice (CGMP) facility and is third-party-tested by NSF International, an organization that vets supplements for quality.
Lemme Debloat Daily Digestive Gummies
If you're not a fan of popping pills, give these blackberry-flavored gummies a try. They contain a blend of probiotics, aka good gut bacteria, and prebiotics, such as fibers to help feed those probiotics and help them flourish. Specifically, Lemme Debloat is formulated with the probiotic strain Bacillus coagulans, which has been shown to reduce bloating and gas in a 2023 randomized, double-blind, placebo-controlled study published in the journal Medicine. It's recommended to take two gummies daily, and each serving has three grams of sugar coming from tapioca syrup and cane sugar.
Iberogast
"Another product I often recommend for bloating relief is Iberogast, which contains a blend of herbs," says DeChatelets. Iberogast is formulated with peppermint, licorice, lemon balm, and other medicinal plants that are linked to improving gas, bloat, heartburn, and indigestion. "This product is in liquid form, which offers an alternative option for people who struggle with taking pills," DeChatelets says. You can stir it into water or juice for fast relief. Plus, it's free of lactose, gluten, GMOs, and artificial colors.
Gaia Herbs Gas & Bloat
Gaia Herbs Gas & Bloat features a blend of fennel, chamomile, and cardamom, as well as activated charcoal. Activated charcoal works by trapping the gas molecules in your stomach and reducing the gas that causes bloating, according to UCLA Health. However, charcoal may also reduce the absorption of medications, so if you're prescribed meds, make sure to ask your doctor before taking a supplement with activated charcoal, such as Gaia Herbs Gas & Bloat.
Arrae Bloat
Arrae is formulated with bromelain, a pineapple-derived enzyme that helps break down food, as well as ginger, lemon balm, peppermint, and other herbs to beat bloat in under an hour. Arrae sources its ingredients from both Europe and North America, and its supplements are made in an FDA-certified GMP facility as well as approved and registered by Health Canada. You'll take two to three capsules right after a meal.
GOGO Bloating & Gas Relief Capsules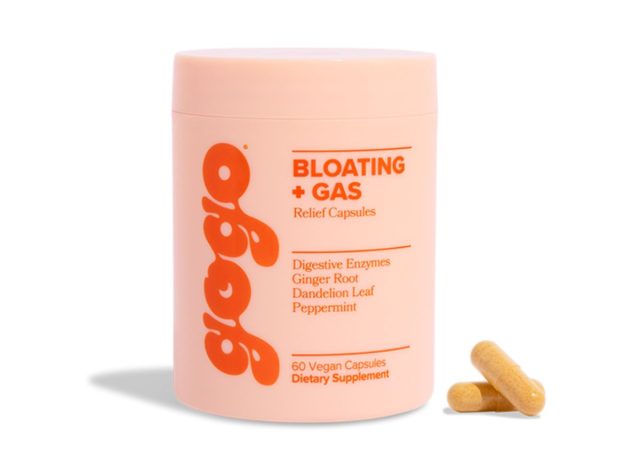 A mix of digestive enzymes, probiotics, and botanicals such as ginger, dandelion, and peppermint in these GOGO capsules all work overtime to help stop bloating in its tracks. GOGO contains the same probiotic strain as Lemme Debloat—that's Bacillus coagulans, which has been clinically shown to reduce bloating and gas. The brand recommends taking two capsules with water right before eating a meal, and you can take these twice a day.
April Benshosan
April is a born-and-raised Brooklynite who has a passion for all things health, wellness, and tastebud-related.
Read more about April
Sources referenced in this article