Texas Roadhouse vs. Chili's: Which Has the Best Signature Margarita?
The classic cocktail is a point of pride for two of America's biggest chains, but which one tastes the best?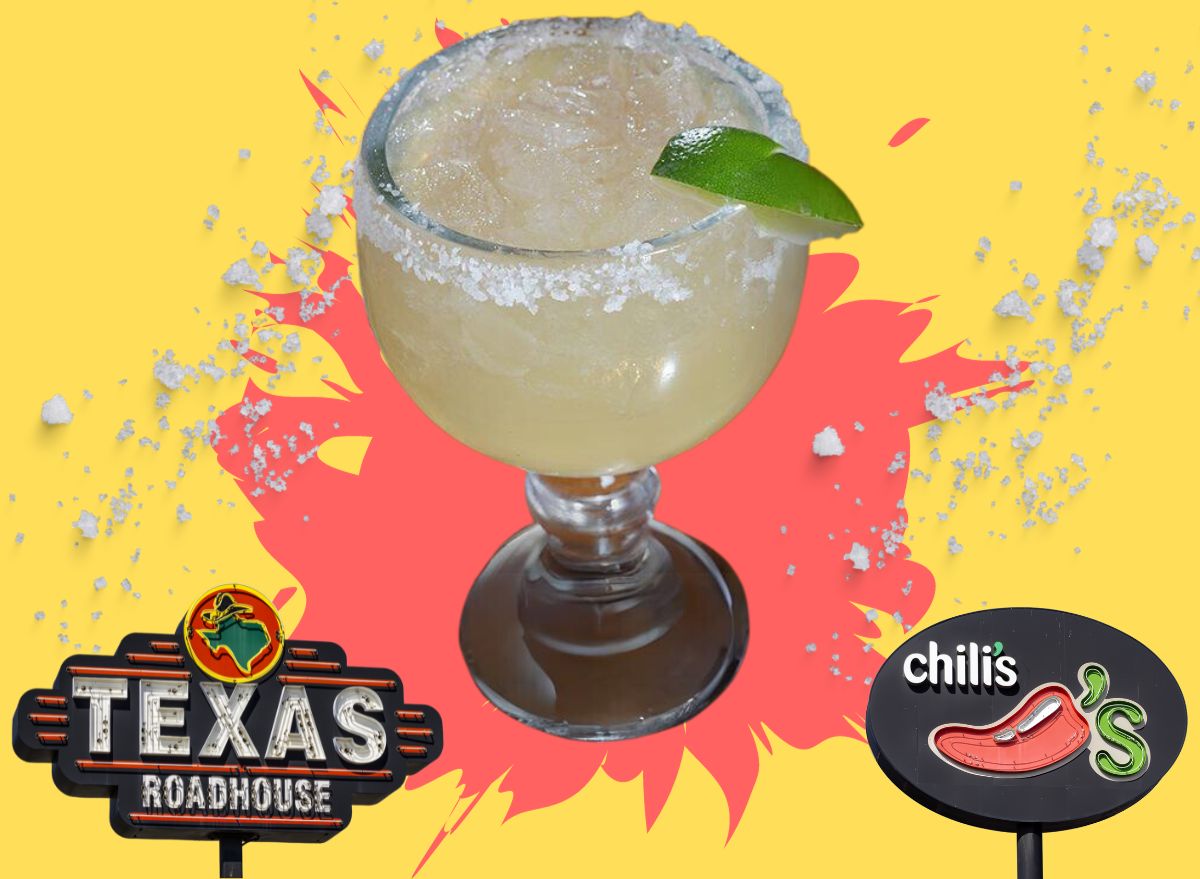 The product recommendations in this post are recommendations by the writer and/or expert(s) interviewed and do not contain affiliate links. Meaning: If you use these links to buy something, we will not earn a commission.
You don't have to wait until Cinco de Mayo to enjoy a nice, frosty margarita. It's one of those classic cocktails that can be ordered year-round, and it still hits the spot, whether it's 85 degrees outside or 20.
The margarita is also a popular choice because it can be molded to your preferences. Plenty of flavor options are available from fruity to spicy. It comes frozen or on the rocks, with salt or sugar or even tajin on the rim, and it's typically a fairly affordable choice, too. Additionally, it's often said that tequila is a perfectly balanced drink because it enlightens the senses by hitting all five of the major tasting notes, including sweet, sour, salty, bitter, and umami—sometimes referred to as savoriness.
When you're in the mood for a marg, you'll find that one is never too far away. The vast majority of restaurants have all the ingredients readily stocked at the bar including tequila, orange liqueur like triple sec, lime juice or sour mix, and ice to pour it over. Throw some salt on the rim and toss in a lime and you're in boozy business.
When it comes to chain restaurant margaritas, Applebee's recently revived Dollaritas have been garnering a great deal of attention. But, now that the famed drink is unavailable once again, as of Nov. 1, America will need to look elsewhere for its tequila fix. And, where better to turn than one of the nation's two most popular dine-in chains, Chili's and Texas Roadhouse?
Both chains have been serving up margaritas for decades, and each takes great pride in its own signature version of the classic concoction. But, which one has the better recipe for success? I visited both restaurants in order to find out.
Chili's Presidente Margarita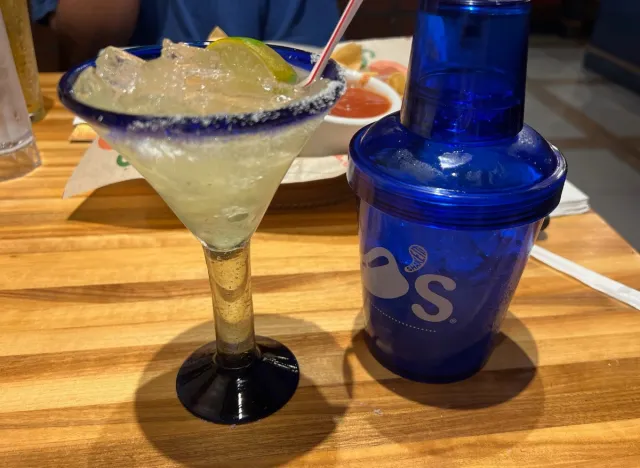 PER MARGARITA
: 240 calories, 0 g fat (0 g saturated fat), 1020 mg sodium, 24 g carbs (0 fiber, 2 g sugar), 20 g protein
Chili's is probably best known for its baby back ribs, thanks to the chain's infectious jingle. From The Office to Austin Powers: The Spy Who Shagged Me, American TV and movies are rife with references to the catchy tune. But, the popular grill and bar is also widely recognized for its multitude of Tex-Mex must-haves, including sizzling fajitas, shareable quesadillas, Santa Fe salads—and, of course, margaritas, to wash it all down. The tequila-based cocktail is so commonly ordered at the joint that the first thing you're likely to hear after a resounding, "Hi, welcome to Chili's," is the faint reverberation of a cocktail shaker. Each margarita at the chain comes expertly shaken by hand.
The popularity of Chili's margs is certainly bolstered by the sheer number of boozy options available. You can order a margarita with various brands, including Patron, Casamigos, Espolon, and more. Other spirits are also sometimes thrown into the mix, such as vodka, Hennessy, and rum. The latter is found in the chain's Grand Coconut and Tiki Beach Party 'Ritas. Various flavored margaritas also circle through, and throughout 2023, the restaurant has debuted a new specialty margarita each month. The current October Trick or Treat-A-Rita combines Lunazul Blanco Tequila, Tito's Vodka, and fresh sour and strawberry purée, and it comes topped with classic frozen margarita and Halloween-shaped candies.
As I sat down to dine at my local chain, these ample selections were beguiling. But, I kept my eye on what I came for, the chain's top-selling drink: the Presidente Margarita. It's a permanent fixture at the bar, and legend has it that each one is shaken 25 times before it reaches your table.
The ingredient that originally made this margarita special was Presidente Brandy, hence the drink's name. That particular brand has since been replaced with E&J Brandy in the recipe—a cheaper alternative–but the name has stuck. A combination of Lunazul Reposado Tequila and Citrónge Extra Fine Orange Liqueur does the rest, and you can also crank it up a notch by adding mango, strawberry, or wildberry flavoring for a $1 upcharge.
I paid $9 for a Classic Presidente Margarita. Compared to other specialty or fruity margaritas, it's often the cheapest choice, with the exception of the limited-time monthly offering. I additionally splurged on the Wildberry version to compare. And, for some sustenance, tacked on an order of chips and salsa (which I was sad to learn are no longer complimentary) and the Trio Dipper with Southwest Egg Rolls, Big Mouth Hamburger Bites, and Boneless Buffalo Wings.
The Look: A+ presentation. After serving the Presidente Margarita for nearly 30 years, Chili's has perfected the experience. My server did, in fact, approach the table shaking a blue plastic container in her right hand and carrying a standard blue-rimmed margarita glass garnished with salt and a lime wedge in her left. As she poured, the liquid was an auspicious shade of light yellow-green. I was able to fill my glass twice more, but given the excessive amount of ice which filled both my glass and the shaker, the total amount of margarita was fairly scanty.
As for the new Wildberry flavor, the display was almost identical. However, the drink came in a peachy pink hue with small bits of berry floating throughout.
The Taste: Smooth but diluted. That familiar flavor of tequila didn't stick out to me, and just a tiny bit of sweetness from the brandy was exposed. Maybe the overload of ice watered it down, or perhaps a stingy bartender was working that day, but it was not a stiff drink by any means. The citrus notes were appealing, however, and it was sweet without tasting syrupy (with the exception of the last swig, which consisted of settled juices). It also paired effortlessly with all of my food–even the wings doused in Buffalo sauce, which I feared would clash with the tequila. Overall, I would describe this as the perfect gateway margarita, which I would recommend to someone not quite ready for more intense flavors or a higher alcohol content.6254a4d1642c605c54bf1cab17d50f1e
The Wildberry tasted essentially like a pure strawberry margarita and offered an extra kick of sugar (almost double the grams found in the classic). However, it didn't come off like artificial sweetener, and had a surprisingly fresh berry aroma and essence instead.
Texas Roadhouse House Rocks Margarita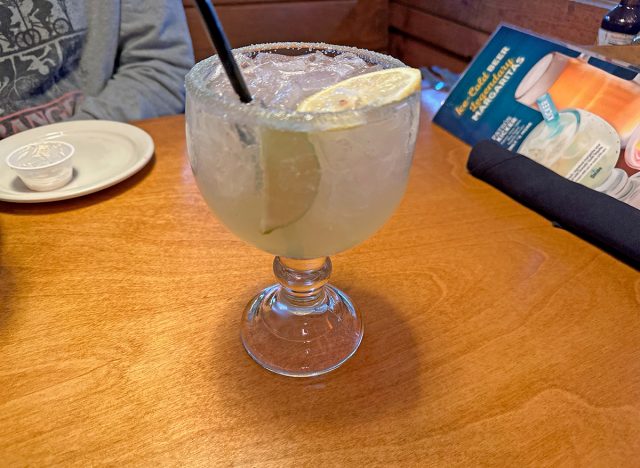 PER 18-OUNCE MARGARITA
: 270 calories, 0 g fat (0 g saturated fat), 0 mg sodium, 26 g carbs (0 fiber, 23 g sugar), 0 g protein
Texas Roadhouse is not the type of restaurant I would typically peg as a strong contender when it comes to cocktails. I tend to think that beer pairs better with juicy steaks and American food. But, the chain's "legendary margaritas" stand to prove me wrong and have gained plenty of loyal and thirsty followers over the years.
When it comes to the selection and makeup of its margaritas, the steakhouse dances to the beat of its own drum. First off, almost every one on the menu features the chain's signature margarita sour mix and Dorado Gold Tequila. These are the only two ingredients used in its House Margarita and all other variations stem from this original. The sour mix itself is made from 19% Persian lime juice and blue agave from the Jalisco region of Mexico, which is then blended with orange oils. And, the restaurant doesn't play hard to get with this formula. Bottles of the mix–in one-liter or 1.75-liter sizes–are available to buy online, so you can whip up your own drinks at home.
Additionally, Texas Roadhouse places a strong emphasis on frozen margaritas. In fact, during my trip to the southwestern-themed restaurant, I found that half of all the margaritas listed on the menu were blended. These included a Mango Margarita, Sangria Margarita, and a Fruity Margarita which comes in either strawberry or raspberry flavor.
Alternatively, the highlighted on-the-rocks margs were a Hurricane and Jamaican Cowboy Margarita—both tropical-inspired with pineapple and rum—as well as the Legend Margarita which combines three different tequilas: Patrón Silver, Patrón Reposado, and Patrón Añejo with Grand Marnier.
I was surprised to see that the House Margarita—which comes either on the rocks or frozen—was not even listed on the menu. But, I went ahead and ordered the 18-ounce rocks version anyway for $7.50 (after checking with the server that it was indeed available). I resisted the urge to add a $2 to $3 "kicker" of extra tequila to my drink. But, I did ask for a combo appetizer of Rattlesnake Bites, Tater Skins, and Boneless Buffalo Wings to round out the visit and have something to munch on in addition to fresh-baked rolls. I later tacked on the Legend Margarita to my order for $13.00 for good measure.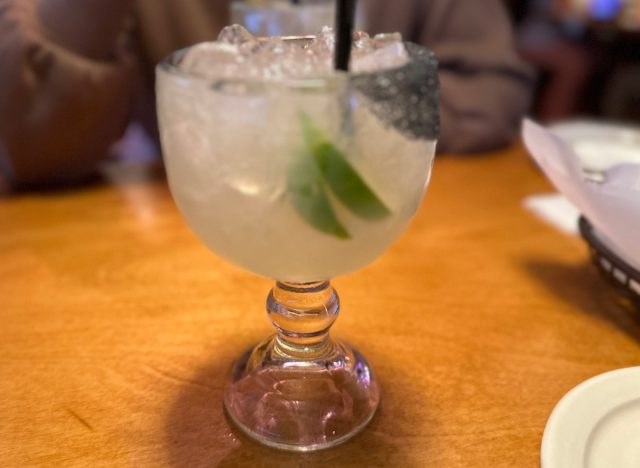 The Look: Jumbo and no nonsense. The restaurant's margaritas full live up to their Texas-sized billing, served in one of those glass chalices that can be difficult to lift when filled to the brim. It was also brought to the table without any kind of production. The rim donned an adequate coating of sugar, per my request, and both a lime and a lemon were added as embellishments. The color was a very faint shade of light green and ice was plentiful, which led me to believe the flavor may also be faint.
My second drink, the Legend Margarita, could have been the House Margarita's twin if it weren't for the black lava salt covering half of the rim, and an extra lime in place of the lemon.
The Taste: Citrusy with a noticeable shot of booze. That bite and earthiness of tequila are definitely present and one of the first things I noticed when I sipped up the green liquid through my straw. It's the perfect liquor-to-mixer ratio in my opinion, but I think that extra "kicker" shot would have pushed it over the edge. Without Triple Sec, the orange flavor comes just from the oils incorporated into the mix. This leaves mostly just the lime to provide those citrus notes, so the drink dissolves into somewhat of a bitter aftertaste. The sweetness isn't overbearing. But, the margarita interestingly tasted more sugary after a couple mouthfuls of food. I will also say that while the cocktail seemed to pair just fine with wings, the jalapeño-laden Rattlesnake Bites, and the rolls (everything goes with these anyway), something about the bacon, cheese, and sour cream of the potato skins just didn't seem to fuse well.
The Legend Margarita offered more in the way of complexity, with a mix of different kinds of Patron tequila. But, the flavor of the marg at its core was comparable to the House version, and it didn't necessarily taste stronger or smoother. I would likely just opt for the house version in the future and save the extra $5.50.
The Verdict
Neither restaurant is a slouch in the drinks department, and both have concocted a margarita that is surprisingly enjoyable for a chain restaurant cocktail. Chili's does a better job diversifying its menu with different tequila brands and more experimental flavor profiles. But, when it comes down to the signature margarita at both joints, Texas Roadhouse has my vote.
A prominent taste of tequila is a critical factor for me in a margarita, and the Texas Roadhouse House Rocks Margarita delivers. While both contenders went heavy on the ice, I also feel that Texas Roadhouse's behemoth glass offered a higher volume of liquid overall. And, paying $1.50 less for generally more margarita, more tequila, but less frills, seems like a no-brainer to me.