15 Easy Thanksgiving Appetizers To Add To Your Holiday Menu
Start your feast off right with these easy and delicious Thanksgiving appetizers.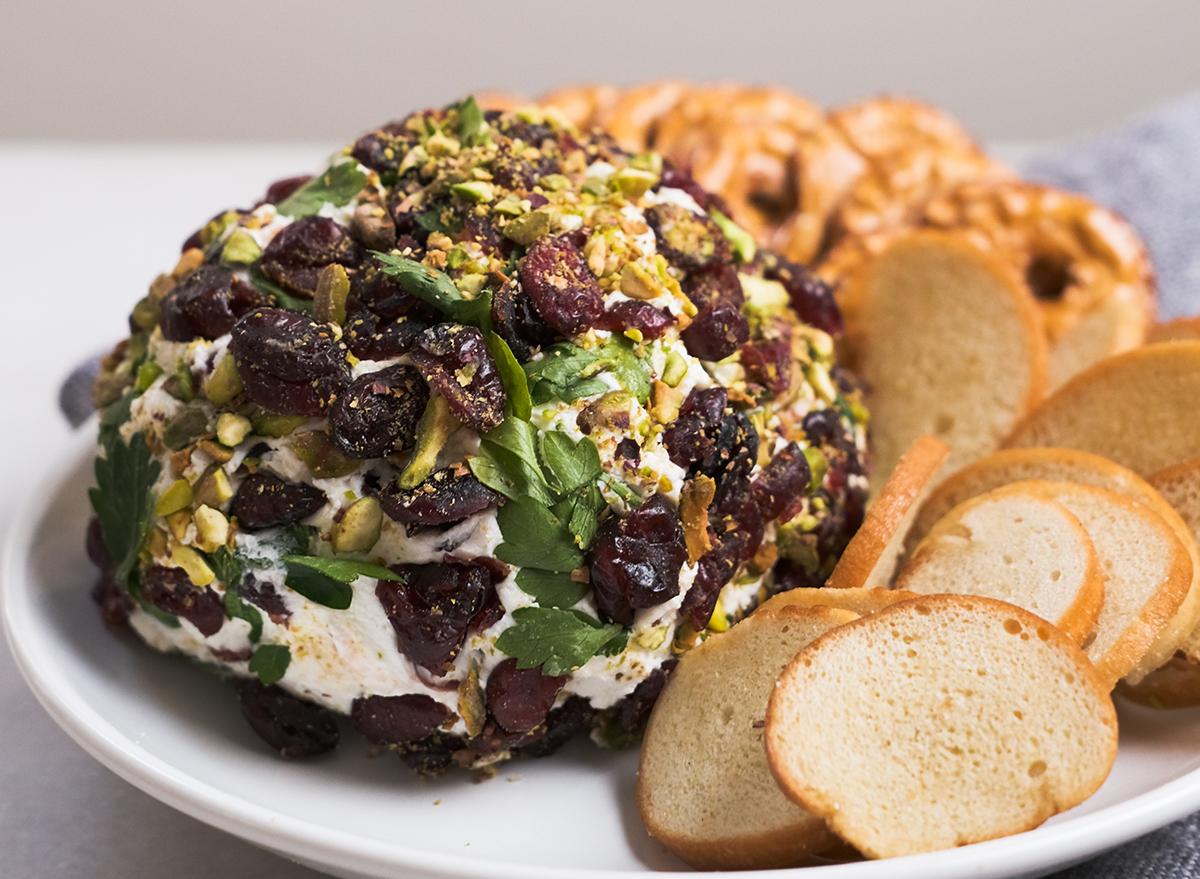 Thanksgiving is right around the corner, and if you're the one hosting this year, you're probably scrambling to lock your holiday menu in place so that you can begin the shopping and prep work. Most people have a full-on feast for the Thanksgiving holiday, which means they have to prepare a menu that consists of the main course—usually turkey or ham (or both)—along with sides, dessert, and drinks like wine, cocktails, or coffee. And if you're really wanting to go above and beyond this season, you can add in a Thanksgiving appetizer or two as well.
The perfect appetizer for your Thanksgiving feast won't be too heavy or rich and will be light enough to help guests save room for the main course. It's also ideal to find appetizers that are quick and easy to make, especially ones that don't require any cooking or baking since you'll already have your hands—and oven—full with the other parts of the dinner.
Read on for some ideas for easy Thanksgiving appetizers that will please a small group or large crowd. Then check out these 25 Thanksgiving Dessert Recipes That Your Guests Will Gobble Up.
Roasted nuts
One of the keys to a good Thanksgiving appetizer is making sure it's light enough so that your guests won't get too full before dinner begins. Taking mixed nuts and adding spices like cayenne, chili powder, or cinnamon can turn a simple food into a crowd-pleasing appetizer.
Try our recipe for Spice Roasted Nuts.
Deviled eggs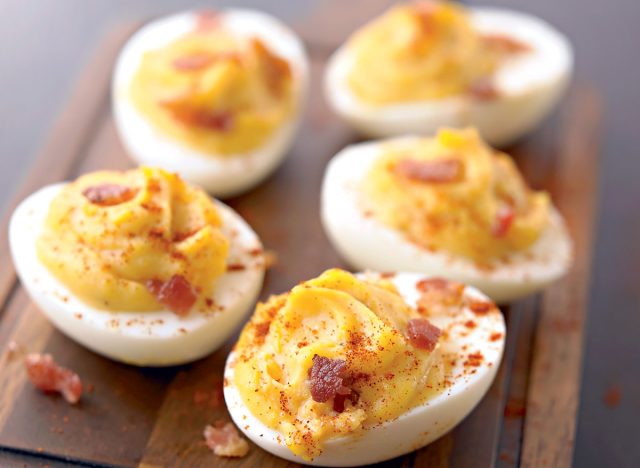 Deviled eggs are a classic appetizer, and they're easy enough to make that they won't add stress to your Thanksgiving meal plan. We also love that deviled eggs are so versatile, so you can add a variety of different flavor combinations. For instance, you can try a combo like bacon, chipotle pepper, and cayenne for flavors that will have your guests craving more.
Get our recipe for Smoky Deviled Eggs with Bacon.
Hummus and pita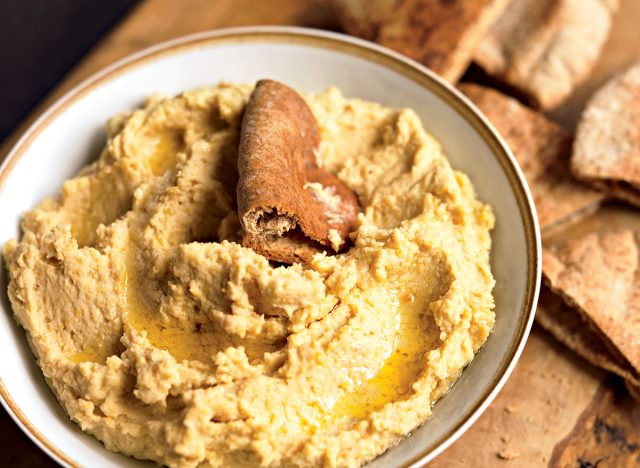 A great way to impress your guests with very little effort at all is to throw together some of your own hummus. Yes, you can buy the store-bought kind, but you can't beat the taste of hummus that is homemade. Serve with some pita or vegetables to
Get our recipe for Simple Homemade Hummus.
Cheese ball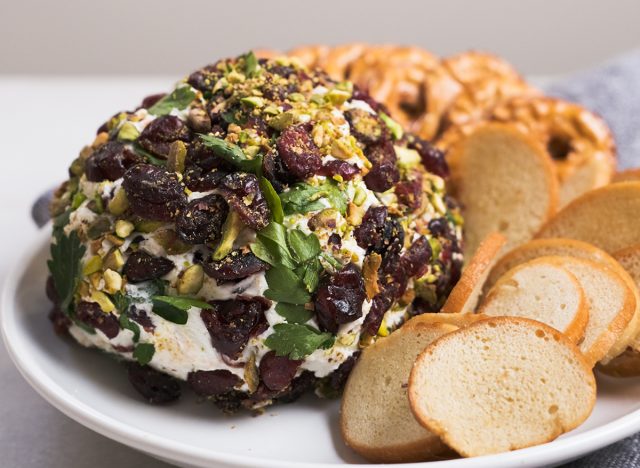 Cheese balls make for the perfect appetizer when you're overwhelmed with planning an elaborate menu because they're easy to make and don't require any cooking—which means you can save your oven for the turkey. Our Pistachio and Cranberry Cheese Ball calls for only five ingredients: Pistachios, cranberries, parsley, cream cheese, and goat cheese.
Get our recipe for Pistachio and Cranberry Cheese Ball.
Salad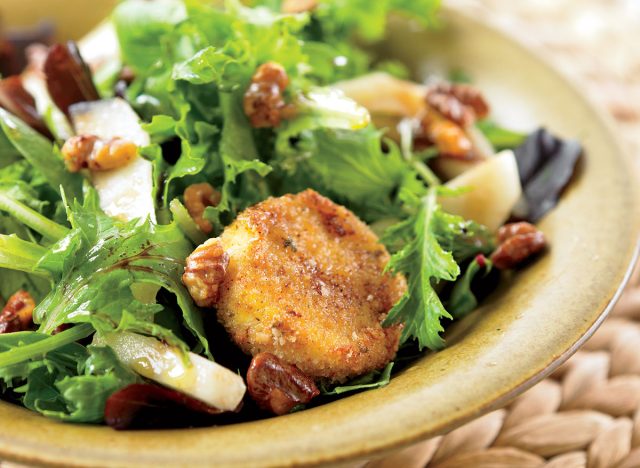 When you need to make an appetizer for a group, you can never go wrong with preparing a big bowl of salad. For a salad that goes well with a holiday meal, try ingredients like fig, prosciutto, pear, and goat cheese.
Try our recipe for Fig, Prosciutto & Goat Cheese Salad, or our Warm Goat Cheese Salad.
Stuffed Dates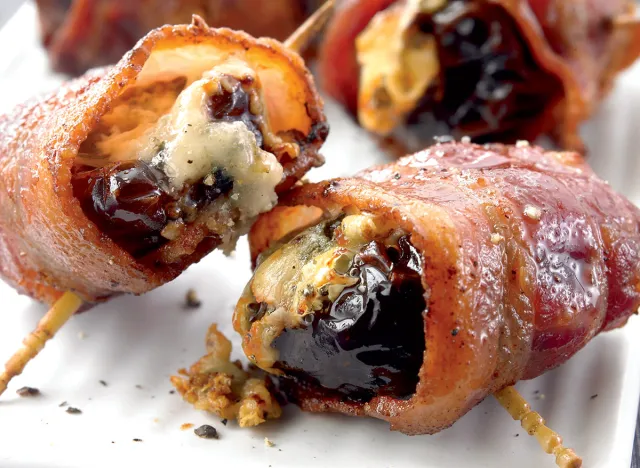 Everyone loves a savory and sweet combo, and using dates for your appetizer is the perfect way to achieve this. You can find a variety of stuffed date recipes, and an example of one we love is our Bacon and Blue Cheese Stuffed Dates. Another benefit of these aside from their bold flavor is how small they are, which means guests won't be too full before the holiday feast.
Get our recipe for Bacon and Blue Cheese Stuffed Dates.
Brie cheese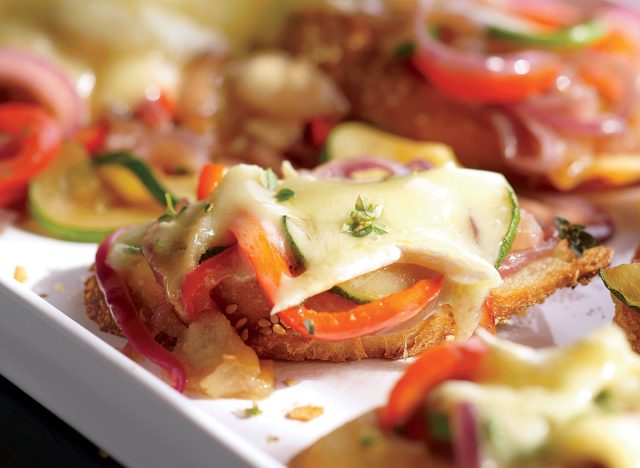 Brie is a great cheese for many different types of appetizer dishes because it has a strong flavor that stands well on its own, but it can also be paired with a multitude of different sweet and savory foods. For instance, you can bake a wedge of brie with cranberries, honey, and rosemary, or you can try our easy Melted Brie and Vegetables recipe for a more savory choice.
Get our recipe for Melted Brie and Vegetables.
Stuffed jalapeños
If you love the taste of jalapeños but don't want their full spice potential, try making stuffed jalapeños like our recipe that calls for cheese and chorizo. When you scoop out all of the seeds, you'll get rid of the majority of the heat but will maintain all the flavor.6254a4d1642c605c54bf1cab17d50f1e
Get our recipe for Cheese and Chorizo Stuffed Jalapeños.
Bruschetta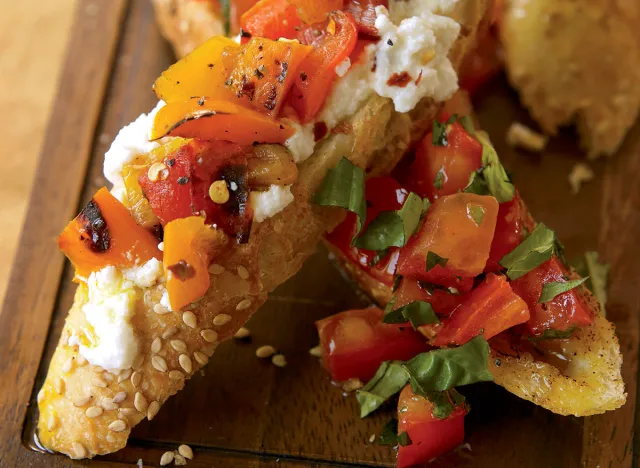 A classic bruschetta usually consists of toasted bread, tomato, basil, and garlic, and this light snack can make for the perfect appetizer for your Thanksgiving meal. You can stick to the classic recipe, or you can try a twist using pepperonata—a mix of tomatoes, bell peppers, and garlic.
Get our recipe for Bruschetta, Two Ways.
Spinach artichoke dip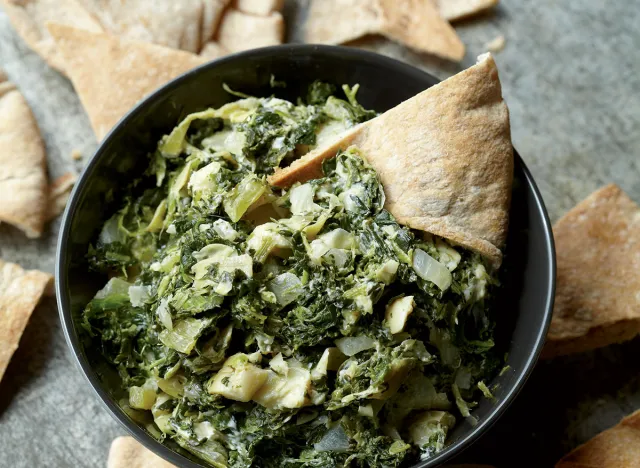 Looking for an easy holiday appetizer that your guests can munch on without getting overly full? Try a spinach artichoke dip. They are so easy to make and only require a few ingredients, or you can buy one from the store to make it even easier.
Get our recipe for Spinach Artichoke Dip.
Charcuterie board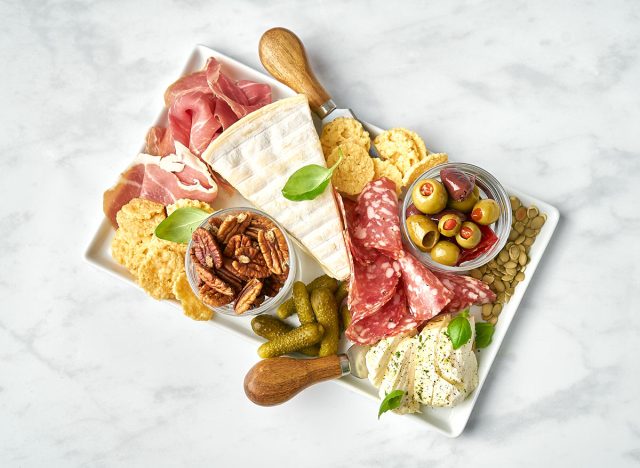 A charcuterie board is the way to go when you need an easy appetizer for your Thanksgiving feast. It's always a crowd-pleaser, and it gives you the freedom to create it however you like. Add your favorite cheeses, meat, fruit, and vegetables, and have fun with crafting a beautiful board.
Get our recipe for Keto Charcuterie Board, or try the Thanksgiving Cheese Board from What's Gabby Cooking.
Shrimp cocktail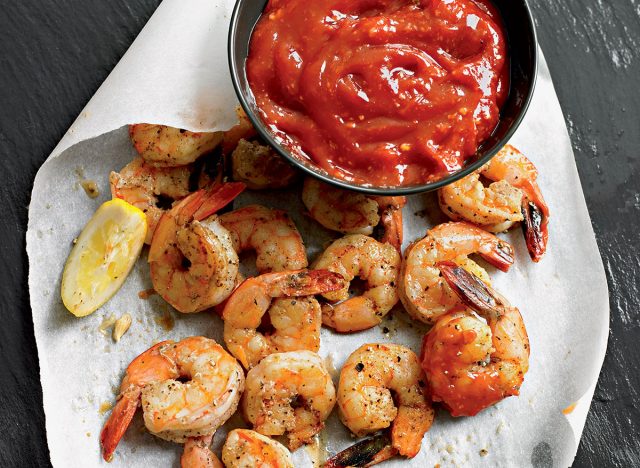 A simple shrimp cocktail makes for an ideal appetizer to serve before the big Thanksgiving dinner feast because it's light and won't leave your guests feeling too full before the main course, and it requires practically zero effort to make.
Try our recipe for Shrimp Cocktail.
Queso
Queso isn't necessarily the most classic Thanksgiving appetizer to serve, but this flavorful starter won't disappoint. Serve with chips tortilla chips and watch as your guests hover over this dip for seconds and thirds.
Get our recipe for Healthy Queso Fundido.
Soup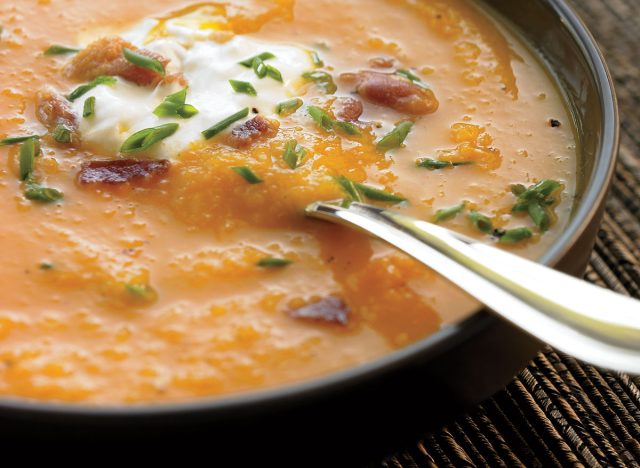 Starting your meal off with soup can help prepare everyone's palate for the main dinner. For an autumn-inspired soup that will go well with your Thanksgiving meal, try a butternut squash soup or roasted pumpkin.
Get our recipe for Butternut Squash Soup.
7-Layer Dip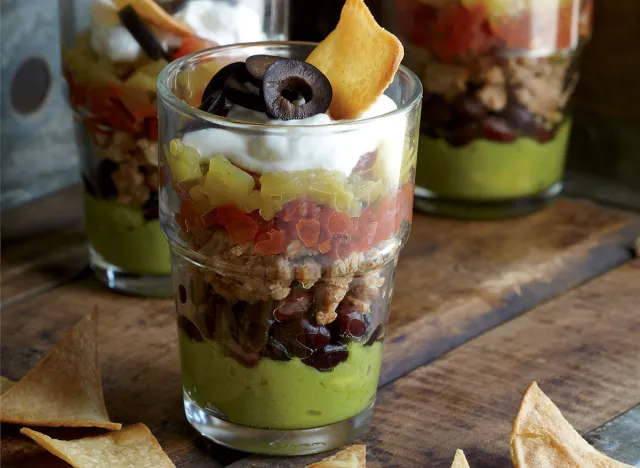 Chances are you've heard of a 7-layer dip, and have maybe even prepared one yourself. But as you know, this dip can quickly rack up the calories. For a lighter alternative to serve your guests this holiday season, try our recipe for a Healthy 7-Layer Dip.
Get our recipe for Healthy 7-Layer Dip.