The Top Swap at Jack in the Box
Jack in the Box's menu has come a long way in the past few years, but a few major changes still need to be made: banishing anything in a bowl or burrito, offering six burgers with fewer than than 500 calories, and eliminating all partially hydrogenated oils once and for all. Jack might have taken the harmful oils out of the fryer, but partially hydrogenated oils still can be found all over the ingredients lists, including in the sirloin beef patty seasoning.
Eat This
Jack's Spicy Chicken
| | |
| --- | --- |
| Calories | 530 |
| Fat | 20 g |
| Saturated fat | 3 g |
| Sodium | 820 mg |
Not That!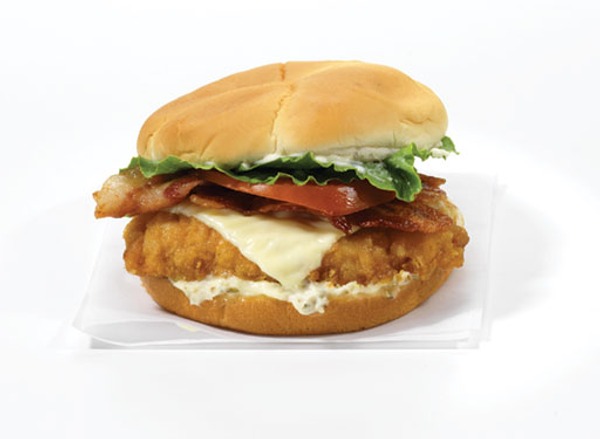 Homestyle Ranch Chicken Club
| | |
| --- | --- |
| Calories | 710 |
| Fat | 36 g |
| Saturated fat | 9 g |
| Sodium | 1,910 mg |
Seems that nearly every major fast-food player needs a spicy chicken sandwich on its menu. The Jack in the Box menu version is surprisingly gentle on the waistline, especially for a place known for producing some of the greasiest grub in the business. Plus, we love that it has fewer than 1,000 milligrams of sodium—a rarity in the realm of fast-food chicken. The core elements of the Homestyle Ranch Chicken Club are the same as they are in the sandwich to your left— spicy fried chicken topped with a mayo-based sauce—but the superfluous additions of cheese, bacon, and butter-doused toast result in 180 extra calories and nearly double the fat. Not. Worth. It.
ALL NEW FOR 2015! Enjoy All Your Favorite Foods—And Watch the Pounds Disappear! Click here to buy the new Eat This, Not That! book, the authoritative guide to all your favorite restaurant and supermarket foods.
Inspired by
The New York Times
best-selling book series,
Eat This, Not That!
is a brand that's comprised of an award-winning team of journalists and board-certified experts, doctors, nutritionists, chefs, personal trainers, and dietitians who work together to bring you accurate, timely, informative, and actionable content on food, nutrition, dieting, weight loss, health, wellness, and more.
Read more