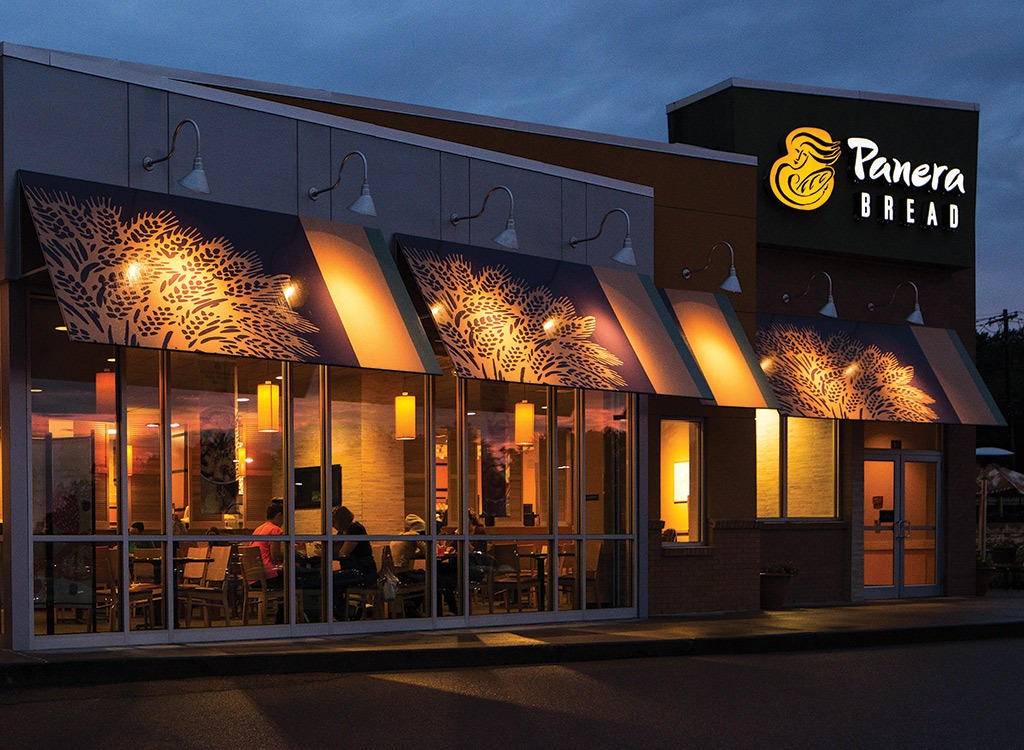 They log hours at the gym working on their fitness and spend the remainder of their day helping their clients lose weight and build muscle. That's right, we're talking about personal trainers.
Personal trainers are extremely active and have great bodies to show for it—but they also have jam-packed schedules, which means eating out from time to time is unavoidable. And just like their clients who are looking to trim down, the last thing a trainer wants to do is blow all of their hard work on a diet-sabotaging take-out meal. With that in mind, we decided to check in with some of the nation's top fitness experts to find out what they eat at Panera.
To our delight, we discovered that a dry beds of greens wasn't their go-to order. All of their suggested meals are hearty, packed with flavor and ideal for an active, health-conscious person on-the-go. Next time you find yourself at the fast-casual chain, try one of the nutritious dishes below. They won't disappoint your taste buds—or throw your diet off track.
Half a Roasted Turkey and Avocado BLT Sandwich + Apple
"If you aren't craving a salad, this sandwich is a healthy alternative option. A half-size portion is relatively low in sodium, has just 250 calories and packs 19 grams of protein, which will keep hunger and cravings at bay long after lunch is over. Adding an apple to this meal will help you reach your daily fruit quota and ensures you'll get enough fiber to stay satiated." — Lori-Ann Marchese, fitness celebrity and owner of Body Construct LLC
Power Chicken Hummus Bowl
"Filled with chicken, hummus, spinach, cucumbers, tomatoes, and onions, The Power Chicken Hummus Bowl provides the perfect combination of cholesterol-lowering fiber and nutrients to keep your body running strong and satisfied throughout the day. Plus, the zesty cilantro and fresh-squeezed lemon add a refreshing burst of flavor to each bite." — Jay Cardiello, NSCA, personal trainer to the stars
Strawberry Poppyseed Chicken Salad
Though it's not always easy, it's still possible to eat a healthy meal when dining out. To ensure I'm ordering a nutritious dish, I'll check the menu online before I go and look for something that's low in calories and high in protein. At Panera, The Strawberry Poppyseed Chicken Salad fits the bill. It's 350 calories and has 29 grams of metabolism-revving protein. Opt for the dressing on the side and choose an apple as your side dish instead of the bread or chips." — Jess Horton, ACE Certified Personal Trainer at Jim White Fitness and Nutrition Studios6254a4d1642c605c54bf1cab17d50f1e
"With just 350 calories, The Strawberry Poppyseed Chicken Salad is one of the lowest calorie meals on Panera's menu—and also one the lowest sodium items. The dish provides nutrient-packed vegetables and fruits and a generous serving of protein, a nutrient that's been shown to aid post-workout recovery." — Lori-Ann Marchese, fitness celebrity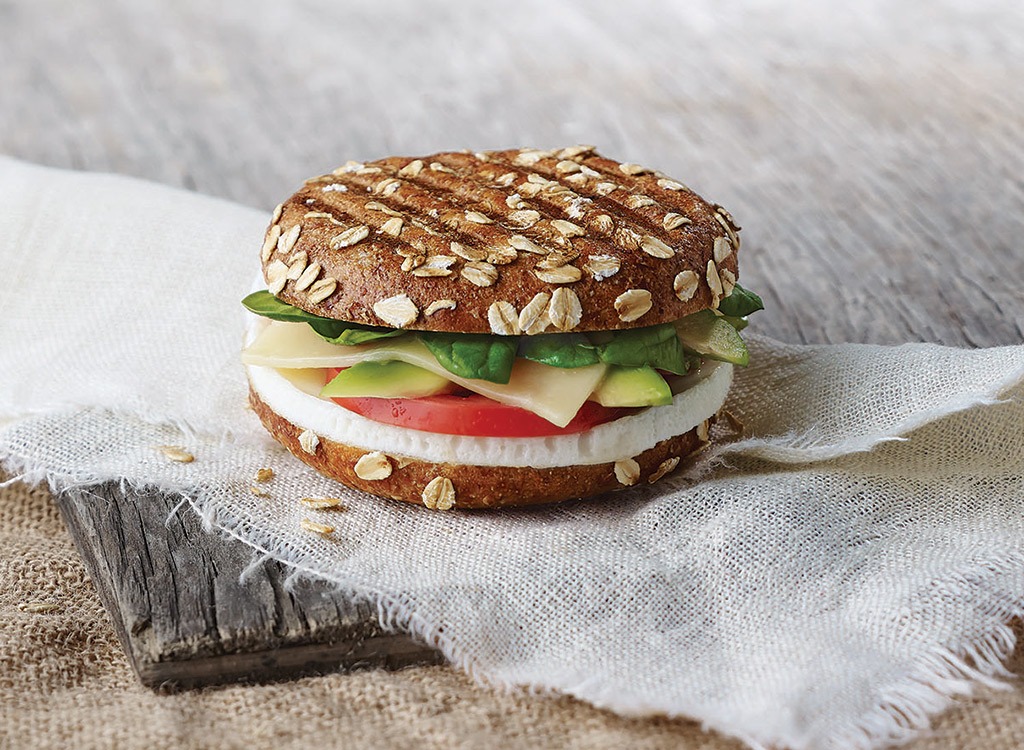 Avocado, Egg White & Spinach Breakfast Power Sandwich
"This 400-calorie breakfast is a healthy way to start your morning. The Sprouted Grain Bagel Flat sandwich is 100 percent whole wheat, which provides sustained energy to fuel your workouts. Plus, you get 12 grams of protein from the egg whites, which aids muscle growth and wards off hunger. The avocado is brimming with hunger-quelling monounsaturated fat and the spinach serves up vitamins A and C, a nutrient that fights off stress and fat storage." — Jim White RD, ACSM HFS, Owner of Jim White Fitness and Nutrition Studios
"The Fuji Apple Chicken Salad is a melting pot of tangy flavor and nutrition. Packed with 32 grams of muscle-fueling protein and six grams of filling fiber, it's the ideal salad for fitness buffs looking to refuel their tired muscles and tame their post-workout appetite. Instead of drowning this salad with dressing, ask for it on the side and use the fork-dip method of adding some flavor to every bite." — Jay Cardiello, NSCA, personal trainer to the stars
Half-Size Power Kale Chicken Caesar Salad
"When eating at Panera, I'll order the half-size Power Kale Caesar Salad with Chicken and a light drizzle of the Greek/Herb Vinaigrette Salad Dressing. The salad has just 185 calories, provides 21 grams of satiating protein and half of the day's vitamin A, a nutrient that helps maintain healthy skin, teeth and bones. For a side, I'll ask for an apple (80 calories) instead of the bread or chips. Thanks to this meal's high fiber content, I feel full without having to overload my tray with calories and fat." — Dr. Sean M. Wells, DPT, PT, OCS, ATC/L, CSCS Owner and PT, Naples Personal Training, LLC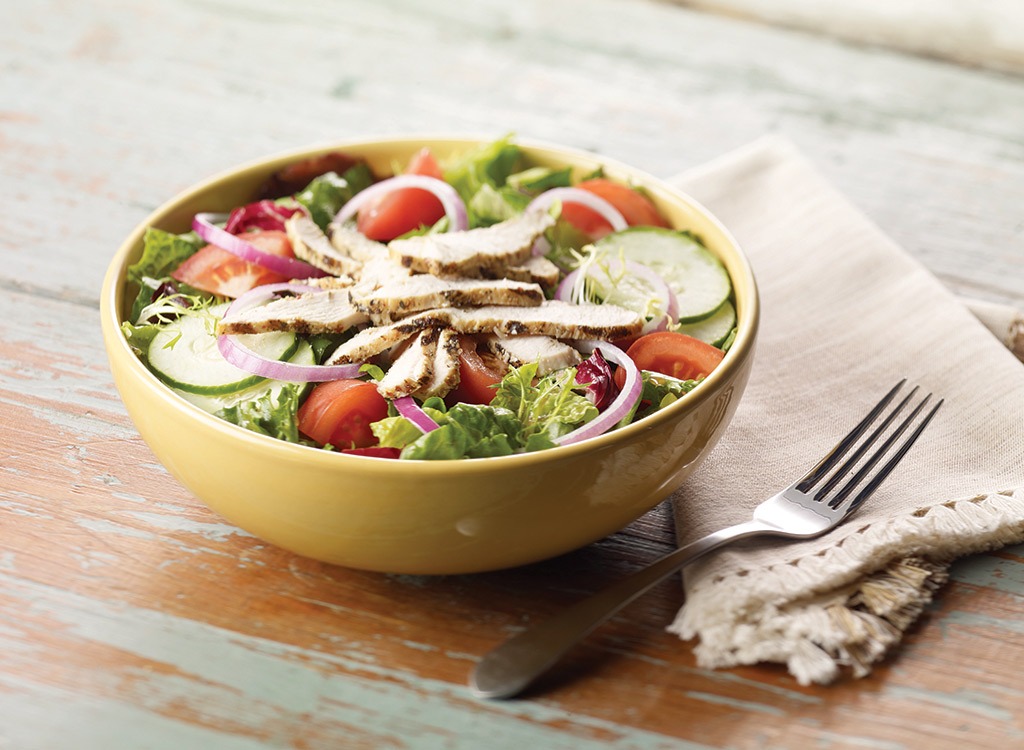 Classic Salad with Chicken
"At Panera, my go-to is the Classic Salad topped with chicken and balsamic vinaigrette. I like that it's close to something I would make in my own kitchen. With 300 calories and 27 grams of protein, it's a simple but satisfying dish that will help you stay on track with your meal plan." — Jess Horton, ACE Certified Personal Trainer
Half a Tuna Sandwich + Apple
"I love the tuna salad whole-wheat bread sandwich at Panera. It's not only delicious but also provides a robust 14 grams of muscle-building protein for just 260 calories, which is a hard nutrient ratio to beat in the world of fast-casual dining. And with just 550 milligrams of sodium, it won't send your blood pressure soaring. I'll often ask for an apple, too, to add more nutrients to my plate and make my meal more filling." — Dr. Sean M. Wells, DPT, PT, OCS, ATC/L, CSCS