10 Unexpected Home & Beauty Essentials You Should Always Buy at Trader Joe's
From beauty items to festive decor, the specialty grocer offers a lot more than mere consumables.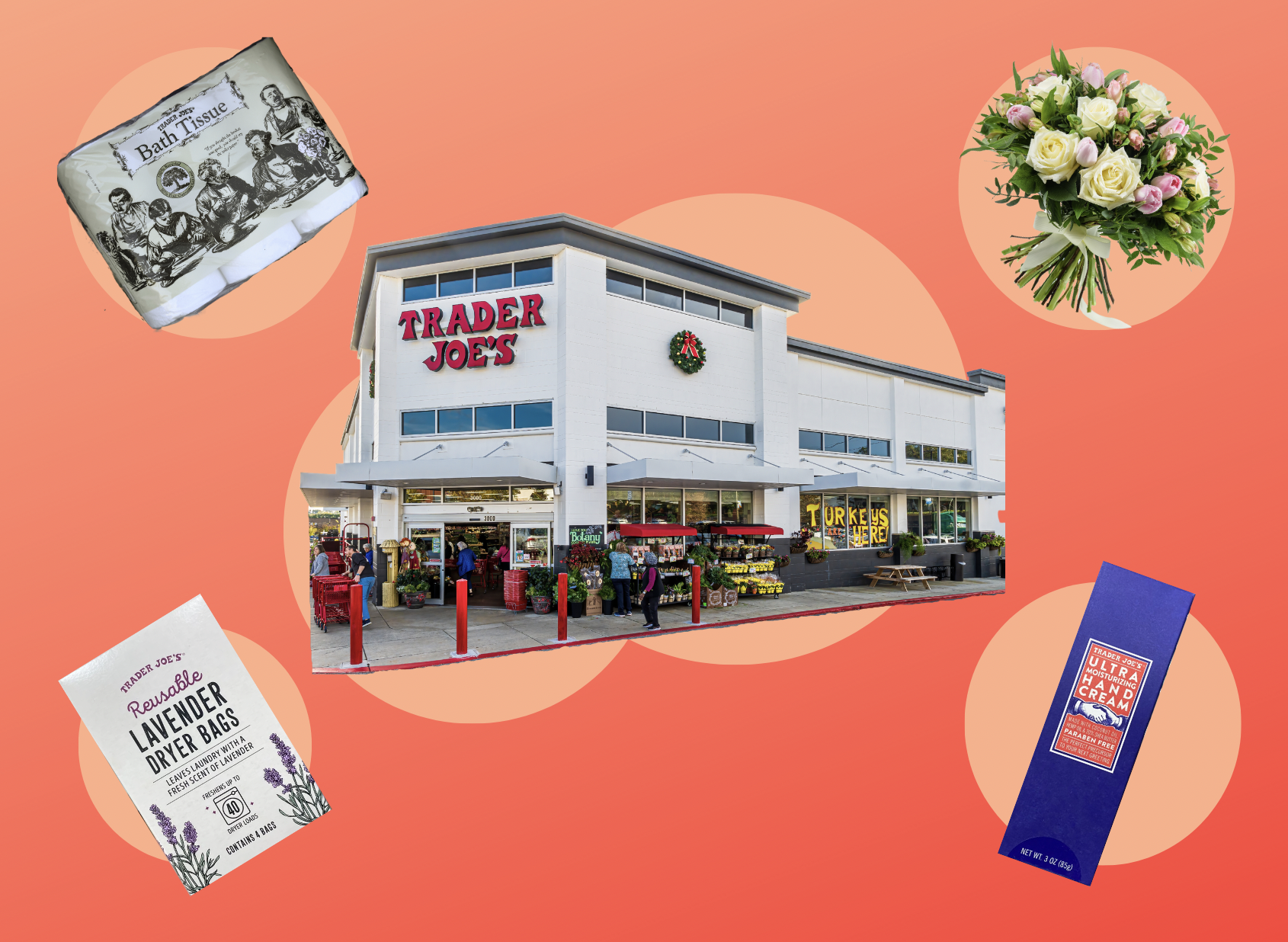 The product recommendations in this post are recommendations by the writer and/or expert(s) interviewed and do not contain affiliate links. Meaning: If you use these links to buy something, we will not earn a commission.
Trader Joe's gets a lot of attention for its much-hyped food items, and it's not really hard to see why. The retailer's shelves are packed with all sorts of snacks, frozen meals, and baked goods that are not only unique, but also frequently garner rave reviews. Customers are so passionate about Trader Joe's food items, in fact, that there's an active Reddit community that keeps tabs on what's available at the chain and informs fellow fans about any new or returning products.
But, even though food seems to dominate most Trader Joe's discussions, the grocer also sells a pretty sizable lineup of beauty, household, and other non-food items. Some of these items have developed their own passionate followings within the chain's fanbase, and in service to fellow customers, many Trader Joe's shoppers have been happy to share their favorite non-food picks online.
We've rounded up all the items that have the most rave reviews right now to help shoppers discern which products are worth their hard-earned dollars. So read on for 10 fan-favorite Trader Joe's items that aren't food!
Daily Facial Sunscreen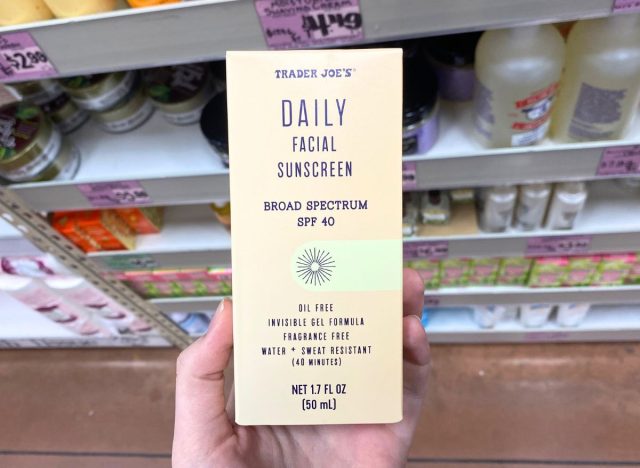 Trader Joe's Daily Facial Sunscreen is much more special than you might expect at first glance. Many a shopper has declared it a "dupe" for the popular Unseen Sunscreen from the Supergoop brand. But, while a 1.7-ounce tube of the Supergoop sunscreen sells for around $40, depending on the retailer, you can score a 1.7-ounce tube of the Trader Joe's version for about $8.99. 
"It's amazing!" one Trader Joe's shopper recently raved about the product on Reddit. "I thought they were discontinuing it so I bought like 20 of them over the course of a few days."
Flowers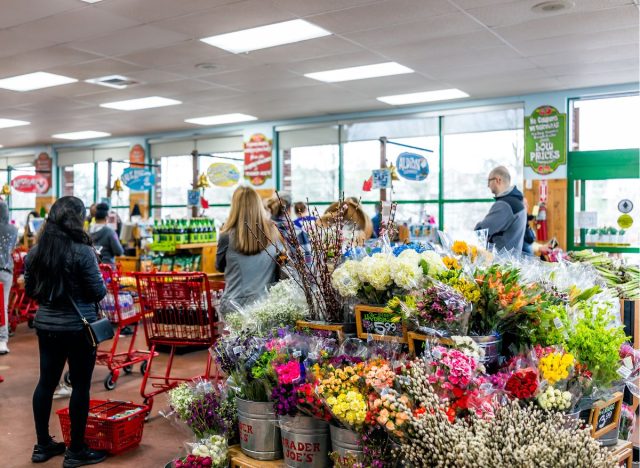 Upon stepping into any Trader Joe's store, customers are immediately greeted with colorful shelves of assorted fresh flowers and plants. All of that greenery has become quite legendary among Trader Joe's fans. Just take a few minutes to peruse the chain's dedicated page on Reddit, and you'll probably see photo after photo from shoppers showing off the plants or bouquets they've spotted at their local stores. They not only love the rotating selection that Trader Joe's offers, but also the price.
"You can make a great bouquet for less than $15!" one fan recently noted on Reddit.
Dry Shampoo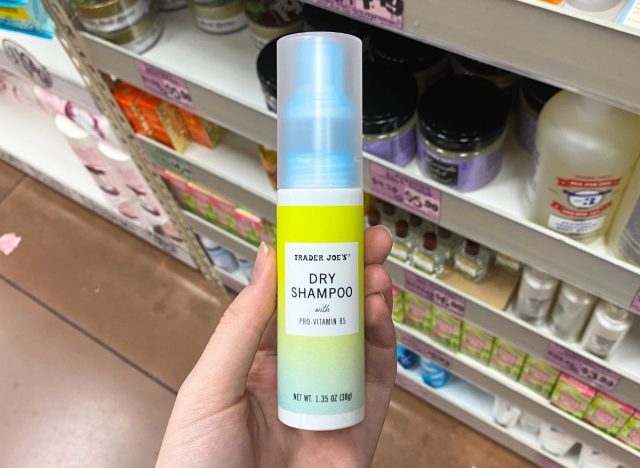 For many shoppers, Trader Joe's Dry Shampoo has become a go-to item. There are plenty of different versions of this beauty product on the market, but customers say they keep coming back to Trader Joe's version because of its superior quality. It comes in a non-aerosol bottle that's small enough to be easily transportable, so you can refresh your hair on the go.
"Their dry shampoo is the best!! I've tried over a dozen different kinds and TJ's [version] is so much better, plus it's in a non-aerosol bottle," a fan recently raved on Reddit.
Candles
Trader Joe's may not boast the same wide candle selection as other stores, but the retailer has still developed quite the following for the varieties that it does offer. 
Trader Joe's rotates its candle scents throughout the seasons, usually offering between one and a few different options at any given time. This past September, for example, the retailer brought back its popular Honeycrisp Apple Candle to help usher in the start of fall. Other seasonal scents include Peony Blossom, Cedar Balsam, and Vanilla Pumpkin. 
No matter which variety you get your hands on, each candle is made with a paraben-free, soy-wax blend and comes with a cotton wick that can burn for up to 20 hours.
"Their candles are the best. Good scents that aren't heavy and made from soy wax!" one fan wrote on Reddit.
Ultra Moisturizing Hand Cream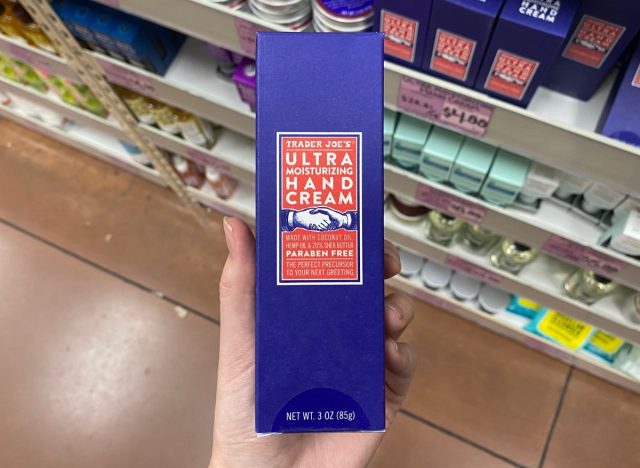 Winter is now fast approaching, and that means that dry, chilly weather is probably just around the corner as well. And when you need something to revive any parched or cracked skin during the coldest part of the year, Trader Joe's Ultra Moisturizing Hand Cream comes highly recommended by customers.
One fan even went so far as do describe it as "nuts good" in a recent Reddit post.
The cream is made from coconut oil, hemp seed oil, 20% pure shea butter, essential fatty acids, skin-friendly antioxidants, and several other nourishing ingredients, according to Trader Joe's. Customers can score portable three-ounce tubes for around $4.99 apiece right now.
Greeting cards
Out of all the popular beauty and household items on this list, Trader Joe's greeting cards seem to have some of the most passionate fans.6254a4d1642c605c54bf1cab17d50f1e
Customers adore the cards for two main reasons. For one, they're super affordable at just 99 cents apiece. Secondly, they also think the designs are really unique and pleasing. Fans love to stock up on these colorful, giftable cards to distribute to friends and family as needed.
"$1 for a card! Literally cannot beat it! And [they're] so cute, I've even framed a few and used them as decor," a fan wrote on Reddit.
Bath Tissue
Not all toilet paper is created equally, but Trader Joe's fans say that the retailer's Bath Tissue is a step above the rest. Available in both basic and extra soft varieties, customers say they love the product because it's soft and doesn't release a ton of dust particles into the air when they tear it.
"It's most definitely my preferred brand for the item," a fan noted on Reddit recently.
Reusable Lavender Dryer Bags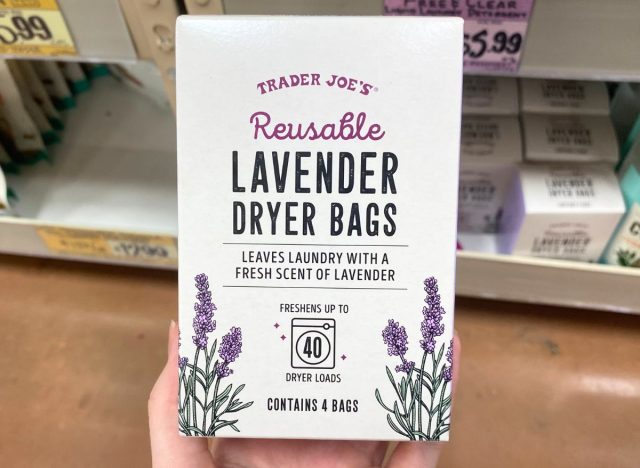 While laundry supplies may not seem all that special or exciting at first glance, Trader Joe's Lavender Dryer Bags have no shortage of diehard fans. Customers can simply toss one of these bags into their dryer to infuse their clean laundry with a lavender scent. 
"Lavender dryer bags leave linens smelling so good!" a fan shared on Reddit recently.
The best part is that each $4.49 package comes with four bags, all of which can be used for five to 10 dryer cycles.
Felted Wool Trivets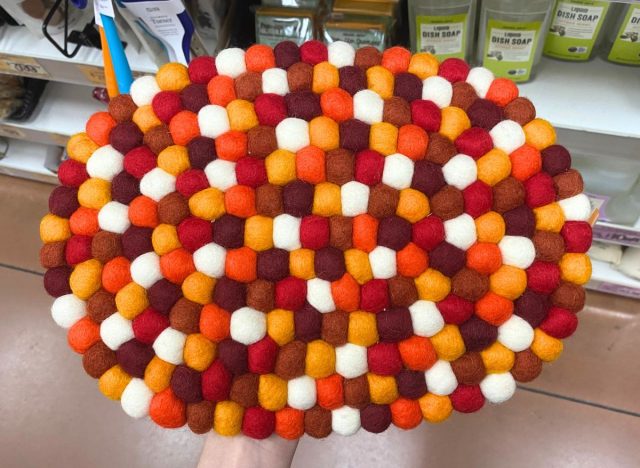 Trader Joe's doesn't sell your average trivets. While the household item is often made from cork, wood, or silicon, Trader Joe's version is crafted from felted balls of wool that are hand-dyed and stitched together into a colorful banner. You can use these functionally to guard your tables or counters from hot pans, or simply display them how you please.
"It works with just about any decor and is so happy looking," a fan wrote of Trader Joe's trivets on Reddit recently.
Honey Mango Shave Cream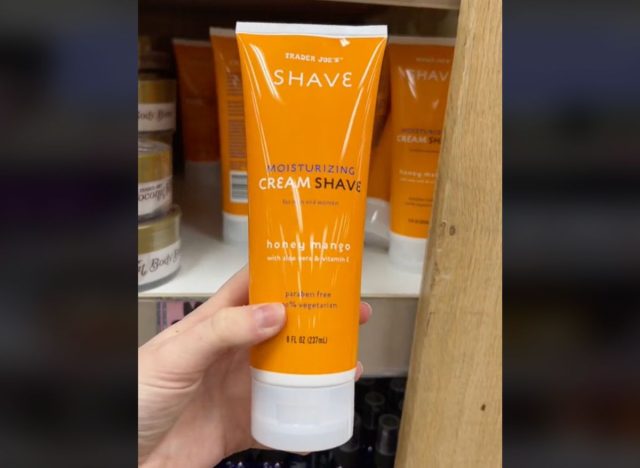 There are plenty of different shaving creams available to consumers nowadays, but some Trader Joe's customers swear that the retailer's Honey Mango Shave Cream is the best they've ever tried.
"The shaving cream is by far the best shaving cream I've ever used. And I don't even mind the scent even though I don't usually care for citrusy scents," a customer wrote on Reddit recently.
The product is a cream-based, non-foaming shave cream that includes aloe vera and vitamin E. And the best part is that it'll only run you about $4.49 for an eight-ounce tube.
Zoe Strozewski
Zoe Strozewski is a News Writer for Eat This, Not That! A Chicago native who now lives in New Jersey, she graduated from Kean University in 2020 with a bachelor's degree in journalism.
Read more about Zoe