I Tried 10 Trader Joe's Frozen Meals & One Entrée Tops Them All
The specialty grocer has long been a hub for fan-favorite frozen meals, but which one tastes the best?
The product recommendations in this post are recommendations by the writer and/or expert(s) interviewed and do not contain affiliate links. Meaning: If you use these links to buy something, we will not earn a commission.
Frozen meals have been around since the 1950s, but for much of that history, they have served as a symbol of sorrow. Whenever a character in a retro television show was down on their luck, or their partner wasn't home to cook dinner, the same sad meal would appear in that character's lap: the dreaded TV dinner.
What started as leftover turkey, lumpy mashed potatoes, and peas, served in an oven-ready aluminum tray, has evolved into a truly delicious meal for the whole family, and a huge part of that transformation is the selection at Trader Joe's. Thanks to Joe and his wide, diverse selections, the TV dinner is no longer the official flag of the sad sack. It's an accessible and easy way to not only save money on takeout, but consistently enjoy high-quality meals right at home. 
Are you a busy college student? A mom juggling too many soccer practices to cook dinner? Or, maybe you're an aspiring food journalist who's just kind of lazy. In any event, thanks to the Trader Joe's freezer aisle, all of us can have a well-above-average meal right out of that cold box. 
I've tried many different frozen meals at Trader Joe's over the years, and I'm here to break down what I think are the best products the freezer aisle has to offer. 
Every item has been cooked according to the directions on its packaging. Each will be evaluated by taste, as well as appearance and preparation method. So, it has to taste good, look good, and be easy to cook to win. Let's dig in!
Mini Cheeseburgers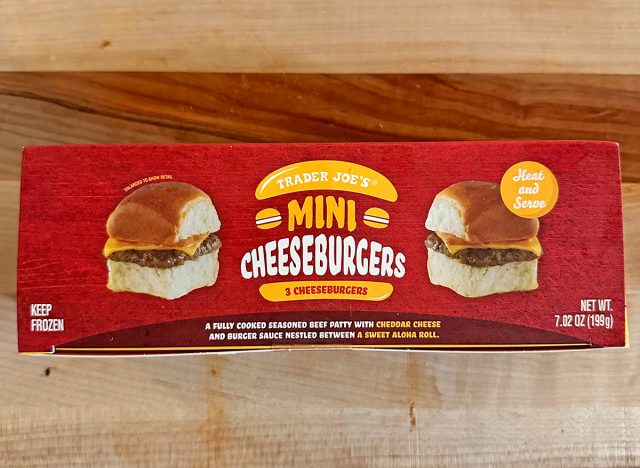 Per Serving (1 burger)
: 190 calories, 10 g fat (3.5 g saturated fat), 250 mg sodium, 19 g carbs (<1 g fiber, 6 g sugar), 8 g protein
An important thing to remember is that all frozen burgers objectively stink. My reason for including this Trader Joe's product is not the exceptional taste, but the fact that these mini cheeseburgers are miles better than any other frozen burger on the market. To be clear: this isn't a restaurant-quality burger. This isn't even a fast-food quality burger. For $4.49, you can get three of these sliders for less than a Big Mac eal, but I can't say I wouldn't rather have a Big Mac.
The Prep: You can either put these in the oven at 350 for 25 minutes, or pop them in the microwave for two minutes. The oven is definitely delivering a far superior product than the microwave, of course, but the option of the quicker cook time is handy if you're in a rush.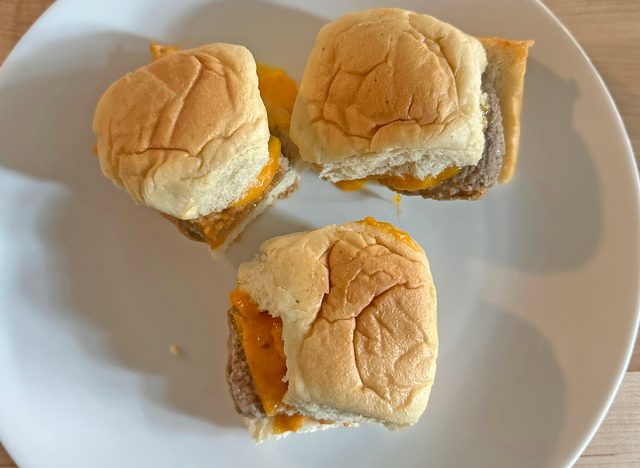 The Look: It's not pretty, but if you think this is bad, pop open a box of those White Castle sliders. The cheese melts everywhere, the beef looks less like a patty and more like an industrial accident, and the bread is so hot when it comes out of the microwave I thought I may have lost a fingerprint touching it. But, again, look at any other frozen slider on the market. 
The Taste: There's a strange sweetness to this that I can't quite identify making the whole thing less pleasant than it could be. Maybe it's the onions, or maybe it's the six grams of added sugar. Either way, you get real ground beef of fair quality, coupled with a sharp cheddar and an excellent bun. The bun has a King's Hawaiian-style consistency, where it's exceptionally mushy but in a good and tasty way. 
This is a product more meant to be doctored than eaten in its natural state. If you want to make this a meal, I'd recommend ketchup, pickles, onions, or whatever other burger topping you like. On its own, it's promising, but the execution falls a little flat.
Burrata, Prosciutto & Arugula Flatbread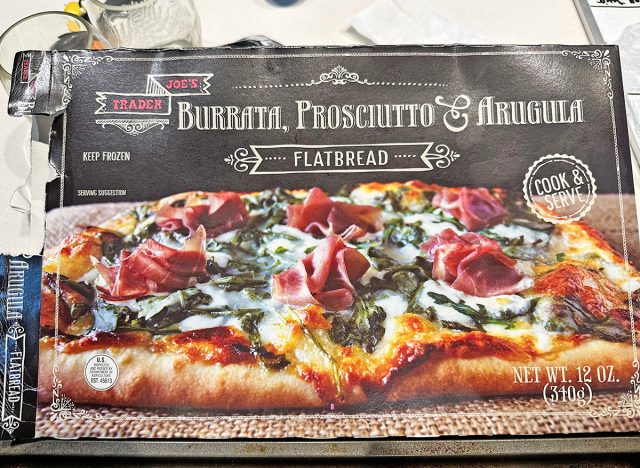 Per Serving
: 290 calories, 12 g fat (6 g saturated fat), 670 mg sodium, 30 g carbs (3 g fiber, 2 g sugar), 13 g protein
This flatbread retails for $4.99, and while it may fall short of the other flatbreads that Trader Joe's offers, it's definitely in the upper echelon of the retailer's selection. Not only do you get creamy burrata and arugula, but it comes with way more prosciutto than will reasonably fit on this pizza. So, not only do you get a prosciutto pizza, you get a little extra for something later. 
The Prep: Put this in the oven for 20 minutes at 400 degrees. I will say that the cook time makes the crust a little undercooked, but cooks everything else pretty well.
The Look: Could be better, but it's not like it looks bad. I almost overcooked this, because I didn't realize that the crust doesn't really get darker without burning your prosciutto. That's definitely a shortcoming of the presentation. But, anything with crispy prosciutto on top is getting automatic bonus points. There are few things on Earth that look better. 
The Taste: Burrata and arugula do not hold up very well in the oven, and certainly don't survive a freezing process. The burrata becomes a little mealy, and the arugula takes on the consistency of wilted spinach. Would this be better with fresh mozzarella and fresh arugula? Of course. But cheesy spinach is not a bad thing at all. If you're familiar with spinach-artichoke dip, you know exactly why. Imagine spinach artichoke dip on a flatbread with prosciutto. Sounds good, right? Even so, it's far from the best thing in TJ's freezer aisle. 
Philly Cheesesteak Bao Buns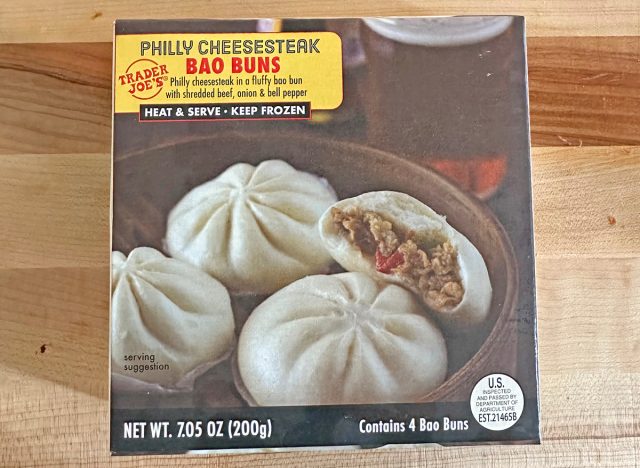 Per Serving
: 210 calories, 5 g fat (2.5 g saturated fat), 300 mg sodium, 32 g carbs (3 g fiber, 5 g sugar), 10 g protein
The Philly Cheesesteak Bao was one of the few first-time purchases on the list, only because of just how popular it is. I had never given it a shot, though, because Asian-style food combined with dairy makes very little sense to me. However, upon my tasting, I can see why they're so consistently on these lists. Did I lose my mind eating these? No. But it definitely deserves to be here. A box of four bao buns cost $3.99.
The Prep: You can either put this in a dumpling steamer on the stove, or microwave it for two minutes on high. Normally, I opt for the more time-consuming approach, but I unfortunately do not own a steamer. I will say, while I'm sure the latter approach is more rewarding, these do come out of the microwave pretty tasty.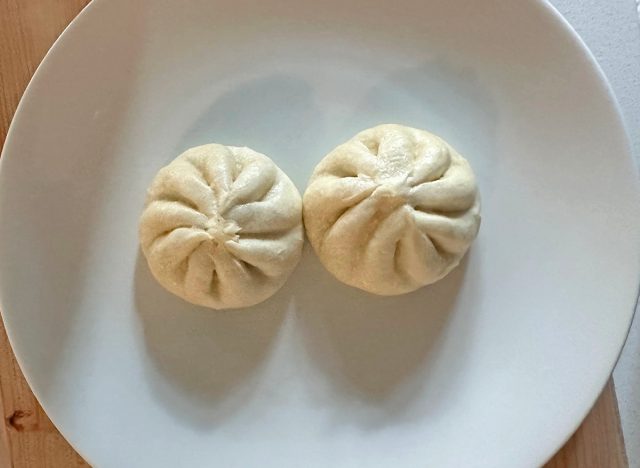 The Look: I've seen a better-looking bao. I've also seen a worse-looking bao. If anything, the appearance is a little dry, but it still checks all the boxes. The color is right, the little twist on top is solid, and the thickness is appropriate. 6254a4d1642c605c54bf1cab17d50f1e
The Taste: The combination of Philly-style cheesesteak and Asian-style bao actually work together much better than I had previously imagined. Bao buns have thick dough that the creaminess of the cheese and the bite of the spices play along with very well. It's an odd couple, for sure, but one that works. Still, not the absolute best thing on this list.
Beef Birria
Per Serving
: 270 calories, 11 g fat (3 g saturated fat), 550 mg sodium, 30 g carbs (1 g fiber, 3 g sugar), 14 g protein
Birria is a Mexican-style meat stew, which you can either serve in tacos or eat with a spoon. The popular Trader Joe's variety costs $7.99.
The Prep: You can either microwave this for five minutes, or place it on your stovetop. I'd recommend microwaving for about two-and-a-half minutes, then put it in a pot with some added spices, if you have them. Cumin, Mexican oregano, and a little bit of salt will go a long way in making this good dish great.
A quick note on prep: the instructions, per usual, call for holes poked in the top. Halfway through, you peel the plastic back, mix, and put it back on top. Normally that works fine. However, the manufacturer either superglued this plastic on, or I need a new workout schedule. It was absurdly difficult to get off.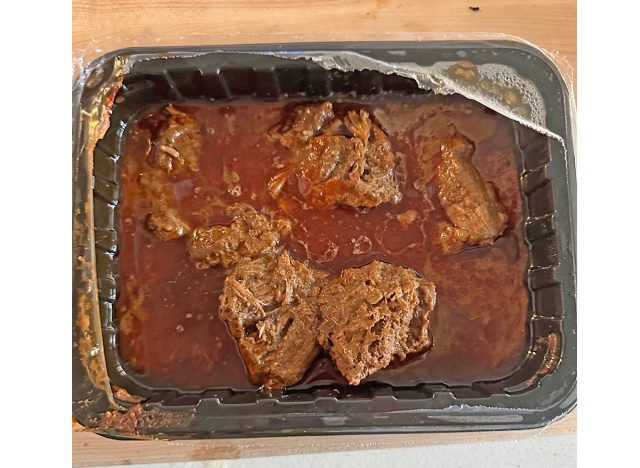 The Look: It looks like a delicious, inviting stew, which it is. There are few things that get your stomach rumbling like some stew slow-cooking on the stove. Or, in this case, inside a strange plastic dish. My only note on the look is that the fat seems to rise to the top through the microwaving process, leaving a presentation that could have been stomach growling and alluring just alright. 
The Taste: There could be way more peppers and flavor in here. I've seen what birria is capable of, and this is just stretching the surface. The fatiness, the spices, and the richness are all there. What you have to remember though, is birria that's just alright is still better than most meals. 
This is a quick and easy solution to the birria craze that won't leave you fully satisfied, but is sufficiently indulgent for a fun and quick taco night. 
Mini Chicken Tacos
Per Serving (1 tbsp)
: 140 calories, 9 g fat ( 2 g saturated fat), 390 mg sodium, 1 g carbs (0 g fiber, 0 g sugar), 13 g protein
TJ's describes this freezer item as the "tastiest, tiniest, most tantalizing tacos you ever did eat!" These cute little tacos are not only small in size, but also in price: just $7.99 for a whole 17.5-ounce package.
The Prep: Put some oil in a non-stick pan, and fry these for three minutes on each side. Easy as it gets, and it yields delicious results, too.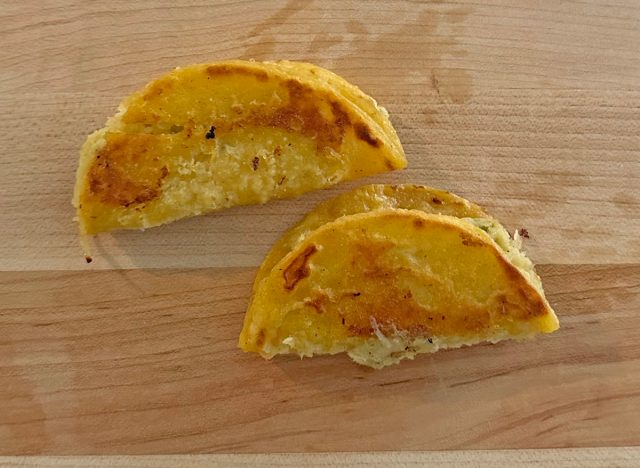 The Look: Adorable. I've never used that word in this context, but look at it! It's just a little taco. I don't know what it is about proportionally smaller versions of typically large things, but man are they cute. Plus, that fried masa gives a fantastic golden brown color. 
The Taste: Look, the chicken is underwhelming. It could be seasoned better, it could have more of the salsa I'm catching hints of that actually tastes great. But this is pan fried masa we're talking about. I'd eat pan fried masa if a shoe was in between that tortilla. That beautiful crisp followed by the soft, pillowy interior is to die for. But make no mistake, this is not the chicken show, this is the masa show. 
Pork & Ginger Soup Dumplings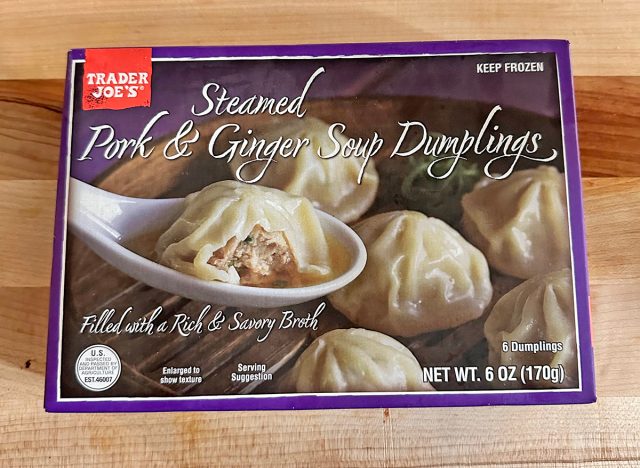 Per Serving (1 container)
: 270 calories, 10 g fat (3 g saturated fat), 560 mg sodium, 30 g carbs (1 g fiber, 3 g sugar), 14 g protein
These soup dumplings retail for around $3.49, and are massively popular with Trader Joe's shoppers—or, at least the TJ's regulars that I know.
If you're unfamiliar, soup dumplings are not meant to be popped in your mouth all at once, or even bitten into. The proper way to get the most flavor and the least burns on your tongue is to put the soup dumpling in a large spoon and poke a hole in the dough. Let the steam escape for a moment, then simply suck the broth out of the inside of the dumpling and proceed to consume the rest as you wish. 
The Prep: Simply slice a hole in the corner of the plastic and microwave for three minutes on high. What's remarkable about these, though, is that the dough maintains that chewiness and bite that's so valuable in dumpling dough even through the microwave, a notorious texture killer. 
The Look: The plastic container doesn't exactly scream "delicious." It screams "assembly line." But, the dumplings themselves have the perfect look to them, and even have that little bit of steam on the sides that goes with a perfectly steamed dumpling. 
The Taste: Delicious. The broth is extremely ginger forward and well seasoned, and the meat soaks up the flavor of that broth beautifully. Even so, there are still other dishes that I liked better.
Chicken Tikka Masala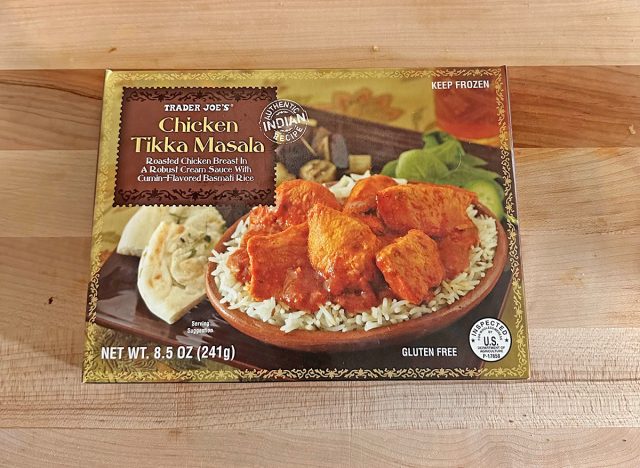 Per Serving
: 360 calories, 14 g fat (2.5 g saturated fat, 0 g trans fat), 580 mg sodium, 39 g carbs (1 g fiber, 6 g sugar), 21 g protein 
My local Trader Joe's was all sold out of lamb vindaloo, which is my favorite of the retailer's Indian-style frozen dishes, but I've put the chicken tikka masala here, which is also delicious, as an honorary placeholder for all of Trader Joe's delicious curries. If not, the entire list would be lamb vindaloo, chana masala, butter chicken, chicken tikka—you get the idea. This single-serving dish costs $4.49.
The Prep: The oven is an option, but the microwave does this justice. Poke holes in the top and microwave for six minutes total, stopping in the middle to stir. 
The Look: Like chicken tikka masala is supposed to look. The curry is the perfect shade of orange, with chunks of chicken floating in the delicious sauce. When this gets into a bowl and mixed together, trust me, you're going to be hungry. 
The Taste: I do not want to leave anybody reading this with the delusion that this is anywhere close to as good as real Indian cooking. If you love this product and have never had real Indian food, I'd urge you to go find it for yourself. It's an incredible, complex, and revered cuisine that cannot truly be replicated in your microwave. 
Nevertheless, this is delicious. The chicken holds a great texture, even in the absence of the traditional cooking methods. The sauce is well spiced and not overpowering in any way, and the rice is the perfect carb-filled accompaniment to all that deliciousness. Yet, as good as it is, there are a few dishes that rise above it.
Mushroom Flatbread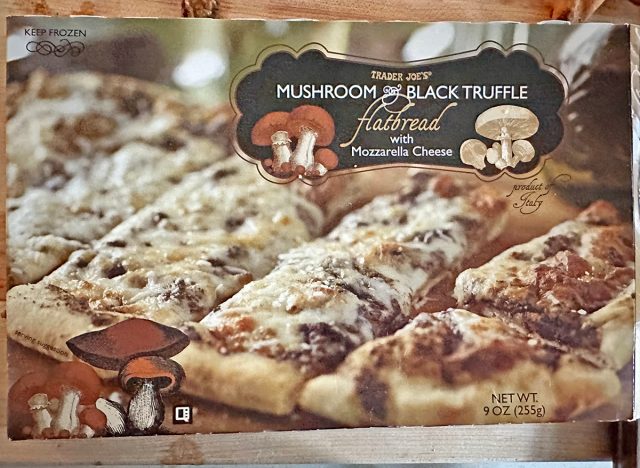 Per Serving (1/2 pizza)
: 360 calories, 14 g fat (5 g saturated fat), 760 mg sodium, 46 g carbs (2 g fiber, 4 g sugar), 13 g protein
To be absolutely clear, if you hate mushrooms, you will hate this fungi-laden flatbread. If you love mushrooms, which I do, you will absolutely adore it. The nine-ounce package costs $5.49.
The Prep: Turn your oven to 425 degrees and cook this on a baking sheet for about 15 minutes. But again, you're going to want to monitor it closer to the 12-minute mark. Wait for that crust to get golden and for that cheese to caramelize a little bit.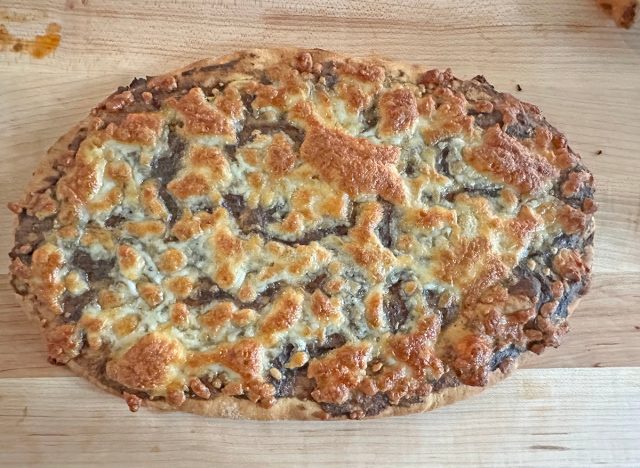 The Look: The cook time provides a truly intense golden brown cheese, with the mushrooms lined underneath and a crispy crust to boot. This is arguably the most attractive looking piece of frozen food I've ever prepared. 
The Taste: Like I said, if you hate mushrooms, avoid this like the plague. But, if you're like me, this is shroomy heaven. The flavor of the mushrooms comes through very intensely, but is cut through very nicely by the sharp cheese and subtle crust. This is a mushroom lover's nirvana. But, there is one dough-based food from the TJ's freezer aisle that is even better, and is suitable for the shroom-averse as well.
Family Size Cheese & Tomato Pizza
Per Serving (1 tbsp)
: 340 calories, 16 g fat (8 g saturated fat, 0 g trans fat), 470 mg sodium, 35 g carbs (3 g fiber, 7 g sugar), 16 g protein
Remember the excess prosciutto from the flatbread at number nine? Well, this is the "something later" in question. Trader Joe's recommends that you put your own toppings on this pizza, and while I had never done so previously, the added boon of the prosciutto was lovely this time around. 
The Prep: This is the first time I've broken my own rules regarding prep. Trader Joe's instructs placing this pizza—wrapper off, of course—directly on the oven rack to cook for 15 minutes at 450. While I'm sure that works wonderfully, the thought of picking cheese off of my oven is not a happy one, so I used a baking sheet. Trust me, it works just fine.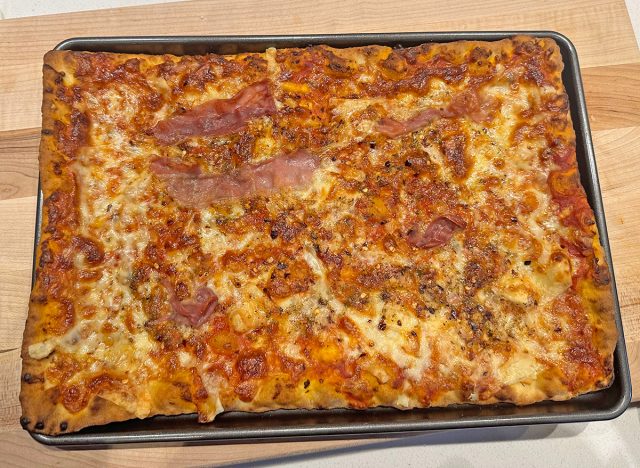 The Look: Trader Joe's knows how to get a good picture going. That cheese is gorgeous. Golden brown bubbles ready to burst out of the crust.
The Taste: What you're getting here is a base to build whatever pizza you want, with a massively higher quality foundation than other frozen pizzas. The cheese tastes real, because it is real. It's sharp and adds the most flavor to the pizza itself. The dough has a great chewiness to it that's almost reminiscent of a brick-oven pizza, and the sauce is perfectly fine. Is my sauce better? Absolutely, but in the case of pre-manufactured sauces, my preference is that it stays out of the way for other ingredients to shine, which is exactly what this does so well.
As the instructions say, add your own toppings to this. The great thing about this pizza is that it will adapt perfectly to whatever flavor you impart onto it. I personally go with a nice drizzle of olive oil and a generous amount of red pepper flakes and oregano. But this will stand up to any meat or veggie topping of your choice.
It's clearly the best of TJ's pizza-slash-flatbread category, but in terms of overall frozen foods, there's still one item that stands above the rest.
Chicken Tikka Samosas
Per Serving
: 190 calories, 10 g fat (3.5 g saturated fat), 250 mg sodium, 190 g carbs (<1 g fiber, 6 g sugar), 8 g protein
This is the G.O.A.T—the Messi, the Lebron (yeah, I said it), the Gretzky—of the frozen food aisle. Please know that as long as I write about frozen food, I will never like something as much as I like these samosas. My dad used to go to Trader Joe's once a month when I was a kid, and when he brought these home for an after-school snack, I would absolutely lose it. Now, at the old and decrepit age of 23, I find them just as delicious, bringing me right back to that kitchen table with the light shining just right on my favorite spot.
With a dozen pieces in every box, you can share them with others as an appetizer, or keep them all to yourself and make a whole meal out of it. A box costs $4.49.  
The Prep: Turn your oven on to bake at 400 degrees and put these in for about 15 to 20 minutes. About halfway through, make sure you take these out and flip them so both sides get that crust. I also recommend a piece of tin foil atop your baking sheet.
The Look: I mean, you've got a beautiful golden brown exterior, with crispy edges, as well. There's a beautiful greasy glisten that tells you that this might not fit with that new diet you've been trying, but you're going to eat it anyways. And it will be sooo worth it. 
The Taste: Flawless. The crispy exterior makes way for a smooth and well-spiced chicken that provides a perfect amount of pull and softness to go with that crunch. All the flavors exist in harmony.
Whenever I go to Trader Joe's, I truly cannot fathom how people aren't fist-fighting to get these from the freezer. Of all the hugely hyped frozen foods at TJ's, these samosas exceed expectations every time.
Robby Haynos
Robby loves eating as much as he loves writing. After graduating from Bates College, Robby is turning his passion for food writing, found during his time with the college newspaper, into a career. He has written for Celebrity Page TV and runs a blog reviewing restaurants in his home towns of Takoma Park, Md., and Rehoboth Beach, Del.
Read more about Robby