50 Best Healthy Cabbage Recipes You Need to Try Tonight
These recipes prove that healthy cabbage can be enjoyed at any time of the day.
We love a good cabbage dish, and apparently, we are not alone. According to a poll done by One Poll on behalf of Dr. Praeger, cabbage is on the list of America's Favorite Vegetables, with 84% of people giving cabbage their seal of approval. And this is no surprise. The cruciferous vegetable, which has been cultivated for over 4,000 years, can be prepared in so many different ways. From baked cabbage casseroles to nutrient-rich cabbage smoothies, there really is something for everyone.
If you are not already piling your plate high with this leafy green, then these dishes may just make you a cabbage convert. Read ahead for 50 of the best cabbage recipes that you need to try. Plus, see how many of The 100 Healthiest Foods on the Planet you include in your diet.
Forego store-bought coleslaw, which is usually drenched in mayo and high in added sugars, for this vegetarian version. Dijon mustard and plain Greek yogurt take the place of mayo in this easy-to-make recipe which tastes great piled onto a sandwich or served as a barbecue side.
Get our recipe for Easy Healthy Coleslaw.
Sign up for our newsletter for more healthy recipes and food news.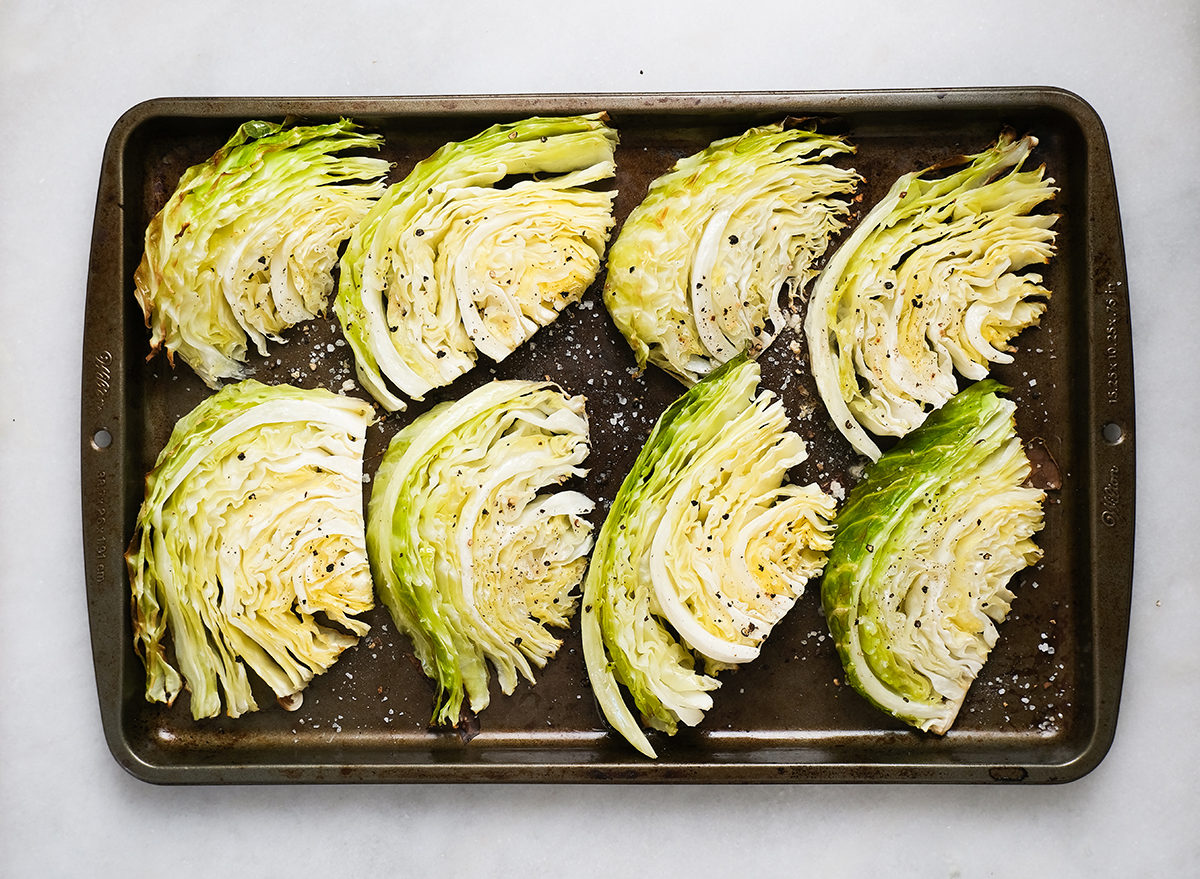 This incredibly simple recipe, which takes just minutes to prepare, only calls for a few ingredients—cabbage, olive oil, salt, pepper, and cooking spray. Dress it up with some creamy salad dressing and serve it alongside grilled chicken or baked salmon for a healthy, yet delicious, meal.
Get our recipe for Roasted Cabbage.
Shawarma Roasted Cabbage Wedges
You may be familiar with chicken shawarma, but have you ever given cabbage shawarma a go? This tasty recipe, which calls for green cabbage, avocado oil, and a smoky spice blend, makes for a perfect vegan-friendly dinner dish.
Get the from The Minimalist Baker.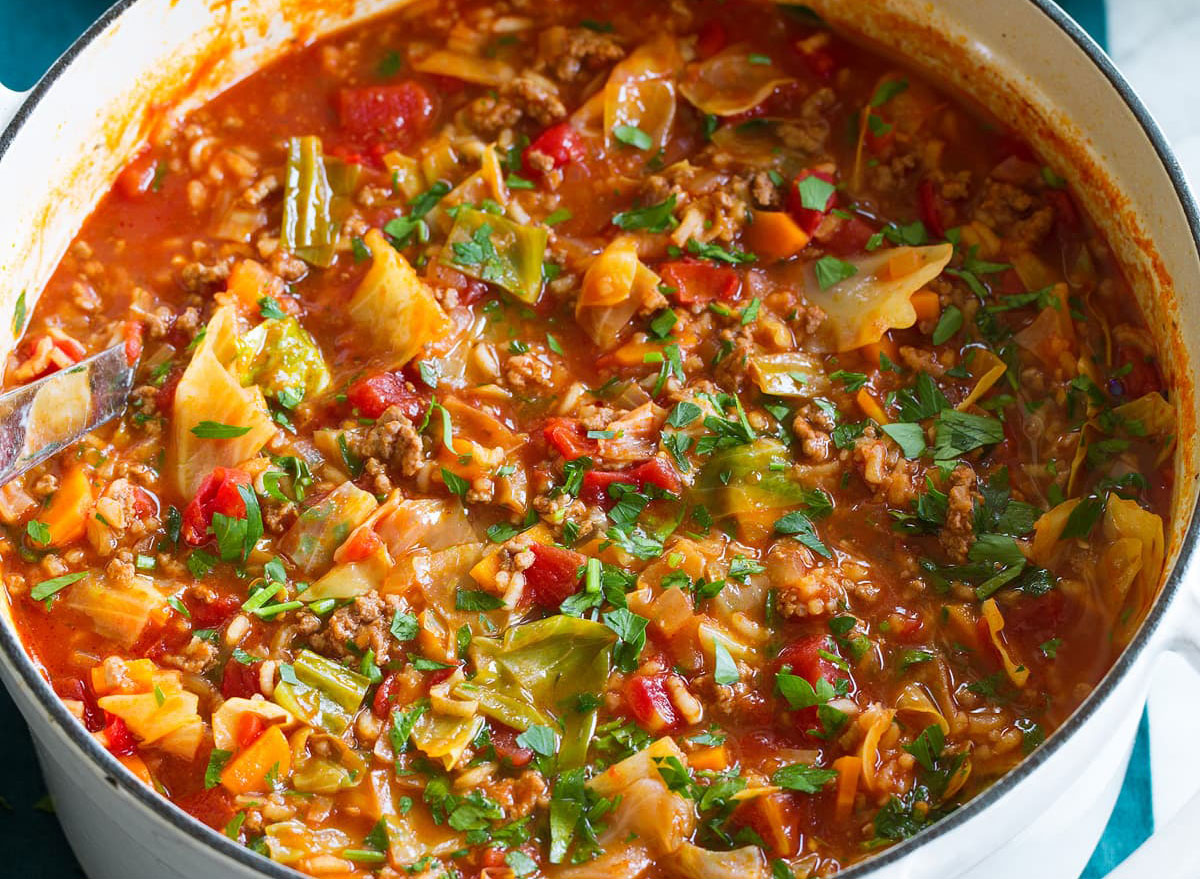 This comforting cabbage roll soup is packed with lean ground beef, carrots, white rice, and parsley, that all simmer together to create an unforgettable, savory taste. It is a great dish to enjoy during the cooler months when the temperatures begin to drop.
Get the recipe from Cooking Classy.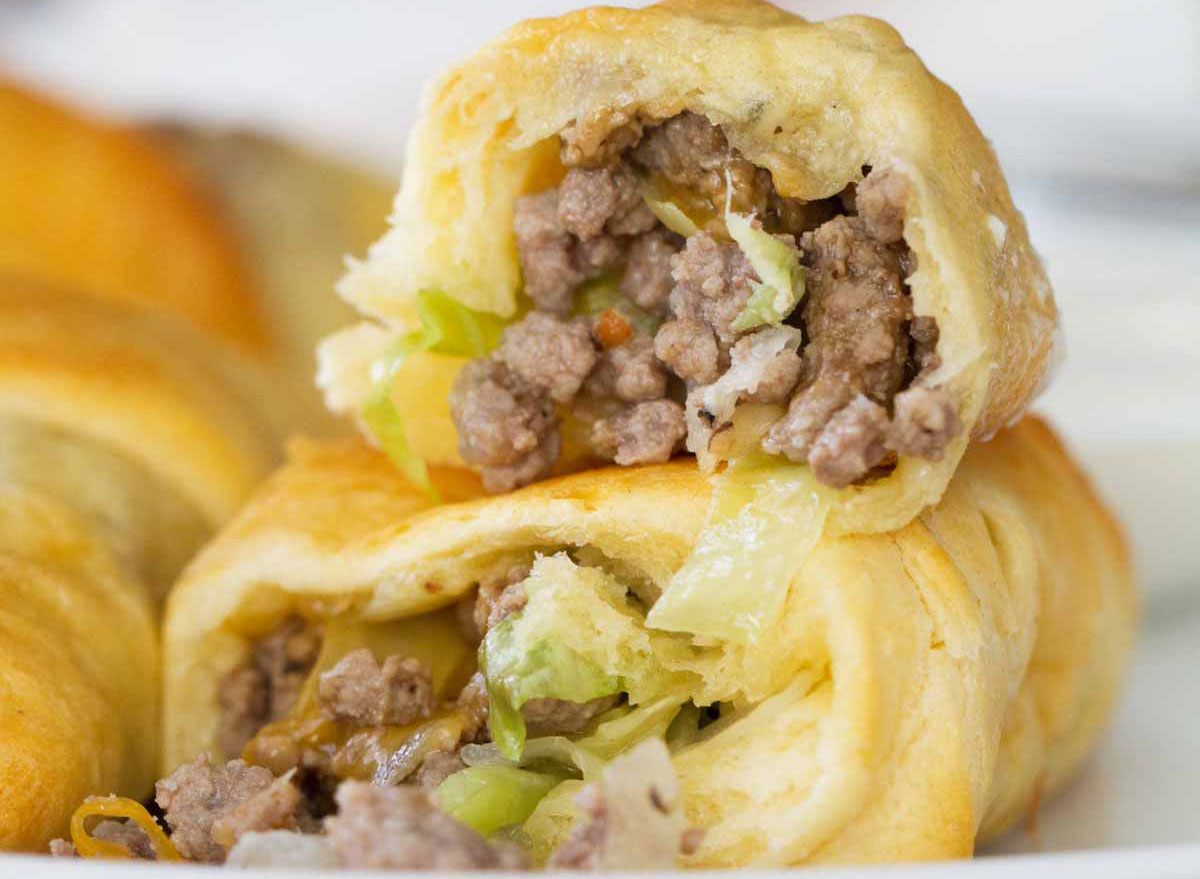 The next time you are at the grocery store be sure to pick up a head (or two) of green cabbage to make these kid-approved cabbage and beef bundles. Pre-made crescent rolls are stuffed with Napa cabbage, ground beef, and shredded cheddar cheese, to create a dish that works as an appetizer, a main, or even a side.
Get the recipe from Taste and Tell Blog.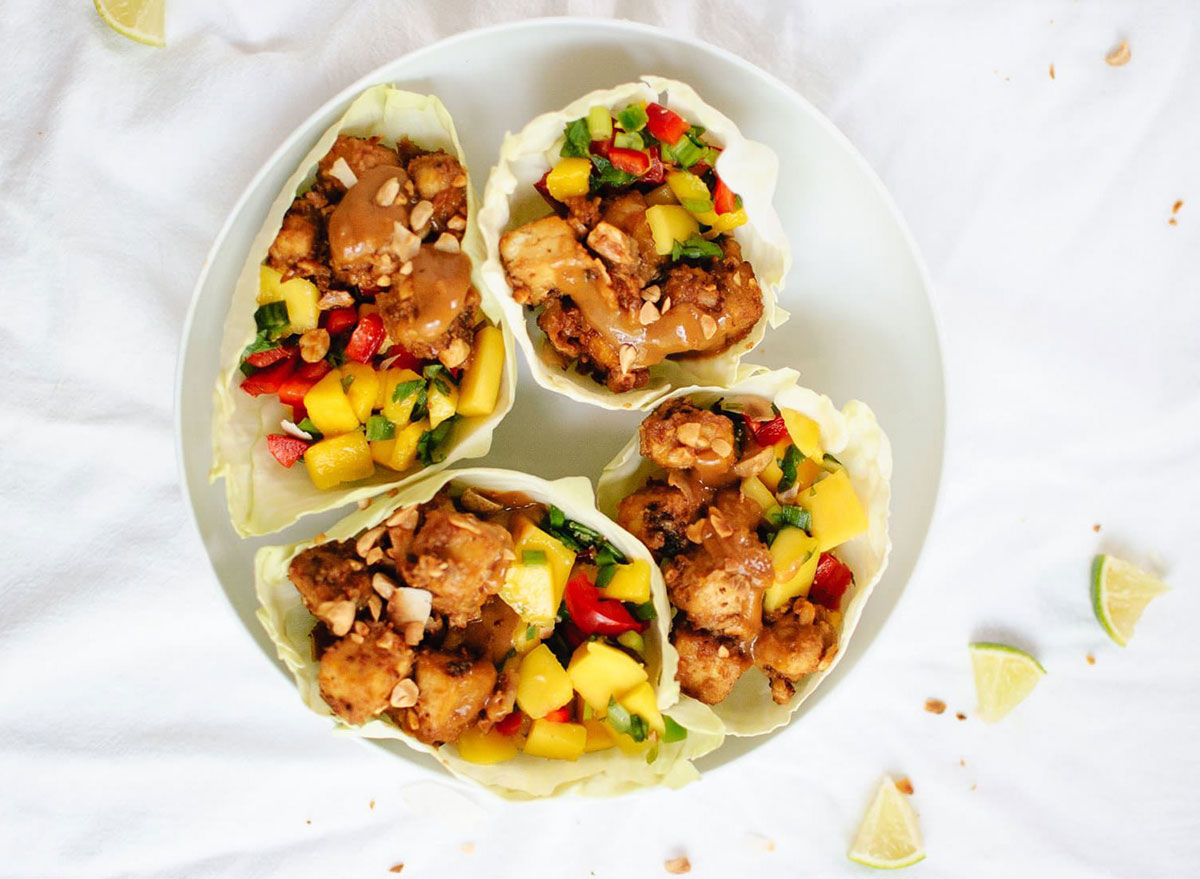 Crisp cabbage leaves are piled high with sweet mango pico salsa and crispy tofu to create a healthy meal that is low in carbs but high in flavor. Be sure to not skip out on the homemade peanut sauce—the vinegar and agave blended into it give the dish an extra added zing.
Get the recipe from Cookie and Kate.
Spicy Ranch Chopped Chicken Cabbage Salad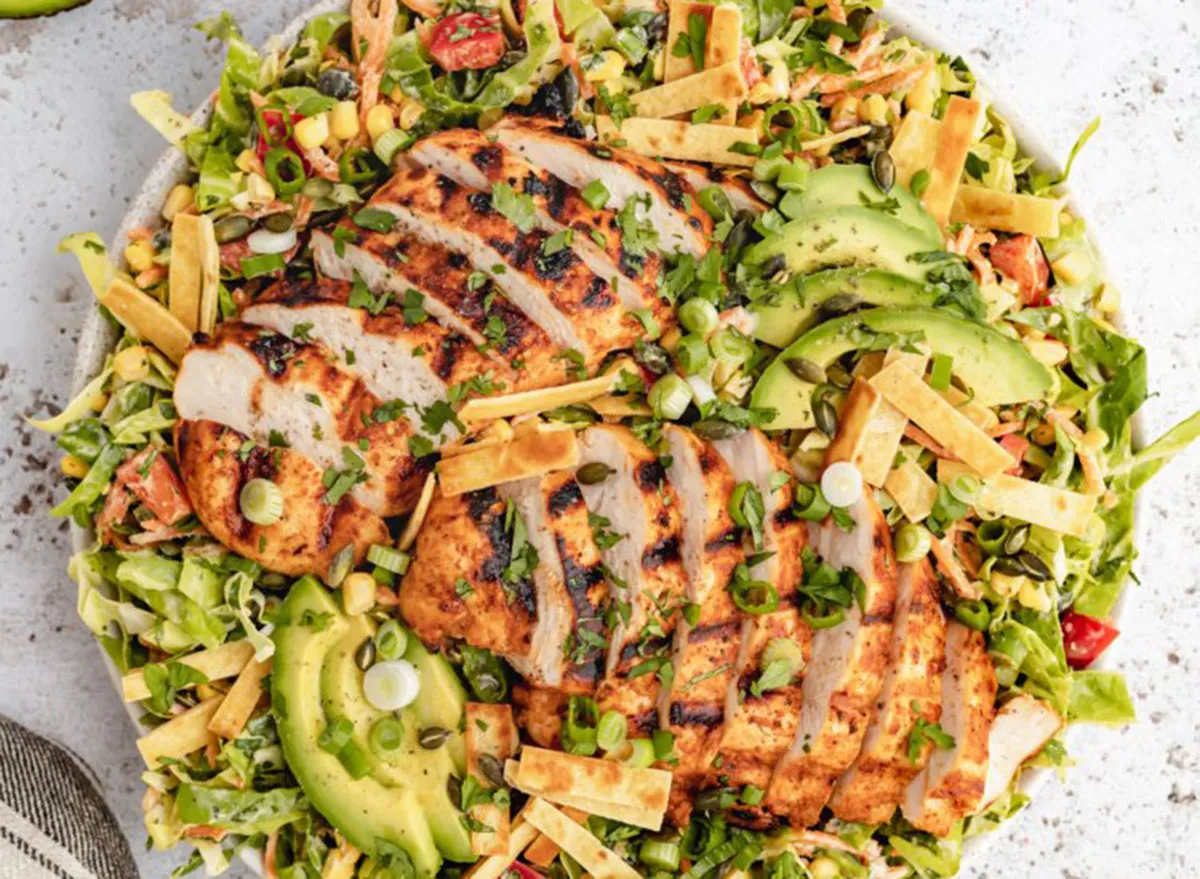 If you are a fan of chopped salads brimming with fresh ingredients then you need to give this recipe a try. Made using chopped green cabbage, roasted pepitas, and juicy, marinated chicken, this salad will be the highlight of any meal.
Get the recipe from Ambitious Kitchen.
Warm Apple Cabbage Salad with Pecans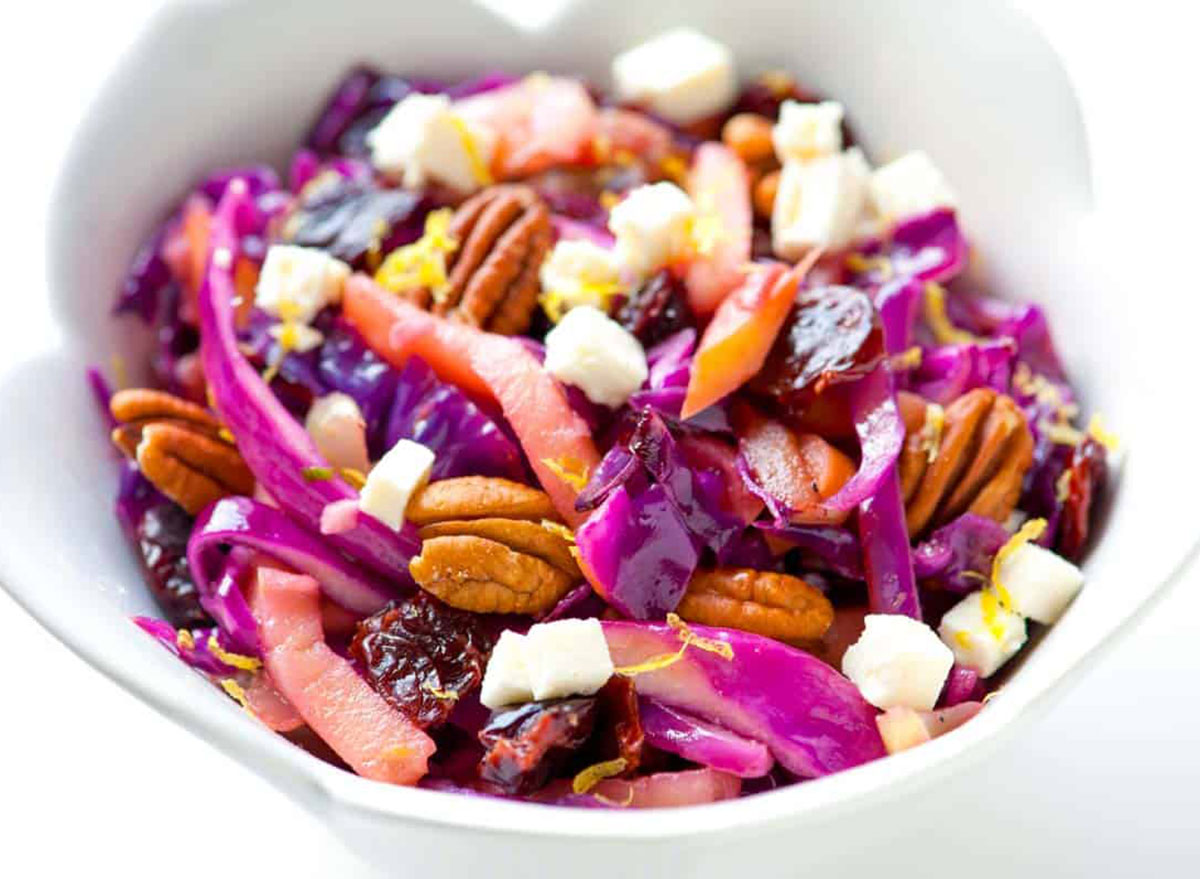 If you have a spare 20 minutes, then you have enough time to throw together this warm apple cabbage salad. Made using wilted cabbage tossed in an apple cider and Dijon mustard dressing, this recipe can be dressed up in many easy ways. For instance, you can toss in some chopped nuts, crumbled goat cheese, or diced chicken for a protein boost.
Get the recipe from Inspired Taste.
Five Ingredient Cabbage Casserole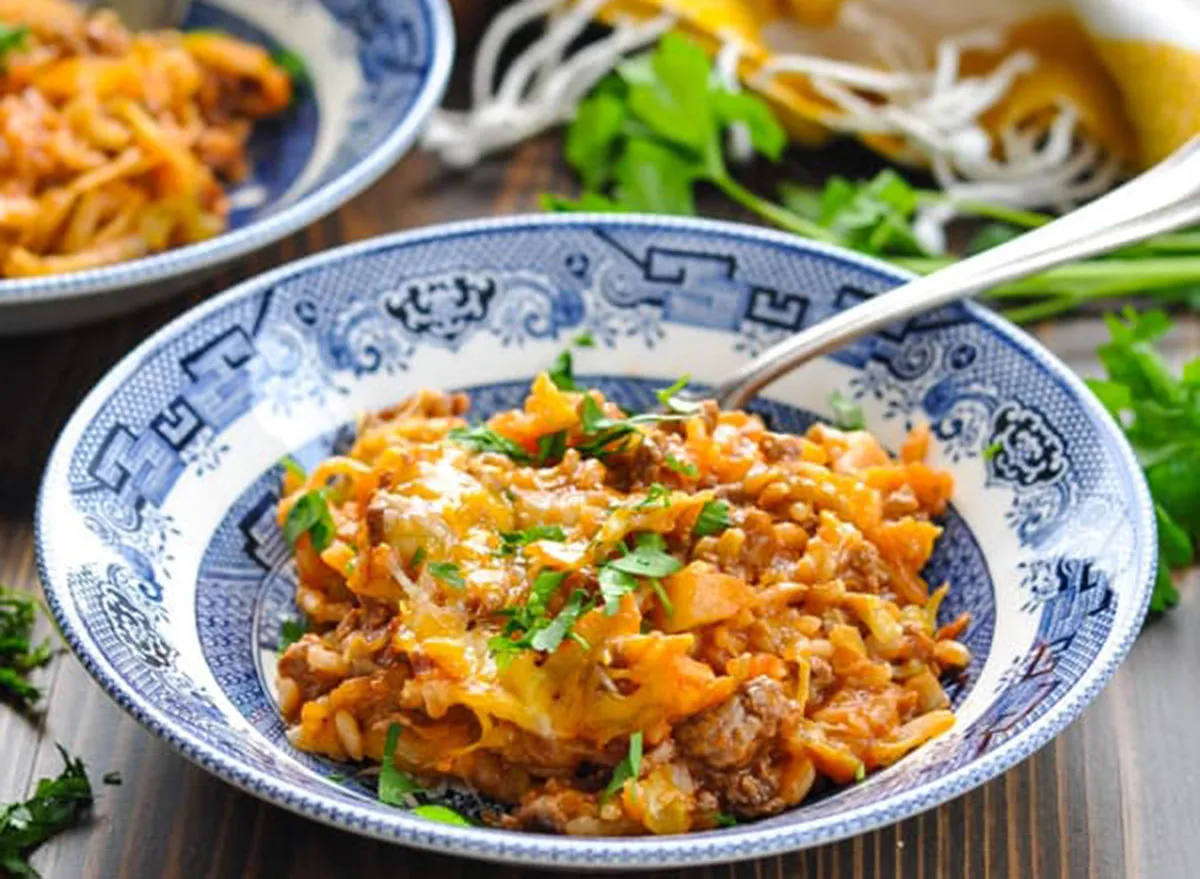 This 5-ingredient cabbage casserole recipe outdoes itself in both the flavor and convenience department. All you need to recreate this too-good-to-miss dish is a head of cabbage, ground turkey, rice, condensed tomato soup, and grated cheese.
Get the recipe from The Seasoned Mom.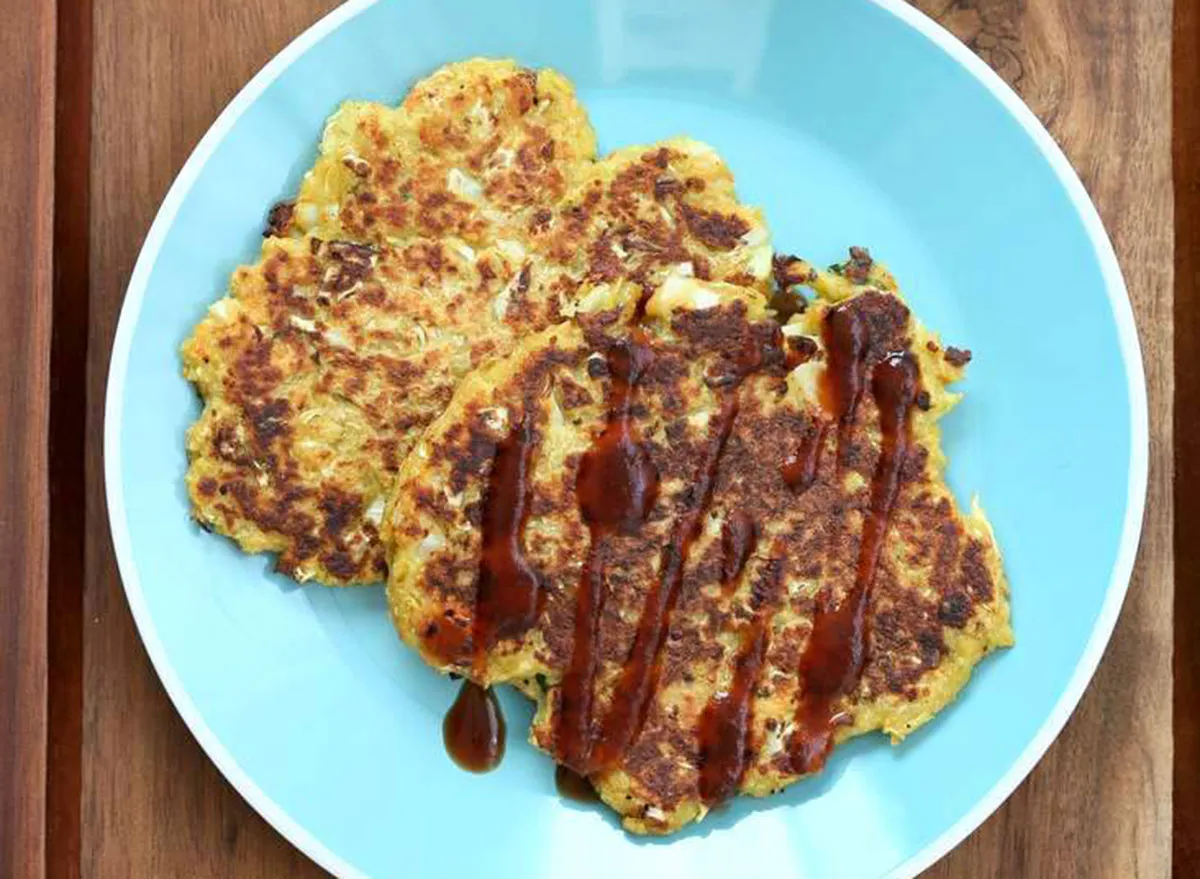 This recipe for cabbage and carrot pancakes is a delicious vegan spin on okonomiyaki, savory Japanese pancakes that are often enjoyed as street food in Osaka. To make your own at home all you need is cabbage, chopped vegetables, chickpea flour, and seasoning.
Get the recipe from Vegan Richa.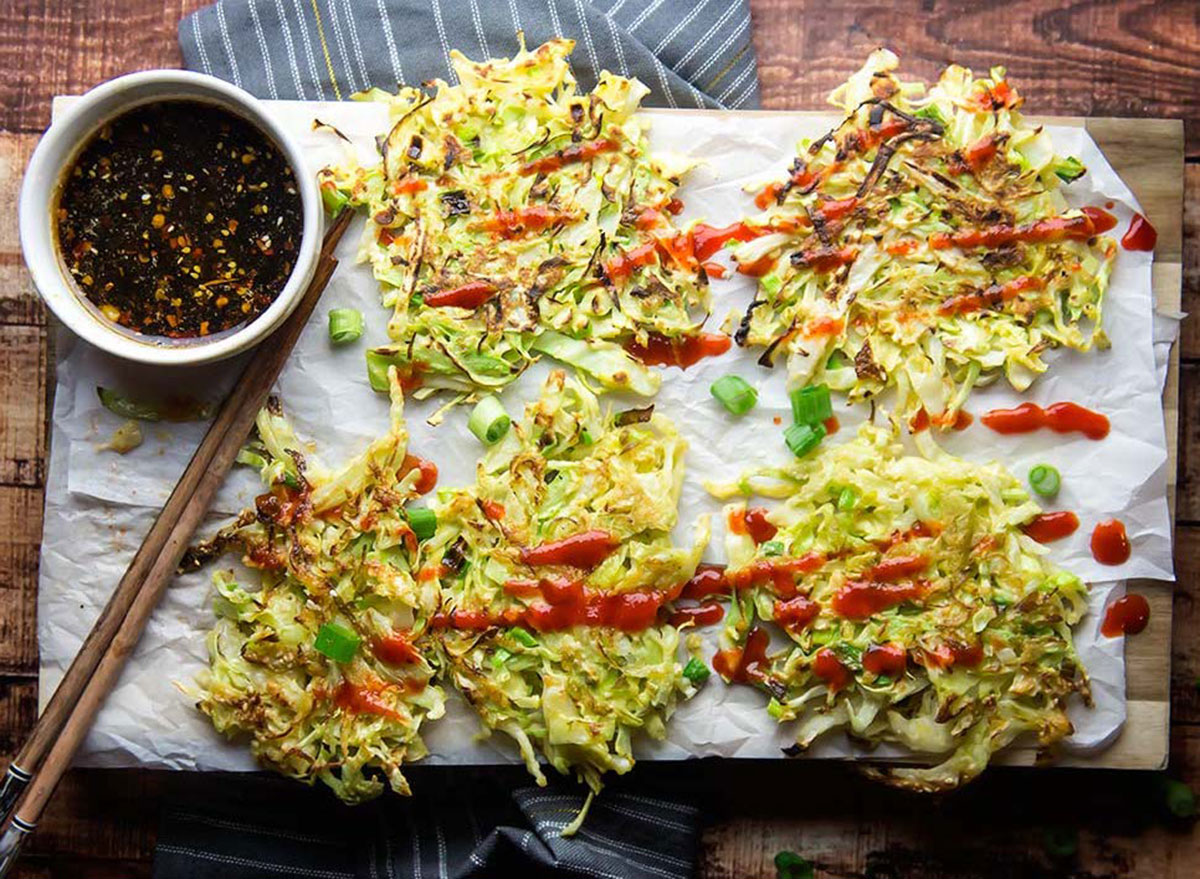 These sesame cabbage fritters, which are made using shredded cabbage, eggs, and cassava flour, taste amazing served with the recipe's accompanying maple and soy dipping sauce.
Get the recipe from Foraged Dish.
Spicy Tofu Cabbage Pad Thai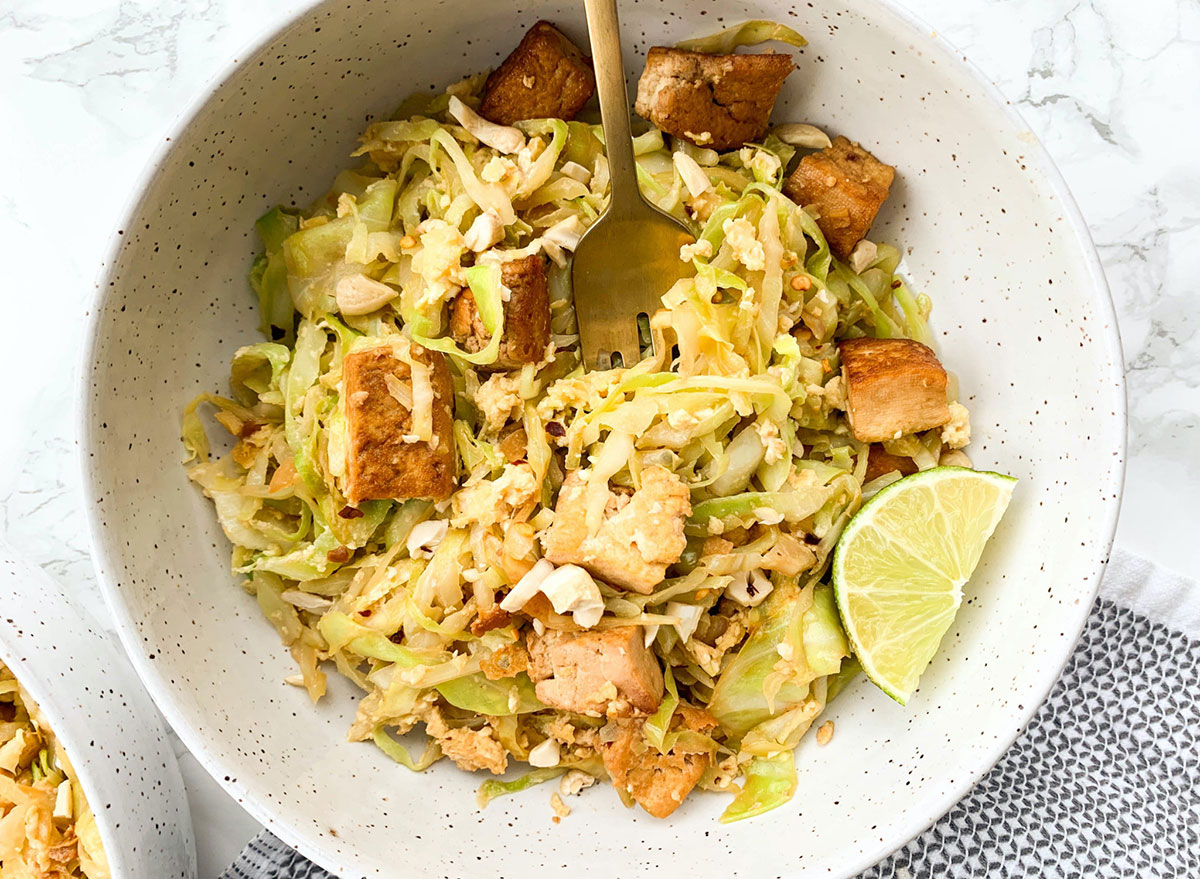 In this version of pad thai, traditional noodles are swapped out for spiralized cabbage. This dish calls for sauteed tofu, but feel free to add in any protein of your choice, such as marinated chicken or seasoned fish.
Get the recipe from Inspiralized.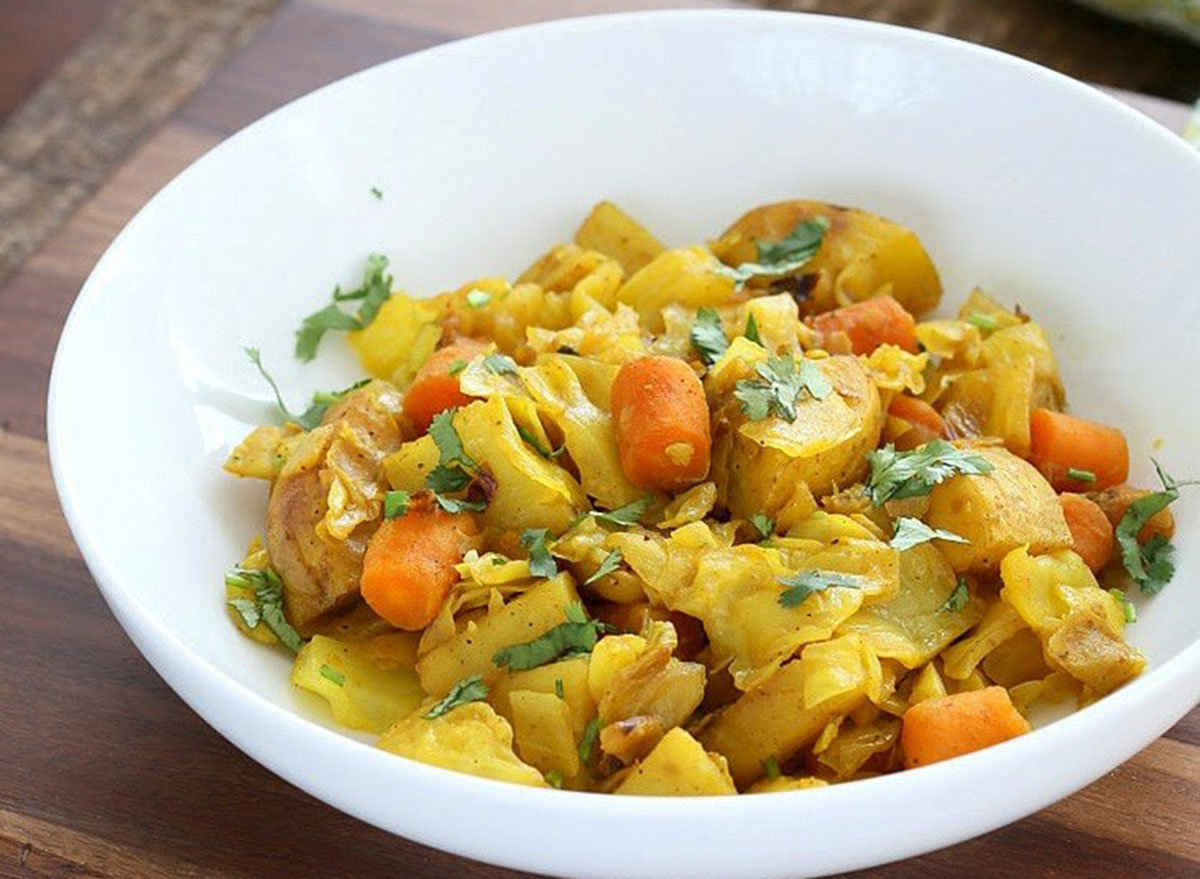 This incredible Ethiopian recipe, which is free of dairy, eggs, and gluten, takes ho-hum cabbage to new heights. Seasoned with fragrant spices, such as cardamom, cloves, and cumin, Atakilt Wat is scrumptious served alongside injera, which is a spongy Ethiopian flatbread made from teff flour, or piled high onto a bed of wilted greens.
Get the recipe Vegan Richa.
Grilled Cabbage Salad with Sesame Chicken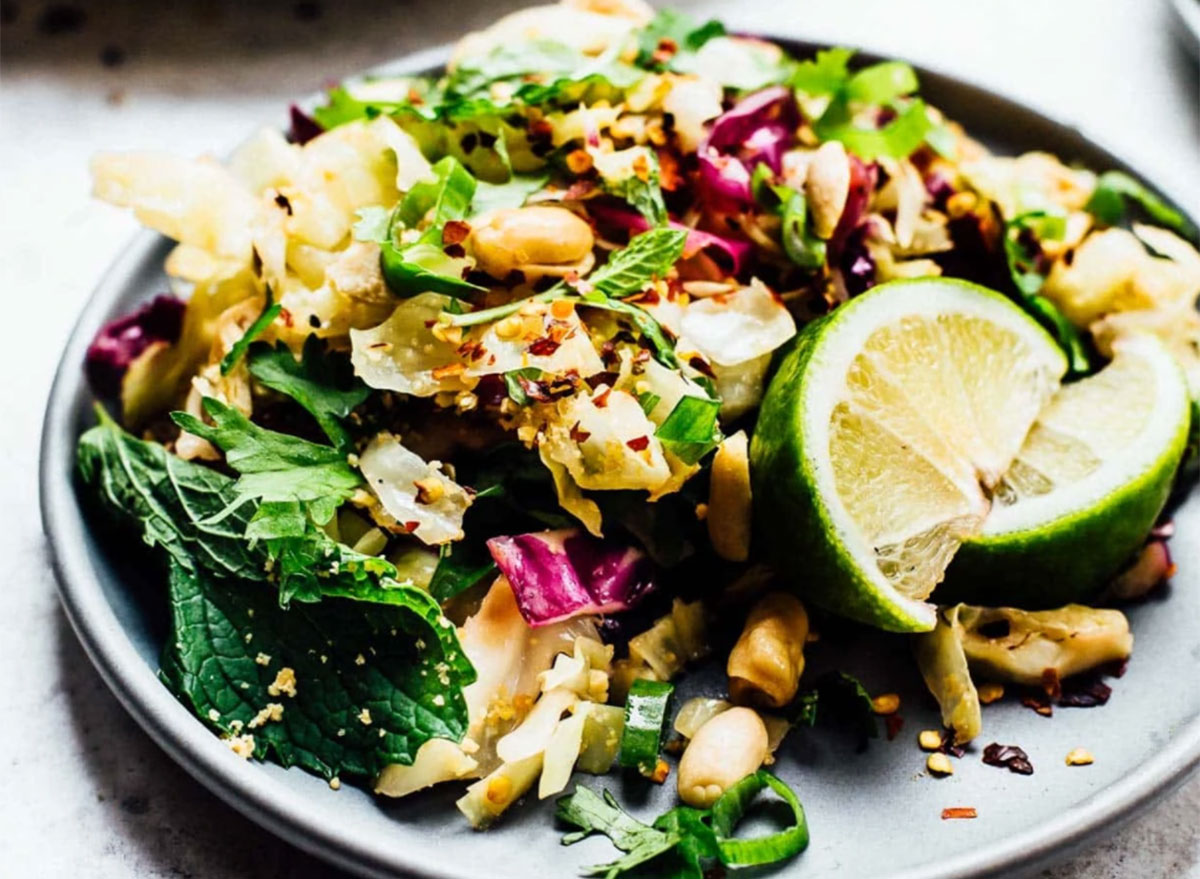 If you have never grilled cabbage then you must try out this recipe because you are missing out! Smoky, seared red and green cabbage meets their match when grilled sesame chicken, roasted crushed peanuts, and a lime vinaigrette dressing is added in.
Get the recipe from Heartbeet Kitchen.
Miso Mango Chicken Salad Cabbage Wraps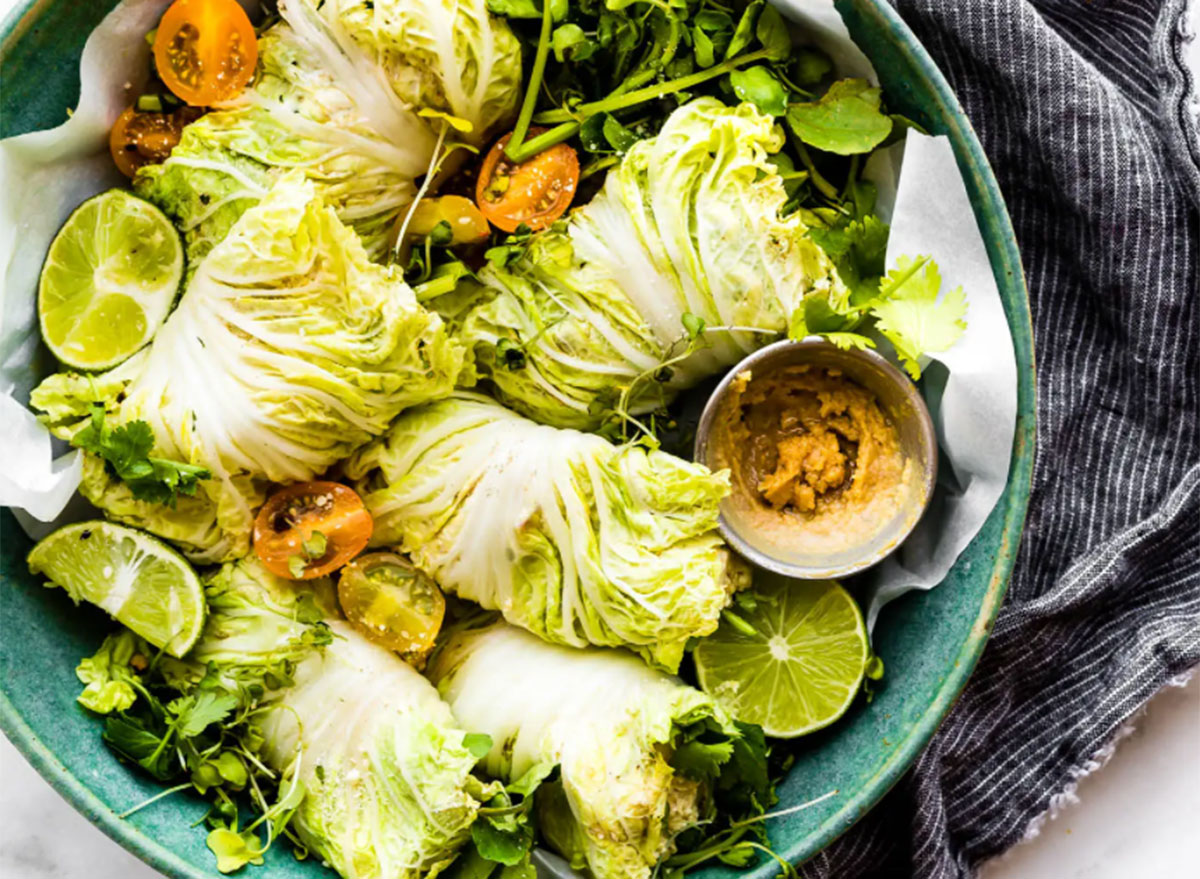 Mayo-free chicken salad is combined with chopped mangoes, miso paste, and diced cherry tomatoes, in these cabbage wraps that scream flavor. Enjoyed with a side of soup or alone, this recipe makes for a great light lunch or dinner.
Get the recipe from Cotter Crunch.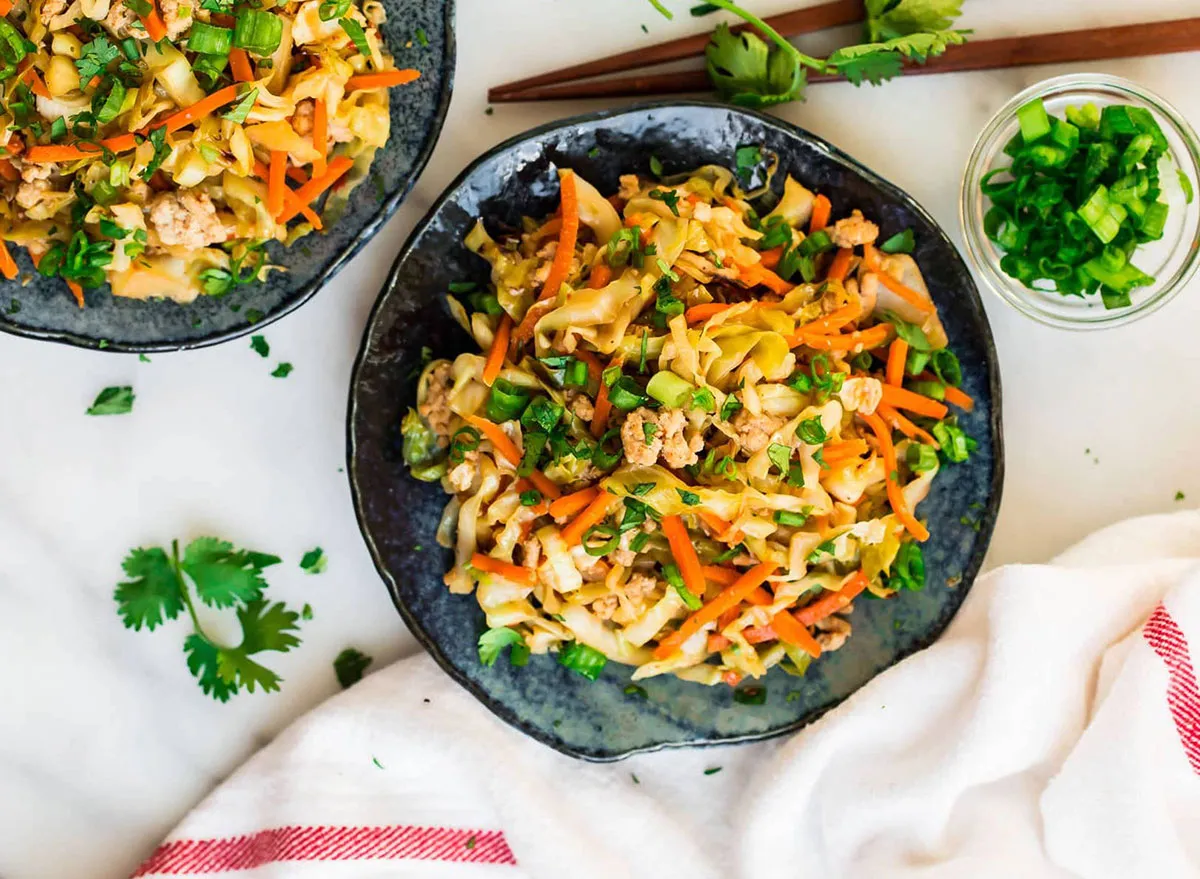 If you are looking for a low-carb dish that doesn't skimp on any of the flavor, then look no further than this cabbage stir fry recipe that takes just under half an hour to make. Seasoned with zesty garlic, bright ginger, and savory soy sauce, this noodle-free stir fry is both healthy and delicious.
Get the recipe from Wellplated.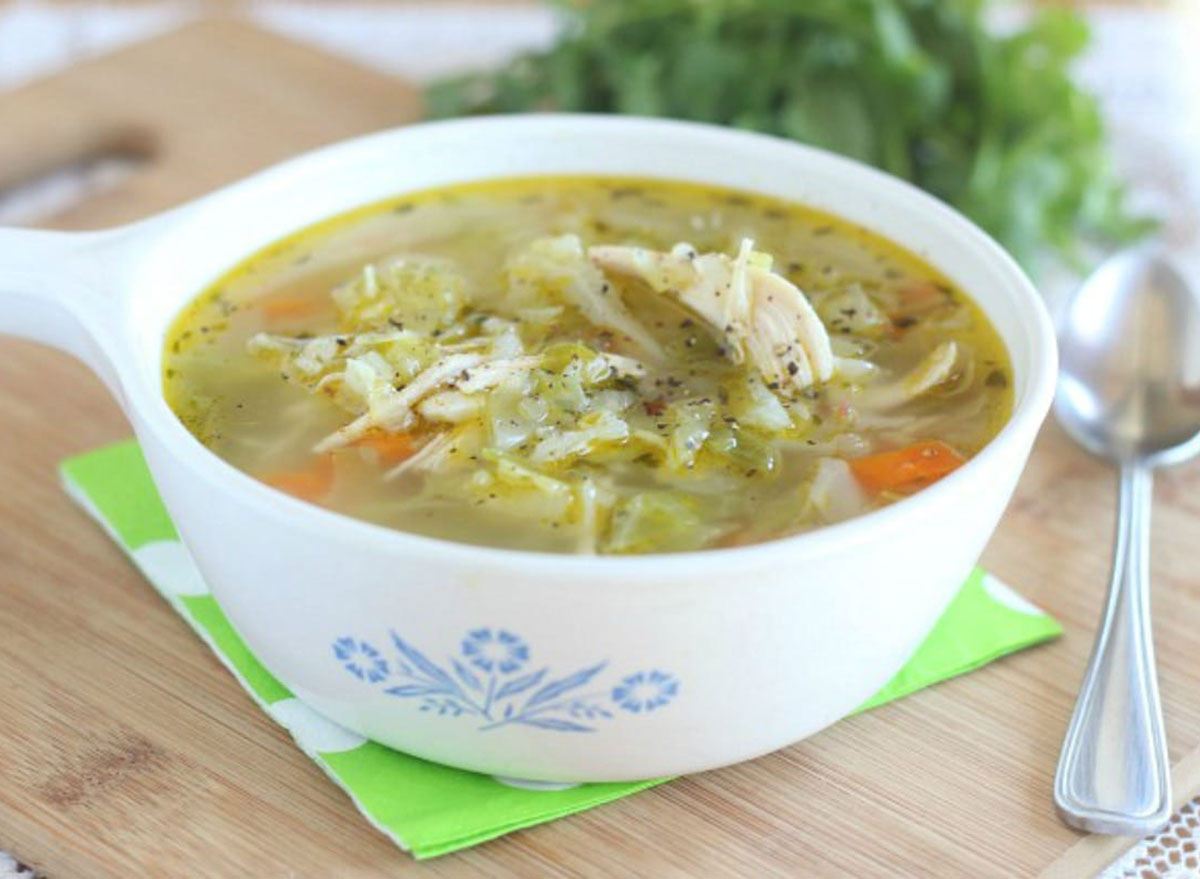 What better way to usher in soup season than by making this tasty chicken cabbage soup that has just a 35-minute prep time? This steamy dairy- and sugar-free soup is overflowing with hearty ingredients, such as carrots, cooked chicken, and earthy cabbage.
Get the recipe from Oatmeal with a Fork.
Cashew Chicken Cabbage Cups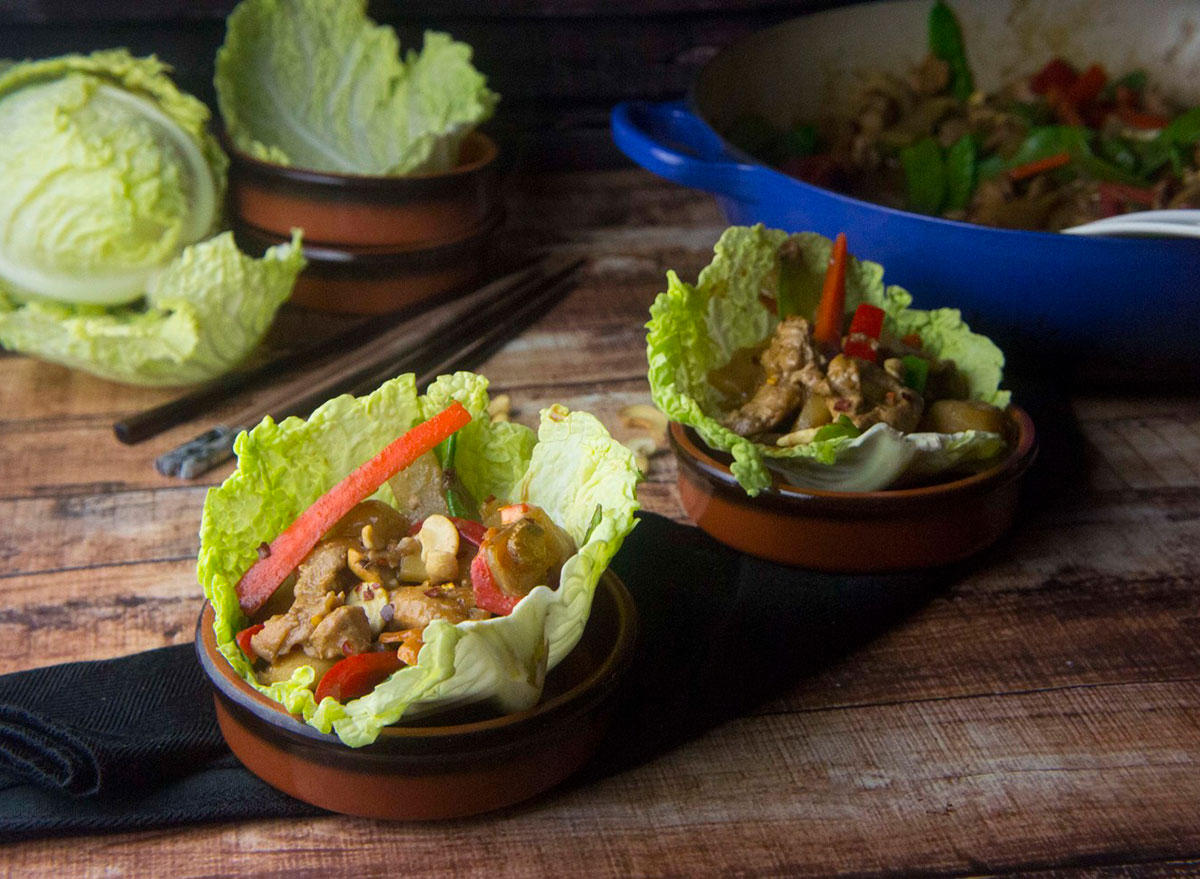 This paleo cashew cabbage cup recipe, which can be put together in just 30 minutes, makes for a great protein-packed meal that is teeming with both spice and texture.
Get the recipe from Foraged Dish.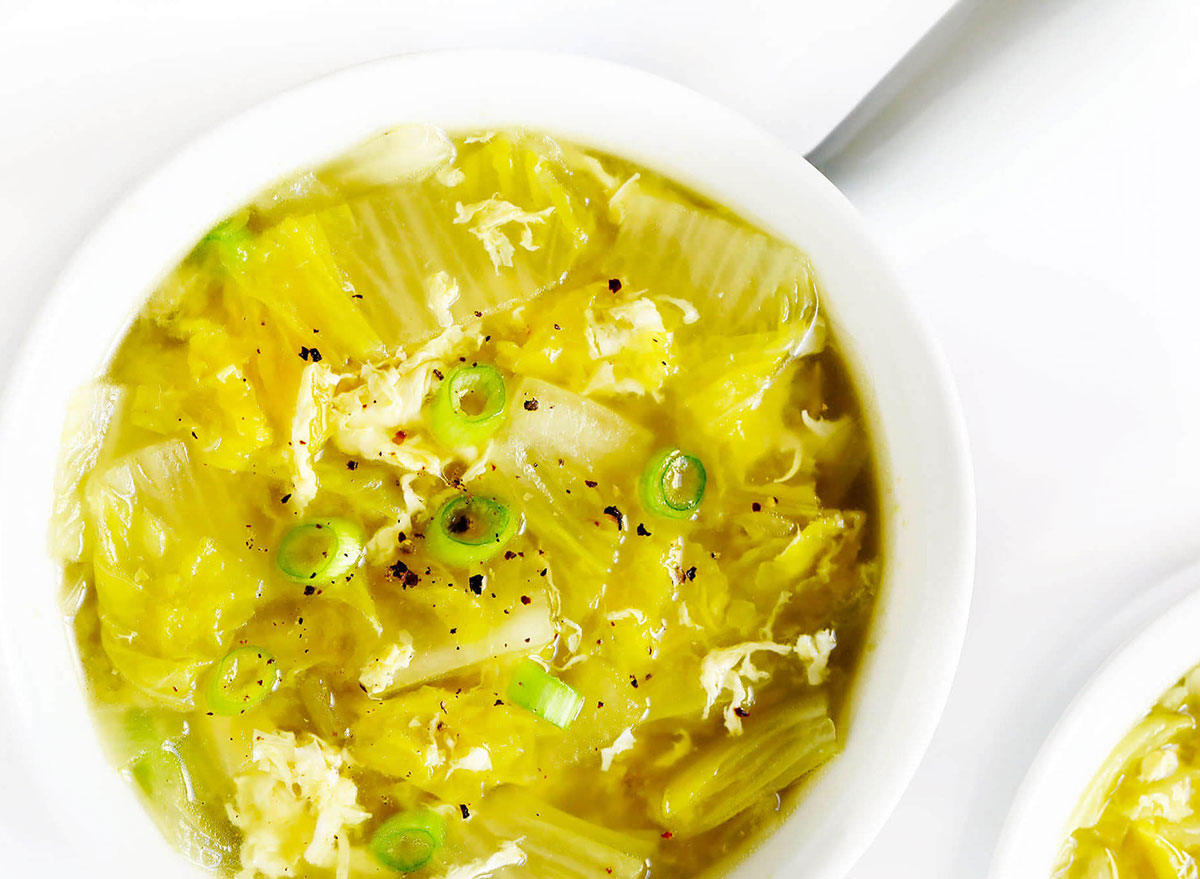 Is there any better feeling than cozying up on the couch with a steamy bowl of soup and your favorite show? The next time you need a soup for your Friday Netflix night, be sure to try out this recipe. Made using vegetable broth, Napa cabbage, ground ginger, and whisked eggs, this dish is both comforting and satisfying.
Get the recipe from Gimme Some Oven.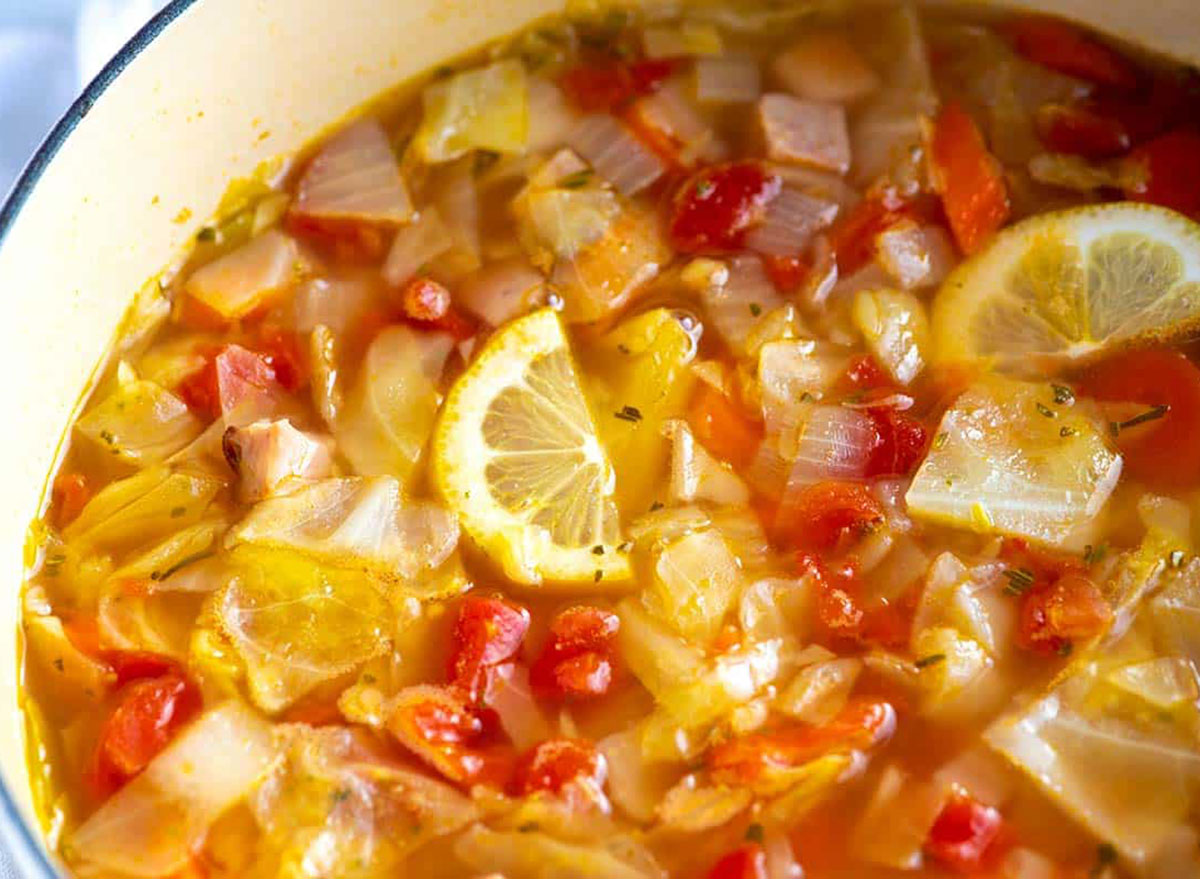 Loaded with diced onions, carrots, cabbage, and cubed lean ham steak, this savory soup recipe pairs well with grilled cheese sandwiches and crisp salads.
Get the recipe from Inspired Taste.
Crockpot Corned Beef and Cabbage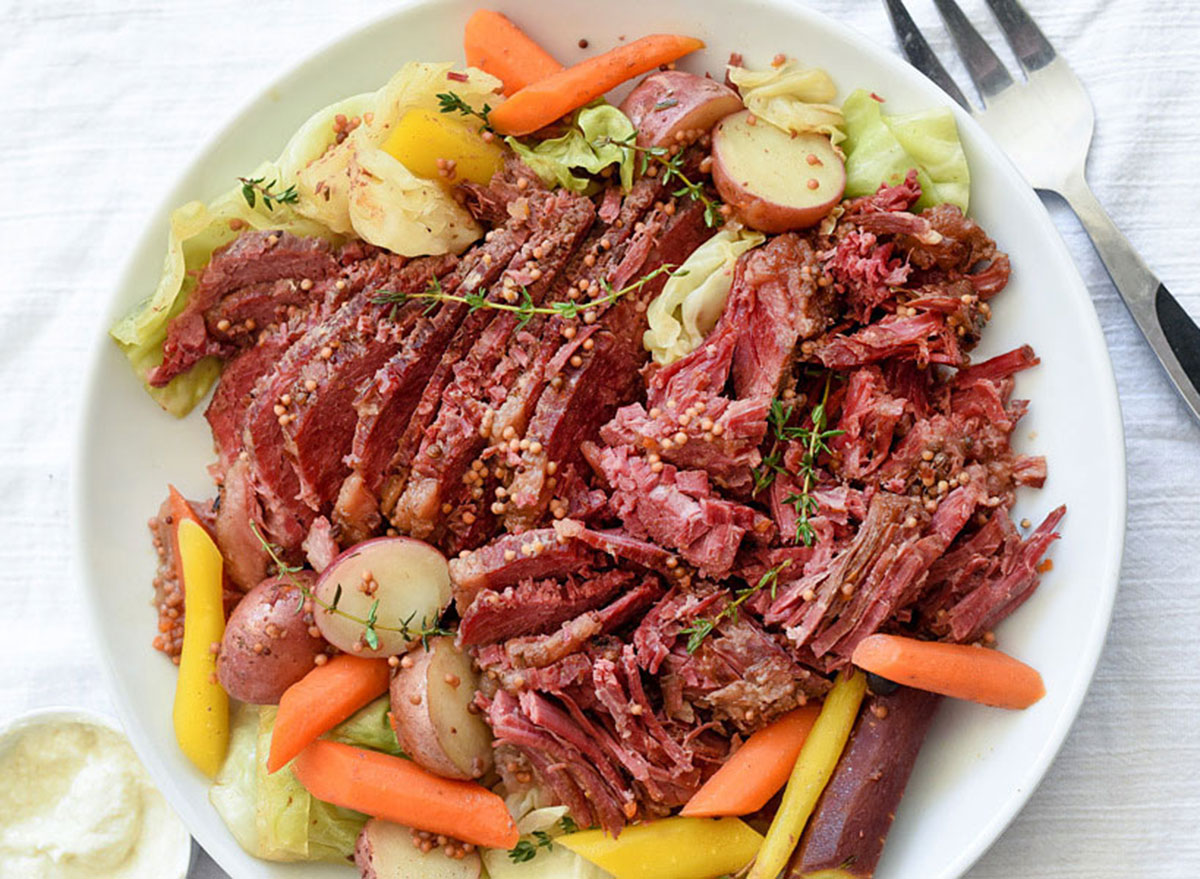 The next time you make corned beef and cabbage, don't waste time toiling away at the stovetop or oven. Instead, just toss all your ingredients into a crockpot and let your slow cooker work its magic.
Get the recipe from Foodie Crush.
Brisket Tacos with Shredded Cabbage
Shredded red cabbage makes an unexpected, but incredibly flavorful, appearance in this tasty brisket taco recipe. Made using juicy beef brisket, sweet corn, crumbled queso fresco, and beer (yes, beer), this dish is the perfect meal to enjoy during your next Taco Tuesday.
Get the recipe from How Sweet Eats.
Slow Cooker Cabbage Patch Soup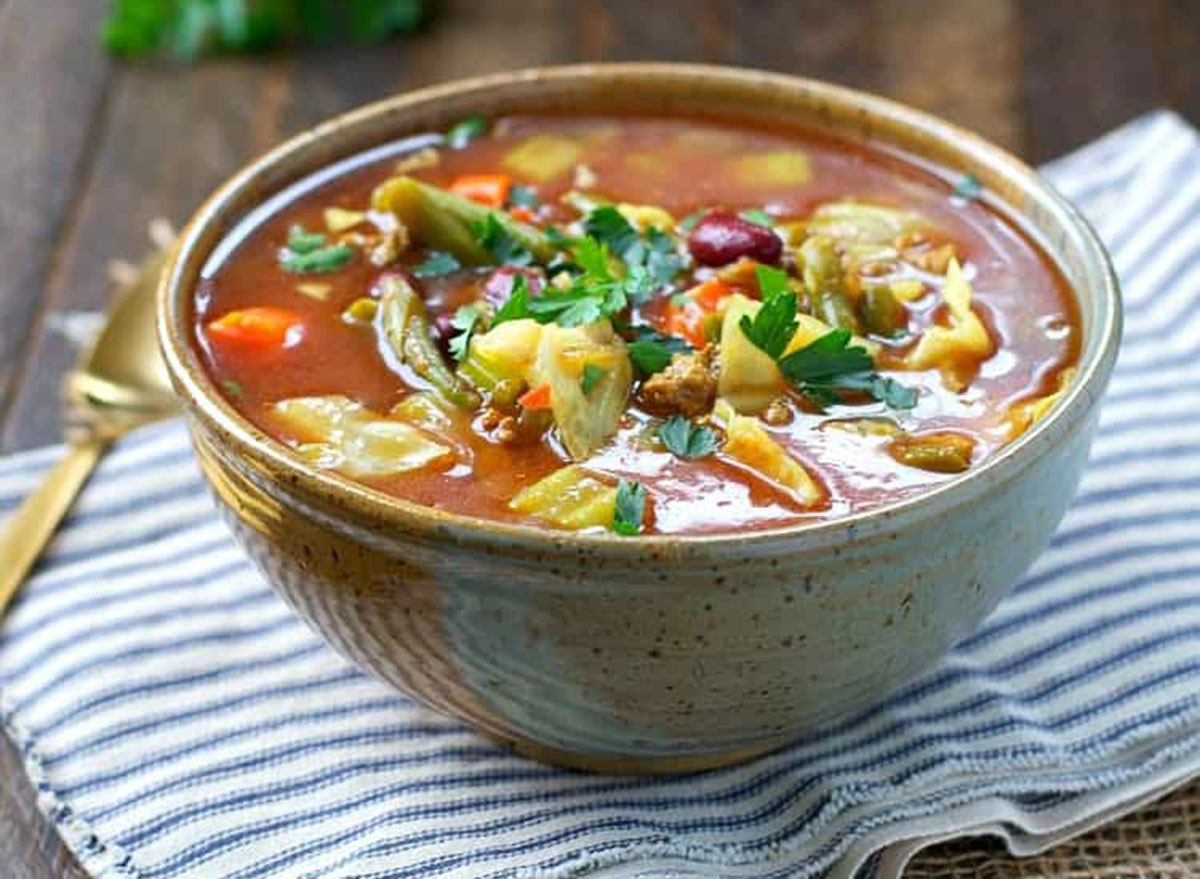 This wonderfully nourishing slow cooker cabbage soup features lean ground beef, celery, carrots, red kidney beans, and canned crushed tomatoes. A good source of fiber, this soup tastes great with crusty buttered sourdough.6254a4d1642c605c54bf1cab17d50f1e
Get the recipe from The Seasoned Mom.
Grilled Cabbage Steaks with Bacon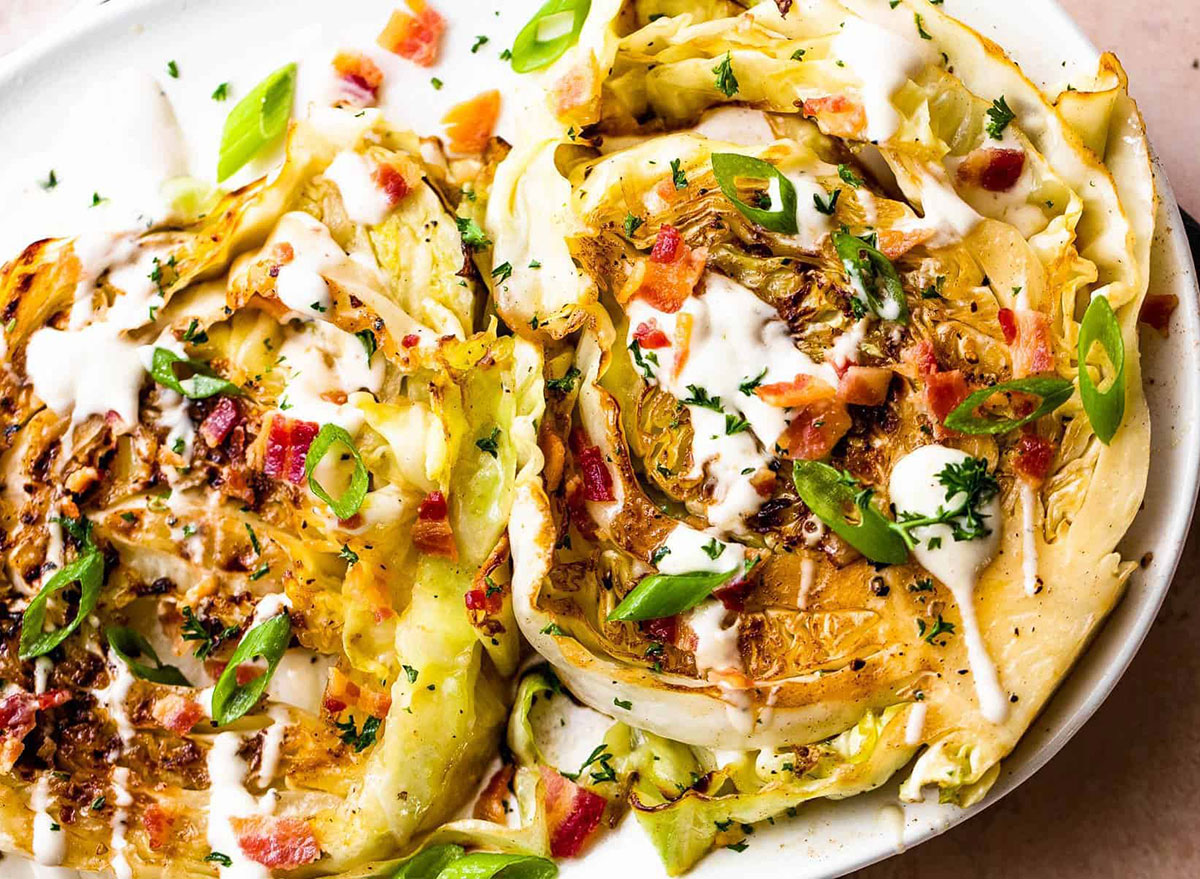 Warm cabbage steaks, garnished with green onions and drizzled with ranch dressing, make an excellent side to any meal. An added bonus is that they can be prepped and cooked in as little as 30 minutes.
Get the recipe from Diethood.
Served atop juicy burgers or mixed into protein-rich rice bowls, this cabbage slaw can be enjoyed in countless ways. Hint: If you like your cabbage sliced super thin, this recipe recommends using a mandolin which can help achieve this.
Get the recipe from Minimalist Baker.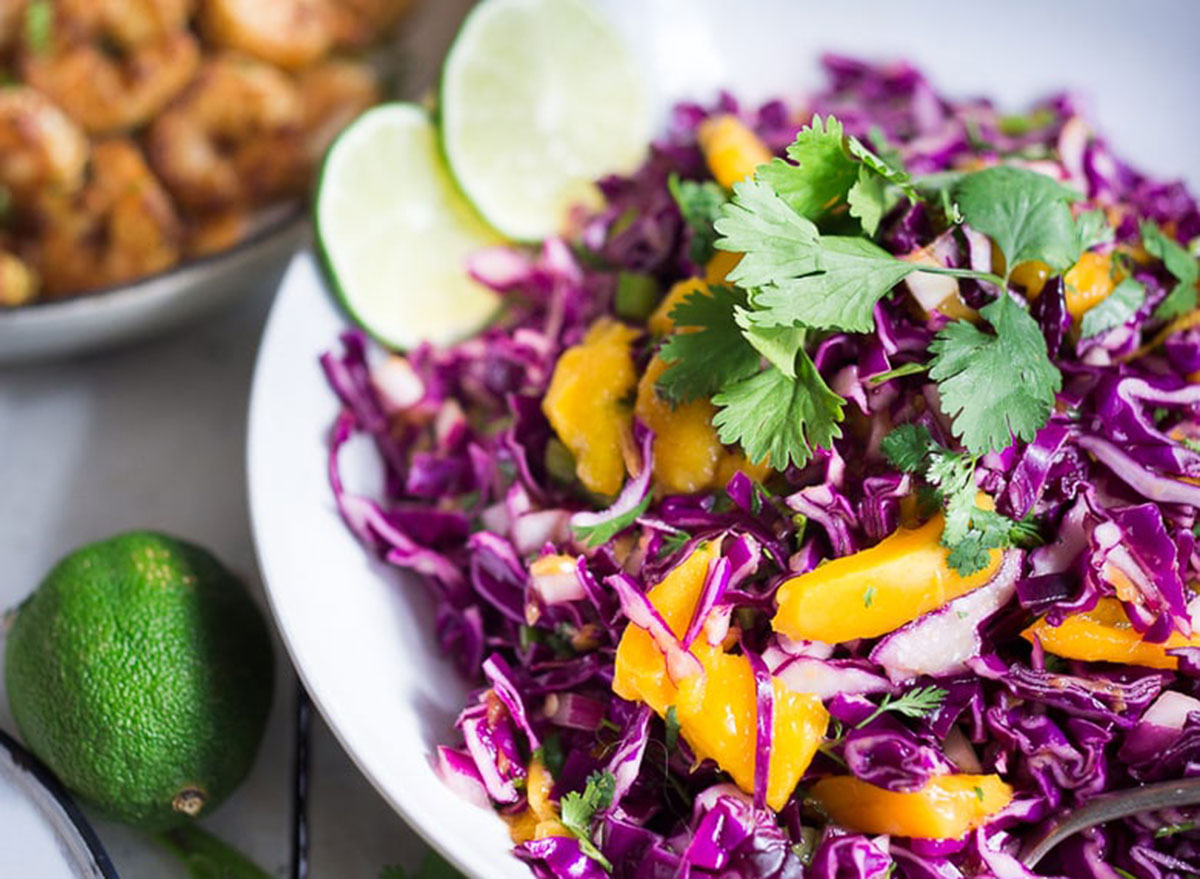 This crunchy cabbage mango slaw, which features tasty ingredients such as zesty orange juice, juicy mangos, and spicy jalapeno, is bursting with island flavors. This recipe is both easy to make and enjoy.
Get the recipe from Feasting at Home.
Corned Beef and Cabbage Grilled Cheese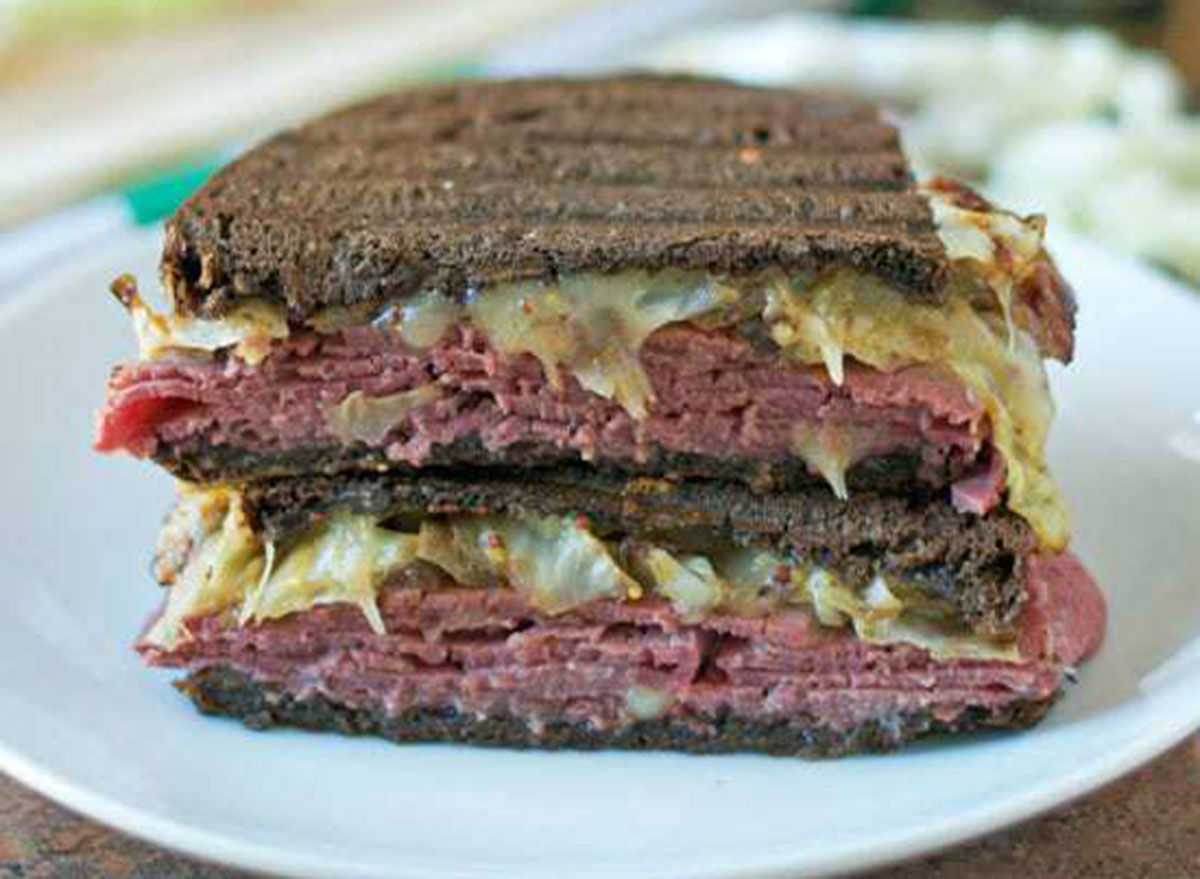 This innovative recipe takes a classic St. Patrick's Day meal and turns it into one of the most delicious sandwiches you may ever eat. Stuffed with salty corned beef, cabbage, and cheese, this sandwich will have your guests asking for seconds.
Get the recipe from Wellplated.
André Heimann's Hungarian Cabbage Strudel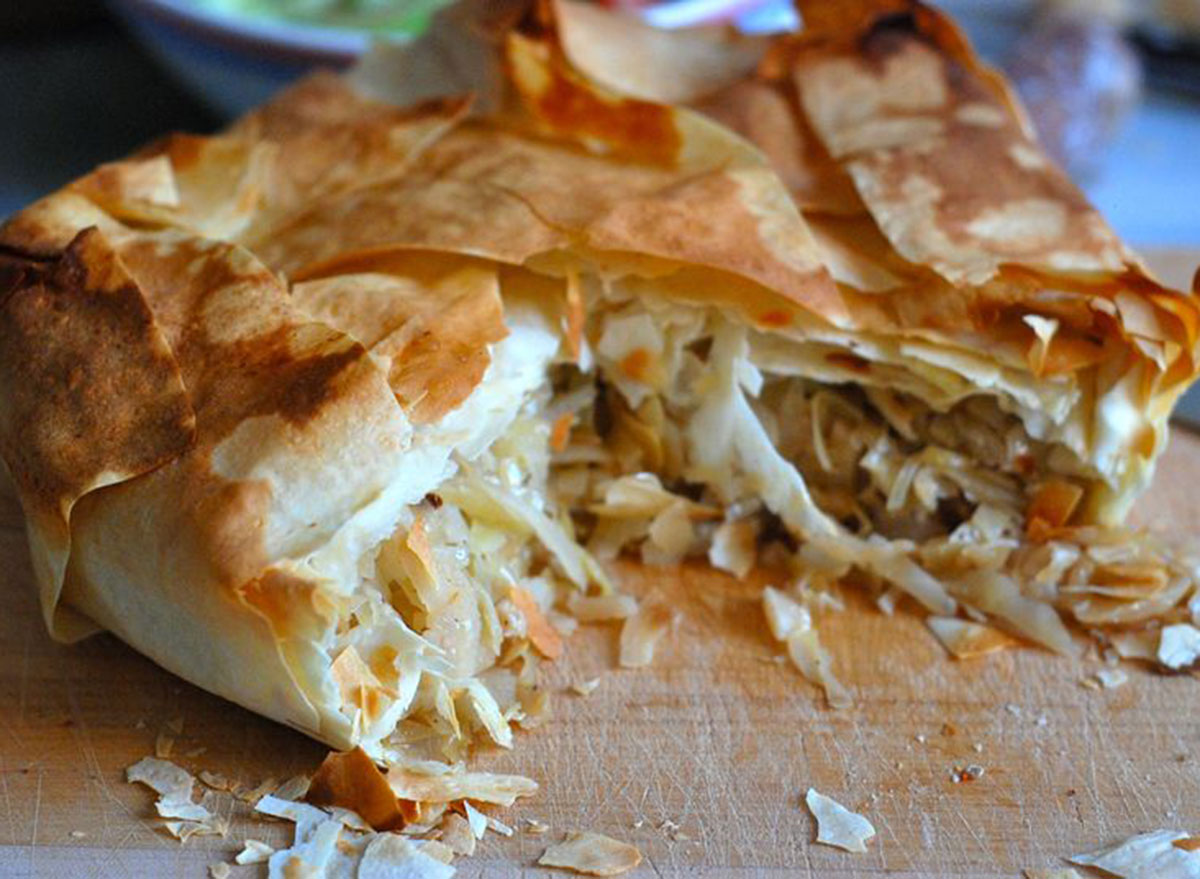 A remake of the popular strudel available at the adorable André Hungarian Bakery in Queens, New York, this delicious flaky pastry is the perfect way to start or end any day.
Get the recipe from The Wednesday Chef.
Dump and Bake Corned Beef and Cabbage
Corned beef brisket, white pearl onions, beef broth, and diced potatoes are all thrown into a crockpot to create some of the best corned beef and cabbage dinners around. Hint: Use Guinness in place of the broth if you want to create a more rich, full-bodied flavor.
Get the recipe from The Seasoned Mom.
You only need a few easy-to-find ingredients to make some of the best pickled red cabbage around. Added into salads or served atop tacos, red cabbage not only adds taste and texture but is a healthy addition to any meal. According to research, all cabbage varieties are high in vitamin C and are also a great source of fiber. ​​
Get the recipe from Live Eat Learn.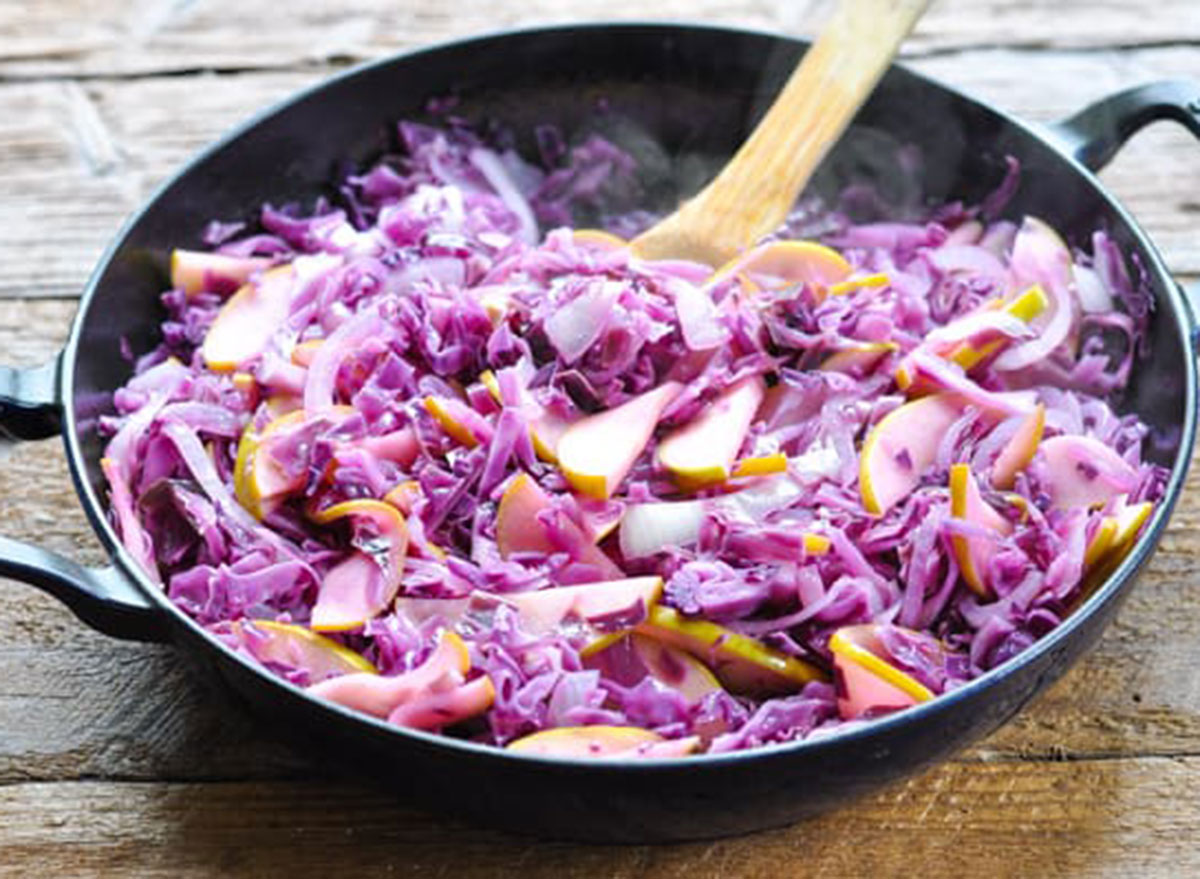 This German-influenced red cabbage recipe brings to life this popular vegetable by incorporating onion, Granny Smith apples, a little bacon fat, and cider vinegar. This tangy dish tastes great heaped onto grilled hot dogs, with roasted chicken, or alongside baked fish.
Get the recipe from The Seasoned Mom.
Napa Cabbage Salad with Tamari Sesame Dressing
This colorful recipe calls for fresh ingredients, such as Napa cabbage, scallions, carrots, and red pepper, that can all be picked up at your local farmer's market. The best part? This salad will stay for at least a day or two in the refrigerator even after it is dressed.
Get the recipe from Blissful Basil.
Savoy Cabbage Breakfast Burrito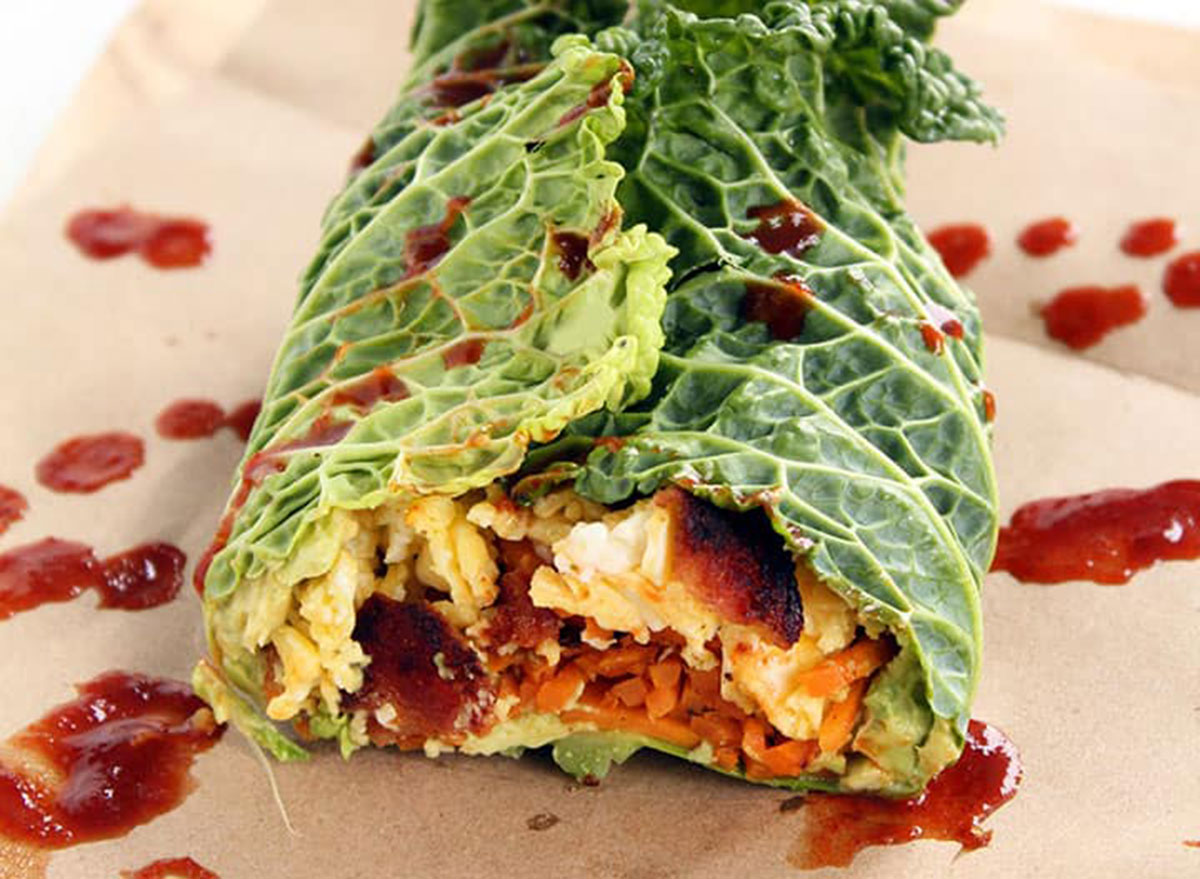 What better way to start your day than with these cabbage breakfast burritos? Made using smashed avocado, bacon, sweet potato, and scrambled eggs, all stuffed into Savoy cabbage leaves, this tasty morning treat will have you feeling satisfied for hours.
Get the recipe from Inspiralized.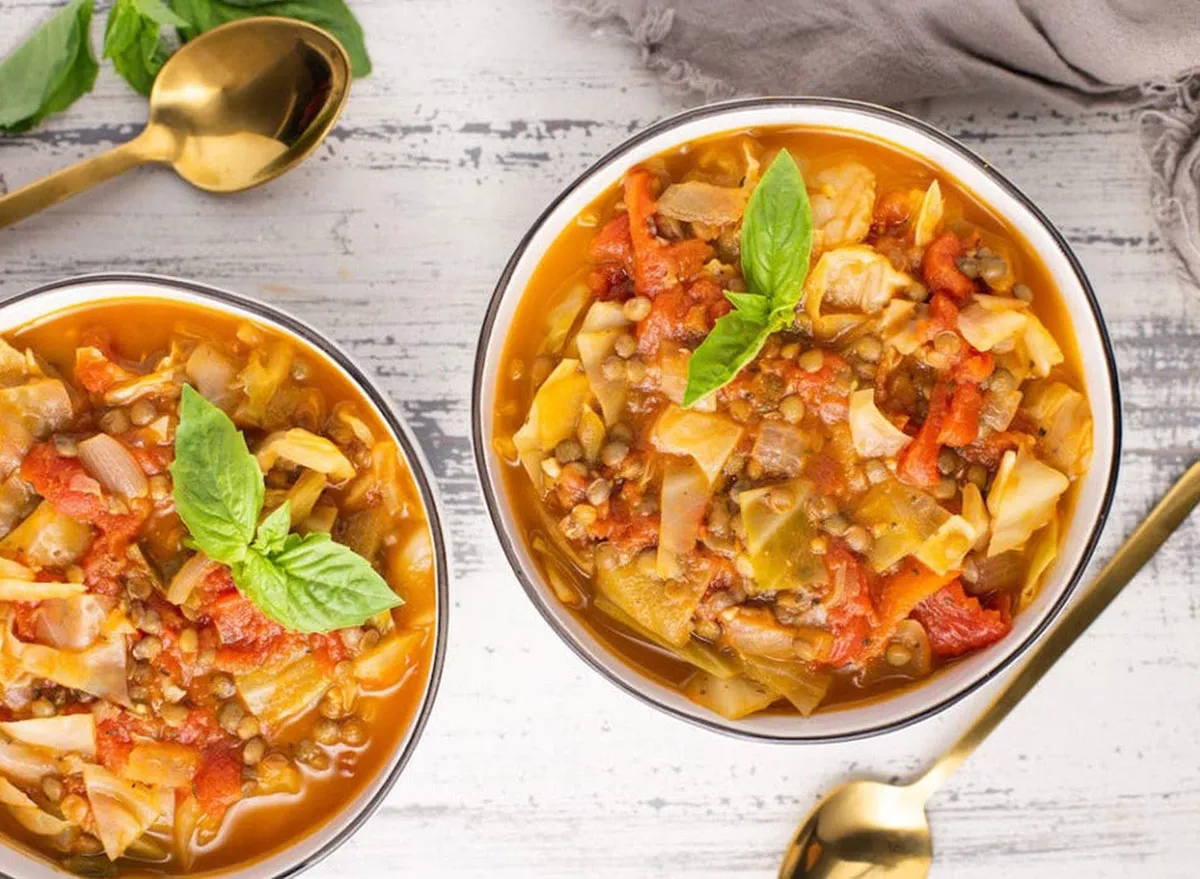 Packed with both protein and fiber, this recipe takes traditional lentil soup and adds some "je ne sais quoi" to it. For instance, ingredients such as apple cider vinegar, cabbage, and white miso paste, help make this lentil soup flavor profile more multidimensional.
Get the recipe from Eating Bird Food.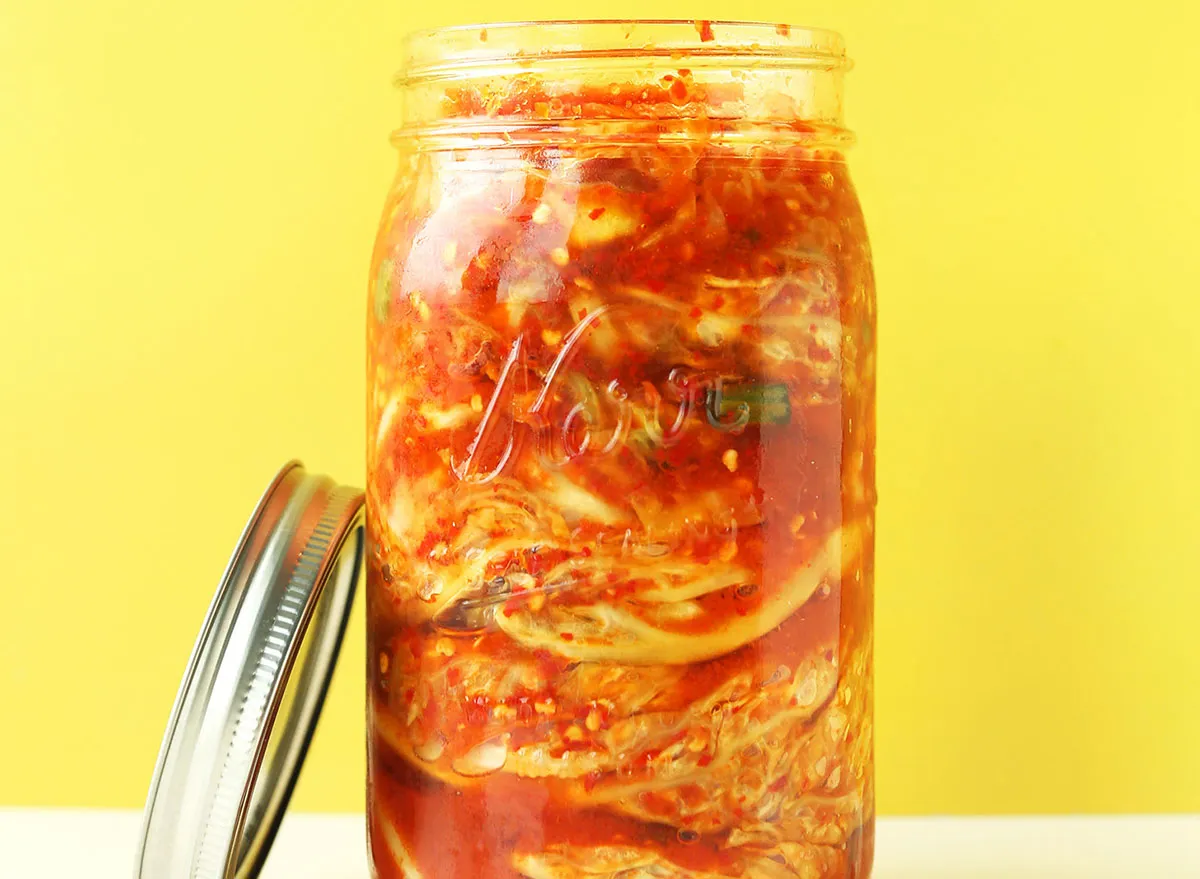 Always have mouth-watering kimchi on hand with this simple recipe that calls for just a handful of ingredients. This rendition is free of fish sauce, making it the perfect recipe for vegans to whip up on a dime.
Get the recipe from Minimalist Baker.
Instant Pot Indian Cabbage and Peas
Warming spices, such as curry, green chili, minced garlic, and turmeric, transform finely chopped green cabbage into a delicious side that can be enjoyed with rice, meat, and more.
Get the recipe from Vegan Richa.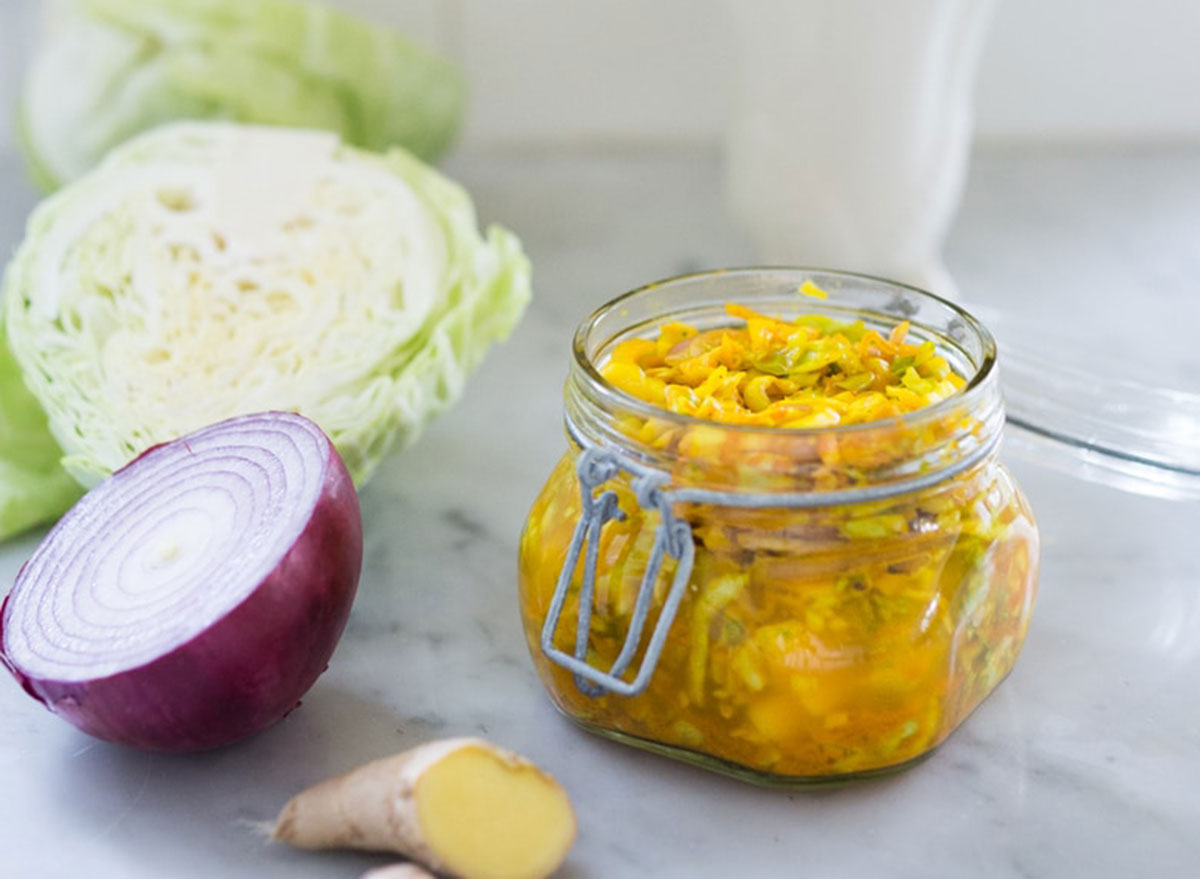 Give traditional sauerkraut a bit of an edge with this turmeric sauerkraut recipe that is made using wholesome ingredients such as organic cabbage, onion, garlic, and fresh ginger.
Get the recipe from Feasting at Home. 
Crunchy Cabbage Slaw with Ginger Peanut Dressing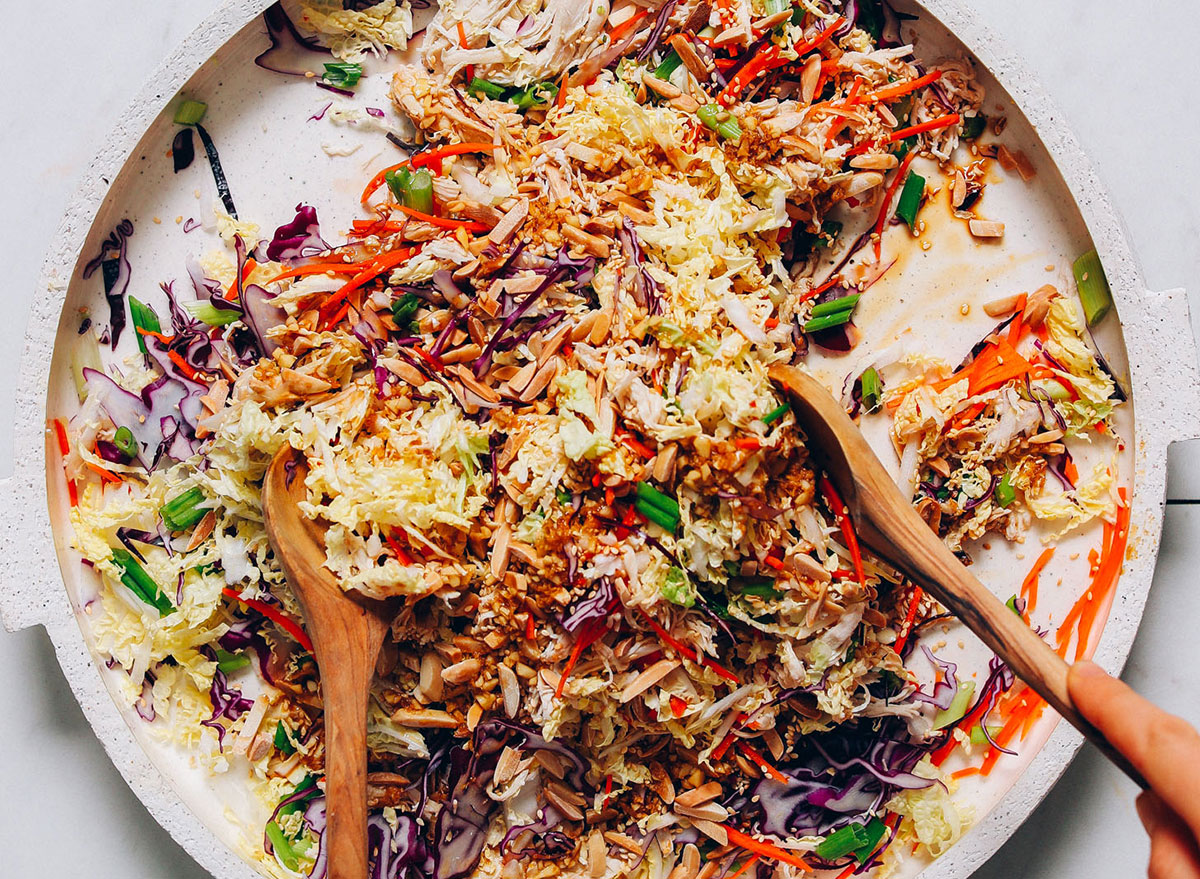 Whip up some culinary magic with this crunchy cabbage slaw that can be made in just 30 minutes. Sweet and savory, tangy and sweet, this irresistible salad recipe can keep in the fridge for up to 4 days—it's the perfect make-ahead dish.
Get the recipe from Minimalist Baker.
Lemon Parmesan Cabbage Salad with Grilled Chicken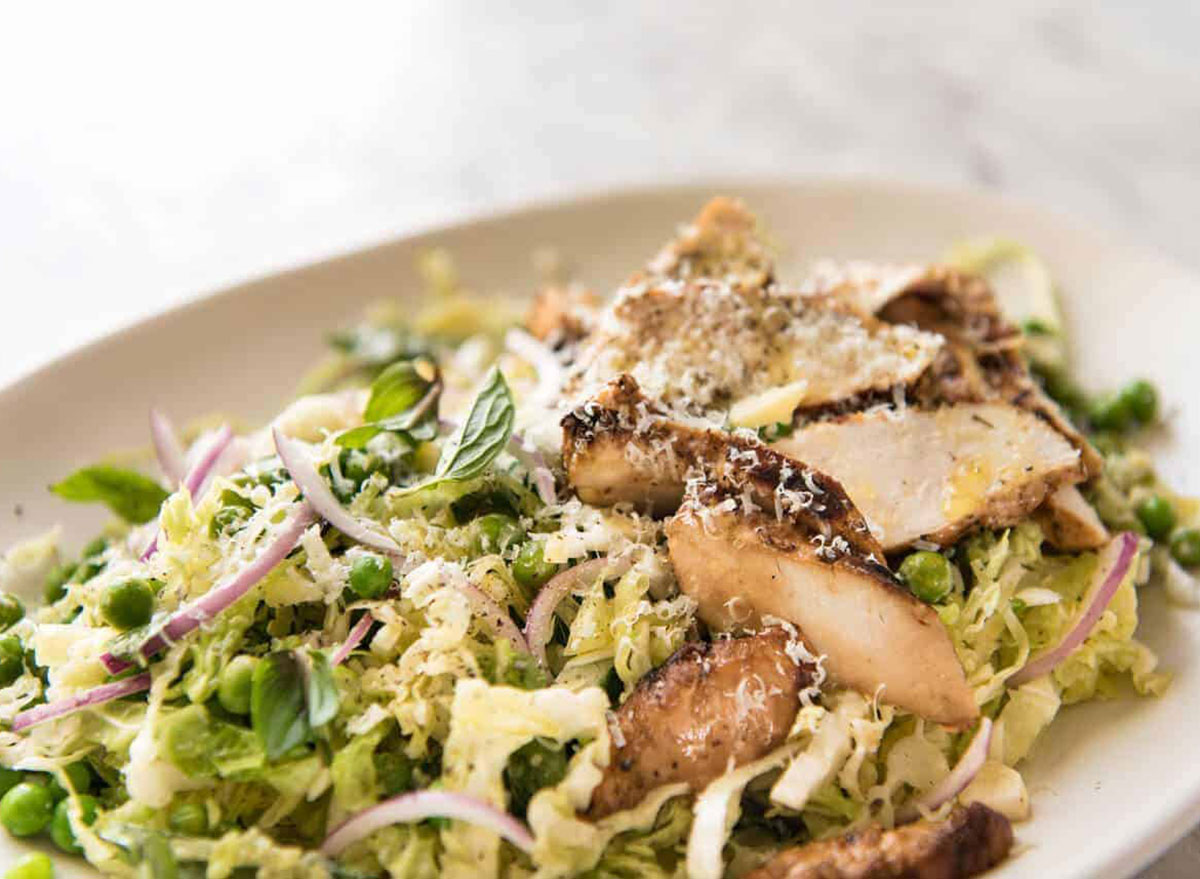 This incredibly refreshing salad recipe is anything but ordinary. Juicy chicken breasts, bright citrus, and earthy parmesan, all come together to create a meal that can be enjoyed during any time of the year. We imagine this lip-puckering dish would pair well with a cup of creamy tomato soup or a glass of smooth red wine.
Get the recipe from Recipe Tin Eats.
Sweet Potato and Cabbage Pad Thai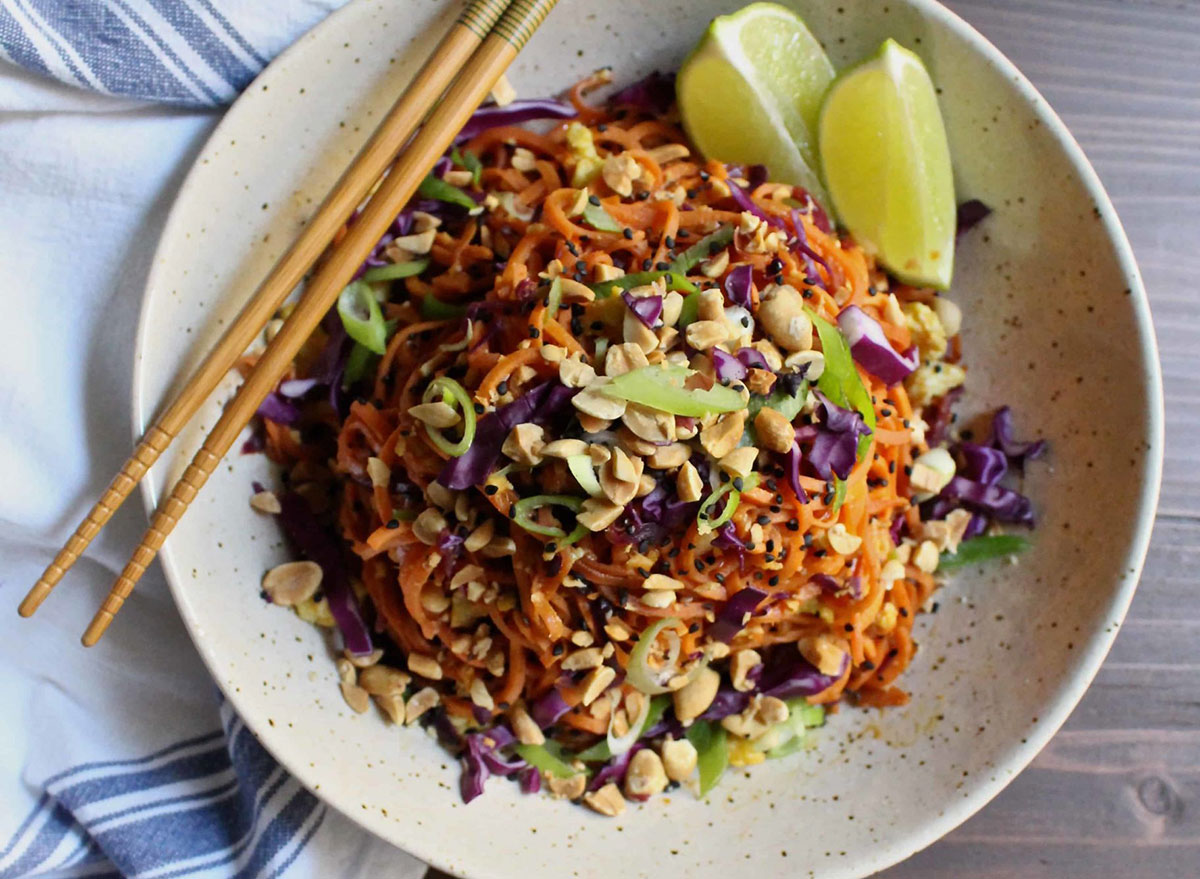 Sweet potatoes, which are packed with fiber and vitamin b6, are spiralized in this extra tasty sweet potato and cabbage Pad Thai recipe. We love that a secret ingredient—maple syrup—is used to give this dish a bit of added sweetness.
Get the recipe from Inspiralized.
Cheesy Savoy Cabbage Chips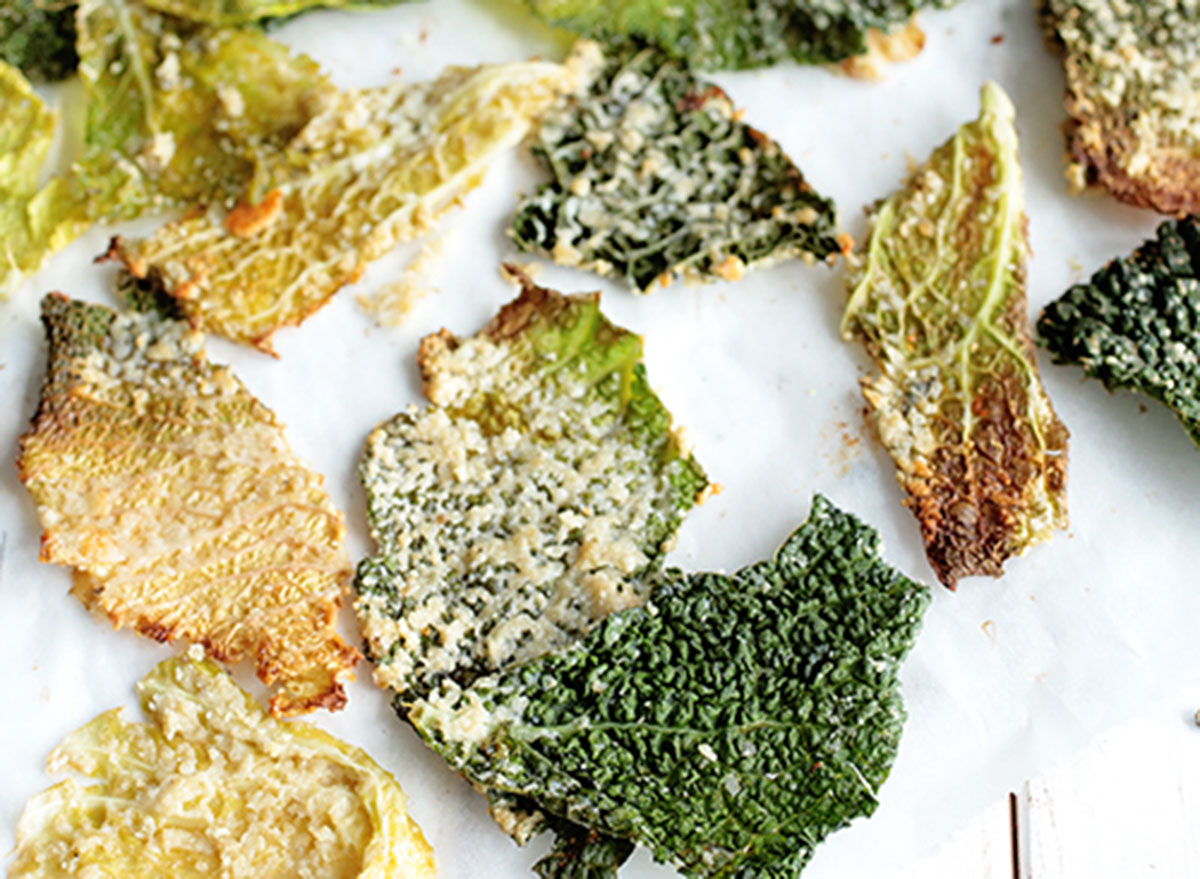 What is better than crispy, cheesy cabbage chips? Crispy, cheesy vegan cabbage chips. Cashews, lemon juice, and nutritional yeast steal the limelight in this recipe that may just become your next dinner party or game day go-to.
Get the recipe from Potluck.
Sausage and Cabbage Skillet
Sausage and cabbage prove to be a match made in kitchen heaven in this low-carb nosh that is perfect for meal prepping. Presented over a bed of warm rice or served alone, this easy skillet dish is sure to become a hit with family and friends.
Get the recipe from Le Creme De La Crumb.
This traditional Hungarian dish, also known as haluski, takes thick-cut egg noodles and combines them with salty bacon, diced yellow onion, green cabbage, and garlic. To make this dish even more filling add in pieces of sliced sausage, diced chicken, or sauteed tofu.
Get the recipe from Julie's Eats and Treats.
Lemon Garlic Sauteed Cabbage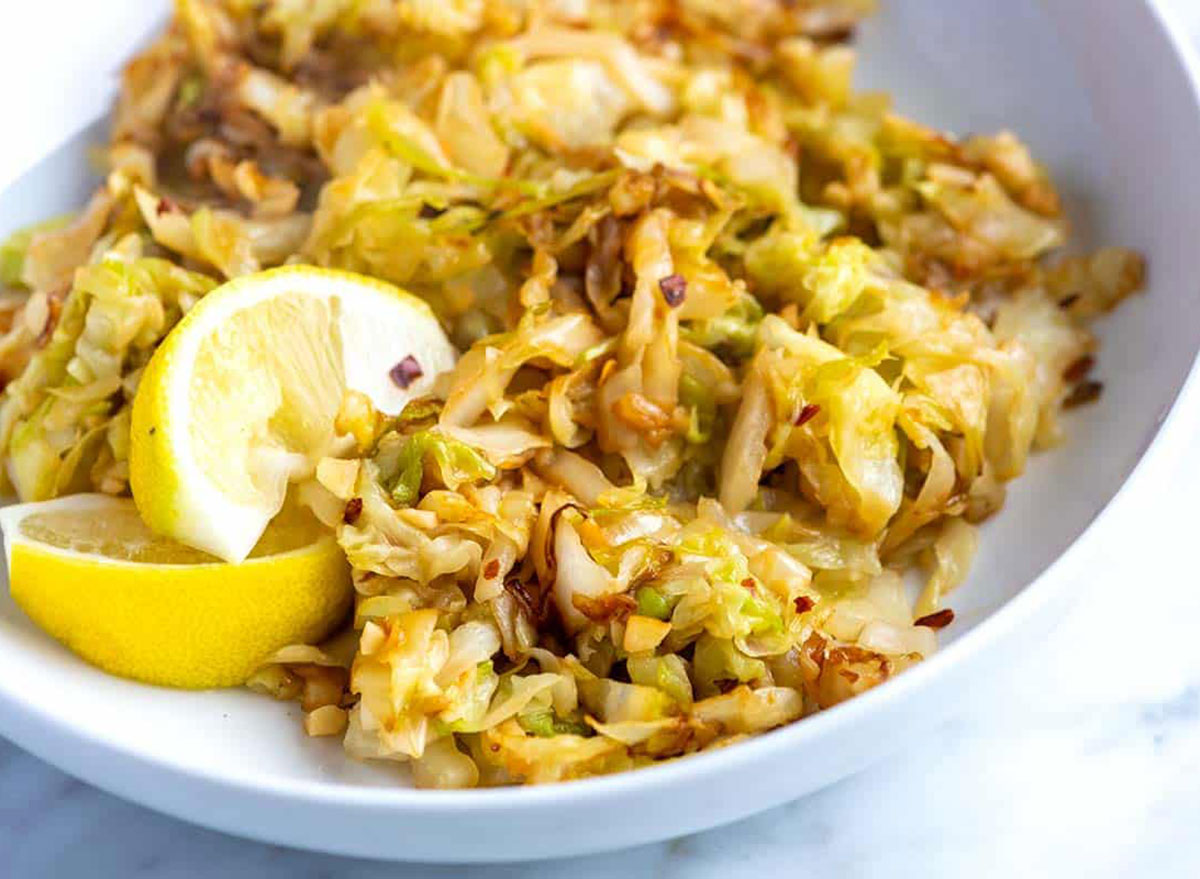 Simple and delicious is the name of the game for this easy lemon garlic cabbage recipe. This splendid recipe only calls for a batch of easy-to-find ingredients, including white cabbage, garlic, and red pepper flakes.
Get the recipe from Inspired Taste.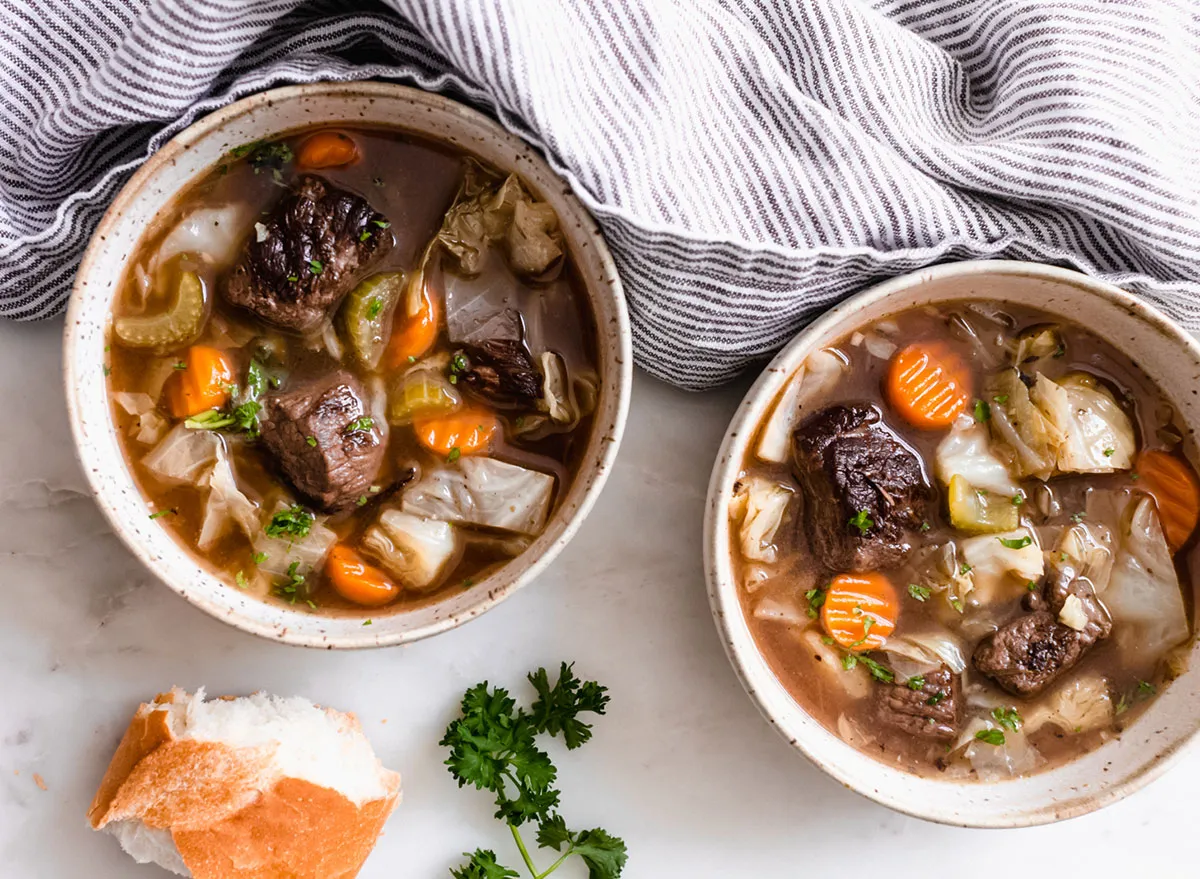 Tender chunks of beef meet a medley of perfectly prepared vegetables in this sumptuous cabbage beef soup. Be sure to add a tablespoon of soy sauce to the broth to help deepen its flavor.
Get the recipe from Little Spice Jar.
Cabbage and Berry Smoothie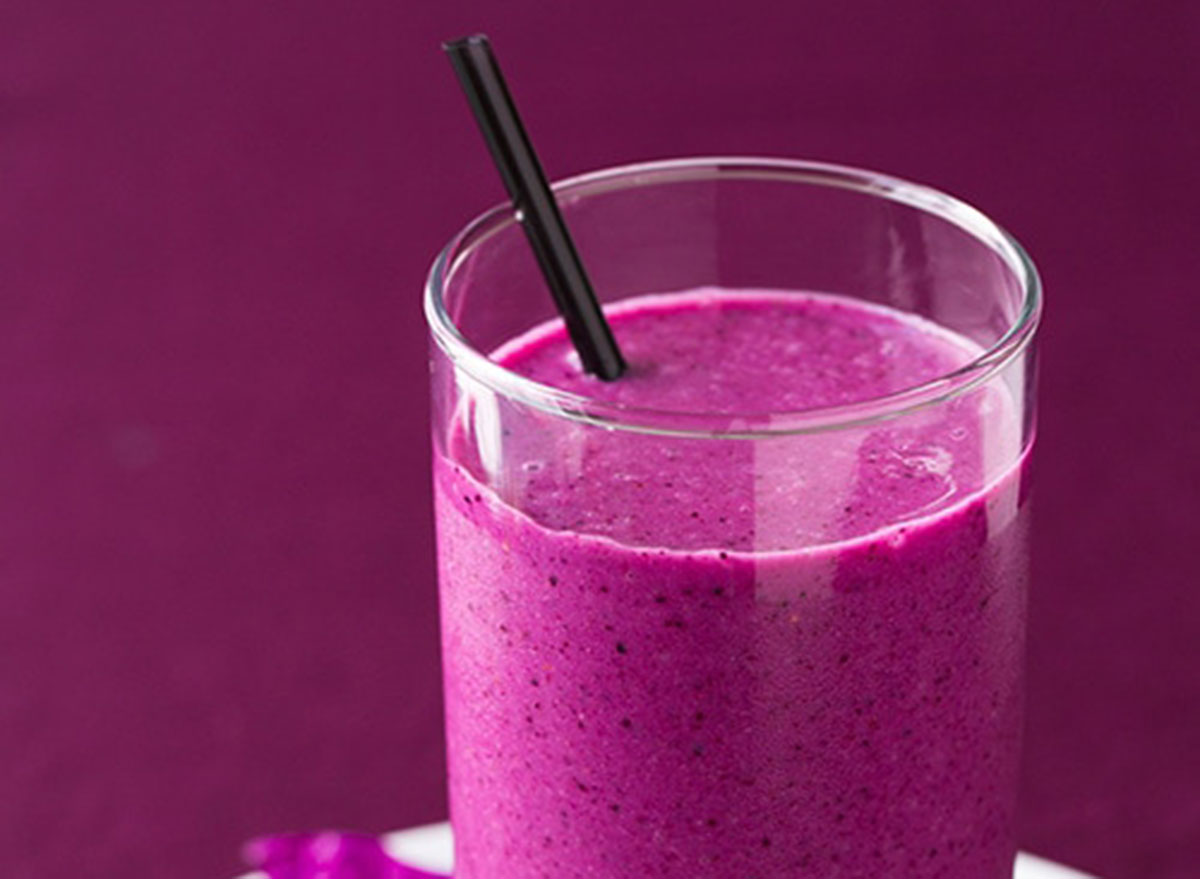 Smoothies may be the last place you would expect to find cabbage, but we assure you that this recipe is too good to pass up. Purple cabbage is blended with frozen berries, banana, cherry Greek yogurt, and hibiscus tea, to create a smoothie that is anything but ordinary.
Get the recipe from Cooking Classy.
Grilled Cabbage with Sausage
Purple cabbage gets a welcome makeover as grilled "steaks" in this easy-to-make barbecue recipe. If you are vegan, the chicken andouille sausage can be swapped out for a non-meat option.
Get the recipe from Feasting at Home.
Cabbage Wraps with Cranberry and Chicken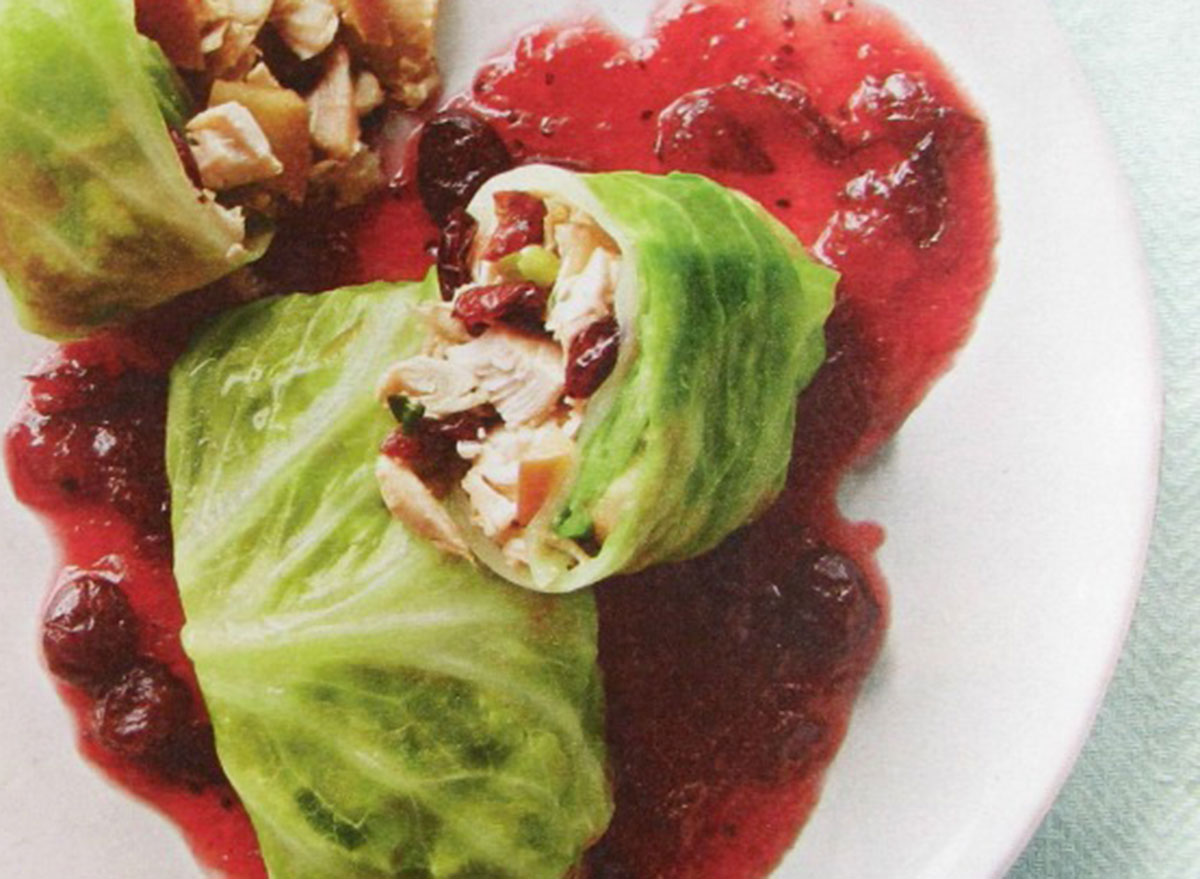 Cranberry sauce has the power to make any dish come alive, and this recipe is no different. Made using rotisserie chicken, cranberry sauce, and chopped apples, these simple, on-the-go wraps are ones the whole family will love.
Get the recipe from Recipes Just 4 U. 
This sumptuous Turkish Cabbage Roll recipe will have your whole kitchen smelling heavenly. Made using ground lamb, crushed tomatoes, garlic, allspice, and pine nuts, this recipe is perfect for the holidays or just for an evening spent cooking at home.
Get the recipe from Feasting at Home.
Smoky Chickpea, Cabbage, and Lentil Soup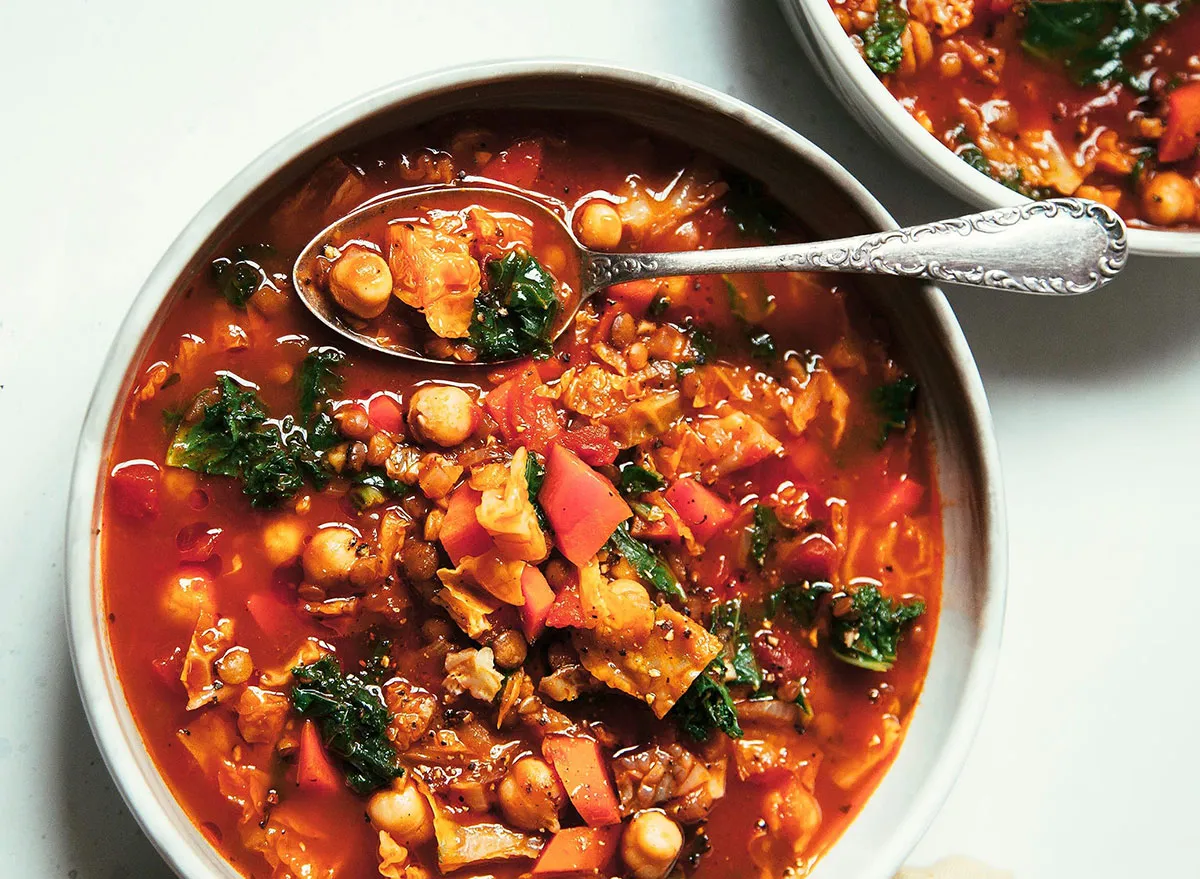 Plant-based protein reigns supreme in this delicious cabbage and lentil soup recipe that can be put together in under an hour. Serve it with a side salad or homemade chicken salad sandwich for a perfect midday meal.
Get the recipe from The First Mess.
Warm Cabbage and Noodle Salad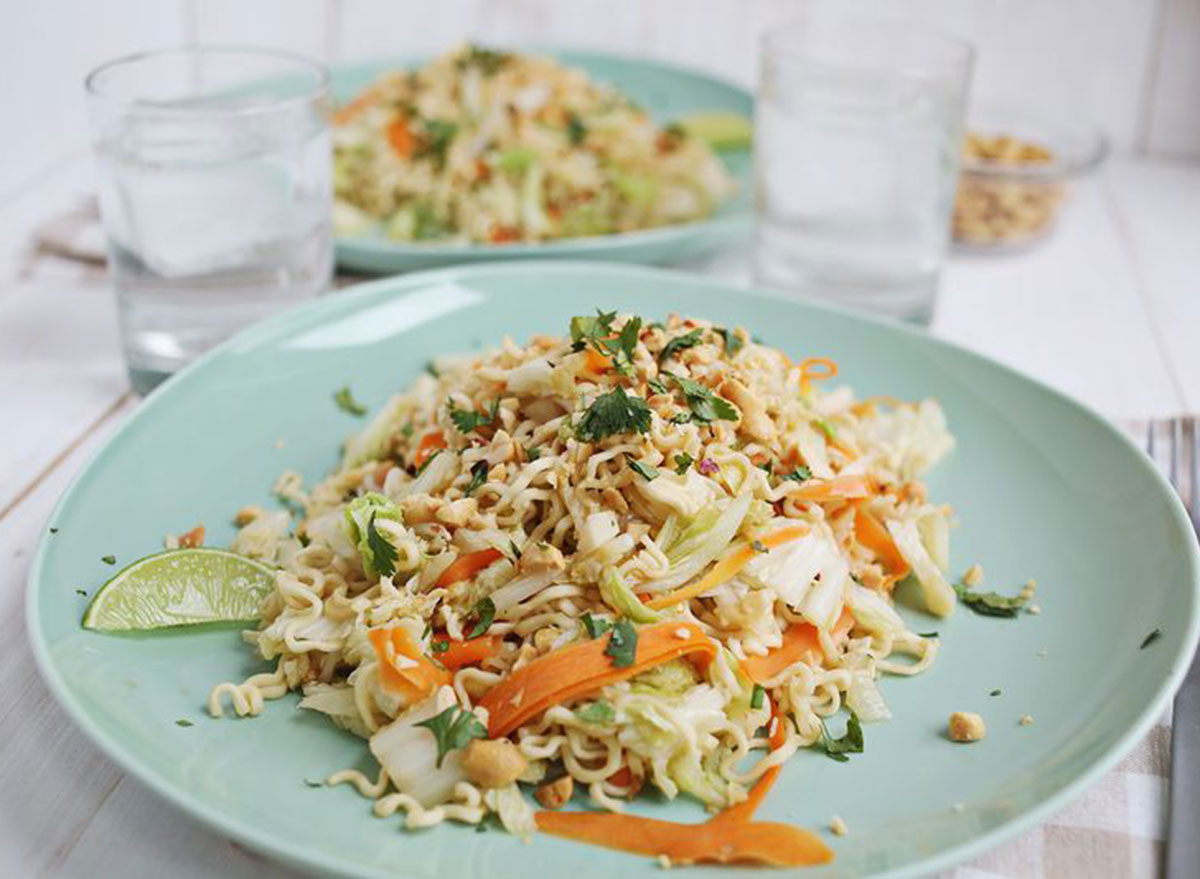 Dress up your ramen with this tasty recipe that calls for shredded carrots and cabbage, minced ginger, soy sauce, and lime.
Get the recipe from A Beautiful Mess.
Read more:
11 Easy Recipes You Need in Your Meal Prep Routine Right Now
20+ Easy Healthy Recipes That Start with a Rotisserie Chicken