The Best Cinnamon Roll in Every State
Cinnabon's got nothing on these neighborhood hot spots.
The cinnamon roll is a greatest hit on breakfast menus. From the big-as-your-face pastries at greasy spoon diners to the gooey, gourmet buns topped with crunchy bits like bacon crumbles and pecans, the delectable cinnamon roll was brought to the United States by Swedish and German immigrants in the 17th century.
Filled with cinnamon sugar and topped with a glaze or cream cheese frosting, the cinnamon roll gets its own day on October 4, but we all know it's one of those treats that should be enjoyed year-round.
Whether you like a glaze or cream cheese frosting; a traditional bun or one that's been crossed with pancakes, here's where you'll find the best cinnamon roll in every single state. Also, check out The Best Croissant In Every State.
ALABAMA: Cinnaholic in Birmingham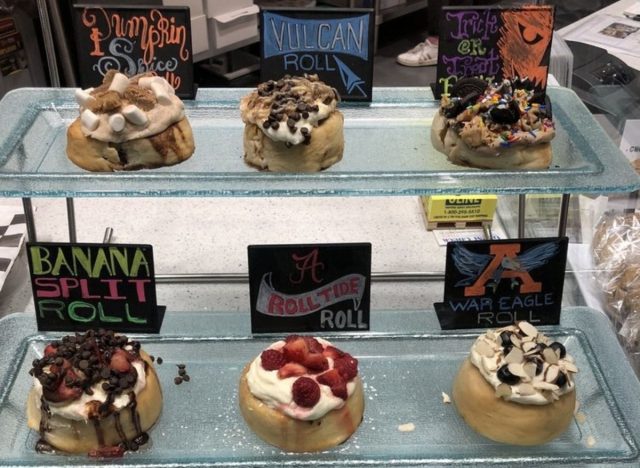 At Cinnaholic, you can build your own cinnamon rolls, choosing from nearly 20 different frostings ranging from traditional ones (cream cheese or vanilla) to more creative picks (cake batter, raspberry, coffee). From there, pile on the toppings from banana bread bites to cinnamon sugar. Or, you can opt for one of the signature cinnamon rolls, like campfire s'mores or blueberry blitz.
"As soon as you walk into their store you are met with the most amazing cinnamon and fresh baked goods smell," one Yelp reviewer wrote.
ALASKA: Snow City Cafe in Anchorage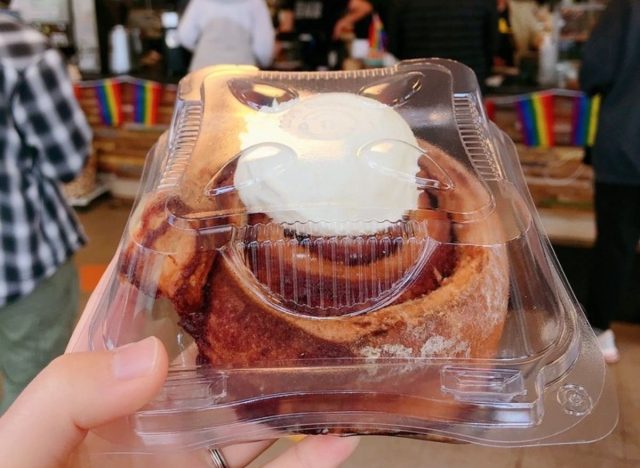 When President Barack Obama made a stop in Anchorage in 2015, he bought out all of the cinnamon rolls that Snow City Cafe carried, as well as muffins and buns, offering to share his pastry stash with staffers and reporters. Suffice it to say, these cinnamon rolls have a presidential endorsement, and locals love them, too.
"The cinnamon roll was light and fluffy combined with the not overly sweet icing and hinted with a touch of citrus. Delicious," one Yelp reviewer wrote.
ARIZONA: Red Rock Cafe in Sedona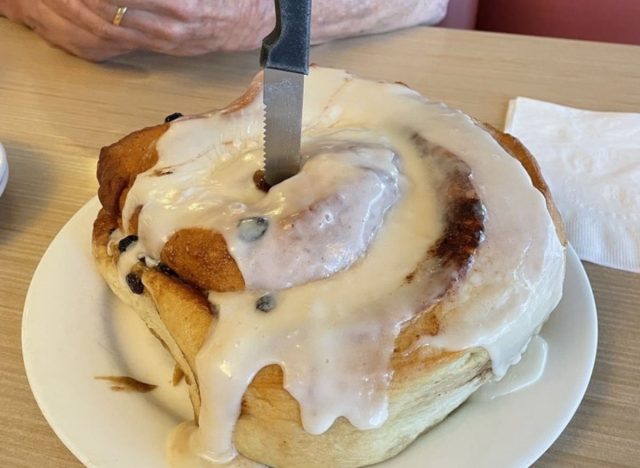 Cinnamon roll lovers who are up for a challenge, Red Rock Cafe is for you: The brunch spot serves a famous 3-pound cinnamon roll that's stuffed with raisins and walnuts.
Reviewers recommend splitting the huge cinnamon roll with others in your group. "The 3# cinnamon roll was moist and warm, 5 of us did not finish it, but still good warmed up the next day," one reviewer wrote.
ARKANSAS: Will's Cinnamon Shop in Hot Springs
Baked fresh daily, Will's Cinnamon Shop let's dessert lovers choose their icing, which ranges from traditional to a maple coffee, and then load on toppings like sprinkles, pecans, or bacon.
"Great big cinnamon rolls with your choice of frosting (we did traditional cream cheese and a seasonal lemon)," one Trip Advisor reviewer wrote. "They were terrific." Another reviewer said: "The cinnamon rolls are to die for!"
CALIFORNIA: Johnny Doughnuts, multiple locations
Named one of Food Network's top five doughnut shops in the nation, Johnny Doughnuts crafted a vegan cinnamon roll that's made with roasted sweet potatoes and sweet golden raisins. There's also a classic cinnamon roll on the menu along with doughnuts, fritters, and cronuts (i.e. croissant x doughnut).
COLORADO: Johnson's Corner in Johnstown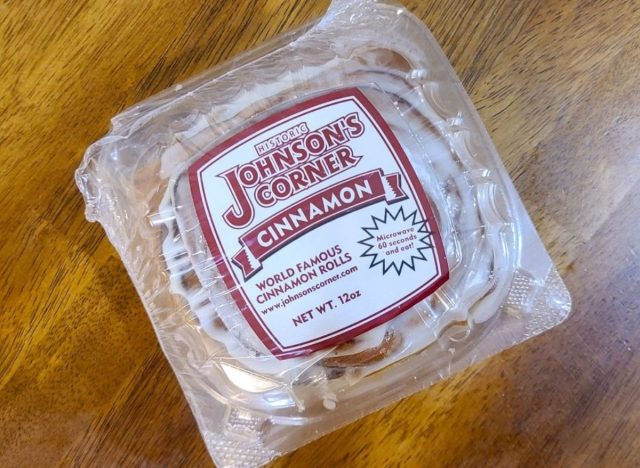 Coloradoans know the best spot for cinnamon rolls is at a truck stop. Johnson's Corner has been serving cinnamon rolls since the 1950s, adding a bakery to the roadside stop in the 1960s to keep pace with the demand. Today, Johnson's Corner bakes more than 15,000 of their beloved (and huge) cinnamon rolls a month. They have special flavors each month like caramel apple, cranberry walnut, and key lime.6254a4d1642c605c54bf1cab17d50f1e
"It's worth the stop to sink your teeth into one of those rolls," one Yelp reviewer wrote.
CONNECTICUT: State Street Cafe in North Haven
State Street Cafe combines two beloved breakfast treats into one dish with its cinnamon roll pancakes. The sweet stack is drizzled in icing and topped with cinnamon and brown sugar and is a great option when it's too early in the morning to have to choose between cinnamon rolls and pancakes.
One Yelp reviewer recommended the cinnamon bun like pancakes saying they "are huge, incredibly tasty, and you'll have enough leftovers to take home."
DELAWARE: Cinnamon Bun Exchange in Wilmington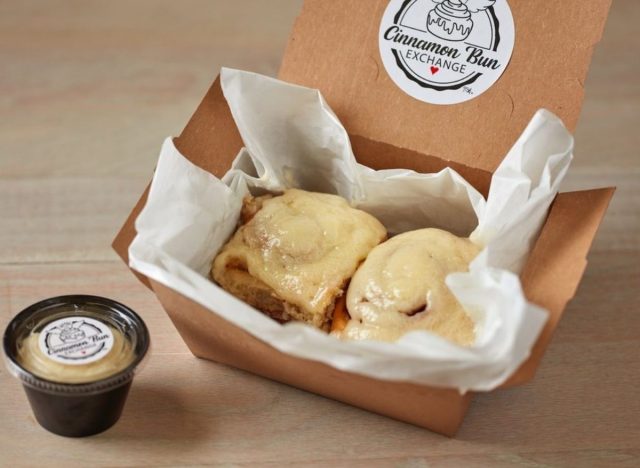 At the start of COVID, two friends started baking cinnamon rolls for friends and family members and donating proceeds to first responders. Demand started to increase, and now the Cinnamon Bun Exchange (https://www.cinnamonbunexchange.com/) ships nationwide in addition to local deliveries. In addition to the traditional cinnamon buns, you can also order crunchy baked bun chips that are cut into bite-sized pieces and can be dunked in the creamy topping.
"These were by far the best cinnamon buns I've ever had," one Facebook review said. "Both of my kids and my husband said the same thing."
FLORIDA: Knaus Berry Farm in Homestead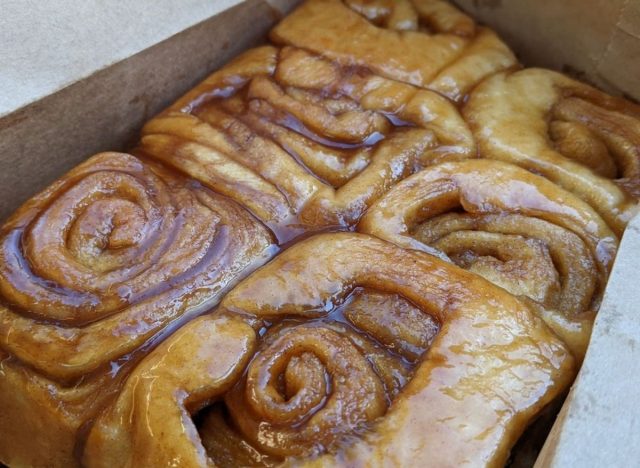 Knaus Berry Farm has a tradition of drawing long lines for those craving the fresh-baked cinnamon rolls. In addition to a cash-only farm stand, Knaus Berry Farm also has U-Pick strawberries and tomatoes.
"The cinnamon rolls are everything that you have heard," one Trip Advisor reviewer wrote. "Incredible, hot out of the oven, and still incredible the next morning for breakfast."
GEORGIA: Henri's Bakery & Deli, multiple locations in Atlanta and Marietta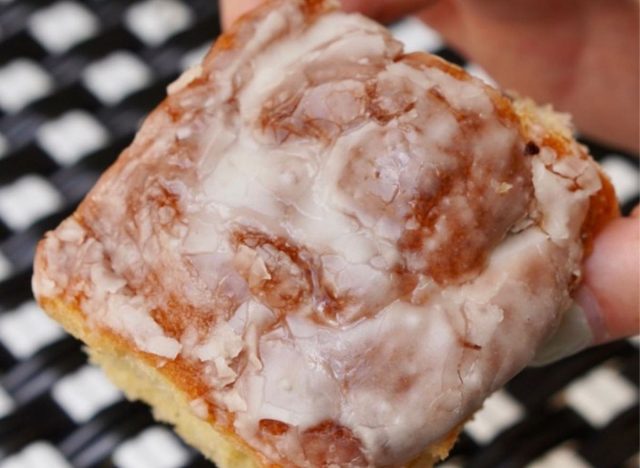 From fresh-baked cookies to French pastries, Henri's Bakery & Deli has lots of enticing sweet treats on its menu. The flaky, gooey cinnamon rolls have gained some devout followers.
"The cinnamon roll wasn't too sweet and had the perfect gooey-ness in the middle," one reviewer wrote on the bakery's site. "I would highly recommend it."
HAWAII: Cinnamon Roll Place in Kihei, Hawaii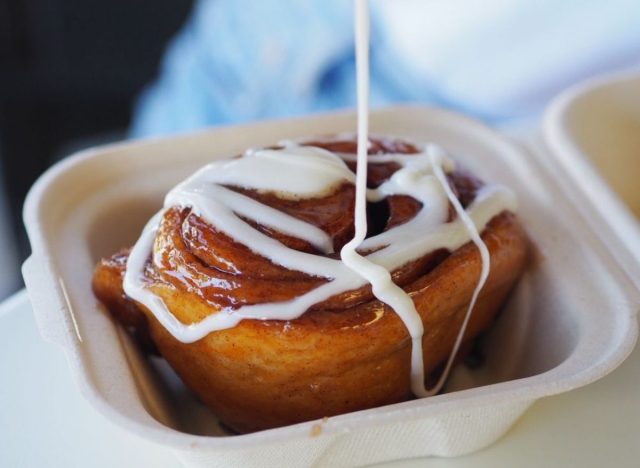 Locals and visitors alike love the Cinnamon Roll Place on Maui, an iconic spot where cinnamon rolls are made fresh daily with a time-honored secret recipe. Choose between classic cinnamon rolls and cinnamon bread pudding with a cream cheese frosting.
"I just got the plain roll with icing," one Yelp reviewer wrote. "It was incredible. I loved it…and I'm a super cinnamon roll snob. This place was definitely worth it."
IDAHO: Mrs. Powell's Bakery in Rexburg, Rigby, and Idaho Falls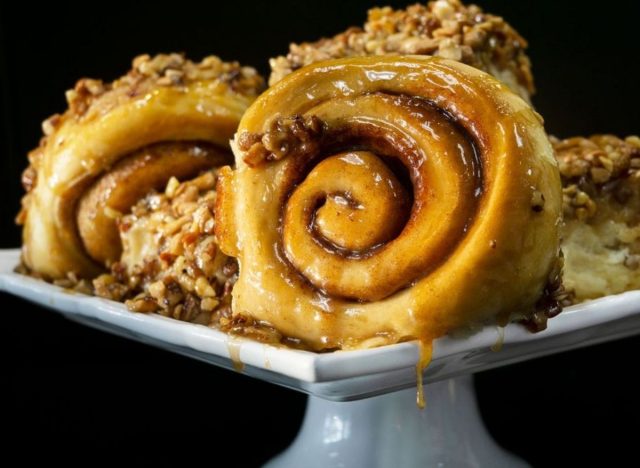 An Idaho bakery with a few locations, Mrs. Powell's has a nice selection of cinnamon treats. In addition to traditional cinnamon rolls, the bakeries also serve chocolate chip cinnamon rolls and cinnamon-swirled bread loaves.
"Cinnamon rolls are always fresh and they have a number of different styles and flavors," one Yelp reviewer wrote. "This is one of my favorite places to stop when I'm back home."
ILLINOIS: Kanela Breakfast Club in multiple locations in Chicago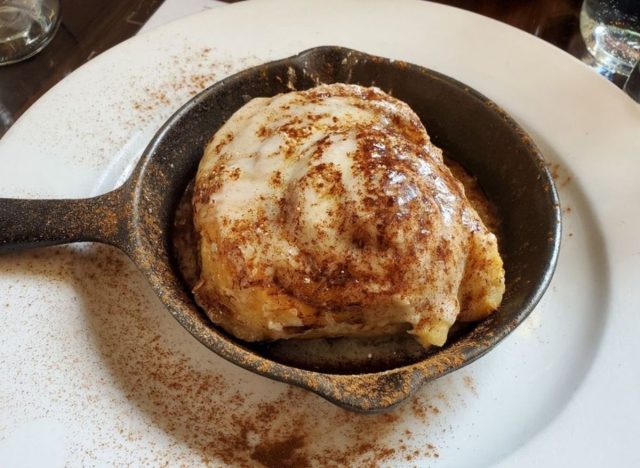 In Greek, Kanela translates to cinnamon. So you know Kanela Breakfast Club takes its cinnamon rolls seriously. The glazed Kanela Cinnamon roll is topped with cream cheese frosting and there's a cinnamon monkey roll on the menu, too, with honey butter, caramel, and toasted walnuts.
The breakfast spot landed on the Chicago Tribune's list of best places to get cinnamon rolls in the city.
INDIANA: Bittersweet in Indianapolis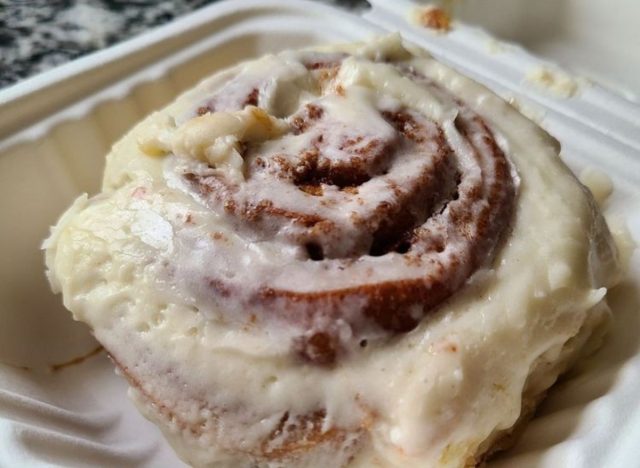 Cinnamon rolls are only available on the weekends at Bittersweet. But, the massive rolls that are sold individually are also available in six-pack take-and-bake kits so you can enjoy the sweet treat throughout the week.
"Weekend scones and cinnamon rolls are unmatched in taste and quality," one Google reviewer wrote.
IOWA: Cornbred Barbecue in Ames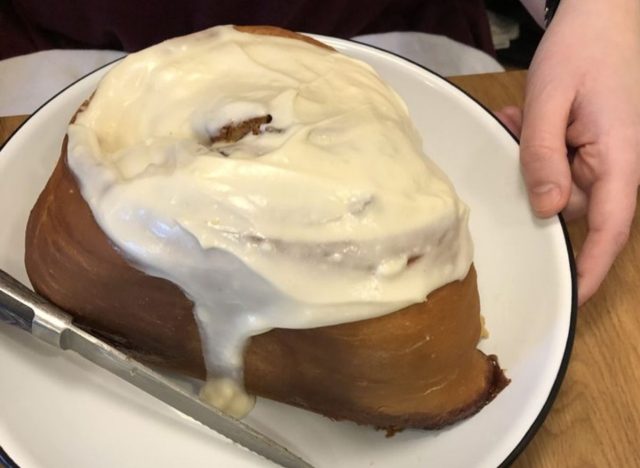 So big that it's named the Gingatoroll, the $12 cinnamon roll from Cornbred Barbecue is definitely meant for sharing. Made from scratch, the cinnamon roll darn near looks like a birthday cake. It's not only topped with whipped icing, but whipped butter as well.
In 2021, a photo of the 2-pound cinnamon roll went viral on social media and the barbecue restaurant in Ames started getting requests to ship the cinnamon roll. But for now it's something that can only be enjoyed at the restaurant.
KANSAS: Park Street Pastry in Olathe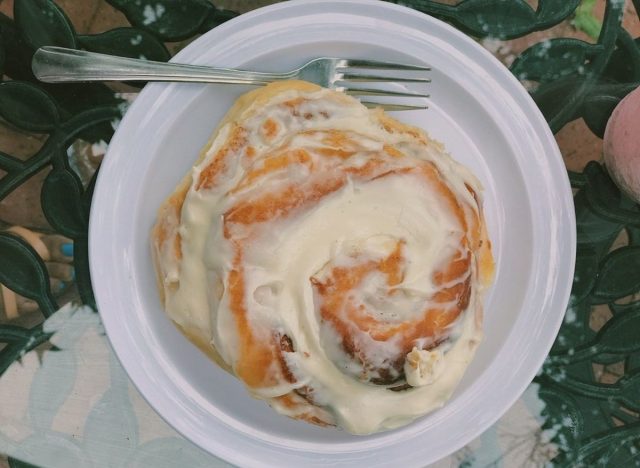 A professional pastry chef with more than three decades of experiences creates European-style desserts for Park Street Pastry in Olathe. Fluffy, soft cinnamon rolls paired with coffee are a dream team at the pastry shop.
"I had one of the award winning cinnamon rolls and definitely couldn't finish it. (Spoiler alert: it even tastes good the next day!)" one Yelp reviewer said.
KENTUCKY: The Futile Bakery in Lexington
You know the expression: Variety is the spice of life. As such, The Futile Bakery is an experimental bake shop that sells delectable classic cinnamon rolls as well as a rotation of more inventive treats like strawberries and cream rolls, cookies and cream rolls, and birthday cake rolls with colorful sprinkles. The bakery's Instagram followers also throw out their requests for potential rolls, with flavors changing on a weekly basis.
"I tried the cookie butter cinnamon roll and it might be the best cinnamon roll I've ever had," one Yelp reviewer wrote.
LOUISIANA: Counterspace in Baton Rouge
A cute-as-can-be bakery, Counterspace offers a cookie subscription service and take-and-bake cinnamon rolls so you can make your own treats throughout the week. The four-pack of cinnamon rolls come with cream cheese frosting. As a bonus, your kitchen will smell like cinnamon rolls once you pop them in the oven.
"The cinnamon rolls were awesome and easy to prepare!" one Yelp reviewer wrote. "Will definitely be back, and will probably make Counterspace a weekly tradition!"
MAINE: The Cupboard Café in New Harbor
The Cupboard Café put cinnamon rolls and sticky buns on their menu and never expected them to become so popular. Afterall, Maine is whoopie pie territory. But alas, the humble café now quips that it has "the best buns." They're so good in fact, the buns are available for shipping and come with instructions. The cinnamon roll is soft and sweet with swirls of cinnamon and topped with icing.
"The sticky buns and cinnamon rolls here are absolutely like no other," one Yelp reviewer wrote. "I have never had a cinnamon roll as soft and buttery as the ones they have here."
MARYLAND: Spoons in Baltimore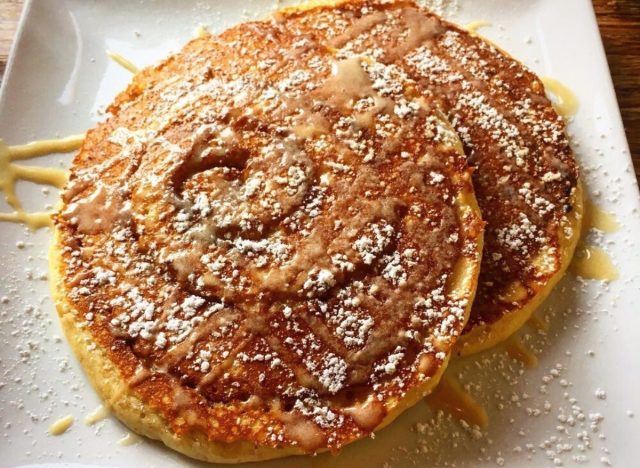 For a fluffier rendition of a cinnamon roll, try it in a pancake form. The best way to order the cinnamon roll pancakes at Spoons is with bacon baked inside. This family-owned breakfast spot is well loved for its biscuits, but don't sleep on the cinnamon roll pancakes with a maple coffee glaze that are also a hit on the all-day brunch menu.
"The cinnamon roll pancake was perfection," one Yelp reviewer wrote.
MASSACHUSETTS: Flour Bakery and Café, multiple locations in Boston and Cambridge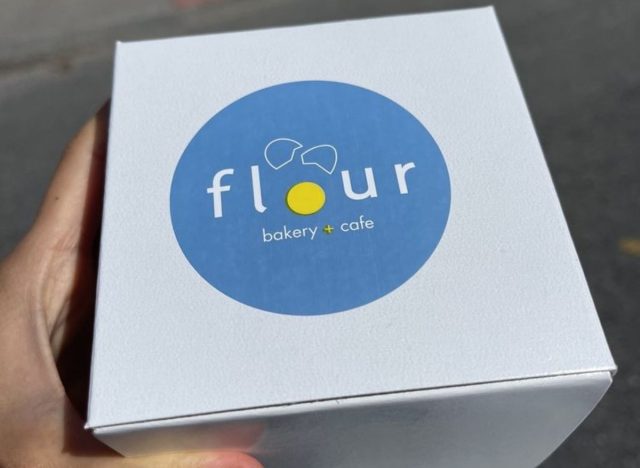 Joanne Chang, the owner of Flour Bakery and Café, is a bun-baking genius who beat out celeb chef Bobby Flay on a Food Network competition. Her Boston bakeries, which have irresistible display cases loaded with pastries, serves a fluffy brown butter cinnamon roll that's crafted with brioche, brown butter cinnamon swirls, and topped with a tangy cream frosting.
MICHIGAN: Zingerman's Bakehouse in Ann Arbor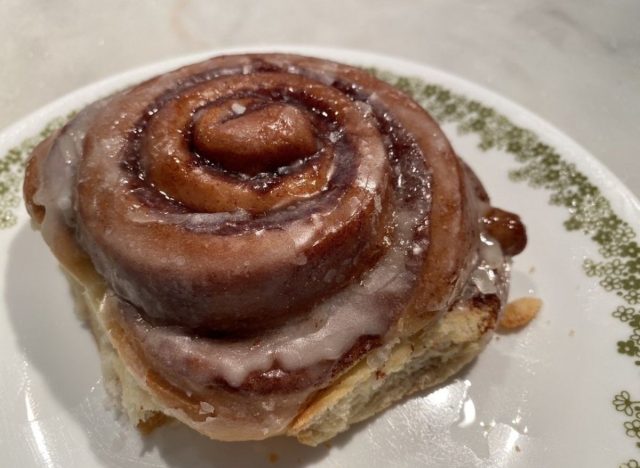 To make the Cinnful Cinnamon Rolls, bakers make a brioche dough—one of the richest doughs bakers can bake—which gives the rolls a great aroma, a soft texture, lots of buttery flavor. Zingerman's Bakehouse also use a vanilla extract and Korintje cinnamon from Indonesia. Finally, Zingerman's does not use yeast (which causes baked goods to dry and stale more quickly). Instead, dough gets a longer proof time.
"Had the lemon scone and cinnamon roll," one Yelp reviewer wrote. "Both were fantastic! Among the best I ever had."
MINNESOTA: Isles Bun & Coffee in Minneapolis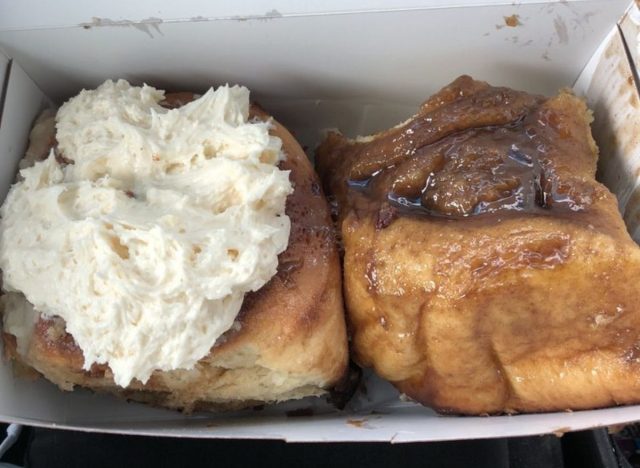 Isles Bun & Coffee is a petite bakery that's known and loved for its cinnamon rolls. But you've got to try the "puppy dog tails," which are tiny, twisted versions of the classic cinnamon rolls. Preschoolers named the treat "puppy dog tails" and the name stuck like icing. The tails get a thumbs up from Yelpers, with one saying: "Worth the visit for the puppy dog tails—best thing on the menu. Just melt in your mouth deliciousness."
MISSISSIPPI: Bottletree Bakery in Oxford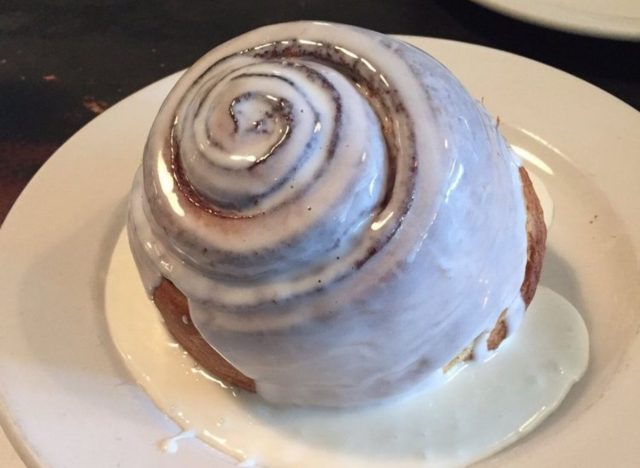 Decorated with folk art from local artists, Bottletree Bakery is a gathering space in Oxford that brings college students, tourists, and locals together to enjoy daily specials, sweet treats, and coffee. Yelp reviewer described the cinnamon rolls, saying they are "elegant (and giant) brioches heaped with creamy vanilla icing. So good."
MISSOURI: M&M Bakery and Deli in Kansas City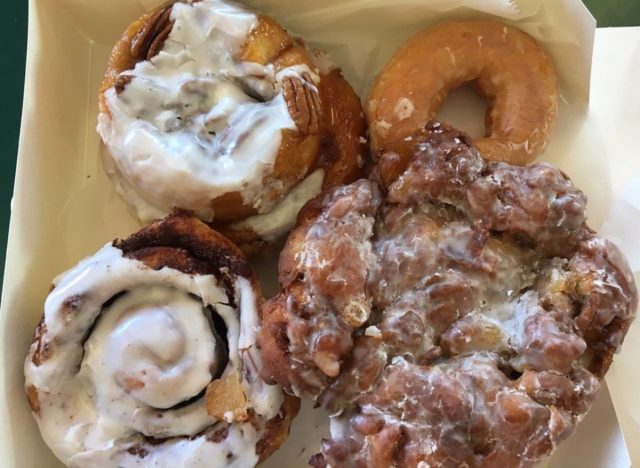 You may know Kansas City for its barbecue. But the city also has a bona fide cinnamon roll obsession, with the cinnamon-swirl pastry frequently appearing on menus. In a city with so many good rolls, it's hard to pinpoint the best. But M&M Bakery and Deli is where to find a rare delicacy: A crispy, doughy fried cinnamon roll.
"The cinnamon roll….holy moly was it huge & yummy," one Yelp reviewer wrote.
MONTANA: Wildflour Bakery in Emigrant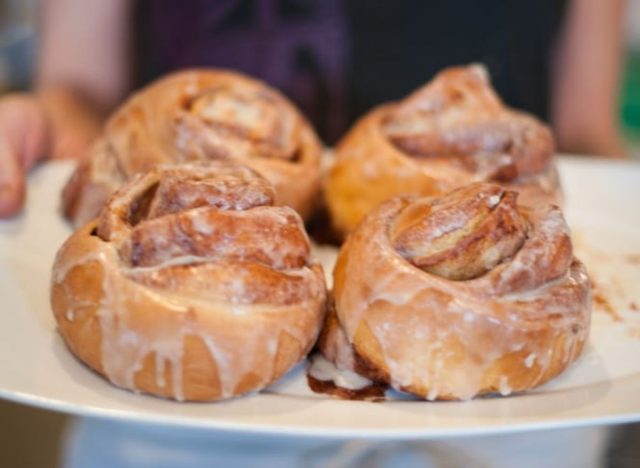 The early birds get the cinnamon rolls at The Wildflour, which often sells out of its sought-after, crave-worthy cinnamon rolls before noon. The bakery also has homemade pop tarts and an assortment of other pastries to pair with its fair-trade coffee.
"The highlight: the BEST cinnamon roll I've ever had!" one Yelp reviewer wrote.
NEBRASKA: Leadbelly in Lincoln and Omaha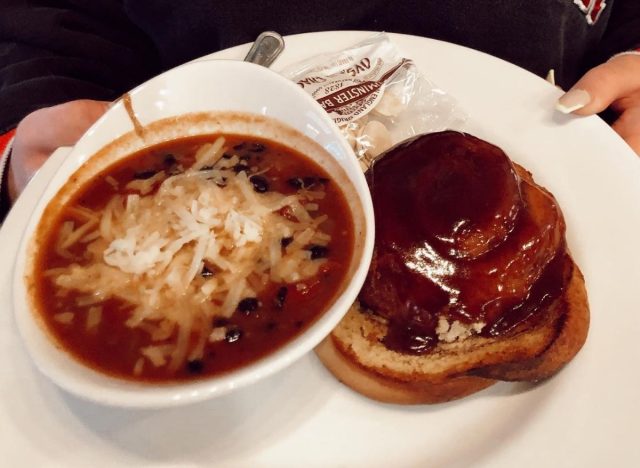 Nebraskans are on to a good thing: They pair their chili with cinnamon rolls for the ultimate spicy-and-sweet combinations. Leadbelly has a chili and cinnamon roll combination on its menu. Or, you can order the Full-Leaded Jacket, which is a chili burger sandwiched on a house-baked cinnamon roll with a brown sugar glaze and candied bacon. One Yelp reviewer praised it as being "divine."
NEVADA: Homies Cinnamon Rolls and Cafe in Las Vegas
Homies Cinnamon Rolls and Comfort Food is an award-winning bakery that sells traditional cinnamon rolls as well as ones with apple, raisins, or pecans. Reviewers say the cinnamon rolls have a just-right ratio of cinnamon sugar and icing with one declaring that "the apple cinnamon rolls are a game changer."
NEW HAMPSHIRE: Bearded Baking Co. in Manchester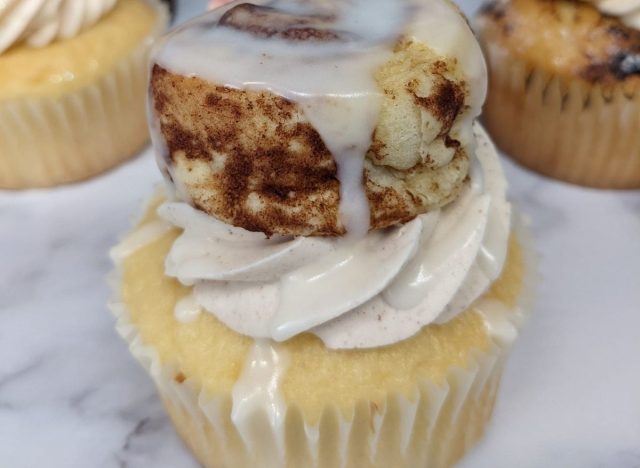 With so many delectable sweet treats at the Bearded Baking Co., it's tough to land on just one. (Thankfully, this Manchester bakery is known to every once in a while crown its cupcakes with mini cinnamon rolls). The signature cinnamon rolls share the spotlight with seasonal cupcakes, mini cheesecakes, Parisian tortes, and whoopie pies. Owner Jon Buatti (who, in fact, is a bearded baker) has been featured on Food Network's "Holiday Baking Championship."
NEW JERSEY: Barry's Buns in Wildwood Crest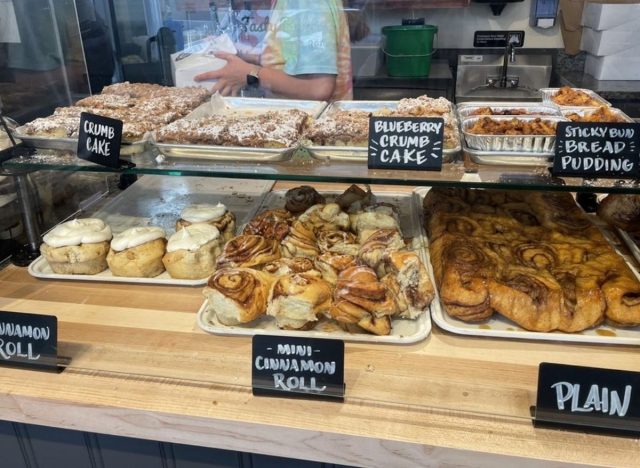 Barry's Buns has been lauded as having the best cinnamon buns and sticky rolls along the Jersey Shore and the sweet shop made headlines for its bunnoli, a cross between a cinnamon roll and cannoli. (Genius, right?)
NEW MEXICO: Salty Little Sweet Shop in Taos
Cinnamon Rolls on Saturdays is a thing at Salty Little Sweet Shop, and they typically draw a line out the door with the pastries selling out each weekend. The bakery also sells fresh-baked cookies as well as homemade dog treats.
NEW YORK: Mardee's in Clarence Center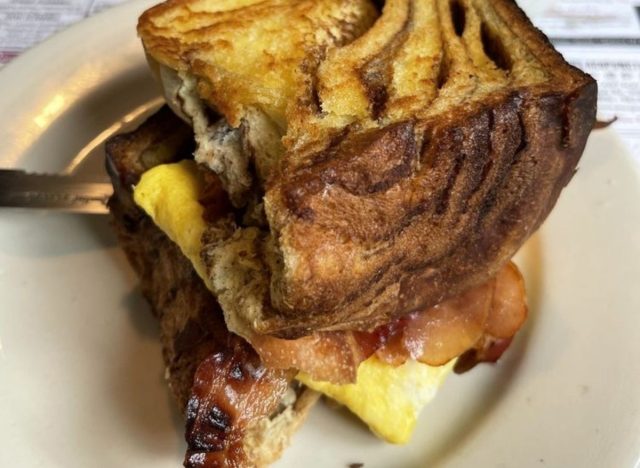 "The hype is real" one Yelp reviewer says about the cinnamon buns at Mardee's, a small diner. The giant cinnamon roll with icing is a staple on the menu, competing with weekly specials like banana foster French toast and chocolate covered strawberry waffles.
NORTH CAROLINA: La Farm Bakery in Cary
You've got options at La Farm Bakery. Go with the traditional cinnamon roll made with a brioche dough that's been rolled with European butter, cinnamon, and sugar. Or, opt for the cinnamon pull-apart bread that's a French style of "monkey bread," made with challah dough tossed in European butter and rolled in cinnamon and sugar, baked in clusters and drizzled with icing. "Lovely bakery with every item on the menu just amazing," one Yelp reviewer says.
NORTH DAKOTA: Little Cottage Cafe in Bismarck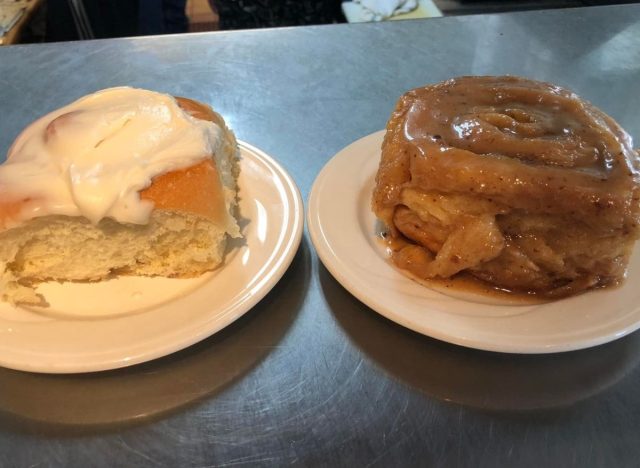 In North Dakota, the regional caramel rolls made with a creamy sauce and a fluffy bun are more popular than cinnamon rolls (and definitely worth a try!). At Little Cottage Cafe you can sample both caramel and cinnamon rolls and Yelp reviewers promise they're some of the best in North Dakota.
OHIO: Fox in the Snow Cafe, multiple locations in Columbus
A rustic style baked goods shop with a few outposts in Columbus, Fox in the Snow is an Instagram
worthy bakery. The Yelp reviews read like odes to its simple cinnamon rolls. "It was the best cinnamon bun I have ever had in my life," one review says. "It's different because it was thick, and felt like it was soaked in the cinnamon sugar instead of being sprinkled on top." Another says: "Cinnamon buns to die for (and split!)"
OKLAHOMA: Big Baby Rolls and Donuts in Tulsa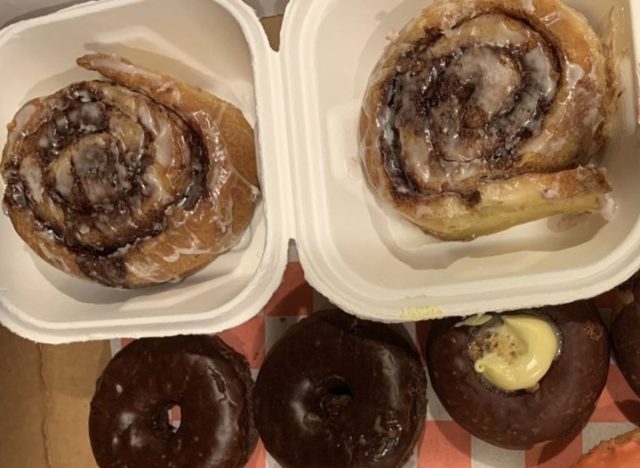 Big Baby Rolls and Donuts made its debut during the pandemic, serving up sweet and savory treats. Vegan and gluten-free cinnamon rolls are both on the menu. "I am a huge cinnamon roll fan and Baby Rolls has it all," one Yelp review says. The donut shop recently got a shot out from actor Sylvester Stallone who thanked Big Baby Rolls and Donuts for making his "proudest accomplishment" come true—which is having his face featured on a donut.
OREGON: Heaven on Earth Bakery in Azlea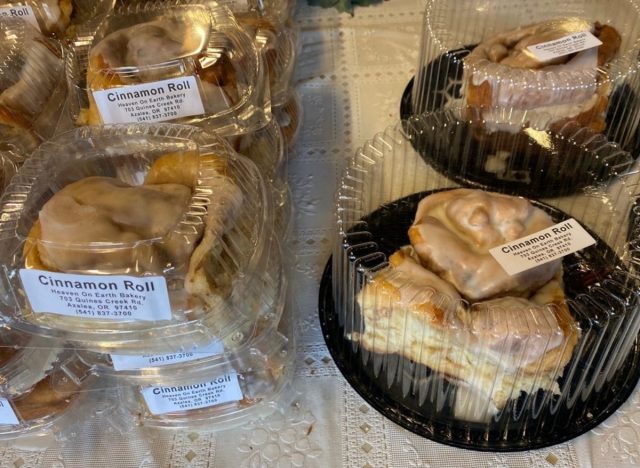 Heaven on Earth is a cute log bakery that's known for its huge caramel pecan cinnamon rolls. The rolls come in an individual size or a family size for sharing. "It's the right amount of sweet an fluffy and warm goodness" one reviewer says. Another gives this promising rating: "cinnamon rolls are a 100 out of 10."
PENNSYLVANIA: Mr. Sticky's Bun in Lancaster and Williamsport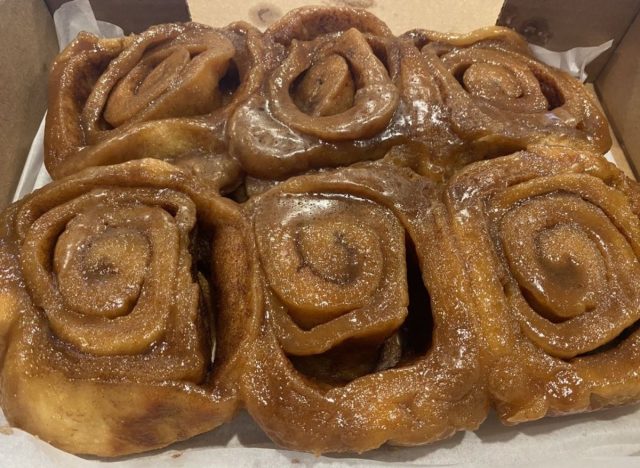 Cinnamon roll connoisseurs have options at Mr. Sticky's Bun, ranging from plain cinnamon buns to ones with a velvety peanut butter topping. "Perfect way to start the day!" one Yelp review says. "Mr. Sticky does it right, my favorite is the bun with peanut butter icing but you definitely can't go wrong with any of their special sticky buns!"
RHODE ISLAND: Butterbang in Providence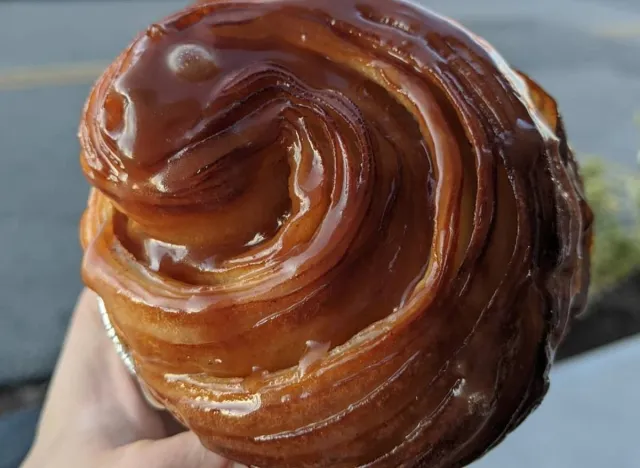 A cross between a croissant and cinnamon roll, Butterbang serves a "yum roll" with a glaze and salted caramel. The pop-up croissant bakery that was inspired by a trip to France gets rave reviews from Yelpers, one who claims they're the "best croissants west of Paris."
SOUTH CAROLINA: The Devine Cinnamon Roll Deli in Columbia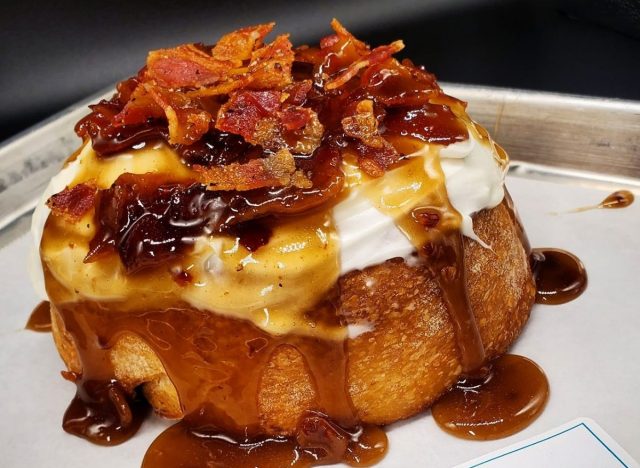 The dough used in cinnamon rolls here comes from a special Hawaiian sweet bread recipe. In addition to the traditional cinnamon roll, The Devine Cinnamon Roll Deli creates some gourmet rolls like a special black pepper bacon maple glaze that's been featured on Food Network. Other varieties include bourbon caramel and coconut cream.
RELATED: Costco Is Now Selling Hilariously Large Boxes of Miniature Cinnamon Rolls
SOUTH DAKOTA: Baker's Bakery and Cafe in Custer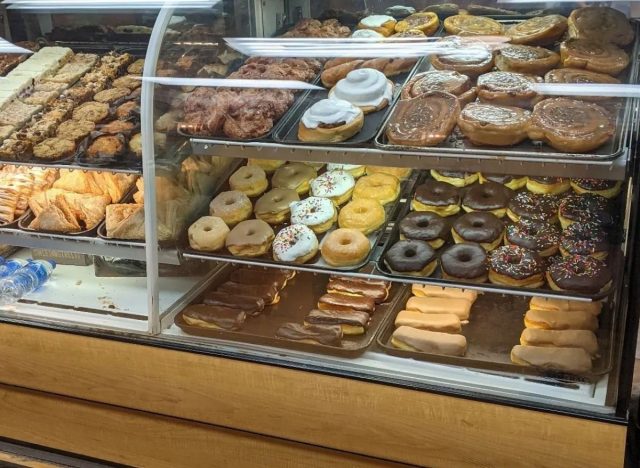 Tourists on their way to see Mount Rushmore can fuel up first at Baker's Bakery and Cafe, which boasts "You'll love our buns" on its menu. Donuts, pastries, and espresso are also on the menu. "The donuts were great and the cinnamon roll was outstanding," one TripAdvisor review says.
TEXAS: Cinnamon's Bakery in Sugar Land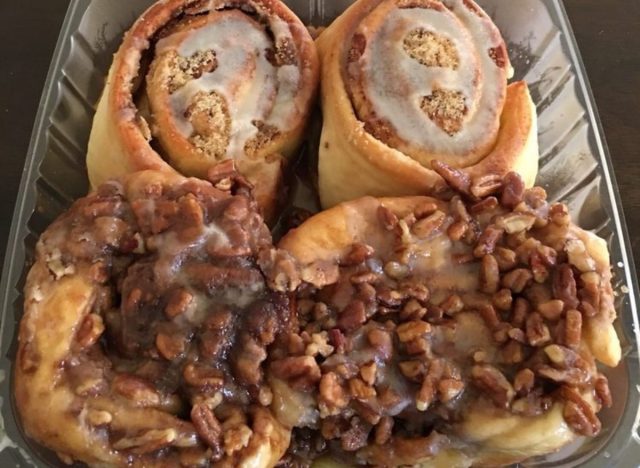 Reviewers use a lot of superlatives when describing the cinnamon rolls at Cinnamon's Bakery in Sugar Land, Texas. "Just the very best cinnamon rolls on the planet," one Google reviewer proclaims. The bakery, which opened in 1988, specializes in cinnamon rolls as well as cinnamon strudels, pecan sticky buns, muffins, and sausage kolaches.
UTAH: Hearth and Hill in Park City
Cinnamon rolls with brown butter frosting are a Sunday brunch favorite at Hearth and Hill. Available for take out and on the dine-in brunch menu, the cinnamon rolls consistently sell out. You'd probably never guess, but mashed potatoes are the secret ingredient in these rolls.
VERMONT: Sticky Fingers in West Dover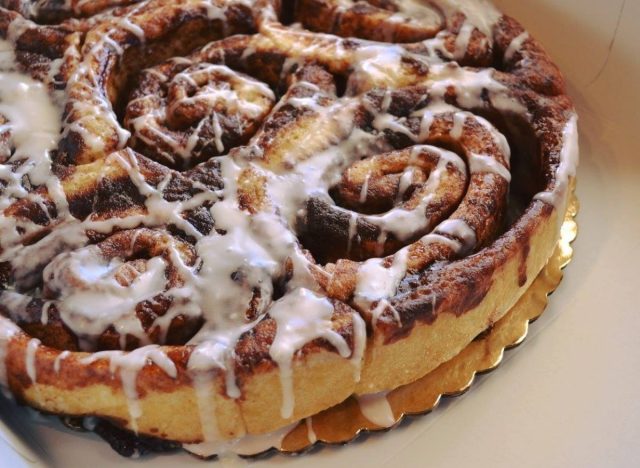 The famed cinnamon rolls are what put Sticky Fingers on the map. In addition to traditional cinnamon rolls, Sticky Fingers sells a three-tiered cinnamon roll cake that consists of 13 cinnamon rolls and can feed up to 30 people. The quaint A-frame bakery has become so popular, it will be launching franchises soon.
VIRGINIA: Heritage Bake Shoppe in Virginia Beach
The colossal cinnamon rolls are "next level" according to a fan on Yelp. Many of the treats at Heritage Bake Shoppe are made with family recipes. In addition to soft and fluffy cinnamon rolls, the bake shop sells fried pies, whoopie pies, fruit-filled Danishes, and more.
WASHINGTON: Seattle Cinnamon Roll Co. in Woodinville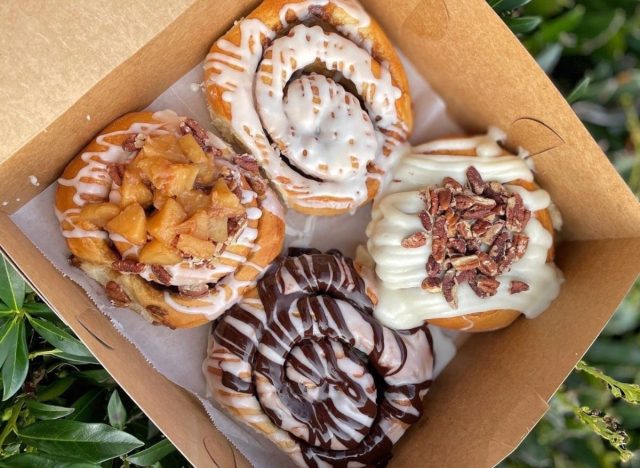 Get handcrafted cinnamon rolls and espresso through a cute little drive-thru. Seattle Cinnamon Roll Co. sells a classic original roll, as well as specialty rolls like one topped with apples and pecans, or you can build your own with toppings. "This place is solid if you have a sugar craving," one Yelp review says.
WEST VIRGINIA: Peace, Love and Little Donuts in Charleston and Morgantown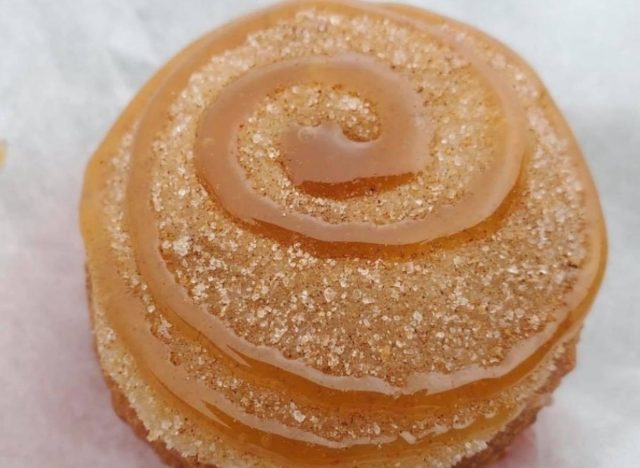 You've heard of fusion foods. How about fusion desserts? Peace, Love and Little Donuts combines some of the best desserts—including a mini cinnamon roll that's made with a cake donut base. "I loved the 70's theme and the donuts and coffee were great! My favorite is the cinnamon roll one!" a Yelp reviewer wrote.
WISCONSIN: Rosie's Coffee Bar and Bakery in Madison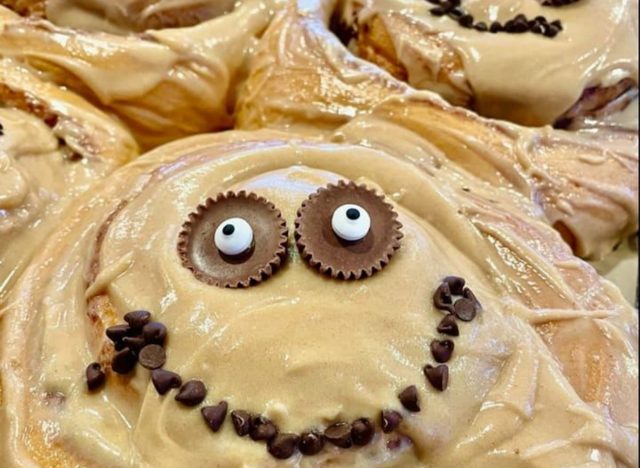 Cinnamon roll lovers will want to become regulars at Rosie's Coffee Bar and Bakery because the bakers are always dreaming up new flavors. (Think: Orange cranberry, pecan pie, rum raisin, and, in true Wisconsin fashion, a Brandy Old Fashioned cinnamon roll made it onto the menu).
"These buns were ENORMOUS, fresh, and completely scrumptious…the flavors were evenly balanced and the pastry itself was not overly sweet; truly a great treat that I would highly recommend," one Yelp reviewer raved.
WYOMING: The Bunnery Bakery and Restaurant in Jackson Hole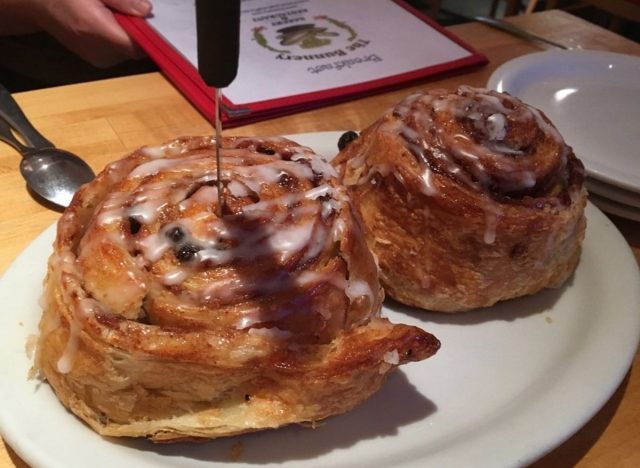 Not only does The Bunnery have a big, puffy cinnamon roll that's baked from scratch overnight and ahead of the breakfast rush, but the Jackson Hole diner also serves cinnamon sticks that are filled with apple or huckleberry fruit.
"I visited this spot twice during our long weekend because of how good the pastries were!" one Yelp reviewer wrote.