7 Fast-Food Chains That Serve the Best Oatmeal
If you're looking for a tasty, filling bowl of oatmeal, here's where to get it.
When you think of the food on offer at a fast-food chain, the first menu items that come to mind are likely burgers, fries, chicken sandwiches, and shakes. Or maybe egg and sausage biscuits or hash browns, depending on which part of the day you're craving a quick meal.
If you want a hearty fast-food item lower in fat, sodium, and cholesterol than your average burger or Egg McMuffin, then you may want to consider oatmeal, because many fast-food restaurants and coffee shops offer it these days—though not as many as used to. Plus, oatmeal is actually a healthier choice because it's loaded with beneficial vitamins and minerals, is a good source of protein and fiber, and might actually help you lose weight.
Just note, while it's safe to assume oatmeal healthier choice than an egg sandwich piled with sausage or bacon or a bagel loaded up with cream cheese, just be sure to check the nutrition label before you munch away. Some of the nutty and sweet extras can add hundreds of calories to an otherwise nutritionally sound dish.
Here are seven fast-food chains where oatmeal is still on the menu.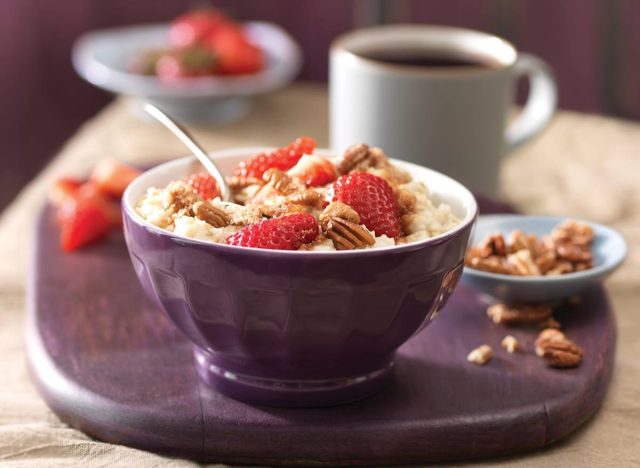 Per item
: 370 calories, 15 g fat (2 g saturated fat, 0 g trans fat), 150 mg sodium, 52 g carbs (9 g fiber, 17 g sugar), 8 g protein
Panera is just a very good place to get breakfast. It offers fresh bagels and muffins, protein-rich egg sandwiches, fruit cups, coffee, and, of course, oatmeal.6254a4d1642c605c54bf1cab17d50f1e
Panera's Steel Cut Oatmeal with Strawberries & Pecans has a delicious combo of fresh fruit, crunchy nuts, and a cinnamon-sugar crunch topping. It will however net you 370 calories, which is a decent amount of energy to burn for breakfast, and has just 8 grams of protein. Plus, a good chunk of those calories is coming from more than just the oats. There are 17 grams of total sugars in Panera's oatmeal and the pecans are roasted in oil, so you will be ingesting 15 grams of fat, but there are also a welcome eight grams of protein, antioxidants from the strawberries, and a whopping nine grams of fiber. Just be sure you'll be moving around to make use of the calories.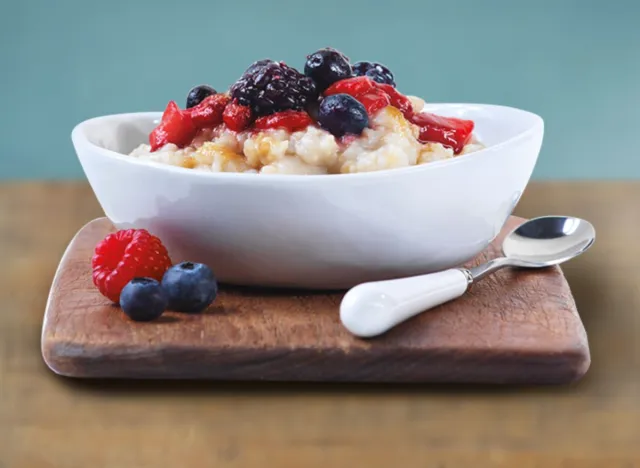 Per bowl of maple-flavored
: 220 calories, 2.5 g fat (0.5 g saturated fat, 0 g trans fat), 220 mg sodium, 49 g carbs (4 g fiber, 20 g sugar), 5 g protein
Tim Horton's is all about breakfast (and all about Justin Bieber, but that's another story), so it's no surprise that alongside the coffee, bagels, donuts, and "Timbits" you find oatmeal on the menu.
Just note that you may not find oatmeal on the menu at all Tim Horton's locations—in fact, you may need to follow this chain back to its native Canada to find restaurants offering it. But when you do find it, dig in.
The oatmeal at Tim Horton's has only three grams of fat per 10-ounce serving and will have four or more grams of dietary fiber. And you can choose from maple or mixed berry flavors.
Per item
: 260 calories, 5 g fat (o.5 g saturated fat, 0 g trans fat), 10 mg sodium, 47 g carbs (6 g fiber, 1 g sugar), 10 g protein
Yes, the croissants, egg sandwiches, and pastries from Au Bon Pain may be the more exciting menu options, but the chain's Classic Oatmeal is the wiser choice from a health and wellness perspective.
That's because Au Bon Pain's oatmeal has just one gram of sugar in a 260-calorie serving. And that serving nets you 10 grams of protein, six grams of fiber, and just five grams of fat. Also, the sodium is negligible at 10 milligrams and you get 20% of your daily needed iron.
In other words, the oatmeal offered by Au Bon Pain is genuinely healthy, so order away. And hey, maybe you can afford to enjoy a pastry now and then, too, given the nutritional value of the oatmeal.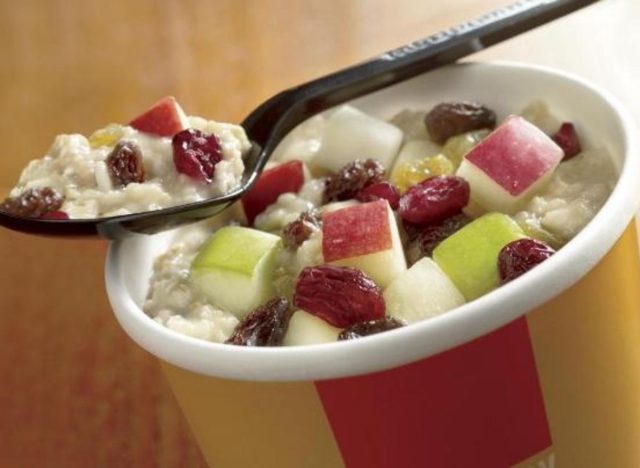 Per item
: 320 calories, 4.5 g fat (1.5 g saturated fat, 0 g trans fat), 150 mg sodium, 64 g carbs (2 g fiber, 31 g sugar), 6 g protein
McDonald's has long been hailed for its many delightful breakfast offerings, like the classic Egg McMuffin, Hotcakes, hash browns, and wonderful biscuits. But do try the oatmeal there, because it's also a delight to the taste buds with all its crisp and creamy extras.
Unlike any other item at McDonald's, it packs whole-grain oats with a touch of cream and brown sugar. Plus, it's loaded with apples, cranberries, and two varieties of raisins. Just consider making this oatmeal more of a treat than a go-to, because, in a 320-calorie serving of McDonald's Fruit & Maple Oatmeal, you'll find a whopping 31 grams of total sugars—though again it's from a lot of fruit.
Per item
: 170 calories, 2.5 g fat (0 g saturated fat, 0 g trans fat), 20 mg sodium, 31 g carbs (0 g fiber, 5 g sugar), 6 g protein
There's more to Jamba Juice than just the smoothies. In fact, there's a pretty full menu these days, replete with sandwiches, pretzels, wraps, bowls, and oatmeal. Now, that oatmeal is a bit boring on its face, consisting of simply organic steel-cut oats and a soymilk concentrate, but when you start topping it up, things get tasty.
How so? Well, at last check the toppings offered were bananas, blueberries, strawberries, shredded coconut, brown sugar crumbles, honey, organic granola, chia seeds, and sliced almonds.
Each of those toppings adds calories, of course; the basic oatmeal starts at just 170 calories but with all toppings added you get to 430 calories. Still not bad, actually!
Per item
: 410 calories, 12 g fat (1.5 g saturated fat, 0 g trans fat), 140 mg sodium, 67 g carbs (7 g fiber, 34 g sugar), 8 g protein
Starbucks has a bowl of oatmeal that you can customize in almost as many ways as you can dress up that cold brew or Frappuccino. It all starts with rolled & steel-cut oatmeal, but from then on, you make it yours.
You do that with oatmeal toppings like dried fruit, fresh blueberries, a nut medley, and various sweeteners, like honey, Splenda, or brown sugar. And hey, want a creamer? There are 10 different varieties to choose from—it's Starbucks after all.
Just keep in mind that, everything you add means more calories and fats—and sometimes more money—so go for the nutritional stuff.
Per item
: 187 calories, 4 g fat (0 g saturated fat, 0 g trans fat), 63 mg sodium, 36 g carbs (5 g fiber, 1 g sugar), 7 g protein
There are just 27 Così locations in the United States, a marked decline from the dozens of restaurants this brand once boasted. That decline had more to do with management issues and multiple bankruptcy filings over the past decade than with the food itself, which is actually quite good, from the flatbread sandwiches to the soups to the pizzas and, of course, to the oatmeal.
Così offers oatmeal in two sizes, a bowl or a cup, and you can customize it with toppings like fruit, raisins, and seeds. There aren't a lot of calories in an oatmeal serving from Così, a bowl has just 187 calories, so you may need a bit more food for a meaningful breakfast. Maybe also try Così's Pico de Gallo Egg White Cup, which is delicious and packed with protein.
Steven John
Steven John is a freelancer writer for
Eat This, Not That!
based just outside New York City.
Read more about Steven