4 Best Frozen Burritos at the Supermarket, and 2 to Stay Away From
When it comes to a frozen burrito, size is everything (or at least a whole lot).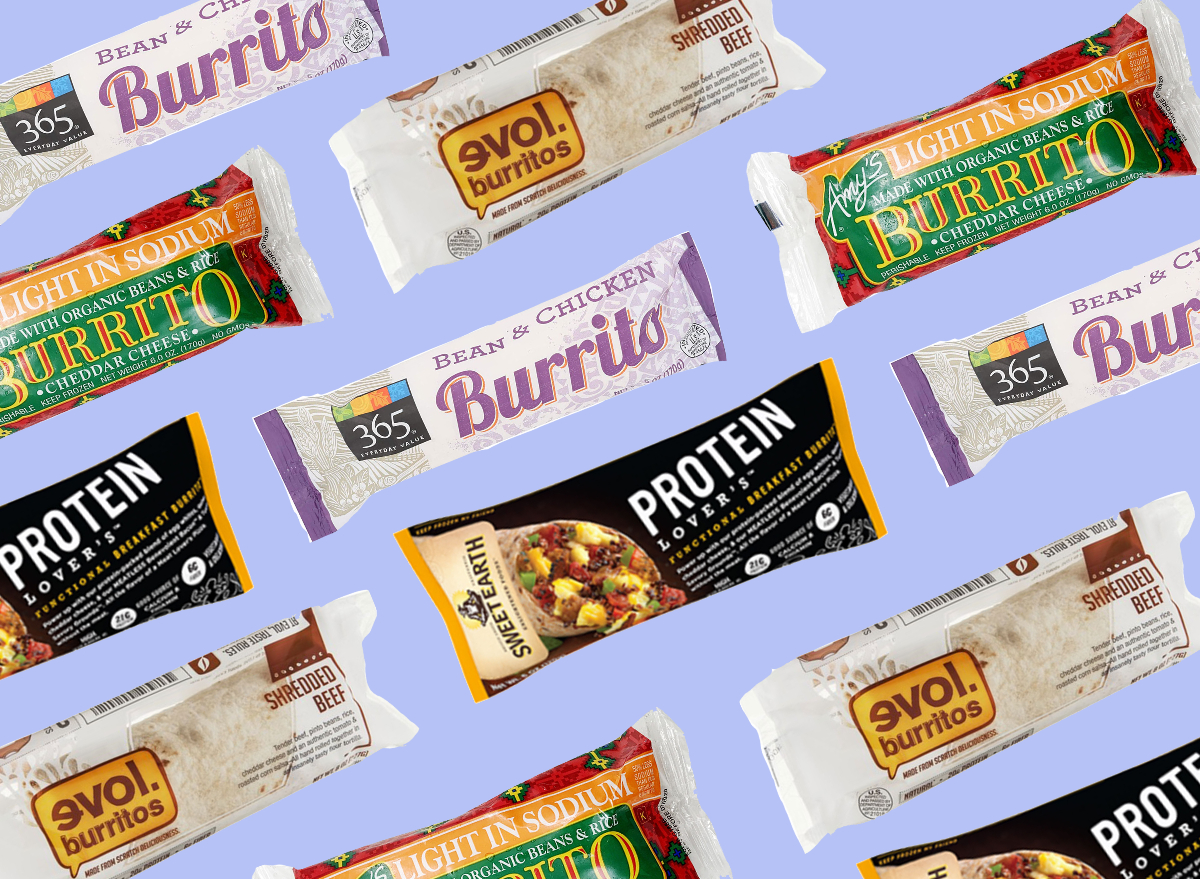 This post contains affiliate links. If you use these links to buy something, we may earn a commission.
We all love a good, juicy burrito straight from the kitchen of a Mexican restaurant. But if you don't have a favorite local burrito place, frozen burritos just may have to be your go-to. While there are several brands and styles of frozen burrito on the market, there are definitely some nutritional traps lurking in this category. (Or you can make your own Mexican comfort food with our 51 Incredibly Healthy Mexican Recipes.)
How to pick the best frozen burrito
Although ready-made frozen foods will never be truly healthy (or at least not as healthy as homemade versions), there are definitely two ends of the frozen burrito spectrum. On the one hand you have reasonably-sized options with inoffensive calorie counts and a decent nutrition panel, which can certainly be a part of a healthy meal in a pinch. And on the other, you have massive monster burritos that pack the calories, fat, and sodium. Here's what to look out for.
Take note of the size. Some burritos are reasonably sized at 5 or 6-ounces, but beware of burritos marketed as "BIG" or "XXL" which can go up to 10+ ounces. No matter how you look at it, these giant burritos will always be high in calories, fat, and sodium. By the same logic, think of what you're eating when you're eating a frozen burrito, and you'll realized the bigger the burrito, the less balanced the meal. Where are the veggies? You may find them in traces but not nearly enough for such a large quantity of food.
Mind the sodium. Burritos in general can be pretty sodium heavy (the tortilla, the cheese, the sauces), but some products in this category have crazy sodium levels that'll get you almost to your daily sodium allowance. Look for sodium levels in the 300–500 milligram range.
It's what's inside that counts. Find a burrito with fillings like beans, meat, and veggies, which create a nutrient balance and up your satiety levels. If most of what you're eating in your burrito is cheese and rice, you can definitely do better.
The healthiest frozen burritos you can buy
1. Sweet Earth Protein Lover's Functional Breakfast Burrito
1 burrito (170 g/6 oz), 300 calories, 13 g fat, 3.5 g saturated fat, 430 mg sodium, 27 g carbs, 6 g fiber, 3 g sugar, 21 g protein
If you want to go beyond the typical burrito, try the functional breakfast burritos from Sweet Earth. Their plant-based burritos come in a variety of global flavors—the Brazilian, the Greek, the Mayan—and feature wholesome ingredients which make them a healthy freezer staple. This vegetarian burrito is made with cage-free eggs, Tuscan savory grounds (vegan meat substitute), plant-based bacon, quinoa, and finally in this category, some kale! One burrito has the lowest carb count of any other products on this list, and the most amount of fiber (27 grams carbs, 6 grams fiber). The protein count is one of the highest too, clocking in at 21 grams. A nutritious frozen burrito you can feel good about.
STAY INFORMED: Sign up for our newsletter to get the latest food news delivered straight to your inbox.
2. Amy's Kitchen Light in Sodium Cheddar Cheese Burrito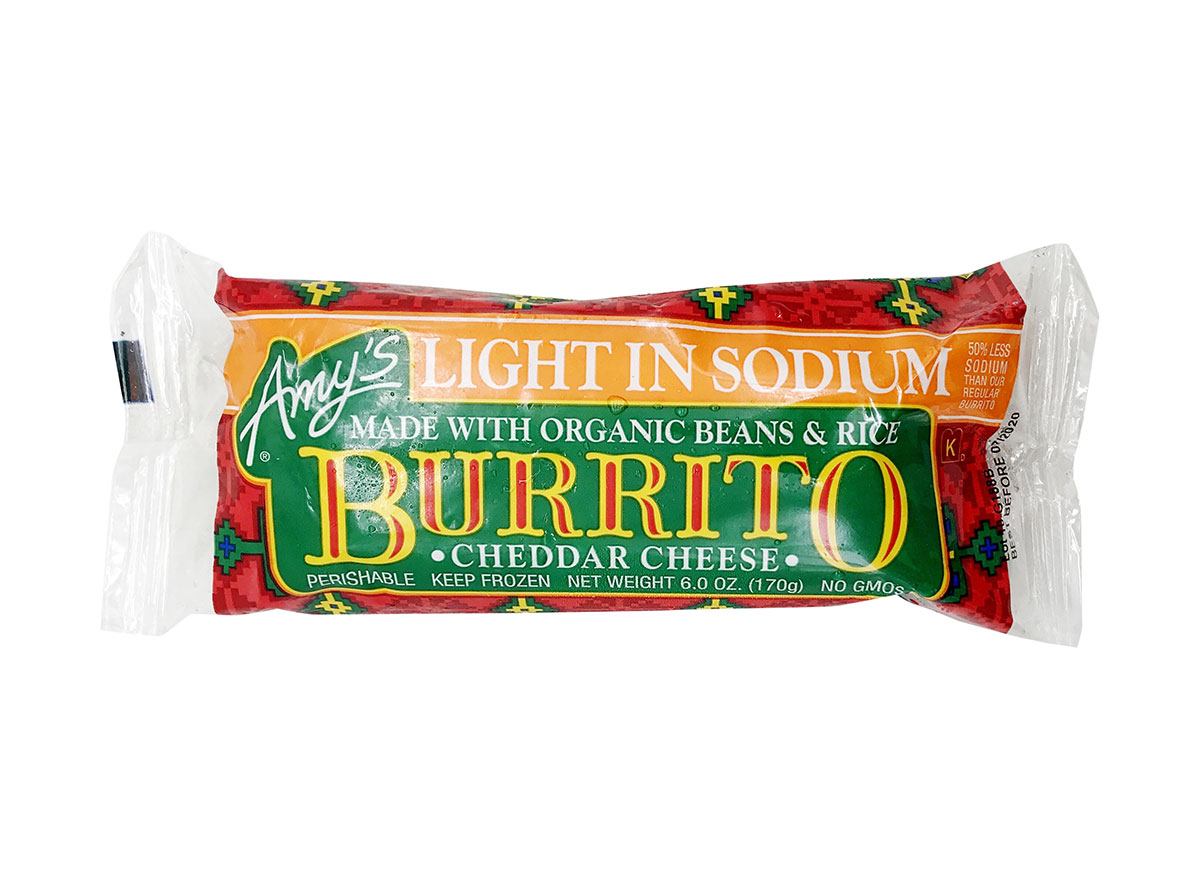 1 burrito (170 g/6 oz), 370 calories, 9 g fat, 2.5 g saturated fat, 290 mg sodium, 51 g carbs, 7 g fiber, 2 g sugar, 12 g protein
If you're looking for basic and wholesome (and good for the planet), look no further than Amy's Kitchen. The brand carries products that are organic and vegetarian, and prides itself in assisting the USDA with setting the original organic food standards we know today. This sodium-light version of a bean and cheese burrito has 50 percent less sodium than Amy's standard burritos. While more veggies would be better (this one includes onions and peppers only), the 7 grams of fiber and 12 grams of protein will keep you satisfied with quality ingredients.
3. 365 Everyday Value Bean & Chicken Burrito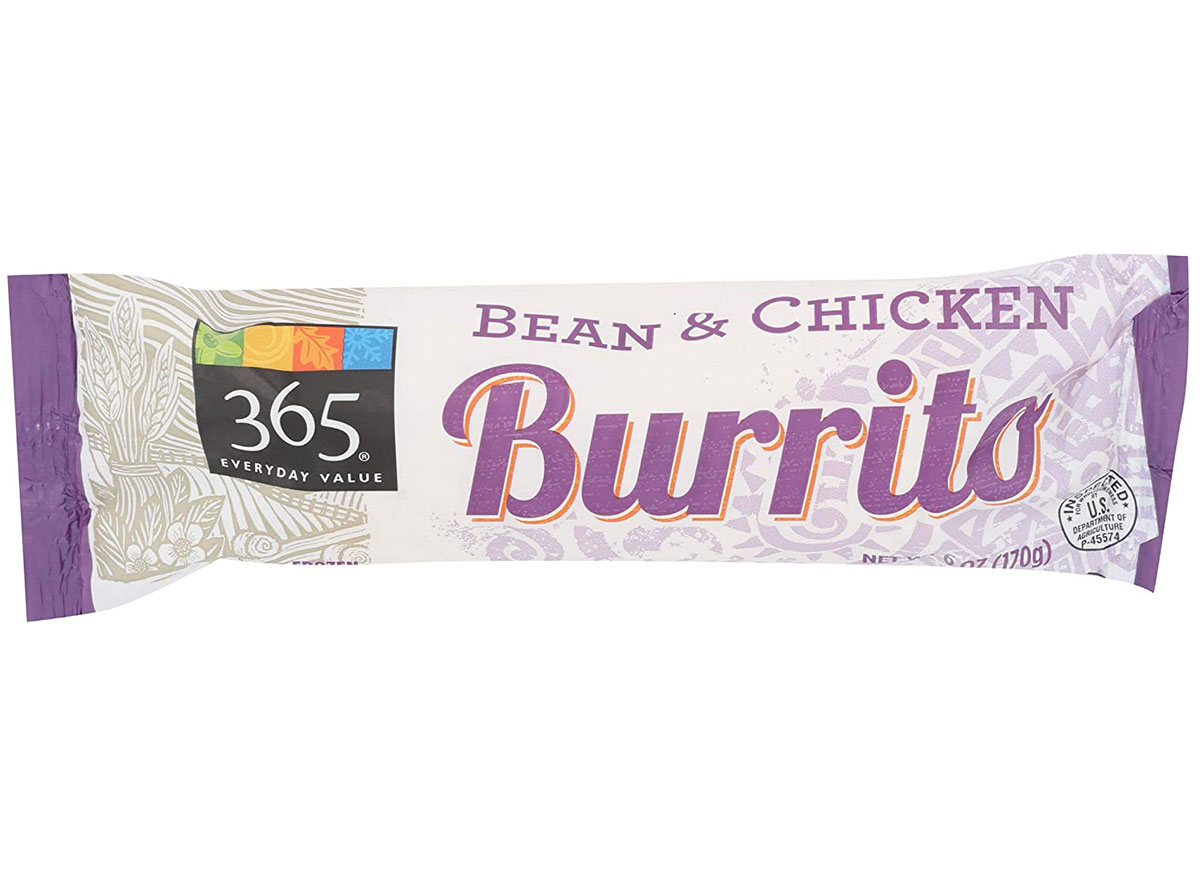 1 burrito (170 g/6 oz), 270 calories, 6 g fat, 1 g saturated fat, 580 mg sodium, 43 g carbs, 3 g fiber, 1 g sugar, 13 g protein
True to their high-quality standards, all Whole Foods' in-house brand products meet the requirements of ingredient quality, animal welfare, and GMO labeling. And their frozen burritos are no exception. This bean and chicken burrito has only 270 calories, which makes it one of the lowest calorie burrito options. It's also lower in fat than any other product on this list.
Available at Whole Foods.
4. Evol Burritos Shredded Beef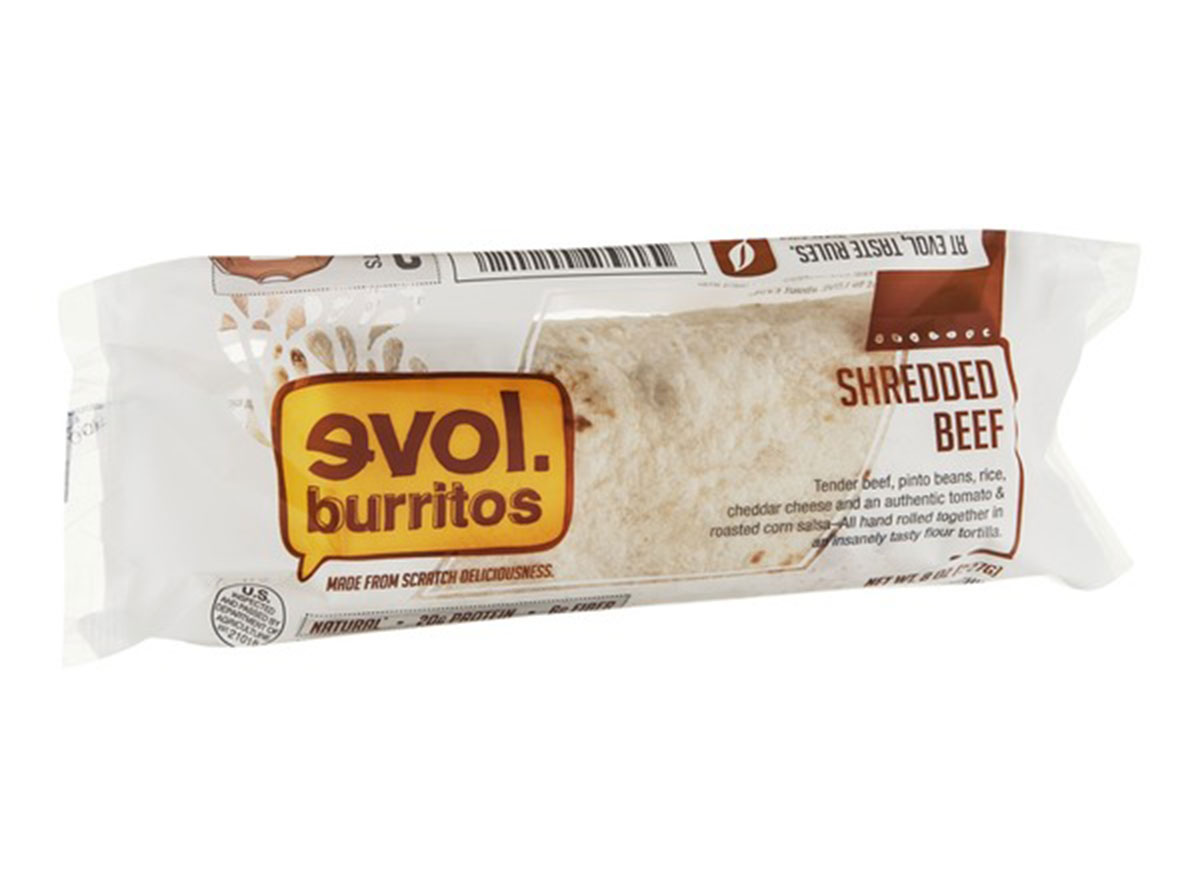 1 burrito (170 g/6 oz), 320 calories, 9 g fat, 2.5 g saturated fat, 310 mg sodium, 48 g carbs, 4 g fiber, 2g sugar, 14 g protein
While you'll want to skip the "big burrito" varieties in this brand's lineup (10 ounces), Evol's smart-size burritos are packed with flavor and will keep your freezer stocked with good options. Evol's products are antibiotic free, made with cage-free eggs, no artificial color, and are produced with conscious recycling practices. This burrito is filled with beef, rice, beans, corn, and cheese, and flavored with hatch green chilies, jalapenos, guajillo pepper puree, and lime. No bland burritos here! For 320 calories at a lower sodium count (310 milligrams) and 14 grams of protein, this is a decent option, especially when paired with some veggies to make it a whole meal.
The worst frozen burritos you can buy
1. El Monterey XXLarge! Bean & Cheese Burrito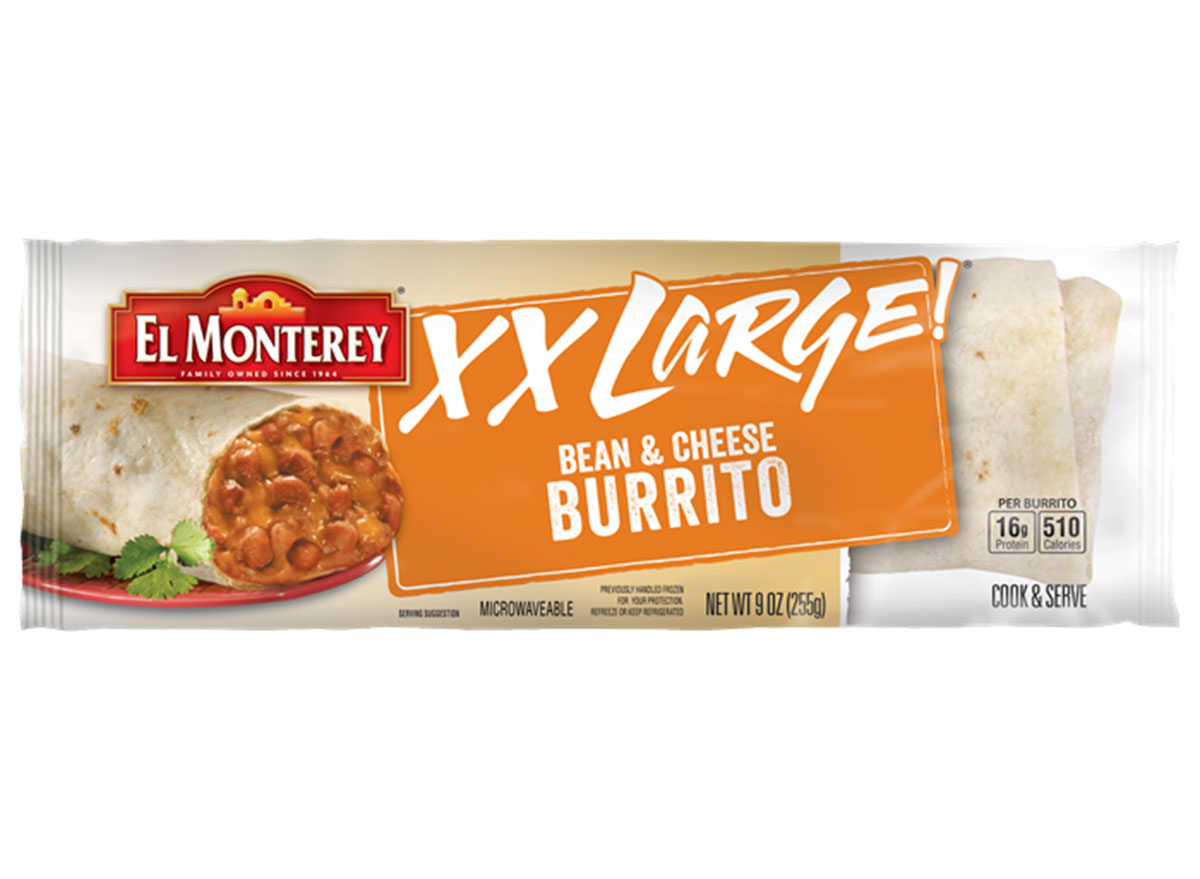 1 burrito (225 g/9 oz), 640 calories, 30 g fat, 11 g saturated fat, 1 g trans fat, 690 mg sodium, 73 g carbs, 6 g fiber, 2 g sugar, 18 g protein
If you want a lot of calories and fat, this burrito is your pick (hey, everyone is looking for something different in a burrito!). El Monterey burritos are definitely more about the flavor than nutrition. This XXL 9-ounce burrito has 640 calories, which is on the higher end of all frozen burrito options. Not to mention, it has an astounding 30 grams of fat with 11 grams of saturated fat. To put it in perspective—that's nearly half of the daily value of fat for a 2000-calorie diet. The artificial caramel color in the ingredient list is also something worth noting.
2. Stouffer's Fit Kitchen XL Burrito Beef & Chorizo
6254a4d1642c605c54bf1cab17d50f1e
1 burrito (283 g/10 oz), 600 calories, 21 g fat, 9 g saturated fat, 920 mg sodium (38 percent DV), 78 g carbs, 6 g fiber, 4 g sugar, 25 g protein
Remember the warning about "XL" or "jumbo" labels with frozen burritos? This 10 ounce burrito is a big one with high levels of sodium. At 920 milligrams of sodium, you'll be consuming 38 percent of your daily value with this burrito alone. Top it off with 600 calories and 78 grams of carbs (but only 6 grams of fiber) plus 21 grams of fat and 9 grams of saturated fat, you're better off skipping this one. While Fit Kitchen does use some smarter ingredients like whole wheat flour and red quinoa, it's just not quite enough to offset the nutrition panel.