The Restaurant Meals You Should Always Order, According to an RD
Want to make a healthier entrée choice when you're dining out? Let these expert-picks be your guide.
There's plenty of negative news circulating about the excessive calorie, fat, and sodium levels in restaurant food. But it's not all doom and gloom out there! Menu labeling—which is now a requirement for chain restaurants with 20 or more locations in the U.S.—makes it possible to choose more wisely.
And this is great news for you: While it's not always easy to find lower-calorie and sodium options, it's also not impossible. Whether you're dining out or ordering in, healthy restaurant meals do exist!
Here are 10 restaurant meals that are on the healthier side for when you don't feel like cooking. To always have the best options on hand in your own kitchen, don't forget to stock up on The 7 Healthiest Foods to Eat Right Now.
When you're craving pasta…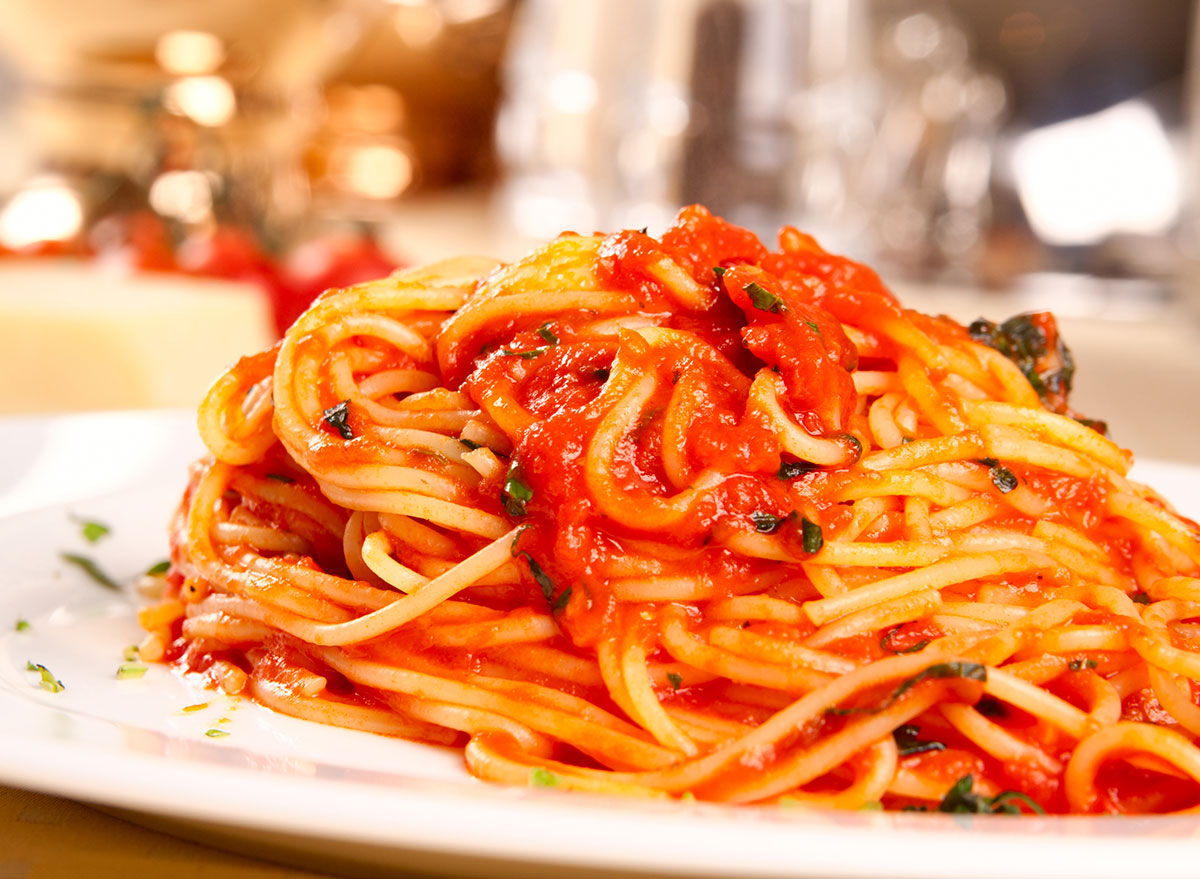 Meal to order: Spaghetti with Marinara Sauce and Grilled Chicken at Olive Garden
Per serving
: 660 calories, 16 g fat (2 g saturated fat, 0 g trans fat), 1,510 mg sodium, 89 g carbs (6 g fiber, 18 g sugar), 33 g protein
You may think a bowl of pasta with marinara sauce is the most nutritious choice at an Italian restaurant. Close—but adding lean protein is a big improvement. Olive Garden's Create Your Own Pasta menu option allows you to easily customize a pasta meal. The extra protein in the chicken will keep you fuller longer, and it adds relatively few calories in exchange.
Cooked tomatoes in the marina sauce pack lycopene, a powerful plant compound that helps prevent cell damage. Don't be daunted by the sugar content: Nearly all of it is found naturally in the tomatoes in the sauce. Though this dish is a bit excessive in sodium, it's worth it on so many other levels.
When you want some stir-fry…
Meal to order: Black Pepper Angus Steak, Super Greens, and a half order of Steamed White Rice at Panda Express
Per meal
: 520 calories, 10 g fat (2 g saturated fat), 1,280 mg sodium, 77 g carbs (9 g fiber, 13 g sugar), 31 g protein
You don't always have to order chicken or vegetarian meals to get the healthiest menu option! The lean cut of beef used in Panda Express' Black Pepper Angus Steak keeps the total and saturated fat content on the lower side. Beef is an excellent source of leucine, an amino acid that triggers muscle production in the body, as well as choline, which helps protect memory. Broccoli, cabbage, kale are the trifecta of dark leafy greens that are rich in fiber and vitamin K for bone health.
This meal would be better with brown rice, and while that's not an option at Panda Express, going with the white rice isn't all that terrible. While there's no information on the Panda Express website about trans fat, this meal likely only has about a half gram, which is in line with experts' suggested intake.
When you're in the mood for a burger…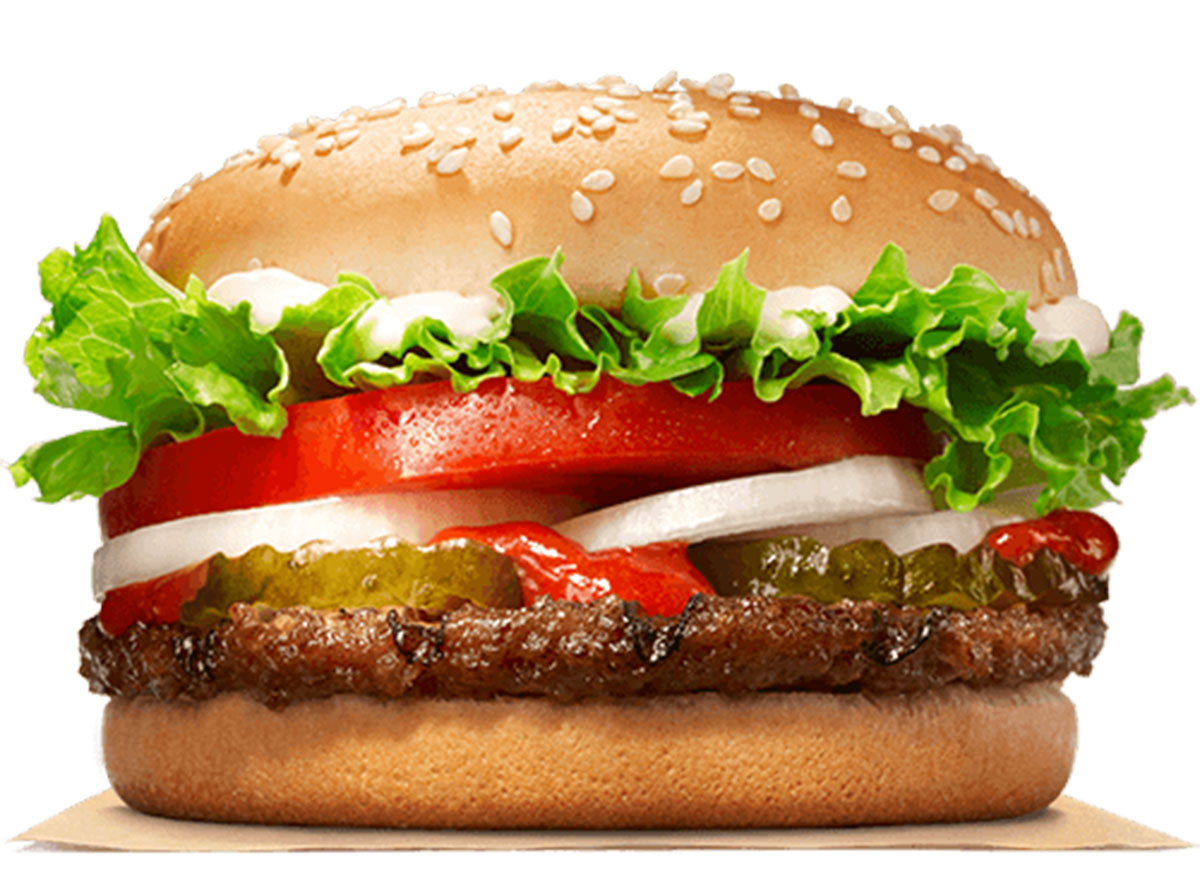 Meal to order: Whopper Jr. at Burger King
Per burger
: 315 calories, 18 g fat (5 g saturated fat, 0 g trans fat), 390 mg sodium, 27 g carbs (1 fiber, 7 g sugar) 13 g protein
When you're craving a juicy burger, nothing else will do. We get it! But you don't need a monster burger that derails your healthy eating plan in order to satisfy your desire. Sure, the Whopper Jr. at Burger King doesn't get a prize for fiber. It's on a white bun; it's not particularly high in protein; and the lettuce, tomato, pickles, and onion don't offer much. But it is relatively low in saturated fat.
At a very reasonable 315 calories and 390 milligrams of sodium, the Whopper Jr. gets the job done.
Looking for more helpful tips? Your ultimate restaurant and supermarket survival guide is here!
When only a sandwich can hit the spot…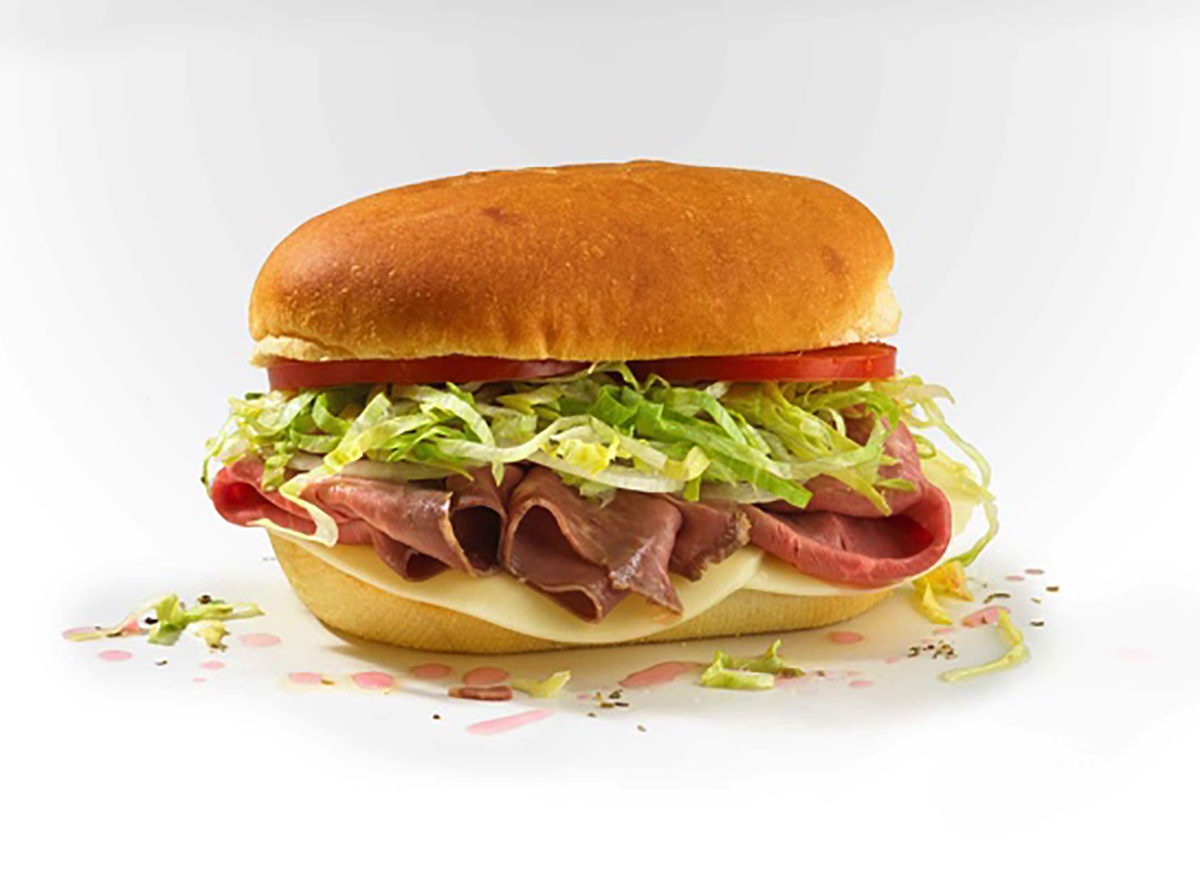 Meal to order: Roast Beef and Provolone (mini size on wheat bread) at Jersey Mike's
Per serving
: 540 calories, 26 g fat (7 g saturated fat, 0.5 g trans fat), 655 mg sodium, 41 g carbs (4 g fiber, 4 g sugar), 37 g protein
Roast beef is surprisingly lean, and while this smaller sandwich has about a third of the total fat that adults need in a day, most of it is the heart-healthy kind. Plus, 37 grams of protein is enough to keep you full for hours, and this sandwich raises no red flags for sodium.
Order this sandwich with wheat bread, which likely means "whole wheat bread" as the Jersey Mike's nutrition calculator says it has more fiber!
When it's time for some pizza…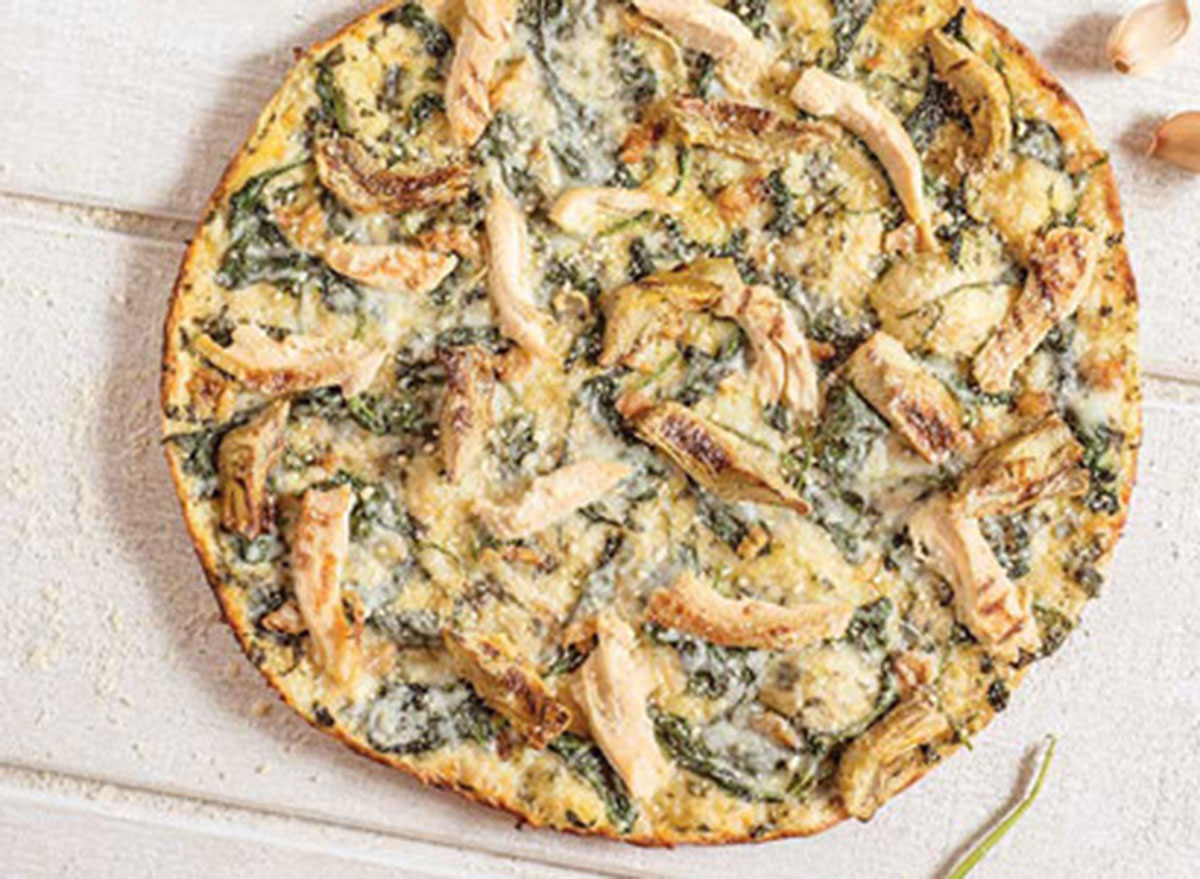 Meal to order: Roasted Artichoke and Spinach Thin Crust Pizza with Chicken at California Pizza Kitchen
Per serving (2 slices)
: 440 calories, 18 g fat (6 g saturated fat, 0 g trans fat), 940 mg sodium, 48 g carbs (4 g fiber, 2 g sugar), 24 g protein
Pizza doesn't have to be completely eliminated when you're focused on healthy eating. While it's always a good idea to top your pie with vegetables instead of high-fat salty meat (we're looking at you, pepperoni!), it's OK to skip a cauliflower crust in favor of a thin crust.
The thin crust on this Roasted Artichoke and Spinach Pizza at CPK cuts calories and carbs without sacrificing eating satisfaction. Artichokes are particularly rich in magnesium—a mineral you need for energy production, bone health, and much more. Even without meat, the protein level for two slices is a surprising 24 grams, which is excellent for a pizza meal.
When you're ready for some seafood…
Meal to order: Atlantic Salmon (Small) with Mango Salsa, Seasonal Vegetables (Green Beans), and Jasmine Rice at Bonefish Grill
Per meal
: 620 calories, 28 g fat (6 g saturated fat, 0 g trans fat), 910 mg sodium, 50 g carbs (3 g fiber, 6 g sugar), 44 g protein
Most of us don't eat enough fish because we don't like to cook it at home. This salmon entrée is a perfect opportunity to include one of the two seafood meals that experts suggest every week.
Salmon is one of the most nutritious fish in the sea; its stellar levels of omega-3 fats help support heart and brain health and reduce inflammation in the body. Pair salmon with seasonal vegetables and Jasmine rice for balance. But take note: Most of the sodium in this meal is added to the rice, so if you're looking for a lower salt meal, skip it and double up on veggies.
When you really just want a steak…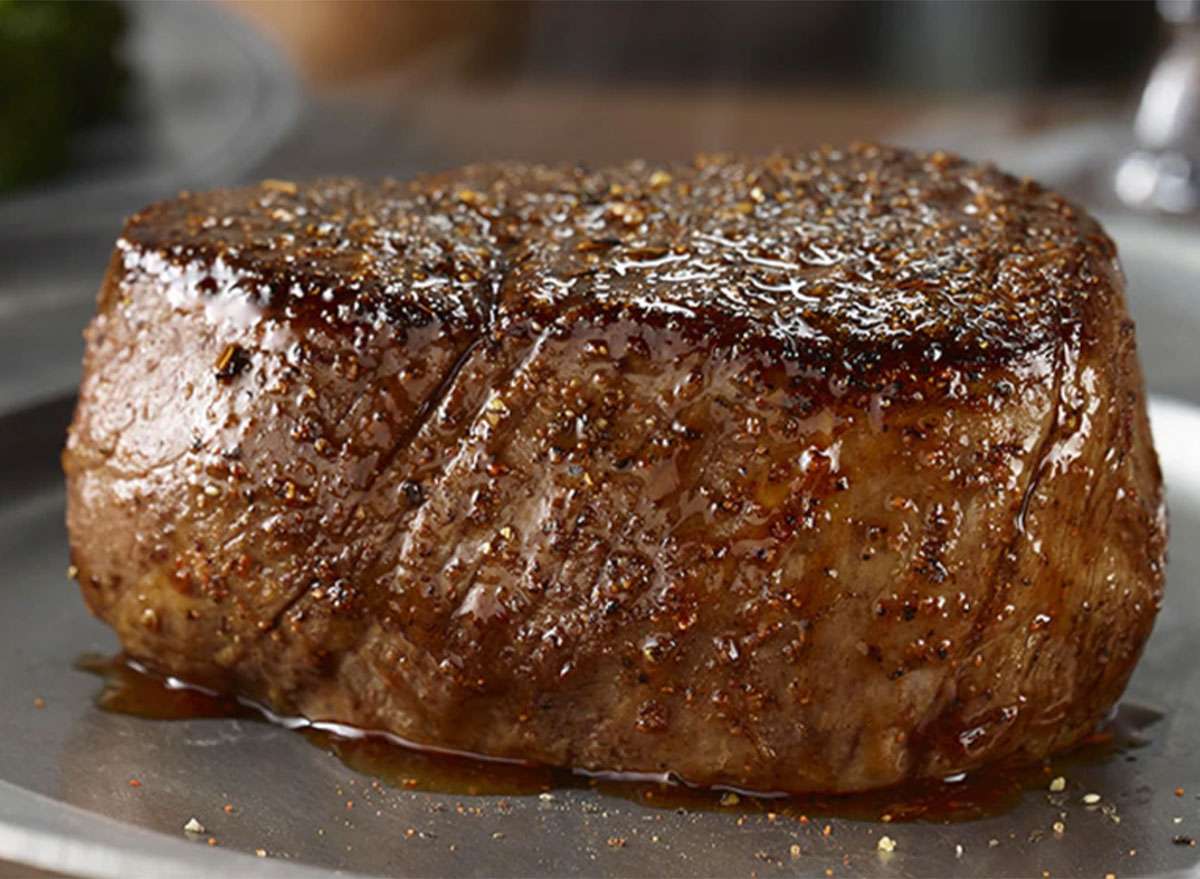 Meal to order: Flo's Filet (6 oz), Plain Sweet Potato, and Fresh Steamed Broccoli at Longhorn Steakhouse6254a4d1642c605c54bf1cab17d50f1e
Per meal
: 660 calories, 23 g fat (5 g saturated fat, .5 g trans fat), 650 mg sodium, 66 g carbs (13 g fiber, 20 g sugar), 46 g protein
The low saturated fat content of Longhorn Steakhouse's Flo's Filet, plus the relatively small portions, make it a great choice for enjoying a mouth-watering steak. Don't be alarmed by the 20 grams of sugar in this meal; nearly all of it is found naturally in the sweet potato and isn't added sugar, which is the kind that experts suggest you limit.
Sweet potatoes are rich in fiber and contain carotenoids, which provide the potato with its bright orange hue and serve as protective antioxidants in your body, too. The broccoli may be freshly steamed, but it also has added fat, so no need to add more.
When you're ready for a burrito…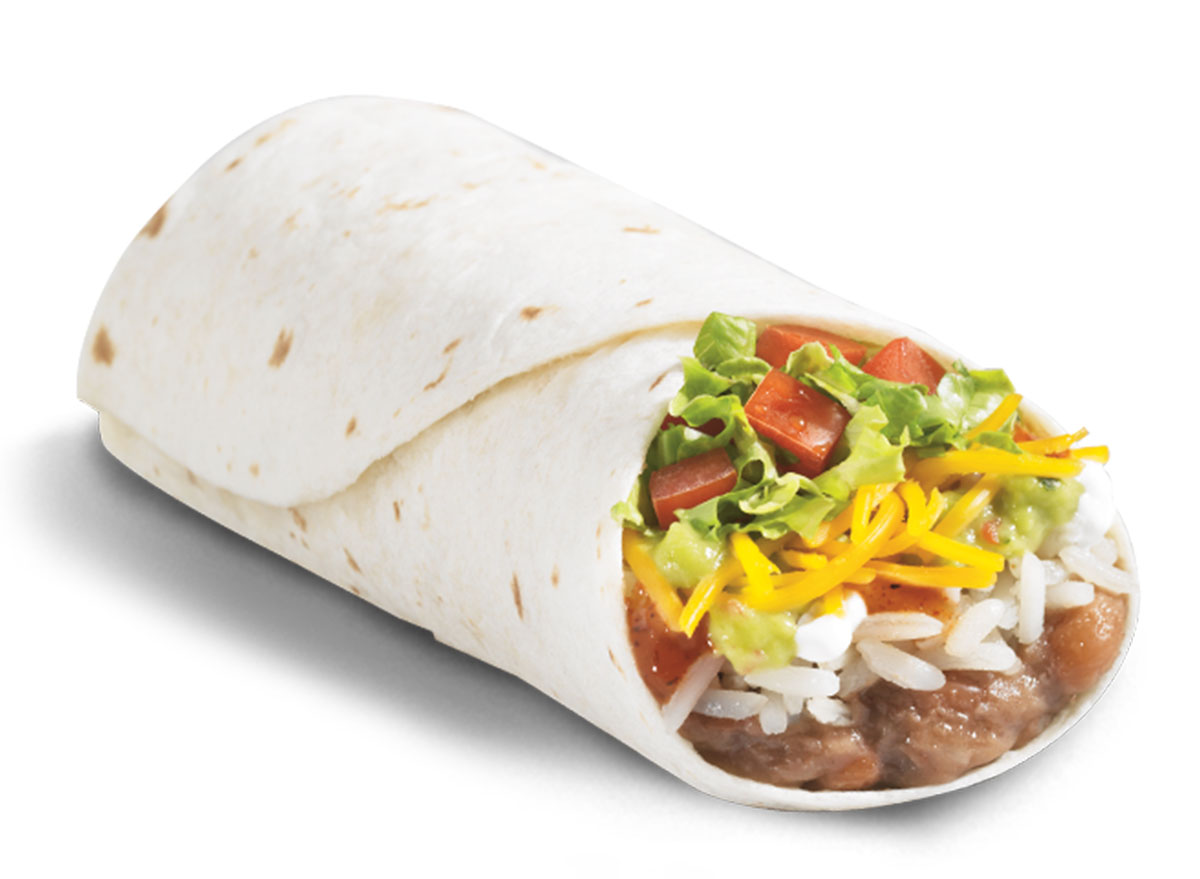 Meal to order: Del Taco's 8 Layer Veggie Burrito at Del Taco
Per burrito
: 530 calories, 18 g fat (8 g saturated fat, 0 g trans fat), 1,350 mg sodium, 70 g carbs (9 g fiber, 2 g sugar), 18 g protein
The combination of beans and cheese is largely responsible for the impressive protein content of this meatless meal from Del Taco, which also supplies 20% of the Daily Value for iron—a nutrient that's lacking in many women's diets. This veggie burrito boasts 9 grams of fiber, which is more than one-third of the suggested daily intake, and 35% of the Daily Value for calcium. Not too shabby!
The one drawback? The sodium level. However, t's unlikely that you'll find a lower sodium burrito on any restaurant menu, since salt seems to be added to most of the ingredients. Cut back on salty foods for the rest of the day to limit your sodium intake.
When you're hungry for a salad…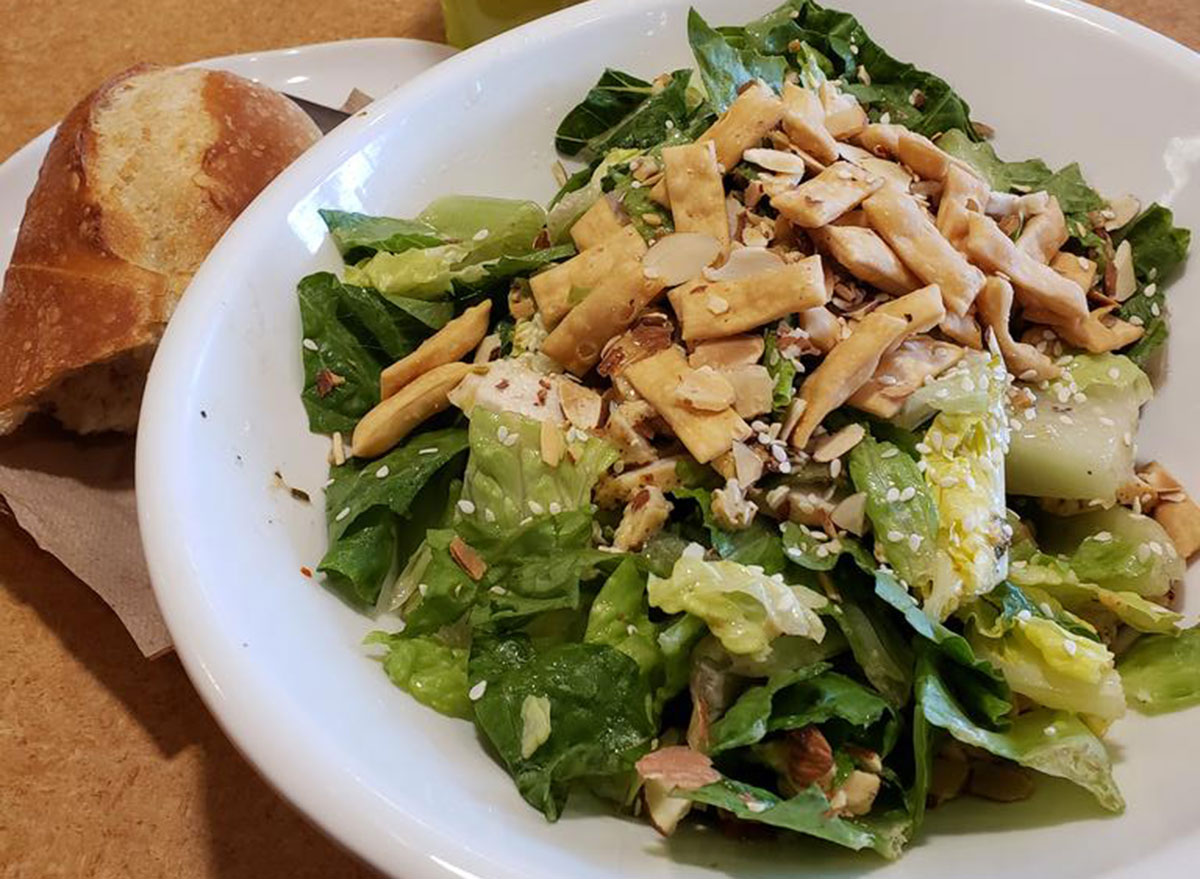 Meal to order: Asian Sesame with Chicken (whole portion) at Panera Bread
Per meal
: 430 calories, 23 g fat (3 g saturated fat, 0 g trans fat), 720 mg sodium, 29 g carbs (6 g fiber, 7 g sugar), 31 g protein
Surprise! Salads aren't always the most nutritious choice—especially when you start piling on the bacon bits, seeds, cheese, and fatty dressings. But with its reasonable calorie and sodium counts and excellent protein level, the Asian Sesame with Chicken salad at Panera Bread balances great flavor and good nutrition. It's a little high in fat, likely from the dressing.
Pro-tip: Most of the fat is the unsaturated kind, but ask for the dressing on the side in order to cut down on fat intake!
When you want a grain bowl…
Meal to order: Burrito Bowl made with Cilantro-Lime Brown Rice, Veggies, Pinto Beans, Monterey Jack Cheese, Roasted Chili-Corn Salsa, and Romaine Lettuce at Chipotle
Per Meal
: 555 calories, 17 g fat (6 g saturated fat, 0 g trans fat), 1,070 mg sodium, 80 g carbs (15 g fiber, 7 g sugar), 22 g protein
With careful planning, bowls can be nutritious, balanced meals. When ordering from Chipotle, base your bowl on brown rice in order to include more whole grains in your eating plan.
Pinto beans supply protein, iron, vitamin B6, and magnesium. Choosing them as a source of protein also helps you satisfy the recommendation to consume 3 cups of legumes a week. The excess sodium in most of Chipotle's toppings, including the Roasted Chili-Corn Salsa, is the only drawback. In this case, the nutrition—and taste—benefits outweigh the sodium content.
Elizabeth M. Ward, MS, RDN
Elizabeth M. Ward, MS, RDN is an award-winning nutrition communicator, writer, and recipe developer, as well as a former spokesperson for the Academy of Nutrition and Dietetics.
Read more about Elizabeth M.