The Best Meal Replacement Shakes & Powders, According to Dietitians
If you're on the go, you don't necessarily have to buy yourself lunch to fuel up—just grab the healthiest meal replacement shake.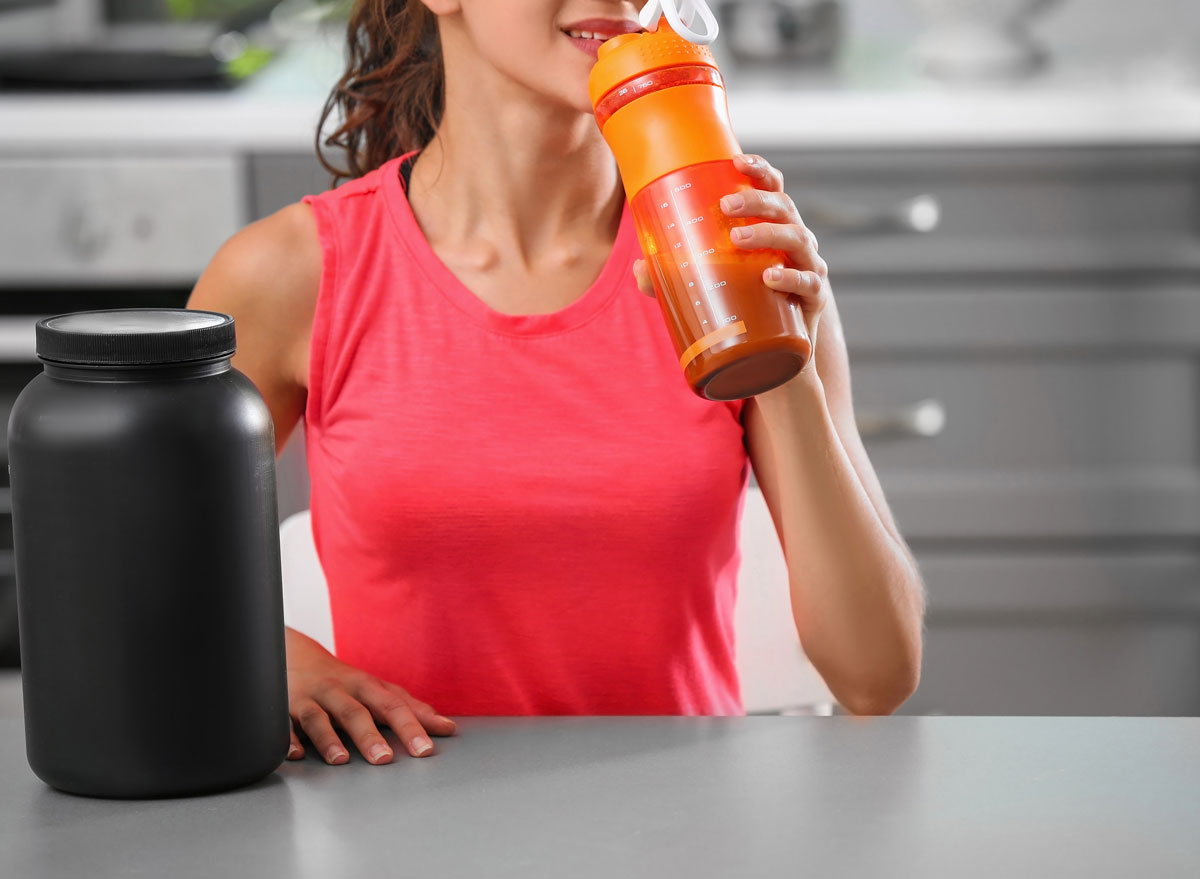 Eat This, Not That! is reader-supported and every product we feature is independently vetted by our editors. When you buy through links on our site, we may earn a commission.
Why spend the time making a home-cooked meal for yourself or struggling to piece together leftovers for a sad work lunch when you can just sip on one of the best meal replacement shakes and call it a day?
Not only are there currently seemingly endless options for healthy, drinkable meals, but MarketWatch reports that the meal replacement shake market is only expected to grow even more over the next several years. That growth, according to a recent report, is driven by factors such as busy lifestyles, rapid urbanization, increasing healthy food consumption habits, and convenience foods. In other words, consumers are becoming more health-conscious and seeking food products that are convenient and more nutritious. Enter: meal replacement shakes.
What are meal replacement shakes and what are their benefits?
You can find two varieties of meal replacement shakes:
Ready-to-drink, bottled shakes or
Powdered supplements that you would mix with water and shake to combine
Unlike protein shakes, the healthiest meal replacement shakes offer a nutrient profile similar to that of a well-balanced meal. That includes healthy fats, carbohydrates, protein, and fiber.
These shakes are appealing to many and have multiple benefits:
Convenience: As we said earlier, you don't have to cook or clean up after a meal if you grab one of these shakes.
Weight loss: "Meal replacement shakes have shown to be effective for some people who are trying to lose weight, especially those who replace 1-2 of their meals with a meal replacement," says Amanda A. Kostro Miller, RD, LDN, who serves on the advisory board for Smart Healthy Living. "Many weight loss programs using meal replacement shakes, however, are meant to be temporary for an initial weight loss kick."
To feel full: choosing a shake that's high in protein and/or fiber will keep you fuller longer and slow down the digestion of carbs, which stabilizes blood sugar levels.
How do you choose the best meal replacement shake?
If you're looking to try a meal replacement shake, you have dozens of options to choose from. However, it's important to keep in mind that not all meal replacement shakes are the same, and there are some that should be avoided. We consulted experts to determine what ingredients to consume and avoid when determining the best and worst meal replacement shakes.
The best varieties emulate a well-balanced meal and contain a more balanced macronutrient profile than your average protein shake—which typically focuses on that one key nutrient and little else. "The most important purpose of a meal replacement shake is, as stated, to replace your meal," says Daniel Wong, RD, CDN, CDE. "By saying that, you would want a shake that contains all the macronutrients—carbohydrates, protein, fat and wide range of vitamins and minerals—to provide a well-balanced meal."
Meal replacement shakes should meet at least several of the following guidelines:
Calories: Pick a shake that has about 300 calories per serving. Wong notes that if you choose a shake with fewer calories, consider adding some of your favorite fruits or mixing it with milk. That will help to increase your calcium and vitamin D intake without exceeding your caloric needs.
Carbohydrates: Carbs are not the enemy, especially when it comes to meal replacement shakes. Carbs act as fuel for the body and are part of any balanced meal. However, you don't want to overdo it in the carb department either. Wong suggests looking for shakes that have around 10-20 grams of carbohydrates per serving.
Fiber: "Fiber is a necessary nutrient to help keep you full. We get fiber from fruits, veggies, grains, nuts and seeds," Miller says. "Not all meal replacement shakes will have fiber in them, but if you can find a brand that does contain fiber, that should be one of your top choices." Wong recommends looking for shakes that have at least 3-5 grams of fiber per serving.
Protein: "Liquids tend to not be as satisfying as a meal itself, so make sure you are choosing a meal replacement shake that has a good amount of protein," says Miller. "Protein keeps you full for several hours, which can help you avoid snacking before your next meal." Rodriguez says 15-30 grams of protein per serving is ideal, as studies have shown that amount is "the most beneficial for maximal protein synthesis."
Vitamins and minerals: "Each vitamin or mineral listed on the food label should have more than 10 percent DV," says Wong. "If [it's] more than 20 percent, that would be even better."
The best meal replacement shakes will also have very little of certain substances, such as added sugar and sodium. "I try to steer clear of artificial colors, flavors, and sweeteners," says Lindsay Gnant, manager of scientific content, registered dietitian and nutritionist at Isagenix. "I find that products that rely on artificial colors and flavors tend to use lower-quality ingredients overall."
The 7 best meal replacement shakes you can buy.
The following meal replacement shakes are nutritionist-approved brands you should stock in your home.

1 carton
: 200 calories, 6 g fat (1 g saturated fat), 240 mg sodium, 22 g carbs (3 g fiber, 5 g sugar), 15 g protein
"Kirkland Signature Complete Nutrition Shakes are a decent choice for meal replacement shakes," says Diana Gariglio-Clelland, RD, CDE with Balance One Supplements. "They aren't loaded with multiple artificial sweeteners like many of the other meal replacement shakes on the market. Instead, they have a little real sugar balanced with some stevia. The sugar content is still low overall (5 grams per drink), so I'd prefer that over having a sickeningly-sweet artificially sweet taste. The protein content is great for the calories—200 calories and 15 grams of protein."
Gariglio-Clelland also notes that these shakes are fortified with many vitamins and minerals as well, including vitamin D, which many people are deficient in.

1 carton
: 325 calories, 12 g fat (5 g saturated fat), 225 mg sodium, 38 g carbs (5 g fiber, 18 g sugar), 16 g protein
Jim White, RD, ACSM, and owner of Jim White Fitness Nutrition Studios, calls this meal replacement shake the "best option." Made from pea protein, this offering boasts a whopping 24 vitamins and minerals each at 35 percent of the recommended daily value. It also has 5 g of fiber and 16 g of protein per serving and is made without artificial colors or flavors.6254a4d1642c605c54bf1cab17d50f1e

1 scoop
: 140 calories, 2 g fat (0.5 g saturated fat), 190 mg sodium, 14 g carbs (2 g fiber, 5 g sugar), 20 g protein
White also likes this meal replacement shake from Garden of Life because it is "light in calories" and has no artificial colors, flavors, or sweeteners. Wong is also a fan of this shake because it delivers 20 grams of clean protein per scoop from 13 raw sprouted ingredients, along with greens, healthy fat, 7 g of organic fiber, probiotics and enzymes, plus 21 vitamins and minerals. What's more? This option also features a robust amino acid profile.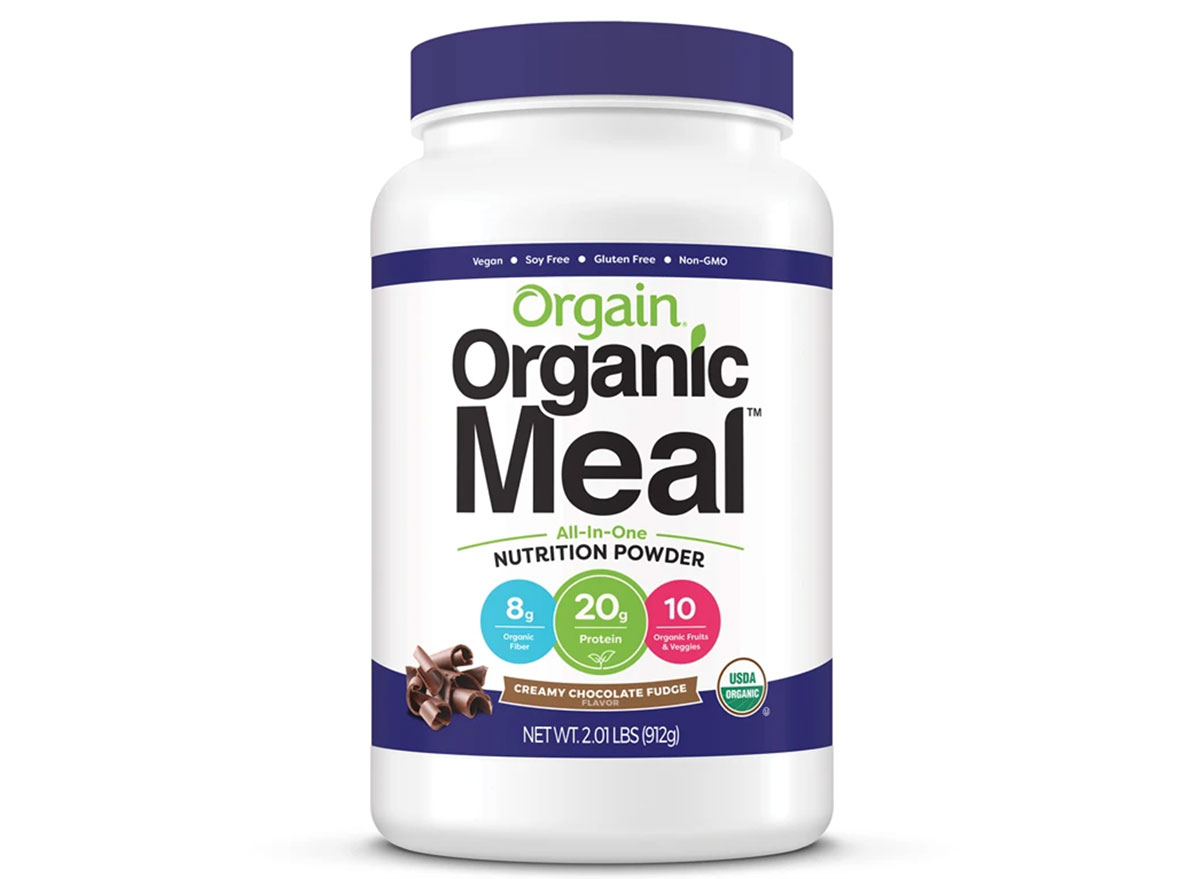 2 scoops
: 230 calories, 5 g fat (1 g saturated fat), 300 mg sodium, 25 g carbs (7 g fiber, 1 g sugar), 20 g protein
This meal powder, which Lisa Richards, a nutritionist and author of The Candida Diet, recommends, is completely vegan and serves up 20 g of plant-based protein and 8 g of fiber in every serving, making it one of her go-to choices. It also has only 1 g of sugar in each serving and is a good source of vitamin B6, vitamin C, riboflavin, thiamine, iron, and pantothenic acid.
1 scoop
: 90 calories, 1 g fat (0 g saturated fat), 290 mg sodium, 7 g carbs (5 g fiber, 0 g sugar), 15 g protein
"Large volumes of protein found in other shakes sit in the stomach as they are slower to be absorbed and can lead to gas which is then trapped causing digestive discomfort," says Rodriguez. "The 15 grams of protein in 310 shakes is ideal for avoiding this, yet enough protein to still contribute to satiety; thus, leading to fewer calories consumed throughout the day. To further support satiety, 310 shakes are considered a high-fiber food with 5 g of fiber per serving. Beyond satiety, this helps to regulate blood sugar and influence healthy cholesterol levels for overall heart health."
Nutritionist and health coach Sierra Rodriguez, who works with 310 Nutrition, notes that 310 meal replacement shakes contain probiotics. "The gut microbiome is critical for overall health and maintaining a healthy gut is essential," says Rodriguez. "Probiotics can help to re-establish an ideal gut flora, throughout the entire body."
1 bottle
: 180 calories, 9 g fat (1.5 g saturated fat), 180 mg sodium, 7 g carbs (5 g fiber, 1 g sugar), 20 g protein
"This is a great shake that checks all the boxes. It's a high protein shake that contains 40 percent of the daily protein intake (based on a 2,000 calorie diet), so you will most likely stay full," says Kostro Miller. "Additionally, this shake has 5 g of fiber per serving, which means it is a high fiber food. It also contains no added sugars."
1 scoop
: 160 calories, 2.5 g fat (1 g saturated fat), 170 mg sodium, 18 g carbs (6 g fiber, 7 g sugar), 17 g protein
The meal replacement shakes from Shakeology are a Wong favorite as well. They boast prebiotics, probiotics, digestive enzymes, adaptogens, fiber, antioxidants, vitamins, and minerals and function as a well-rounded protein source, seeing as they provide all 9 essential amino acids.
More content from
Healthy Eating