The Best Mexican Restaurant In Every State, According to Yelp
We determined which restaurant has the best Mexican cuisine in your state.
Finding authentic Mexican fare isn't always easy, especially in northern states. The southwest region of the U.S. is often thought to have some of the best Mexican-inspired eateries, and for good reason! But what about the best Mexican restaurant in Maine or Washington? In order to come to the bottom of this, we called on our friends at Yelp to equip us with the data—which consists of user ratings and reviews—and then we did some digging and pin-pointed what we thought was most exceptional about each restaurant.
From taco trucks and street vendors to sit-down restaurants and stands, these are some of the most widely recognized Mexican eateries in the nation.
Methodology: This is a list of the best places for Mexican cuisine in every state in the United States, according to Yelp. All the businesses on this list are in the "Mexican" restaurant category on Yelp. "Best" is measured using an algorithm that looks at the number of reviews and star ratings for a business.
And for more, don't miss these 15 Classic American Desserts That Deserve a Comeback.
ALABAMA: Antojitos Izcalli in Tuscaloosa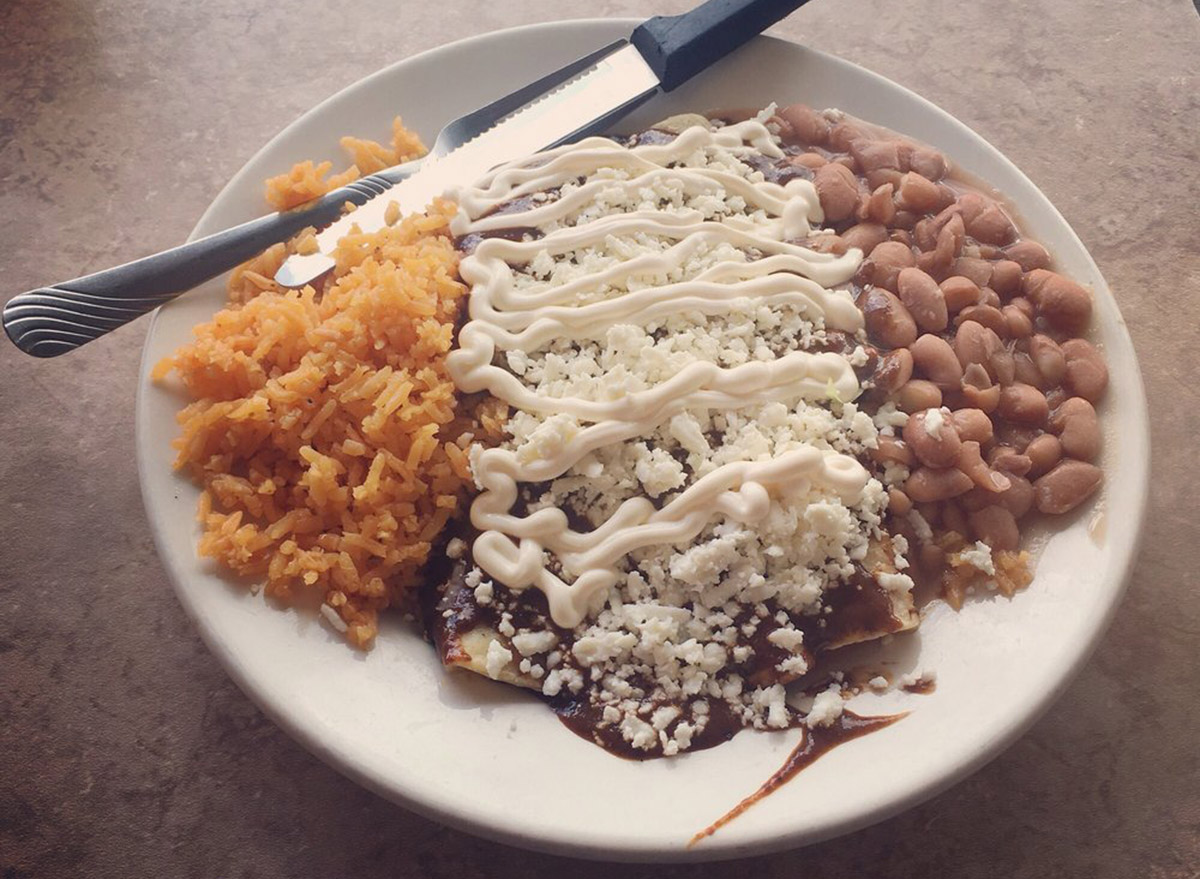 This little restaurant is deemed the best Mexican restaurant in the state. Why? After browsing over several reviews, it's clear to us that this is the best casual restaurant to order authentic Mexican cuisine. Whether you want a meaty taco for $2.50 or something more filling like chicken enchiladas with mole sauce, Antojitos Izcalli offers it all.
ALASKA: Lane's Quickie Tacos in Fairbanks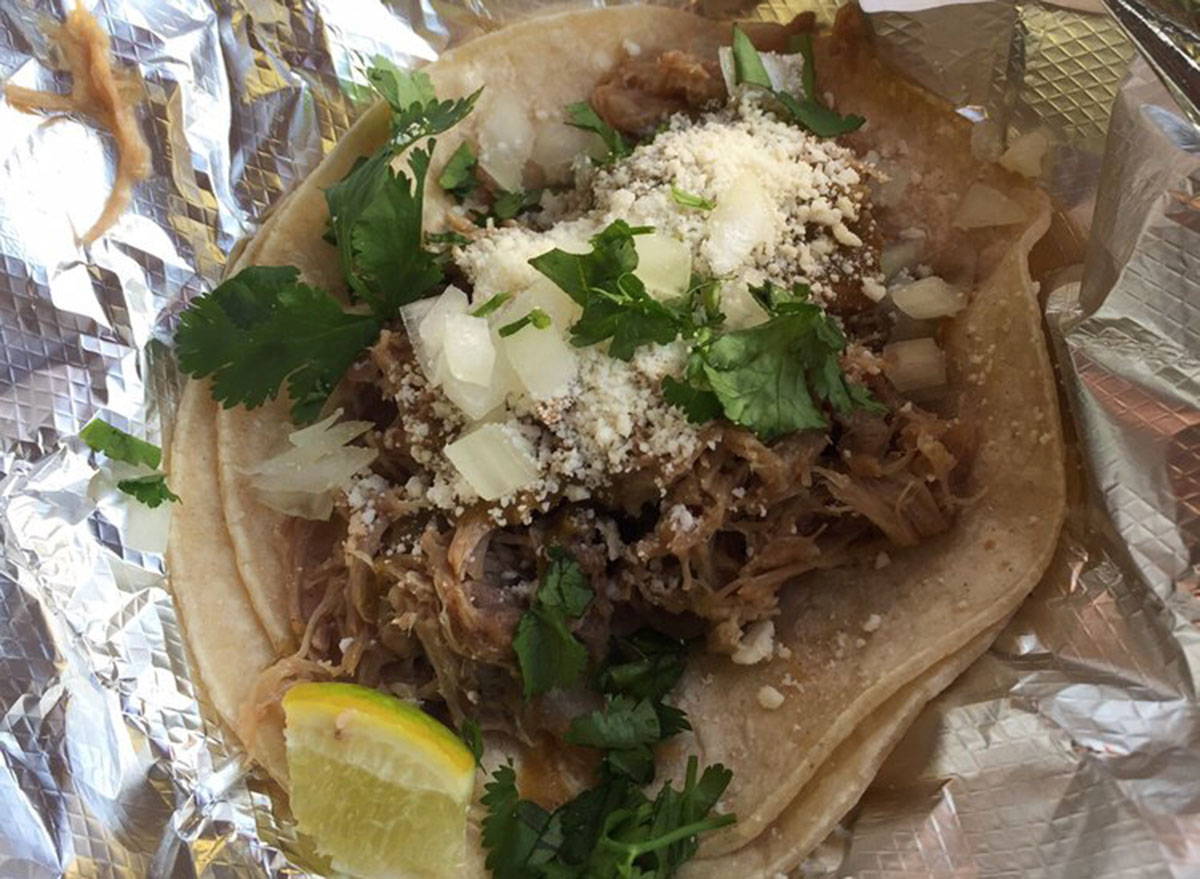 "Best tacos I've had in Alaska so far," wrote one Yelp reviewer. "I loved the hand-made tortillas and the taco combinations. I'd come here every week if I could."
At Lane's Quickie Tacos you can expect to purchase these five tacos all-year-round: The Alaskan, The Texan, The 'Merican, The Hippie, and The Kiddo. The sixth taco is always chosen randomly, so you're in for a surprise every time you come in.
ARIZONA: Cocina Madrigal in Phoenix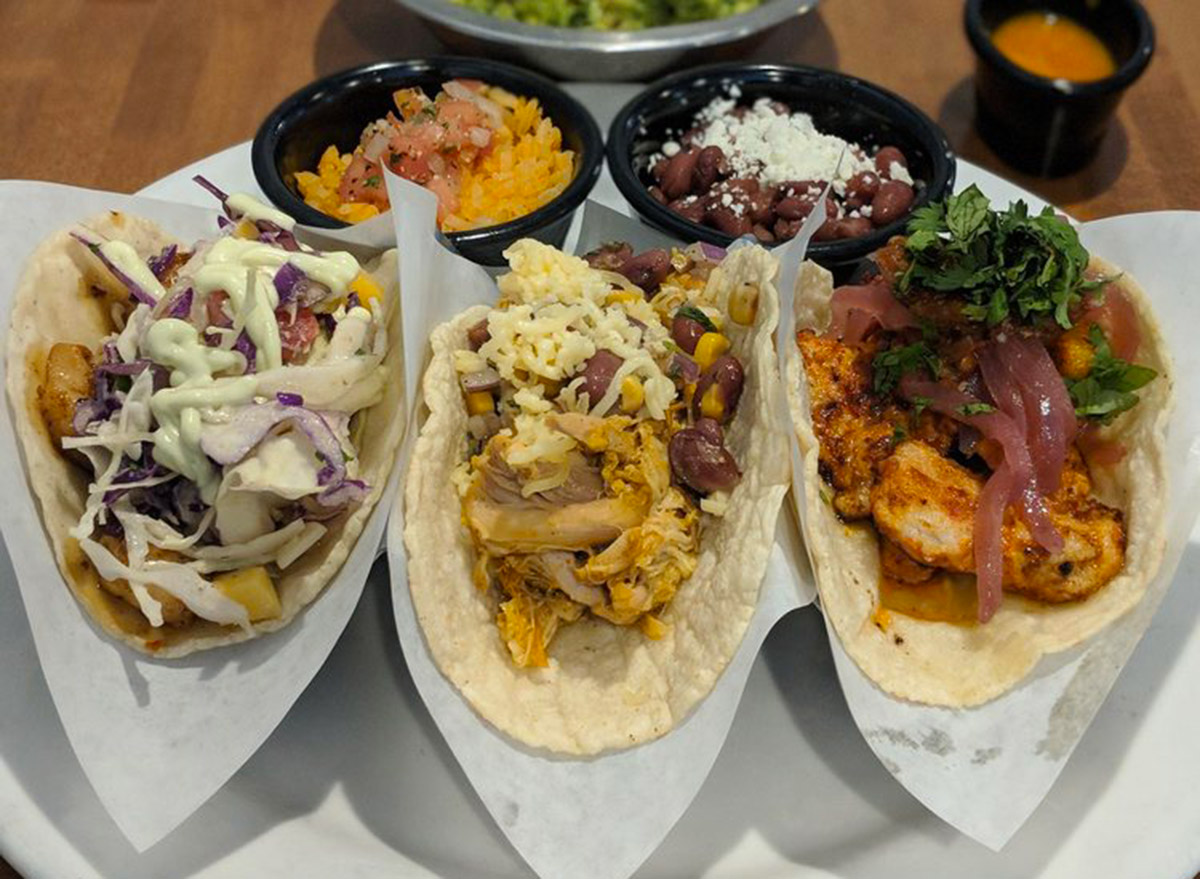 At Cocina Madrigal, you can order anything from traditional Oaxaca shrimp tacos to a wild mushroom enchilada—and no dish seems to disappoint. Even the side dishes appear to be out-of-this-world delicious.
"The grilled Elote is a must. It was tender, cooked amazingly on the cob. The Cojita cheese was decadent but not overwhelming. They gave you just enough to be satisfied," wrote one reviewer.
If you can manage to save room for dessert, we hear the coconut cream pie is luscious and the churros with Bavarian cream and caramel are also delightful.
ARKANSAS: TrickDilly in Bentonville
Tricked Out Tacos? We're not sure what that means, but it's evident that this taco place is a hit among Bentonville locals and tourists alike. TrickDilly serves both authentic Mexican and Thai-inspired tacos with two of the top choices being the Adobo Chicken and Thai Chicken tacos. They even have a Ratatouille Taco!
CALIFORNIA: El Primo Tacos in Venice
Full disclosure, El Primo Tacos is not your standard storefront eatery, it's run by a street vendor and the tacos are priced at just $1.
"This is a legit Mexican street taco spot. I ordered carne asada tacos, al pastor tacos, buche tacos, and a carne asada quesadilla. All were tasty, plus the salsas were flavorful and spicy," wrote one reviewer on Yelp.
COLORADO: Xicamiti La Taquería Bistro in Golden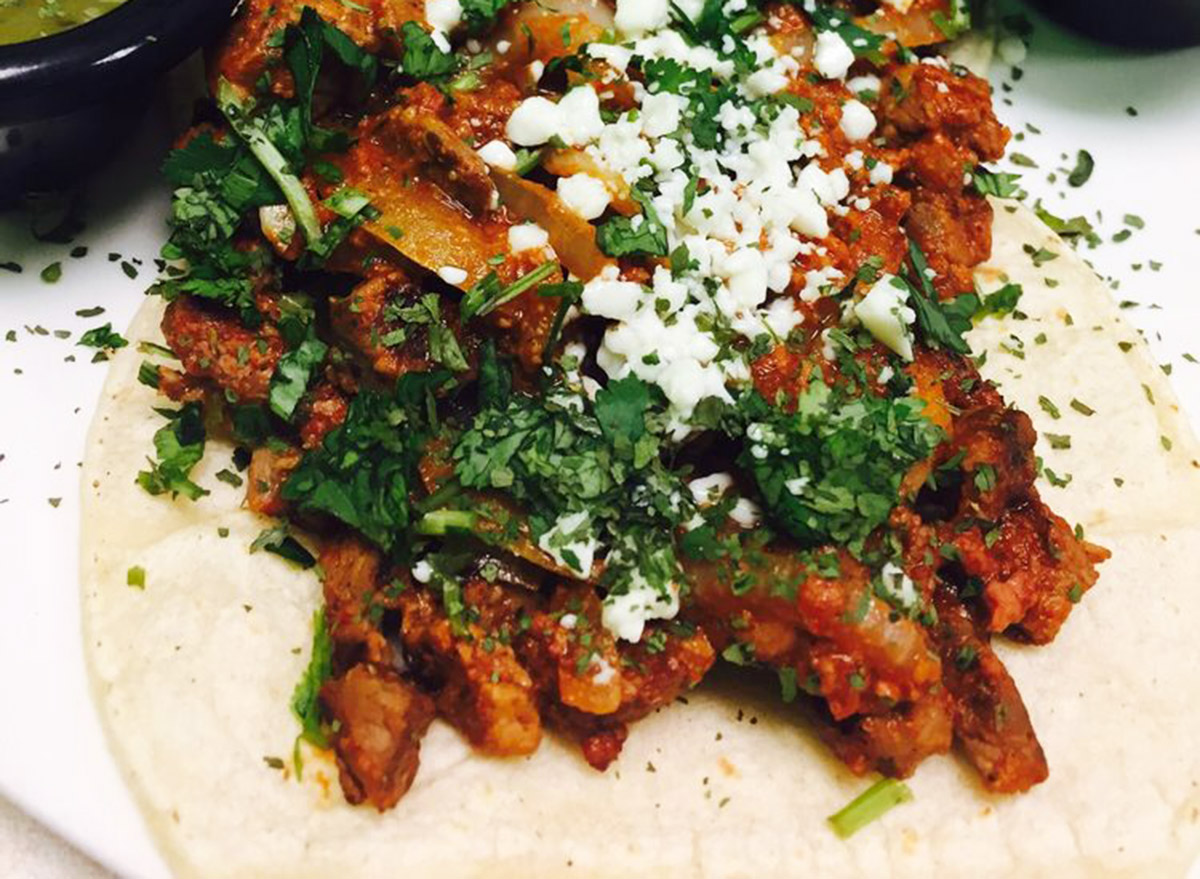 Xicamiti La Taquería Bistro is a true gem in Colorado—they serve a drink called the Frida Kahlo Margarita! We read that the Campechanos Tacos, stuffed with steak and chorizo, and the corn flan are two dishes you must order when you come in.
CONNECTICUT: Los Garcia Mexican Fusion in Waterbury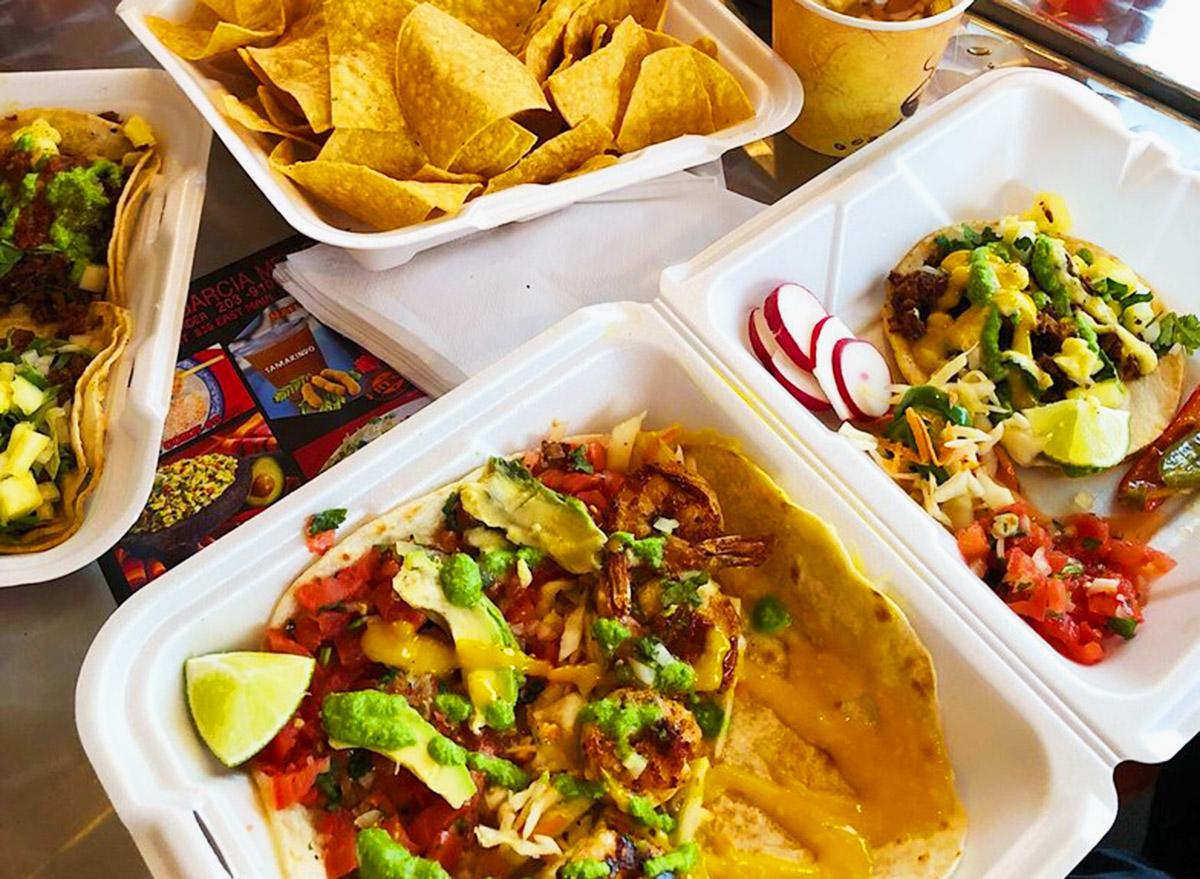 This taco truck sits behind the Waterbury mall and serves up authentic Mexican cuisine including Garnachas, a traditional dish consisting of fried corn tortillas that are topped primarily with refried beans, shredded cabbage, and cheese. From plump burritos to crispy tacos with rice and beans, you're bound to find something you love here.
DELAWARE: El Pique in Wilmington
In Delaware, El Pique is the place to go if you want delicious tacos that are stuffed to the brim with toppings and caramel churros.
"This place is fire. I come every Tuesday for lunch for Taco Tuesday and get their 5 for $5 taco deal. You can choose chicken, pork, or steak (1 meat for all 5 tacos) and either American, Mexican, or Tex Mex toppings," wrote one reviewer.
FLORIDA: Los Bocados in Parkland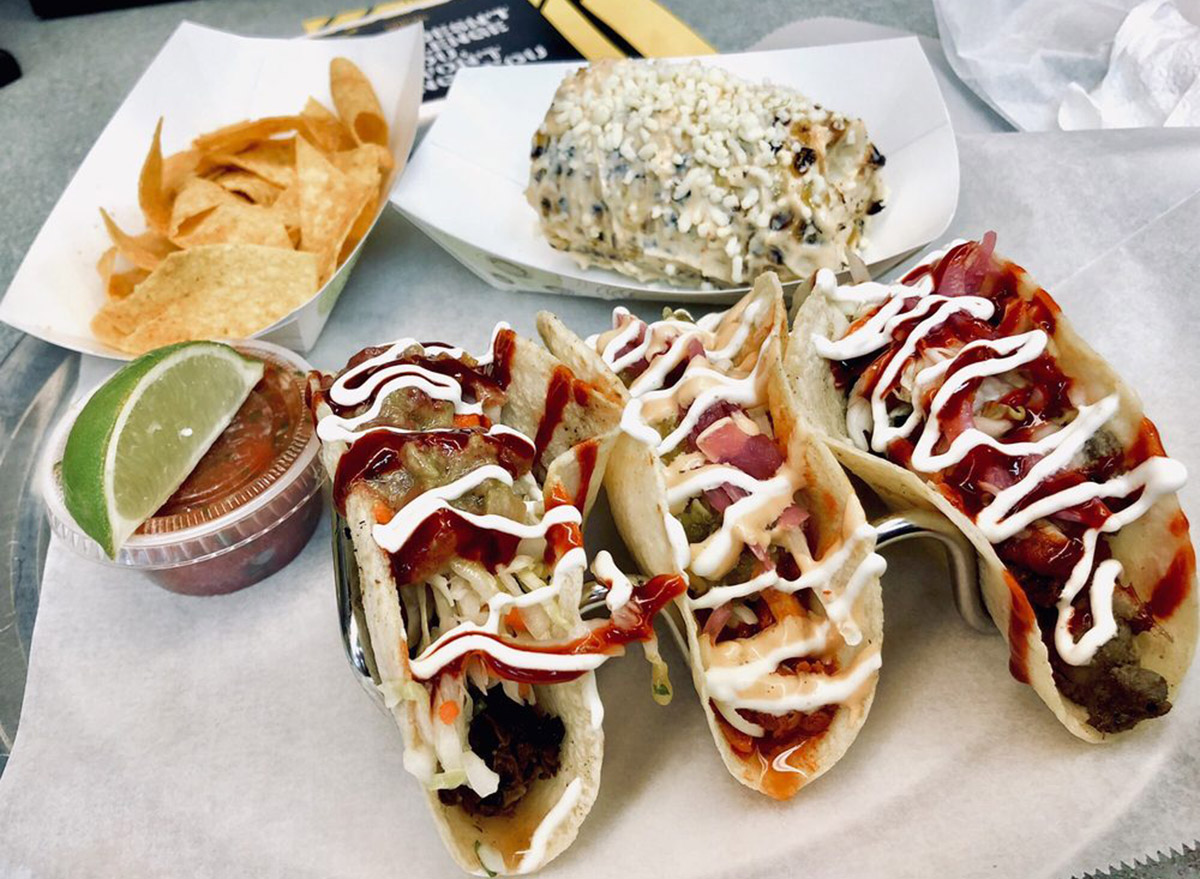 Los Bocados has garnered five stars among 400+ reviews on Yelp. This Mexican-inspired restaurant is tucked inside of a gas station in Parkland, Florida. Drive by this quaint spot, and you'll be able to dine on spicy citrus pork tacos and barbecue brisket tostadas.
GEORGIA: Tacos Del Chavo in Kennesaw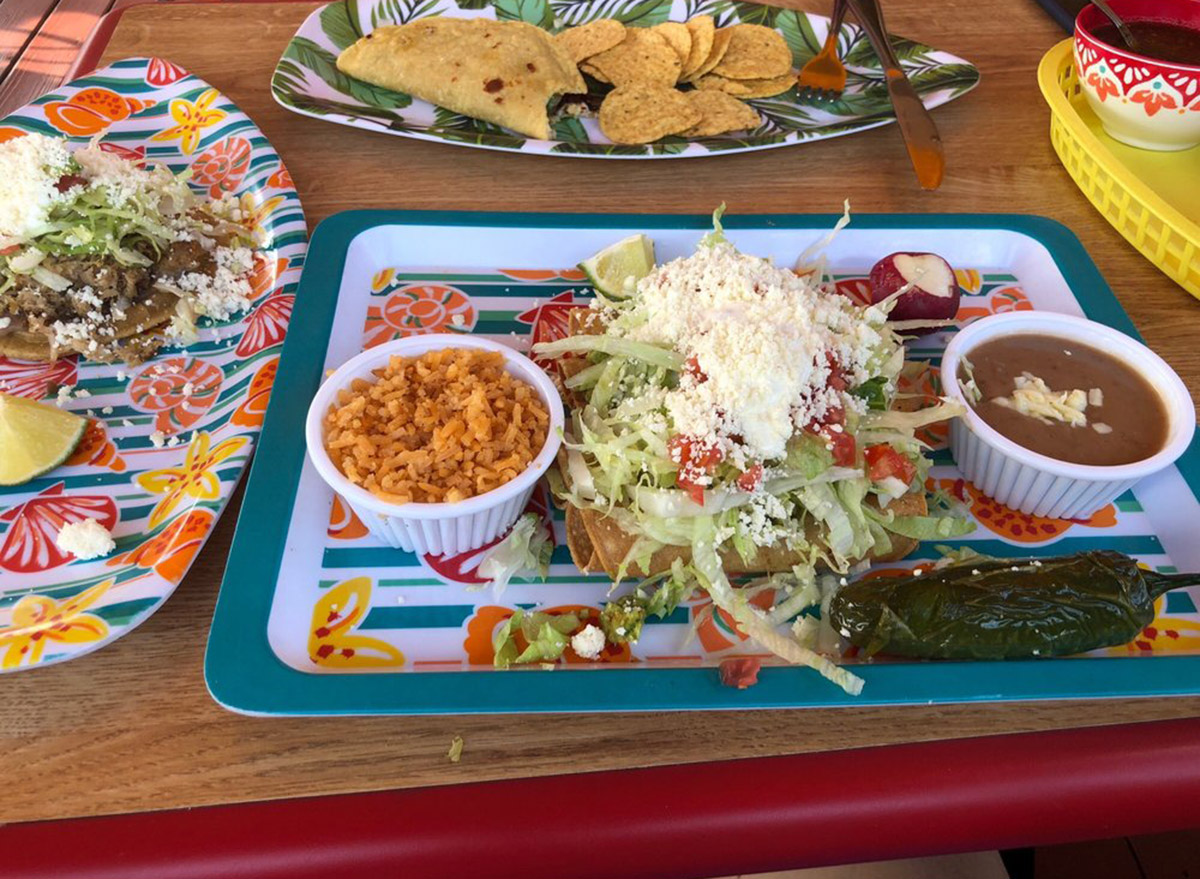 Tacos Del Chavo is a traditional taco stand-turned restaurant in Kennesaw, Georgia. From Flautas—rolled corn taquitos filled with chicken and topped with cheese, cream, guacamole, and tomatoes—to traditional empanadas, this Mexican restaurant puts out a lineup of quality dishes.
HAWAII: Acevedo's Hawaicano Cafe in Kahului
The question is, do you choose the spicy Mahi Mahi or the crispy pork carnitas? That's your biggest concern at Acevedo's Hawaicano Cafe.
IDAHO: El Paisa Mexican Food in Coeur d'Alene
"Tried this little gem out today. Tucked away in a strip mall, this taqueria is everything I had hoped for," one reviewer wrote.
El Paisa Mexican Food is the place to go in Coeur d'Alene for fresh salsa and generous portions for a reasonable price.
ILLINOIS: Healthy Substance in Chicago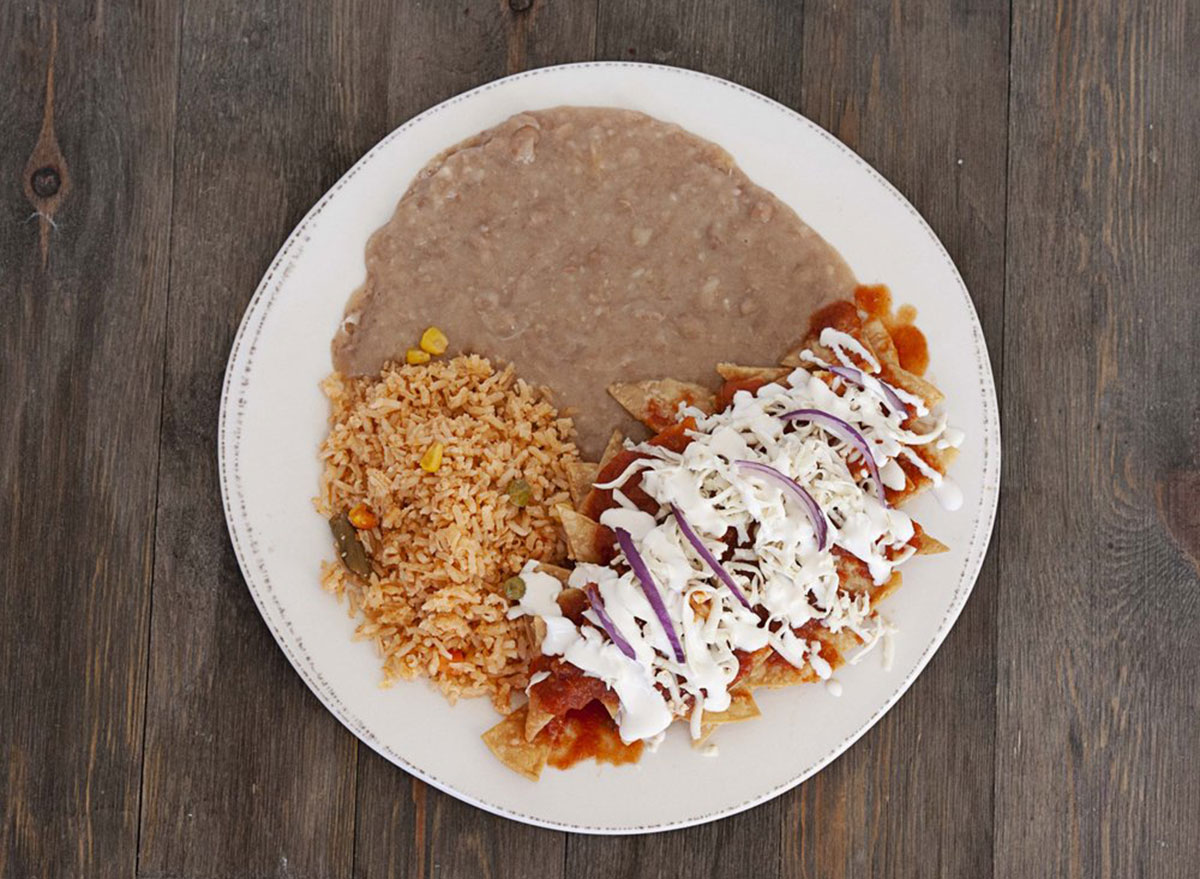 Don't let their name fool you. Healthy Substance adds a whole new twist to Mexican food. This restaurant offers your favorite Mexican dishes but with a vegan or vegetarian spin to it. Try their chilaquiles next time you're in as it appears to be a crowd favorite.
INDIANA: Tlaolli in Indianapolis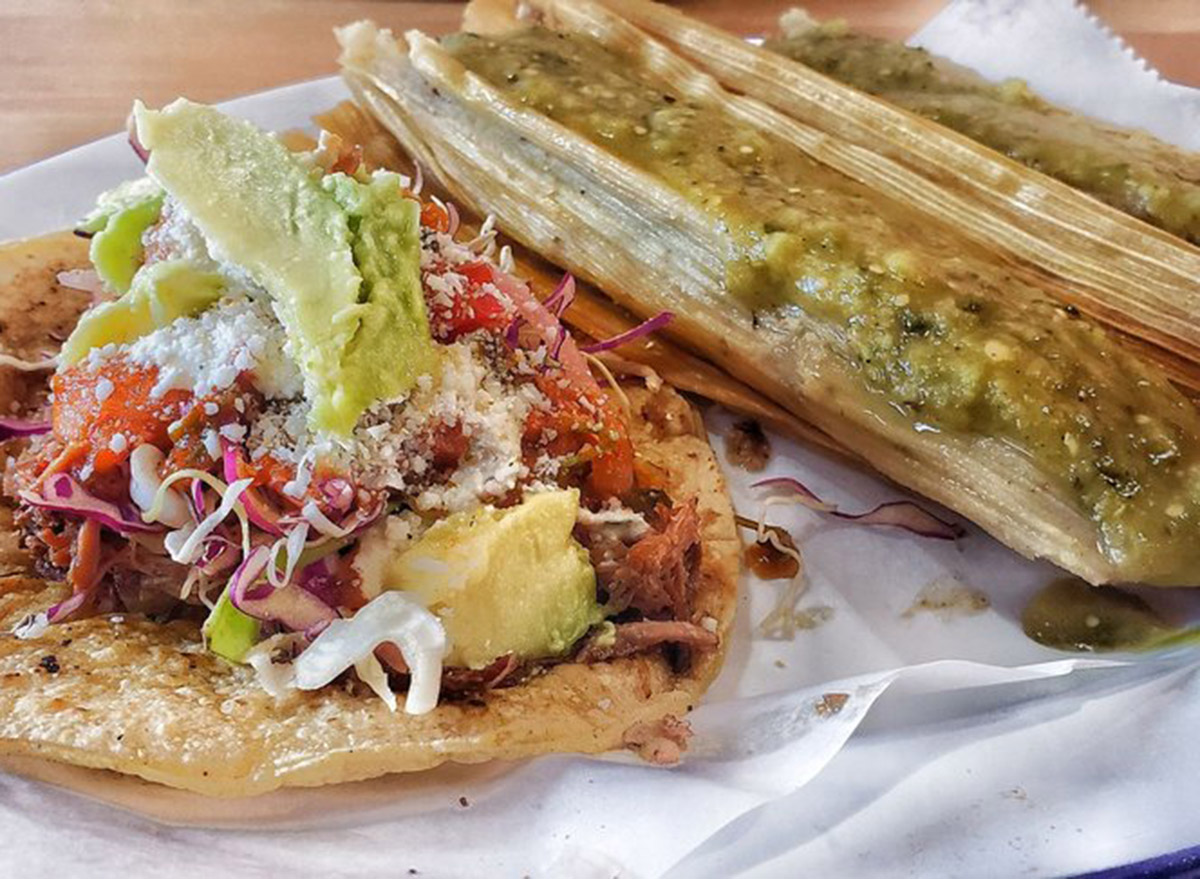 At Tlaolli, all eaters are welcome, including vegetarians and vegans, as the menu accommodates many dietary needs.
"I had two vegan tacos, one with jackfruit and the other hibiscus, and they were amazing. I loved the authentic freshly made corn tortillas as that added to the flavor," wrote one Yelp reviewer.
IOWA: El Bajio Mexican Restaurant in Cedar Rapids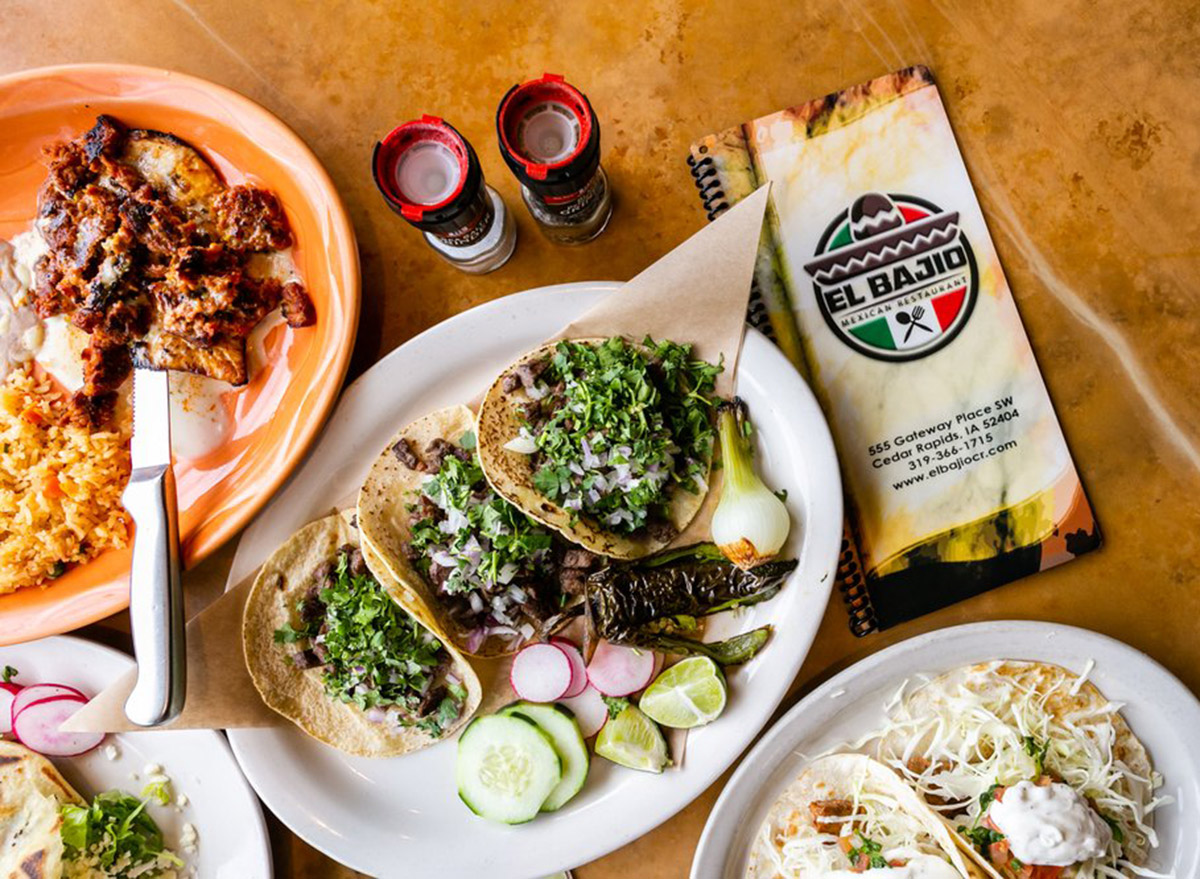 As the name would suggest, this Mexican restaurant specializes in cuisine distinctive to the Bajío region in central Mexico. For breakfast, enjoy a savory plate of scrambled eggs with chorizo or swing by for dinner with a few friends and split the meat-heavy dish called the Maya (carne asada, marinated pork, chicken, chorizo).
KANSAS: El Pollo Rey in Kansas City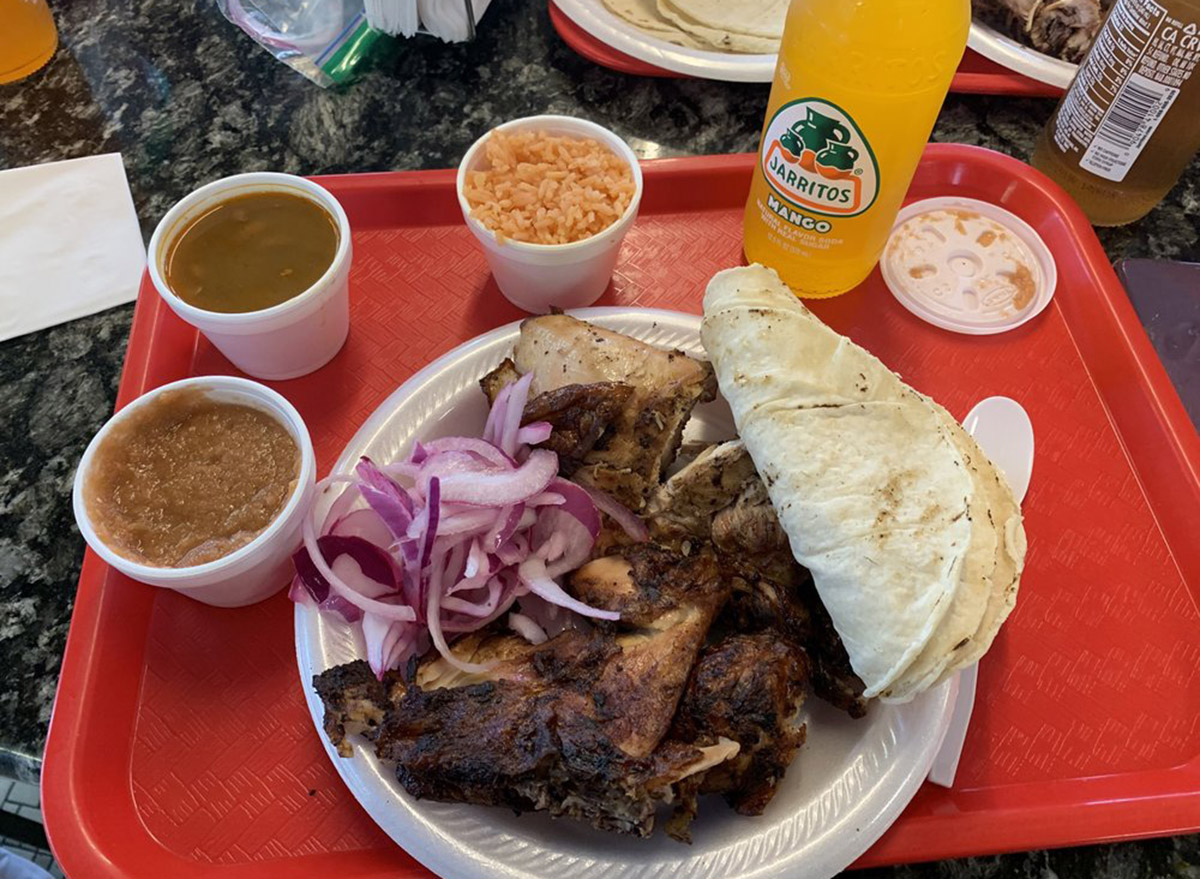 Does the chicken king live up to its name? According to Yelp reviewers, it most definitely does.
"Let's start with the star of the show: the chicken. It is grilled to literal perfection. When you walk in, you can see a massive grill that lines the back of the kitchen. Rows of chicken pieces are sizzling and cooking and the aroma fills the small restaurant," wrote one happy customer.
KENTUCKY: Taco Choza in Louisville
Taco Choza is a hit among Louisville residents. Their plates are applauded by Yelp reviewers for their cheap prices and generous sizes. Pop in on the weekend and you may catch a live music performance. So what are you waiting for? Hop in and order a margarita, chips and salsa, and a burrito.
LOUISIANA: El Cabo Verde in Shreveport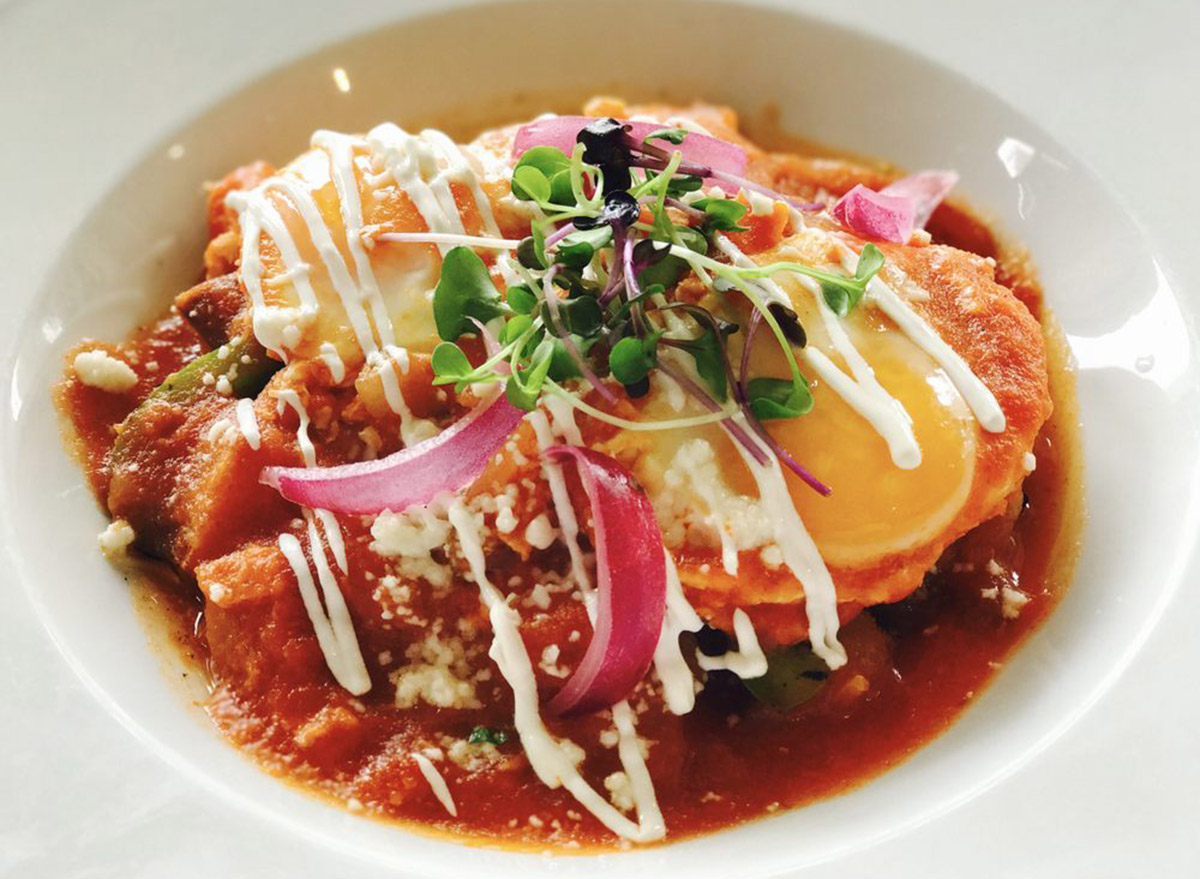 Like what you see? This is El Cabo Verde's Huevos Ahogados, which consists of chorizo, potatoes, caramelized onions, crema, and cheese. But before you order the main meal, be sure to order a side of queso poblano with your house chips!
MAINE: 86 This in Ellsworth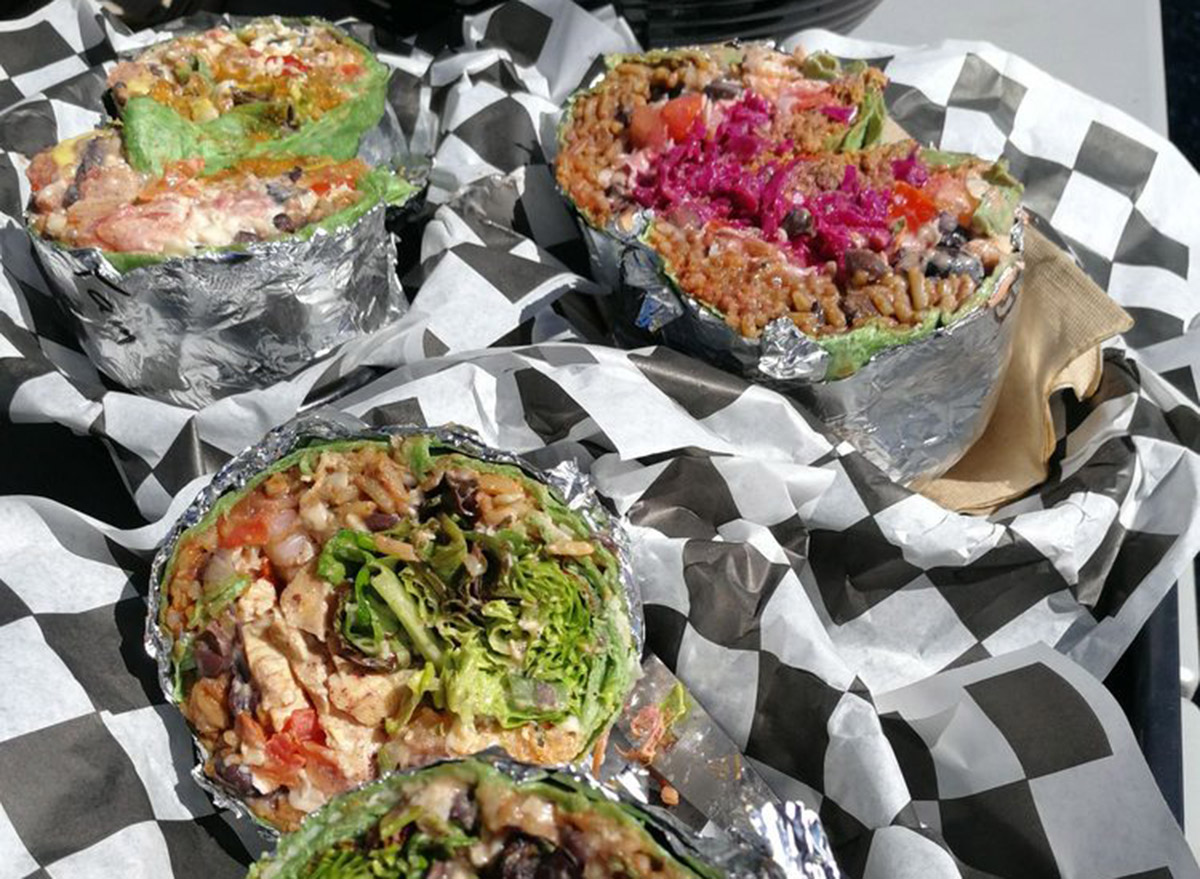 In Maine, 86 This is the top-rated Mexican-inspired restaurant. While this restaurant won't serve you authentic Mexican cuisine, it does allow you to get creative and build your own burrito and plate of nachos. We love a place that offers customization and apparently those who visited it thought the same, too.
MARYLAND: Fiesta Mexicana in Rosedale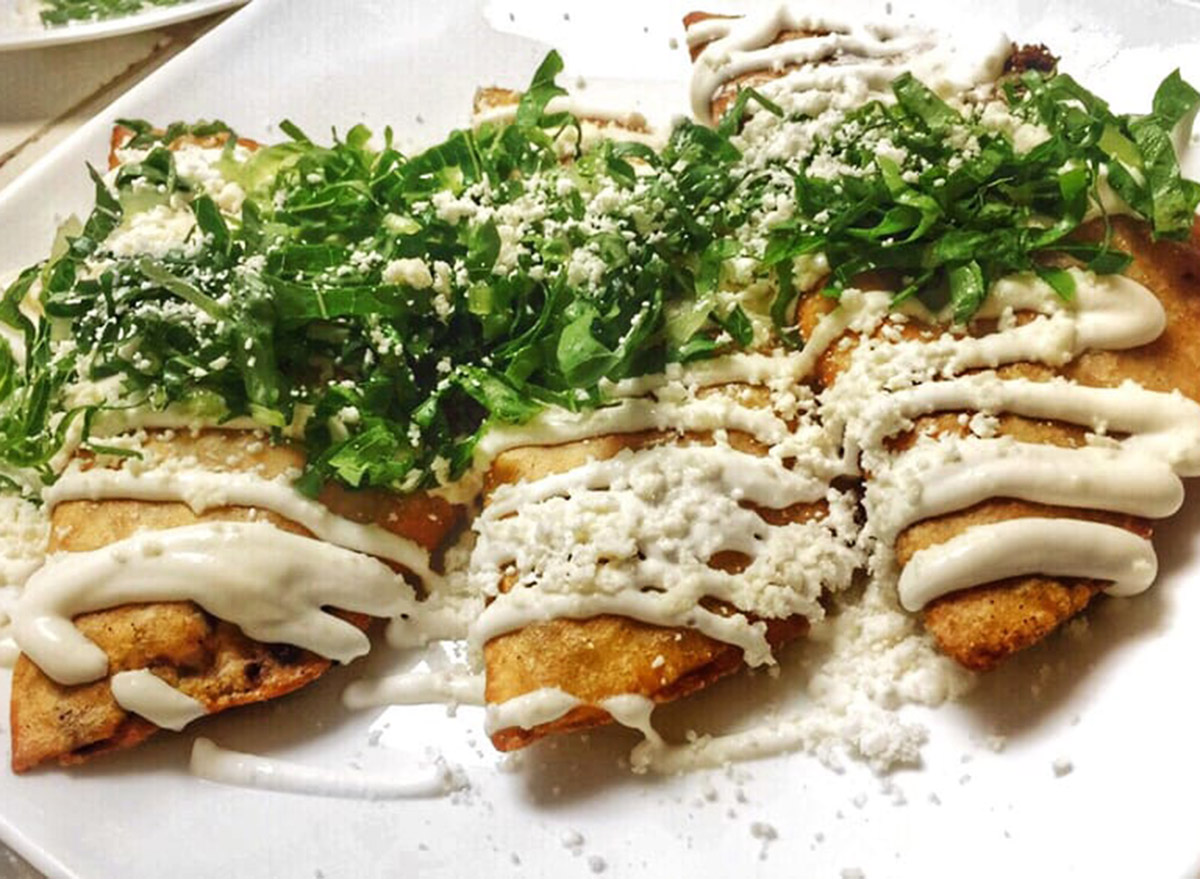 Um, fried quesadillas? We're on our way!
MASSACHUSETTS: Taqueria El Amigo in Waltham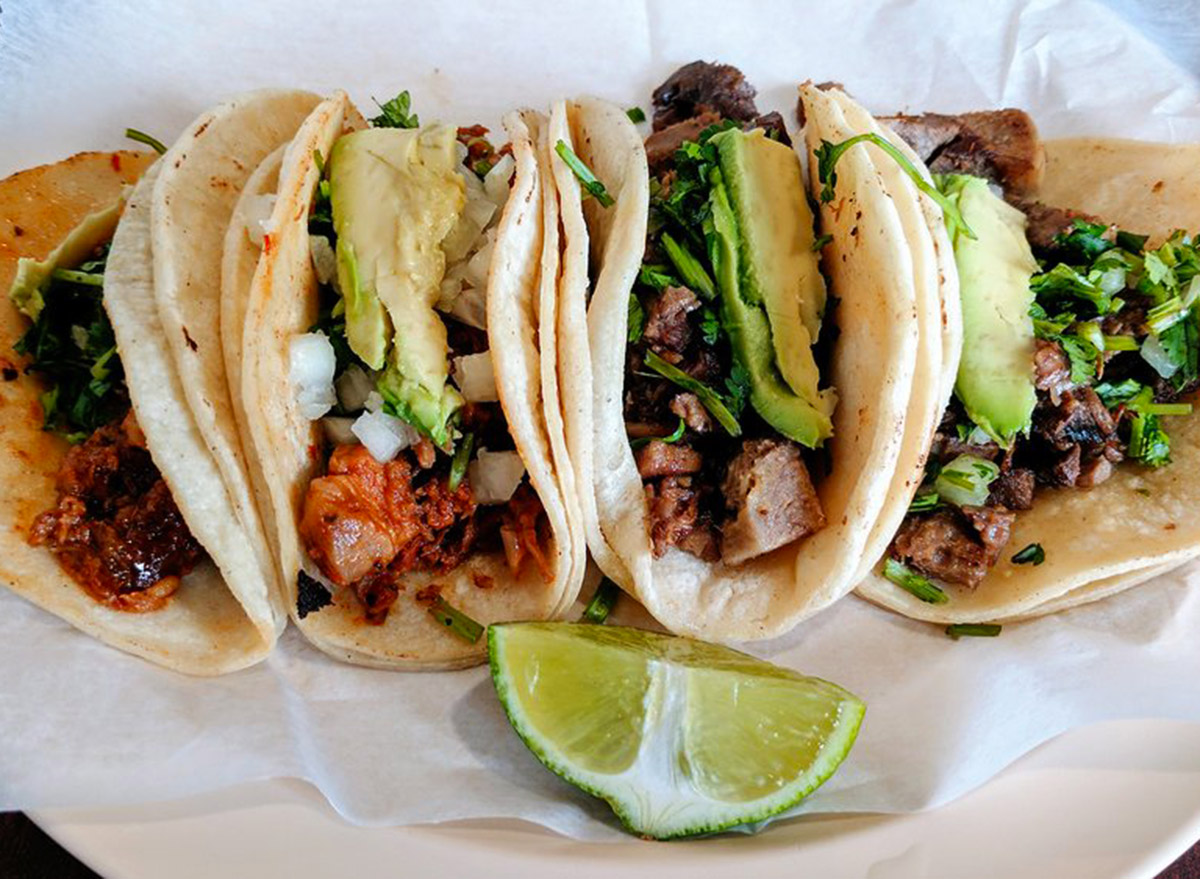 At Taqueria El Amigo in Waltham, the move is to order an assortment of tacos. Some of the favorites include carne asada, carnitas, and especiales al pastor. Word on the street is you can get four small tacos for just $8.6254a4d1642c605c54bf1cab17d50f1e
MICHIGAN: La Probadita in Hart
Customers commend La Probadita for both its menu and staff.
"Unbelievable. I was blown away by the level of service and quality of food," wrote one Yelp reviewer. "The tacos are some of the best I've eaten. They come with double soft corn tortillas with choice of meat and onions and cilantro."
MINNESOTA: Catrinas Cerveza & Mexican Grill in Oakdale
"If I could only have one food for the rest of my life, it would be Catrinas," wrote one reviewer.
Now that's a bold statement! But, I guess we have to take their word for it? Oakdale is not the only city in Minnesota where Catrinas is at. In 2016, two years after its flagship storefront in Oakdale opened, another Catrinas location opened under 15 miles away in St. Anthony.
MISSISSIPPI: Burrito Zone & Tamales in Diberville
We hear the tamales here are out of this world, and apparently the burritos are too.
"As I forked into my burrito and took that bite I sighed with sweet joy. I found my happy place. I chewed slowly, with my eyes closed and I thanked the sweet baby Jesus for telling me to go to Burrito Zone today," says one reviewer.
MISSOURI: El Pico Mexican Restaurant in Independence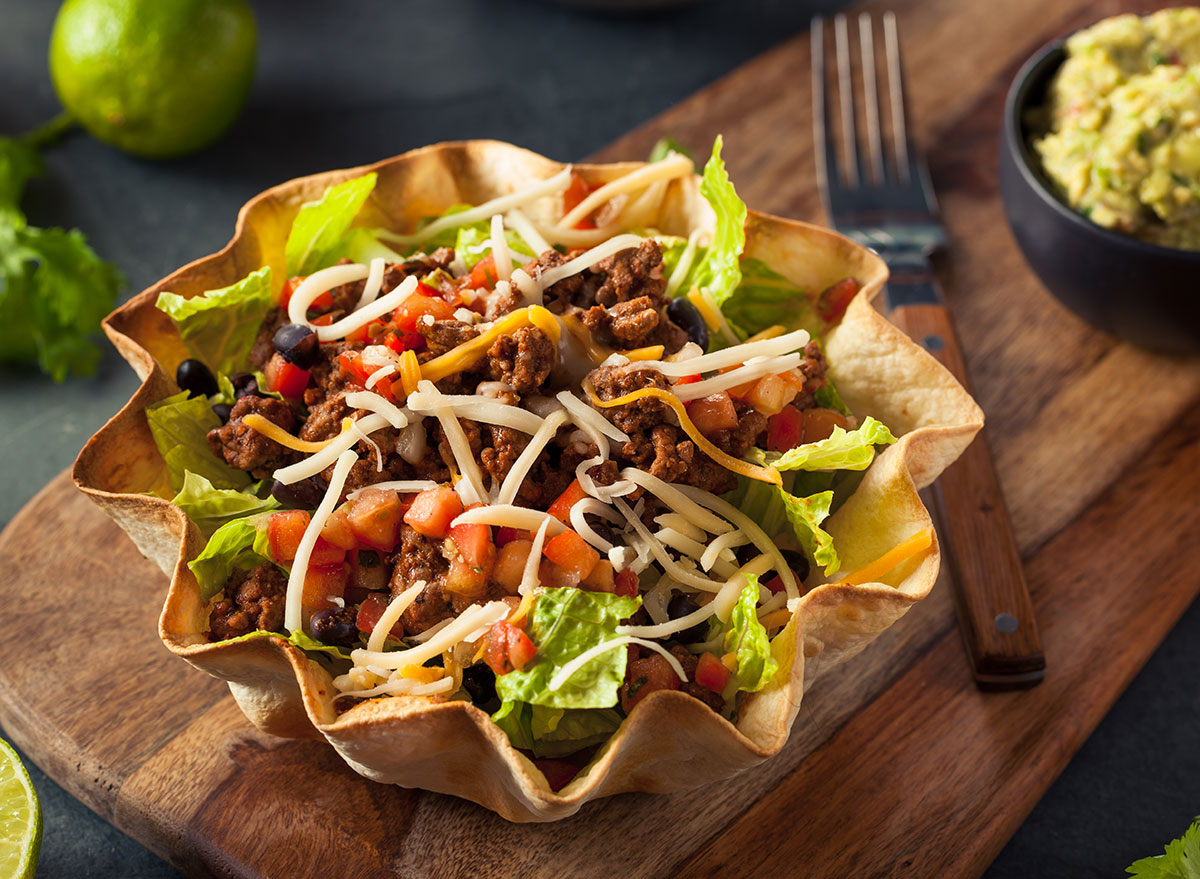 Sadly, Yelp's top choice for Mexican food in Missouri, POI-Ō in Kansas City, has closed. But we think El Pico looks just as good, with menu items like taco salad and grilled chili-lime chicken.
MONTANA: El Vaquero Taqueria in Helena
In Montana, the place to get authentic Mexican take-out food is El Vaquero Taqueria. You better come hungry when you walk through the doors because the portion sizes here are massive! We heard Helena may not exactly be abundant in great food options, which really makes this sing. Order the chicken enchiladas with mole sauce, or maybe even the Patron Taco Salad if you're feeling really ambitious.
NEBRASKA: For the Love of Food Truck in Bellevue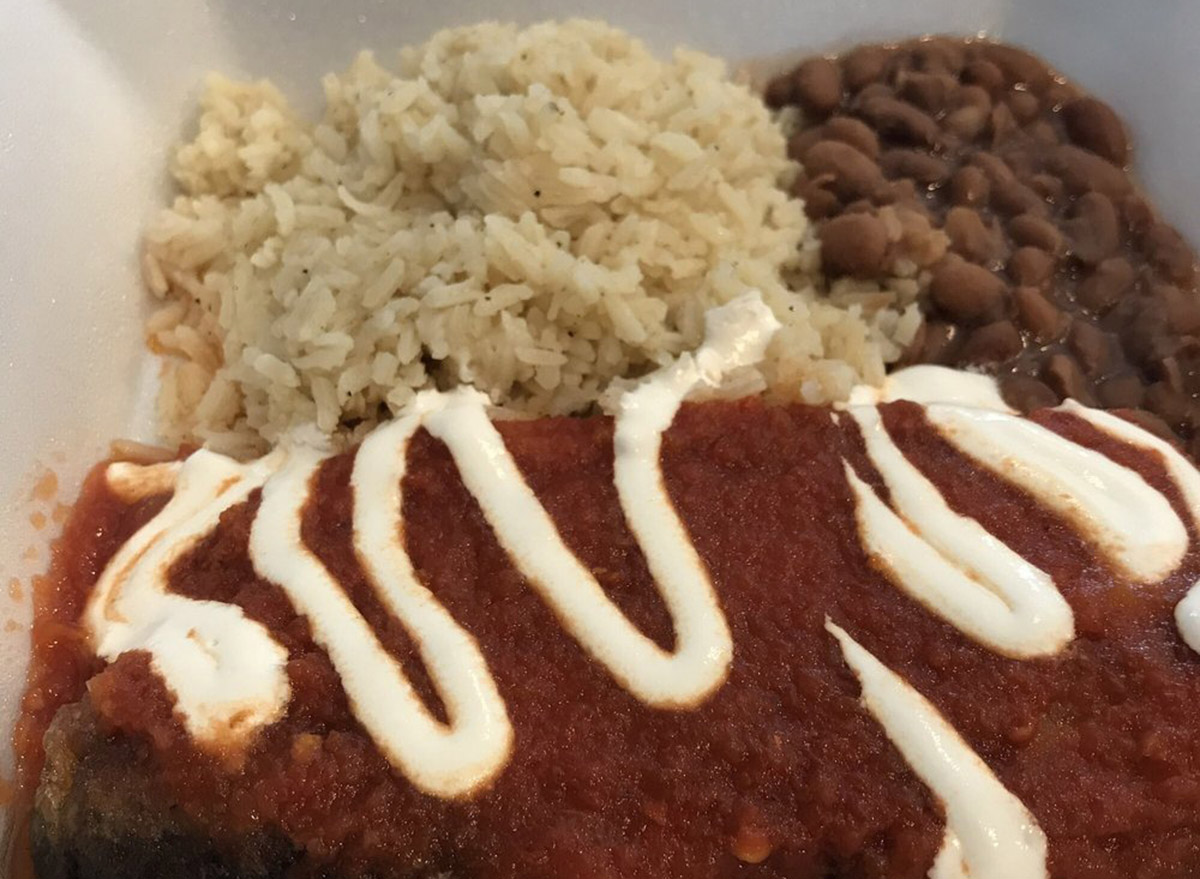 Whether you want a roasted pork burrito or something more adventurous such as the Chile Relleno platter pictured above, For the Love of Food Truck has got something for everyone to enjoy.
NEW HAMPSHIRE: California Burritos Mexican Grill in Nashua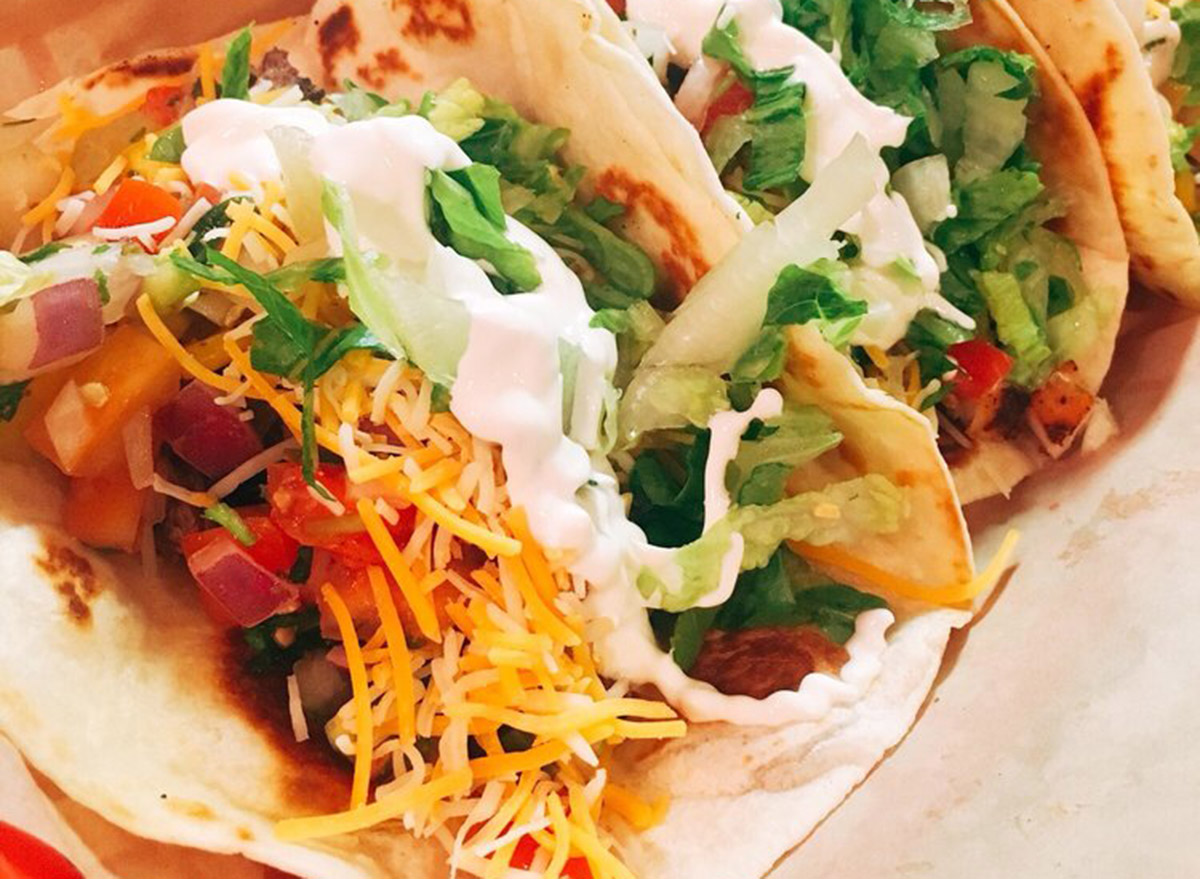 If you're living in New Hampshire and looking for a quaint Mexican restaurant, California Burritos may just be your new go-to spot. Reviewers say the restaurant set-up is similar to Chipotle's or Moe's, but don't worry—the taste is entirely unique.
NEW JERSEY: El Pueblo Taqueria in North Cape May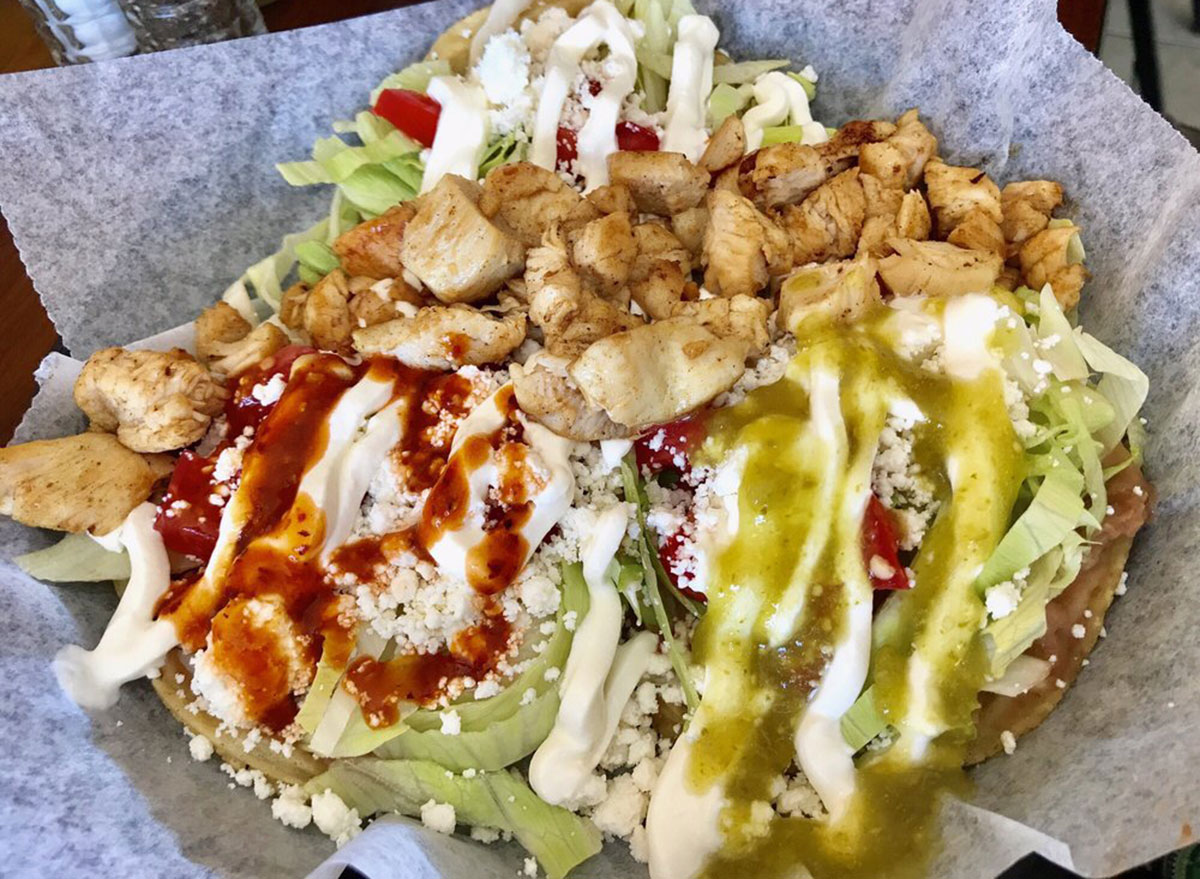 From tacos to street corn, next time you are in New Jersey, stop by El Pueblo Taqueria and try their Chicken Sopes dish (pictured above).
NEW MEXICO: El Chile Toreado in Santa Fe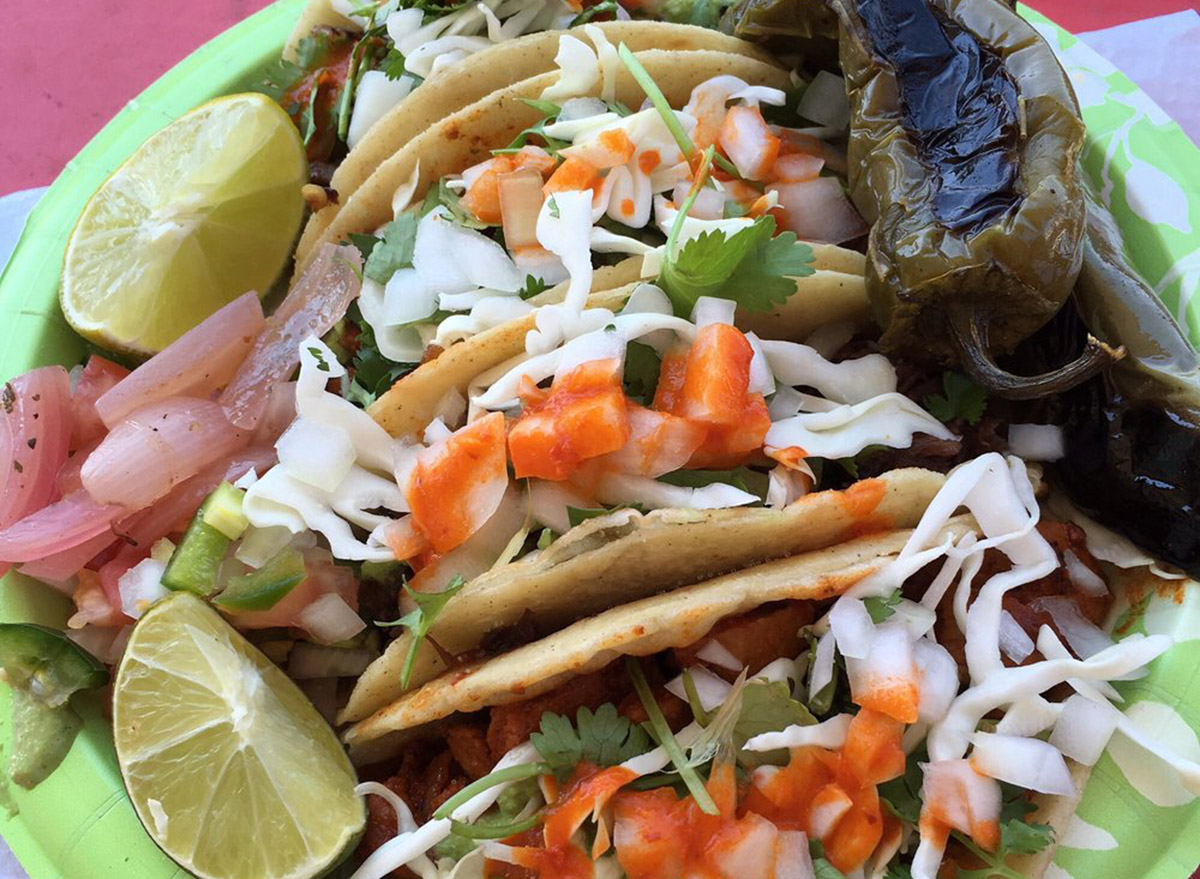 Open Monday through Saturday 8:00 a.m. to 3:00 p.m., you can order tacos and burritos until your heart's content at El Chile Toreado, a beloved taco truck in Santa Fe.
NEW YORK: I Am Nacho Mama in Hicksville
OK, the name of this restaurant is just too cute, we love a good pun! Order a piping hot ear of grilled corn adorned with spices, sour cream, and diced tomatoes with your empanadas and then, if there's room, order a plate of dessert nachos. Dessert nachos are exactly as they sound; traditional savory toppings are swapped out for sweet ones including cinnamon dulce créma, dark chocolate syrup, Mayan cocoa shavings, and seasonal fruit. Oh yeah, and the tortilla chips are dusted in cinnamon too.
NEVADA: Carlillos Cocina in Sparks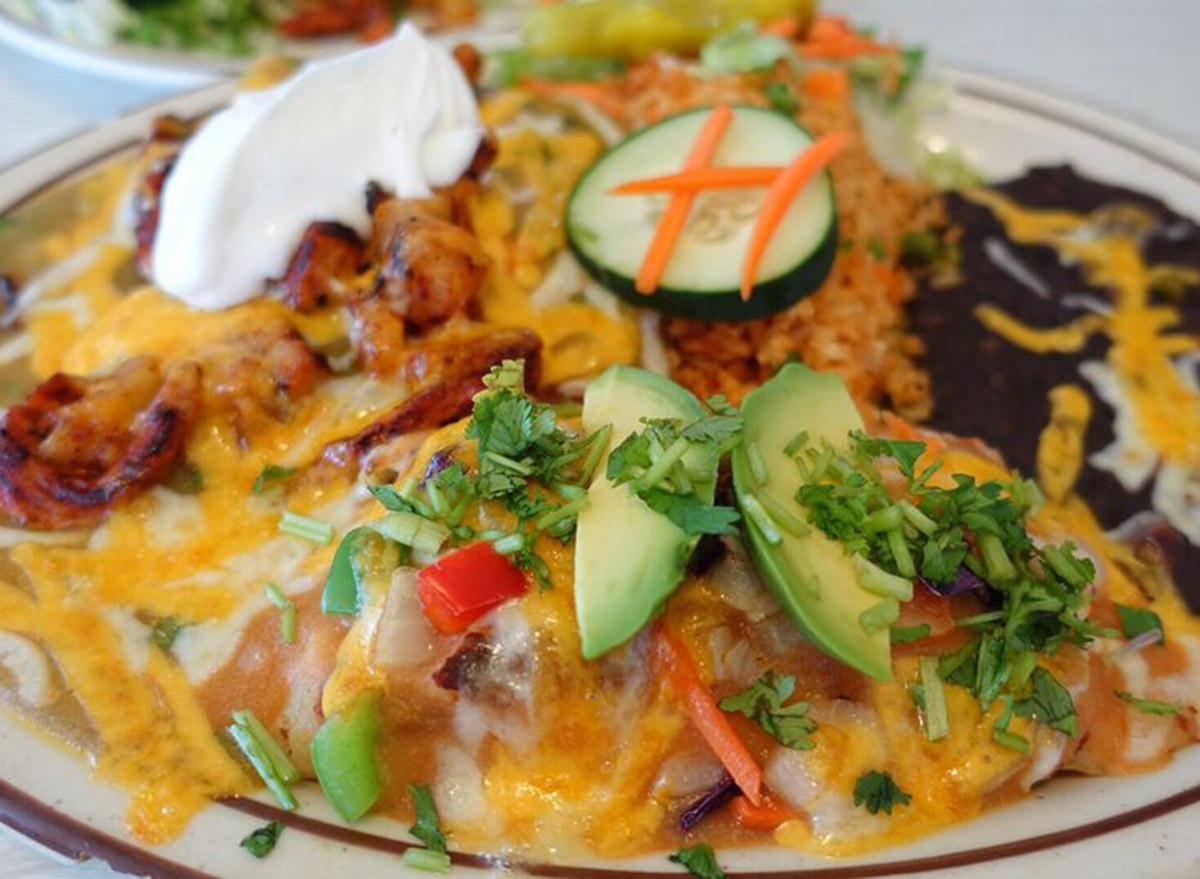 We hear the Chilaquiles are delicious at Carlillos Cocina. Hop into this restaurant for loaded burritos and quesadillas, too.
NORTH CAROLINA: Los Izotes Mexican Restaurant in Lenoir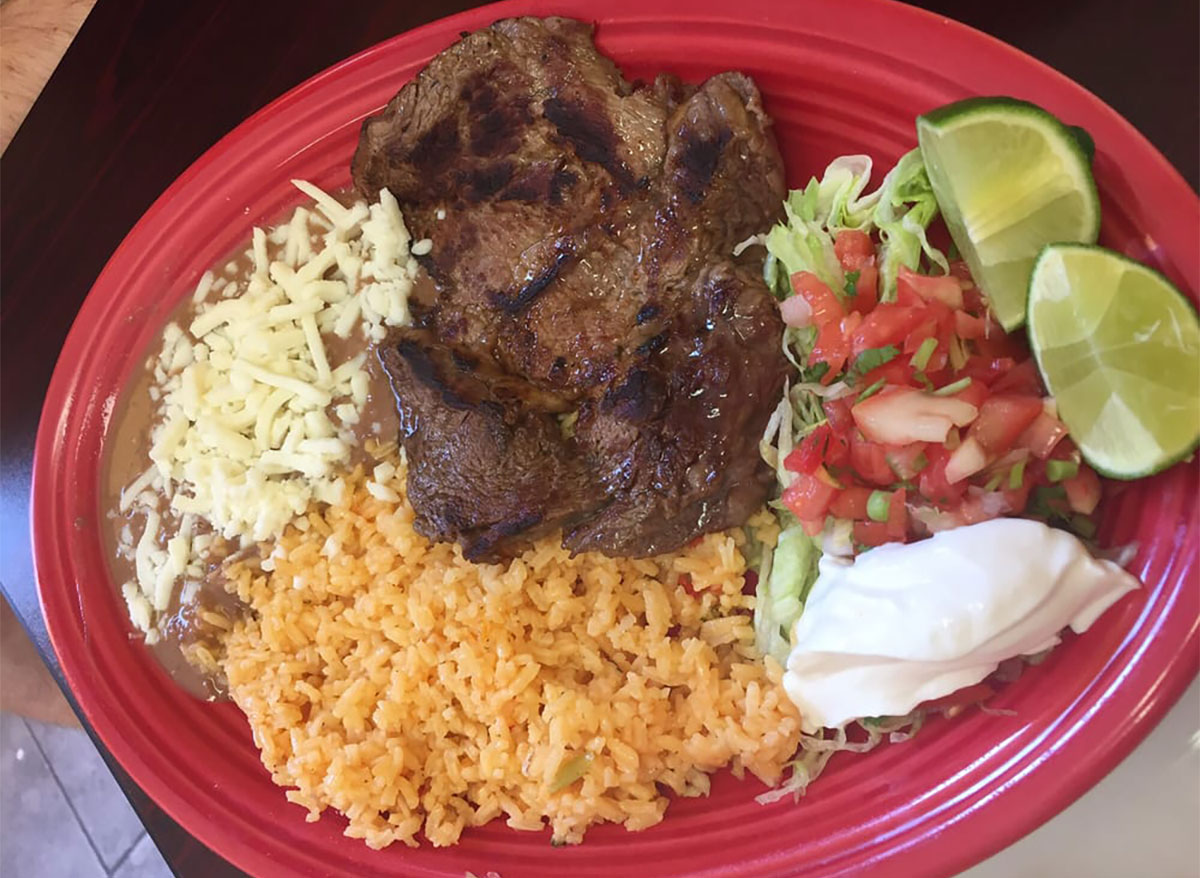 This taco truck is rather discrete, which makes it easy to miss! But you're the one who's missing out if you don't make an effort to stop by for a meal.
"There's a reason this place has all 5-star reviews. It's AMAZING!! The tacos, quesadillas, burritos literally everything they make is delicious," wrote one reviewer.
NORTH DAKOTA: Tacos Trompo in Fargo
Not sure what to order when you go to Tacos Trompo? One reviewer has a recommendation.
"Tacos Trompo delivers big time! Always fresh and tasty, I really love their green sauce on the chicken and cheese enchiladas. The queso has a good kick too! Very nice owners and excellent service. Order the enchiladas with avocado and the green sauce for a vegan/vegetarian twist!"
OHIO: Mi Burrito Mexican Grill in West Chester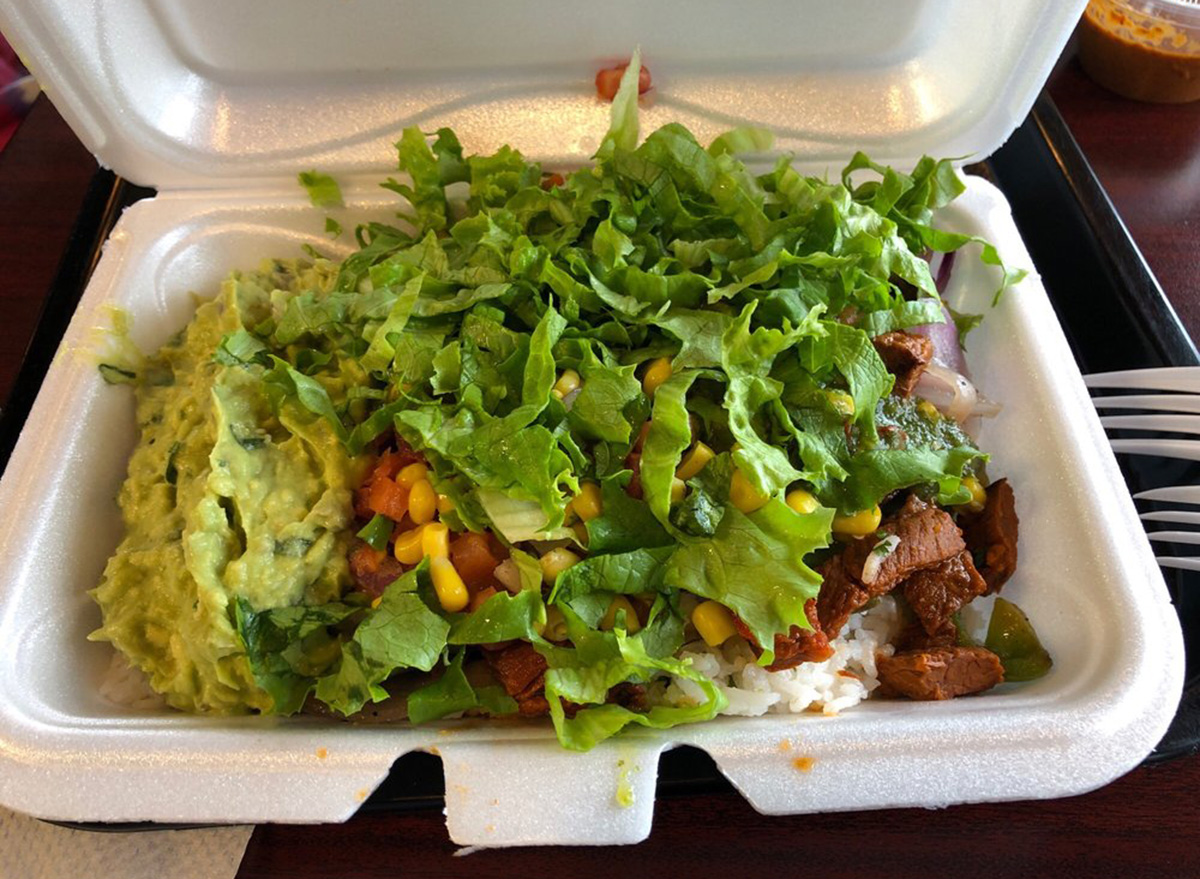 Order the barbacoa and carne asada in either taco or burrito form! We hear both of those types of meat are unrivaled at this spot.
OKLAHOMA: Rolling Fork Takery in Hochatown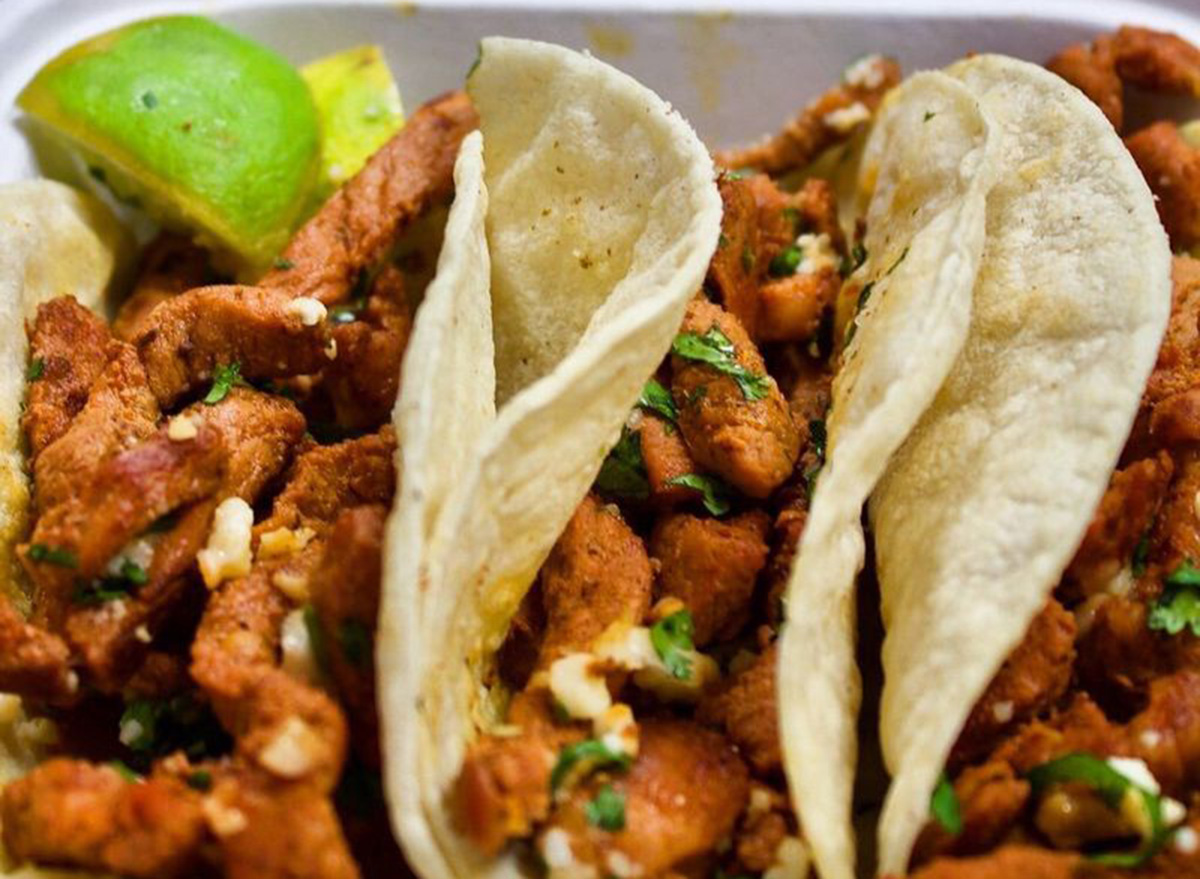 Order the tacos for the main course and then be sure to save an appetite for Rolling Fork Takery's own sopapilla cheesecake for later!
OREGON: Tehuana Oaxacan Cuisine in Portland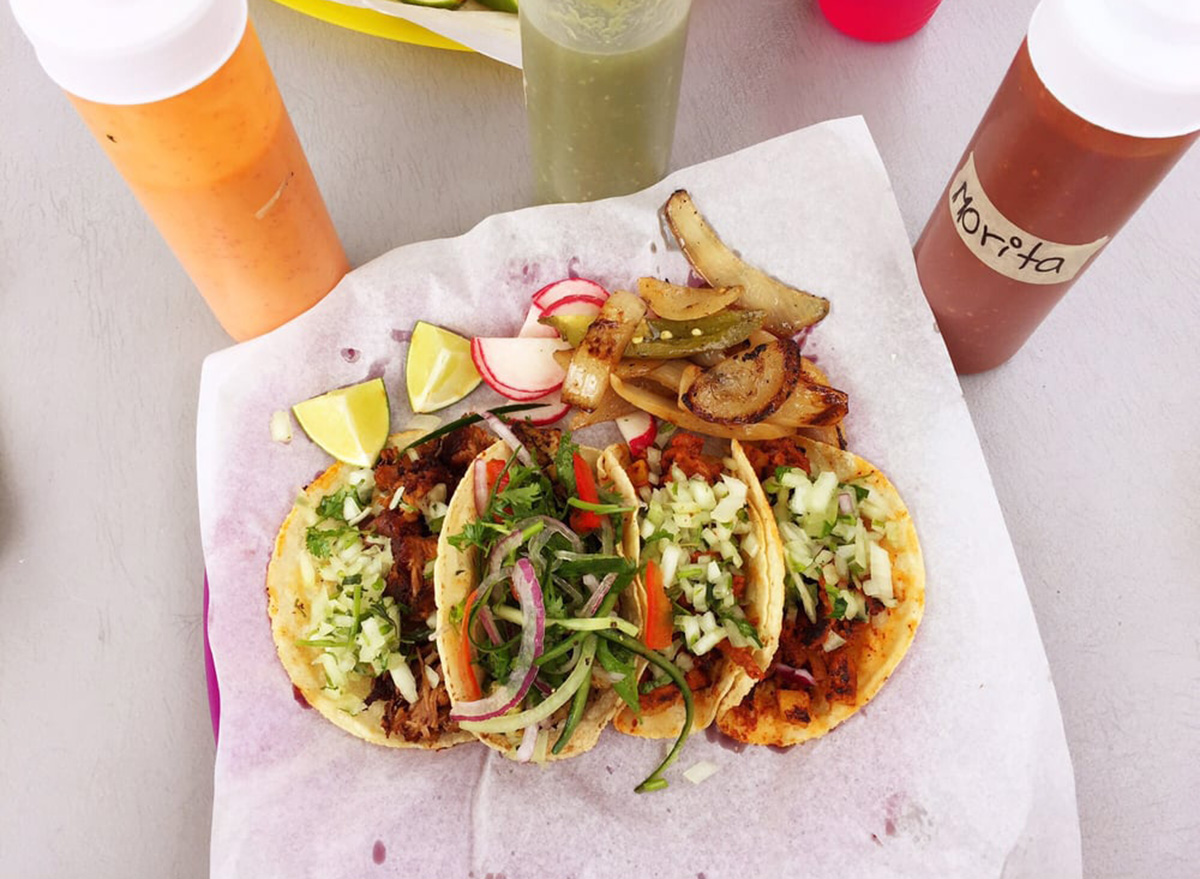 This taco truck is for serious eaters only! Order the memelita taco or a burrito that, as one reviewer noted, is the size of an infant.
PENNSYLVANIA: J Zapata in Philadelphia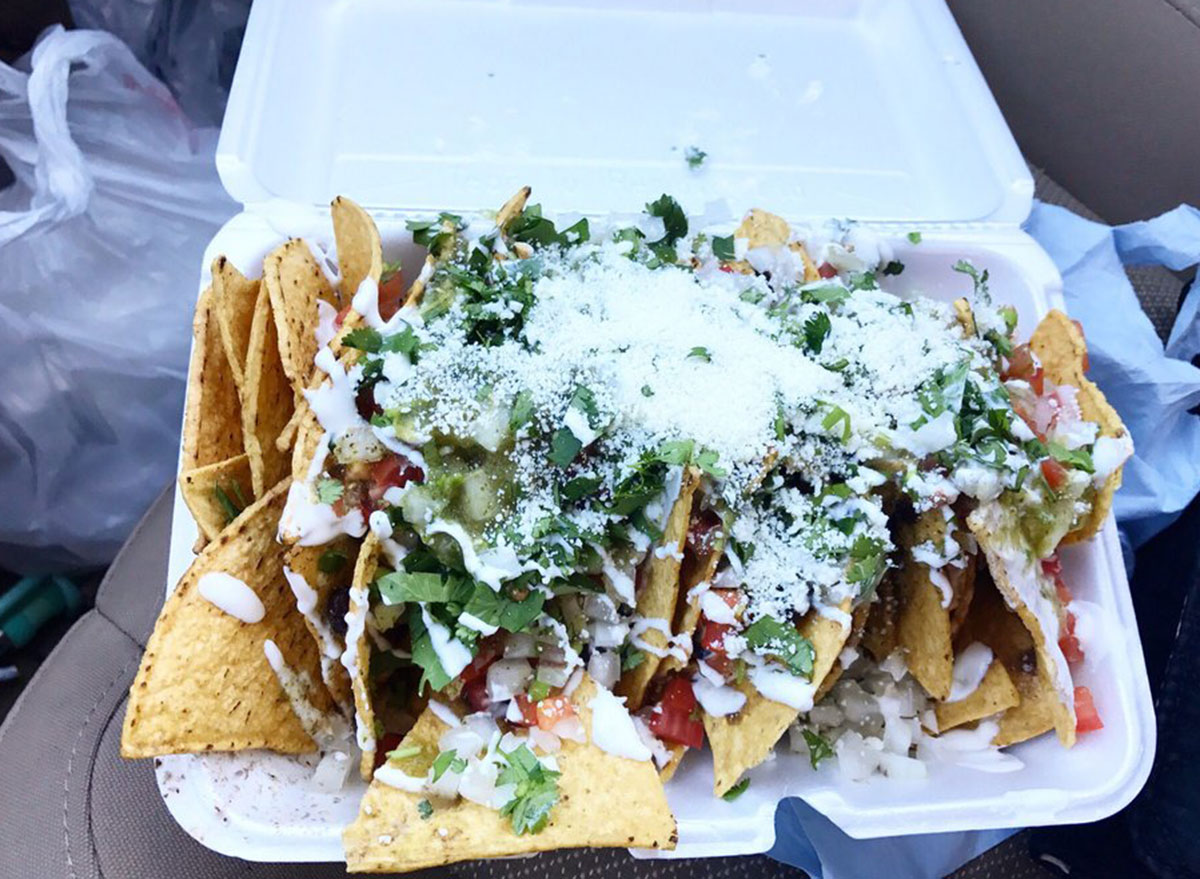 J Zapata is a local food truck that serves fresh authentic Mexican dishes. Stop by and try the nachos or the tacos. As one Yelp reviewer stated, "I've had A LOT of good tacos…these are top 5."
RHODE ISLAND: Tallulah's Taqueria in Providence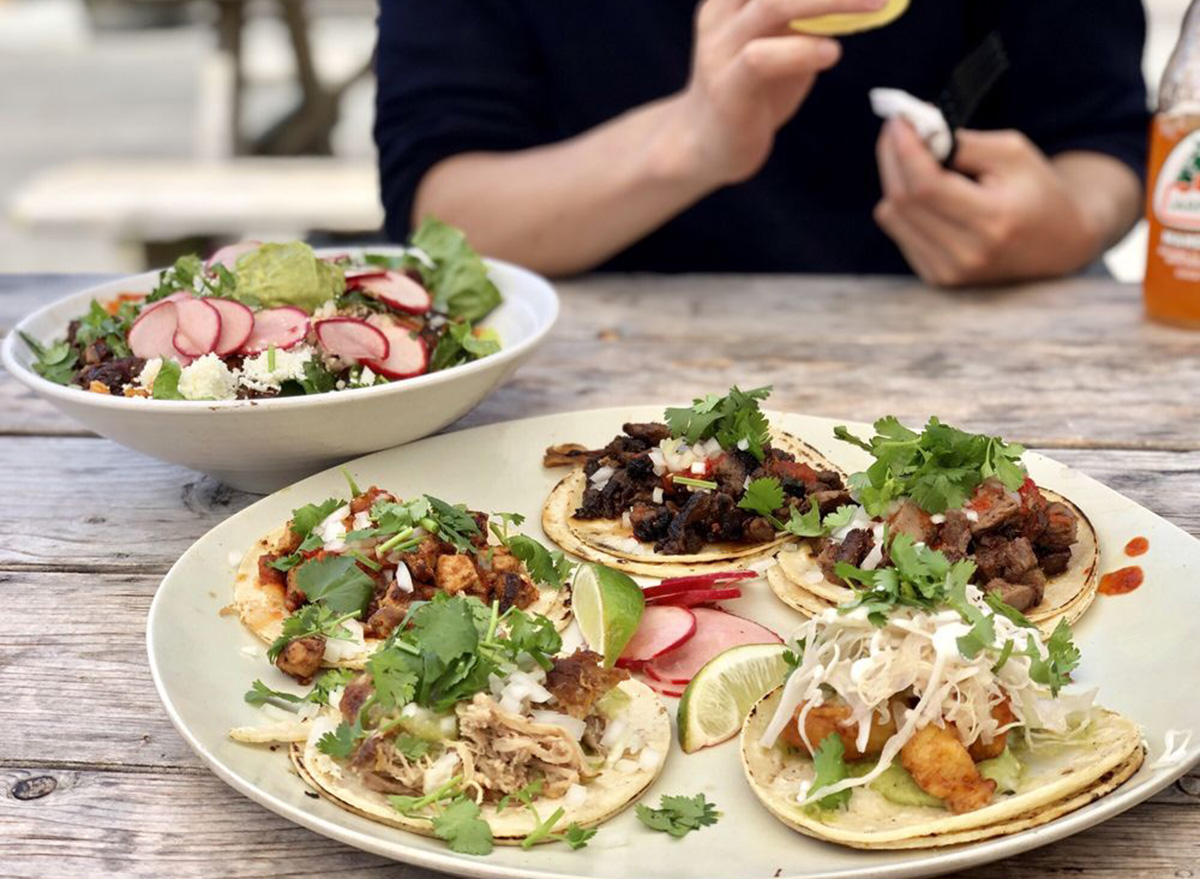 According to several Yelp reviewers, the lengua (beef tongue) taco is a solid menu item at Tallulah's Taqueria. However, if that doesn't sound appetizing to you, not to fear, because the carnitas are equally as delicious.
SOUTH CAROLINA: Tacos Nayarit in Columbia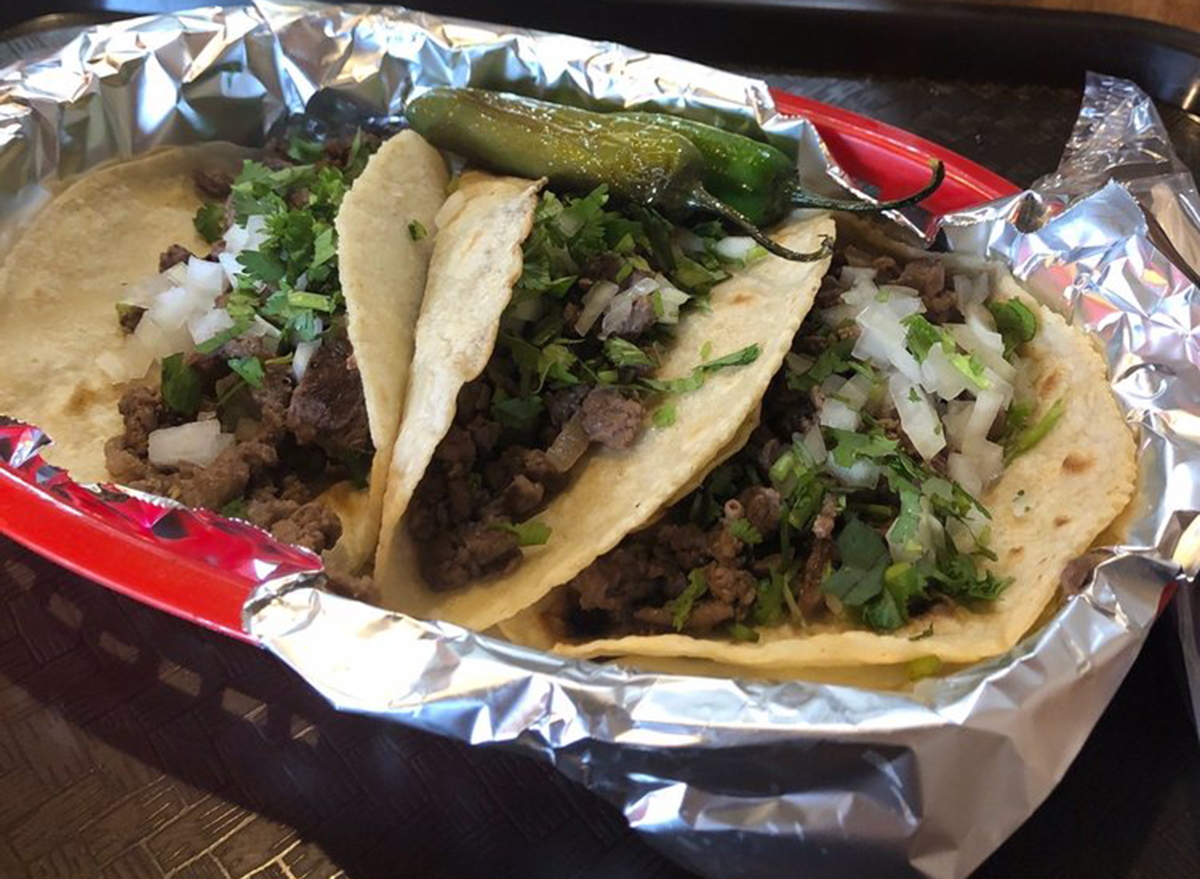 Tacos Nayarit dishes up anything from taco salads to chalupas. No matter what you get, make sure you pair your main meal with horchata, which is described as a sweet rice milk beverage.
SOUTH DAKOTA: El Columpio in Mitchell
We hear it's really difficult to get a bad meal at El Columpio.
"I had the mango and shrimp tacos and my family had the chorizo macho tacos, chicken tacos, and Barbados tacos—they were all great," wrote one reviewer.
TENNESSEE: Maciel's Tortas and Tacos in Memphis
Um, can we just talk about how delicious does this chorizo queso? The tacos are also a hit at Maciel's. One out-of-towner wrote the following poem to describe just how lovely they taste.
"When I'm down in Memphis
It would seem rather senseless
If I didn't get food at Maciel's."
Sorry, we had to share it.
TEXAS: Tommy Tamale Market & Cafe in Grapevine
The fact that Tommy Tamale Market & Cafe has five stars and over 1,000 reviews is a strong indication that this place serves up great food. The Tommy Bowl (pictured above) is one of their most popular dishes, consisting of 1-2 tamales, rice, queso, beef chili, shredded cheese, and pico de gallo. This bowl put Chipotle's burrito bowl to shame!
UTAH: Tacos La Pasadita in Green River
The question is, is Tacos La Pasadita a taco truck or a sit-down restaurant? One reviewer lends insight.
"This place has incredible Mexican food. Some of the best I've had. Pay no mind to the lunch truck look and the assortment of picnic tables. On a hot or windy day, you can go inside the old gas station."
VERMONT: Three Stones in Brattleboro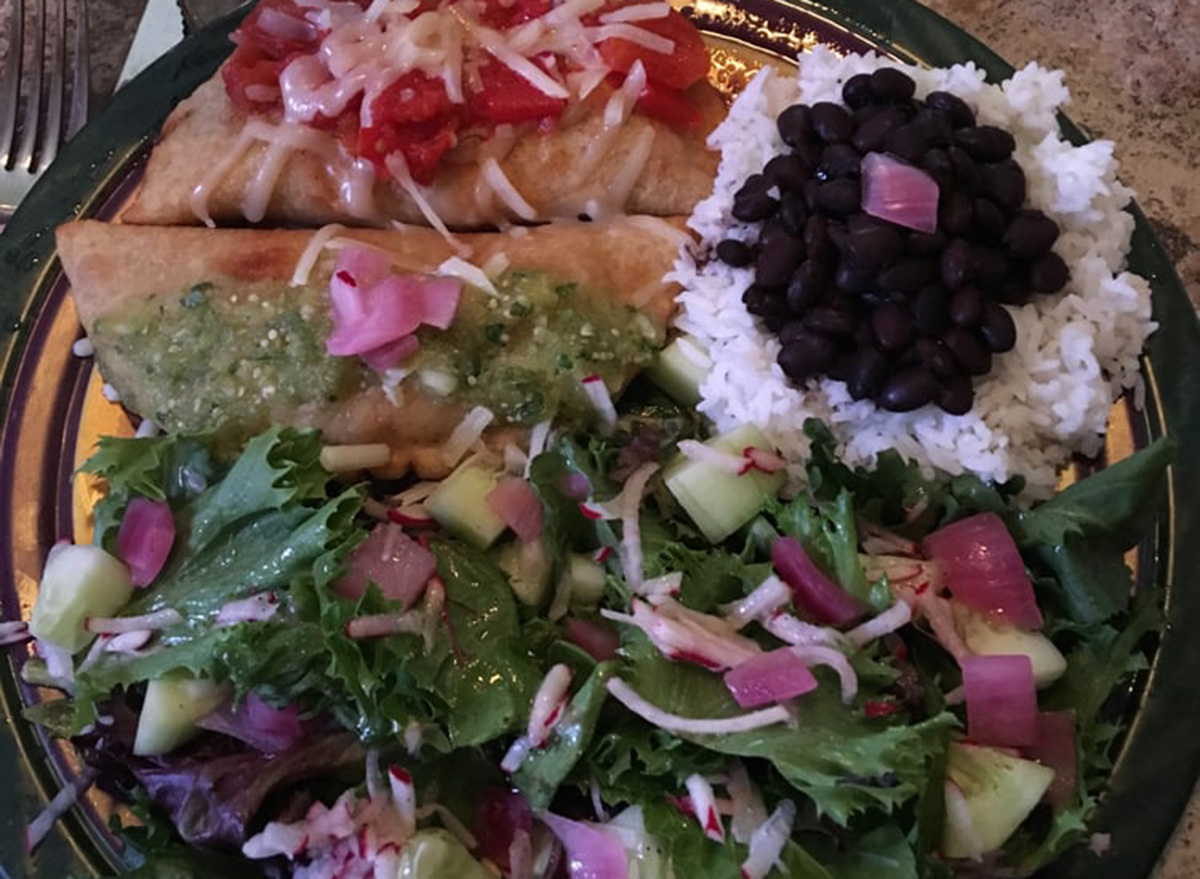 Not sure how you feel about this place looking at it from the outside with closed doors? Maybe this review will help.
"I travel extensively around the U.S. I eat in fine restaurants probably 150 times a year. I came in by myself to this ugly little building and ordered the special and hibiscus tea. I was shocked. This was one of the best meals I have ever been served and certainly the best Mexican," wrote one user.
VIRGINIA: Abuelita's in Richmond
How authentic is this cuisine? Based on the reviews, it seems to be the real deal.
"Went with my friends who are of Mexican heritage and they both said it was as authentic as it gets for Mexican food. When someone says it reminds them of the grandmother's cooking, you know it's legit," wrote one reviewer on Yelp.
WASHINGTON: Pita's Taqueria in Enumclaw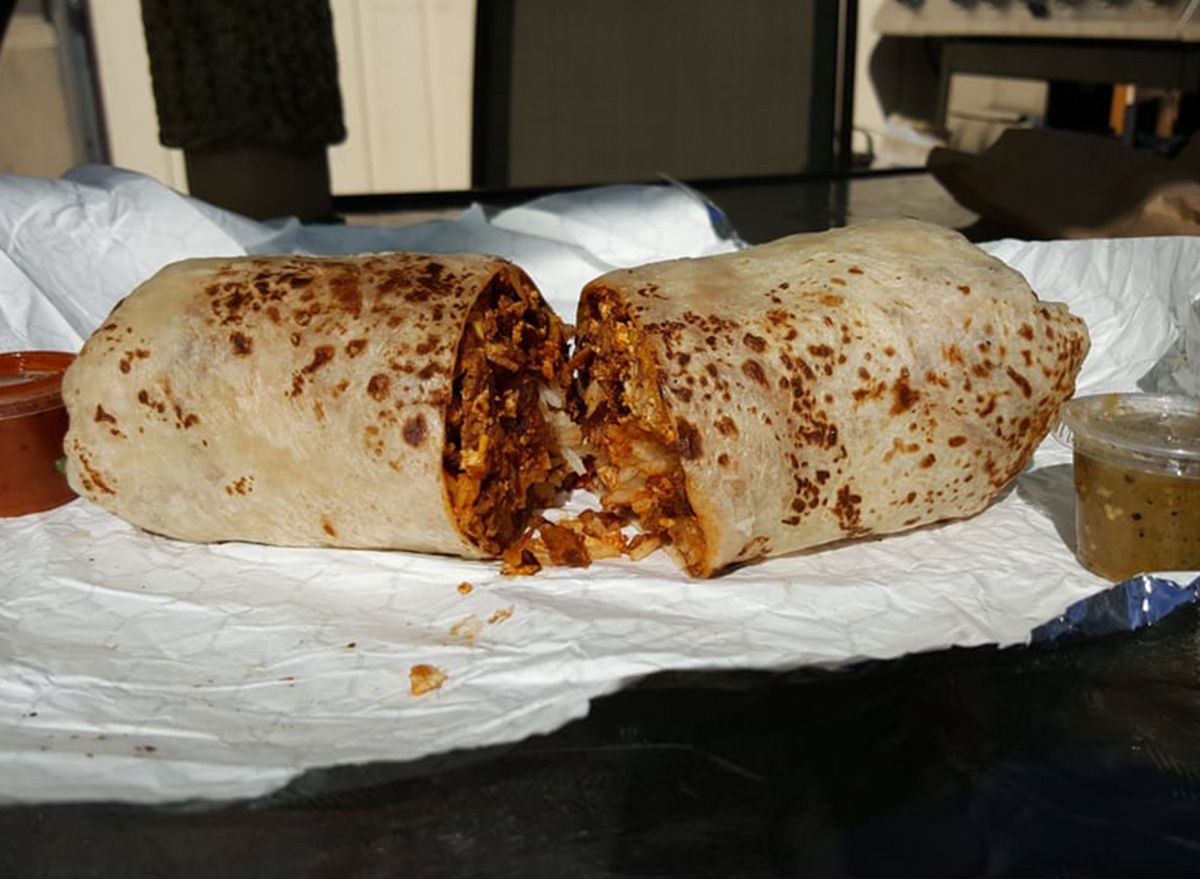 The general consensus among Yelp reviewers is to order a burrito at Pita's because they are absolutely stuffed, so it's ideal to split it with a friend. The same can be said for the quesadillas, too!
WEST VIRGINIA: Maria's Taqueria in Shepherdstown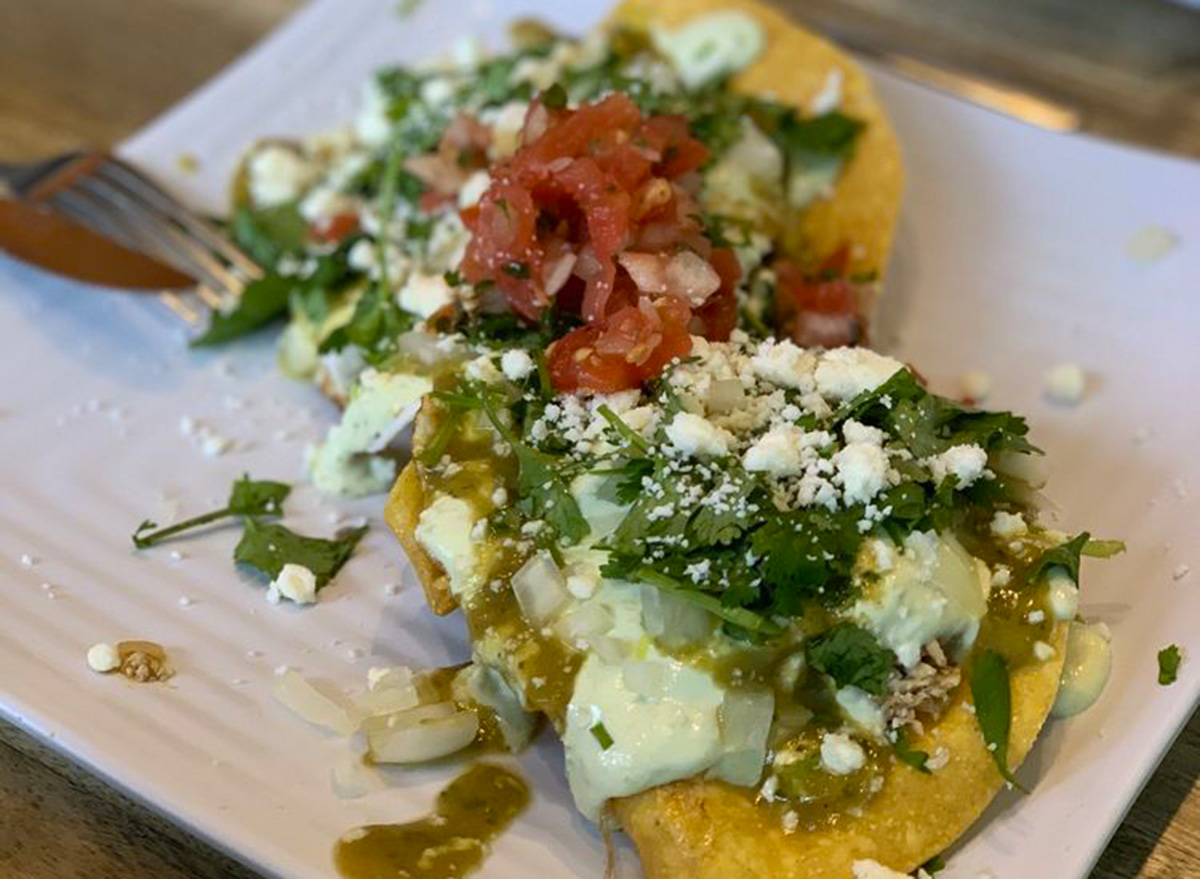 Ghost pepper quesadillas, beef nachos, burritos smothered in queso, what more could you possibly want? It's no wonder why Maria's Taqueria has people all over the U.S. head over heels.
WISCONSIN: Taqueria Guadalajara in Waukesha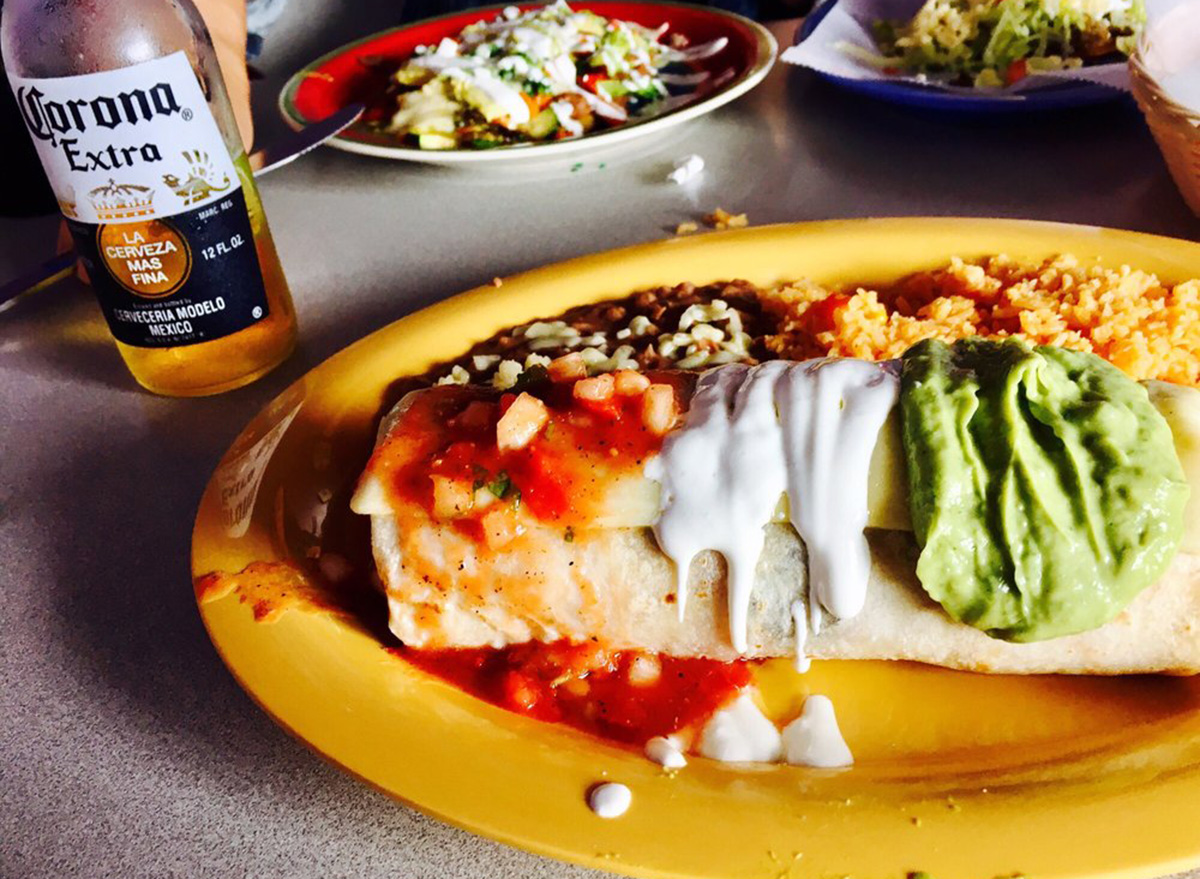 "Excellent and authentic Mexican food. I was impressed by the flavor the food had, because honestly, when I think of exceptional Mexican food, Wisconsin would not be on the top of my list," wrote one reviewer.
We get it, Wisconsin is known for its cheese!
WYOMING: Fiesta Mexican Restaurant in Jackson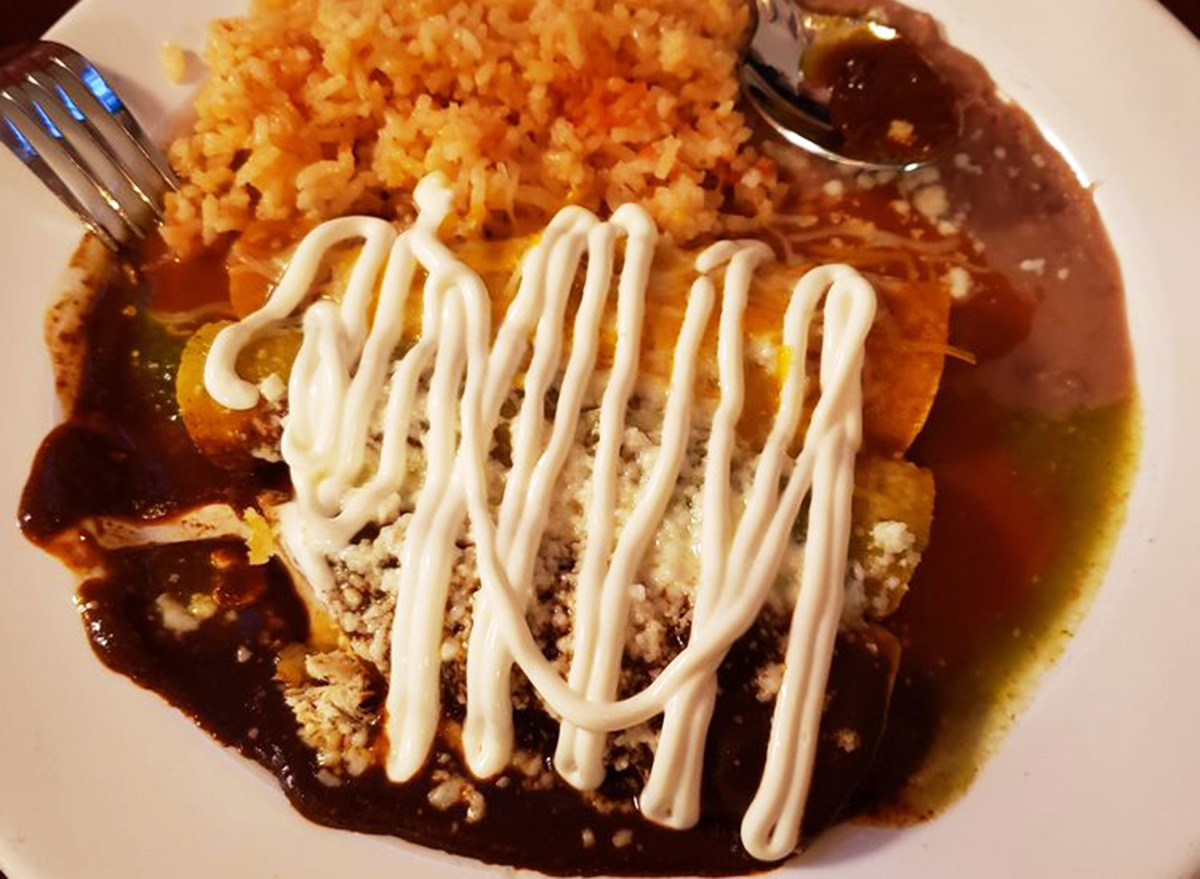 It really is a party at Fiesta Mexican Restaurant in Jackson, with several kinds of tortas, burritos, tacos, fajitas, enchiladas, and various other dishes to choose from. This place has one of the most expansive menus on the list!
For more, check out these 108 most popular sodas ranked by how toxic they are.
Additional reporting by Kelly Gomez.