The Best Heated Outdoor Dining Spot in Every State
Dine in warmth and style at these gorgeous spots across the country.
For many parts of the country, this time of year is when the cold temperatures stick around a little longer than we'd like. However, that doesn't mean you can't dine at your favorite restaurants. During these times, having heated outdoor dining spots is important and we understand that. With that in mind, we've created a list of the best heated outdoor dining spots in each state that you can dine at whether you're a local or visiting from out of town. Keep on reading to see where you can find heated patios, cozy igloos, or even your own private greenhouse whether you're in New York or South Dakota. (And if you're looking for the perfect spot for fish, don't miss The Best Seafood Restaurant in Every State.)
ALABAMA: Vecchia Pizzeria & Mercato In Birmingham
Satisfy those cravings for authentic Italian food at this pizzeria home to the Neapolitan pizza. Not only is there food, but Vecchia also hosts cooking classes and pizza parties to keep customers entertained and excited.
ALASKA: Inlet Pub House In Anchorage
Reserve a heated igloo at this gastropub where the menu consists of local produce and fresh ingredients from the surrounding area. The heated igloos can be reserved for 90 minutes and can fit up to 7 adults. Locals love Inlet Pub House for its cozy atmosphere during the winter.
ARIZONA: Kelly's At SouthBridge In Scottsdale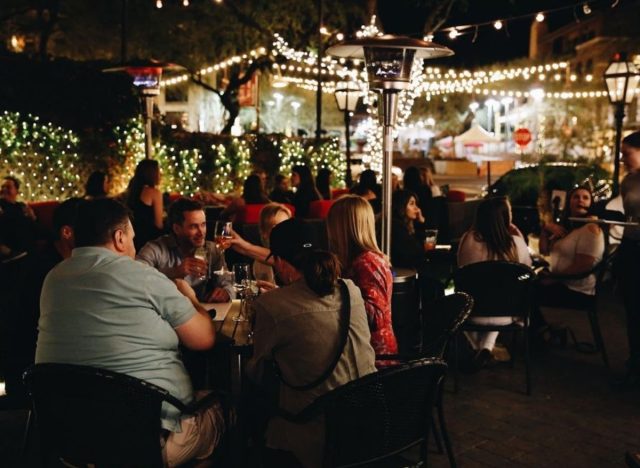 Awarded "Best Outdoor Patio" by Arizona Foothills Magazine, Kelly's allows customers to enjoy burgers and bruschetta on its heated patio while they look at the quaint town lights. One happy patron on Yelp says, "The patio is one of the best spots in Scottsdale to start/round out an evening."
ARKANSAS: 42 Bar And Table In Little Rock
Bite into pan-seared salmon or creole shrimp penne while sitting on the picturesque heated outdoor patio with views of the Arkansas River and Clinton Presidential Park Bridge.
CALIFORNIA: Margot In Culver City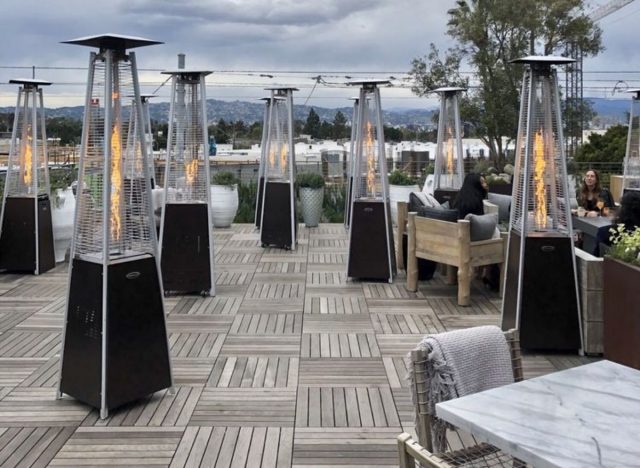 This rooftop seating area with a view of Culver City has vertical heaters to keep patrons warm and cozy. On the menu, you can find exquisite pasta dishes and refreshing salads to suit any palate.
COLORADO: Joy Hill In Denver
The heated patio of this bar and pizza cub overlooks the beautiful Colorado mountains. When it comes to food, chow down on naturally leavened pizzas and salads in what Yelp reviewers call a "relaxing and cozy environment."
CONNECTICUT: Rizzuto's Oyster Bar And Restaurant In Westport
Customers love the heated outdoor igloos at this oyster bar popular for its lobster rolls, fresh market fish and wood-fired pizza. Plus, while dining outside diners can get a glimpse of the local neighborhood and quiet nearby river.
DELAWARE: Columbus Inn In Wilmington
For a romantic dining experience, reserve a private heated greenhouse at Columbus Inn complete with its own Bluetooth speaker. They offer upscale American cuisine with something for everyone.
FLORIDA: Grape & The Grain In Orlando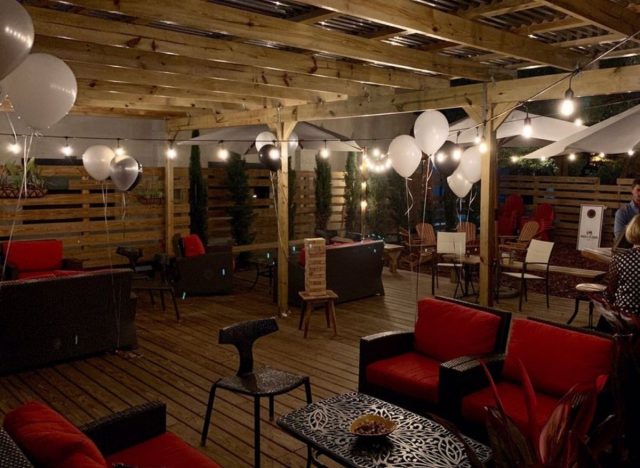 When it gets chilly down south visit this wine bar that transforms its outdoor patio into a heated one with twinkly lights, live music, and trivia games.
GEORGIA: La Tavola Trattoria In Atlanta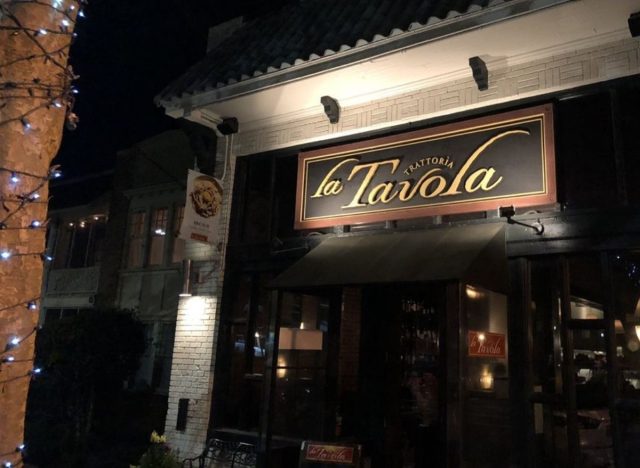 Enjoy authentic Italian food in the heart of the peach state that offers a heated outdoor patio for those cold nights. Browse the menu full of seasonal specials and fan-favorite dishes (ie. ravioli).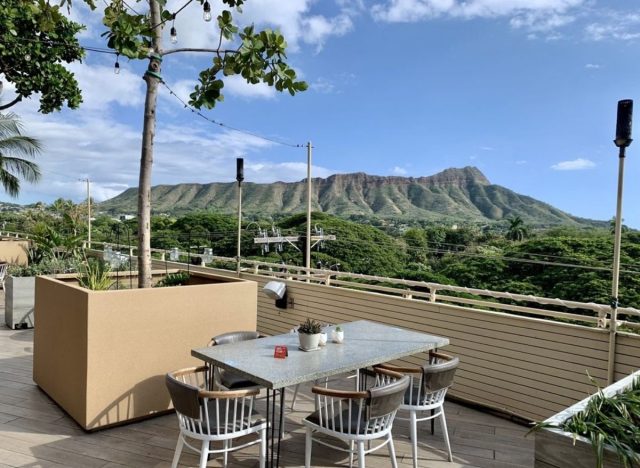 Now, restaurants in Hawaii don't really have heated outdoor patios because the sun takes care of that. However, this patio is great to sit while enjoying ribs, salads, pastas, and other authentic dishes.
This historical distillery welcomes locals and tourists in its doors to relish in handcrafted cocktails and savory dishes. Patrons can sit inside at the bar or enjoy a drink on the heated outdoor patio along the water.
ILLINOIS: The Boiler Room In Logan Square
This Chicago staple has a year-round heated covered patio for customers to sit and relax as they munch on beloved appetizers and popular thin-crust pizza slices.
INDIANA: Festiva In Indianapolis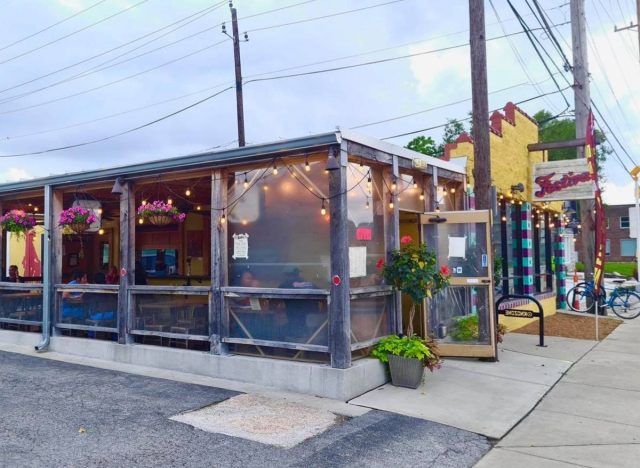 If you're craving authentic Mexican food, then Festiva is the place to go. Not only is it home to contemporary Mexican cuisine, but customers can also sit on its heated patio decorated for the occasion.
IOWA: Barn Town Brewing In West Des Moines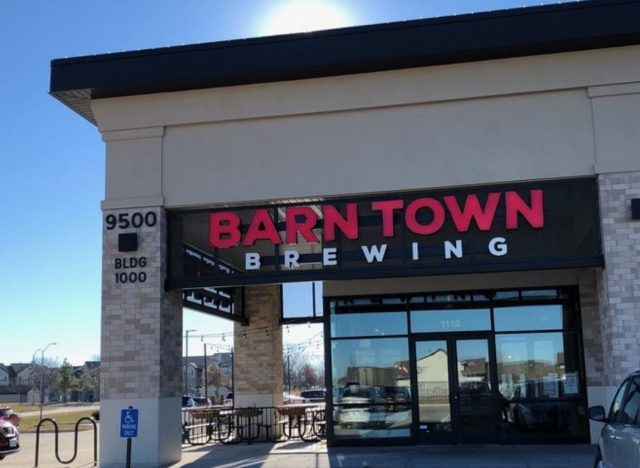 This establishment sources ingredients from local Iowan farms to create an American-style pub menu everyone can enjoy. Reserve a heated igloo to get away from the sharp wind chill and connect with family and friends over artisanal ales and more.6254a4d1642c605c54bf1cab17d50f1e
KANSAS: Blue Moose In Topeka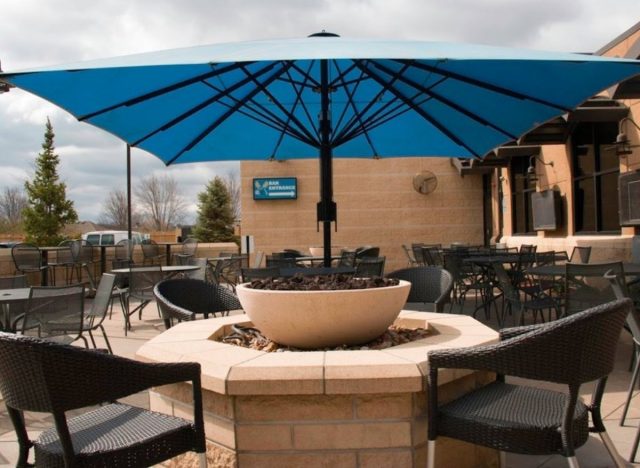 Eat your meal by the fire pit at this local grill home to one of the best happy hours in the state. During the week, from 4 p.m. to 6 p.m. grab a bottle of beer and watch the game with other patrons while munching on hummus, spinach dip, and other game-day favorites.
KENTUCKY: Chik'n & Me In Louisville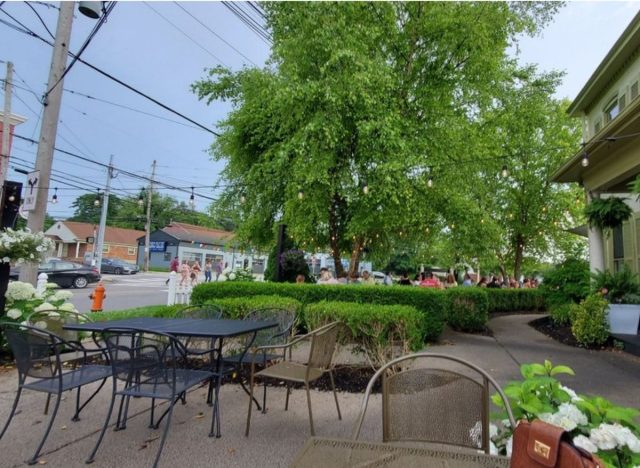 Dine on the heated outdoor patio at this Asian chicken and noodle shop. Known for its comfort dishes and vegan options, this establishment offers high-quality food at an affordable price. One Yelp reviewer calls it, "quite literally one of the BEST places in Louisville."
LOUISIANA: Boucherie In New Orleans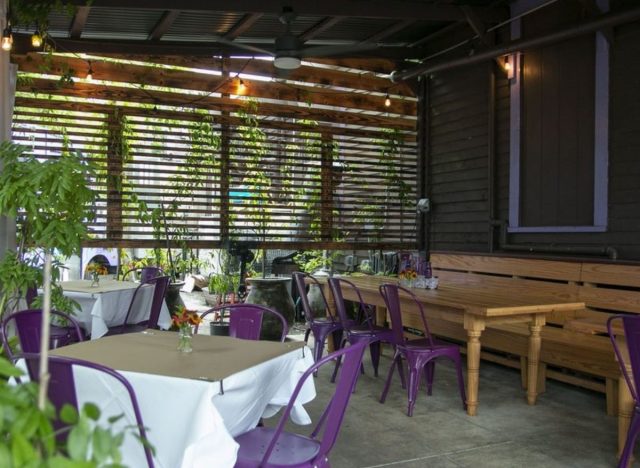 Equipped with industrial-style heaters, the warm patio is the perfect place to chat with friends over a dinner of specialty seafood and meat.
MAINE: Terlingua In Portland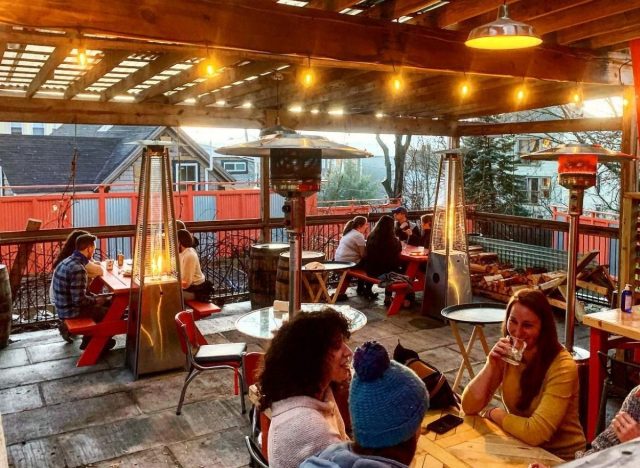 With both indoor and heated outdoor seating, this Tex-Mex restaurant combines the sweet flavors of barbeque with a hint of spice for an out-of-this-world menu filled with tacos, carnitas, brisket and more.
MARYLAND: Cooper's Hawk Winery And Restaurant In Rockville
Aside from signature drinks and cocktails, patrons can indulge in a menu full of sandwiches, salads, meats, and more outside on its heated patio equipped for winter.
MASSACHUSETTS: 75 on Liberty Wharf In Boston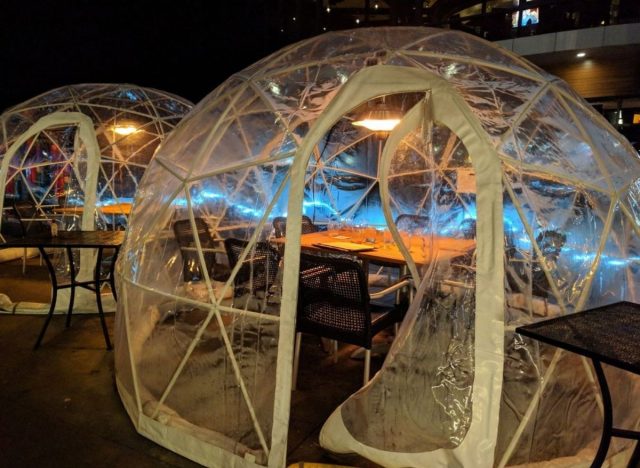 This bubble village takes outdoor dining to the next level. With 10 heated igloos, stay free from the cold while enjoying items from the breakfast, lunch, and dinner menus. Plus, it's along the sea trip so you'll have picturesque views of the ocean while you dine.
MICHIGAN: Deadwood Bar and Grill In Detroit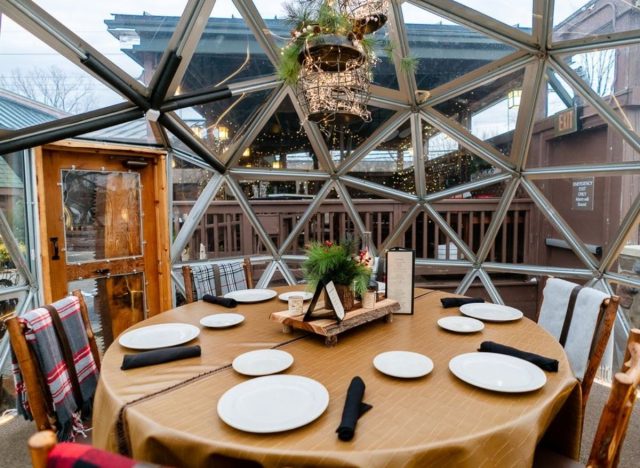 With a capacity of up to 10 people, patrons can opt to dine in a heated igloo at this grill. Popular for its burgers and mac and cheese, you can't go wrong with this menu. One Yelp reviewer says it was a "top notch" dining experience with tons of photo opportunities.
MINNESOTA: Smack Shack In Minneapolis
Seafood lovers can rejoice at this restaurant known for its delicious lobster rolls. Yelp reviewers say this is the perfect joint if you love seafood and outdoor seating since it has a heated patio for those cold winter days.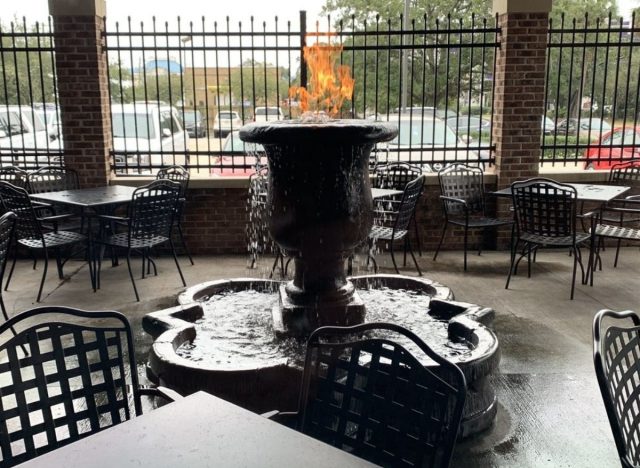 For steak and seafood connoisseurs, this restaurant is home to some of the best in Mississippi. From BBQ glazed salmon to a New York strip, dine in peace on the heated patio with a lovely river view.
MISSOURI: The Westside Local in Kansas City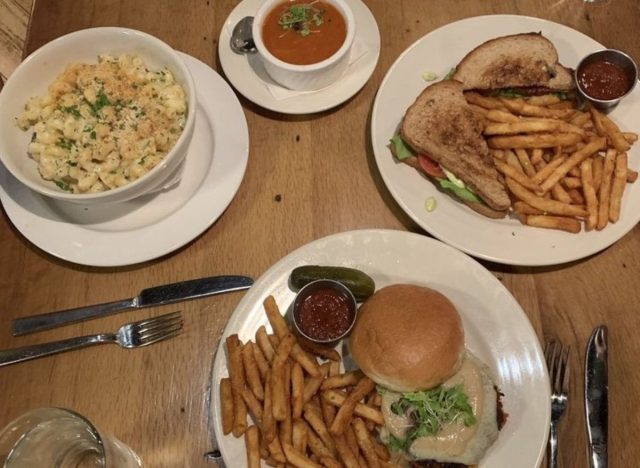 Soups, salads, and burgers galore are what you'll find at this local restaurant. Not only does it have a heated patio, but also it's dog-friendly (yes, you can bring your pup with you.)
MONTANA: Sidewall Pizza Company in Bozeman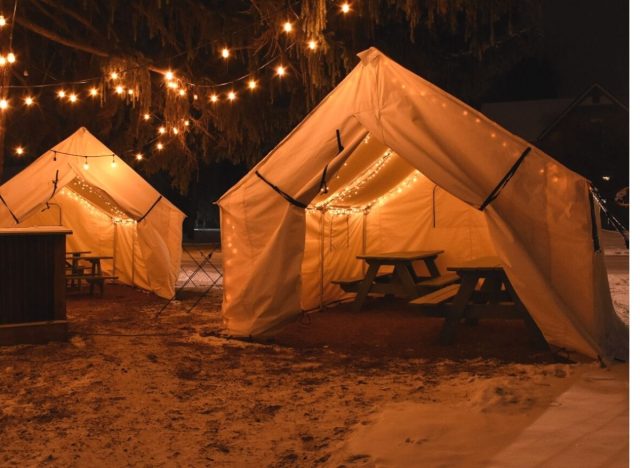 This neighborhood spot boasts pizzas of all kinds, perfect to warm you up in their heated tents on a winter or early spring night. Order one of their many specialty pies like the Gallatin Goddess or one of their amazing stuffed options and don't miss the homemade ice cream with coconut milk vegan options.
NEBRASKA: Phoenix Food & Spirits In Omaha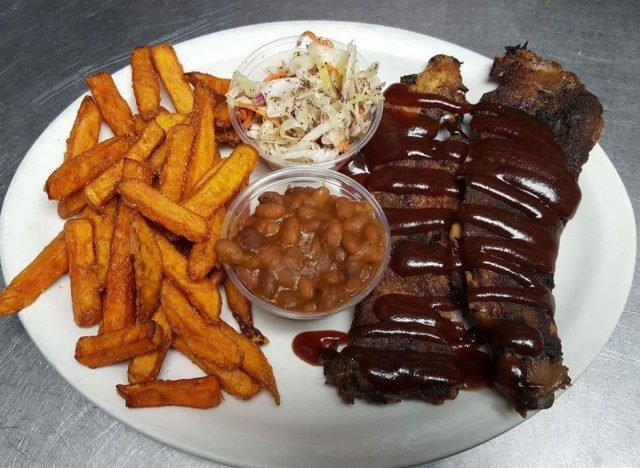 With a heated garage door patio, dine in comfort during the coldest months of the year. Mozzarella sticks, burgers, salads, sandwiches, and other comfort foods are just a few categories on its huge menu full of delicious options.
NEVADA: Bighorn Tavern In Reno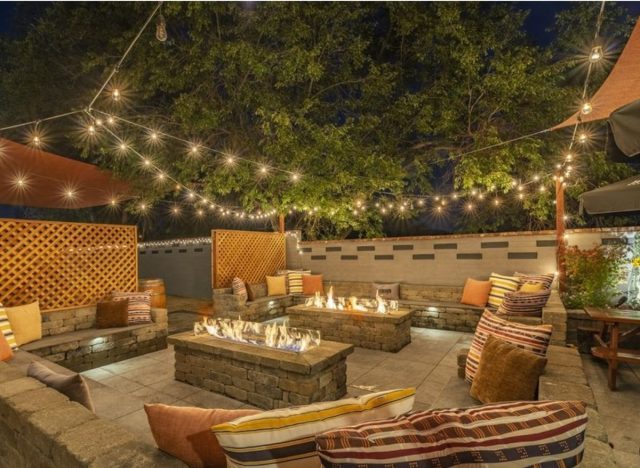 If you are ever craving an outdoor spot on a chilly night in Reno, consider this tavern. Decorated with fire pits and flat screens, watch the game with some buddies while you eat a juicy burger and enjoy a bottle of your favorite beer.
NEW HAMPSHIRE: Revolution Taproom and Grill In Rochester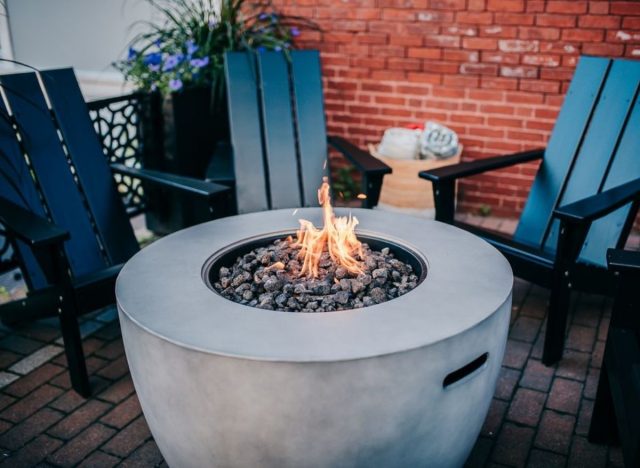 One Yelp reviewer calls the patio at this grill both "adorable" and "classy." This local favorite serves small plates and entrees like 14" wood oven-fired pizzas, burgers, and sandwiches.
NEW JERSEY: Faubourg In Montclair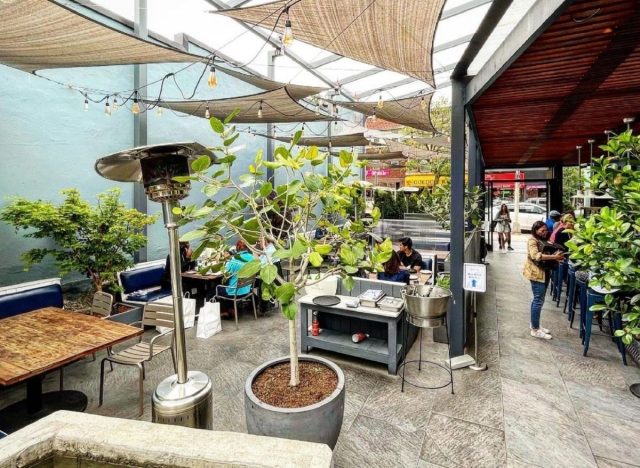 This French brasserie is home to authentic dishes like Tarte Flambee and Beef Duo. On a chilly day, take a seat on the patio with heat lamps and picturesque string lights.
NEW MEXICO: Sixty-Six Acres in Albuquerque
Those of all ages can find a dish they like at this independently-owned restaurant. Whether you're gluten-free or vegan, you'll find menu selections to suit your needs. Plus, its heated outdoor patio is a great place to sit and take in the beauty of the outdoors.
NEW YORK: Vestry In New York City
In the heart of the Big Apple is this Michelin-starred restaurant that recently expanded its space to have a year-round outdoor patio for patrons to enjoy. Find both small and large plates carefully prepared by skilled chefs passionate about creating an experience through food.
NORTH CAROLINA: Budacai In Raleigh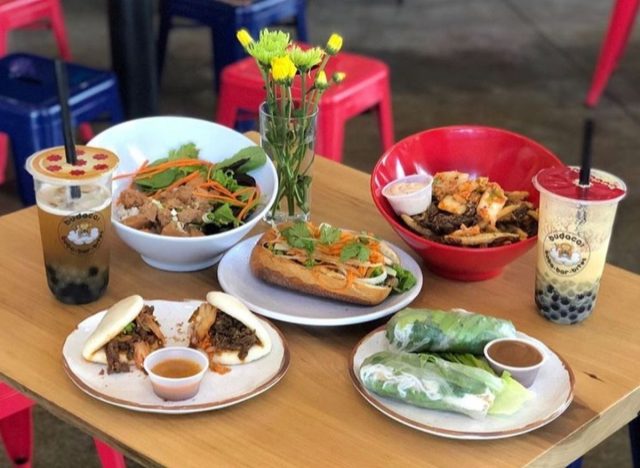 For a more fast-casual dining option, chow down on spring rolls and popcorn chicken topped off with a boba tea. Plus, eat it while it's hot at the heated outdoor patio with scattered picnic benches.
NORTH DAKOTA: Proz Lakeside In Devils Lake
Get cozy outside next to the fireplace as you dine at this lakefront restaurant. Choose from a menu of burgers, pastas, fish, and more.
OHIO: Astoria Cafe Market In Cleveland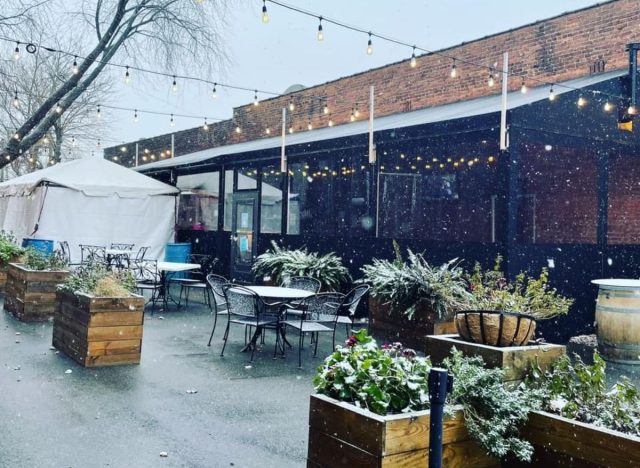 If you're craving Greek food, then you'll want to head over to this cafe home to hummus, chicken souvlaki, and more. Want to dine in? Take advantage of the dog-friendly heated patio as you eat your authentic Greek cuisine.
OKLAHOMA: The Mont In Norman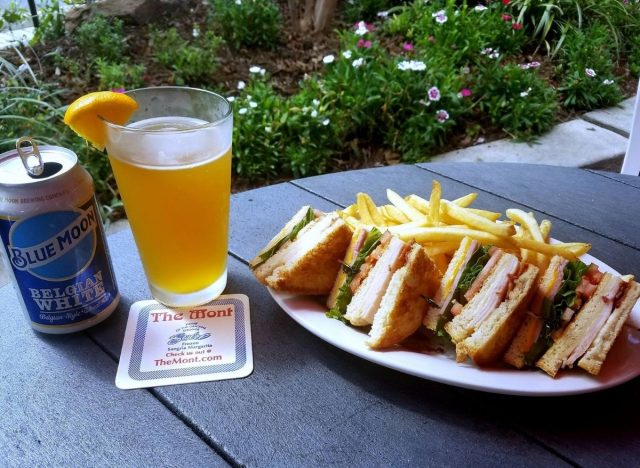 Right next to the University of Oklahoma rests this restaurant with a menu full of traditional diner food (burgers, nachos, sandwiches, etc.) and a spacious outdoor patio.
OREGON: Eastburn In Buckman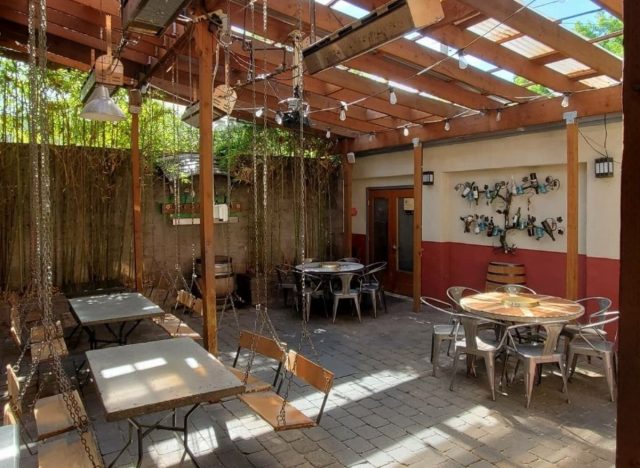 The four-season heated patio at Eastburn includes fire tables and swings. This pub takes comfort food to the next level with items like lobster mac and cheese and a bacon cheeseburger. If you want to take a look inside after sitting on the cozy patio, you'll find ski ball and pool tables to get your game on.
PENNSYLVANIA: Juno In Philadelphia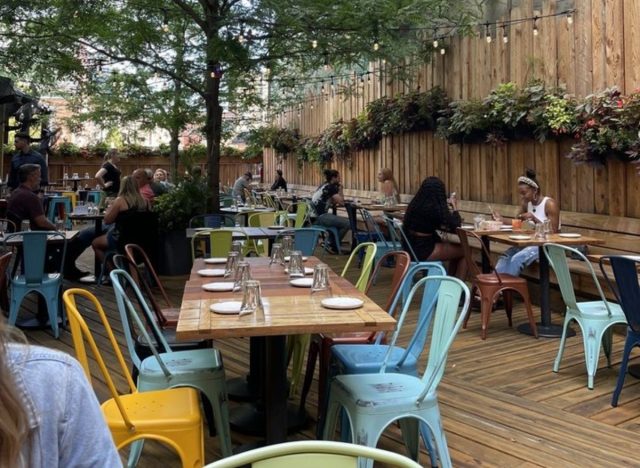 This Philly favorite boasts an out-of-this-world menu filled with Mexican favorites (quesadillas, tacos, emparedados, etc.). Dine in the heated enclosed patio that has constant air circulation and lets in lots of natural light.
RHODE ISLAND: Cav In Providence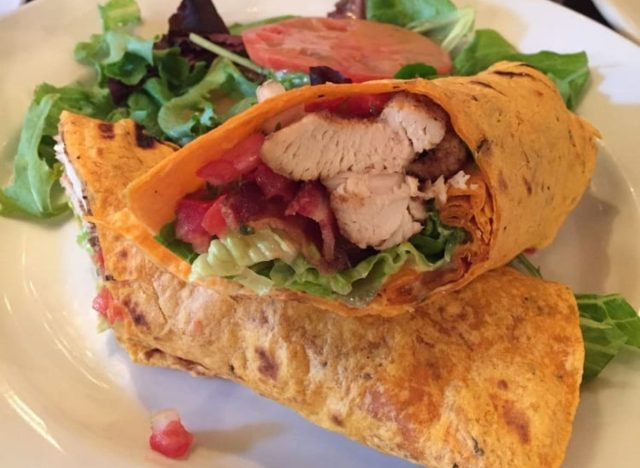 Stop in for breakfast, lunch, or dinner to get your hands on calamari, clam chowder, chicken breast, and more. Want to dine outside? Take advantage of the heated patio that one Yelp reviewer describes as "super beautiful" and "eclectic."
SOUTH CAROLINA: Publico Kitchen and Tap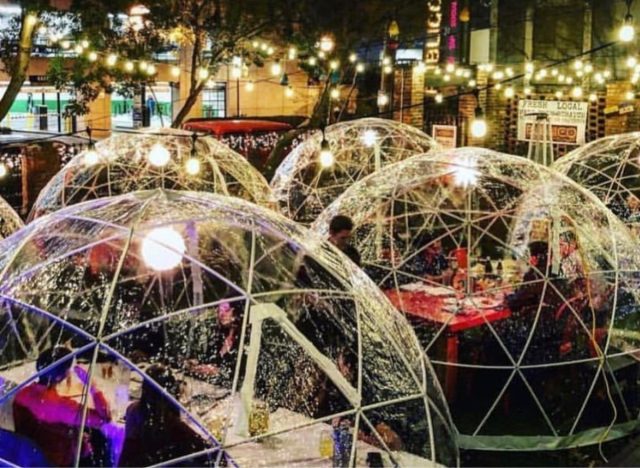 Book a heated igloo for your party at Publico Kitchen and Tap to enjoy Latin- and Asian-inspired fusion cuisine at this hot spot. From tacos and Cuban sandwiches to poke and ramen, this hopping location has something for everyone. Diners rave about the food, the drinks, and their restaurant's love of dogs, so much so that have a separate menu for furry friends. "This place is awesome!!! Great drinks, colors are popping and food is great. Outdoor patio is very cozy and they love dogs!!" raved one diner.
SOUTH DAKOTA: The Barrel House In Sioux Falls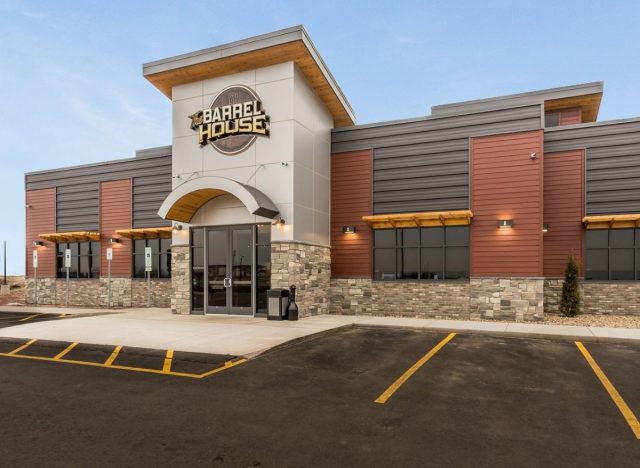 Permanent overhead heaters rest year-round by the outside patio at this bar and restaurant in Sioux Falls. Try some world-class whiskey and bourbon while munching on burgers, pizza, salads, and more. One Yelp patron called her experience "a barrel of fun."
TENNESSEE: Sonny In Nashville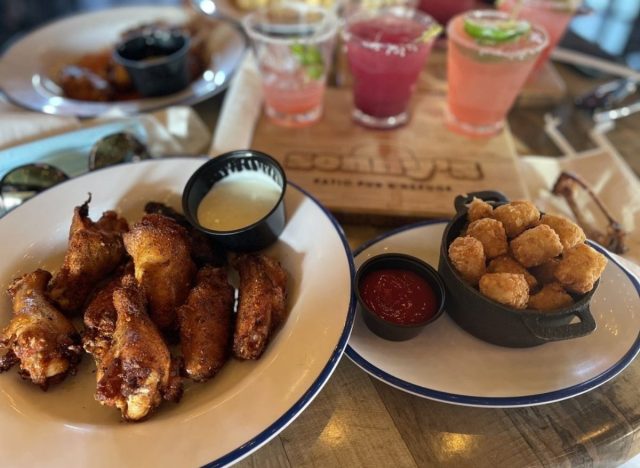 Looking for the typical bar experience? Sonny's has the ideal outdoor patio perfect for game day and beyond. Not only is it heated, but the food will also put you in a good mood. After all, they call it "Mood Food."
TEXAS: Grizzeldas In Austin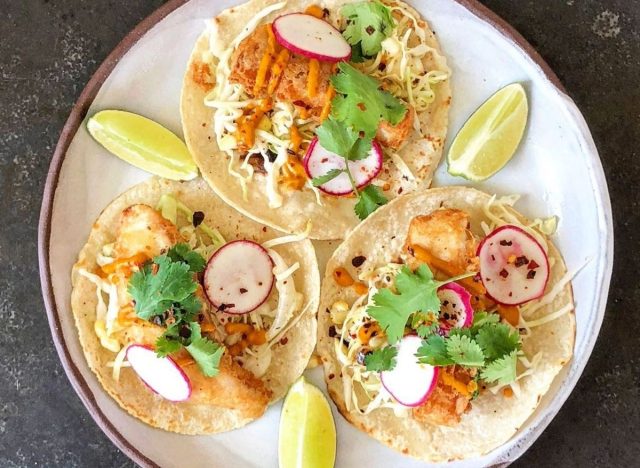 For those not afraid of a pop of color, head over to this chic, modern Mexican restaurant in the heart of the state's self-proclaimed "weird" town. Not feeling the couches? Sit outside on the heated patio with bright overhead lighting and foliage.
UTAH: Caffé Molise In Salt Lake City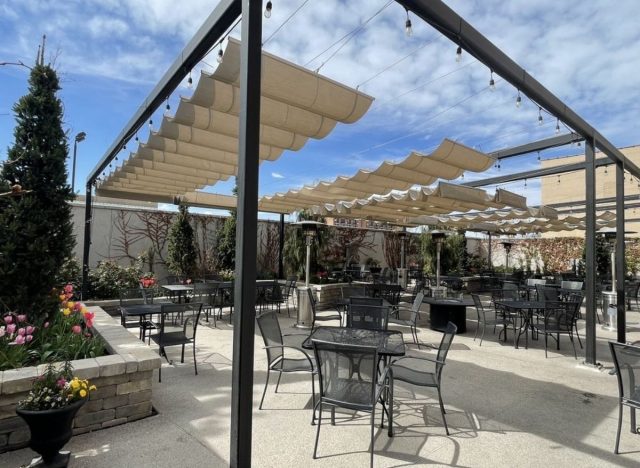 Stop by this restaurant for an authentic Italian meal (think Penne di Caprino and Pappardelle al Sugo.) If it's chilly outside, take advantage of the covered and heated outdoor patio that's perfect for winter and beyond.
VERMONT: Leunig's Bistro In Burlington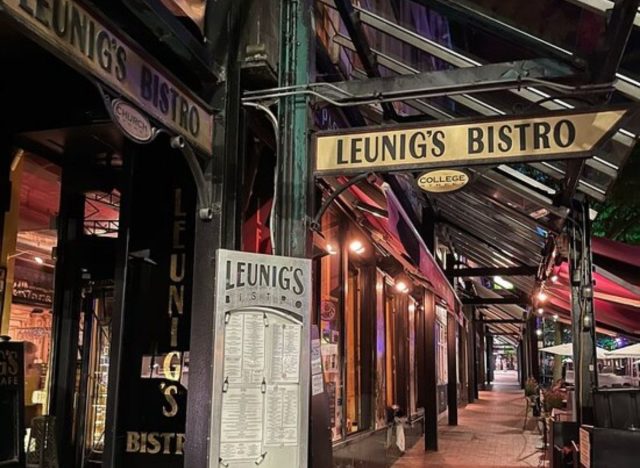 This bistro is a fan-favorite among locals and tourists alike for its seasonal menus filled with dishes made from local ingredients. Find tables next to gas lanterns to keep warm if you choose to dine outside.
VIRGINIA: King & Rye In Alexandria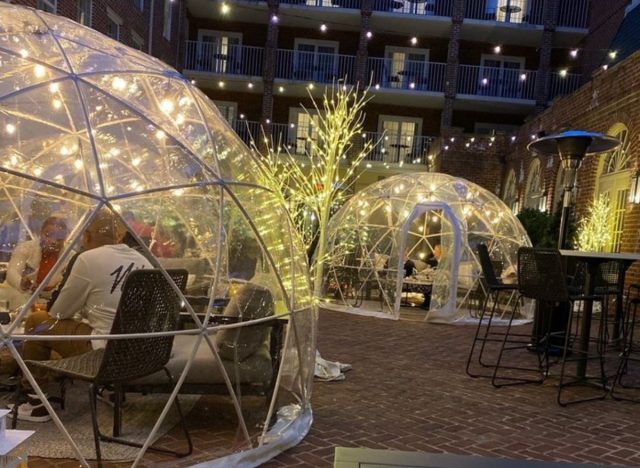 You can't go wrong with outdoor igloos when the cold weather strikes. Enjoy dishes like pumpkin soup and pan-seared halibut made with locally sourced ingredients as you sit in a large heated igloo.
[slidetitle num=""]WASHINGTON: Borracho In Spokane[/slidetitle]
This restaurant takes a spin on classic Mexican dishes in a fun and exciting way. From calamari tacos to specialty cocktails, dine-in on the heated patio or take food to go to enjoy at home.
REALTED: The Best Outdoor Restaurant in Every State.
WEST VIRGINIA: Farm Brew LIVE In Manassas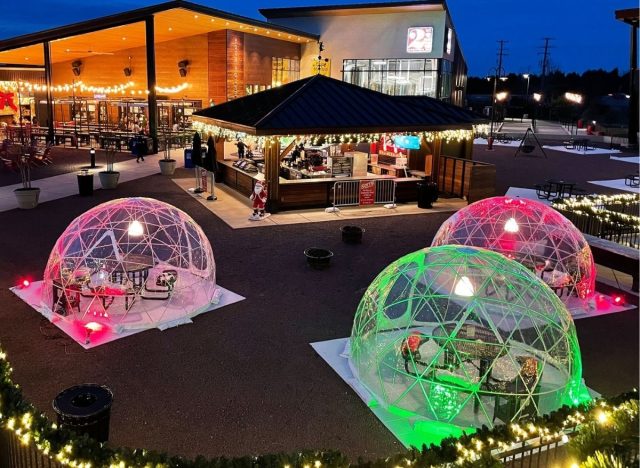 Looking for a chill vibe? With 12 foot heated domes, make a reservation to eat inside one of these winter wonderland outdoor tables. Not only are they heated, but they can hold up to six guests. One Yelp reviewer calls Farm Brew one of the most laid-back restaurants to eat at.
WISCONSIN: Boone And Crockett In Milwaukee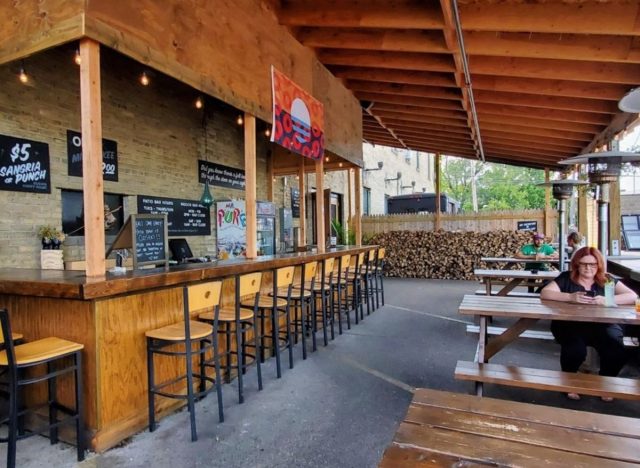 Order a house cocktail with a classic grilled cheese or turkey melt at this old-fashioned establishment featuring a heated outdoor patio for those cold winter nights. Note: Boone And Crockett doesn't take reservations so make sure to calculate wait time when going for a night out.
WYOMING: The Kitchen In Jackson
The Kitchen's heated outdoor patio is decorated with bright twinkly lights for the perfect dinner aesthetic. Choose from a wide selection of Asian-inspired dishes made with clean ingredients that not only taste good, but are presented in a clean, minimalistic fashion. One Yelp reviewer suggests booking a reservation far in advance so you can experience this restaurant for yourself.
Casey Clark
Casey Clark is a current journalism student at Hofstra University with a passion for food, beauty, and entertainment.
Read more about Casey