The Best Bed and Breakfast In Every State
A variety of extravagant breakfasts with a side of relaxation? Count us in.
Bed and breakfasts combine the best of both worlds—relaxing stays at gorgeous locales and hearty, gourmet breakfasts that are made fresh each morning. What could be better?
Lucky for us, there is no shortage of bed and breakfasts in the United States. According to 2015 research provided by the Professional Association of Innkeepers International, there are approximately 17,000 (yes, those are three zeros) bed and breakfasts located throughout the country. More than a third of these have been "historically designated" by historic preservation organizations, meaning that more often than not you will get to stay in a beautiful home with rich history to match. Sounds like a dream, right?
To help you find the perfect escape, we put together a list of some of the most outstanding options out there. From one that doubles as a wolf sanctuary to others that grow their own produce to make amazing dishes, here is the best bed and breakfast in every state.
Plus, if you're headed out for an evening of fun, don't miss The Best Themed Restaurant In Every State.
ALABAMA: Magnolia Springs Bed and Breakfast in Magnolia Springs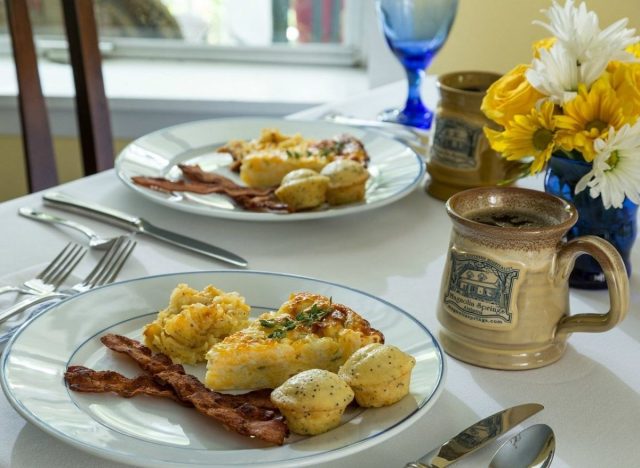 Located in the quaint town of Magnolia Springs, Magnolia Springs Bed and Breakfast is a picturesque inn that is the perfect place to treat yourself to some rest and relaxation. Not to mention that it also has some pretty amazing home-cooked food. "We started each day with an amazingly delicious and beautifully presented breakfast and ended each day with fabulous cookies," one TripAdvisor reviewer posted.
ALASKA: Maria's Majestic View Bed and Breakfast in Homer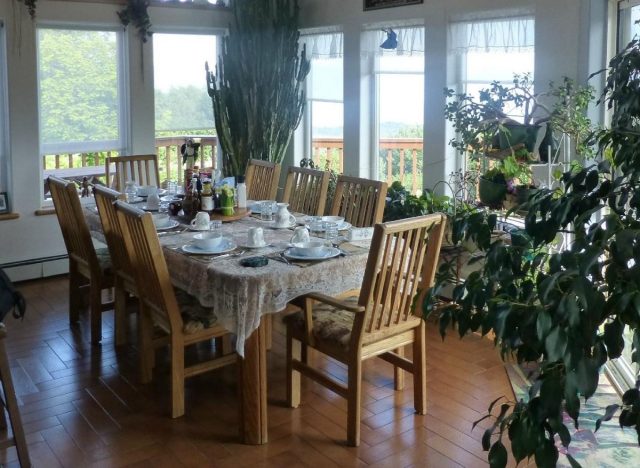 Expect a mind-blowingly tasty breakfast at Maria's Majestic View Bed and Breakfast in Homer, Alaska. TripAdvisor reviewers have called the food served at this B&B "incredible," and have shared that offerings may include everything from eggs, reindeer sausage, and French toast, to rhubarb cream cheese bars, and homemade fireweed jelly. "Only regret was we only stayed one night," one reviewer confessed.
ARIZONA: Canyon Villa Bed and Breakfast Inn in Sedona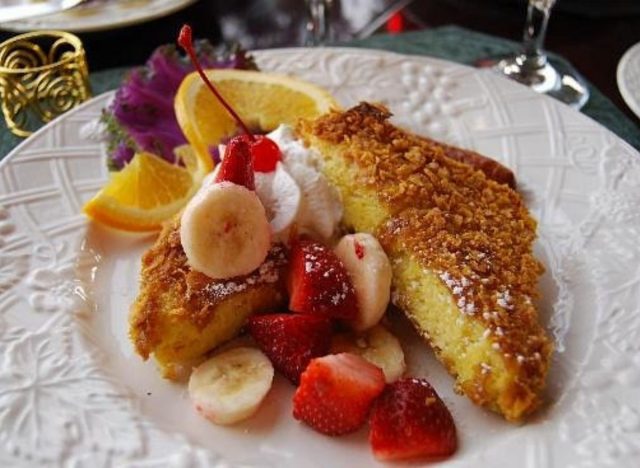 Canyon Villa is the Sedona bed and breakfast that crafts delicious meals for their guests each day. To get an idea of which tasty treats you will be served during your stay, take a look at their "Favorite Recipes" page on their website. Here they list some of their most notable noshes, which include their signature cinnamon rolls and their easy-to-bake cranberry Noel cookies.
ARKANSAS: Hidden Springs Bed and Breakfast in Eureka Springs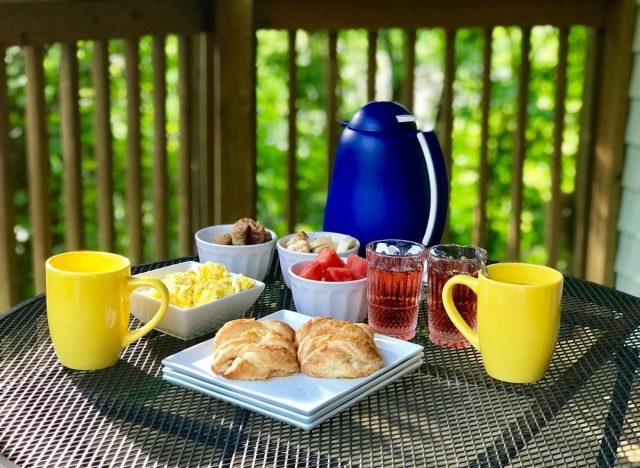 Hidden Springs Bed and Breakfast not only has well-appointed rooms at reasonable rates, but also great food. According to reviewers, their breakfast menu includes exciting options, such as delicious egg and sausage quiches, blueberry pancakes, fresh fruit, and juice. "We have found our 'home away from home,'" one reviewer wrote, "Couldn't have been better."
CALIFORNIA: Old Monterey Inn in Monterey
Located in the lovely hills of Monterey, Old Monterey Inn is a gorgeous bed and breakfast that has been welcoming guests since 1978. Known for its sprawling gardens and superb amenities, this inn was featured in Patricia Schulz's popular book, One Thousand Places to See Before You Die, and is also on Conde Nast Traveler's Readers Choice Gold List. Tip: After a filling breakfast, don't forget to get a massage in the inn's private Spa Room.
COLORADO: The Queen Anne Urban Bed and Breakfast in Denver
The Queen Anne Urban Bed and Breakfast crafts perfectly-made breakfasts each day using fresh, high-quality ingredients sourced from nearby vendors. In addition to their morning meals, they also offer a complimentary happy hour on their main floor each evening. Here guests can mingle with one another while enjoying complimentary Colorado wines, cheeses, and other treats.
CONNECTICUT: Riverwind Inn Bed and Breakfast in Deep River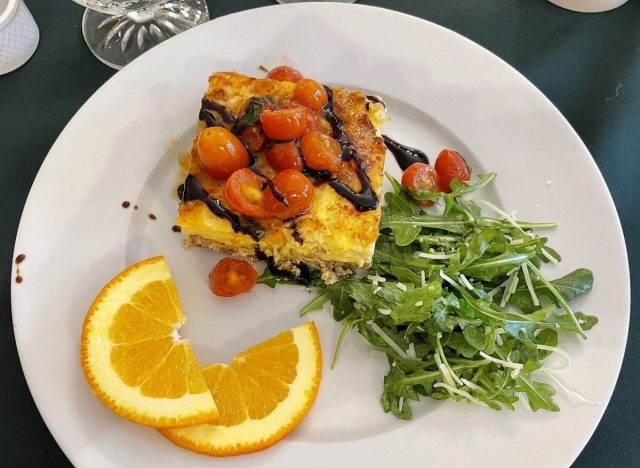 At 9 am each day, this bed and breakfast serves up an assortment of delicious breakfast foods by candlelight in their dining room. Their main dishes change daily, but you can always expect homemade granola, fresh fruit, and muffins or bread to be on hand. We love how they use fresh, high quality ingredients for all of their meals—in fact, some of the fruit and vegetables used in the inn's dishes come straight out of their gardens.
DELAWARE: The Homestead at Rehoboth in Rehoboth Beach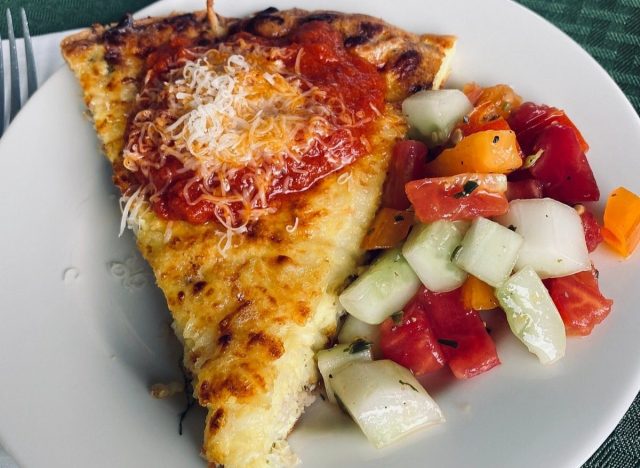 Gorgeous gardens and distinctive breakfasts are the centerpieces at The Homestead at Rehoboth. Guests can anticipate delightful options, such as banana stuffed pancakes with blueberry syrup and customizable omelets, as a part of their breakfast at the inn.
FLORIDA: Casa de Solana Bed and Breakfast in St. Augustine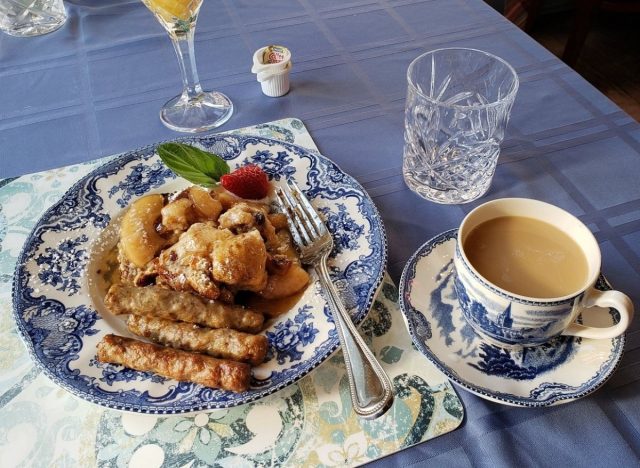 The historic Casa de Solana, which is one of the oldest houses in St. Augustine, makes a scrumptious breakfast each morning that is served between 8:30 and 9:30 am on weekdays, and between 8 and 9:30 am on the weekends. A typical breakfast here includes delectable dishes, such as seasonal quiches, French toast, stuffed crepes, and rolled spinach and cheese omelets. "The breakfasts here were incredible—they make a bacon jam that is to die for!" one reviewer exclaimed.
GEORGIA: McMillan Inn in Savannah
McMillan Inn, a Savannah Historic District Bed and Breakfast, is bursting with Victorian charm and Southern elegance. Everything from their gorgeous rooms to their luxurious breakfasts, which often include specialty items, such as banana bread French toast and quiche Lorraine, is done exquisitely. "The breakfasts were divine and the freshly baked treats available at all hours were an amazing touch," a reviewer mentioned, "On top of all of that the inn consistently smelled like a bakery—it was magical!"
HAWAII: The Inn at Kulaniapia Falls in Hilo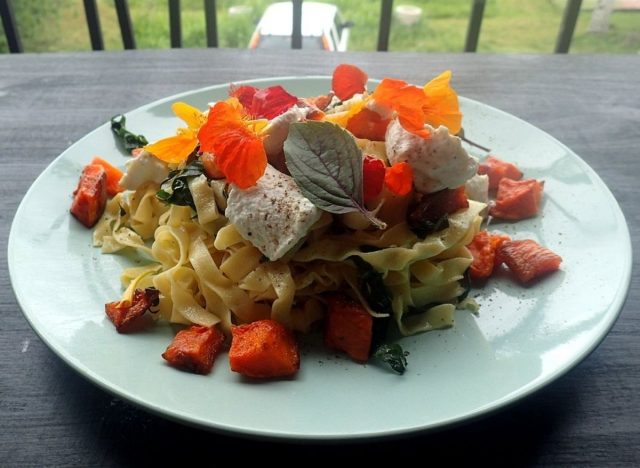 There is nothing quite like The Inn at Kulaniapia Falls in Hilo. Nestled along 22 acres of beautiful scenery and right next to Hawaii's largest privately accessible waterfall, this bed and breakfast is a showstopper. Besides constant breathtaking views, be prepared to also be blown away by this inn's amazing breakfast, which is made using local ingredients. Fun fact: The Inn at Kulaniapia Falls is eco-friendly and puts sustainability front and center. For example, all of their power is generated by a hydroelectric system.
IDAHO: The Roosevelt Inn in Coeur d'Alene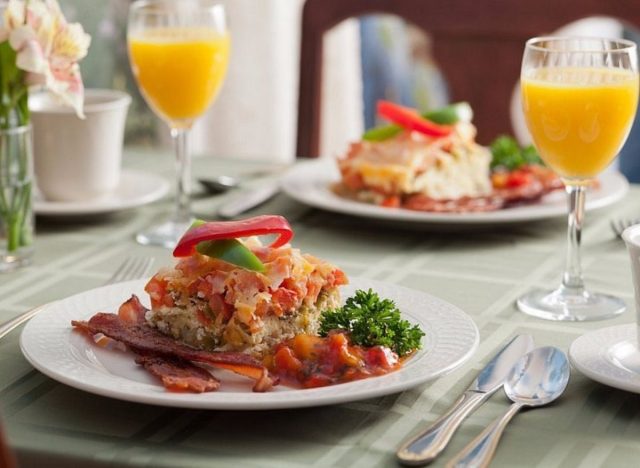 For over 25 years, The Roosevelt Inn in Idaho has been a welcome retreat to guests. Along with having first-class amenities (fireplaces, pillowtop beds, and twice-daily maid service is the norm here) The Roosevelt Inn also provides a breakfast that is good enough to write home about. Some of reviewers' most favorite breakfast dishes here include the apple pancakes and orange zest waffles.
ILLINOIS: Aldrich Guest House in Galena
Enjoy a weekend away at the Aldrich Guest House, the Illinois inn that serves award-winning breakfasts. Some of their signature dishes include cloud eggs, gingerbread waffles, and peanut butter scones. "Their breakfasts were superb," one reviewer posted, "They both made sure everyone had what they needed."
INDIANA: Market Inn Bed and Breakfast in Jeffersonville
In 2002, Market Inn Bed and Breakfast's owners, Steve and Carol Stenbro, purchased the historic circa-1800s house in an auction. The home, which once served as the "Old Ladies Home" for Civil War widows and later was a homeless shelter, sat in disarray until the Stenbros came along to breathe new life into it. Today, the beautiful inn is the most celebrated bed and breakfast in Jeffersonville.
IOWA: Die Heimat Country Inn in Homestead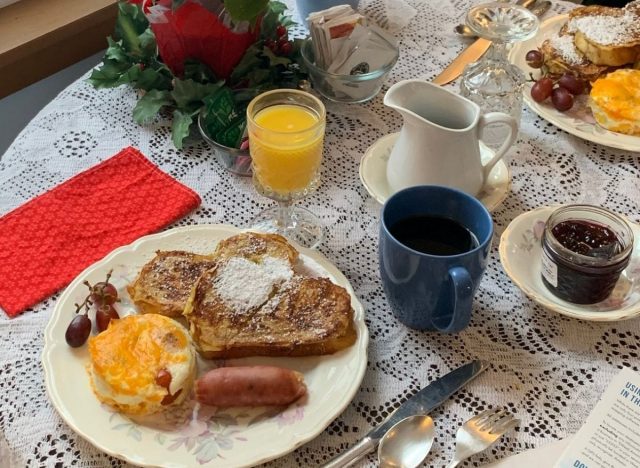 Located in Iowa's famous historic Amana Colonies is Die Heimat Country Inn, the adorable bed and breakfast that has been in business since the 1960s. Here you can expect mouth-watering breakfasts inspired by German recipes.
KANSAS: Cedar Crest Lodge in Pleasanton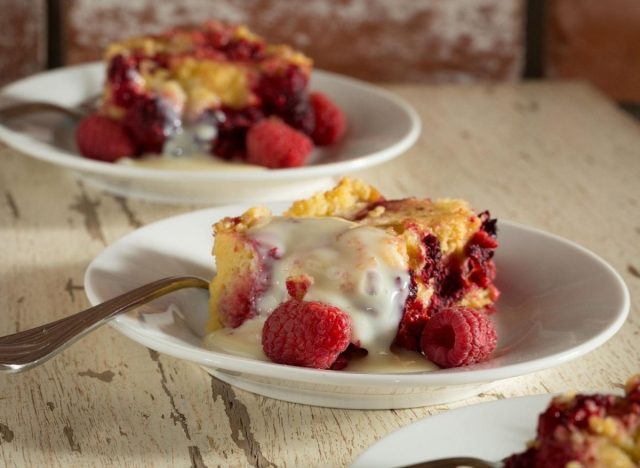 Spend a weekend strolling through Cedar Crest Lodge's 100-plus acres that feature rolling hills, vibrant flower gardens, fragrant herb gardens, and a magnificent fruit and vegetable garden. Many of these fresh grown ingredients end up in the inn's multi-course breakfasts that are served each morning.
KENTUCKY: Bourbon Manor Bed and Breakfast in Bardstown
Bourbon Manor's breakfast sample menu includes tasty options such as fresh omelets, cheesy hashbrown casseroles, Polish sausage, and bourbon-infused cinnamon buns. An extra added bonus is that the inn is happy to accommodate guests based on specific dietary needs—just make sure to let them know beforehand.
LOUISIANA: Ashton's Bed and Breakfast in New Orleans
Located just a short distance from Louisiana's famed French Quarter is Ashton's Bed and Breakfast. This exquisite inn uses Creole, Cajun, and Southern inspiration to craft their highly sought-after gourmet breakfasts. Some examples of what you may find on the morning menu here include Mardi Gras Eggs Benedict with Cajun Tasso Hollandaise and sweet potato French toast with pecan honey-butter.
MAINE: Camden Maine Stay Inn in Camden
Get away from it all by spending a few nights at Camden Maine Stay Inn, a scenic bed and breakfast located in the quaint coastal town of Camden. Known for its exceptional hospitality and gourmet breakfasts, this inn is one not to miss. "Breakfast is fantastic!" one reviewer shared, "And the gluten-free options, according to my wife, were delicious as well."6254a4d1642c605c54bf1cab17d50f1e
MARYLAND: 1840s Carrollton Inn in Baltimore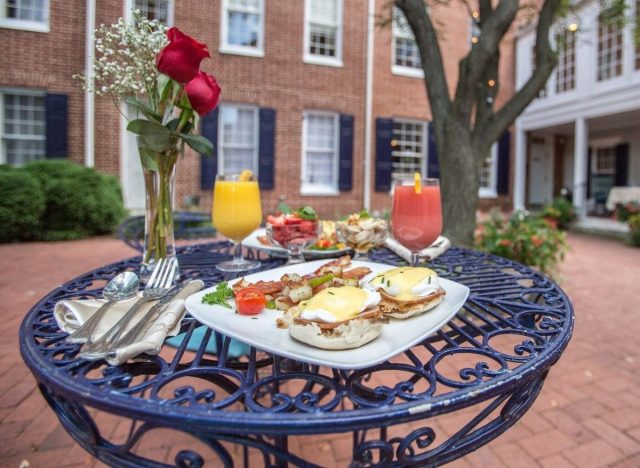 Travel back in time during your stay at the 1840s Carrollton Inn, the historic Baltimore bed and breakfast made up of interconnected row homes. Breakfast here is made-to-order and can be served to you in the courtyard, dining room, or in your guest room.
MASSACHUSETTS: Candleberry Inn on Cape Cod in Brewster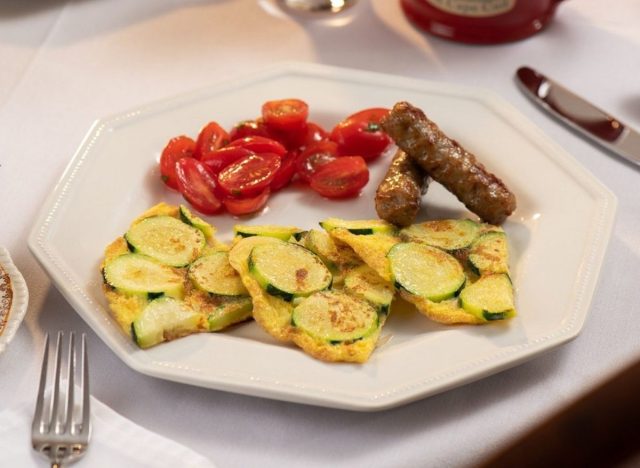 Brewster's historic Candleberry Inn dates all the way back to the 1700s and has housed many notable guests, including famous artists and authors, throughout its existence. During your stay, you can enjoy breakfast out on the patio during the summer months, and in their formal dining room during the cooler months. The Candleberry Inn is such as gem that it was ranked #3 on TripAdvisor's 2021 Top 25 Bed and Breakfasts in the USA.
MICHIGAN: Kalamazoo House in Kalamazoo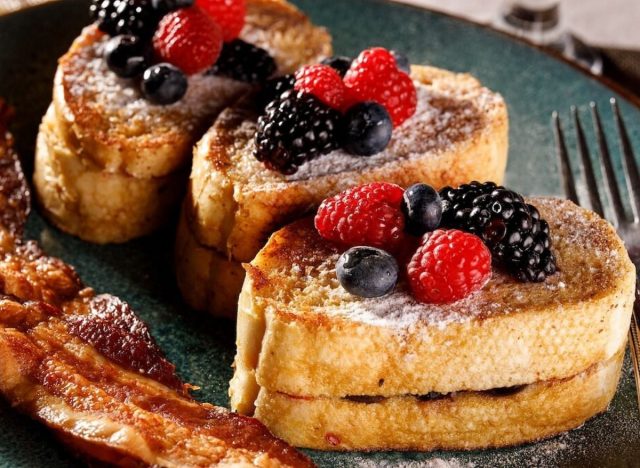 Artfully designed and impeccably furnished, Kalamazoo House has been wowing guests since the 1980s. However, the inn's beautiful Victorian house has a history that dates back much further than that. For starters, it was built in the 1870s by a notable Kalamazoo businessman, David Lilienfeld, who was a prominent fixture in the community for decades. Breakfast here usually consists of two courses full of decadent options, such as raspberry-stuffed croissant French toast, roasted red pepper, spinach, and Parmesan frittatas, or streusel baked apples.
MINNESOTA: Turning Waters Bed, Breakfast and Adventure in Wabasha
Turning Waters Bed and Breakfast, the history-rich inn that was built in the early 1900s, is so much more than just a place to stay. For instance, they really knock it out of the ballpark when it comes to cooking tasty, homemade breakfasts. "The homemade delicious breakfast was made with local ingredients and filled us up until late afternoon," shared one reviewer, "We were welcomed with local recommendations, complimentary ice cream and a beverage. Thank you!!!"
MISSISSIPPI: Historic Oak Inn in Natchez
Details are key at the Historic Oak Inn, Natchez's famous bed and breakfast that is known for its incredible antiques, exquisite linens, and thoughtful treats. "From the welcome chocolate chip cookies, to the mint julep happy hour, and the absolutely divine breakfast served daily in their historic dining room, they go out of their way to make sure you not only feel at home but also have a lovely experience in Natchez," a reviewer posted.
MISSOURI: Rockcliffe Mansion in Hannibal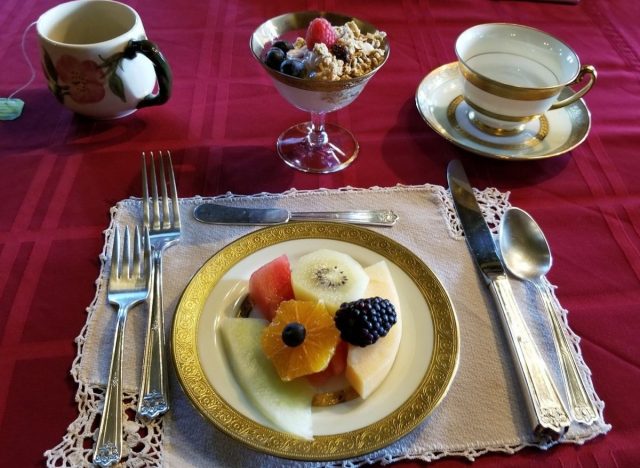 One thing that may be richer than this boutique bed and breakfast's vibrant history is their wonderfully made breakfasts. This morning meal, which based on reviews can consist of up to four courses, is served in the mansion's ornately decorated dining room. "The breakfast was exquisite, well prepared and serviced with an eye on quality," one reviewer reported.
MONTANA: Howlers Inn Bed and Breakfast and Wolf Sanctuary in Bozeman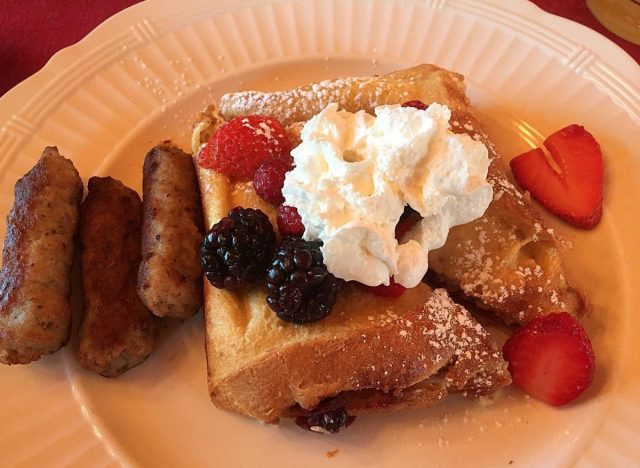 Get up close and personal with the wolves at Howlers Inn Bed and Breakfast. This cozy inn, which doubles as a wolf sanctuary, is the perfect place for animal lovers to spend a relaxing weekend full of delicious food—their breakfasts have been described as "amazing" and "creative". "Wish I could give this place justice with a review, but you have to go yourself to understand how great it is," one reviewer wrote.
NEBRASKA: Whispering Pines Bed and Breakfast in Nebraska City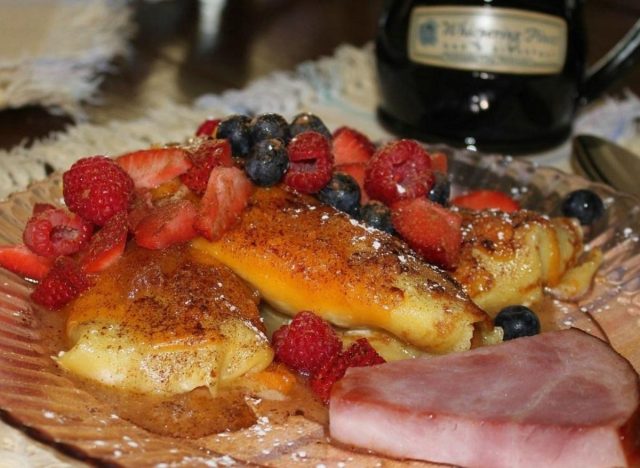 This Victorian Era farmhouse, which was built in the 1800s, is the perfect place to sit back and relax. Their breakfasts, which often consist of seasonal pancakes with homemade fruit toppings and farm-fresh frittatas, are a favorite among guests. Tip: Whispering Pines is certified through Greener Nebraska, which means that it uses eco-friendly practices in its everyday operations.
NEVADA: Shady Lady Bed and Breakfast in Beatty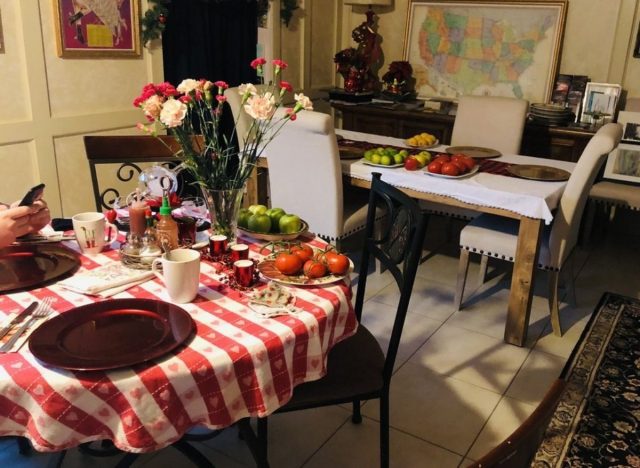 Peacocks roam the grounds of Shady Lady Bed and Breakfast, an eccentric inn located about an hour and a half outside of Las Vegas. If you love animals, stargazing, and heavenly breakfasts then this is the place for you.
NEW HAMPSHIRE: Inn at Ellis River in Jackson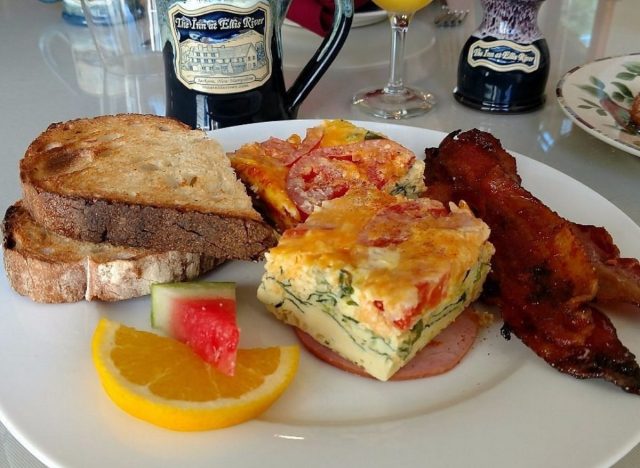 One word can be used to describe the breakfasts at the Inn at Ellis River—amazing. "John's breakfasts are THE best you will find anywhere!!" one reviewer excitedly posted, "This was by far our favorite of all of the places we stayed on our New England vacation." Some of the inn's recipes that may make an appearance during your visit include GaGa's Lemon Gingerbread Bars, Maple Banana Bacon Muffins, and the inn's famous Chive and Cheddar Strata.
NEW JERSEY: The Mission Inn in Cape May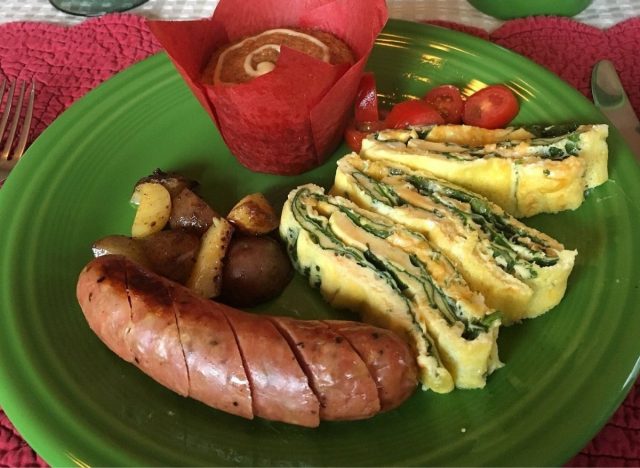 Bottomless coffee, fresh fruit, rotating seasonal juices, and outstanding breakfast entrees are all part of a signature stay at The Mission Inn in Cape May. "Breakfasts by Leslie are a revelation," one reviewer shared, "We didn't eat lunch a single day we were there because the breakfasts were so filling and creative."
NEW MEXICO: Inn of the Turquoise Bear in Santa Fe
If you think of yourself as more of a "hotel person," then you may reconsider after a stay at the Inn of the Turquoise Bear. Its incredible breakfasts alone may change your mind. Drawing on inspiration from traditional New Mexican cooking, at this bed and breakfast hearty options, such as blue corn pancakes with piñion butter and artichoke & potato frittatas with turkey sausage, usually take center stage at the breakfast table. "My husband and I had never stayed at a Bed and Breakfast before," one reviewer posted, "and if our stay at Inn of the Turquoise Bear is any indication of how amazing bed and breakfasts can be, we'll be hard-pressed to stay in a traditional hotel if we can help it going forward."
NEW YORK: The Chalet of Canandaigua in Canandaigua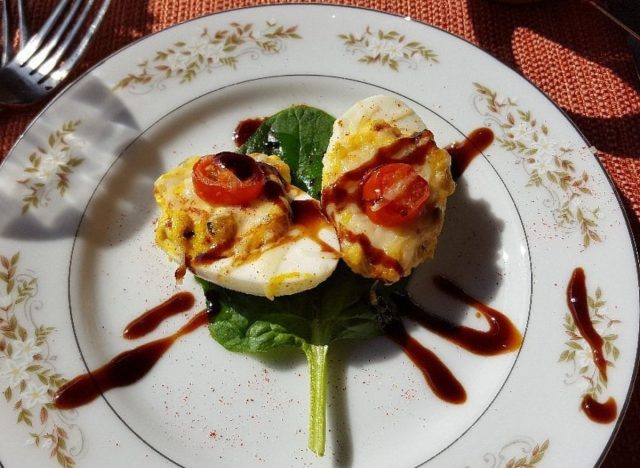 Perched on a quiet hill just minutes away from the Finger Lakes wine country is the Chalet of Canandaigua, a luxurious woodside retreat where breakfast is a three-course affair. An extra bonus: They have a dessert waiting for you when you return from dining out each evening. "Best of all is the three-course gourmet breakfasts that they prepare each morning!" applauded one reviewer, "Can't wait to go back."
NORTH CAROLINA: Abbington Green Bed & Breakfast Inn and Spa in Asheville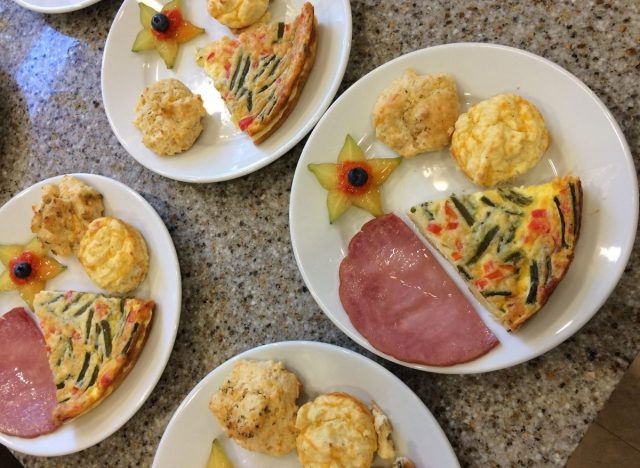 The deep tissue detox massage and signature facial are marvelous at the Abbington Green Bed and Breakfast Inn and Spa, but have you tried their breakfasts? Locally sourced and served on fine china, Abbington's breakfasts are raved about by inn visitors. "The breakfast was the best we have ever had at a B&B," one reviewer stated.
NORTH DAKOTA: Dakotah Rose Bed and Breakfast in Minot
Dakotah Rose Bed and Breakfast, the beautiful pink inn located in Minot, serves a full breakfast for guests each morning in their main floor dining room. TripAdvisor reviewers have described this elegant inn's breakfasts as "delectable", "delicious", and "unsurpassed".
OHIO: The Welsh Hills Inn in Granville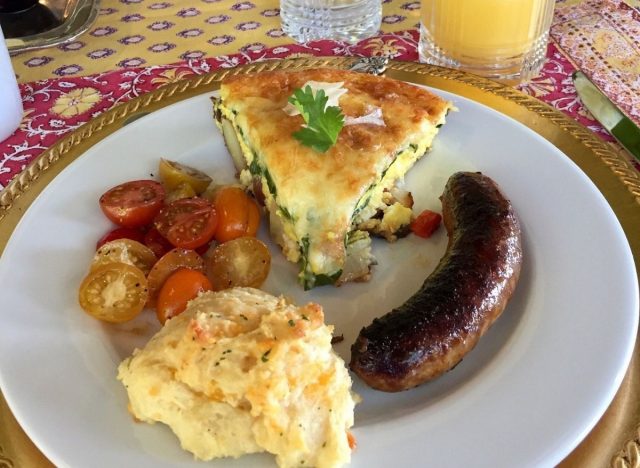 Located just moments away from interesting museums, popular golf courses, and buzzy boutiques, the award-winning Welsh Hills Inn is the perfect spot to book a mini getaway. Whether you plan to stay for one night or decide to make a long weekend out of it, this picture-perfect inn, which serves a breakfast to die for, will make your visit a memorable one.
OKLAHOMA: Montford Inn in Norman
Brimming with character, the cozy Montford Inn in Norman makes a breakfast that helps make any morning easier to wake up to. "The breakfast was first class dining! So delicious!" Tip: The Montford Inn has a Tesla charging station on-site, which may come in handy for those who drive electric.
OREGON: A' Tuscan Estate Bed and Breakfast in McMinnville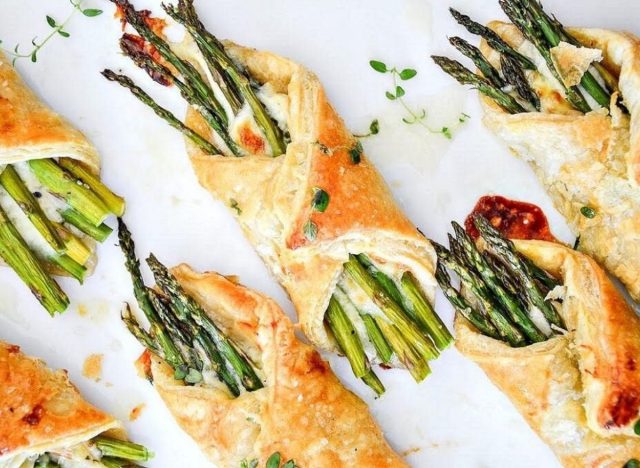 One reviewer was so ecstatic about their stay at A' Tuscan Estate Bed and Breakfast that they likened it to winning the lottery. And we can understand why—their breakfasts alone are worth the trip out. "Where do we start??? AMAZING!" they excitedly posted, "We booked a trip knowing nothing about the area and feel like we hit the jackpot!!!" Breakfasts here, which can be delivered to your room or enjoyed in the main dining room, may include exciting entrees such as Caprese baked eggs or a crustless quiche with sautéed mushrooms and Swiss.
PENNSYLVANIA: Rocky Acre Farm Bed and Breakfast in Mount Joy
Soak up the idyllic Pennsylvania countryside at Rocky Acre Farm Bed and Breakfast, the historic Lancaster inn that once served as part of the Underground Railroad. Each morning breakfast is served in the main house and may include tasty recipes such as Farmer's Quiche, apple crisp, and baked oatmeal.
RHODE ISLAND: Francis Malbone House Inn in Newport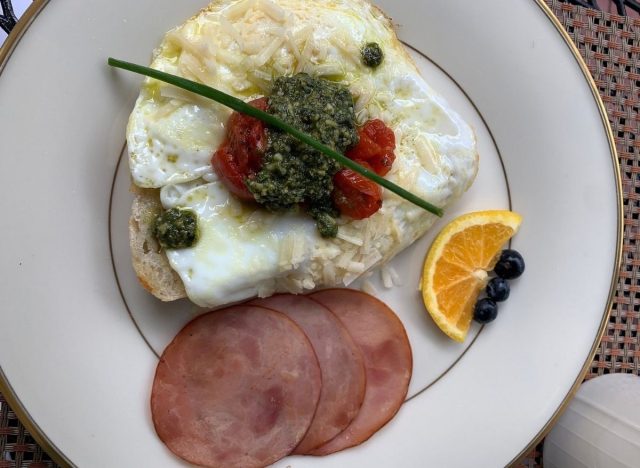 Not only does the Francis Malbone House Inn in beautiful Newport serve a breakfast that eclipses all others, but they also offer an afternoon tea that checks off all the boxes. "Breakfast was beyond delicious, truly satisfying," one reviewer posted, "Afternoon tea was practically a meal itself and impossible to resist—but most of all, the staff made us feel so warmly welcomed throughout our entire stay."
SOUTH CAROLINA: Two Meeting Street Inn in Charleston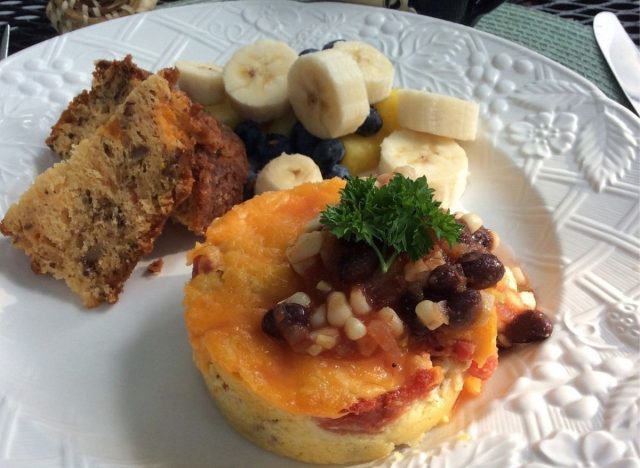 Breakfast is always an exciting time at the incredibly gorgeous Two Meeting Street Inn, a Charleston bed and breakfast that features a wraparound porch, beautifully appointed gardens, and a breakfast menu you will not soon forget. Their Southern-style breakfasts, which are served in the main dining room, include some of their signature dishes, such as Lowcountry Sausage Wellington and Creme Brulee French Toast. "Each breakfast was more delicious than the next," stated one reviewer.
SOUTH DAKOTA: Peregrine Pointe Bed and Breakfast in Rapid City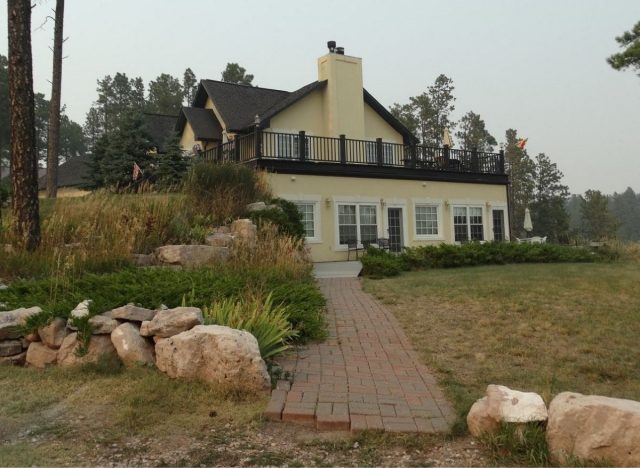 Peregrine Pointe, the welcoming bed and breakfast just minutes outside of Rapid City, offers wonderful amenities, unrivaled sunset views, and a breakfast that will leave you feeling both satisfied and impressed. "The breakfasts were some of the best we've ever had while traveling," explained one reviewer, "You don't leave the table hungry."
TENNESSEE: The Buckhorn Inn in Gatlinburg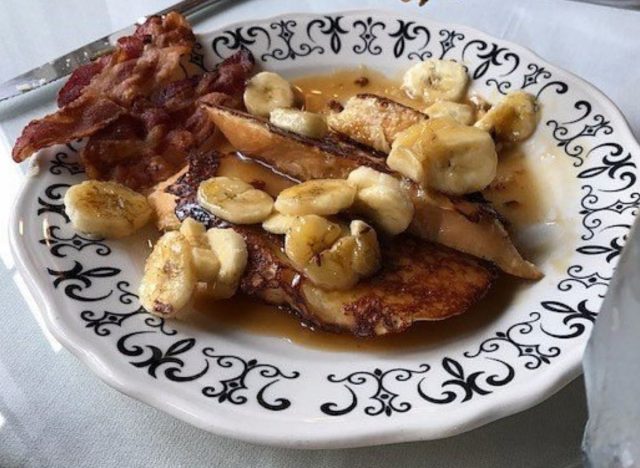 If luxury lodging is your thing then The Buckhorn Inn in Tennessee may become your go-to. Situated near the Great Smoky Mountains, this bed and breakfast not only provides spectacular views but also incredible breakfasts. The best part? Guests can choose their own entree from options such as Bries-stuffed French toast with banana-walnut-maple sauce and huevos rancheros. Dinner is also available to conveniently order on-site. "Dinner and breakfast were AAAAAAAMAZING!! I brought the Inn's cookbook from the gift shop on our way out! We loved everything about the Buckhorn Inn, we'll be back! :)"
TEXAS: Magnolia House Bed and Breakfast in Fredericksburg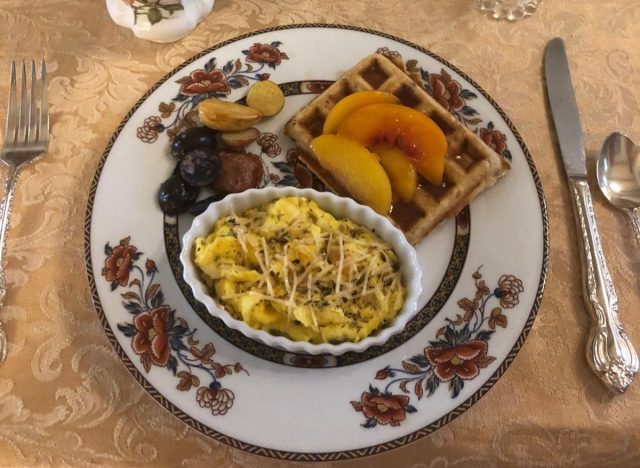 Cinnamon apple coffee cake, sausage, and egg casseroles, baked eggs with herbed goat cheese–these are just some of the breakfast foods served by Magnolia House Bed and Breakfast, the beloved inn that has been welcoming guests for over three decades. Tip: Be sure to check out their Koi pond and waterfall during your stay here also.
UTAH: Red Cliffs Lodge in Moab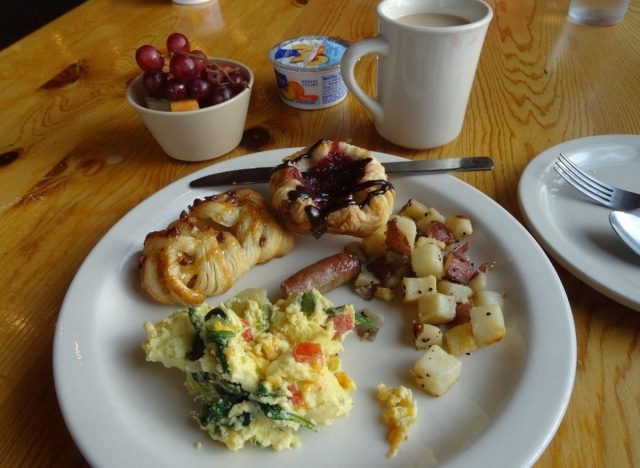 Horseback riding, hiking, 4-wheeling—there is an endless list of activities to do at Red Cliffs Lodge, the popular Utah inn that has garnered over 4,000 reviews on TripAdvisor. The lodge also famously offers an "all-you-can-eat" breakfast buffet, which is filled with so many tasty options, such as sausage, scrambled eggs, cowboy potatoes, fresh fruit, and cereals, that you are guaranteed to find something for everyone.
VERMONT: Willard Street Inn Bed and Breakfast Mansion in Burlington
Willard Street Inn is the Burlington bed and breakfast that is fit for a king or queen. This historic 3-story 1800s mansion offers 14 guest rooms each with its own distinct character. Each morning guests can treat themselves to the inn's chef-prepared food, which may include items such as poached eggs, bananas Foster French toast, and homemade granola with yogurt.
VIRGINIA: Trinkle Mansion Bed and Breakfast in Wytheville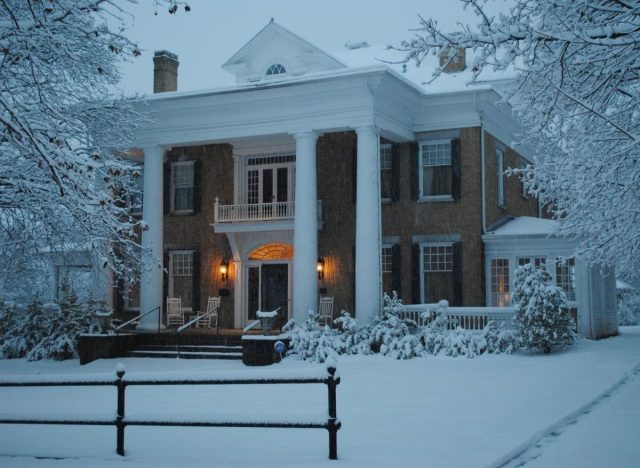 Trinkle Mansion Bed and Breakfast in Wytheville is the definition of classic Southern hospitality. Nestled right in the Blue Ridge Mountains, the historic mansion has been accommodating guests since 2007. In 2019, TripAdvisor even named it the #8 best B&B in the whole country. "A truly magical place. And breakfast was beyond compare. Best B&B ever!" one reviewer wrote.
WASHINGTON: Ravenscroft Inn in Port Townsend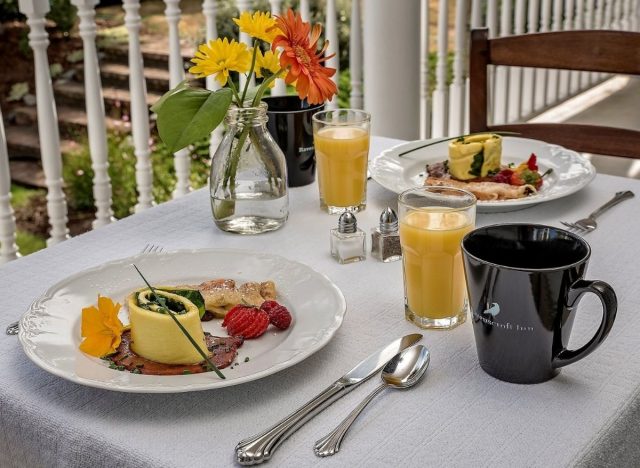 The Ravenscroft Inn's central, yet private, location in Port Townsend's historic district makes it the perfect place for those who are looking to get away but still want to be close to it all. Make sure you fuel up with the inn's popular breakfast, which may include warm pancakes with seasonal fruit or white cheddar quiches, before you head out each day.
WEST VIRGINIA: Carriage Inn Bed and Breakfast in Charles Town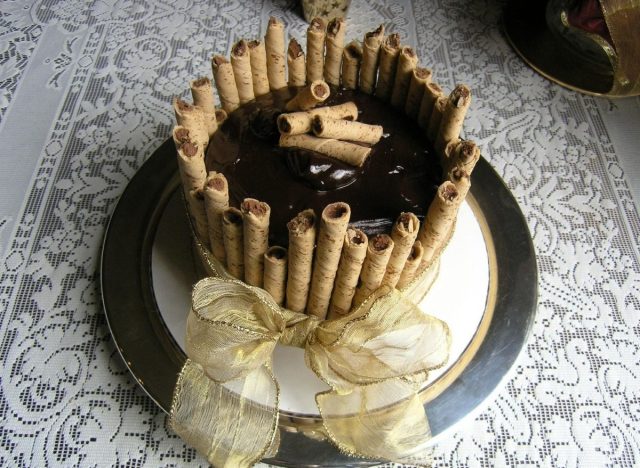 Fancy a room with a jacuzzi and some wingback chairs? Then you better go for the Carriage House Suite. Prefer a seasonal gas fireplace? Then the Garden View Room is your best bet. Located just a little over an hour from Washington D.C., Carriage Inn Bed and Breakfast is the inn that will satisfy all needs. Not to mention it also serves a fabulous breakfast.
WISCONSIN: Seven Oaks Bed and Breakfast in Lake Geneva
Breakfast is done a bit differently over at Seven Oaks Bed and Breakfast, and we love it. For starters, a breakfast basket—full of tasty homemade breakfast foods—is left in each room's refrigerator. "I can't say enough about Seven Oaks!" one reviewer shared, "Their cottages are beautiful, clean, quiet and amazing for a relaxing getaway! We loved the welcome drink upon arrival and the breakfast basket each morning!" Also, if you are a fan of details then you will love Seven Oaks—reviewers rave about their heated bathroom floors and towel racks.
WYOMING: Inn on the Creek in Jackson Hole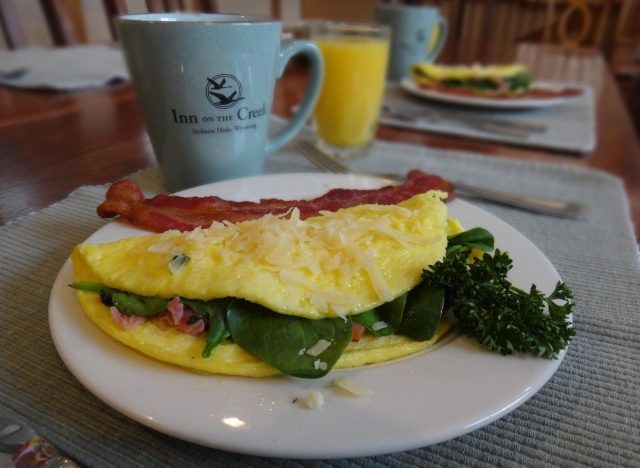 Start your day with breakfast in bed or take it to go during your stay at the Inn on the Creek in Wyoming's iconic Jackson Hole. "The breakfast was delicious," one reviewer mentioned, "They were accommodating if you were leaving early for an activity, they packed breakfast to go for us." Another reviewer also echoed how the inn's accommodations are unparalleled by writing, "Every morning, the staff cooks up true HOMEMADE and gourmet breakfast which changes every day. If you do not like what's on the day's menu, they will whip you up something different."
If you're looking for the healthiest place to stay, don't miss The Best Hotels With the Healthiest Food In Every State.