The Best Picnic Spot in Every State
These scenic spots are the perfect backdrops for a delicious meal.
After months and months of being cooped up in the house, the time has come to head outside. There is nothing like packing a lunch and heading to the closest picnic area. Being outside is OK to do, as we continue to navigate life during this pandemic—just do your best to still practice social distancing! Plus, spending time in the outdoors can do wonders for your mental health.
So help you find the ideal location, we rounded up the best picnic spot in every state. This way, you can can plan a day outdoors, the right way. If you're not sure what exactly to pack, go ahead and start with any of The 7 Healthiest Foods to Eat Right Now.
ALABAMA: DeSoto State Park in Fort Payne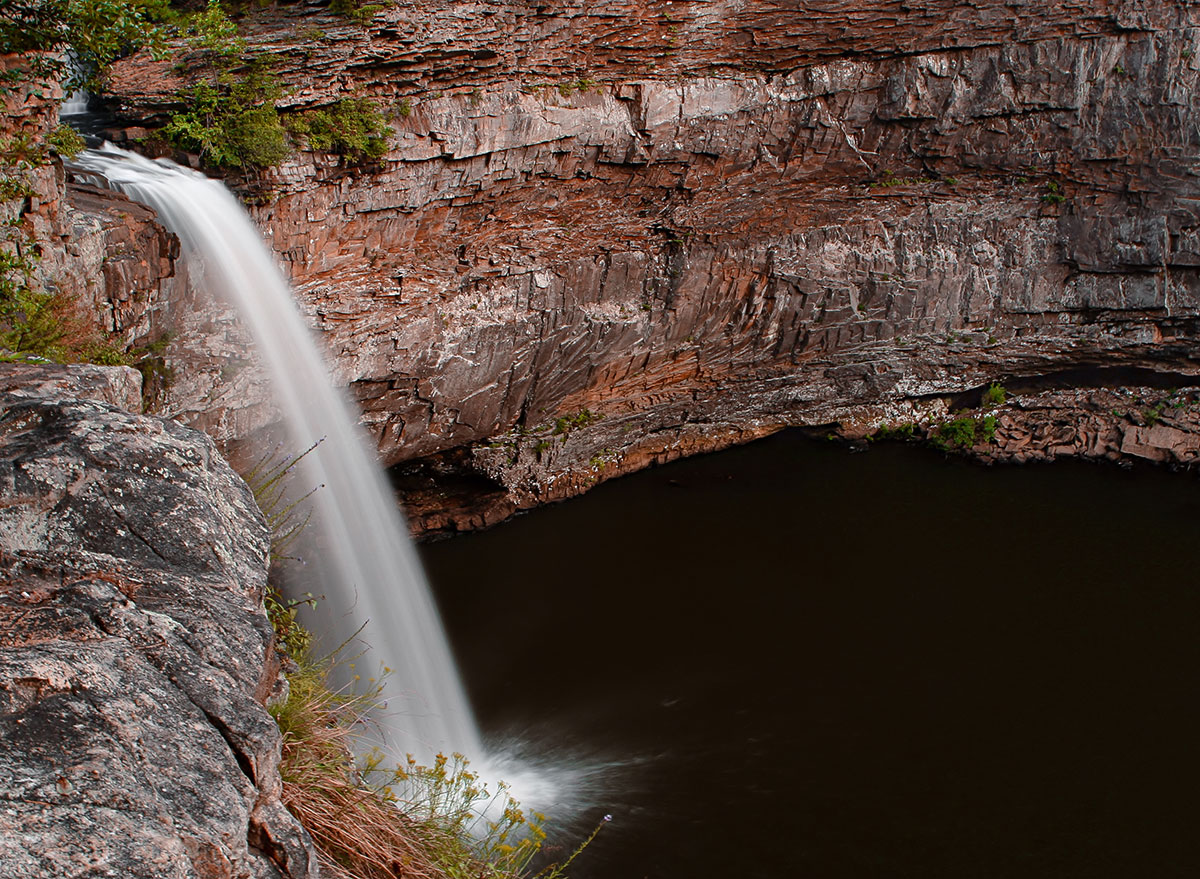 Just a few hundred yards from the DeSoto State Park parking lot, visitors can enjoy grills and picnic tables. Be sure to take the 50 steps down to the park's waterfall overlook to view the 107-foot waterfall. There is also a small boat ramp and availability of fishing, swimming, and boating.
ALASKA: Denali Viewpoint South in Trapper Creek
Denali Viewpoint South offers ADA-accessible bathrooms and facilities for a panoramic view for everyone. The incredible view of the mountain's craggy top, sometimes circled by clouds, is one of the best available of America's highest peak. Alaska's weather can be severe, so the best time to visit this park is between May and October.
And for more ideas, don't miss The Best Breakfast in Every State.
ARIZONA: Encanto Park in Phoenix
In the middle of the city of Phoenix lies Encanto Park, a lush oasis of green that was built in 1935 by altruistic millionaire William G. Hartranft, head of the city's Parks and Recreation Department. The construction included tennis courts, a golf course, playground, archery facilities, and a bandshell. The picnic areas flank nature trails for some fresh desert air.
ARKANSAS: Pinnacle Mountain State Park in Little Rock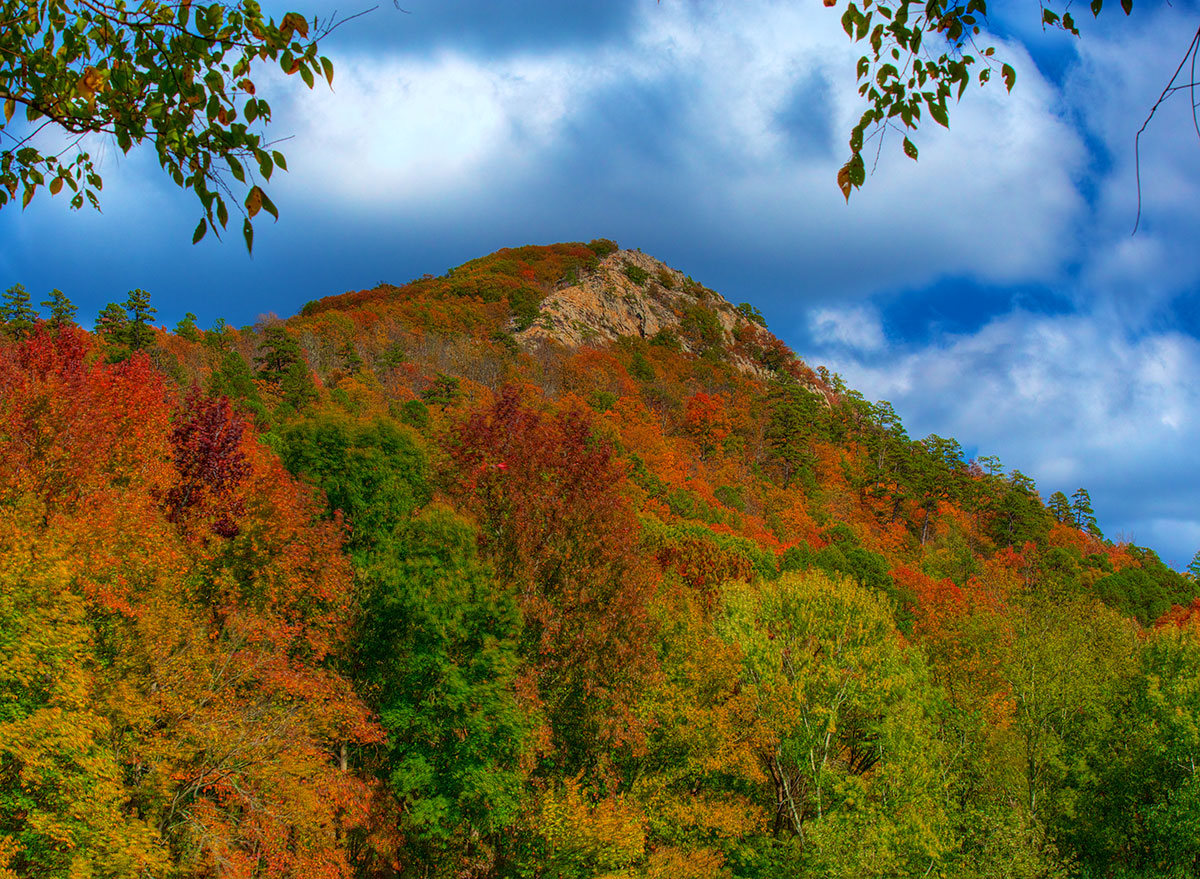 Close to the town of Little Rock, Pinnacle Mountain State Park not only has a picnic area, but it also has a pavilion and a scenic overlook that can be rented for short times. The site offers access to 15 miles of trails to explore and the Arkansas Arboretum with a 6-mile, barrier-free trail showcasing the flora and fauna of the region.
CALIFORNIA: Picnic Beach at Heisler Park in Laguna Beach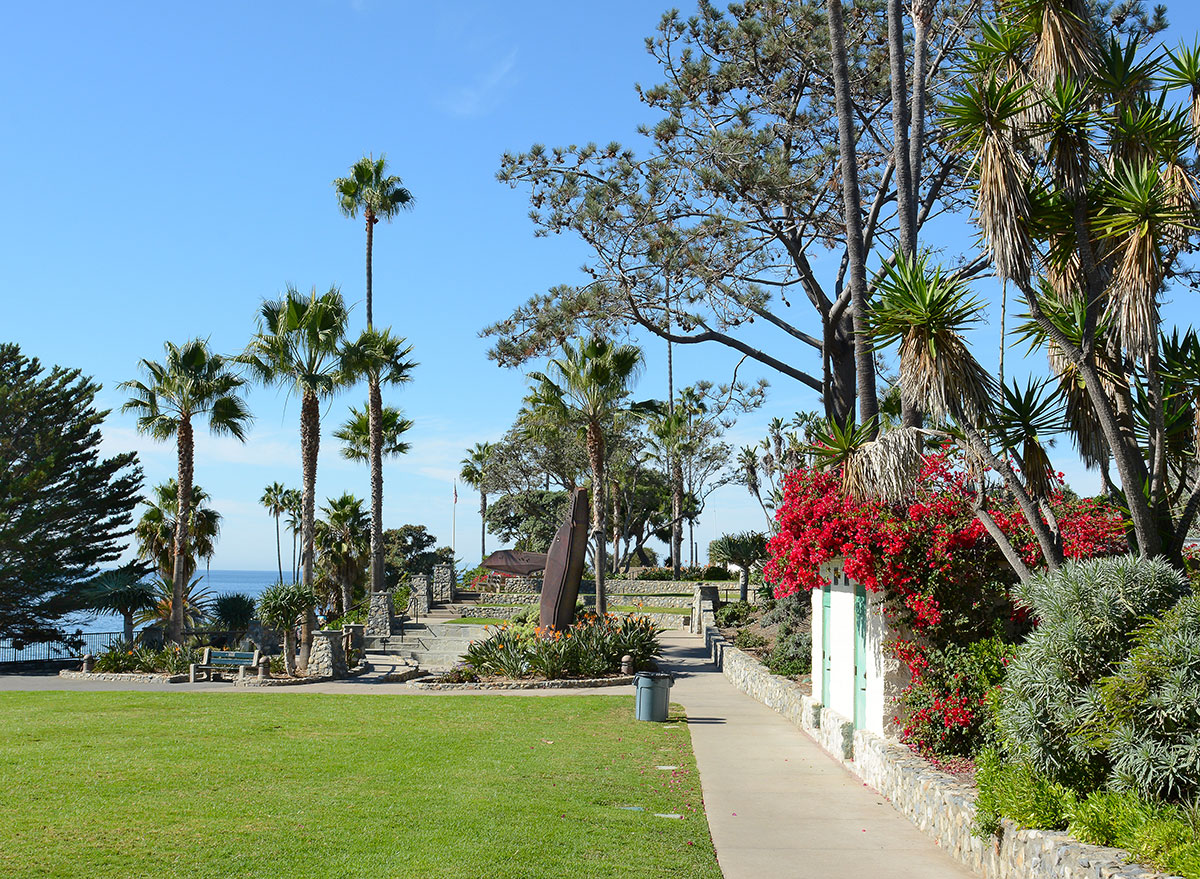 When you think of California, you probably think about the beaches. Where would it be better in the state to have a picnic than at a beach named Picnic Beach? There are picnic tables and plenty of grass to spread out a blanket if you don't want to picnic on the sand. When it's low tide, small pools dot the area, giving visitors time to view the creatures that are trapped until the water comes in again.
COLORADO: John Denver Sanctuary in Aspen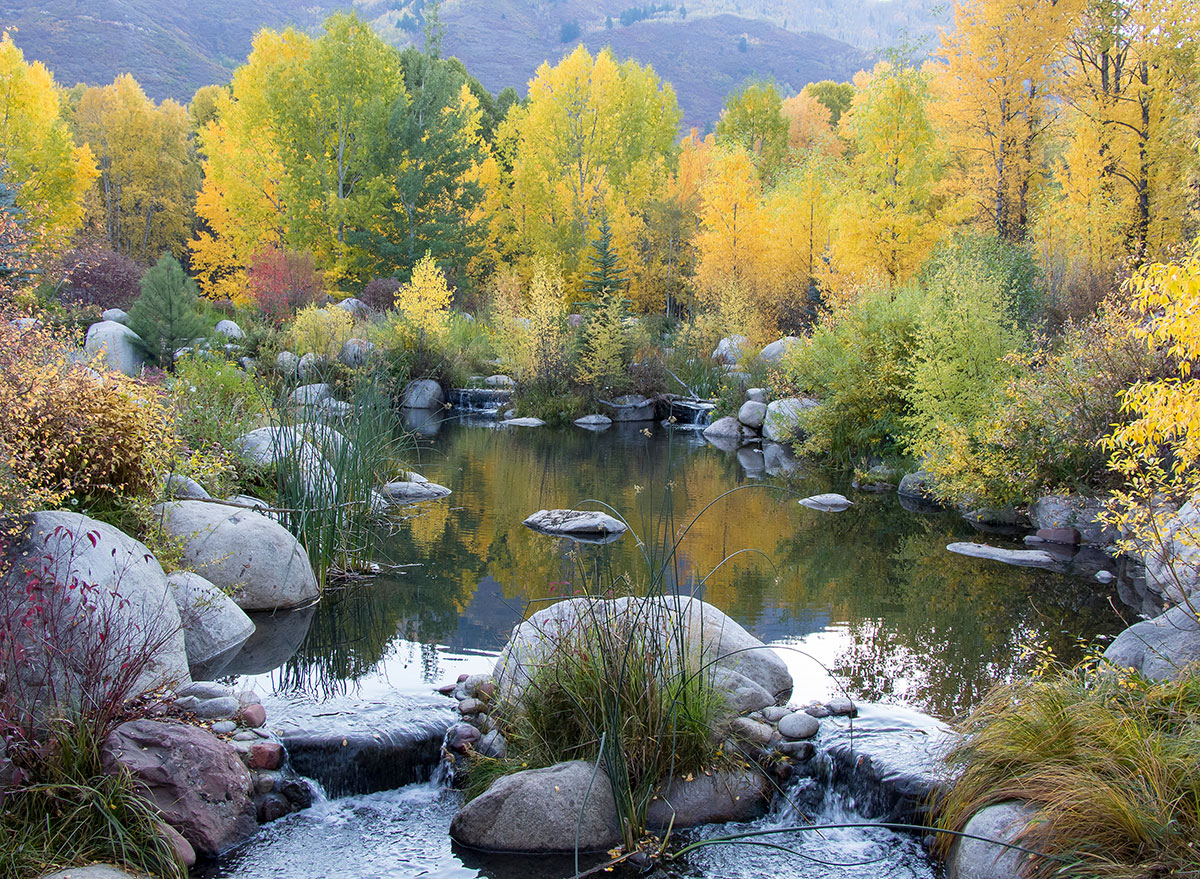 The stone garden at John Denver Sanctuary has engraved lyrics from the late singer, and a single spruce tree is planted in the middle of the garden to memorialize him. But the sanctuary is far from a melancholy place. It's functional in all of its incredible beauty, serving as a stormwater filtering system before it returns to the Roaring Forks River. A beautiful tribute to an environmentalist and lover of Colorado, the gardens make a gorgeous spot to eat and meditate.
CONNECTICUT: The Stonington Lighthouse Museum in Stonington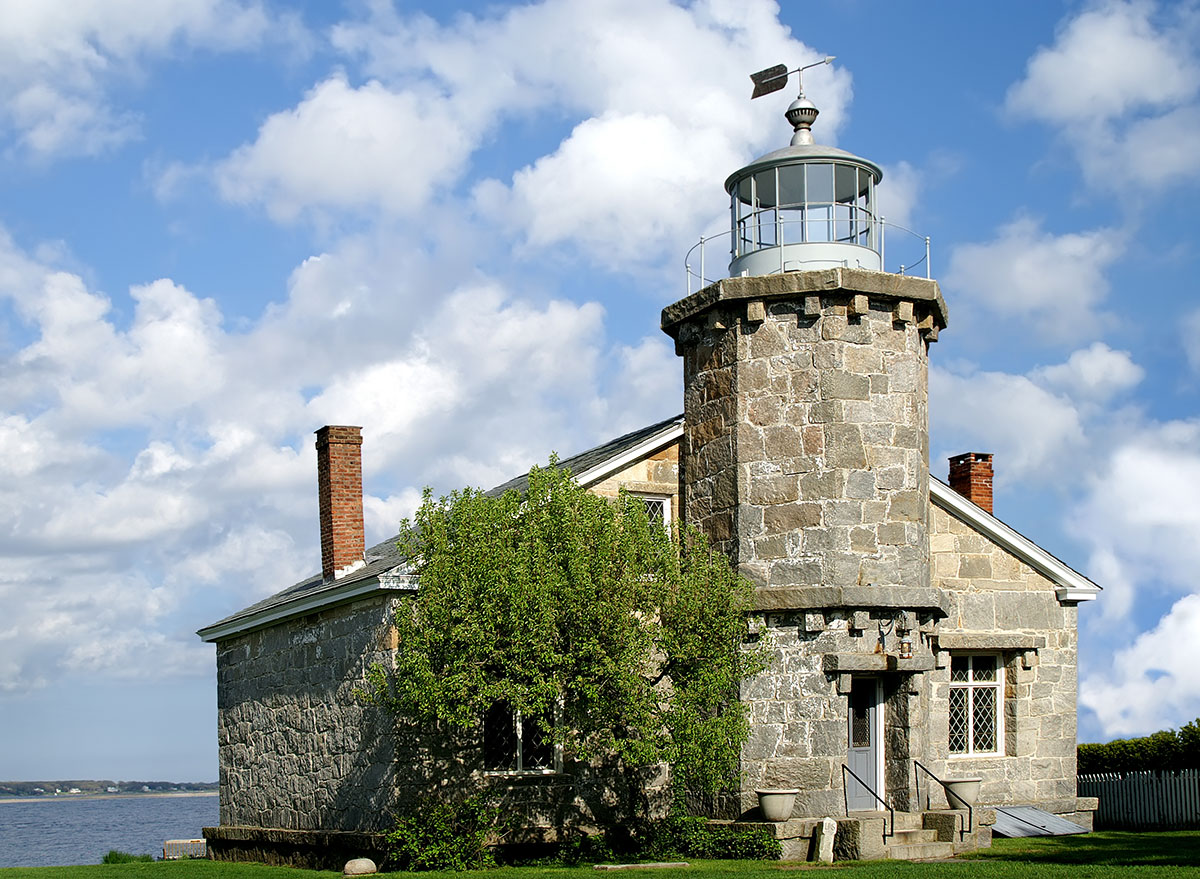 While the museum inside of the historic lighthouse is closed, visitors to the Stonington Lighthouse Museum can still enjoy picnics on the grassy grounds overlooking the Little Narragansett Bay. The lighthouse is expected to open later this month, allowing people to get a bird's eye view of three states.
And for more inspiration, don't miss The Best Summer Food in Every State.
DELAWARE: Lums Pond State Park in Bear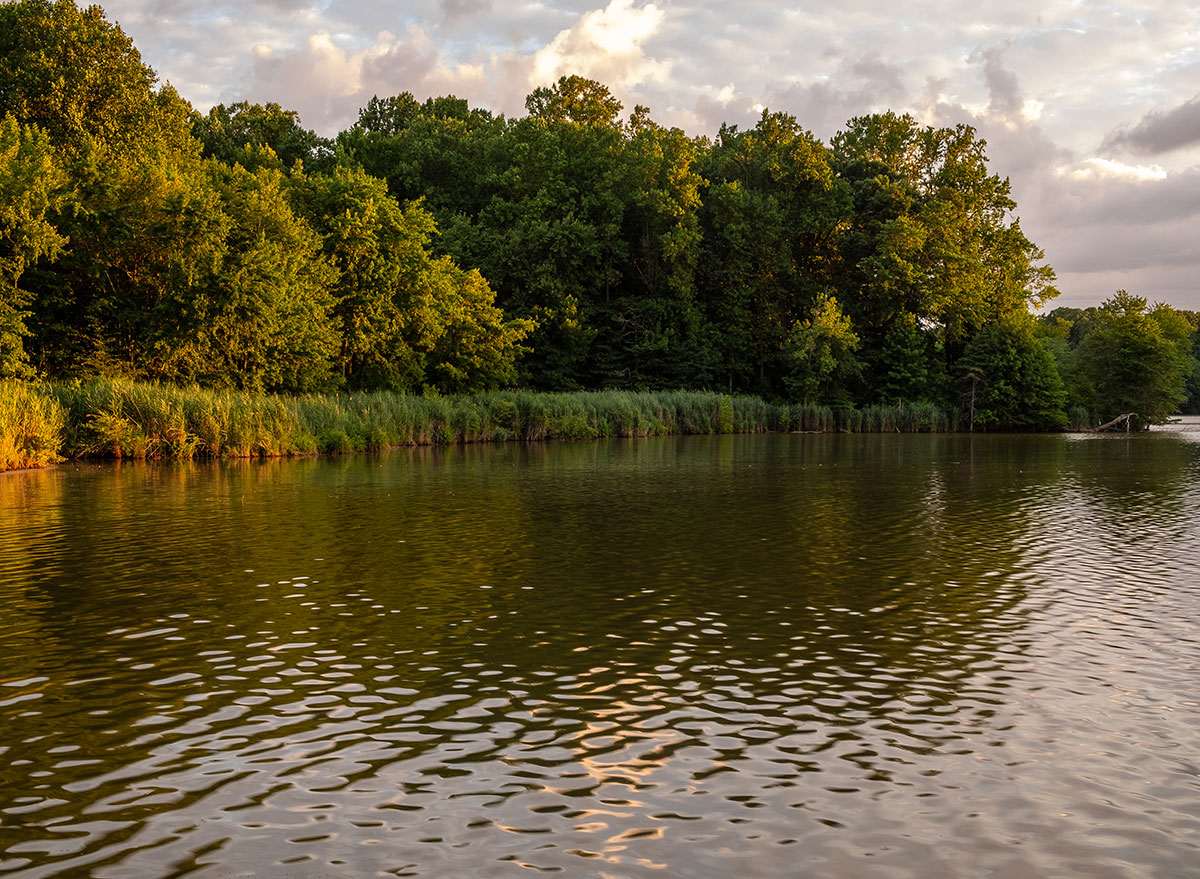 Lums Pond State Park is a great place for camping and fishing, but it's also the perfect spot for a picnic in the summer or fall. Just look at that foliage!
FLORIDA: Bahia Honda State Park in Big Pine Key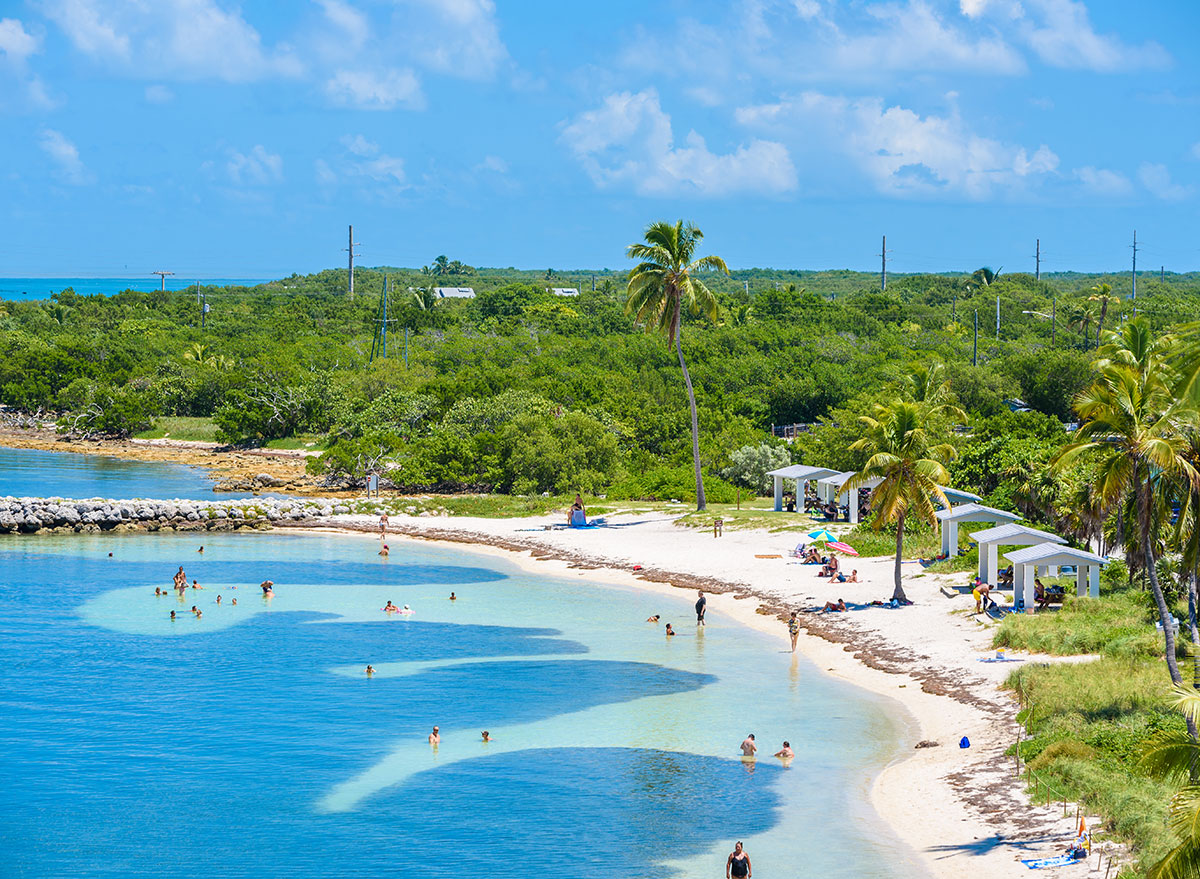 Bahia Honda State Park is a breath of the tropics without leaving the United States. There are sheltered picnic areas right by the white-sand beach, complete with charcoal grills. Make some burgers and then take time to snorkel and view the fish and wildlife in the seaweed.
And if you're ordering takeout, here's The Absolute Best Burger in Every State.
GEORGIA: Forsyth Park in Savannah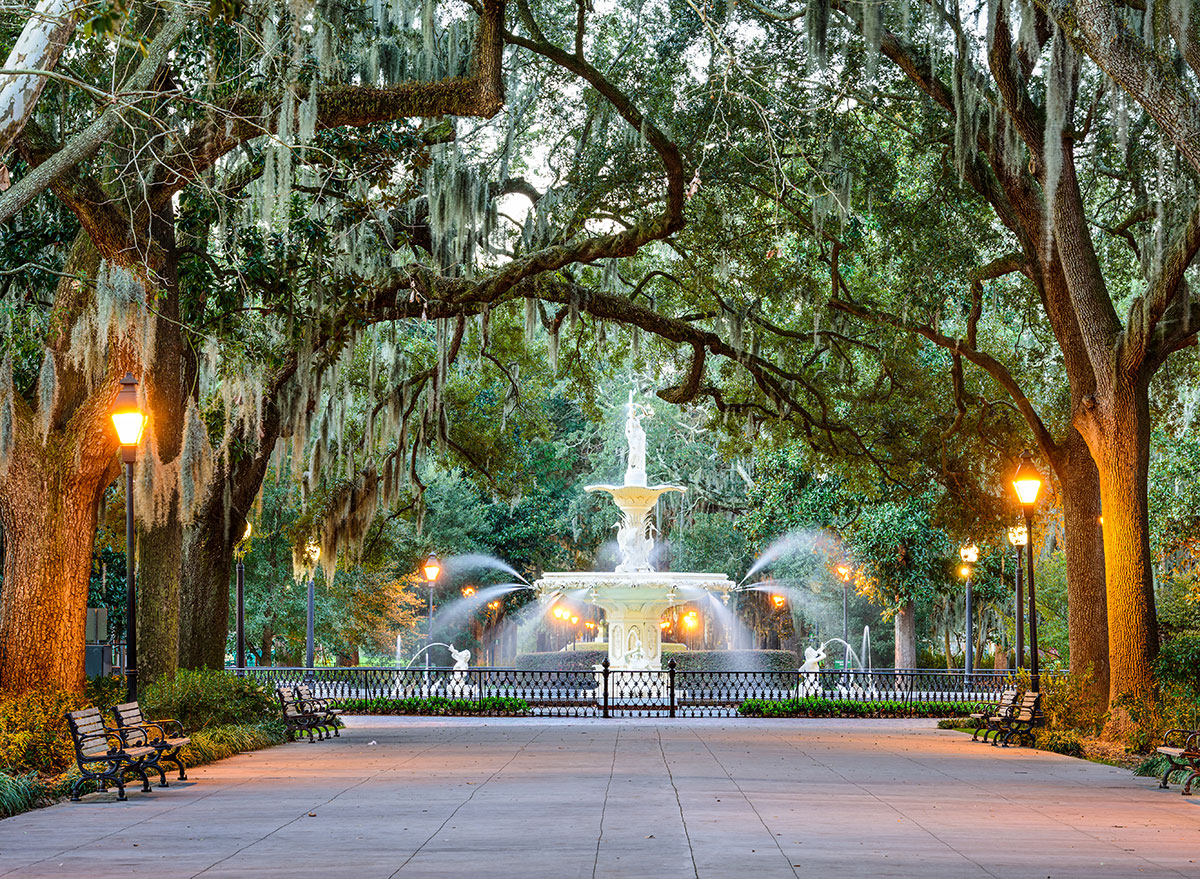 One of the most idyllic spots in the historic city of Savannah, Forsyth Park, is graced by a beautiful white fountain, one of the most photographed places in the city. The expansive green lawn offers many spots to picnic in the sun or under the shade of live oaks. There is a fragrant garden for the blind, a playground and amphitheater for live music, and a restaurant if you don't bring enough food. Look for special events like yoga in the park or festivals.
HAWAII: Seven Sacred Pools in Maui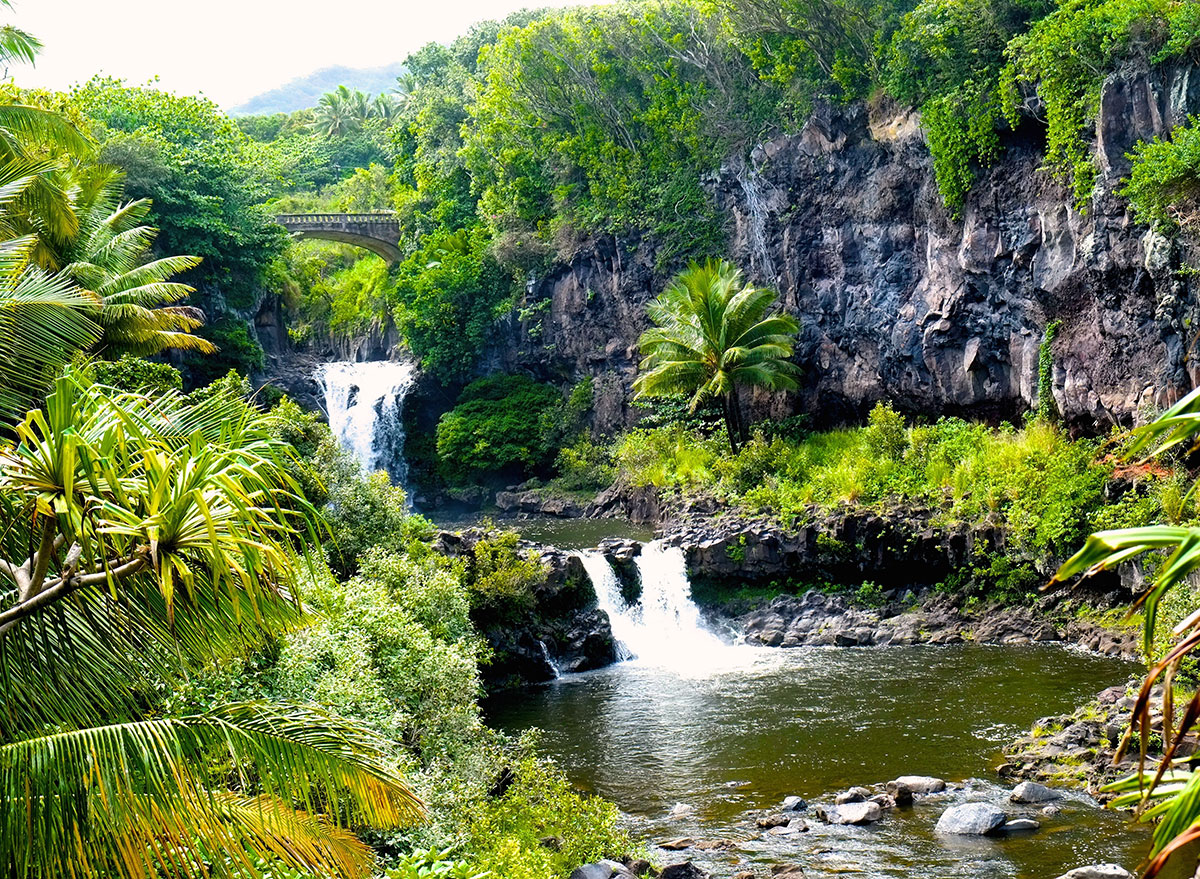 Nestled inside Haleakala National Park, these seven waterfalls spill down into the North Pacific ocean, giving visitors a chance to see one of nature's most beautiful water features. Take the Pipiwai Trail for an easy hike through the bamboo forest for a chance, weather permitting, to swim in the lower pools. The shores offer some of the most idyllic picnic spots in the United States.
IDAHO: Sawtooth National Recreation Area in Stanley
Located on the shores of Redfish Lake, there are plenty of picnic facilities available right by the water with a view of the Sawtooth Mountains. When you're finished eating, fish for rainbow trout and Kokanee salmon, or take a swim in the cool water.
ILLINOIS: Schiller Woods in Schiller Park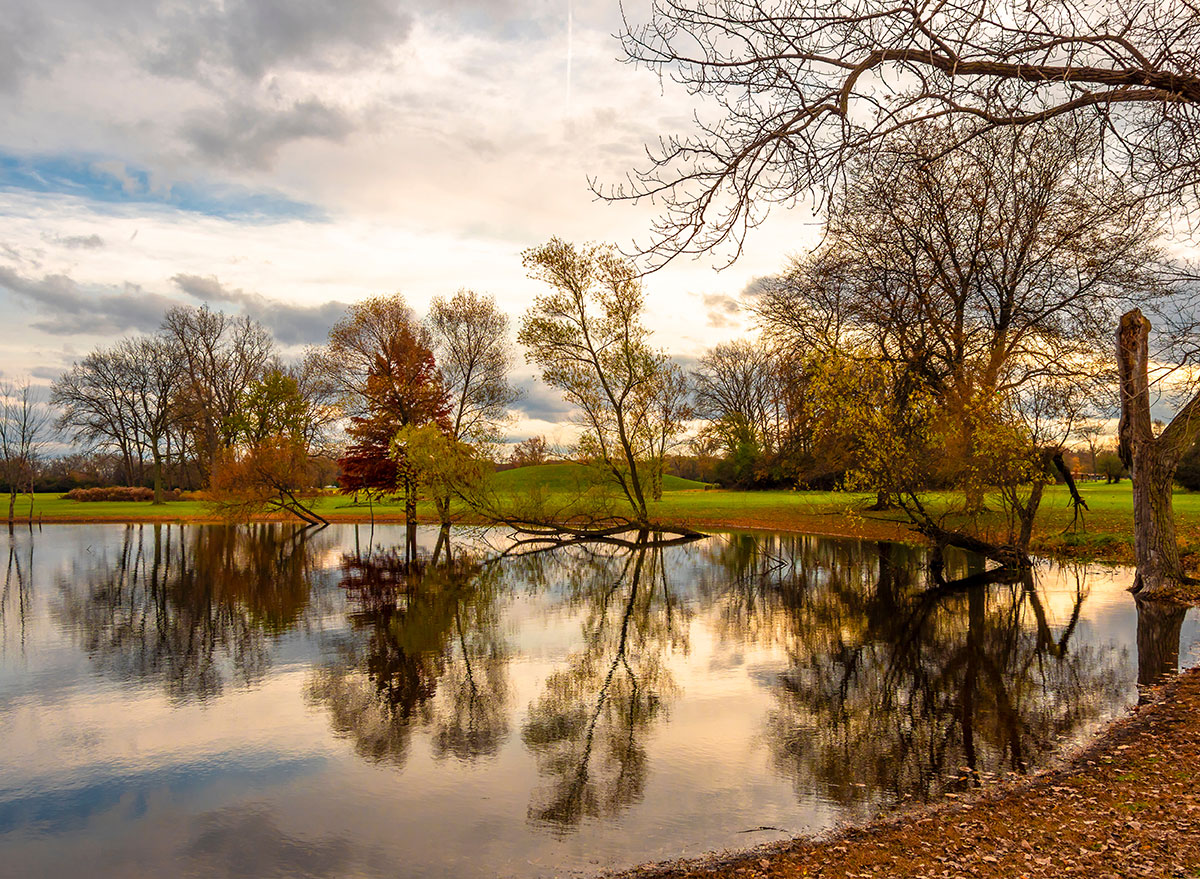 With covered picnic facilities, hiking, walking, and skiing trails, there's plenty to do at Schiller Woods. The best picnic spot is by Schiller Woods Pond. Spread a blanket to enjoy the tree cover and see the whitetail deer roaming through the woods. Relaxing and beautiful, this preserve offers a gorgeous spot for a meal.
INDIANA: White River State Park in Indianapolis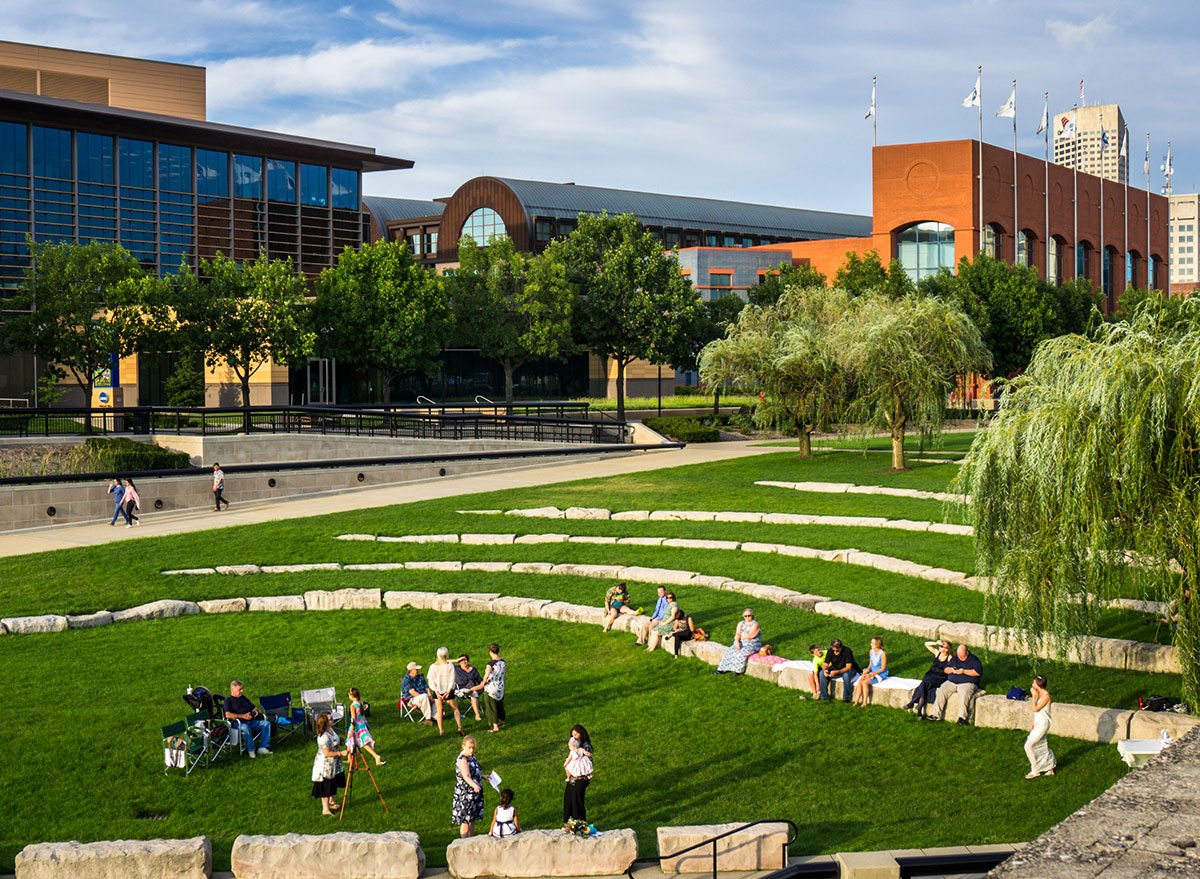 Besides having tons of attractions, White River State Park has beautiful, peaceful green spaces for an enjoyable picnic. There are lawns, pavilions, amphitheaters, mazes, and even a waterfront. There's a little of everything to choose between in this urban oasis.
IOWA: Pappajohn Sculpture Park in Des Moines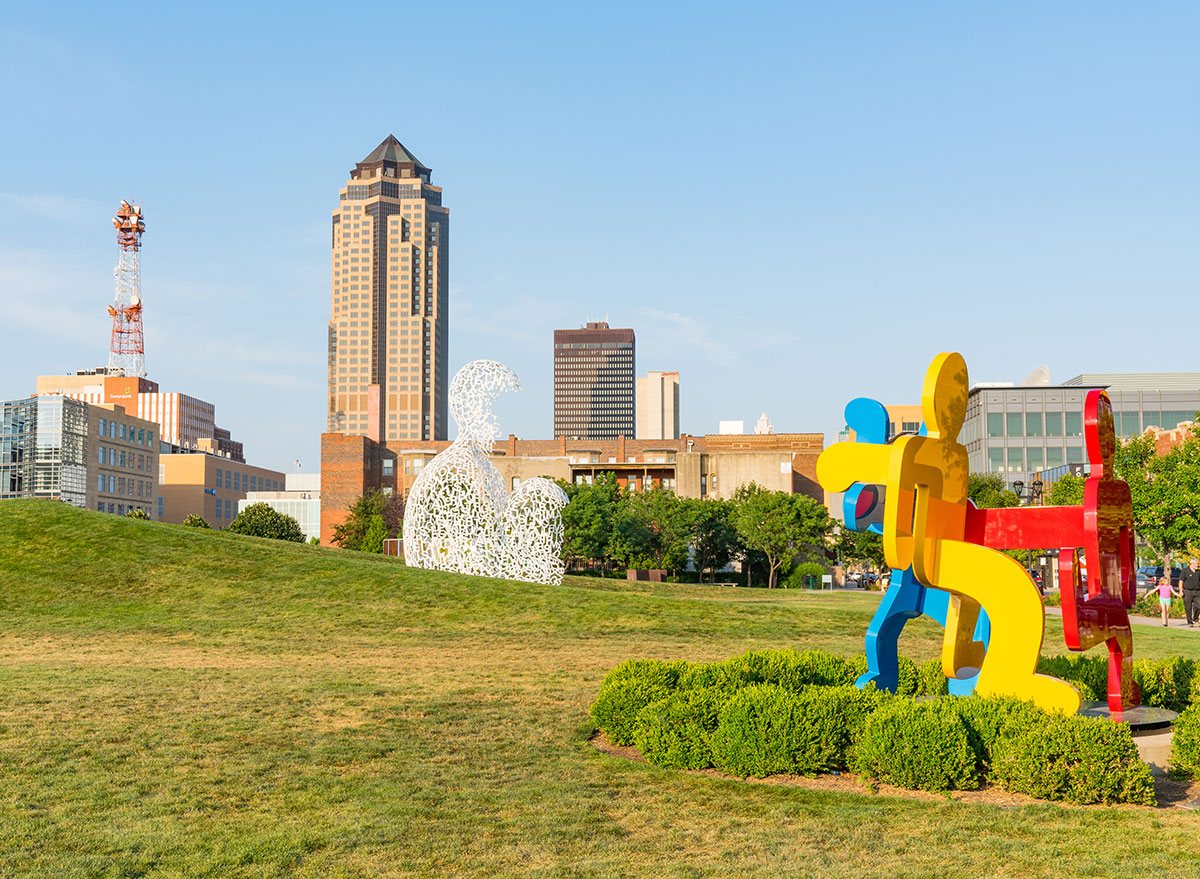 If art is your thing, then you'll love Pappajohn Sculpture Park, which is filled with work from more than 20 of the world's most famous sculptures. There is plenty of information available online to help visitors learn and interact with the pieces. A picnic among the art may be just the thing to get the creative juices flowing!
KANSAS: Boulevard Drive-In in Kansas City
How about a picnic and a movie? Kansas City is home to the world's first 4k drive-in. Throw a blanket on the ground or even on the tailgate or hood of your car and enjoy all kinds of blockbuster entertainment.6254a4d1642c605c54bf1cab17d50f1e
KENTUCKY: Kingdom Come State Park in Cumberland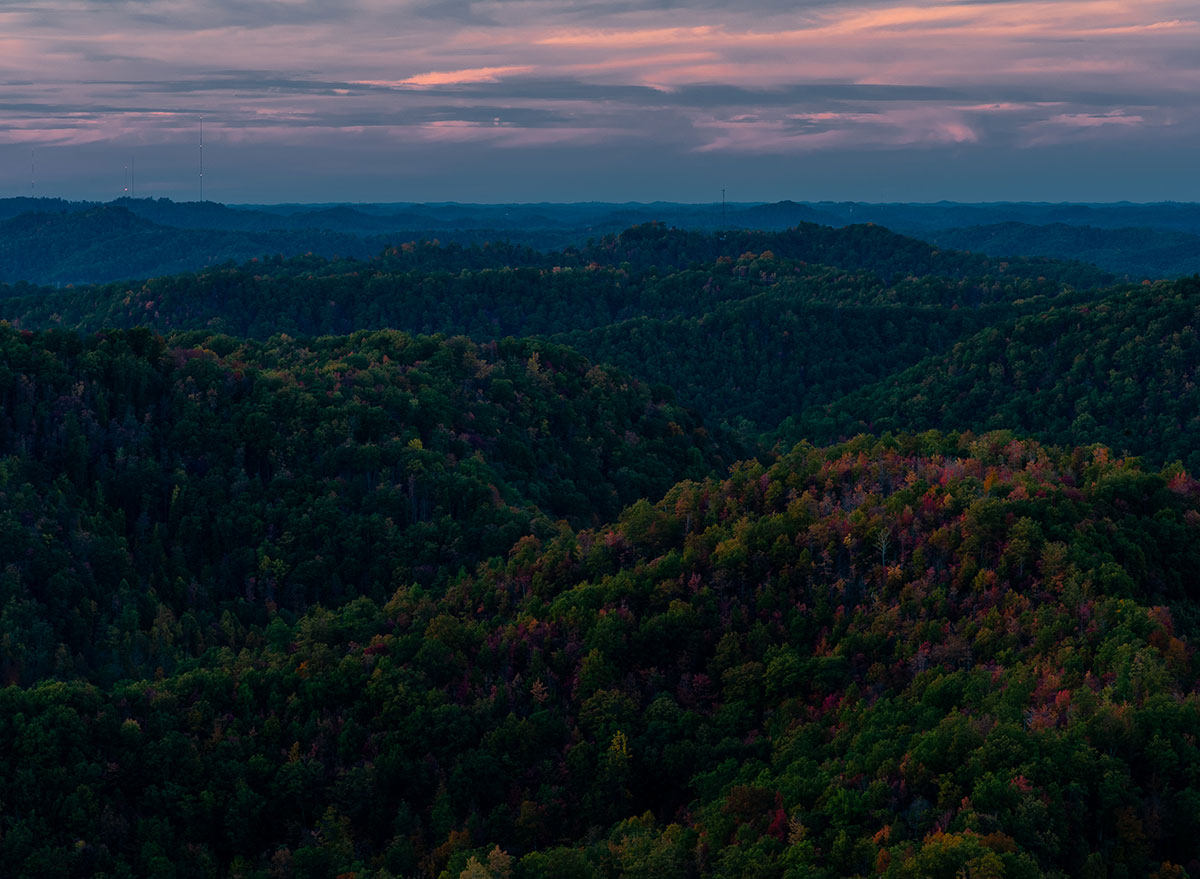 There are eight overlooks at Kingdom Come State Park, making the most of the views of Pine Mountain. The picnic shelters in the park have restrooms and stone fireplace grills and can be reserved through the website. Several unique rock formations make lovely picnic places as well.
LOUISIANA: Big Lake in City Park in New Orleans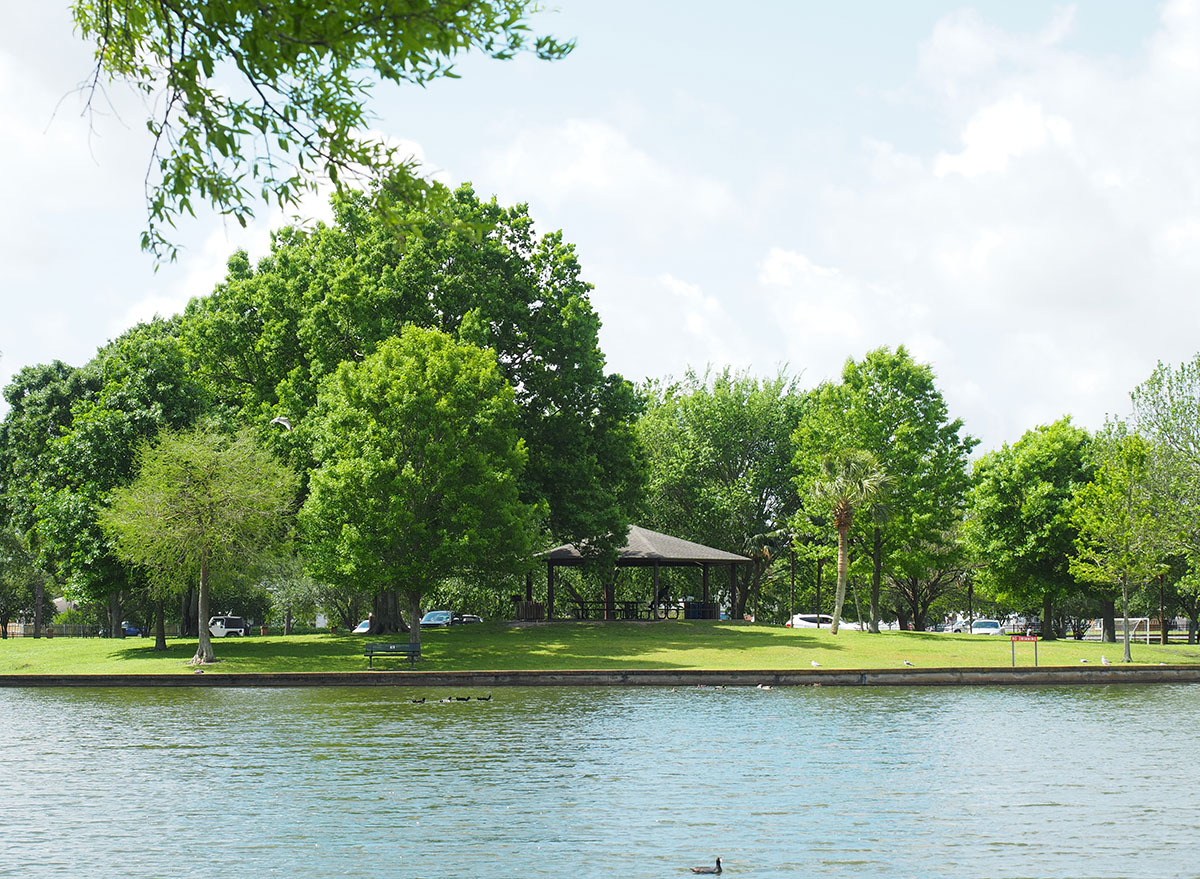 Proof positive that music is everywhere in NOLA, Big Lake has the "singing oak," a tree strung with pentatonic wind chimes. One of the chimes is 14 feet long! Around the lake, there's wildlife, peaceful green space, and even a sculptural garden.
MAINE: Giant's Stairs Trail in Harpswell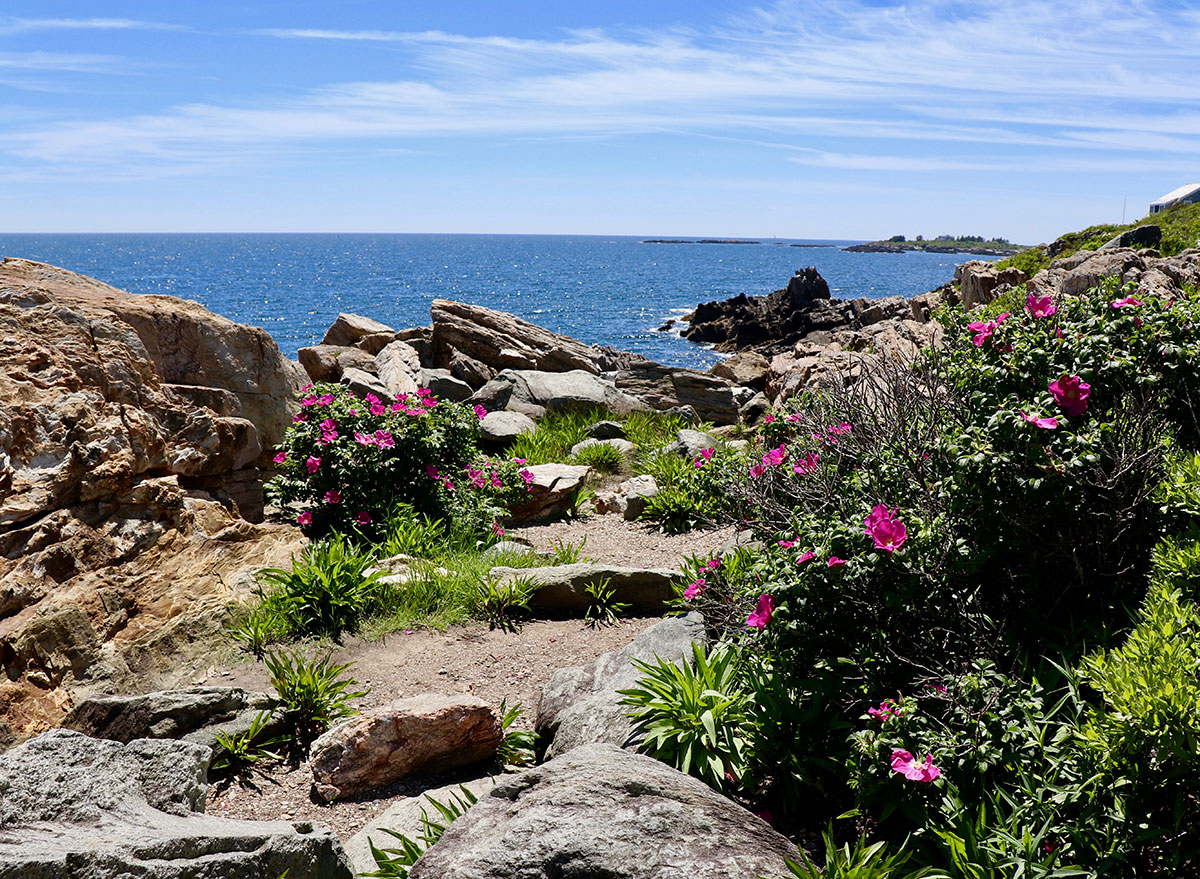 On the rugged coastline, the short walk to the Giant's Stairs is challenging but worth the view. Picnickers can find a spot within sight of the crashing waves or directly on the rocky beach. Parking is limited, so it's best to get there early for a sunrise view.
MARYLAND: Assateague Island in Berlin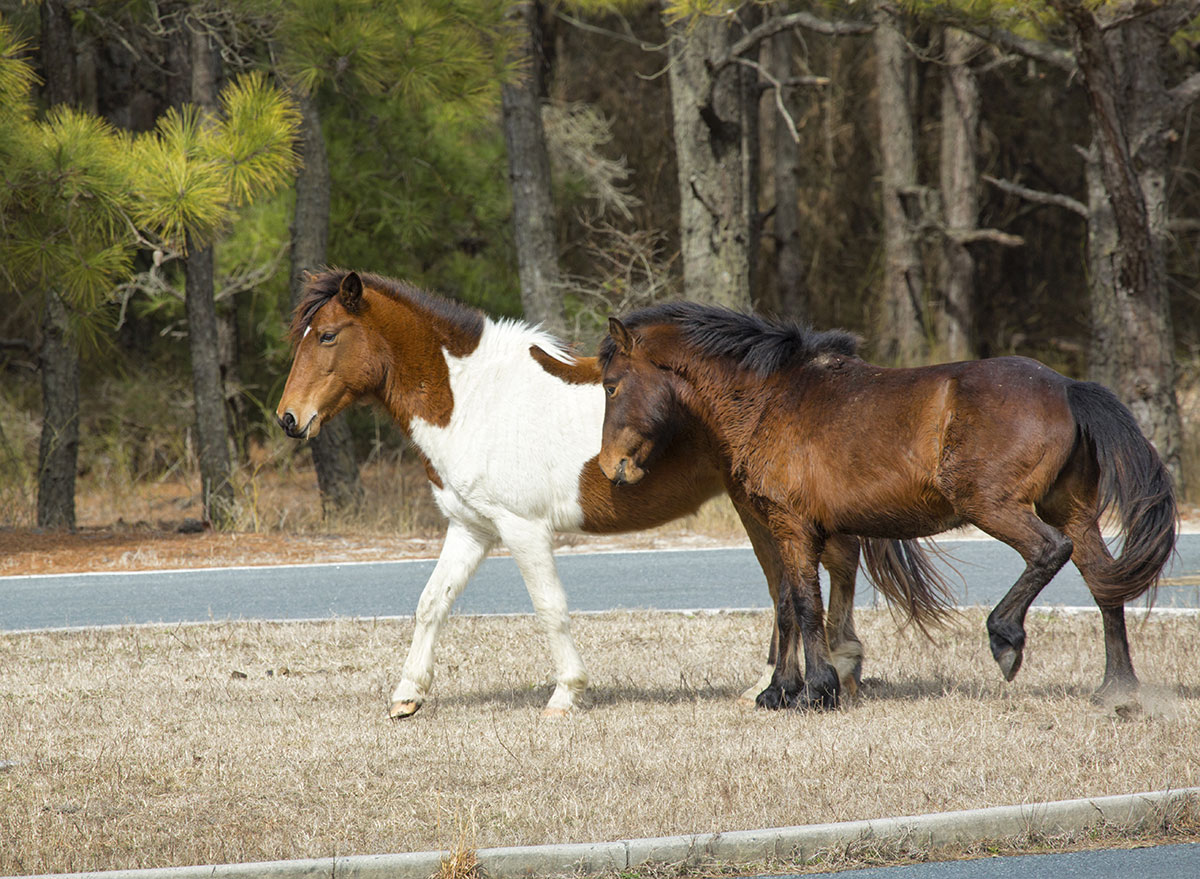 There are wild horses on the beaches of Assateague Island, as described by Marguerite Henry in Misty of Chincoteague. What could be a better view for nature lovers while they enjoy a picnic on the sand? To add to the beach, there are areas of forest and salt marsh. Be sure to plan enough time to see the wild horse herd in their natural splendor.
MASSACHUSETTS: Cape Cod Lavender Farm in Harwich
Cape Cod Lavender Farm is set in the middle of 75 acres of conservation land, making it a peaceful, stress-relieving paradise for a picnic. The best time to visit this family farm is from June to mid-July when the lavender is at the peak of its harvest. There is also an enchanted garden with hidden faerie houses and a miniature replica of a castle to explore.
And if you're worried, here are The COVID-19 Cases in Every State—Ranked From Least to Most.
MICHIGAN: Belle Isle Park in Detroit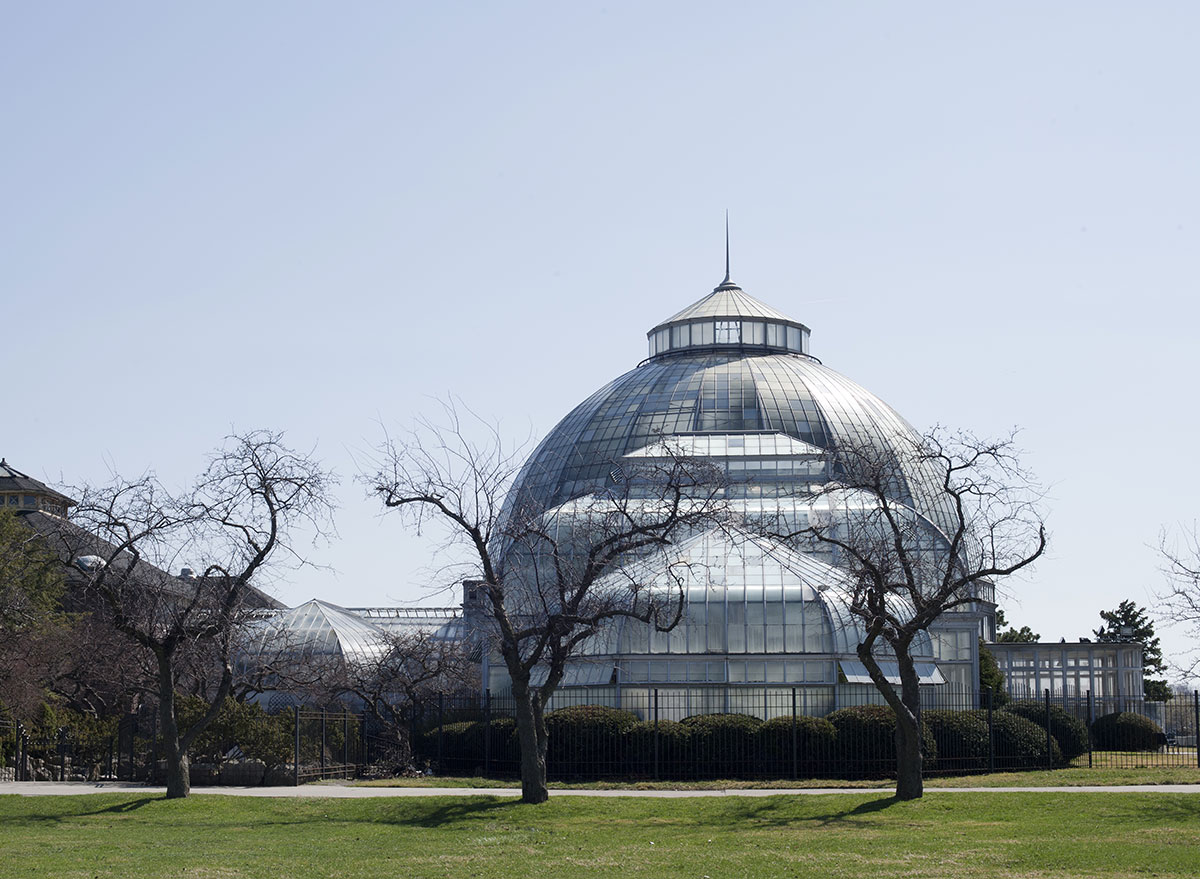 Belle Isle Park is 982 acres and is worthy of its nickname, the "jewel of Detroit." The island was designed by Frederick Law Olmstead, known as the founder of American landscape architecture. There are plenty of naturally beautiful places for a picnic, making this a must-see place in Motor City.
MINNESOTA: Aamodt's Apple Farm in Stillwater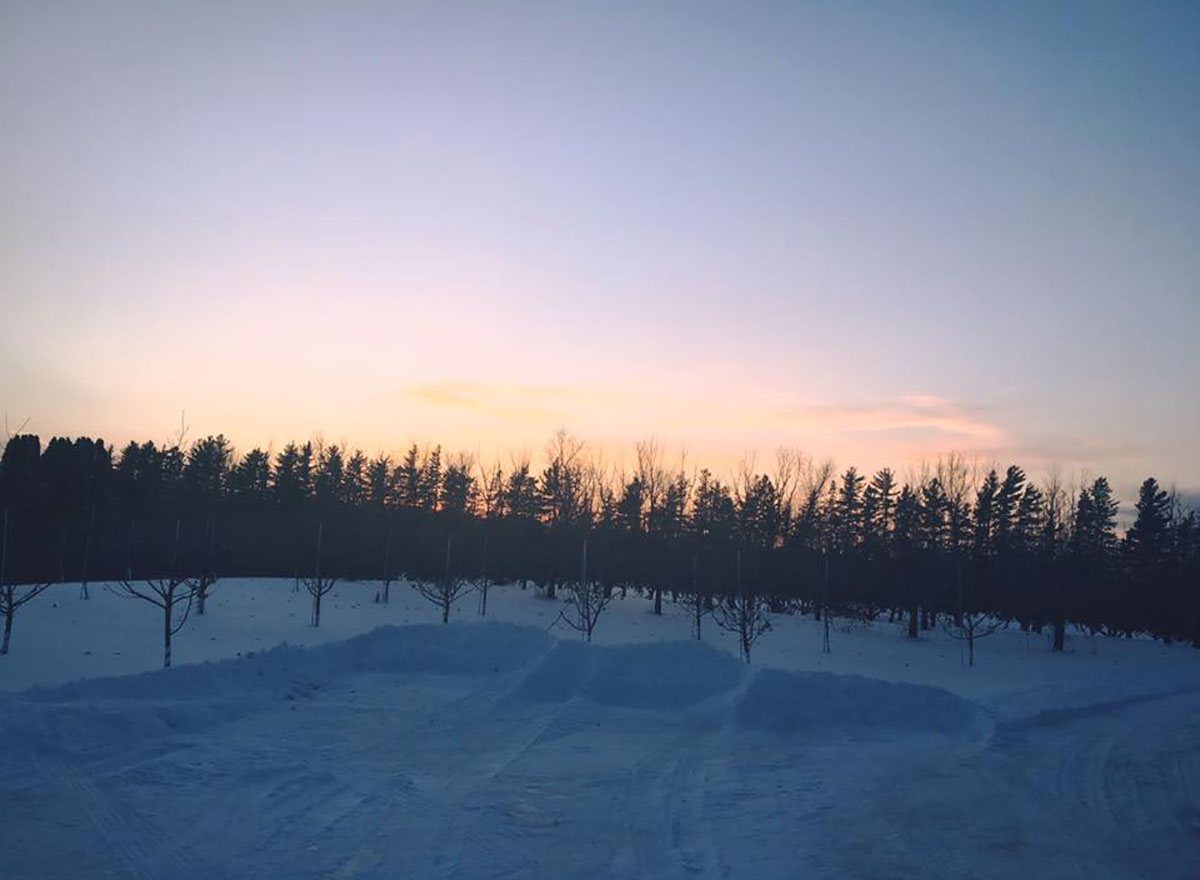 A picnic in an apple orchard sounds like a great idea. It is, especially if you can pick apples and taste wine from a neighboring artisan vineyard. The grapes used to produce wine for the Saint Croix Vineyard are planted among the apples. There is plenty of room to find a spot to eat, with 50 acres available to explore and over 6000 apple trees.
MISSISSIPPI: Jeff Busby Park in Natchez Trace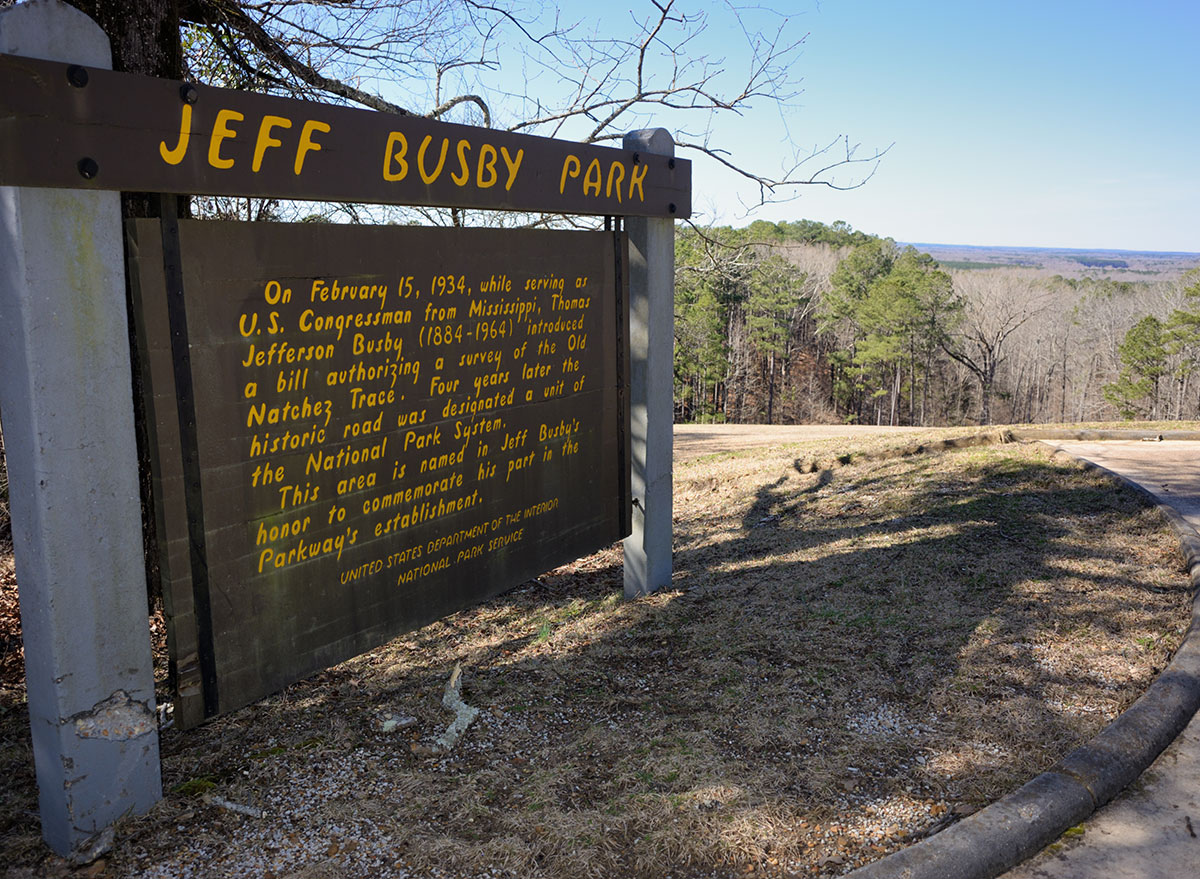 Jeff Busby Park has plentiful picnic tables, but the 1.6-mile trail on the top of Little Mountain has the best views. When the weather cooperates, visitors can see for about 20 miles after walking through the wildflowers.
MISSOURI: Hawn State Park in Genevieve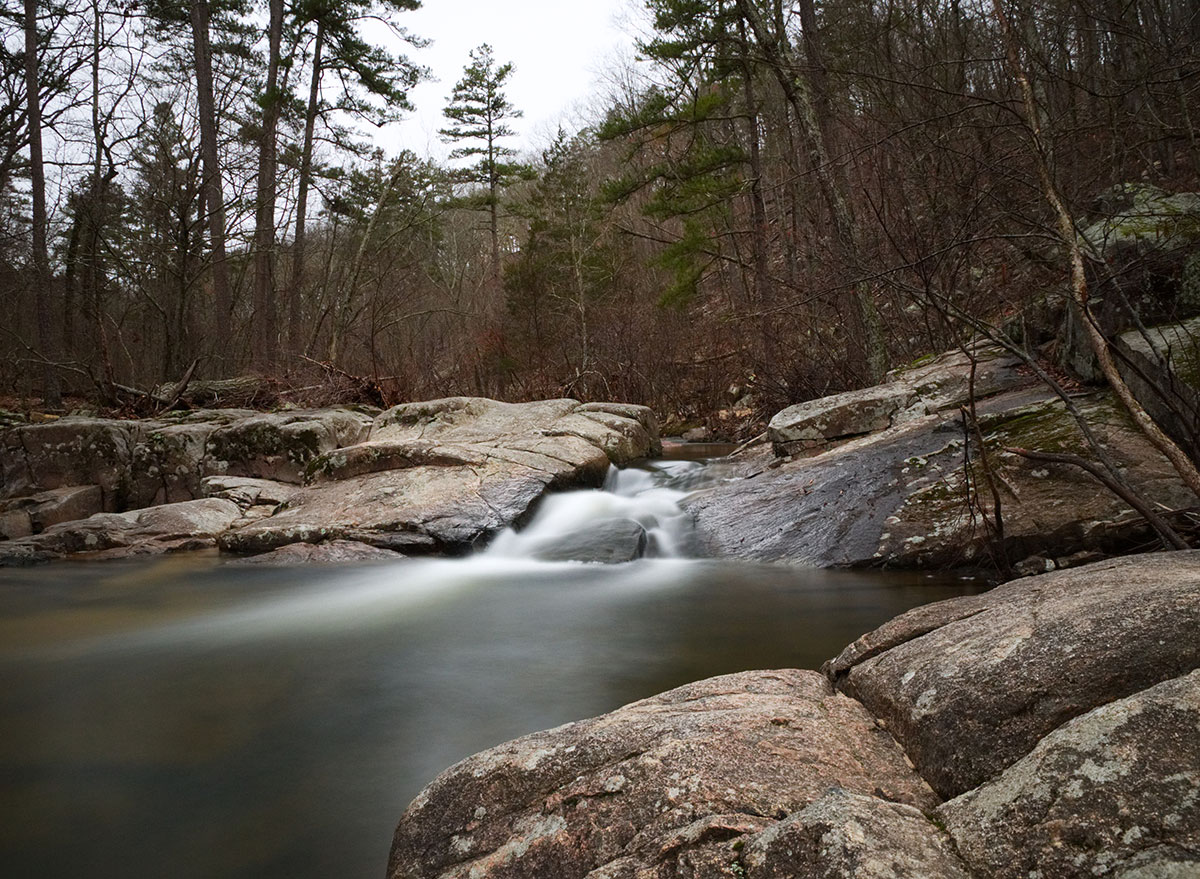 Part of the Eastern Ozark Mountains, Hawn State Park has wild azaleas and tall pines with picnic facilities tucked underneath the tree canopy. You can bring your furry friends, but they have to be on a leash. The site has fire pits and picnic areas, too.
MONTANA: Palisade Falls in Bozeman
At Palisade Falls, an easy trail leads to an 80-foot waterfall, well worth the small hike. In the winter, if you can picnic in the cold, the falls are frozen into cascading icicles. Spread a blanket out on the rocks at the base of the falls, or use the picnic tables at the beginning of the trail.
And if you're looking for a sweet treat, here's The Best Ice Cream Shop in Every State.
NEBRASKA: Smith Falls State Park in Valentine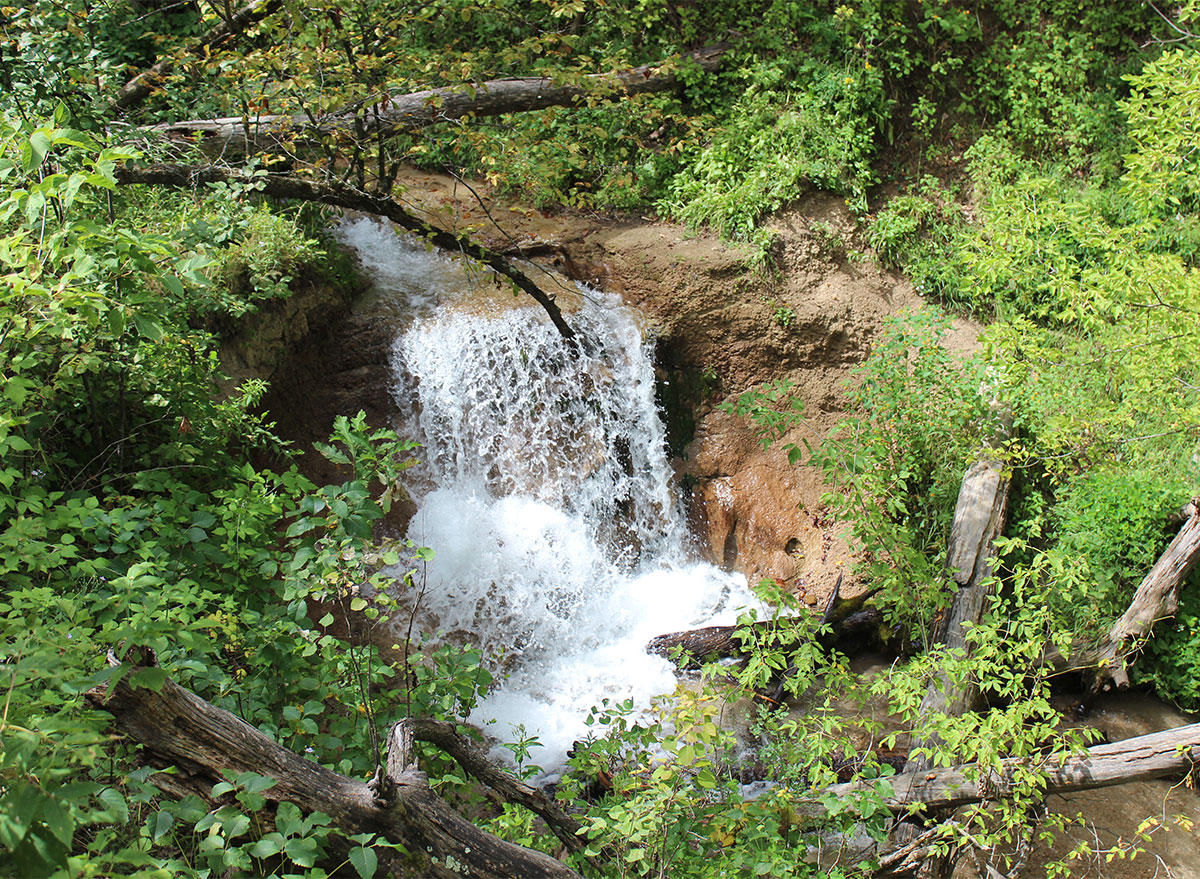 Smith Falls State Park, where you can find Nebraska's highest waterfall, is a local's choice for a meal outside. In the summer, people tube down the Niobrara River. While hiking to the falls is limited, there are picnic sites and a pavilion.
NEVADA: Great Basin in Baker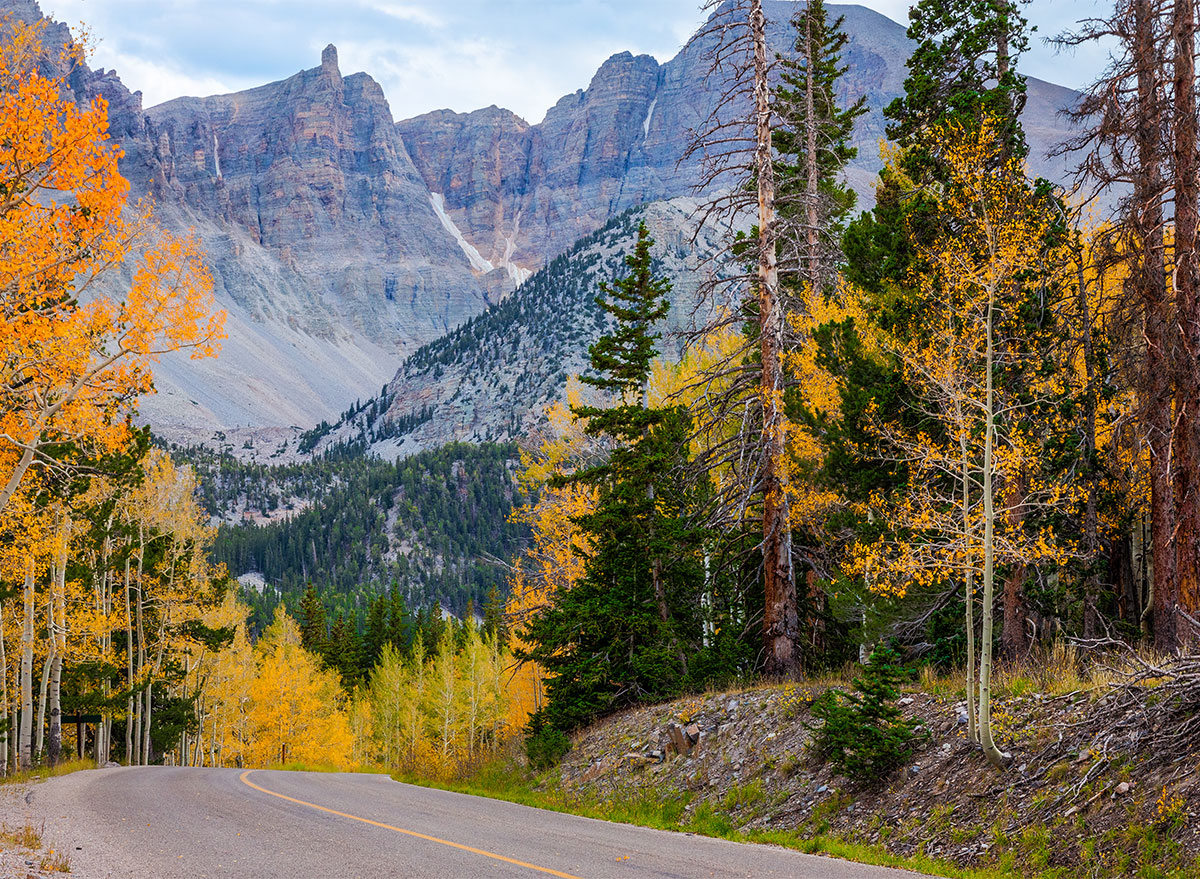 Plan a picnic among the ancient trees in Great Basin National Park. The park is the site of Great Basin Bristlecone pines, growing twisted and gnarled from the high altitude. If you crave subterranean adventure, there are cave tours in the park's labyrinth, the Lehman Caves.
NEW HAMPSHIRE: Wellington State Park in Bristol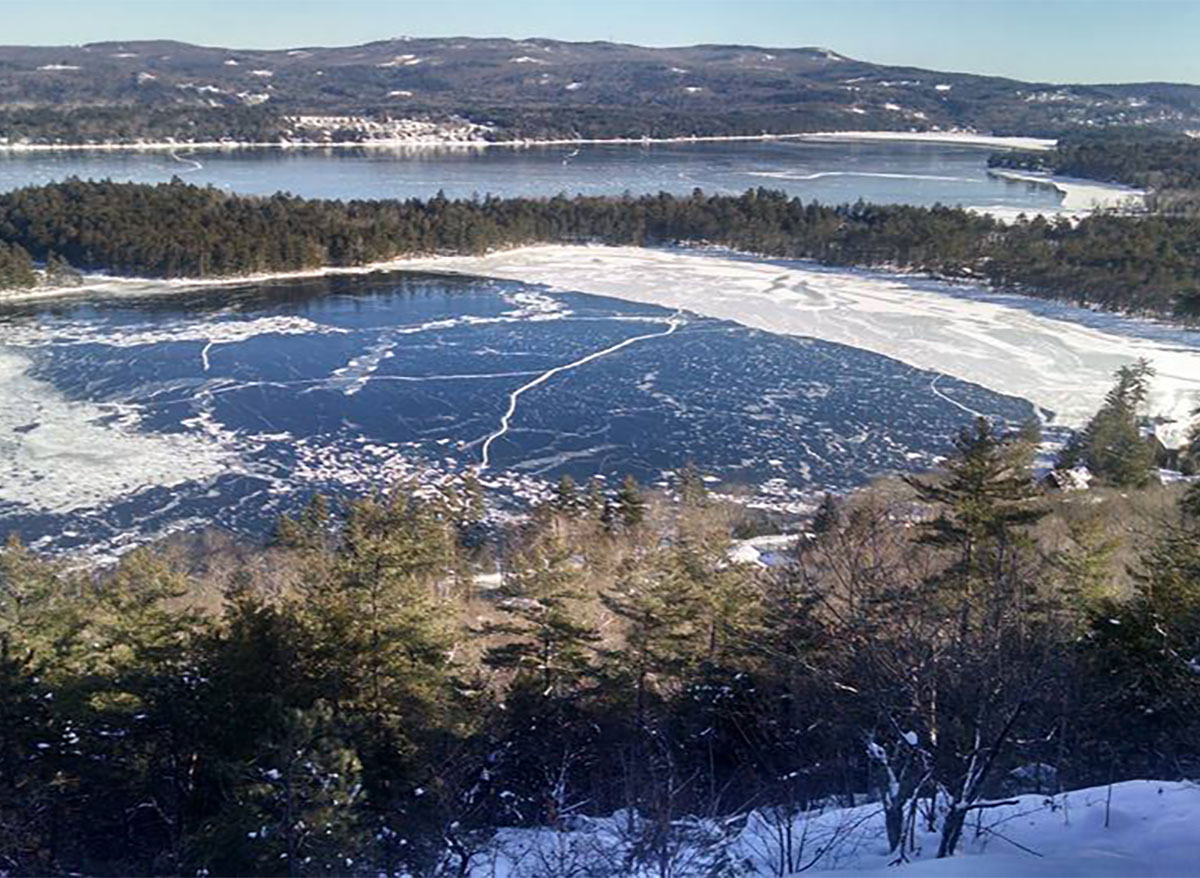 The sandy beach at Wellington State Park makes a perfect soft landing for a meal out in the sun and fun of the public park, but you can use the picnic tables right by the clear water. There are grills, bathrooms, and facilities for boats. From the shoreline, you can walk up into the mountains, a little bit of everyone's favorite nature experience.
NEW JERSEY: Liberty State Park in Jersey City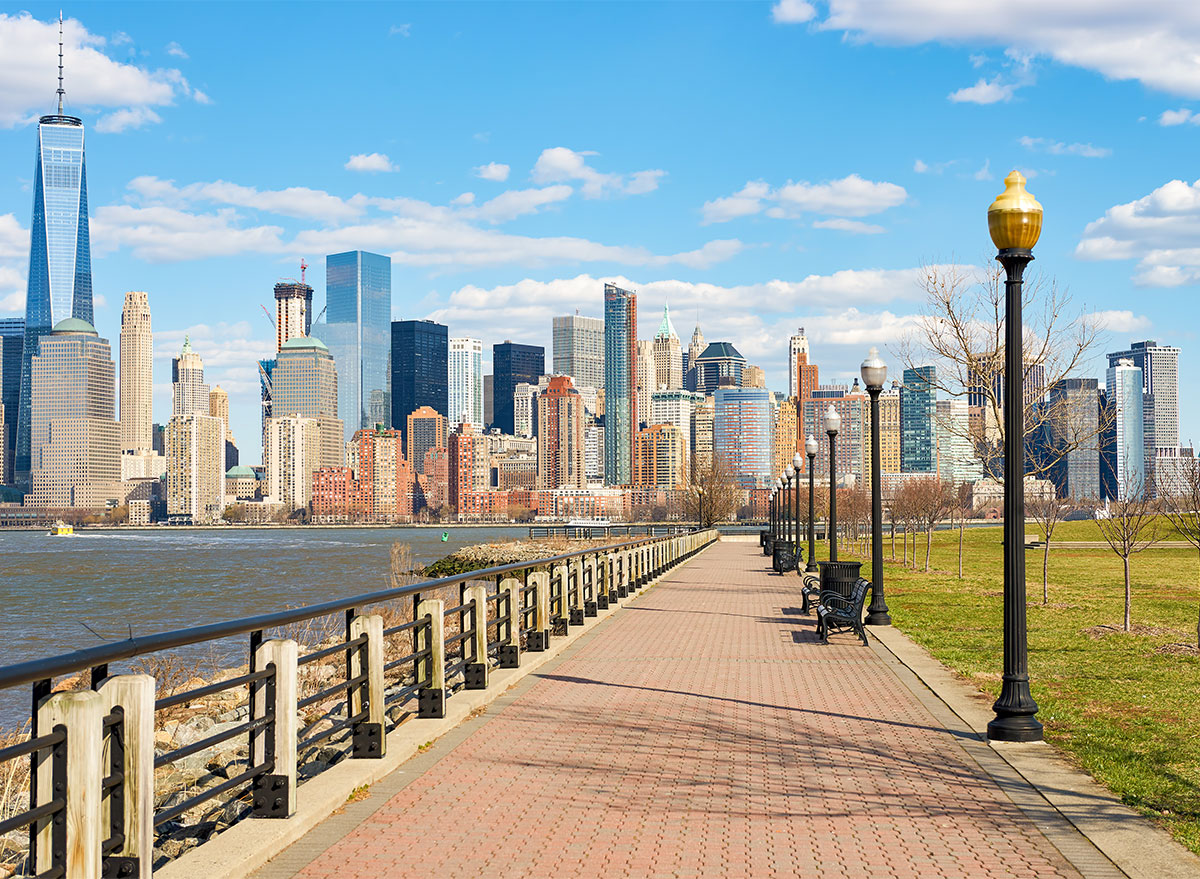 Overlooking the Statue of Liberty and Ellis Island, Liberty State Park has some of the best views for a picnic. There's also a pathway, the Liberty Trail, that winds two miles through the park and allows visitors to see the Hudson River and Manhattan. There are also plenty of picnic tables and activities like fishing, crabbing, hiking, and nature walks to entertain you on a summer afternoon.
NEW MEXICO: Wild Rivers Recreation Area in Cerro
There are so many incredible natural places to spread out and picnic in New Mexico. One favorite of visitors and locals is the Wild Rivers Recreation Area. This canyon was carved 800 feet deep into the volcanic rock where the Rio Grande and the Red River come together, making spectacular river views. Wildlife is plentiful—you can even catch a glimpse of deer, red-tailed hawks, and prairie dogs. The park also has access to picnic tables, grills, water, and restrooms.
Not sure what foods to bring? Here are the 30 Best Picnic Recipes for Eating Outside.
NEW YORK: Hallett Nature Sanctuary in Central Park, New York City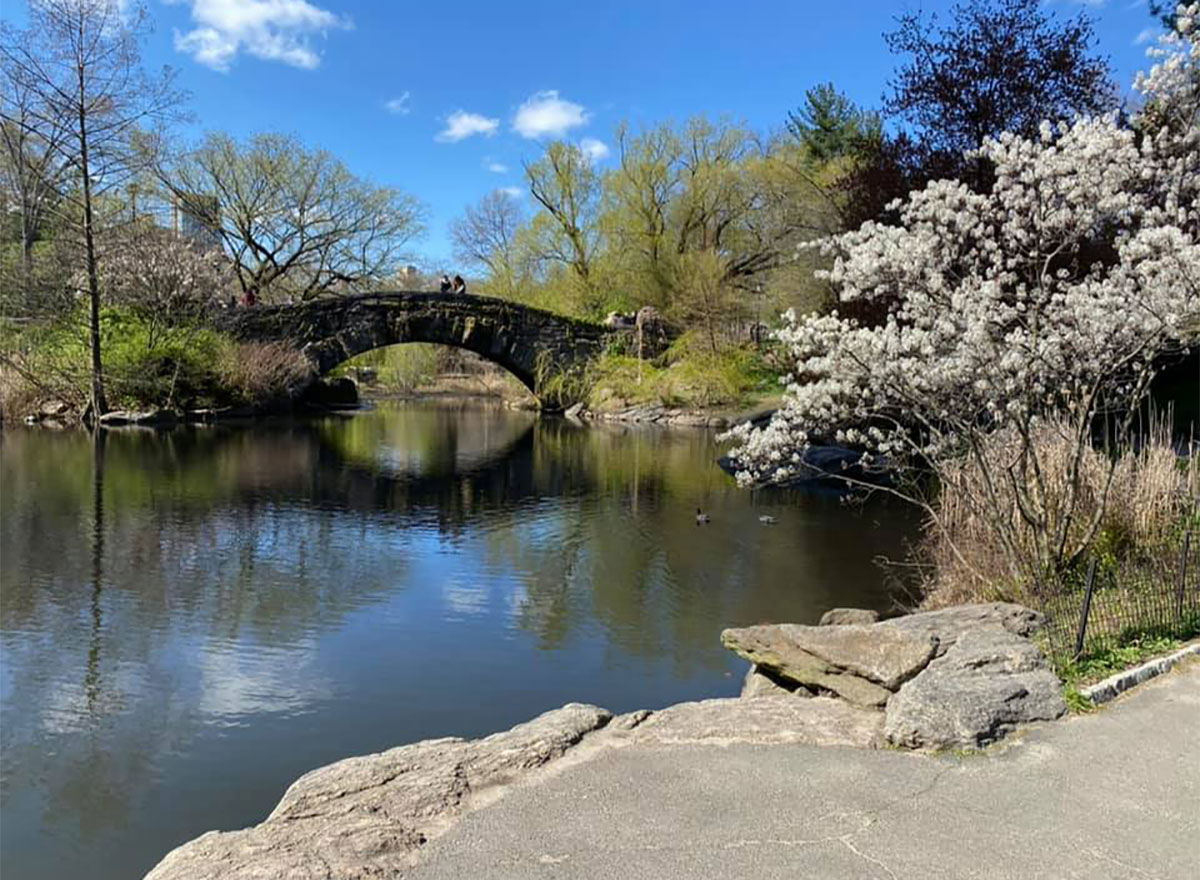 This small, four-acre paradise is sometimes referred to as New York's "Secret Garden." Closed to the public in 1934 because of its difficulty of access, Hallett Nature Sanctuary was reopened for all visitors in 2001. To find your best spot, walk through the Forbidden Gate, a structure made from trees salvaged around Central Park, and see if you can find slivers of the Upper East Side and Central Park South peeking through the trees.
NORTH CAROLINA: Crabtree Falls Picnic Area on the Blue Ridge Parkway
You can picnic up in the clouds in North Carolina. The Blue Ridge Parkway, a scenic route that runs from the Shenandoah National Park in Virginia to the Great Smoky Mountains in North Carolina, offers some of the most lovely panoramic vistas in the United States. This particular area of Crabtree Falls has access to a beautiful set of waterfalls, as well as picnic tables at a prime place to enjoy the mountain beauty.
NORTH DAKOTA: Chimney Park Picnic Area in Medora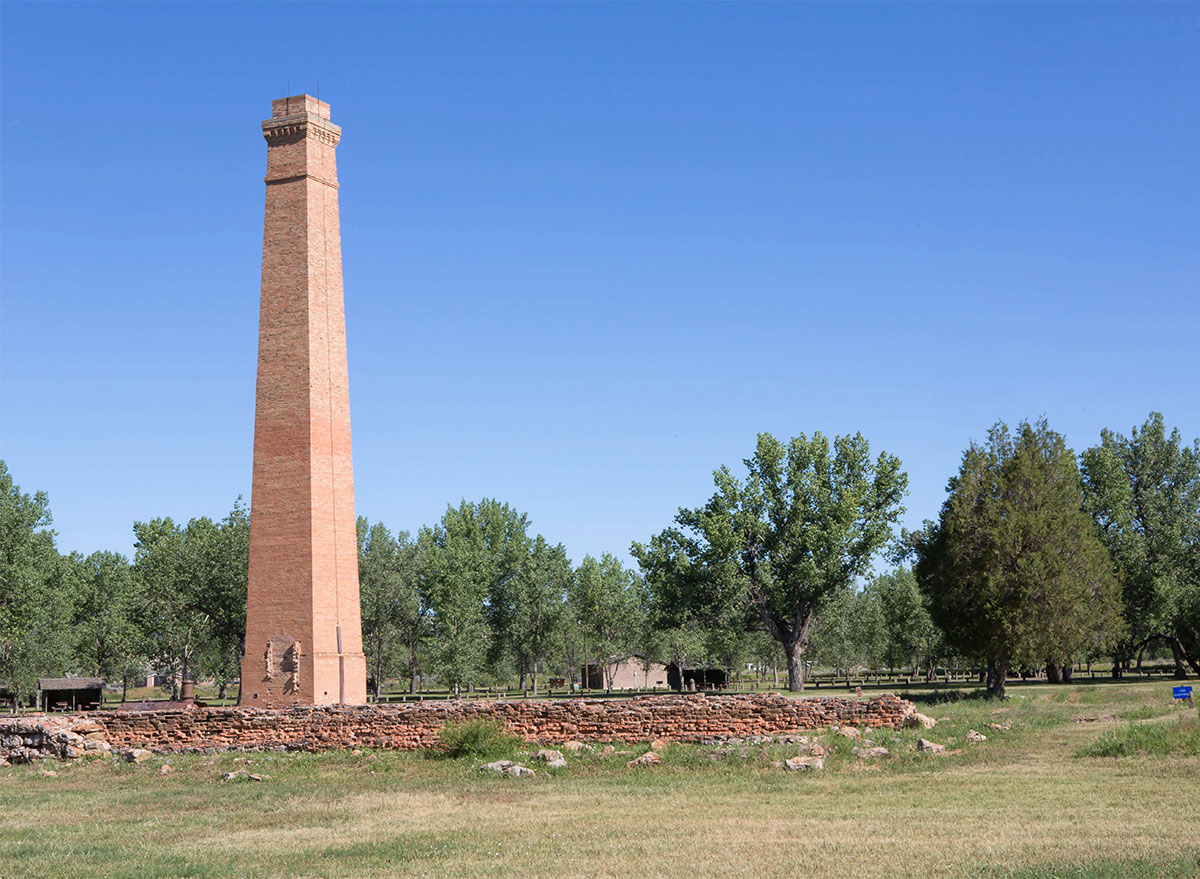 Medora's largest city park, Chimney Park, was once a bustling processing plant. The facility burned in 1907, leaving the clay chimney. It was converted to a park with picnicking spots available next to the structure with views of a Chimney Butte in the distance.
OHIO: Hocking Hills State Park in Logan
You'll have to bring a blanket to get a prime picnic spot in this Ohio park. There aren't any picnic tables, but there are plenty of places to relax next to waterfalls, as well as a gorge carved into sandstone by the creek and caves. Old Man's Cave is very popular with visitors, named for a hermit who took up residence there in the 1700s.
OKLAHOMA: Myriad Botanical Gardens in Oklahoma City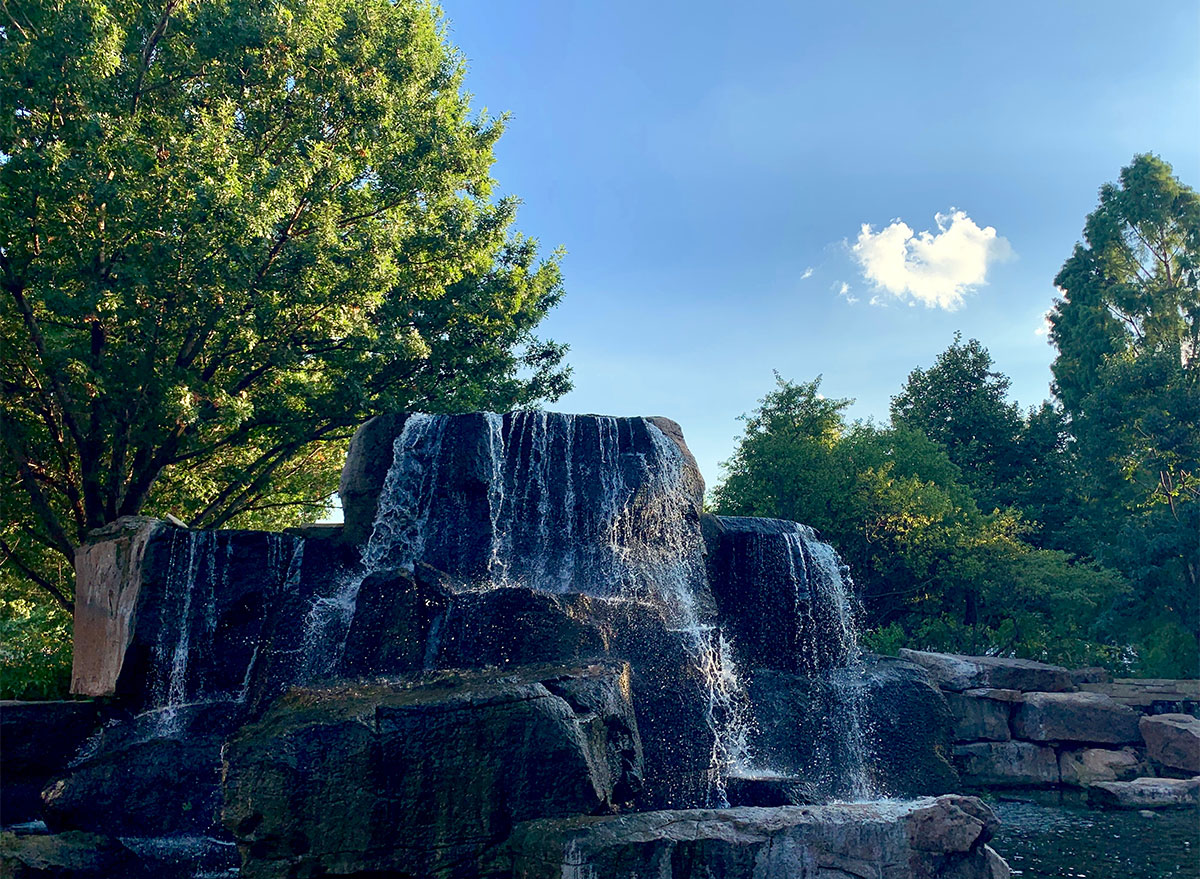 The Myriad Botanical Gardens have Monarch Waystations installed to help with butterfly migration, attracting the insect to this natural paradise. The grounds have fountains, green spaces, a reflection garden, and a dog park.
And for more ideas on what foods to bring, don't miss these 27 Best Snacks for Summer Outings.
OREGON: Arcadia Beach in Cannon Beach
One of the most-visited places in Oregon, Arcadia Beach, is also a fantastic choice for a picnic. It's best to plan to visit at low tide, allowing you to climb down onto the beach and check out the tide pools for interesting marine life. It's also the site of Haystack Rock, a huge sea stack that was in The Goonies. Arcadia Beach has picnic tables, grills, and a playground.
PENNSYLVANIA: Burnt House Picnic Area in Imler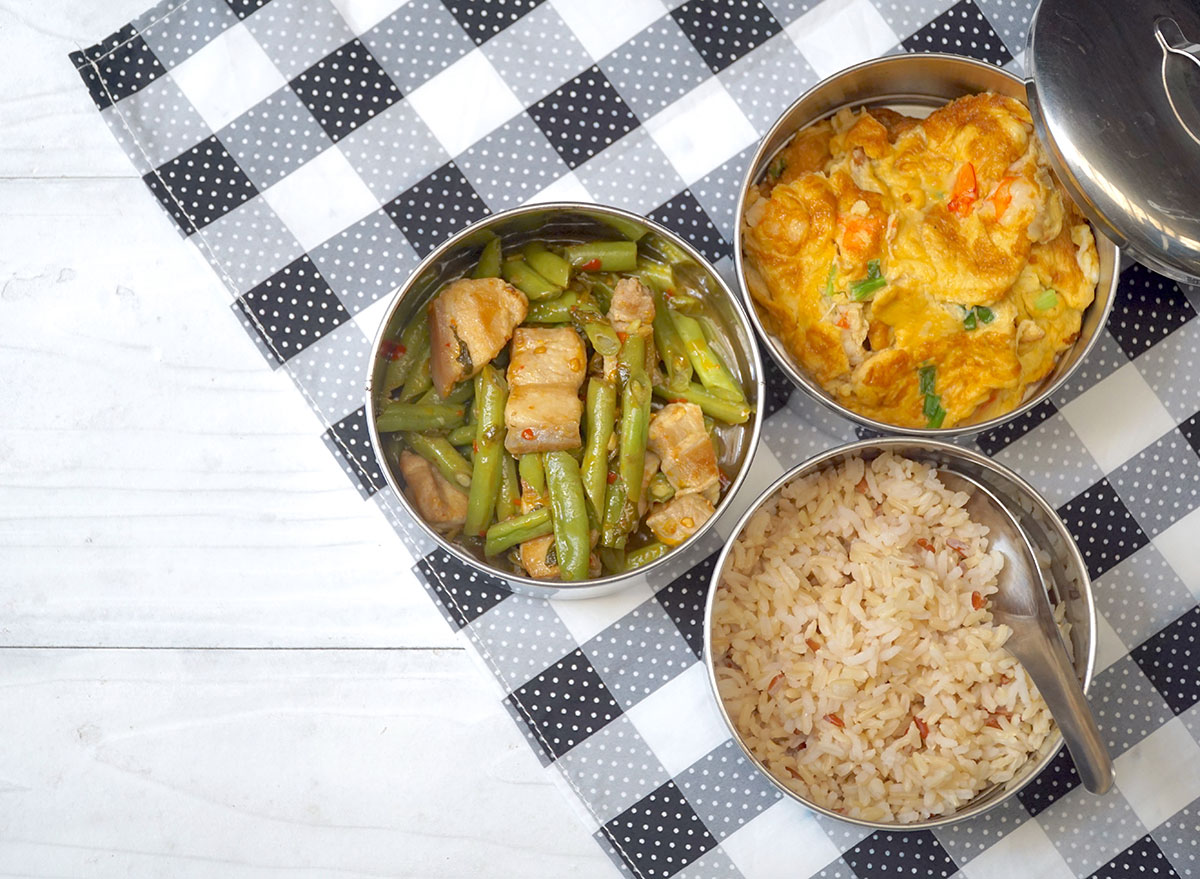 With so many picnicking places, how do you choose just one? In the middle of Blue Knob State Park is a spot that offers lush, moss-covered ground and a green tree canopy above next to a mountain stream. Not too shabby!
RHODE ISLAND: Beavertail State Park in Jamestown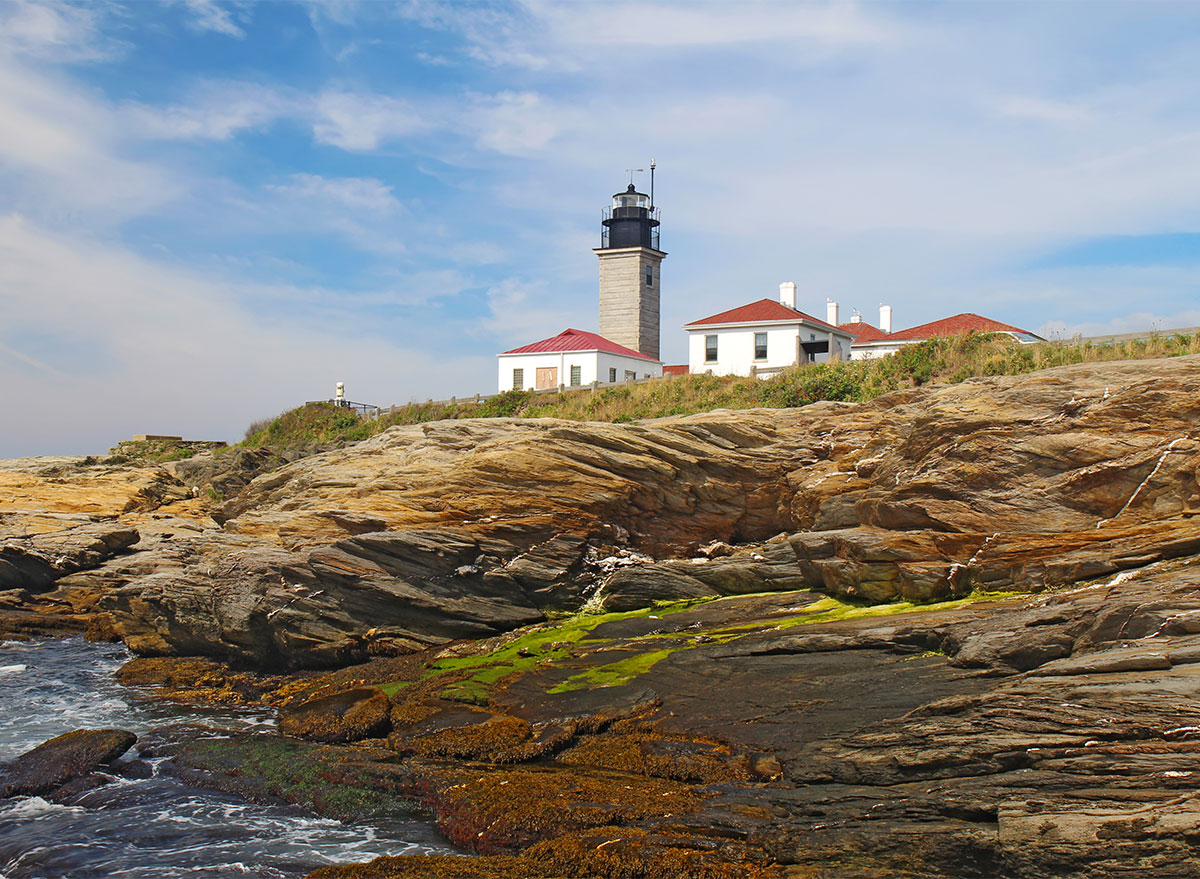 Pick one of the Beavertail State Park overlooks from the highway for your picnic, or climb down the rocky landscape to the beach. Make sure to stop to get a look at the historic lighthouse, a working structure that was built in 1856.
SOUTH CAROLINA: The Battery in Charleston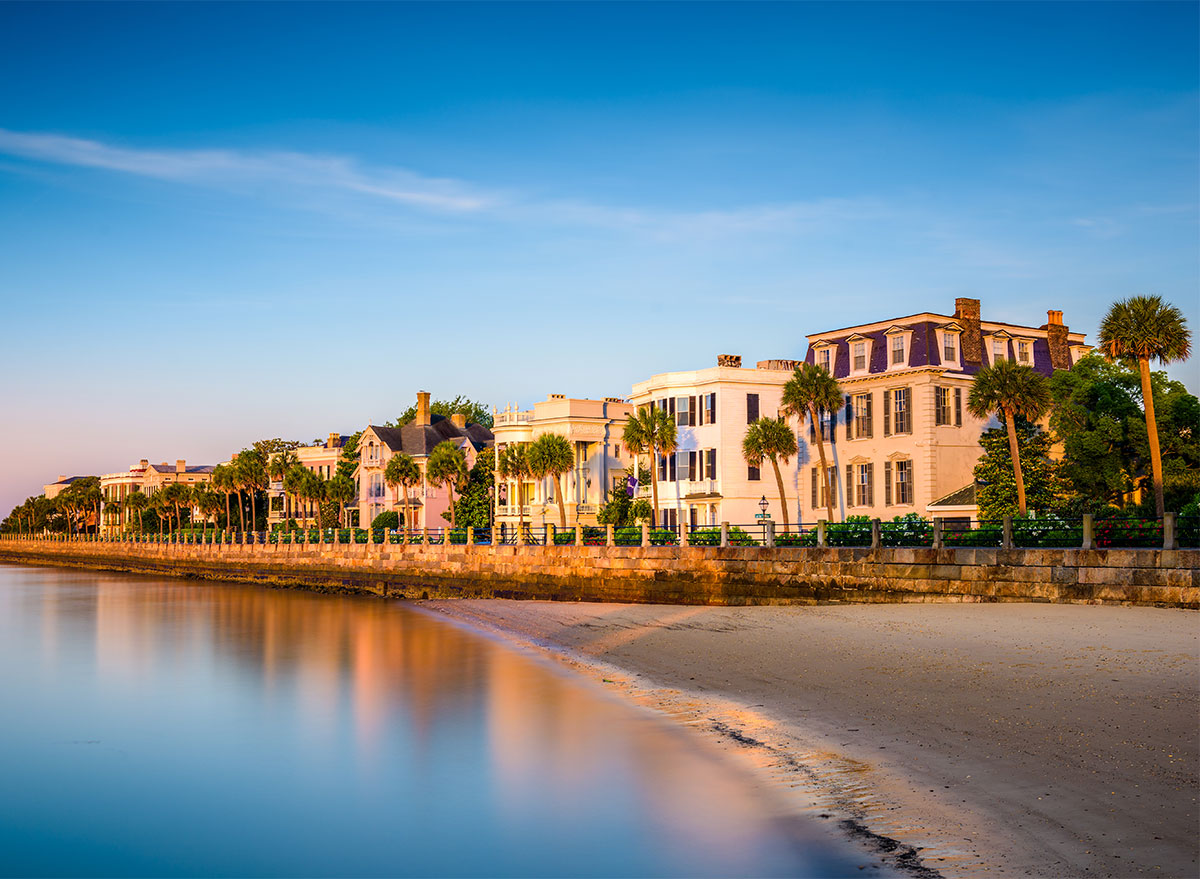 Walking along the Charleston Battery, you can see some of the most beautiful antebellum houses in the U.S. The park is an excellent place to have a picnic, with views of the Ashley and Cooper Rivers, Fort Sumter, Castle Pinckney, and the Sullivan's Island Lighthouse.
SOUTH DAKOTA: Bear Butte State Park in Sturgis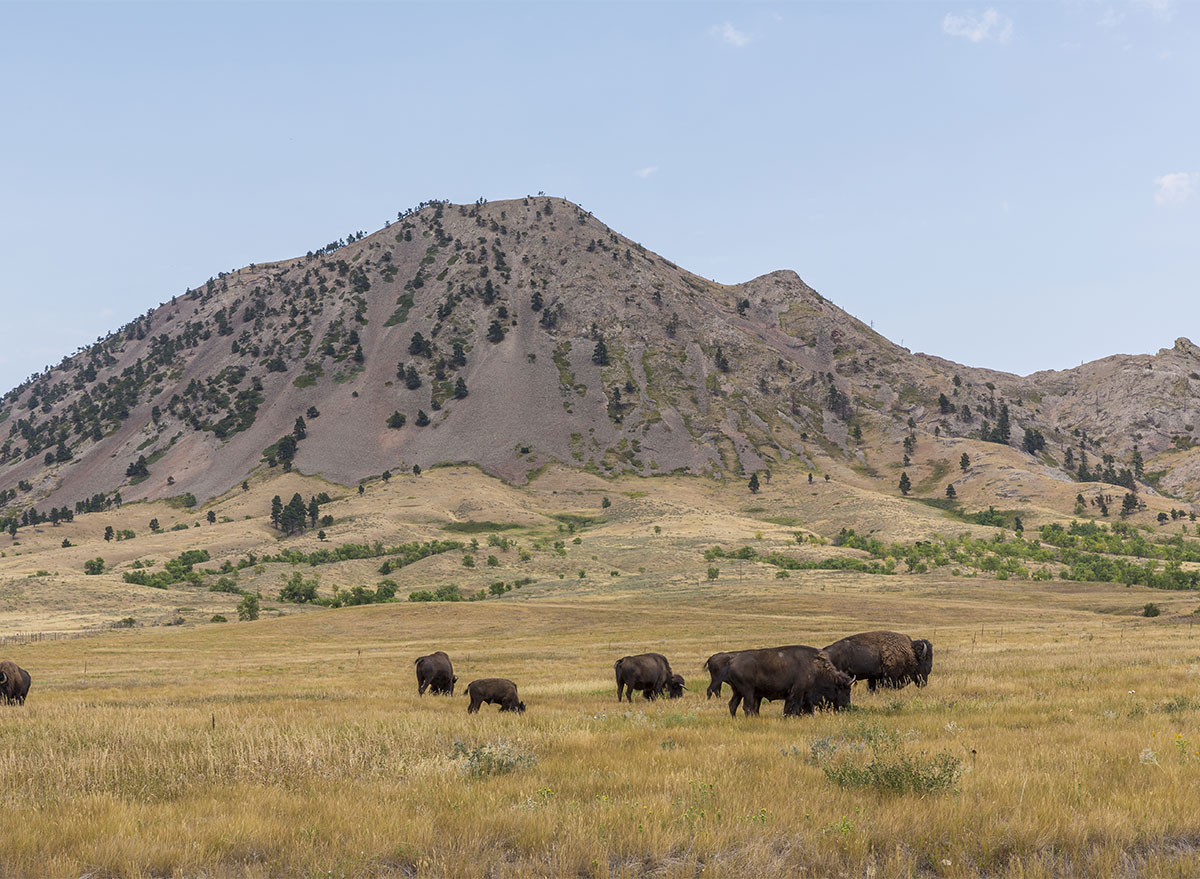 You can see four states from the top of Bear Butte, a geological land formation that plays a spiritual role in many of America's indigenous tribes. It's considered a sacred place, and visitors may see tokens and pouches left behind that represent prayers.
TENNESSEE: Greenbrier Picnic Area in Gatlinburg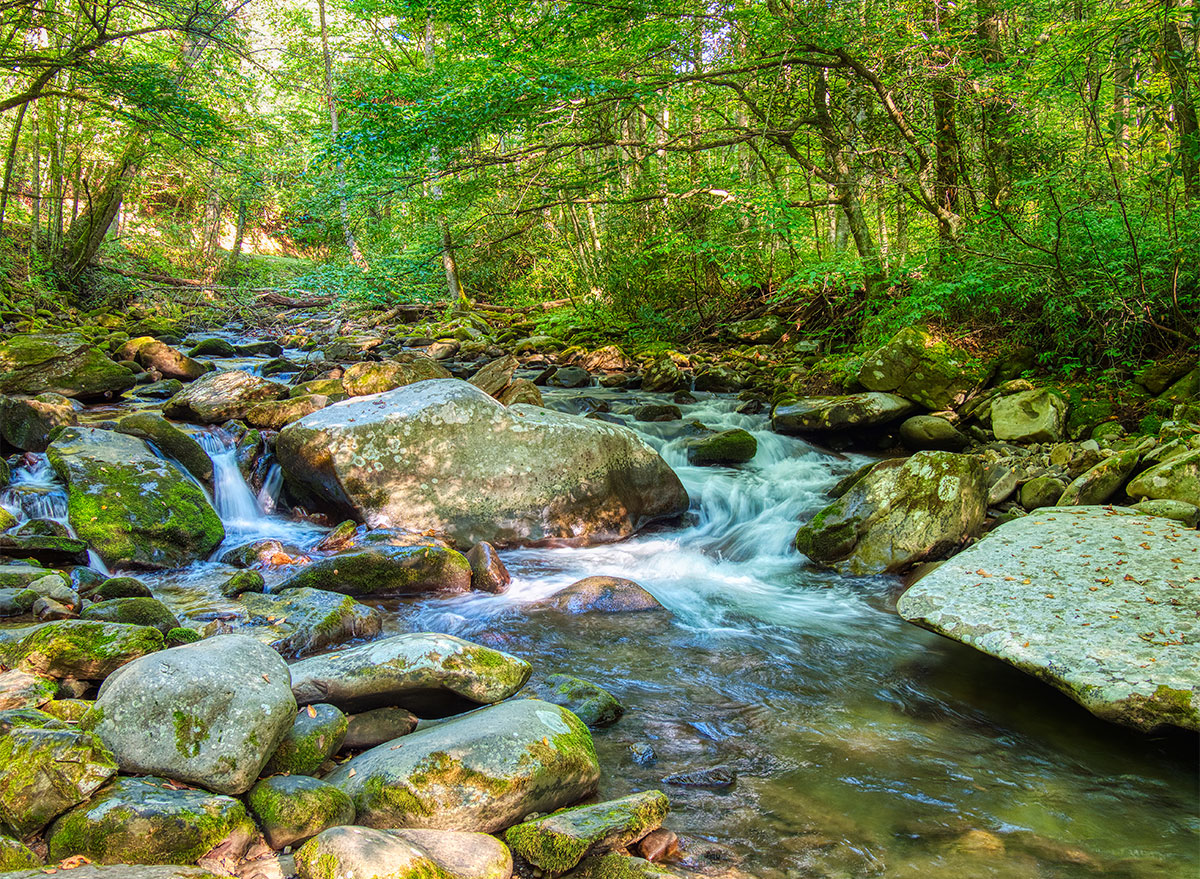 When spring comes to the Great Smoky Mountains, Greenbrier is covered with a carpet of wildflowers, making this an excellent place for a meal outside. There are picnic tables available, and this park isn't busy. You can also find charcoal grills and even a stone fireplace for roasting marshmallows.
TEXAS: Mount Bonnell in Austin
Mount Bonnell is the highest point in Austin, offering hikers a view overlooking the Colorado River and the city below. There are 102 steps to reach the top, where a pavilion offers a place of rest after the climb. If you prefer to sit rather than throw a blanket on the ground, there are a few picnic tables scattered around the area, but they're first-come, first-serve, so plan for both options.
UTAH: Bridal Veil Falls in Provo
An easy trail leads to the falls, where many picnic spots can be found. It's mostly paved and not too long. The beginning of the walk has green grass and picnic tables, grills, and a view of the Provo River.
VERMONT: Averill Mountain in Averill
Hike up the mountain, and then sit back with your picnic lunch and enjoy the view. Keep an eye out for animals like porcupines and hawks.
VIRGINIA: Meems Bottom Covered Bridge in Mt. Jackson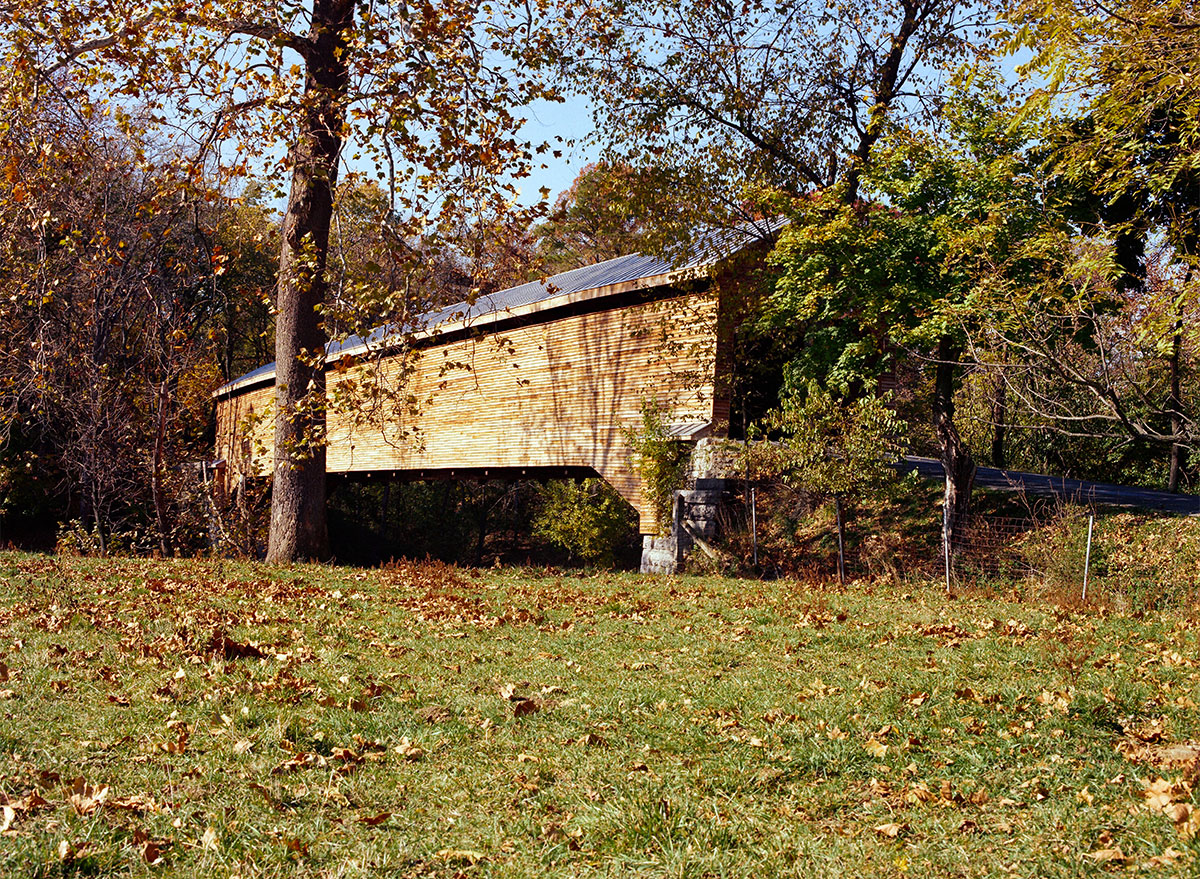 This covered bridge has been in operation since 1842, despite having been burned by vandals at one point in the 1970s. There are picnic tables below the wooden structure, set on the banks of the river with a view of the trees.
And if you're packing lunch, Here's What Happens to Your Food When It Sits Out in the Sun.
WASHINGTON: Artist Point in Deming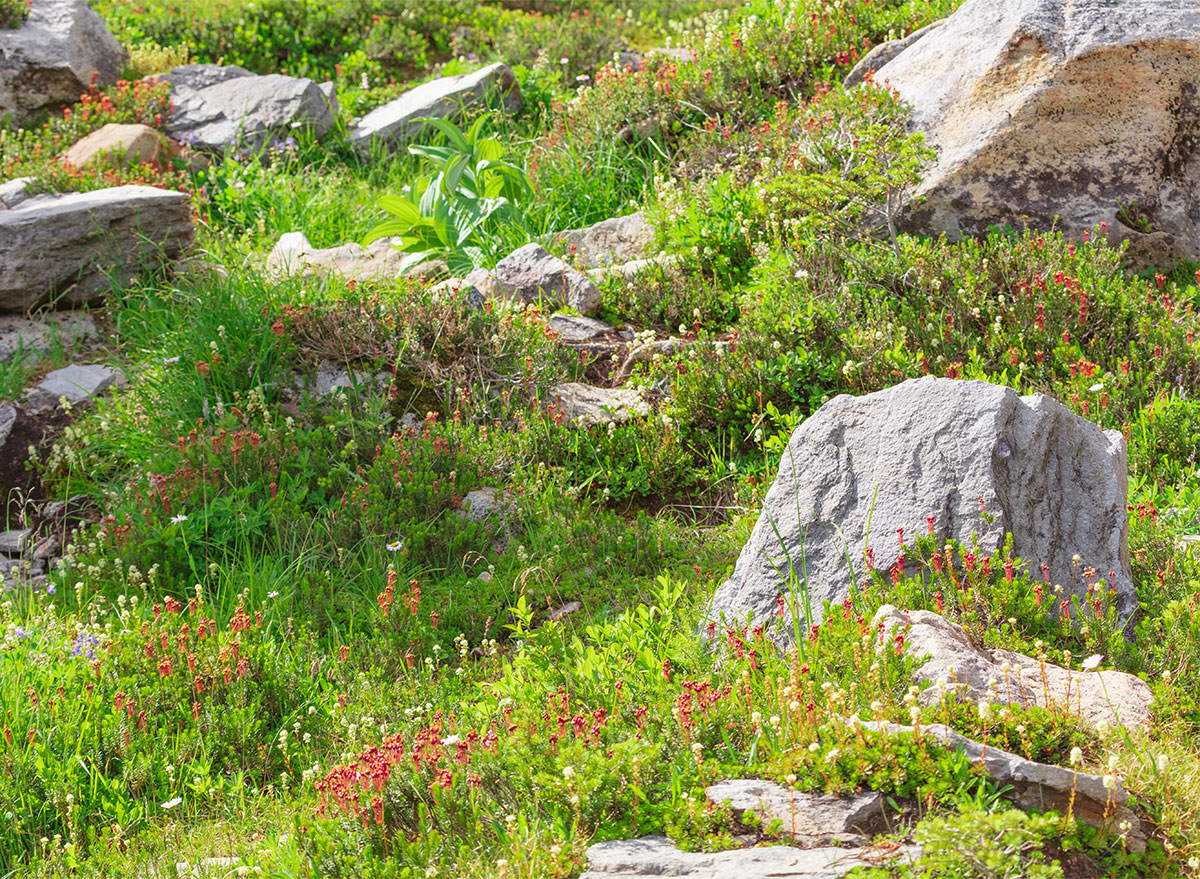 Typically open in July until the first snowfall sometime in late September or early October, this trail leads to an expansive view of the North Cascades. There are a variety of walking trails that lead past wonderful places to sit and picnic.
WEST VIRGINIA: Greenbrier State Forest in White Sulphur Springs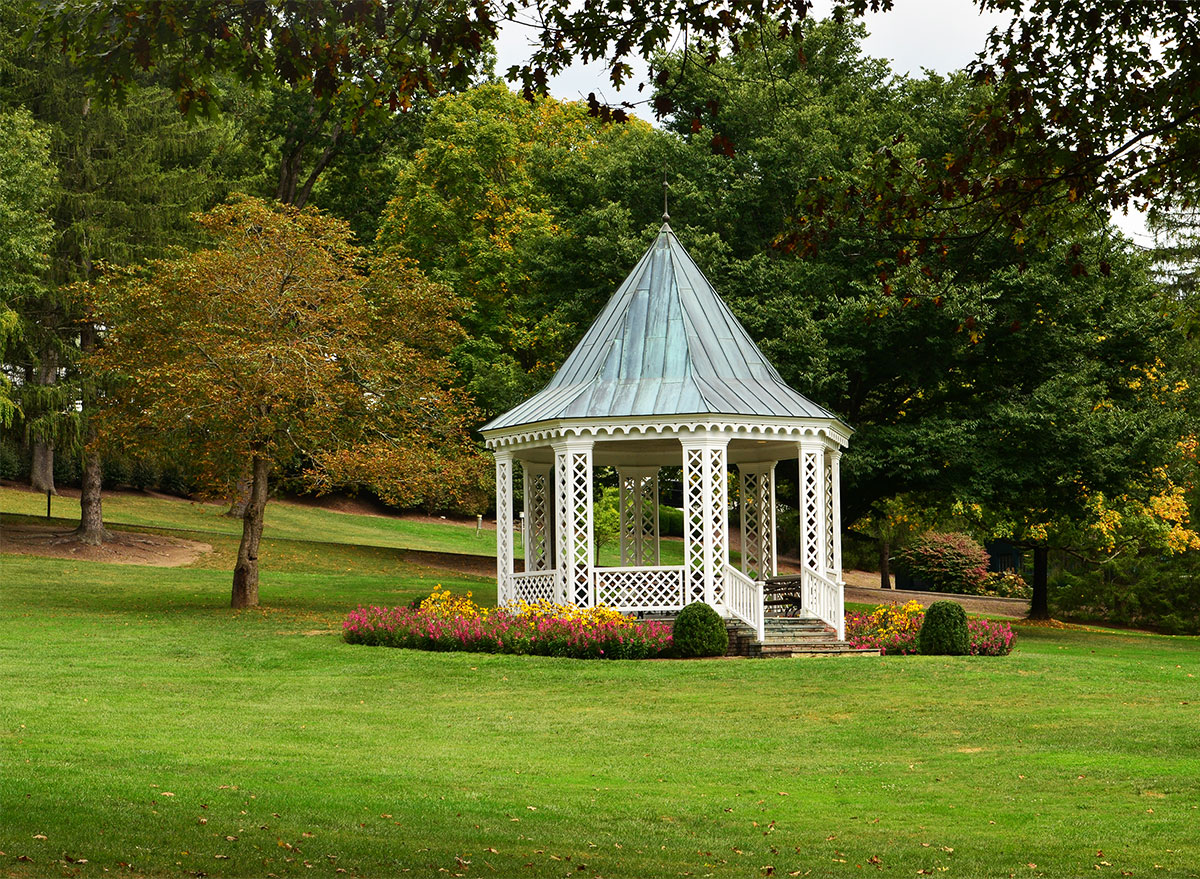 After hiking in the park, treat yourself to a picnic with views of the green landscape of Greenbrier Valley. This 5,100-acre park has plenty of room to picnic with friends or family. Numerous tables are available, and there are two shelters available for reservation. There are also accessible picnic sites and shelters as well.
WISCONSIN: Mirror Lake State Park in Baraboo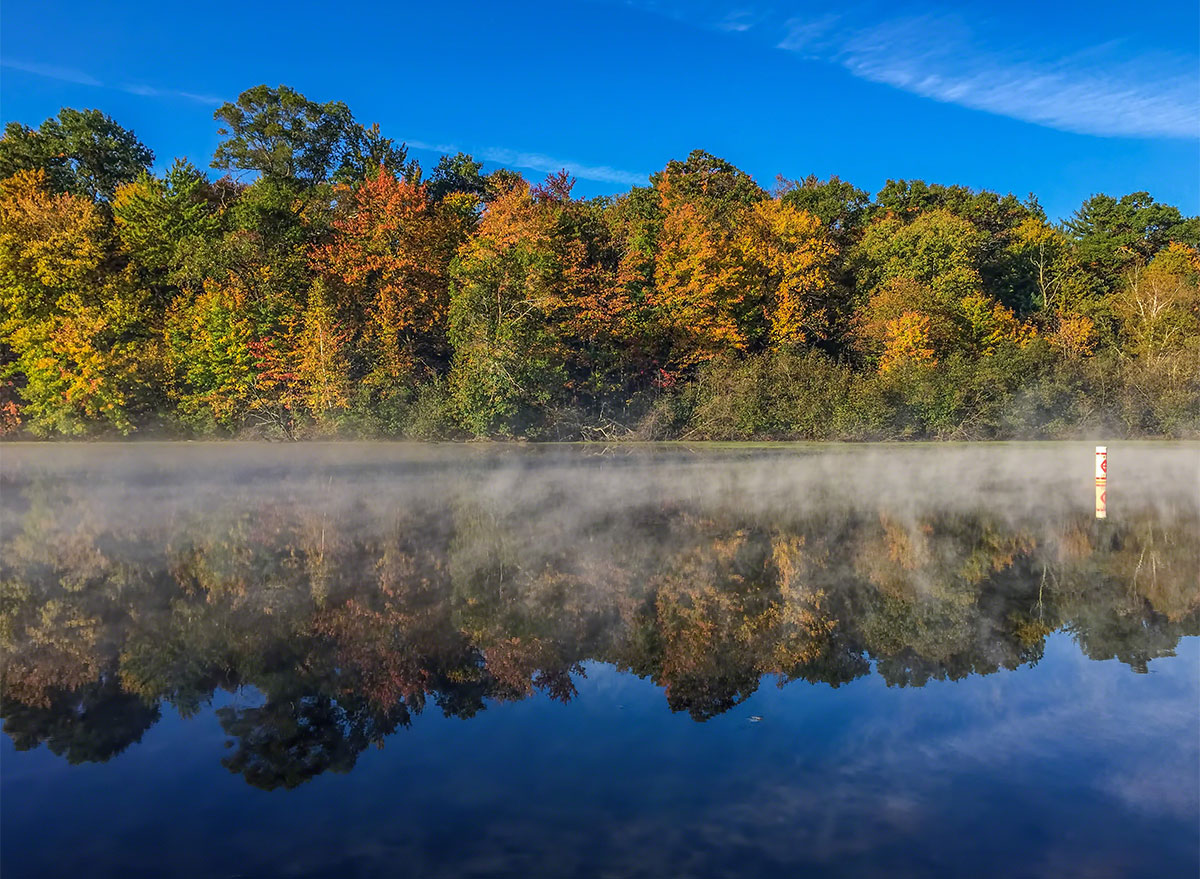 Mirror Lake State Park has a reputation for great fishing, offering chances to catch rainbow trout and large-mouth bass. If fishing isn't your hobby, you can spread a picnic on the sandstone bluffs surrounding the lake or find the formal picnic areas offered on the 2100-acre spread.
WYOMING: Steamboat Point in Yellowstone Lake
You can see Yellowstone Lake while watching steam escape from the geysers at Steamboat Point. The picnic tables are on the shore, and the wildlife is plentiful.
And the next time you're shopping for picnic supplies, don't miss these 30 Cheap Costco Buys That Make the Membership Worth It.