The Best Summer Food in Every State
From lobster rolls in the east to avocados in the west, these are the best summer foods from coast to coast.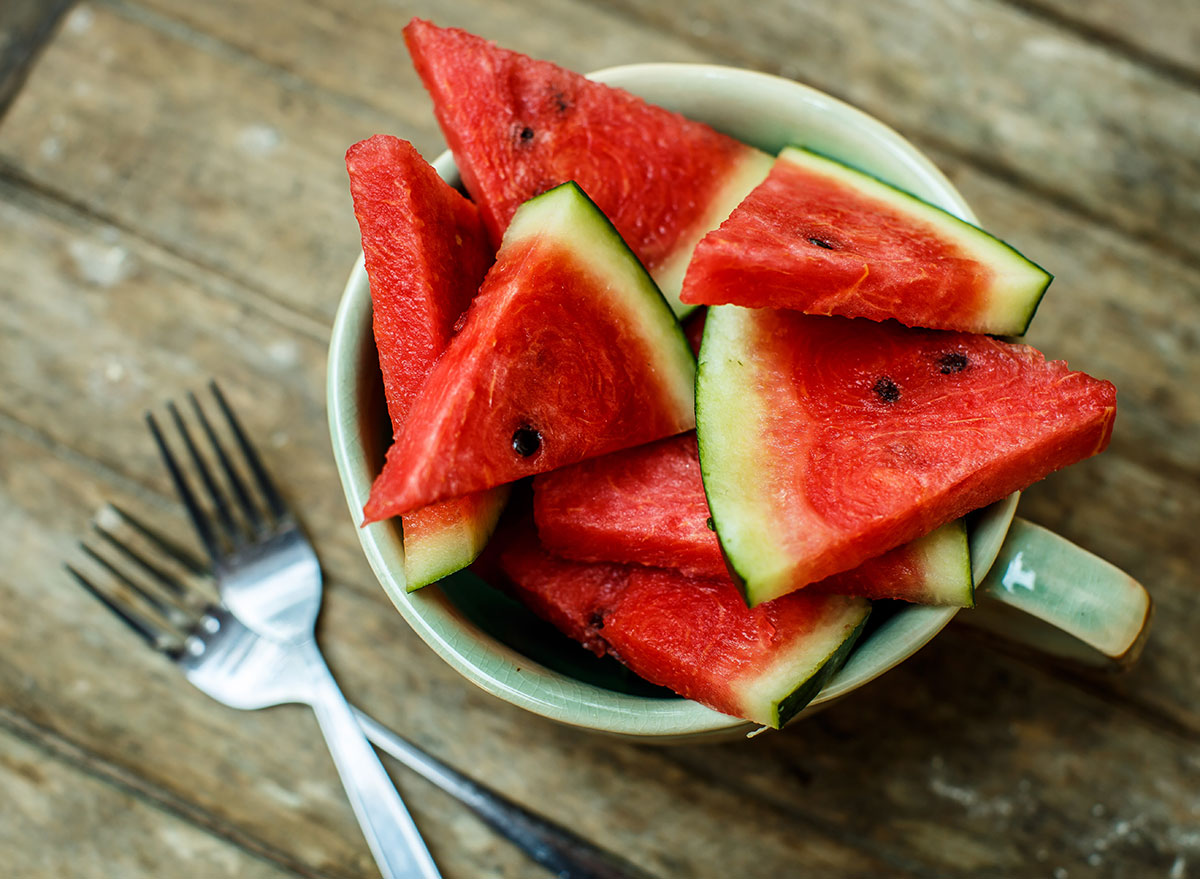 While your summer might not be filled with vacations far and wide just yet, you can still take advantage of all the delicious foods summer has to offer. Whether you're firing up the grill in your backyard or grabbing takeout from your favorite local restaurant, you can take advantage of all of the burgers, hot dogs, and fresh produce that accompany the summer season.
From New York's famous hot dogs to California's creamy avocados, here's the best summer food in every state. Find out if you'll be doing your state proud this year—and don't be afraid to snag some ideas from some other states, too. And if you love cooking, try out any of these 21 Best Healthy Cooking Hacks of All Time!
ALABAMA: Fried Green Tomatoes
An around-the-year staple in Alabama, fried green tomatoes are a Southern favorite. Here's a fun fact about green tomatoes: A study found that tomatidine, a compound found in these fruits, can up your muscle strength by 30 percent! Sure, the fact that they're fried does not make it healthy at all, but the green tomato must count for something, right?
And for more classic Southern delicacies, don't miss these 35 Southern Dishes Your Grandparents Used to Make.
Blueberries, cranberries, blackberries—you name it! Alaska's wilderness turf is great for growing a large variety of berries. In fact, berry picking is a common activity and allows for endless smoothie combinations to choose from. Not to mention, you'll reap tons of nutritional benefits like antioxidants and fiber from these delicious fruits.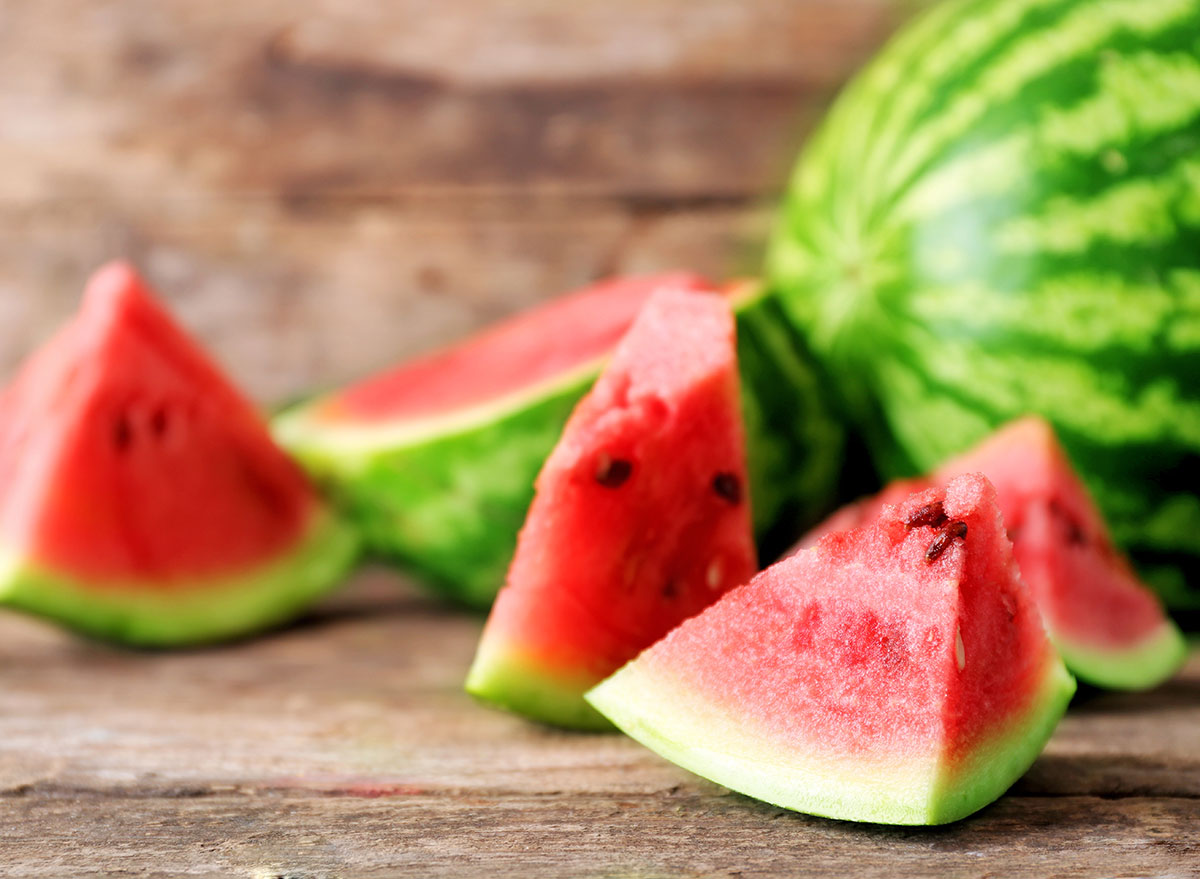 Arkansas is home to one of the biggest watermelon festivals in the country, which makes this fruit a summer favorite! While it's unclear if this year's event will still take place amid the pandemic, you can still enjoy the tasty fruit at home. This water-dense food is great for fighting belly bloat and keeping you cool for summer nights.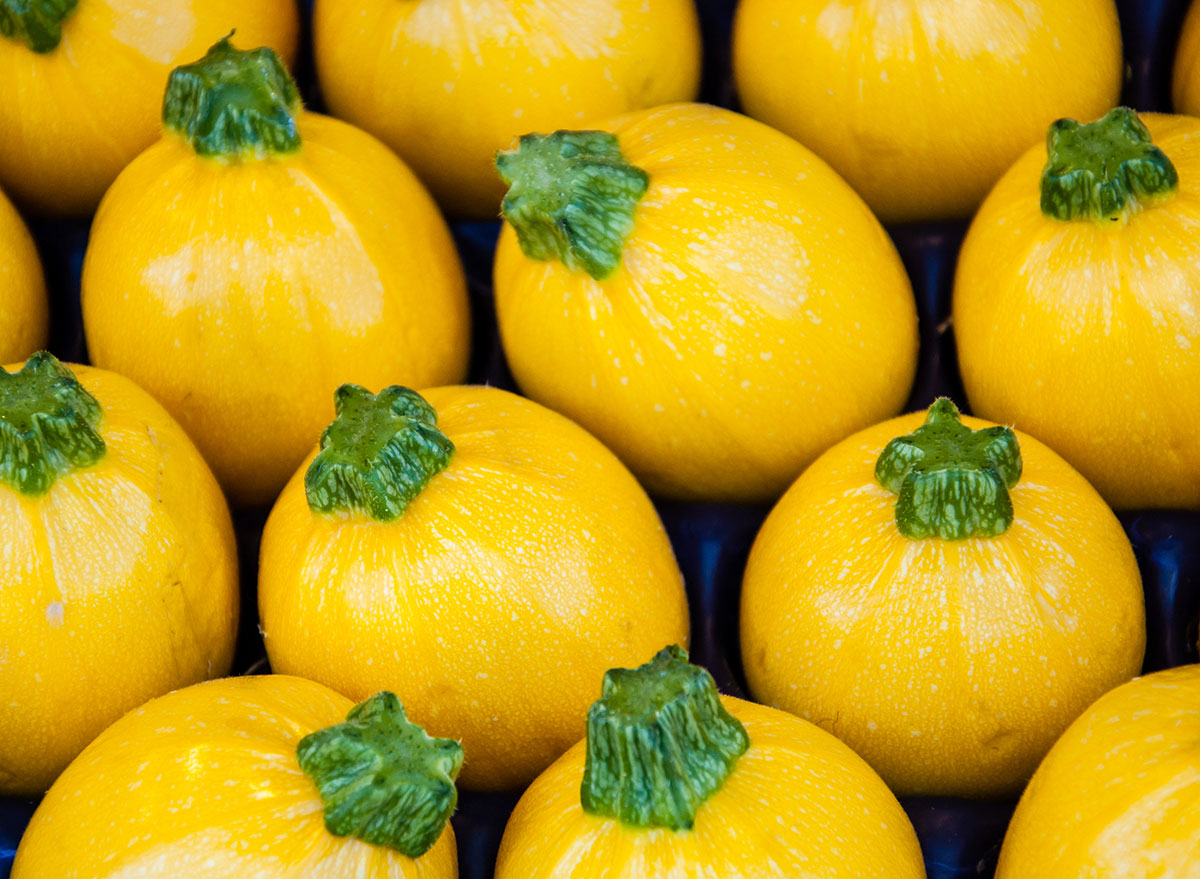 Squash is one of the foods of the indigenous people who settled in Arizona and reaches its peak in late summer. Summer squash offers a rich amount of fiber, manganese, magnesium, and folate, proving that it's a huge nutritional player. Serve it in a salad or bake a delicious veggie lasagna with it.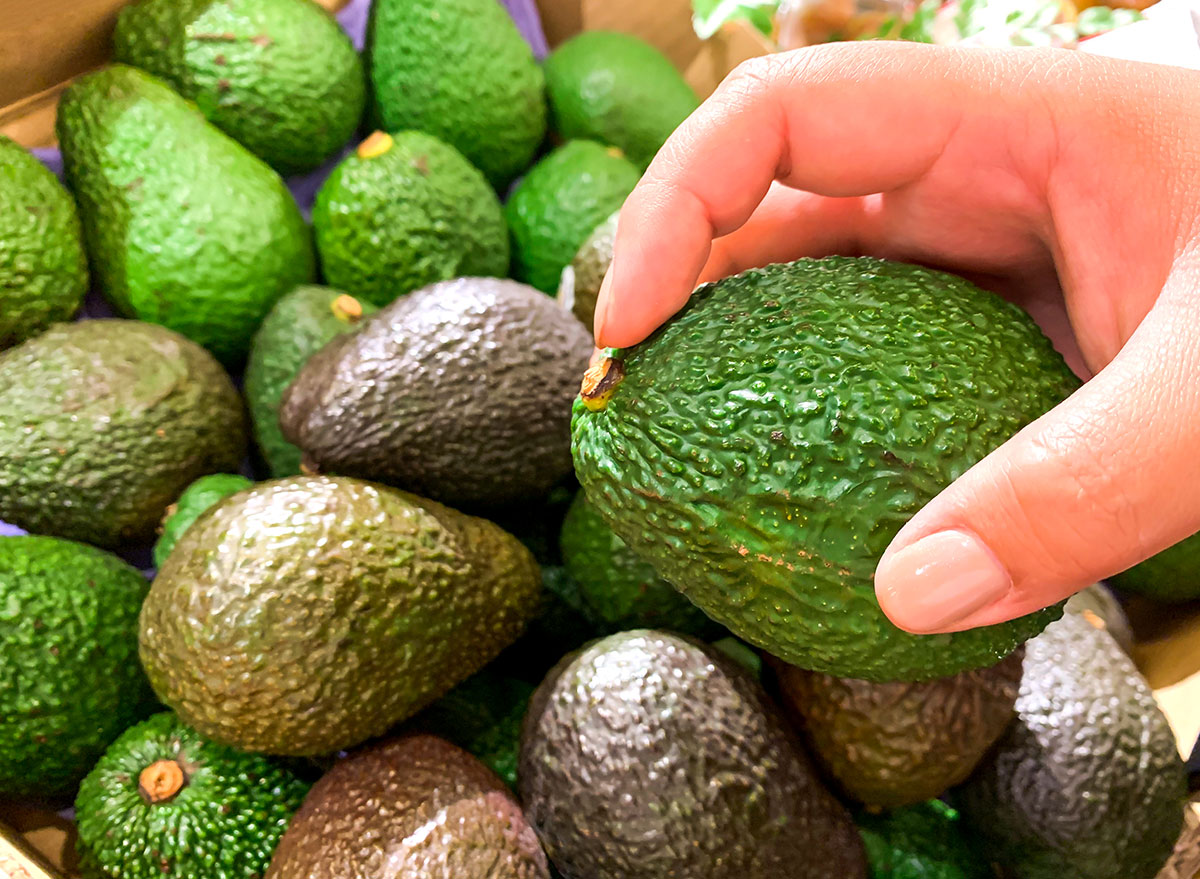 Typically, you can get this fiber-rich food at any time of the year, but it's summer when avocado reaches its peak in northern California. Avocados are a great source of healthy fats and one of our favorite weight-loss foods. You can make avocado smoothies, use the fruit as a baking substitute, or make some delicious avocado toast. For a few ideas, check out these best avocado recipes for every meal.
OK, so it's not a food. But what's better than an ice-cold, fresh brewski in the summer? Colorado is proud of its 300-plus microbreweries available in the state, with brews ranging from pale ales to darker varieties. Our suggestion when sampling Colorado's unique brews? Stick to dark beer, which is brimming with B vitamins.
CONNECTICUT: Lobster Roll
You can go pretty much anywhere in New England to munch on a buttery, decadent lobster roll, but Connecticut reigns as the top spot. In fact, this popular summer dish is originally from Milford, Connecticut!
Need something to eat along with that lobster roll? Here's The Best Copycat Red Lobster Biscuit Recipe.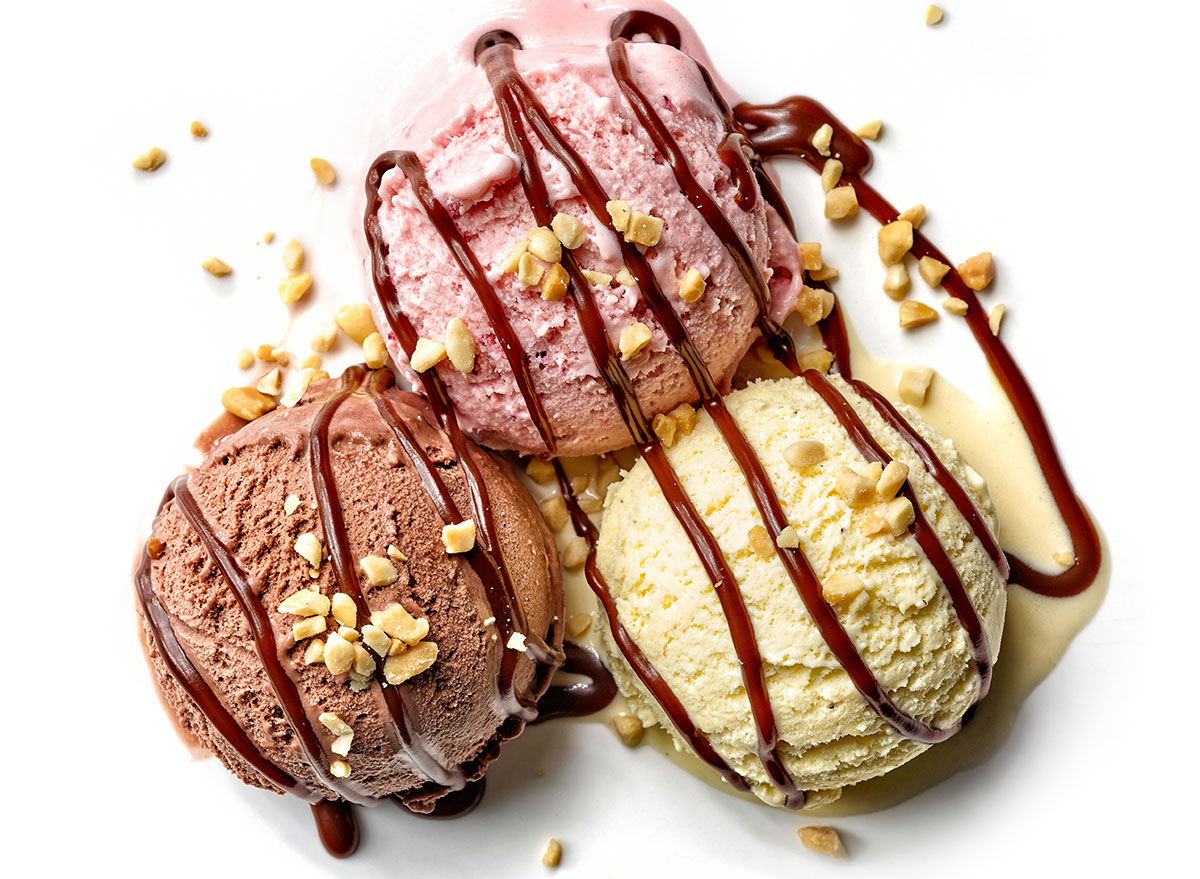 The dairy industry in Delaware is top-notch, which means you can find tons of local creameries all over this tiny state.
Aside from being the home of Mickey Mouse, beaches, and that bustling Miami party scene, Florida is also the home state of many orange groves. In addition to supporting your immune system with vitamin C, oranges are also rich in fiber and potassium.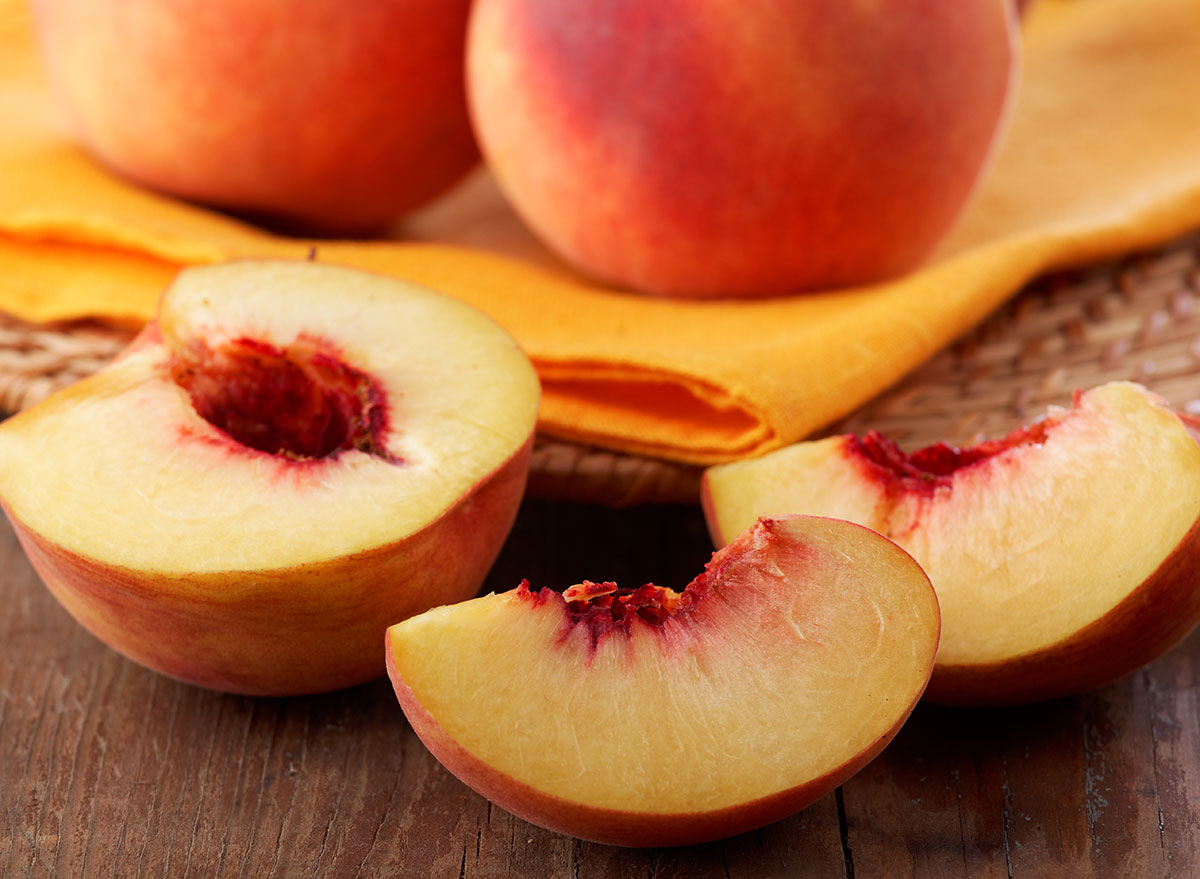 It's no surprise that peaches are Georgia's top summer food. They're harvested between May and August, so you can be sure that you're getting the juiciest of the crop. By the way, did you know that peaches are high in sorbitol? Sorbitol is a sugar alcohol that acts as a laxative to help move things along in our intestinal tract, ultimately helping relieve constipation. Try this summer fruit in one of these 18 Delicious Peach Recipes.
Along with the beaches and luaus, numerous pineapple plantations are found in Hawaii. This fruit is considered to be nature's version of Red Bull, thanks to its high source of manganese, a trace mineral that's essential for energy production.
Did you see this one coming? Idaho's potatoes are famous all over America. Chances are good that your French fries come from one of the many potato fields in the "Gem State." Whatever you do, don't toss out the skins; they're the healthiest part of the potato.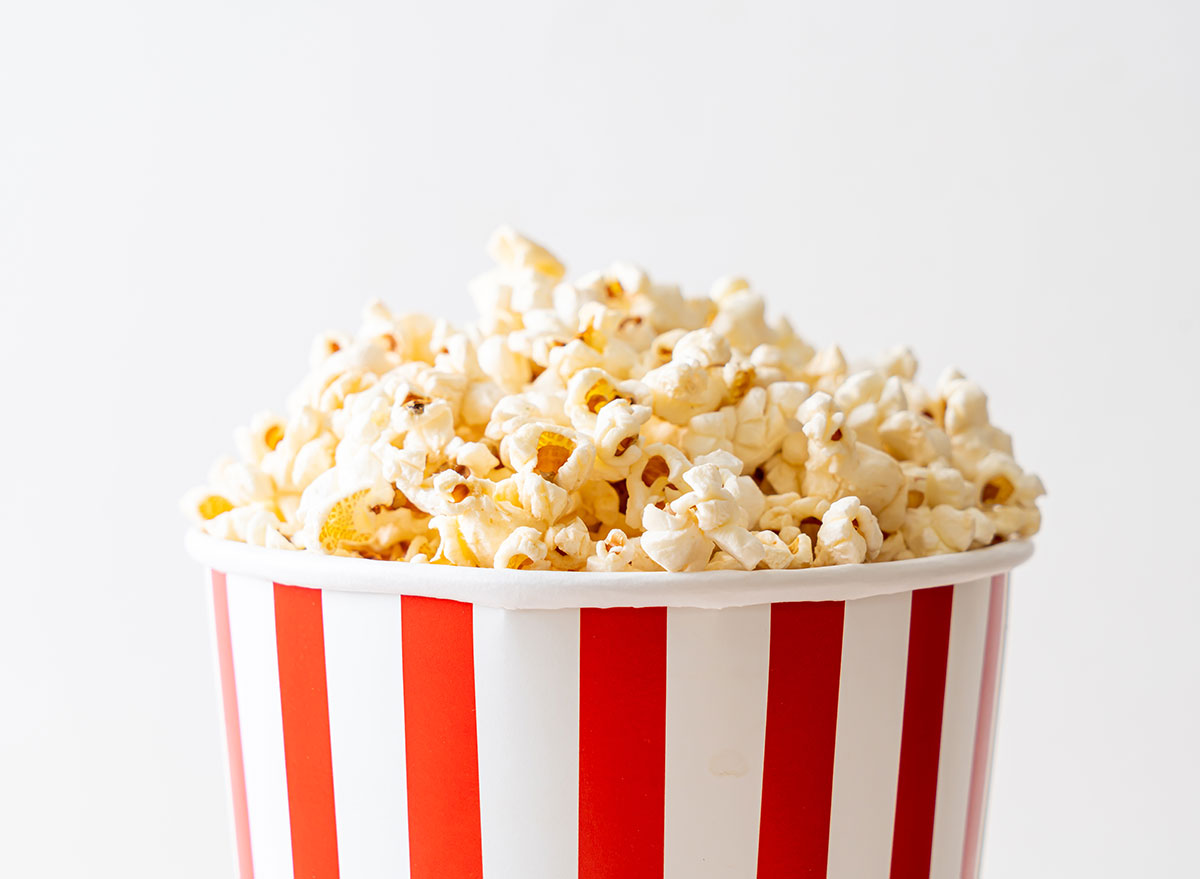 Light, airy, and one of the healthier snacks out there, popcorn was crowned Illinois' state snack back in 2003. Chicago offers other famous summer foods like hot dogs and deep-dish pizza, but there's also a Chicago-style popcorn made up of a blend of caramel and cheese. Yum!
INDIANA: Pork Tenderloin Sandwich
While this is admittedly more popular in southern Indiana than in the north, this item is like a crispy chicken sandwich swapped with juicy pork. Crowned as one of Indiana's iconic foods, you'll find this sandwich everywhere from diners to the state fair.
With cornfields as far as the eye can see, it's no wonder that this state has the best supply of this fiber-rich food. Try it in one of these 20 Corn Recipes That Crush It.
When it comes to barbecue, this "plain state" isn't so plain. As the third-largest beef capital in the world, barbecue food in Kansas beats out those of Texas and Tennessee. Plus, Kansas ribs are slow-smoked, burnt on the edges, and covered in thick molasses and tomato sauce. Yum!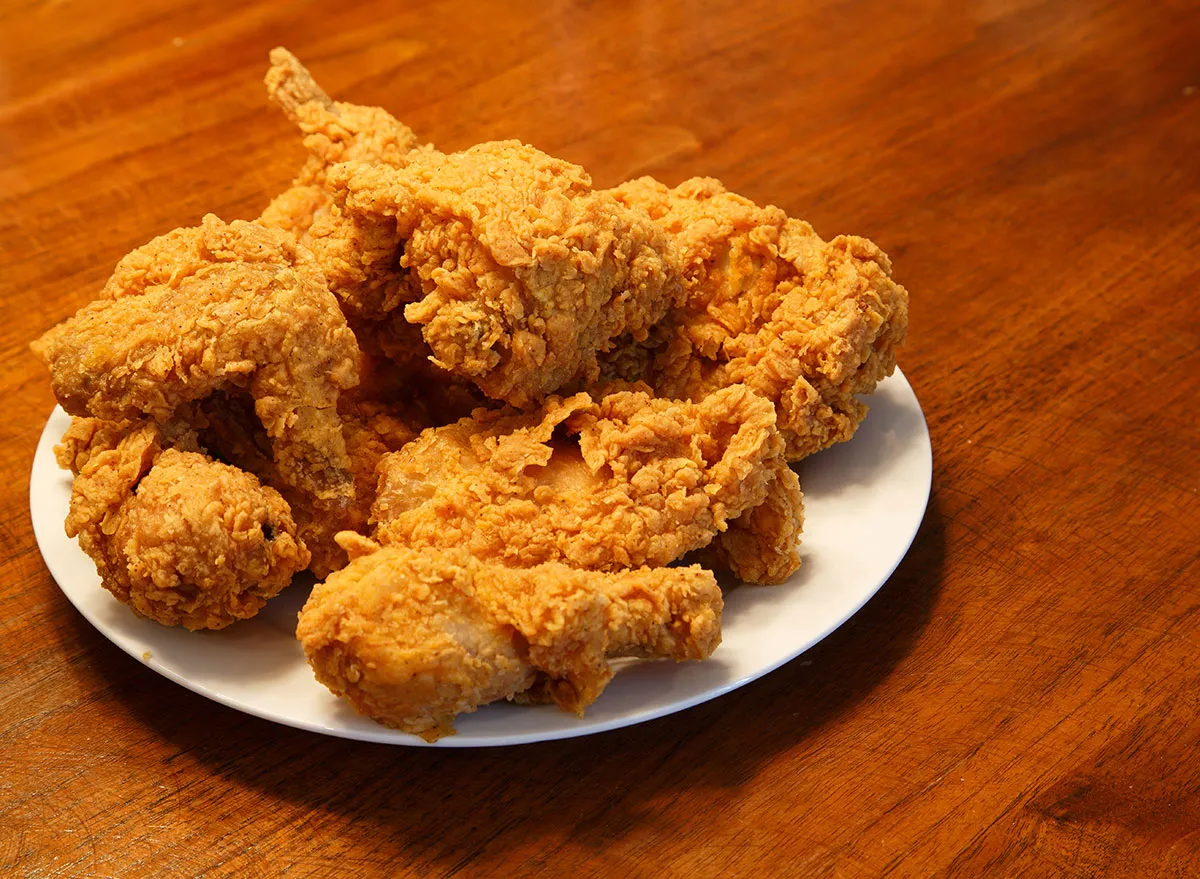 We bet you didn't see this one coming. You can say that Kentucky's fried chicken is nationally recognized, but aside from the popular fast-food chain, this state is home to other restaurants where the chicken is finger-lickin' good.
Louisiana supplies 95 percent of the crawfish harvested in the United States from aquaculture. These "mudbugs" can be boiled or steamed and are a great source of protein and omega-3s. Of course, you'll need to eat 25 of them to reap the benefits, so come hungry.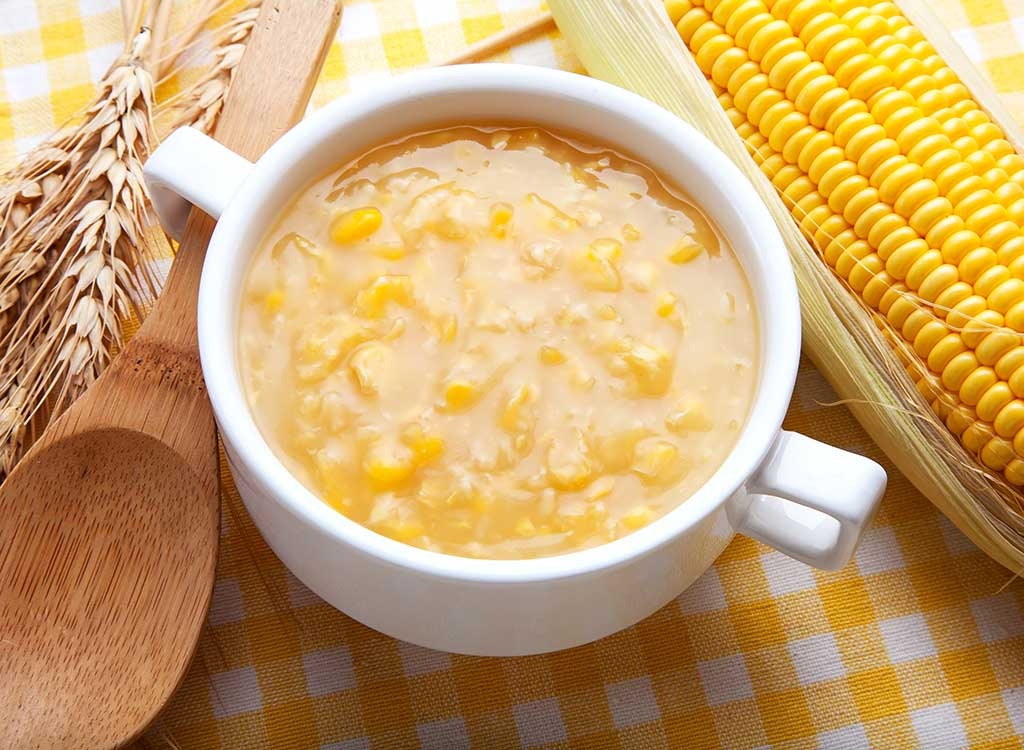 New England is known for its hearty clam chowder, but in Maine, they like to add some corn to the mix. Corn chowder is a creamy, rich dish that you'll find yourself craving once the warm weather hits.
6254a4d1642c605c54bf1cab17d50f1e
Crabs and summertime in Maryland are like avocado and toast; they just go together. Maryland has a high population of blue crab, one of the most nutritious and safe-to-eat seafood. The secret to why crabs taste so darn good in this state is because they steam them instead of boiling them. Blue crabs, in particular, are a great source of protein and omega-3s.
Don't live in Maryland? You can still get a taste of the ocean at home with these 43 Healthy Seafood Recipes That Are Surprisingly Easy to Make.
MASSACHUSETTS: Fried Clams
If chowder is too heavy for you during summer, just try one of Massachusetts' many clam eateries. Here's a little secret about these small mollusks: They're a source of Vitamin B12.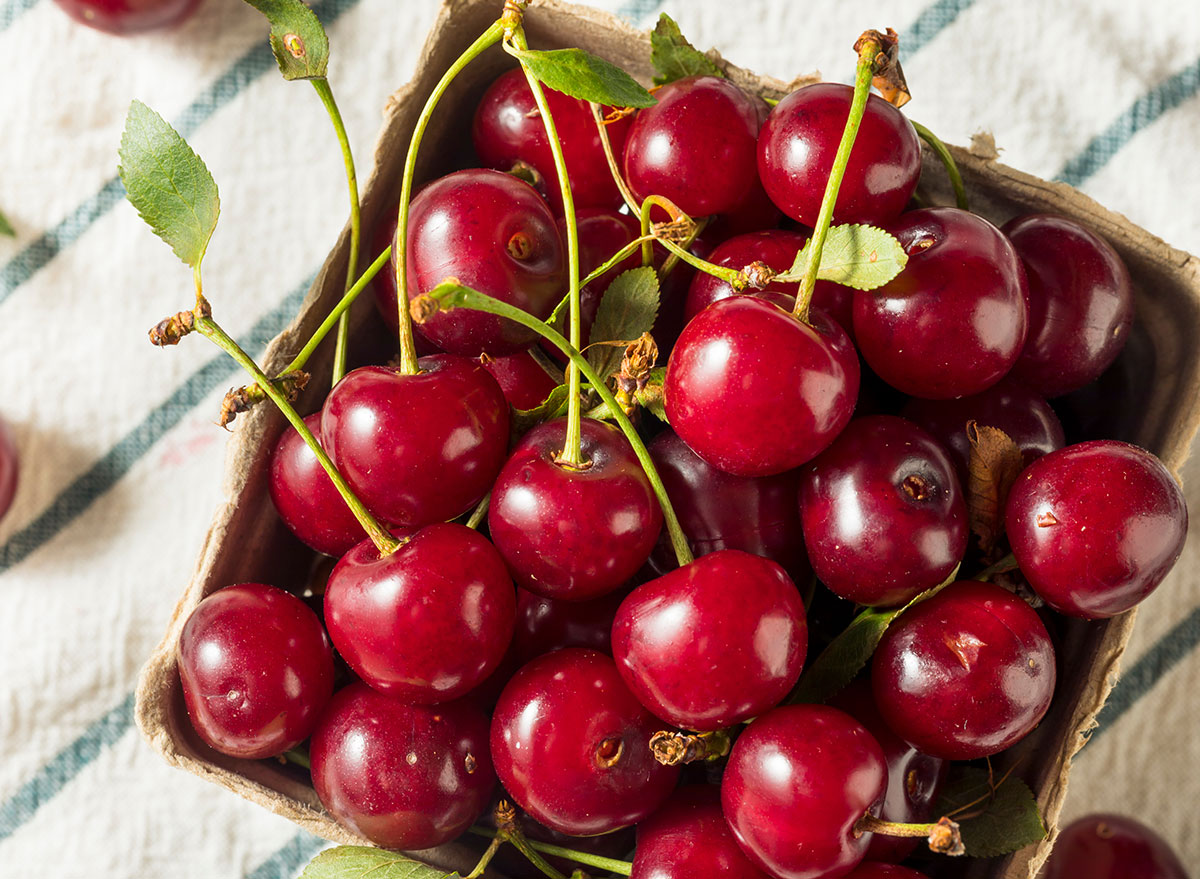 Summer means it's cherry season, and you'll find the ripest, juiciest ones in all the land in Michigan. Cherries were first cultivated in the Traverse City area and have been a Michigan favorite ever since. And here's a little nutrition info for you: One cup of cherries clocks in at fewer than 100 calories and boasts B vitamins, cancer-fighting flavonoids, and three grams of fiber. They're also marked as a natural sleep aid, thanks to their melatonin content.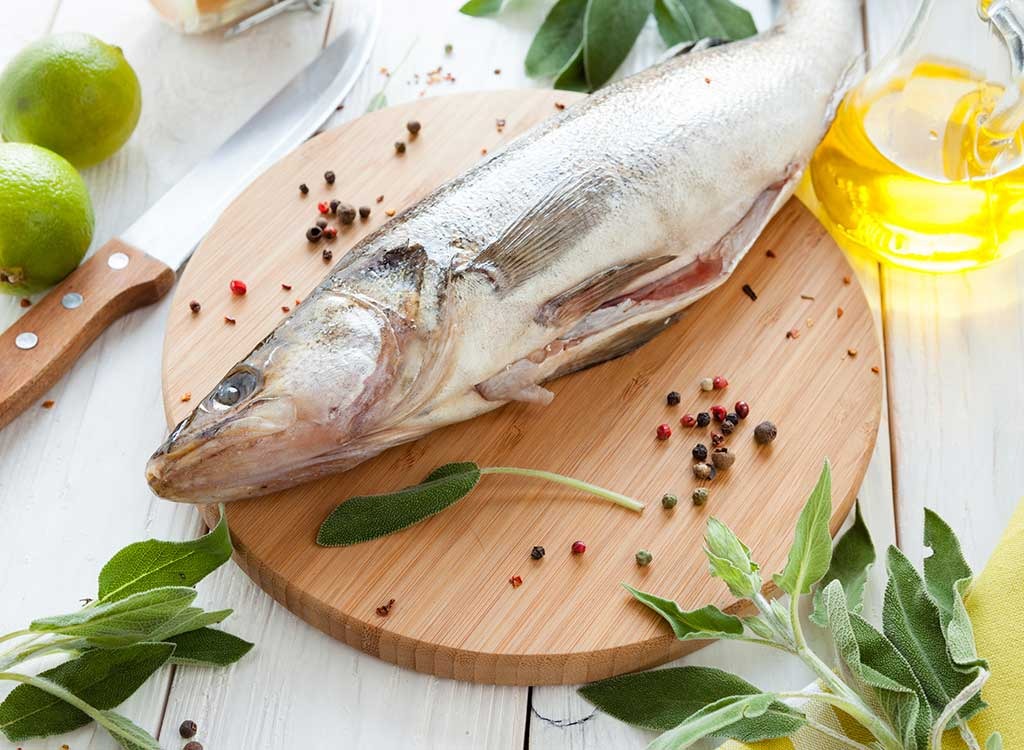 These fish love to appear during the warmest days of summer, and in Minnesota, the supply is always plentiful. In fact, the walleye is Minnesota's official state fish! Walleye has a whopping 21 grams of protein and is one of the healthiest fish you can eat.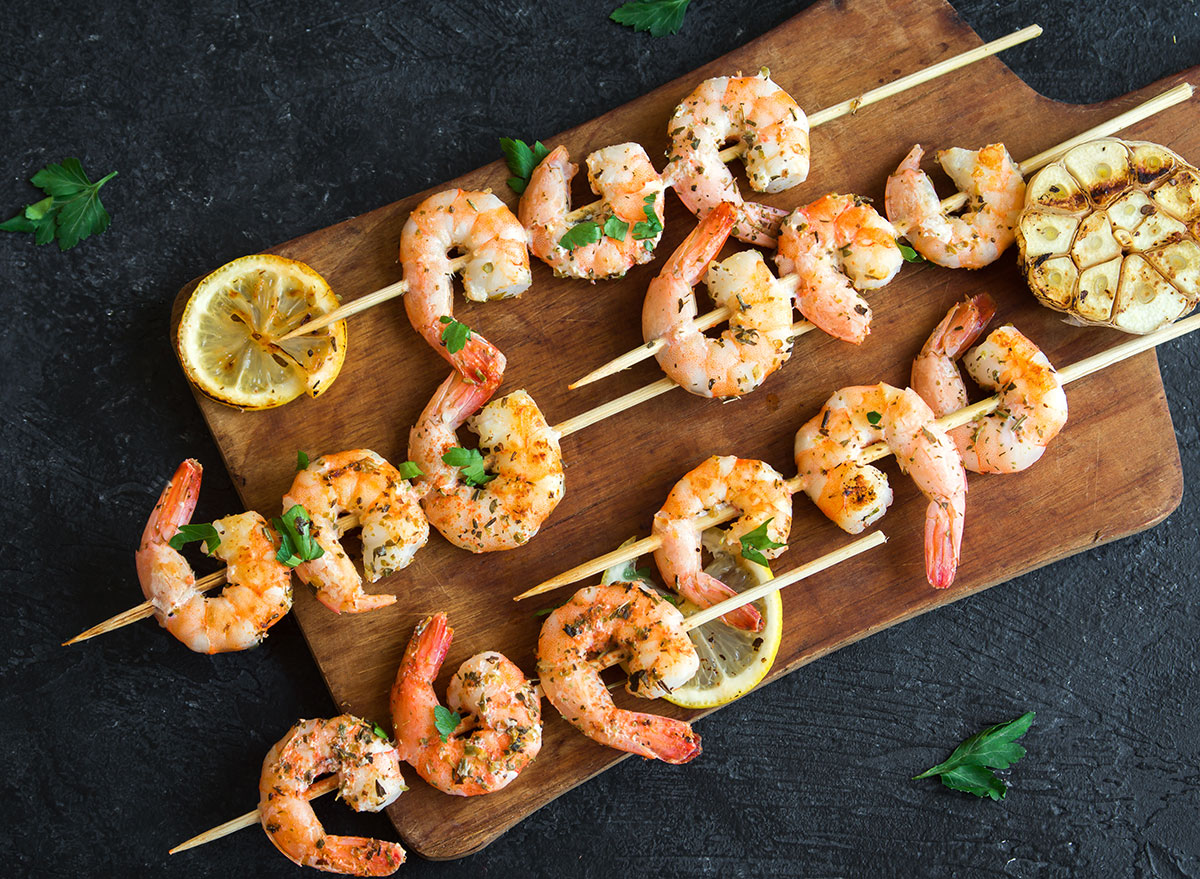 Thanks to its location near the Gulf of Mexico, Mississippi has access to the best shrimp. Shrimp is a low-fat, low-calorie shellfish that can be enjoyed weekly, due to its low mercury content. It's also rich in iodine, which is crucial for your metabolism-running thyroid hormones.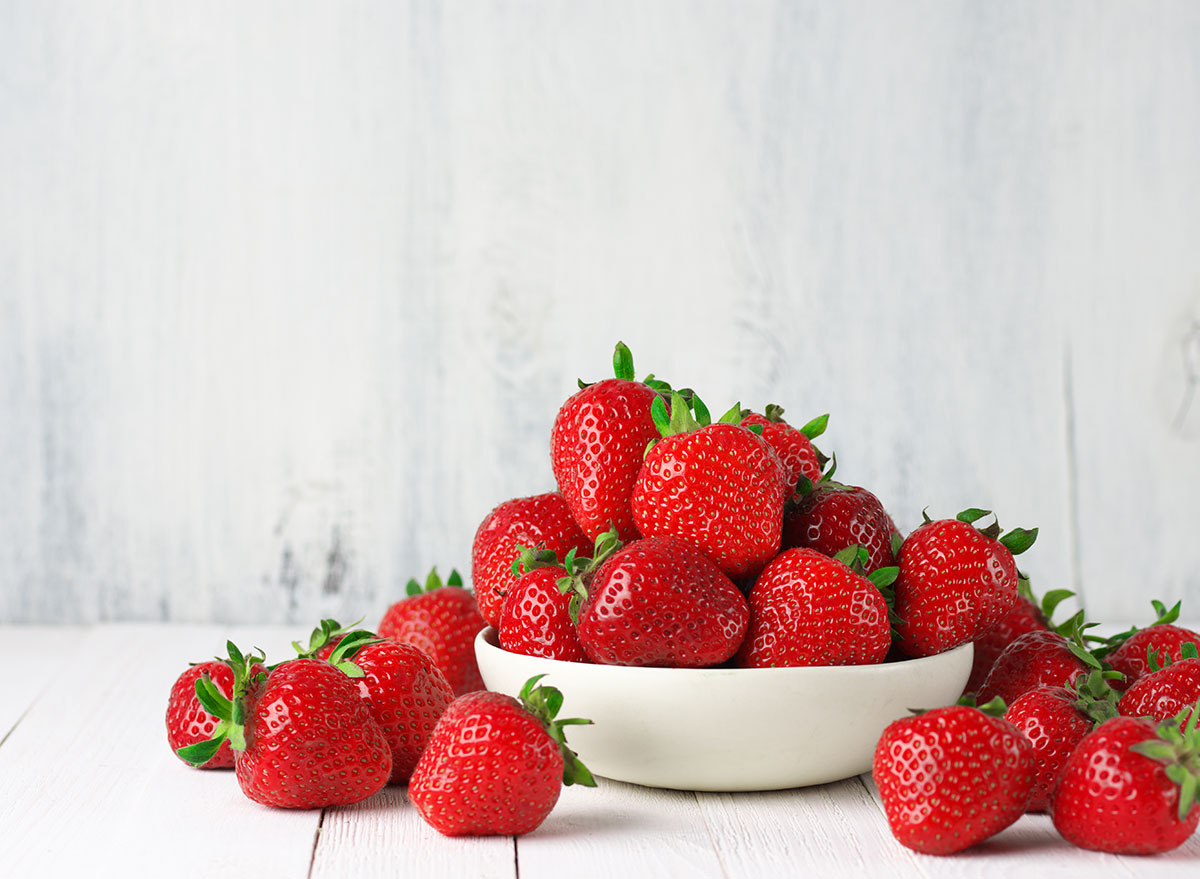 Whether baked into a pie, mashed into jam, or simply eaten raw, strawberries are a must-eat food in Missouri. In fact, Missouri hosts three festivals dedicated to the nutritious fruit, though at least one has been canceled due to the pandemic.
Strawberries are great for satisfying sweet cravings and are packed with polyphenols, which can help you burn fat. Throw them into oatmeal, smoothies, and salads for an extra boost of nutrition. Or try them in this delicious Grilled Strawberry Shortcake Recipe.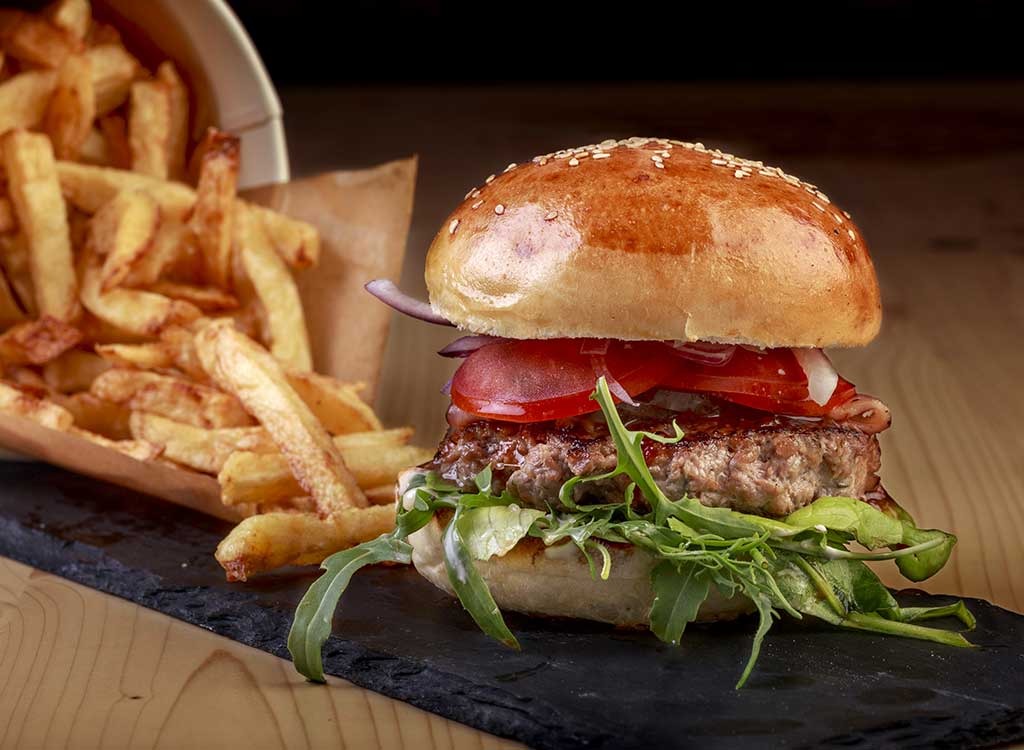 Bored with beef? Montana is more than just mountains; it's also home to some of the more leanest and meanest meats out there, like bison. Bison has half the fat and fewer calories than red meat, and a single serving of bison will give you a day's worth of B-12 vitamins. We'll take a bison burger ASAP, please.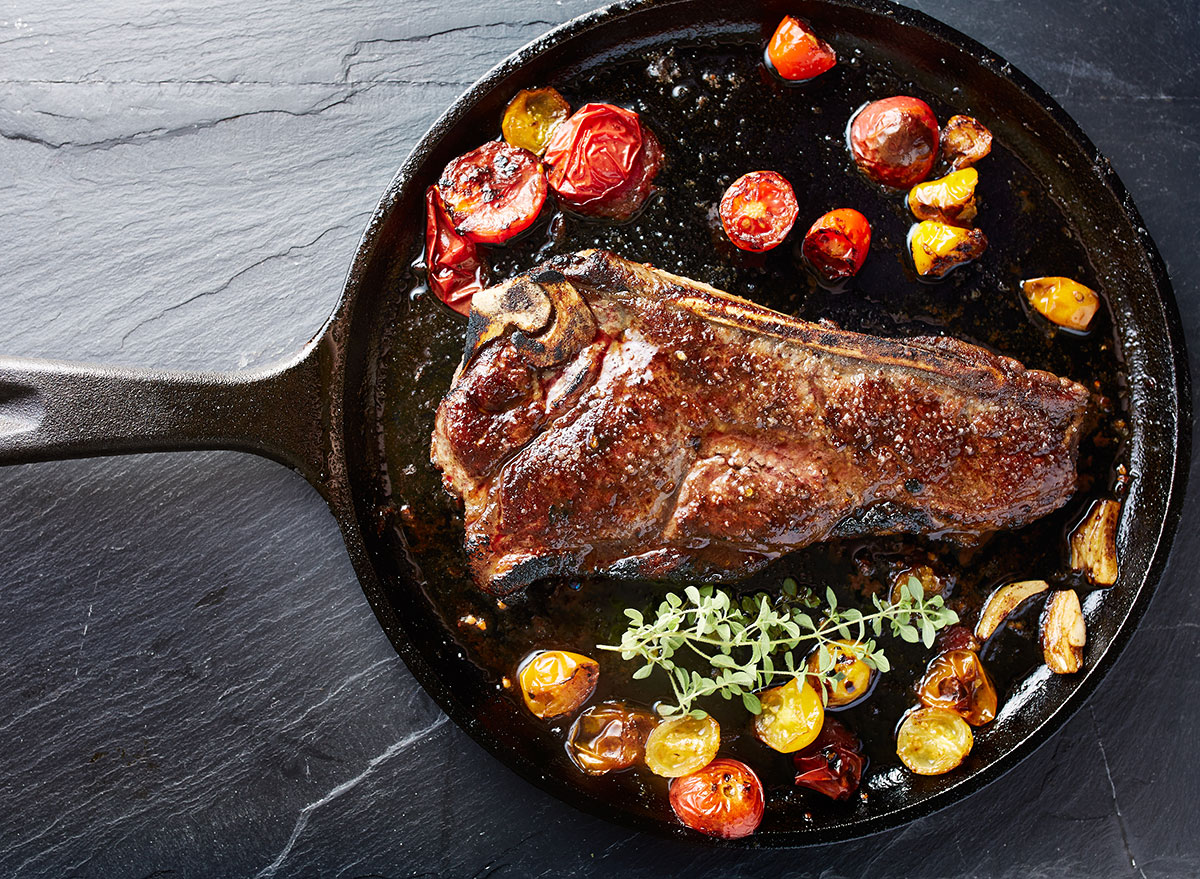 There's nothing like a steak sizzling on the grill, especially if the meat is from Nebraska. This state is one of the largest beef capitals of the USA (the cow population is higher than the human population in this state), which means steaks are plentiful.
NEVADA: All-You-Can-Eat Buffets
It remains to be seen whether buffets will survive the coronavirus pandemic, as they can easily turn into health disasters. But there's something iconic about Vegas buffets, like these 25 Best-Ever Restaurant Buffets in Las Vegas.
Like many other parts of New England, New Hampshire's coast is home to some of the best seafood. Clams, cod, oysters––you name it! If you can't decide what to get, don't miss our exclusive, in-depth report on Every Popular Fish–Ranked for Nutritional Benefits.
NEW JERSEY: Salt Water Taffy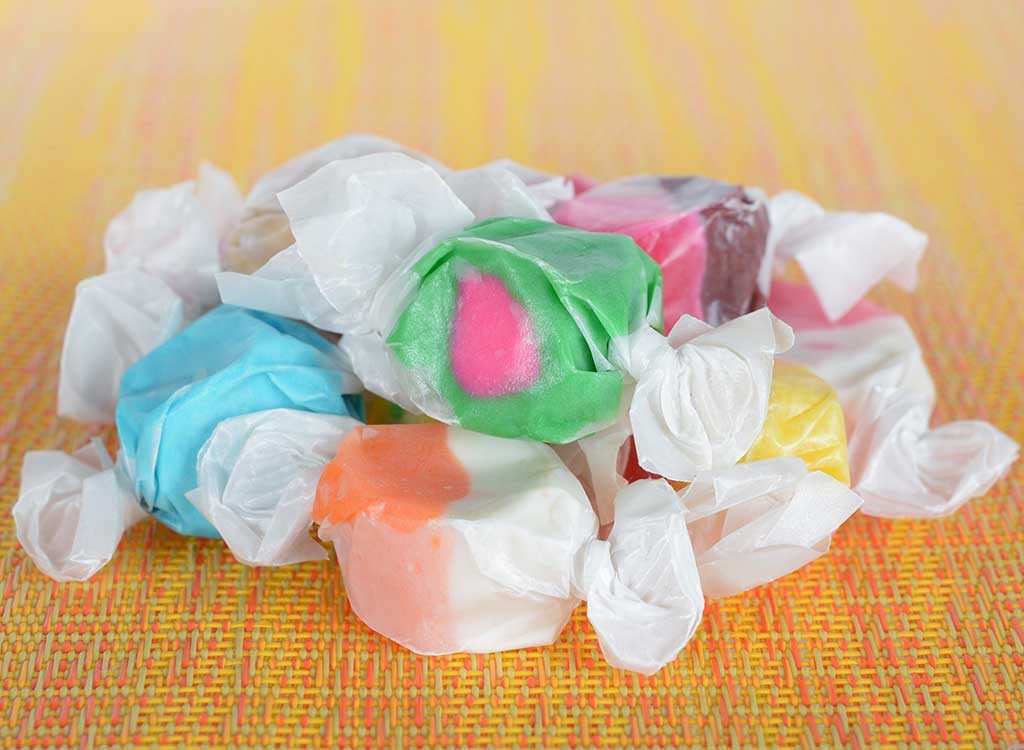 More than 600,000 pounds of taffy are sold each year in the Garden State. Walk down the boardwalk in Atlantic City, and you'll find just about every flavor imaginable.
Red or green? No, we're not talking about Christmas, we're talking about chili peppers, New Mexico's official state food. Not only are they a great way to fire up your meals (pun totally intended), but eating these peppers can also boost your metabolism. The compound that gives the peppers their signature fire, capsaicin, has been proven to reduce belly fat, suppress appetite, and boost thermogenesis (the body's ability to burn food as energy).
Whether it's at a baseball game or from a street vendor, you can find a hot dog practically anywhere in New York City. New Yorkers love hot dogs so much that they host a hot dog eating contest every Fourth of July in Coney Island, the birthplace of the hot dog.
NORTH CAROLINA: Whole Hog Barbecue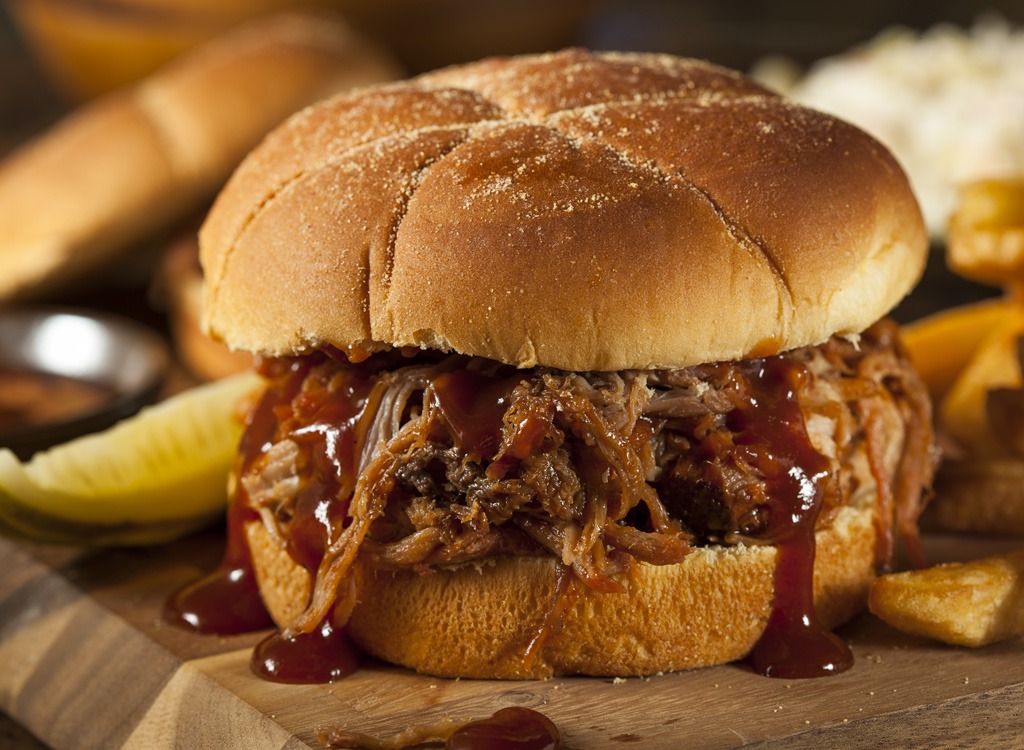 When barbecue season hits the Tar Heel State, it's all about the pork. The roasted pig is a favorite for North Carolinians, especially when paired with the state's vinegar-based sauce that's sweet, spicy, and tangy.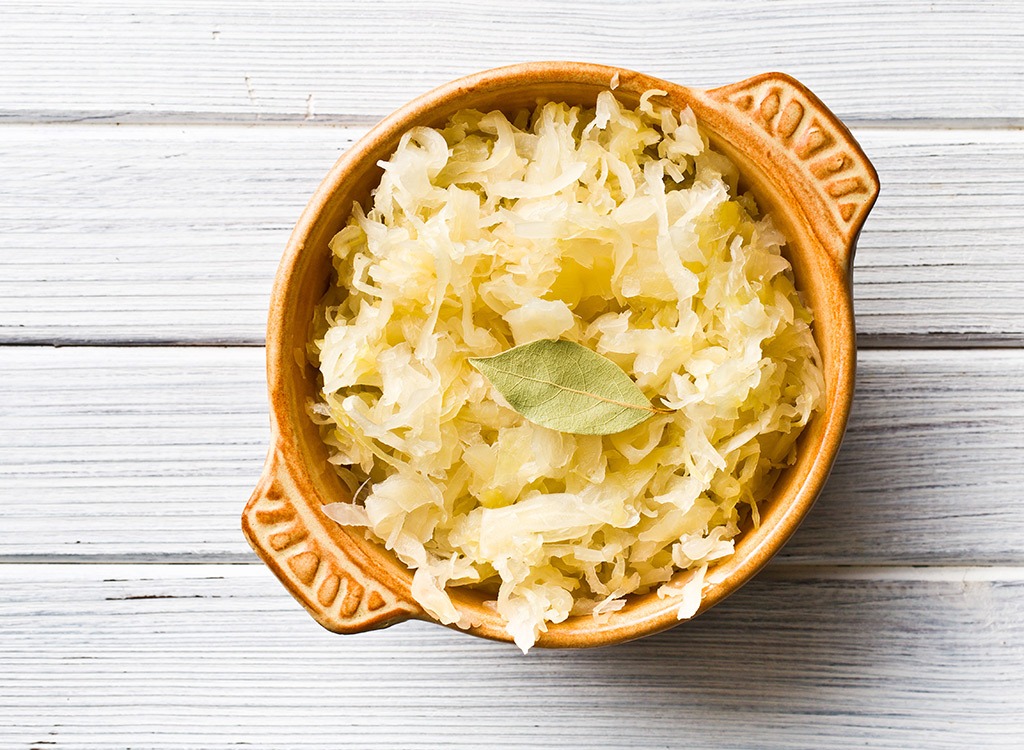 North Dakota's cuisine is inspired by Norwegian, German, and Russian cultures, which is why sauerkraut is so popular there. Made from fermented cabbage, sauerkraut contains natural compounds that have potent cancer-fighting and belly-slimming properties. Unpasteurized sauerkraut has more probiotic potency than yogurt, which boosts the healthy flora in the intestinal tract and bolsters your immune system.
Nothing beats a box of fresh kettle corn from the Ohio State Fair. Ohio has numerous kettle corn vendors producing this sweet and salty snack. Not in Ohio? Find a brand with the least amount of sugar and enjoy it guilt-free.
Want to make this snack at home? Here are 20 Delicious Ways to Dress Up Your Popcorn.
OKLAHOMA: Chicken Fried Steak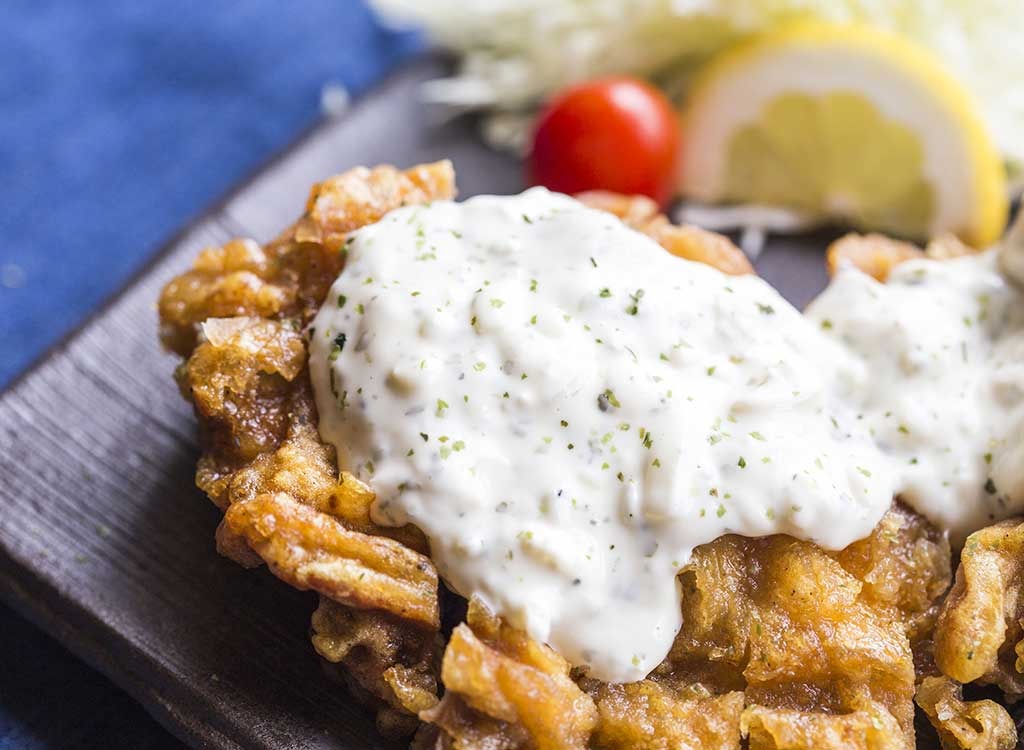 Crispy, crunchy, chicken-fried steak is proud to be a favorite meal for Oklahoma residents. Deep-fried and topped with a creamy sauce, you'll find this meal in almost every Oklahoma restaurant.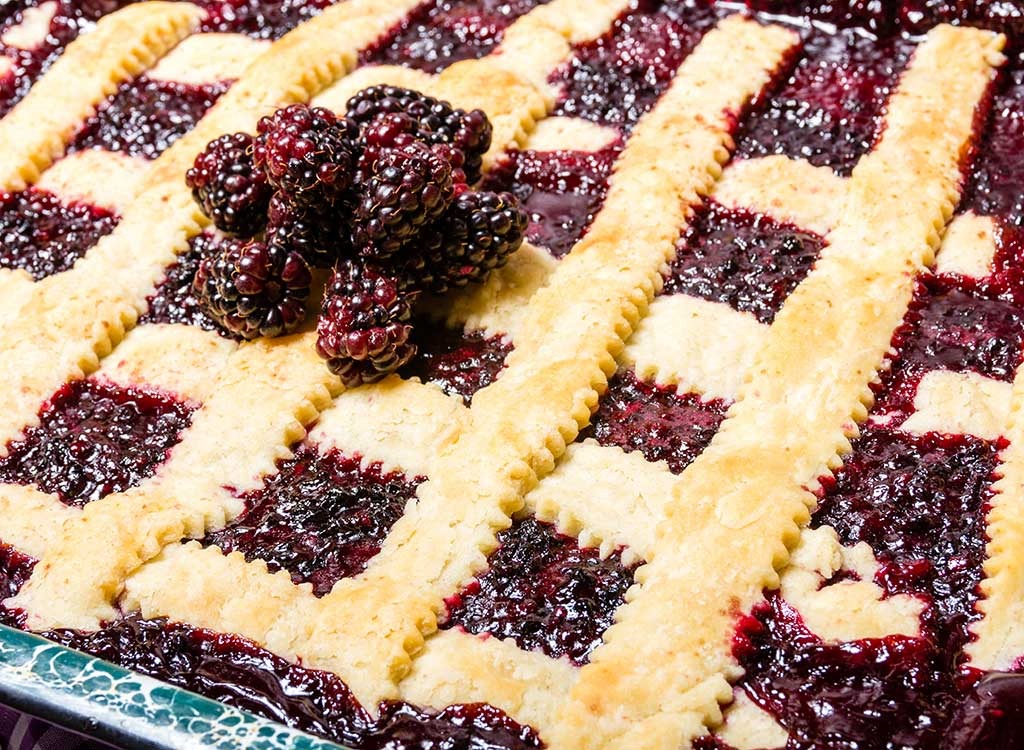 A marionberry is a hybrid blackberry made by the USDA-ARS program in Oregon. The sweet-tart taste has Oregon hooked, with the marionberry officially becoming the state berry in 2009. So what's the best way to eat this berry? Make a pie out of it to enjoy its rich flavor.
PENNSYLVANIA: Philly Cheesesteak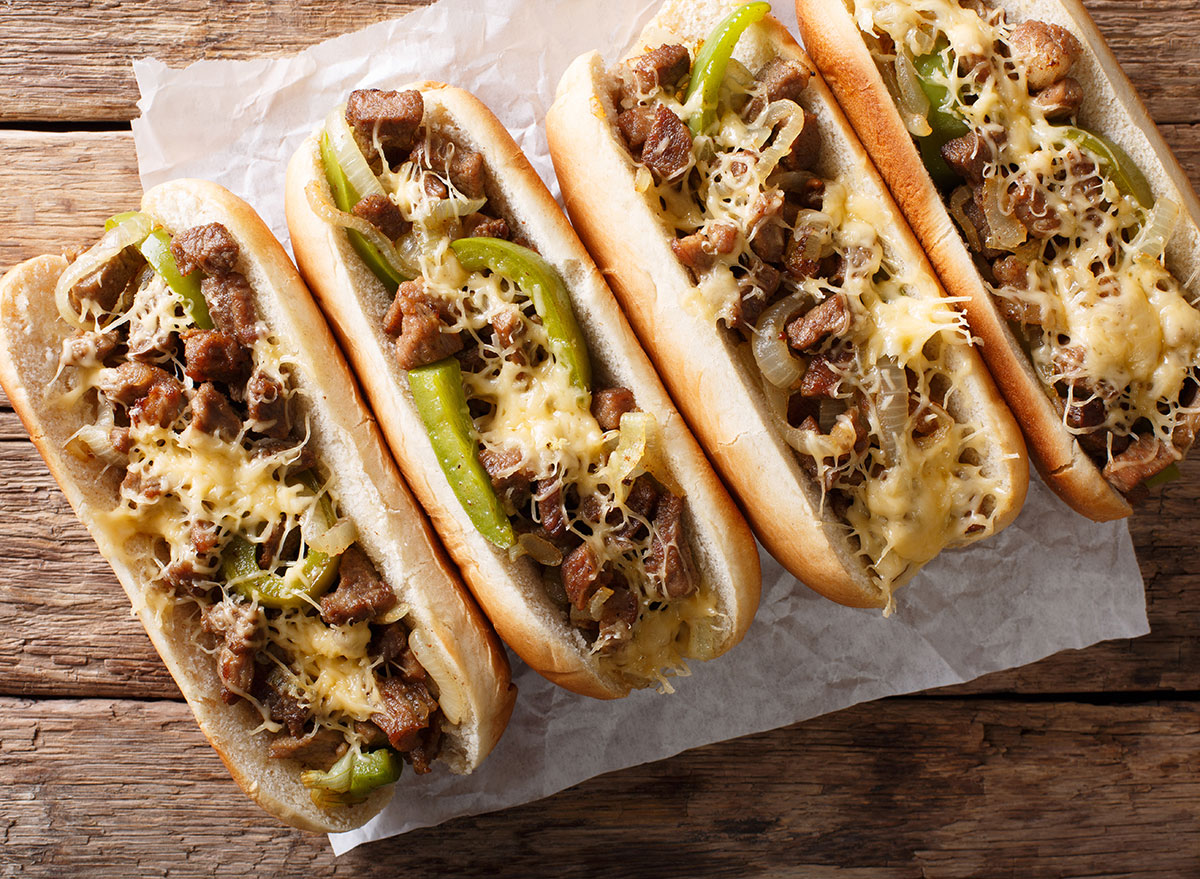 A Philly cheesesteak is a hoagie packed with onions, beef, and Cheez Whiz, although American and provolone are quite common cheese options as well. Want to make this sandwich at home? Here's a Philly Cheesesteak With Caramelized Veggies Recipe.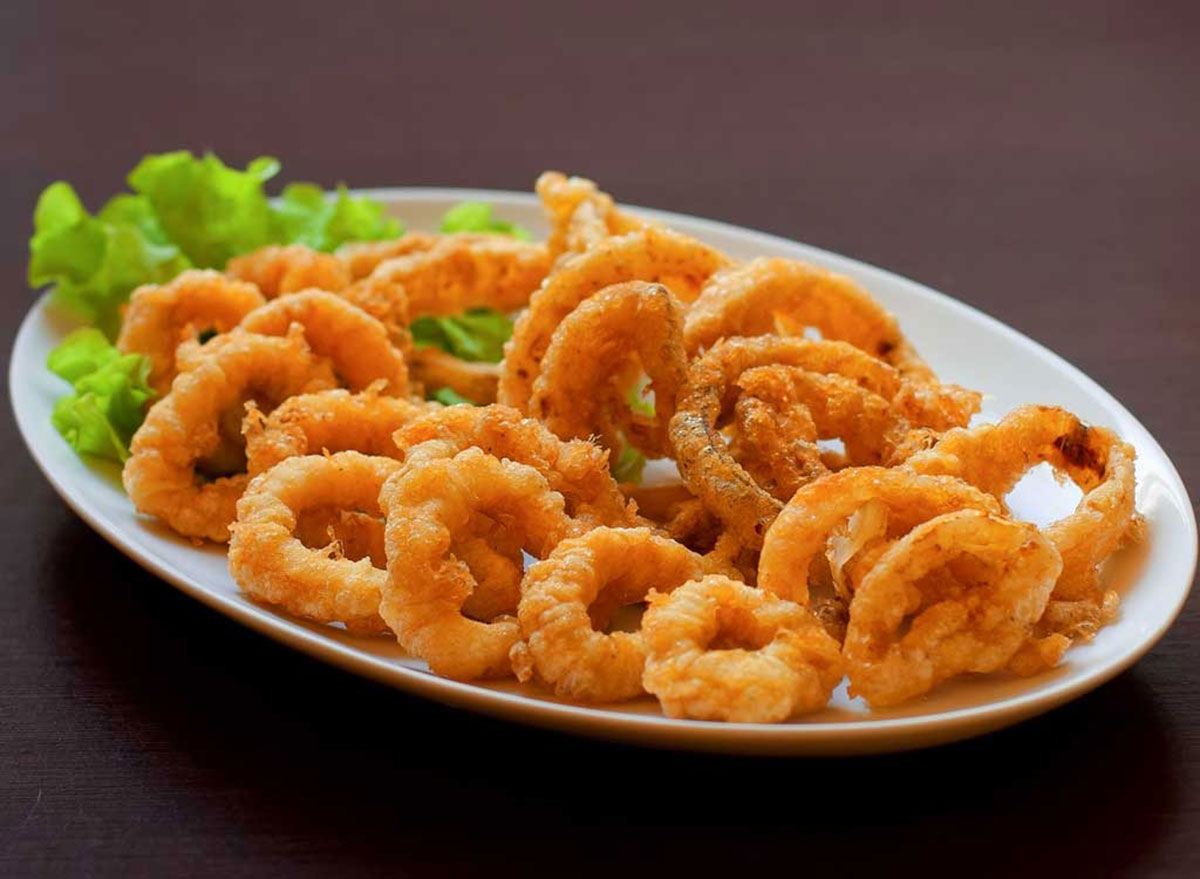 Sure, it may be the smallest state, but it packs a big punch when it comes to seafood. Rhode Island has some of the best calamari in the country, but what's really notable is how they serve it. In this state, it's lightly battered instead of deep-fried.
SOUTH CAROLINA: Sweet Tea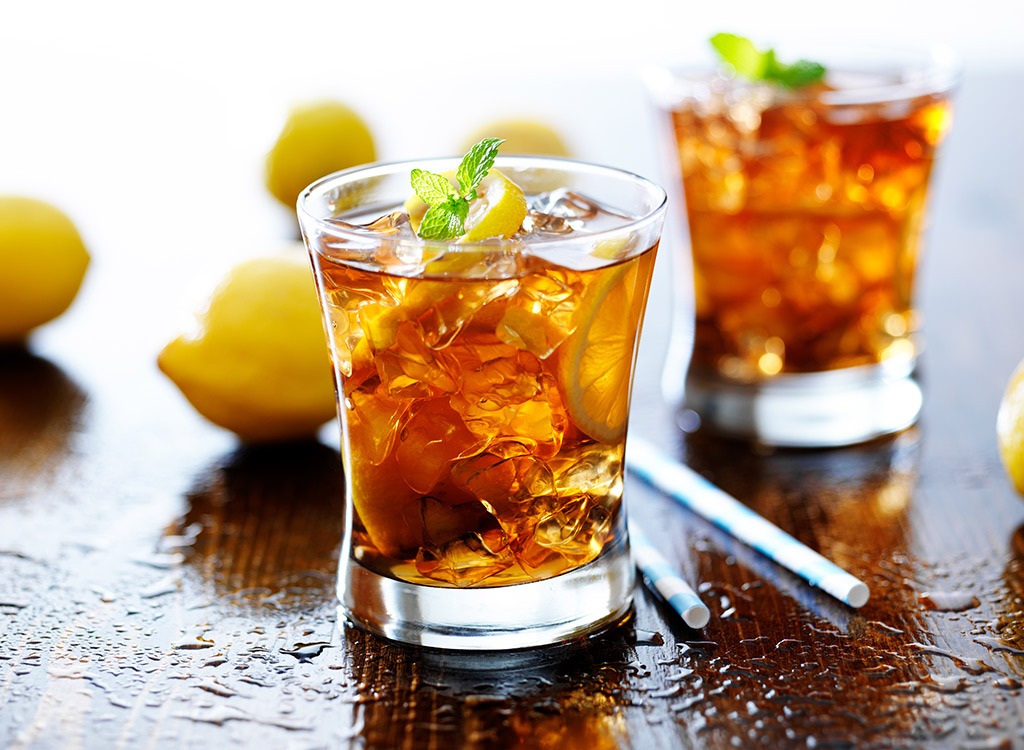 South Carolina is "the birthplace of sweet tea," at least according to its tourism board! Sweet tea is a mix of black tea and lots of sugar and is a popular drink in the South. Want to make your own at home? Here's The #1 Best Way to Make Iced Tea Perfect Every Time.
Chislic is a fancy way of saying "meat on the stick," and it has been enjoyed by South Dakota bar-goers for years. Usually made of beef, lamb, or venison, chislic is usually served kebab style with peppers and onions. So, next time you're in a bar in South Dakota and are craving some meat, opt for grass-fed beef to reap the muscle-building benefits.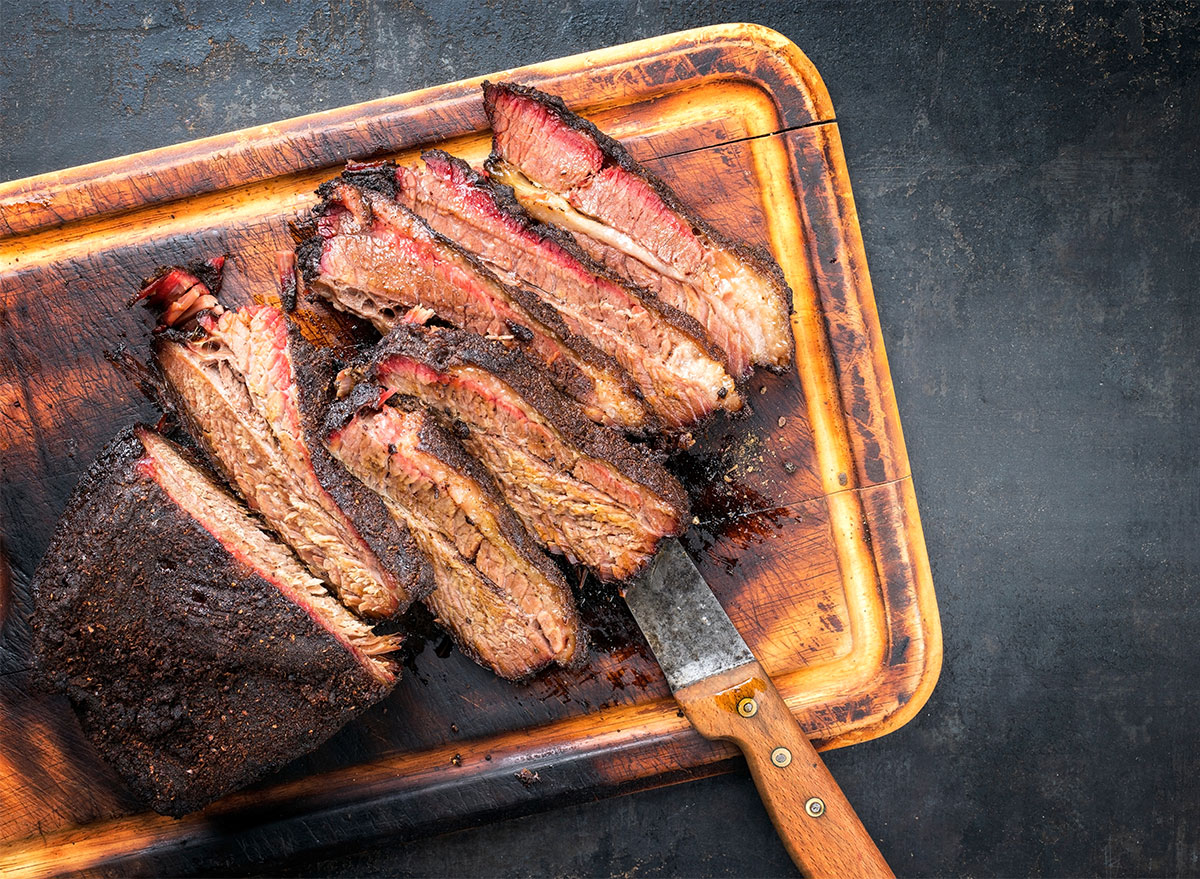 Many states will claim that they have the best barbecue. But while in states like North Carolina, it's all about the pork, it's all about the beef in the Lone Star State. That's right: We're talking about brisket. It's a smokey, tender hunk of beef that you won't want to miss.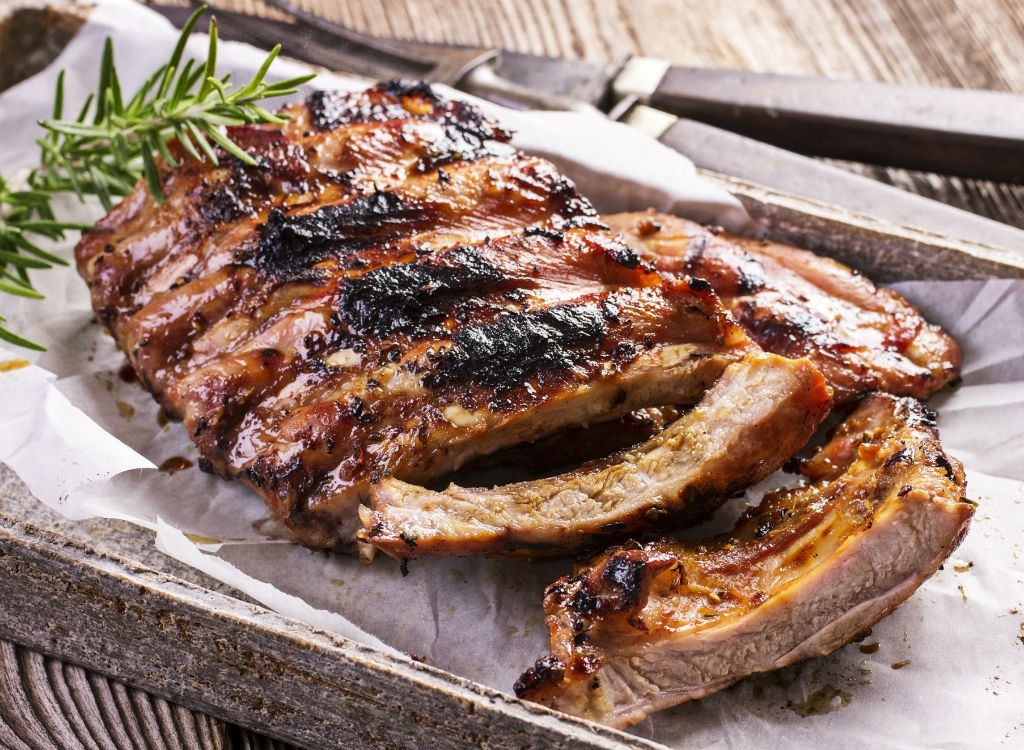 Like Kansas and Texas, Tennessee is home to some tasty barbecue, but with a different twist. Ribs here are made wet with a barbecue sauce or dried with spices and then cooked in a charcoal pit. And just so you know, a six-ounce half-rack serving of ribs provides about 10 milligrams of vitamin B3, half of your daily value for the vitamin.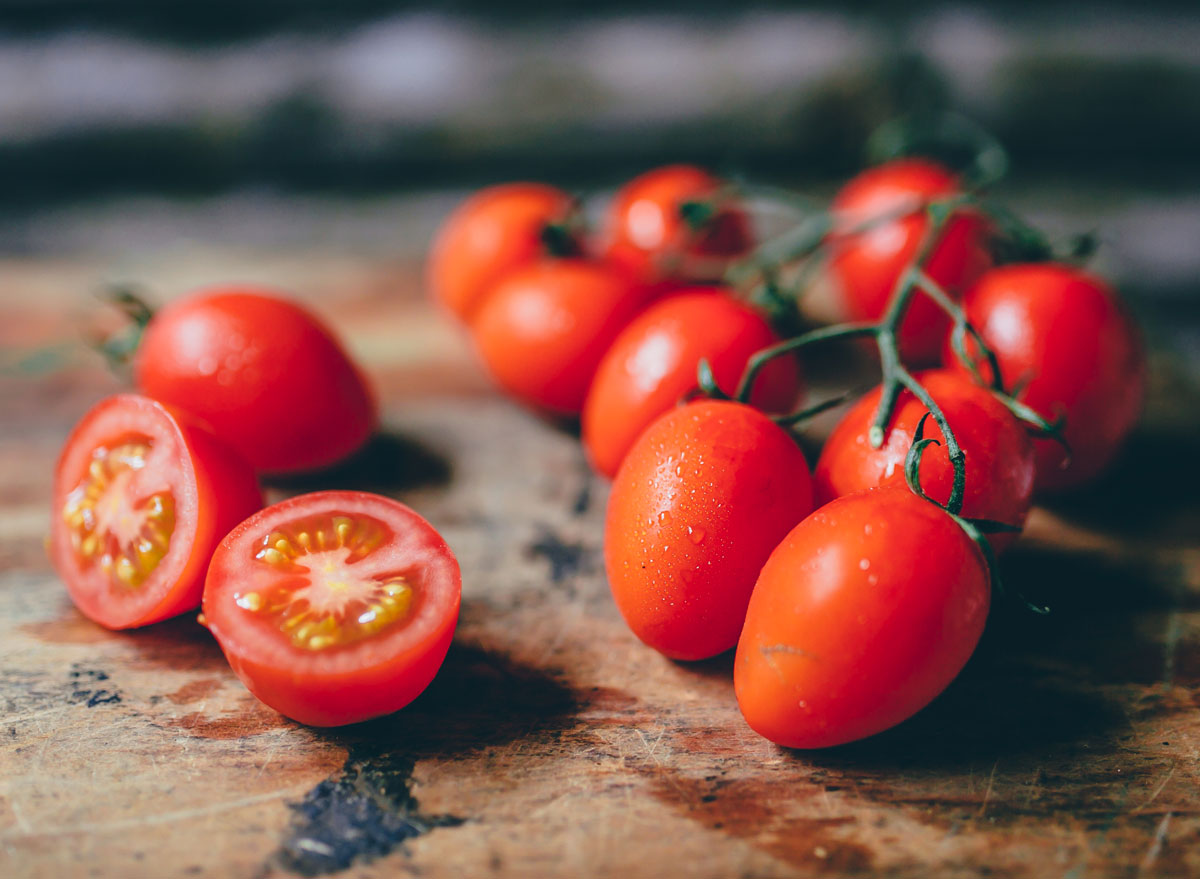 Utah has a reputation for growing some of the juiciest tomatoes in the United States. And when they peak in July, they'll taste even better! Tomatoes are great for throwing into salads and sandwiches or for making a zesty sauce.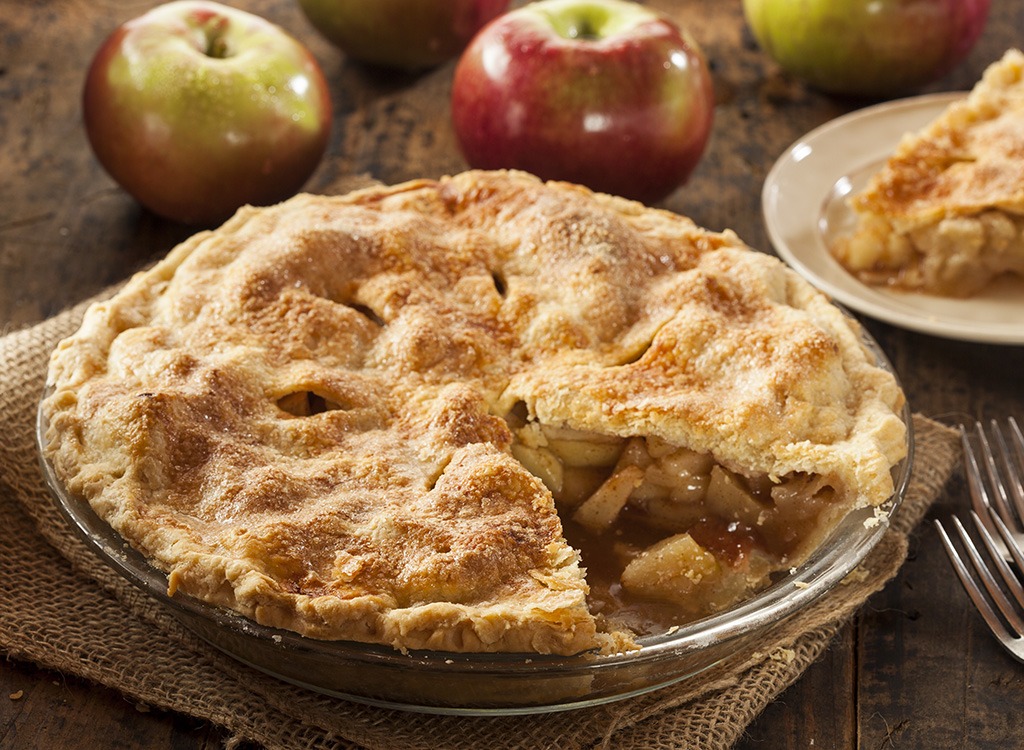 Nothing screams "America" like a traditional apple pie, which is why apple is Vermont's official state pie flavor. While most people associate apples with fall, apple pie is a big hit in the summertime, too.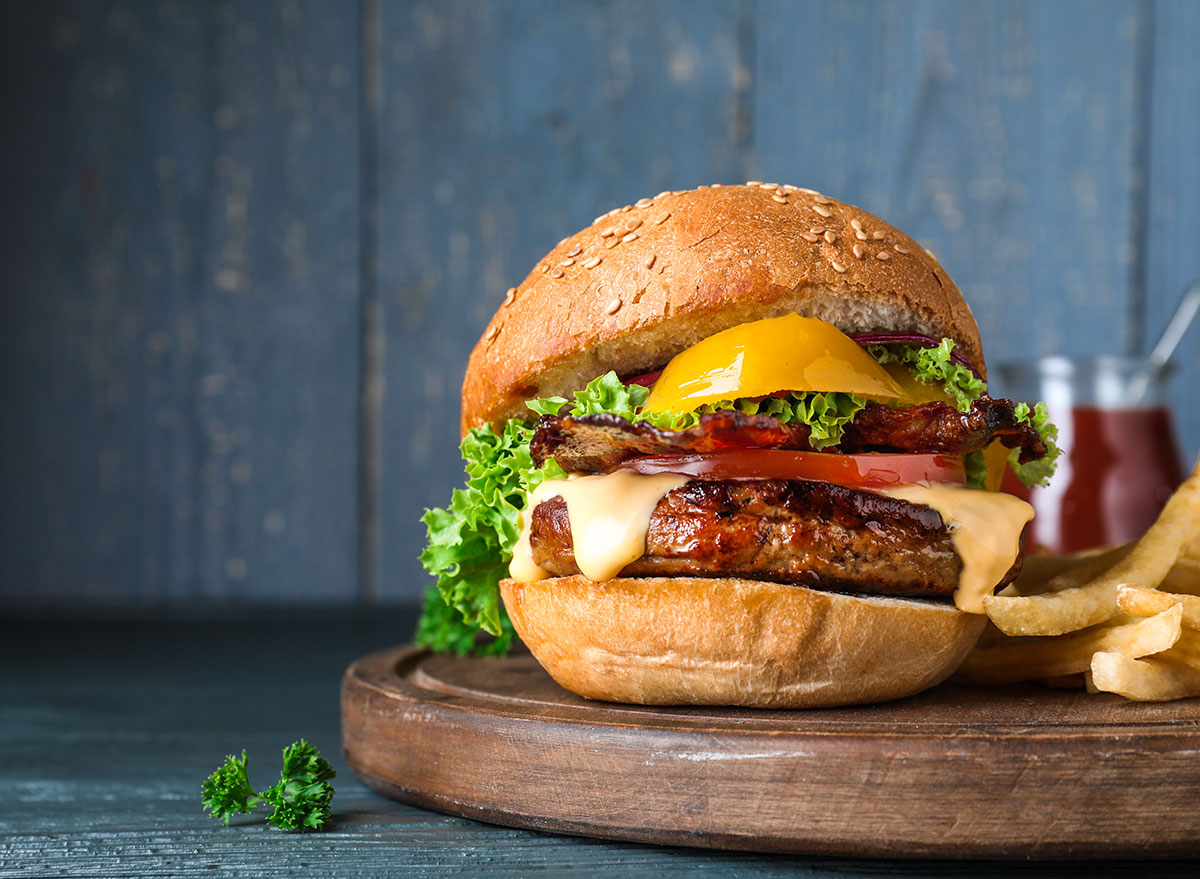 Burgers in Virginia are a force to be reckoned with. If you Google "best burger in Virginia," you'll get dozens of listings with their own take on the best. Here, they're meaty, and chefs don't skimp on toppings or crazy concoctions.
Craving this summer classic? Here's The Absolute Best Burger in Every State.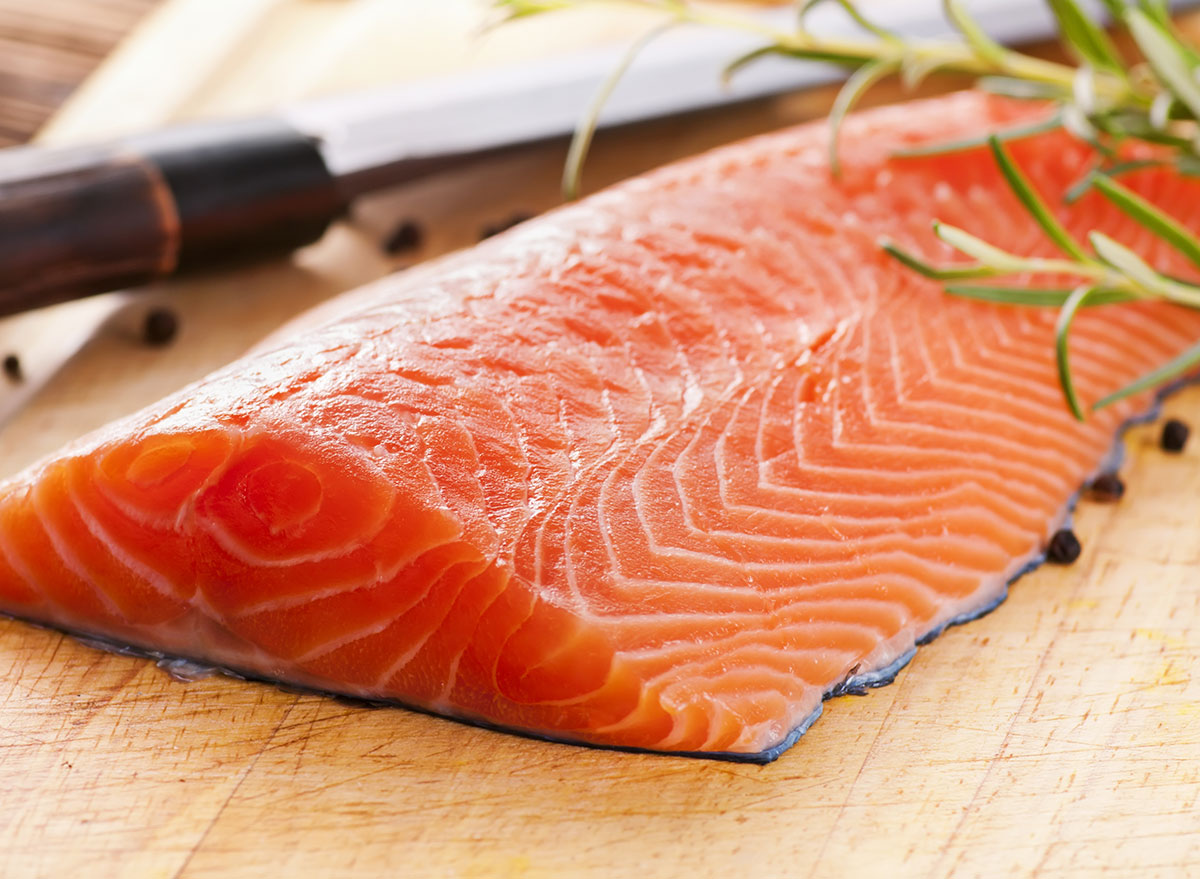 Ah, Washington, home of the two s's: Starbucks and Salmon. That's right: You can find the freshest batch of this fatty fish in the Evergreen State. Wild salmon is rich in healthy fats and omega-3s, and our advice to choose the wild salmon every time.
WEST VIRGINIA: Pepperoni Rolls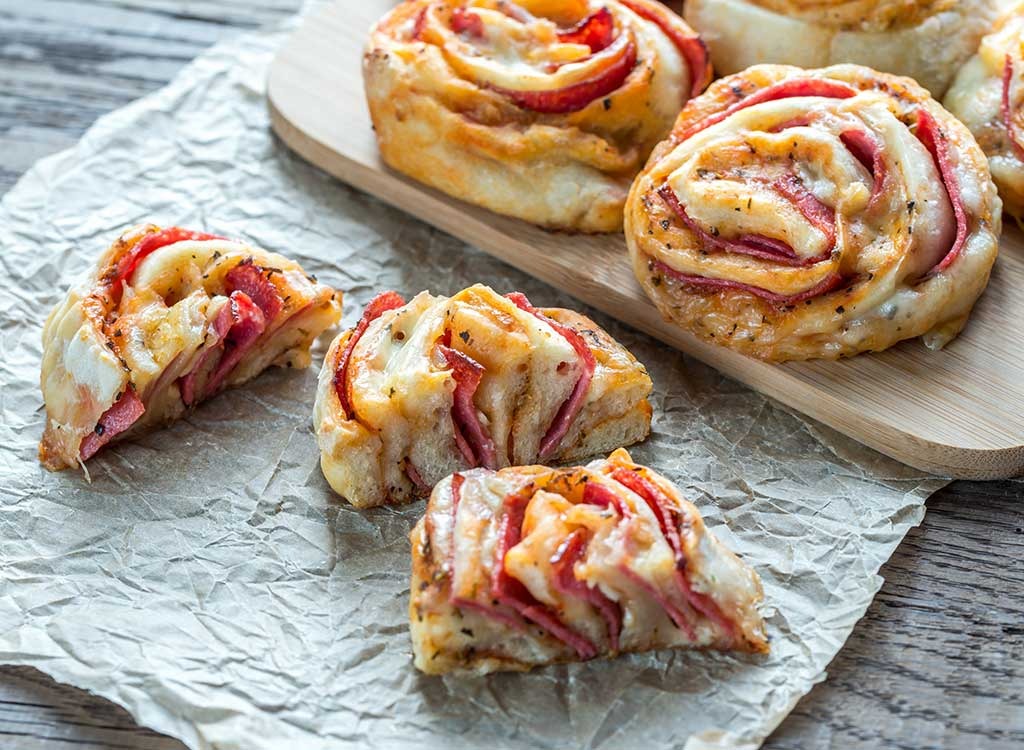 Almost 100 years ago, a man by the name of Giuseppe Argiro decided to put pepperoni into yeast rolls, and the pepperoni roll was born. West Virginia prides itself on being the home of this meat-and-cheese concoction.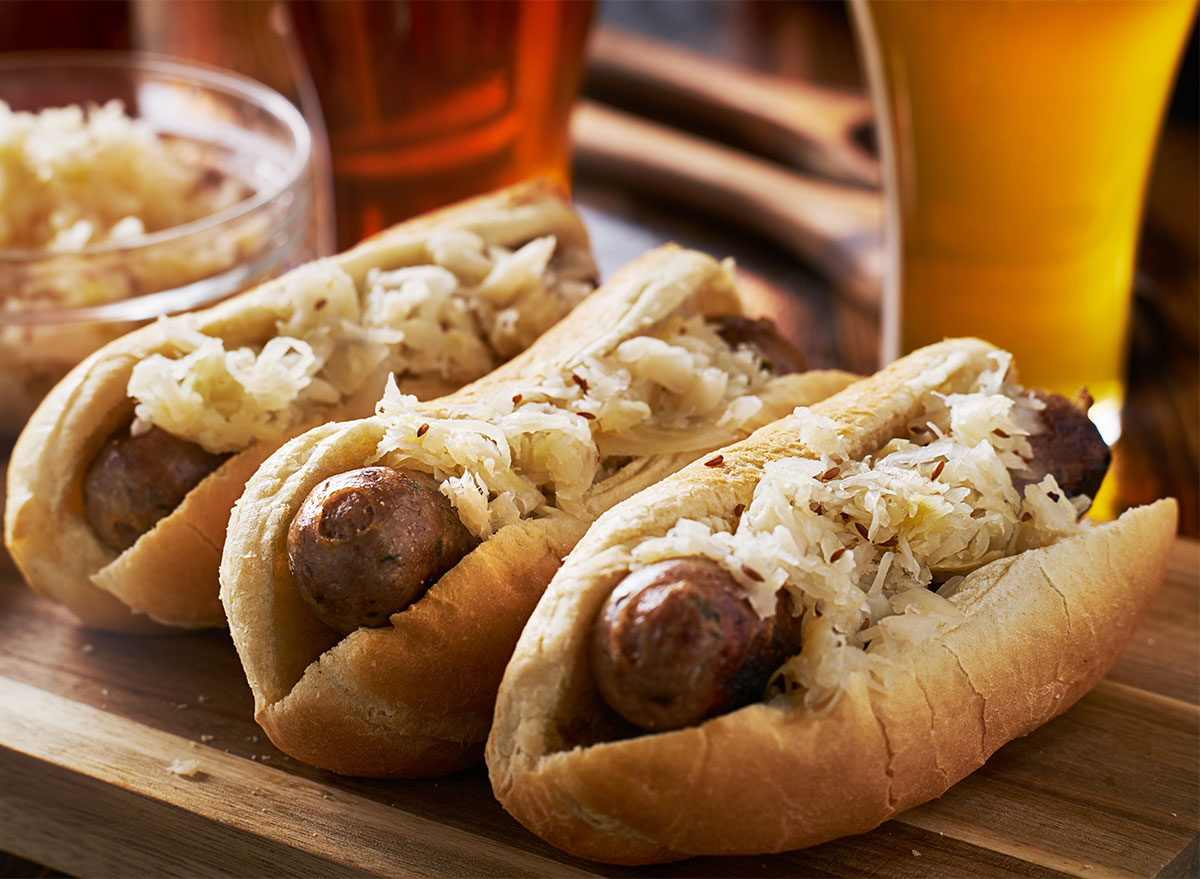 Hit up the state fairs in Wisconsin and you'll see just about everyone eating a beer brat. For those of you who don't know, it's a sausage poached in beer and then cooked with onions and butter—basically the hot dog's fratty older brother.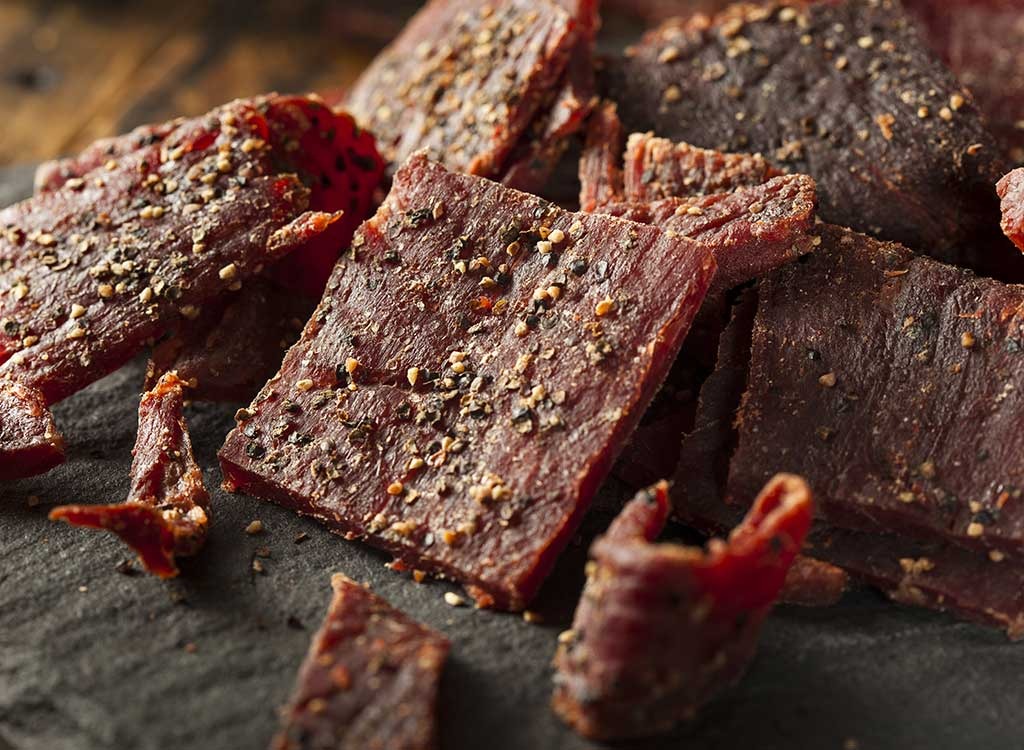 "Cowboy" cuisine is the talk of the town in Wyoming, and nothing says "howdy" like a piece of buffalo jerky. Wyoming is home to the largest buffalo herds in the country, so it's no wonder that jerky is a popular food. And after a long hike in Yellowstone National Park, it makes a great post-workout snack.
And for a delicious way to stay cool this summer, here's The Absolute Best Ice Cream Shop in Every State.