8 Best Protein Smoothie Recipes to Help Lose Abdominal Fat
If you're looking to burn belly fat, you can start with the first thing you drink in a day.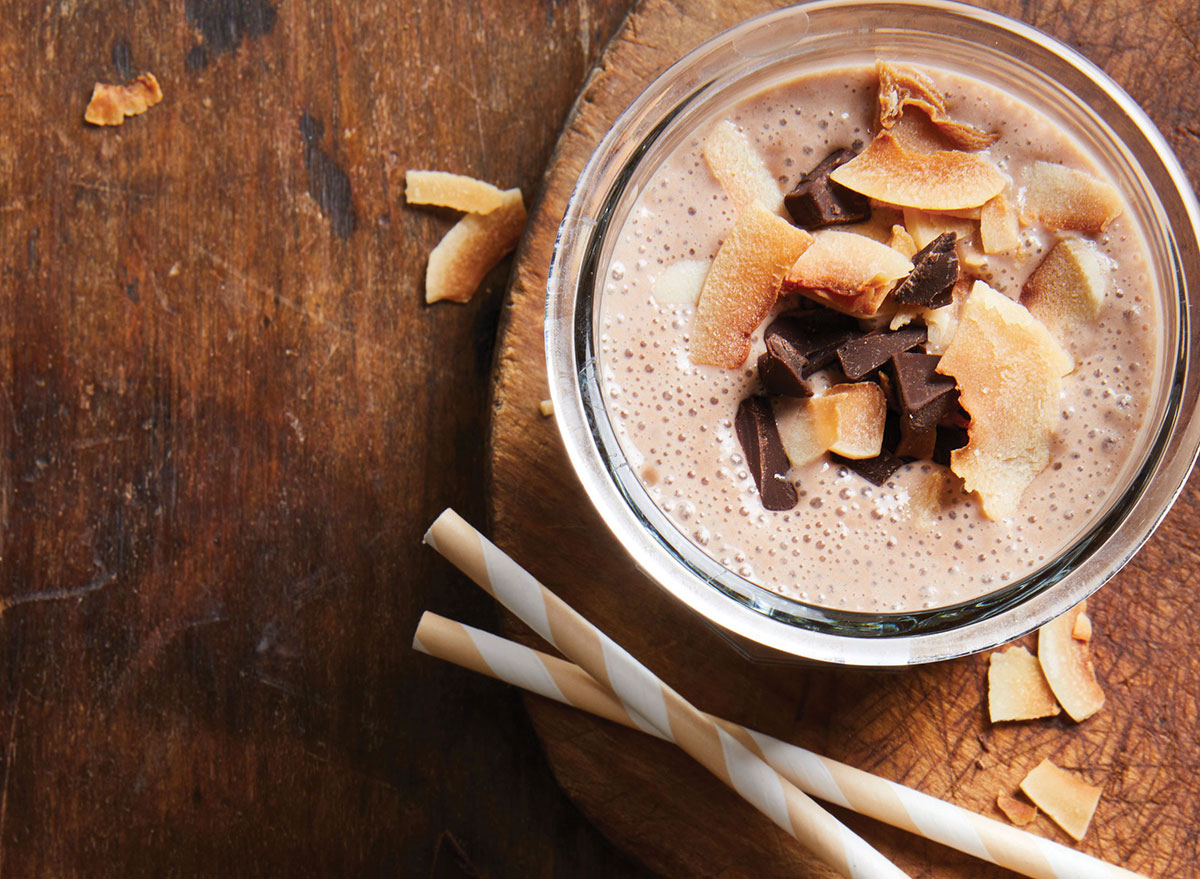 When you think about losing fat, most of us are thinking about subcutaneous fat: the type of fat that is under the skin and the first thing you'll lose when you eat fewer calories than you burn. What we're less familiar with is abdominal fat, also called visceral fat, the "harmful" type of fat. This fat wraps around your internal organs, significantly increasing your risk of certain diseases. When you're looking to lose fat, it's important to focus on abdominal fat as well, and an easy way to do this is by drinking protein smoothies.
Adding protein to your diet has been shown to reduce levels of abdominal fat, subsequently lowering your risk of diseases related to abdominal fat such as cardiovascular disease and type 2 diabetes.
"Increasing protein intake results in increased satiety and a decrease in the release of ghrelin, our primary hunger hormone. When we increase our protein intake we often inadvertently decrease our intake of simple carbohydrates and sugars, which contribute to weight gain and the development of chronic conditions such as diabetes and heart disease," explains Dr. Kelcie Rosendahl, a Naturopathic Physician on Arrae's Medical Advisory Board.
Not only do high protein diets decrease abdominal fat and overall weight, but they can also benefit cholesterol levels, according to a Nutrition, Metabolism & Cardiovascular Diseases study.
There are many ways you can add protein to your smoothies, including powders, yogurt, tofu, nut butters, seeds, or soy milk. Read on for some creative ways to add these protein sources to your smoothies to burn abdominal fat, and for more on how to eat healthy, don't miss Eating Habits to Lose Abdominal Fat As You Age, Say Dietitians.
Raspberry-Peach Swirled Smoothie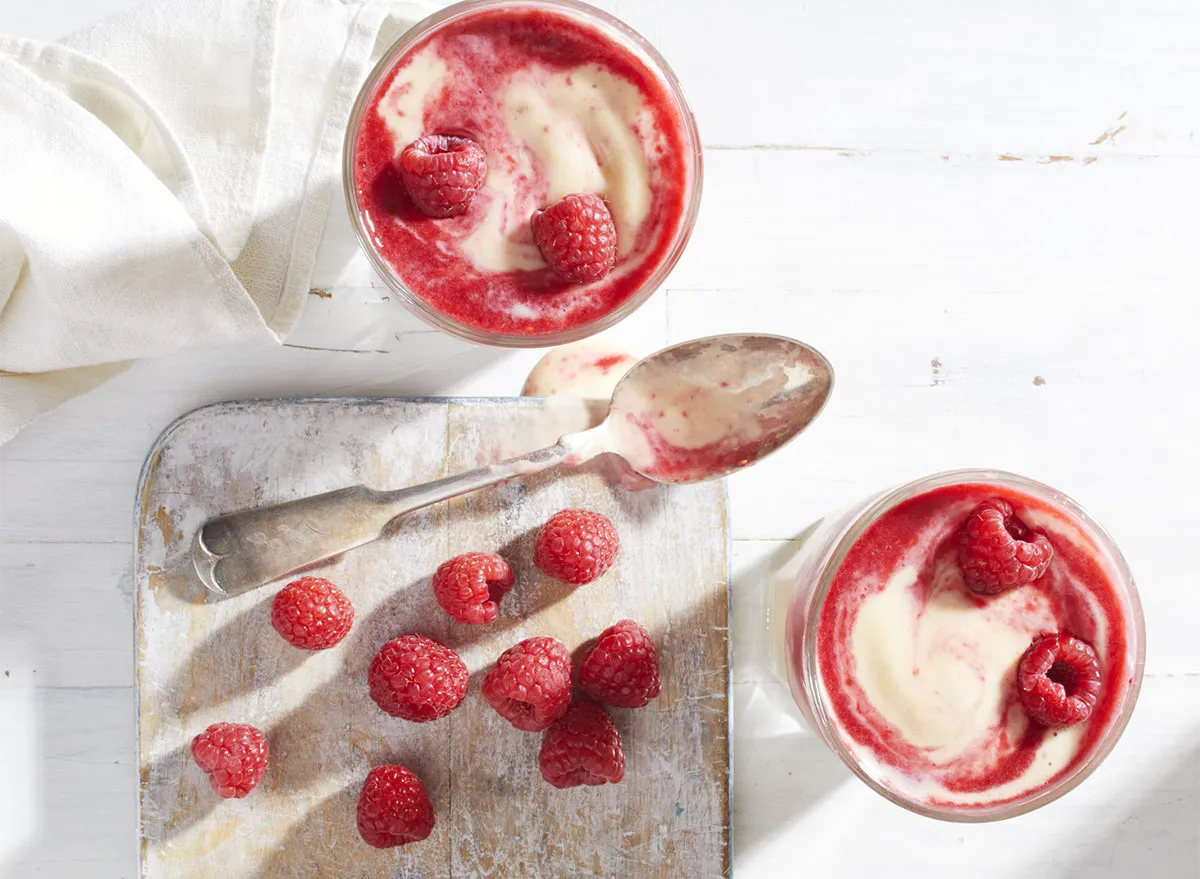 For a supercharged smoothie to blast abdominal fat, look no further than this breakfast beverage that blends frozen raspberries, peaches, banana, orange juice, and ginger. The protein in this smoothie comes from Greek yogurt, a food that one study found to decrease the amount of abdominal adipose tissue stored in the body when eaten consistently.
Get our recipe for Raspberry-Peach Swirled Smoothies.
Acai-Blueberry Smoothie Bowl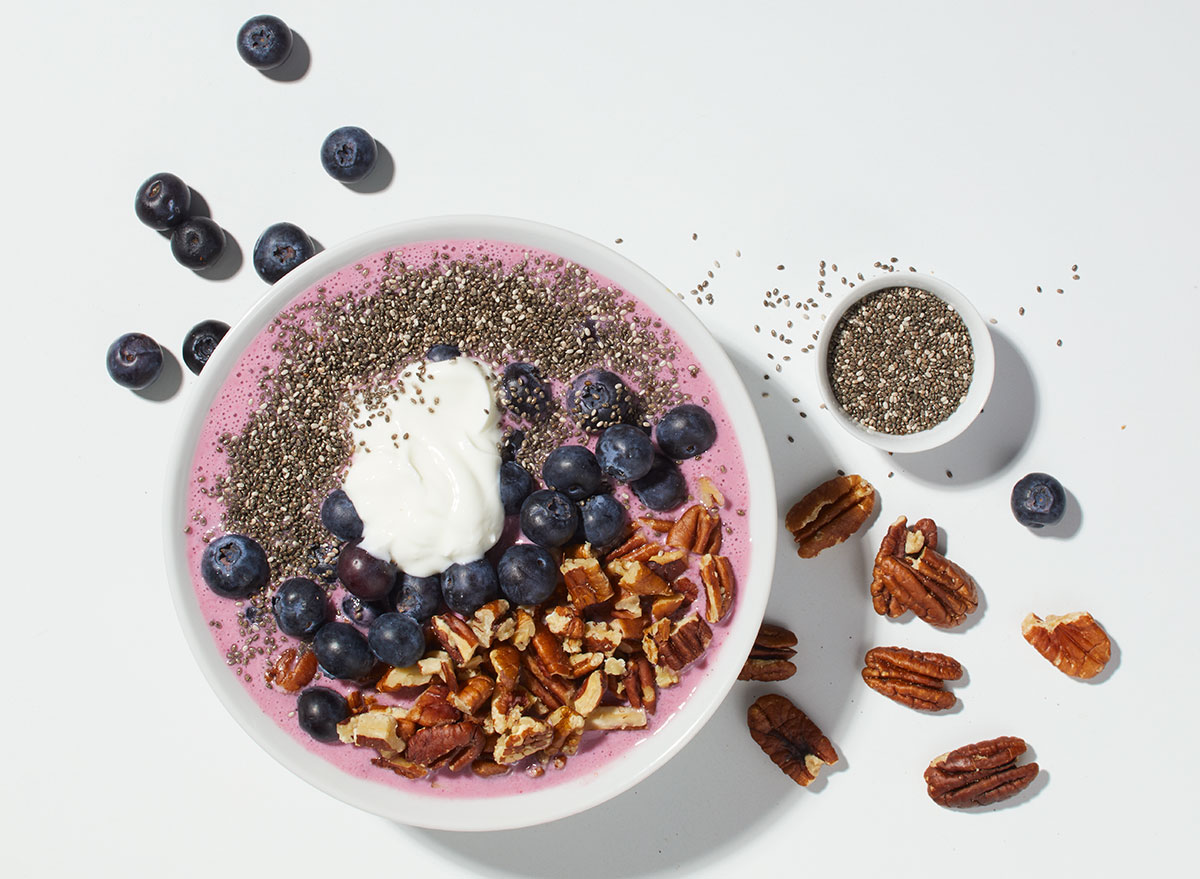 The antioxidant-rich acai is the superfood featured in this smoothie bowl, which gets nine grams of protein and five grams of fiber from yogurt, chia seeds, and pecans. Chia seeds are a good source of plant-based omega-3 fatty acids, a nutrient that has been shown to benefit body fat composition through various mechanisms such as improving insulin sensitivity and combating inflammation. While you can get some omega-3s from plants like chia seeds, omega-3 fatty acids in fish are more bioavailable, meaning your body can use these more efficiently.
Get the recipe for our Acai-Blueberry Smoothie Bowl.
Chocolate-Coconut-Banana Smoothie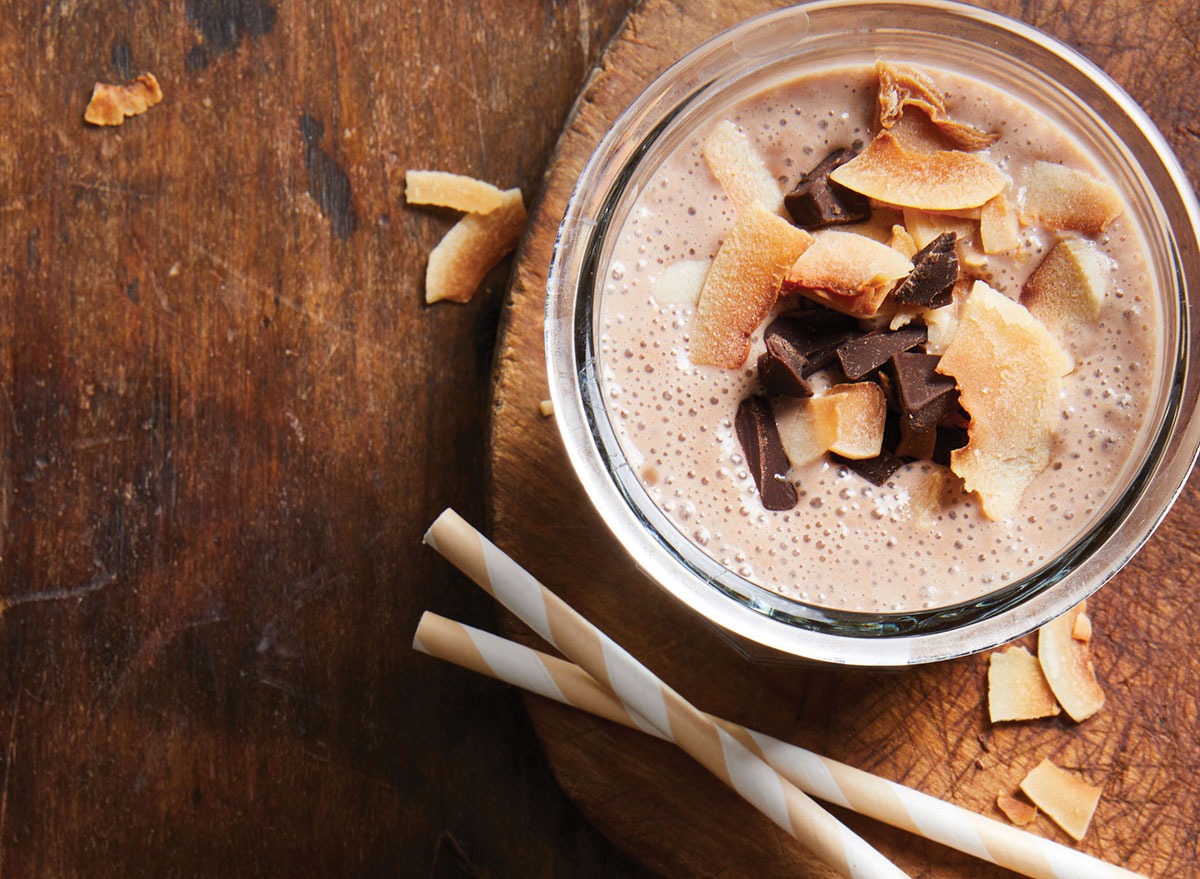 Love an Almond Joy candy? Swap it out for this healthy smoothie recipe that also features coconut and chocolate. The abdominal fat-burning punch comes from Greek yogurt with a double fat-blasting whammy from coconut, which research shows contain a fat called medium-chain triglycerides that can significantly decrease the total amount of fat stored by the body.
Get our recipe for Chocolate-Coconut Banana Smoothies.
Paleo Yogurt and Granola Smoothie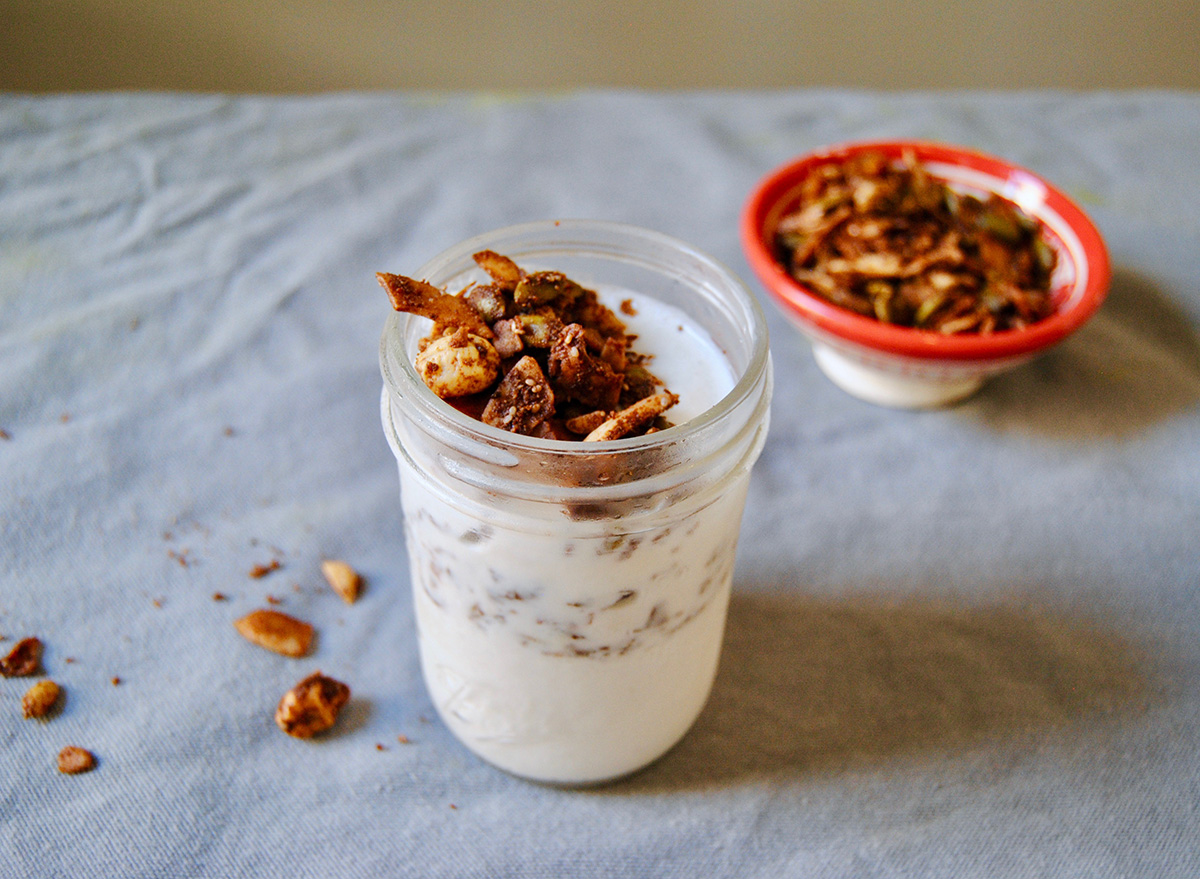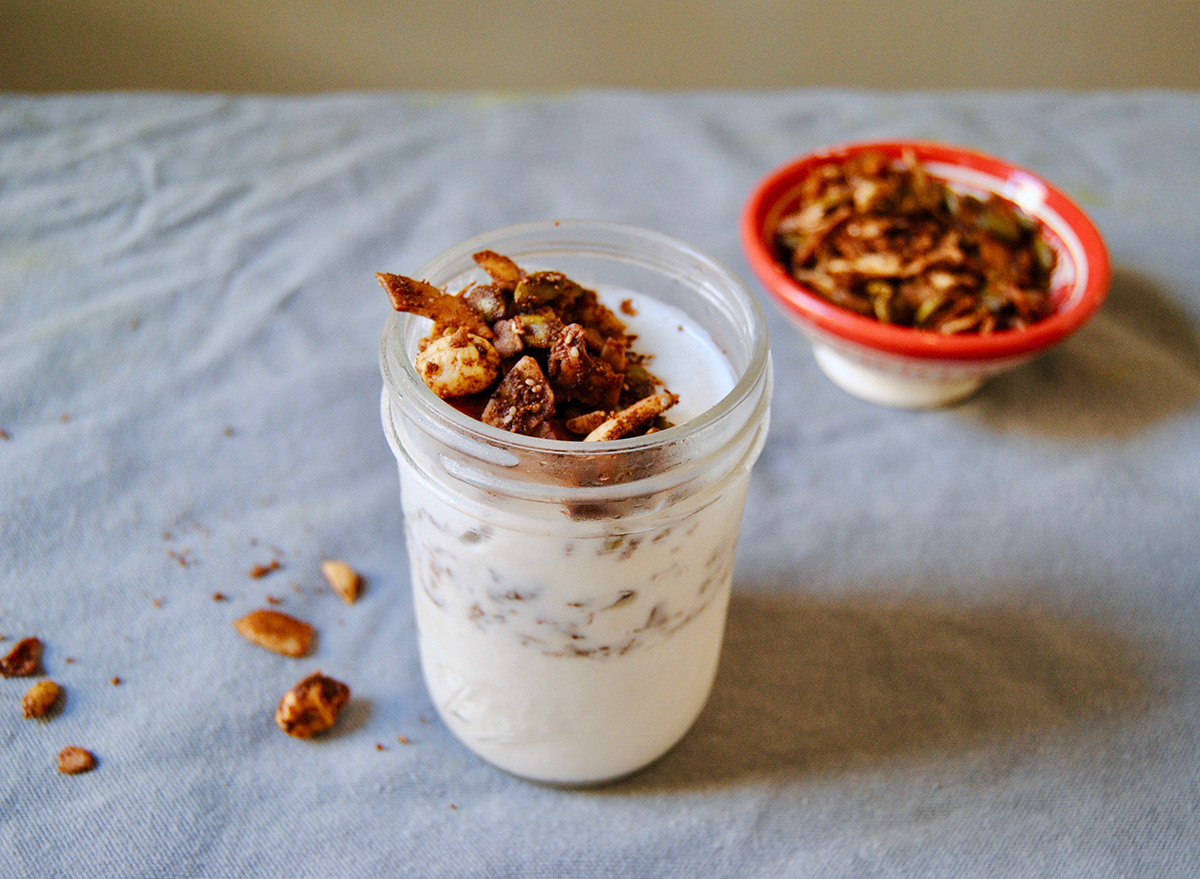 Forget the spoon, and drink your parfait. Blend up your favorite yogurt, granola, and seeds with a scoop of plant-based protein powder for a satiating breakfast that will power you through the morning until lunchtime.
Get our recipe for Paleo Yogurt and Granola Smoothies.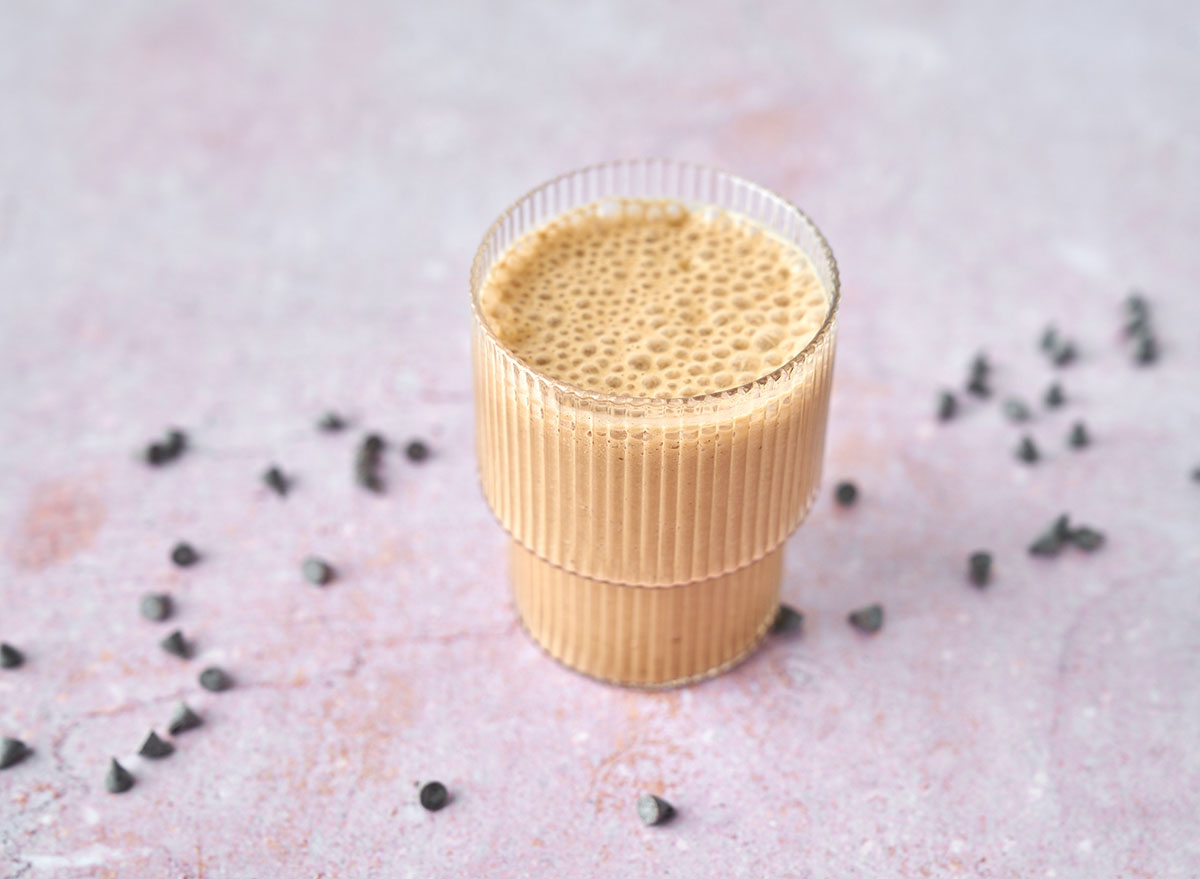 Trust us on this: using tofu in this smoothie recipe not only helps to boost its abdominal fat-burning power with 5 grams of plant-based protein in a quarter of a cup, but it also lends a silky smooth texture to this blended beverage. We also boost this smoothie with some adaptogens, like reishi for added immune support and sleep cycle regulation.
Get our recipe for a Chocolate Tofu Smoothie. 6254a4d1642c605c54bf1cab17d50f1e
Cashew Butter & Raspberry Smoothie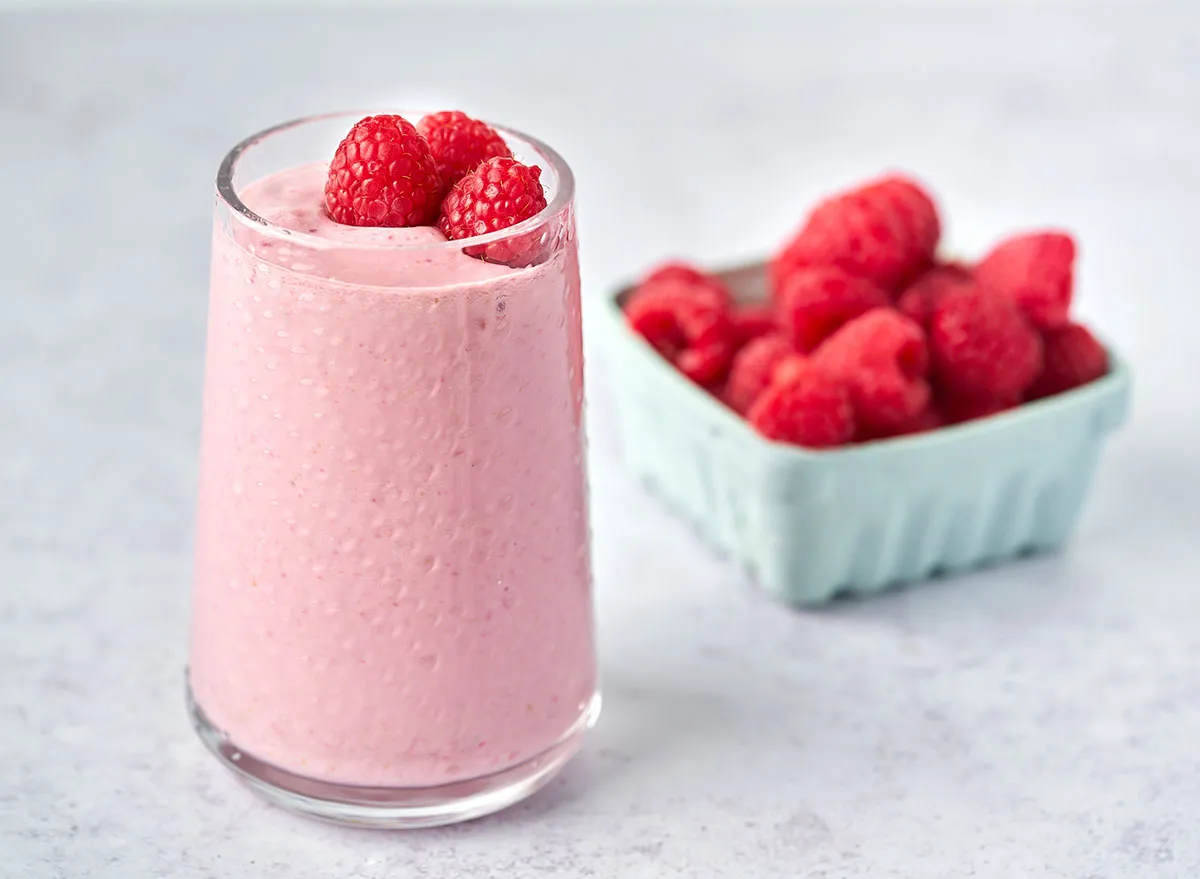 Another way to include protein in your smoothie may be unexpected: cottage cheese. This creamy dairy product is typically consumed by the spoonful, but it's also a welcome addition to this creamy pink drink that features frozen raspberries.
Another source of protein in this smoothie is cashew butter, which Dr. Rosendahl says is a great addition to smoothies to lose abdominal fat:
"Nut butter is my go-to for incorporating protein and healthy fat into my smoothies," says Dr. Rosendahl. "The protein and omega-3 fatty acids found in nut butters help you to feel satiated longer and promote balanced blood sugar until lunch time, both of which are important to successful and sustainable weight loss. I prefer almond butter, but cashew or walnut butter are other great choices."
Get our recipe for Cashew Butter & Raspberry Smoothies.
Chocolate Hazelnut Smoothie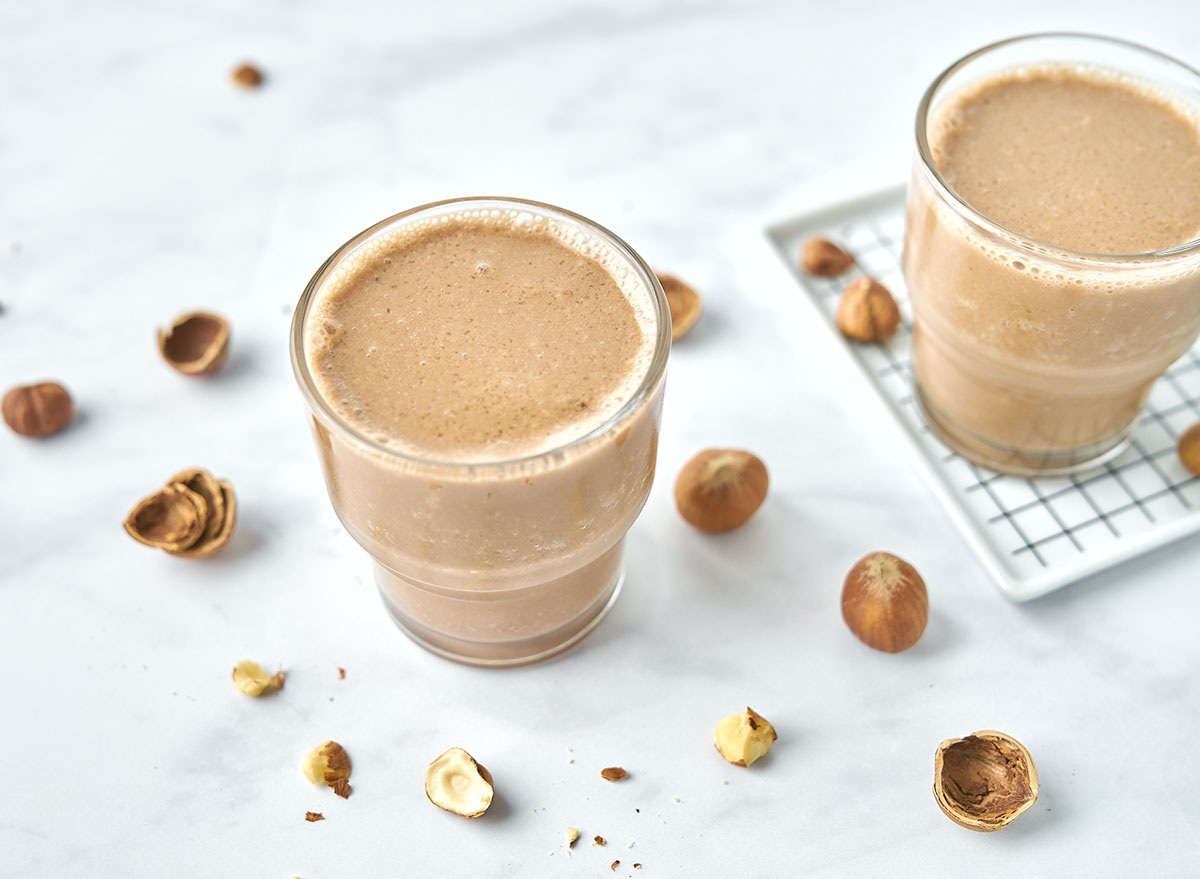 You won't miss your favorite chocolate hazelnut spread after one sip of this smoothie. Its power lies in featuring a top-notch vegan protein powder fortified by functional mushrooms and adaptogens: Four Sigmatic. Dr. Rosendahl recommends pea-based protein powders over whey-based protein, "as dairy is an inflammatory food for a large portion of the population."
Get our recipe for Chocolate Hazelnut Smoothies.
Mexican Chocolate Smoothie Bowl
Thanks to Greek yogurt, tofu, and roasted almonds, along with the almond milk, this smoothie bowl packs a powerful 11 grams of protein to help you burn abdominal fat.
Get the recipe for our Mexican Chocolate Smoothie Bowl.
Olivia Tarantino
Olivia Tarantino is the Managing Editor of Eat This, Not That!, specializing in nutrition, health, and food product coverage.
Read more about Olivia