The Most Popular Wine in Every State
This unexpected wine is the most popular across 9 states.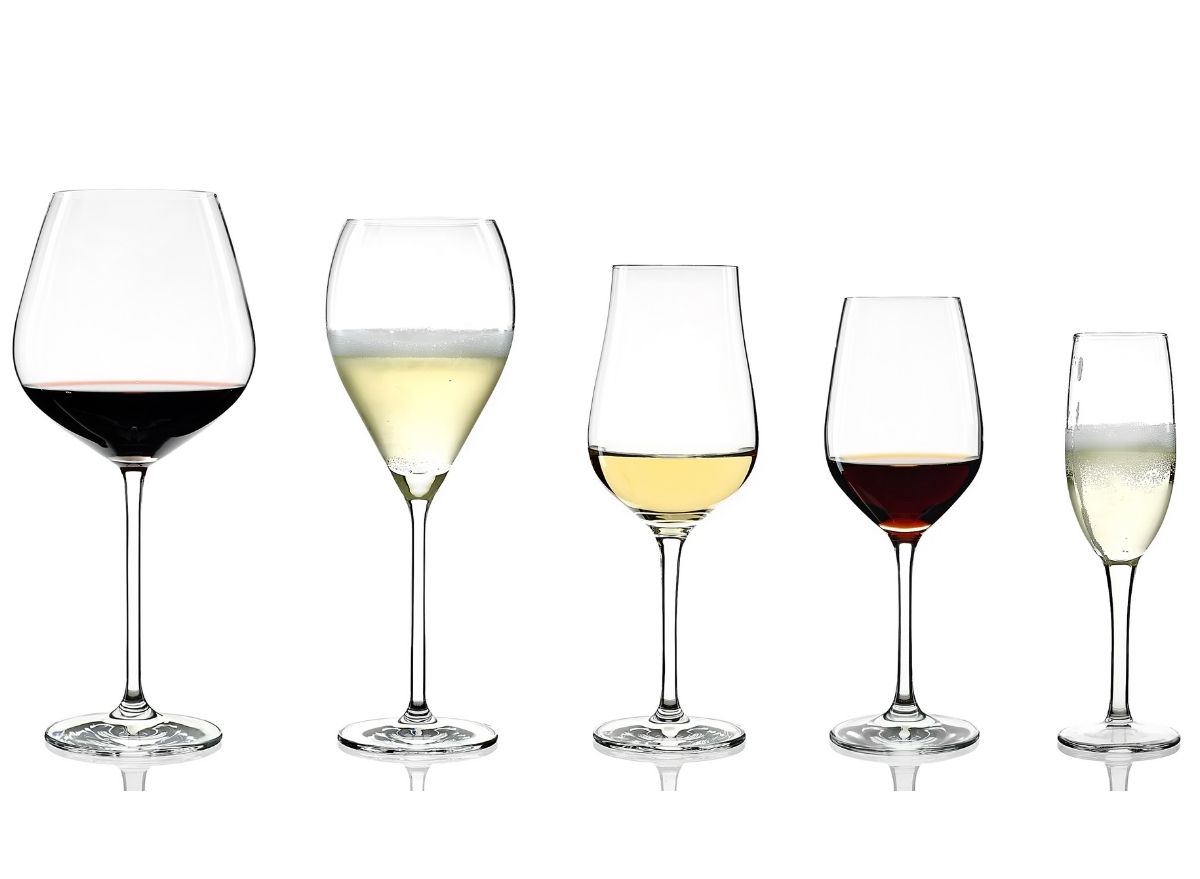 Everyone's familiar with the most popular types of wine. Cabernet, Merlot, and Pinot Noir all command name recognition on the red side, as do Chardonnay, Pinot Grigio, and Sauvignon Blanc on the white side. However, these aren't the only varieties of wine that are popular in certain parts of the U.S. By the way, did you know that every state in the country produces wine? Yes, even Alaska. (Psst, we've even got a handy list of The Best Winery in Every State.)
It's also a misconception that wines are only made from grapes—in fact, some wines are made from other types of fruit. The point is, regional tastes and availability often influence what people drink. Combine that with tradition and individual tastes, and wine leanings span a wide range across the 50 states.
However, there are some fascinating trends that crop up. The Waycroft analyzed Google Trends to find out the most popular wine in every state. What they discovered was a deviation from the most common red wines, with three different types of white wine actually being the most sought out across the country (and it's probably not any of the varieties that you'd expect!).
Read on to find out the results—and you may just find a new beverage for your holiday feast this season. Plus, don't forget to check out The Most Popular Cake Flavor in Every State.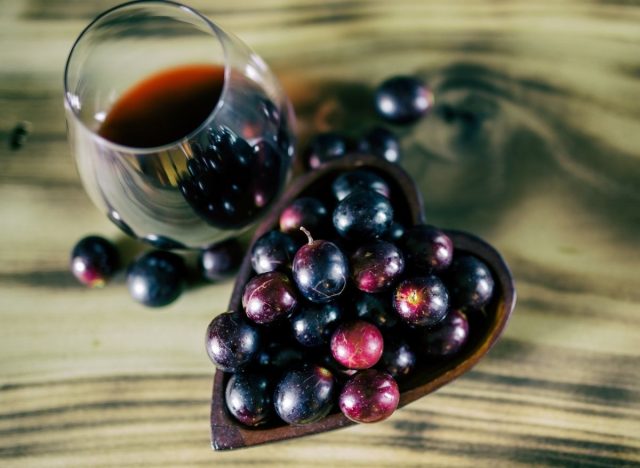 The Muscadine grape isn't well-known to the casual wine drinker, but unlike more popular grapes, it is indigenous to America and was first cultivated in Florida. Yes, according to The Vitner Project, the birthplace of American wine wasn't the fabled Napa Valley but rather hot and humid Florida. The grape was traditionally made into sweeter wines, but now it can be found in all shades and varieties. You can even make your own! It's a favorite in Alabama, as well as in three other states.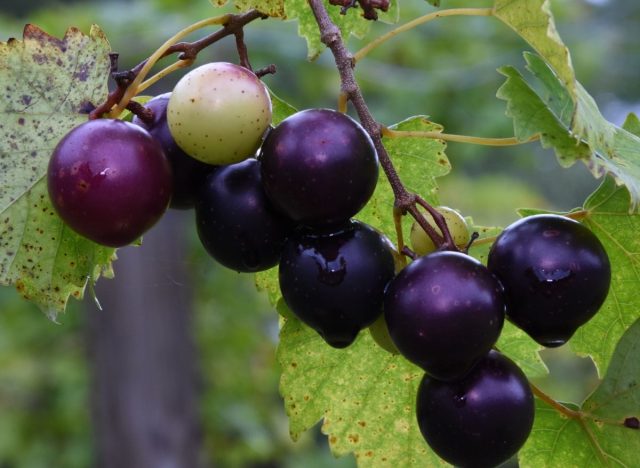 Though Alaska isn't a southern state, the folks there still crave this indigenous American wine. Fun fact: There are more than 300 different strains of Muscadine grown in the U.S.
RELATED: The Best Red Wines to Buy Right Now, Say Experts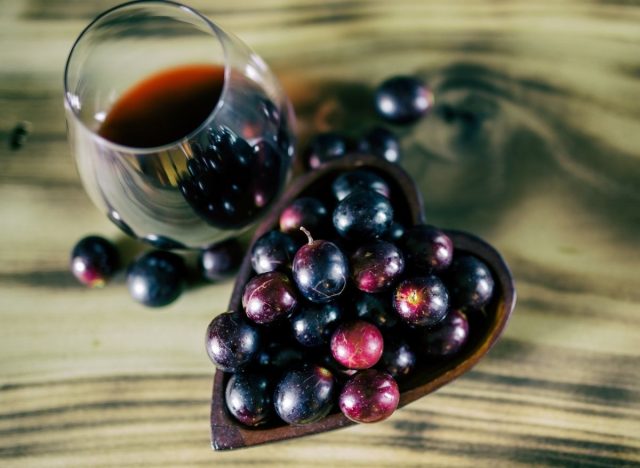 Yes, the people of Arizona also favor this wine.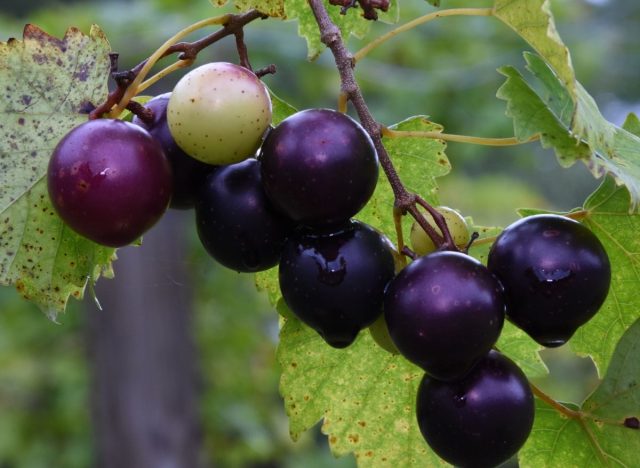 What do all of the "A" states know that we don't? Perhaps you're left wondering whether to add a Muscadine wine to your holiday table. However, they're actually quite difficult to find outside of the South due to distribution regulations.
If you live on one of the coasts, a road trip may be in store. According to Drizly, 3,200 acres of muscadine vines are grown across the Carolinas, Florida, Georgia, and Mississippi—so start there.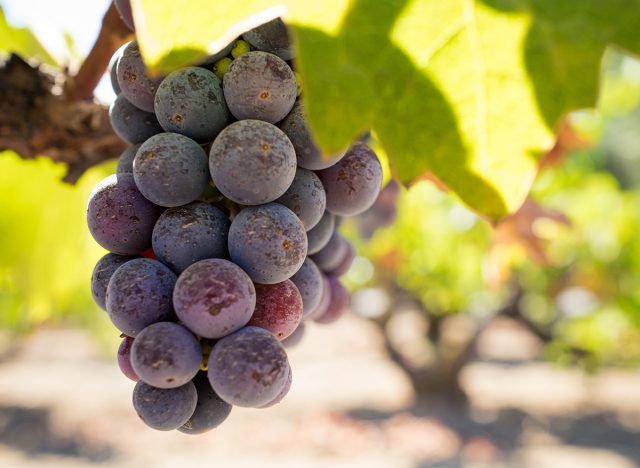 Zinfandel is a lovely grape as long . . . as you don't turn it into White Zinfandel. But we have the odd proliferation of that once-ubiquitous pink wine to thank for the cultivation of this lovely, food-friendly red. The red variety made from this grape is often filled with jammy flavors and spicy notes that pair wonderfully with powerful holiday foods without overwhelming them. Fine Cooking polled wine professionals who absolutely love this grape for Thanksgiving due to its ability to play well with spicy and soft foods. However, California is the only state that favors this nuanced wine.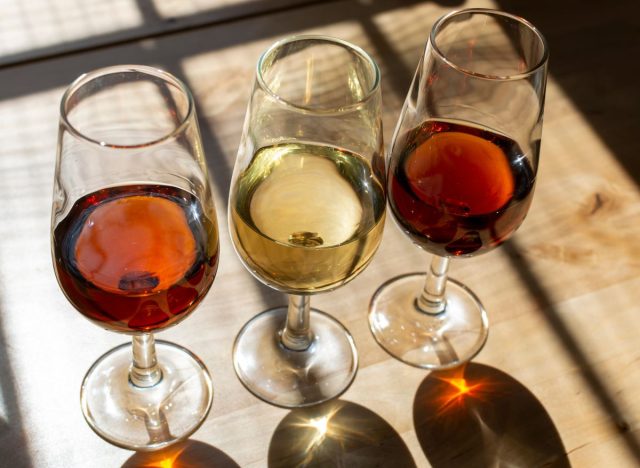 Sherry is a nutty, white wine made in Jerez, Spain. Varieties range from dry to sweet. This high-alcohol wine is for sipping—not gulping—and it actually works very well with most food. Colorado is one of three states that favors this food-friendly fortified wine.
CONNECTICUT – Pinot Grigio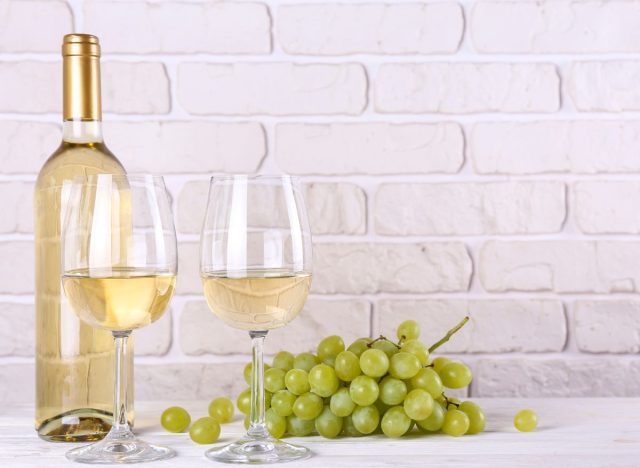 Pinot Grigio, aka Pinot Gris, is the second most popular wine in America. In total, eight states favoring the crisp, acidic flavors of this easy-to-drink wine. While it's often made dry, there are some phenomenal late-harvest pinots that are sweet and dessert-ready.
Who's keeping it classy with Chablis? None other than Delaware.
Chablis isn't a wine grape but rather a district in the Burgundy region of France where the most phenomenal white (and red) wines in the world are made. Chablis is made from Chardonnay, but it tastes nothing like the buttery, oak-forward wines grown all over the U.S. These French wines are often expensive but worth a taste for their intense minerality and the incredible difference compared to California Chardonnays. Delaware is the only state that favors this old-world wine, but more should.
RELATED: Brad Pitt's New Champagne Is Here—and You Won't Believe the Price Tag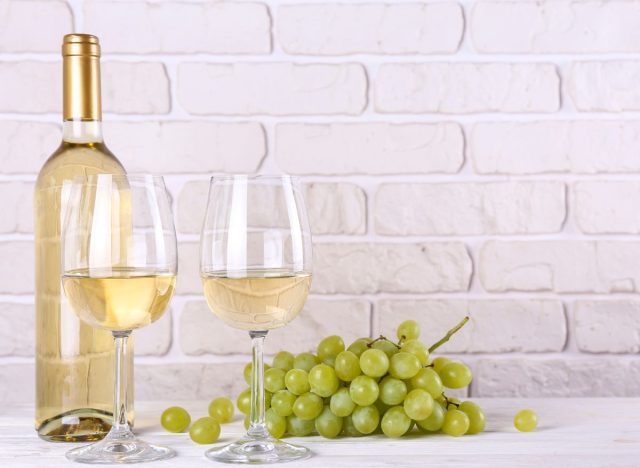 Folks in Florida favor this easy-drinking wine. This wine is perfect on a hot day while gazing over the rippling sunshine over the ocean, so that tracks.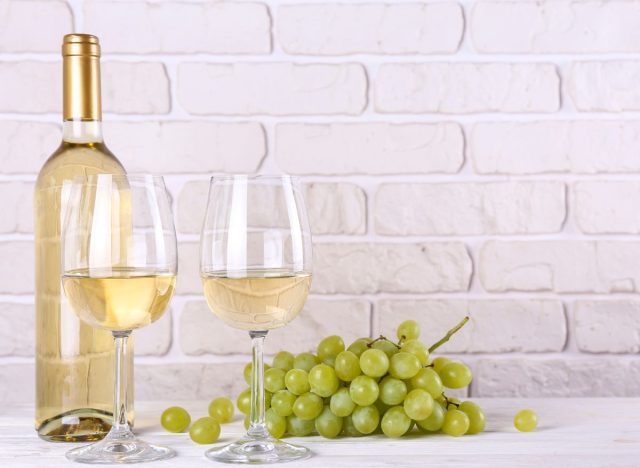 The warm state of Georgia also favors the crisp, light flavors of Pinot Grigio.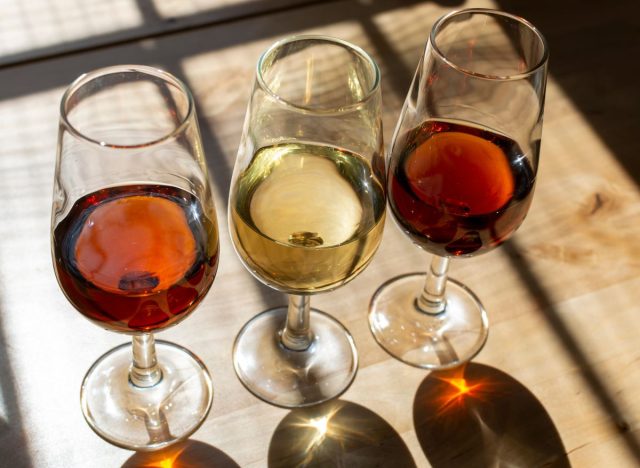 In Hawaii, fancy sherry is a tipple of choice.
Syrah, aka Shiraz, makes its first of technically three appearances on this list in Idaho. However, the Gem State is the only one to search for this wine as Syrah.
This grape originated in France, but it's now grown all over the world. According to Wine Enthusiast, flavors associated with this grape are deep, dark fruits; peppery spices; and sometimes even bacon. If you're driven toward full, bodied reds like Cabernet, give Syrah a try.
Once a pervasive wine, Merlot is now only the favorite wine of two states. But Merlot can be so many different things, which makes it still such a fascinating grape. Merlot is fruiter and softer than Cabernet, but it can still be velvety and plummy or rich and oaky, according to Wine Enthusiast, picking up the terroir, or expression of the land, of the region where it grows.
Moscato is mostly consumed as a sweet, fizzy wine. Favored by nine states, it's the most-searched-for wine on this list. Though the sparkling version is popular, Moscato can also be still or fortified. Light and low-alcohol Moscato is best paired with appetizers and desserts or consumed as an aperitif.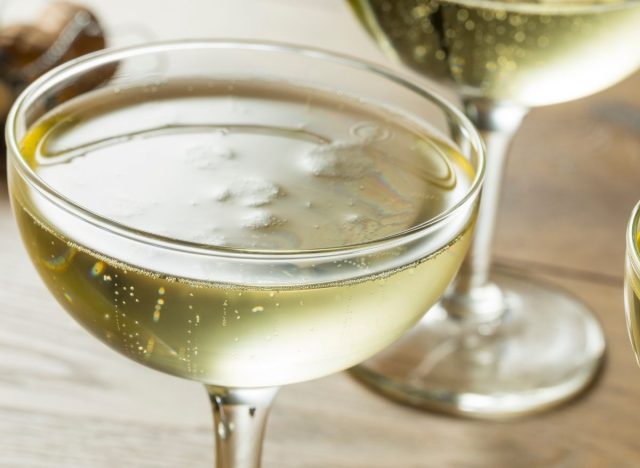 Folks in Iowa also favor Moscato. At the beginning of 2012, NPR revealed that "a Nielsen analysis found Moscato sales up 73% in the 12 months ending Jan. 7"—and that was "on top of the 100% growth from 2010."
Though Moscato's once surging popularity has faded in recent years, plenty of states apparently still love this sparkler.
The people of Kansas favor the light, sparkling effervescence of Moscato.
In Kentucky, folks love the full-bodied peppery flavor of Shiraz.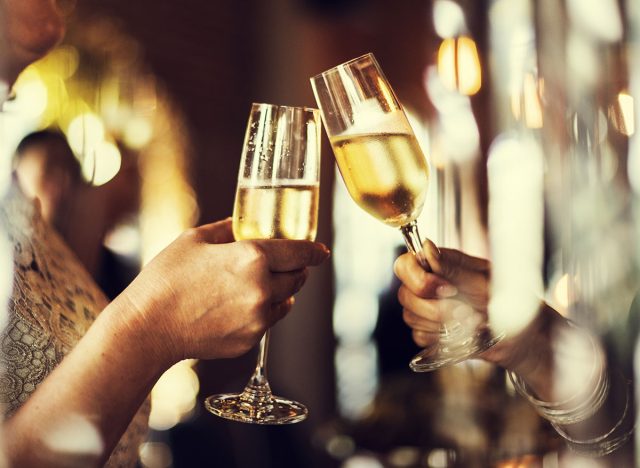 Champagne is the region of France that produces the only true Champagne in the world—everything else is technically sparkling wine. Louisiana is the only state where Champagne is the most popular. We think the 24-hour party atmosphere of New Orleans may have something to do with this . . .
Chenin Blanc grapes are native to the Loire Valley in France. These grapes usually yield high acid, dry wines with wonderful fruit flavors like passion fruit, peach, and pear. Chenin Blanc is often aged in oak, so it can pick up flavors reminiscent of new world Chardonnays. Maine is the only state that favors this varietal but more should!
Maryland is another state that's still on the festive Moscato bandwagon.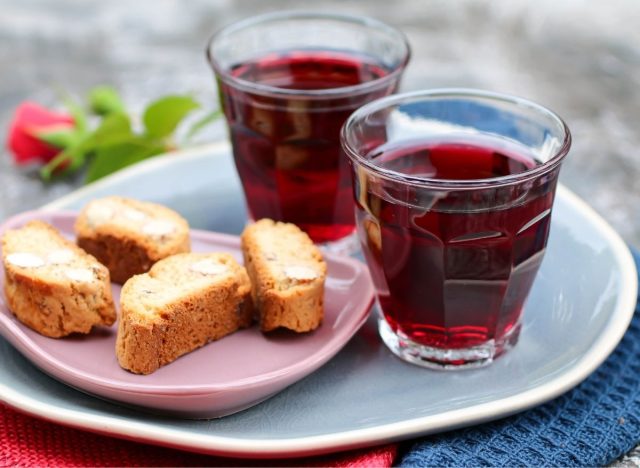 Massachusetts is one of two states that favors the fortified Marsala-style of wine made in Sicily. This wine is usually utilized in cooking and baking, and Chicken Marsala is undoubtedly the most famous dish that uses it as an ingredient. According to The Spruce Eats, Marsala can also be sipped with hearty appetizers like nuts, smoked meats, and strong cheeses.6254a4d1642c605c54bf1cab17d50f1e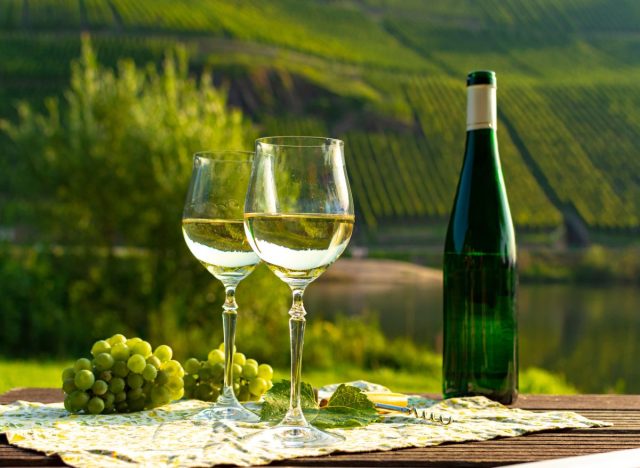 Michigan is the first of five states on this list that favors the cold, weather grape Riesling. Native to Germany, Riesling has high acid and natural sugars that pair remarkably well with spicy foods, according to VinePair.
Riesling is another wine that makes a great addition to the Thanksgiving table, but be cautious selecting a bottle because they range from very dry to exceptionally sweet. Consider trying a domestic Riesling, since this grape loves cold weather and grows well on both coasts, especially in New York and Washington.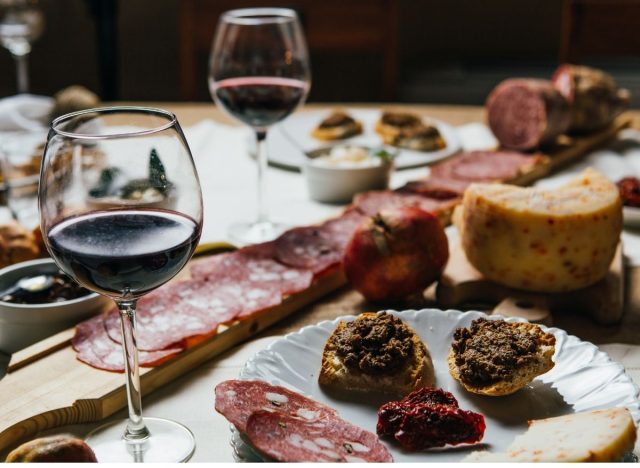 Chianti is only made in a specific area of Tuscany, and it must by law contain at least 80% Sangiovese grapes, according to Wine Enthusiast. This world-renowned wine is prized for its red berry and violet flavors and aromas. The people in Minnesota are the only state seeking out this Italian wine.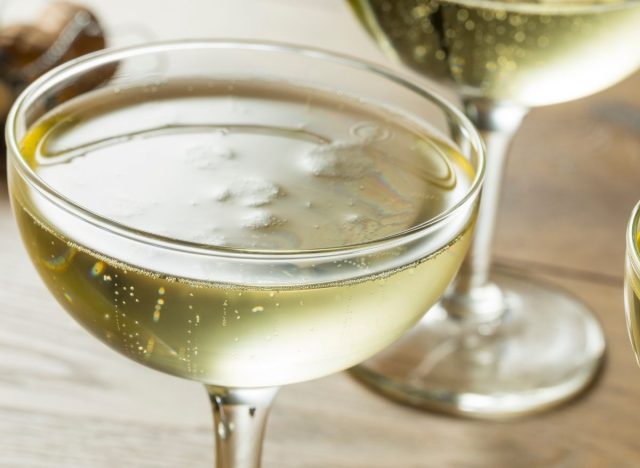 Fun and festive Moscato pops up again in Mississippi.
RELATED: The Best Sparkling Wine for Under $20
In Missouri, folks also like to sip on this friendly aperitif.
Who would have guessed that a rugged state like Montana would favor the delicate aromas of Riesling?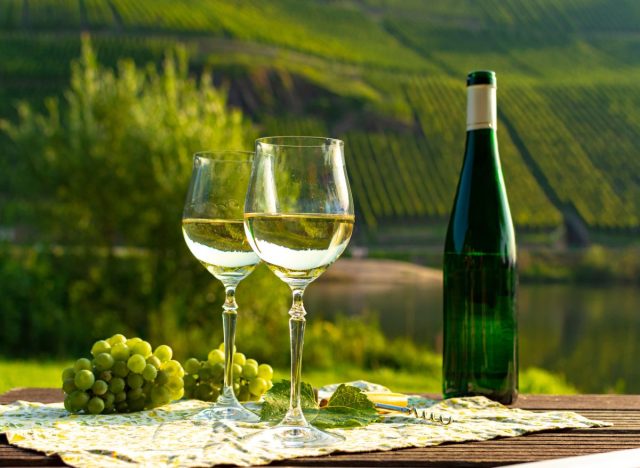 Nebraska also loves to wind down with a nice fruit-forward glass of Riesling at the end of the day.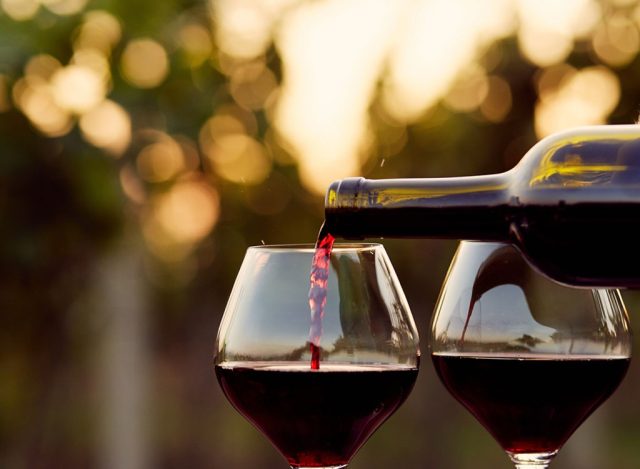 Nevada is the second state that favors the flavors of Merlot.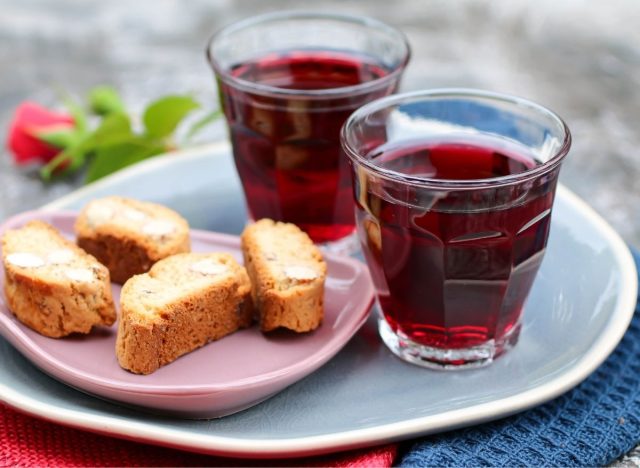 New Hampshire is the second state that likes to seek out Sicilian Marsala wine.
NEW JERSEY – Cabernet Sauvignon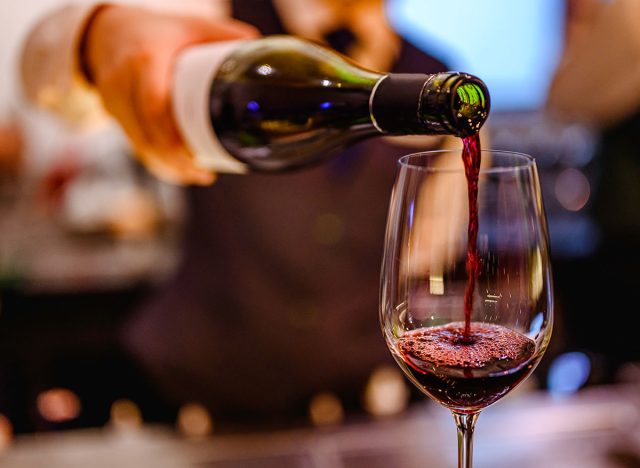 It's surprising that this universally known and loved grape shows up only once on this list. Perhaps people are branching out in their taste of wines?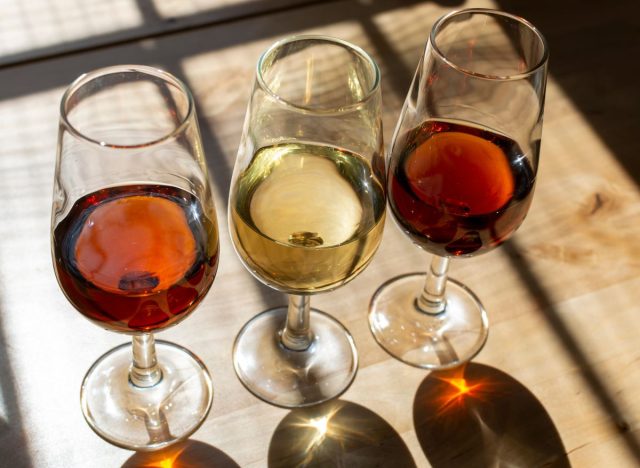 The people of New Mexico also fancy a sherry with their after-work appetizers.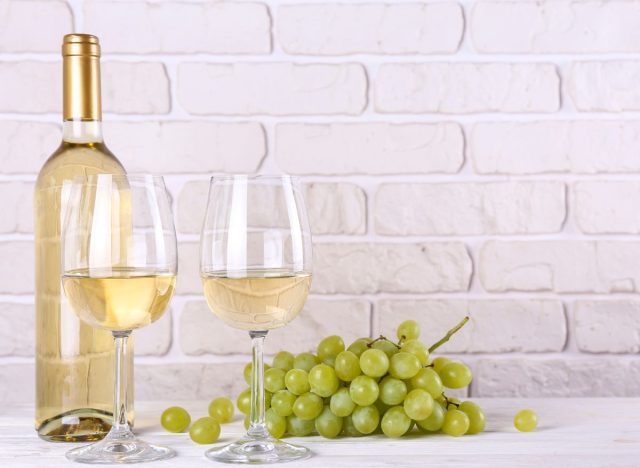 Light and acidic Pinot Grigio is a favorite among New Yorkers. The Empire State is the third largest wine-growing state in the country, behind only California and Washington. Have the residents of New York tried some of state's fabulous Rieslings, as well?
NORTH CAROLINA – Pinot Grigio
The residents of North Carolina also love the bracing acidity of Pinot Grigio.
NORTH DAKOTA – Pinot Grigio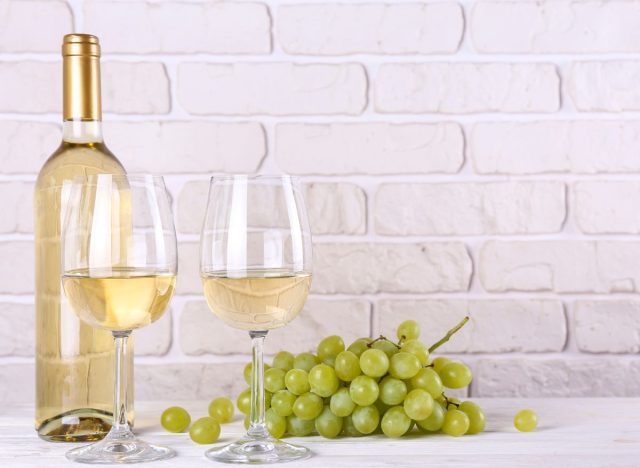 Chilly North Dakota loves Pinot Grigio, too.
Ohio is one of two states that loves a good ice wine. Because ice wine grapes must freeze on the vine in order to concentrate the sugars, these wines can only be produced in very cold regions, according to Winetraveler. Thus, it probably isn't surprising that Canada is the world's largest producer of ice wine.
Ice wine is a wonderfully sweet dessert wine that can be still or sparkling. These sweet wines are perfect with dessert or very fatty foods like foie gras.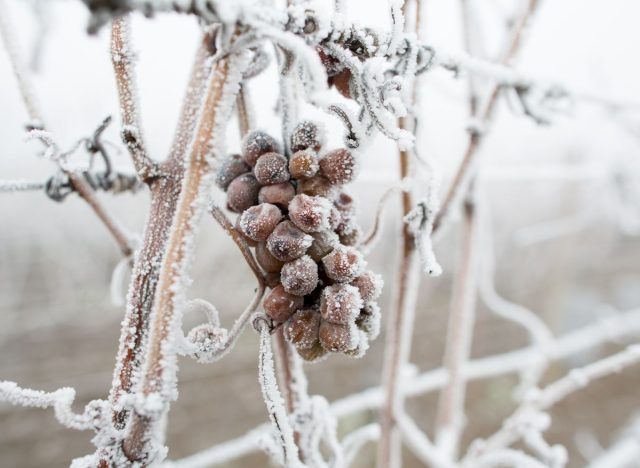 The people of Oklahoma also favor the sweet taste of a good ice wine. If you're ever in Niagara Falls, take a trip across the border to visit Inniskillin and taste one of its fabulous ice wines. Ice wine is most often made from Cabernet Franc, Chenin Blanc, Gewurztraminer, Riesling, or Vidal Blanc—so there's a flavor for everyone.
Gamay is a light-bodied red wine that's similar to a Pinot Noir. If you love Pinot Noir, it's time to try Gamay, VinePair says. The Beaujolais region of France produces 75% of the world's Gamay wine, and these wines are widely available in the U.S. and generally much cheaper than Pinot Noir.
PENNSYLVANIA – Pinot Grigio
The folks in Keystone State like a bright, acidic Pinot Grigio at the end of the day. Would it surprise you that that the Keystone State is the fifth largest grape grower in the U.S. and has more than 300 wineries? Pinot Grigio, aka Pinot Gris, is one of many grapes grown across the state.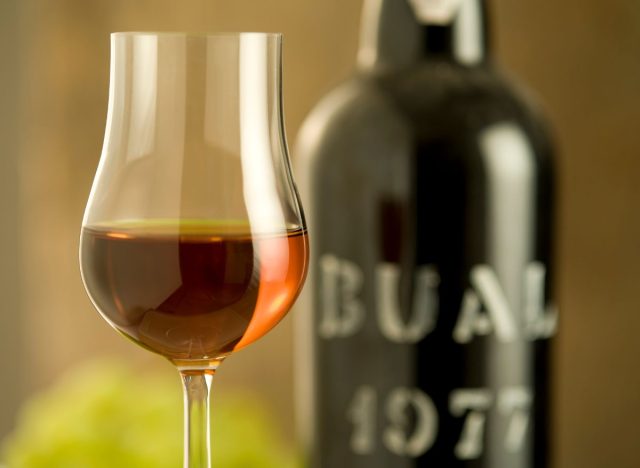 Madiera is also a fortified wine like Marsala, but it's produced in Portugal. One can often be substituted for the another in cooking applications, according to The Spruce Eats. Rhode Island is the only state that favors this wine.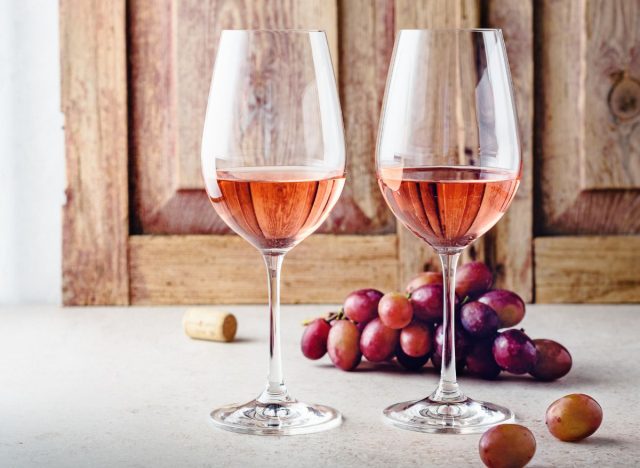 South Carolina is the only state that prefers the crisp qualities of rosé. Rosé is made from red wine, but the juice spends less time in contact with the grapes, resulting in a less tannic and lighter color wine. Rosé can be made from a variety of different red wine grapes.
RELATED: This Popular Wine Brand Just Released a New Rosè
Sweet, sparkling Moscato pops up as a favorite in South Dakota.
Though folks in Tennessee favor the bright acidity of Pinot Grigio, there are many types of grapes grown in the state.
RELATED: 10 Best Whiskeys to Buy for Under $50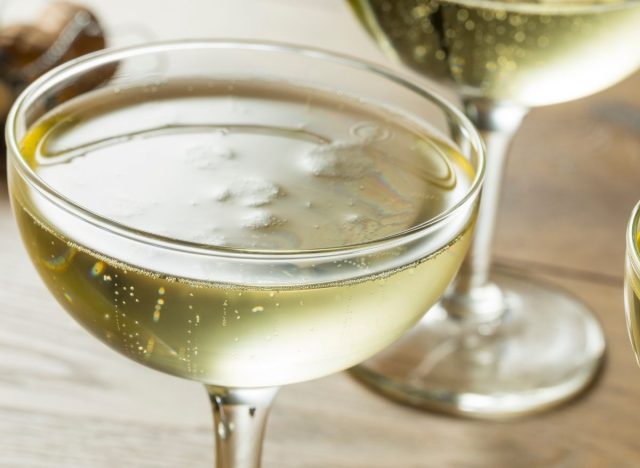 The delicate, sweet Moscato is a favorite in Texas.
Utah is a fan of the light and fruity Riesling.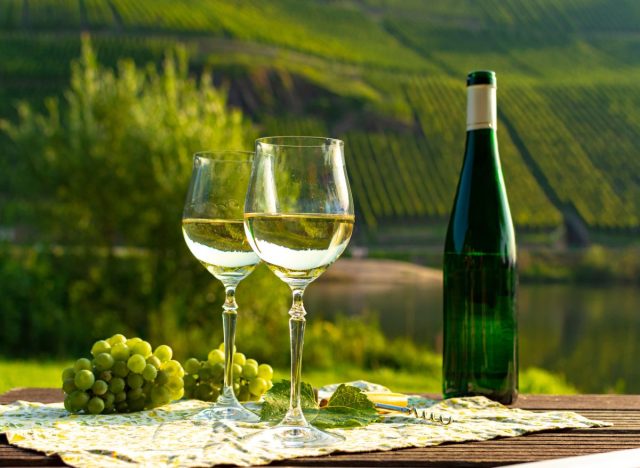 Likewise, the people up in Vermont favor Riesling.
Petit Verdot is a red grape that was traditionally used in Bordeaux blends in France, but it's now produced as a wine in its own right in some parts of the world. It's a full-bodied wine with flavors of blackberry and plum and notes of herbs and lilacs, according to WineFolly. Virginia is the only state that favors this wine.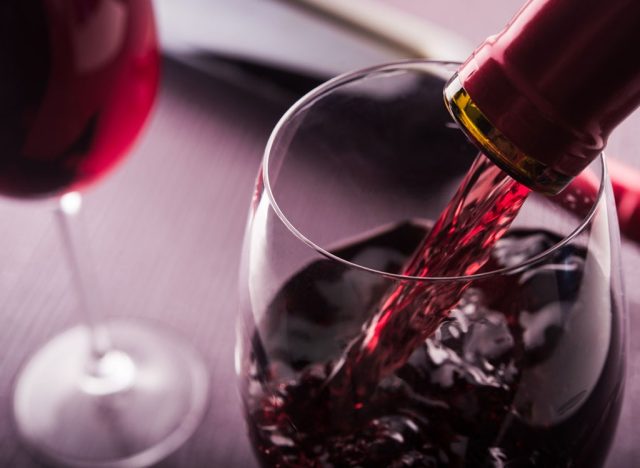 Washington is the second-largest producer of wine in the U.S, so residents have a lot to choose from—but they favor Shiraz.
The effervescent lightness of Moscato makes its last appearance in West Virginia.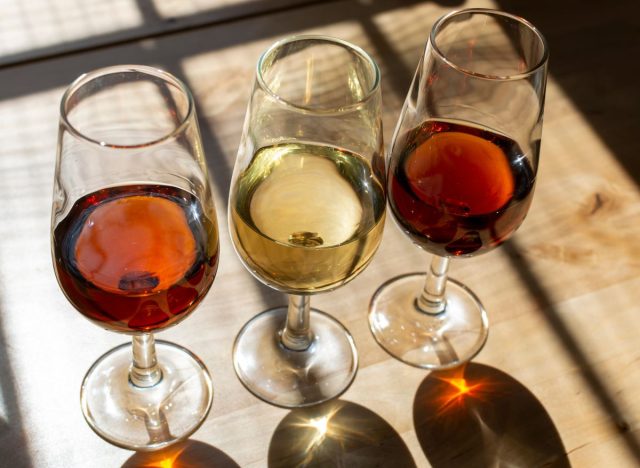 The people of Wisconsin favor a tipple of Sherry.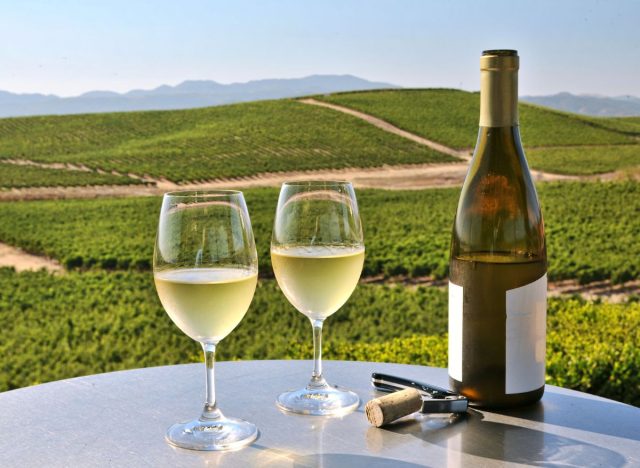 Surprisingly, Wyoming is the only state that seeks out Chardonnay. This beloved white wine can be oaky with notes of vanilla—if aged in oak—or filled fruit flavors and have a mineral quality—if aged in steel. Chardonnay is a food-friendly wine that expresses different fruit flavors depending on where it is grown, so try a few from everywhere!
Read more about your favorite celebratory beverages: