23 Best Black Friday Kitchen Deals
These are the savings you should take advantage of, whether you're shopping in-store or from your couch.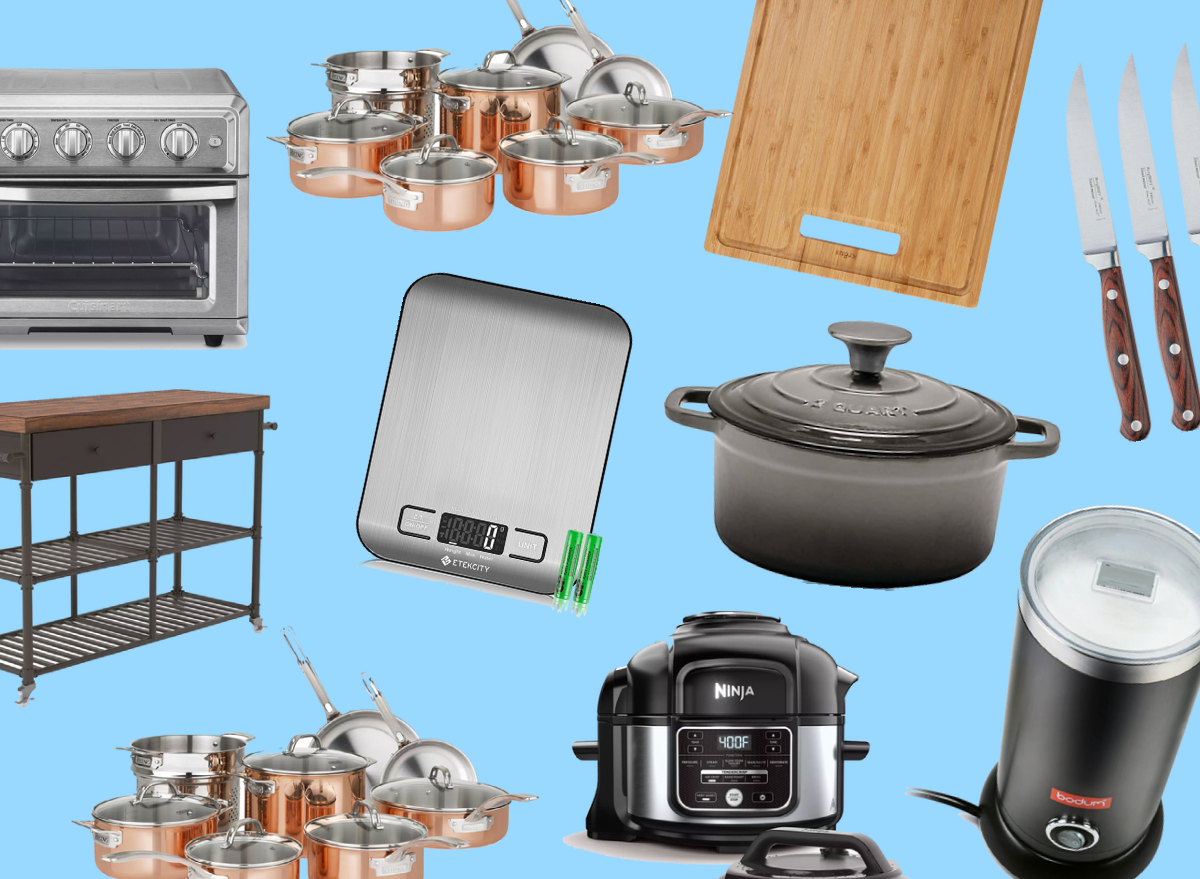 This post contains affiliate links. If you use these links to buy something, we may earn a commission.
Whether you're shopping for yourself or for others this Black Friday, there are deals on just about everything. Although many are available in-store, stores are promoting huge savings on items online, and offering up other incentives like free shipping and reward money for spending a certain amount.
We've rounded up the best Black Friday kitchen deals this year at your favorite stores like Target, Wayfair, and Amazon, plus a few extras (like Home Depot). The list includes everything from a dutch oven to steak knives, a milk frother, and even a personal fire pit!
Once Black Friday 2020 is over and all your new gadgets are in their spot on the kitchen counter, here are the 100 Easiest Recipes You Can Make.
Cuisinart AirFryer Toaster Oven
Target's motto for this Black Friday must be "go big or go home" because this deal is just the tip of the iceberg (more on that later). This 2-in-1 Cuisinart AirFryer Toaster Oven is perfect for small spaces, or if you're looking for both appliances. The user controls the temperature and cook time for seven different functions: AirFry, convection bake, convection broil, bake, broil, warm, and toast. The appliance is 30% off for Black Friday, with $60 in savings. It's also available to ship, so you don't have to brace crowds to pick up this deal.
For more on this appliance, here are 27 Air Fryer Recipes That Make Healthier Fried Foods.
Ninja Foodi Programmable 10-in-1 5qt Pressure Cooker and Air Fryer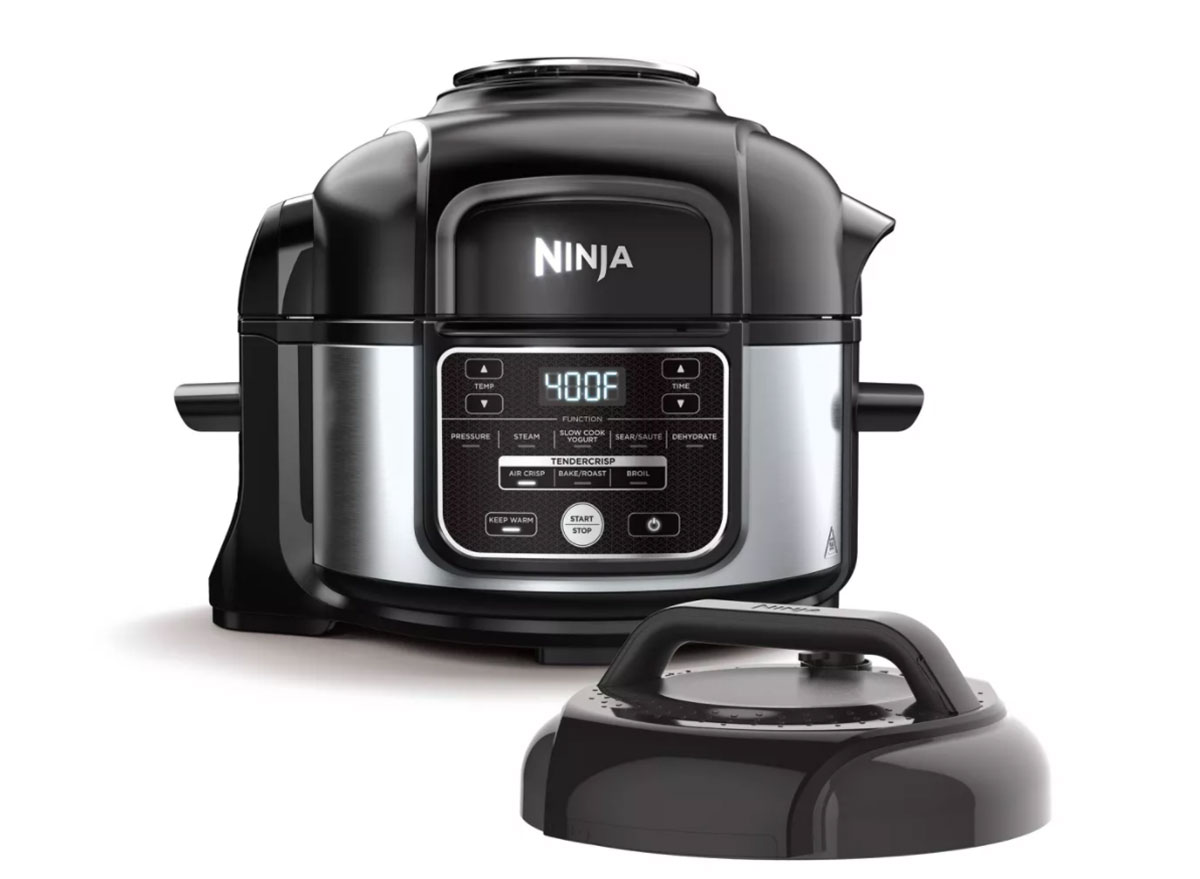 This is another appliance that does the job of two, and now it's under $100. That's a savings of 41%, or $70! Just like the other AirFryer on sale at Target this Black Friday, The Ninja Foodi has more than just two cooking functions. It can dehydrate, broil, bake/roast, saute, slow cook, steam, pressure cook, air crisp, and it can keep food warm. The 5-quart pot can even hold up to a 4-pound chicken or 2 pounds of french fries.
Here's a Pressure Cooker Molten Lava Chocolate-Cherry Cake Recipe for some inspiration.
Ember Mug Temperature Control Smart Mug
Never worry about room-temperature coffee ever again thanks to this mug and stand. How hot do you want it? The Ember Mug allows you to set the exact temperature between 120 and 145 degrees Fahrenheit— all from an app! The mug is hand washable, comes in black or white, and the rechargeable battery lasts 1.5 hours. Buy it on Black Friday for $99 and you'll automatically get a $20 Target gift card to spend on other items.
KitchenAid 9-Cup Food Processor
If you don't live near a Belk store, no worries, this food processor is available to ship anywhere in the U.S. for free. The set comes with the 9-cup work bowl, a lid, multipurpose blade, reversible medium slicing/shredding disc, and a thick slicing disk. Everything except for the base is dishwasher safe.
This deal is one of the best Black Friday kitchen deals—the food processor is usually $179.99, but is now just $69.99!
Related: 17 Creative Uses for Your Food Processor
KitchenAid 2-Speed Hand Blender
Hand blenders, also called immersion blenders, are super convenient for blending, pureeing, and mixing quickly with less effort. This 4-piece set comes with a blending jar, lid, the handheld control, and the blade attachment. It also comes in two colors—Empire Red and Aqua Sky. Get it at Belk on sale this Black Friday for $49.99 and get to blending anything from baby food to soup.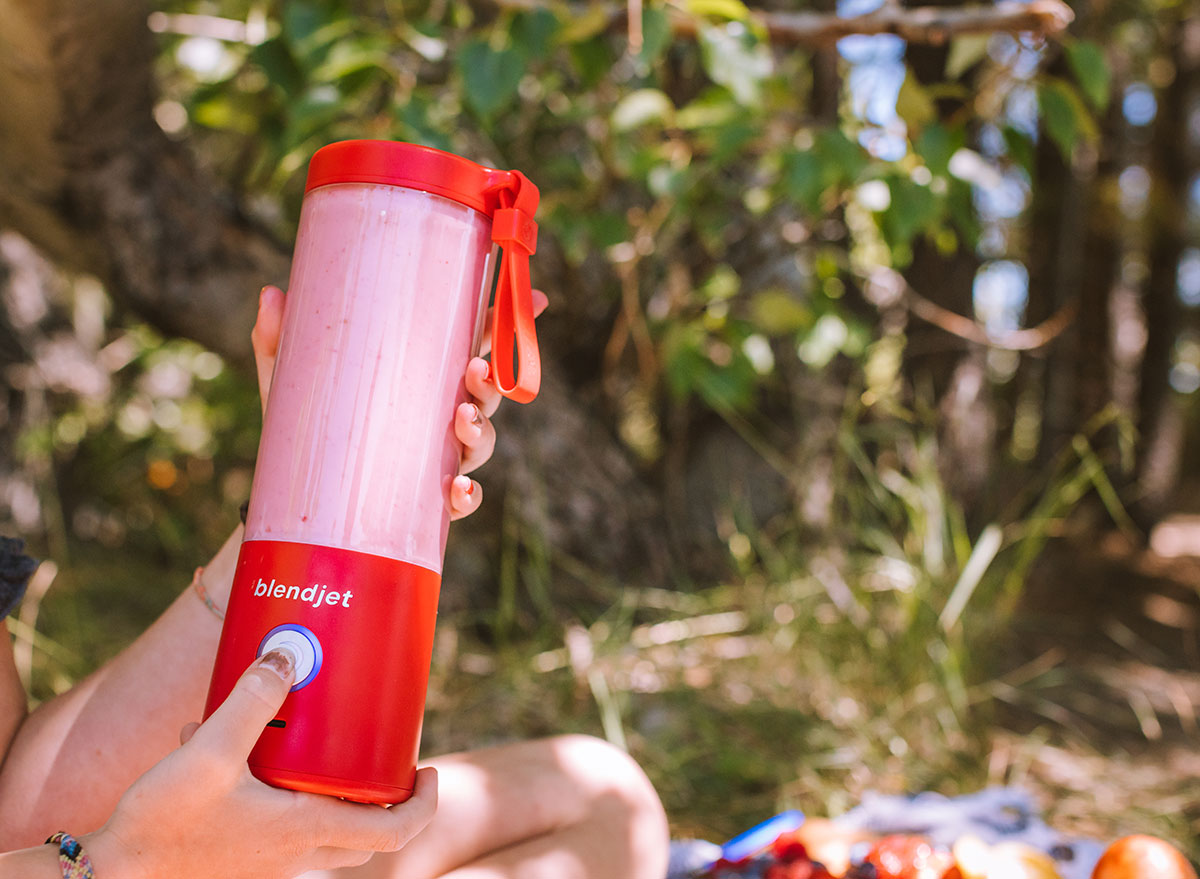 Make a smoothie anywhere you want with this portable blender. It comes in 15 different colors and can blend whatever you want (smoothies, of course, but also greens, ice, and more) in 20 seconds. It has a USB port for easy charging and cleaning only involves blending up some soap and water.
On top of the 50% discount, the more you buy, the more you save this Black Friday. Get an additional 15% off when you buy one, 20% off when you buy two, or 25% off when you buy three or more. That means you can get three for around $37 each when they regularly cost $99.95.
Get the BlendJet and your smoothie intake may go up—here's What Happens to Your Body When You Drink a Smoothie Every Day.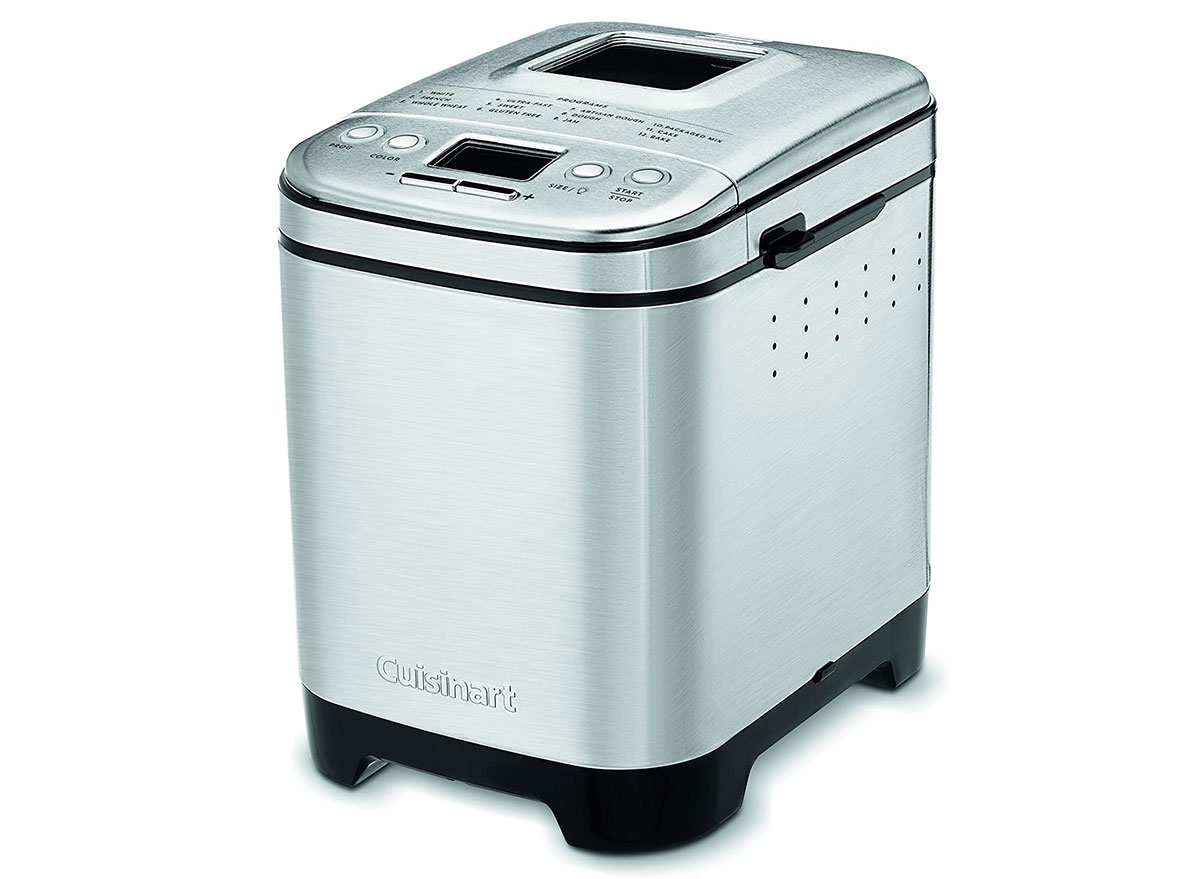 This year was the year of bread making, and if you're past buying loaves at the grocery store but don't have the time necessary to nurse your sourdough to its potential, this Amazon Black Friday deal is the perfect one for you. The Cuisinart Bread Maker can bake up to a 2-pound loaf, has 12 baking options, a removable kneading paddle, and three crust shades. The delayed start option can schedule baking to begin up to 13 hours before and the lid has a viewing window so you can see the process in action. Usually $185.00, the bread maker is on sale for almost $100 less for Black Friday.
Bookmark this incase the bread maker works too well: 5 Side Effects of Eating Too Much Bread.
Etekcity Food Kitchen Scale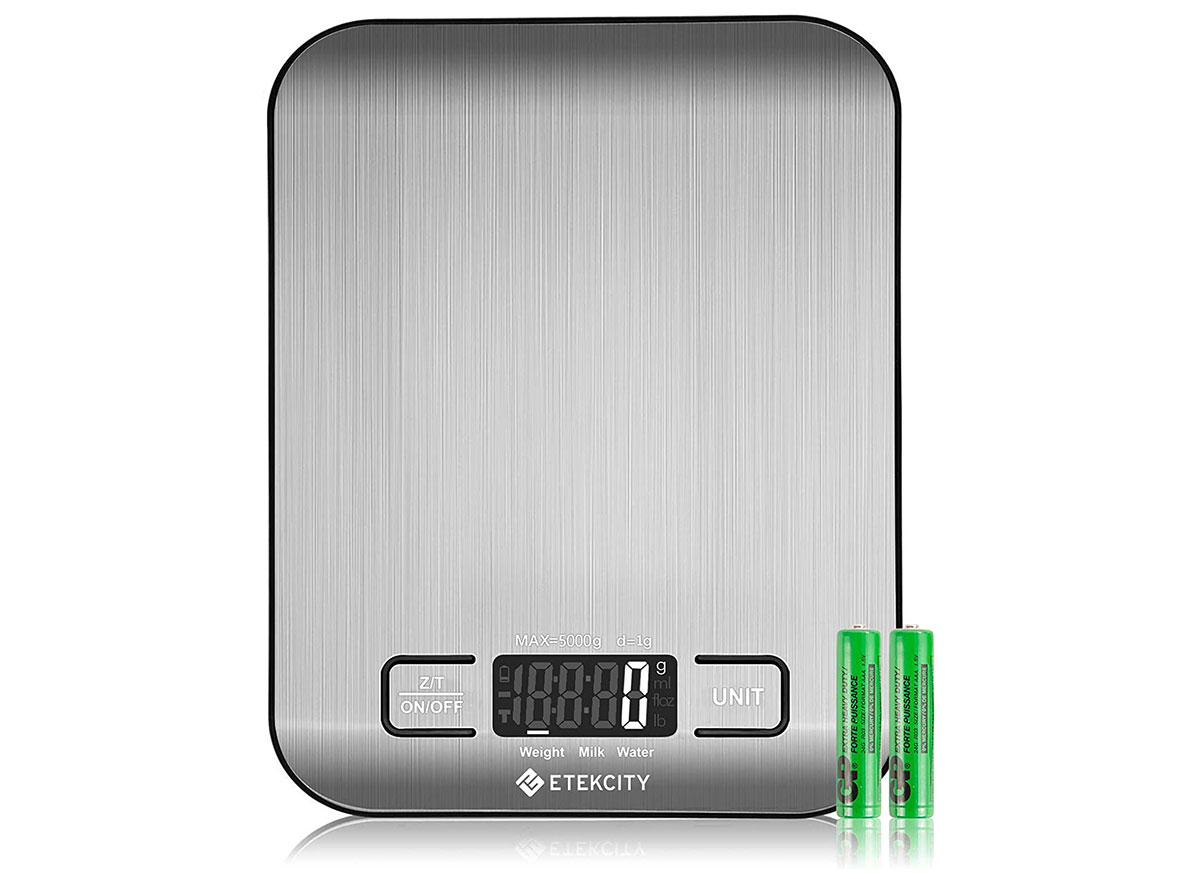 One way to get precise measurements while cooking and baking is to use a food scale instead of measuring cups. This one is on sale for just under $11, saving you 22%. It allows you to choose the measurement you need and displays it clearly on the backlit LCD display. It's also battery operated so you won't be fooling with chords on the counter.
Cuisinart Chef's Classic 12-Inch Skillet with Glass Cover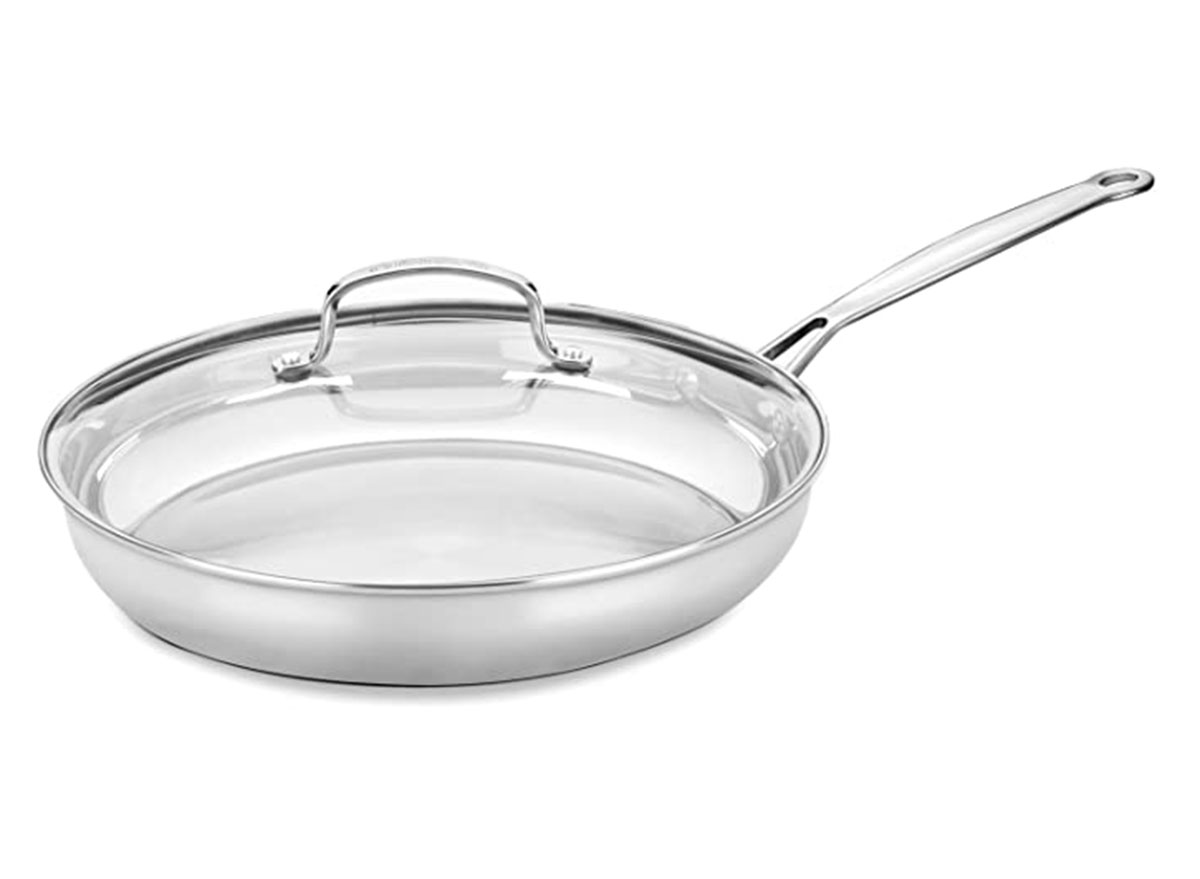 In one of Amazon's biggest Black Friday deals, this Cuisinart skillet and lid is 68% off. The 12-inch pot has almost 1,500 reviews and 4.5 stars. It's also dishwasher safe, guarantees easy cleanup, and comes with a lifetime warranty. Similar pans in Cuisinart's lineup are also on sale—like the 5.5 Quart Saute Pan for $55.99—but none beat this deal.
Black+Decker Crush Master 10-Speed Blender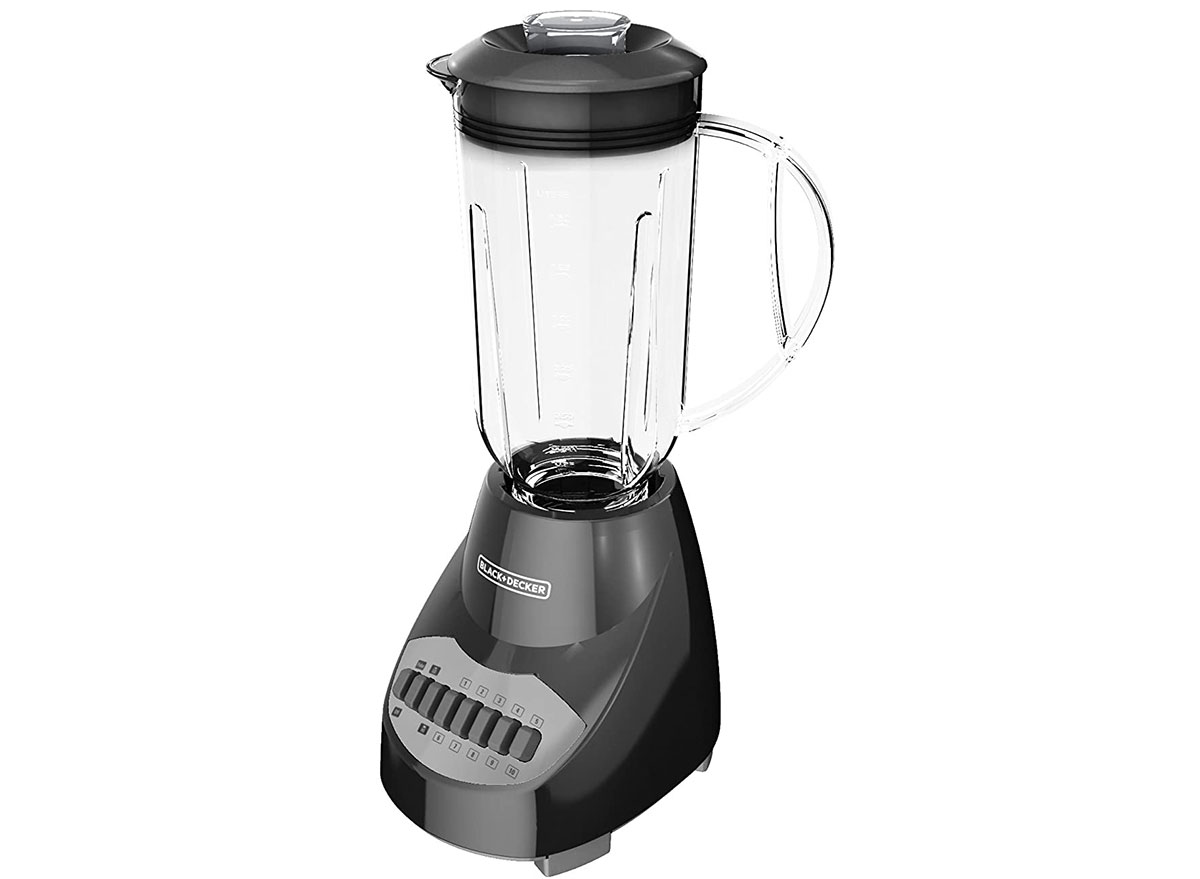 This blender is 50% for Black Friday and with 10 speeds, you can blend just about anything. The pitcher, lid, and blade are all dishwasher safe so there's no messy cleanup required. It can hold up to six cups. Also, the clear lid insert is a 1-ounce measuring cup, so making any drinks (ahem, margaritas!) simple. It currently has 4 out of 5 stars and over 2,200 ratings on Amazon.
Related: 14 Sneaky Sources of Added Sugars
Some would call it magic, others science—pouring a bottle of red or white wine in this decanter adds oxygen to the liquid and makes it taste better. Don't take our word for it—this product has 5 out of 5 stars and over 2,500 reviews on Amazon. One reviewer says they "use it for every bottle of red wine, unless I've had a few and forget. I can actually taste an improvement after using it."
The Le Chateau Wine Decanter is 31% off for Black Friday, saving you over $15 and who knows how many glasses of lesser tasting wine. Did you know there are proven ways to get rid of wine headaches? Here are 5 hacks you should know.
Dash AirCrisp Pro Air Fryer
If you're in the market for a standard air fryer without any other bells and whistles, this one is perfect and on sale. Regularly $69.99, the DASH AirCrisp Pro Electric Air Fryer is only $49.99 and comes with over 15 recipes for you to try out. The auto-shutoff function prevents food from overcooking and the non-stick fry basket means there won't be any crusty pieces to scrape off. For more on why you should consider getting an air fryer to save fat and calories, here are 12 things you must know about the appliance.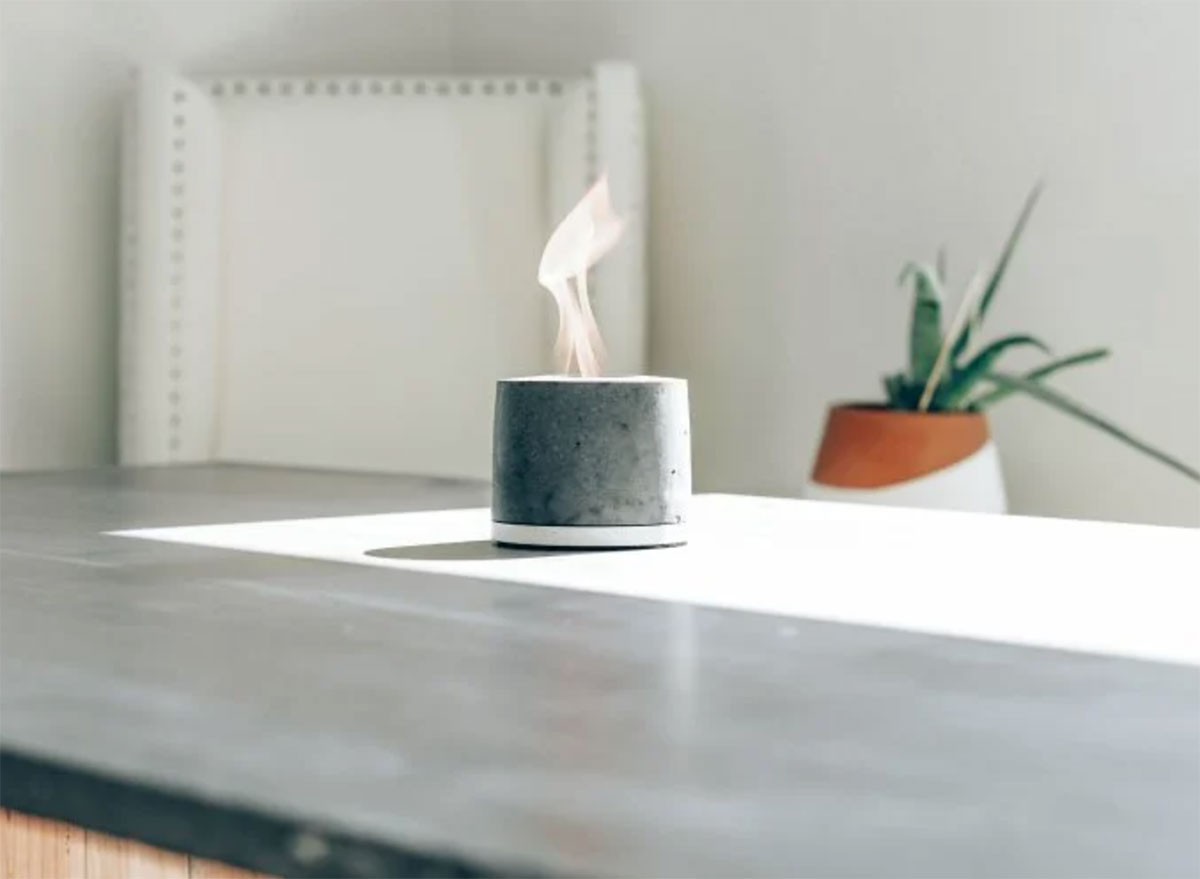 This portable fire pit runs on just 5 ounces of rubbing alcohol and burns for up to 50 minutes without smoke. So smores lovers confined to an apartment or home without an outdoor area, you're in luck—this one is on sale for Black Friday. Get $15 off orders of $75 or more and free shipping on the best shopping day of the year.
KitchenAid Pro 5 Plus – Ink Blue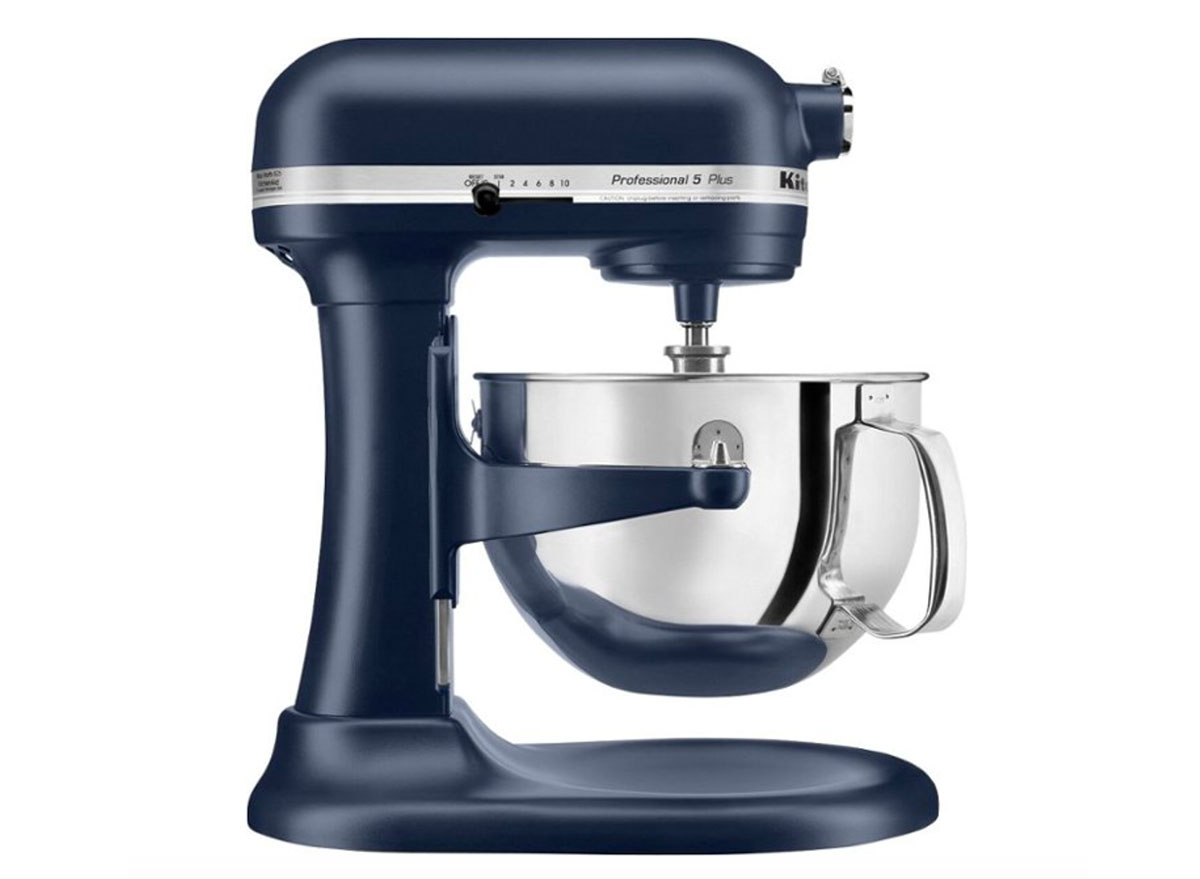 Save a whopping $300 on this KitchenAid Stand Mixer at Best Buy on Black Friday. Originally $499.99, it's now on sale for $199.99. The 5-Quart Bowl Lift mixer comes in the matte color Ink Blue—a Best Buy exclusive. It currently has over 9,000 reviews and has 4.8 stars out of 5.
Bodum Bistro Automatic Milk Frother
Be your own barista or give someone this gift and make them one with this milk frother on sale for only $35. While it creates velvety and airy milk foam in seconds (hot or cold), it also can mix salad dressings, protein drinks, and even cocktails. Users give it a 4.6 out of five stars and say it is "easy and clean," it "looks nice and [is] easy to use," and even that it is a "great price." Starbucks, who?
Want to make your coffee a little healthier? Here are the 12 Tastiest Homemade Coffee Drinks From a Nutritionist.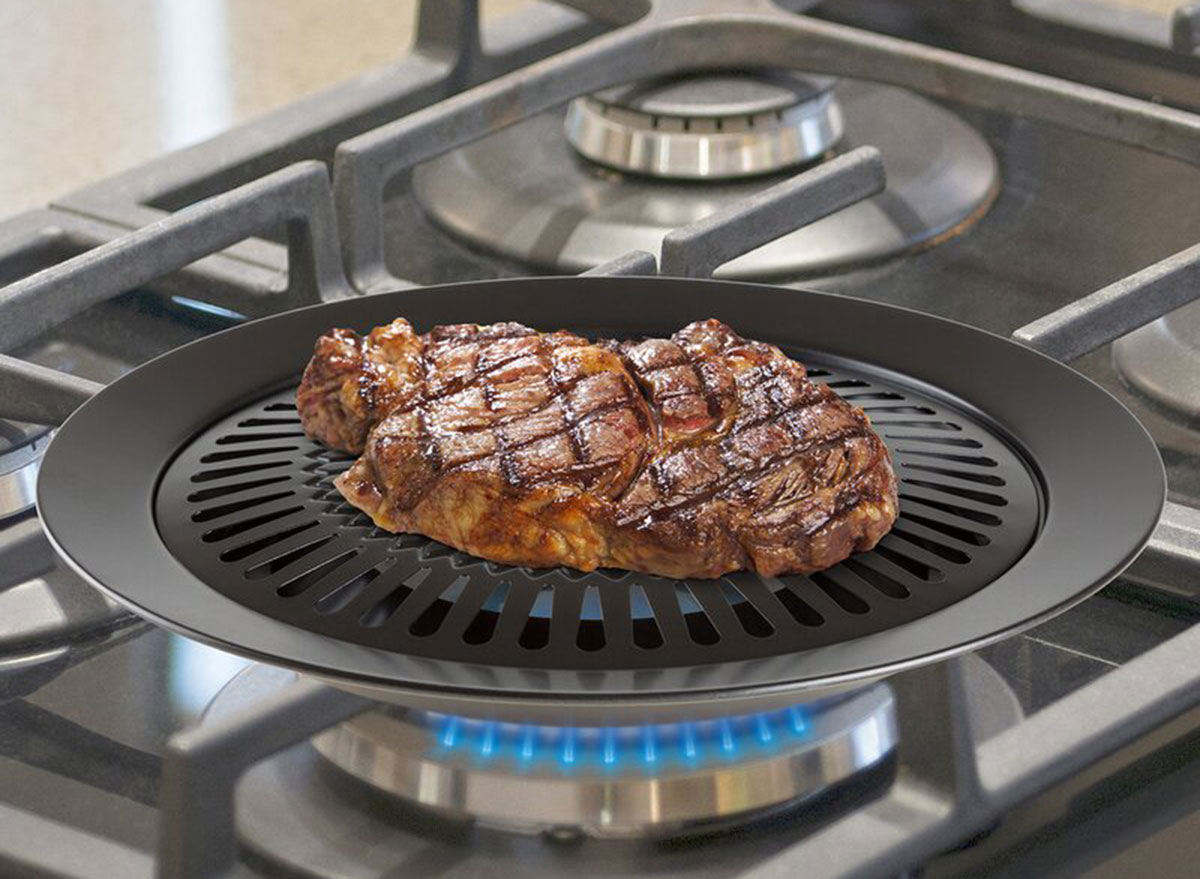 Get 40% off this non-stick grill pan that works on any gas or electric stove in the kitchen during Wayfair's Black Friday sale. Just add water, marinade, or even wine to cook food without drying, and the built-in drip pan catches any juices and fat. It's perfect for grilling in winter or on a rainy day and makes a great gift. Regularly $24.99, the pan is now on sale for $14.99.
Before you fire up the grill (or the stove) ask yourself, are you making The #1 Mistake You Make While Grilling Steak?
Viking 13-Piece Tri-Ply Copper Cookware Set
Sam's Club members can get this set for $50 off the regular price through Nov. 29 as part of the warehouse's Black Friday deals. The copper distributes the temperature from rim-to-rim and can be used on the stovetop, in the oven, or on the grill. For just $199 get two different sized frying pans, two saucepans with lids, a small pot with a lid, a saute pan with a lid, an 8-quart stockpot with a lid, and a stainless steel pasta strainer insert.6254a4d1642c605c54bf1cab17d50f1e
Related: The 7 Healthiest Foods to Eat Right Now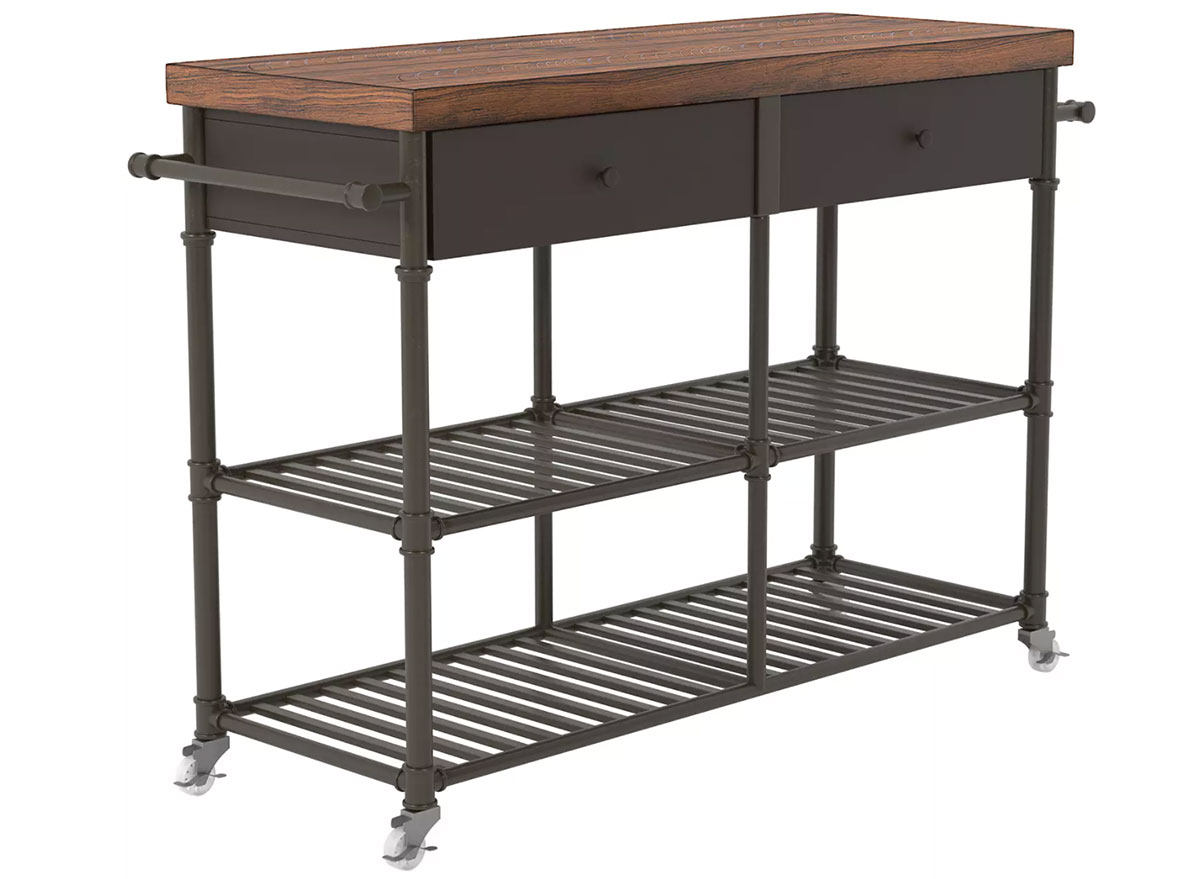 If there are more things on your list this Black Friday than just appliances and cookware, here's a great deal on a space-saving kitchen cart! Now just $299, this Sam's Club deal ends on Nov. 29.
Two drawers, two layers of shelving, and two towel rods clear up space on the countertop covered with distressed walnut wood. It can be easily moved around the kitchen and function wherever you need it.
Pakka Wood 12-Piece Stainless Steel Steak Knife set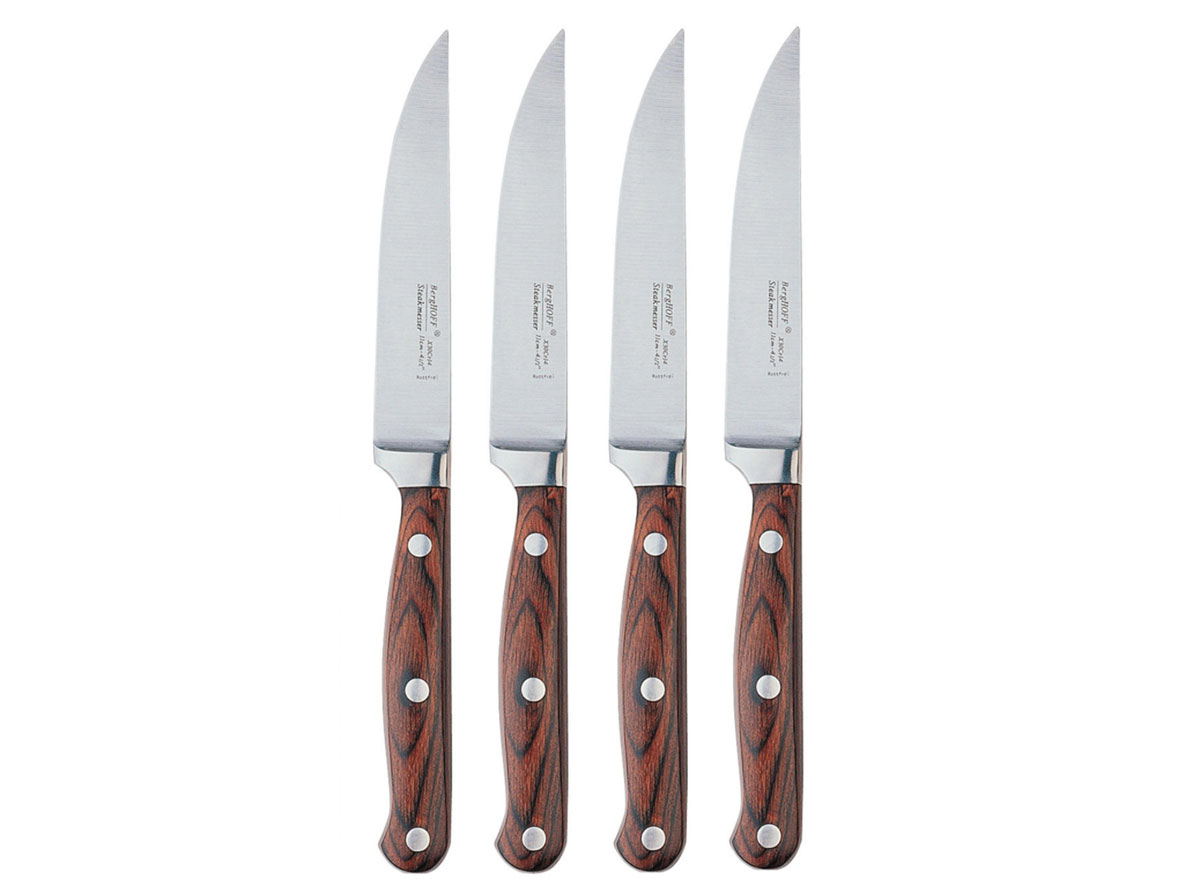 Save 62% on 12 stainless steel steak knives from BergHOFF at Home Depot. While the home improvement store may seem like an unlikely place to find the best Black Friday kitchen deals, they have a great selection of appliances and cookware. These American-style V Edge knives have wood handles and 4.5-inch blades and were originally $210.00.
Kraus Solid Bamboo Cutting Board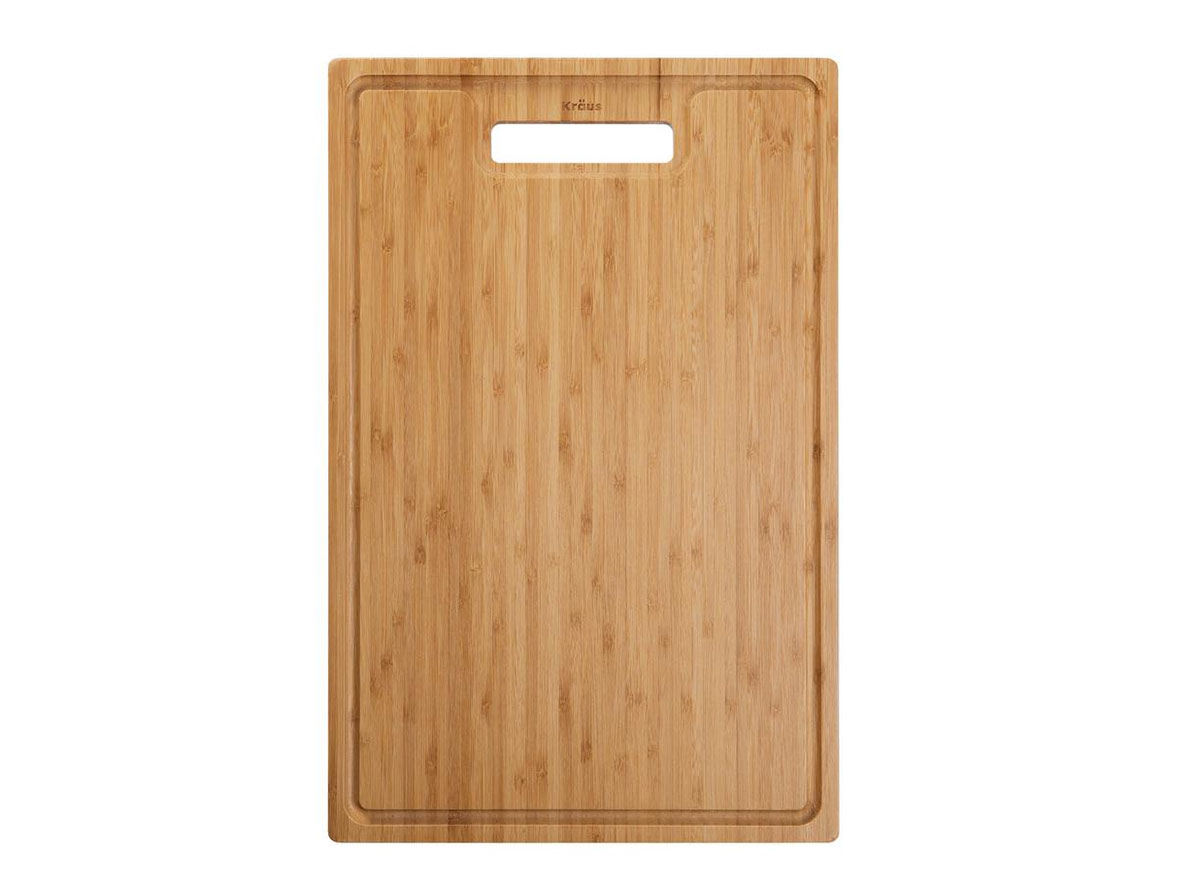 This cutting board comes in four sizes, and three are on sale for Black Friday. Save $10 on the 18×12, 19×12, and 20×12 solid bamboo boards that fit over the sink to create more countertop space. The 100% organic bamboo non-porous surface prevents odors and stains and is naturally antibacterial. Silicone feet keep it in place and grooves along the edges catch any spills and/or crumbs.
For other ways to keep your kitchen clean, here are 50 Surprising Kitchen Safety Dos & Don'ts.
Artisanal Kitchen 2qt Cast Iron Dutch Oven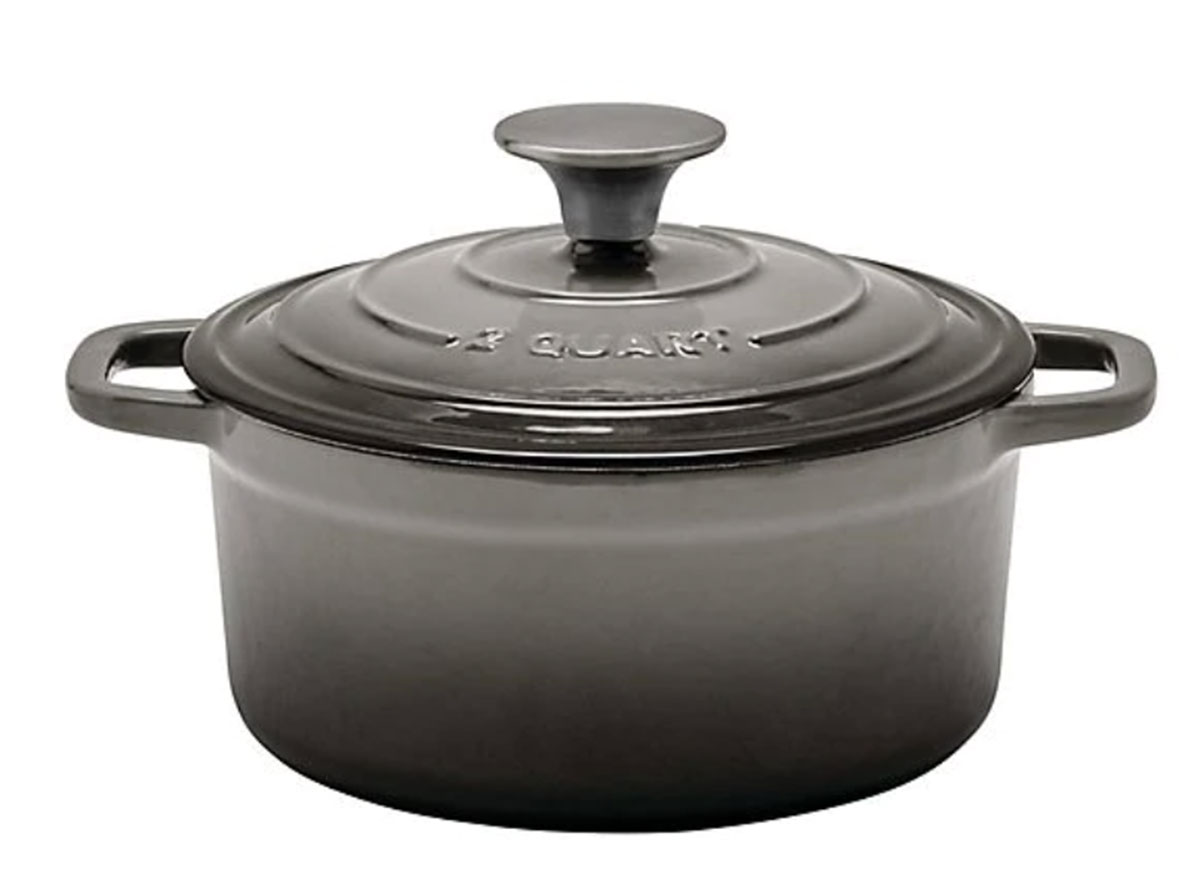 This dutch oven is on sale for Black Friday at Bed Bath & Beyond for $29.99, but if you're a Beyond+ member, it's an additional $4 off the regular price of $39.99. Maybe quarantine bread-making adventures have left the old dutch oven toasted and you're in search of a new one, maybe you're inspired to make bread a little later than others, or maybe a loved one needs an upgrade. This cast iron pot is durable to use every day if you want, while still looking presentable for serving. There are seven colors available.
OXO Good Grips POP 20-Piece Food Storage Container Set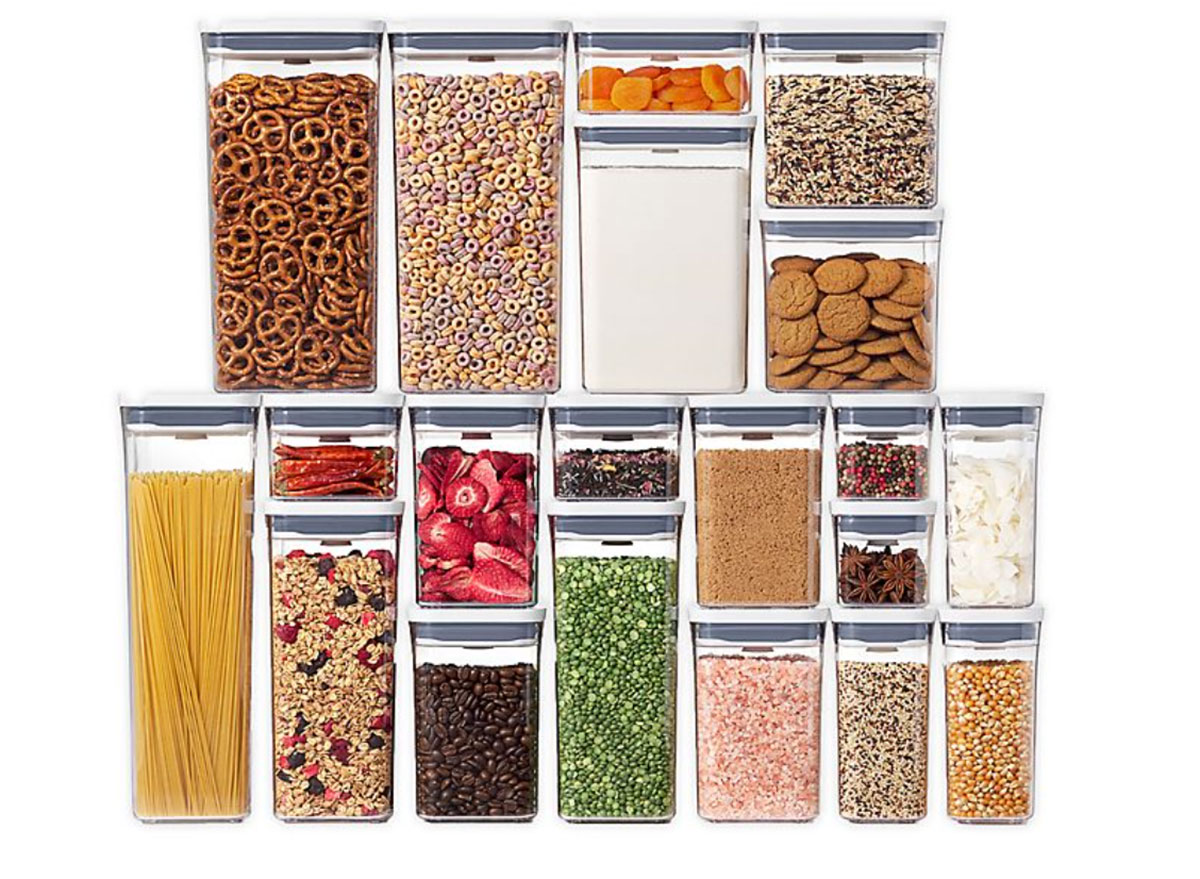 If kitchen organization is on the top of your goals for 2021 or if you're looking for a great gift, the OXO Good Grips container set has 4 out of 5 stars and over 130 reviews on Bed Bath & Beyond's website. The smaller canisters under 1 quart are great for things like baking soda, spices, dried herbs, grain, candy, and dried beans. Larger ones can fit a good amount of coffee, pasta, rice, granola, and more. Store larger items like cookies, crackers, flour, cereal, spaghetti, and other snacks in those larger than 2.2 quarts. Each of the 10 containers come with an airtight seal top and can be washed in the dishwasher.
The set on sale for Black Friday for 25% off at $149.99. Beyond+ members get an even better deal with 40% off, paying $119.99. Plus, spend $200 at the store this Black Friday and get an additional $50 in rewards.
Related: 8 Grocery Items That May Soon Be in Short Supply
OXO Good Grips Pro Nonstick 5-Piece Bakeware Set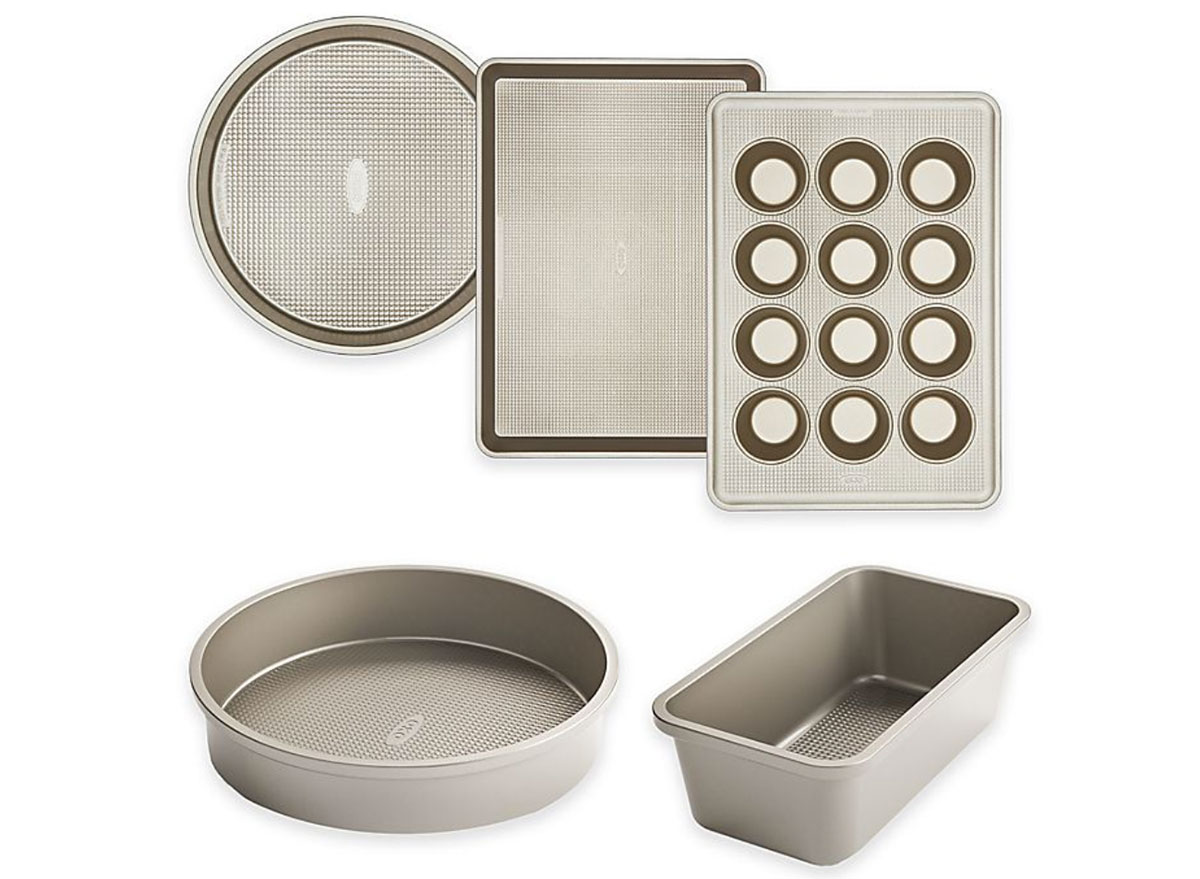 Pick up this bakeware set in-store or online and get everything needed for making cakes, cupcakes, loaves, cookies, and more. All have a ceramic-reinforced nonstick coating on top of aluminized steel. Non-Beyond+ members get 20% off, while members get 36% and pay only $57.59.
For more deals you can't miss this holiday season, sign up for our daily newsletter!
Amanda McDonald
Amanda has a master's degree in journalism from Northwestern University and a bachelor's degree in digital journalism from Loyola University Chicago.
Read more about Amanda