17+ Kitchen Survival Tips From Chefs in Quarantine
We asked the experts for their must-know tips for how to survive and thrive in the kitchen during quarantine.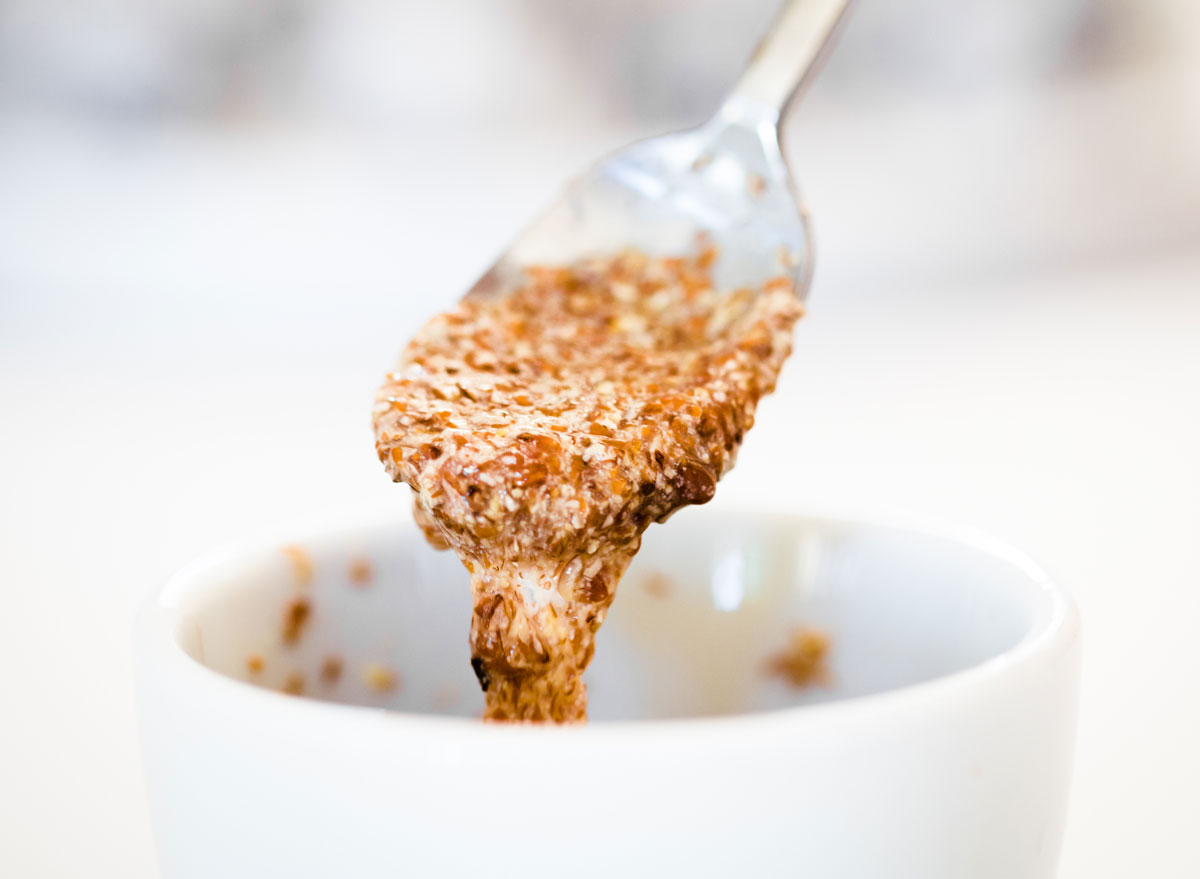 One of the most common changes almost all Americans are experiencing during the COVID-19 pandemic is reintroducing themselves to their kitchens. With restaurants closing entirely or moving to takeout only, we're cooking or preparing significantly more meals at home than what many of us are used to.
Plus, when you have limited groceries to choose from and you want to make the most of the food you have so you can make fewer trips to the grocery store, we're all looking for a little more direction in the kitchen.
That's why we asked expert chefs for their best advice on how to survive and thrive in the kitchen when you're quarantined. From how to store foods to make them last longer and creative ways to make your canned foods more exciting, these are the 17 kitchen survival tips you must know the next time you're putting together a meal. And make sure you're keeping these 7 Tips for Safe Cooking Amid Coronavirus Concerns in mind at the same time.
Don't toss those wilting herbs.
Now more than ever you'll want to make those herbs last as long as possible. So even if your herbs are on their way out, don't let them go just yet. "When I see that some herbs in the fridge have lost their freshness, I chop them up, mix them together with a drop of olive oil and a dash of lemon juice. Place the whole mixture in an ice cube form and freeze them," says Chef Romain Devanneaux of Chez Muffy restaurant in the Auberge Saint Antoine hotel in Quebec City. "Once frozen, I unmould them and store them in a container in a freezer for future use." One of Chef Romain's favorite uses? Adding those herb cubes to canned soup! For more ideas for what to do with the canned foods in your pantry, don't miss these 61 Recipes You Can Make with Canned Foods.
Make leftover takeout last.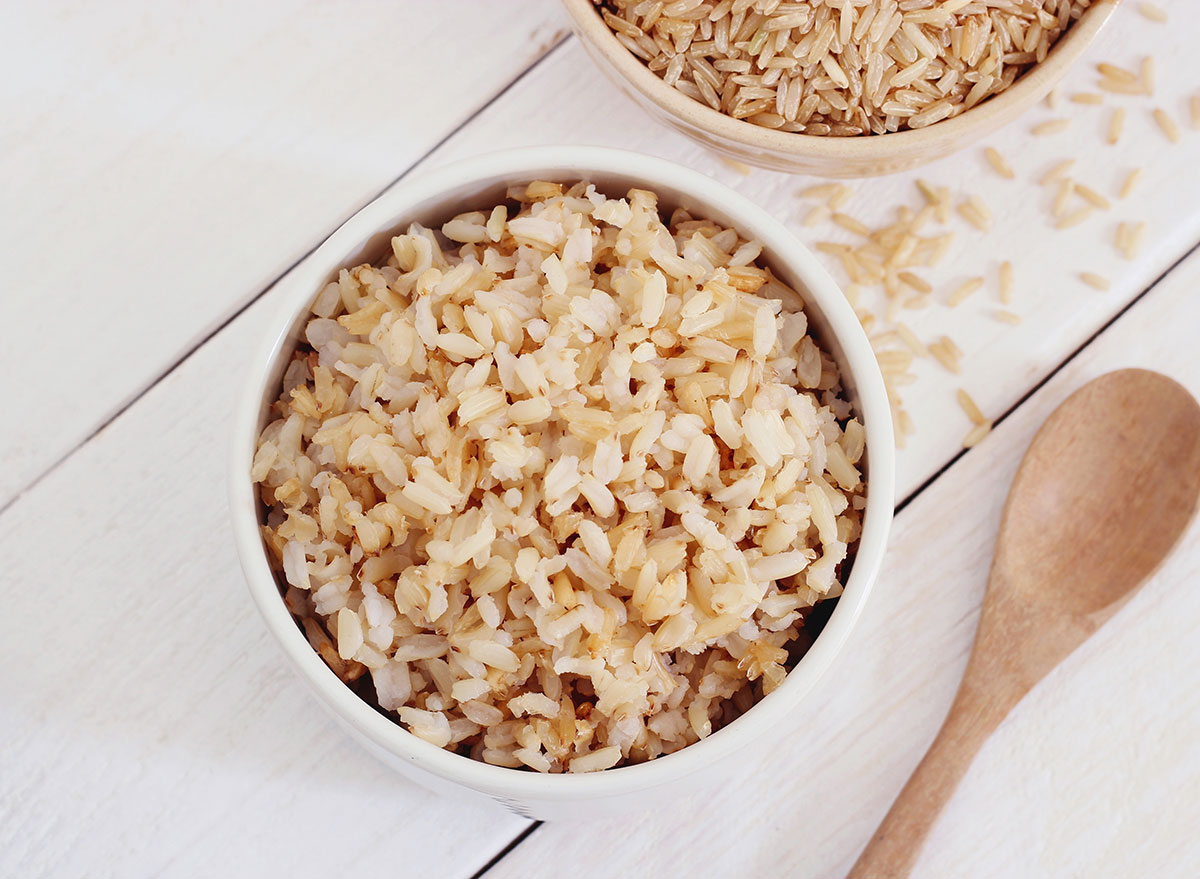 "I am a huge proponent of repurposing something in multiple different ways and stretching out one meal as much as possible," says Brian Riggenbach, season 24 Chopped winner and the Executive Chef and Partner at The Mockingbird in Nashville, Tennesee. "If you have a leftover roast chicken, there are many ways to go from there! The bones can be used in a stock or soup, while the meat can be a standalone dinner, shredded for tacos, pulled and thrown into a pasta, or used in a chicken salad. Try and find an item that is relatively neutral such as a grain or rice that you can layer with flavor later to easily adjust the meal. Plain rice can go Mexican once you add in some tomato puree, cumin, onion and or cilantro, sautéed minced ginger, chili, and garlic for a more Asian twist. Really, the opportunities are endless."6254a4d1642c605c54bf1cab17d50f1e
Keep roasted garlic on hand.
If your local grocery chain is constantly out of fresh garlic, Roy Benningfield, Executive Chef of SALT in Boulder, Colorado has a great tip for the next time you can get your hands on a head. He recommends roasting and then pureeing garlic. "[Pureed roasted garlic] is so versatile and convenient. I'll use it as a spread, to thicken sauces, to drizzle over pizza, or to baste chicken and fish. It also keeps for a very long time and will come in handy if the garlic is picked through at the grocery store."
Try different ways of preserving vegetables.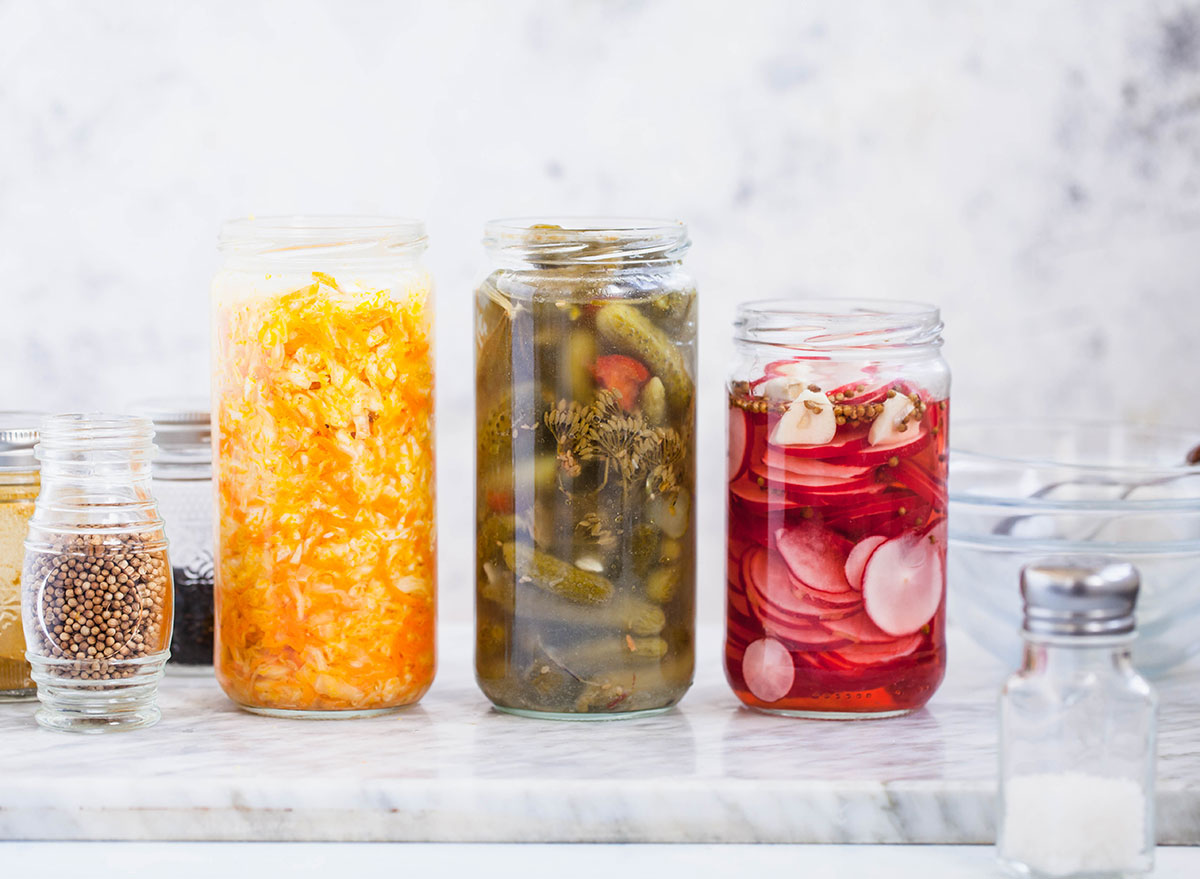 "It is important to have vegetable items to be able to provide balanced meals in times of difficult shopping," says Craig Rispoli, Executive Chef at fresh&co. But because you may not be able to stock up on fresh vegetables as frequently when you're in quarantine, Chef Craig recommends freezing, pickling, and jarring vegetables. One of his favorite pro tips? Before freezing, "toss veggies with a bit of olive oil, or press down with plastic wrap to help prevent freezer burn." Preserved vegetables are one of the 30 Foods to Meal Prep for Healthy Eating During the Week.
Don't bother with precut or preseasoned foods.
You may be swayed into slipping into your classic shopping habits to save time in the kitchen, but these will actually hurt you rather than help you during quarantine times. "Do not purchase any precut or pre-seasoned items. These will have a shortened shelf life and added costs due to processing—you have the time to chop an onion!" says Chef Craig.
Now is a great time to keep hot sauce in your bag (aka kitchen).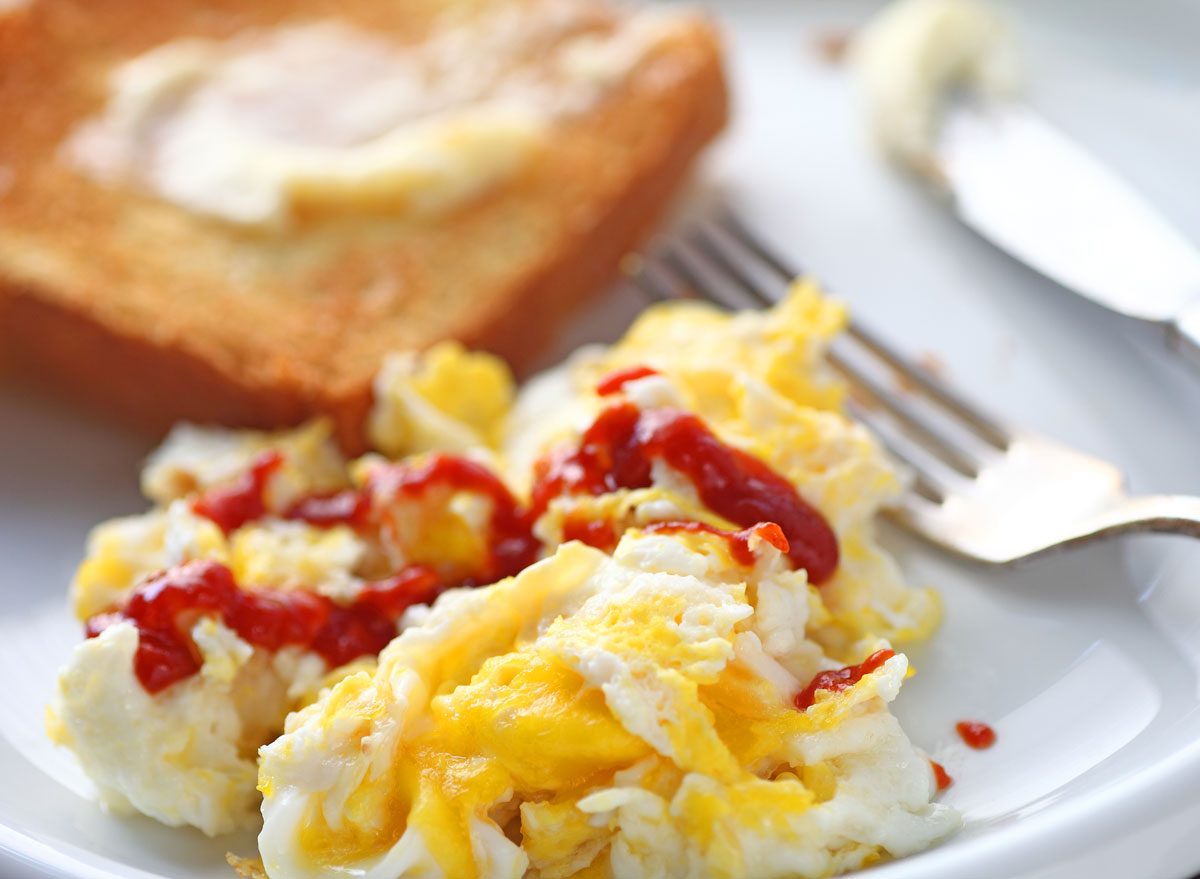 "You may be eating a lot of the same things every week depending on how you've stocked up your pantry," starts Kevan Vetter, McCormick Executive Chef and Director of Culinary Development for McCormick. "Heat + flavor is a great way to add excitement to your everyday repertoire of meals. Frank's® RedHot® Original Cayenne Pepper Sauce adds a nice spark of flavor to roasted Brussels Sprouts with garlic and parmesan. Frank's® Sweet Chili® Hot Sauce as a marinade and glaze adds a spicy Asian twist to baked salmon or roasted chicken. If you've got leftovers, make chicken or salmon salad to serve as a sandwich or on top of a salad."
Label all your frozen foods.
"Label everything!" says Chef Brian. "It is hard enough to remember what you had for lunch not to mention what your former self packed away months ago! As for cooking to freeze, make sure that whatever you make (from sautéed spinach, to roast chicken) cools completely before packing up. Lay out all of the food on a cookie tray as this will greatly improve the cooling time."
Stock up on winter squash.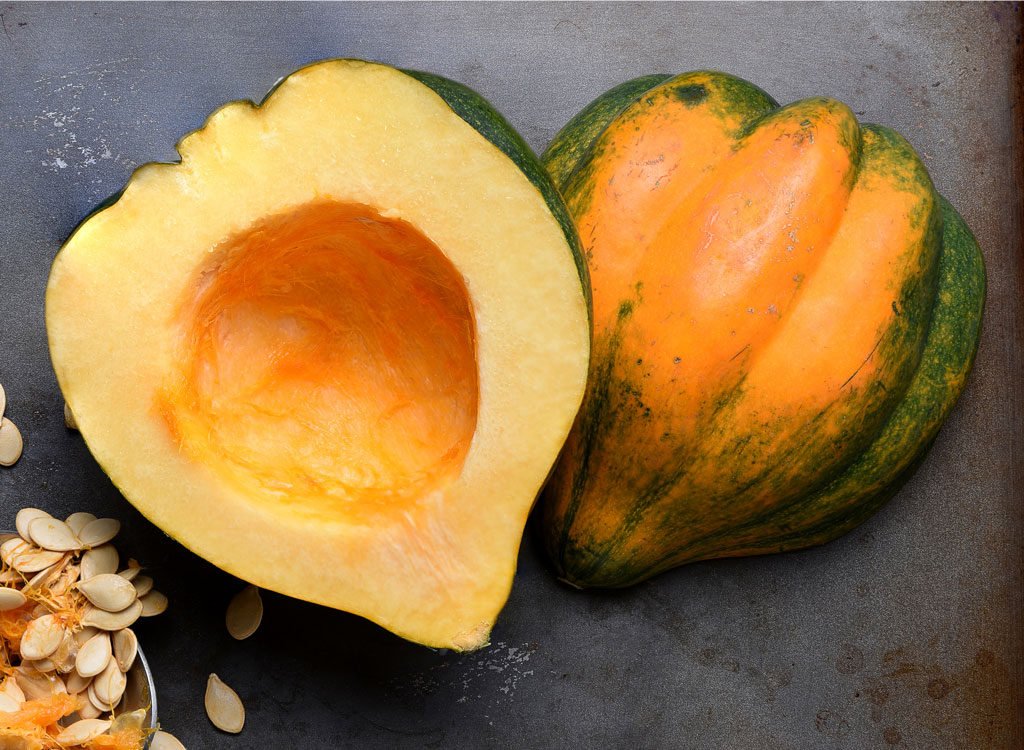 It's a great time for winter squash, and we're not just saying that because there's still some winter weather throughout the country. "[Winter squash varieties] are packed full of nutrients and last for a long time before cooking," says Chef Roy, which makes winter squash a healthy pantry staple to stock up on during coronavirus. They aren't just great for eating. "Spaghetti squash and acorn squash can both be used as bowls to do something fun with soup. Simply cut them in half, scoop out the seeds, cook and pour your favorite soup inside," suggests Chef Roy.
Batch cook versatile foods.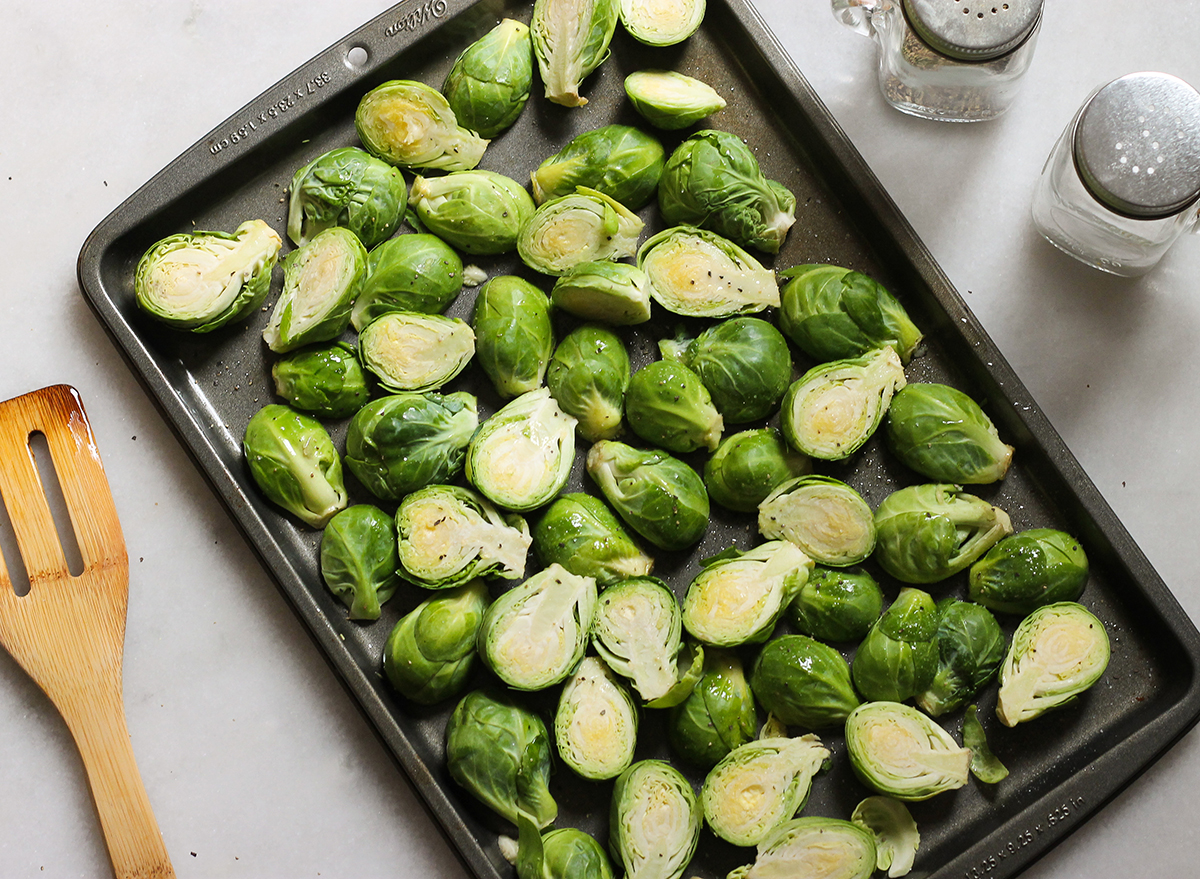 You may have already started to notice that when you're at home for every meal of the day, you end up having to cook — a lot. To cut down on all that prep time, Barry Tonkinson, Director of Culinary Research & Development at the Institute of Culinary Education, recommends making bulk preparation of certain things. "For example roast some squash, sweet potato, Brussels sprouts and parsnips in some olive oil and store in the refrigerator. Use these on top of a salad one day. Mix with chickpeas and chicken stock on another day for a quick and easy soup and use together with some spices and aromatics alongside some rice for a healthy curry."
Make use of your nearly-expired fruit.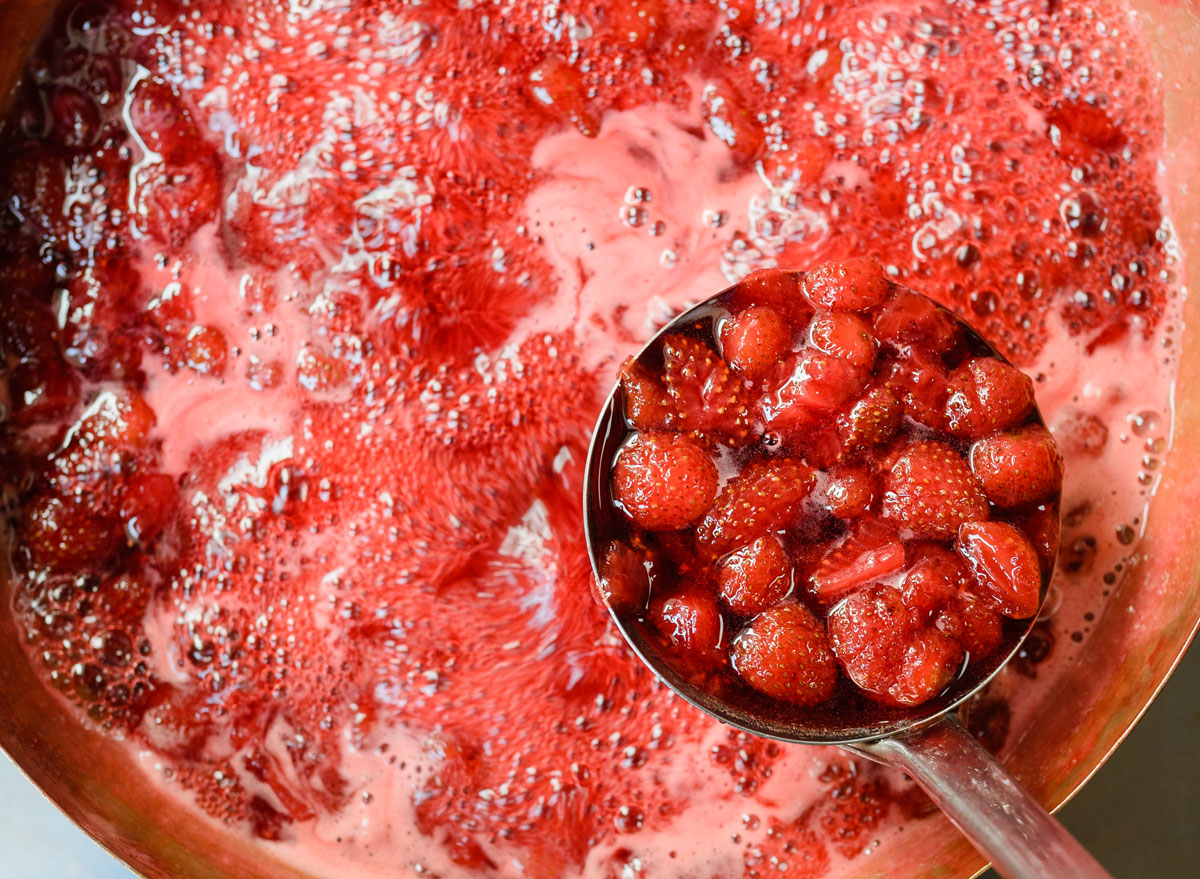 Fresh fruit may be in short supply, but even if you forgot a carton of berries at the back of the fridge, you don't have to force yourself into using them just like you would have when they were in their prime. Instead, repurpose berries on their way out like Chef Suzi Gerber founder and author of Plant-Based Gourmet recommends: "Make quick jams and preservatives with these items, [which will extend their expiration date by] at least 1 month in the fridge." Simply toss your berries into a small pan with a splash of water, lemon juice, and a touch of sugar and simmer until broken down.
Focus on meals where produce is the star.
You know that you're supposed to cook meat within two days of bringing it home from the grocery store. So, when you're making less frequent trips to the grocery store, you likely don't have as much access to meat as you typically do. Stephanie Dreyer, the founder of Batch Cooking Club, has the perfect solution: cook more plant-based meals! Her favorites are vegetable steaks topped with chimichurri or hummus, stuffed potatoes (canned soup and chilis make great "stuffings"), and stir-frys ("great way to use up nearly-expired vegetables!").
Stop freezing your batch-cooked meals incorrectly.
We know you've heard the advice: cook in large batches. But Executive Chef Kraig Hansen & Chef de Cuisine Chelsea Knight of Fable Lounge in Nashville, Tennessee take this tip up to another level. "Before placing your leftovers or pre-made meals in the freezer, the best way to wrap the dish is to do what we in the industry call 'hotel/cater wrap.' A common mistake at home is to use the tiny roll of plastic wrap or foil and cover the top of your dish and then press seal around the edges. Save yourself the freezer burn and disappointment," says Hansen and Knight. Instead, follow their steps: (1) Lay a sheet of plastic wrap on a flat surface. (2) Place your vessel to be covered on the sheet. (3) Fold the wrap over the vessel and then repeat until the vessel is completely encased (like wrapping a package). (4) This will prevent spills, freezer burn and keep the food fresh and more flavorful.
It's time: learn how to make pizza dough.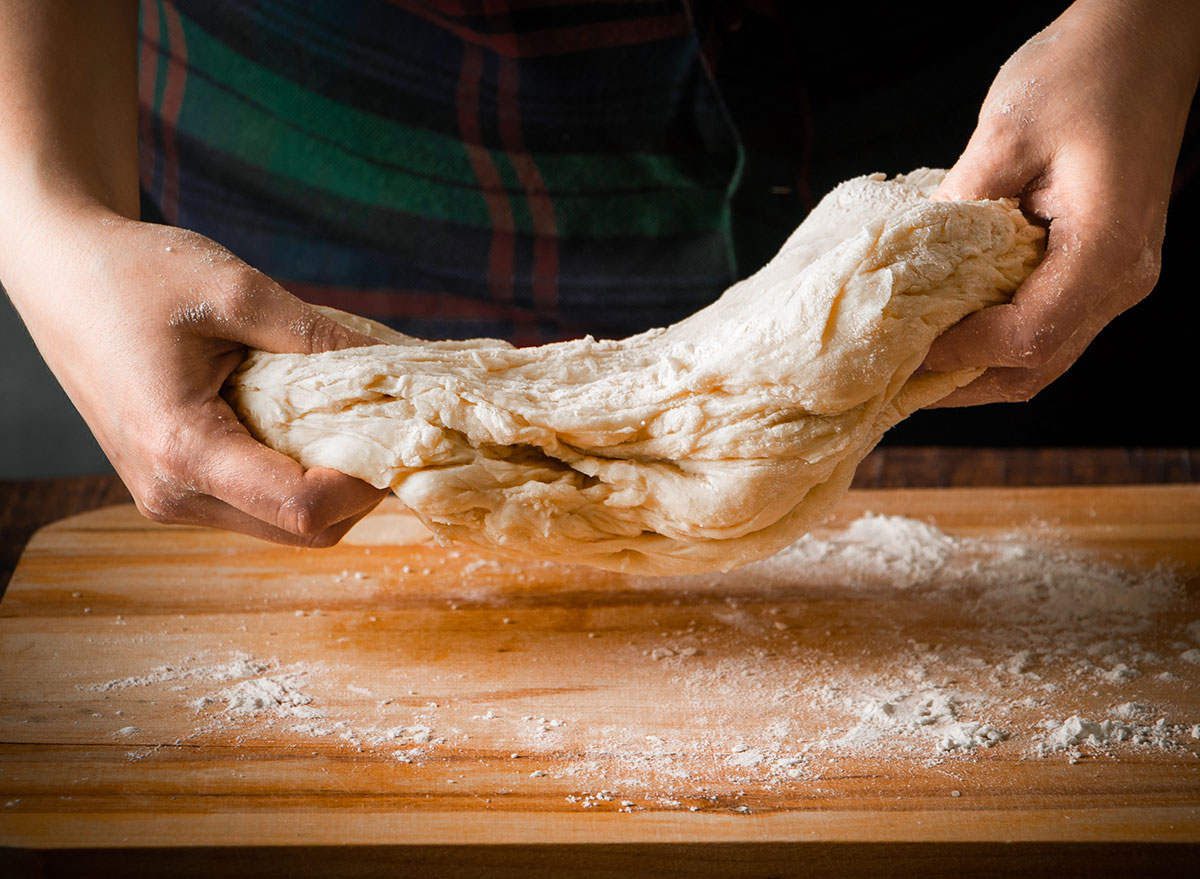 Pizza delivery wait times got you down? While we highly recommend supporting your local restaurants during the COVID-19 pandemic, if your family is hungry and you need to get something on the table, like, now you're going to want to have pizza dough ready to go. "I would recommend that home cooks begin making their own pizza or empanada dough," says Executive Chef Soo Ahn of Michelin-starred Band of Bohemia restaurant. "The recipes are really easy and you can find all the ingredients at a grocery store near you. At the end of the week, you're usually left with an abundance of leftover food. Instead of throwing the food away or freezing it, make some creative empanada fillings or crazy pizza toppings! The other day, I made an empanada with leftover braised short rib and risotto. It was absolutely delicious. Not to mention this dough lasts up to 5-7 days, making it perfect for quarantine cooking."
Make meals that use the same ingredients in different ways.
With grocery stores being out of one item one day and another item the next, it may be harder to cook meals with a wide variety of ingredients when you're quarantined. That's why Christian Frangiadis, James Beard award-nominated chef and owner of Spork restaurant in Pittsburgh, Pennsylvania, suggests "making meals where I can reuse one ingredient multiple ways." For example, "I make corn tortillas to use with chili one night and tacos another." (Both meals are great vehicles to use up any leftover meat or vegetables you have on hand.) You can take it a step further and "pair that extra chili with cheese sauce to make chili dogs, and that cheese sauce is a great way to use eggs or dairy and can be used to make mac n' cheese or Philly cheesesteaks."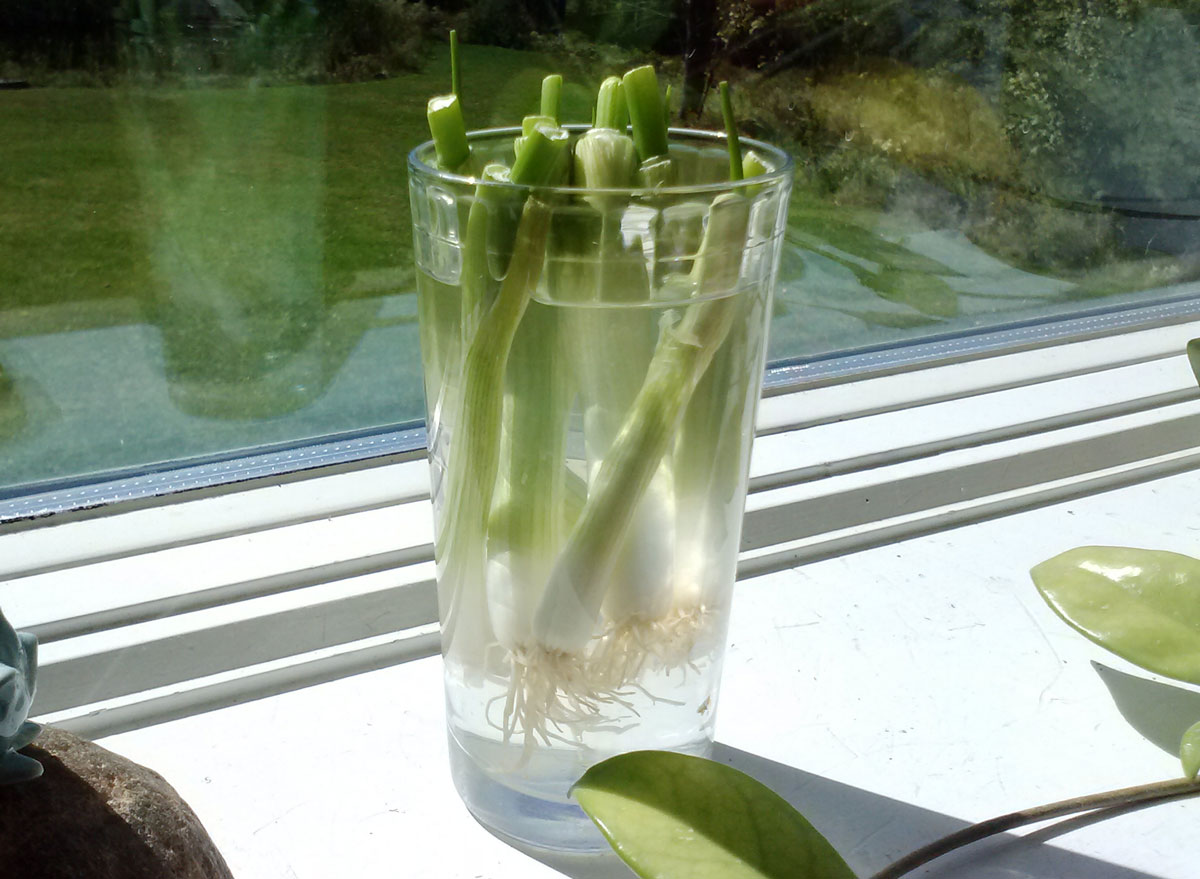 Don't have time to make a grocery run? No problem, just grow your own food. All it takes is to keep the right parts of the food you already have. For example, Chef Barry says it's easy to regrow scallions. "Use the green part of the scallion and when you get near the white root, stop cutting and place in a cup of water. Every other day change the water and when it has grown a few inches, plant into soil so that it will be able to grow fully."
Find substitutes in unlikely places.
"When shopping and preparing for the quarantine I didn't stock much meat, dairy or eggs," Angie Roberts, Executive Chef at h Club Los Angeles tells us. And we can tell you this: Roberts isn't the first (and she won't be the last) to run into this problem during quarantine. But when you get a craving for brownies, what's a gal to do? Alas, Roberts has a tip that will make your sweet tooth happy. When she was making brownies over the weekend, Roberts, "substituted 1 tablespoon ground flax seeds mixed with 3 tablespoons of water for eggs since I didn't have any. I made these brownies using only ingredients I had on hand in my pantry and was happy with the results!"
Yes, you can even have ramen.
Ramen is a pantry favorite, but the comfort food is often considered unhealthy. (There's a reason why it's known as one of the foods highest in sodium.) The good news is that as long as you prepare ramen properly (and that means laying off the flavor packet), it can actually become one of the healthiest meals you make in quarantine, especially because it makes it easy to use up all your leftover veggies. "Noodle bowls are my favorite quarantine-friendly pick right now," says Jackie Newgent, RDN, CDN, New York City-based chef, private cooking coach, and author of The Clean & Simple Diabetes Cookbook. "I find they offer that ideal blend of comfort, health, deliciousness, and even fun. And they're a fantastic avenue in which to use whatever veggies are available. One that I'm enjoying the most often is an Asian-style cold tahini soba noodle bowl – I whisk up the tahini-based sauce in advance so I can quickly whip up the noodles whenever I wish." Get more at-home cooking inspiration with these 11 Easy Dishes These Expert Chefs Are Making for Themselves at Home During Quarantine.
Olivia Tarantino
Olivia Tarantino is the Managing Editor of Eat This, Not That!, specializing in nutrition, health, and food product coverage.
Read more about Olivia