17 Best Christmas Brunch Recipes
Christmas dinner may steal the show, but you can make Christmas brunch just as memorable.
Unwrapping presents may be the main event on Christmas morning. But a delicious brunch—best enjoyed in PJs—also brings merriment to the morning. Whether you like sweet (extra syrup, please!) or savory (ham and cheese are a dream team), here are 17 brunch recipes that feel just right for Christmas morning.
And for more, check out The Most Popular Christmas Recipe in Every State.
Muffin Tin Quiches with Smoked Gouda and Ham
Your muffin tins are multi-taskers. Not only can they bake your favorite muffins, but they can also make individual quiches to wow your brunch crowd. This recipe is especially great for Christmas morning because you can dice up some leftover ham from a Christmas Eve dinner, then mix in the vegetables. A generous serving of Gouda gives them a creamy, buttery bite.
Get our recipe for Muffin Tin Quiches with Smoked Gouda and Ham. 
Chocolate Cherry Bread Pudding with Pistachios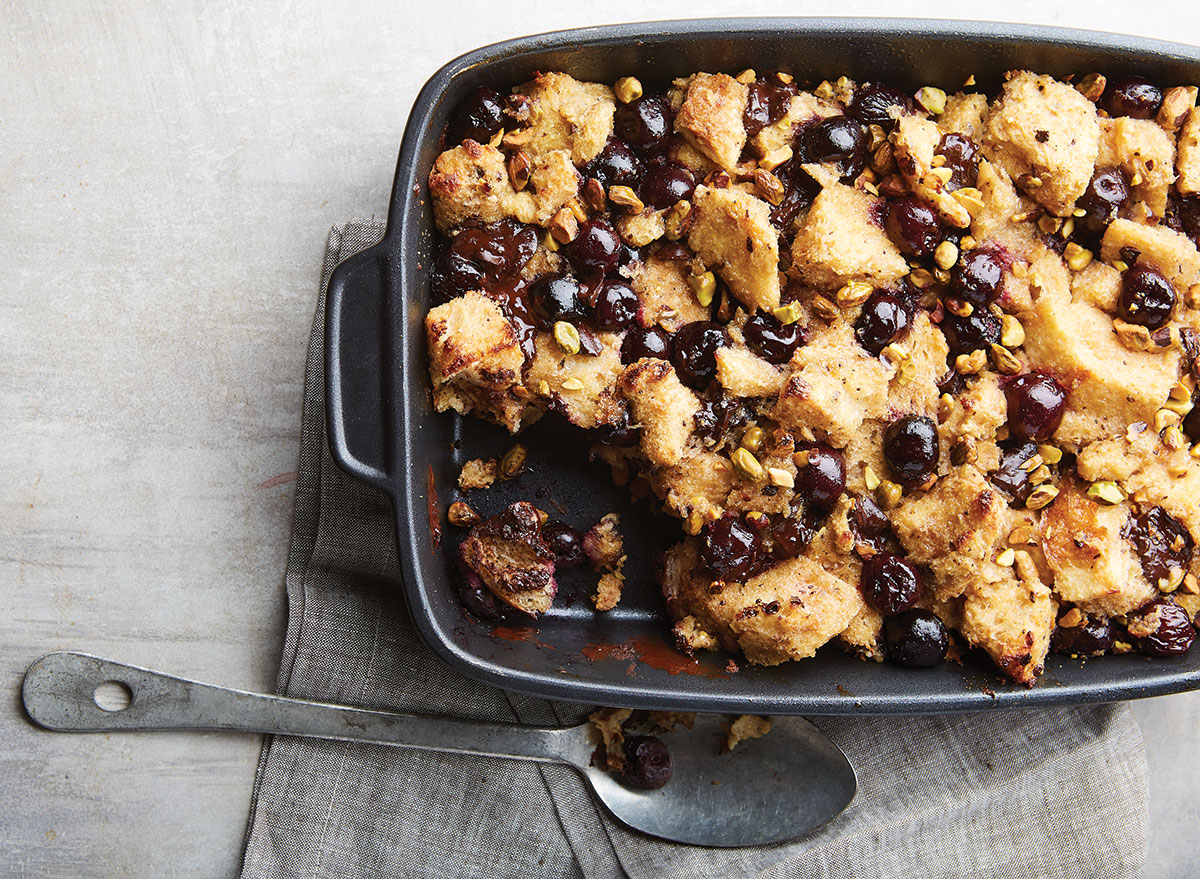 Psst, this bread pudding recipe with chocolate and sweet cherries may look and taste like dessert, but it's just as great as a brunch dish.
Get our recipe for Chocolate Cherry Bread Pudding with Pistachios. 
And for more holiday inspiration, check out these 50 Delicious Christmas Eve Dinners So Easy They'll Cook Themselves.
Red and Green Breakfast Salad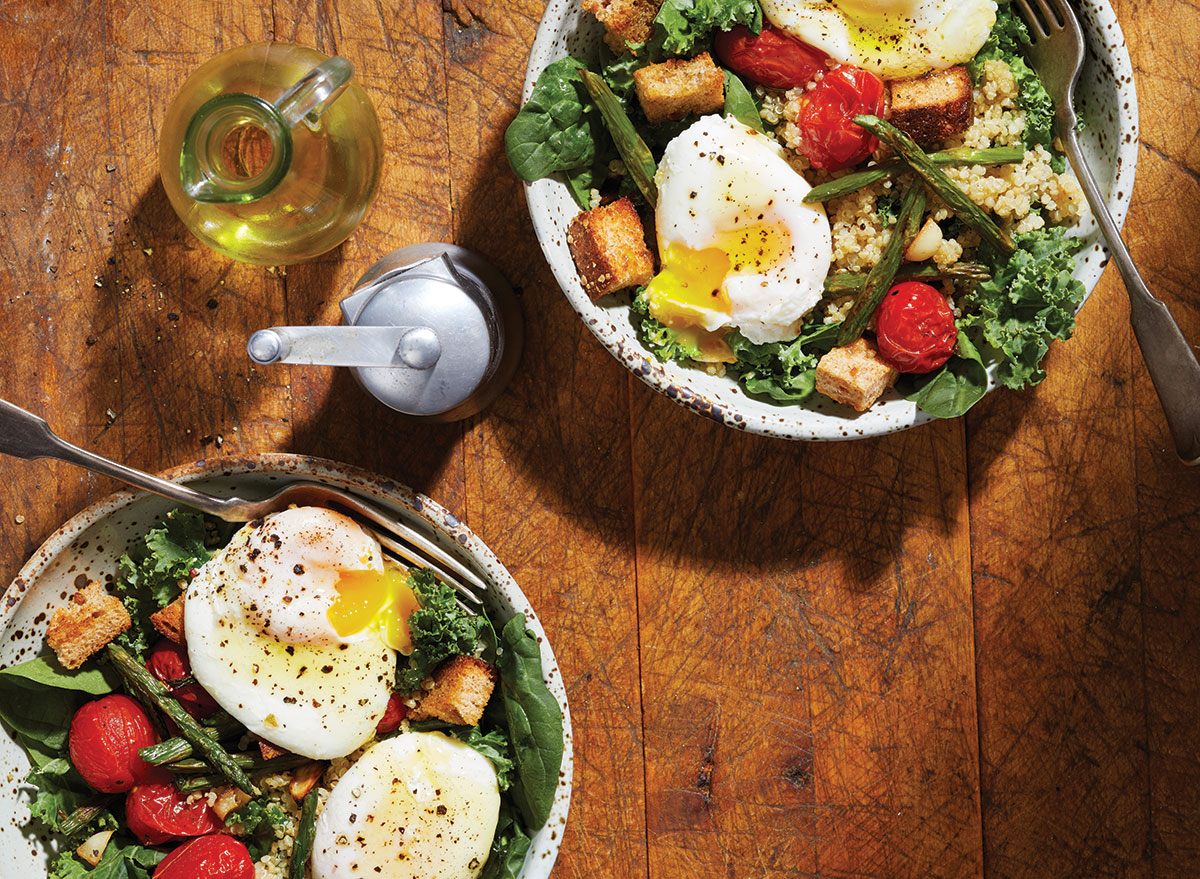 Need a healthy salad to power you through an afternoon of assembling those Christmas gifts? This quinoa salad is bidding for a spot at your brunch table on Christmas morning—it has red and green ingredients, like asparagus, kale, and tomatoes. And it counts as breakfast because it's got a runny egg on top.
Get our recipe for a Red and Green Breakfast Salad. 
Want to serve something a little more retro? Check out these 24 Vintage Christmas Dinner Recipes for Partying Like It's 1899.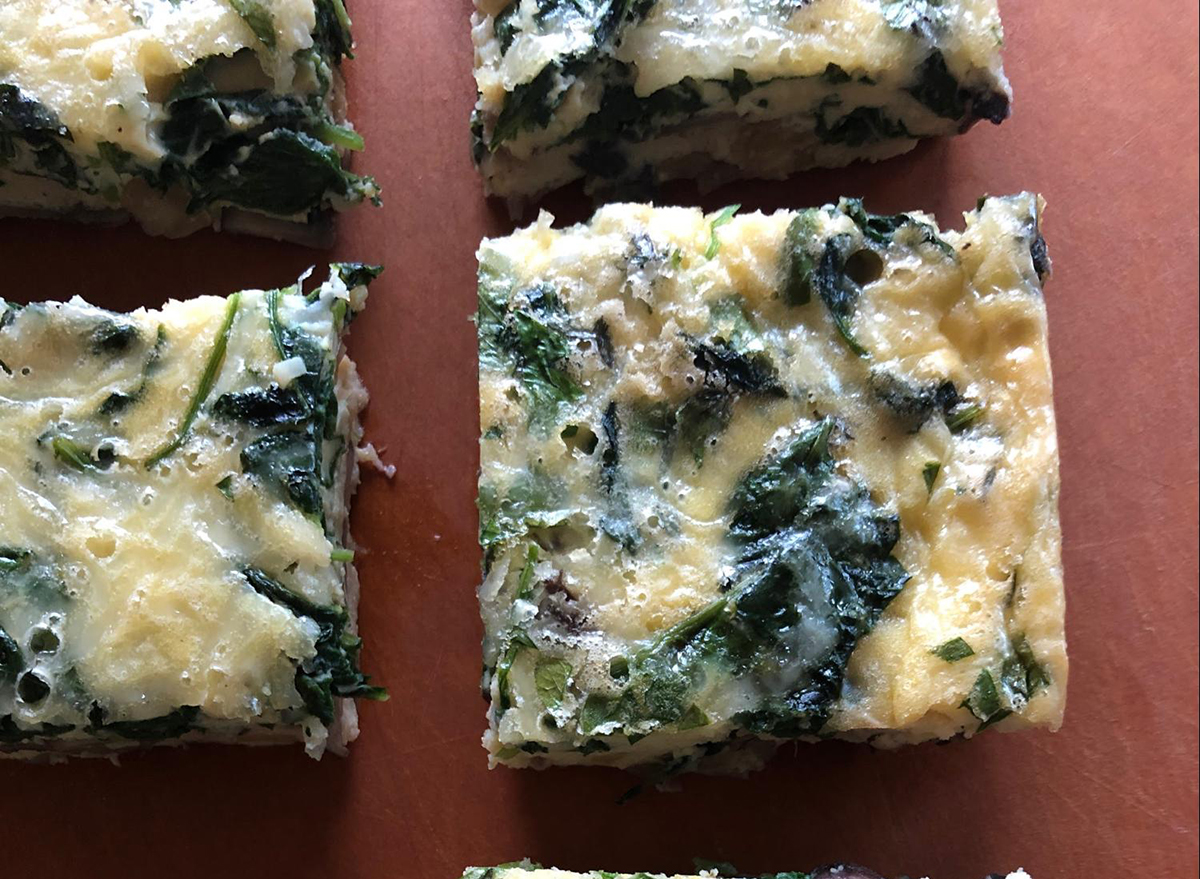 For a delicious brunch, bake this flavor-packed and filling breakfast casserole that's made with caramelized onions, baby kale, and mushrooms.
Get our recipe for Breakfast Casserole. 
Wondering what your neighbors are eating? Don't miss The Best Christmas Recipe in Every State.
Creamy, decadent, and spiced with nutmeg, eggnog is so rich it's probably a good thing we're only treated to it during the holiday season. But because it's a limited-time treat, and because Christmas only happens once a year, why not indulge while it's here?6254a4d1642c605c54bf1cab17d50f1e
This French toast recipe will remind you of bread pudding, but it's especially on-brand for the holidays because it's made with eggnog and spiced with cinnamon. You can prep it overnight so it's ready to bake in the morning, then drizzle it with a homemade caramel sauce.
Get the recipe from A Pretty Life in the Suburbs.
Want to switch things up this year? Don't miss these 19 Best Non-Traditional Christmas Dinner Recipes.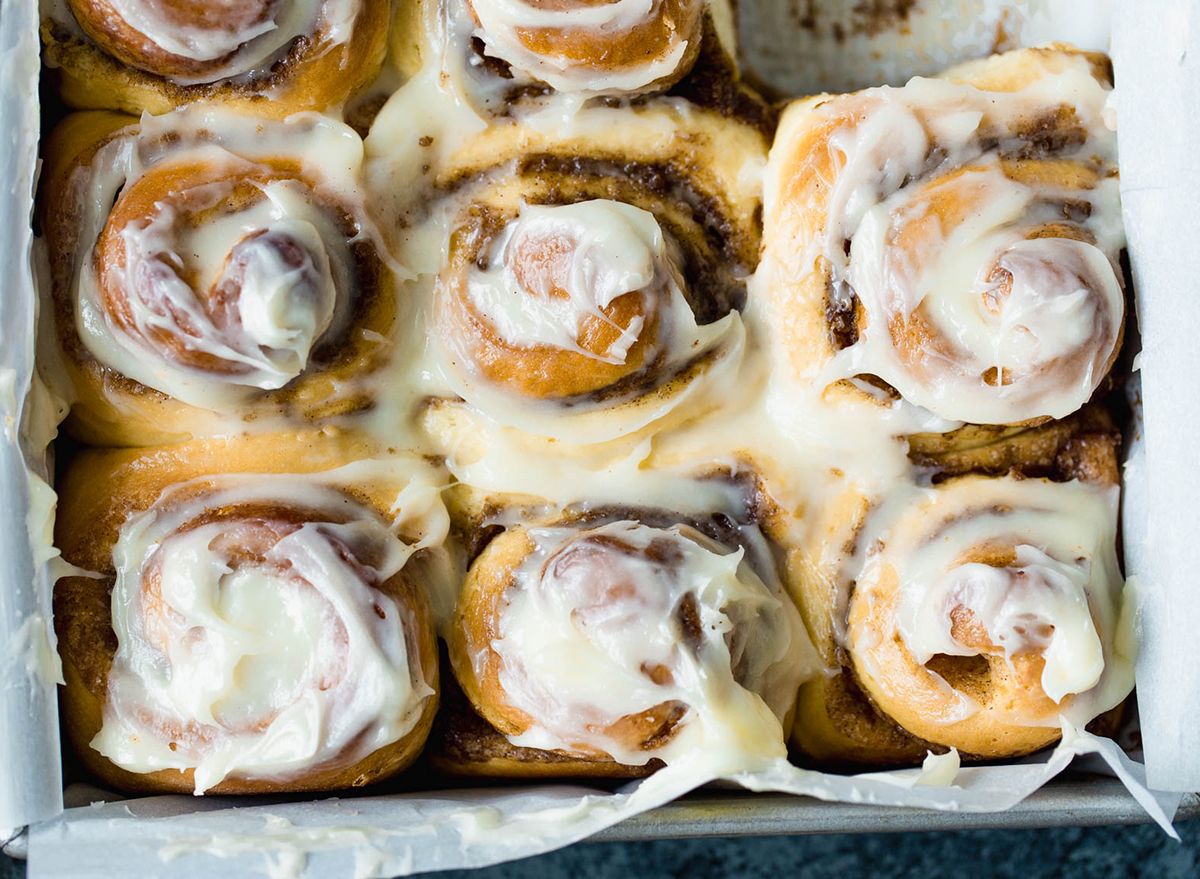 Skip the cinnamon rolls compressed in a can and go big this year with these homemade fluffy cinnamon rolls. They're glazed with vanilla cream cheese and filled with brown sugar and cinnamon. Make two pans of this heavenly breakfast pastry; they'll disappear quickly.
Get the recipe from Ambitious Kitchen.
Charcuterie Brunch Boards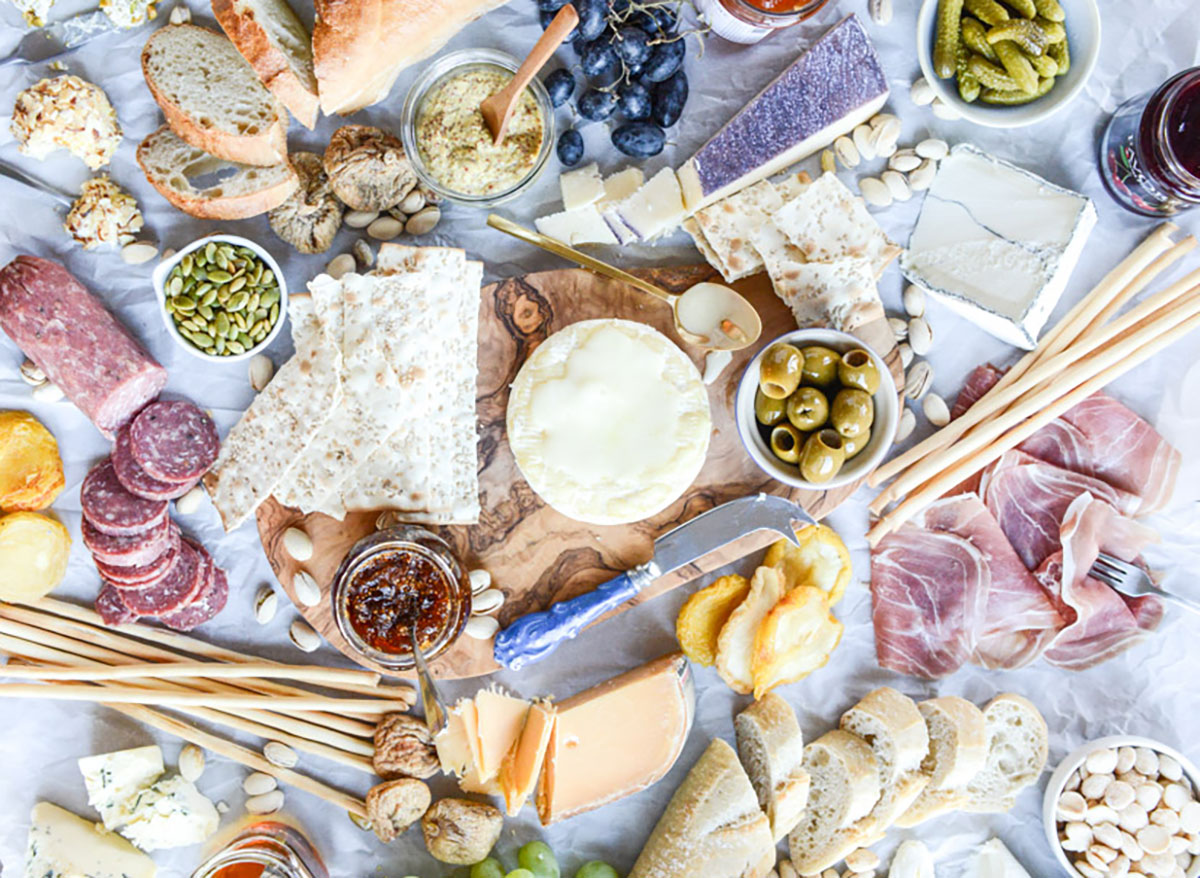 Here's a genius idea: Make a charcuterie board for brunch on Christmas morning so that your family can wander in and out of the kitchen, enjoying a completely customizable and leisurely breakfast.
Easy-to-assemble, a charcuterie board is a perfect place for your favorite brunch staples. The possibilities are endless, but you can start with cheeses, hard-boiled eggs, sliced ham, waffles, fruit, vegetables, and more.
Get the recipe from How Sweet Eats.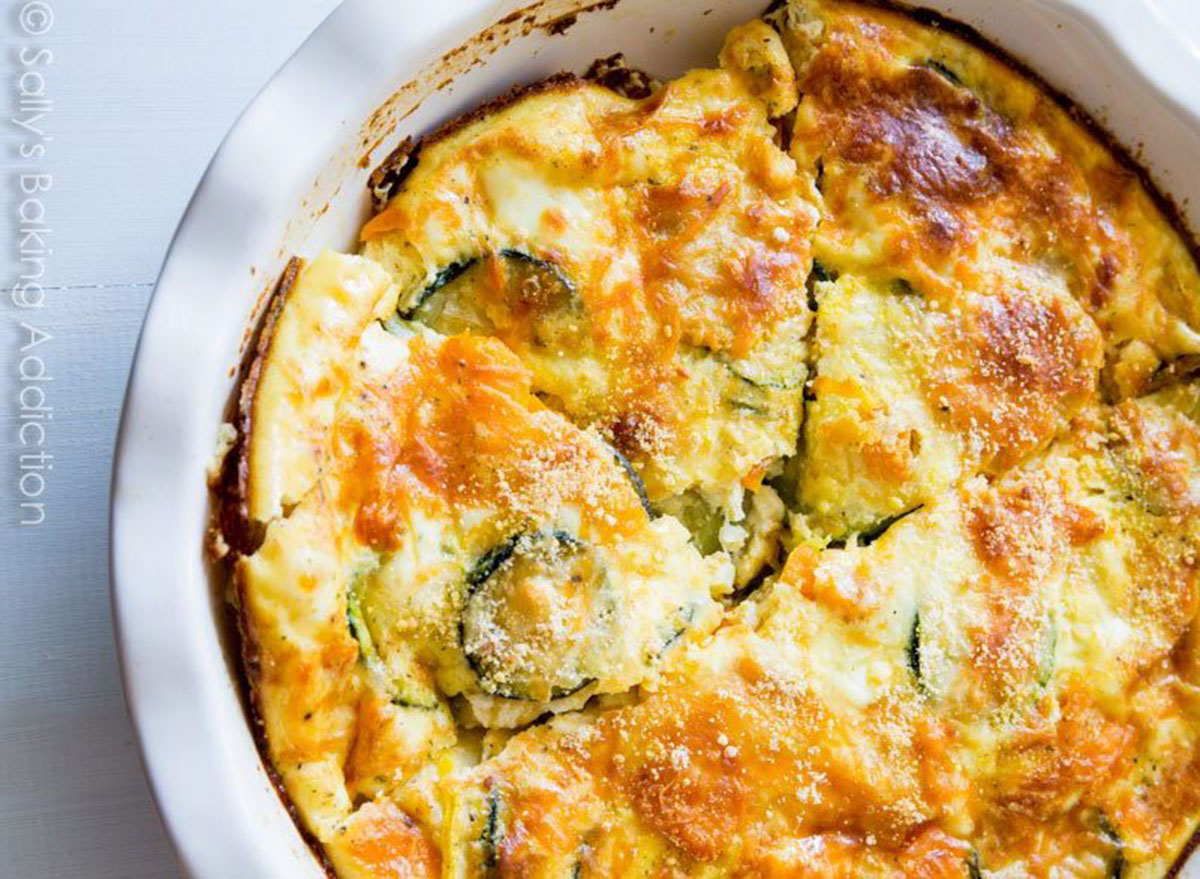 Quick-to-make quiches are perfect for the holidays because you can begin with a base of eggs, milk, and cheese, and then get inventive from there and use up what's in your fridge. Leftover ham from Christmas Eve dinner? Toss it in! Asparagus? Why not! Cubed potatoes and diced onions are fair game, too.
This brunch idea earns bonus points because quiches and casseroles can serve a crowd and bake in under an hour.
Get the recipe from Sally's Baking Addiction.
Roasted Breakfast Potatoes
A one-pan wonder, you can smother potatoes in butter, sprinkle on some spices, and roast them with other veggies like onions and peppers for a hearty side dish to go along with eggs. Follow this recipe for crispy-on-the-outside, fluffy-on-the-inside roasted taters.
Get the recipe from Show Me the Yummy. 
Spinach and Goat Cheese Quiche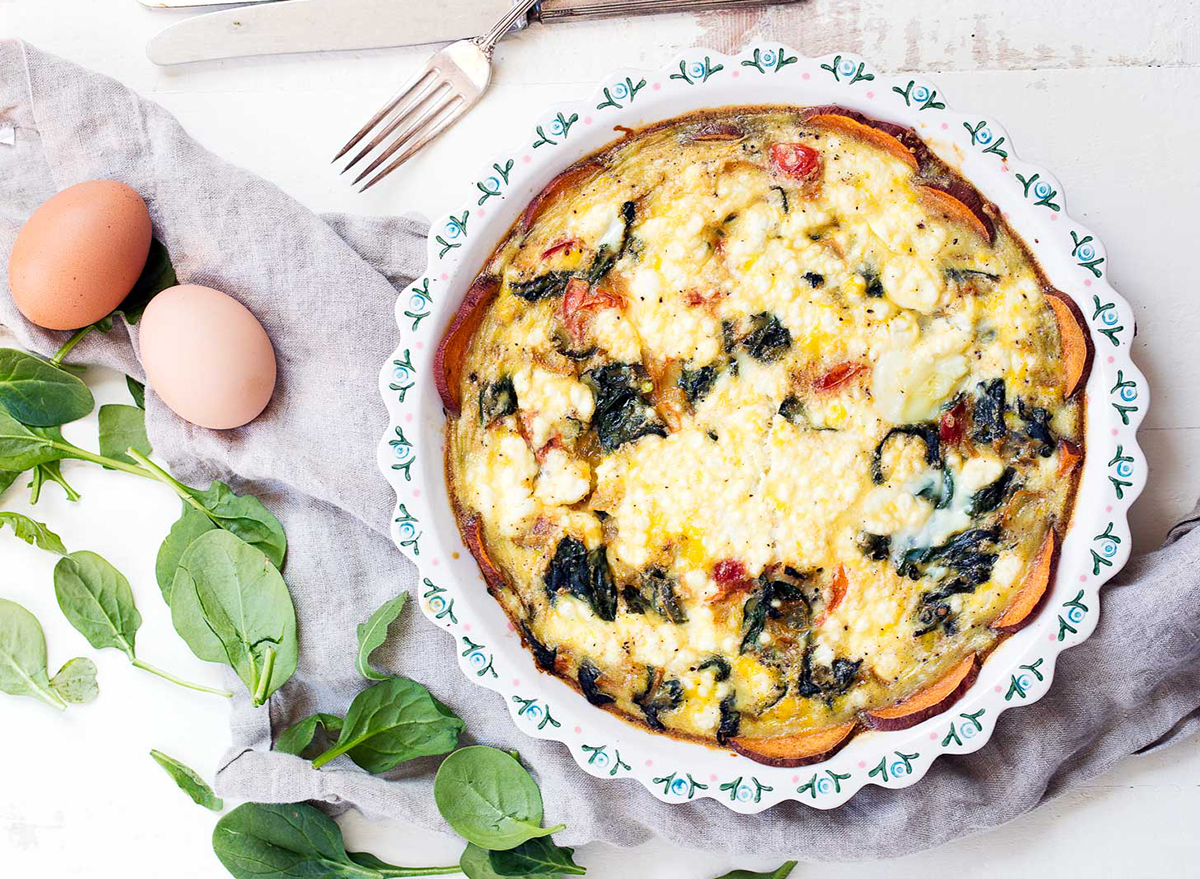 Eating all of your veggies is made easy with this delicious quiche. For starters, a sliced sweet potato makes up the crust (genius, right?), and then the quiche is filled with jalapeños, white onions, and Roma tomatoes. Goat cheese melts on top, giving this dish a perfect kick.
Get the recipe from Ambitious Kitchen. 
Overnight Syrup on the Bottom French Toast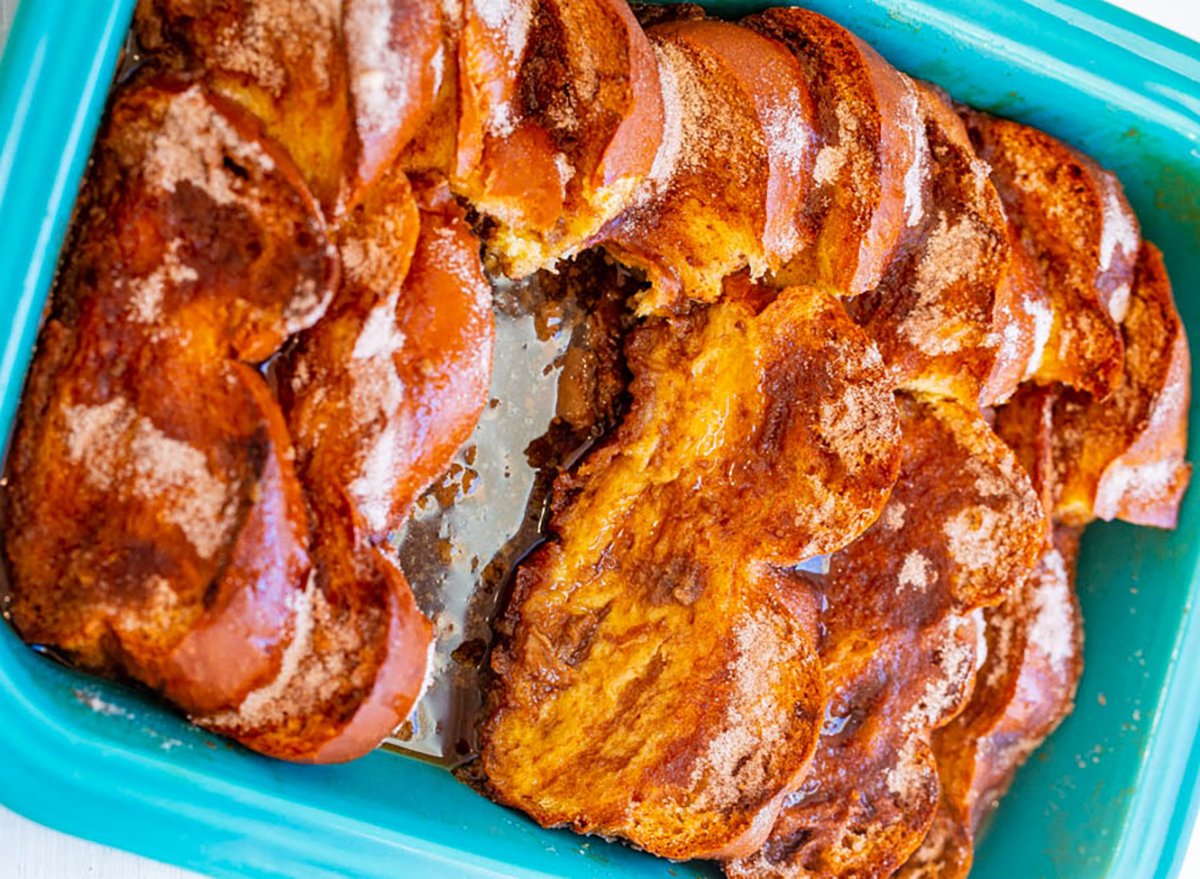 For those who don't skimp on the syrup, this recipe is designed for you. You'll start by making a homemade syrup (it's easy!) and then spread it on the bottom of a casserole dish and layer it with challah bread. It's pre-assembled, so all you need to do on Christmas morning is pop it in the oven and then dust it with some cinnamon sugar.
Get the recipe from Averie Cooks.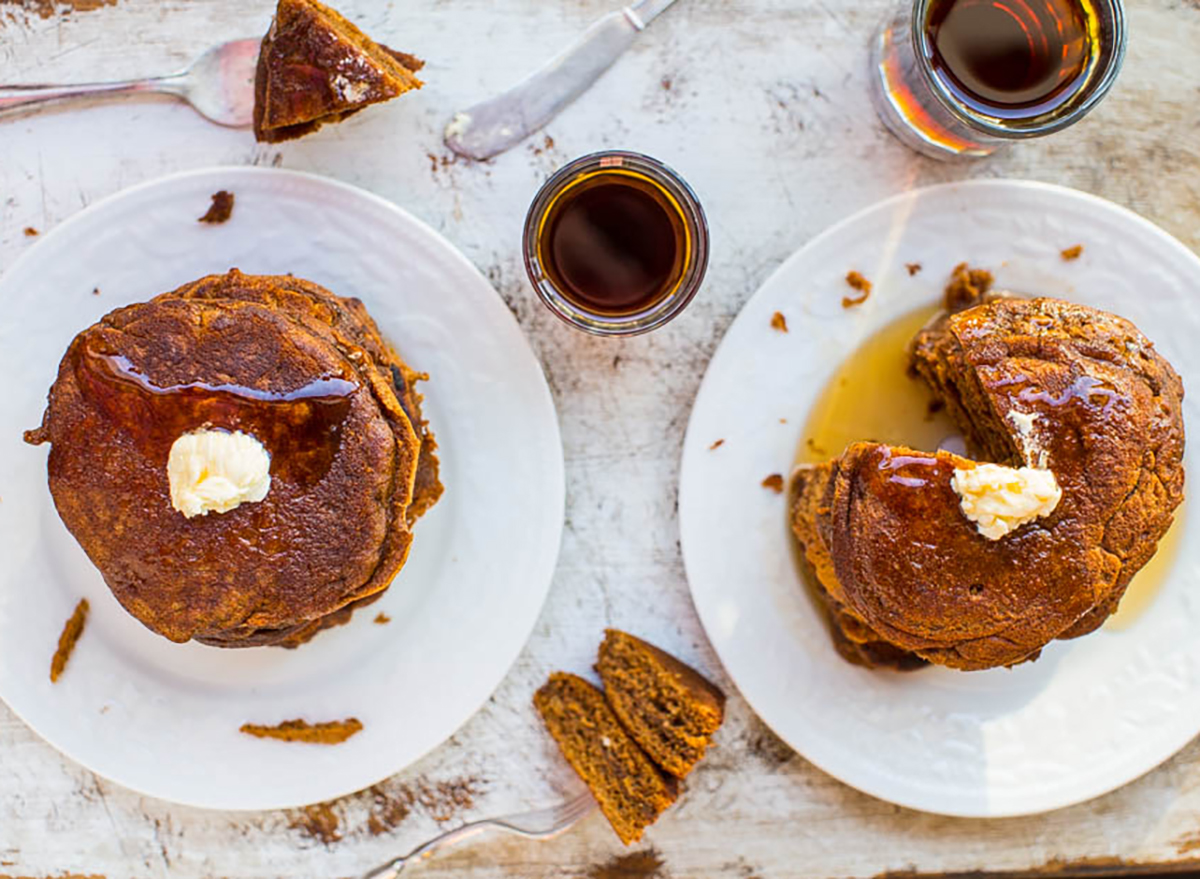 Save plain ol' pancakes the rest of the year. These fluffy pancakes taste a lot like gingerbread cookies, and they're drenched with a ginger molasses syrup, which feels like they'd be North Pole-approved. The recipe calls for spices like ginger, allspice, nutmeg, and cloves, so just imagine the aroma swirling in your kitchen.
Get the recipe from Averie Cooks.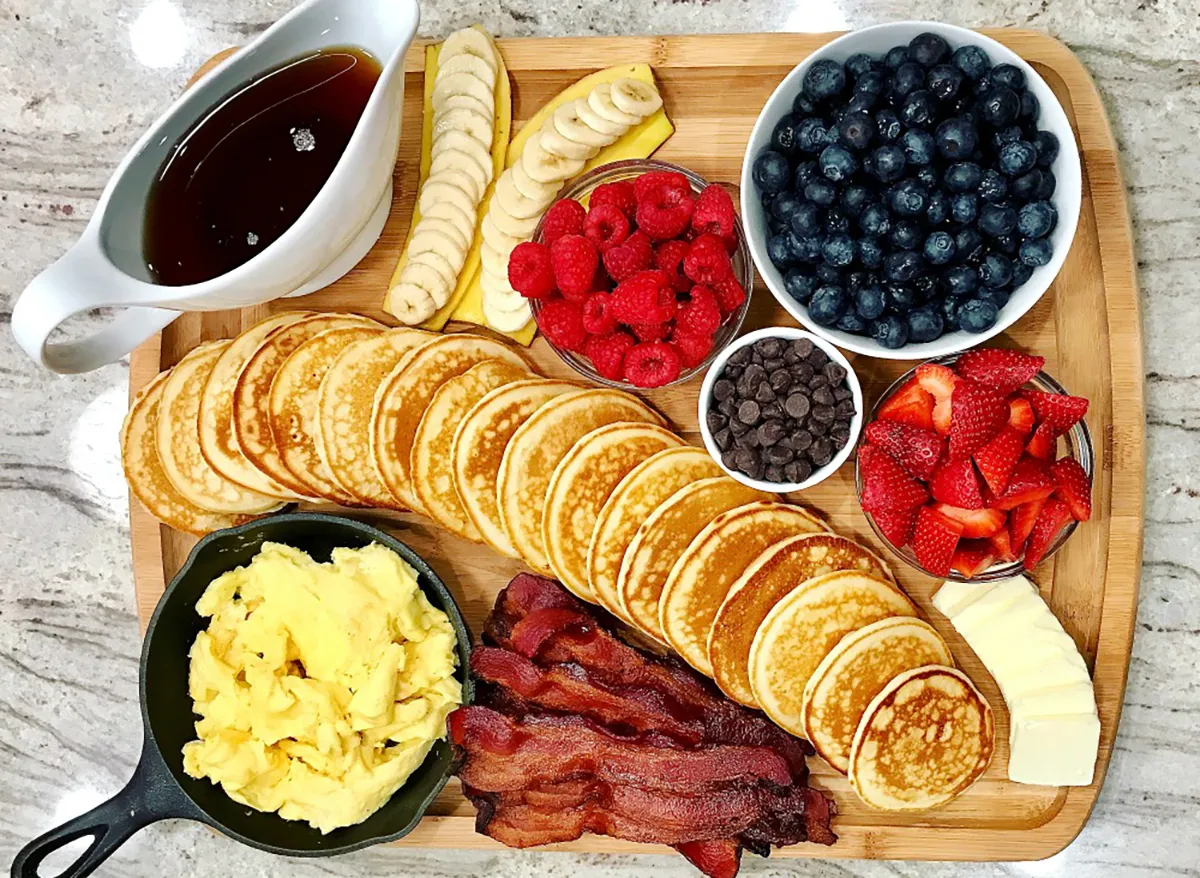 Create a build-your-own pancake station on Christmas morning, with toppings like strawberries, bananas, and chocolate chips. Crispy bacon and a skillet of scrambled eggs can be added to the Instagram-ready breakfast board to round out the meal.
Get the recipe from The Baker Mama.
Glazed Gingerbread Donuts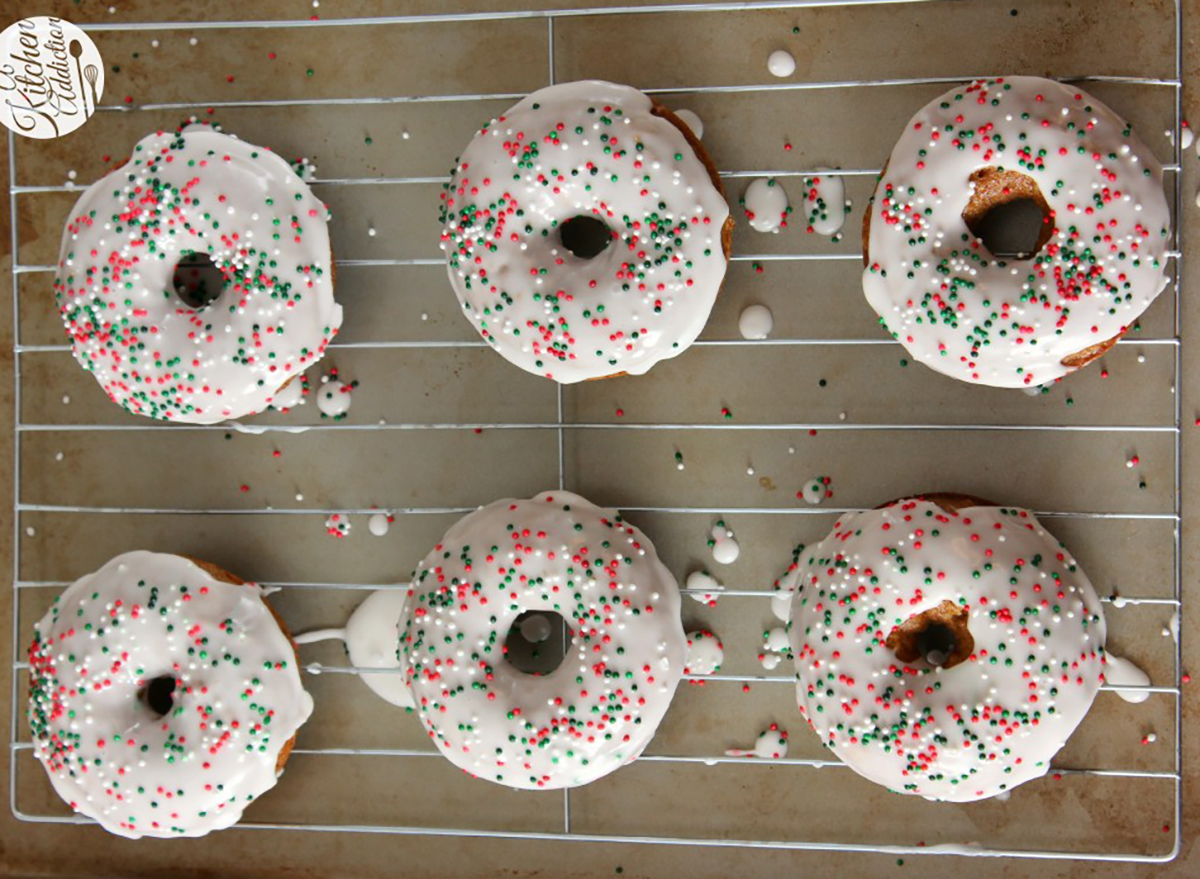 Homemade donuts are surprisingly easy to make. These cakey gingerbread donuts could be eaten as is or sweetened a homemade icing (also simple to make!) and topped with red and green sprinkles. Make them the night before so you can leave one out for Santa.
Get the recipe from A Kitchen Addiction.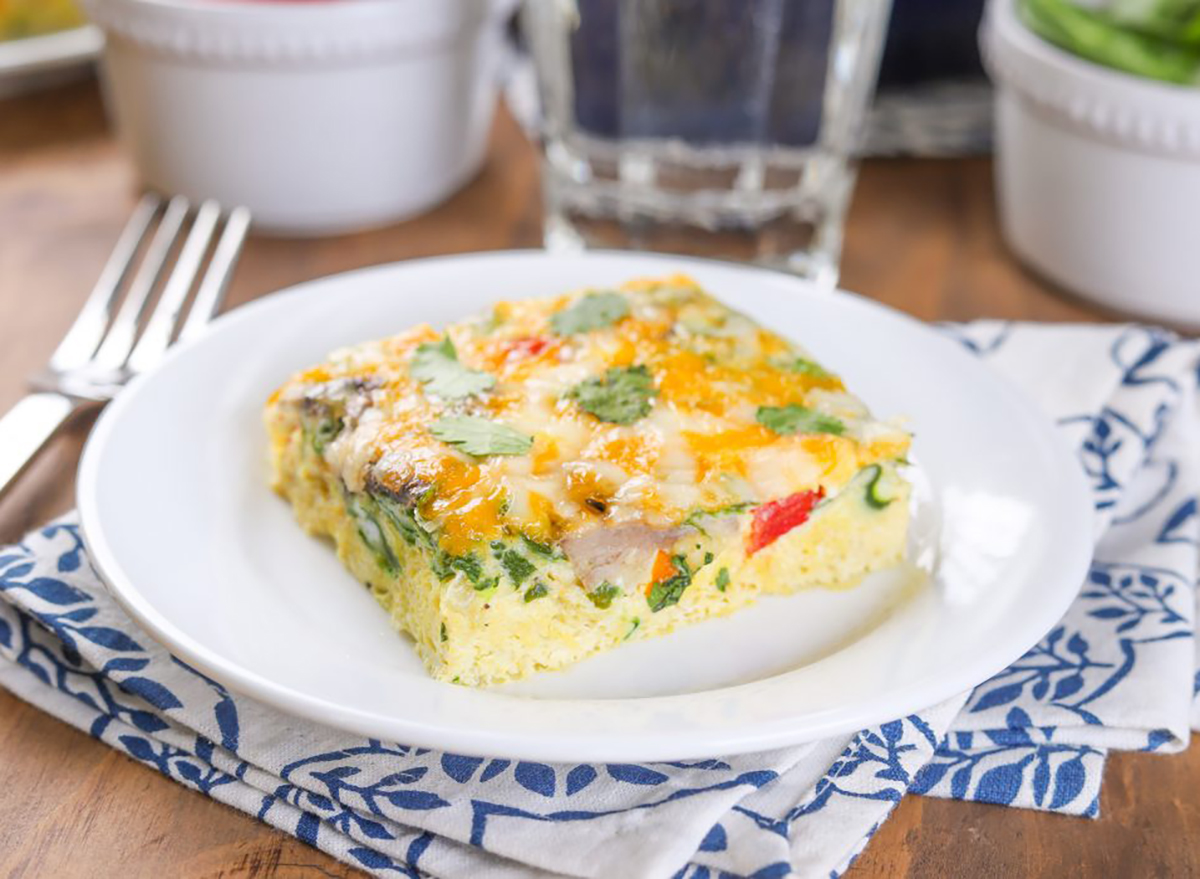 If you're feeling like you need a break from all the sugary sweets, this delicious egg bake is loaded with a rainbow of veggies, like tomatoes, spinach, and bell peppers. And it's easy to make, which is great if you want to be gathered with family, rather than busy in the kitchen. Sprinkle on some cheese once it's halfway baked and then garnish with cilantro for extra flavor.
Get the recipe from A Kitchen Addiction.
And if you need more inspiration for your holiday menu, don't miss these 13 Amazing Last-Minute Holiday Desserts.
Scrambled Tofu Breakfast Burrito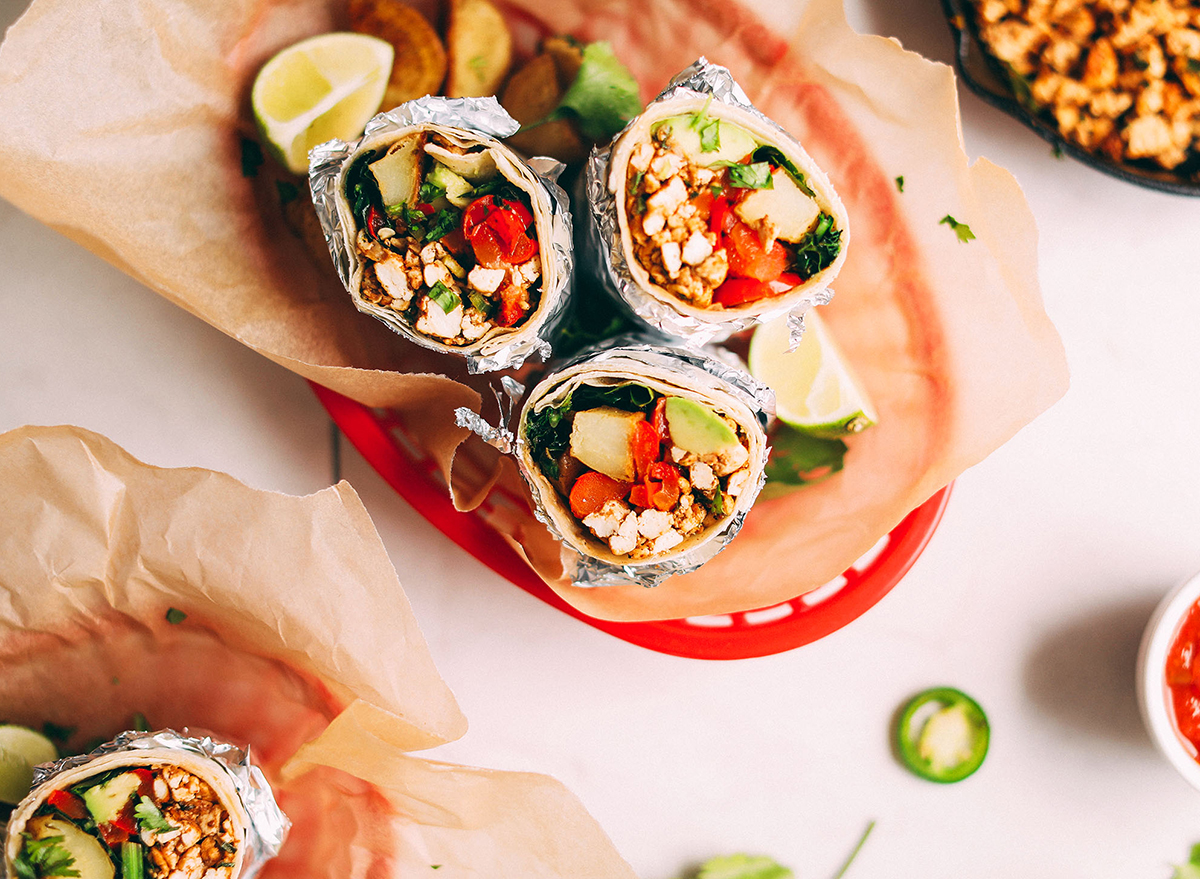 Do you have vegan family members? Whip up this plant-based recipe. These vegan breakfast burritos are stuffed with scrambled tofu and loads of roasted veggies, plus avocado. They're smoky and flavorful, and you can make a big batch of them and freeze the leftovers.
Get the recipe from Minimalist Baker.
The star of this savory popover recipe is Parrano cheese, which is smooth and creamy like Gouda but has nutty flavors like Parmesan. The popovers are seasoned with Italian herbs and can bake in just around 30 minutes.
Get the recipe from What's Gaby Cooking.