The Best & Worst Cold Brew Coffees—Ranked!
Before you indulge in this smooth, velvety brew, make sure you know what's in it.
Nothing is quite as satisfying as a slow, smooth sip of cold brew. The art of steeping coffee in cold water for several hours makes for a less bitter cup of joe with all the caffeine your heart desires.
"Preparing coffee in a cold brew fashion results in a less acidic cup of joe, which means it's less likely to cause heartburn and stomach issues compared to hot coffee," explains Nicole Stefanow, MS, RDN of the Greater NYC Area. That's because when coffee is brewed at higher temperatures, the beans' oils are more prone to oxidize (causing it to taste sour) and the acids are more likely to degrade (causing your cup to taste bitter), a study in Food Research International states.
"A bonus to this brew is that many people find that since it has smoother flavor, they don't need to add cream and sugar like they would to a traditional cup of hot coffee," Stefanow adds.
So, what if you don't have the time or patience to steep coffee for 12 to 24 hours? Luckily, the retail market for ready-made cold brews is exploding, with many options to choose from at your local grocery store. Before your next trip, consider these cold brew options ranked from worst to best in terms of nutrition!
First, the Worst…
High Brew: Dark Chocolate Cold Brew
8 ounces
: 90 calories, 1 g fat (0.5 g saturated fat), 50 mg sodium, 18 g carbs (0 g fiber, 14 g sugar), 2 g protein
High Brew offers quite a few healthier cold brew options, including nitro, plain, and added-protein varieties. But this flavored cold brew has 14 grams of sugar, much more than the brands' other offerings, in an 8-ounce serving.
Related: Sign up for our newsletter for more healthy eating news.
Bulletproof: Dark Chocolate Cold Brew Latte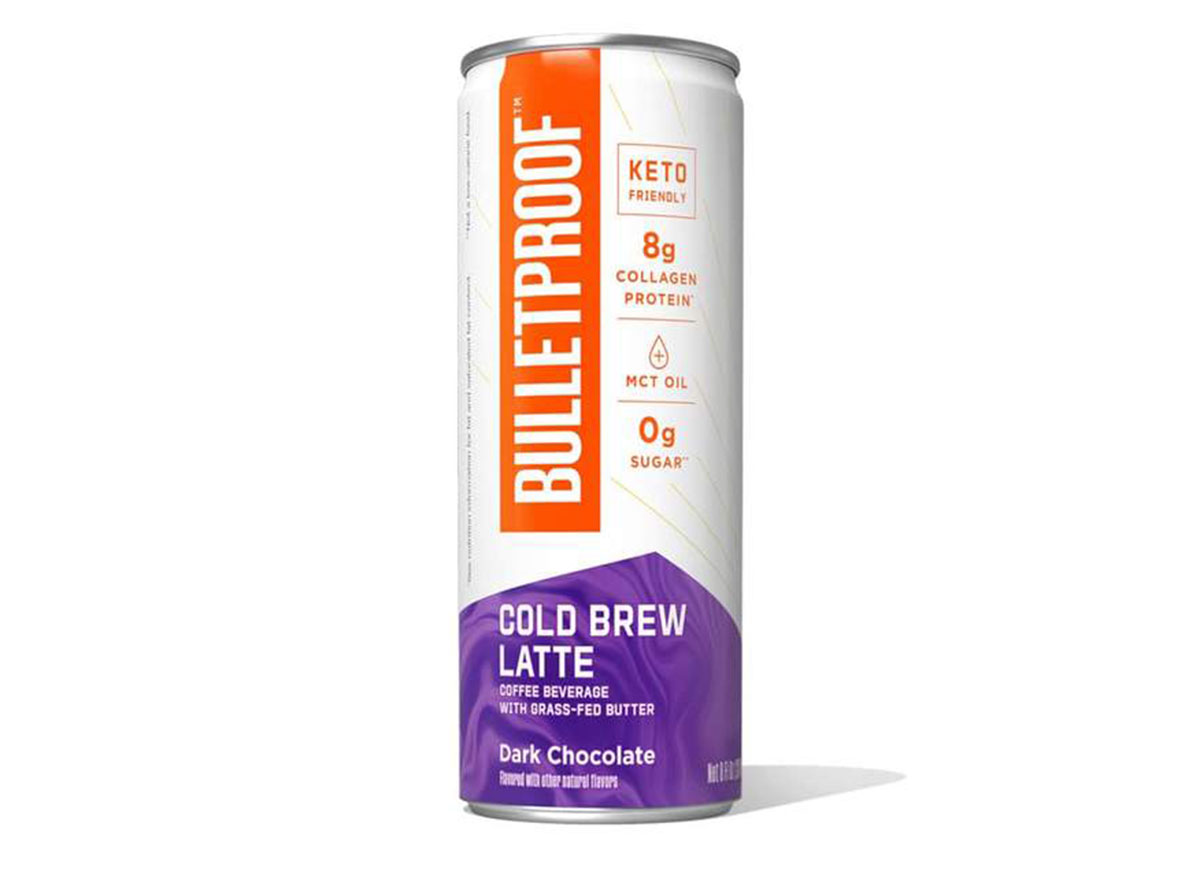 8 ounces
: 110 calories, 5 g fat (4.5 g saturated fat), 30 mg sodium, 10 g carbs (0 g fiber, 0 g sugar), 8 g protein
Popular for low-carb diets, bulletproof coffee is coffee with added butter and MCT oil. Originally, this drink was meant to replace breakfast. But now, you can get it in a canned variety—butter included—that many people drink alongside their morning meal. This drink has about one-fourth of the total amount of saturated fat you should consume in a day, so it's best enjoyed on occasion. Plus, you might enjoy your butter over veggies or in a baked dessert rather than stirred into your coffee.
Related: How to Make Cold Brew Coffee At Home
Starbucks: Vanilla Sweet Cream Cold Brew
6254a4d1642c605c54bf1cab17d50f1e
11 ounces
: 120 calories, 3 g fat (2 g saturated fat), 50 mg sodium, 20 g carbs (0 g fiber, 18 g sugar), 4 g protein
The sweet cream cold brew at Starbucks is a popular drink, and now the brand offers it at major retailers. That means you could easily pick some up on your regular grocery trip, but pay close attention to the nutrition facts here. In just one bottle of this cold brew, there are 18 grams of sugar. That's more grams of sugar than you'd find in a brownie, just for one single-serve bottle of coffee.
Related: The #1 Worst Breakfast at Starbucks
Stok: Mocha Creamed Cold-Brew Coffee
8 ounces
: 130 calories, 2 g fat (1.5 g saturated fat), 160 mg sodium, 24 g carbs (1 g fiber, 14 g sugar), 4 g protein
While the front label says "Not Too Sweet," the nutrition facts say otherwise. Stok has many lower-sugar cold brew beverages to choose from, but the mocha creamed cold brew is too high in added sugars.
"Beware of the added sugar cold-brew trap! This cold-brew may look really good at first and even taste pretty good. But with 14 grams of added sugar, it's not one that I would recommend enjoying daily," warned Leah Johnston, RDN LDN, wellness communications specialist for SRW Agency.
Chobani: Sweet Cream or Vanilla Cold Brew
12.5 ounces
: 170 calories, 5 g fat (3 g saturated fat), 110 mg sodium, 24 g carbs (0 g fiber, 22 g sugar), 5 g protein
Although impressed with the clean ingredients on this cold brew label (ingredients include coffee, milk, cane sugar, and natural flavors), Johnston did not like the amount of sugar in Chobani's sweet cream- and vanilla-flavored cold brews.
"What Chobani Cold-Brews do offer are a pretty clean ingredient label. It's the 15 grams of added sugar and lack of other nutritional value that make this one a drink to skip," Johnston explained. "They are sold in 32 oz bottles and the nutrition facts are based on a 12.5 oz portion making it easy to pour out more than 12.5 oz and increase your sugar intake even more."
Related: The Secret Coffee Trick for a Flat Belly
Now the Best
Chameleon Coffee: Organic Cold Brew, Unsweetened Churro Flavor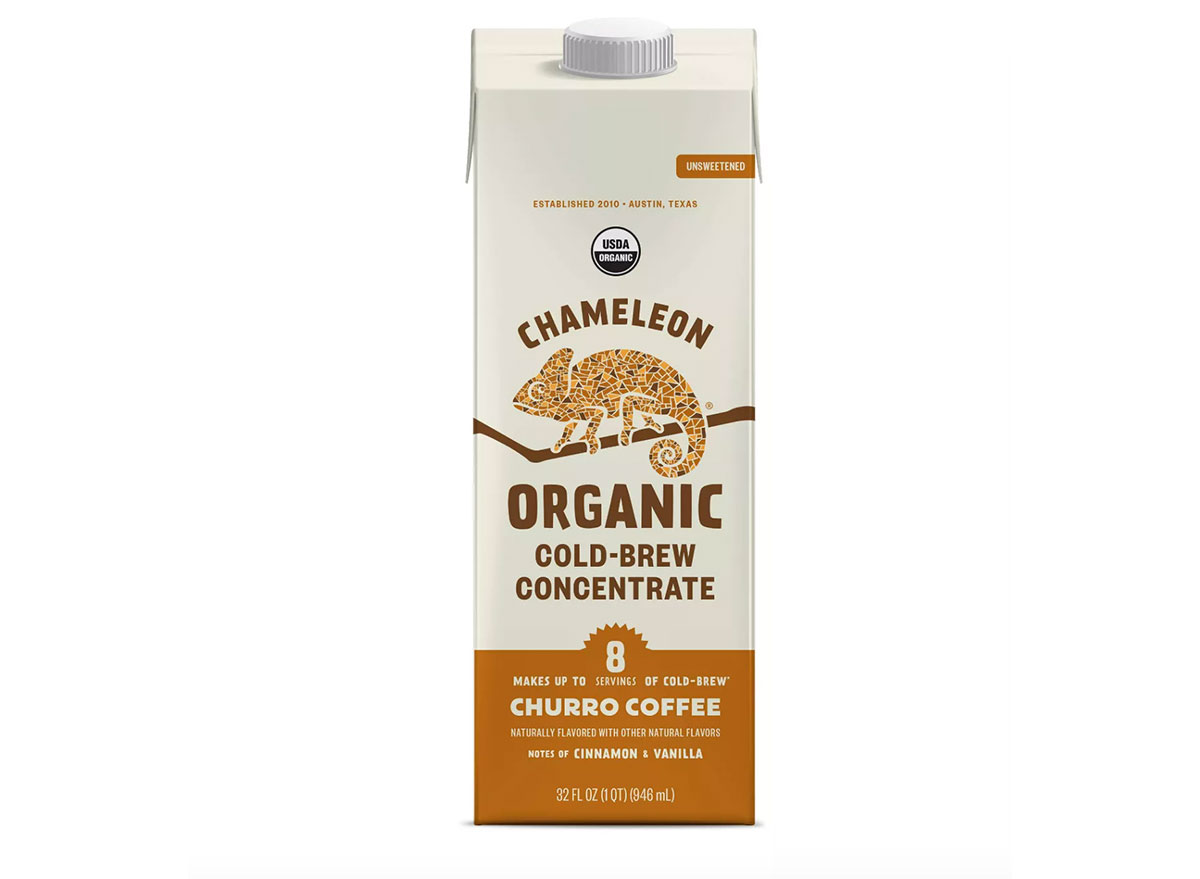 12 ounces (prepared)
: 20 calories, 0 g fat (0 g saturated fat), 55 mg sodium, 5 g carbs (0 g fiber, 0 g sugar), <1 g protein
Yes, you can find some flavorful cold brews that aren't loaded with sugars, like this churro-flavored cold brew concentrate from Chameleon. Rather than using sugar to add flavor, this coffee turns to natural flavors of vanilla and cinnamon to delight tastebuds. The result? A delicious, low-calorie cold brew with no added sugars or fats.
$9.99 at shop.chameleoncoffee.com
Related: The #1 Worst Coffee Creameer on Shelves
Califia Farms: Unsweetened Cold Brew Concentrate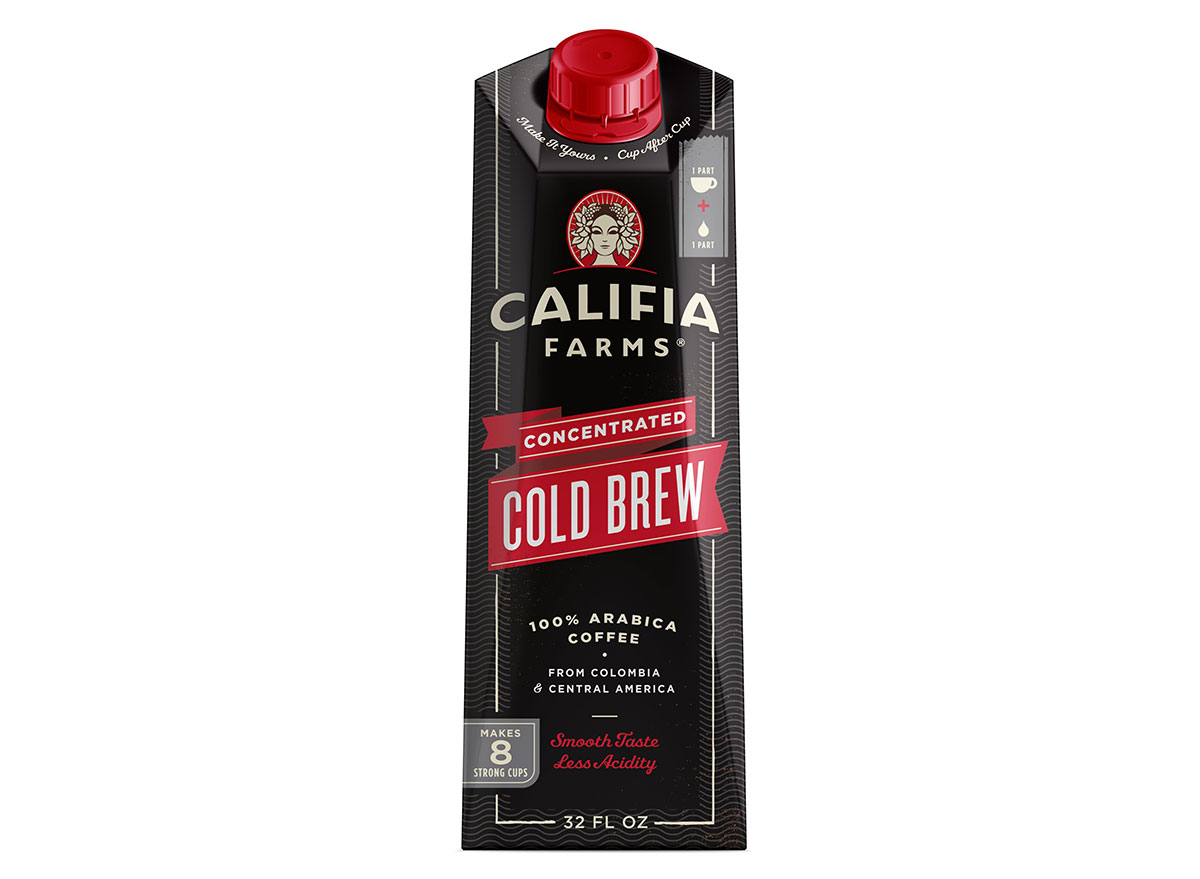 8 ounces (prepared)
: 10 calories, 0 g fat (0 g saturated fat), 15 mg sodium, 2 g carbs (0 g fiber, 0 g sugar), 1 g protein
The key to finding a better-for-you cold brew is to look for unsweetened varieties. Even if you do want sweetness in your coffee, you can pick a black, unsweetened cold brew, like this concentrate from Califia Farms, then add your own sweeteners or a splash of creamer or milk. The Califia Farms cold brew concentrate is designed for you to mix 1 part concentrate with 1 part water for a bold, energizing brew with no added sugars.
$7.69 at Thrive Market
Related: One Major Side Effect of Drinking Too Much Coffee
Starbucks: Black, Unsweet Cold Brew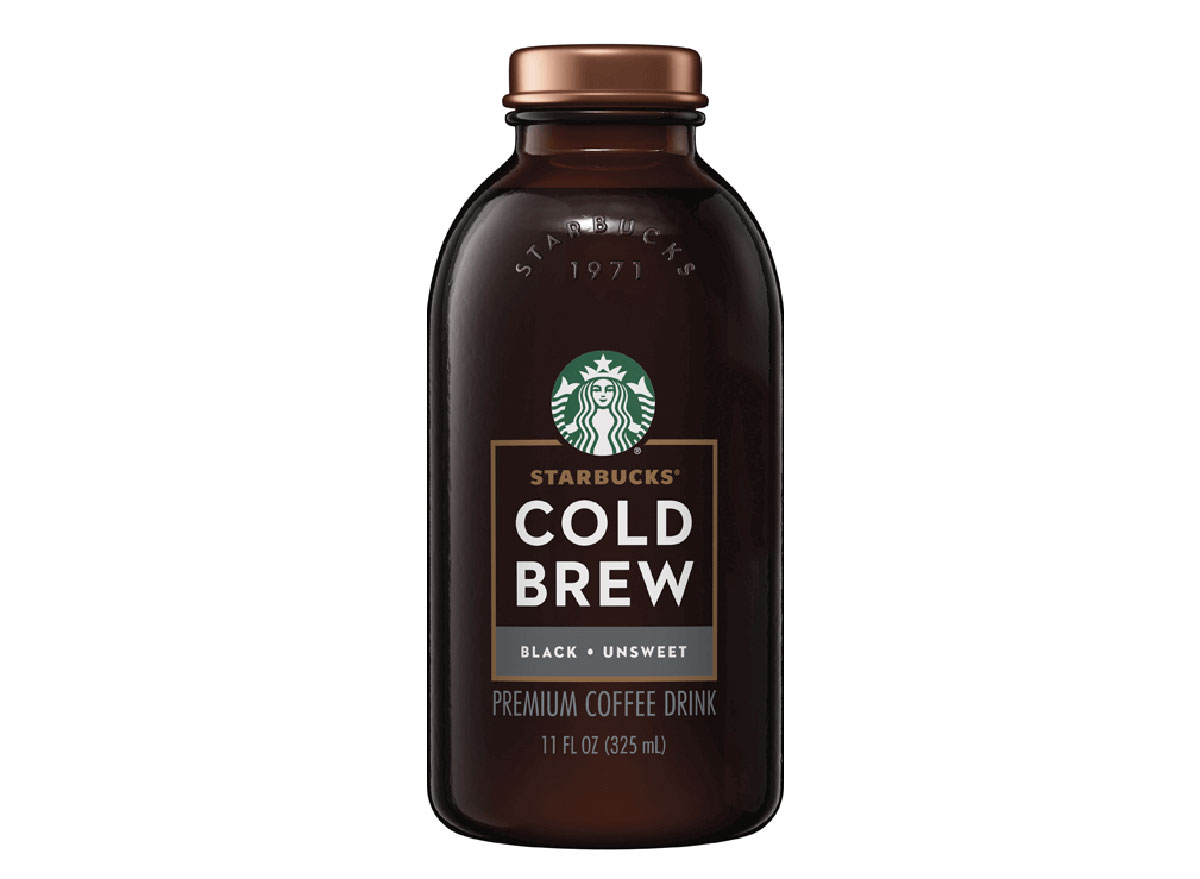 11-ounce bottle
: 15 calories, 0 g fat (0 g saturated fat), 0 mg sodium, 3 g carbs (0 g fiber, 0 g sugar), 1 g protein
No added sugars, no problem. This caffeinated beverage, available in individual-sized glass bottles for on-the-go sipping or larger containers to pour into your favorite mug, is just made with coffee and water. It's a healthier pick than what you might purchase if you stop by a Starbucks proper, but you still get the brand's iconic coffee taste.
$2.98 at Walmart.com
Wandering Bear Cold Brew
Per 11 fl oz bottle: 5 calories | 0 g fat | 0 g sugar
Are you the kind of person that drinks coffee on occasion rather than daily? If so, this may be the cold brew of choice for you. You can purchase a whole box—16 servings worth—for just about $30. And it lasts for a long time so you can savor it slowly. The rich flavor will remain for about a month due to its unique packaging. The cardboard-like box prevents light from altering the coffee on a molecular level and the tap dispenser prevents the beverage from being exposed to air.
Available at your local Whole Foods or on Wandering Bear
REBBL: Stacked Coffee, Straight Black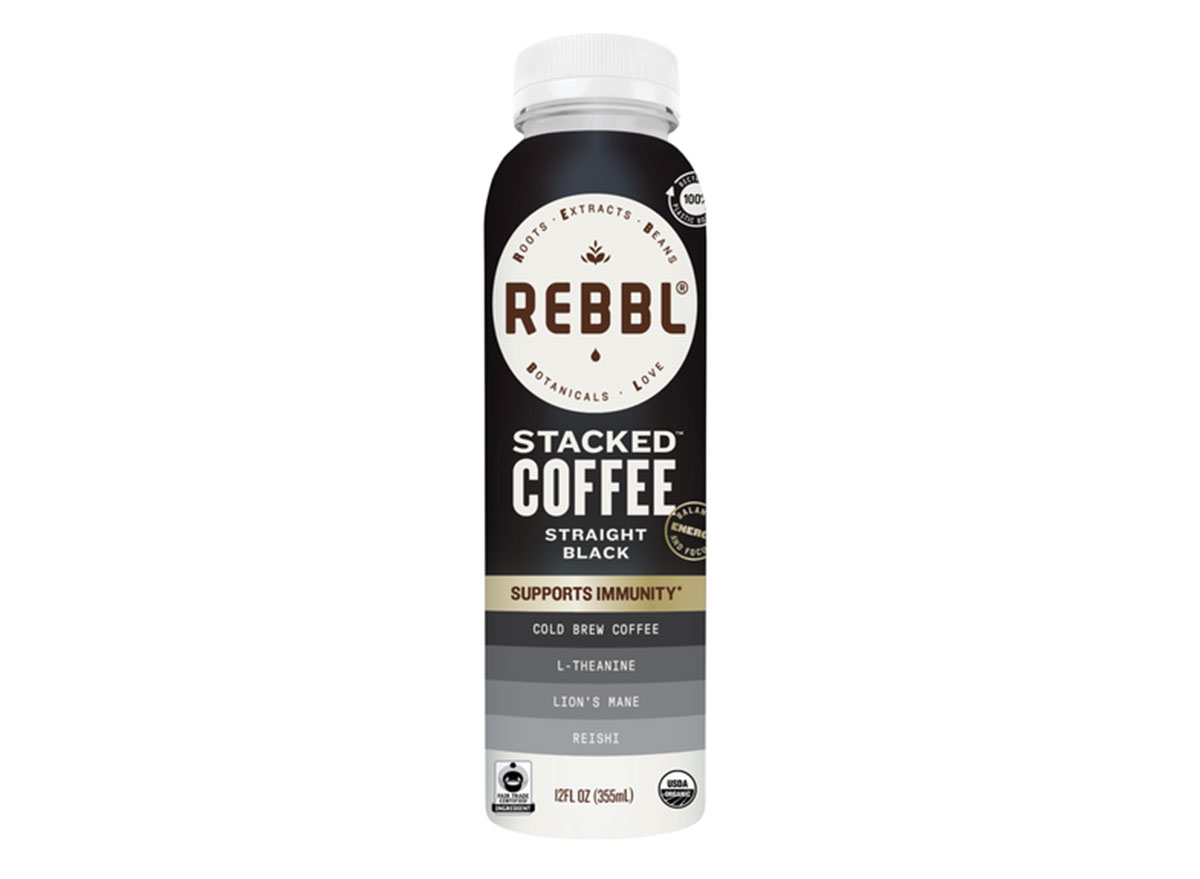 12 ounces
: 30 calories, 0 g fat (0 g saturated fat), 25 mg sodium, 8 g carbs (0 g fiber, 0 g sugar), 1 g protein
This new cold brew from REBBL adds ingredients like green tea and mushroom extracts, which have antioxidants and may support the health of your immune system.
"[REBBL] recently launched their line of plant-powered Stacked Coffees (don't worry, they're cold) that combine the caffeine from the coffee with other ingredients such as L-theanine, Lion's Mane extract, and Reishi extract to promote sustained energy, immunity, and focus," Johnston said. "The Straight Black flavor doesn't have any added sugar and is just 30 calories for one bottle."
$4.25 at shop.rebbl.co
Trader Joe's: Ready-to-Drink Cold Brew
12 ounces
: 15 calories, 0 g fat (0 g saturated fat), 0 mg sodium, 3 g carbs (0 g fiber, 0 g sugar), 1 g protein
Trader Joe's offers several cold brew options, from brew-at-home formulas to canned beverages to concentrates. One of its healthiest cold brews is the ready-to-drink bottle, which includes several servings that you pour into your own mug or travel cup. This cold brew has no added sugar or other ingredients: just antioxidant-rich coffee and water.
"Trader Joe's Ready To Drink Cold Brew is made from Arabica coffee, which is rich in antioxidants that can help fight inflammation," Stefanow said.
$4.99 at Trader Joe's
For more, check out One Major Effect Coffee Has on Weight Loss.
Paige Bennett
Paige is a Los Angeles-based editor and freelance writer. In addition to writing for Eat This, Not That!, she works as the content editor for Inhabitat.
Read more about Paige