9 Best Costco Breakfast Foods for Weight Loss
Add these breakfast items to your cart on your next Costco run.
When your goal is weight loss, enjoying a healthy, nutrient-packed breakfast can set you up for all-day success. It's a simple habit that can help you make smarter food choices during the rest of your day, according to Amy Goodson, MS, RD, CSSD, LD, a registered dietitian and certified specialist in sports dietetics who sits on our Medical Expert Board. Healthy food choices at home all start with your shopping list. On your next Costco run, consider shopping for some of the best Costco breakfast foods for weight loss so you can start each day off on the right note.
Before we get into these tasty options, Goodson shares some key tips to keep in mind when shopping for and preparing a healthy weight loss breakfast.
Balanced macronutrients: A well-balanced breakfast should feature protein, high-fiber carbs, and healthy fats. This combo will help you feel full long after you finish your meal. Select lean sources of protein (such as eggs or Greek yogurt), whole grains, and unsaturated fats (such as nuts or avocados).
Protein: Protein will fill you up quicker and keeps you feeling satisfied after a meal. "[This] can help stabilize your blood sugar and energy levels [throughout] the morning," says Goodson. "The goal is to power breakfast with 25 to 30 grams of protein from foods like eggs, lean sausage, cow's milk, Greek yogurt, protein shakes/smoothies, etc."
Portion control: It's crucial to control your portion sizes. "Even healthy foods can contribute to weight gain if you consume them in excess," Goodson points out. "Use measuring cups, a food scale, or visual cues to ensure you're not overeating. While calorie needs are based on the size of the person and activity level, a general recommendation for weight loss is consuming a breakfast between 350 to 500 calories."
Low added sugar: Decrease or cut out added sugars from your breakfast. You may be surprised to hear that many of your favorite flavored yogurts, cereals, and smoothies hide a sneaky amount of hidden sugars. Choose unsweetened options, and incorporate natural sweetness into your breakfast from berries.
Nutrient density: Goodson encourages you to select foods that are packed with nutrients and offer essential vitamins and minerals without the added calorie count. "Foods like berries, spinach, and nuts are packed with nutrients and can help you meet your daily requirements while staying within your calorie limit," she says. "While fruit is easy to add, get creative with veggies and nuts! Veggies can be added to smoothies or eggs, and nuts can be added to oatmeal, overnight oats, and as toppings for whole grain waffles and pancakes."
Along with these useful tips, keep in mind the total number of calories you typically consume during the day, and maintain a regular eating pattern. "Eating breakfast can help prevent overeating later in the day, but the specific time you eat it (e.g., early morning or as part of intermittent fasting) should align with your personal preferences and lifestyle," Goodson explains. "Tailoring your breakfast choices to your specific dietary needs and preferences can help you achieve your weight loss goals in a healthy and sustainable way."
So without delay, let's review the best Costco breakfast foods for weight loss. Read on to learn more, and when you're finished, don't miss I Drank Cucumber Water for 30 Days & Experienced 4 Life-Changing Benefits.
Garden Lites Veggies Made Great Spinach Egg White Frittatas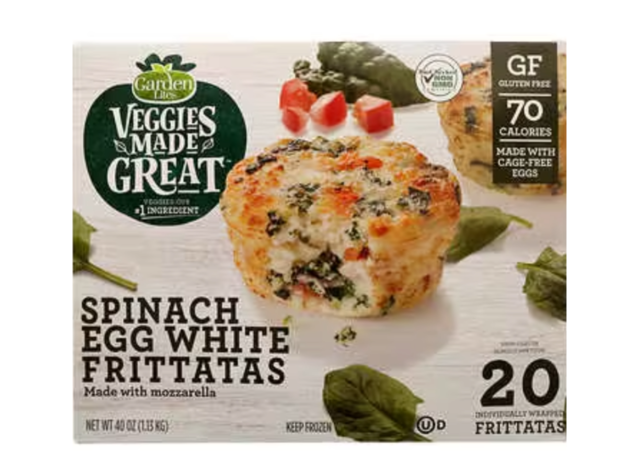 An easy way to get your fill of veggies and protein in the morning is by trying these delicious Garden Lites Veggies Made Great Spinach Egg White Frittatas. "Veggies Made Great makes muffins and egg white frittatas, both perfect for a nutrient-rich, low-calorie breakfast. And the best part? The first ingredient of both are veggies," Goodson says. Each serving (one frittata) is only 70 calories and offers five grams of protein.
Consider enjoying a few egg white frittatas and some fresh berries with an additional nutrient boost from an eight-ounce glass of cow's milk. According to Goodson, this will give you eight extra grams of protein and 12 other essential nutrients.
Fairlife Core Power Shakes
"Power your morning with protein with 26 grams of protein in a Core Power ready-to-drink shake," suggests Goodson. The best part about this easy grab-and-go breakfast is one shake is just 170 calories and offers 50% of your daily calcium requirement. Plus, it doesn't have any added sugar! Goodson recommends enjoying a shake with a whole grain granola bar or 1/2 cup of oatmeal for a truly well-rounded breakfast.6254a4d1642c605c54bf1cab17d50f1e
Quaker Instant Oatmeal Variety Pack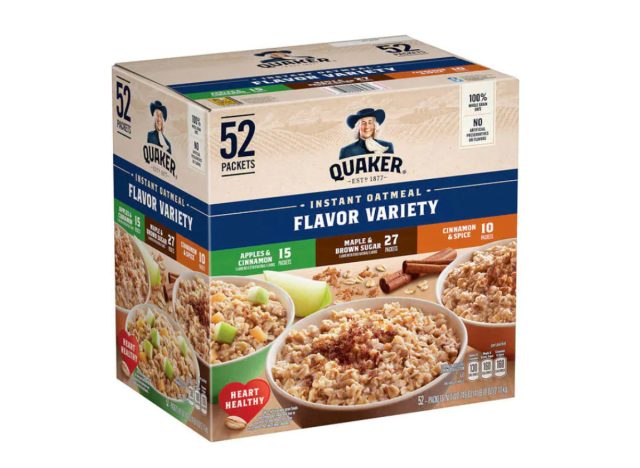 When in doubt, eat some oats! Quaker Instant Oatmeal is such a seamless, hearty weight loss breakfast to prepare when you're strapped for time—and you really can't beat the flavor selection.
"Whether you need an oatmeal cup on the go or a quick oatmeal packet for a busy morning, Quaker has lots of options at Costco," Goodson says. With three grams of fiber in each serving, you'll enjoy a nutrient-dense, high-fiber breakfast that will help you power through your morning and the rest of the day. Goodson suggests pairing your oats with six ounces of Greek yogurt and fresh berries for a nutrient-rich meal.
NuTrail Keto Nut Granola Blueberry Cinnamon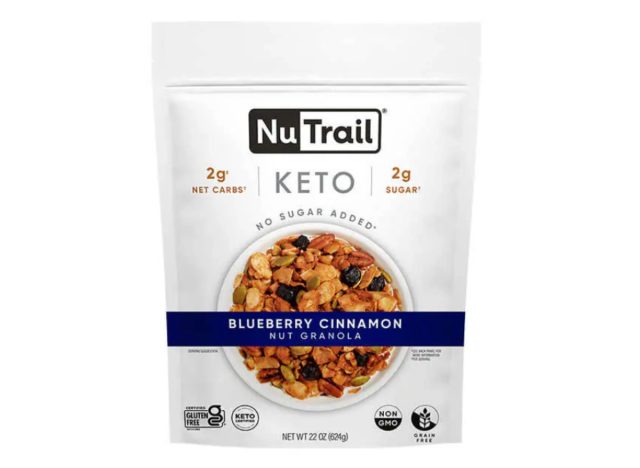 Healthy granola is a pantry and breakfast staple. Yet many are filled with sugar and unnecessary ingredients. This NuTrail Keto Nut Granola Blueberry Cinnamon option features a "natural medley" of sunflower seeds, coconut, pecans, almonds, pumpkin seeds, blueberries, monk fruit sweetener, and cinnamon for a well-rounded bite. One serving—which is 1/3 of a cup—is 190 calories and offers five grams of protein and four grams of fiber for a filling breakfast. Plus, it doesn't have any added sugar. Enjoy it with your favorite nut milk and some fresh berries.
Feel Good USDA Organic Matcha Tea Powder
This Feel Good USDA Organic Matcha Tea Powder is an excellent option to keep handy for your morning smoothies. It will give you a caffeine and antioxidant boost, and research shows antioxidants can be incredibly helpful in one's weight loss journey. The brand notes in the product description that it takes a whopping 10 to 15 cups of green tea to equate to the amount of nutrients you'll find in just one cup of matcha. Matcha also offers higher "antioxidant activity" compared to acai, blueberries, goji, and pomegranates.
Add a scoop of matcha to the blender with some nut milk, bananas, spinach, a touch of vanilla extract, and ice cubes for a delicious weight-loss-friendly smoothie.
Red's Egg'wich Turkey Sausage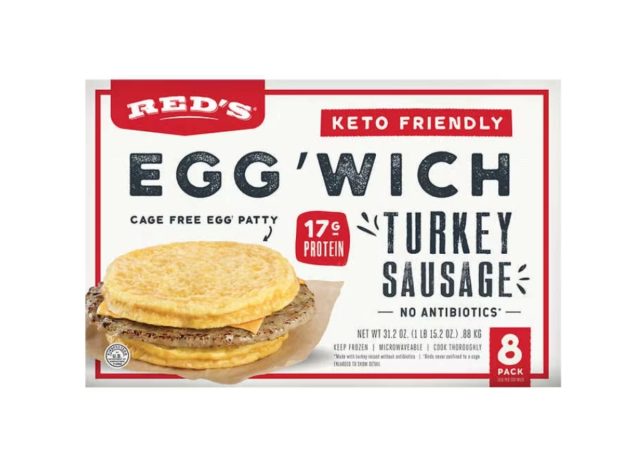 If you love your morning breakfast sandwich, Red's Egg'wich Turkey Sausage skips the bread for a healthier alternative. Two cage-free egg patties sandwich together turkey sausage and American cheese for a protein-packed option. One egg'wich offers 17 grams of protein and doesn't contain added sugars. To up the fiber in this breakfast, consider adding some fresh spinach to your egg'wich.
Chobani Non-Fat Greek Yogurt, Plain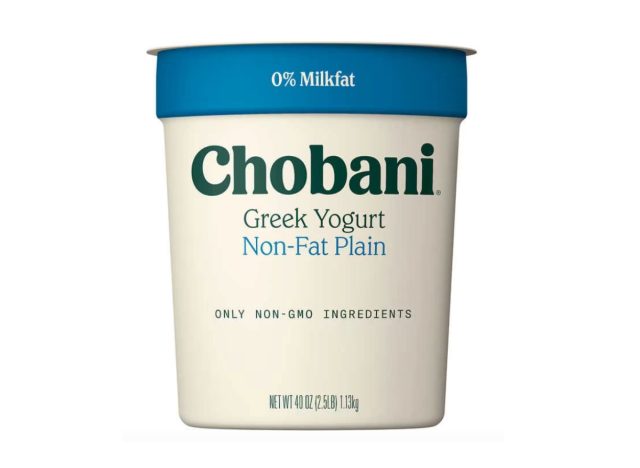 A healthy yogurt parfait is something you can easily whip up and take on the go if you're in a hurry. Greek yogurt is the perfect weight loss breakfast option that will keep you full, as it contains about double the protein when compared to regular yogurt. Chobani's Non-Fat Greek Yogurt has a whopping 14 grams of protein in one serving (3/4 of a cup) and is just 90 calories. Put together a parfait with Greek yogurt, fresh blueberries, and slivered almonds for a well-rounded start to your day.
MUSH Ready to Eat Oats, Variety Pack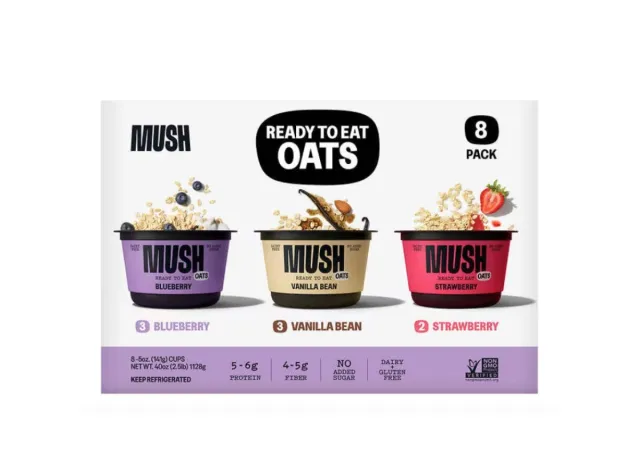 We've already established that oats can be a key part of a successful weight loss breakfast. So if you're all about enjoying some oats in the a.m., consider trying MUSH Ready to Eat Oats that contain only clean ingredients and no added sugars. The variety pack offers blueberry, vanilla bean, and strawberry flavors. In addition, each overnight oats cup ranges from 200 to 210 calories and five to six grams of protein.
RXBAR Protein Bar, Variety Pack
A protein bar has always been an easy grab-and-go snack or meal. But many protein bars aren't as healthy as you'd think. That's where RXBAR's Protein Bar Variety Pack comes in clutch; these bars are bound to become your new favorite breakfast on busy days. The variety pack offers peanut butter chocolate and chocolate sea salt flavors. Each flavor is 210 calories per bar and provides 12 grams of protein along with five grams of fiber. Plus, the brand uses real ingredients like egg whites, cashews, almonds, dates, and peanuts, so they're chock-full of goodness.
Alexa Mellardo
Alexa is the Mind + Body Deputy Editor of Eat This, Not That!, overseeing the M+B channel and delivering compelling fitness, wellness, and self-care topics to readers.
Read more about Alexa
Sources referenced in this article