20 Healthy Weight Loss Breakfast Recipes for Busy Mornings
These breakfasts are packed with nutrients and can help you achieve your goals of losing weight.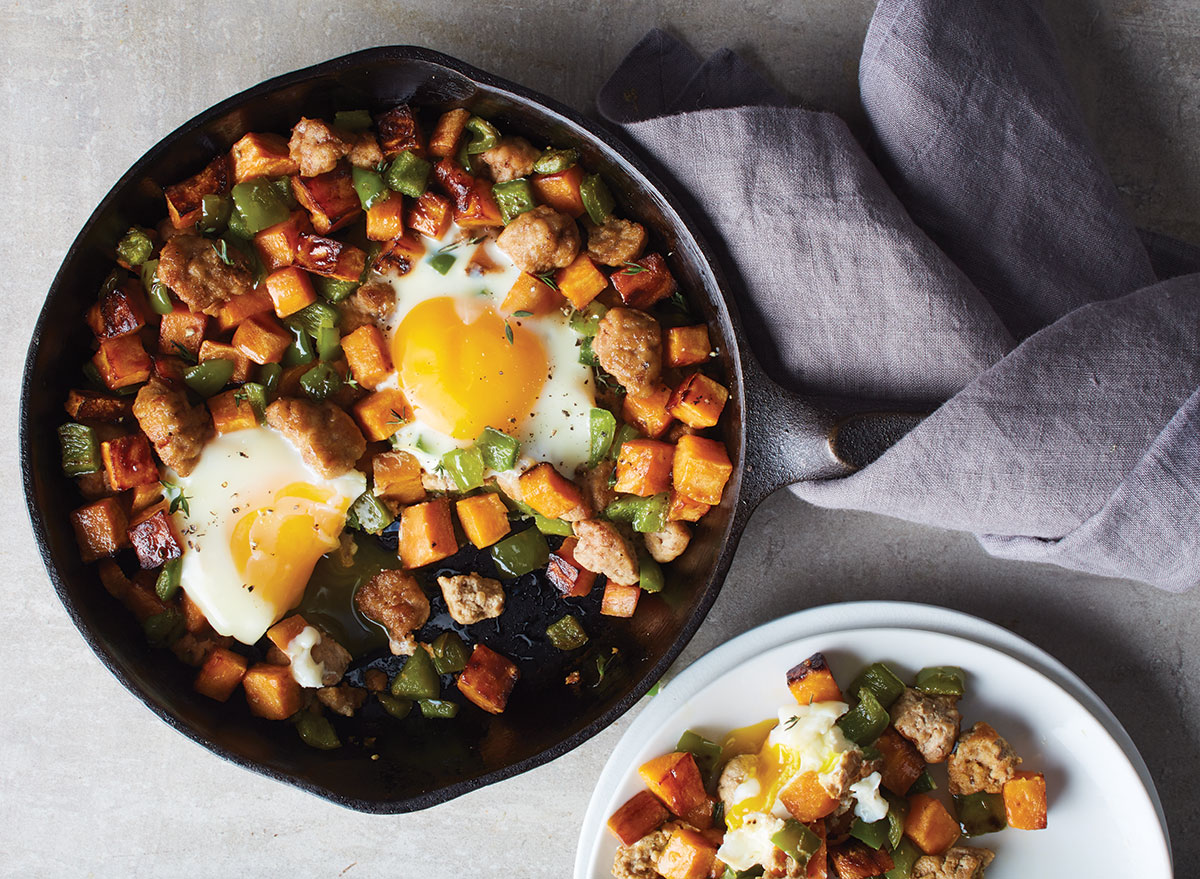 Breakfast is a chance to start your day off on the right nutritional foot, and what you choose to eat can make or break your health goals for the day. Research has shown that those who eat a healthy breakfast in the morning tend to have a higher intake of vitamins and nutrients at the end of the day and a lower intake of added sugars, as well as better overall metabolism—which helps your body burn more calories. Because of these benefits, eating the right morning meal is key for those who want to lose weight. But what makes a breakfast good for weight loss, specifically?
"For a breakfast to be satiating, energizing, and aid in weight loss, it's important for it to be high in protein and contain complex carbohydrates that contain fiber and a source of healthy fat—all of which will help you feel fuller for longer and prevent mindless snacking or snacking on less healthy foods," says Maggie Michalczyk, RDN. "A balanced breakfast with protein, fat, and fiber can also keep your blood sugar steady, which prevents a crash that can lead to a feeling of extreme hunger and low energy," she adds.
You may be following a weight loss plan that has you eating specific meals for breakfast, but following the guidelines of incorporating protein, fiber, and healthy fats is a good place for anyone to start when trying to lose weight.
The following breakfasts are nutrient-dense and include at least one of the characteristics mentioned above to help you reach your weight loss goals while feeling satisfied. Read on, and for more healthy eating tips, check out 16 Best Foods to Burn Belly Fat.
Breakfast Hash With Sweet Potato and Chicken Sausage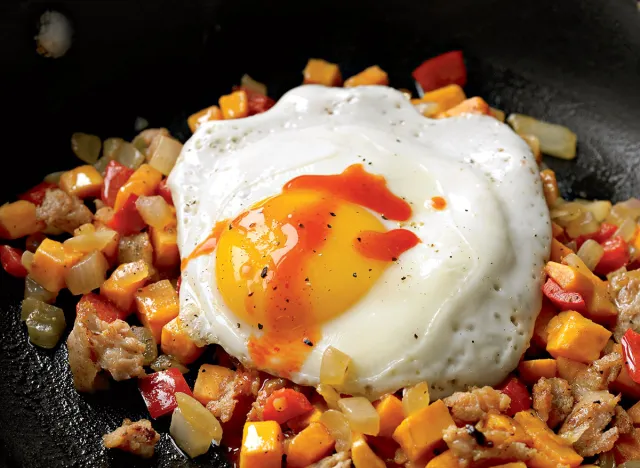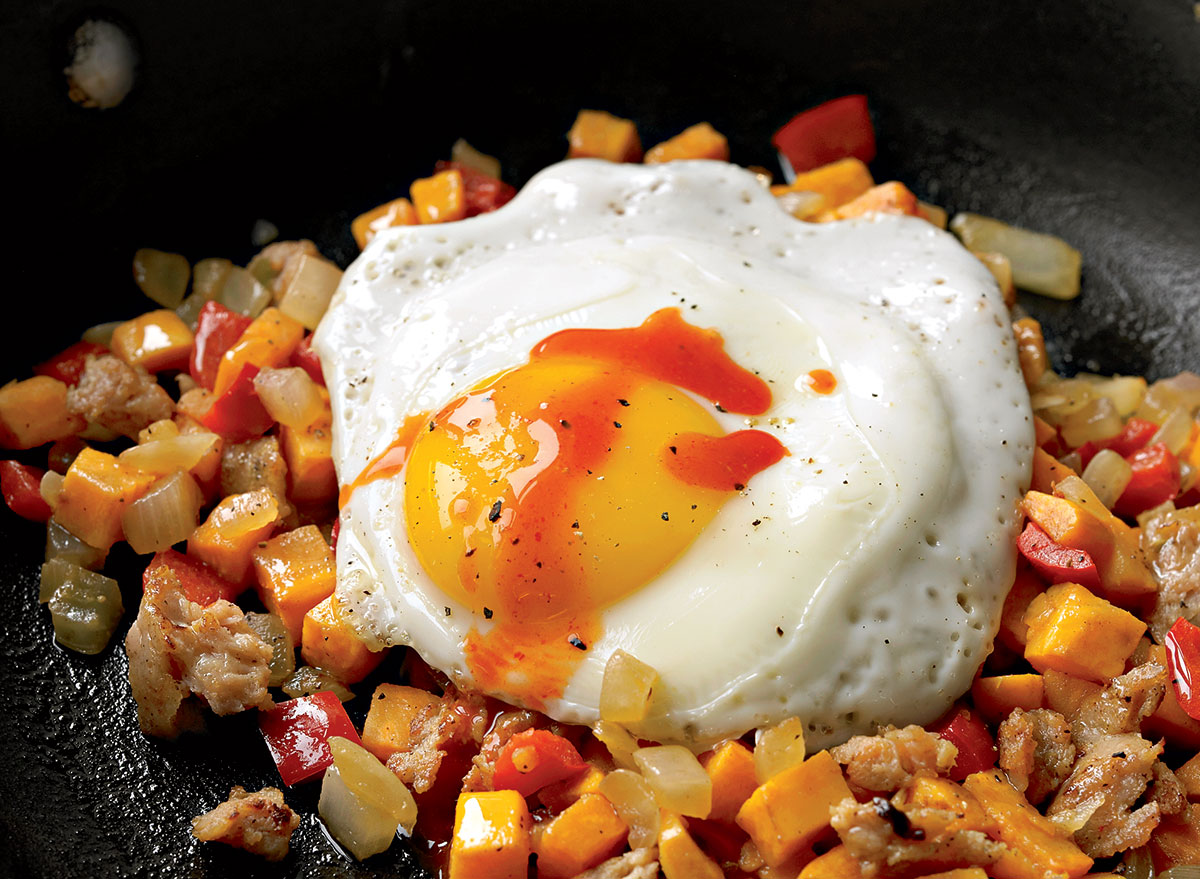 This breakfast hash is quick and easy to whip up. With eggs, chicken sausage, and sweet potatoes, you're getting a boost of protein and fiber, nutrients that we know can help support weight loss. Want a bit of a kick in the morning? Add some Tabasco sauce (or your preferred hot sauce) for some extra flavor.
Get our recipe for Breakfast Hash.
Healthy Breakfast Pizza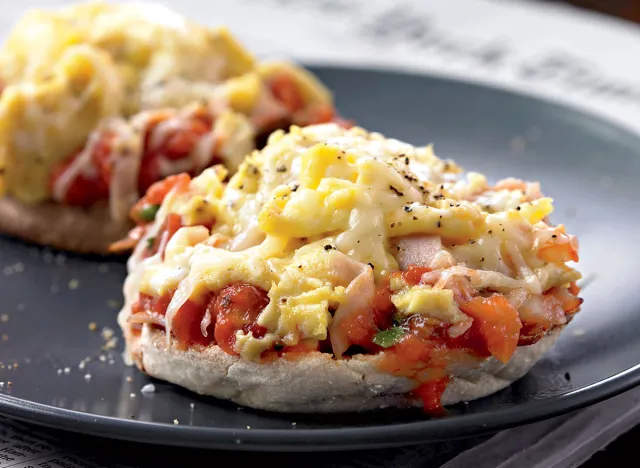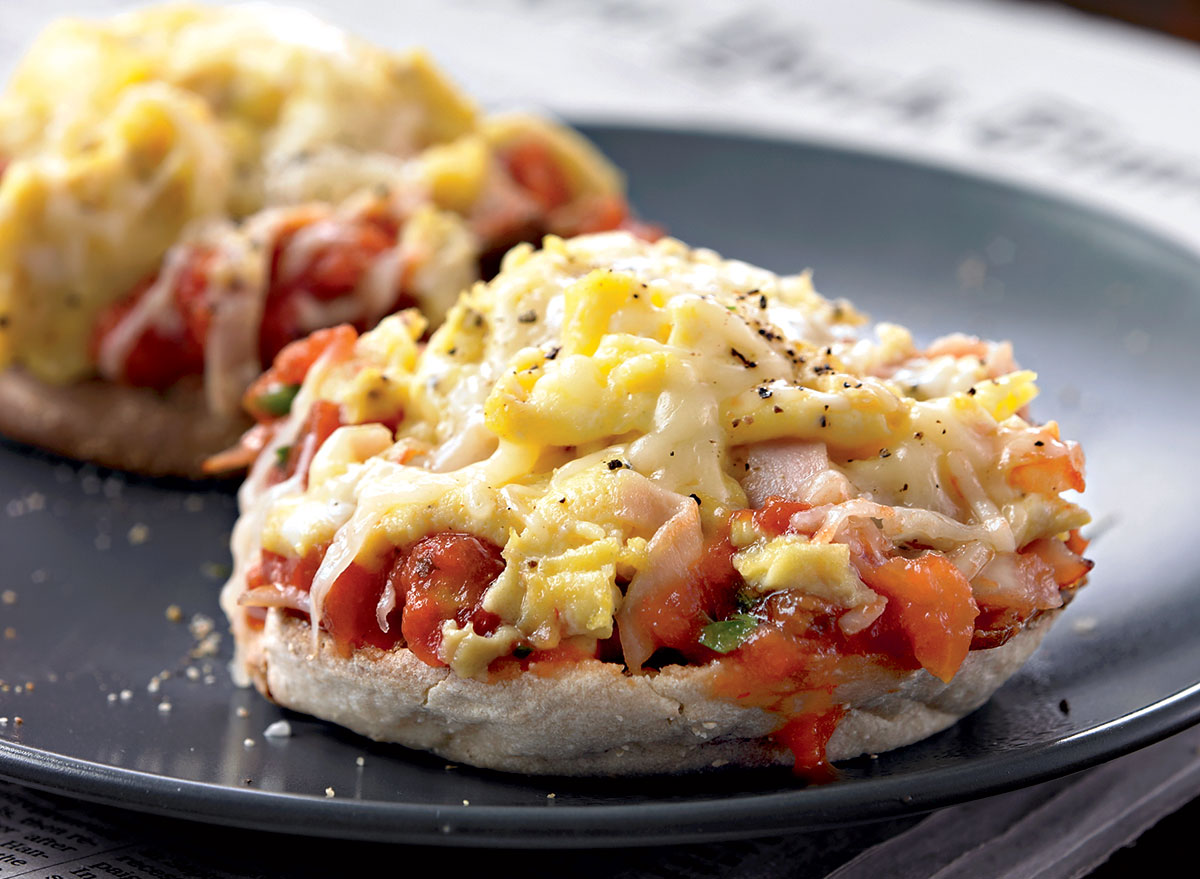 We're all guilty of occasionally grabbing a cold slice of pizza for breakfast, but why not treat yourself to something a bit more intentional and nutritious, like this healthy breakfast pizza.
You'll get your protein from the bacon and eggs, and the whole wheat English muffin will provide a few grams of fiber, too. Combined, these ingredients can help keep you full and satisfied until lunch.
Get our recipe for Healthy Breakfast Pizza.
Baked Eggs with Mushrooms and Spinach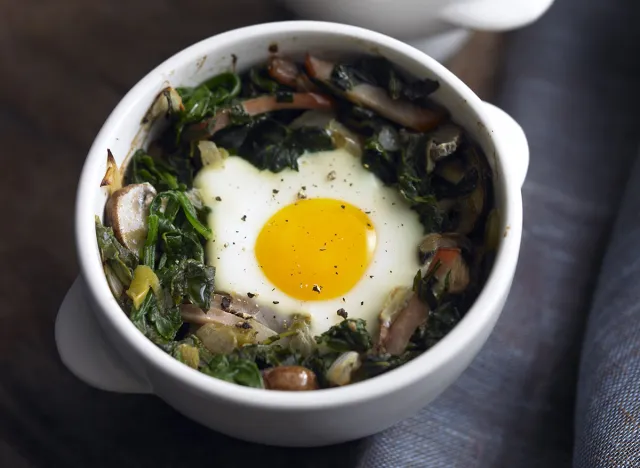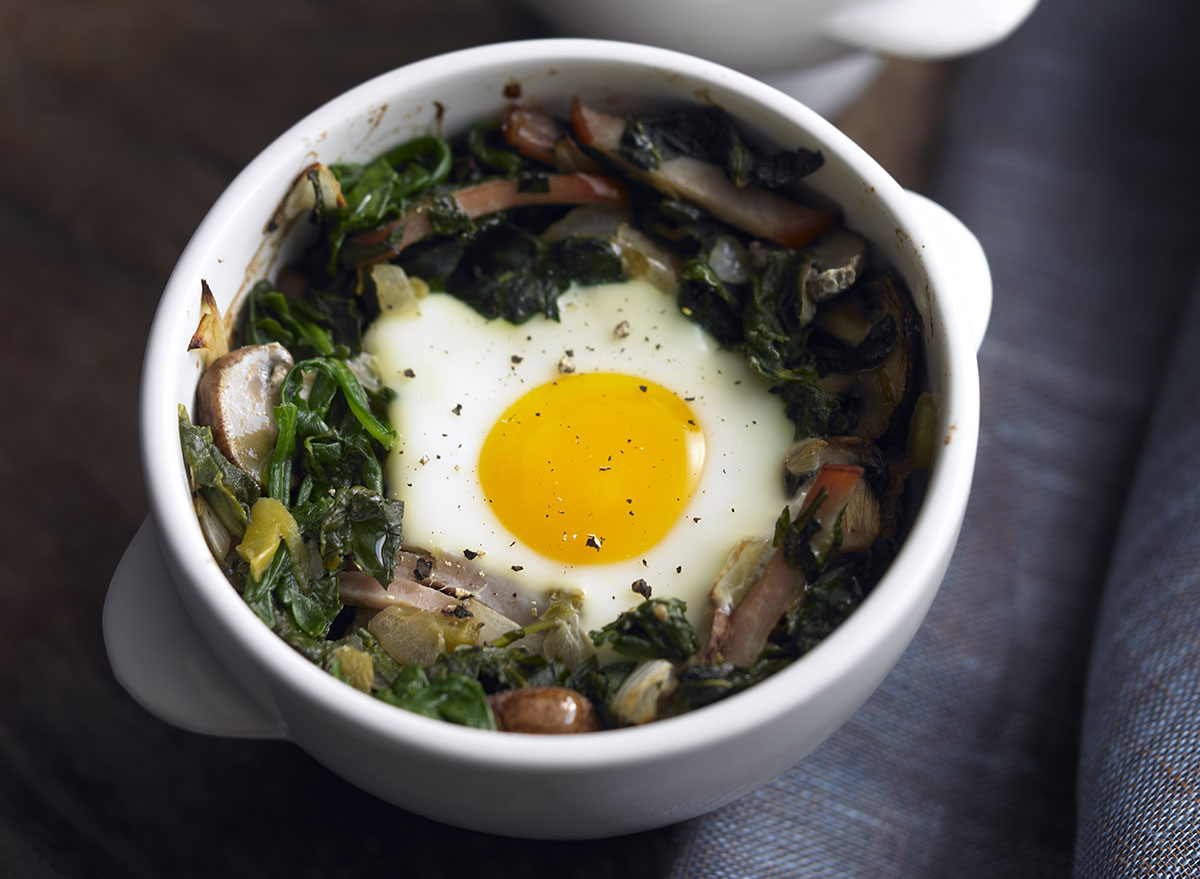 If part of your personal weight loss plan includes lowering your calories and carbohydrate intake, this baked egg recipe may be the perfect fit. Made with eggs, spinach, mushrooms, chiles, and bacon, this dish will keep the calories at a minimum while keeping the flavors at an all-time high.
Get our recipe for Baked Eggs.
Banana Pancakes
Those who love a sweet breakfast shouldn't have to sacrifice their favorite foods to lose weight. With these super easy banana pancakes, you can enjoy a sweet treat in the morning while keeping your added sugar intake on the lower end. Another plus? This recipe uses cottage cheese and Greek yogurt, so you'll get a good amount of protein as well.
Get our recipe for Banana Pancakes.
Artichoke Feta Quiche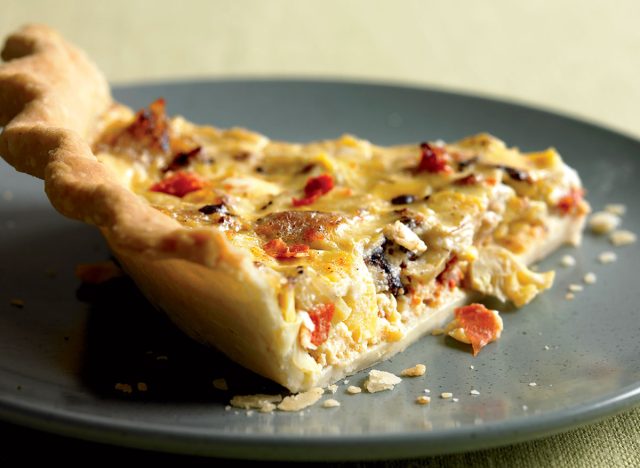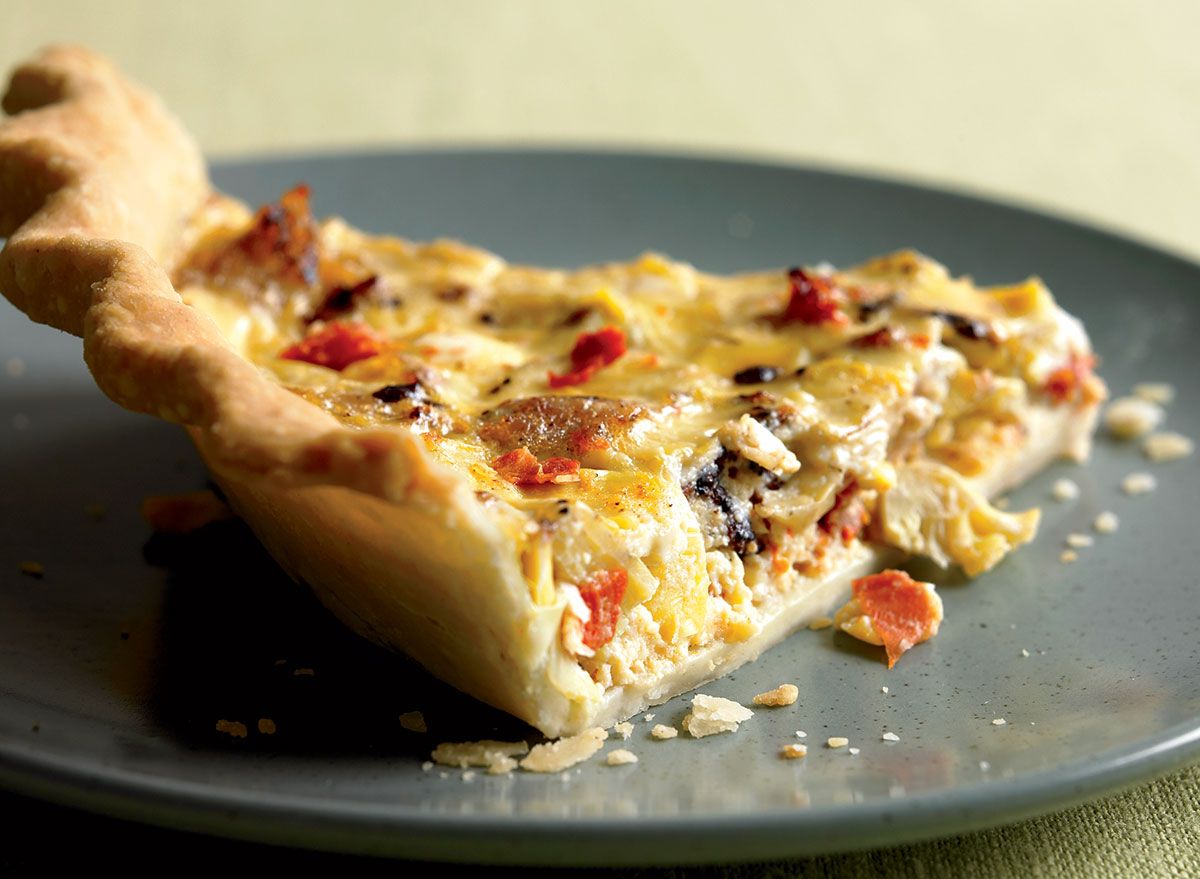 Quiches are the perfect breakfast for those who can never seem to find the time to make themselves a healthy morning meal. You can prep and cook this artichoke quiche ahead of time and save it in the fridge or freezer for the rest of the week, which will help you avoid the temptation of hitting the drive-thru on your busiest days.
Just wake up, pop it in the oven, and finish getting ready while it heats up!
Get our recipe for an Artichoke Feta Quiche.
Fiber-Filled Breakfast Burrito
Packed with black beans, avocado, chicken sausage, cheese, and eggs, this breakfast burrito serves up protein and fiber for extra staying power throughout your morning. For even more fiber, go for whole-wheat tortillas at the store instead of ones made from white flour.
Get our recipe for a Breakfast Burrito.
Sunrise Sandwich with Turkey, Cheddar, and Guacamole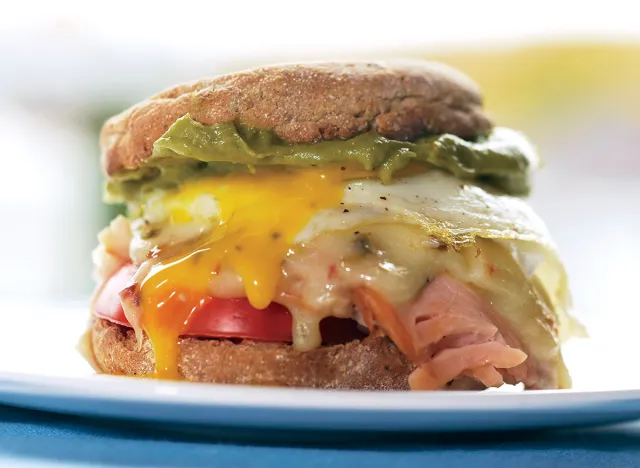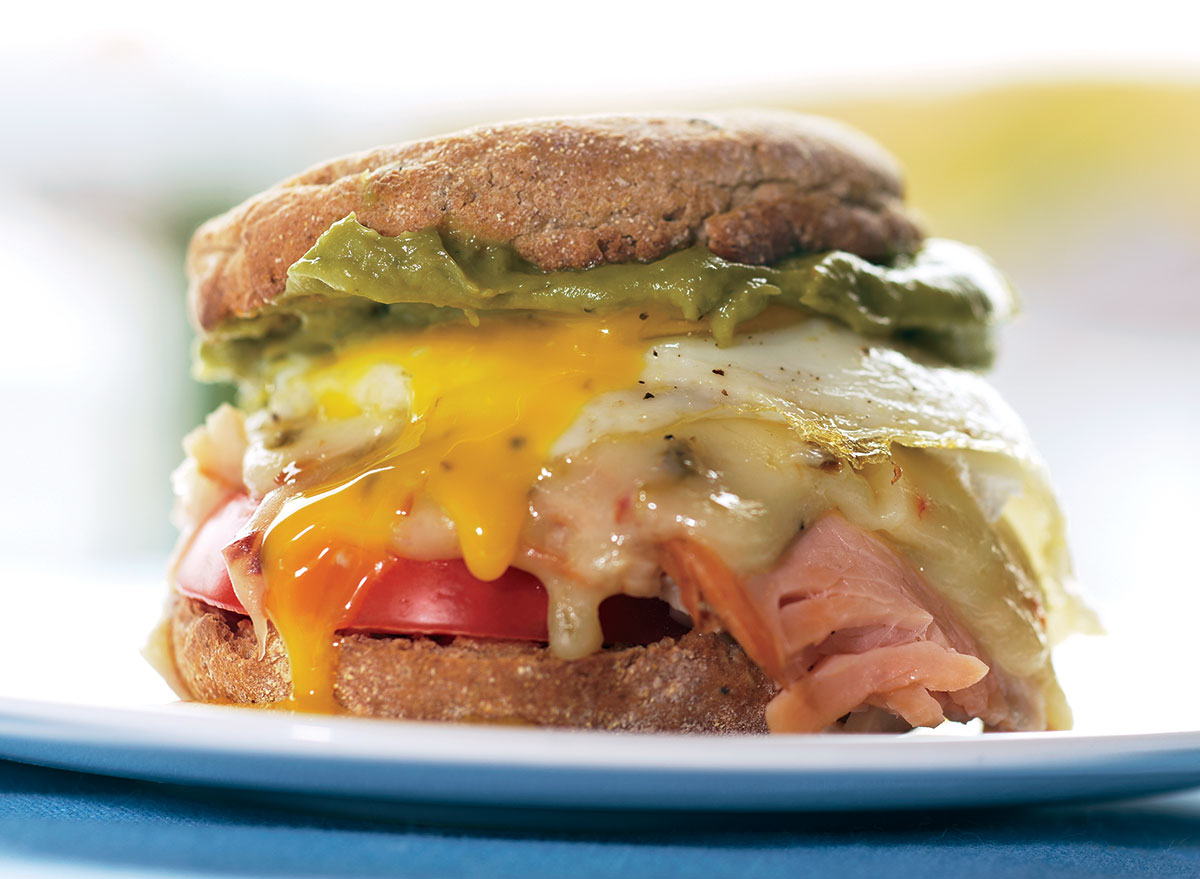 This breakfast sandwich is delicious enough to get you out of bed in the morning, and it's nutritious enough to fit into your weight loss goals. The combination of egg, turkey, avocado, and cheese atop a whole-wheat English muffin provides you with both protein and fiber, all while keeping your calories around 380.
Get our recipe for a Sunrise Sandwich. 
Low-Calorie Ham and Cheese Omelet
Omelets can be hit or miss in the nutrition department because many—especially omelets from a restaurant—are loaded with saturated fat and sodium, but this homemade ham and cheese version is a low-calorie, high-protein breakfast that will help you start your day off on the healthiest foot.
Get our recipe for a Ham and Cheese Omelet.
Eggs in Purgatory
There are a few differing explanations for why this famous egg dish is called Eggs in Purgatory, but most people say the eggs represent human souls and the tomato sauce that they sit in is supposed to represent the concept of purgatory. Regardless of the name, this meal is the weight loss breakfast trifecta: it contains protein and fiber and is low in calories.
Get our recipe for Eggs in Purgatory.
Scrambled Eggs with Salmon, Asparagus, and Goat Cheese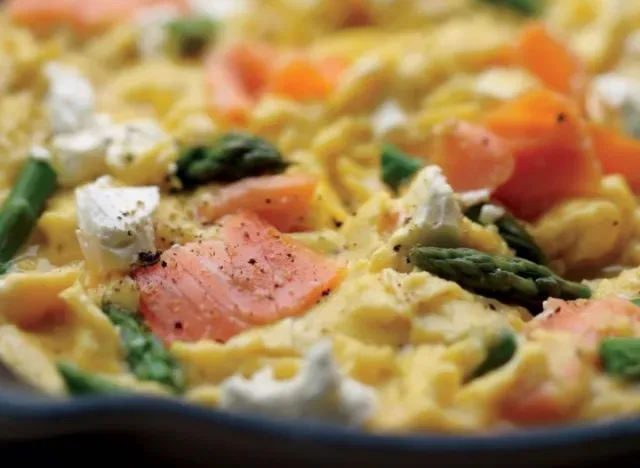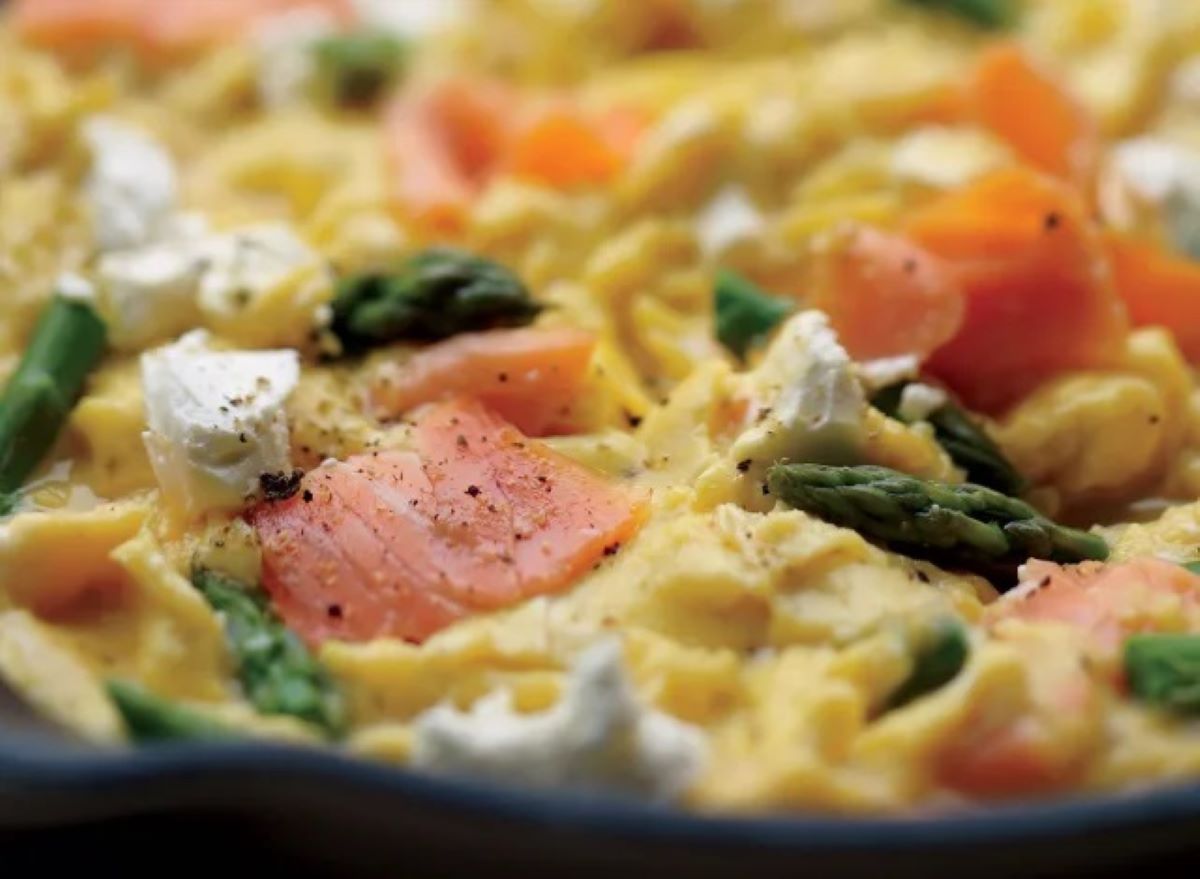 You may not think of ingredients like asparagus or salmon when you imagine a breakfast egg scramble, but combining these ingredients—along with goat cheese—makes for a flavor-filled, high-protein breakfast full of healthy fats and perfect for your weight loss goals.
Some research even suggests that replacing terrestrial meats (think chicken, beef, pork, etc.) with lean seafood (like salmon) can lead to greater weight loss when paired with calorie restriction.
Get our recipe for Scrambled Eggs with Salmon, Asparagus, and Goat Cheese.
Huevos Rancheros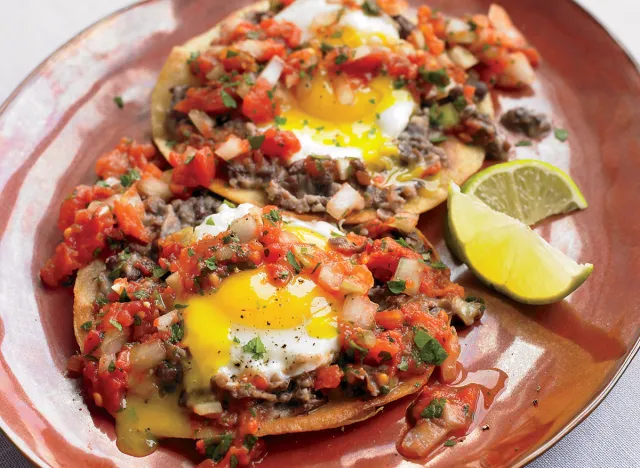 These huevos rancheros consist of crispy fried corn tortillas with eggs, salsa, and black beans on top. The mix of ingredients makes for a weight-loss breakfast full of fiber and protein—and packed with tons of flavor. For an added boost of healthy fat, top this breakfast off with some sliced avocado.
Get our recipe for Huevos Rancheros.
Sausage and Mushroom Frittata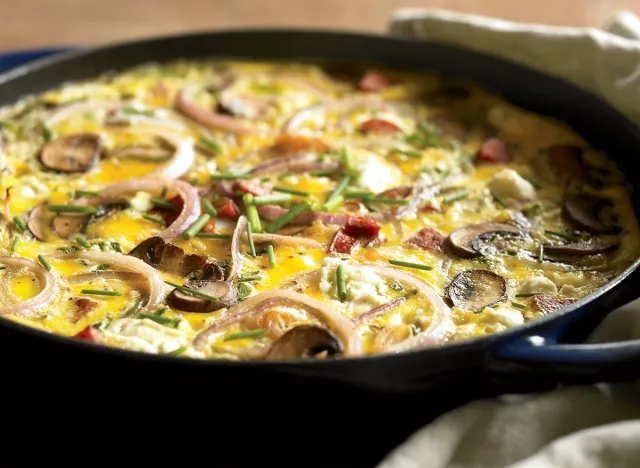 Similar to quiche, frittatas are another easy breakfast you can make ahead of time and reheat throughout the week. With eggs, goat cheese, and Andouille sausage, this meal turns up the protein, while also giving you a dose of antioxidants from the mushrooms.
Get our recipe for a Sausage and Mushroom Frittata.
Vegetarian Black Bean Omelet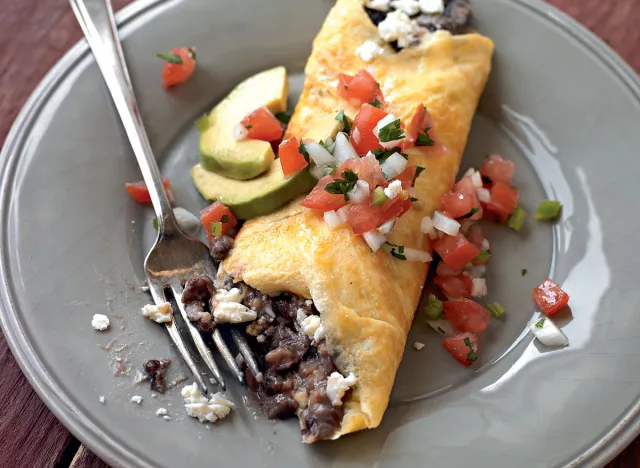 Perfect for those wanting protein without meat, this black bean omelet combines eggs, beans, feta cheese, and salsa to make a balanced and delicious breakfast. Want to add more fiber and healthy fats? Top it off with some sliced avocado.
Get our recipe for Black Bean Omelet.
Keto Frizzled Eggs and Sausage
Some people choose to go on the Keto diet when they're trying to lose weight, which is an eating plan that limits the amount of carbohydrates you consume and increases your levels of fat and protein. If you're following that diet and need some healthy breakfast inspiration, these frizzled eggs with sausage and sautéed greens will do the trick.
Get our recipe for Keto Eggs.
Turkey-Sweet Potato Breakfast Hash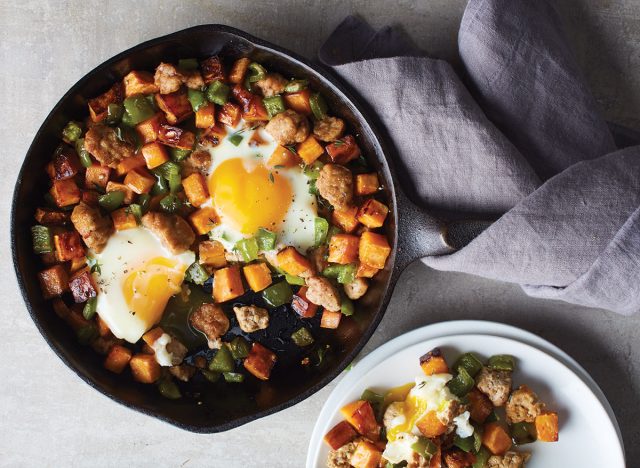 Sweet potatoes, turkey sausage, salsa verde, and eggs—when you put them all together you get a savory breakfast that will leave you feeling full and satisfied until lunchtime. Want more flavor? Add some fresh cilantro on top. Need more fiber or healthy fats? Throw some sliced avocado on top, too.
Get our recipe for Sweet Potato Breakfast Hash.
Red and Green Breakfast Salad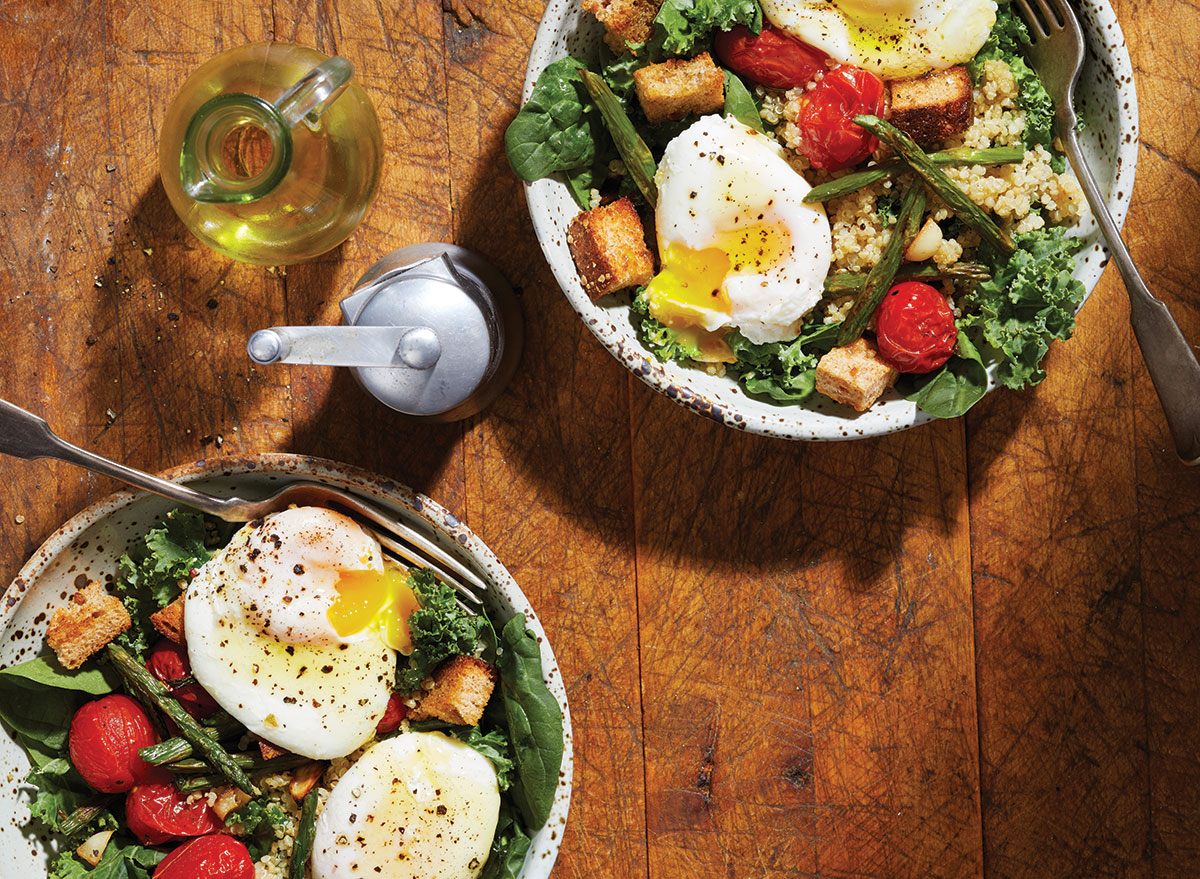 Yes, you can have a salad for breakfast, and yes, it can taste delicious. This breakfast salad combines spinach, kale, asparagus, tomatoes, quinoa, whole wheat croutons, and poached eggs for a bowl overflowing with protein and fiber. You'll get all of these nutrient-dense foods for 410 calories, making this a great weight-loss breakfast option.
Get our recipe for Breakfast Salad.
Oatmeal with Peanut Butter and Banana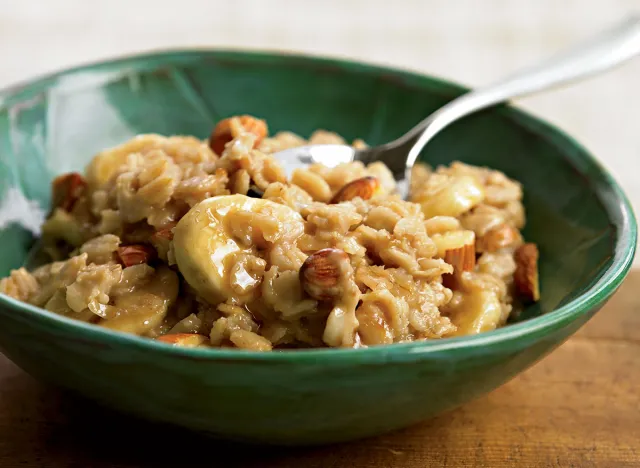 Research shows that oats may be able to help you lose weight. One report found that consuming oats can reduce appetite and aid in overall weight management, and another report found that they can help patients with diabetes lose weight as well. Most of these weight loss benefits of oats have to do with their high fiber content.6254a4d1642c605c54bf1cab17d50f1e
Enjoy the weight loss potential of oatmeal with this recipe that combines oats, peanut butter, banana, and almonds.
Get our recipe for Peanut Butter and Banana Oatmeal.
Protein Pancakes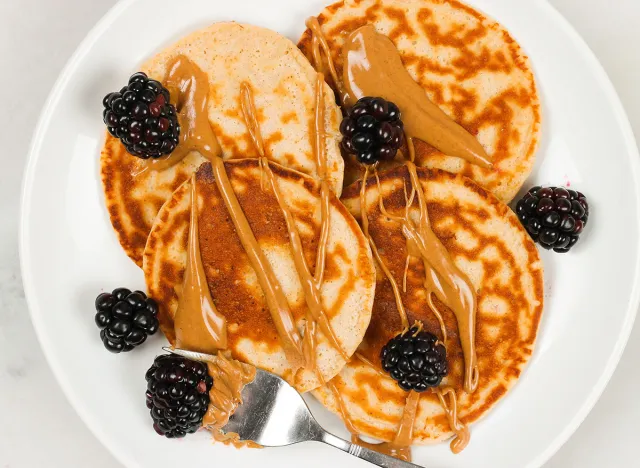 This protein pancake recipe uses protein powder, milk, and plain Greek yogurt to increase your intake of protein, and uses oats instead of refined flour, which adds more fiber to your meal. For an even tastier treat, try a flavored protein powder like chocolate or vanilla.
Get our recipe for Protein Pancakes.
Peanut Butter Overnight Oats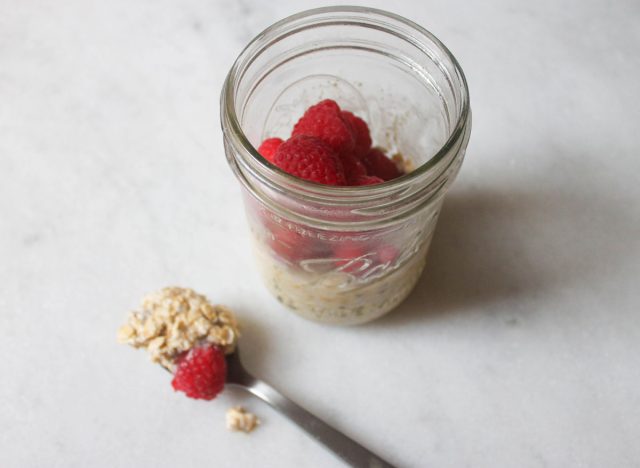 You can't beat the convenience of overnight oats. Throw oats, milk, chia seeds, and peanut butter into a jar the night before and wake up to a fiber-filled breakfast. Top with your favorite fruit or honey for a hint of sweetness.
Get our recipe for Overnight Oats.
10-Minute Mediterranean Tofu Scramble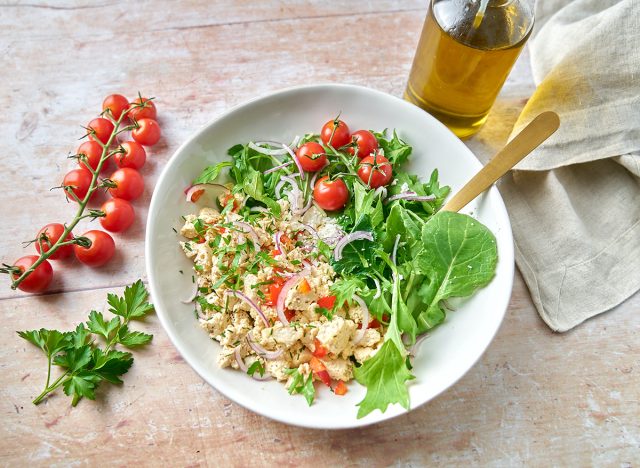 This Mediterranean tofu scramble is an ideal weight-loss breakfast for people who don't eat eggs but still want a savory morning meal. The amount of protein in tofu is comparable to what you'd get from eggs, and you're getting beneficial nutrients like fiber and calcium, too. Add feta cheese for low-fat flavor, or skip it if you follow a vegan diet.
Get our recipe for Tofu Scramble.
Sources referenced in this article