3 Changes You'll See at Costco's Food Court This Year
Two much-missed food items are finally back on the menu, plus one new sweet treat.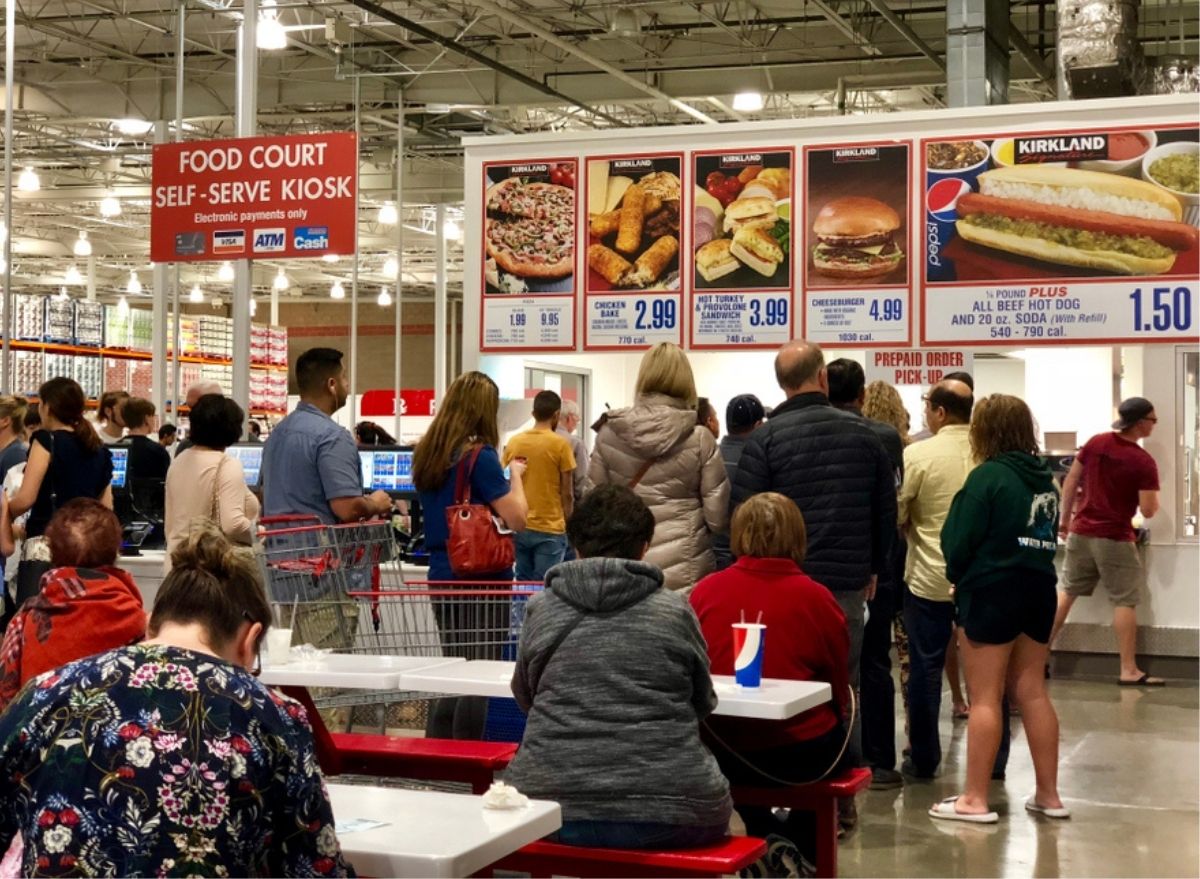 Consistency is a hallmark of the Costco food court. The most famous example is, of course, the illustrious $1.50 hot dog combo, which has remained the same price since 1985.
Yet, in recent years, the popular food counter has seen its fair share of upheaval, too. In 2020, the Covid-19 pandemic ushered in a new era of safety restrictions in many public settings, including Costco. The warehouse club streamlined both its service and selection in the food court. Indoor seating was either limited or removed entirely. Several popular menu items also went away.
Gradually, as the world has returned to normal, so has Costco's food court. Well, sort of, anyway. The club started to reintroduce some of the food items it had previously abandoned, but not all of them. Churros returned in 2021, even bigger than before—"20% larger," in fact, according to the company—but the fan-favorite Combo Pizza has yet to make a comeback in any shape or form.
Costco's ongoing food-court reclamation project continues apace this year with three noticeable changes over the past several weeks, including two returning items (each with its own new twist) and one totally new treat for mainland U.S. customers.
1. Diced onions are back!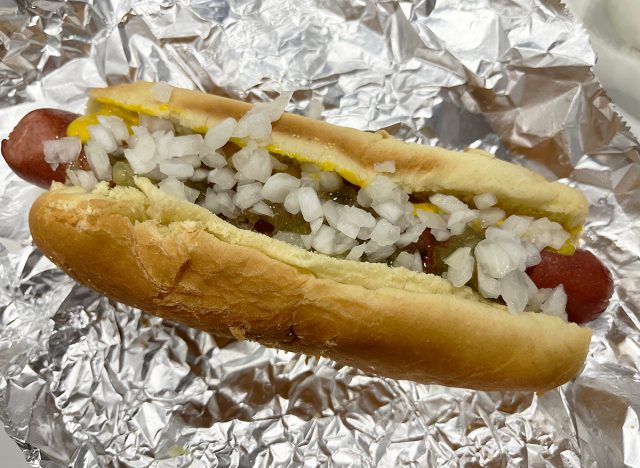 Fans of the legendarily cheap Costco hot dog had to make do with mere packets of ketchup and mustard for months before relish returned to the food court in 2021. They had to wait even longer for diced onions. Costco finally brought back the much-missed frankfurter topping just last month after prolonged member outcry on social media.
Customers who liked dispensing the onions from Costco's old hand-crank machines will be disappointed, however. Now, the onions come in small, individual-sized clear plastic cups, available at the counter. It's an ample enough serving to easily cover Costco's oversized frank, possibly even two.
2. So is the Chicken Caesar Salad.
On a menu packed with pizza, hot dogs, and ice cream, the Chicken Caesar Salad once stood out as one of the healthier choices at the food court—until Costco removed the option completely during the height of the pandemic. But fear not, lettuce lovers, the salad started reappearing last month at warehouses across the country.
It's a bit different from the original. There are no cherry tomatoes like before and the current version includes hunks of Costco's famous rotisserie chicken, instead of nondescript chicken strips. The meat is moist and juicy—almost wet. It comes atop a substantial pile of romaine flecked with parmesan. Croutons and dressing arrive in separate pouches for mixing. The new salad is also more expensive than the prior incarnation. The old one cost $3.99. Now it's $6.99.
3. America, meet the Mango Smoothie.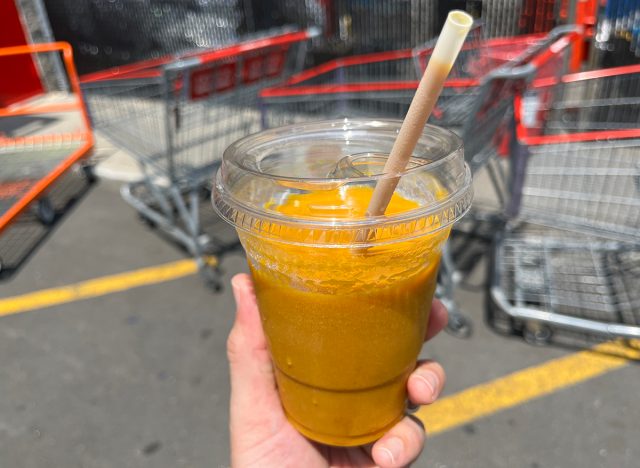 Costco members in Hawaii and other international locations are already familiar with the club's Mango Smoothie. Now, mainland U.S. members are getting their first taste of the tropical food-court drink, which has replaced the Berry Smoothie at food courts around the country. In recent weeks, shoppers on Reddit have spotted the orange-colored smoothie at warehouses in California, Washington, Oklahoma, and Pennsylvania. This reporter got his first sip just yesterday in Brooklyn, N.Y. The new smoothie cost $2.99. 6254a4d1642c605c54bf1cab17d50f1e
According to a blurb in Costco Connection magazine, "They're packed with four full servings of fruit, no added sugar, a big dose of vitamin C and just one ingredient. Can you guess what it is?" Not everyone is a fan, though. Critics have complained of an "off flavor," which one described as "kinda gross." I found it fruity and refreshing, though the color looks oddly more dark orange than real mango.
Chris Shott
Chris Shott is the Deputy Editor covering restaurants and groceries for Eat This, Not That!
Read more about Chris