Has Costco's Frozen Food Selection Gone Downhill? Here's What Shoppers Are Saying
Shoppers adore many Costco products and perks, but the frozen foods might be a different story.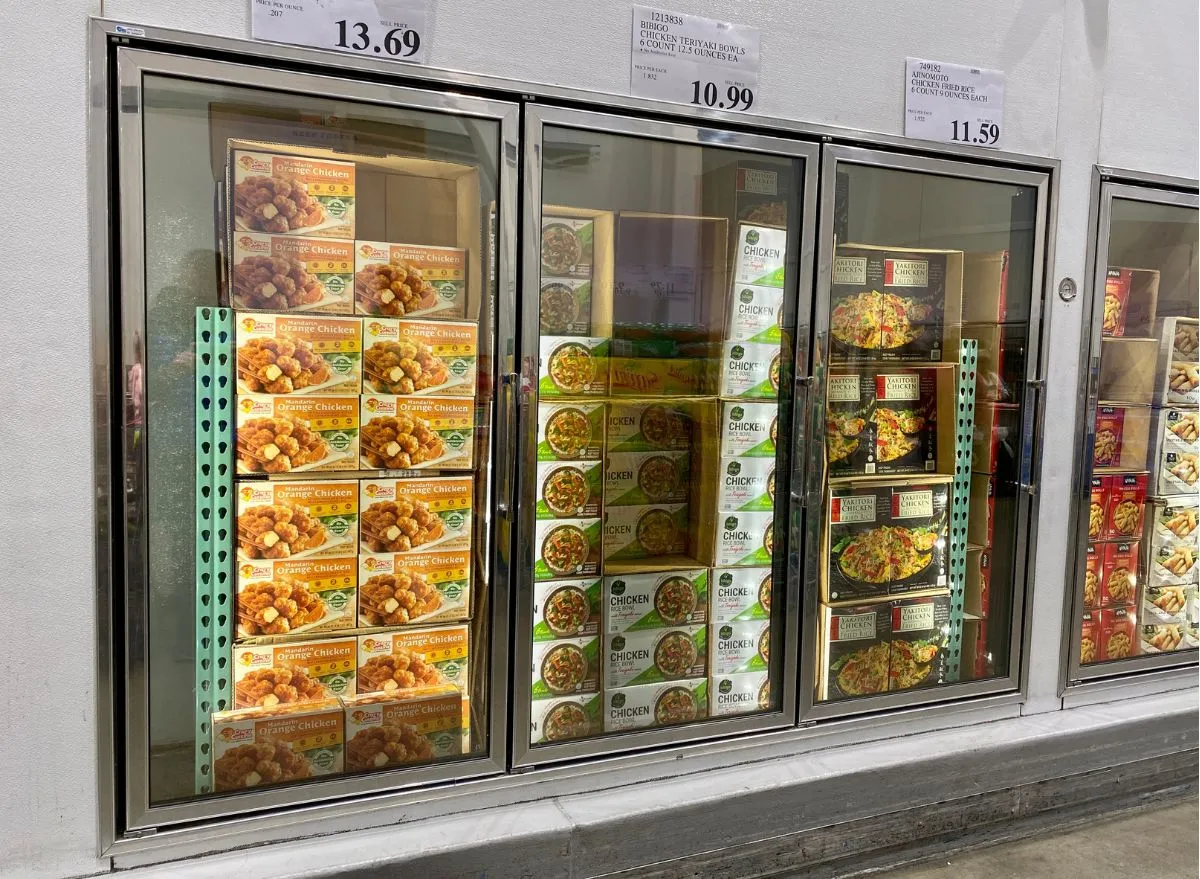 Take a gander through Costco's massive aisles and mazes of product pallets, and you'll find that there's a whole lot that the retailer does right. The warehouse club frequently garners praise from customers for its bakery section, affordable yet tasty food court menu, grocery deals, and other membership perks.
But if there's one aspect of the popular retailer's business that customers are finding sorely lacking lately, it's the frozen food options.
RELATED: 12 Costco Foods You're Crazy Not To Buy Right Now6254a4d1642c605c54bf1cab17d50f1e
A customer recently called out Costco on Reddit over its freezer products and refrigerated heat-to-eat food items, saying that both sections have become overwhelmed with "a lot of subpar selections."
(Unpopular Opinion?) – Costco needs to revamp/overhaul the refrigerated/frozen heat-to-eat items.
by u/911-867-5309 in Costco
The customer voiced hope that Costco would just completely overhaul those sections and rebuild them with better products, and quickly found that many fellow members shared those opinions. Hundreds of other shoppers have responded to the post to share their own negative experiences and complaints about the frozen and refrigerated departments.
"It's declined a lot. 4-5 years ago my deep freeze was always packed with Costco items. Now it's almost empty," one customer commented.
"There are a few solid items but it's mostly garbage by a few companies. 5 years ago there was better variety and better quality. They keep pushing the same stuff and a lot of it is very bad," another said.
The general consensus among these Redditors was that Costco's entire frozen and refrigerated heat-to-eat sections had gone downhill, though some customers complained about specific product brands like Real Good Foods and Kevin's Natural Foods. Shoppers said that the warehouse club should follow in the footsteps of another popular retailer that seems to have cracked the code on high-quality and tasty frozen foods: Trader Joe's.
"They should take a play out of the Trader's Joe's frozen game. I don't think I've ever had a bad frozen/heat & eat item from TJs," a customer commented.
Some customers even said they started shopping at major Costco rivals like Sam's Club and BJ's instead because of their reportedly superior frozen food options.
Luckily, customers don't necessarily have to sit idly by while waiting to see if Costco will upgrade its frozen and refrigerated sections. The company accepts feedback on products that it stocks in warehouses and requests for new products that it doesn't currently sell. Customers have reported success in requesting new products in the past, so Costco could be receptive if enough customers share their suggestions for improvement.
Though frozen foods are latest the latest Costco products to be scrutinized by members, customers have also recently complained about the fresh produce over how fast it spoils and the reportedly mold-prone bagels.
Zoe Strozewski
Zoe Strozewski is a News Writer for Eat This, Not That! A Chicago native who now lives in New Jersey, she graduated from Kean University in 2020 with a bachelor's degree in journalism.
Read more about Zoe