Skip the three-day fad detoxes and incorporate detoxifying dishes into your routine for year-round results.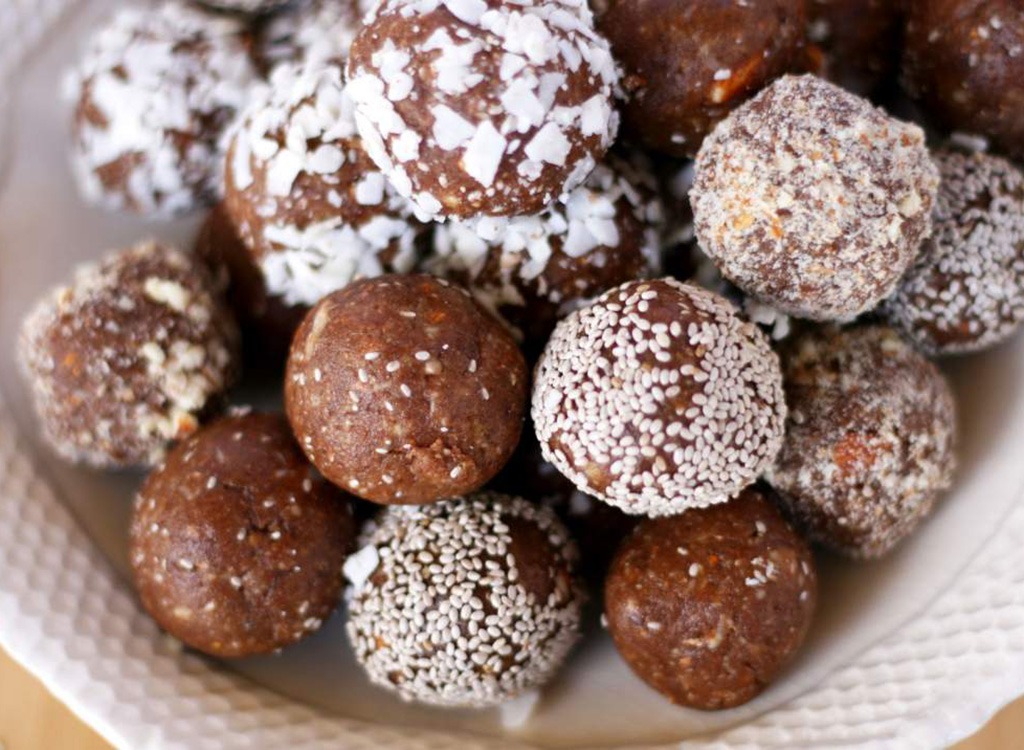 Detox diets can lead to binging, increased sugar intake, nutrient deficiencies, and weight gain. So, here's what we suggest: Rather than following a detox "diet," try including detox foods in a balanced diet instead. Not sure which foods constitute as detoxifying? We've compiled 20 recipes that fit the bill and incorporate foods from our list of The 25 Best Foods for Instant Detox.
Nutrition: 92 calories, 3.6 g fat (0.5 g saturated), 388 mg sodium, 12.2 g carbs, 3 g fiber, 0 g sugar, 3 g protein
Beans may have a magical rep, but their name is actually well deserved in the weight loss world. In one four-week study, researchers found that study participants who ate a calorie-restricted diet that included four weekly servings of legumes lost more weight than those on a calorie-equivalent diet that didn't include beans. If that's not enough, this slimming hummus contains metabolism-boosting hot sauce so get dipping.
Get the recipe from That Oven Feelin.
Nutrition: 188 calories, 7.8 g fat (3.5 g saturated), 345 mg sodium, 22.7 g carbs, 4 g fiber, <1 g sugar, 7.1 g protein
Kiss your ghostly winter complexion goodbye with these nutrient-packed sweet potatoes. Thanks to carotenoids, an organic pigment that gives the spuds their color and you a summer glow, you can cancel your tanning membership—and we don't mean the faux orange kind. In fact, when given the choice between a real suntan and a glow caused by diet, study participants preferred the carotenoid complexion.Just half a medium potato with the skin provides 200 percent of your daily recommended carcinoid, so eat up!
Get the recipe from Against All Grain.
MINI AVOCADO KEY LIME TARTS
Nutrition: 191 calories, 16.3 g fat (8.8 g fat), 58 mg sodium, 11.8 g carbs, 3 g fiber, 4 g sugars, 2 g protein
One too many mimosas at Easter brunch? A study in The Journal of Agricultural Food Chemistry analyzed the effects of feeding 22 different fruits to a group of rats with liver damage caused by galactosamine, a liver toxin. The fruit that proved most beneficial? You guessed it: the avocado. Whip up some detoxing avocado recipes like these mini tarts!
Get the recipe from Begin Within Nutrition.
GRAPEFRUIT BRULEE WITH YOGURT AND BLUEBERRY SAUCE
Nutrition: 101 calories, 0 g fat (0 g saturated), 21 mg sodium, 21.8 g carbs, 1.3 g fiber, 19.6 g sugar, 4.2 g protein
According to a study published in the journal Metabolism, simply eating half a grapefruit before each meal can help whittle your middle—by up to an inch—in just six weeks! And that's not all—another study conducted by Japanese researchers found that the scent of grapefruit can "turn on" calorie-burning brown fat cells, enhancing the breakdown of fat while reducing appetite. Sounds like a great reason to add it to your spring cleaning diet to us.
Get the recipe from The Ambitious Kitchen.
GREEN SALAD WITH ORANGES, BEETS AND AVOCADO
Nutrition: 141 calories, 9 g fat (3 g saturated), 71 mg sodium, 12.6 g carbs. 3.5 g fiber, 5.5 g sugar, 4.4 g protein
Kale, spring greens and other collard greens have an incredible ability to cleanse your system of excess cholesterol—a great way to jumpstart your body goals. To start losing weight today, check out these 10 Genius Tips to Lose 10 Pounds!
Get the recipe from Damn Delicious.
Nutrition: 190 calories, 4.6 g fat (1.2 g saturated), 403 mg sodium, 18.7 g carbs, 15.7 g sugar, 17.1 g protein
Cure your tummy troubles with this Lemon Teriyaki Chicken. Citrus fruits are rich in the antioxidant de-limonene, a powerful compound found in the peel that stimulates liver enzymes to help flush toxins from the body and gives sluggish bowels a kick, according to the World Health Organization.
Get the recipe from Creme de la Crumb.
Nutrition: 235 calories, 13.1 g fat (2 g saturated), 33 mg sodium, 16.7 g carbs, 0 g fiber, 16.7 g sugars, 14.7 g protein
Aside from diminishing belly fat, a diet rich in anti-inflammatory omega-3 fatty acids increases healthy blood flow. Reverse arterial stiffness—a common side effect of smoking—with just 4-ounces of this salmon recipe.
Get the recipe from Pinch of Yum.
Nutrition: 139 calories, <1 g fat (0 g saturated), 40 mg sodium, 34.5 g carbs, 5.7 g fiber, 21.9 g sugar, 2.5 g protein (calculated with water)
Thanks to an antioxidant called betalains, adding some naturally-detoxifying beets to your diet can help repair and regenerate cells in the liver, the body's primary detox center.
Get the recipe from Blissful Basil.
SESAME GARLIC ROASTED ASPARAGUS
Nutrition: 74 calories, 5.1 g fat (<1 g saturated), 3 mg sodium, 6 g fat, 3 g fiber, 2.2 g sugar, 3.4 g protein (calculated without salt)
Skip the next day booze blues with this roasted asparagus dish. According to a study in the Journal of Food Science, the amino acids and minerals found in asparagus may alleviate hangover symptoms and protect liver cells against toxins. The veggie spears are also a natural diuretic, which will help flush the excess toxins from your system. Pair it with some
detox water and Monday morning doesn't seem so scary.
Get the recipe from Ambitious Kitchen.
Nutrition: 274 calories, 22.7 g fat (3.3 g saturated), 152 mg sodium, 19 g carbs, 9.3 g fiber, 2.1 g sugar, 5.5 g protein (calculated without salt)
Swimsuit season is right around the corner. Luckily, for every 10 grams of fiber you eat daily, your middle shrinks by 4 percent. One of these grilled artichokes not only help you hit the day's quota but will knock out 50 percent of your vitamin C demands.
Get the recipe from What's Gaby Cooking.
AVOCADO AND GRAPEFRUIT SALAD
Nutrition: 228 calories, 22.7 g fat (4 g saturated), 51 mg sodium, 7.7 g carbs, 4 g fiber, 2.8 g sugar, 1.5 g protein
One of the best ways to boost your metabolism is likely already sitting in your refrigerator: mustard. According to English researchers, eating just one teaspoon of the stuff—or a third of this recipe—can boost your metabolism by up to 25 percent for several hours!
Get the recipe from That's So Michelle.
Nutrition: 91 calories, 6.6 g fat (1.7 g saturated), 20 mg sodium, 5.8 g carbs, 2 g fiber, 3.1 g sugar, 4 g protein
According to researchers, about 15 almonds a day can reduce the risk of liver cancer by 40 percent. Not quite the candy, but at 91 calories per 2 bites, detoxing never felt so good.
Get the recipe from Vegu Kate.
SPINACH AND KALE SALAD WITH PEAR
Nutrition: 286 calories, 25.5 g fat (3.6 g saturated), 63 mg sodium, 16.3 g carbs, 4 g fiber, 7 g sugar, 3 g protein
Naturally ward off hunger with this Spinach and Kale Salad. The greens contain powerful appetite suppressing compounds called thylakoids, that'll fill you up without filling you out. And to lose even more weight—up to 16 pounds in 14 days!—click here to discover The Best Weight-Loss Smoothie Ever!
Get the recipe from In Sonnet's Kitchen.
Nutrition: 247 calories, 17.7 g fat (7.7 g saturated), 57 mg sodium, 21 g carbs, 4 g fiber, 6.8 g sugar, 4.7 g protein
Banish bloat, diminish water retention, and uncover your six-pack—and it's as easy as biting into one of these Nutty Banana Oat bars. In fact, eating the yellow fruit daily can reduce belly bloat by 50 percent according to researchers!
Get the recipe from To Her Core.
RED POTATO SALAD MAYO FREE
Nutrition: 228 calories, 16.2 g fat (3.1 g saturated), 251 mg sodium, 16 g carbs, 1.6 g fiber, 4.8 g sugar, 6.1 g protein
Think twice before you pass the potato salad. When potatoes are cooked and then cooled in the refrigerator, their digestible starches turn into resistant starches through a process called retrogradation. Waist-shrinking resistant starch resists digestion, promoting fat oxidation and reduces abdominal fat.
Get the recipe from Iowa Girl Eats.
BLACK BEAN TACOS WITH KIWI SALSA
6254a4d1642c605c54bf1cab17d50f1e
Nutrition: 249 calories, 8.2 g fat (1.1 g saturated), 38.3 g carbs, 8.4 g fiber, 9.7 g sugar, 9.4 g protein (calculated without salt)
When it comes to diminishing bloat, few sources of fiber are as effective as kiwis. In fact, according to researchers in Pacific Asia, patients with Irritable Bowel Syndrome (IBS) who ate two of the tropical fruits a day for a month had less constipation and a general lessening of IBS symptoms than those who didn't. Kiwi salsa? Yes, please.
Get the recipe from My Darling Lemon Thyme.
SALMON SALAD STUFFED TOMATOES
Nutrition: 121 calories, 5.1 g fat (<1 g saturated), 477 mg sodium, 2.8 g carbs, 1 g fiber, 1.2 g sugar, 16.4 g protein (calculated with 5.5 oz wild salmon)
Fighting skin cancer means more than slapping on SPF 50. Consuming foods high in antioxidants, like tomatoes, wards off skin damage from the inside out. In fact, study participants who ate five tablespoons of tomato paste a day had 33 percent more protection against sunburn than a control group, in one British Journal of Dermatology study. Skip the sodium-laden paste and whip up these stuffed cherry tomatoes instead!
Get the recipe from Recipe Runner.
PEANUT BUTTER CUP GRANOLA
Nutrition:262 calories, 16.1 g fat (8.3 g saturated), 72 mg sodium, 26.5 g carbs, 3 g fiber, 14.8 g sugar, 6 g protein
Raw, unprocessed cocoa powder is a great way fight bloat and sneak more fiber into your diet. Combined with waist-whittling oats and satiating peanut butter, chocolate for breakfast is most definitely a thing—just make sure you follow this wholesome recipe. Not a breakfast fan? Check out these 30 Reasons Why You're Getting Fat.
Get the recipe from That Oven Feelin.
Nutrition: 224 calories, 12.8 g fat (7.8 g saturated), 195 mg sodium, 24.8 g carbs, 1.4 g carbs, 11.7 g sugar, 3.5 g protein (calculated without granulated sugar)
Cupcakes and detox….we're serious. One cup of antioxidant-rich blackberries packs in 7.6 grams of fiber! In a Canadian study, researchers discovered that those whose diets were supplemented with insoluble fiber had higher levels of ghrelin—a hormone that controls hunger. So have your cupcake and eat it too.
Get the recipe from Hummingbird High.
Nutrition: 100 calories, 9 g fat, 100 mg sodium, 4 g carbs, 2 g fiber, 0 g sugar, 4 g protein
Allergic to peanut butter? Try this sun butter instead. Aside from being just 100 calories, the filling butter is boasting with magnesium, a mineral that keeps blood pressure normal, maintains steady heart rhythm and helps boost lipolysis, a process by which the body releases fat from its stores. Looking to give your diet a makeover? Check out these 20 Weight-Loss Superfoods You're Not Eating.
Get the recipe from The Healthy Foodie.