7 Rare Freezer Aisle Finds That Have All But Disappeared
It's not your imagination—the frozen section is running low on these items.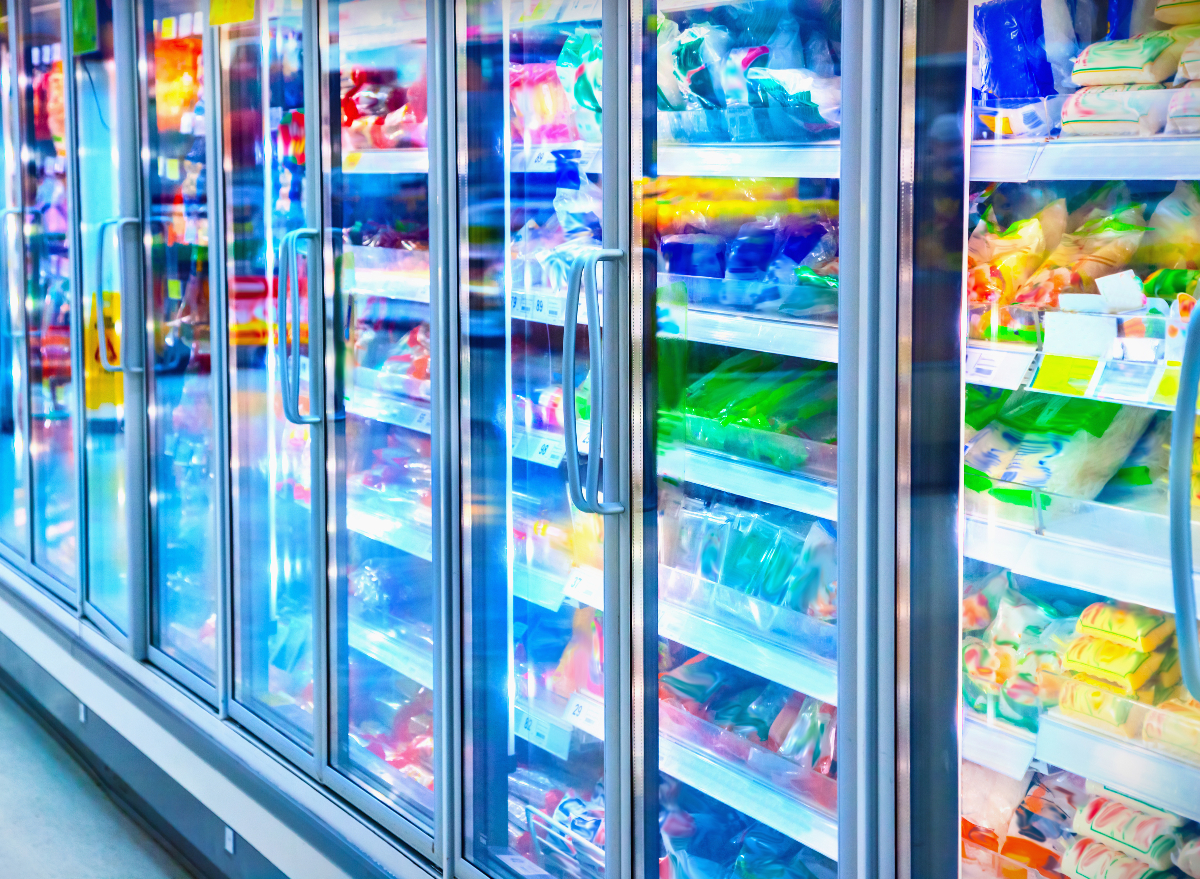 Where would we be without our pre-made foods? It's a known fact that keeping your freezer full of easy, ready-to-go meals is the ultimate meal prep hack for when you just don't feel like cooking from scratch. But these days, getting your frozen favorites isn't the cinch it used to be.
Gone are the days you can expect to stroll through the freezer aisle and find them fully stocked. The pandemic has presented more than a few kinks in the supply chain. It's hard to find enough raw materials and workers to produce enough to meet surging demand for household food. As a result, more people are coming up empty in the frozen section. These seven items have been giving shoppers the runaround for the past year, and we have the scoop behind their scarcity.
Totino's Pizza
Serving pizza rolls at your next Super Bowl party might take some extra planning because they're not guaranteed to be there when you do your last-minute shopping run. Production of the Totino's classic has been hampered over the past year. General Mills reported facing challenges acquiring the dough's ingredients, with wheat shortages posing an additional cost increase in March 2022.
The company's regular supply meets 98% of customer demand, according to CNN, but they had only been able to provide 70% in the first quarter of the year. So it's no wonder that those late-night bites are just a bit harder to track down right now.
Pillsbury Dough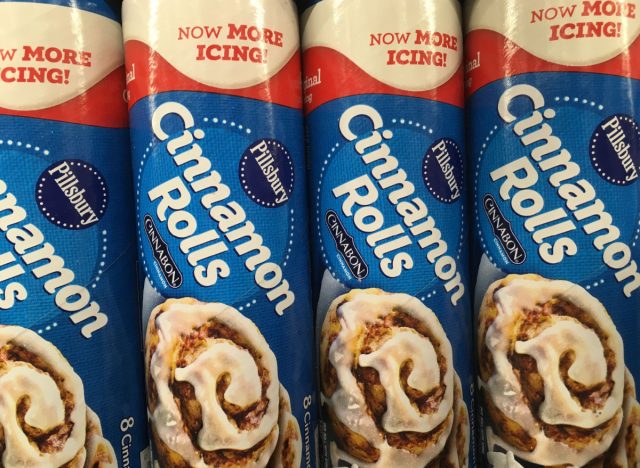 Another General Mills subsidiary, Pillsbury biscuits, crescent rolls, and pastry products have struggled to stay on shelves. The pre-made dough sells out quickly, since they can't be replenished enough to meet demand.
Unfortunately, this means that if you do manage to snag it from the freezer aisle, you should be prepared to eat the extra cost. CNN reported that General Mills' costs have inflated by as much as 9%, leading to higher prices for the customer.
Tony's Supreme Pizza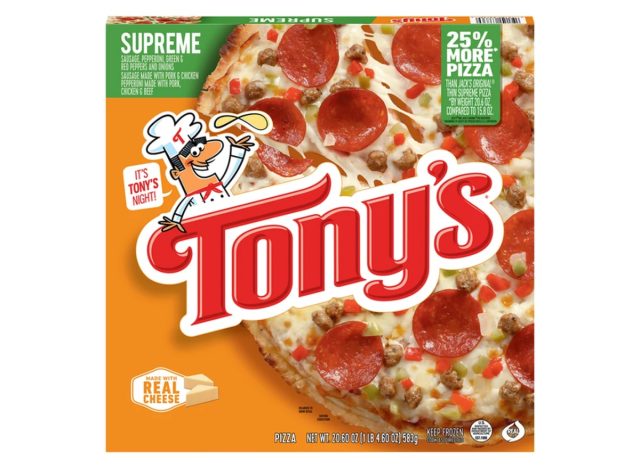 With all the pizza companies out there, you may have never stumbled across Tony's, but it's a cult favorite for those the know. However, during the pandemic, fans of this nostalgic supreme-style pie were worried when they hadn't spotted it in their grocery stores for the past couple of years.6254a4d1642c605c54bf1cab17d50f1e
"Anyone know what happened to Tony's Supreme Pizzas? Walmart, Tops and Wegmans don't have them. There is a shelf tag for them, but every store fills that spot up with cheese pizzas. I haven't seen them since last year," a Reddit user posted.
It's a common question, and the brand's Twitter responded to allay customers' concerns. "Our apologies, inventory is limited. We are actively working to increase our availability," the company tweeted. "Please continue to follow us on social and check our Where to Buy tool for updates." You can visit the website to see availability at stores near you.
Trader Joe's Palak Paneer
Trader Joe's is known for bringing high-quality versions of international dishes right to your freezer, but this Indian pre-made meal has been conspicuously missing for over a year. The long-term outage even sparked rumors that this was Trader Joe's way of permanently phasing out the product.
"I love most things TJ and am so disappointed that the frozen Indian version of Palak Paneer is out now until at least August!! It has been out sporadically for the last 2 years but it has been gone now since January or so," a Reddit poster noted.
It appears that the company has been working to change the packaging, resulting in a temporary pull from stores. And recently, a few shoppers have reported seeing Palak Paneer back in stock at their stores. "It's back!!! Trader Joe's Palak Paneer!!" posted u/slaushed on Reddit.
It's still not easy to get, however. "I was at TJs a couple days ago and they didn't have it! Either they were sold out or my store doesn't carry it yet," commented another Reddit user. If you've been hoping to reunite with this popular frozen meal, we recommend contacting your nearby location to see if it's available.
Trader Joe's Hashbrowns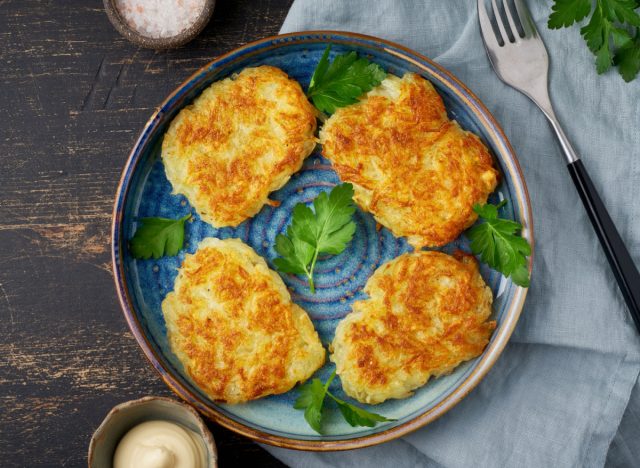 Who doesn't love hash browns? They're the perfect tasty addition to your hearty breakfast, and Trader Joe's makes a mean version—then freezes it, boxes it, and sells it in packs of 10. This is a staple for so many that the hash browns have been flying off the shelves, leaving nothing behind.
"I go to TJs at least once a week and for the last 3 weeks the hashbrown patties have been out of stock!" posted one Reddit user. The user reported that store employees explained how the fried potatoes sold out within two days of their last delivery. Others in the thread attributed the shortage to issues in the potato supply chain and recommend looking for alternatives at ALDI and Lidl.
Just Bare Chicken Breast Spicy Strips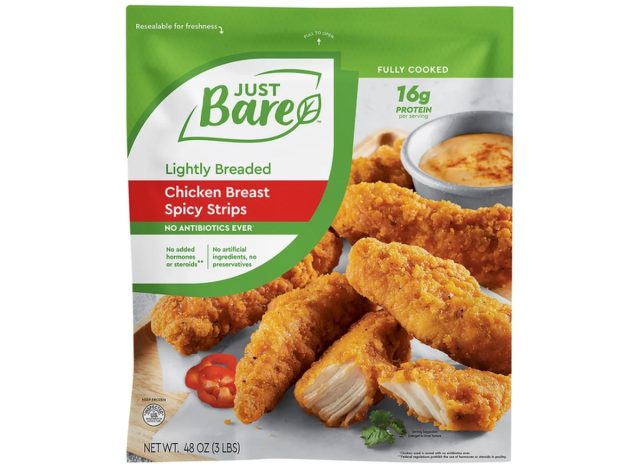 From the makers of the viral Costco chicken nuggets, this bag of spicy tenders attracted similar levels of attention. And that means they sell out quickly—but many say it's worth it to keep looking out for it when it's available. "I like them. Kinda hard to find. I've been watching three different locations and noticed one location just started carrying them and had a few left," commented Redditor u/lensgrabber. "Way better than the originals."
Between the chicken shortage in 2021 and the outbreak of avian flu last year, it's likely that you'll be hard pressed to locate various chicken products—especially when they're as delicious as these flavorful, meaty strips.
Earth Grown Meatless Meatballs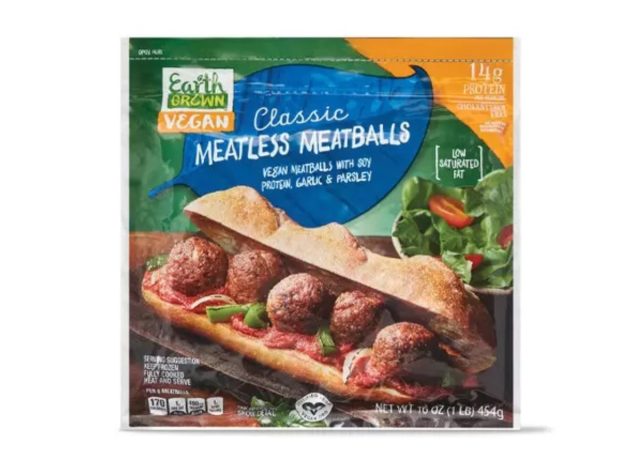 This ALDI private-label product is a vegan staple, and it's been noticeably M.I.A. for the past year, according to Redditors. One user, who claimed to work at ALDI, commented that product delays like this one are common, with little reason behind them.
"There are many temporarily unavailable items…I don't believe that we have them in stock at the moment but I have had several cases of them in the past two weeks," said u/AmbitiousHornet. "It's rather challenging to get some products in stock at this point. We do not get explanations as to why a product is temporarily unavailable and as far as I know they have not been discontinued."
Shoppers may need to turn to alternatives, like plant-based meatballs from Impossible Meat, while the supply chain catches up.
Sarah Wong
Sarah studied at Northwestern University, where she received a bachelor's degree in computer science and experimented with mixing tech and journalism.
Read more about Sarah