30 Secrets You Never Know About Dunkin'
The chain's original name wasn't Dunkin' Donuts.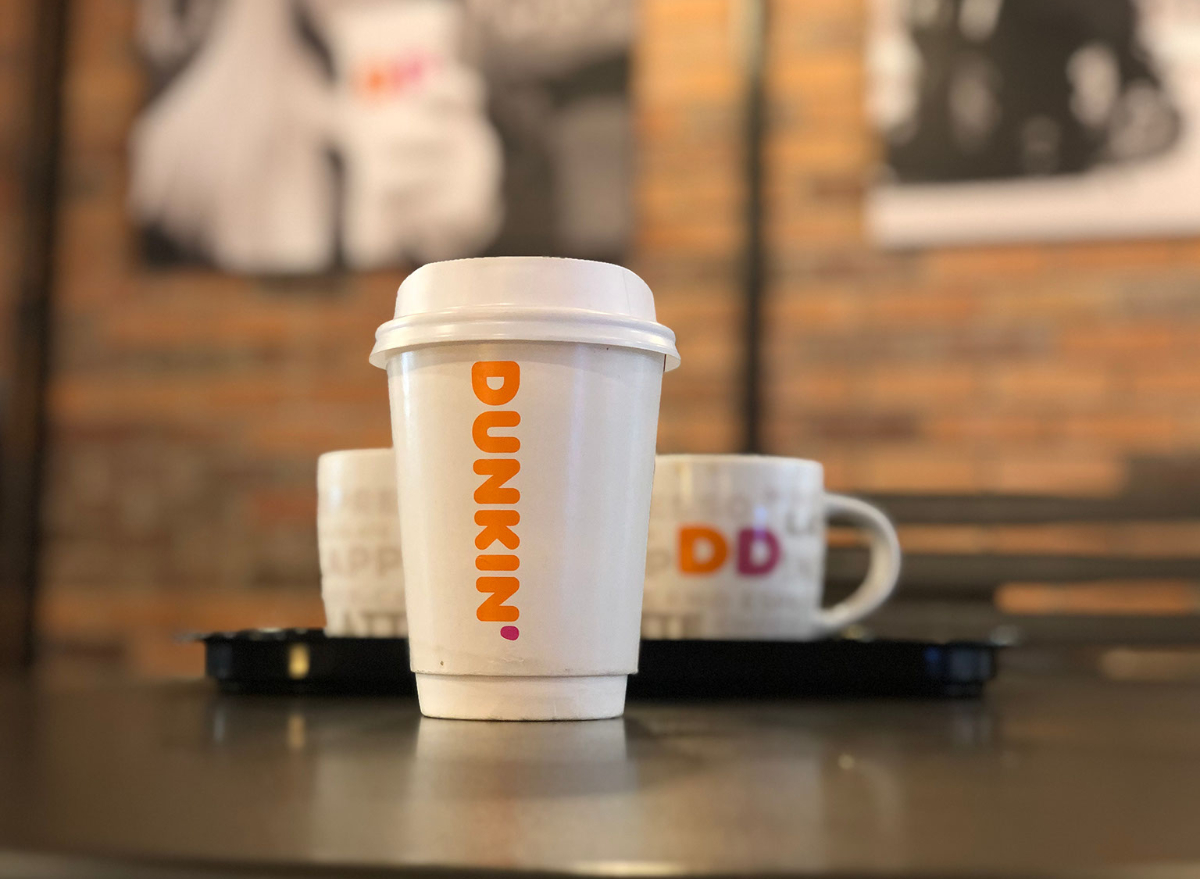 "America runs on Dunkin'" appears to be a fairly accurate statement when you consider the chain serves more than 3 million customers each day. And a whopping 60% of the chain's annual revenue comes from coffee. Dunkin' may have originally been known for its donuts, but these days, it's a fast-food establishment with breakfast sandwiches galore. Dunkin' Donuts officially changed its name to Dunkin' in early 2019, and its decades-long history is filled with plenty of other fun Dunkin' facts to keep fans entertained (including the fact that Dunkin' Donuts wasn't even its original name either!).
Fascinated yet? Here are some other things you probably didn't know about this fast-food giant. And if you're craving a coffee and donut after reading this, well, we can't blame you. For more sweet fun, check out these 15 Classic American Desserts That Deserve a Comeback.
Dunkin' wasn't always Dunkin'.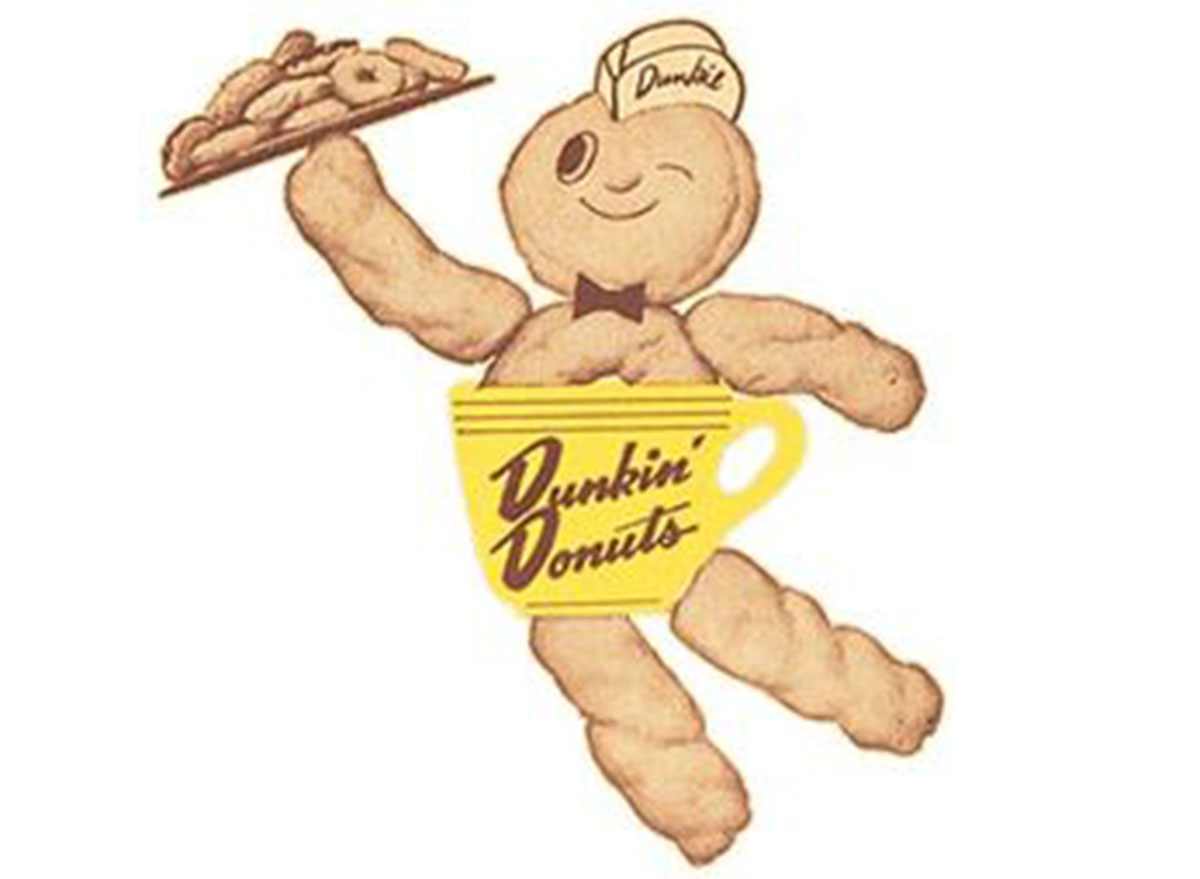 In its original iteration, Dunkin' was called Open Kettle. Caterer William Rosenberg founded the business in Quincy, Massachusetts, in 1948, serving coffee and donuts to locals. In 1950, the business was renamed Dunkin' Donuts. And today, it's just Dunkin'.
Feeling nostalgic? The original Dunkin' is still standing in Quincy and has been restored to its '50s glory.
Love Dunkin' coffee? Here's why Dunkin' Is the Major Chain With the Best-Rated Coffee in America.
An architect came up with the name.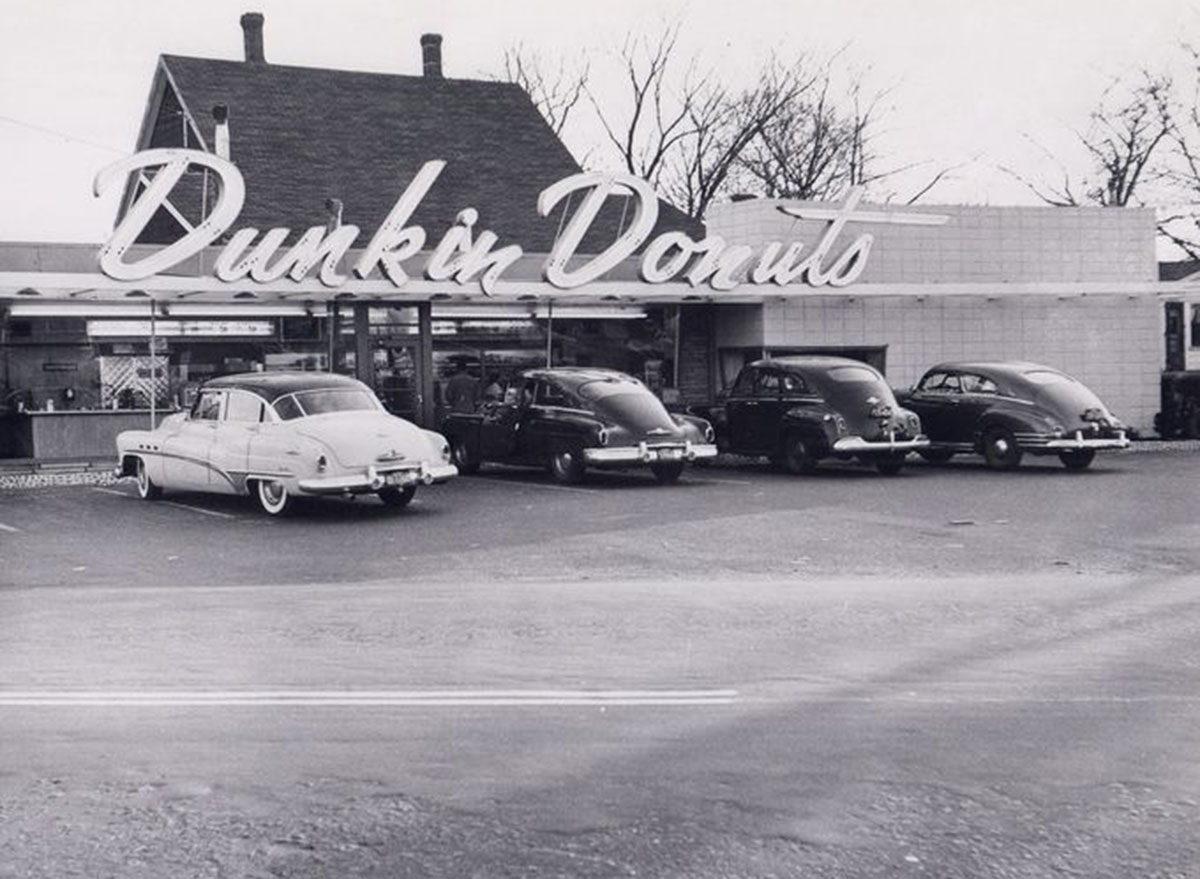 According to Dunkin' itself, an executive architect is rumored to be responsible for the name change from Open Kettle to Dunkin' Donuts. Not many people dip their donuts into coffee these days, but it sounds like it was a popular thing to do at the time.
Dunkin' was briefly British—and then French-owned.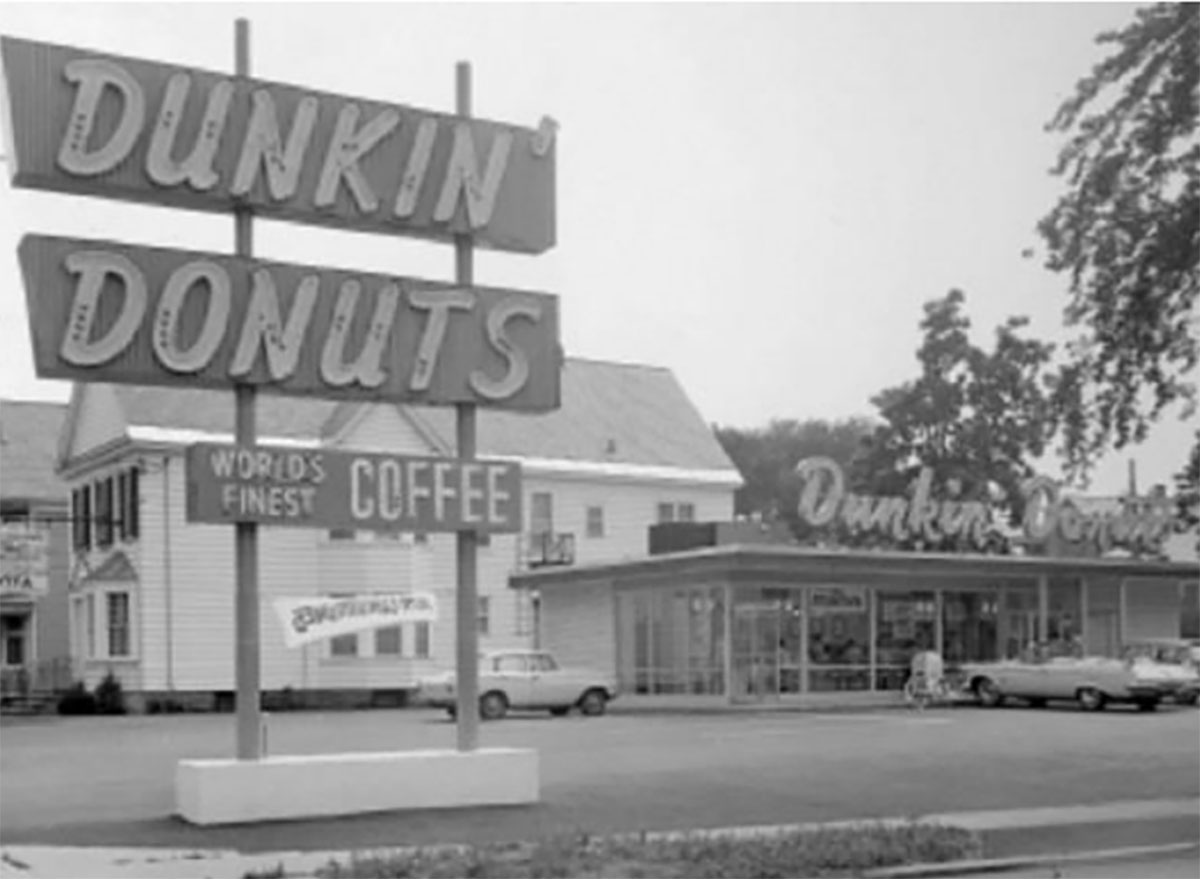 America runs on Dunkin' now, but at one point, those Americans were getting their coffee and tea from across the pond. In 1989, Allied-Lyons, a British food and spirits conglomerate, bought Dunkin' Donuts for $325 million. After French-based beverage company Pernod Ricard took over Allied Domecq in 2005, it sold Dunkin' Brands to a consortium of three U.S. private equity firms.6254a4d1642c605c54bf1cab17d50f1e
Dunkin's rival had family ties.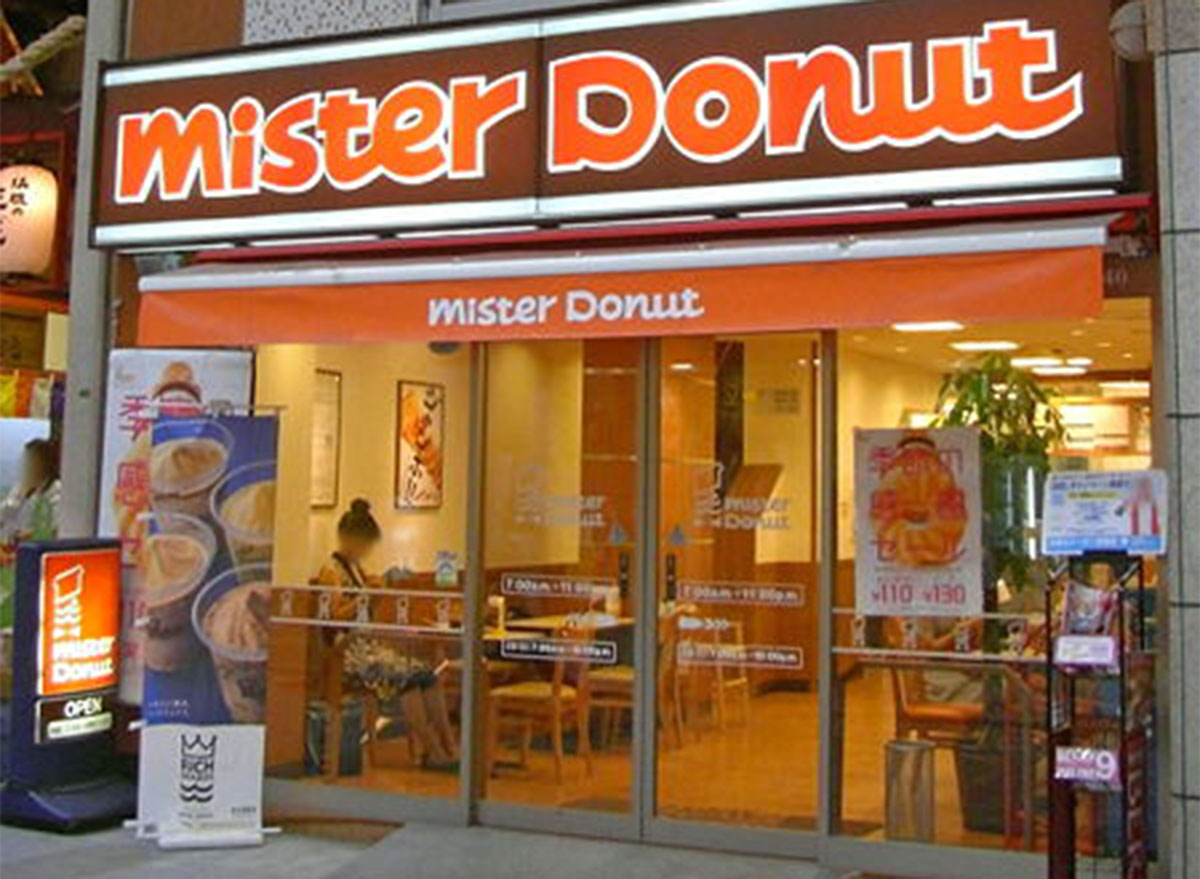 In 1955, Rosenberg's brother-in-law, Harry Winokur, broke his partnership with Rosenberg and went on to create his own doughnut company: Mister Donut. The company flourished domestically and abroad, most notably in Japan, where it is the largest donut chain in the country. You can still find Mister Donut stores in Japan because Duskin Co. Ltd. bought the rights to all Asia-based stores in 1983. However, only one location remains in the United States, in Godfrey, Illinois.
Dunkin' is part of a larger brand consortium.
Dunkin' Brands' subsidiaries include Dunkin', Baskin-Robbins, and Mister Donut. Up until 2007, Dunkin' Brands also owned Togo's, a sandwich chain that still operates in locations on the West coast.
Yes, Munchkins are named after what you think.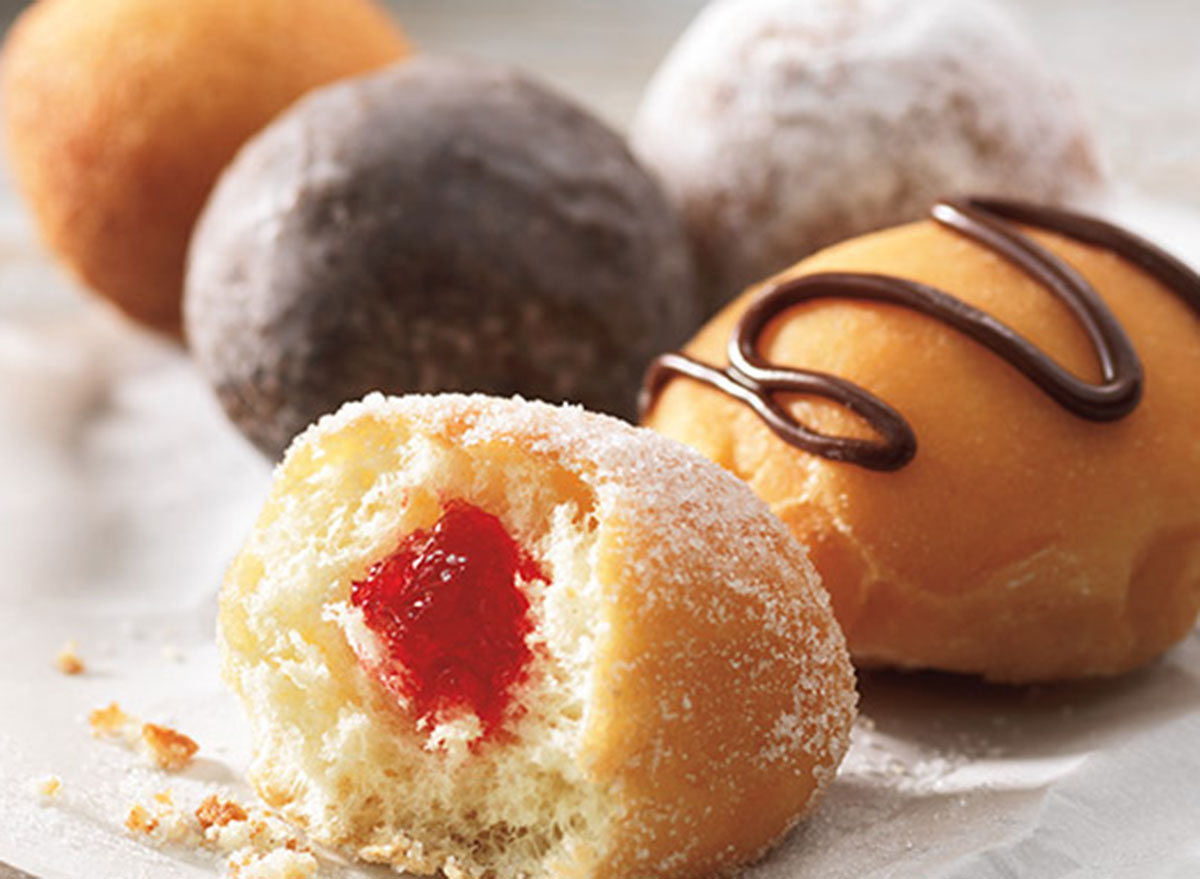 Back in the day, doughnuts were cut by hand, which resulted in plenty of holes. (Now, modern machinery dispenses just the rings of dough and the holes are made separately.) When Dunkin' started selling donut holes in 1972, the company named them "Munchkins" after the Wizard of Oz characters. The company marketed the holes to kids while the grownups went for the whole donuts.
You can't buy single Munchkins.
Those mini donut balls arrived on DD menus in 1972, but no, you can't buy just one. While the minimum varies from store to store, it's been reported that four munchkins are the least you can walk out of the shop with.
There's more variety than you think.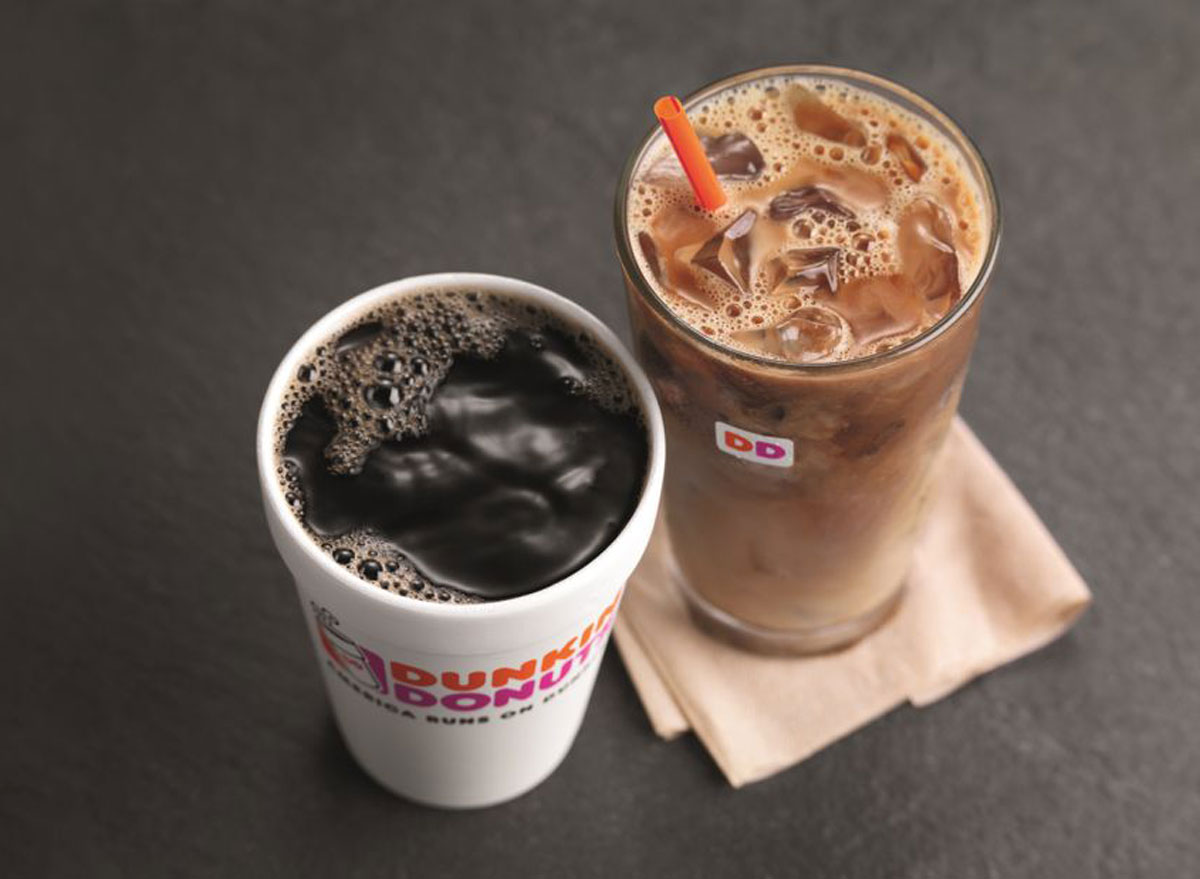 Every year, Dunkin' sells about 2 billion cups of hot and iced coffee globally, and there are more than 15,000 different ways to order your coffee. Yes, 15,000! That's thanks to the chain's wide variety of syrups, shots, and sweeteners.
You'll get a fresh cup of coffee, trust us.
Hate the taste of burnt coffee? So does Dunkin'. According to DD, the chain's coffee is freshly ground, freshly brewed, and most importantly, freshly served. The company's website states that the chain brews a fresh pot of coffee every 18 minutes, if not sooner. So you'll never get a stale cup.
Dunkin' fans, we have some bad news: America's Favorite Coffee Shop Chain Is Closing 800 Locations For Good.
You once were able to get a coffee for just a dime.
Inflation is no surprise, and we aren't going to get too mad at Dunkin' for the price hikes. But in the chain's earliest days, a cup of coffee sold for just 10 cents, and a donut cost five cents. A dime was common for many other drinks at the time, too, like ordering a Coke at a diner.
The coffee quality control is impressive.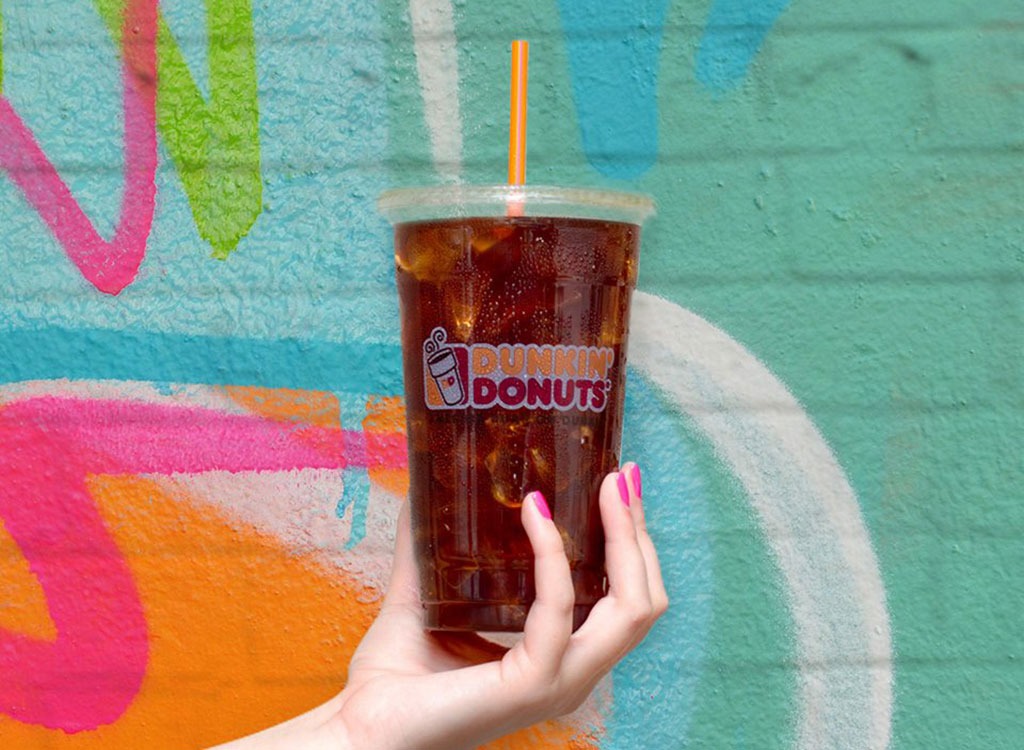 The brand has quality control testing experts who taste approximately 200 cups of coffee daily to ensure the chain's coffee meets its standards.
The chain's version of the Cronut was only supposed to be temporary.
In response to the popularity (and elusiveness) of the quick-to-sell-out Cronut at Dominique Ansel Bakery in NYC, Dunkin' launched its own croissant-donut crossover pastry in late 2014. It was initially meant to be a temporary item, but because of its insane popularity—8.5 million were sold in the pastry's first three months—it became a permanent menu item in the United States for a while. The product initially debuted in South Korea under the name "New York Pie Donuts" (pictured).
The chain is super popular in South Korea.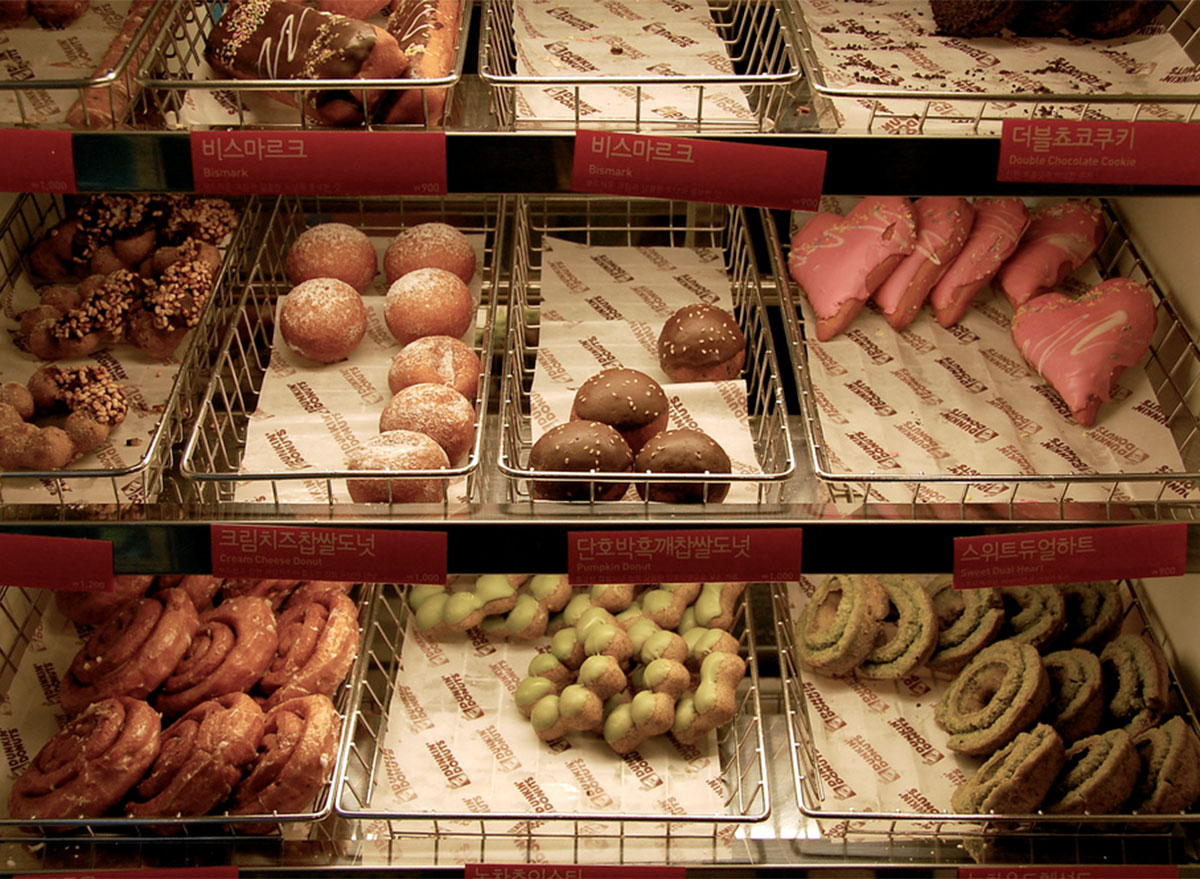 Dunkin' is considered a hot spot in South Korea. There are hundreds of stores, and the experience is a lot different from the American one. Patrons are allowed to pick donuts off the shelves themselves, cups are paper, and the most popular drink is an Americano, which features hot water and a shot of espresso. Along with traditional donuts like glazed, there are black rice doughnuts, jalapeño sausage pie doughnuts, and bubble tea lattes.
Dunkin' sells more coffee than donuts.
Dunkin' CEO Nigel Travis told CNBC in 2015 that about 60% of Dunkin's sales come from beverages. The donut is still a significant part of the menu, but Travis noted to CNBC that "people see it as a treat, as a reward."
Dunkin' dropped half of its name for a reason.
In August 2017, Dunkin' tested out rebranding a Pasadena, California, as simply Dunkin', rather than Dunkin' Donuts. The reason for the name change? Dunkin' wants to be known as an all-day spot you can go to, not just for your morning cup of coffee. In 2018, Dunkin' officially rebranded as just Dunkin', and it rolled out everywhere in early 2019.
And if you're not sure what to get, here are The Best & Worst Dunkin Donuts Coffee Orders For Weight Loss.
The menu has undergone a major refresh over the years.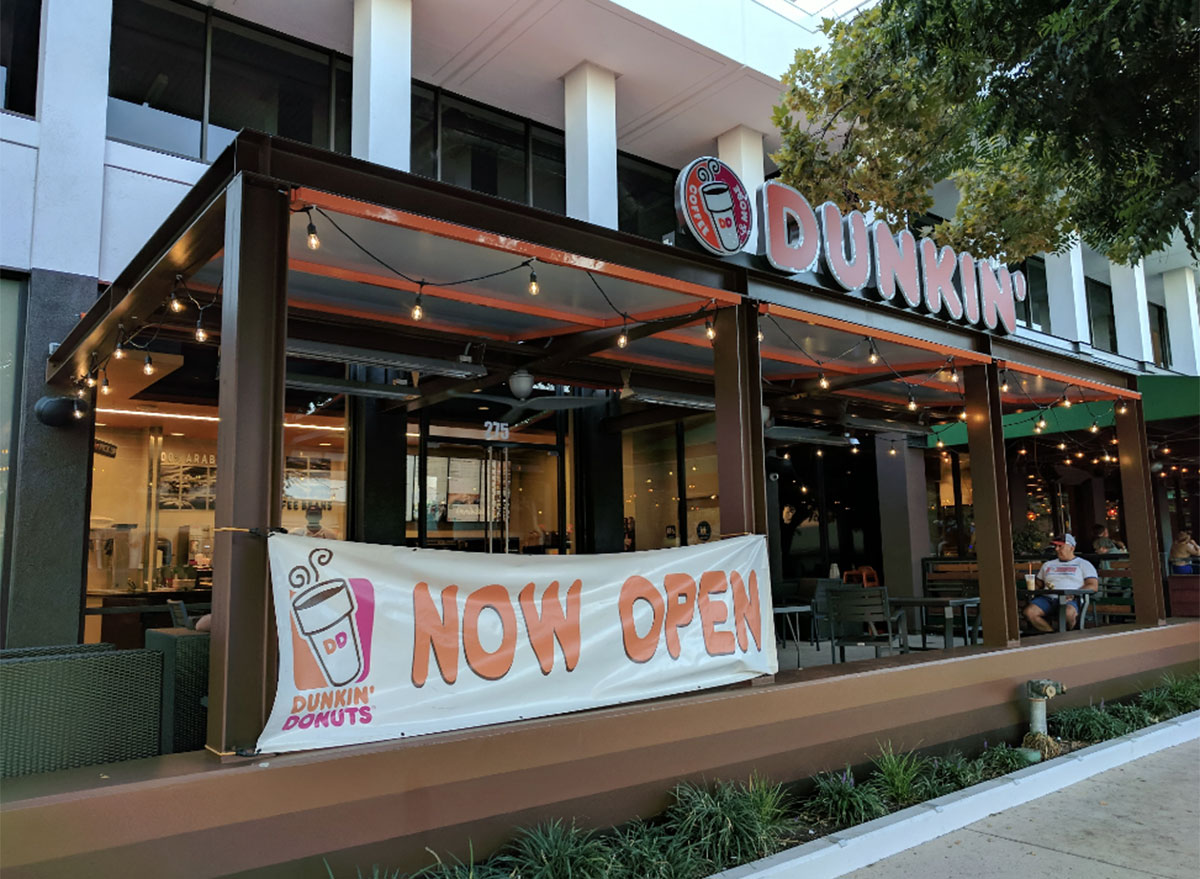 Bye-bye complicated foods, hello more coffee combinations to try. Last year, Dunkin' cut 10% of its menu, according to the Boston Herald. The changes included things like smoothies, sandwiches, flatbreads, and other items. But in return, Dunkin' has since added new items, like the Beyond Sausage breakfast sandwich.
People have gotten married inside a Dunkin'.
It sure is cheaper than your local Four Seasons! A New Jersey couple who say they constantly went to the chain and "hit the drive-thru sometimes twice a night" got married inside the Dunkin' on Route 42 South in New Jersey. One of the co-owners gifted the newlyweds a basket of coffee and his-and-her mugs, a Mega Millions lottery ticket, and, of course, donuts. The store also promised to make them a donut cake for when they celebrated their nuptials with a bigger celebration. Aww!
There was once a Dunkin' diner.
The last one, located in Florida, closed its doors in 2015; but it's a little-known fact that it even existed! Diners at the Dunkin' restaurants could get grilled items, fried fish, grits, hash browns, and sandwiches in a diner setting. And donuts and coffee, of course. But, sadly, this is now a thing of the past.
The chain sells millions of donuts every year.
While coffee is clearly the heart and soul of the franchise, the donuts are just as important. Dunkin' sells around 2.9 billion donuts and munchkins globally each year. That's a whole lot of sweet treats!
The donuts actually underwent a makeover.
You probably didn't even realize this, but we promise, it's all for the good! All of the donuts sold at Dunkin' locations nationwide are now made with colors from natural ingredients. Nothing artificial here!
And if you're curious, These Dunkin' Donuts Items Are Vegan—And Still Taste Good.
The New England Patriots' owner has a secret Dunkin' strategy.
"My morning coffee ritual tends to change during the football season," Robert Kraft told Boston magazine in 2010. "When we win I like to go inside my local Dunkin' Donuts for my 'large with milk, no sugar.' When we lose, I go through the drive-through." That's one way to avoid the shame of defeat!
New Yorkers love Dunkin'.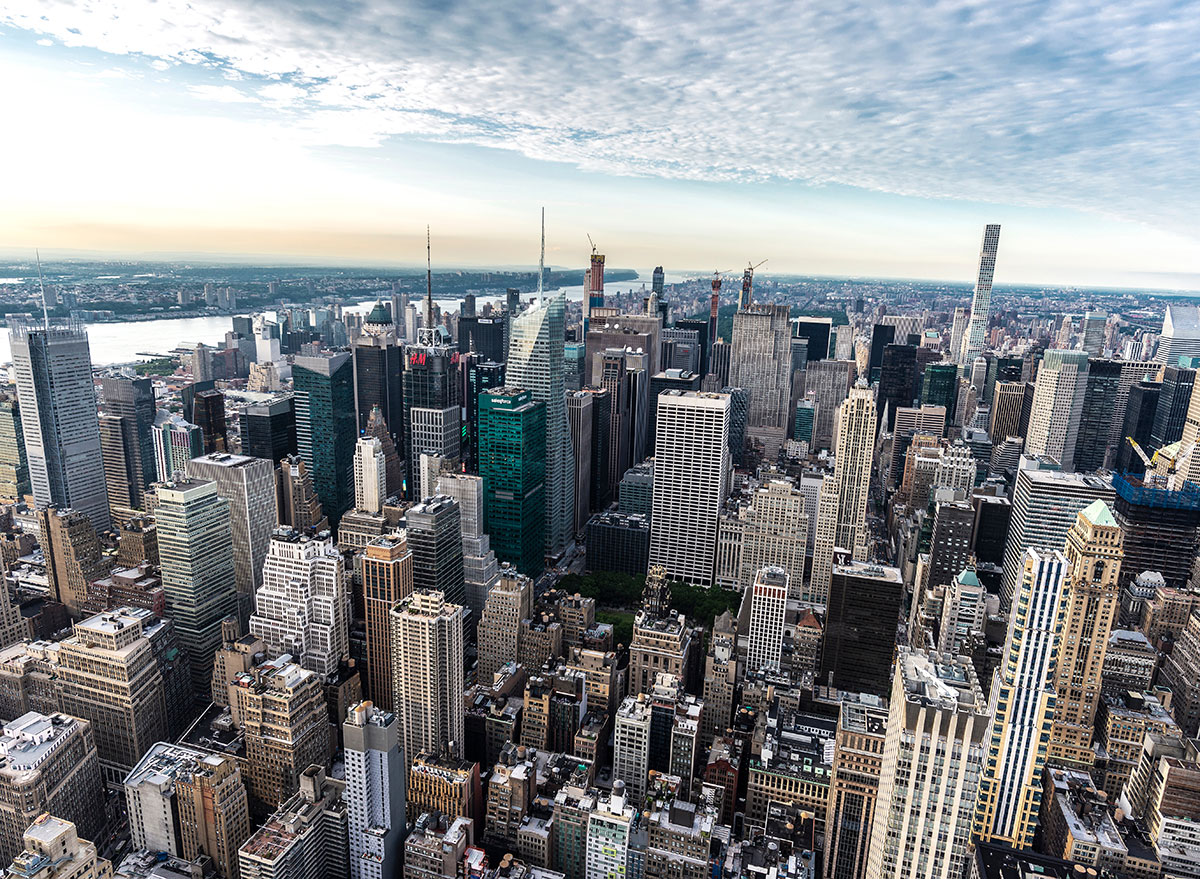 The chain started off in New England, so it's fitting that it has a devoted following in the area. New Yorkers, however, don't like to play second fiddle. There are more than 600 stores in NYC alone!
Each country has its own donut.
We're not saying noshing on a donut is a reason to travel. But if you fancy yourself a true connoisseur, make note of the fact that Dunkin' crafts a special donut that reflects the local cuisine and culture for each country it's in. That includes options like a donut topped with shredded pork in China and a red bean donut in South Korea.
Dunkin' is America's favorite chain coffee.
A Harris Poll survey of more than 45,000 respondents found that consumers favor Dunkin' over other chains like Starbucks. Taking "Donuts" out of its name was definitely a smart move for the brand—the coffee is what puts the chain on the map these days.
There's a way you can skip the line.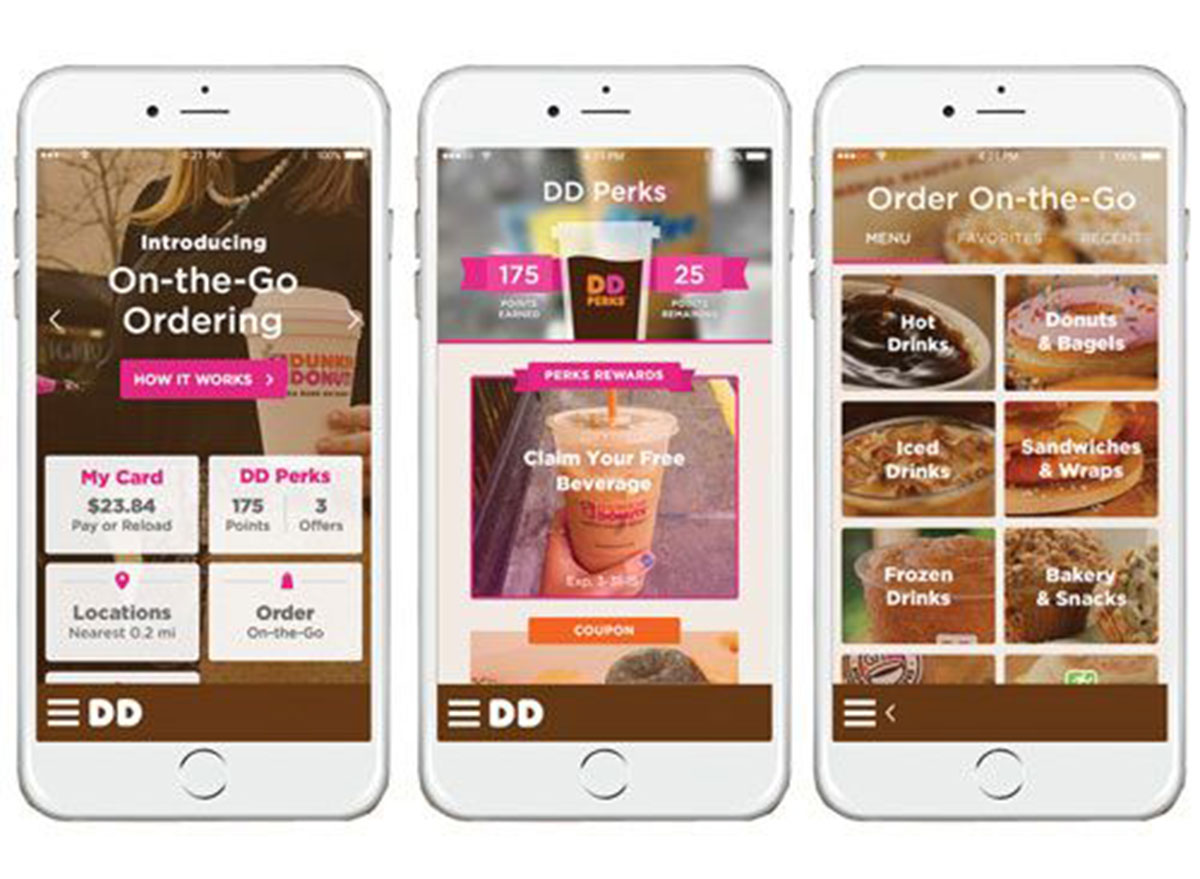 Dunkin' may have been a little late to the game, but hey, better late than never. In late 2016, the chain launched an on-the-go app that allows customers to access coupons, order, pay in advance, and skip lines in stores.
Called DD Perks, the Dunkin' rewards app program gives you five points for every dollar you spend. Every 200 points will get you a reward coupon for a free beverage. You also get a coupon for a free, any-size beverage when you enroll in the program and on your birthday.
Not sure what to order? Here are the Healthy Breakfasts Nutritionists Order at Dunkin Donuts.
A DD black card does exist.
There's an exclusive donut club, and it's mysteriously hard to get into. "The Dunkin' Black Card has been around for several years, gifted on occasion to select fans in appreciation for their loyalty and passion for the brand," Lindsay Cronin, a public relations senior manager at Dunkin' Brands, told Business Insider. Celebrities and loyal fans alike have been gifted the card, but Dunkin' hands them out at its discretion. As for the perks? Apparently, not much. Cronin explained, "The Dunkin' Donuts Black Card is not any kind of formal program, but rather a personalized, rechargeable gift card that Dunkin' Donuts occasionally sends to guests as a token of appreciation."
You can enjoy Dunkin' coffee at home.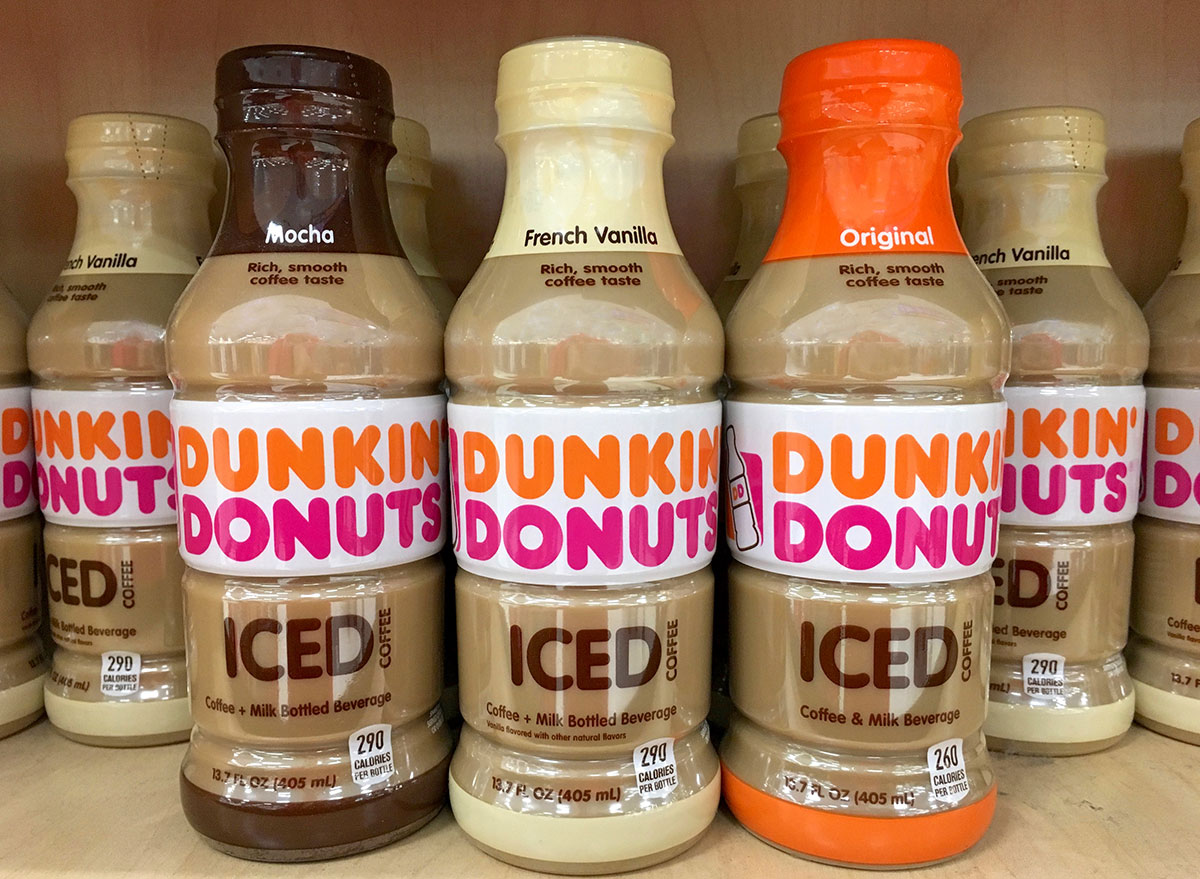 Products range from DIY Cold Brew Coffee Packs to bottled iced coffee to K-cups to the beans themselves. Just check your local grocery store and stock up on your favorites—no more waiting in line at Dunkin' in the morning!
Dunkin' delivers in certain places.
If you don't want to leave home to get coffee, in certain states you can order DD right to your front door. You can download the Doordash mobile app and order delivery (there's an estimated delivery time of about 45 minutes). The service is available in certain cities and towns in states like Massachusetts, Florida, New York, and New Jersey, among others.
Everything on the menu is made to be customized.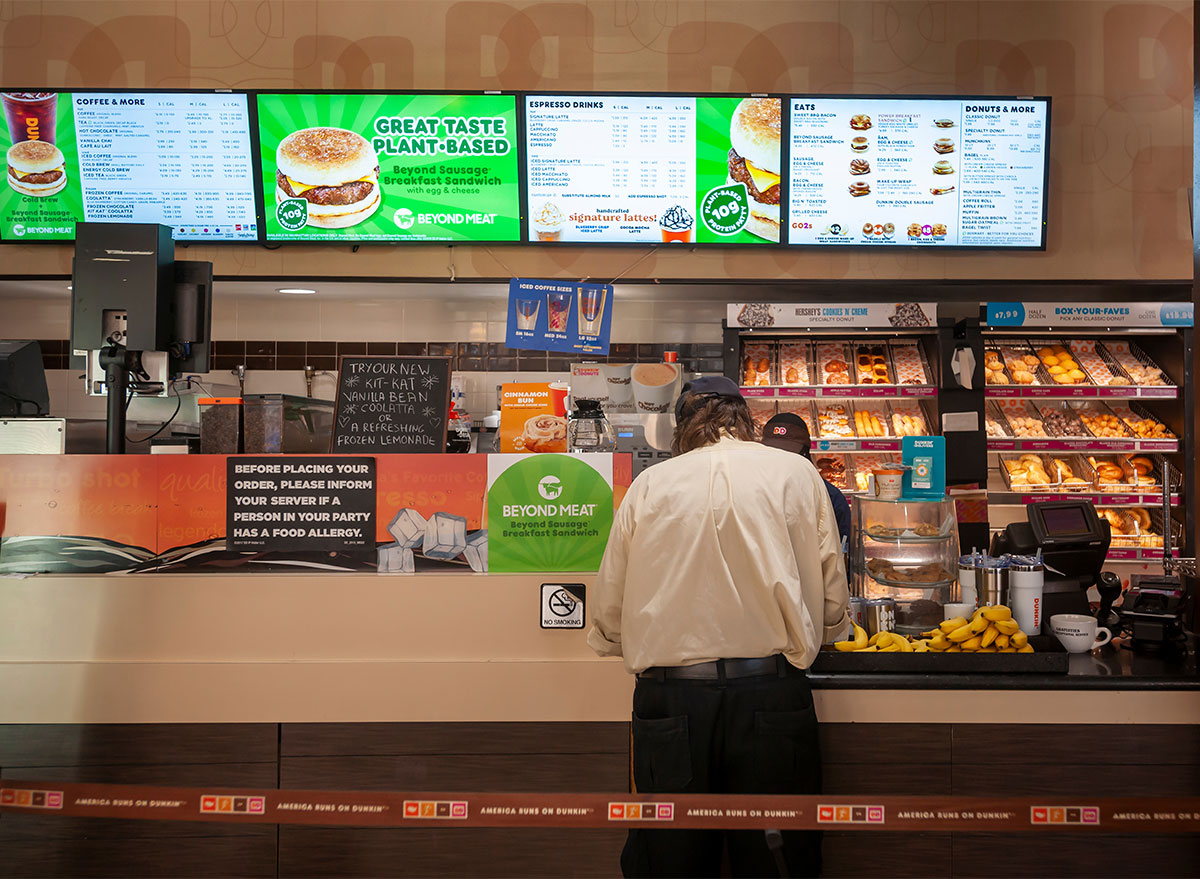 Believe it or not, but nearly everything on Dunkin's menu is customizable based on your preferences. You can choose the type of bread (for example, you can opt for a croissant or bagel instead of an English muffin), the sandwich additions (like eggs, cheese, or bacon), and the Flavor Swirls, which are pre-sweetened, or Flavor Shots, which are unsweetened and sugar-free.
Dunkin' serves cold brew.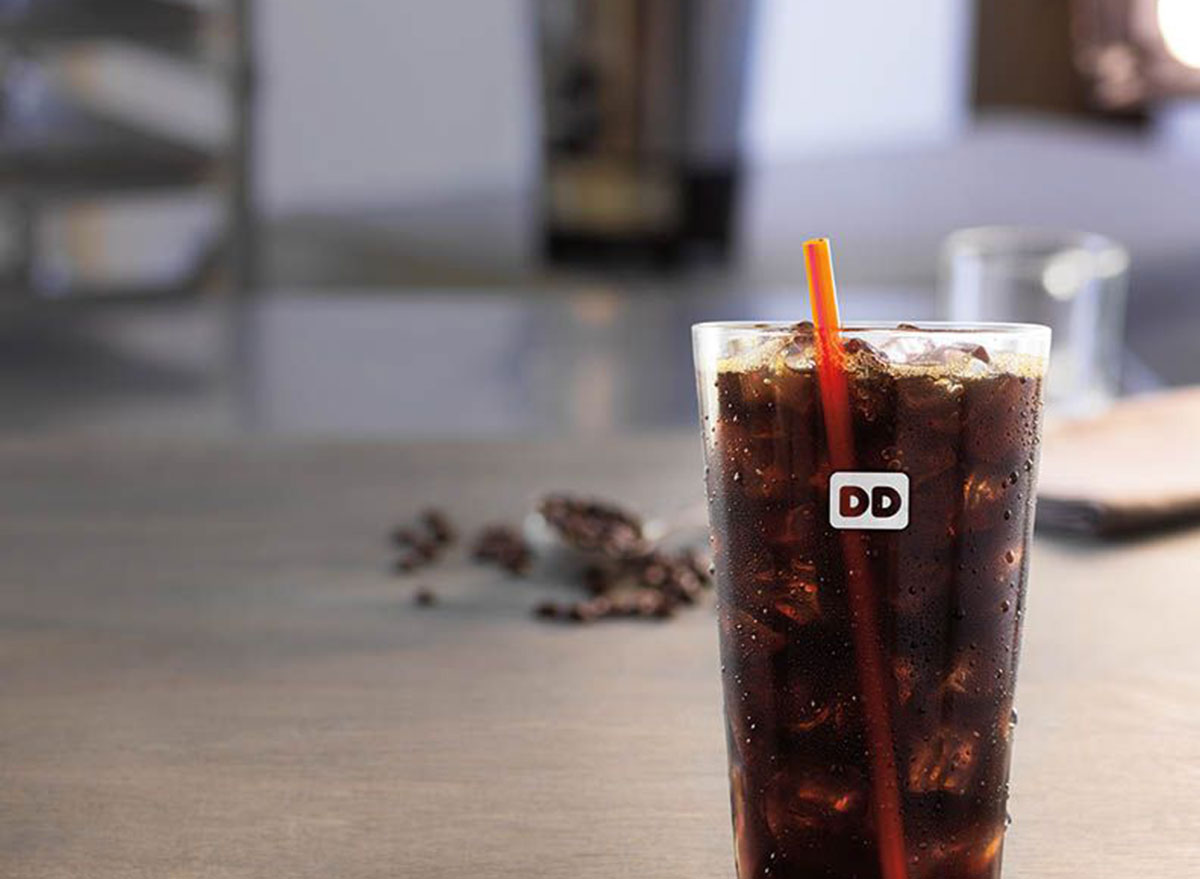 Dunkin' finally jumped on the cold brew trend with its offering of this smooth, velvety beverage. Dunkin' steeps 100% Arabica beans in cold water for 12 hours to slowly extract all the flavor into this velvety brew.
Now that you know some of these Dunkin' facts, we won't blame you if you're planning your next coffee run. Or your next international vacation—no judgment.