The Best Desserts to Serve on Christmas
If you're looking to impress this holiday season, these easy-to-make sweet treats are it.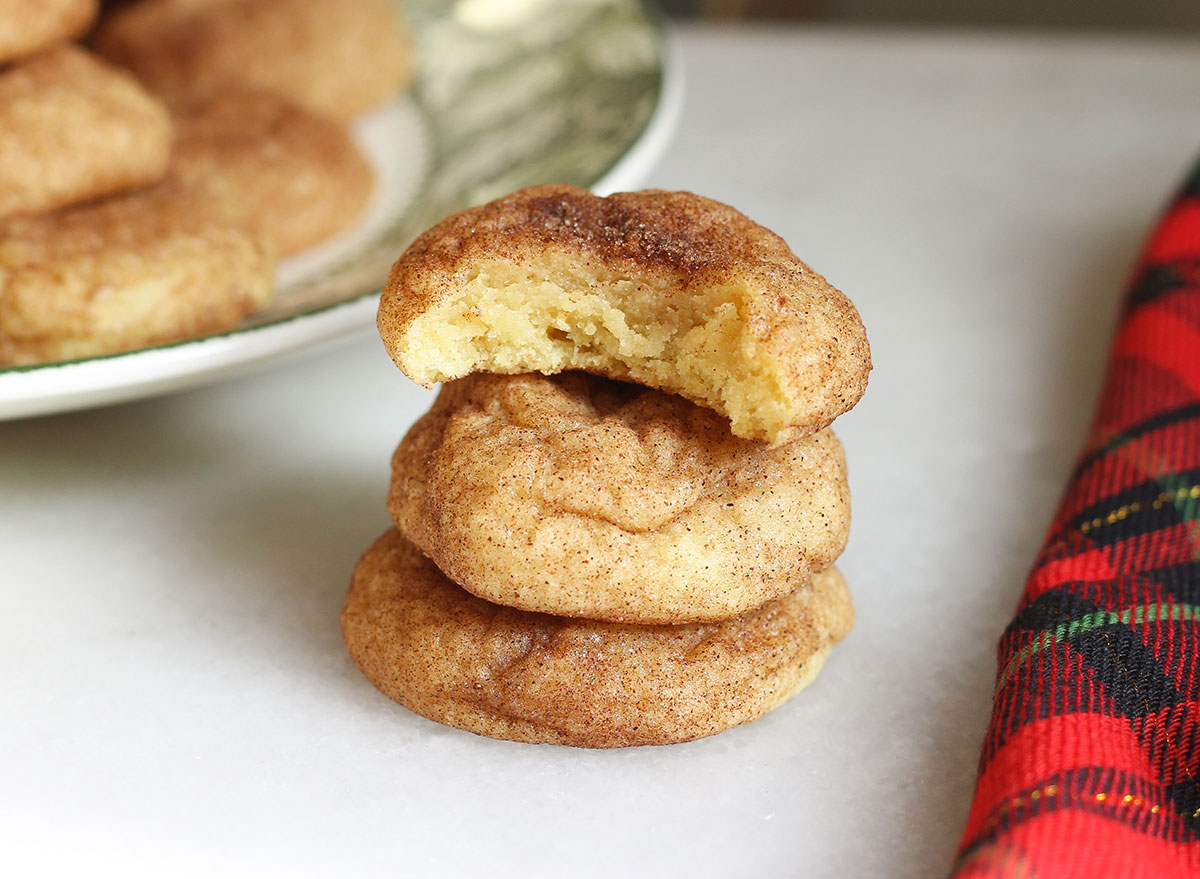 It's safe to say we're not all brilliant bakers who know the ins and outs of the kitchen. But that doesn't mean you don't get to indulge in the fun and deliciousness that is Christmastime baking! Even if you're no pro at whipping meringue or carefully laying phyllo dough, there is still an easy Christmas dessert recipe out there for you.
If you're looking for the easiest Christmas desserts—the fewer ingredients and the less work and effort, the better!—then you will love these dessert recipes so foolproof, even the most baking-averse person could make them. From cake made in the microwave or pressure cooker to cookies with five or fewer ingredients, you can be a mess in the kitchen but still impress your family with what comes out of the oven. And for more holiday dishes, check out The Best Christmas Recipe in Every State.
Grab a cup of pecan halves, some cocoa powder, ground cinnamon, and sugar, and you're ready to go. Cocoa pecans just taste like Christmas. And with essentially only three steps (heating the butter and spices, stirring in the nuts, then baking until fragrant and warm), this is about as easy as a Christmas dessert gets.
Get our recipe for Cocoa Pecans.
Poached Pears with Spiced Sauce
Poached pears? Spicy sauce? If this sounds too complex, you're about to be pleasantly surprised. The pears themselves only require four ingredients, and the sauce consists of bittersweet chocolate and dashes of ground cinnamon, nutmeg, ground allspice, and ground clove.
Get our recipe for Poached Pears with Spiced Sauce.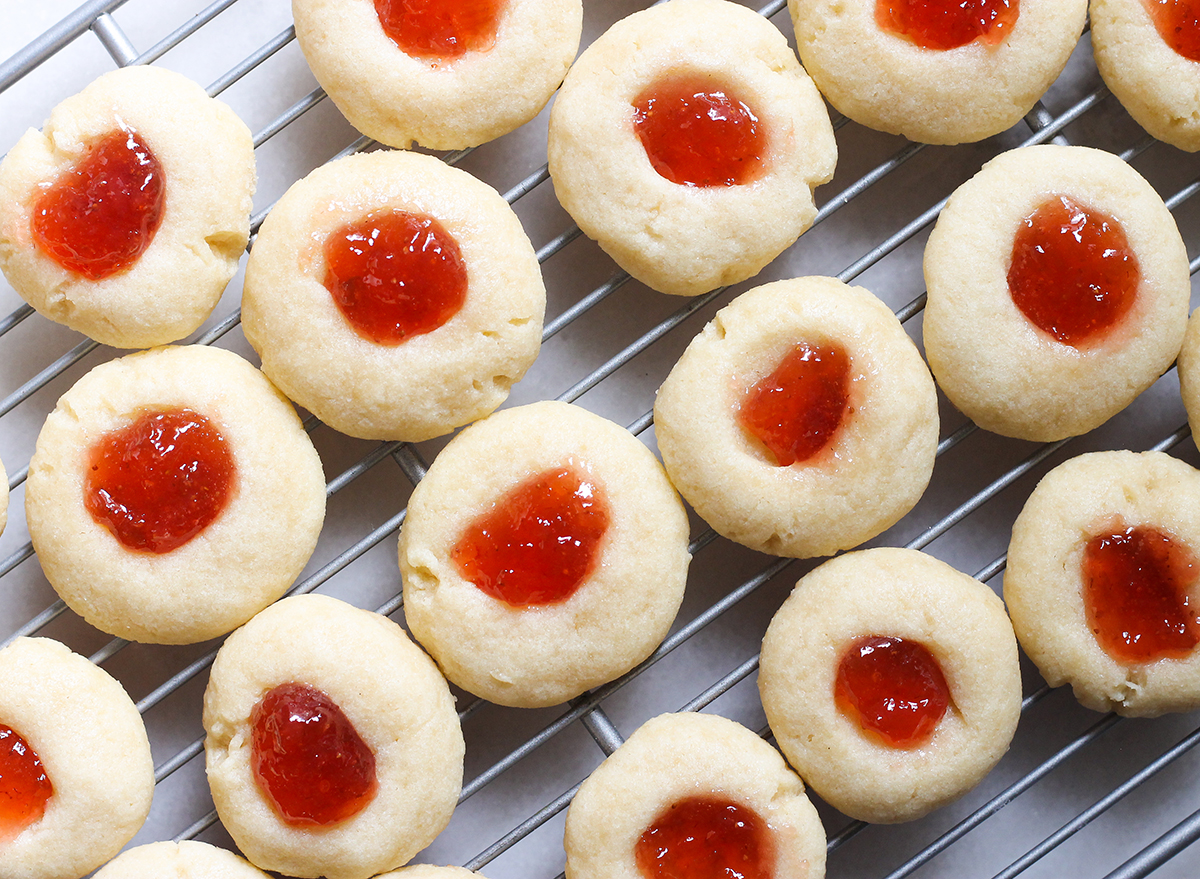 With the lucky number of only seven ingredients, these jelly thumbprints look way more complicated than they are. Of course, you'll need to make and chill the dough for a few hours before you can begin the next steps, but you can use that time to watch a Hallmark Christmas movie. After the couple ends up together and Santa is proven to be real, hop back in the kitchen and get to baking!
Get our recipe for Jelly Thumbprint Cookies.
And for more Christmas desserts, see the 17 Best Christmas Cookies to Leave Out for Santa.
Pressure Cooker Molten Lava Chocolate-Cherry Cake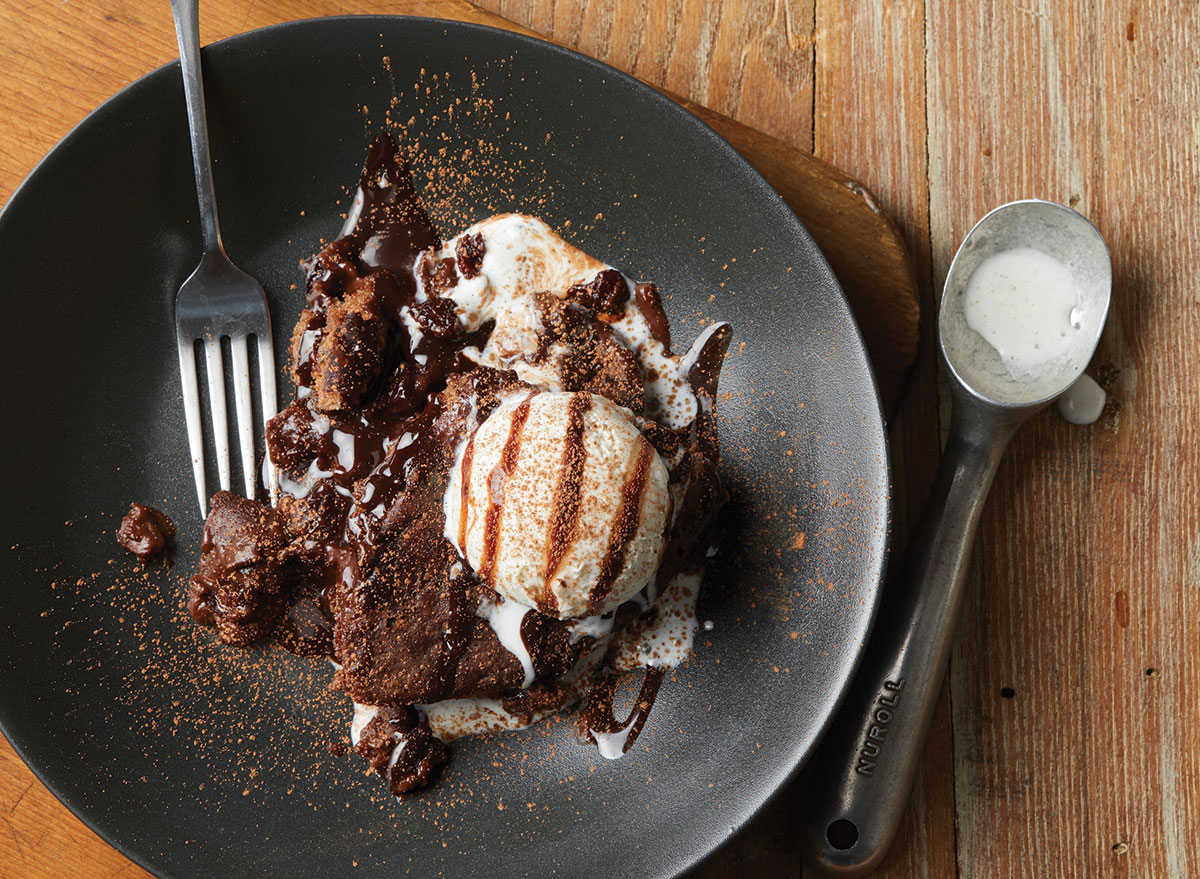 If your mouth is watering just from reading the title of the sweet treat, this is the recipe for you. Now, don't chicken out when you see how many ingredients there are. You'll need a handful of ingredients, but once the batter is made, it's going right in the pressure cooker. That way, the pressure cooker does the bulk of the work and you can relax with a holiday cocktail while it cooks.
Get our recipe for Pressure Cooker Molten Lava Chocolate-Cherry Cake.
Easy Apple-Cranberry Crisp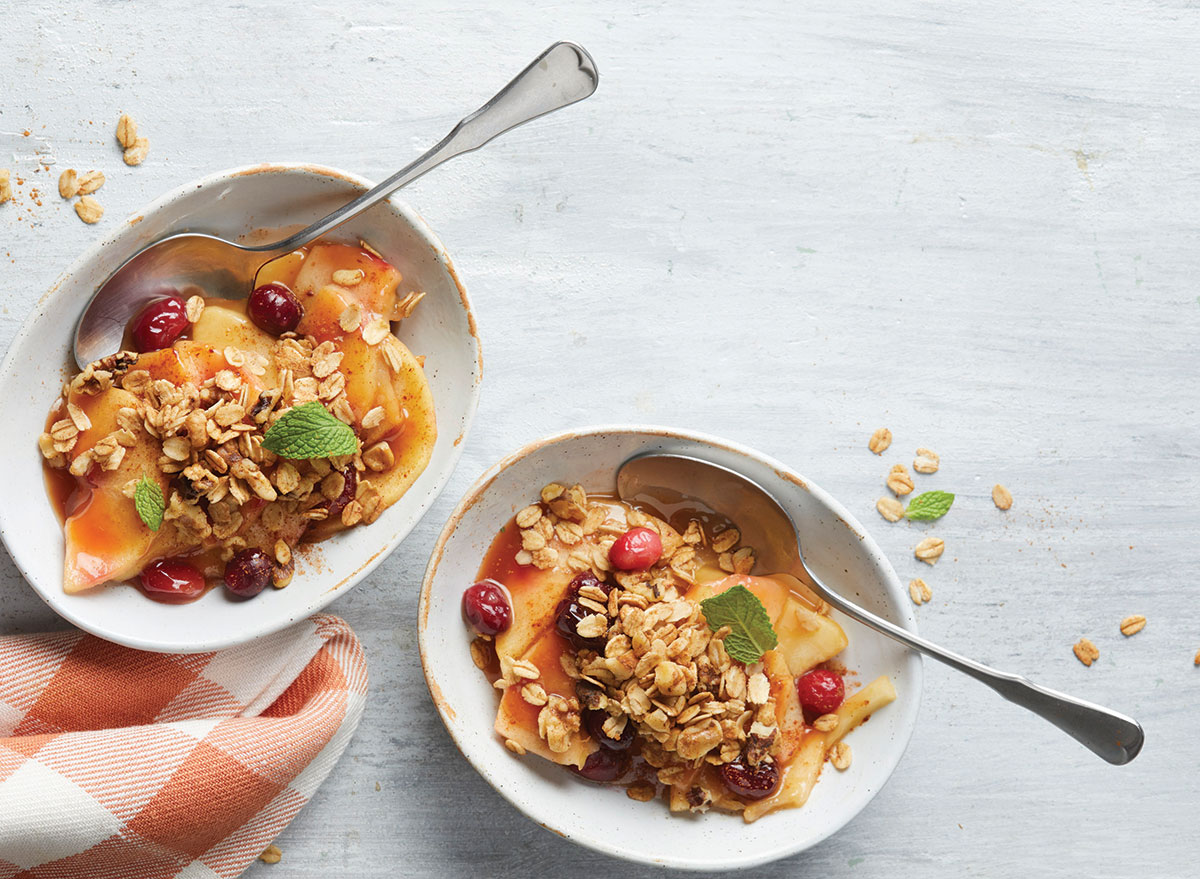 Walnuts, ground cinnamon, cranberries, brown sugar—it's Christmas if Christmas was a cake! A few unexpected ingredients—like orange juice—really take this recipe over the edge. Yum! The best way to enjoy this Apple-Cranberry Crisp is by the fireplace, and maybe with a dollop of vanilla ice cream on top.
Get our recipe for Easy Apple-Cranberry Crisp.
Dark Chocolate Dipped Bananas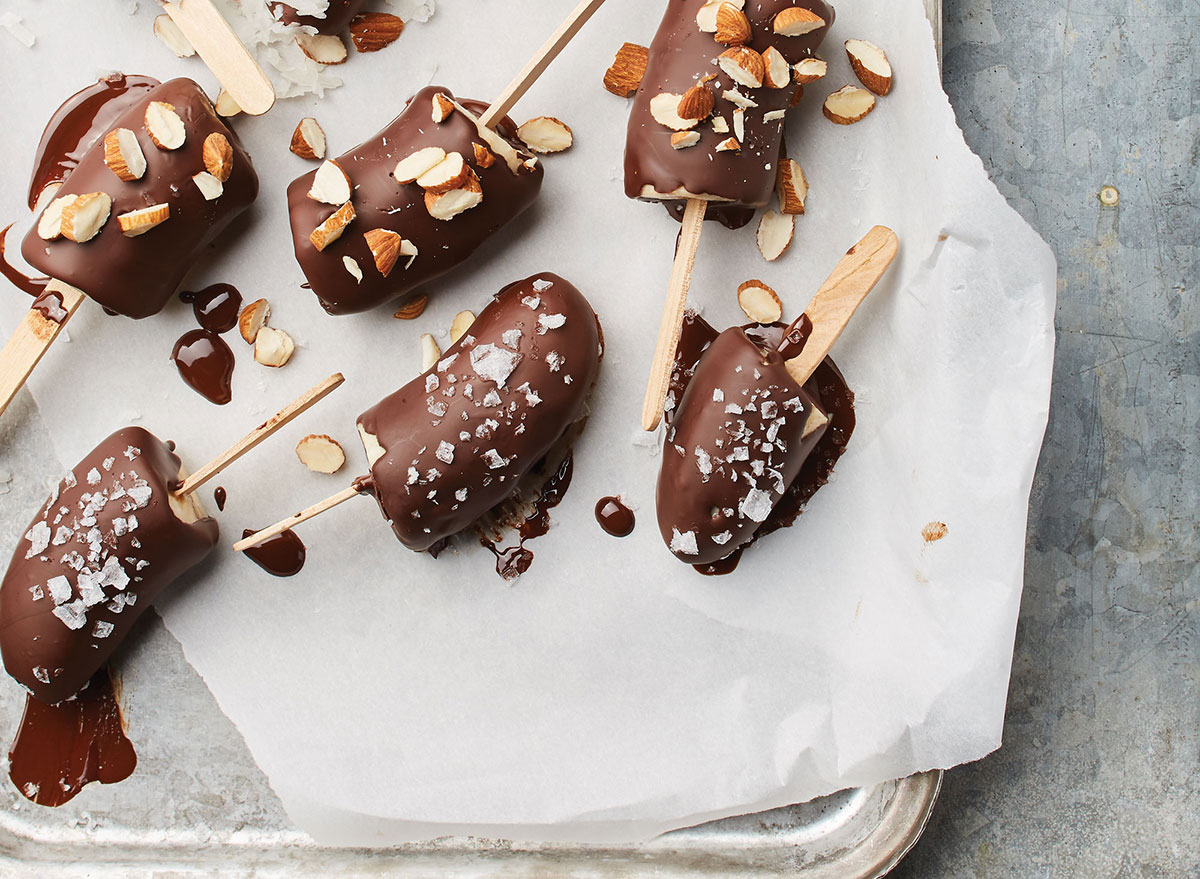 Bananas might not exactly scream, "the holidays" to you, but remember, we've got to keep things simple for amateur cooks. Luckily, dipping banana slices in dark chocolate takes pretty much little to no kitchen skills. So even if you're not the best dipper, these glorified banana kebabs (topped with shredded coconut, almonds, and sea salt) will come out tasting delicious no matter what.
Get our recipe for Dark Chocolate Dipped Bananas.6254a4d1642c605c54bf1cab17d50f1e
Coffee Chocolate Meringues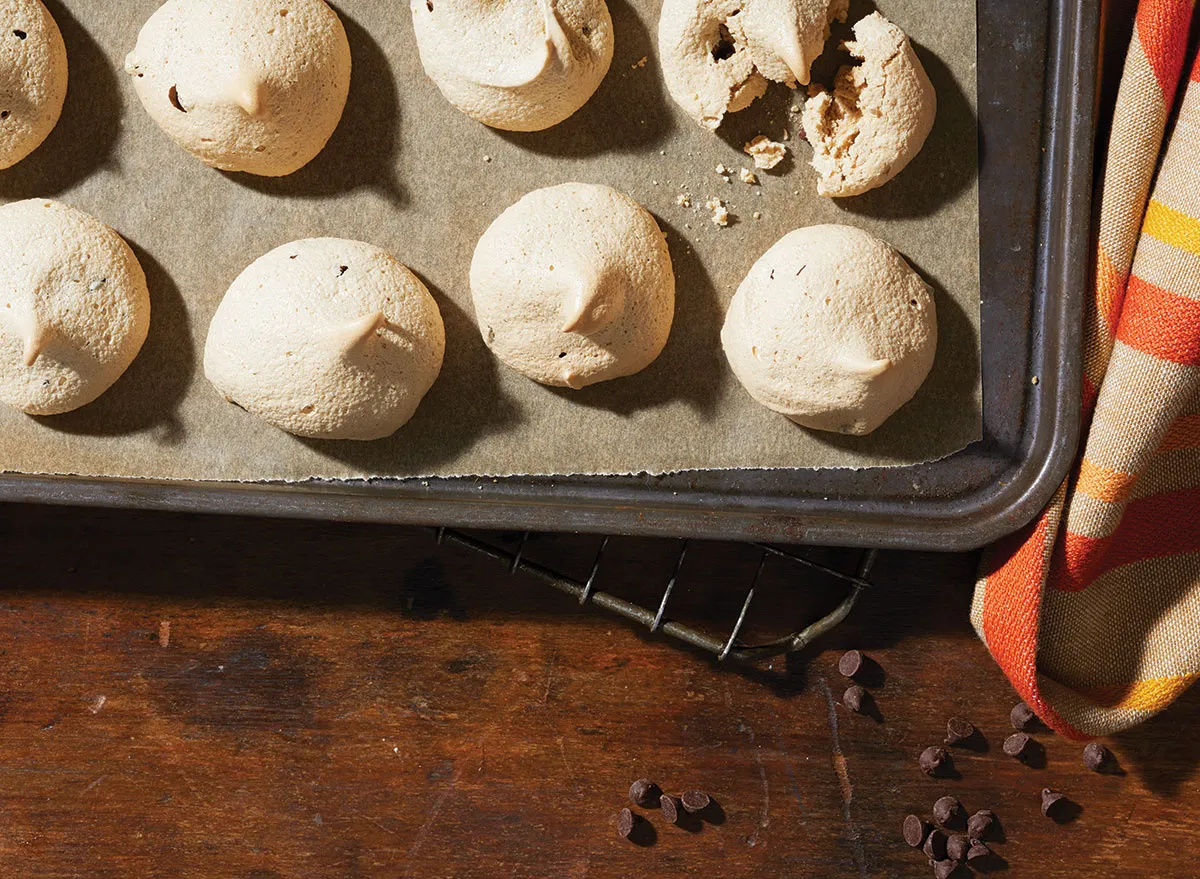 Meringue is usually not for the faint of heart, but this recipe is pretty foolproof. With just six ingredients, it's all in the whipping. If you can handle grilling the steaks come summertime, then it's a safe bet that you can learn to whip meringue to perfection.
Get our recipe for Coffee Chocolate Meringues.
Dark Chocolate-Covered Almond Clusters with Coconut-Matcha Sprinkle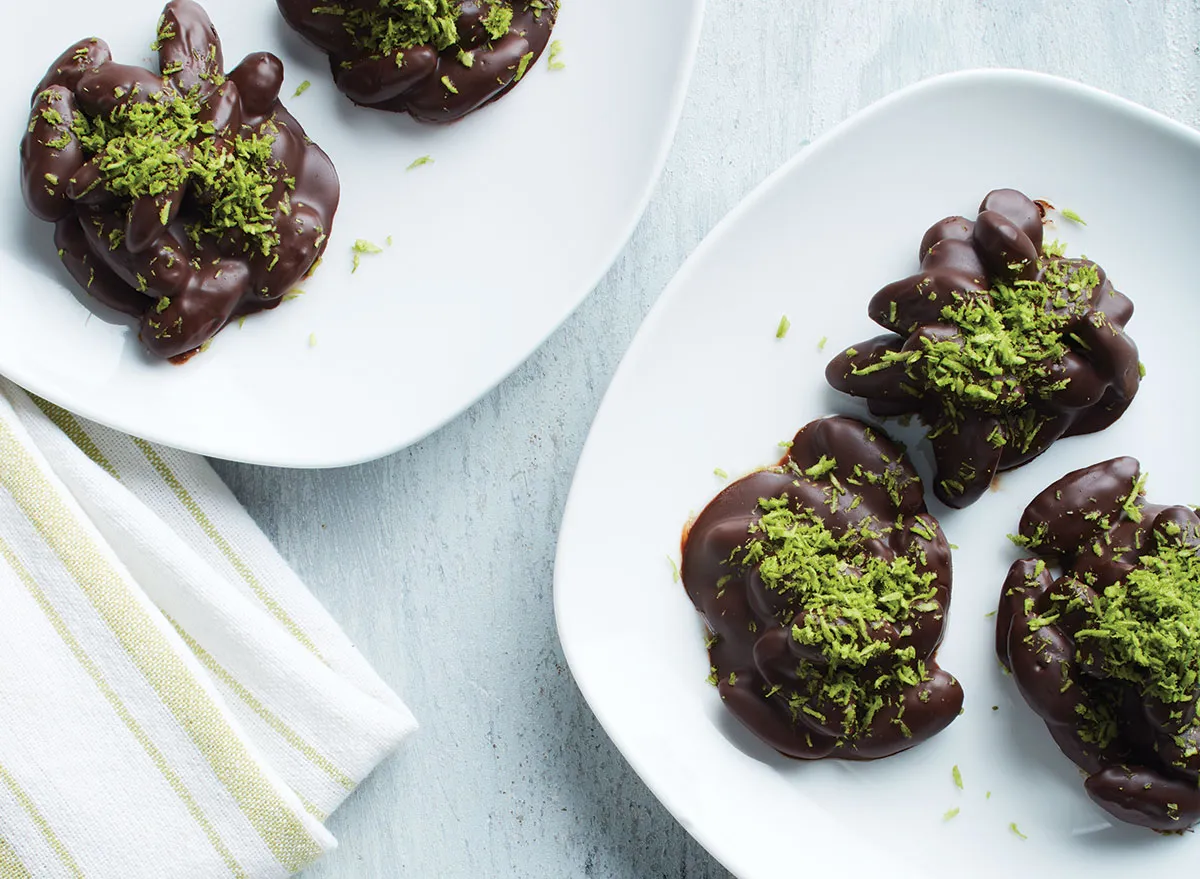 That title may sound like a lot of ingredients, but really, it's only because every single ingredient is part of its name. Five ingredients—dark chocolate, coconut oil, almonds, shredded coconut, and matcha powder—make for a decadent yet surprisingly healthy dessert that will have everyone in the family coming back for seconds and thirds.
Get our recipe for Dark Chocolate-Covered Almond Clusters with Coconut-Matcha Sprinkle.
Peanut Butter Blossoms Cookies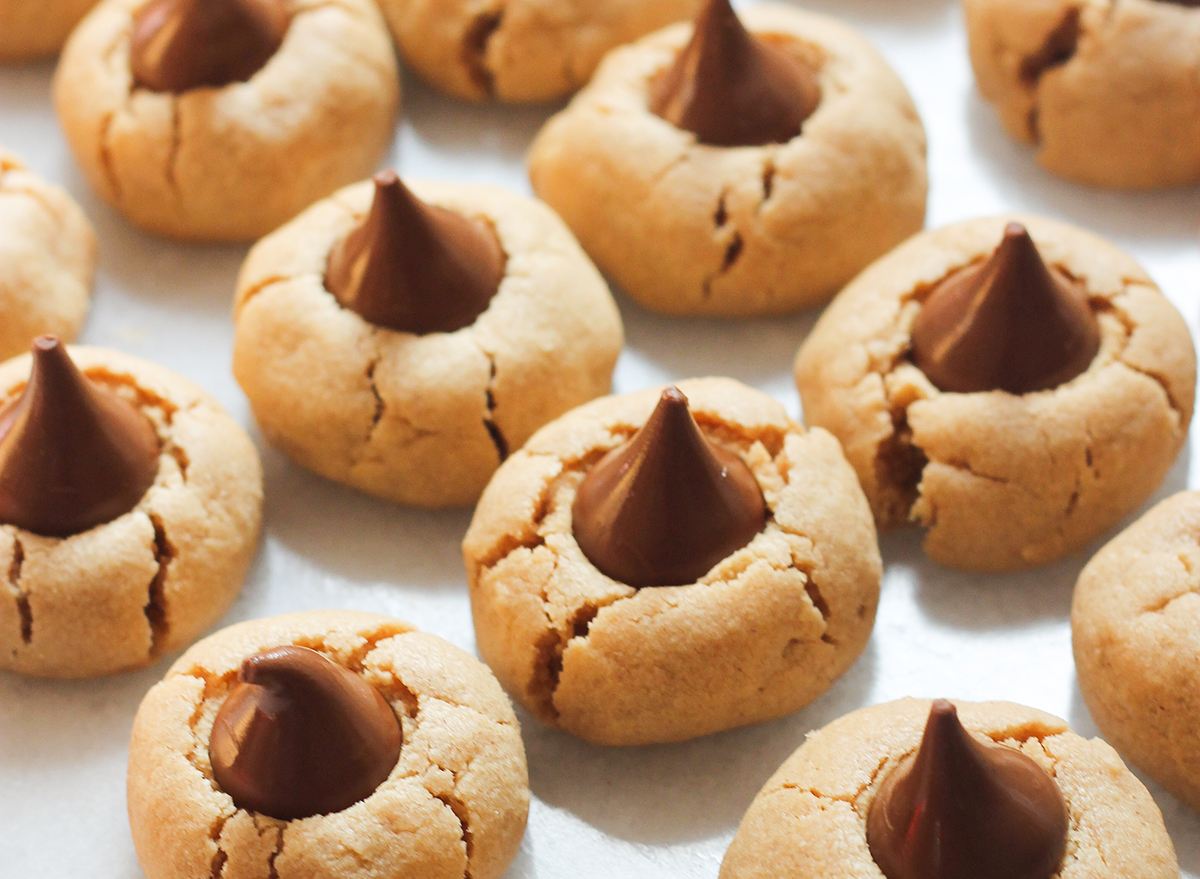 You won't be wanting to share these Peanut Butter Blossoms Cookies with Santa come Christmas Eve. They are that good. Peanut butter and chocolate were made to go together, especially when it comes to cookies. You can have the little ones help you press the chocolate down into the cookies, too!
Get our recipe for Peanut Butter Blossoms Cookies.
And to ensure your cookies are the best they can be, check out The 30 Worst Mistakes You're Making When Baking Cookies so you know what not to do.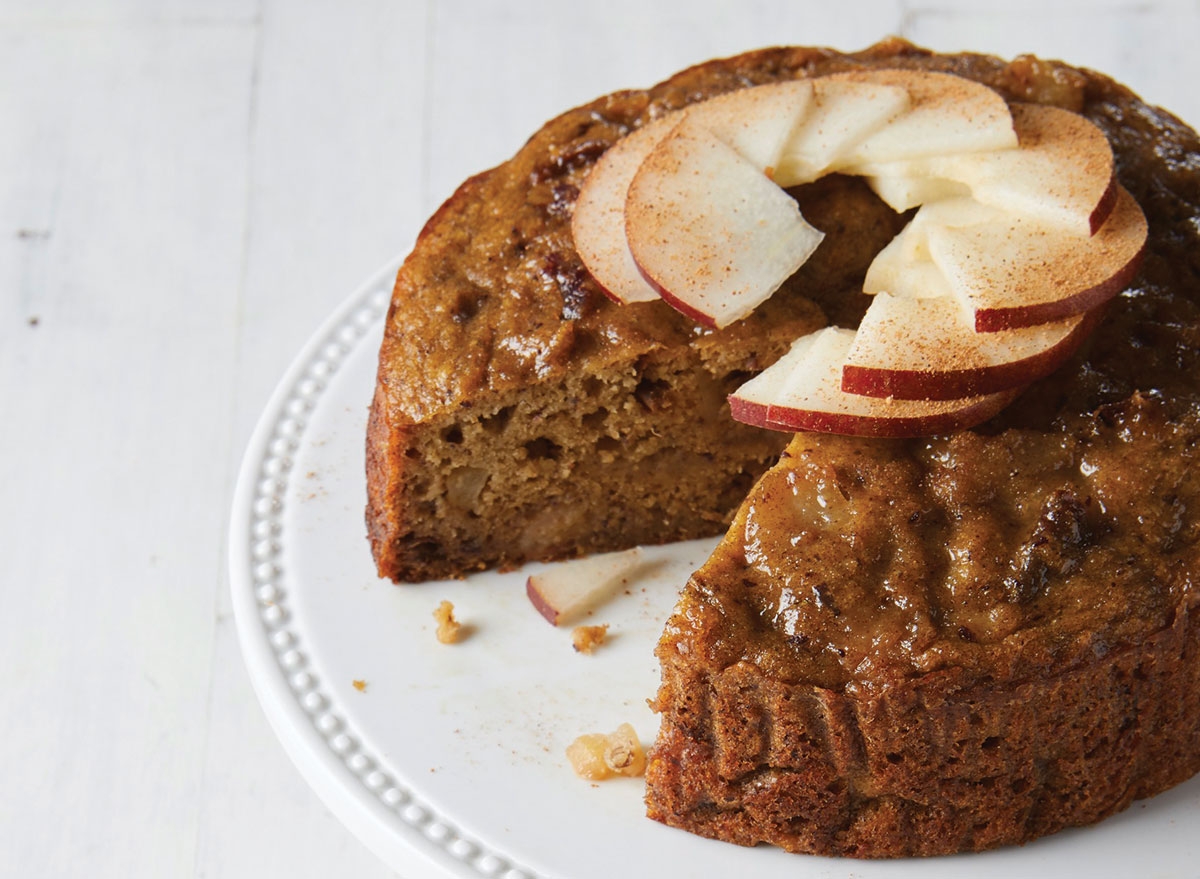 You may not think of dates as a particularly dessert-like ingredient, but this Sticky Toffee Date Cake is the ideal complement to an after-dinner coffee. Not to mention, one serving is less than 250 calories, so it's great if you want a light sweet treat after the holiday meal is over.
Get our recipe for Sticky Toffee Date Cake.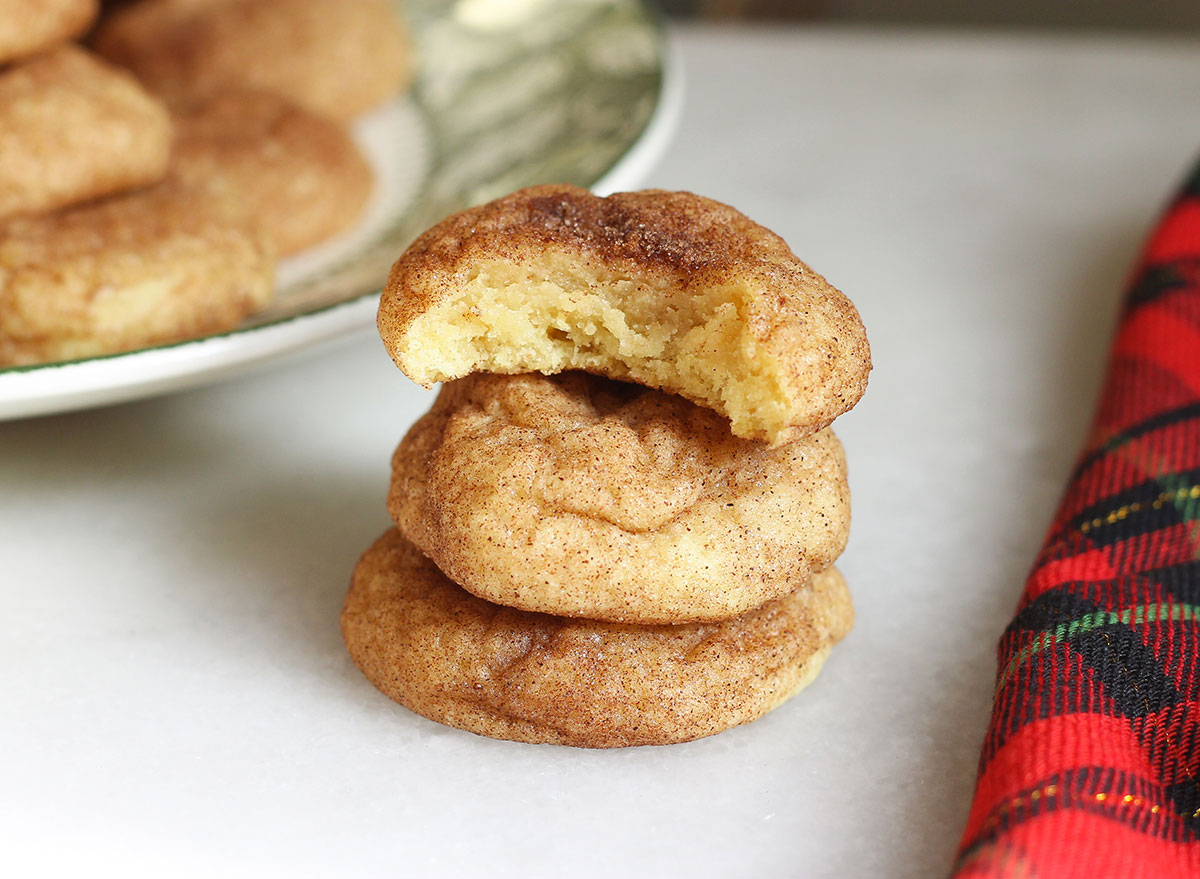 Snickerdoodles are the best of both worlds: absolutely delicious and super easy to make. They're so easy to make that they're often one of the first recipes taught in Home Economics classes! If middle schoolers can do it, then you can, too. Soft and pillowy, these cinnamon-sugar cookies are to die for, and they pair perfectly with a dessert tea or cappuccino.
Get our recipe for Snickerdoodle Cookies.
On the twelfth day of Christmas, my true love gave to me: the easiest sugar cookie recipe in the world! Sugar cookies are what the holidays are all about: bringing family members together for fun, interactive moments you'll all cherish. Not only will you get some much-needed family time while preparing the batter, but whipping out the icing and sprinkles for decorating will also give you even more quality family time.
Get our recipe for The Best Sugar Cookies.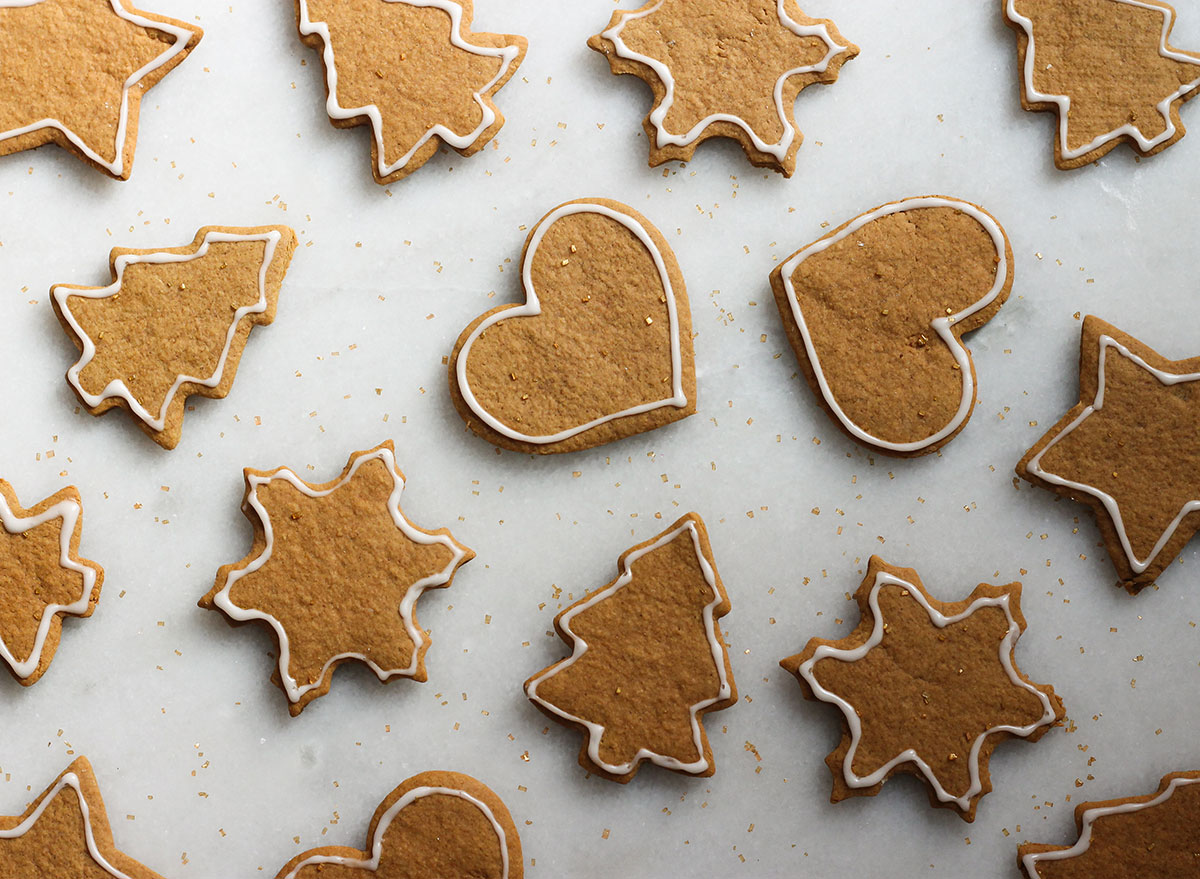 Now, it wouldn't be Christmastime without some form of gingerbread. Whether you make it into a house or into a batch of ready-to-be-decorated cookies, gingerbread is best made when blasting Mariah Carey's "All I Want For Christmas Is You." You'll need a few handy-dandy kitchen tools, like a rolling pin and cookie cutters, but it's nothing you can't handle.
Get our recipe for Gingerbread Cookies.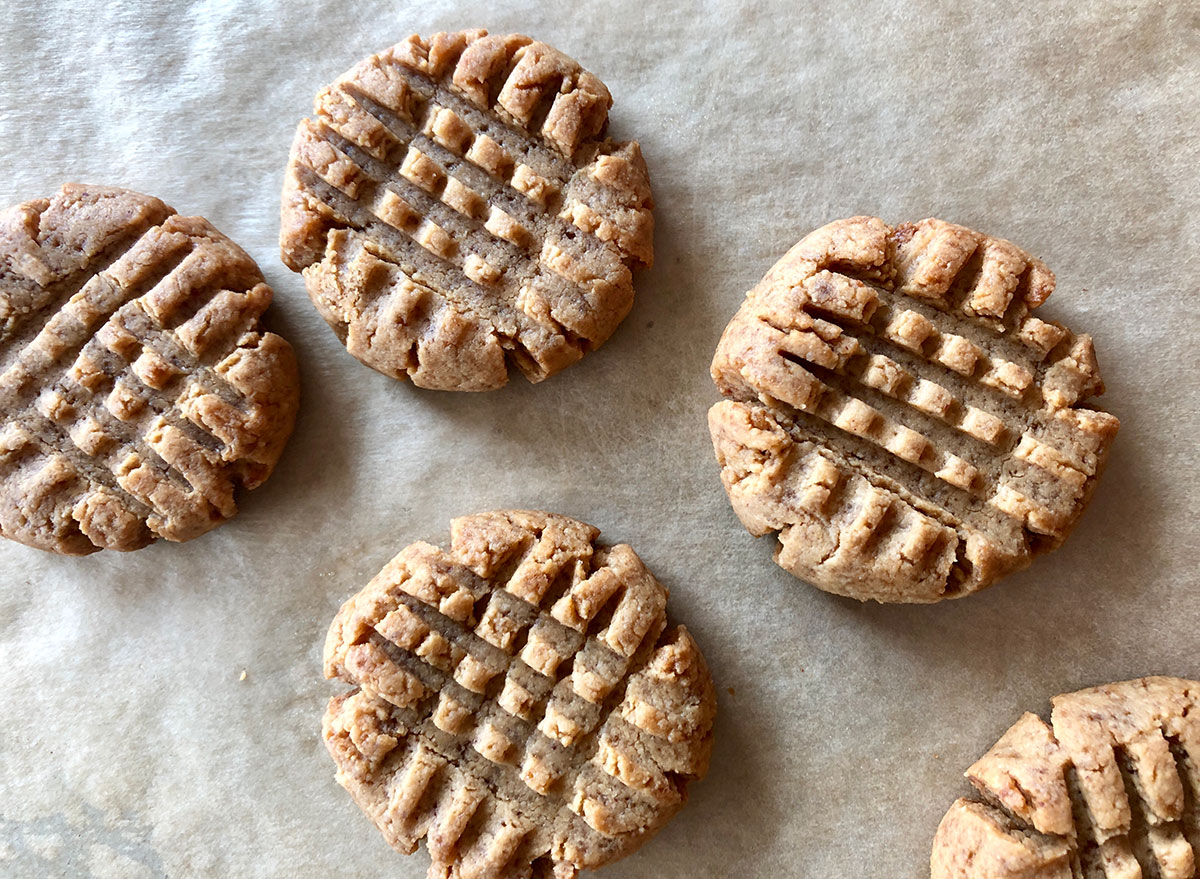 Craving PB cookies but without the calories and carbs? Say no more—there's a delicious keto-friendly alternative that only requires five simple ingredients. (PS: Yes, they're delicious even if you're not on the keto diet.) Personalize your recipe to your preference by choosing either smooth or chunky PB!
Get our recipe for Peanut Butter Cookies.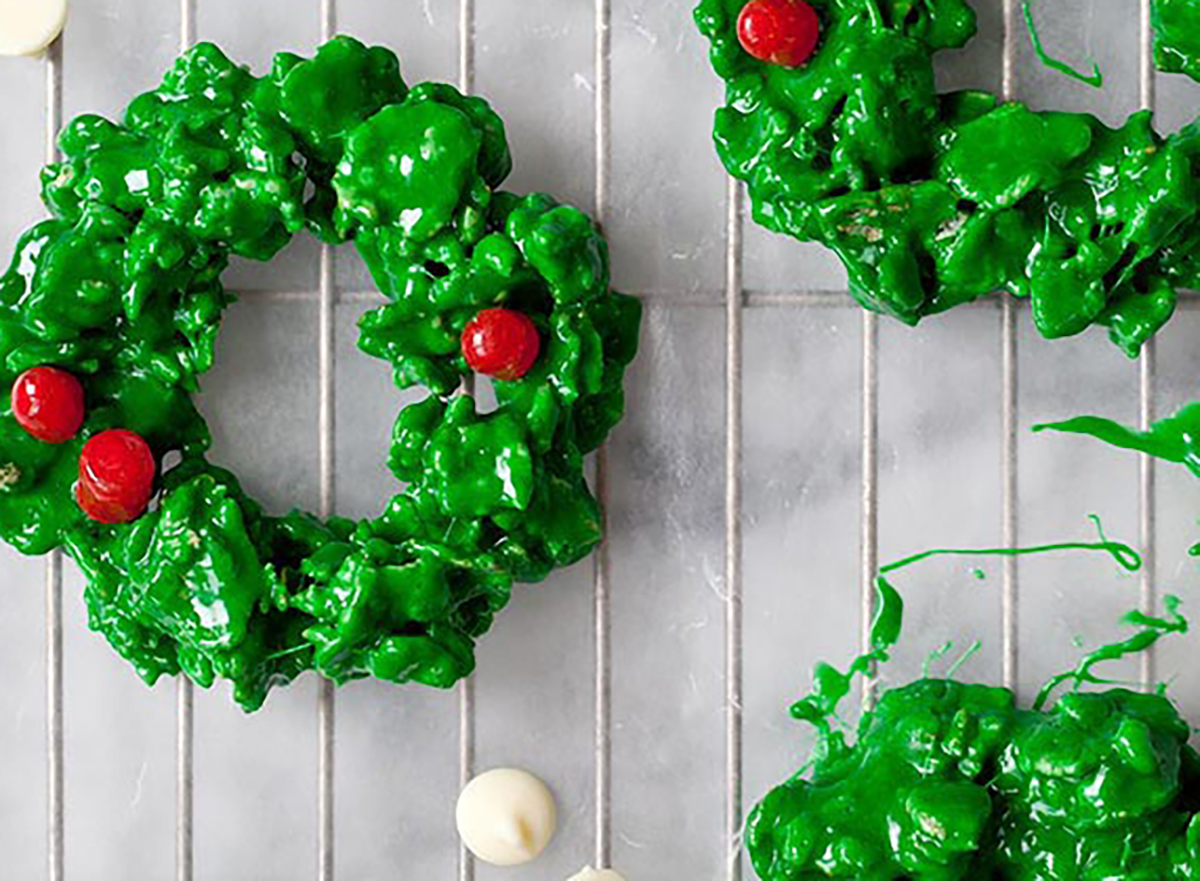 Why decorate with Christmas wreaths when you can eat them? These cookies use mini marshmallows, chocolate chips, peppermint, and red decorative candies—Red Hot Tamales or red sprinkles should work just fine—to recreate the beautiful wreath hanging on your front door. Everyone will agree they look amazing and taste good, too.
Get the recipe from Foodie Crush.
Does it get any more foolproof than using premade cereal? Mix Cheerios, Rice Chex, Wheat Chex, Corn Chex—or, hey, feel free to personalize the mix with your favorite cereal—with pretzel sticks, M&Ms, and white chocolate. Bam: a deliciously, chocolatey Chex Mix fit for Buddy the Elf himself.
Get the recipe from What's Gaby Cooking.
Dark Chocolate Covered Candied Orange Slices
Who says oranges are only for the summertime? There's something about dipping citrus in dark chocolate that lends itself to the holiday season, too. Soak the slices in simple syrup, dry them out, then dip them in chocolate. It's so easy, your kids can help you with the dipping part.
Get the recipe from Craving Something Healthy.
And now that you have your easy holiday desserts taken care of, here are 50 Delicious Christmas Eve Dinners So Easy They'll Cook Themselves.