5 Easy Detox Meals for Faster Weight Loss
Eat clean, reduce inflammation, and keep calories low with these delicious recipes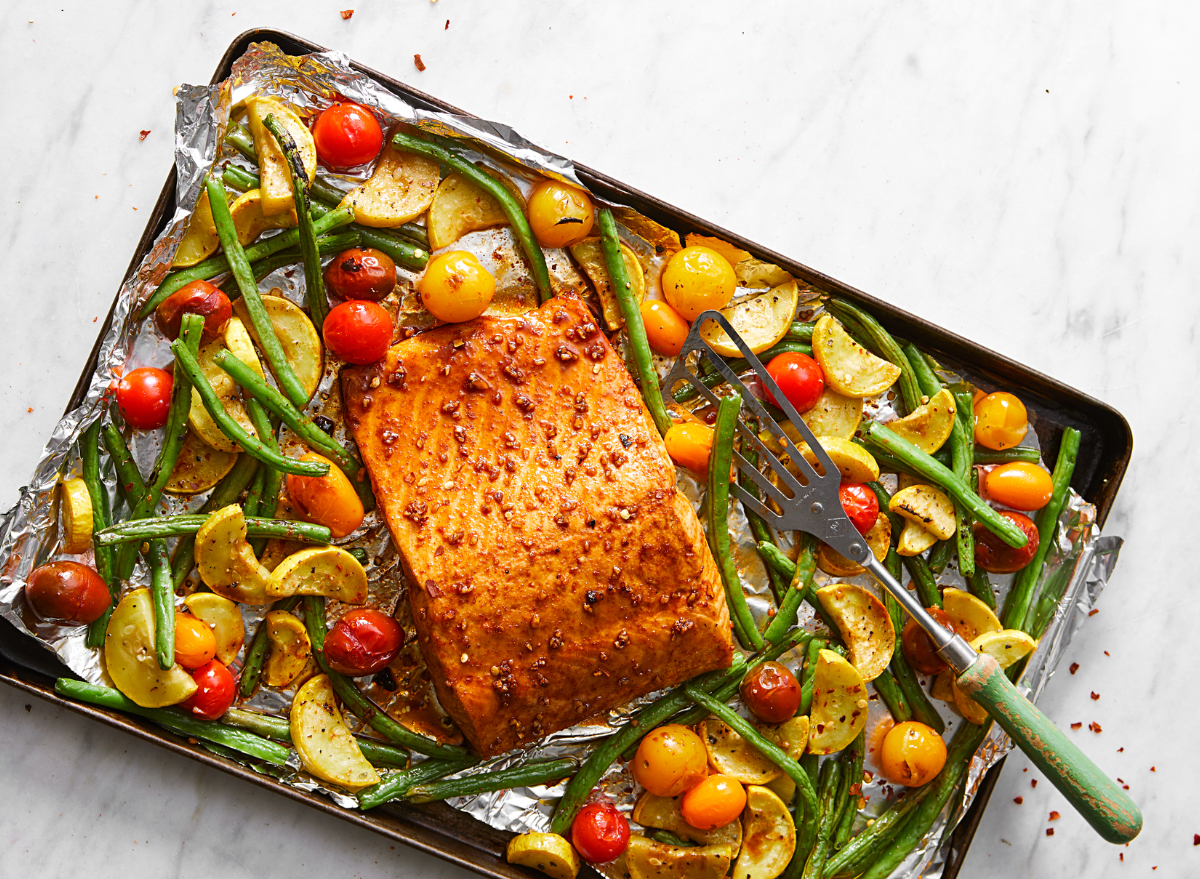 "Detox" is one of those buzzwords that grabs your attention especially after you've consumed too many salty snacks, deep-fried appetizers, and beers, or fill-in-the-blank with your favorite unhealthy meal. When you don't feel great after eating the less-than-healthy food you ate, you may wish you had something to detoxify your body and cleanse your conscience.
Fortunately, you don't have to rely on any specific food to remove the so-called "toxins" like preservatives, sugars, too much sodium, and saturated fats that you've welcomed into your body. Your organs do a fine job of detoxification naturally on their own.
But you can help your organs by adopting a diet rich in anti-inflammatory foods and antioxidants.
Unfortunately, eating one healthy meal filled with these foods after a particularly unhealthy meal is not the answer; however, eating a variety of these foods every day is.
Some types of anti-inflammatory foods are fresh fruits, vegetables, beans, and fish that combat the chronic low-grade inflammation caused by consuming fried and highly processed foods. Antioxidants are compounds like vitamins C, E, and beta-carotene found in colorful fruits and vegetables that counteract cell-damaging molecules called "free radicals." You'll find an abundance of all of these "detoxifying agents" in the recipes below.
Put these delicious meals on your regular menu rotation and kick start a habit of clean eating that'll build a stronger, leaner, healthier you. For more healthy, weight-loss-helping meals, check out 22 Meals to Melt Belly Fat in 2022.
Turkey and Two-Bean Chili
Turn your slow cooker into your weight-loss partner. On days when you are crunched for time, it takes 20 minutes or less to "prep and dump" anti-inflammatory ingredients like beans, peppers, mushrooms, and turkey breast into a slow cooker pot and, you know, set it and forget it until you come home from work. For an antioxidant booster, add a crisp green salad as a side dish.
Get the recipe for Turkey and Two Bean Chili.
Going meatless several times a week is a great way to reduce saturated fats and hormones from meat in your diet. The chickpeas and quinoa in this hearty and satisfying soup supply 8 grams of protein to satisfy your hunger and boost your metabolism by building muscle. This recipe makes six servings, enough to freeze and save for a quick lunch another day.
Get the recipe for Chickpea Quinoa Soup.
Mediterranean Cauliflower and Pepper Salad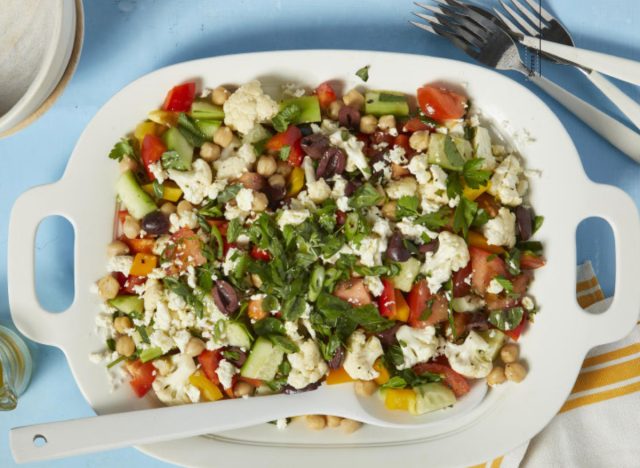 A salad can make a satisfying low-calorie meal if you use the right plant-based ingredients like protein-rich garbanzo beans and the satiating, heart-healthy fat from olive oil. The fresh herbs (as well as the vegetables) have anti-inflammatory properties and the cauliflower in part provides powerful antioxidants and phytonutrients that protect against disease and dietary fiber to feed the good bacteria in your gut, which plays a key role in reducing inflammation.
Get the recipe for Mediterranean Cauliflower and Pepper Salad.
Sweet and Spicy Glazed Salmon with Roasted Green Beans, Cherry Tomatoes, and Yellow Squash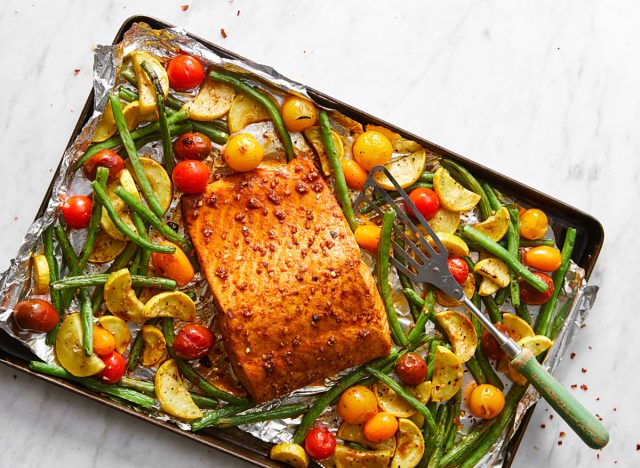 Unless you're talking about Froot Loops, in general the more colorful your meal, the more detoxifying nutrients it contains. That's why it's hard to beat this easy and quick to clean up sheet pan dinner full of greens, yellows, oranges, and reds. The lead protein here is salmon (choose wild-caught), which is a great source of the anti-inflammatory omega-3 fatty acids, DHA and EPA.
Get the recipe for Sweet and Spicy Glazed Salmon with Roasted Green Beans, Cherry Tomatoes, and Yellow Squash.
Juicy Asian Chicken and Saucy Slaw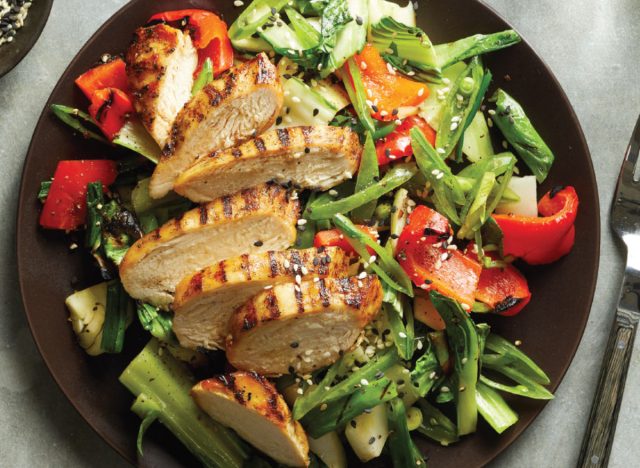 Instead of ordering Chinese takeout the next time you hunger for a flavorful Asian meal, use a grill pan to make quick work of chicken breast and crisp bell peppers and baby bok choi. Chinese American takeout tends to be very high in sodium and fat and therefore highly inflammatory. You can do better at home with clean, fresh, nutritious ingredients.6254a4d1642c605c54bf1cab17d50f1e
Get the recipe for Juicy Asian Chicken and Saucy Slaw.
Jeff Csatari
Jeff Csatari, a contributing writer for Eat This, Not That!, is responsible for editing Galvanized Media books and magazines and for advising journalism students through the Zinczenko New Media Center at Moravian University in Bethlehem, PA.
Read more about Jeff