10 Quick & Easy Keto Dessert Recipes That Are Delicious and Low-Carb
These low-carb keto-friendly desserts are truly delicious.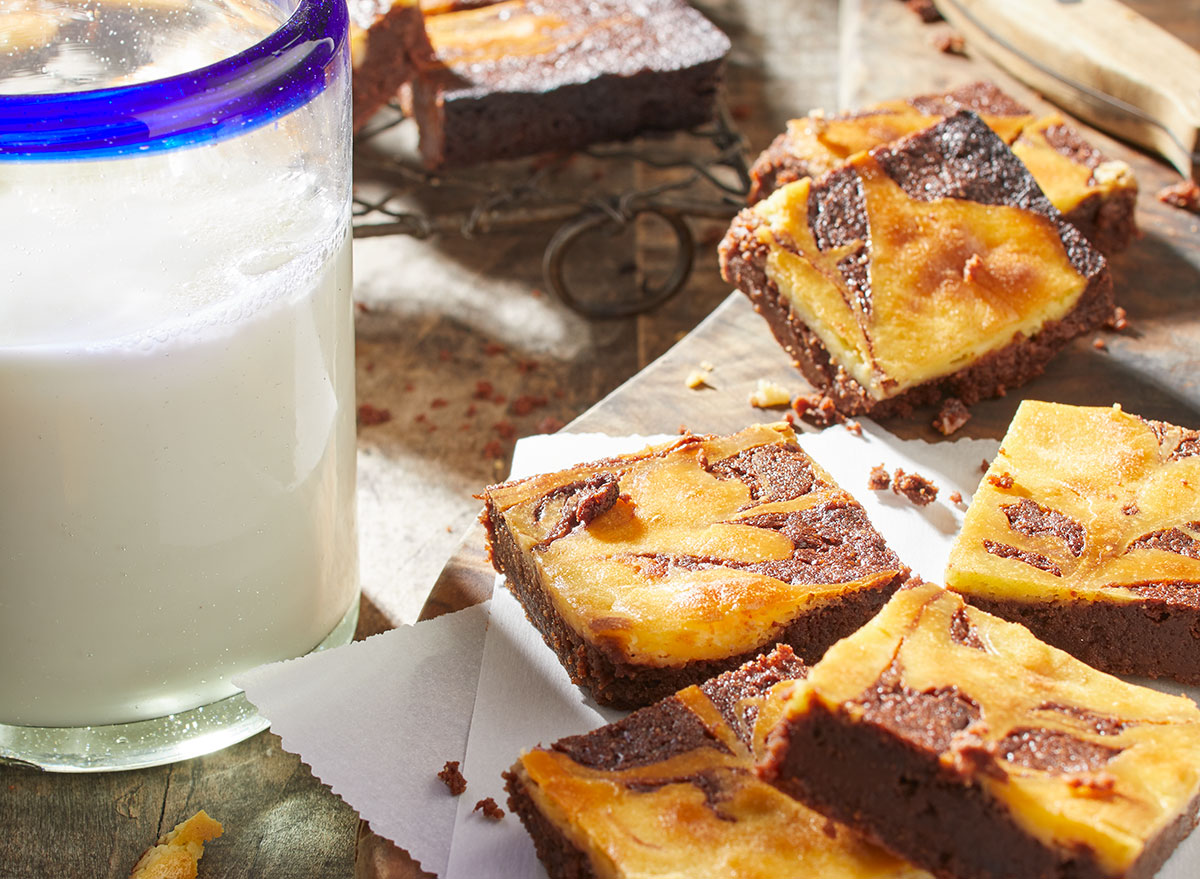 So you're following the keto diet: that means you can no longer indulge in your favorite desserts, as they are most likely carb- and sugar-heavy, things that are a no-go when you're now eating as the restrictive, high-fat, ketogenic lifestyle suggests. But not all hope is lost, as there are plenty of keto desserts out there, and you can make these recipes easily at home, too.
From a keto cheesecake to keto cookies, eating desserts when you're on the keto diet isn't impossible, and it can actually be rather delicious! Plus, these keto dessert ideas don't take much time either, so you'll be able to indulge in these low-carb desserts soon enough.
Below are 10 easy to make, keto-friendly dessert recipes.
Keto Cheesecake
Yes, you can still have cheesecake when you're following the keto diet! This keto cheesecake recipe comes in at 320 calories and features a macadamia nut and almond flour crust combined with coconut, berries, and cream cheese to perfectly satisfy your sweet tooth.
Get our recipe for a Keto Cheesecake.
Keto Brownies
6254a4d1642c605c54bf1cab17d50f1e
This brownie recipe is yet another keto dessert with cream cheese and almond flour, but this time, we're adding instant coffee powder and decadent dark chocolate. You end up with a sweet treat that comes out to just 140 calories a serving—you can't beat that!
Get our recipe for Keto Latte Swirl Brownies.
Keto Chocolate Chip Cookies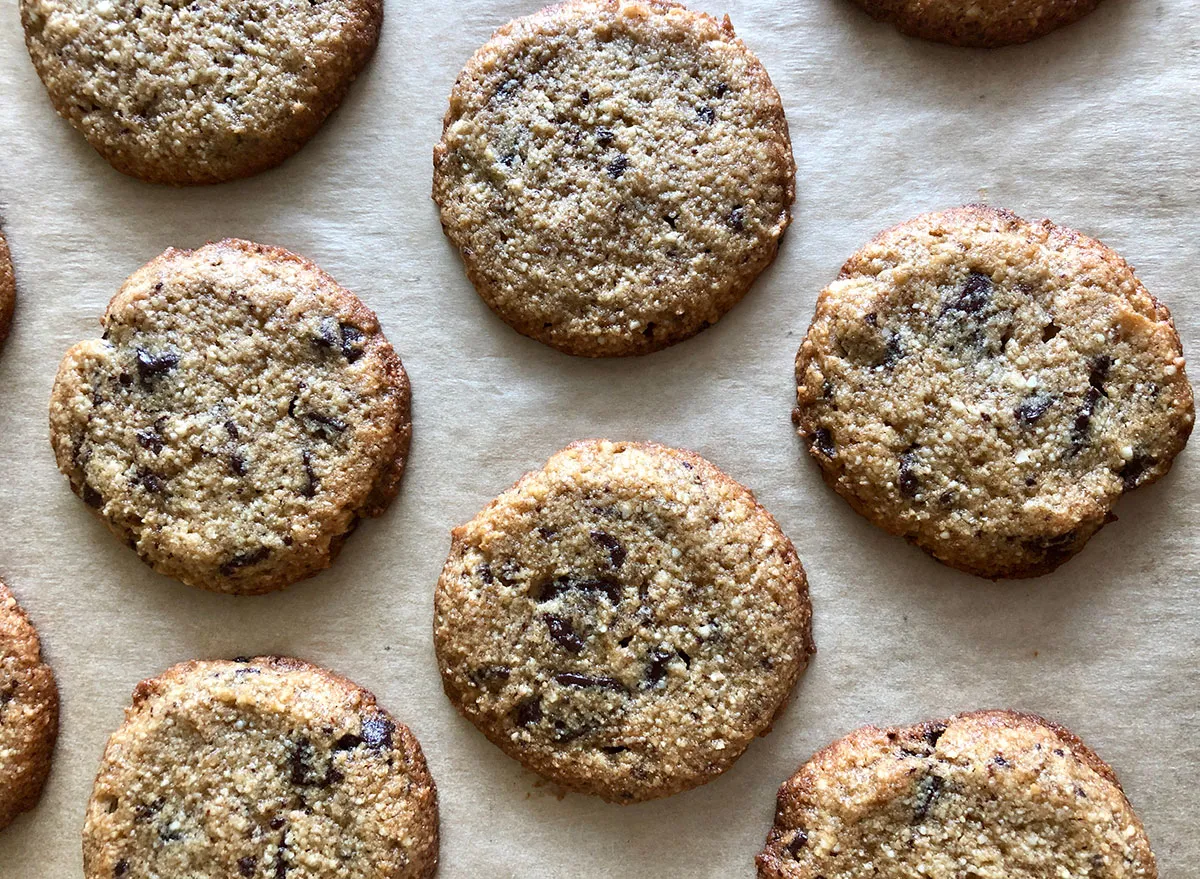 Is there really anything more comforting for your soul than warm, gooey, chocolate chip cookies? And hey, you're probably excited to see that there is a keto-friendly version of the classic dessert that won't derail your goals of staying in ketosis. Made with almond flour, Swerve Brown sweetener, and sugar-free chocolate chips, we have a feeling you won't even be able to taste the difference between these keto cookies and more traditional cookies.
Get our recipe for Keto Chocolate Chip Cookies. 
Keto Peanut Butter Cookies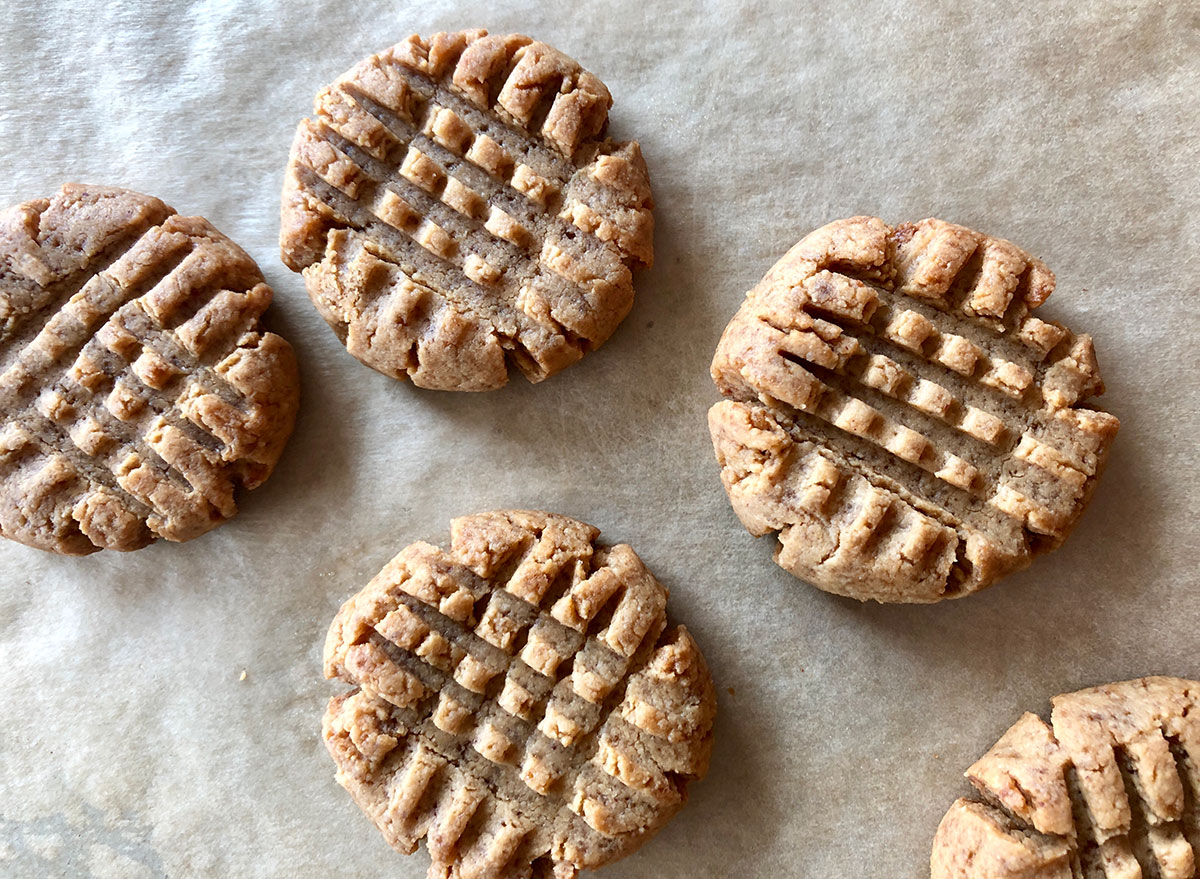 We've got another cookie recipe because just one keto-friendly cookie option isn't enough! Here, we have a keto peanut butter cookies recipe that is fairly easy to make, as it's a simple recipe. It's just four ingredients—peanut butter, egg, salt, and sweetener—that you stir in a bowl before rolling the dough into balls you pop in the oven.
Get our recipe for Keto Peanut Butter Cookies.
Keto Tahini Coconut Vanilla Fudge
Nothing is easier than a no-bake dessert, and this vanilla fudge happens to be keto-compliant, too, so it's a win all around. It's made with vanilla and coconut, so with all that natural sweetness, you won't even miss the added sugar. Plus, there is coconut butter and coconut oil included, which adds a healthy dose of fats, keeping you full. This quick keto dessert simply requires you to mix the ingredients together, pour them into a loaf pan, and refrigerate the mixture. That's all!
Get our recipe for No-Bake Keto Tahini Coconut Vanilla Fudge.
Keto Pumpkin Bars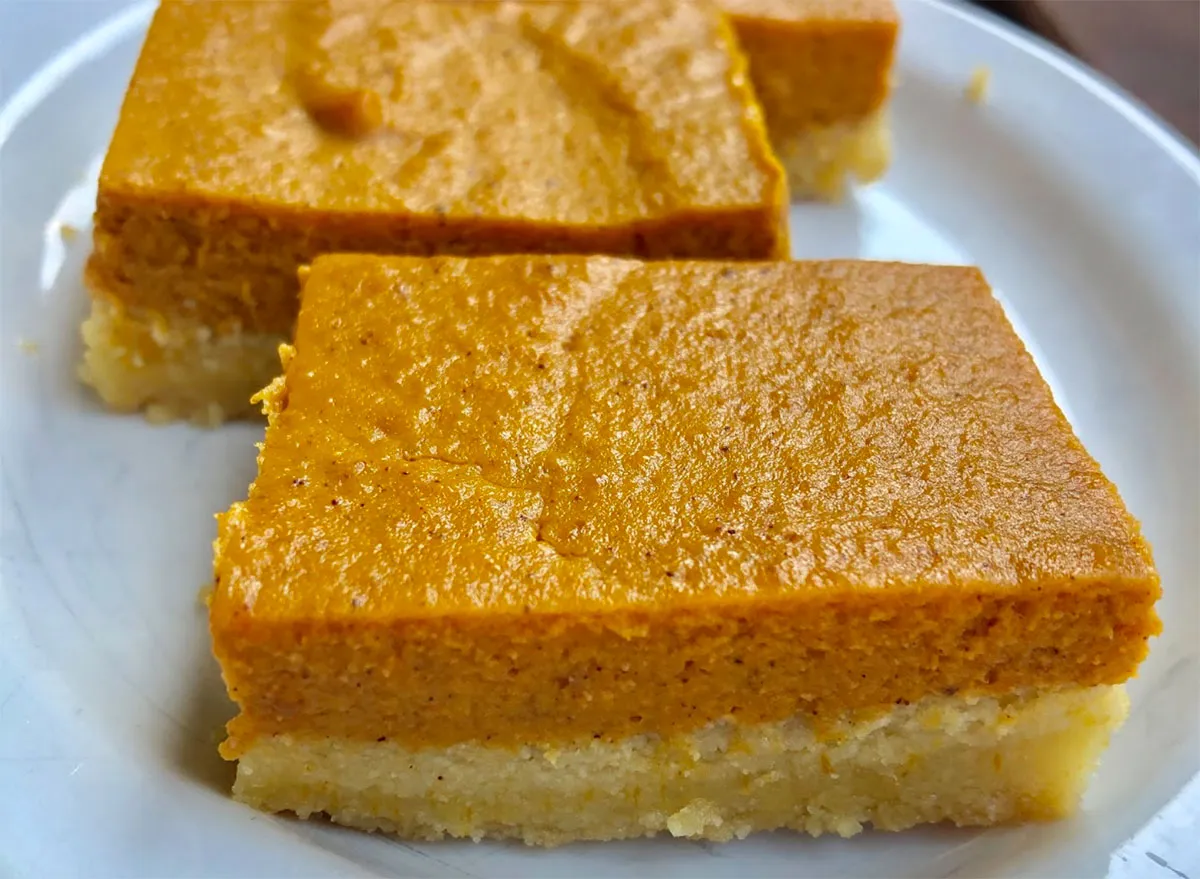 You might not be able to eat the typical pumpkin pie that tends to come around during the holiday season if you're sticking to a strict keto diet, but these keto pumpkin pie bars make up for it. There are no additives and preservatives, and the filling is made from pumpkin puree, cinnamon, nutmeg, cloves, and ground ginger, for a creamy, spicy flavor mix.
Get our recipe for Keto Pumpkin Bars.
Keto Chocolate Chip Blondies
These keto chocolate chip blondies are truly a perfect keto-friendly dessert with ingredients such as almond flour and sugar-free chocolate chips. It's another fast one, too, as this blondie recipe only takes about 15 minutes to prepare and around 20 minutes to bake.
Get our recipe for Keto Chocolate Chip Blondies. 
Keto Nut Butter Cups
With minimal prep time and zero baking, these keto nut butter cups are the ketogenic diet-approved alternative to eating a Reese's cup. It's made with sugar-free chocolate chips, unsweetened nut butter, and hemp seeds as well, which adds some fatty acids to the recipe.
Get our recipe for Keto Nut Butter Cups. 
Keto Raspberry Cheesecake Mousse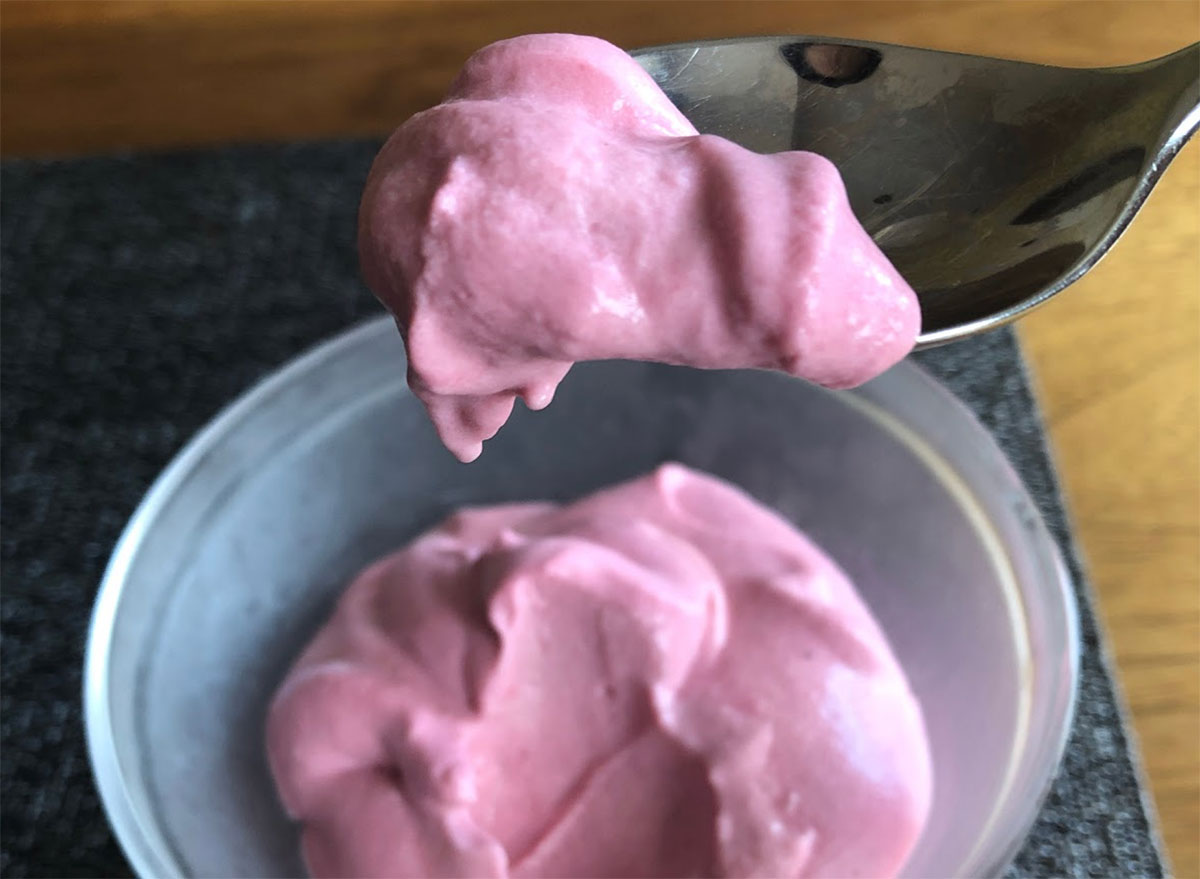 You already have a keto cheesecake recipe to try out, but what about cheesecake mousse? This recipe relies on Lakanto sweetener, a sugar substitute that's keto-approved. and while many fruits are off-limits on the keto diet, berries are fine, as they're low in sugar, and they make for a naturally sweet way to jazz up this treat.
Get our recipe for a Creamy Keto Raspberry Cheesecake Mousse.
Keto Strawberry Mascarpone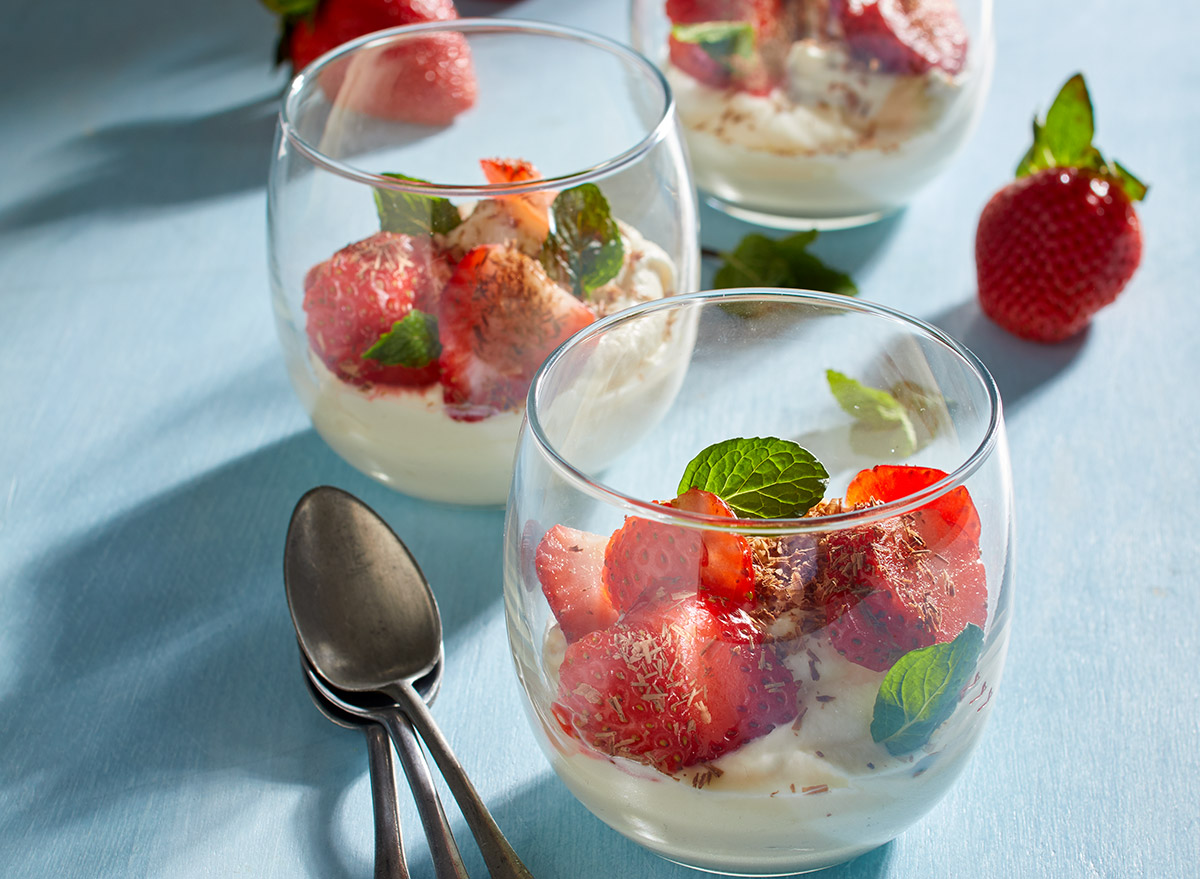 Strawberries with whipped cream is forever a delicious combination, but why not add in mascarpone to the mix? This recipe uses stevia as the sweetening agent and the whipping cream and mascarpone provide the fat. You can whip this up in under 10 minutes, and paired with some grated keto chocolate on top, you're in for a truly decadent keto dessert.
Get our recipe for Keto Strawberry Mascarpone.
Jennifer Maldonado
Jennifer Maldonado is a senior editor at Eat This, Not That!, specializing in food and health content.
Read more about Jennifer