25 Best Food Swaps To Jumpstart Weight Loss
These easy, RD-approved food swaps can fuel your weight loss journey and still satisfy your appetite.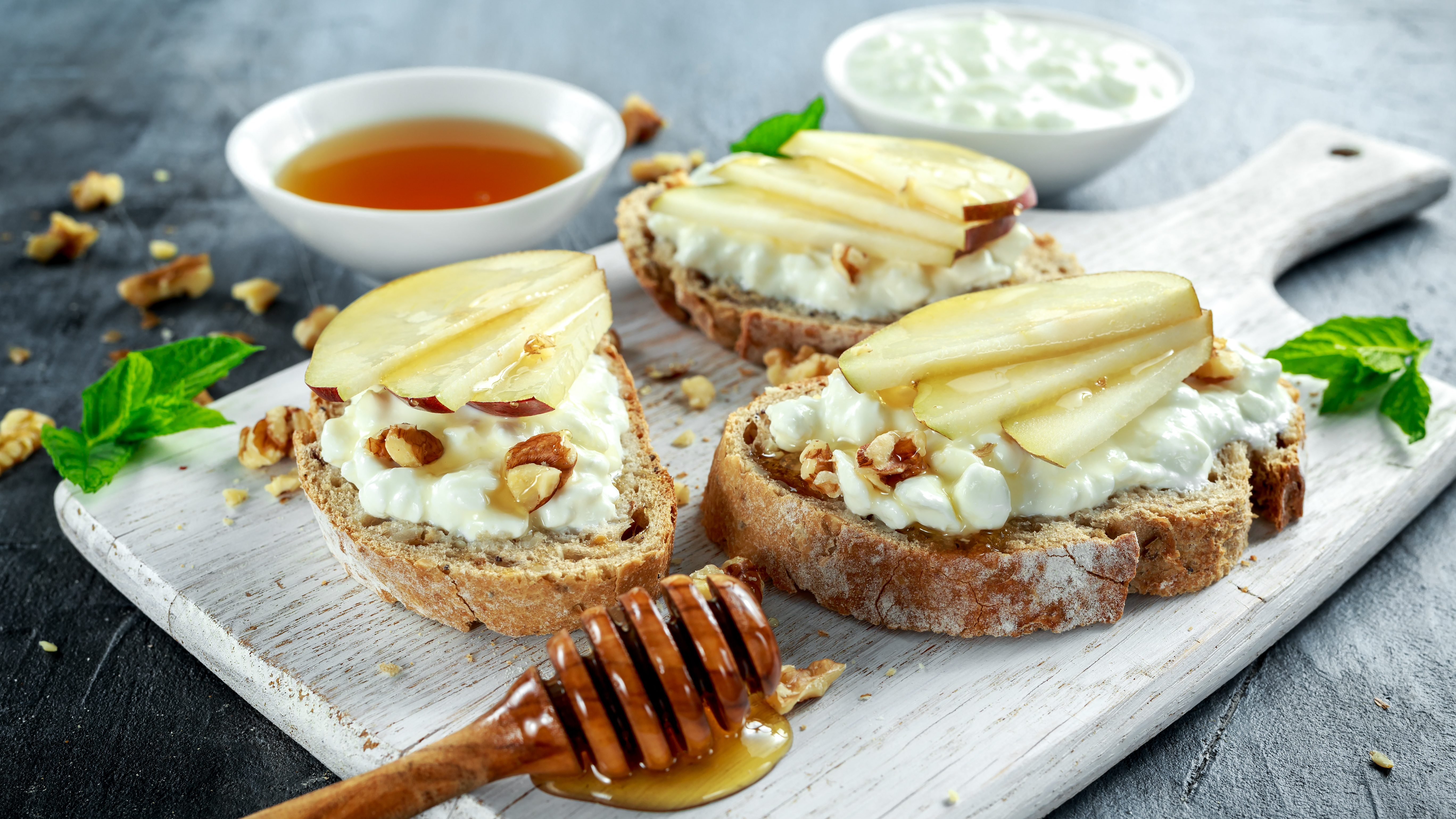 There's a range of totally relatable reasons why you might want to lose weight and keep it off. Of course, you need to be sure to do so in a healthy way that you're sure to stick with in the long run. At the same time, you can kick things into gear and jumpstart the process by taking a few small steps that can have a big overall impact. For instance, you can keep in mind the amount of calories that you're consuming on a regular basis by making quality ingredient or food swaps for weight loss.
Although calories can be used as fuel for your body, they can also turn into fat when not burned off. This happens when you're taking in more calories than you need. In order to address this potential issue, your options are to burn more calories through increased physical activity and/or eating fewer calories. However, eating fewer calories doesn't necessarily require depriving yourself of less satiating food. In fact, the second option can easily be achieved by choosing certain low calorie items instead of food that contain unneeded calories.
Along with helping you manage your weight, a study published by Lancet Diabetes & Endocrinology found that removing 300 calories from a daily diet could also have positive benefits when it comes to cholesterol, blood pressure, and blood sugar levels which can lower the risk of chronic diseases such as diabetes and heart disease. Although major changes to your diet should always be discussed with a doctor or dietitian to ensure you make the best food swaps for weight loss with respect to your individual physical and medical needs, getting rid of 200 to 300 calories is definitely a reasonable and doable goal.
With that in mind, you'll definitely want to check out the following suggestions for the best food swaps that can jumpstart weight loss from expert nutritionists. Read on to learn more about healthy food swaps able capable of supporting weight loss—then, be sure to also check out 8 Food Swaps That Can Help You Live Longer, According to Dietitians.
Swap out potato chips for celery & dip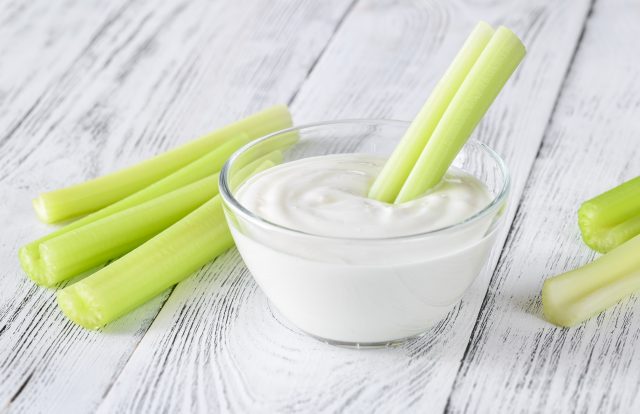 Eat This: Celery and Greek yogurt dip, 20 calories
Not That! Potato chips, 160 calories
This Swap Saves: 140 calories
"Want a salty crunch?" asks Amy S. Margulies, RD, LDN, CDCES, NBC-HWC, while offering Eat This, Not That! a delicious alternative. First noting that 1.5 ounce of potato chips contains 160 calories, Margulies says you can get that same kind of satisfying taste and texture with celery and a Greek yogurt dip. She also has an easy dip that you can quickly whip up that will come out at around 20 calories per 1 ounce: "Mix plain Greek yogurt with dried dill and garlic powder." Yum!
Swap out pretzels for dressed cucumbers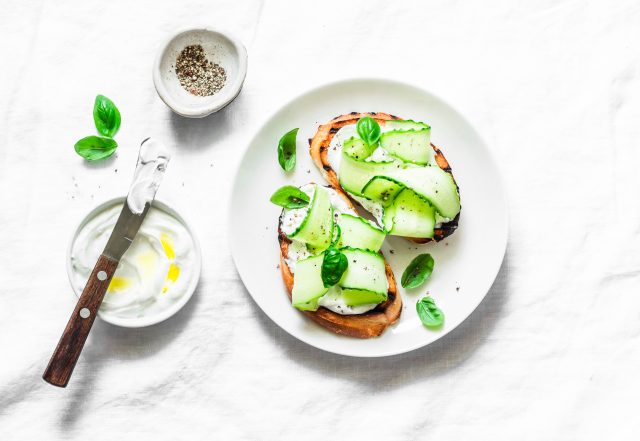 Eat This: Dressed cucumbers, 40 calories
Not That! Pretzels, 166 calories
This Swap Saves: 146 calories
If you prefer pretzels over potato chips, you still might want to switch to a healthier option. To do just that, Margulies suggests cucumber slices. If that's a little too bland for you, then Margulies says that you can try spreading a bit of goat cheese on top for some extra flavor that's a wonderfully creamy addition to the fresh and crunchy veg. Despite the delectable addition, you'll still only be eating around 40 calories.
Swap out cheese & crackers for bell peppers & hummus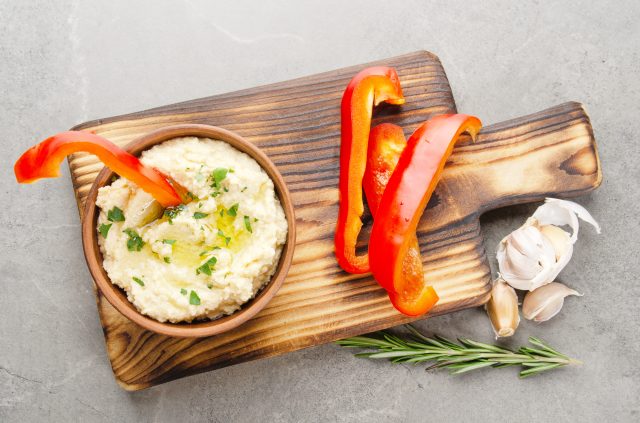 Eat This: Red bell pepper and hummus, 50 calories
Not That! Cheese and crackers, 200 calories
This Swap Saves: 150 calories
Cheese and crackers are a snack combo that you may have been eating since you were a little kid. Unfortunately, they also contain quite a few calories. Instead, you can grab some slices of red bell pepper and dip them in hummus, according to Margulies. Stick to around 2 tbsp of hummus and the entire treat will only end up containing around 50 calories.
Swap out pepperoni pizza for dressed cherry tomatoes & cheese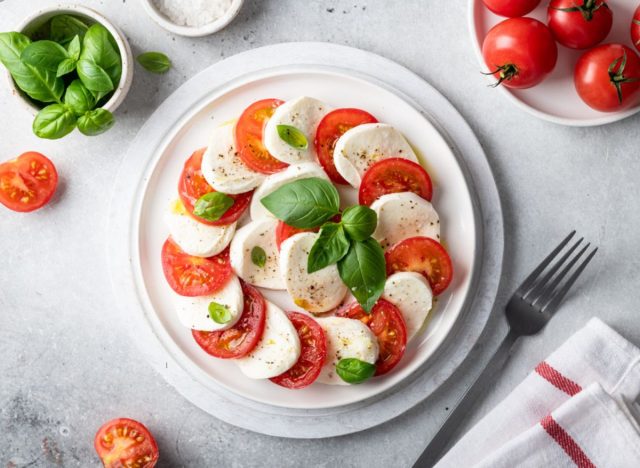 Eat This: Cherry tomatoes with cheese and basil, 86 calories
Not That! Pepperoni pizza, 300 calories
This Swap Saves: 214 calories
Instead of a slice of pizza that contains 300 calories, cut out a whopping 214 calories while still enjoying the same kind of fabulous flavors.
"Try cherry tomatoes tossed with cubed fresh mozzarella (1 ounce) and basil (86 calories)," Margulies says. Who else is already adding this tempting trio to their next grocery list?
Swap out a granola bar for apple slices
Eat This: Apple slices, 80 calories
Not That! Granola bar, 200 calories
This Swap Saves: 120 calories
Granola may seem like a healthy snack, however, a granola bar can be packed with around 200 calories. Yowza! On the other hand, Margulies points out that apple slices which are just as crunchy and even sweeter are only 80 calories. Apples may or may not keep the doctor away, but they can definitely keep the calories at bay.
Swap out graham crackers for dressed pear slices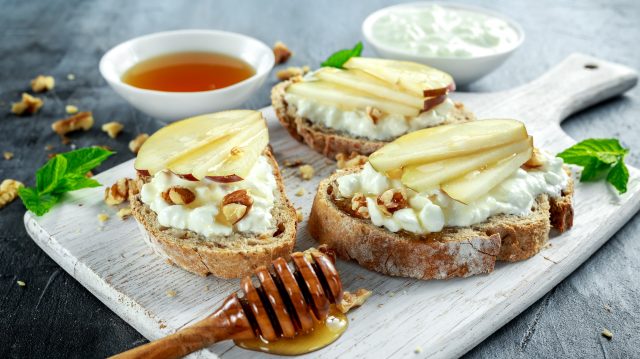 Eat This: Dressed pear slices, 120 calories
Not That! Dressed graham crackers, 330 calories
This Swap Saves: 210 calories
Are you still craving something that's both sweet and crunchy? Put away the graham crackers and peanut butter because with just 2 tablespoons of the latter, the snack will end up containing 330 calories. Of course, you don't have to completely give up on enjoying a satisfying snack.
"Try pear slices topped with part-skim ricotta cheese (1 ounce) and cinnamon (120 calories)," Margulies suggests.
Swap out fruit juices for whole fruits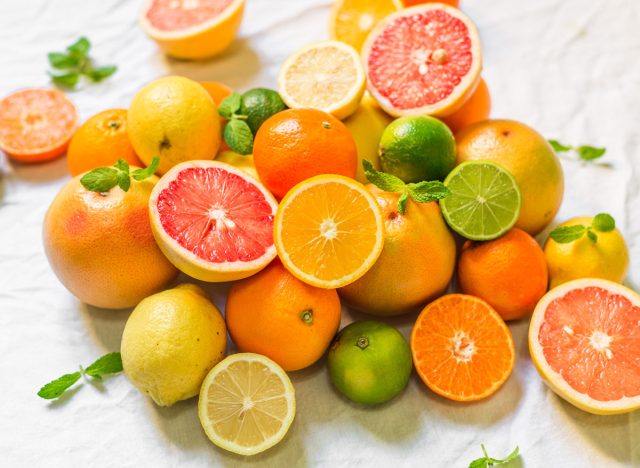 Eat This: Whole fruits, 60 calories
Not That! Fruit juice, 120 calories
This Swap Saves: 60 calories
"In general, whole fruit has fewer calories than fruit juice," Dr. Dimitar Marinov, MD, Ph.D., and an assistant professor with a Ph.D. in Nutrition and Dietetics, who is also the in-house medical expert for BedBible, tells Eat This, Not That! "This is because fruit juice is more concentrated and has had the fiber and pulp removed, which means it contains more calories per volume than whole fruit. For example, a medium-sized orange contains approximately 60 calories, while a cup of orange juice contains approximately 120 calories."
Swap out regular pasta for zucchini noodles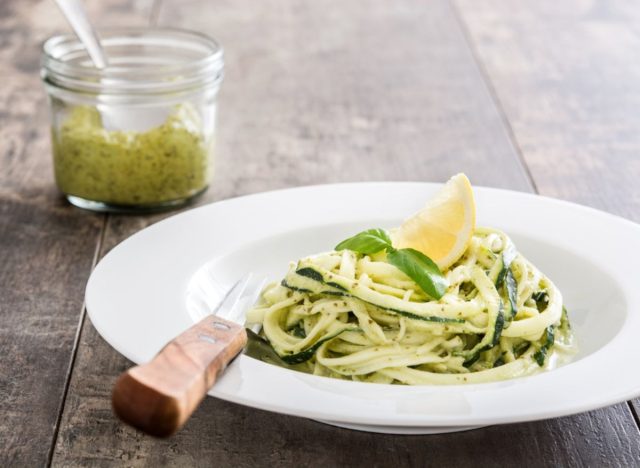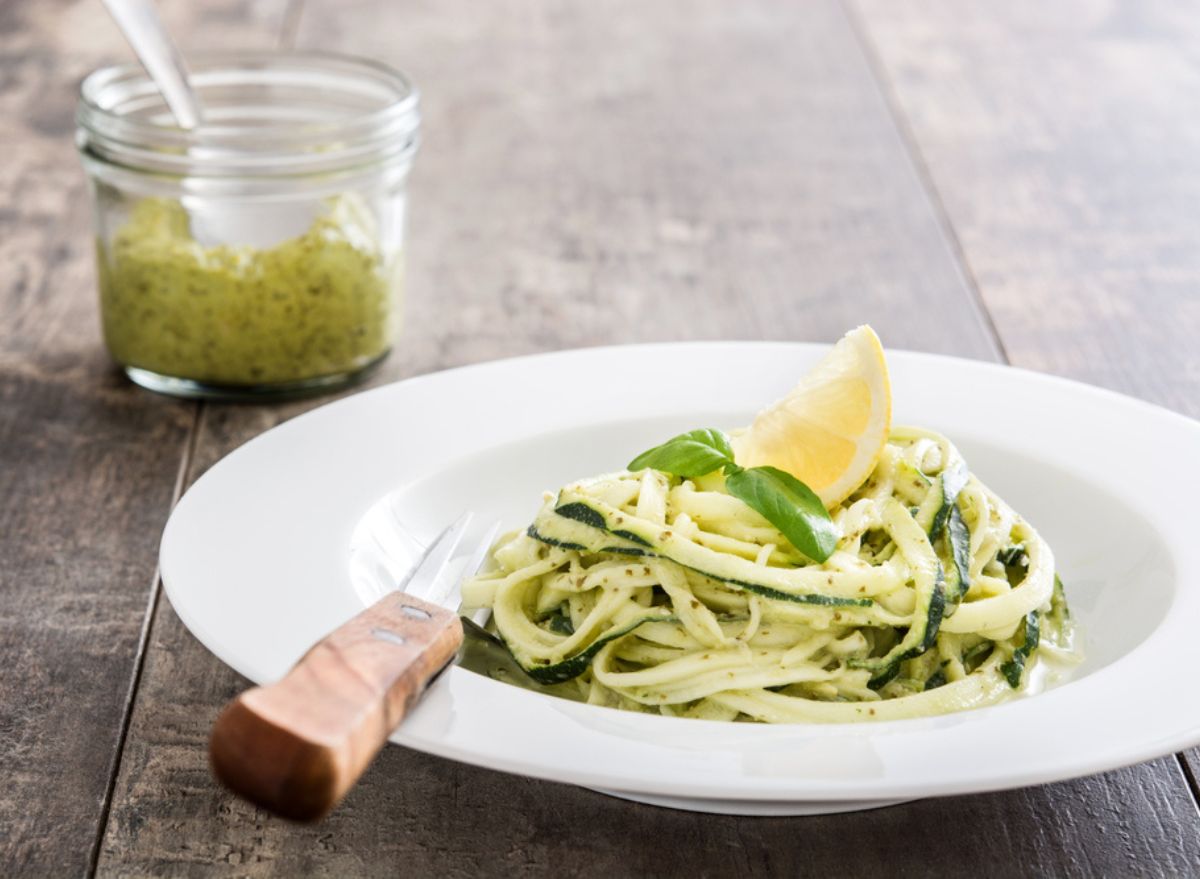 Eat This: Zucchini noodles, 6 calories
Not That! Regular pasta, 100 calories
This Swap Saves: 94 calories
There's no doubt that there are seemingly endless ways to enjoy a big bowl of pasta. Granted, not everyone can digest regular pasta properly and it happens to contain a hefty amount of calories. If you haven't tried zucchini noodles, then you may want to if you also want to cut back on calories.
"Zucchini noodles are also known as 'zoodles' and are a great low-calorie alternative to regular pasta," Marinov explains. "Zucchini noodles have approximately 6 calories per 1 ounce, while regular pasta has around 100 calories per 1 ounce."
Swap out wheat spaghetti for spaghetti squash
Eat This: Spaghetti squash, 40 calories
Not That! Wheat spaghetti, 230 calories
This Swap Saves: 190 calories
If you've tried zucchini noodles and found that they don't quite satisfy your pasta craving, Alisa Fields, MS, RD, LD, weight-loss dietitian suggests opting for winter spaghetti squash instead. With just 40 calories instead of 230, you stand to cut out a significant number of calories from each dish.
Swap out sour cream for Greek yogurt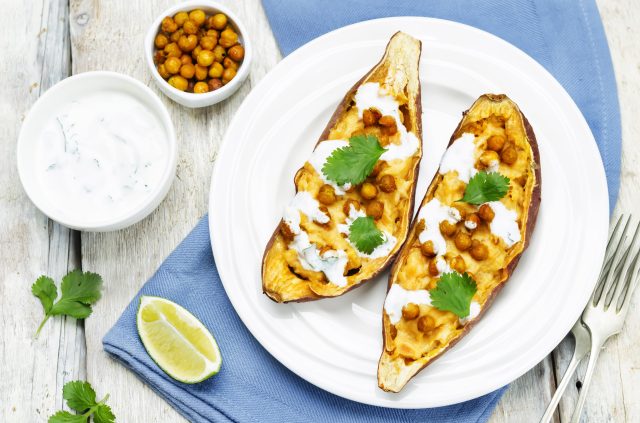 Eat This: Greek yogurt, 18 calories
Not That! Sour cream, 55 calories
This Swap Saves: 37 calories
You can always make a dish creamier and add another level of flavor with the help of sour cream. Fortunately, you can do the same with Greek yogurt.
"Greek yogurt is a much healthier alternative to sour cream, as it has fewer calories and more protein," Marinov says. "Greek yogurt has approximately 18 calories per 1 ounce, while sour cream has around 55 calories per 1 ounce."
Swap out mayonnaise for Greek yogurt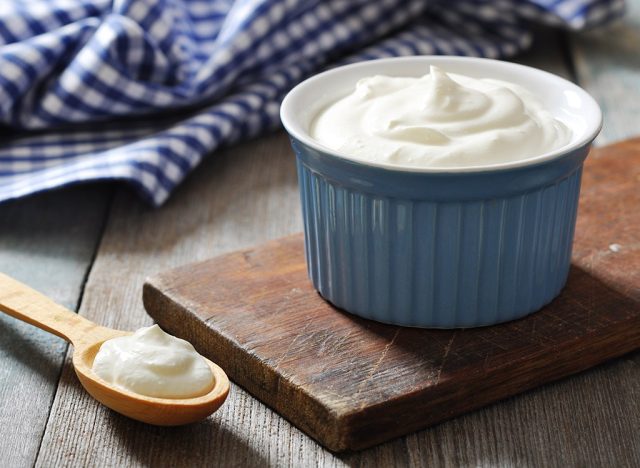 Eat This: Mayonnaise, 1,500 calories
Not That! Greek yogurt, 170 calories
This Swap Saves: 1,330 calories
Along with being a great swap for sour cream, Greek yogurt is also an ideal alternative to mayonnaise, according to Fields. In fact, the difference when it comes to calories is a bit staggering and may leave you a little shocked. As you might have noted above, a single cup of mayo can contain around 1,500 calories (yes, you read that right) while the exact same amount of non-fact Greek yogurt only has 170 calories.
Swap out white rice for cauliflower rice
Eat This: Cauliflower rice, 20 calories
Not That! White rice, 240 calories
This Swap Saves: 220 calories
There are so many delicious ways to prepare rice and perhaps even more main dishes to serve it alongside. Although that might make it an easy choice for dinner, it's also full of calories. That is, if you choose medium-grain white rice which contains 240 calories when cooked, according to Fields. You can still have the same sort of tasty side by using a cup of cooked cauliflower rice which only has 20 calories.
Swap out white rice for black rice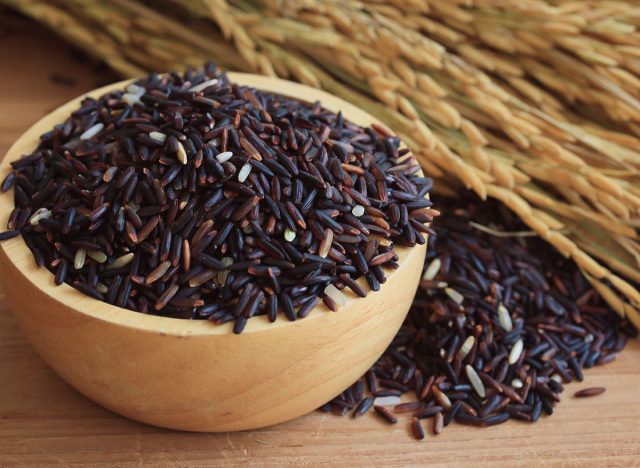 Eat This: Black rice, 145 calories
Not That! White rice, 240 calories
This Swap Saves: 95 calories
If you're looking for an alternative to white rice and cauliflower rice doesn't please your palate, then what about black rice?
"White rice lacks the outer bran and germ of the rice grain, which takes away the beneficial fiber," says Paulina Lee, MS, RD, LD, founder of Savvy Stummy, LLC. "Black rice contains fiber, phytochemicals like quercetin, and catechin, which have antioxidant and anti-inflammatory properties. Black rice also feeds our beneficial gut bacteria, Bifidobacterium, which may improve gut health and microbiome diversity," Lee adds.
Swap out a bagel for an English muffin
Eat This: English muffin, 130 calories
Not That! Bagel, 245 calories
This Swap Saves: 115 calories
It's understandable if you don't think there's much of a difference between English muffins and bagels. Of course, surely no one would claim that they taste the same, however, they're both bread-based food that you may have for breakfast. But as Fields points out, one regular 3.5 ounce bagel has 245 calories while one 2 ounce English muffin has a mere 130 calories.
Swap out liquid whole eggs for liquid egg whites
Eat This: Liquid egg whites, 65 calories
Not That! Liquid whole eggs, 185 calories
This Swap Saves: 120 calories
Eggs are another classic breakfast item that can contain quite a few calories. For instance, just half a cup of liquid whole eggs has 185 calories, according to Fields—and that's compared to a half of a cup of liquid egg whites. At just 65 calories, it's clearly the ideal option.
Swap out fried eggs for poached eggs
Eat This: Poached egg, 143 calories
Not That! Fried egg, 196 calories
This Swap Saves: 53 calories
You can also reduce the amount of calories in your eggs by choosing a specific preparation method. "Replace fried eggs with poached or boiled eggs for breakfast. Poached eggs are much lower in calories than fried eggs but still provide protein to keep your energy levels up until lunchtime," says Lori Walker, registered dietitian and recipe developer at Easy Kitchen Guide.
Swap out white potatoes for sweet potatoes
Eat This: Sweet potato, 90 calories
Not That! White potato, 92 calories
This Swap Saves: 2 calories (plus adds plenty of nutritional benefits)
There are quite a few differences between white potatoes and sweet potatoes, including the amount of calories that can be found in each.
"Sweet potatoes [also] have higher fiber than white ones," says Catherine Gervacio, registered dietitian and nutrition writer for Living.Fit, tells Eat This, Not That! "A 100-gram baked potato contains about 2 grams of fiber while the baked sweet potato has 3 grams of fiber for a 100-gram baked portion. Their glycemic index (GI) differs as well. Sweet potato has a lower GI of 63-65 while the white ones fall at 82. This means white potatoes can spike blood sugar much faster than the sweet kind."
Swap out mayonnaise for mashed avocado
Eat This: Mashed avocado, 160 calories
Not That! Mayonnaise, 680 calories
This Swap Saves: 520 calories
"Avocado has the same smooth and creamy texture as mayonnaise but with fewer calories and no cholesterol," Gervacio says, while noting that "this makes it beneficial to those who want to reduce their blood lipid levels."
"Avocado has nutrients such as folate, thiamin, vitamins B6, E, C, and fiber," Gervavio adds. "It provides 160 calories for every 100-gram portion while mayonnaise supplies 680 calories for the same portion size. It also has 42 mg of cholesterol."
Swap out milk chocolate for dark chocolate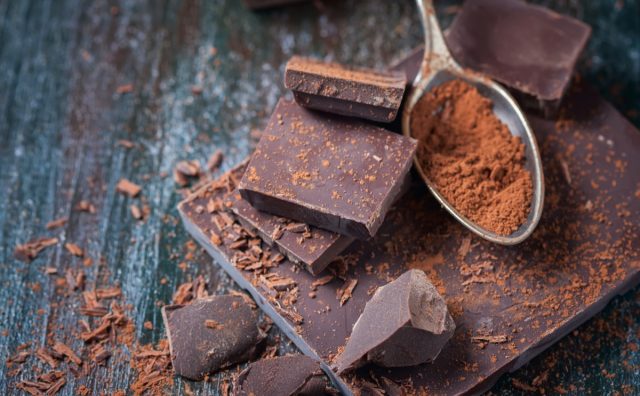 Eat This: Dark chocolate, 598 calories
Not That! Milk chocolate, 535 calories
This Swap Saves: 63 calories
Chocolate may be delicious in pretty much all shapes and forms, however, dark chocolate is the better option if you want a sweet treats with fewer calories.
"Milk chocolate has higher sugar and lesser fiber than dark chocolate," Gervacio explains. "While both varieties have a high caloric density, dark chocolate provides about 11 grams of fiber and 24 grams of sugar for every 100-gram portion, as compared to milk chocolate with approximately 3 grams and 52 grams, respectively. Dark chocolate also contains antioxidants like procyanidins, epicatechin, and catechin which act as anti-inflammatories to protect cells from free radicals."
Swap out white bread for whole grain bread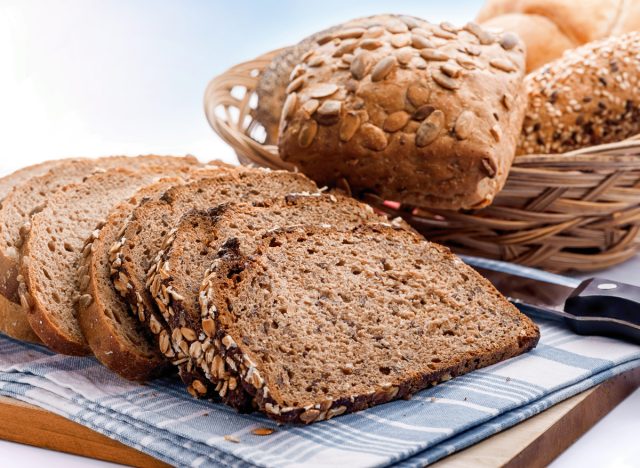 Eat This: Whole grain bread, 98 calories
Not That! White bread, 238 calories
This Swap Saves: 140 calories
While this may seem like a minor swap, it can benefit you in a wide range of ways that go beyond the amount of calories found in whole grain bread as opposed to white bread.
"Whole grain bread contains fewer calories and more dietary fiber, which help feed your beneficial gut probiotics and also keeps you fuller for longer," says Lee. "Not to be confused with whole wheat bread, whole grain bread refers to a variety of grains, including millet, rye, and others. Having a variety of grains may provide more diversity to your gut microbiome."
Swap out wheat pizza for cauliflower pizza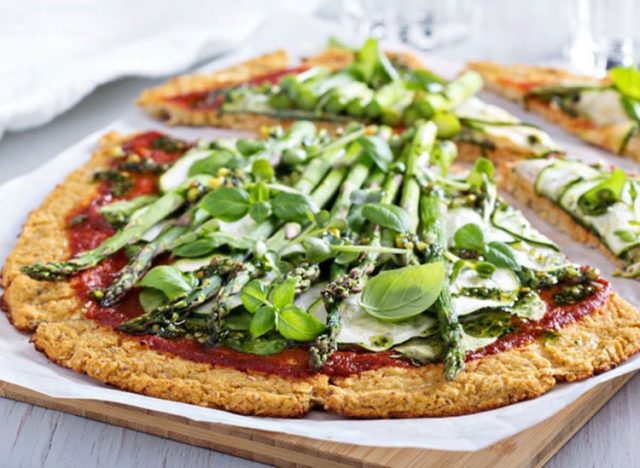 Eat This: Cauliflower pizza, 27 calories
Not That!: Regular pizza, 266 calories
This Swap Saves 239 calories
Cutting out a few calories here and there doesn't mean that you have to give up pizza, which you're likely happy to hear. Lee simply recommends swapping out one that has a typical crust with something a little different.
"Pizza made with cauliflower crust has added dietary fiber and lower carb intake, which may benefit weight loss by keeping you fuller for longer and managing blood sugar at steady levels," says Lee.
If you go with a raw cauliflower crust, then it can have as little 27 calories.
Swap out cereal for oatmeal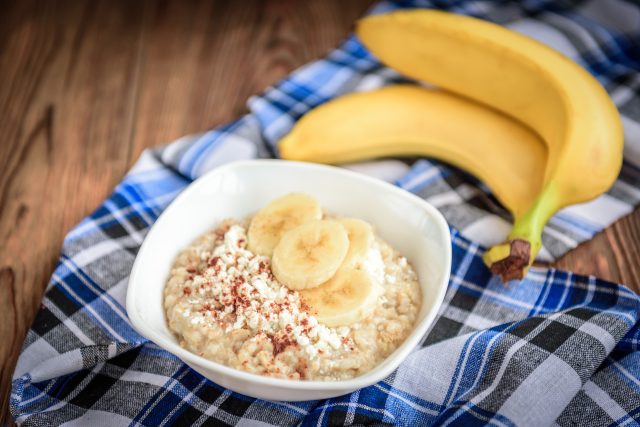 Eat This: Oatmeal, 68 calories6254a4d1642c605c54bf1cab17d50f1e
Not That! Cereal, 379 calories
This Swap Saves: 311 calories
Cereal is another quick and easy option that can be your daily breakfast or an occasional snack. It's also something that you can switch with oatmeal if you want fewer calories in your bowl. Granted, that's not the only aspect of oatmeal that can help lead to weight loss.
"Oatmeal is high in fiber and helps keep you full longer," says Walker.
Swap out hot dogs for tofu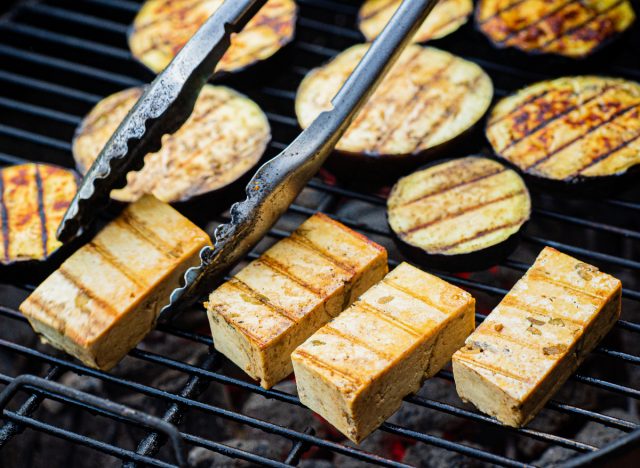 Eat This: Tofu, 76 calories
Not That! Hot dog, 327 calories
This Swap Saves: 251 calories
"Switch out processed meats like hot dogs or bacon for lean proteins like grilled chicken, fish, or tofu," suggests Walker, offering various options that will lower the number of calories in your meals. Whichever one you prefer, Walker says that "these are much lower in fat and cholesterol, yet still provide essential amino acids to keep your energy levels up throughout the day."
Swap out ice cream for frozen yogurt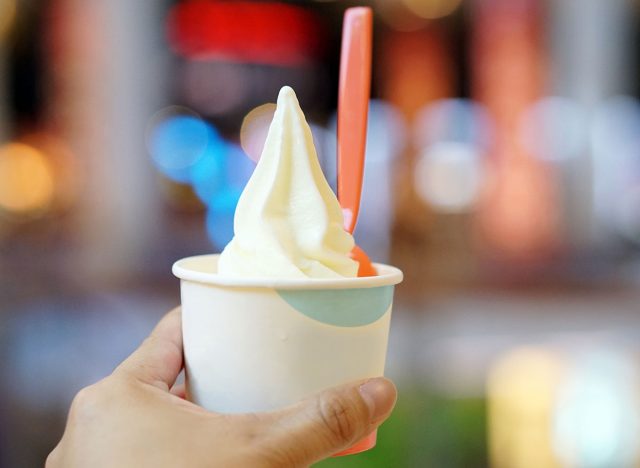 Eat This: Frozen yogurt, 127 calories
Not That! Ice cream, 207 calories
This Swap Saves: 80 calories
When you're in the mood for dessert, you might want a big bowl of ice cream. Of course, a scoop or two will contain a heck of a lot of calories. While that's fine on occasion, frozen yogurt may be better for a sweet treat that you enjoy more often.
"Frozen yogurt bars are lower in fat and calories," Walker points out. Froyo also super tasty and oh-so-refreshing on a warm summer day!
Swap out butter for hummus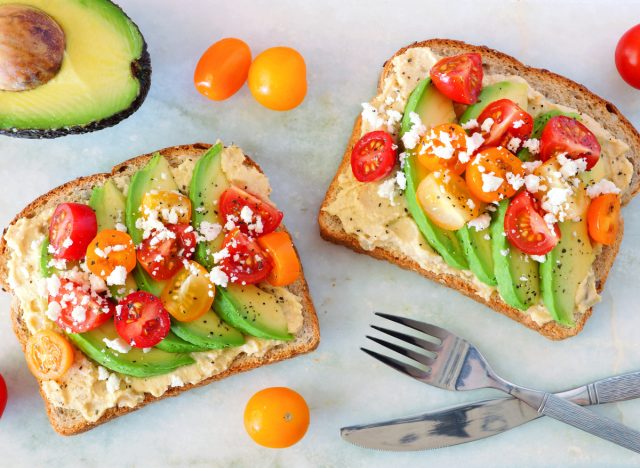 Eat This: Hummus, 250 calories
Not That! Butter, 717 calories
This Swap Saves: 467 calories
You don't need a thick layer of butter on your sandwich. Instead, try hummus. Not only is this a choice that's lower in calories, but Walker explains that "hummus is high in fiber" which can "help you stay full longer" while also leaving you feeling satisfied from your delightfully delicious low-cal dish.
Desirée O
Desirée O is a freelance writer who covers lifestyle, food, and nutrition news among other topics.
Read more about Desirée