19 Foods Health Experts Buy at Costco
Registered dietitians, nutritionists, and other health enthusiasts share their top picks.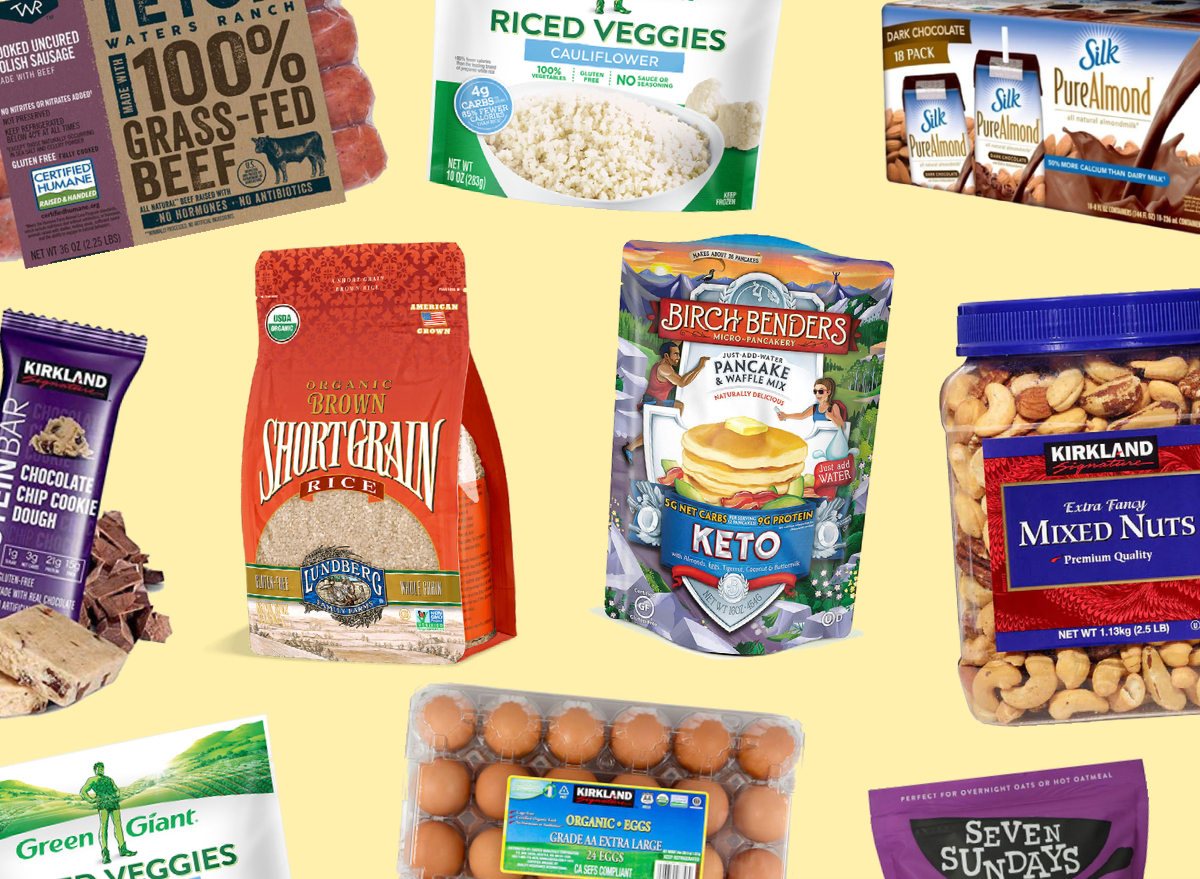 You can find just about anything at Costco, and that includes an array of healthy food options. From low-carb pancake mixes to frozen vegetable blends, here are 19 foods health experts of all different backgrounds like to buy at the bulk grocery store. And speaking of grocery shopping, be sure to read up on 8 Grocery Items That May Soon Be in Short Supply.
Chosen Foods Avocado Oil Spray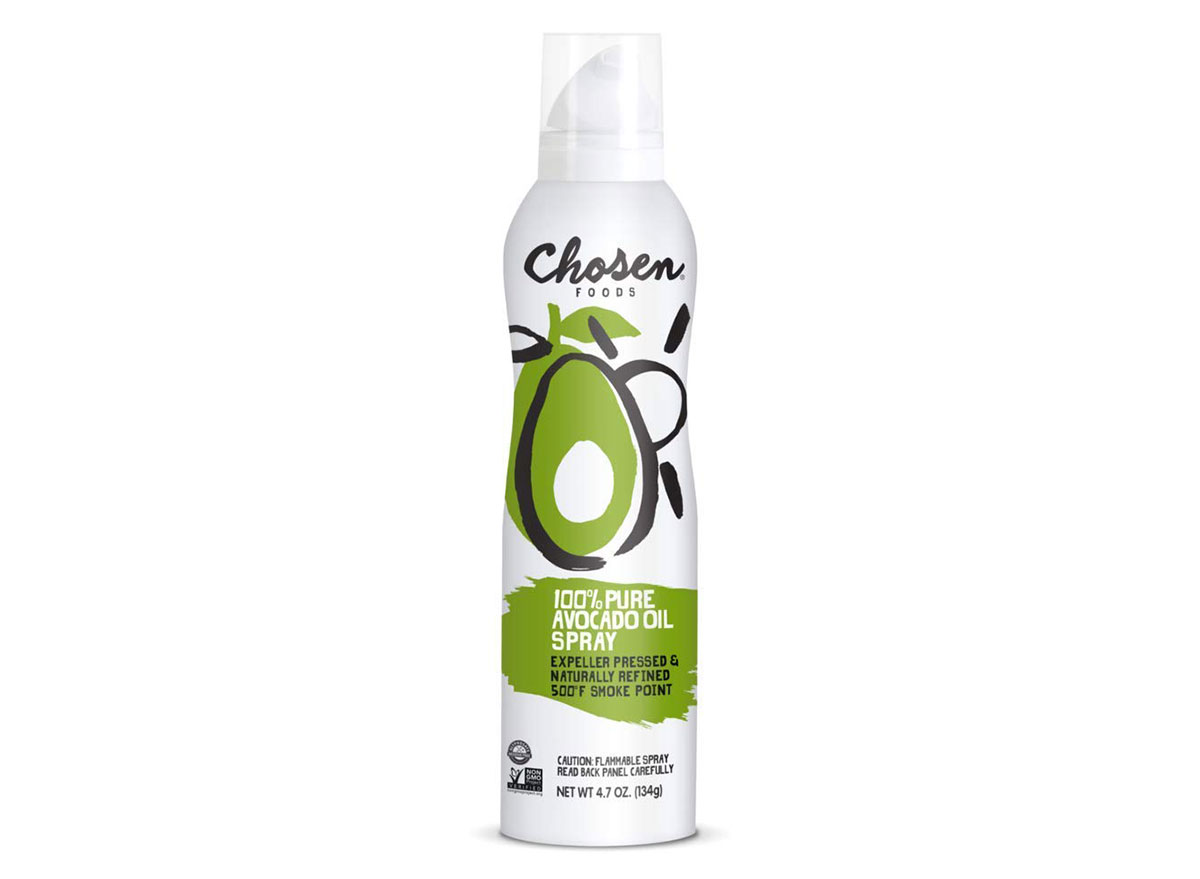 "I love using this to coat pans for roasting vegetables or in a skillet to sear something like fish. Avocado oil has a high smoke point, so it won't burn in a very hot skillet or oven. Avocado oil has both mono- and poly-unsaturated fats, meaning it won't clog your arteries or increase your cholesterol."
– Talia Hauser, RD, LDN
Horizon Organic Milk Boxes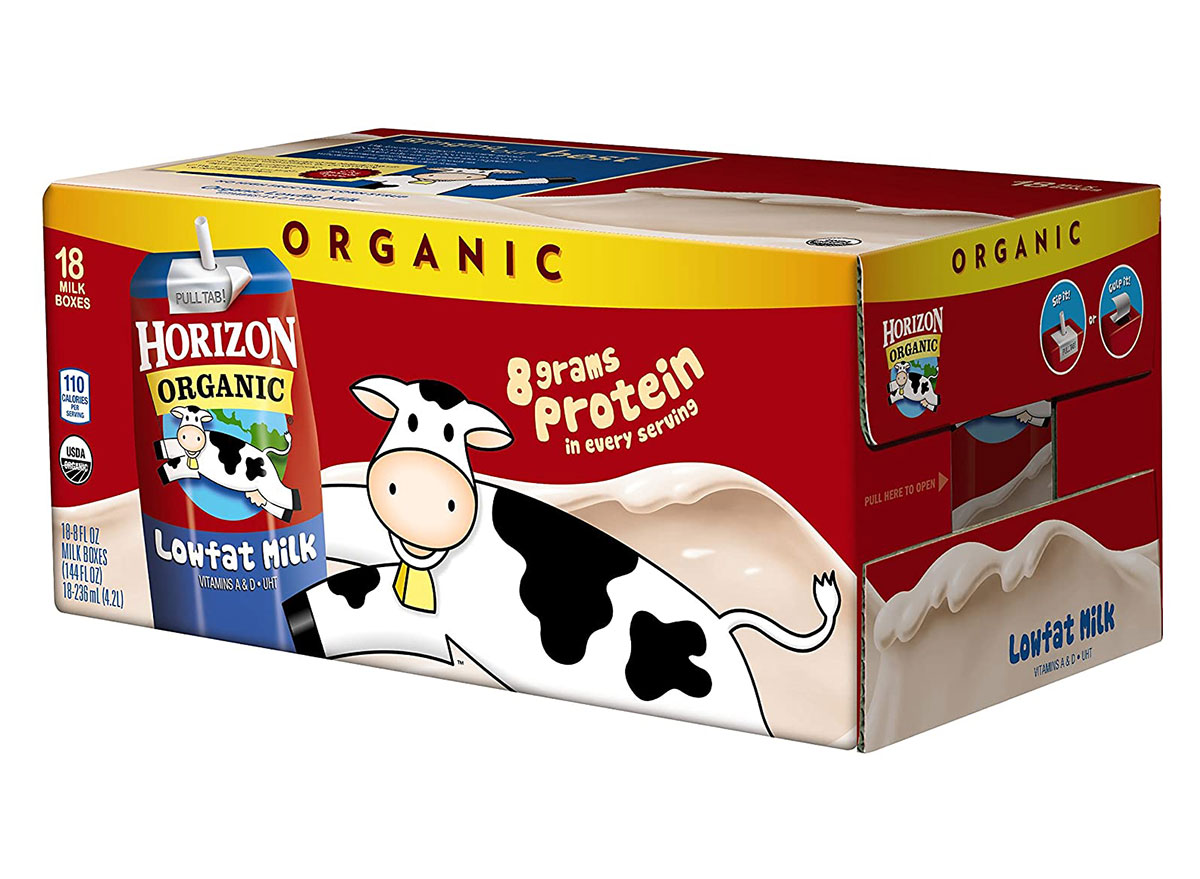 "My family loves the aseptic milk and milk alternative options available at Costco. The Horizon Organic Milk Boxes are great for my toddler to take on-the-go and have with her lunch when she's playing outside in the park. It provides a source of high-quality protein plus calcium and vitamin D for her growing body."
-Amanda Blechman, registered dietitian with Danone North America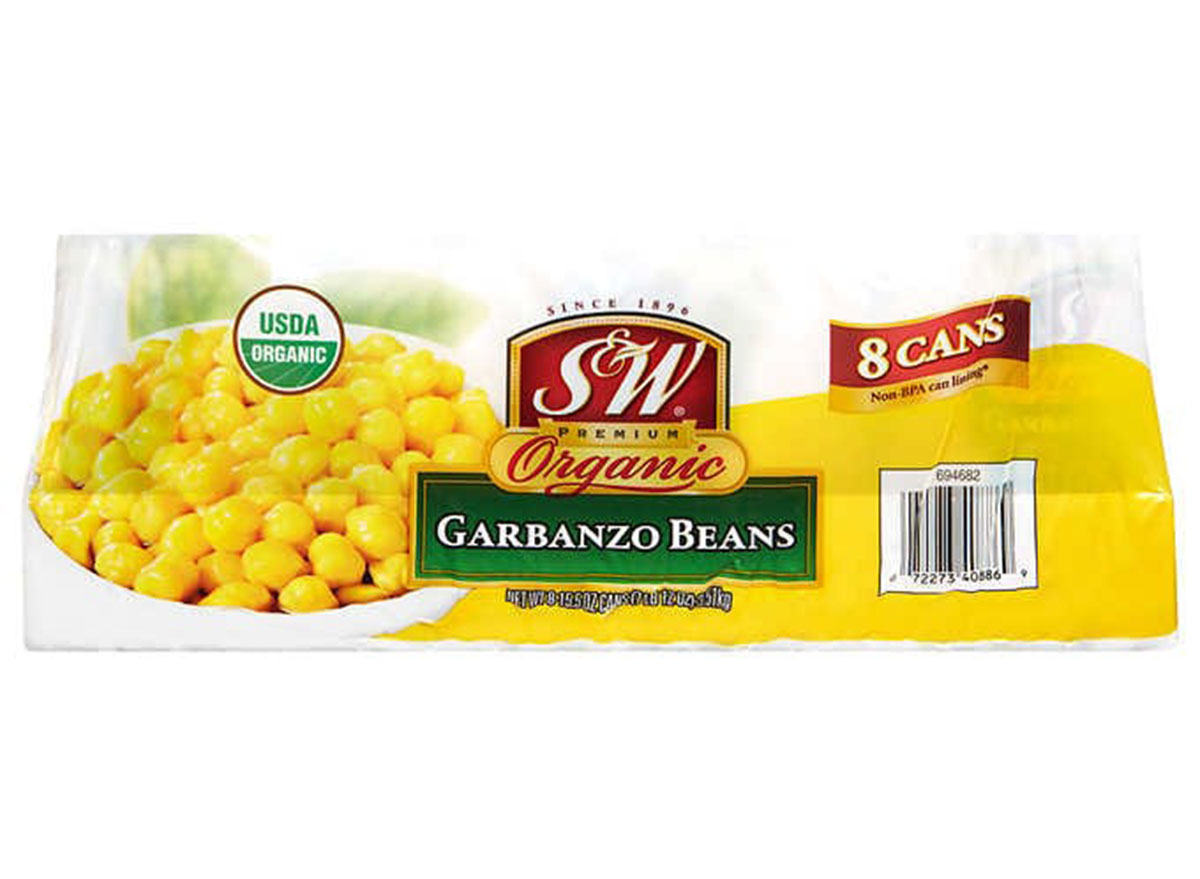 "Chickpeas are a great source of antioxidants that may help protect against chronic diseases, such as heart disease and cancer. They are also a great plant-based protein option to have in your pantry. Try adding them over salads, blending into hummus, or mixing into meatless "chicken" salad."
-Mackenzie Burgess, RDN, Colorado-based registered dietitian nutritionist and recipe developer at Cheerful Choices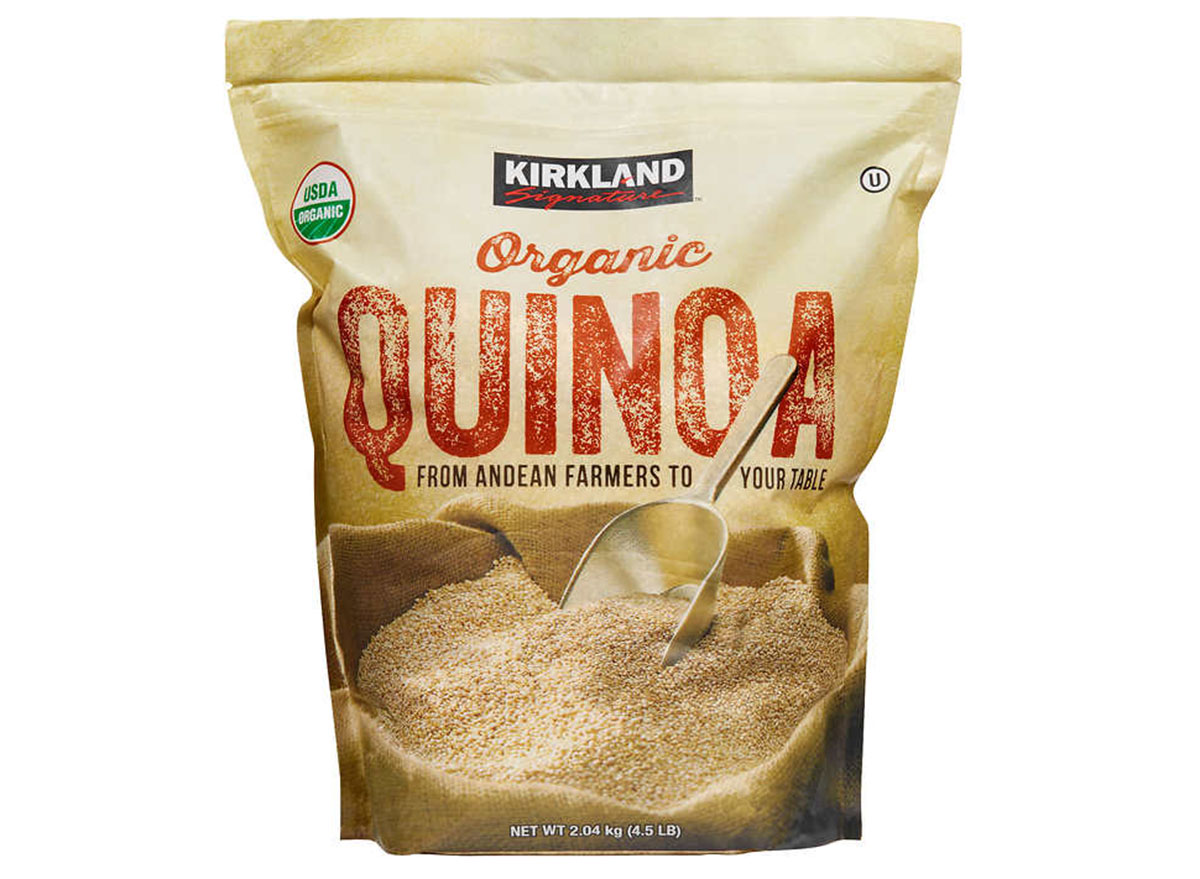 "Kirkland organic quinoa is a great price, and the package isn't too big, so it does not require too much storage space for a bulk buy. Quinoa is a grain group option that provides fiber, plus more protein than rice. It's great with beans, cheese, salsa, and eggs for a fun spin on huevos rancheros."
– Summer Yule, MS, RDN
"Nuts are rich in heart-healthy fats, and I love the assorted nuts from Costco. The price is right, but the one downside is the overdose jar. Put a portion on a plate."
– Lisa Young, Ph.D., RDN, author of Finally Full, Finally Slim and adjunct professor of nutrition at NYU
"Kirkland Protein bars are high in fiber, protein, and calcium, making them a healthy choice for those looking for a meal on the go. Not only does the peanut butter flavor taste great, they can be a quick snack when you don't have time to prepare a meal."
– Ben Pavlov, fitness trainer and nutritionist
Popcornopolis Nearly Naked Popcorn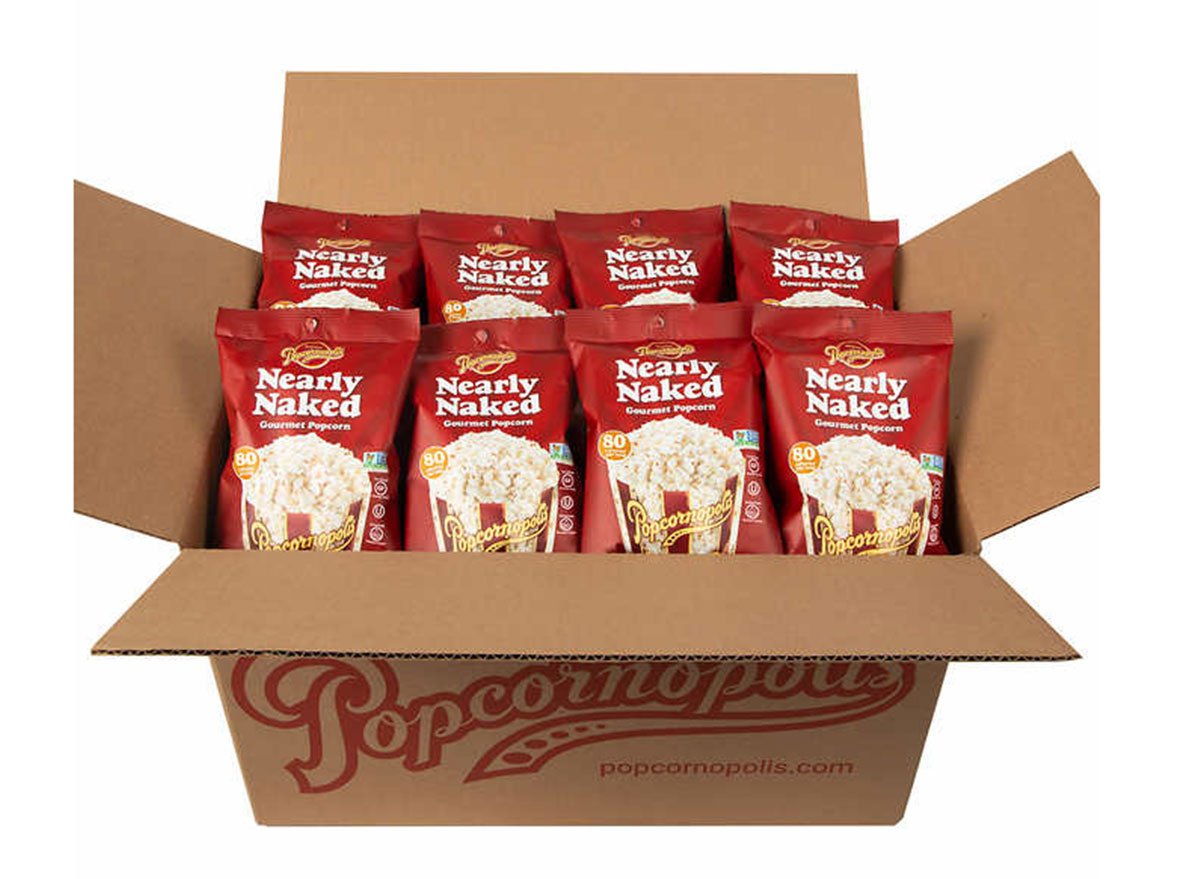 "I love that this comes in a 40-pack for long term storage and plenty of movie nights. I also love that one bag only contains 80 calories. Popcorn is also a high fiber food, so it's a great snack to really fill you up!"
– A. Kostro Miller, RD, LDN, member of the advisory board for Fitter Living
"I purchase the Barnana Chips (organic and simply seasoned) on a regular basis. They are a grain-free, corn-free 'chip' that's made from plantain and contains only three ingredients—organic plantains, organic coconut oil, and Himalayan pink salt."
– Kiran Dodeja Smith, integrative health coach and founder of Easy Real Food
Silk Almondmilk Single-Serve Boxes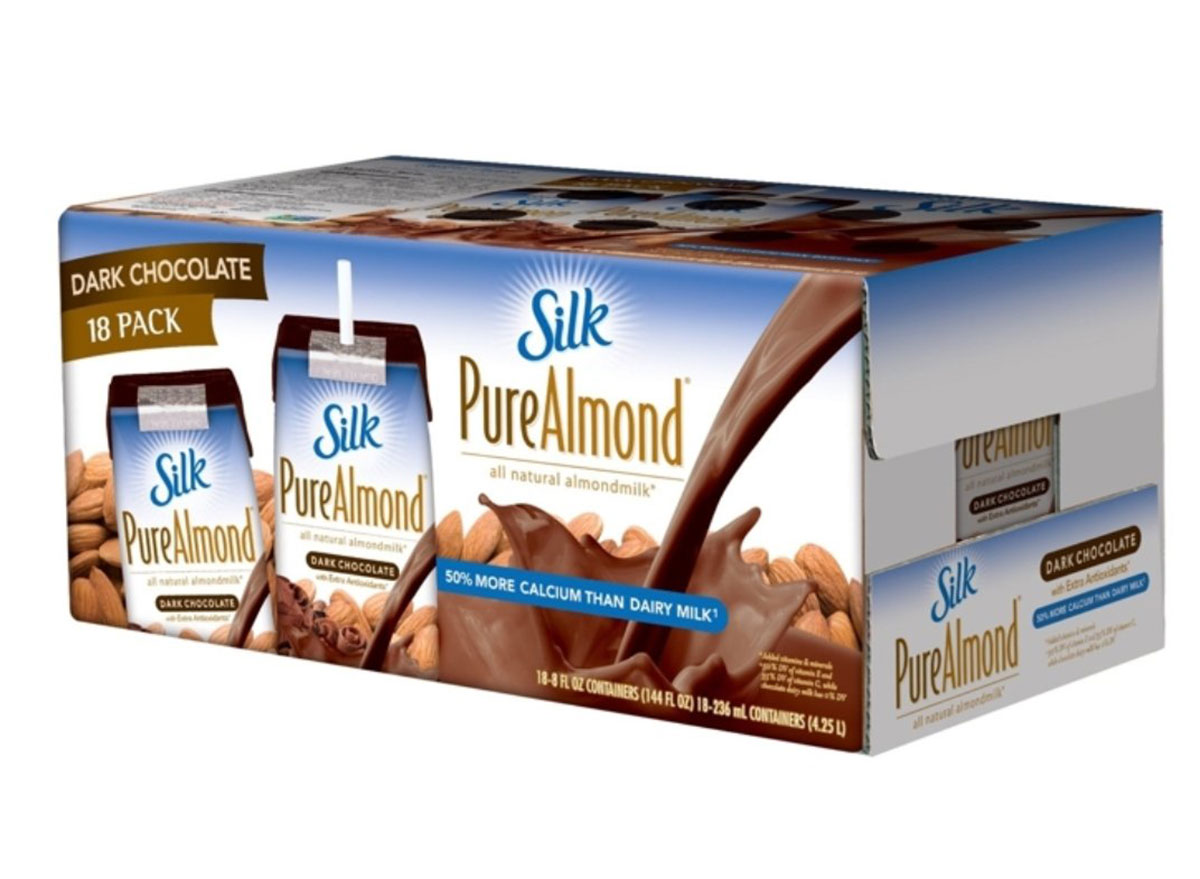 "Since we're a family that drinks lots of different types of milk and plant-based beverage alternatives, I always keep Silk Almondmilk single-serve boxes on hand for the adults in the house. Available in Dark Chocolate at Costco, they're so easy to whip out for a quick treat. Plus, they're an excellent source of calcium and antioxidant vitamins C and E."
– Blechman
Teton Waters Ranch Sausage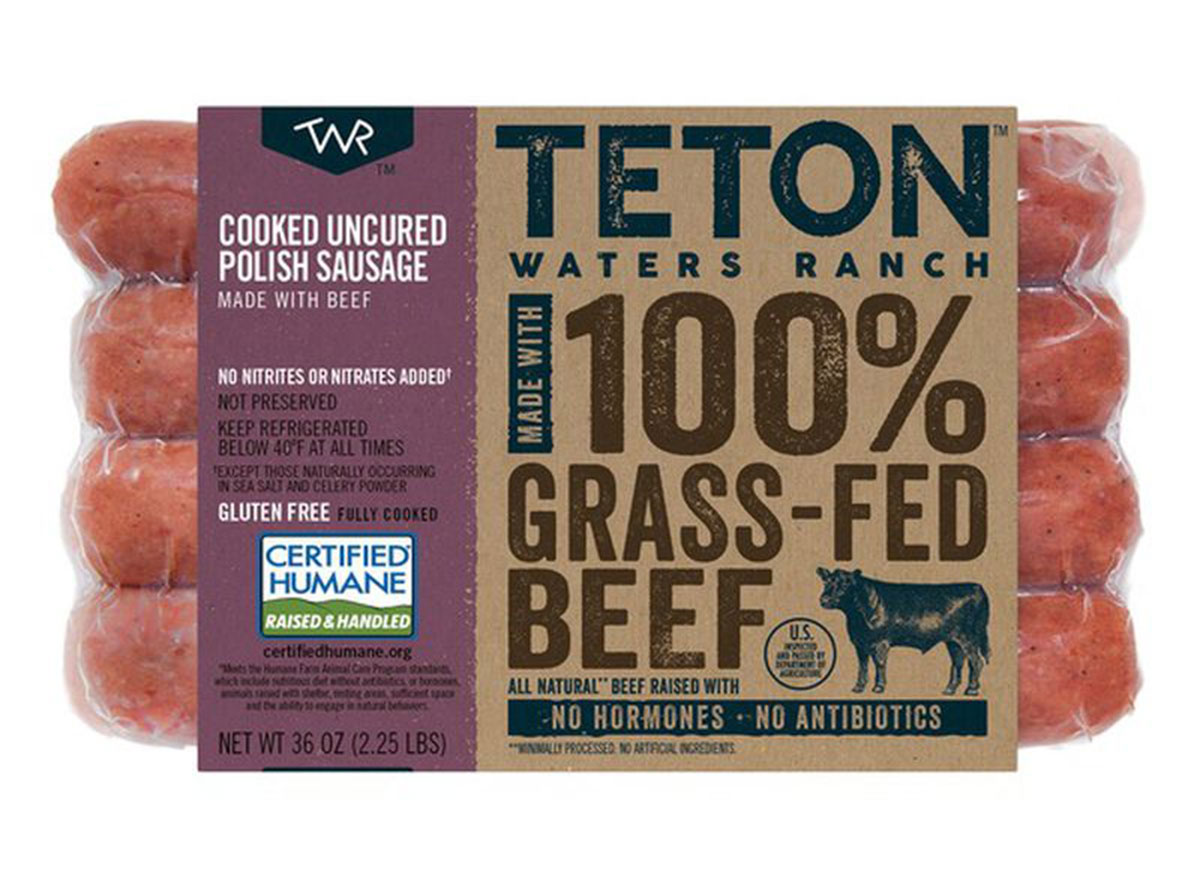 "Teton Waters is a family-owned ranch that sustainably raises its animals to produce high-quality meats. This makes their sausage an excellent source of protein and essential amino acids without all the preservatives and fillers that come with most commercial sausage."
– Erik Levi, certified Functional Nutritional Therapy Practitioner and health coach
Kirkland Organic Large Brown Eggs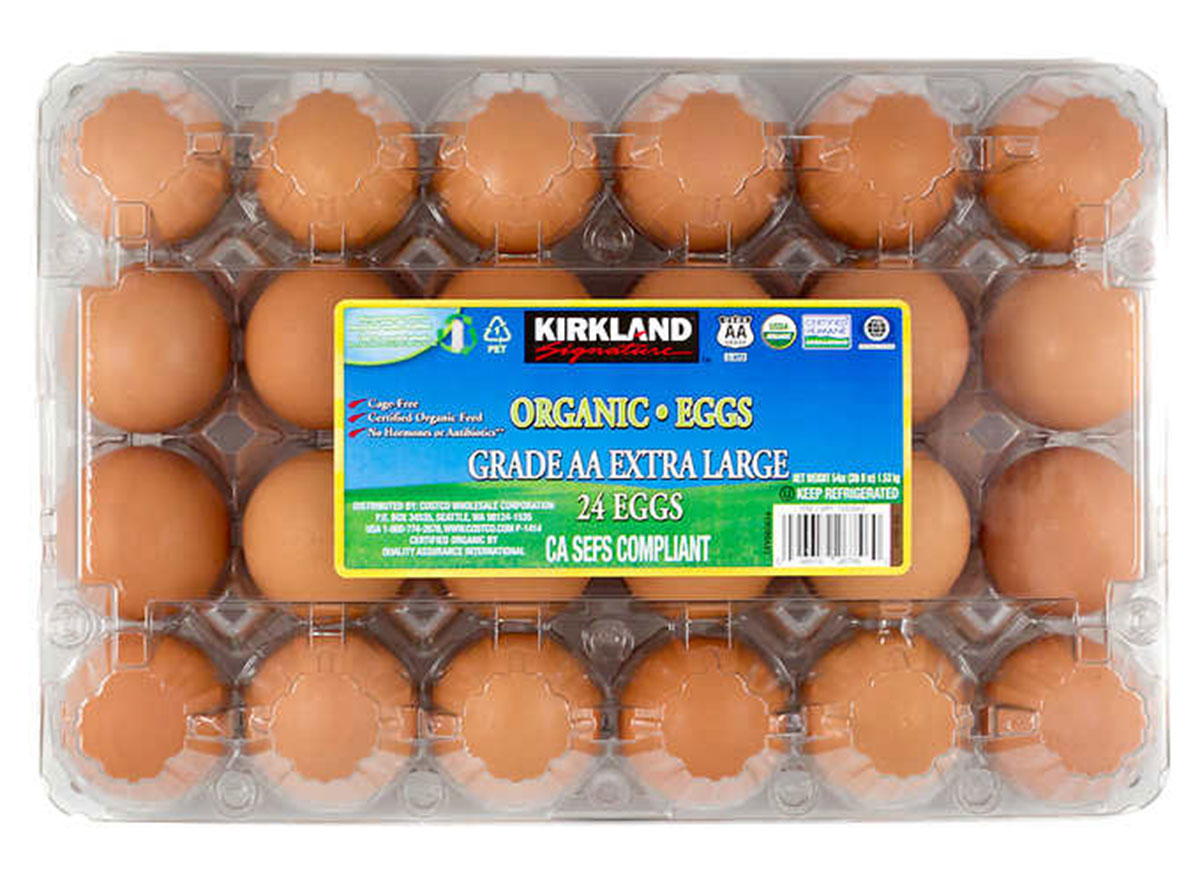 "I also love Kirkland's organic large brown eggs. They come in a package of two dozen—perfect if your family goes through a lot of eggs! Eggs are a rich source of many essential vitamins and minerals. They are particularly rich in choline and a fantastic source of vegetarian protein."
– Yule
Green Giant Riced Cauliflower
"If you're looking for a low carb substitution for rice, then microwavable cauliflower rice helps ease the prep work. Cauliflower also helps you feel full with fewer calories and increases your veggie intake. You can make them into mashed potatoes, add them to soups, or just make rice bowls."
– Christine Bendana, culinary nutritionist from Austin and founder of the website www.PrepYoSelf.com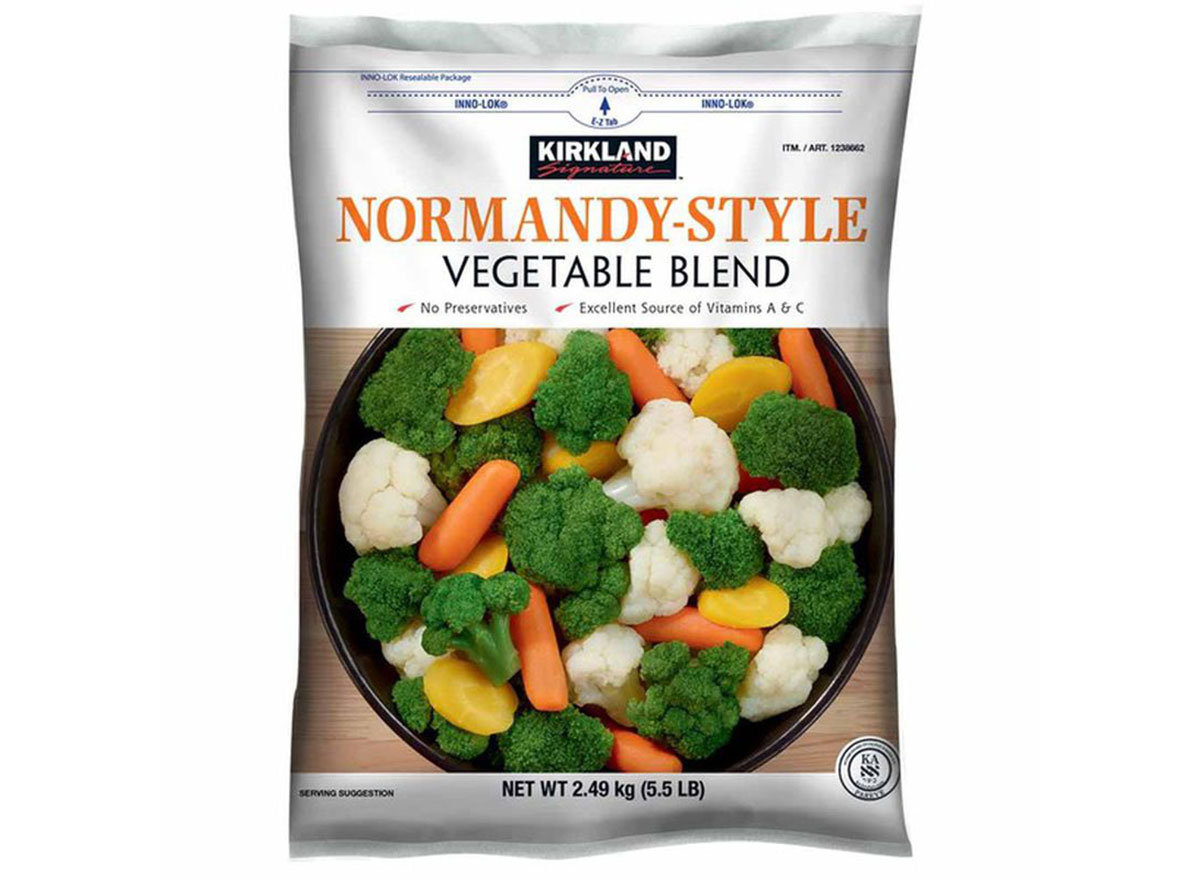 "Frozen vegetables are picked at their peak and flash-frozen, which helps them maintain many nutrients that fresh veggies may lose while waiting to be purchased in the produce department. Be sure to buy the kinds that do not have any seasoning or sauces, as they typically add sodium and fat. Then, pop them into a skillet to add to a stir-fry or pasta sauce, or just microwave them for a quick side dish and top with your own favorite seasonings."
– Talia Hauser, RD, LDN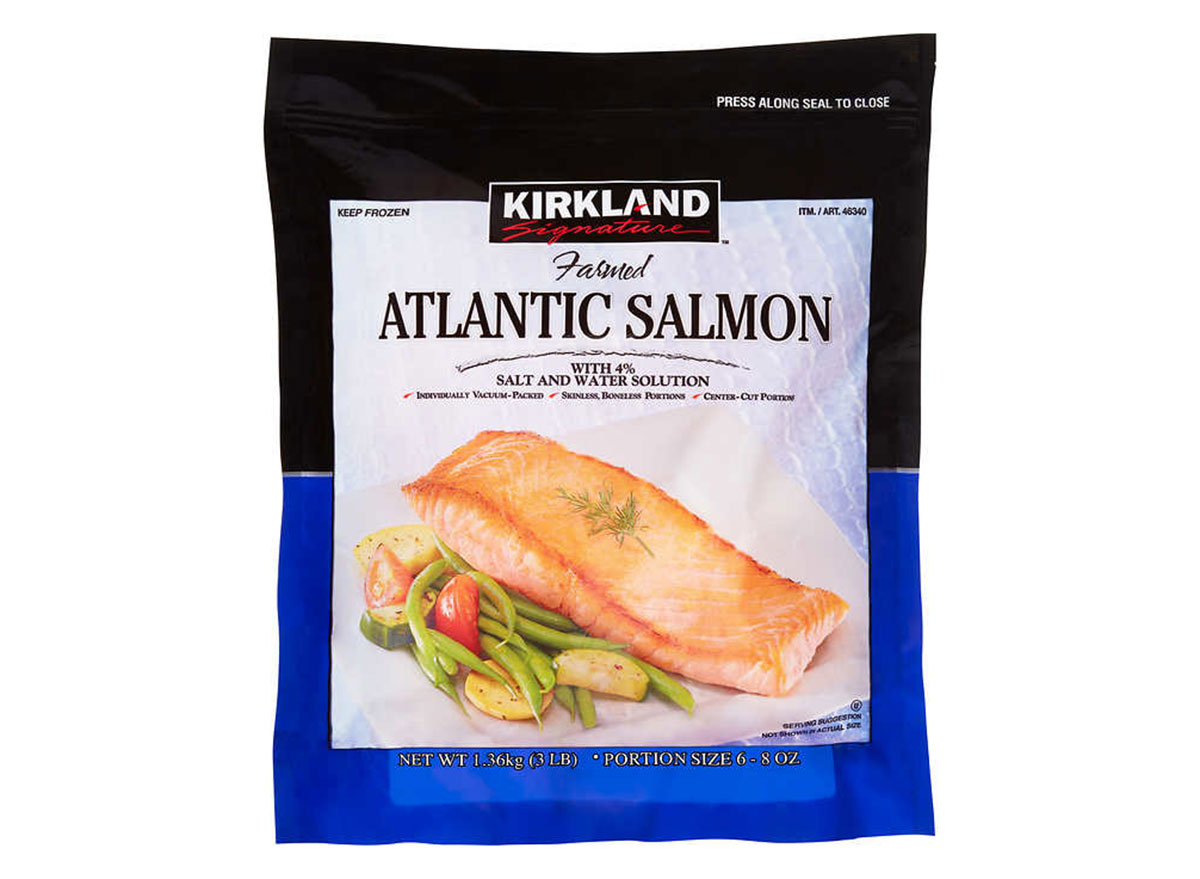 "One thing that I always stock up on at Costco is seafood, especially fish like salmon. I love buying frozen farmed salmon in bulk, because it is a good value and so convenient to have on-hand. Fatty fish freezes very well and these vacuum-sealed portions defrost in just 15 minutes, so they're great for a busy weeknight dinner. Most Americans don't eat enough fish, so stocking your freezer is a nice way to ensure you're getting the recommended two servings per week."
– Sheri Kasper, RDN, LDN, Boston-based registered dietitian and co-founder of Fresh Communications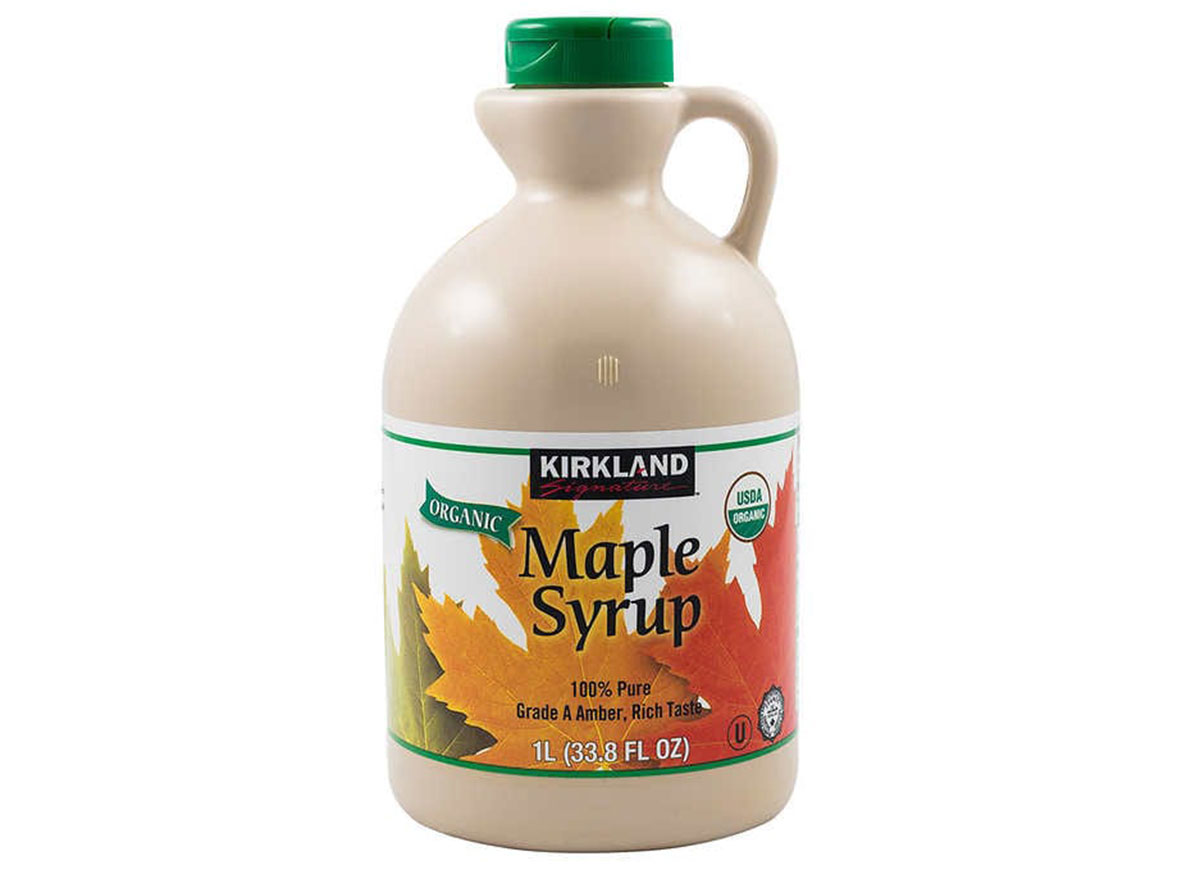 "Kirkland Maple Syrup is a great price for the quantity. I often use maple syrup in baking for the sweet, natural maple taste. I prefer pure maple syrup over standard grocery store brands, because it not only tastes much better but also it is a natural ingredient straight from the maple tree. Traditional store brands often include many unnecessary added ingredients, syrups, and fillers."
– Jenna Gorham, RD, LN
Birch Benders Pancake and Waffle Keto Mix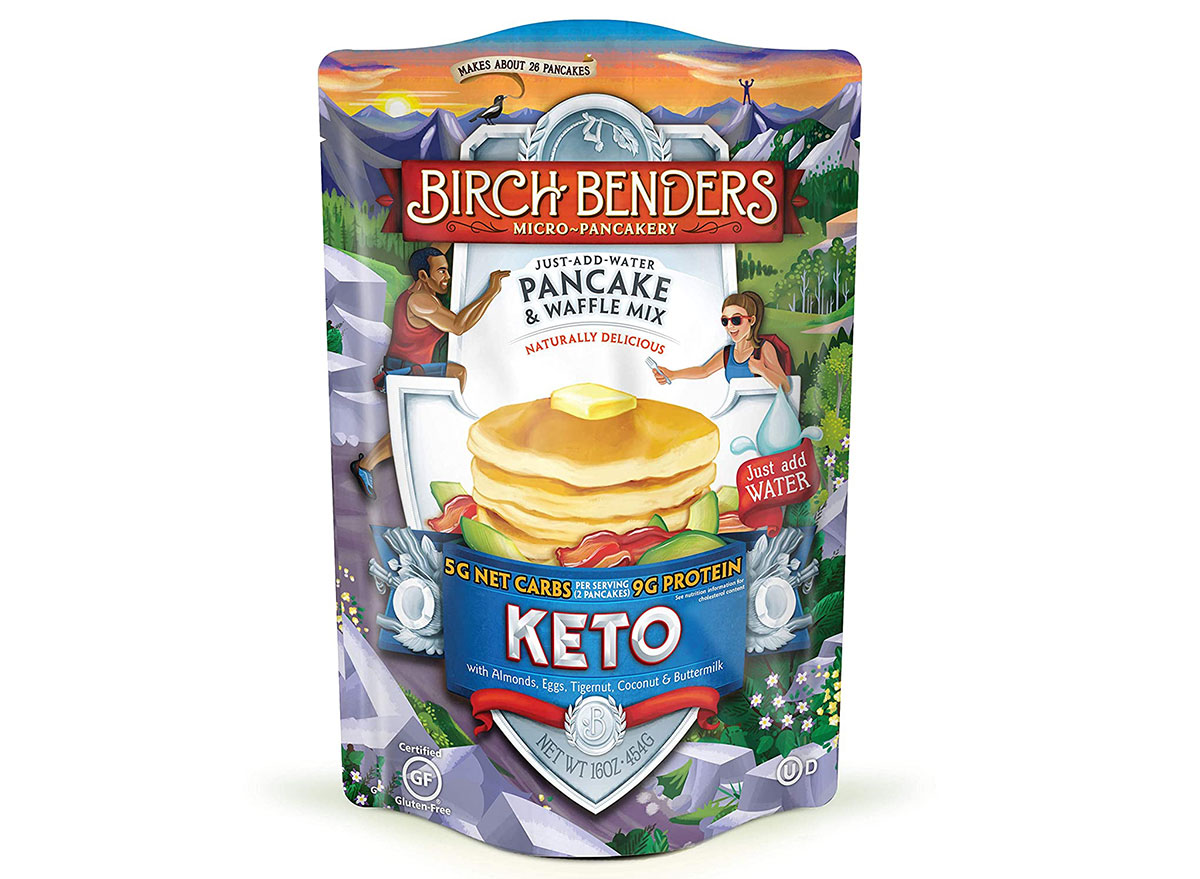 6254a4d1642c605c54bf1cab17d50f1e
"We all love pancakes, and it can't get any easier than this ingredient because the only thing you need to do is add water. It is packed with protein and is lower in carbs than most regular pancakes, which makes it a good option for low carb diets."
– Bendana
"Seven Sundays Muesli is my go-to breakfast year-round, because it is easy to prepare, tastes amazing, and offers great nutrition. I love these mueslis, because they are made with simple and nutritious ingredients you will recognize. Since it is filled with nuts and seeds, it offers a good source of filling fiber and plant-based protein. Plus, these breakfast cereals are either unsweetened or just lightly sweetened with honey, so they are far lower in sugar than traditional breakfast cereals!" (Related: 14 Easiest Breakfast Ideas That Aren't Cereal)
– Jenna Gorham, RD, LN
Lundenberg Short Grain Organic Brown Rice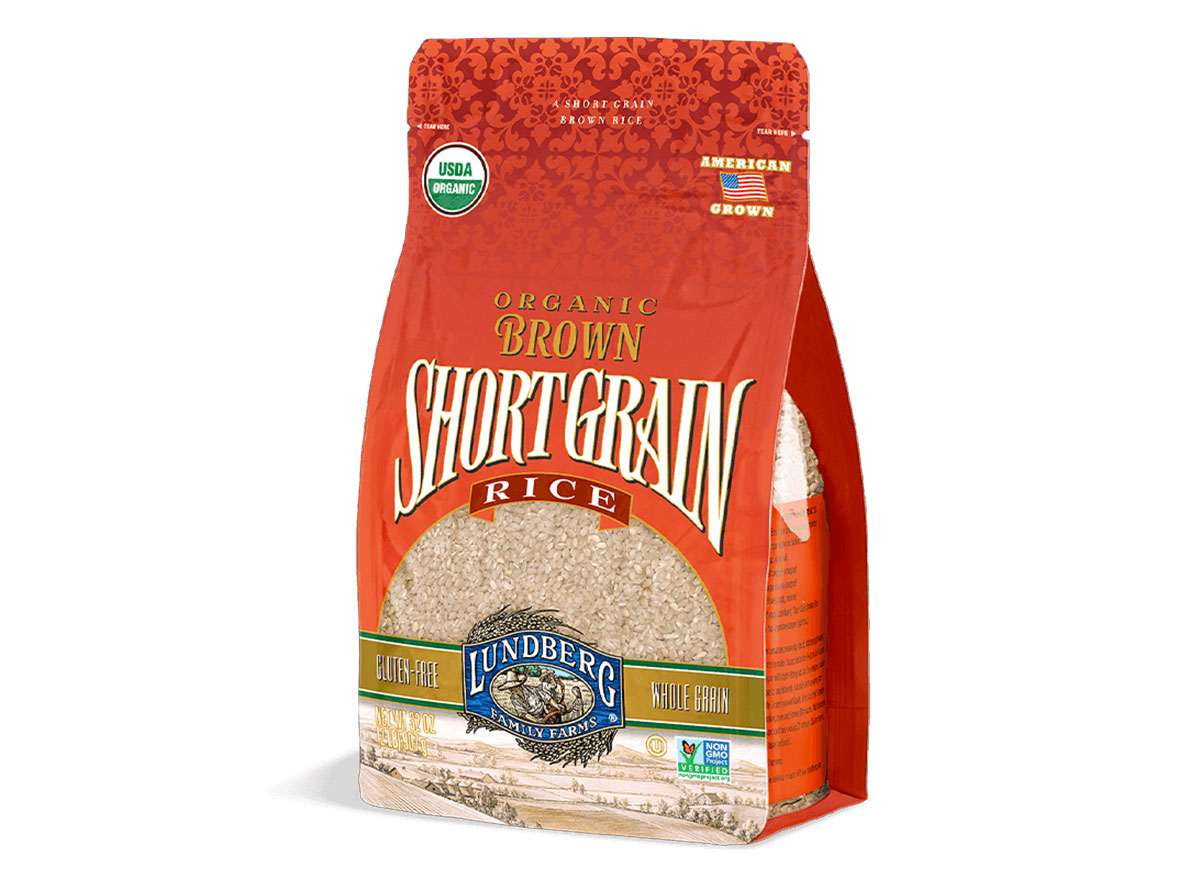 "Brown rice is a whole grain, and it contains dietary fiber and B vitamins. This particular brand is chewy and satisfying. Why buy at Costco? This bulk item is more affordable here than at other places."
– Joanna Kriehn, registered dietitian for MyNetDiary
Kirkland Signature Three Berry Blend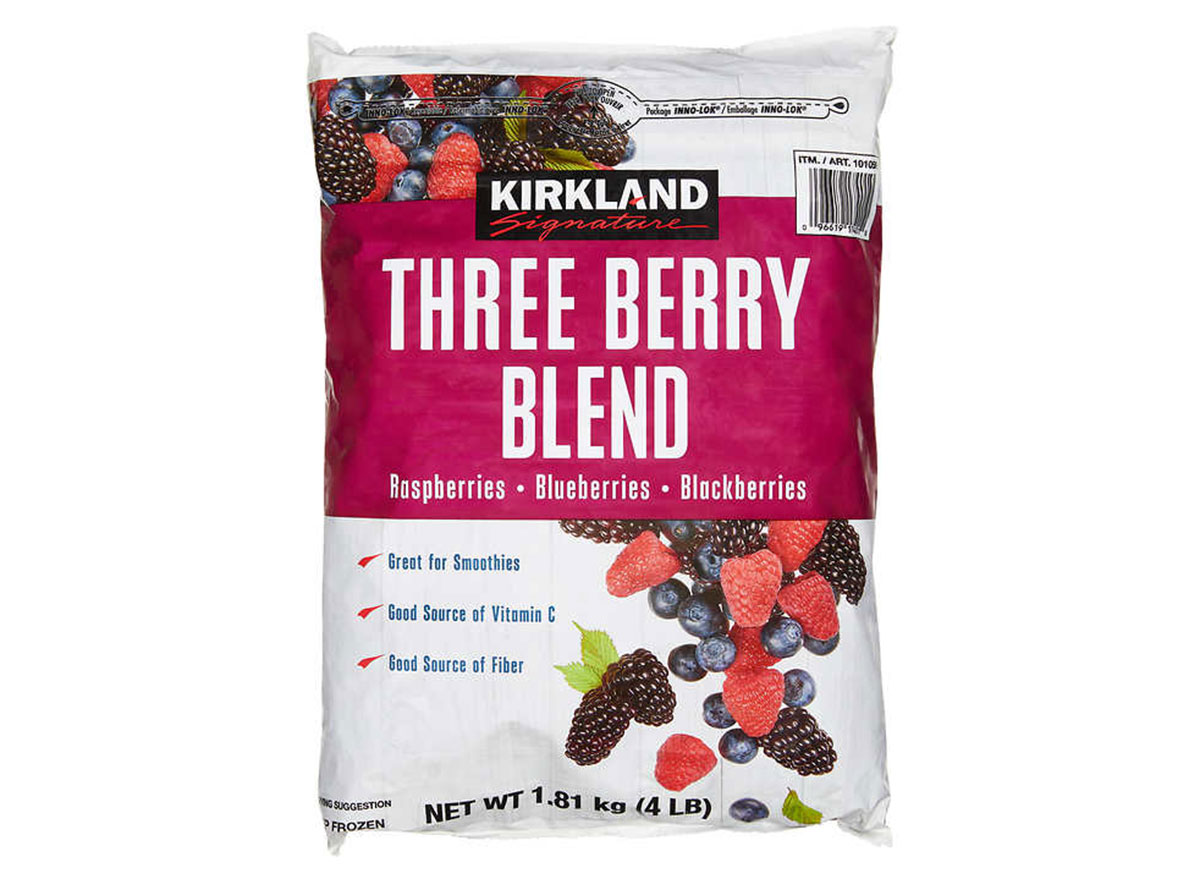 "Frozen is just as good as fresh. Berries are packed with antioxidants, potassium, and vitamin C, all of which can help with inflammation. The antioxidant properties can lower rates of heart disease, cancer, diabetes, and obesity. You can serve it on top of yogurt, use it in smoothies, or even blend them in salad dressings for lunch salads in protein marinades for dinner dishes."
– Bendana
More content from
Groceries