15 Groceries Every Home Should Have Right Now
These are the essential foods to have on-hand at all times—but especially during emergencies.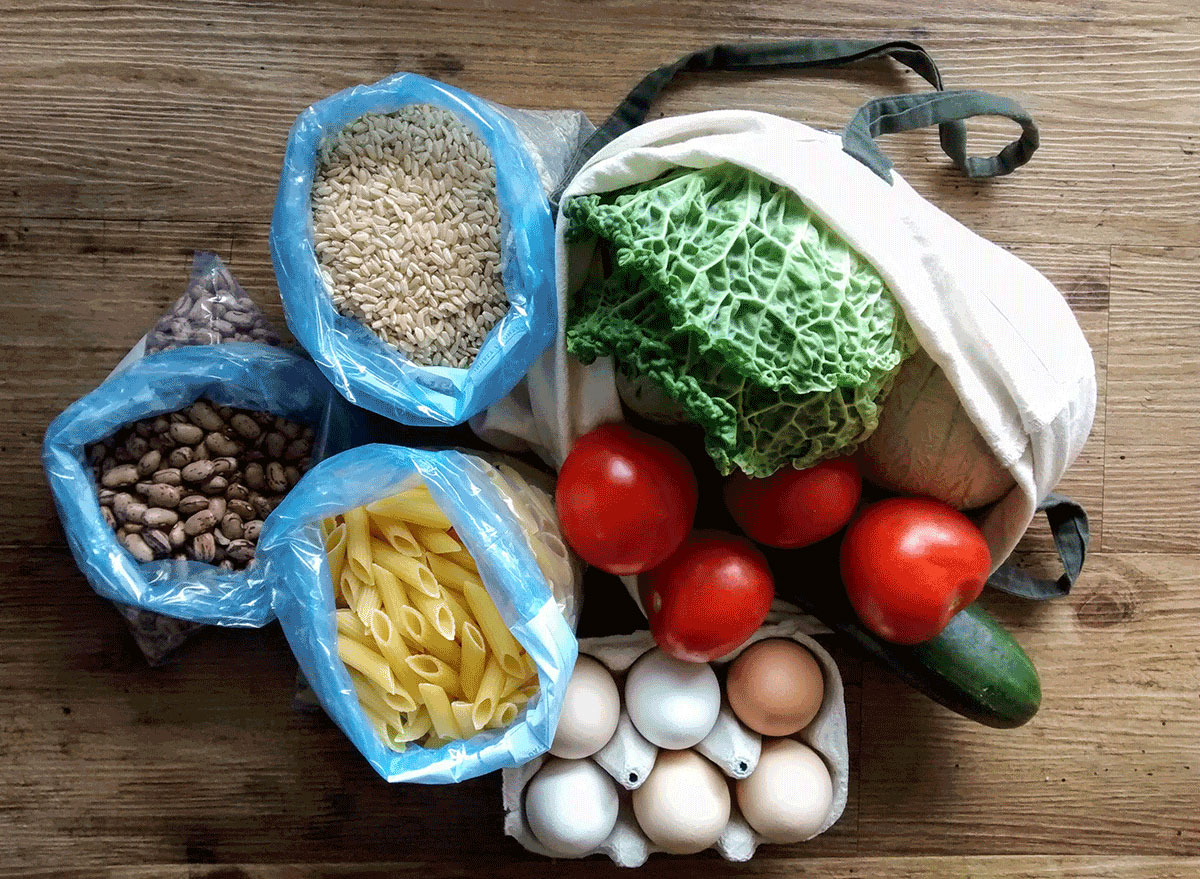 Staying at home amid the COVID-19 pandemic—or extreme winter weather, like parts of the country are experiencing now—is the smartest and safest thing you can do. But, if you're pantry and fridge are nearly empty, that's going to be a problem. It's so important to always have your home stocked with essential foods that have long shelf lives and are versatile enough to make an array of healthy, flavorful foods. Doing so will see you through trying times when leaving your home isn't an option.
These basic foods are the absolute best to have on-hand right now and at all times—so, add them to your next grocery delivery order ASAP. They will help get you through long stretches of time at home feeling healthy, happy, and well-fed.
And for more useful grocery shopping tips, read up on the 7 healthiest foods to eat right now.
Beans are a nearly perfect food staple. The easiest and most inexpensive way to buy beans is to scoop up a one-pound bag of dry beans, which can easily be soaked overnight or cooked with onions, garlic water, and spices over a low simmer for a few hours.
High in filling fiber and protein (and completely void of anything processed), beans are an essential superfood to have on hand. Dry beans can also keep on your shelf for years without going bad. (Oh, and by the way, the more you eat beans, the more your body adjusts to them, which lessens their, um, negative side effect.)
Related: 61 Easy Recipes You Can Make With Canned Foods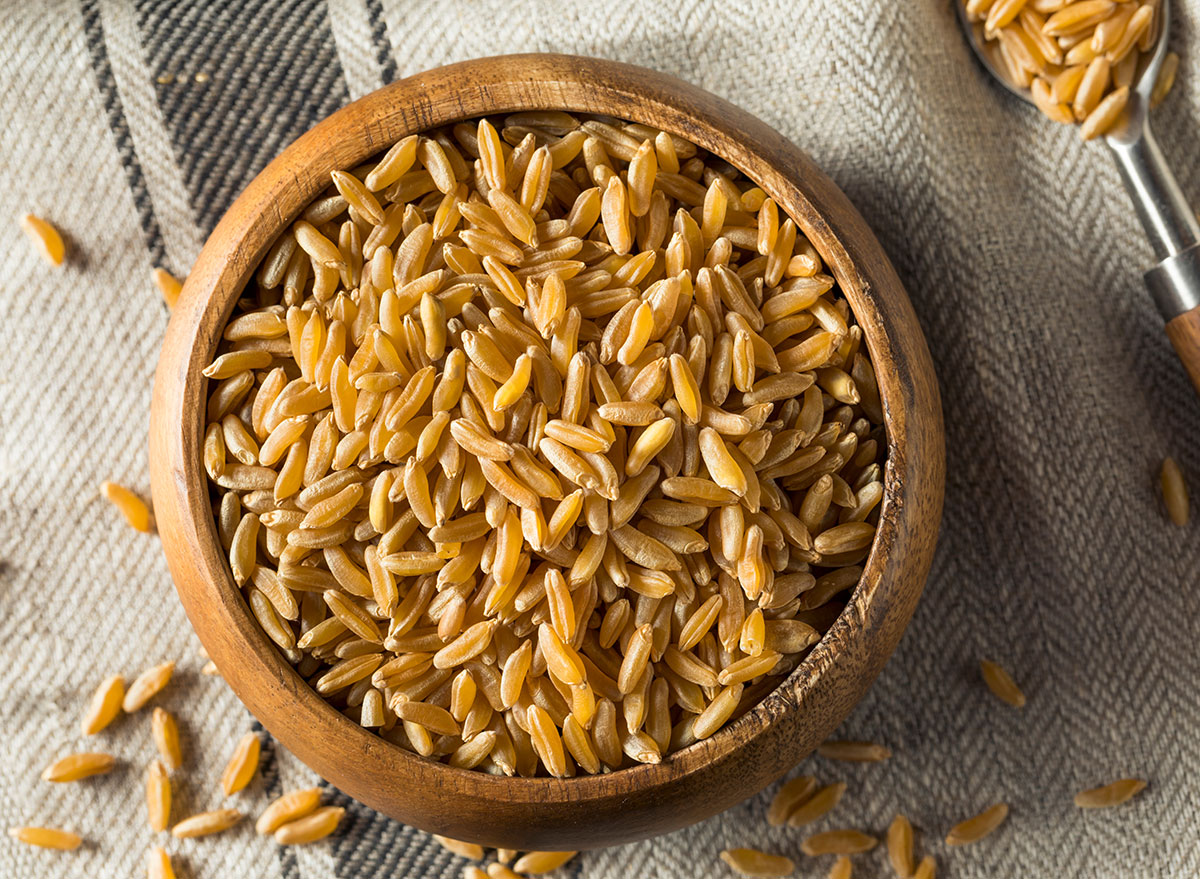 Whole grains like rice, oats, and quinoa are the perfect partner to beans. Long-grain and unprocessed grains are much better for you, so try to avoid the instant or minute-rice options. Rice pairs well with almost anything, and works very well when mixed with sautéed veggies and a bit of protein like chicken or fish.
Related: How to Cook Quinoa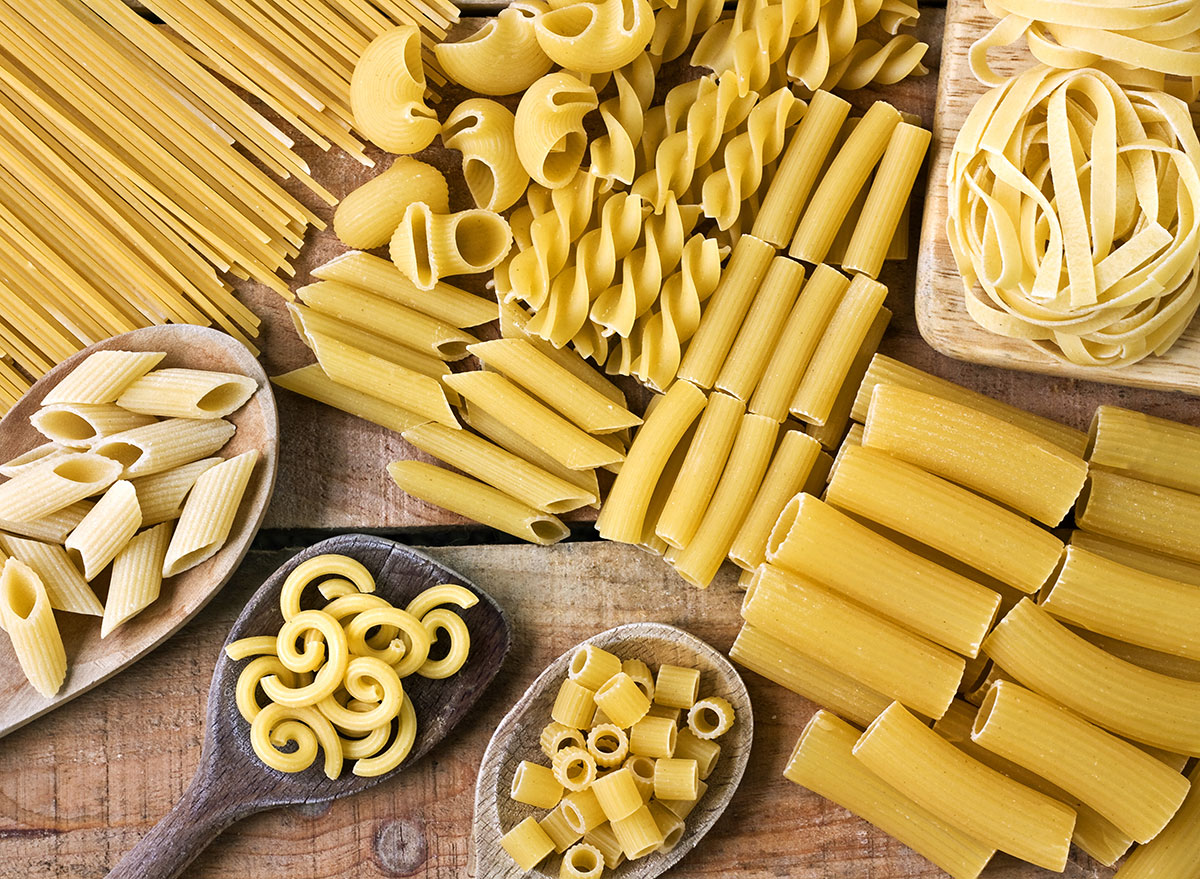 Anyone with small children knows that pasta with butter is a staple, and for good reason: It's delicious, easy to prepare, and filling. Is pasta the healthiest meal? Not in excess. But, dried pasta keeps on your shelf for ages. Plus, there are so many healthy pasta options now, like whole wheat, chickpea, or veggie pasta (which you can make by putting zucchini through a spiralizer or getting spaghetti squash).
Related: We Tasted 11 Pasta Sauces, and This Is the Best One!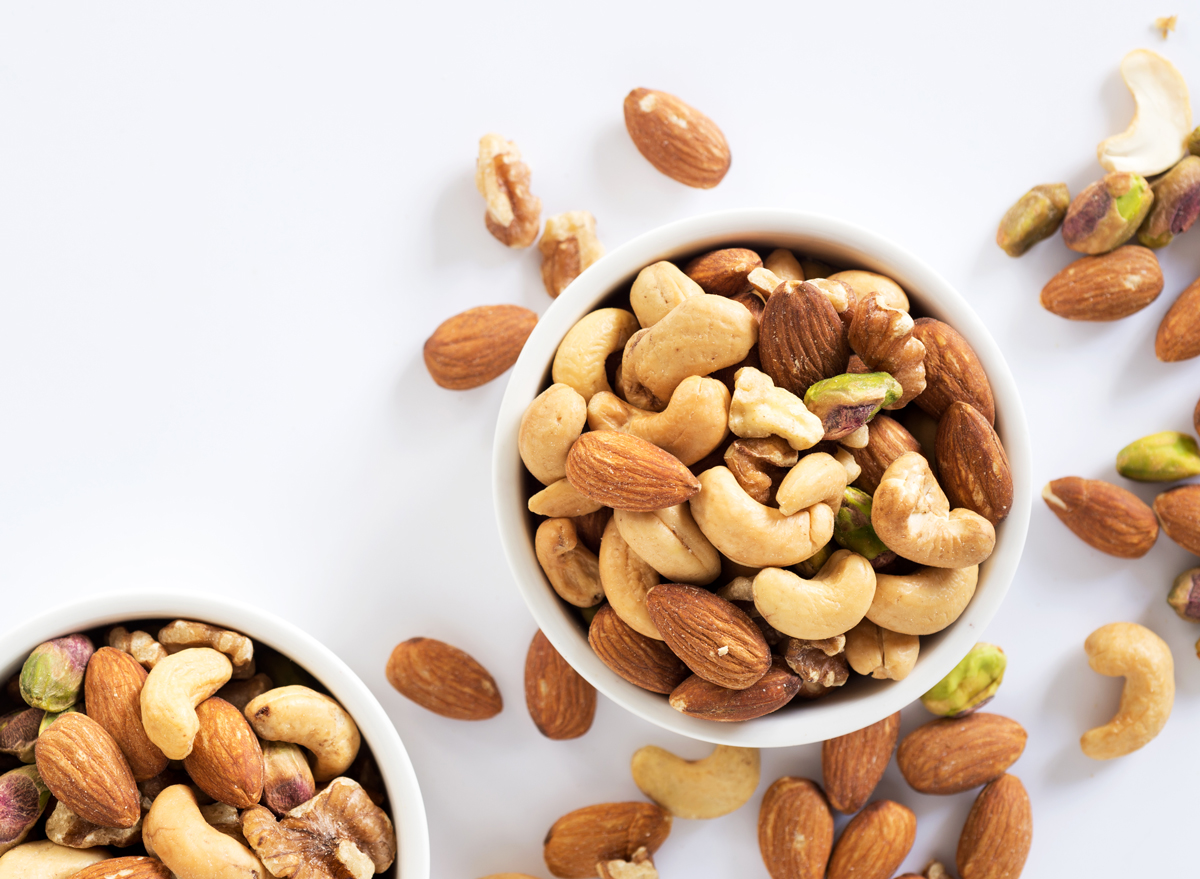 Like beans and rice, nuts are shelf-stable foods that are full of protein and (mostly) not processed, making them a healthy snack option if consumed in moderation. Hot tip: Topping your salad or dessert with some crushed-up nuts can add taste and texture, as well as make your meal more filling.
Related: 14 Plant-Based Snacks for On-the-Go Nourishment
The process of drying fruit extracts some of the nutritional value of fresh fruit, but there is still a great deal of nutrition you can get from dried fruit. Natural fructose is concentrated during the drying process (which can help satisfy your sweet tooth in a healthier way than reaching for candy), and the fiber in dried apricots, prunes, and raisins can help aid in digestion and make you feel full.
Related: The 12 Best Vitamin A Foods for Skin, Hair, and Eye Health
While fresh steaks and chops are always your best option, you can make your purchase last longer by freezing them for later use. The key is to freeze the meat as soon as you get home, but more importantly, thawing it precisely when it's time to cook. Don't use the microwave or run frozen meat under warm or hot water. Plan ahead, take your time, and simply place the frozen meat on a cast iron or metal pan. Turn the pieces over after an hour and within a couple of hours, the cuts should be ready for cooking.
(One more tip: You shouldn't refreeze meat that's already been thawed. Cook it no matter what and refrigerate what isn't served/eaten.)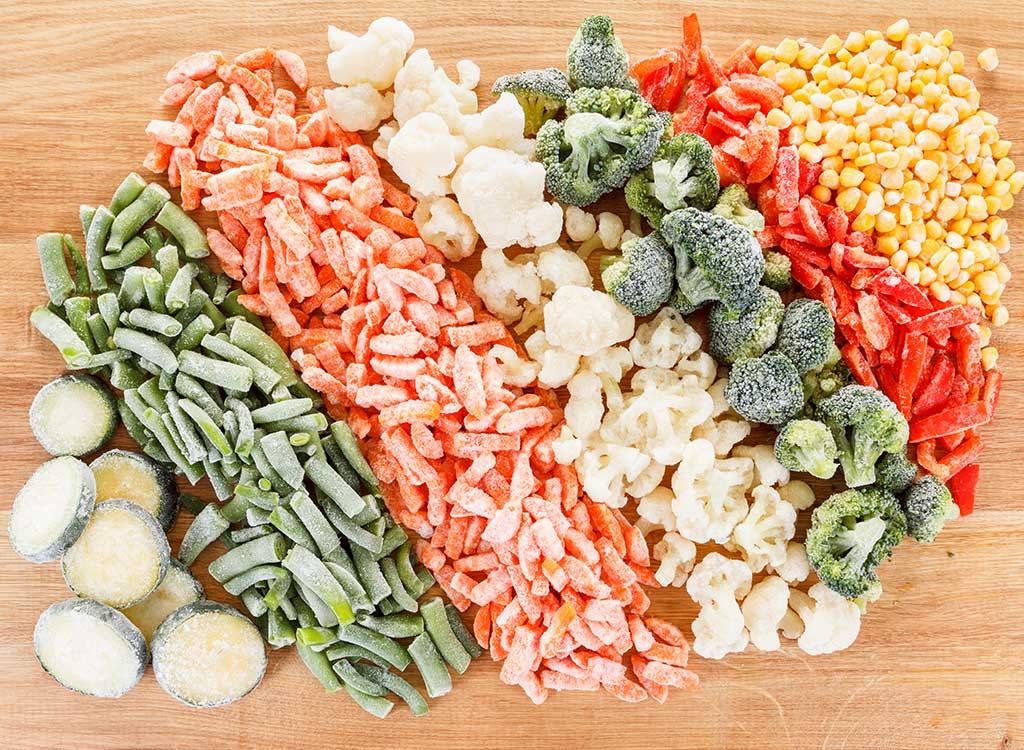 Clearly, fresh vegetables are a higher priority than their frozen counterparts, but the shelf life of fresh veggies only lasts so long. Yes, the supply chain for fresh produce will continue to put fresh fruit and veggies on your local grocer's shelves, but it's never a bad idea to load up on a backup stash. Some veggies hold up better than others from flash freezing, such as spinach and green beans, but this is solely an issue of personal taste. You'll thank yourself that you have veggies in the freezer!
Related: 10 Signs It's Time to Toss Your Frozen Food
Want to know why food often tastes so good when you go to a nice restaurant? The chefs are often less concerned with your health than they are with making your food taste as good as possible. Butter makes food taste great, and it can easily be frozen. Butter is not a life-saving staple, but a crucial ingredient in most of the great pleasures that come from home cooking. Don't forget your olive, coconut, and vegetable oils as well, which can be used in place of butter in many recipes.
Related: What Happens to Your Body When You Eat Olive Oil
Canned Veggies and Tomatoes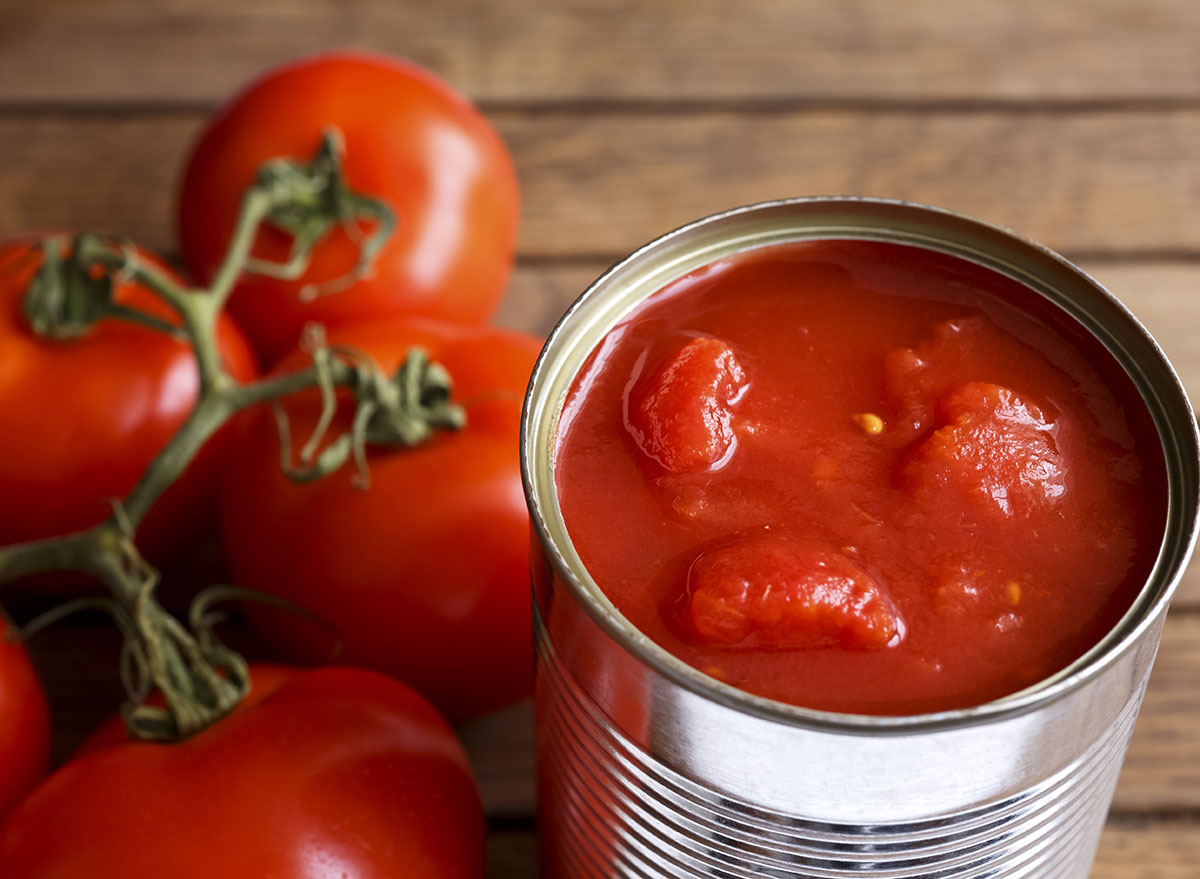 No, vegetables are not their most nutritious when served in a can, but they last a long time and they can still be delicious. Canned tomatoes (and tomato sauce/paste) are a pivotal ingredient in many recipes, especially stews, chilis, and, of course, tomato sauces.
Onions and Root Vegetables
The root of many great meals is sautéed onions and garlic. Whether you're cooking beans, rice, or pasta, onions and garlic (and perhaps even a shallot, if you're feeling fancy) can offer a sharp bite when uncooked or natural sweetness when cooked. Most importantly, these bulbs can keep unrefrigerated for some time.
Related: 31 Best Healthy Instant Pot Soup Recipes for Weight Loss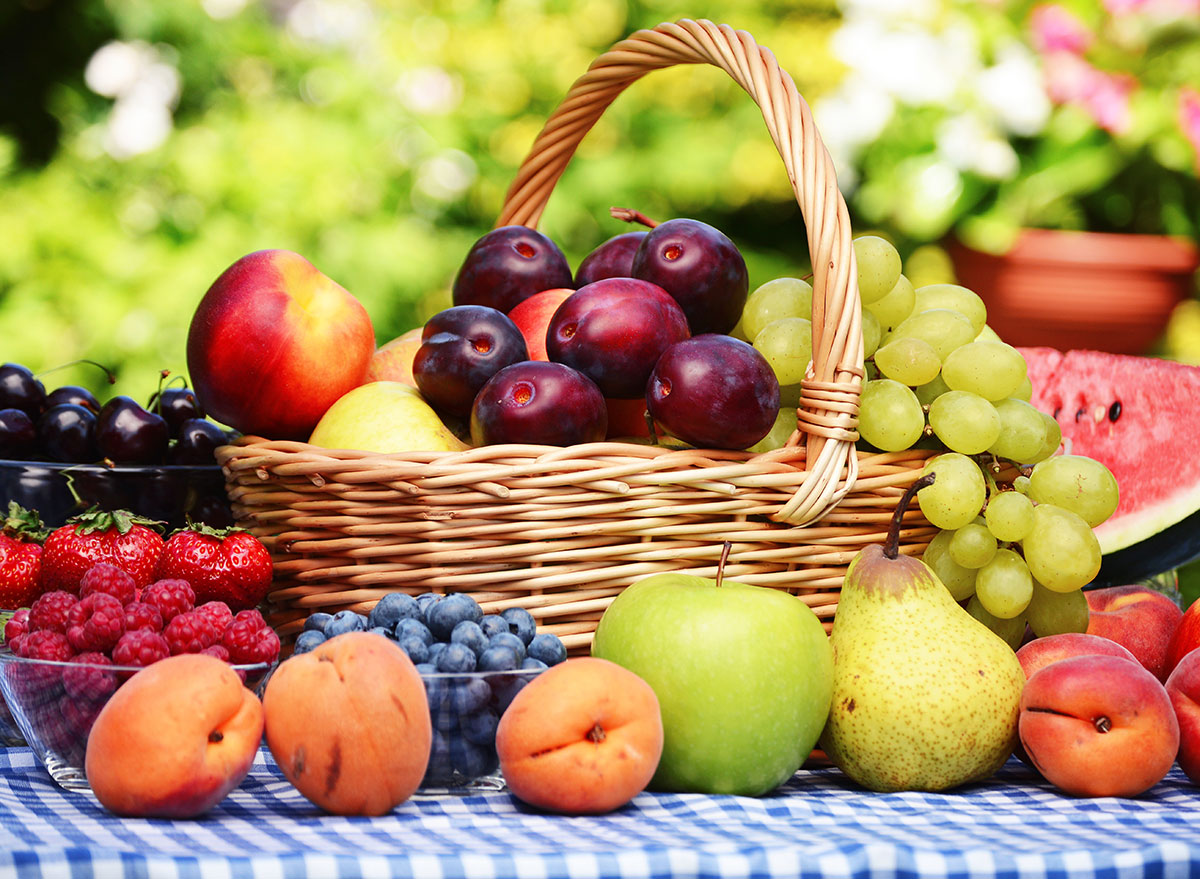 Not every grocery store trip or online order needs to contain shelf-stable foods. In fact, you should stock up on fresh foods during every food run—simply make sure you buy enough fruit that can be consumed before it goes bad.
Related: The 25 Best-Ever Weight Loss Smoothies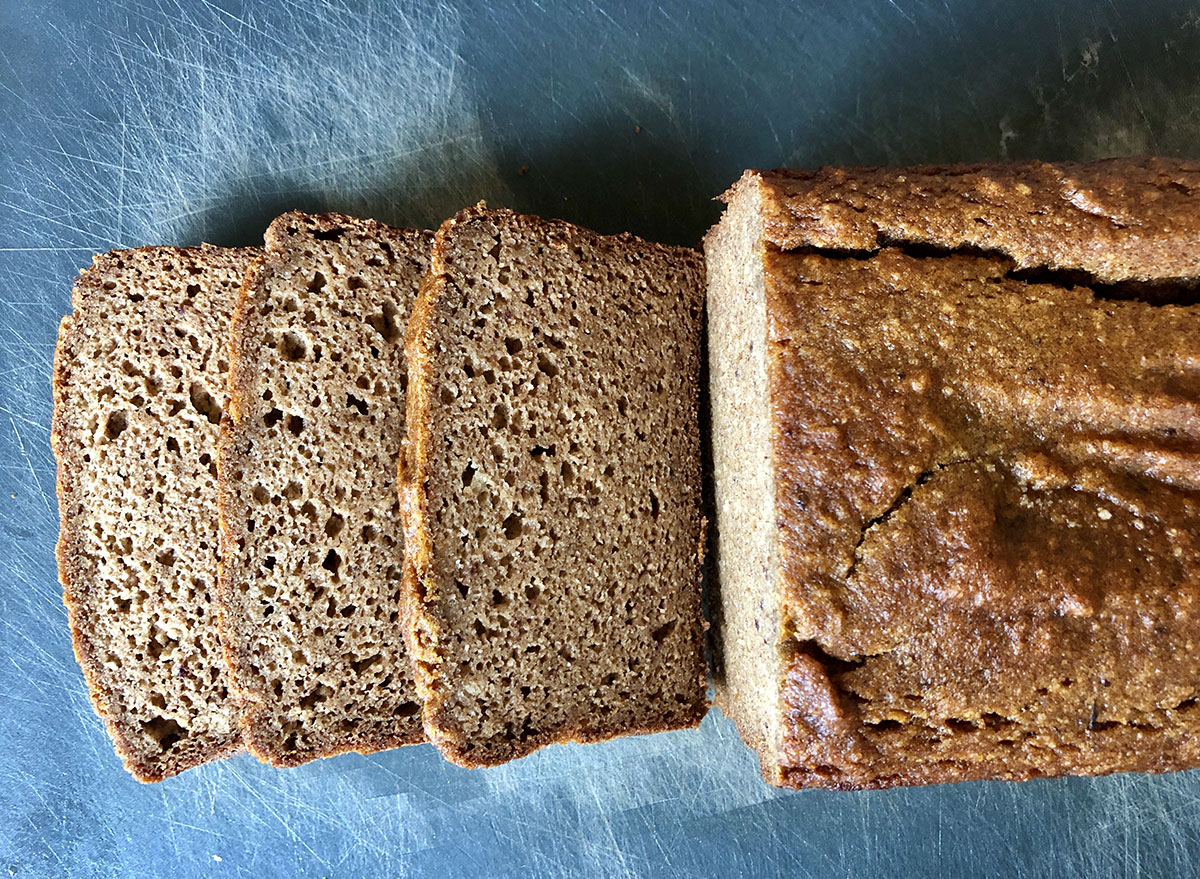 Did you know that bread can be frozen too? It's true. There are healthy, sprouted bread options that offer more protein that you can pop in the toaster for a snack.6254a4d1642c605c54bf1cab17d50f1e
Speaking of bread, if you plan on making hot dogs or burgers, buns can easily be frozen as well.
Related: The Best & Worst Store-Bought Breads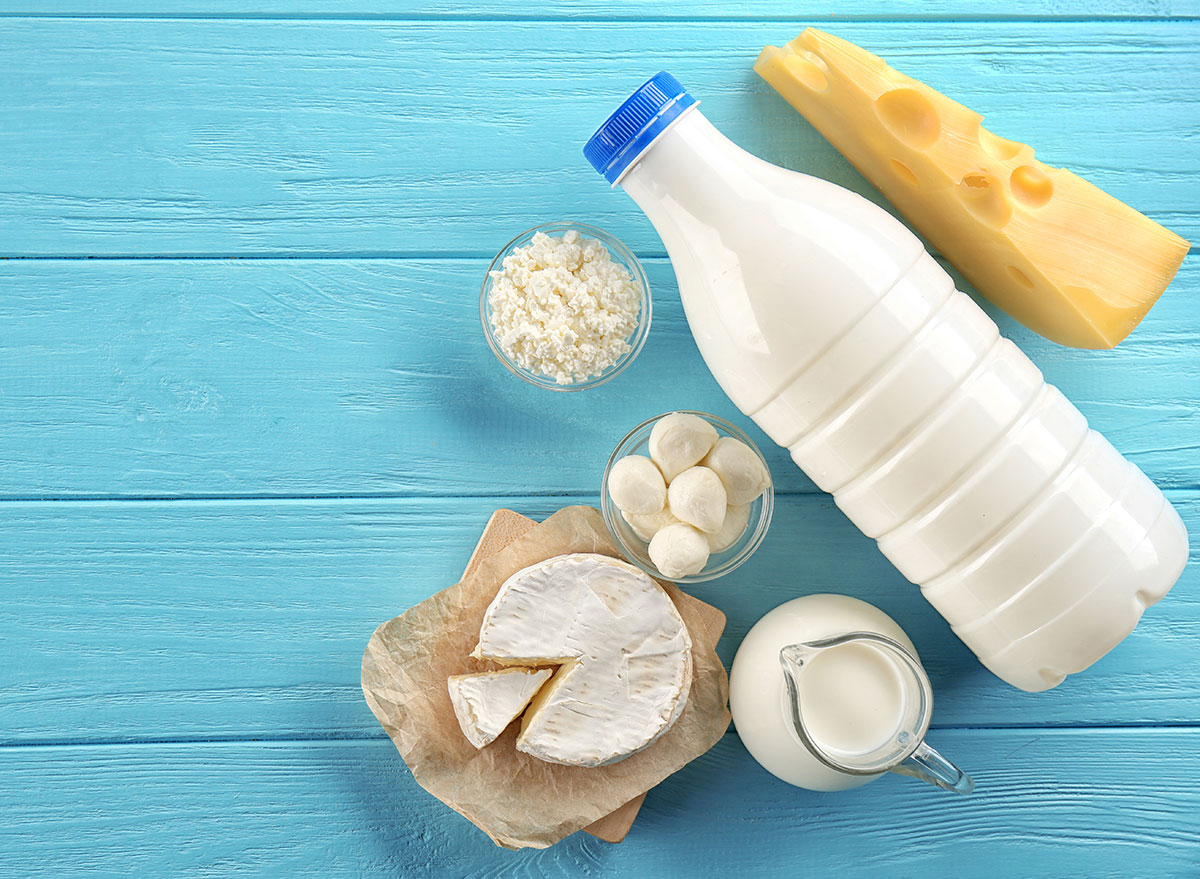 Dairy products can be tricky to purchase. You don't want to load up on milk only for it to go bad. One solution is to look for Ultra High-Temperature Pasteurization (also referred to as Ultra Pasteurization or UP) milk that is sold in cartons outside of your grocer's cold storage containers. These can last for a much longer time in your cupboard and need no refrigeration until they are cracked open.
Also, eggs typically can stay good for up to five weeks (give or take), and some cheeses can be frozen (artisanal cheese should be eaten fresh, though).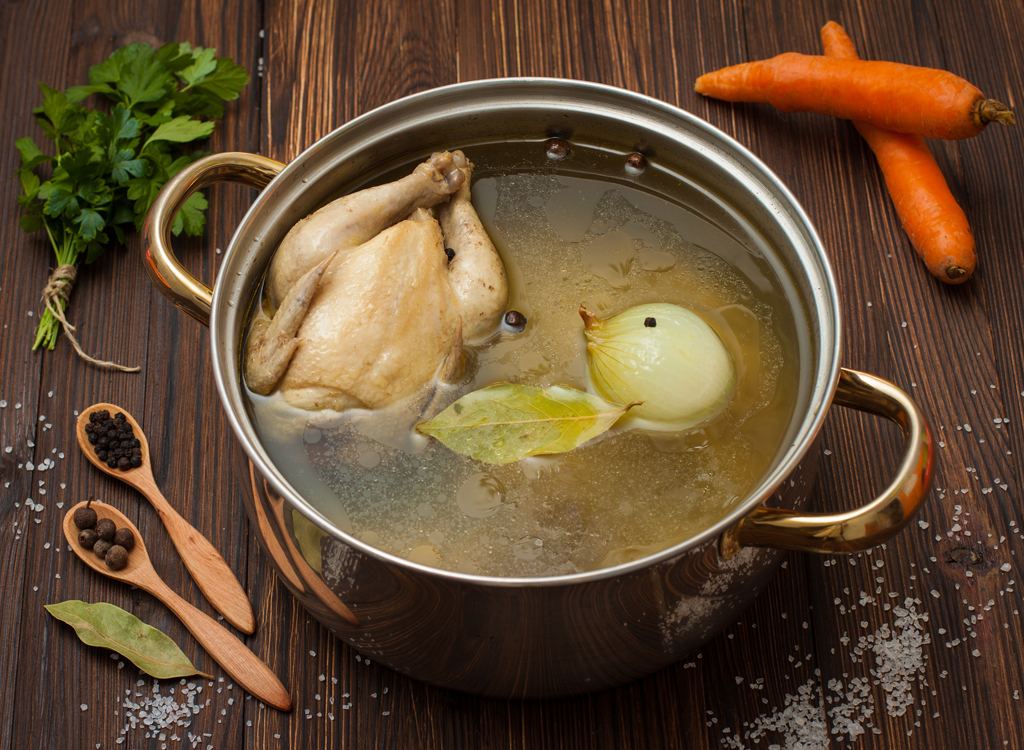 Want to make a rice dish even tastier? Substitute some of the water for chicken or veggie stock, and watch your taste buds pop. Stocks are the root of many great recipes and packaged soups—but the latter are often loaded with salt and preservatives, so eat them in moderation. The plus side: Canned soups keep for years!
Related: 14 Best Low-Sodium Cans of Soup, Approved by Dietitians
If chocolate is not your thing, feel free to get some other treat that you fancy. Just because you're stuck at home does not mean you have to deny yourself the occasional indulgence. During tough times, if a piece of chocolate (opt for dark over milk for its health benefits) will perk you up, then it's a good buy.
For more great food tips, check out the 100 Easiest Recipes You Can Make.