6 Healthy High-Protein Meals That Trainers Are Obsessed With
Meal time is about to get a major, tasty upgrade.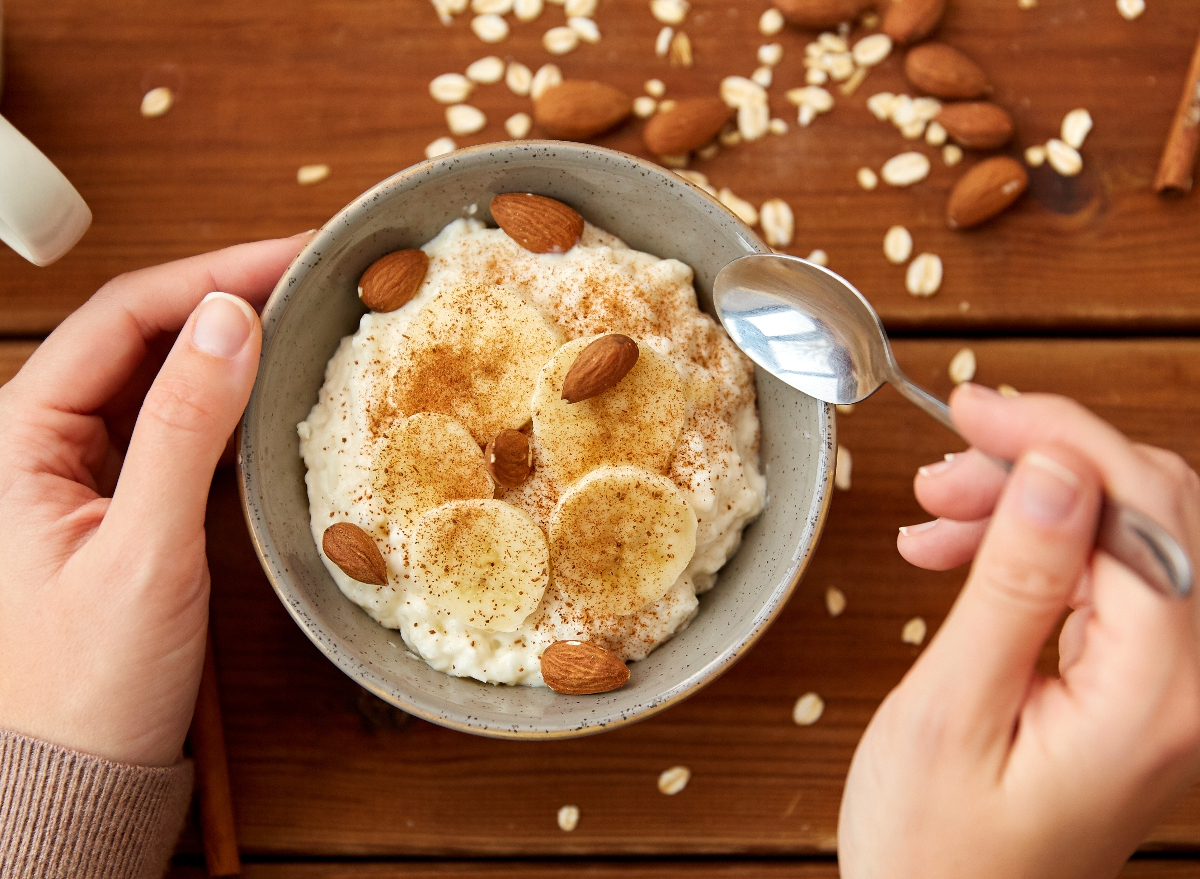 Protein is a key player in your diet in more ways than one. It's king at keeping you fuller for a longer period of time, which can help you make fewer unhealthy snacking choices at home and while on the go. Protein, when paired with strength exercises, also helps build up your supply of lean muscle and aid in your weight loss efforts. If you're not already working protein-packed meals and snacks into your weekly rotation, then it's time to change that ASAP.
With mouthwatering items like creamy overnight oats and savory sheet pan salmon with roasted veggies, your weekly meal time is about to get a major upgrade. The Nutrition Twins®, Tammy Lakatos Shames, RD, CDN, CFT, and Lyssie Lakatos, RD, CDN, CFT, members of our Medical Expert Board and certified personal trainers, share some of their favorite healthy high-protein meals they're obsessed with. (And it's clear as to why—they sound delicious!)
Keep reading to learn about The Nutrition Twins' favorite healthy high-protein meals you can easily prepare at home. And when you're finished, be sure to check out these 5 Protein-Packed Foods That Help You Lose Weight After 40.
Orange Creamsicle Overnight Oats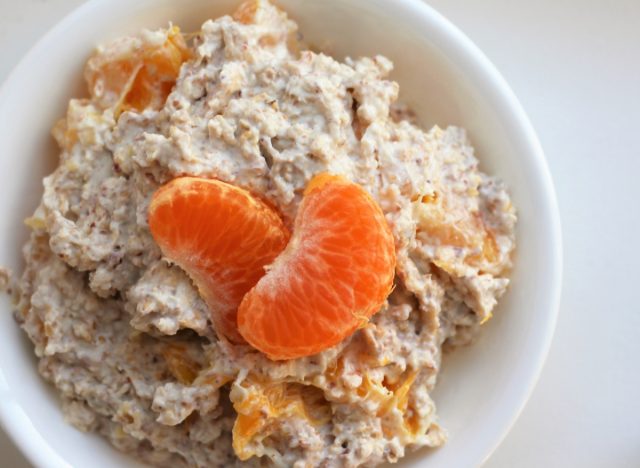 The Nutrition Twins call this recipe for orange creamsicle overnight oats their "shake, rattle, and roll breakfast!" These overnight oats are seamless to whip up and taste downright amazing. All you have to do is add the necessary ingredients to a mason jar, shake it up, "rattle 'em if you please," and then refrigerate. "Roll out the door with them in the morning," The Nutrition Twins say.
The Greek yogurt and skim milk make this tasty breakfast a true protein-packed treat. The best part? It's prepped in advance, which is always ideal on hectic mornings. "Simply combine the ingredients in a bowl or jar, and let the delicious meal creation happen as you sleep—perfect for fast-paced lifestyles," The Nutrition Twins explain. "Protein is great for staving off hunger because research shows that protein helps to prevent overeating and helps to regulate appetite hormones, so you can stay focused during the morning without getting derailed by hunger pangs."
Whole-grain oats offer "energy-revving carbs" to kick off your day with, and the addition of oranges delivers an excellent source of vitamin C to give your immune system a boost. Vitamin C also aids in collagen formation for youthful-looking, healthy skin. "Oats combined with oranges are the perfect match since the iron in the oats is more easily absorbed with the help of vitamin C," The Nutrition Twins add.
Chocolate Brownie Batter Smoothie
It's smoothie time! The Nutrition Twins are "obsessed" with this particular recipe, and you will be, too. They typically enjoy a chocolate brownie batter smoothie after working out as a light on-the-go meal. "For us, Clean Simple Eats Whey Protein Powder is the key to getting a quick, easy, and delicious source of protein with no chalky aftertaste," they explain.
To make your own chocolate brownie batter smoothie, simply mix up two scoops of Clean Simple Eats Chocolate Brownie Batter Protein Powder with some almond milk, a banana, one tablespoon of peanut butter, and ½ cup of ice. "Each serving contains 20 grams of grass-fed whey protein, which is cold processed to preserve essential nutrients and contains digestive enzymes to help you absorb and utilize the amino acids—and to avoid bloat," The Nutrition Twins explain. "The whey comes from 100% grass-fed cattle, which is a top priority for us, and it is non-GMO, gluten and sugar-free, and has no artificial ingredients."
Easy Sheet Pan Salmon with Roasted Vegetables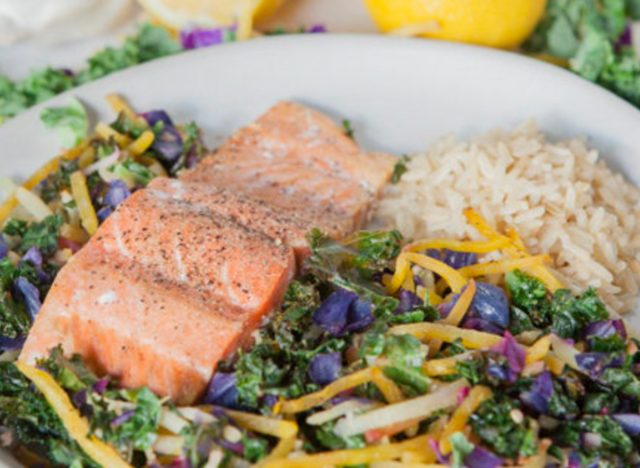 Who doesn't love a quick and simple sheet pan recipe? The Nutrition Twins' sheet pan salmon with roasted veggies is a recipe for the books, and it's pretty difficult to mess up for those who aren't pros in the kitchen! After a long day's work, having a healthy, seamless sheet pan meal on deck makes all the difference in the world.
"Even a small, four-ounce serving of salmon gives you nearly 30 grams of satisfying protein. Plus, salmon's omega-3 fatty acids help to protect the heart, improve cognitive function in middle age, and fight dementia and the inflammation that makes weight loss harder," The Nutrition Twins explain. "This meal works with any of your favorite veggies—simply place them on the pan with salmon, put the pan in the oven, and let it cook! Take it out, squeeze a little lemon on top, and call it a delicious day."
Avocado & Lentil Vegan Tacos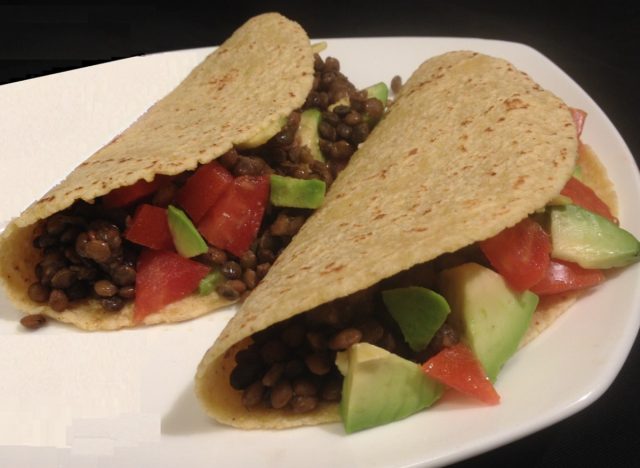 This recipe for avocado and lentil vegan tacos gives Taco Tuesday a healthy update without sacrificing flavor. "We love these quick and easy meat-free tacos," The Nutrition Twins say. "They're ideal for Meatless Mondays and Taco Tuesdays, and we throw them together in under 30 minutes. Unlike many vegetarian meals, this meal quenches your appetite, thanks to the combination of 20 grams of satisfying protein and 14 grams of filling fiber (that's more than the 12 grams of fiber that most Americans get in their entire day!). The lentils in these tacos have a meaty mouthfeel, so you don't miss meat."
The Nutrition Twins reveal this recipe helps remove any post-meal cravings due to its protein and fiber content that keeps your blood sugar levels stable. This way, you can avoid energy crashes that lead to unhealthy sugar cravings. "The avocado adds a delicious and rich creamy texture while its monounsaturated fat acts as a nutrient booster to help absorb the vitamin C and beta carotene from the tomatoes," The Nutrition Twins add.
Chicken Burger Patties with Wild Blueberries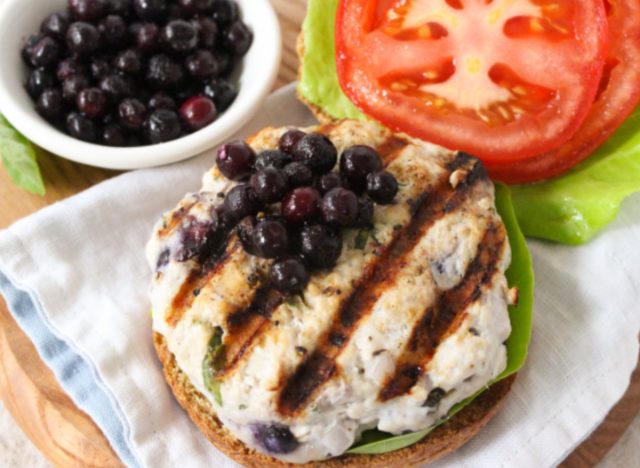 These savory chicken burger patties with wild blueberries take mere minutes to make, and The Nutrition Twins say they're "deliciously juicy with a sweet twist." Plus, they're healthy and excellent for your waistline!6254a4d1642c605c54bf1cab17d50f1e
"While [this recipe is] low in calories, it's packed with protein (27 grams per burger) to keep you satisfied. It's rich in disease-fighting anthocyanins, thanks to the wild blueberries that help to mop up free radicals, protecting cells from damage and assisting with cell repair," The Nutrition Twins explain. "Wild blueberries have also been found to reduce the risk of cardiovascular disease, type 2 diabetes, and to offer neuroprotection."
Prepare a batch of burgers, pop them in the freezer, and then use an oven or microwave to defrost on nights when you want a no-nonsense meal. To round out this delight, consider preparing a side dish of steamed veggies, use fresh lettuce for your "bun," and add tomatoes.
Cinnamon Banana Belly Fat Burning Oatmeal
This cinnamon banana belly fat burning oatmeal is chock-full of protein, and it's super quick to prepare. "Rather than a bowl of oatmeal that spikes blood sugar, packs calories, yet leaves you hungry a few hours later, this recipe includes the oats, which have been shown to help control blood sugar and reduce weight, yet adds protein from cottage cheese and egg whites, extending the energy boost of the oats and banana and keeping you satisfied, so you don't need another meal soon after," The Nutrition Twins explain.
You can avoid peaks and crashes of energy that can cause unhealthy sugar cravings and lead to eating more than you should. Plus, cinnamon is naturally sweet, so you're kicking off your morning without any added sugars.
Alexa Mellardo
Alexa is the Mind + Body Deputy Editor of Eat This, Not That!, overseeing the M+B channel and delivering compelling fitness, wellness, and self-care topics to readers.
Read more about Alexa
Sources referenced in this article