The 30 Healthiest Low-Carb Foods You Should Be Eating
Try these dietitian-approved low-carb fruits, vegetables, grains, dairy products, meats, and seafoods.

BY
Melissa Rifkin, MS, RDN, CDN
MEDICALLY REVIEWED
There was a time when low-carb foods were all the rage. With diets like the Atkins Diet gaining popularity in the 1990s and the Keto Diet gaining traction in the health world around the mid-2010s, people have been trying to avoid carbohydrates for decades now. However, research has shown that for the average person, carbs are nothing to be feared and carb-heavy foods like whole grains, beans, vegetables, and fruits are necessary for a healthy, balanced diet. But if your doctor or dietitian has given you the recommendation to try and limit your carbohydrate intake in your daily diet, you may benefit from eating more healthy, low-carb foods.
"Including a variety of nutritionally dense, low-carb, wholesome foods can be beneficial to our overall health," says Melissa Rifkin MS, RD, CDN. "Those who are overweight or require lower sugar consumption on a day-to-day basis (persons with type 2 diabetes) following a low carb diet can aid in weight reduction and improve glycemic control."
Even though low-carb diets are quite popular, not all low-carb foods are healthy. For instance, there are many products on grocery store shelves that are marketed as "low- or zero-carb" but have been heavily processed and are missing essential nutrients. This is why people often run into issues when following a strict low-carb diet, as they're not able to give their body all of the vitamins and minerals it needs. However, if you're aware of healthy low-carb foods like certain types of vegetables, fruit, grains, dairy, eggs, meat, and seafood, you'll have an easier time forming a balanced eating plan.
We want to make it very clear that we aren't suggesting everyone lower their carbohydrate intake. This is a step that should be taken carefully, and only per the recommendation of a medical professional. But if you're looking for more inspiration on foods that can help you lower your daily carb intake, check out this list of 30 healthy low-carb foods. "These foods all boast very similar characteristics—they're high in fiber, rich in antioxidants, low to moderately low in calories, and some even contain heart-healthy fats," says Rifkin. "Best of all, they either come from mother nature or are minimally processed."
Read on, and then for more healthy eating tips, make sure to check out 13 Unhealthy Carbs To Stay Away From.

Low-Carb Fruit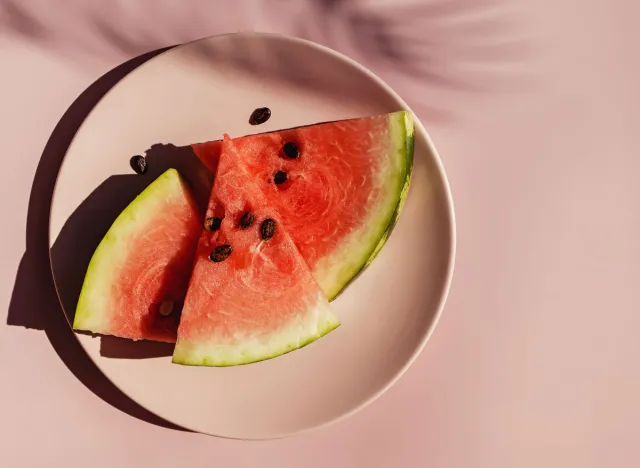 Carbs per 1 cup of watermelon, diced: 11.5 grams (9.4 grams sugar, 0.6 grams fiber)
Watermelon is the most hydrating fruit, as it is made up mostly of water. It's on the lower end of carbohydrates compared to other fruits, and it provides helpful amounts of nutrients like potassium. It has also been found to potentially aid in weight loss and weight management as part of a balanced diet.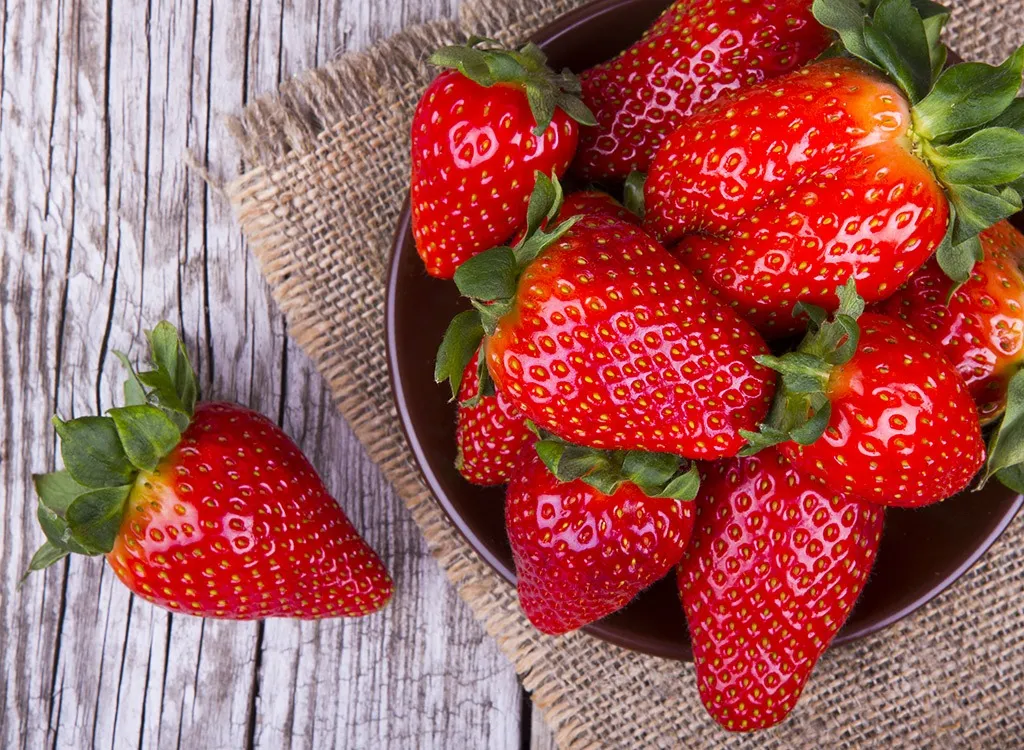 Carbs per 1 cup of strawberries, halves: 11.7 grams (7.4 grams sugar, 3 grams fiber)
"Most fruits contain some carbohydrates, but strawberries are on the lower end of the carbohydrate spectrum," says Lauren Manaker, MS, RDN. She also adds that aside from being lower in carbs, strawberries have plenty of other health benefits as well. "Recent data shows that eating two servings of strawberries each day may improve heart and brain health in eight weeks," she says.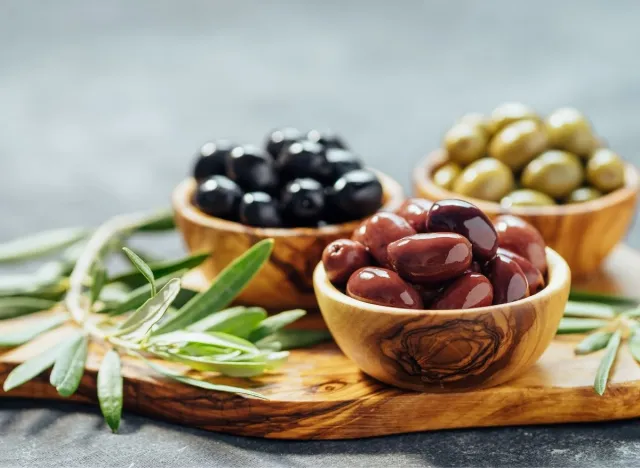 Carbs per 5 green olives, pickled: 0.5  grams (0.1 grams sugar, 0.4 grams fiber)
Some people may not think of olives as fruit, but this salty snack is the perfect healthy, low-carb food. Not only can they help you keep your carb count low, but olives also provide iron, copper, vitamin E, and a high dose of healthy fats.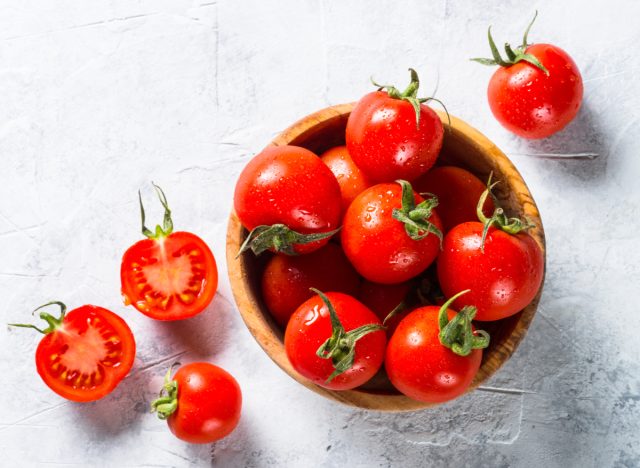 Carbs per 1 cup of grape tomatoes: 8.4 grams (3.2 grams fiber)
Whether you're throwing them on top of your salad or snacking on them on their own, grape tomatoes can give you a combination of savory and sweet flavors while helping you keep your carbohydrates on the lighter end. With only 8.4 grams of carbs per cup, these tomatoes also provide powerful, disease-fighting antioxidants like lycopene and beta-carotene.
Carbs per 1 serving of avocado: 3.9 grams (1.2 grams sugar, 2.8 grams fiber)
Avocados are a low-carb fruit, and their health benefits are through the roof. "Avocado is rich in 'healthy' fats and provides satiating fiber, too," says Manaker. "And data shows that frequent consumption of avocado is associated with a lower incidence of hypertension."

Low-Carb Vegetables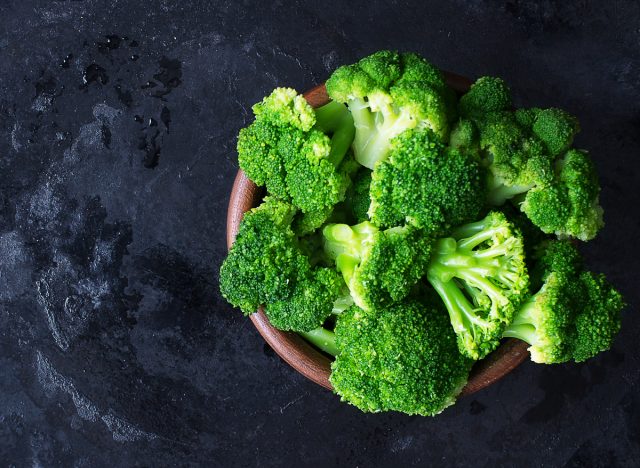 Carbs per 1/2 cup of broccoli, cooked and chopped: 5.6 grams (1.1 grams sugar, 2.6 grams fiber)
Vegetables are a healthy source of carbohydrates because they provide fiber and tons of vitamins and minerals, and broccoli is on the lower end when it comes to carb count.
"Broccoli is rich in dietary fiber, which aids in digestion, helps regulate blood sugar levels, and promotes a feeling of fullness, making it a satisfying option for weight management," says Trista Best, MPH, RD, LD at Balance One Supplements. "It is also packed with vitamin C, vitamin K, and folate, which support immune function, bone health, and overall well-being."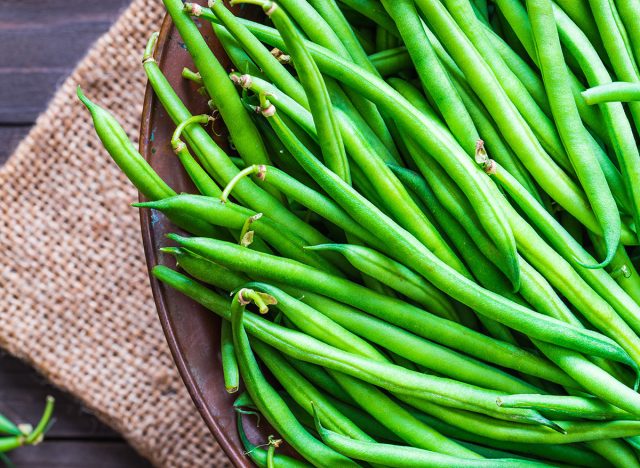 Carbs per 1/2 cup of green beans (cooked): 7 grams (3.3 grams sugar, 2.7 grams fiber)
Green beans make an excellent low-carb food choice because they also provide folate and potassium, which is why the American Heart Association says green beans are excellent for your heart health and for regulating blood pressure.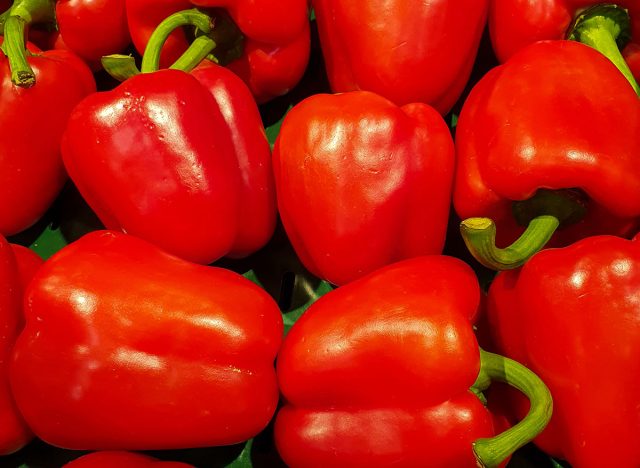 Carbs per 1 cup of red bell pepper, sliced: 5.5 grams (3.9 grams sugar, 1.9 grams fiber)
People often think of oranges when they think of getting a vitamin C boost, but red bell peppers are a rich source of this important vitamin. "Red bell peppers are a healthy low-carb food, and their high vitamin C content is a notable reason," says Best. "In fact, these peppers provide more than 100% of the recommended daily intake in a single serving."
She adds that "Vitamin C is a potent antioxidant that supports the immune system, promotes skin health, and aids in wound healing. Additionally, red bell peppers are low in carbohydrates, making them suitable for low-carb diets while still offering a variety of essential nutrients and dietary fiber, which aids digestion and satiety."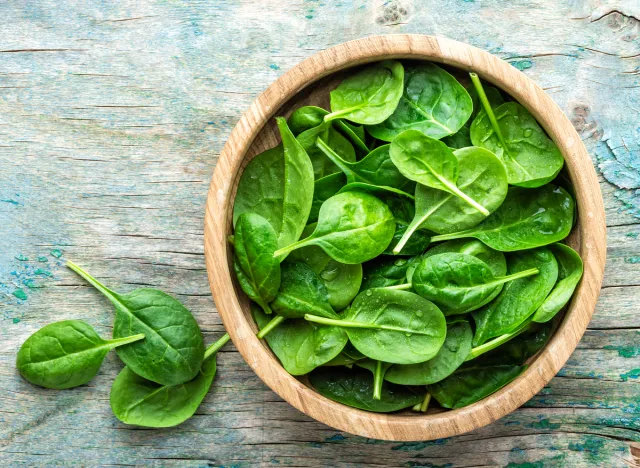 Carbs per 1 cup of spinach (cooked): 6.8 grams (0.8 grams sugar, 4.3 grams fiber)
As with all leafy green vegetables, spinach packs a punch of nutrients. It is low in carbohydrates but has a high ratio of fiber, and it also contains significant levels of vitamins A, K, and C, as well as calcium and iron. One study also found that eating spinach regularly may help lower and manage blood pressure levels.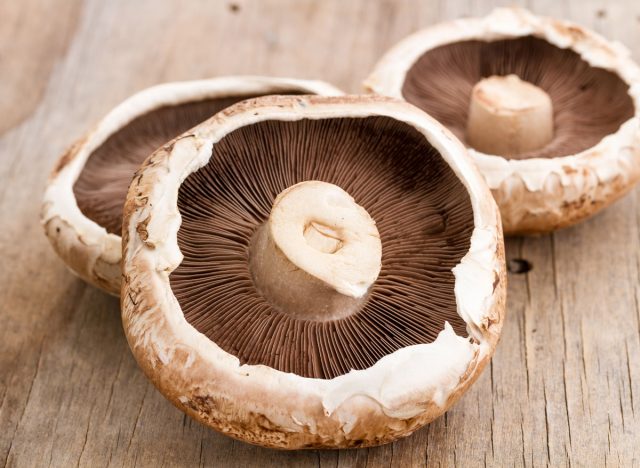 Carbs per 1 cup of mushrooms, diced: 3.3 grams (2.2 grams sugar, 1.1 grams fiber)
Portobello mushrooms are one of thousands of types of mushrooms out there, and these are particularly versatile, easy to cook with, and accessible in most stores. With a little over three grams of carbs per cup, this vegetable fits perfectly into a low-carb eating plan.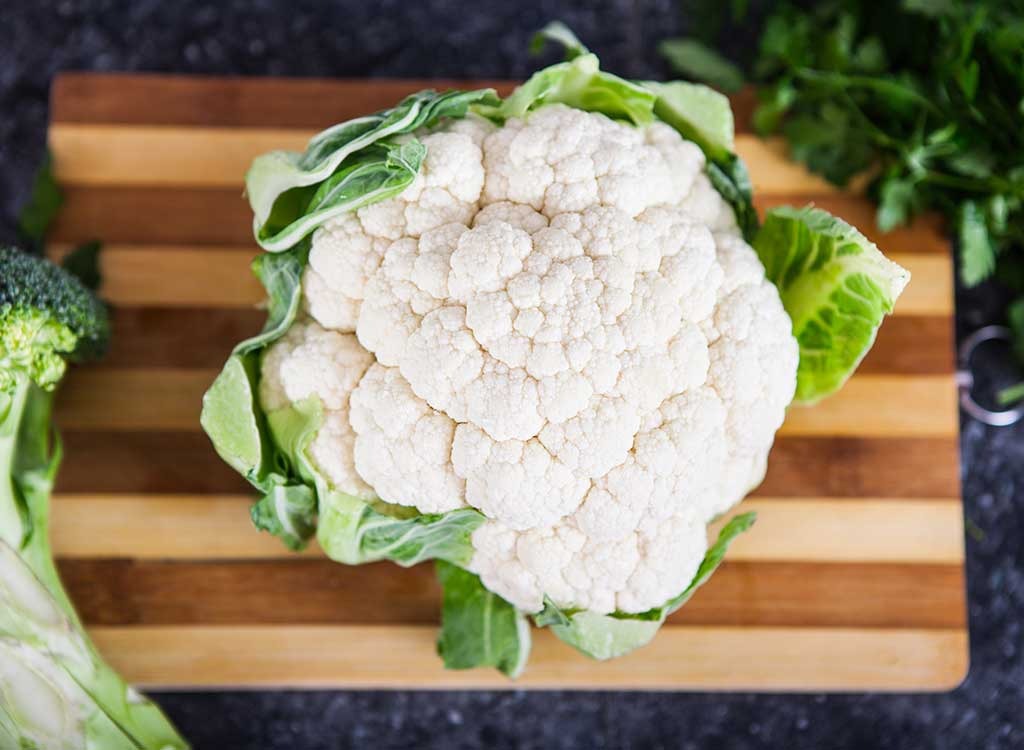 Carbs per 1 cup of cauliflower, cooked: 5.1 grams (2.6 grams sugar, 2.9 grams fiber)6254a4d1642c605c54bf1cab17d50f1e
According to Best, "cauliflower is remarkably low in carbohydrates, making it an ideal choice for those following low-carb or ketogenic diets, and it is rich in dietary fiber, which supports digestive health, aids in weight management, and helps stabilize blood sugar levels."
Along with being low in carbs, this vegetable "also provides an array of essential vitamins and minerals, including vitamin C, vitamin K, and folate, which contribute to overall well-being," adds Best. Many people also love this veggie when they're trying to manage their carb intake because it "is versatile and can be used in various dishes as a low-carb substitute for higher-carb ingredients."
Carbs per 1 cup of celery, chopped: 3 grams (1.4 grams sugar, 1.6 grams fiber)
Celery is largely made up of water, but it's also known to have high amounts of antioxidants that can help lower blood pressure and manage blood cholesterol levels. So whether you're using this veggie to dip into your favorite hummus or drinking it in juice form, you'll not only be keeping your carb count low but will also be feeding your body some powerful nutrients.
Carbs per 1 cup of watercress, raw: 0.4 grams (0.1 grams sugar, 0.1 grams fiber)
If you're not incorporating watercress into your regular diet, you may want to rethink things.
Not only is it low in carbohydrates, but "Watercress has been deemed the most nutrient-dense food by both the CDC and the Aggregate Nutrient Density Index," says Manaker. "This aqueous veggie is packed with antioxidants, fiber, and many nutrients, like vitamin K. It also contains a unique compound called phenethyl isothiocyanate (PEITC), which has been shown to inhibit cancer progression and may reduce the risk of certain cancers from developing."
Low-Carb Grains
Carbs per 1 cup of popcorn: 6.2 grams (0.1 grams sugar, 1.2 grams fiber)
The perfect healthy low-carb snack is air-popped popcorn, which many people don't realize is a whole grain.
"Whole grains retain their bran and germ layers, which are rich in fiber and essential nutrients, and popcorn is no exception, providing dietary fiber that supports digestive health, helps control blood sugar levels, and contributes to a feeling of fullness," says Best. "Being low in carbohydrates, air-popped popcorn is a suitable option for low-carb diets while offering the benefits of whole grains. It is a relatively low-calorie snack, making it a satisfying choice for those watching their calorie intake as well."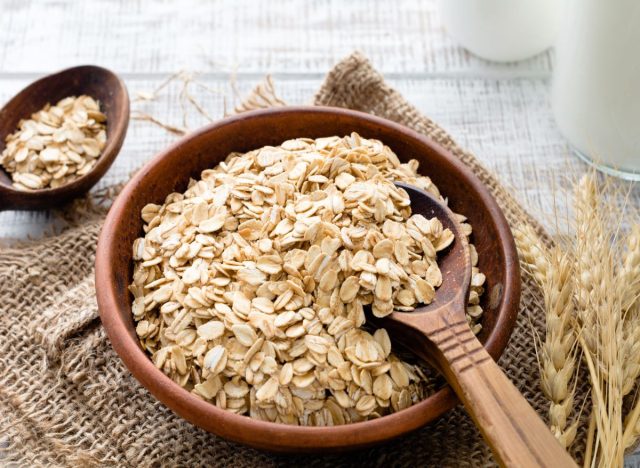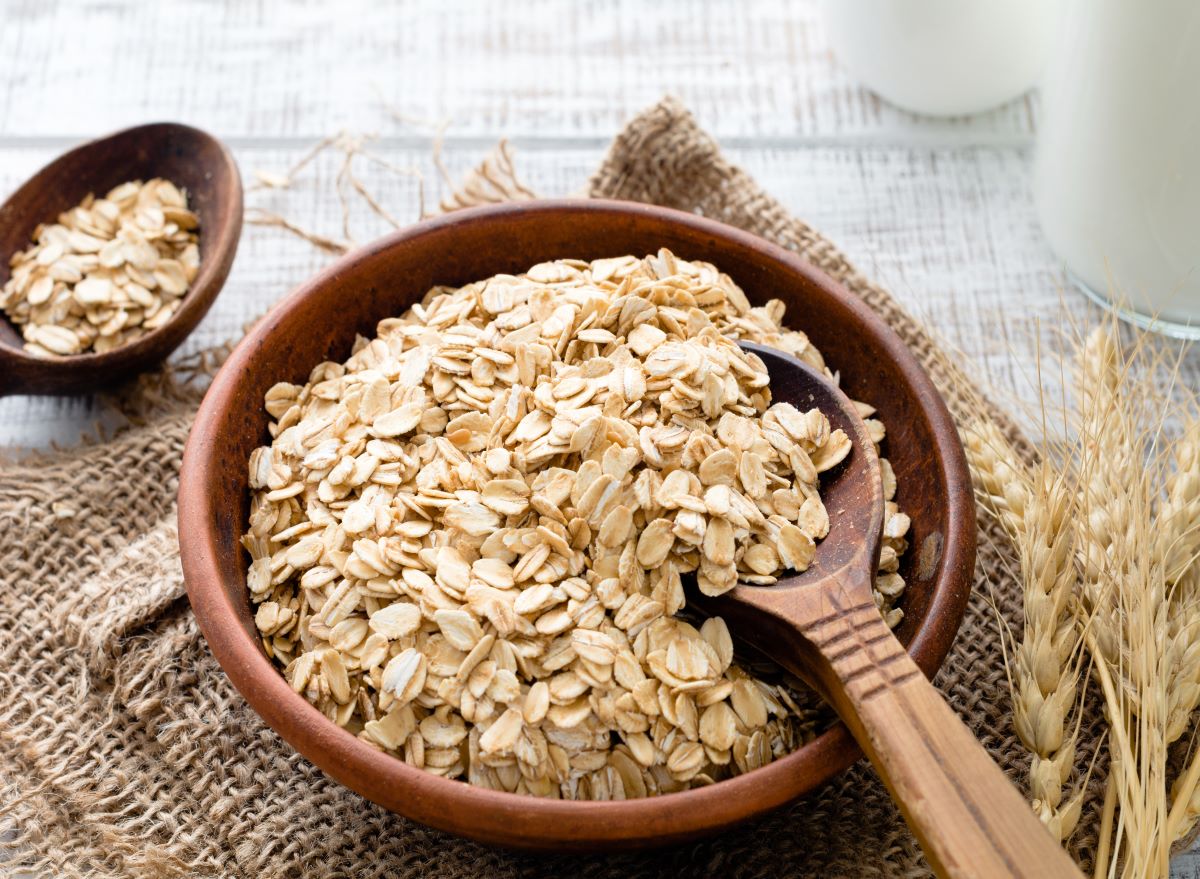 Carbs per 1/3 cup of oats: 18.3 grams (0.3 grams sugar, 2.7 grams fiber)
Compared to other items on this list of healthy low-carb foods, 18 grams of carbohydrates in a serving of oats may seem on the higher end. This is true when you're comparing this food to meat, fish, or vegetables, but when you look at other grain options, oats have a smaller carb count, making them ideal for those who are watching their intake but still want the benefits of whole grains. For instance, eating oats has been associated with lower blood pressure and cholesterol levels, as well as reduced inflammation.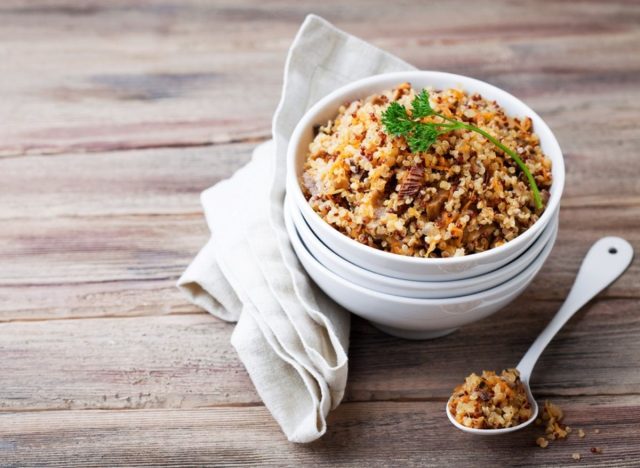 Carbs per 1/2 cup of quinoa: 19.7 grams (0.38 grams sugar, 2.6 grams fiber)
Another lower-carb grain is quinoa, which is considered a healthier alternative to things like white rice. You may only be saving yourself a few grams of carbohydrates when you choose quinoa (white rice has about 22.3 grams per 1/2 cup), but since it's a whole grain—meaning its nutrients are all still intact and not removed like they are in white rice—it can be a healthy, filling alternative.
Not to mention quinoa is considered one of the few plant-based complete proteins, meaning it has all the essential amino acids.

Low-Carb Nuts, Seeds & Legumes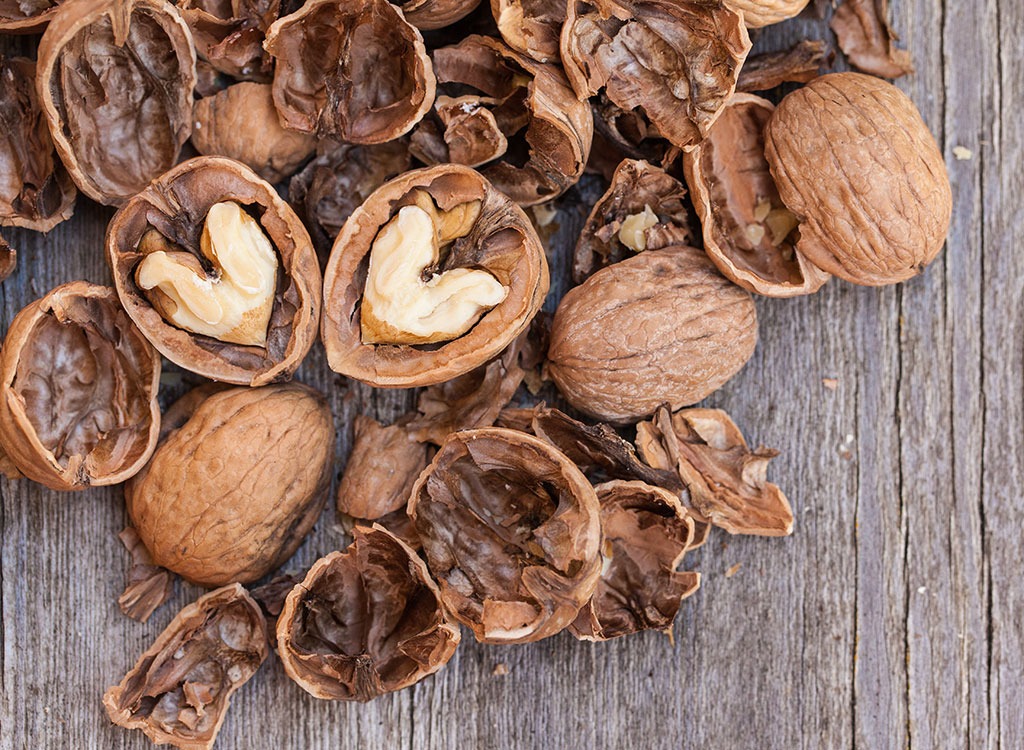 Carbs per ounce of walnuts: 3.8 grams (0.7 grams sugar, 2 grams fiber)
When you want a quick, easy snack that is going to help keep you full but also help keep your carb count on the lower end, walnuts are a great choice. A one-ounce serving has only five grams of carbohydrates, but walnuts are full of things like healthy omega-3 fats and vitamin E, which makes them a heart-healthy snack. Some studies even show that walnuts may be beneficial for your gut health as well.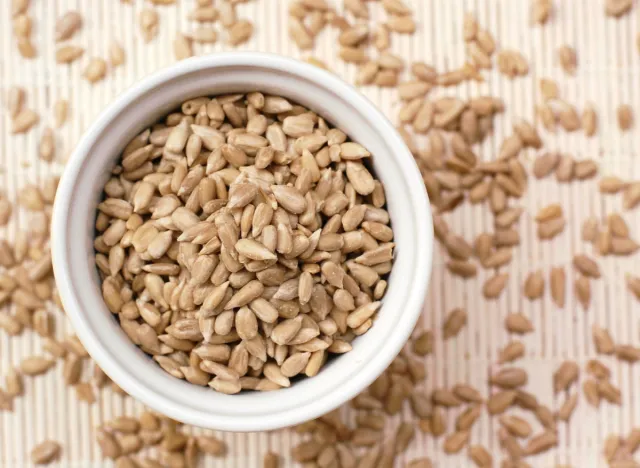 Carbs per ounce of sunflower seeds, kernels only: 5.8 grams (3.3 grams fiber)
Snacking on sunflower seeds is a good choice for a number of reasons, including its significant amounts of fiber, vitamin E, and selenium—which is a nutrient known to help protect your cells from oxidative damage, and is essential for thyroid and DNA health as well.
Even though sunflower seeds have over three grams of fiber per serving, they are still low in total carbohydrates, with less than six grams per ounce.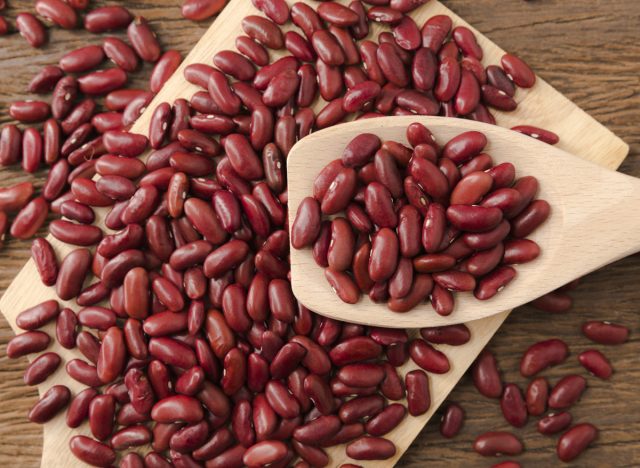 Carbs per 100 grams of kidney beans, cooked: 22.8 grams (0.3 grams sugar, 7.4 grams fiber)
Beans are usually high in carbohydrates, but they provide hefty amounts of fiber and can help aid in digestion and gut health. If you're looking for beans that are lower in carbs compared to other types, you may want to try kidney beans. Cooked kidney beans contain about 22 grams of carbs, but you'll also get over seven grams of fiber, as well as potassium, magnesium, and folate—all for less than one gram of sugar.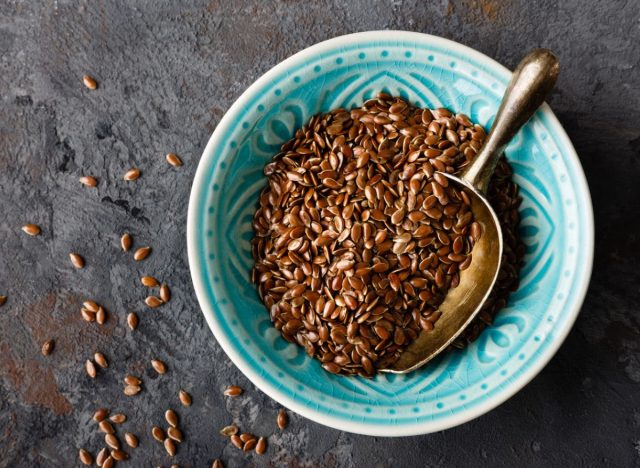 Carbs per 1 tablespoon, whole: 3 grams (0.2 grams sugar, 2.8 grams fiber)
Flaxseeds are great for throwing into smoothies or putting on top of a bowl of yogurt, and this low-carb seed serves up such high concentrations of fiber in each serving. In fact, in just one tablespoon, you'll only get three grams of total carbohydrates, 2.8 of which are fiber!

Low-Carb Dairy & Eggs
Plain Nonfat Greek Yogurt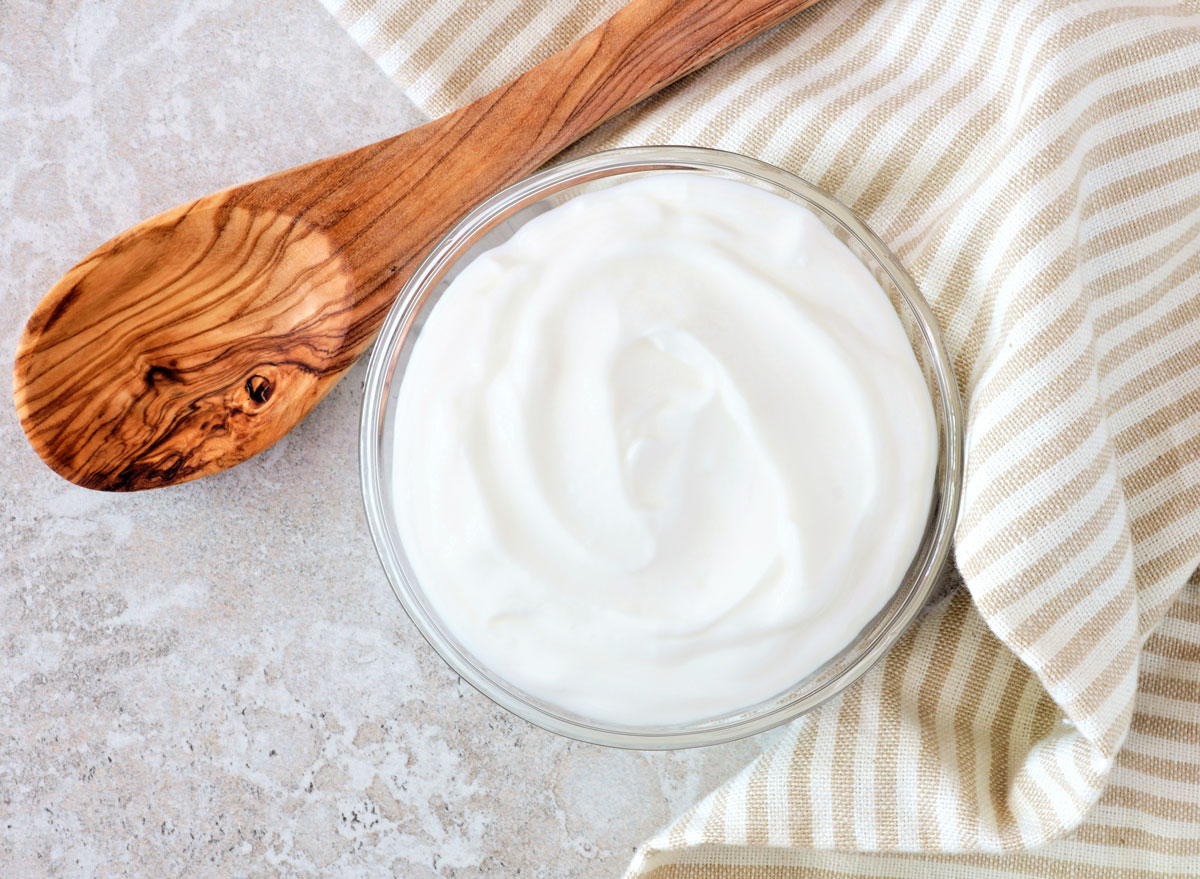 Carbs per 1 container of yogurt (200 grams): 7.9 grams (7.1 grams sugar, 0 grams fiber)
When you're in need of a high-protein, low-carb food, Greek yogurt is the perfect choice. If you buy plain, unsweetened cartons, then you'll be able to keep your carbohydrate count low. Another perk of plain Greek yogurt is its versatility, which allows you to add all of the toppings you want like fruit, nuts, seeds, or protein powder.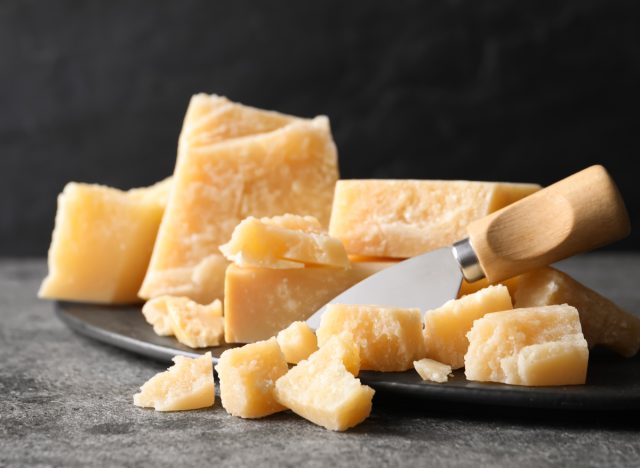 Carbs per 1 ounce of parmesan cheese: 3.9 grams (0 grams sugar, 0 grams fiber)
Most cheeses are on the lower end when it comes to carbohydrates, but some varieties of cheese are healthier than others depending on their total fat and saturated fat content. Parmesan cheese contains less than eight grams of total fat and less than five grams of saturated fat, meaning it can fit into many different low-carb and low-fat eating plans.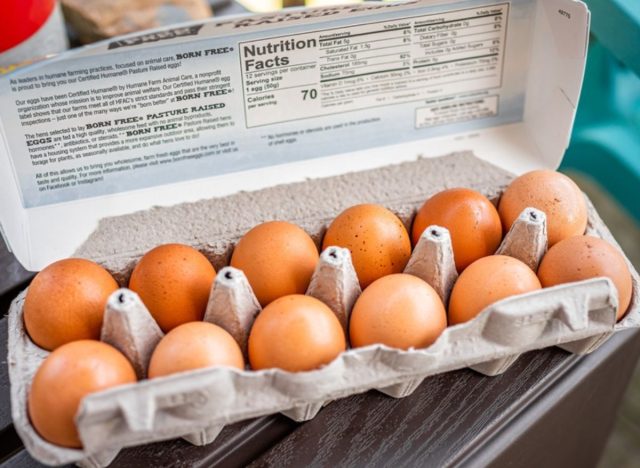 Carbs per 1 egg: 0.3 grams (0.2 grams sugar, 0 grams fiber)
"Eggs are naturally low in carbohydrates and support any healthy dietary eating plan including Mediterranean, DASH, low-carb, plant-based, and heart-healthy," says Manaker. "For only 70 calories per large egg, they offer high-quality protein, plus essential nutrients for healthy living."
One of the best parts about eating eggs is the high levels of a nutrient called choline. "Choline helps support lifelong brain health at every age and stage, including memory, thinking, mood, and more," says Manaker.

Low-Carb Oils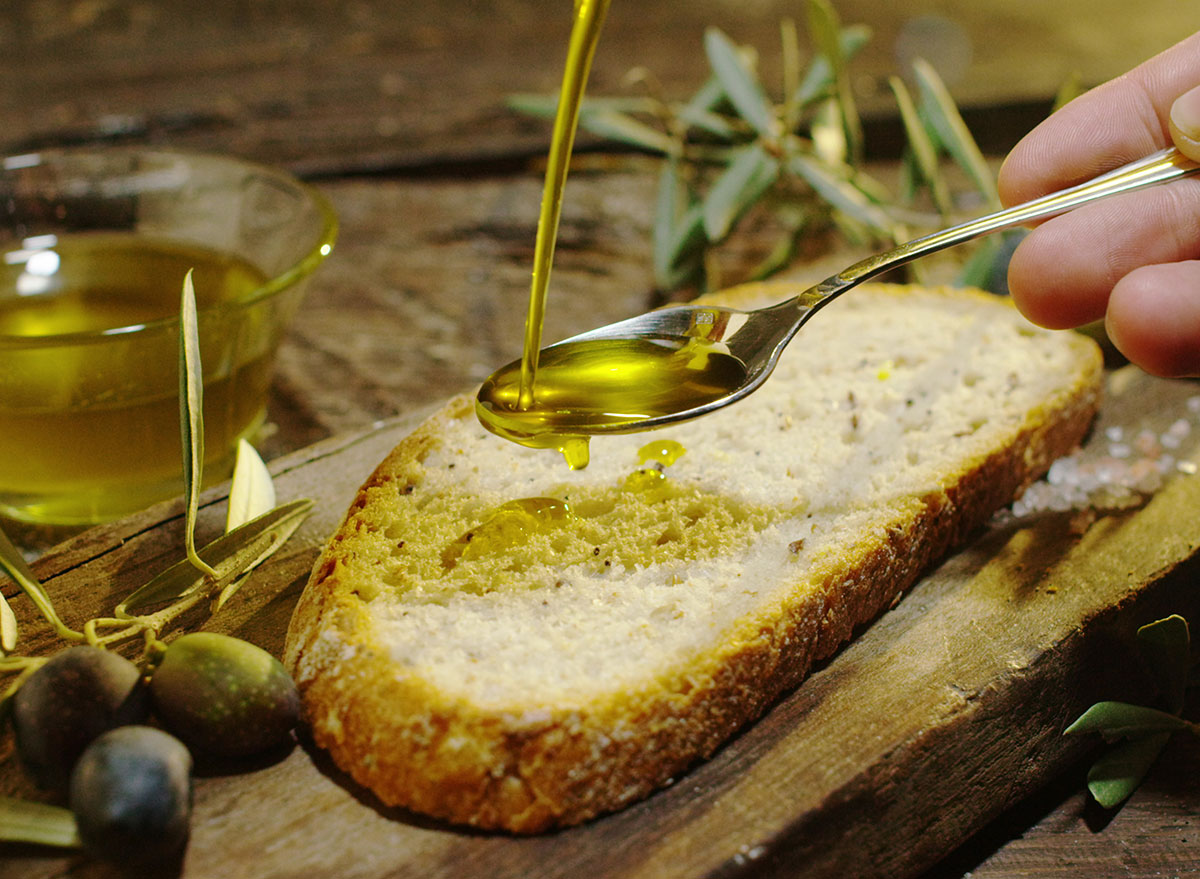 Carbs per 1 tablespoon of olive oil: 0 grams (0 grams sugar, 0 grams fiber)
Most oils don't contain any carbohydrates at all, so they're technically considered a low-carb food. However, some types of oils are much healthier than others in terms of quality and nutrients. For instance, olive oil is one of the healthiest oils you can eat, as it has been linked to reduced inflammation, lowered blood pressure, and better weight management.
Carbs per 1 tablespoon of avocado oil: 0 grams (0 grams sugar, 0 grams fiber)
Similarly to olive oil, avocado oil is another variety packed full of health benefits. Avocados are full of healthy fats, as well as antioxidants like lutein and zeaxanthin, meaning that the oil contains these properties as well.

Low-Carb Meat & Seafood
Carbs per 4 ounces, cooked: 0.04 grams (0 grams sugar, 0 grams fiber)
You can almost always guarantee that meat and seafood products (unless they're battered and fried) are going to be low in carbohydrates and high in protein, so choosing the healthiest low-carb options means looking for the leanest varieties. Ground chicken is an excellent choice for low-carb eating plans because it has almost 20 grams of lean protein per serving.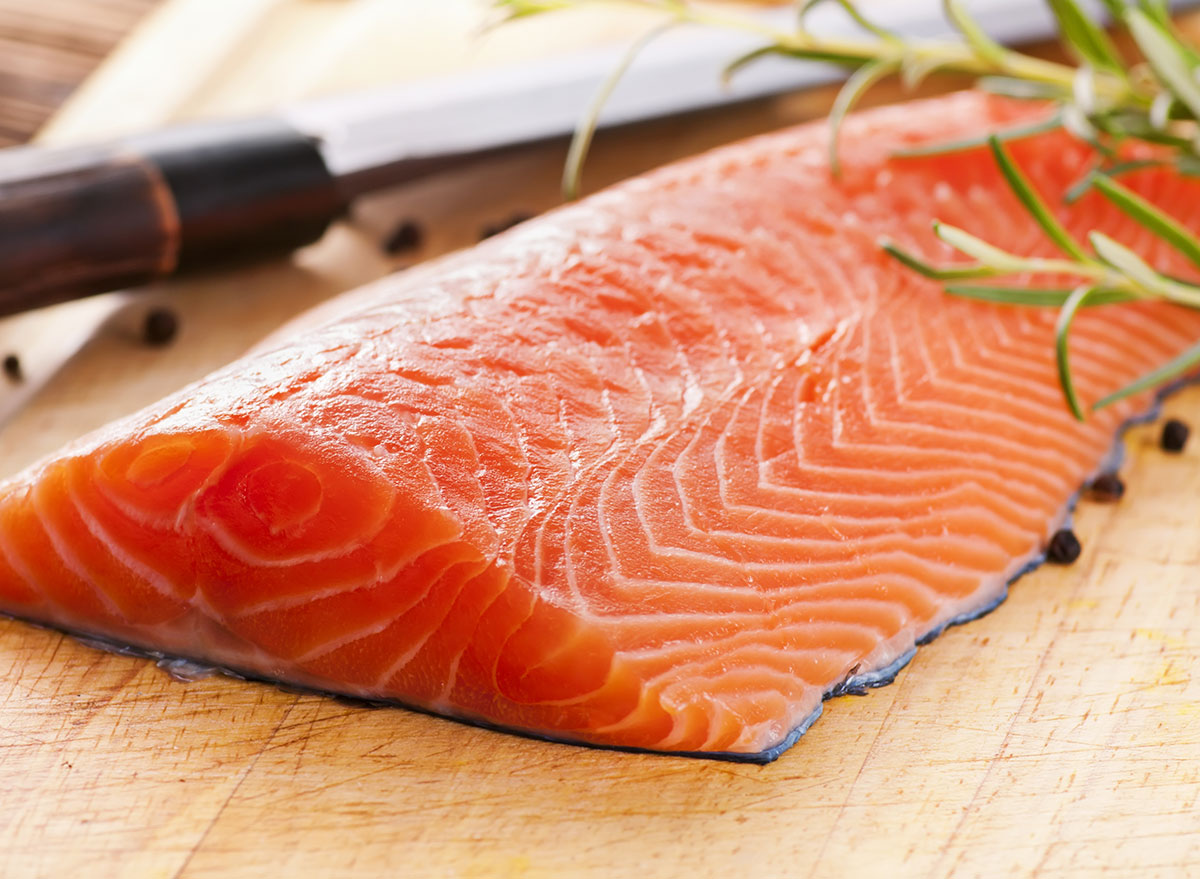 Carbs per 3 ounces, raw: 0 grams (0 grams sugar, 0 grams fiber)
For another lean, protein-packed food that is low in carbohydrates, you can always try a fresh or frozen salmon fillet. This fatty fish is full of healthy omega-3 fatty acids and has almost 17 grams of protein per serving.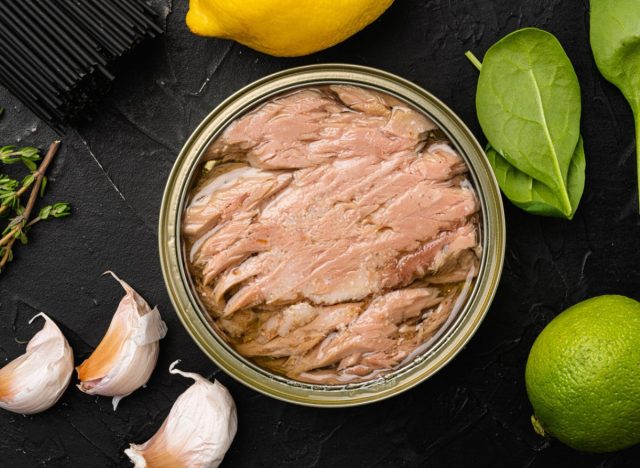 Carbs per 1 can, with water: 0 grams (0 grams sugar, 0 grams fiber)
Whether you're eating a fresh tuna fillet or enjoying a canned option, you'll be able to incorporate this fish into a low-carb diet while also getting a lean protein boost as well. And the benefit of eating canned tuna is that you can make a snack in just a few minutes with very little effort.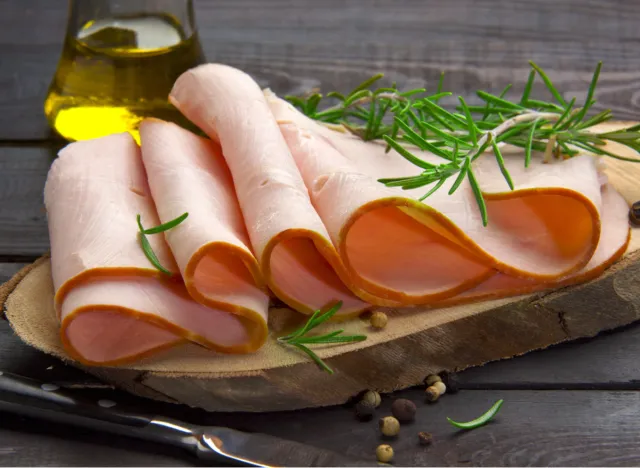 Carbs per 1 slice of turkey, prepackaged: 0.36 grams (0.1 grams sugar, 0 grams fiber)
For a low-carb lunch option that still has plenty of protein, try rolling up some sliced deli turkey into a few lettuce wraps. An average slice of turkey has less than half a gram of carbohydrates, less than one gram of fat, and over two grams of protein.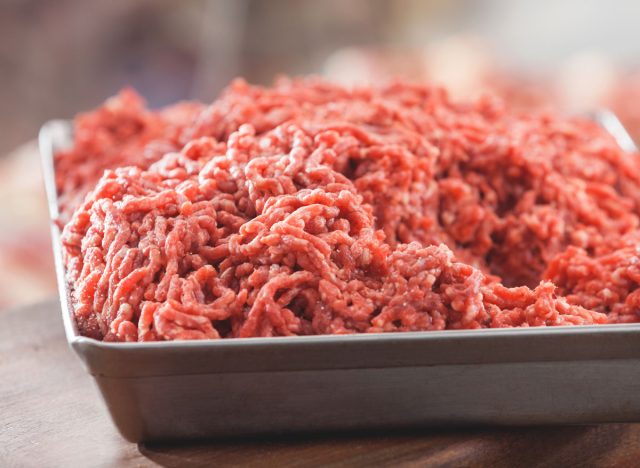 Carbs per 3 ounces of ground beef, cooked: 0.5 grams (0 grams sugar, 0 grams fiber)
Cooking up ground beef is an easy way to add protein to your low-carb meal, while also getting some iron, folate, and B vitamins. If you want to keep your fat on the lower end, just make sure to buy anywhere from 80-100% lean varieties.
Sources referenced in this article