15 High-Protein Lunch Ideas That Keep You Full
Avoid afternoon cravings with these healthy and tasty high-protein lunches.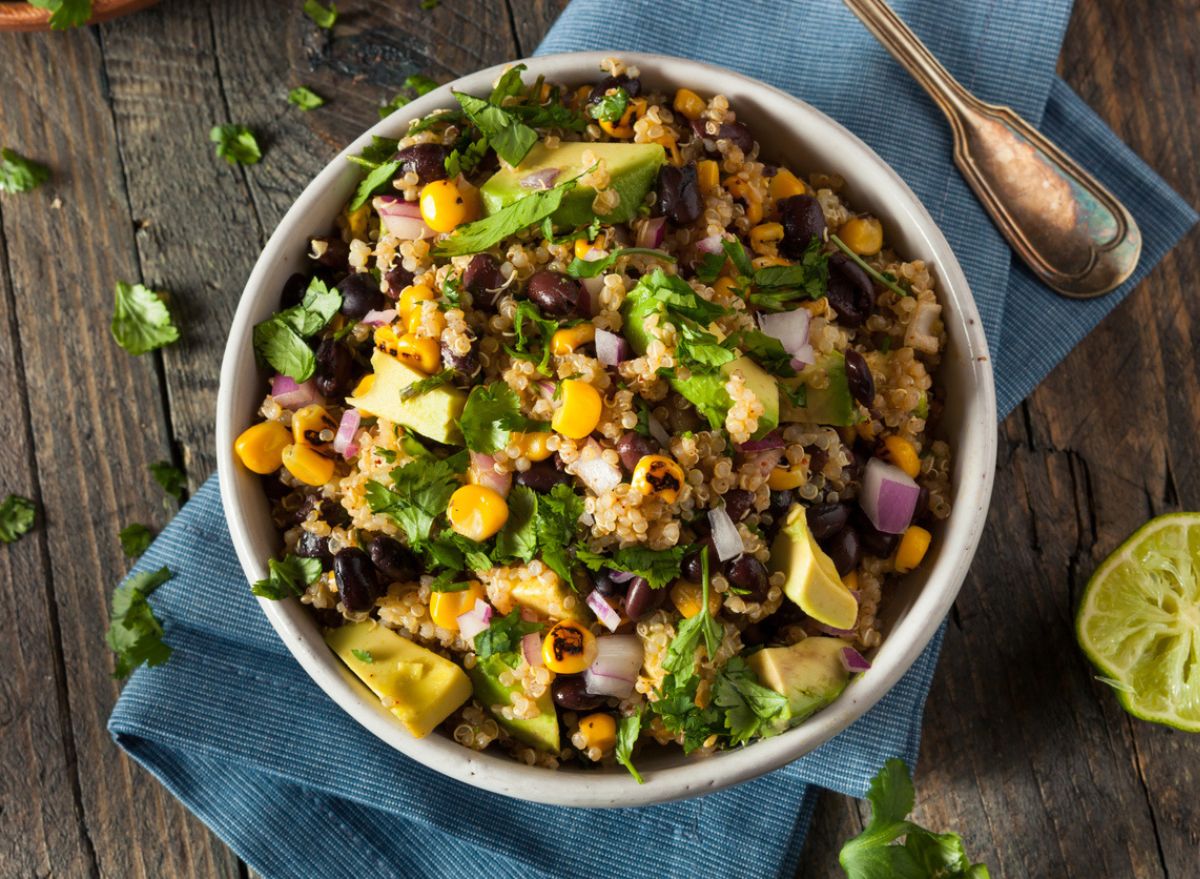 Dietitians will tell you that if you want to maintain good health (and/or lose weight), incorporating protein at every meal is key. That's because protein helps you feel full, which means you'll be more satisfied after a meal and less likely to overeat or snack mindlessly between meals.
Some people excel at meal planning and are always prepared with the right ingredients for a quick and healthy lunch. But for others, the day gets busy and suddenly you look up at 2 p.m., realize you're starving, and reach for the most convenient option (we're looking at you, PB&J!). If the latter sounds like you, then finding high-protein lunch recipes that are easy to make is essential.
How high-protein lunches can keep you full
Whether or not you're eating protein for weight loss, this nutrient has a multitude of benefits and functions for your body, including, as mentioned, the ability to help keep you full for longer periods of time.
Protein can lower your cravings: Meals higher in protein have been shown to help reduce the cravings and amount of snacking that occurs after the high-protein meal.
It takes longer to digest: Protein takes longer for your body to digest versus things like refined carbohydrates, which means your body will be able to use it as energy for longer periods of time.
Protein regulates hunger hormones: When you eat protein, it helps reduce your body's levels of ghrelin, which is a hormone responsible for making you hungry.
As you can see, eating a high-protein lunch can help you stay full until it's time for dinner, and it can help you avoid the frustrating cravings that sometimes strike during an afternoon slump at work. Ahead, you'll find some of our favorite original recipes, plus ideas for dietitian-approved meals with ingredients that you can throw together and customize to your liking. Keep reading to get inspired with 15 high-protein lunch ideas perfect for every day of the week.
Protein-Packed Turkey BLT Salad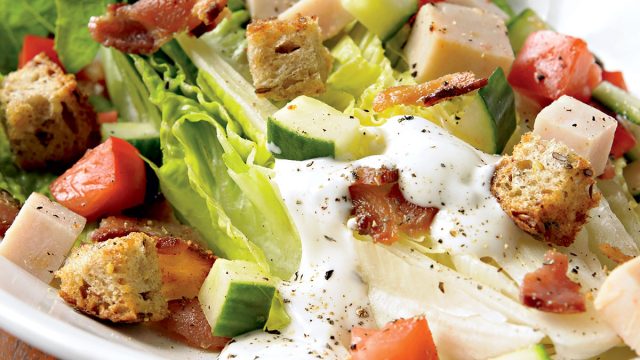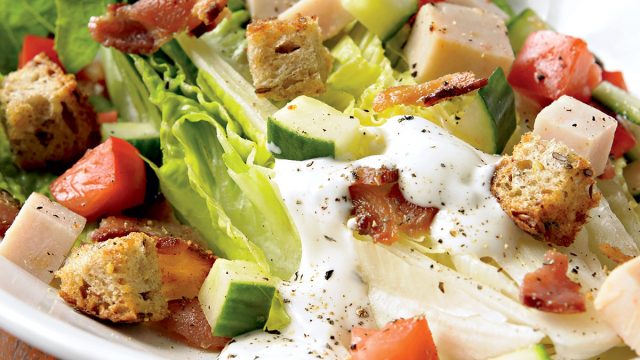 Protein Punch: 21 grams
Ingredients: Whole wheat bread, turkey, cucumber, tomato, bacon, romaine lettuce, low-fat ranch dressing.
When you think "protein," you may assume that you'll need a meat-heavy dish in order to fill your plate with this important macro. The good news is that if you're more in the mood for a light, refreshing-yet-filling salad for lunch, you can get around 21 grams with this Turkey BLT Salad—a spin on the classic sandwich but with even more greens.
Get our recipe for Turkey BLT Salad.
Asian-Inspired Tuna Burger with Wasabi Mayo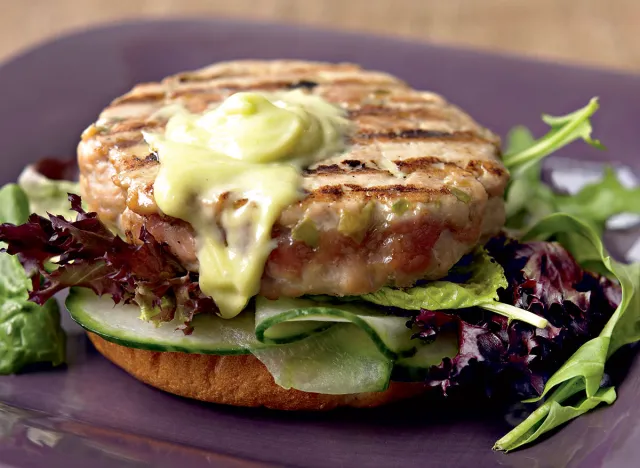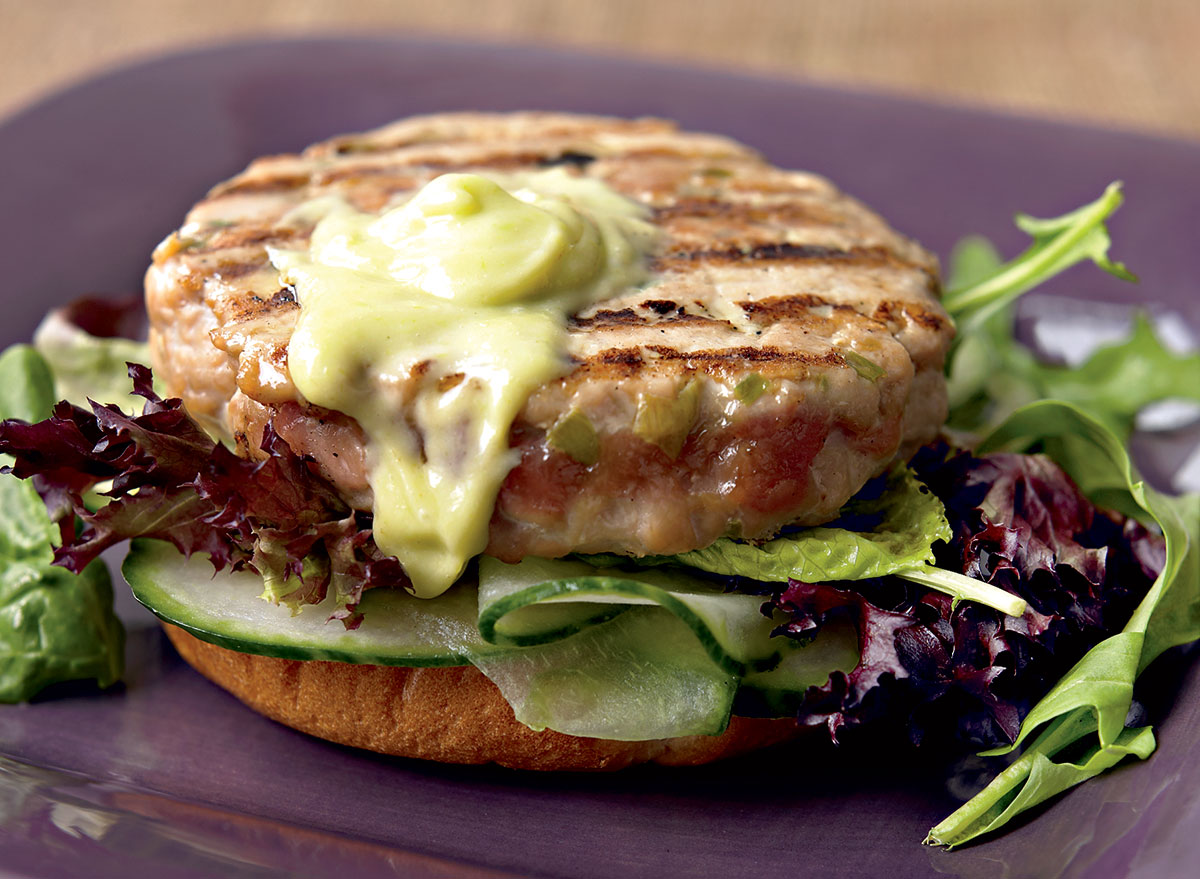 Protein Punch: 32 grams
Ingredients: Fresh tuna, wasabi, scallions, ginger, olive oil mayonnaise, low-sodium soy sauce, whole wheat bun (like Dave's Killer Bread).
Tuna is one of the highest-protein fish, and you don't always have to just eat it out of the can. If you have access to some fresh tuna at your grocery store, you can make these simple, high-protein tuna burgers for lunch and top them off with a delicious wasabi mayo. Another benefit besides the protein boost? You can make a handful of these at once and enjoy them for several days.
Get our recipe for a Tuna Burger.
Black Bean Burrito Bowl With Farro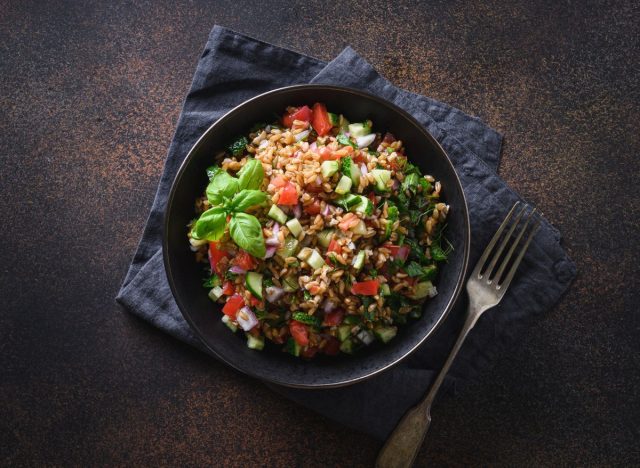 Protein Punch: 24 grams
Ingredients: Cooked farro, black beans, bell peppers, cherry tomatoes, spinach, salsa, mozzarella cheese, balsamic vinaigrette dressing.
Making different types of grain bowls is the perfect move for a high-protein lunch, especially if you try a black bean bowl with farro, as per the suggestion of Lisa Young, Ph.D., RDN.
"Both black beans and farro are rich in protein, and the combination of ingredients provides texture and taste while being rich in various vitamins and minerals," says Young. "Cheese is a complete protein source, further contributing to muscle growth and repair. The bowl can also be customized to your liking, and you can add more ingredients to increase protein intake."
Mouthwatering Steak Nachos
Protein Punch: 24 grams
Ingredients: Flank steak, cheese, pinto beans, tortilla chips, salsa verde, jalapeño, red onions, tomatoes.
Nachos don't always have to be unhealthy calorie bombs, but they do always have to be delicious! This Steak Nachos recipe provides around 24 grams of protein but clocks in at just 360 calories. The only downside is that you'll be consuming around six grams of saturated fat from the cheese and the steak, so just make sure to monitor your saturated fat consumption for the rest of the day.
Get our recipe for Steak Nachos.
Salmon with Roasted Veggies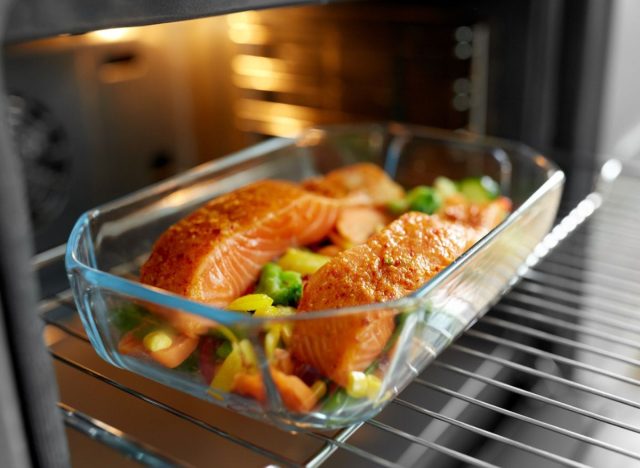 Protein Punch: 28 grams
Ingredients: Salmon, Brussels sprouts, cauliflower, sweet potato, salt, pepper, olive oil.
Similar to tuna, salmon is another nutrient-dense fish that makes for a satisfying high-protein lunch item.
"Salmon is a good source of protein, as it is packed with essential amino acids and provides omega-3 fatty acids, vitamin D, and potassium," says Young. She also suggests adding some roasted vegetables, as these "provide vitamins, minerals, antioxidants, and fiber, while also adding some flavor and color to the dish."
Chicken Burger with Sun-Dried Tomato Aioli
Protein Punch: 26 grams
Ingredients: Ground chicken, arugula, olive oil mayonnaise, sun-dried tomatoes, whole wheat buns.
When you're wanting a burger but don't want the saturated fat from red meat, treat yourself to a chicken burger instead. This recipe, which adds in a homemade sun-dried tomato aioli, goes great on a bed of lettuce if you're aiming to lower your carbohydrate intake, or can be enjoyed on a whole-wheat, high-protein bun like the ones from Dave's Killer Bread.
Get our recipe for a Chicken Burger.
Chicken Breast Stir Fry with Veggies
Protein Punch: 36 grams
Ingredients: Chicken breast, asparagus, carrots, broccoli, olive oil, sesame oil, garlic, ginger, soy sauce, wild rice.
A chicken stir-fry is one of the easiest meals you can whip up in a matter of minutes, and it gives you all the flexibility to customize it to your liking. Young suggests adding things like asparagus, carrots, and broccoli to your stir fry and putting it over a portion of rice.
"Chicken breast is a good protein source, as it is a lean meat and thus is high in protein and low in fat," she says. "It is also a complete protein and contains all the essential amino acids our body requires to build and repair tissues."
Young also adds that when choosing a rice, "opt for wild rice because it is higher in protein and fiber compared to white rice."
Panini with Provolone, Peppers, and Arugula
Protein Punch: 16 grams
Ingredients: Ham, spicy salami, provolone cheese, sourdough bread, arugula, red pepper, olive oil.
Sandwiches are ideal for easy lunchtime meals, and if you have a bit of extra time to make yourself a panini, this Provolone Panini recipe can give you a boost of protein. The protein count is a little lower than some of the other meals on our list, but it still provides more of this important nutrient than many other types of sandwiches.
Get our recipe for Provolone Panini.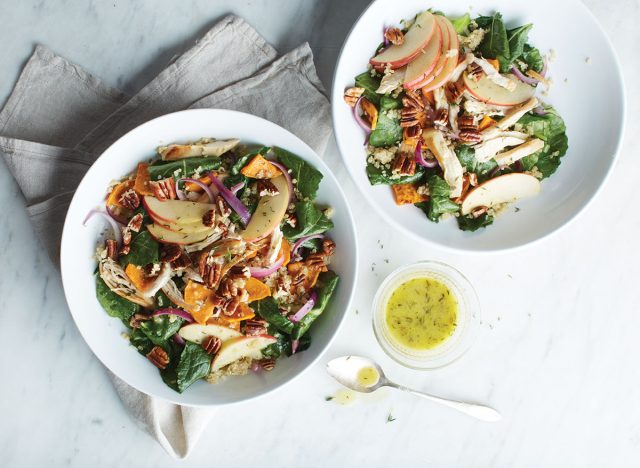 Protein Punch: 31 grams
Ingredients: Kale, shredded chicken, apple, quinoa, sweet potato, walnuts, Dijon vinaigrette.
If you didn't think you could pack over 30 grams of protein into one salad, think again. This Kale-Quinoa salad is full of protein-rich ingredients like chicken, quinoa, and sweet potatoes, so eating a bowl of this will help keep you full for the remainder of your work day.
Get our recipe for Kale-Quinoa Salad.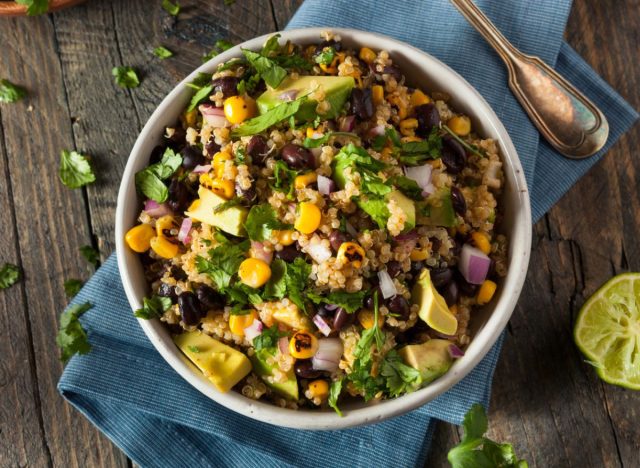 Protein Punch: 40 grams
Ingredients: Quinoa, shredded chicken, black beans.
Quinoa bowls are similar to farro bowls in that they use a healthy whole grain as their base, and they allow you to add any ingredients that you like. According to Trista Best, MPH, RD, LD, at Balance One Supplements, a quinoa bowl is the way to go for a high-protein lunch.
"Quinoa is a complete protein source, containing all nine essential amino acids that the body needs, and it provides about eight grams of protein per cooked cup, making it an excellent plant-based protein option," says Best. "When combined with other protein-rich ingredients like beans, tofu, or lean meats, quinoa bowls become a wholesome meal that support muscle repair, satiety, and overall nutritional balance."
Moroccan-Inspired Quinoa Pilaf & Salmon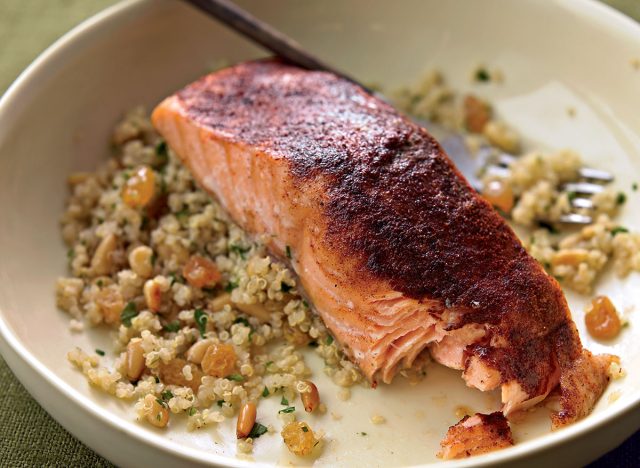 Protein Punch: 20 grams
Ingredients: Quinoa, salmon, parsley, raisins, cumin, cinnamon, cayenne, pine nuts.
This Moroccan-inspired dish is another flavorful way of combining two healthy, high-protein foods: salmon and quinoa. For added taste and nutrients, this recipe also includes parsley, raisins, pine nuts, and spices like cinnamon, cumin, and cayenne.
Get our recipe for Quinoa Pilaf and Salmon. 
Protein Punch: 18 grams6254a4d1642c605c54bf1cab17d50f1e
Ingredients: Lentils and whatever ingredients you'd like to add, such as kale, collard greens, and sweet potatoes.
For those who want a high-protein lunch that you can prep on Sunday and enjoy the rest of the week, Best suggests a lentil soup.
"Lentils are rich in plant-based protein, offering a substantial amount per serving, and in addition to their protein content, lentils are a good source of dietary fiber, aiding in digestion and promoting a feeling of fullness," says Best. "The variety of vegetables in the soup adds essential vitamins, minerals, and antioxidants, enhancing the nutritional value of the meal." If you can choose high-fiber vegetables, even better!
Slow-Cooker Cuban Tomato & Black Bean Soup
Protein Punch: 16 grams of protein
Ingredients: Ham hock, tomatoes, black beans, Greek yogurt, red sweet pepper, cumin, orange juice.
This Cuban Tomato and Black Bean Soup recipe uses protein-rich ingredients like ham hock, beans, and Greek yogurt, and packs even more flavor with the addition of items like tomatoes, peppers, orange juice, and cumin. For more spice, top this soup with fresh or pickled jalapeños.
Get our recipe for Cuban Tomato & Black Bean Soup.
Paleo Chicken Tomato Curry with Cauliflower Rice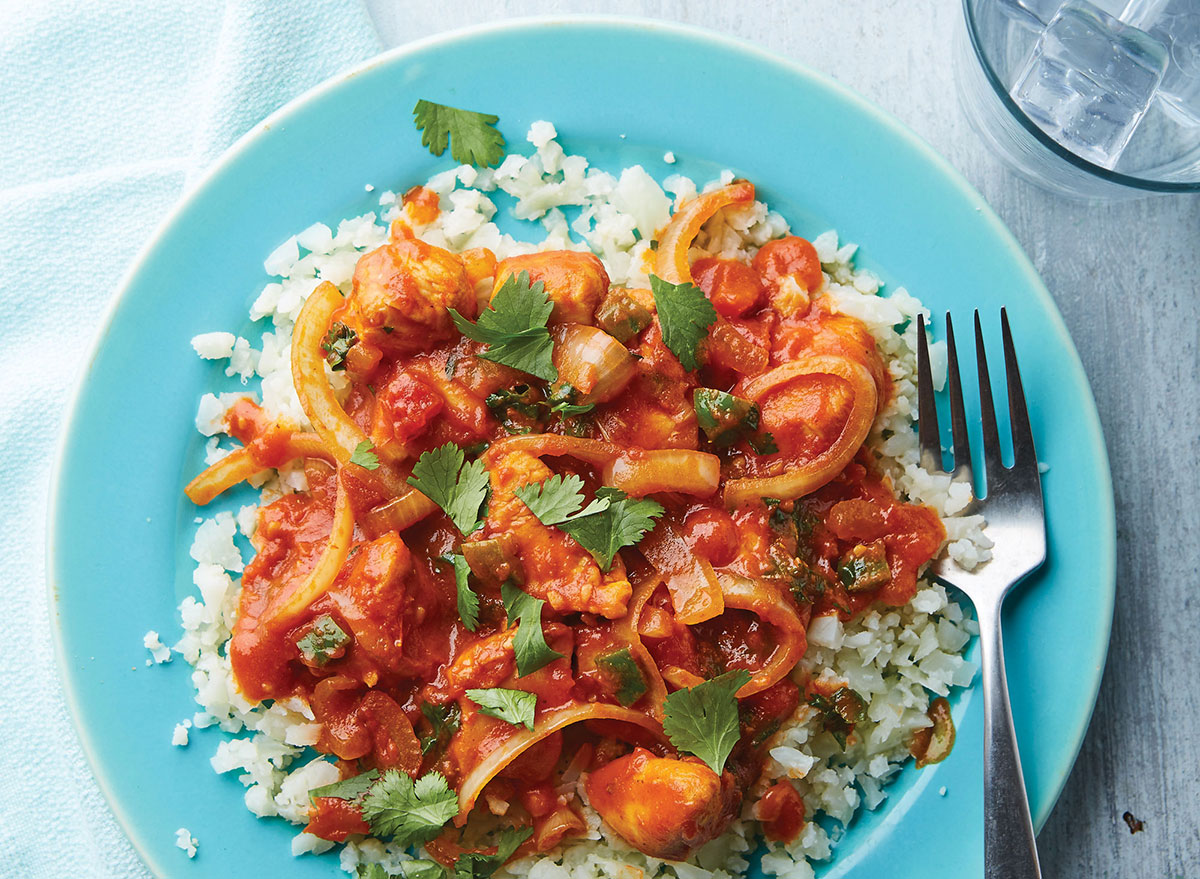 Protein Punch: 29 grams
Ingredients: Chicken breast, cauliflower rice, onion, cilantro, tomato, jalapeño, coconut milk, curry powder.
Give yourself 30 grams of protein and fewer than 400 calories with this super simple tomato curry dish. Paleo-friendly for those following a Paleo diet, this high-protein dish also keeps the carbohydrates at a minimum while still providing 10 grams of filling fiber.
Get our recipe for Chicken Tomato Curry.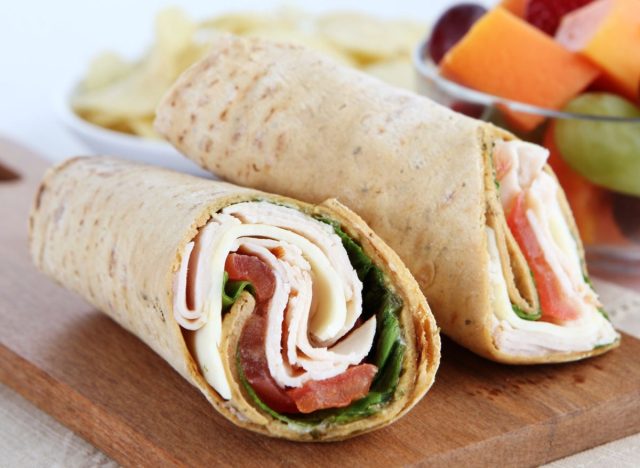 Protein Punch: 30 grams
Ingredients: Sliced deli turkey, lettuce, tomato, whole grain wrap (like Angelic Bakehouse).
Possibly one of the easiest lunches to throw together, Best recommends making a turkey wrap when you want to chow down on some protein and stay full until it's time for dinner.
"A turkey wrap is a great high-protein lunch choice, primarily due to the lean protein content provided by turkey. Turkey is low in saturated fat and a good source of essential amino acids, making it an ideal lean meat for muscle repair and growth," says Best. "Wrapping it in a whole wheat tortilla adds complex carbohydrates and dietary fiber, aiding in sustained energy release and promoting fullness." She also adds, "Incorporating fresh vegetables and greens further boosts the nutritional value, offering vitamins, minerals, and antioxidants."
Sources referenced in this article