7 Low-Sugar Smoothies for Rapid Weight Loss
Cut back on sweeteners to accelerate weight loss.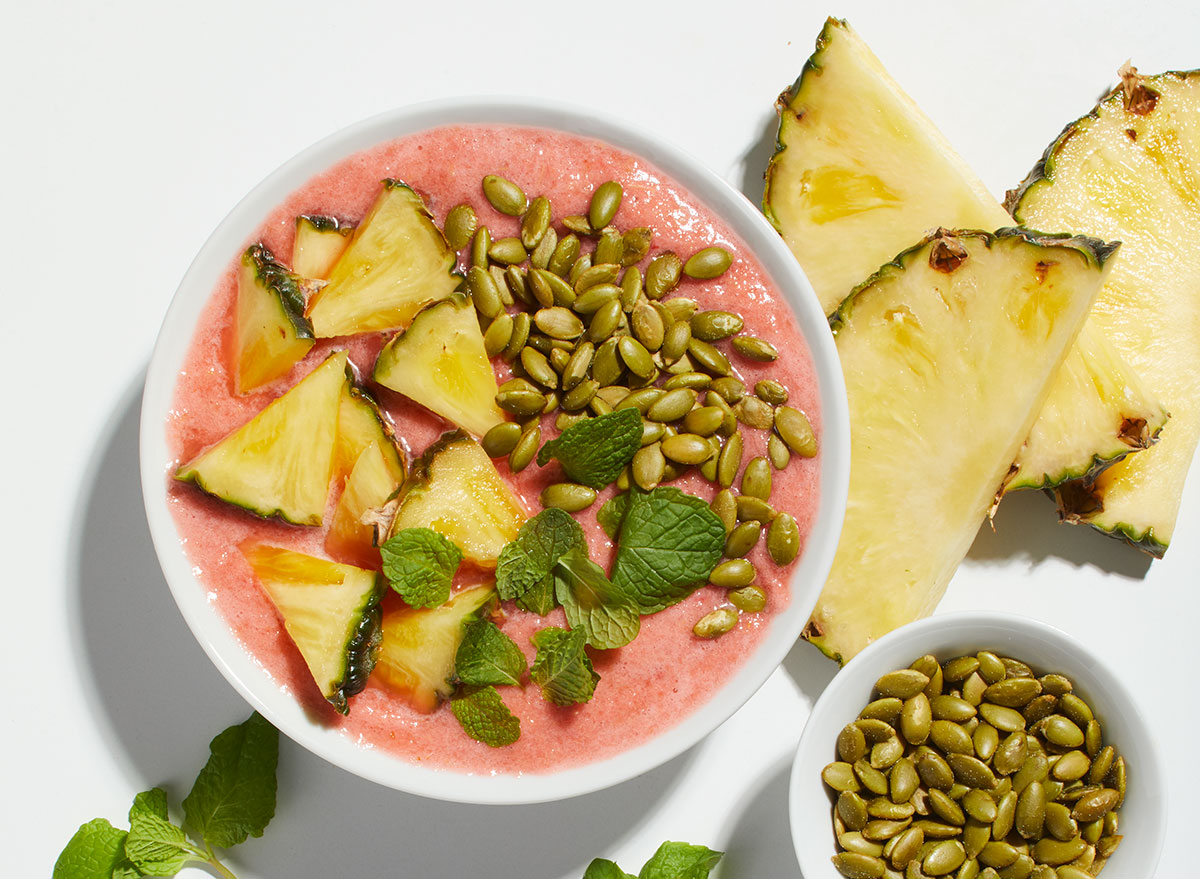 Since approximately four out of 10 Americans are reportedly affected by obesity, it is no wonder that many people want to find ways to lose weight. Making a habit of exercising, eating fewer calories, and managing stress are all common ways that people try and tackle their weight management goals.
Among those good-for-you food choices that make frequent appearances on a weight-loss diet, smoothies tend to top many people's lists—and for good reason. Smoothies take little time and energy to whip up, and you can sneak in loads of nutrient-dense fruits and veg. And even if your weight loss plan encourages you to scale back on sugar, you can still enjoy these blended beverages by reaching for low-sugar smoothies for weight loss.
Sure, sipping on a mixture of fruit, veggies, and other smoothie ingredients can be a simple way to sneak in some important nutrients. But if you aren't careful, your concoction can be loaded with excessive amounts of added sugar, calories, and other factors that may work against your weight loss goal.
If you are on a quest to find some low-sugar smoothie recipes that may help you lose weight, you have come to the right place. Enjoying these low-sugar smoothies along with incorporating proper exercise, eating balanced meals, and prioritizing sleep may help you reach that goal weight that you have been striving to achieve in a natural way. Be sure to bookmark these seven low-sugar smoothies for rapid weight loss the next time you are craving a smoothie but don't want to sip on a sugar bomb.
Matcha Mint Smoothie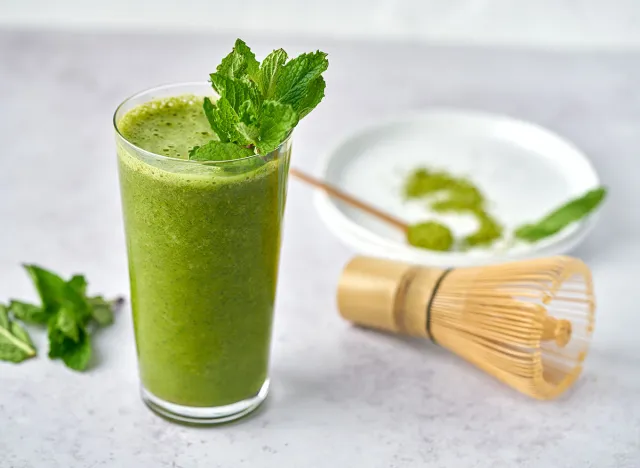 Research suggests that matcha can be excellent for weight loss, especially when combined with low-impact cardio. One clinical trial involving 63 participants with type 2 diabetes found that drinking up to 4 cups of green tea led to a significant decrease in body weight and systolic blood pressure, which is the pressure exerted on your arteries each time your heart beats. Although this smoothie does contain two teaspoons of honey, this translates to less than 5 grams of sugar and carbohydrates per serving. So, this small spoonful of sugar is a sweet and tasty addition that won't cause you to stray from your overall weight-loss goals.
Get our recipe for a Plant-Based Matcha Mint Smoothie.
Paleo Piña Colada Smoothie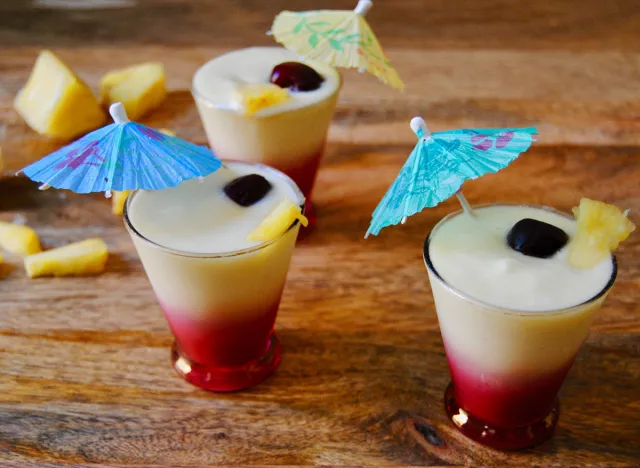 If you like piña coladas—but are also trying to lose weight while being mindful of your sugar intake, this paleo-friendly smoothie recipe is, as the classic tune says, the love that you've looked for. Blended with fresh pineapple, coconut milk, lime juice, and Medjool dates, the natural sweetness from these nutritious smoothie ingredients will satisfy your sweet tooth while still supporting a well-balanced diet and healthy weight loss.
Get our recipe for a Paleo Piña Colada Smoothie.
Tropical Dragon Fruit Smoothie Bowl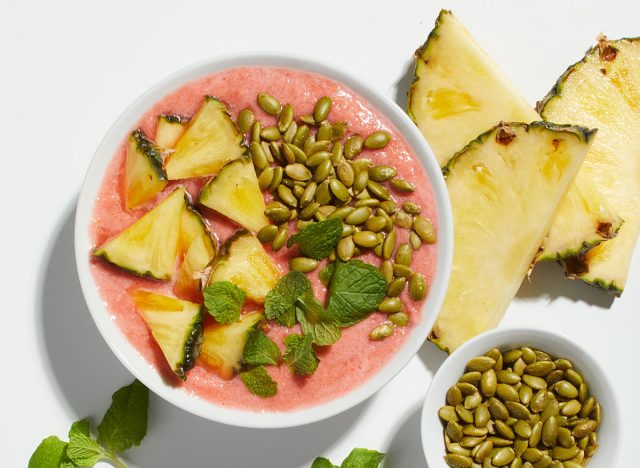 Dragon fruit is a perfect addition to a lower-sugar fruit smoothie or bowl thanks to its powerful flavor that goes well with almost any other fruit out there. With three grams of fiber and six grams of protein—all for just 182 calories, this smoothie bowl certainly qualifies as a great option for weight loss plans.
Get our recipe for Tropical Dragon Fruit Smoothie Bowl.
Gingery Mango & Berry Smoothie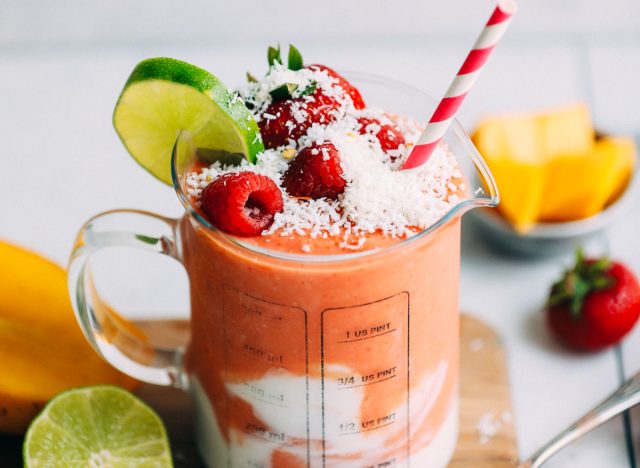 Berries are a quintessential smoothie ingredient, thanks to their natural sweetness that comes in a lower-calorie package. But the stars of this weight management-supporting smoothie are the surprising additions of ginger and cayenne.
Data shows that ginger intake can reduce body weight, and cayenne pepper may help with optimizing hunger control and burning calories. Having a smoothie made with these powerhouse ingredients may be your secret weapon on your weight loss journey.
Get the recipe from Minimalist Baker.
Creamy Zucchini Blueberry Smoothie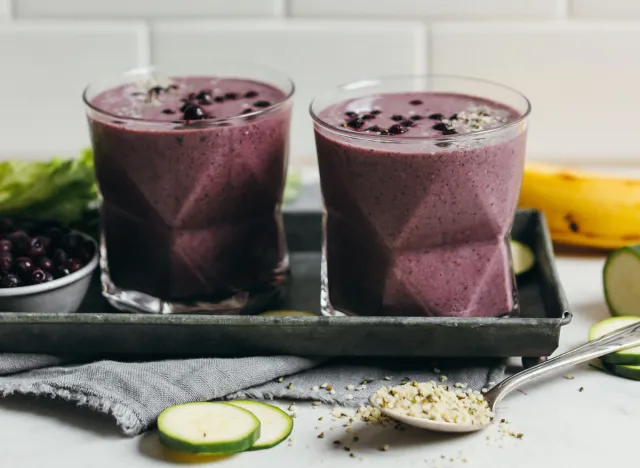 The addition of zucchini and greens gives this smoothie some bulk with very few calories, helping provide a major satiety factor that may help people support their weight loss goals. The burst of blueberry may help improve weight maintenance, according to data published in Advances in Nutrition.
Get the recipe from Minimalist Baker.
Fall Green Smoothie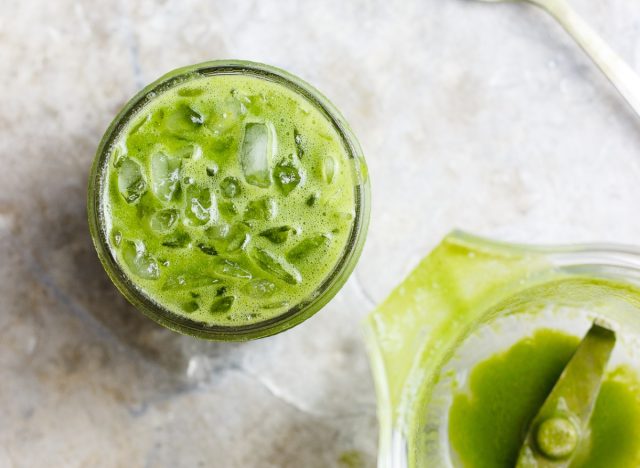 A Fall Green Smoothie can be enjoyed any time of the year, as it is loaded with low-calorie ingredients along with weight loss-supporting additions like flax seeds and apple cider vinegar. In fact, according to the results of a systematic review and meta-analysis published in Obesity Reviews, the authors conclude that whole flaxseed is a good choice for weight management, especially for overweight and obese individuals.6254a4d1642c605c54bf1cab17d50f1e
This refreshing smoothie can also be enjoyed as a frozen pop. Simply pour this mixture into popsicle molds and freeze until solid.
Get the recipe from With Food and Love.
Berry Superfood Smoothie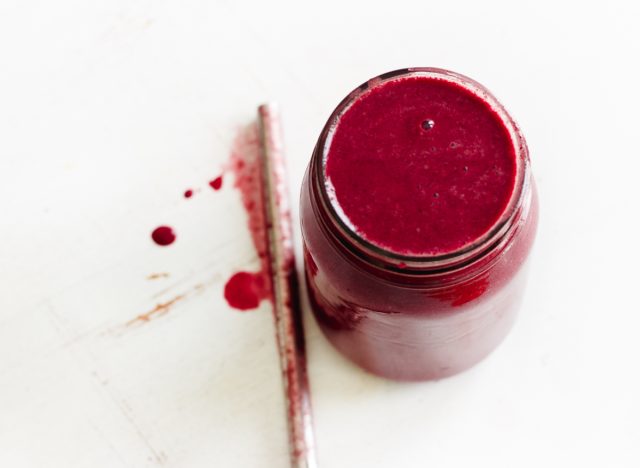 This smoothie is a major nutritional powerhouse made with no added sugars or anything artificial. Packed with antioxidants, healthy fats, and fiber, this smoothie is a perfect recipe for those trying to manage their weight and limit their added sugar intake.
Adding turmeric to this smoothie gives this dish even more weight management support, as data shows that consuming curcumin, an active compound found in turmeric, is linked to reduced BMI and weight among those with metabolic syndrome.
Get the recipe from With Food and Love.
A previous version of this story was published on June 5, 2022. It has been updated to include additional entries and research.