10 Exciting New Fast-Food Items Launching This Month
The new year brought new everything at popular chains near you.
Entering the new year can be daunting, with the weight of New Year's resolutions and post-holiday moods, but it doesn't have to be bland. At the beginning of 2023, Burger King, Popeyes, and other fast-food chains introduced new menu items, as well as welcomed back a few fan favorites from the past.
There's a long list of sandwich options in the drive-thru at Burger King and various sugary desserts to choose from at places like Dairy Queen and Popeyes. The competition is heating up in fast-food restaurants and we're here to make sure you don't miss the best new launches! Here's a closer look at the exciting new fast-food items that have been launched this January.
Popeyes' Ghost Pepper Wings and Two New Desserts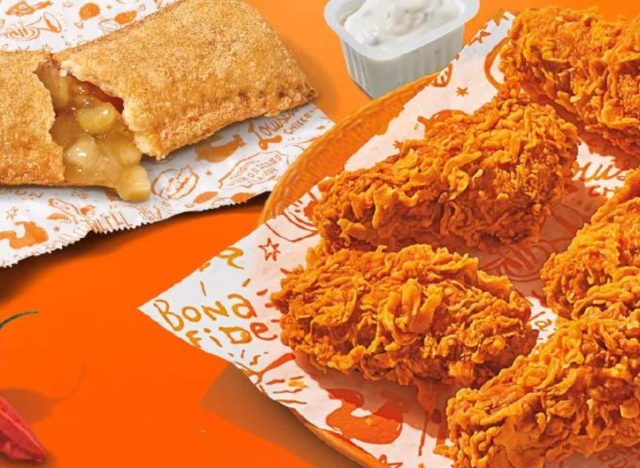 Popeyes began 2023 with a spicy blast from the past and a few more options for an after-dinner treat. The chain brought back the old-school favorite ghost pepper chicken wings, which have been cycling on and off Popeyes' menu since first launching in 2014. At locations nationwide until Feb. 12, customers will be able to order six wings for $6 or 12 wings for $12 through the official Popeyes app or online.
After your spicy chicken dinner, make sure you save room for dessert. Popeyes has also revived both the Strawberry Cheesecake Cup and the Blueberry Lemon Pie. The Strawberry Cheesecake Cup is an adorable on-the-go cup of creamy cheesecake, with a graham cracker crust and strawberry purée. Or, you can cozy up with a warm, fried hand pie packed with sweetened blueberry filling and lemony cream cheese.
Panera's Toasted Baguettes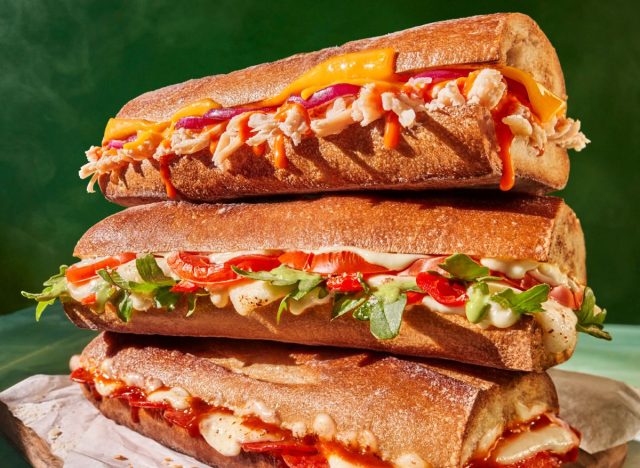 The new Toasted Baguettes at Panera are hot, cheesy, and a can't-miss if you're looking for good eats at the start of this new year. You have the option of three 10-inch-long sandwiches: Green Goddess Caprese, Pepperoni Mozzarella, and Smoky Buffalo Chicken.
Inside each massive French baguette, you'll find a variety of toppings—either vegetarian-inspired or a meat-lovers dream—and an abundant layer of delicious cheese. The melty sandwiches are available to MyPanera app users now and be a permanent addition to Panera's menu starting January 12 for $9.99 each (depending on location).
Starbucks started the new year and new season with a few returning items, alongside a new cold brew creation. The fan-favorite Pistachio Latte (which can be served hot, iced, or as a Frappuccino) and moist Red Velvet Loaf have returned to Starbucks for a third year. But to keep the nutty train alive, the new Pistachio Cream Cold Brew takes center stage. Featuring Starbucks cold brew, the new drink gets sweetened with vanilla syrup, topped with creamy pistachio-infused cold foam, and a generous handful of salted brown-buttery sprinkles.
Burger King's International Chicken Sandwiches and Stackers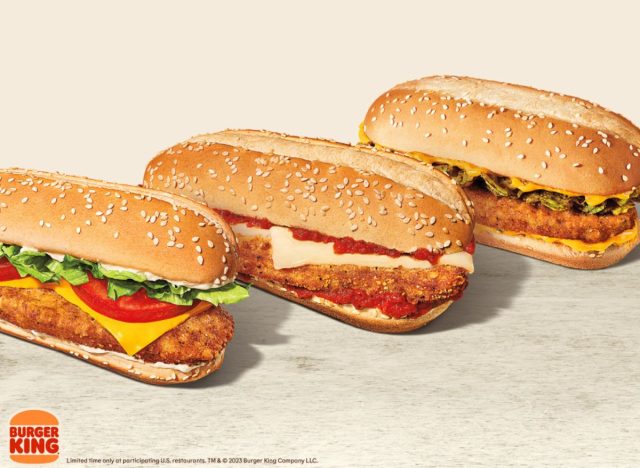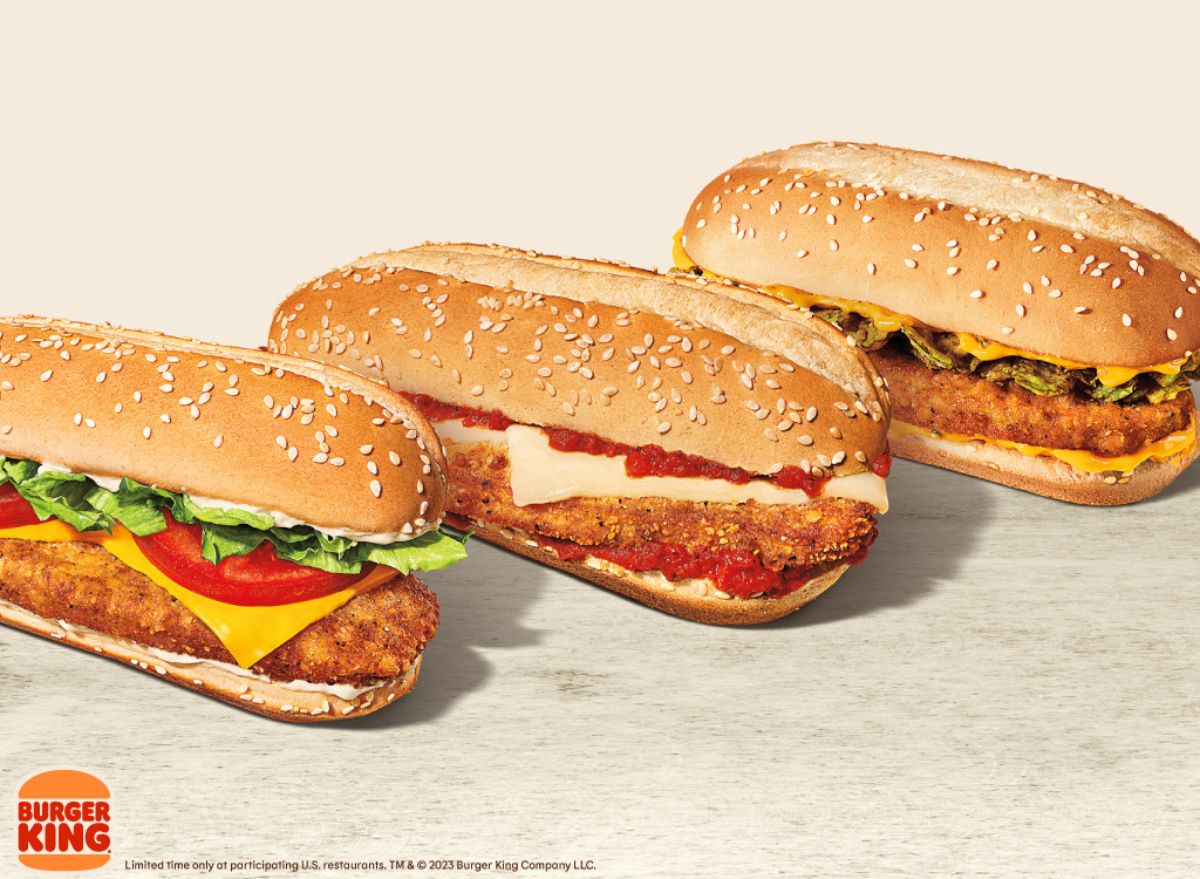 Burger King debuted its new trio of International Chicken Sandwiches this month. Each sandwich includes a breaded chicken patty on a long sesame seed bun, topped with ingredients that are a part of a country theme. The American was an old-school mainstay that comes with lettuce, tomatoes, cheese, and mayonnaise. The Italian, another BK classic, is made with lots of mozzarella cheese and marinara sauce. The Mexican is a brand new offering with spicy queso sauce and jalapeños.
But that's not all that's new at the fast food chain this year. As part of its "Reclaim the Flame" campaign last year, Burger King is bringing back a few infamous beefy burgers that boosted sales like crazy back in the early 2000s. The Stacker burgers are available as double, triple, or quadruple stacked burger patties with cheese and bacon. The enormous Stacker Quad packs more than a pound of meat with its four beef patties and bacon slices.
Little Caesars' Slices-N-Stix Pizza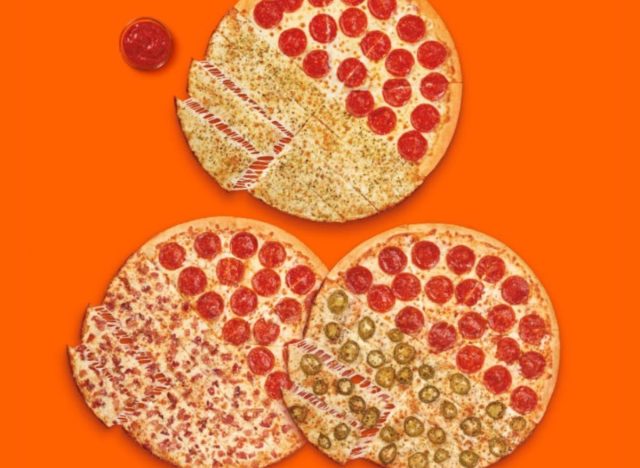 Little Caesars decided to give the biggest pizza chains in America a run for their money in 2023 by revamping its menu with a uniquely styled pie. First introduced in the summer of 2020, the Slices-N-Stix Pizza—which is half pizza and half cheese sticks—now comes in three different variations.
Stick with the classic half pepperoni and half cheese sticks, or choose the Slices-N-Stix Bacon Pizza or Slices-N-Stix Jalapeño Pizza. Little Caesars will be carrying the original version for the price of $6.99, while the new additions (bacon and jalapeño) will sell for $7.99 each at participating locations nationwide.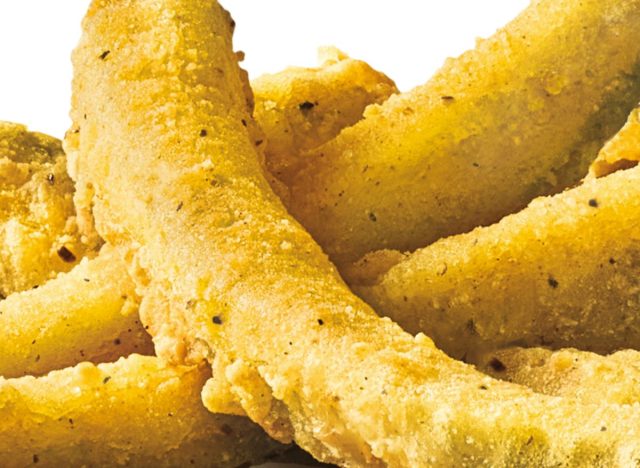 Sonic fans asked and the fast food chain answered. Pickle fries are a long-awaited, beloved menu item that has finally returned for a limited time and while supplies last. The spear-cut, fry-shaped dill pickles are battered and fried to perfection and served with a side of ranch. While prices may vary, most Sonic locations sell pickle fries for $1.89 per order.
Arby's Buffalo Boneless Wings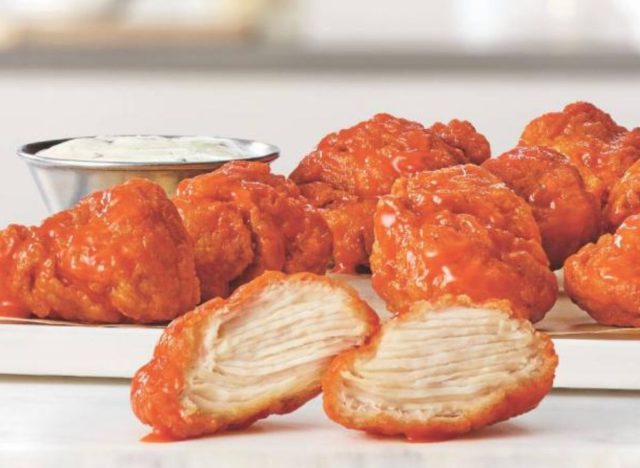 A hefty roast beef sandwich isn't the only menu item Arby's customers love. After testing and seeing major success with boneless wings at select locations across the country last year, Arby's 2023 menu will feature Buffalo Boneless Wings as well as a Buffalo Boneless Wings Meal Deal. The meaty sandwich chain will use its signature Buffalo Sauce, made from a cayenne pepper sauce base and melted butter, for a classic Buffalo flavor with a kick of heat. Fans may order a six-piece or nine-piece count of wings unless they want to upgrade to a meal and get a side of fries and a drink.
Dairy Queen's Reese's Take 5 Blizzard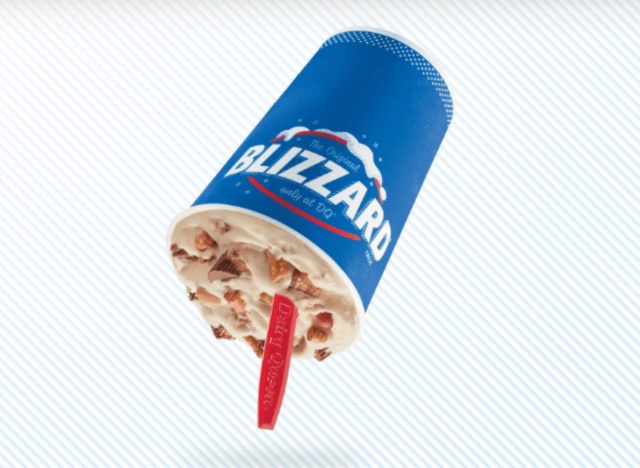 Dairy Queen is always Blizzard central, but the new year introduces a new Blizzard of the month that was first seen in the summer of 2022. The Reese's Take 5 Blizzard is inspired by the candy bar of the same name and features peanut butter cups blended into DQ's signature vanilla soft serve, with peanuts, pretzel pieces, and caramel sauce. This Take 5 twist will be available at Dairy Queen's across the nation all month long.6254a4d1642c605c54bf1cab17d50f1e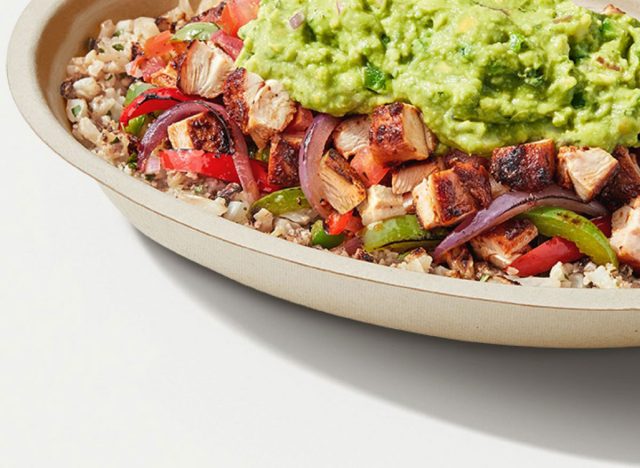 Weight loss is a common New Year's resolution for many people and in hopes of helping your journey, Chipotle launched seven new Lifestyle Bowls. The healthy meal choices were inspired and made to "embrace Gen Z and Millennials' modern interpretation of wellbeing," said Chris Brandt, Chief Marketing Officer, Chipotle, in a press release. There are many to choose from on your next trip to the fast-casual Tex-Mex chain, including the Balanced Macros Bowl, Veggie Full Bowl, Wholesome Bowl, Grain Freedom Bowl, High Protein Bowl, Plant-Powered Bowl, and Go Half Veggie Bowl.
Pizza Hut's The Big New Yorker Pizza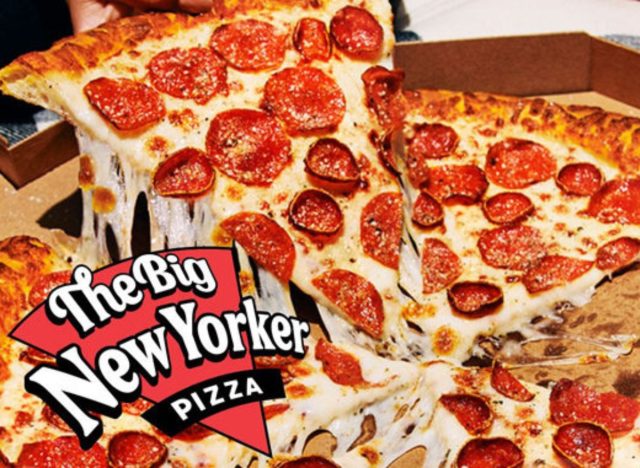 First introduced in 1999, Pizza Hut's The Big New Yorker Pizza developed a huge fan-following and for years has been heavily requested across social media platforms, Reddit, and even has a Change.org petition with thousands of signatures. Each pie is a 16-inch pizza that divides into six oversized, foldable slices with a crispy crust, a layer of sweet marinara sauce, extra-extra cheese, and Parmesan oregano seasoning to best imitate the way an authentic New York pizza is made. Unfortunately, it's only in stores for a limited time starting at the end of the month, so grab one while you can!
Jordan Summers-Marcouillier
Jordan Summers-Marcouillier was born and raised in San Jose, California and now works as a writer in New York, NY.
Read more about Jordan