8 New Menu Items at Fast-Food Chains
ICYMI: McDonald's, Popeyes, White Castle, and more came out with new menu items in December.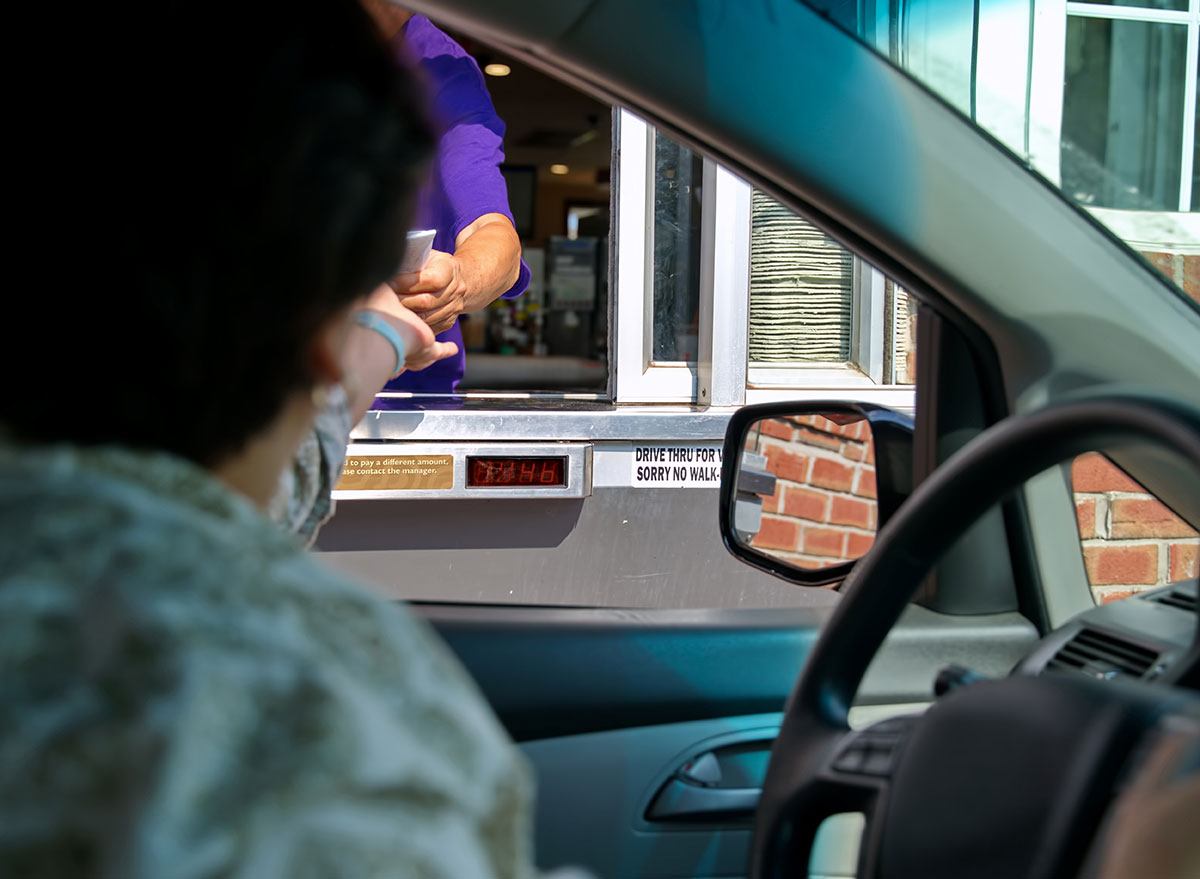 December is a month already filled with joy and gifts for all. We're not the only ones giving this year, though, because some of our favorite fast-food chains announced major menu additions in the last few weeks.
From drinks, to sandwiches, pizzas, desserts, and sides, these eight+ new menu items are making our spirits bright. Here's a round up in case you missed any!
And for more on restaurant changes you may soon see, McDonald's Is Making These 8 Major Upgrades.
McDonald's Peppermint Mocha
The iconic holiday coffee made its way back onto McDonald's menu in early December. It comes in a hot or iced version, or as Peppermint Hot Chocolate. Like other festive versions at other fast-food chains, McDonald's Peppermint Mocha has coffee, peppermint chocolate syrup, whipped cream, and chocolate drizzle. Unlike its competitors, though, this one is about $2 cheaper.
With all the bells and ribbons that come along with this drink, the calories can add up quickly. To make sure you save some room for other holiday treats, try ordering the smallest size without whipped cream and with less syrup.
For more on how to navigate festive food without sacrificing your waistline, here are 15 Healthy Eating Tips for the Holidays, According to Nutritionists.
Chipotle's Smoked Brisket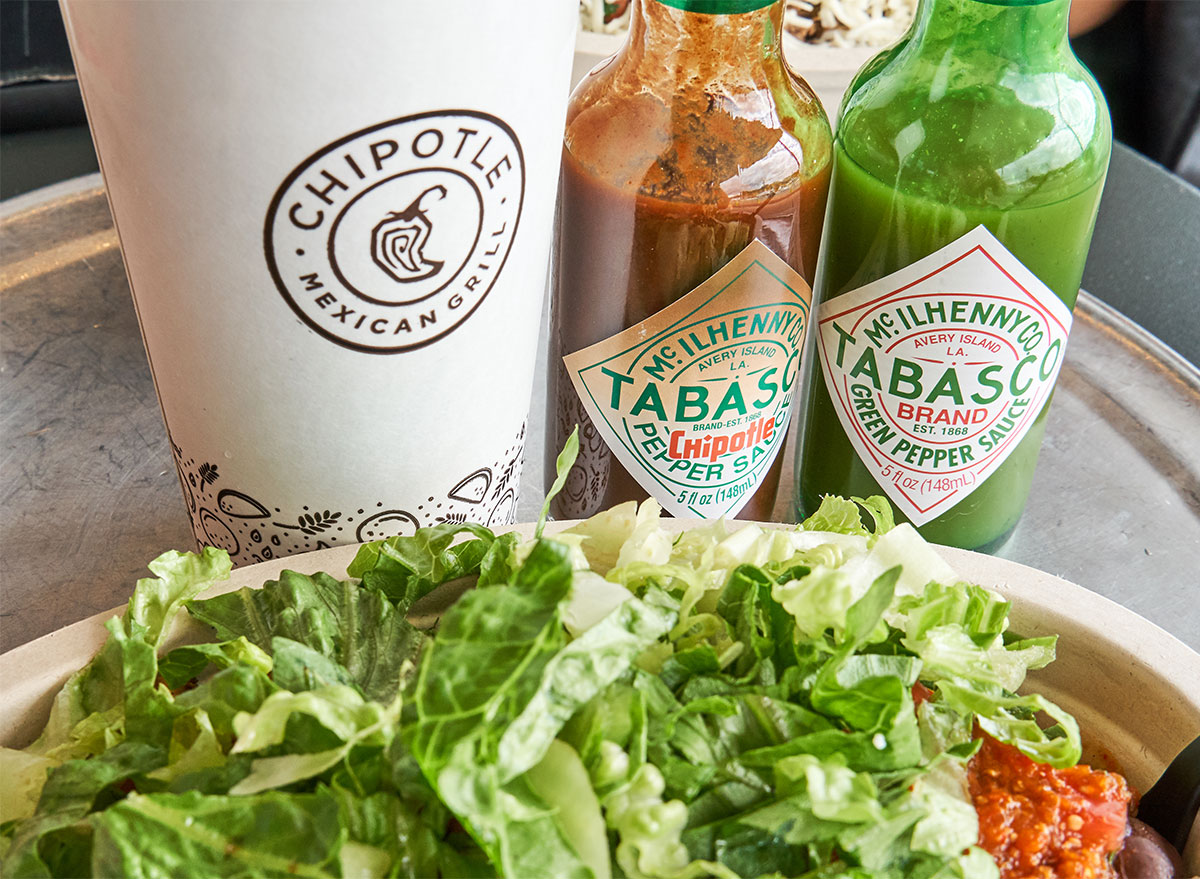 This limited-time menu item began a period of testing at 64 Chipotle locations in Sacramento, Calif. and Cincinnati, Ohio earlier in December. Whether or not it sees success will determine if it joins other staples like chicken, steak, barbacoa, carnitas, and even carne asada on the menu permanently.
Related: This Is the Unhealthiest Side to Order at Chipotle
Smoothie King's Metabolism Boost Banana Passion Fruit Smoothie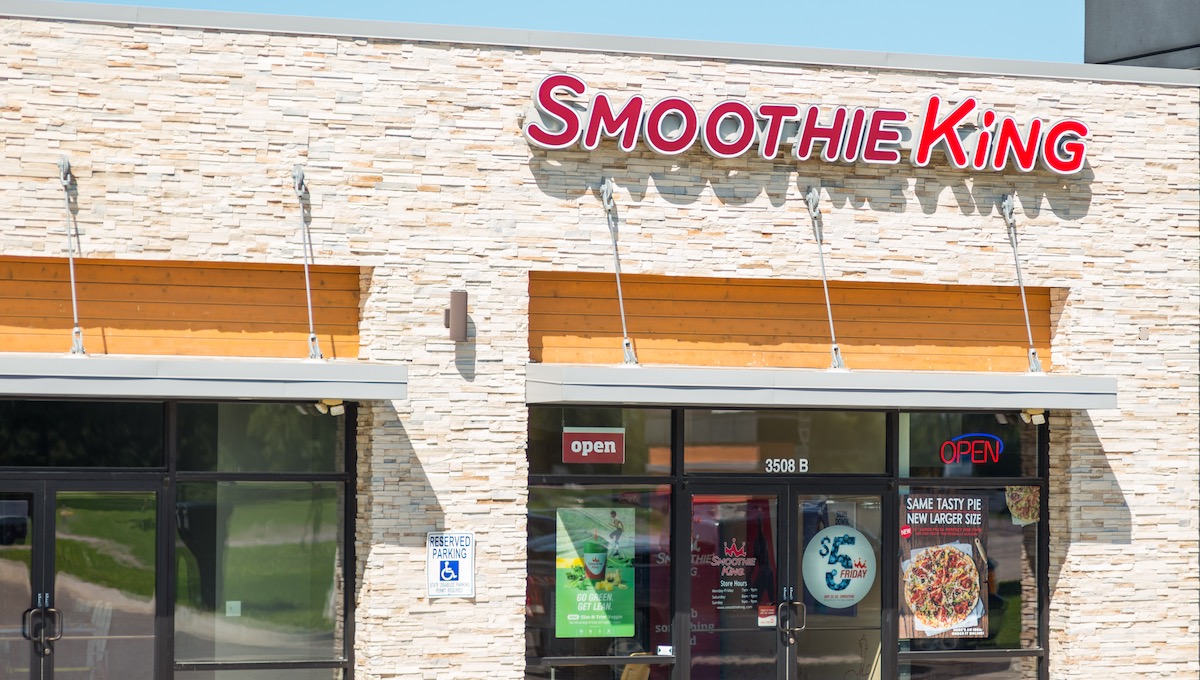 Smoothie King announced the newest version of the Metabolism Boost smoothie just in time for New Year's resolutions. The banana and passionfruit creation has no more than 280 calories, plus 4 grams of fiber and 14 grams of protein. Speaking of resolutions, submit yours on the chain's website and you'll receive a code to try the new smoothie for free!
Jack in the Box's Cluck Sandwich
There are more than enough options for fast-food chicken sandwiches, and Jack in the Box is the latest chain to debut their version for a limited time. The Cluck Sandwich features a crispy chicken fillet, pickles, a mystery sauce, and a toasted brioche bun.
While it has fewer calories than other chicken sandwiches with 490, it has more than half the daily sodium limit. And that's without a side, drink, or the works that come with the deluxe option—bacon, cheddar cheese, and guacamole. A good way to try out this option is to split it with someone and opt out of any additions.
For more on this, here are The Best and Worst Fast-Food Chicken Sandwiches, According to a Dietitian.
Papa John's Epic Stuffed Crust
For just the second time in 35 years, Papa John's has debuted a brand new crust available to order with any pizza on the menu. In 2019 the chain introduced the Garlic Parmesan Crust, but this time the additional flavor is inside the crunchy, yet soft dough.6254a4d1642c605c54bf1cab17d50f1e
The Epic Stuffed Crust isn't the only thing the pizza chain added this year. Both the Papadia and the Shaq-a-Roni fed hungry customers earlier in 2020.
Related: Healthy Pizza from Pizza Hut, California Pizza Kitchen, Papa John's + More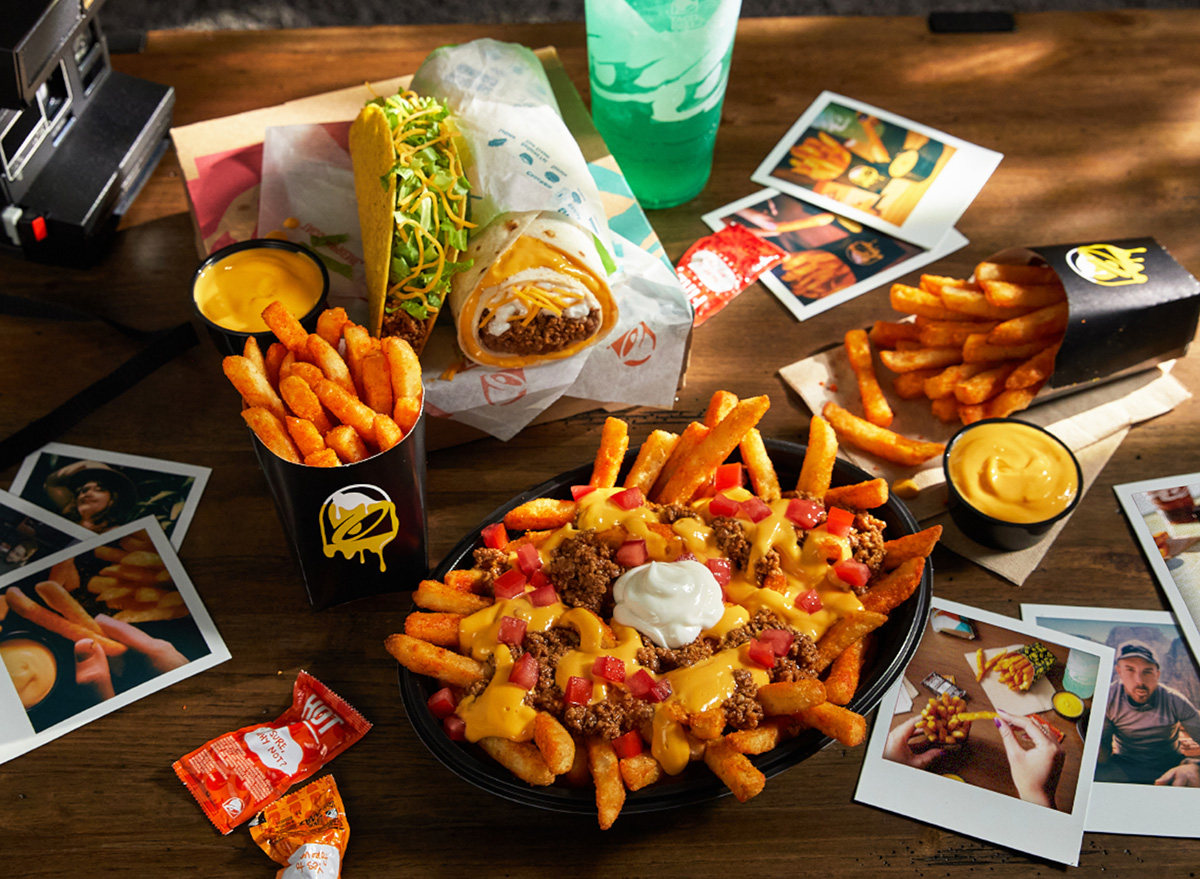 What a year it's been for the menu at Taco Bell. Fan favorites were taken away, and new options were added. The chain is ending 2020 on a strong note, though, after announcing the return of the beloved Nacho Fries for a limited time starting Dec. 24.
"In a year as difficult and uncertain as this one was, we know that consumers crave the comforts they love most," says Nikki Lawson, Taco Bell's Chief Global Brand Officer, in a statement given to Eat This, Not That!. "That's why we're excited to bring back Nacho Fries for our passionate fans to close out this year and kick-off 2021 positively and deliciously."
Popeyes' Chocolate Beignets
After going through a testing period earlier in 2020, Chocolate Beignets made their debut on the menu of every location's menu in mid-December. And there's no other fast-food chain equipped to serve this sweet (but sometimes messy) dessert than Popeyes.
The square pastries are filled with melty Hershey's chocolate and then covered with powdered sugar. You can even get a signature "Beignet Camo" hoodie equipped with powdered sugar specs to hide the evidence you enjoyed some.
Before you go, check out The Unhealthiest Fast Food Desserts on the Planet.
White Castle's Mac & Cheese Nibblers and Sloppy Joe Slider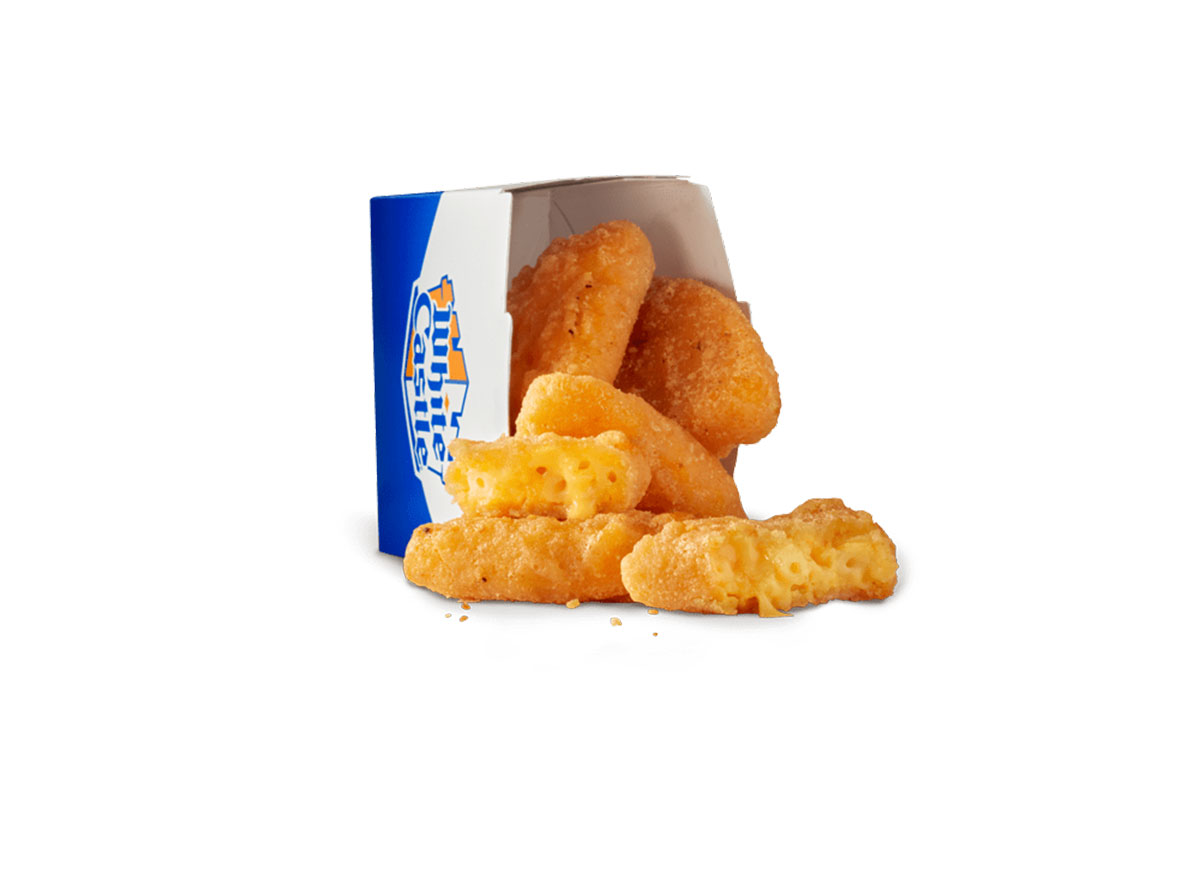 December is the perfect month for indulging in some comfort food for the start of winter and the holiday season. White Castle made this a little easier thanks to the winter return of two menu items, the Mac & Cheese Nibblers and the Sloppy Joe Slider.
While indulgent, crispy, and soul-warming, the calorie, fat, carb, and sodium content you get from these two can get out of hand if you're not careful. One Sloppy Joe Slider has 190 calories, 9 grams of fat, 19 grams of carbs, and 640 milligrams of sodium. A small Mac & Cheese Nibblers has 330 calories, 20 grams of fat, 31 grams of carbs, and 830 milligrams of sodium. Order just one of each and you get almost 30 grams of fat, 50 grams of carbs, and over 1,000 milligrams of sodium. It's best to enjoy one rather than both.
For more fast-food menu news delivered right to your email inbox every day, sign up for our newsletter!
Amanda McDonald
Amanda has a master's degree in journalism from Northwestern University and a bachelor's degree in digital journalism from Loyola University Chicago.
Read more about Amanda