I Took Arby's New Diablo Dare Challenge and Here's How It Went
For a limited time, Arby's is offering two sandwiches so spicy, they include a free vanilla shake to cool your mouth down between bites.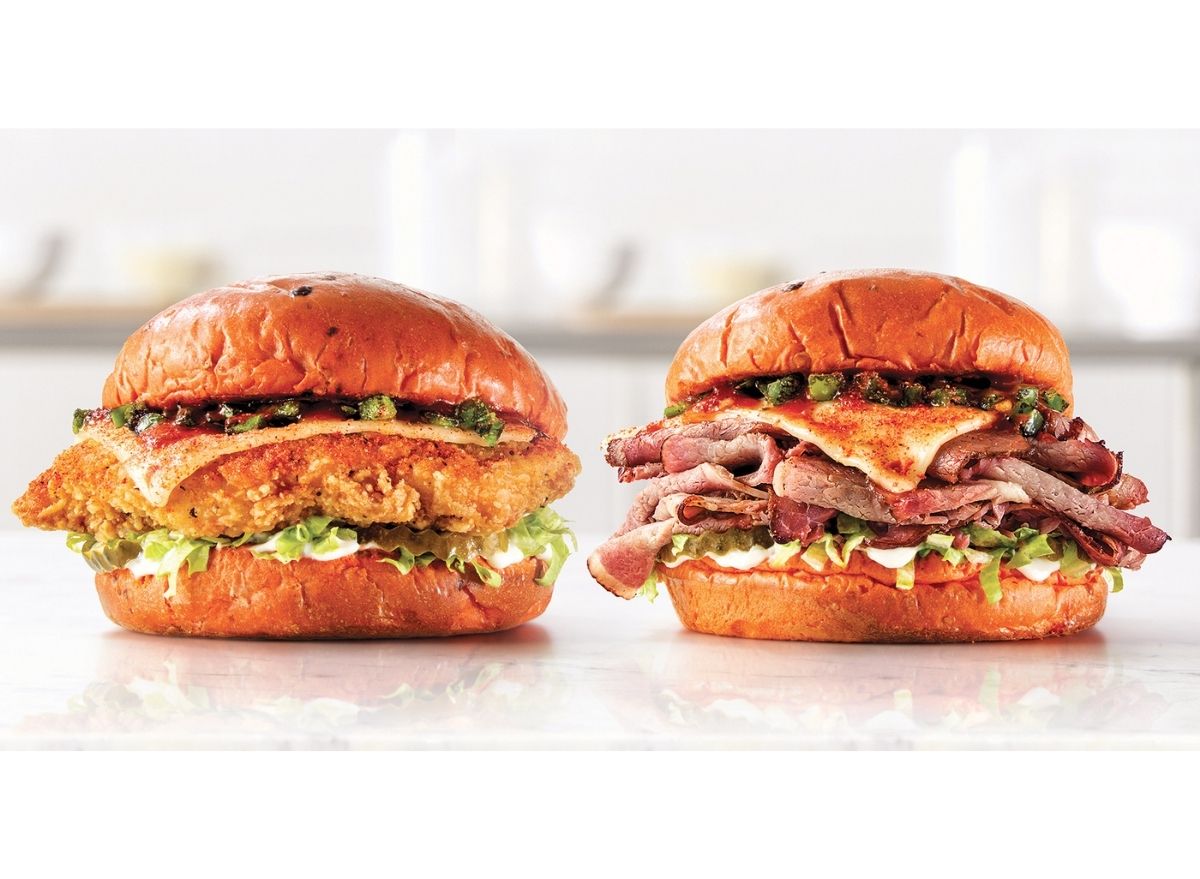 I like a little heat: the way it creeps up slowly on my tongue like licks of flame that catch the roof of my mouth. But am I one of those heat-seeking, fire-breathing gluttons for punishment, who seek mouth-numbing spicy food in order to feel fulfilled? Someone who eagerly anticipates turning my taste buds and lips into kindling for the thrill of it?
Absolutely not. I appreciate when I can taste layers of flavor before melting my senses to ashes.
However, am I the type to back down from a food challenge? Um … that answer is also no, which leads us to this: Arby's Diablo Dare Challenge.
From January 10 to February 6, Arby's is going beyond just having the meats and meat-sweats to having the heat-sweats, too. For a limited time, they're offering two $5.99 (and up) sandwiches "so spicy, [they] had to include a free vanilla shake to cool your mouth down between bites." The Diablo Dare sandwiches come in two equally hot varieties: crispy chicken and smoked brisket.
Why? Arby's Chief Marketing Officer Patrick Schwing tells us, "Everyone in quick-serve restaurants say they have a spicy option, but our research tells us that consumers are disappointed by fast-food claims of spicy. We took that as a challenge by making sure all different types of spicy—the hot, the numbing, and the lingering—are combined to make the Diablo Dare a true test of how much heat you can handle … setting a new standard of spice."
I mean, he has a point. Very often, fast food spicy is a quick sting, a fleeting burn. Personally, I take claims of spice with a grain of salt, since my options inevitably leave me wanting a fuller feel and a longer stay. But once I learned more, I started to wonder what I'd gotten myself into. Plus, don't miss: 11 Secrets Arby's Doesn't Want You to Know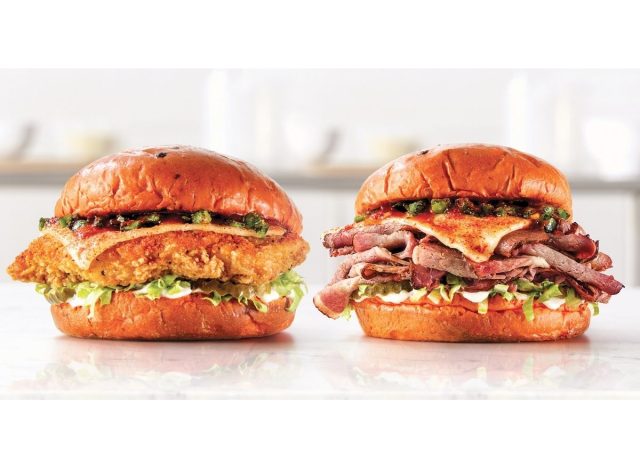 These new sandwiches sounded daunting, if not straight-up terrifying. There are five sources of spice to the sandwich: ghost pepper jack cheese, a "fiery hot seasoning" comprised of cayenne and habanero, fire-roasted jalapenos, a special Diablo BBQ sauce with four types of peppers, and a toasted red bun with chipotle flakes. All of this is piled onto their signature 13-hour smoked brisket or crispy chicken, clocking them in at 570 calories each, with 30 and 26 grams of fat, 34 and 29 grams of protein, but also 4 and 5 grams of fiber, respectively.
In short, these are not for the weak of heart, no matter how literal or figurative you choose to be. Starting January 18, survivors are encouraged to crow about their victory over fire on TikTok using #ArbysDiabloDare and their special branded filter, documenting how long it takes for them to reach for that flame-quenching shake.
Me? I'm just trying to survive.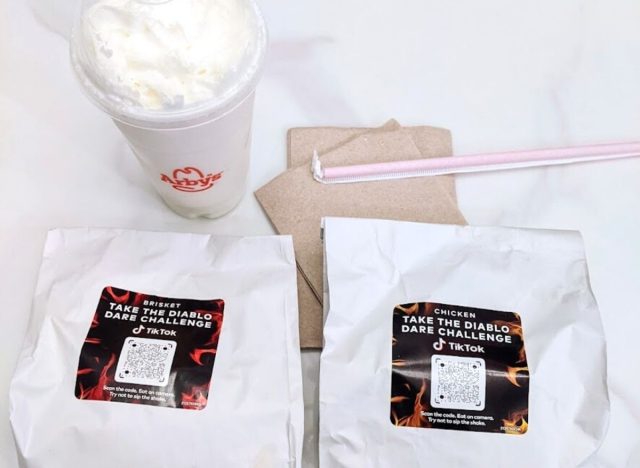 With Friday night dinner rush logistics, it was quite the stramash to get these babies here. By the time they arrived at my door on this icy cold night, I was ready to get heated.
The sandwiches proved to be complex and multi-layered with even more fixings than advertised. In addition to the cheese, the peppers, the BBQ sauce, and the meat of choice; in between the burnt sienna-hued buns, speckled with dark brick flecks of pepper, were crinkle-cut pickles, iceberg lettuce shreds, and a surprising lot of watery mayo. A broad expanse of chicken brightened up the foodscape of one while a folded slice of real beef brisket was the centerfold of the other.
Arby's 13-Hour Brisket Diablo Dare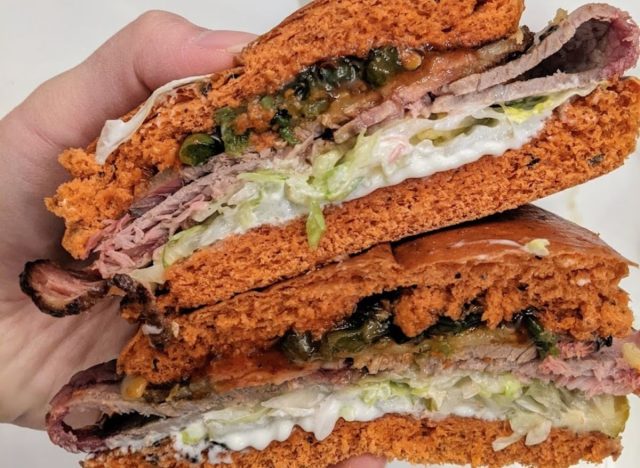 I first tried the much flatter Arby's 13-Hour Brisket Diablo Dare, the meat of which looked very good but whose portion left me feeling like this sammie might be a more accouterment than beef. Taking a bite off the side to warm up (so to say), it felt manageable. So I braced myself, took a big chunk right out of the center …6254a4d1642c605c54bf1cab17d50f1e
… And found I'd made a big ado about nothing.
Despite its appearance and hype, my first impression was actually not of searing heat at all, but rather a smooth, rich smokiness from fire-roasted peppers and a sweet barbecue sauce, augmented by the beefiness of the thick slice of brisket.
This richness was further hammered home by the copious amounts of mayonnaise and the cheese, whose pepper-laden potency was softened considerably by melting. The refreshing pickle chips and lettuce provided even more cooling elements, rendering the delicious vanilla milkshake an accessory, not a necessity. And despite the working-in of chipotle pieces into the bun, the plush, doughy vehicle was yet another foil to the heat the pepper powder was heroically trying to convey.
Arby's Crispy Chicken Diablo Dare
With that half-eaten, it was time to try the Arby's Crispy Chicken Diablo Dare sandwich, which I chose to sample second by virtue of it being less temperature-sensitive. Encased in a thin crumb breading and a thicker slab than the brisket, I figured it'd hold its heat better, which it did.
It was juicy and tender from the first bite. Because it was simply a bigger hunk of meat, all of the details that made up the Diablo's signatures became supporting players—as they should be. While the brisket was saucy, smoky, and earthy, the chicken version was bright, the fried outer layer toasty instead of dark or heavy.
The cheese also melted better on the chicken, since the retained heat kept it gloopy and from congealing as it did on the brisket. And because chicken is a more neutral vehicle, I got some good zings here and there as the peppery bits jumped out more obviously. White meat is a lighter frame than red, allowing pops of heat to contrast like red paint on a white canvas as opposed to a chalkboard.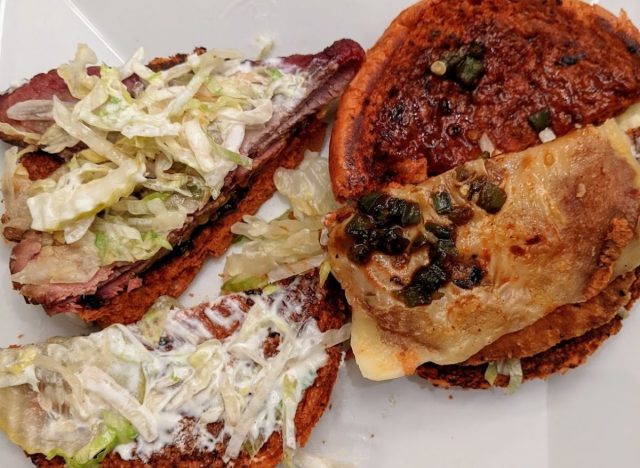 Both halves ravenously inhaled, I tasted each of the signature details on their own. The bun proved to be slightly smoky with a very mild burn as you worked through it, like an infused potato or brioche roll. Sweet and pillowy, there was a cool chew to the center layer of both the top and bottom buns since they weren't warmed all the way through before toasting. This extra step, however, added yet another flame-related element, softened by butteriness.
The Diablo BBQ sauce offers a heat that builds up slowly and subtly under the guise of the sugary and slightly smoky front notes. It sneaks up on you, same as the fire-kissed notes of mild jalapenos, giving you little love taps amid the acidity of the pickles and pickled peppers. The cheese kind of becomes a throwaway, the three mixed-in peppers lost amid the overt creaminess that dominates the recipe. The pepper powder was too well worked into everything else to identify on its own, but played a role in the heat that hung around after the last bite like a memory.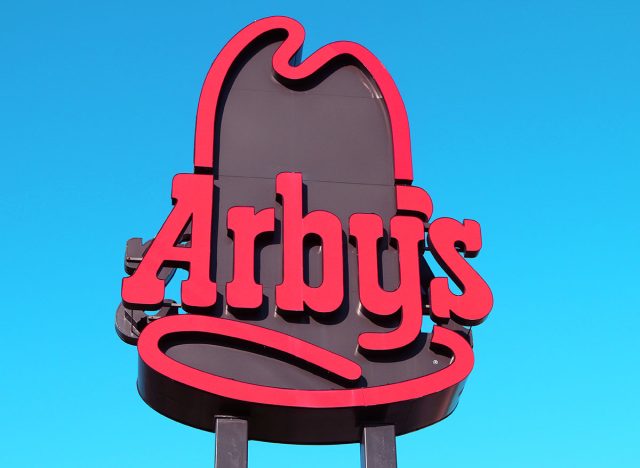 If you're expecting to lose the roof of your mouth and cry flaming hot tears, throw some ice water on that because it's not going to happen. They're definitely on the spicier side of the fast-food sandwich spectrum, but the Diablo Dares are not scary at all—they're simply straight-up delicious. Sure, in and of themselves, the components are technically hot … but together, they blend in an absolutely lovely fashion. Rarely have I encountered a limited-time, big-chain sandwich that was better balanced.
Some bites are punctuated with a bit more bite than others, but overall, there's a slow build-up that doesn't crescendo until you're a quarter of the way into your second sandwich. (Yes, you do need that second sandwich; these are very addicting.)
Although their inspiration stemmed from wanting to crank up the heat, the team at Arby's did a fantastic job with thoughtfully answering every hot element with something that pulls it back from the brink, creating a complex taste sensation that leaves you wanting more. If anything, they went a little too far with stacking. The cheese added richness, but no more than the slathered-on mayo, which honestly could have (and probably should be) omitted. The peppers in the sauce and bun were tempered by the sugar in them. The jalapenos were lightened up by the lettuce and pickles, and were like declawed kittens without the seeds that give them their spice. And the vanilla shake? That's as close to icing on this hot cake as you can get.
My pro tip? Go get this sandwich. Get it as many times as you can during the short month it's available and do it without the superfluous mayo but with extra pickle, jalapenos, and Diablo sauce. After all, while it may not get you hot, it's still a cold winter out there and these will warm you up just enough.
Read more about your favorite fast-food restaurants:
14 Beloved Fast-Food Items That Returned After Huge Customer Demand
We Tried 7 Fast-Food Fries & These Are the Best!
Su-Jit Lin
Su-Jit Lin is a food and lifestyle writer whose work has been featured in Real Simple, HuffPost, and more.
Read more about Su-Jit