17 Beloved Fast-Food Items That Returned After Huge Customer Demand
Fans spoke out and companies listened. Eventually.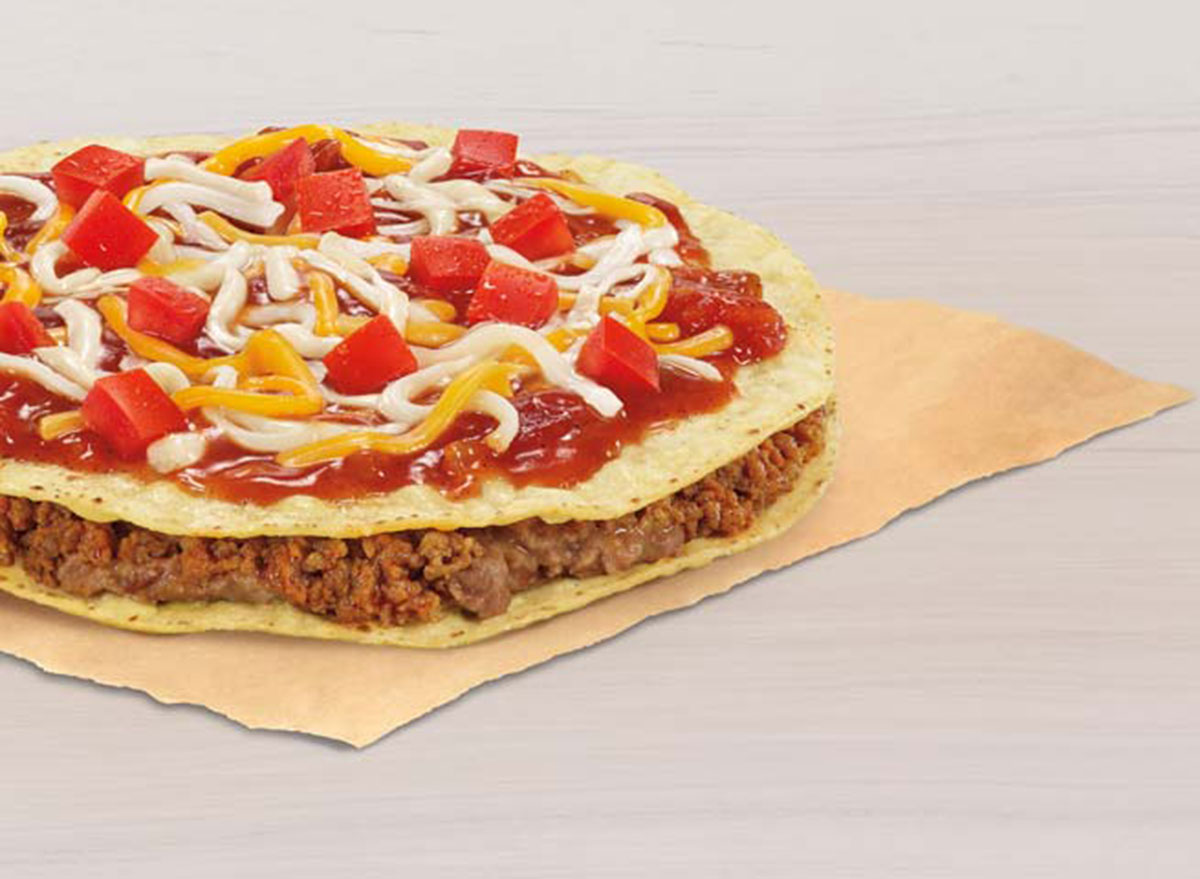 Many fast-food menu items come and go as a matter of course. Seasonal menu items are not safe from fluctuation, like saying "hello" to pumpkin spice at the beginning of fall, only to part ways with once the holiday cheer takes over. But then we have fast-food menu items that are gone for good and are hardly mourned. Consider in this category things like the famously flopped McDonald's Arch Deluxe burger, Taco Bell's awful Waffle Taco, and the horrific KFC Double Down, in which slabs of fried chicken stood in for bread.
In a third unique category, we find discontinued fast-food menu items that were originally slated for permanent cancellation, only to have been returned to the menu after an outpouring from customers. In this article, we discuss 17 discontinued fast foods that are currently back because the people spoke out. Once you check out what's back on the menu, take a look at 10 Bizarre Fast-Food Items That Were Discontinued.
Wendy's: Pretzel Bacon Pub Line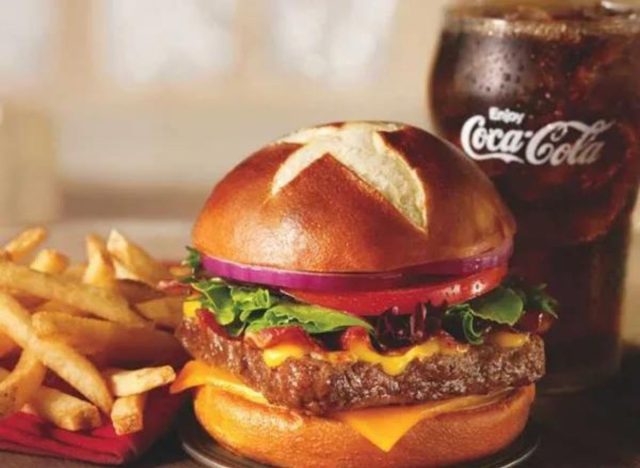 Ever since its first appearance as a limited-time offering on Wendy's menu back in 2013, the pretzel burger has been a fan favorite. After strong customer demand to bring it back, Wendy's finally launched a Pretzel Bacon Pub Line in 2020 which featured the Pretzel Bacon Pub Cheeseburger as well as three new chicken sandwiches. But almost as quickly as it reappeared it disappeared, with the chain discontinuing the lineup in 2021 to make room for two new fall sandwiches. Pretzel burger fans were, of course, disappointed but things turned around this past September when Wendy's brought the burger back—again.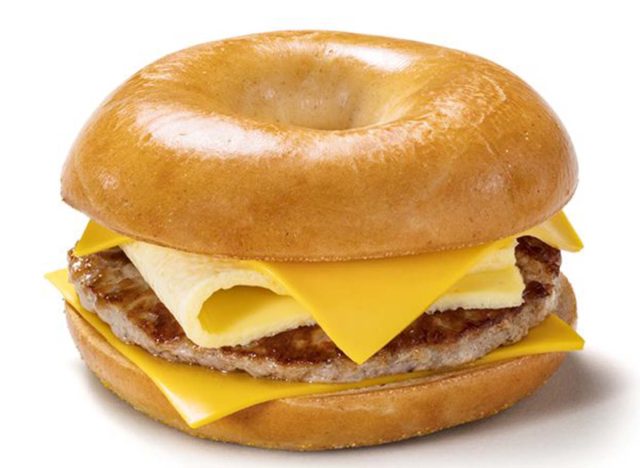 McDonald's foodies were devastated when the chain discontinued the all-day breakfast menu, and the breakfast menu took another hit when bagels were removed from the menu in 2020. But, breakfast-goers can rejoice, as bagels have been spotted making a comeback in several McDonald's locations (but not all as of yet). Only time will tell if these round delights will be making their way to other locations, but this is a great start.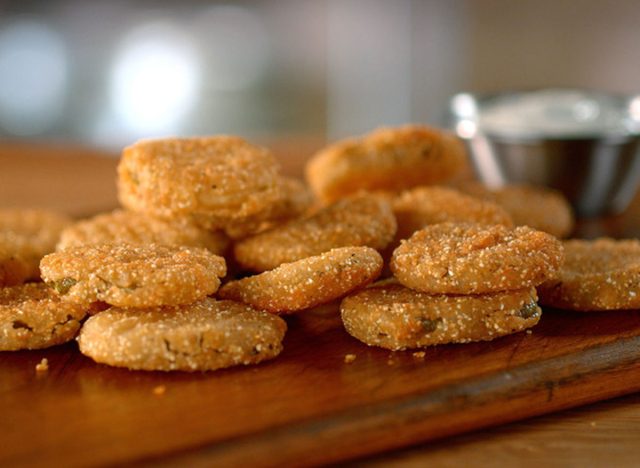 A fan-favorite when they came onto the Zaxby's menu in 2016, they were shortly removed, only to tease customers by adding them back on in 2020…and taking them off again a few months later. Well, the back and forth is officially over! Zaxby's officially added their fried pickle to the menu for good, so now you can snack on this crunchy golden finger food as much as your heart desires.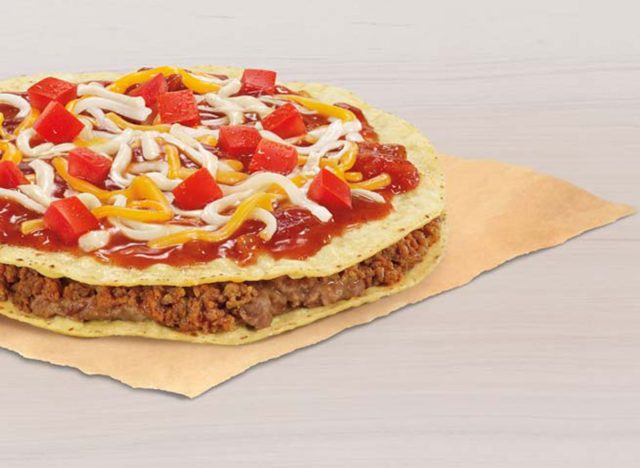 Taco Bell cut the Mexican Pizza from its menu in the autumn of 2020, according to Pop Culture, and the outrage was immediate. Fans of this stacked tortilla demanded it returned to the menu so vociferously that it was back available again less than a year later. To make the news even sweeter, on September 15, Taco Bell announced that the Mexican Pizza is now officially here to stay on the menu.
Burger King: French Toast Sandwich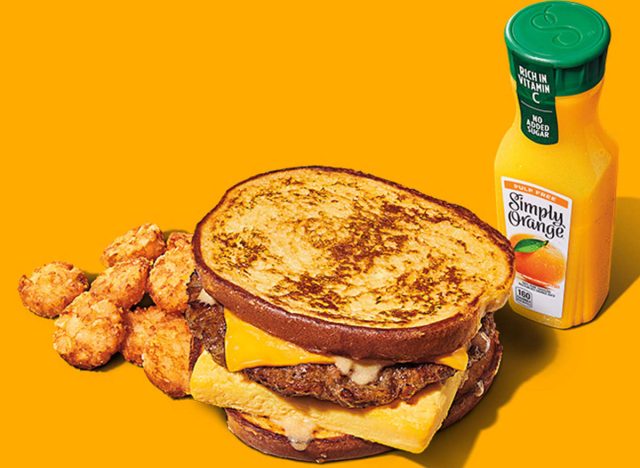 The French Toast Sandwich (yes, it's a breakfast sandwich wherein the bread is French toast, you guessed correctly) made a glorious return to the Burger King menu in the early spring of 2021 after having disappeared, to customer dismay, in 2019. While it's not entirely clear if the sandwiches made a permanent return, for now, it's been on the menu for over a year now and the people are happy.
Pizza Hut: Detroit-Style Pizza
When Pizza Hut introduced Detroit-Style Pizza, which is a deep-dished, rectangular-shaped pizza with toppings and cheese that reach all the way to the edges, it was meant to be a limited-time product. The pizzas proved so popular they sold out at locations nationwide, and soon, heeding customer response to the new pies, the company added it as a permanent menu item.
Wendy's: Spicy Chicken Nuggets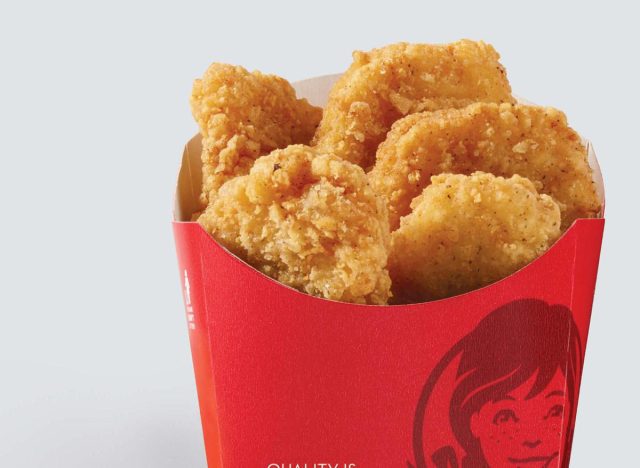 It was almost inexplicable why Wendy's pulled their spicy chicken nuggets off the menu in 2017, as according to Mashed they were a popular and well-regarded item. Upset fans rallied for the return of the nuggets, with efforts including a petition with more than 10,000 signatures and public statements released by Chance the Rapper. The nuggets made their comeback a couple of years back and are still available today.6254a4d1642c605c54bf1cab17d50f1e
Taco Bell: Toasted Breakfast Burritos
Taco Bell further repaired the rift caused between it and many customers when, in addition to the reinstatement of the Mexican Pizza, the company also brought back its Toasted Breakfast Burritos. The Cheesy Toasted Breakfast Burrito, the Hash Brown Toasted Breakfast Burrito, and the Grande Toasted Breakfast Burrito were all back on the menu at most Taco Bell locations as of the late summer of 2021. Now, instead of hash browns, you may find breakfast burritos full of potato.
Hardee's: Roast Beef Sandwich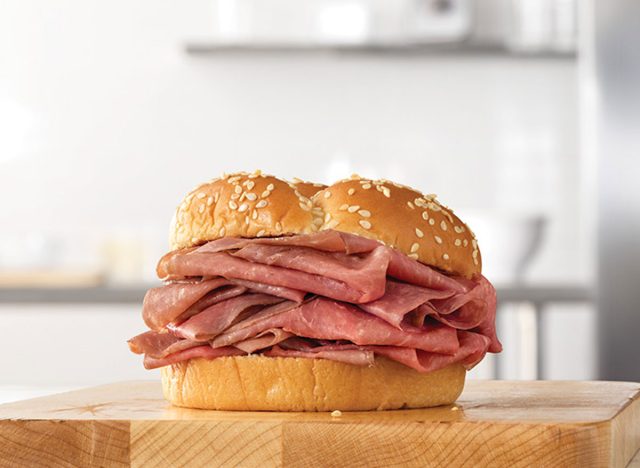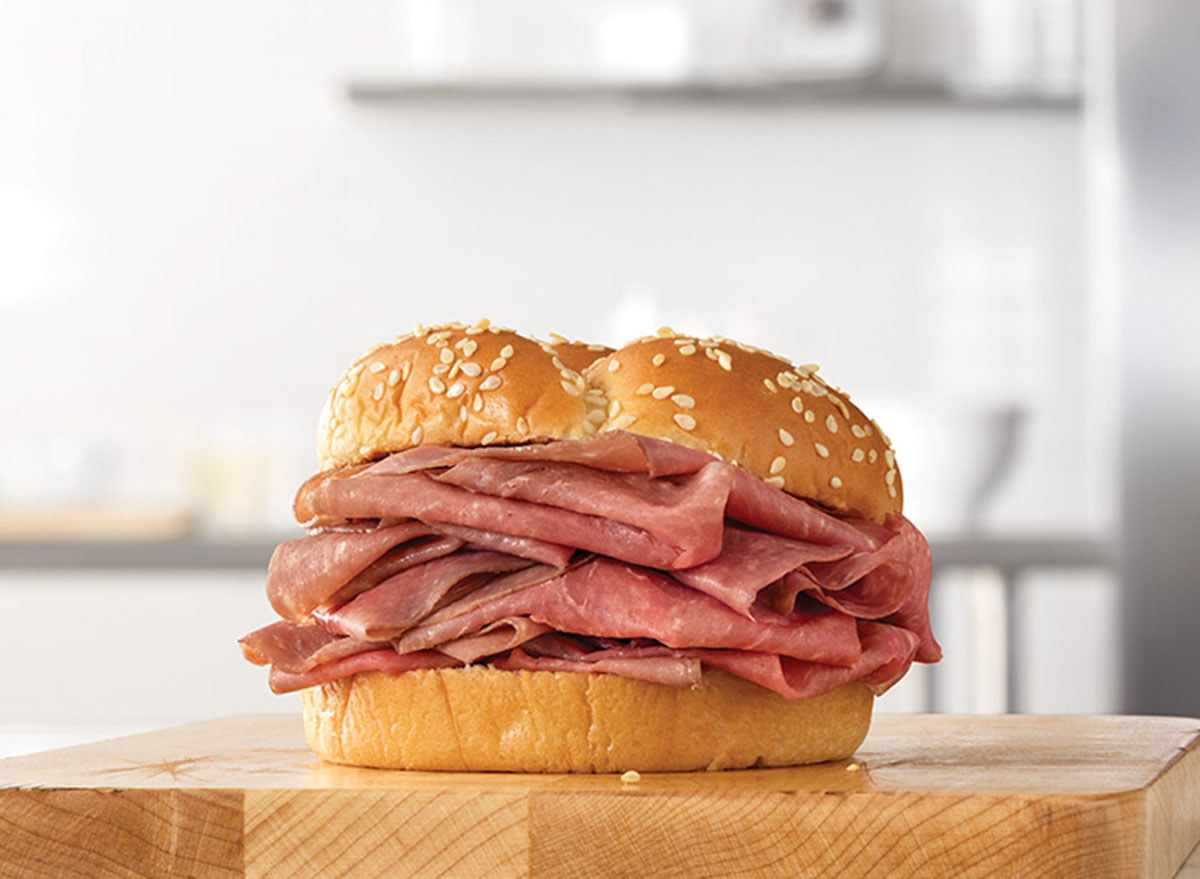 The Hardee's Roast Beef Sandwich was a menu staple for most of the 1980s and 90s, but it disappeared from the menu at almost all of the chain's locations sometime in that last decade of the 20th century. Then, according to Business Wire, following years of customer requests, the company returned the sandwich to the menu nationwide in April of 2019.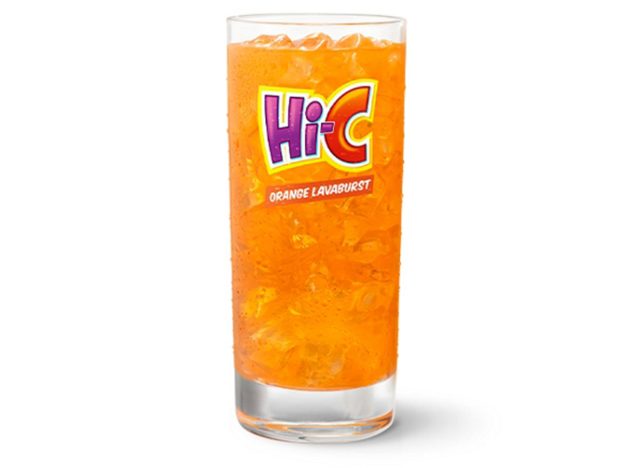 McDonald's customers went without the sweet, bright orange beverage known as Hi-C Orange for more than four years, but they never stopped clamoring for its return, via STL Today. The company, which had replaced Hi-C with a fruity soda from Sprite, relented and returned a noncarbonated sweet orange drink to menus in 2021 and is still here today: Hi-C Orange Lavaburst.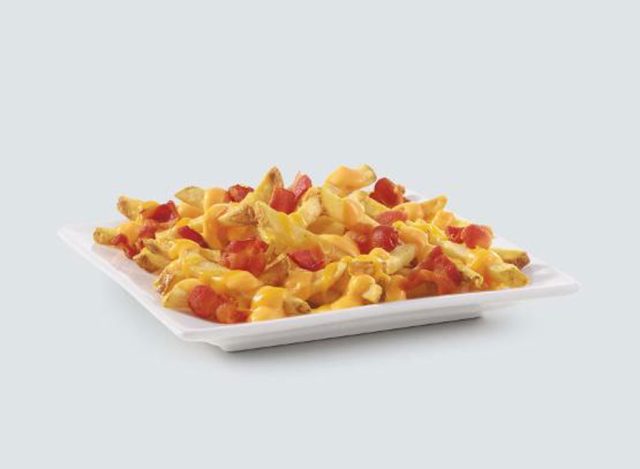 Originally introduced as a limited-time promotional item back in 2015, according to Mashed, Wendy's Baconator Fries became an immediate sensation. So much so that when they were removed from the menu as planned, leaving behind the Baconator burger, fans were not happy and spoke out. The next year, in 2016, Baconator Fries were added to the permanent menu, where they remain today.
Taco Bell: Cheese Fiesta Potatoes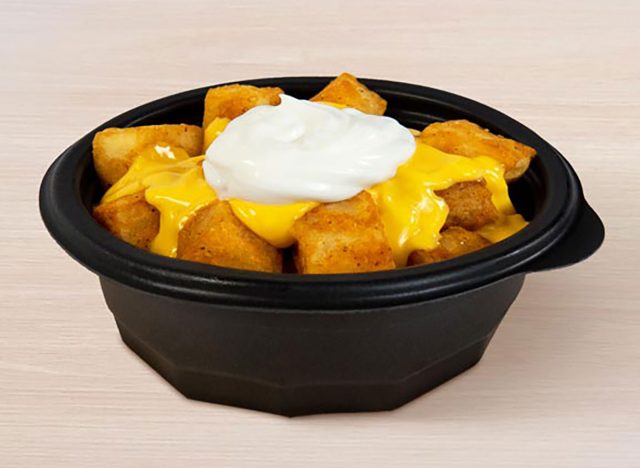 After they were culled from the menu as Taco Bell sought to streamline operations in the early days of the pandemic, the chain finally added Cheese Fiesta Potatoes back into the mix about a year later, in early March of 2021, according to Yahoo!. They remain there today, a vegetarian option in a menu packed with meats.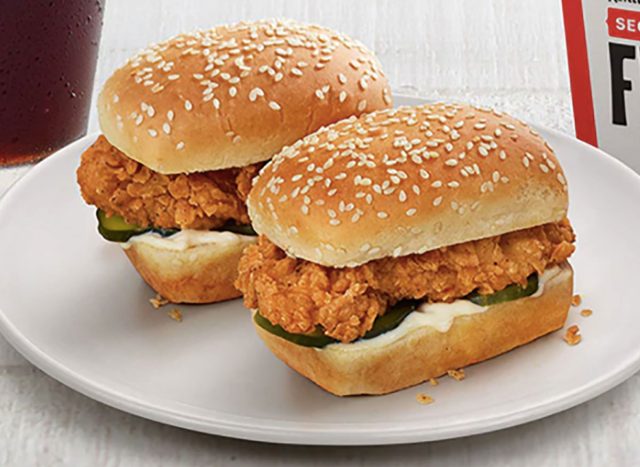 The original KFC Chicken Little sandwiches came out in the late 1980s and cost less than 40 cents, which was surely part of their appeal. When they were removed from the menu in the early 1990s, they left an empty spot in the hearts of many KFC fans, via Serious Eats. Responding to regular requests, the chain added a similar sandwich, the KFC Snacker, in 2005. But fans were not impressed and continued to call for the Littles to come back, which they finally did in 2012, though many claim the 1980s version was better.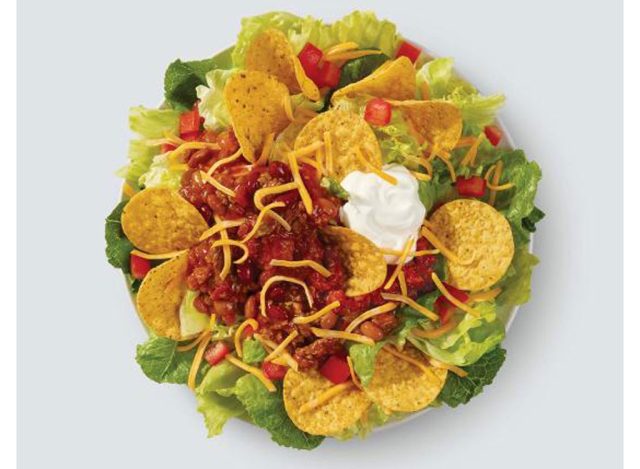 The history of Wendy's Taco Salad starts nearly 40 years ago. It was added to the menu in 1982 and promoted with a campaign saying: "It's more than a salad, it's a meal," via Mashed. The "meal" salad stuck around for 28 years before being cut in 2010, a move fans did not appreciate. They had six long years to wait, but in 2016 the Taco Salad was back by demand, and it remains on Wendy's menu today.
Burger King: Chicken Fries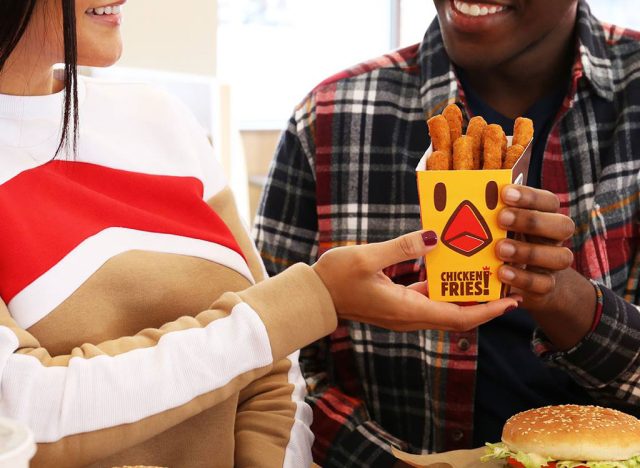 As unsettling as it may be to eat chicken in fry form, which is to say chicken meat sliced (or extruded?) into long, thin slivers that are then battered and deep-fried, fans loved them. So much so that they were outraged when the company nixed the "fries" in 2012 after a seven-year run, via TIME. By 2014, BK relented and Chicken Fries were back on the menu and still are today.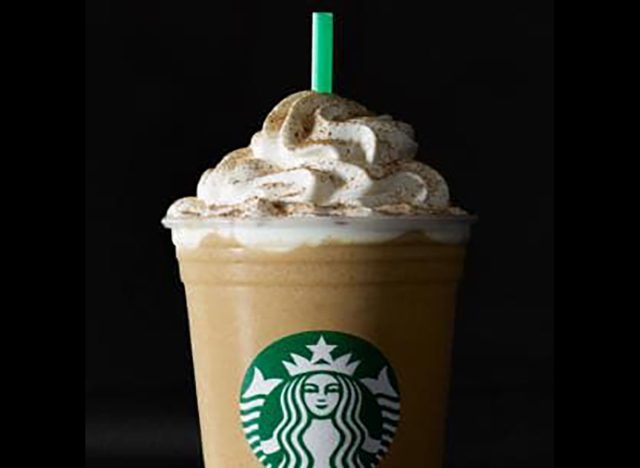 What once wasn't a happy story finally turned into a happy ending. The Starbucks Eggnog Latte was added to the menu way back in 1986 and was beloved by coffee fans far and wide. So much so that when the company planned to ax the drink in 2014, there was such an uproar that company execs admitted a mistake and reinstated the beverage, via Eater. But the second run of the Eggnog Latte came to an end and customers weren't able to get it back in 2021.  as the Eggnog Latte has been seen on the Starbucks menu once again!
Subway: Roast Beef Sandwich
When the decision to cut the roast beef sandwich came down from on high (meaning from corporate) in 2020, the move surprised and dismayed not only customers but many franchise owners. For a higher-cost sandwich, the decision was purely about numbers, not customer taste. Fortunately, when customers revolted, the suits listened, and within a year the sandwiches were back. Today, you can find Subway's roast beef sandwich under "Classic Subs, (not to be confused with their new line of sandwiches called the "Subway Series"). You can still customize your order to get all of your favorite toppings to make the angus roast beef sandiwh of your sub shop dreams.
A previous version of this article was published on June 10, 2022.
Steven John
Steven John is a freelancer writer for
Eat This, Not That!
based just outside New York City.
Read more about Steven