Here's Exactly What Katy Perry Is Eating to "Get Abs" on Her European Vacation
Perry proves you can feast on the finer things in life (like cake, wine, and pasta!) and remain radiant.
Ever felt conflicted about how to stay fit on vacation? It's a common conundrum, made perhaps a little easier by taking a note from Katy Perry. The happy, healthy 36-year-old—who gave birth to daughter Daisy exactly a year ago this month—has been spotting looking swimmingly on her months-long European vacation, proving via her social media that you can feast on the finer things in life (si, like cake and pasta!) while remaining radiant. What's the beauty been doing to "get abs," as she recently posted, during her travels? Her physical activity of choice is definitely one of our favorites.
Check out exactly what Katy Perry's been eating and doing to stay looking so gorge on vakay (and in general), and sign up for our newsletter for a little escape and inspiration each day. For star-like motivation, peek at The One Mind Trick You Need to Lose Weight, Says a Celebrity Trainer.
Katy Perry has been sampling a little of a lot.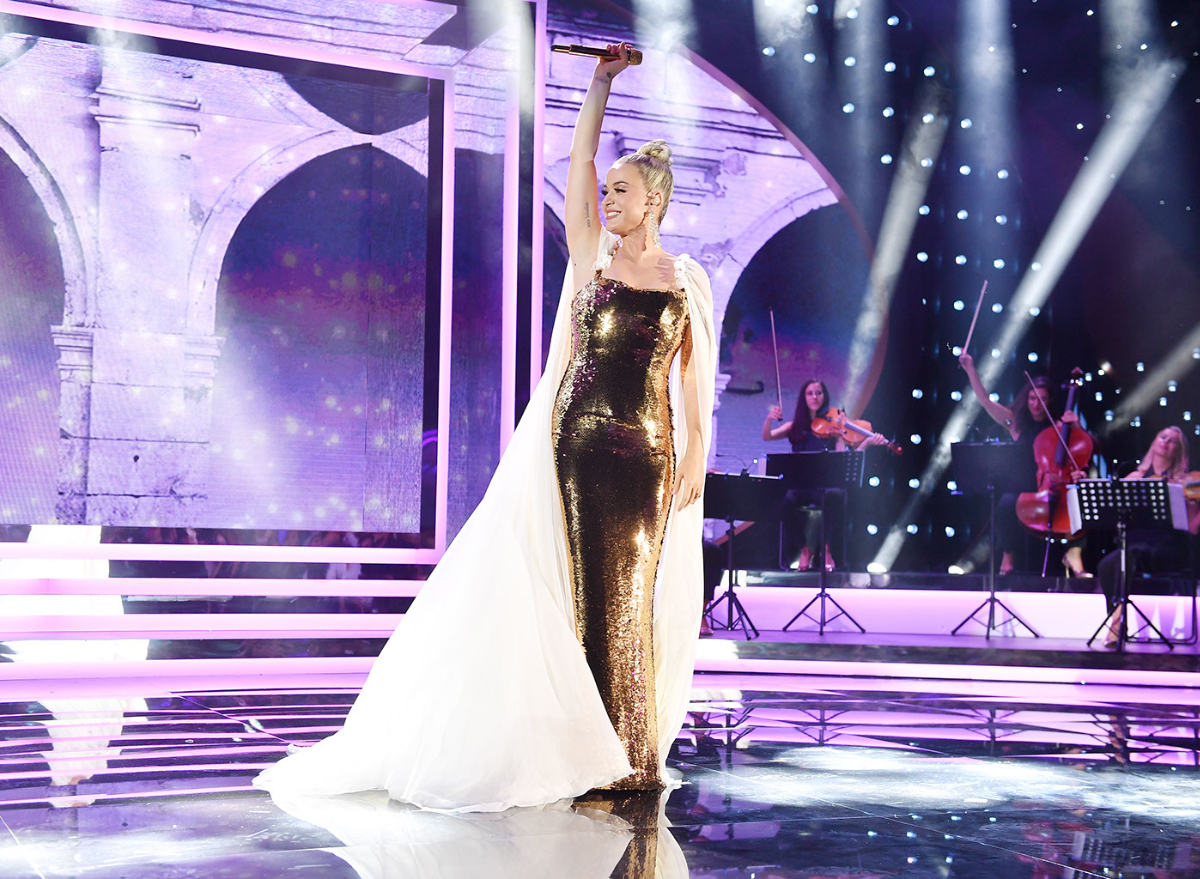 On Saturday, Perry posted images from her time in Capri, Italy, where she performed last week at the LUISAVIAROMA for UNICEF benefit. On the Capri leg of her trip, Perry revealed a plate featuring three pasta dishes in different sauces, clearly embracing the Italians' more petite approach to meal portion sizes.
Katy Perry likes a lil' vino.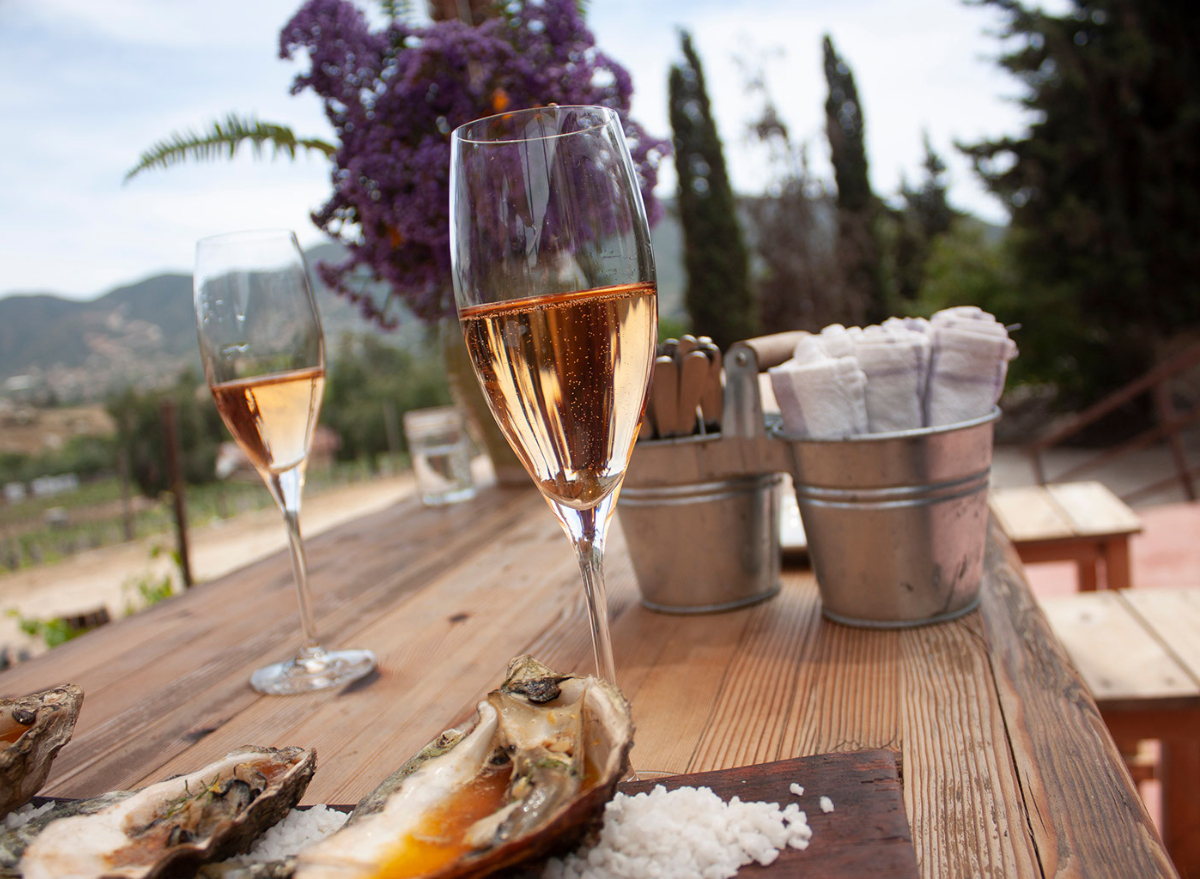 While celebrating a friend's birthday with a cake that appeared to defy international regulations on pyrotechnics, Perry and a pal toured what looked like the ancient wine cellar of one Caprese restaurant. There, the singer asked: "Wine not?"
(Indeed—and if you're looking for a fun one to try at home, check out why Sarah Jessica Parker's wine just won three huge awards.)
Katy Perry lives mostly plant-based.
Glancing back at Katy Perry's IG posts from the past year, we love that she lives plant-based. She seemed to reveal this in a New Year's post starring Hidden Valley Ranch's new plant-based dressing. "Prayers answered," the singer captioned, before sharing two seriously delicious-looking vegetarian meals on plates loaded with tofu, rice, and veggies.
But, it appears she enjoys the occasional fresh catch.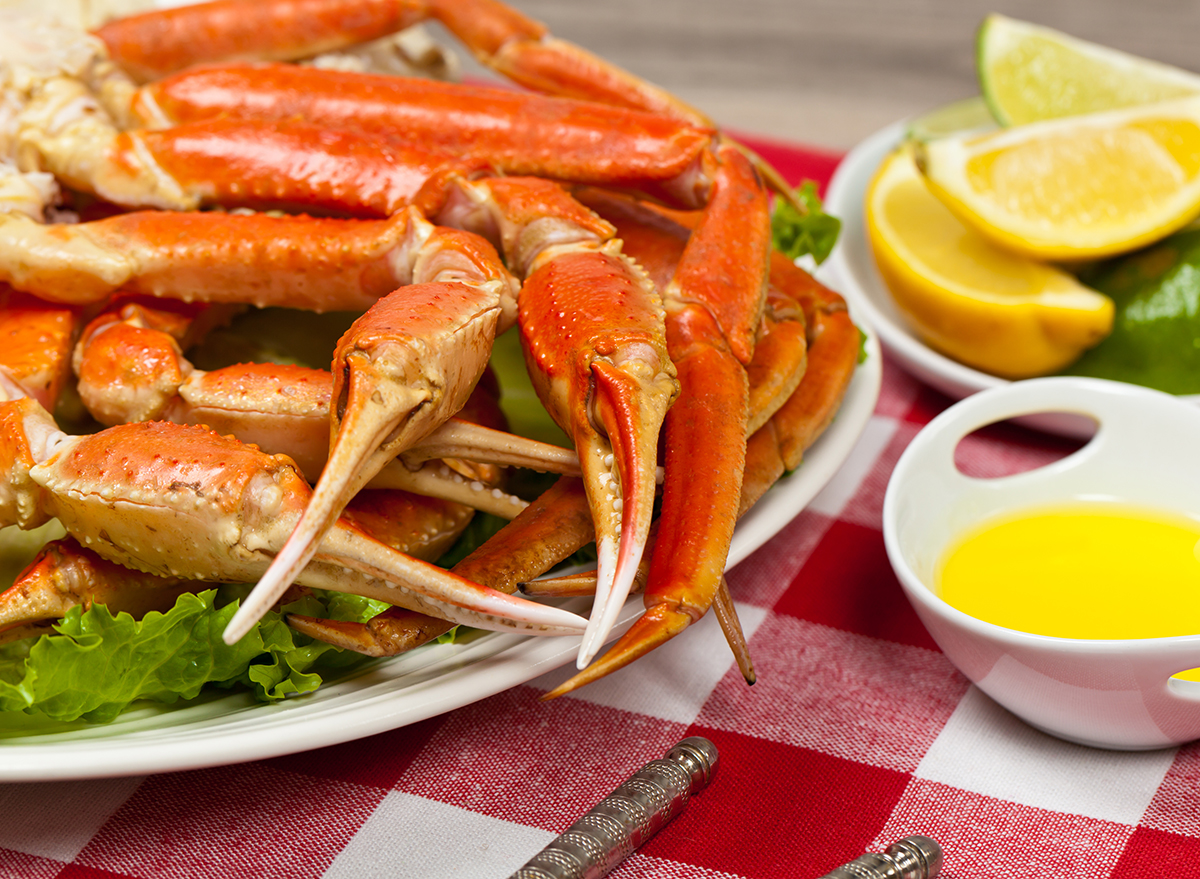 Like a lot of us who are trying to live more consciously by following plant-powered diets, Perry still seems to switch it up sometimes with a bite or two of lean protein. Italy is known for its seafood selection, as she shared a snap in early June of fresh crab legs on a restaurant table during a stop in Venice.
Sound like a good idea? Check out One Major Effect of Eating a Plant-Based Diet, Says New Study.
Katy Perry is a fan of apple cider vinegar products.
Katy Perry knows the power of apple cider vinegar. In fact, she's so passionate about it that she's a spokesperson for Bragg, which she calls "one of my favorite magic potions."
This mama stays on the move.
From Venice to Paris then back to the south of Italy and more, Katy Perry and Orlando Bloom have seen a ton of Europe this summer. Snapped by the paps at different points of their tour, this couple seems to know that one of the best ways to experience any city is to see it on foot. (One prime time to get out and move? Check out Secret Side Effects of Walking After Dinner, Says Science.)
Occasionally, they even go barefoot.
At a resort in Turkey, Perry and Bloom posed au naturale before the Aegan Sea, both appearing pretty blissed out. Maybe it's no wonder, if you believe Secret Side Effects of Walking With Your Shoes Off, Says Science.
In a recent Instagram post, Katy Perry admired a friend's abs, saying, "Look at this six-pack!" and asked, "How can I get abs [sic]" as part of the post.
As a result of their dialogue, the friends broke into hilarious laughter. Do belly laughs strengthen abs muscles? Actually, science has shown that 15 minutes of laughter each day can help you stay fit.
For more, keep reading:
Krissy Gasbarre
Krissy is a senior news editor at Eat This, Not That!, managing morning and weekend news related to nutrition, wellness, restaurants and groceries (with a focus on beverages), and more.
Read more about Krissy