6 Major Differences Between Costco and Sam's Club Right Now
It might be time for you to make a switch!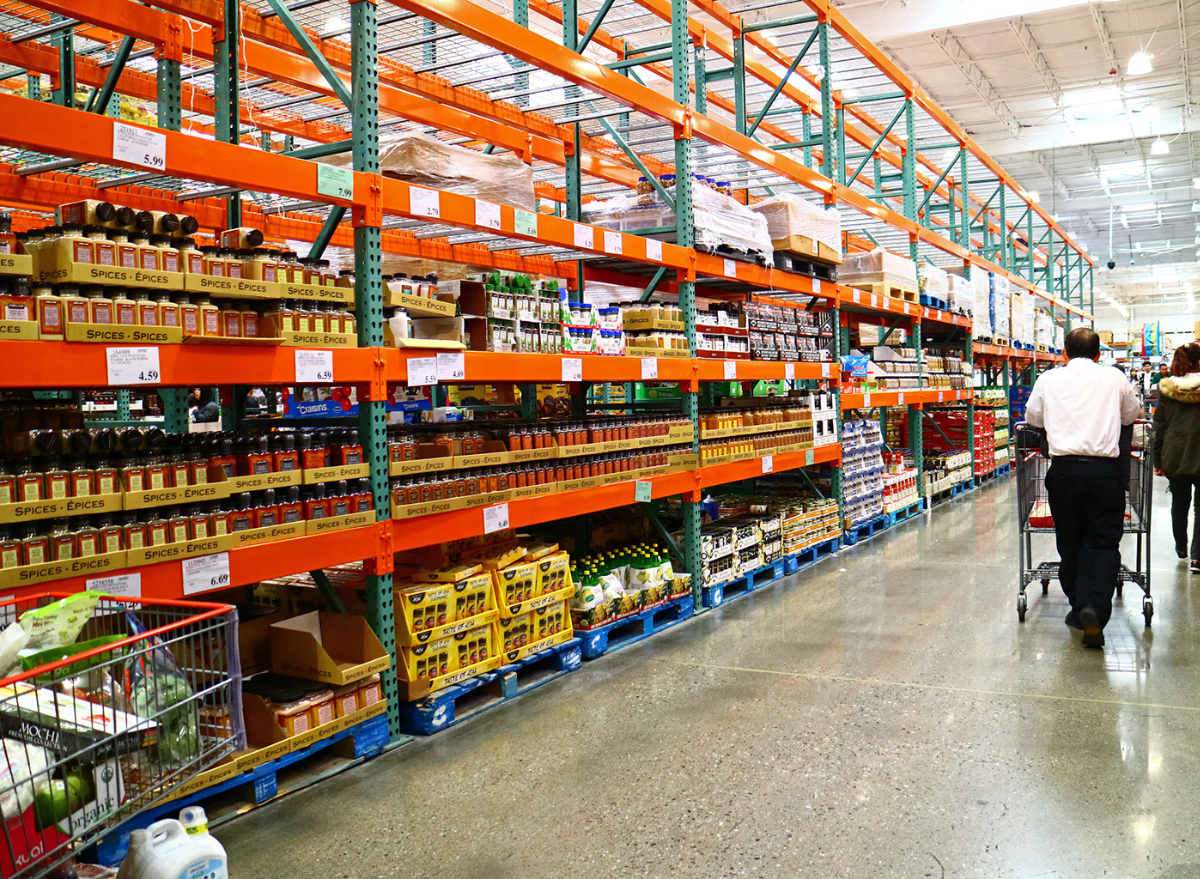 Maybe you've recently heard the news that Costco is bringing a location in your state or that the Sam's Club membership just got a whole lot better. Belonging to a members-only club for grocery shopping can help with finding new favorite products to love, stocking up against shortages, and saving money in a time of rising prices. There's a lot of hype around these two, as well as some heated debate as to which is the better choice.
If you're not already a diehard fan of one or the other, you might be trying to figure out which is the right warehouse for you. Since it all depends on personal preference, we've laid out the six major differences between Costco and Sam's Club so far this year—so you can decide where your loyalty lies for all your bulk buying needs.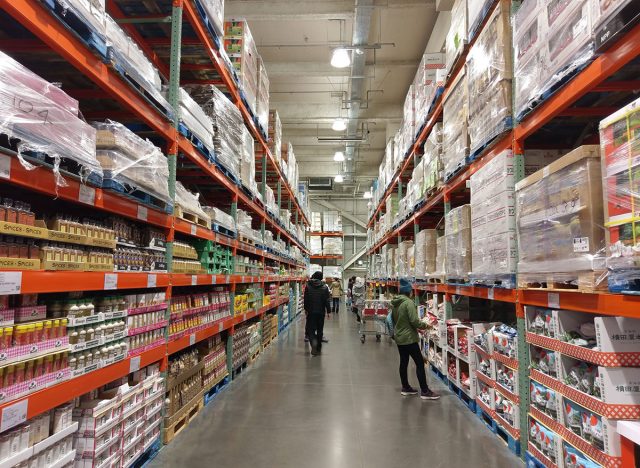 When you're entering a curated store experience, you expect some of the picking and choosing to already be done for you. While Costco and Sam's Club have some product overlap, their item selection is fairly different from each other.
Costco members say the Kirkland approach favors quality over quantity, like a blogger of 20somethingfinance.com who said, "Costco's choice to limit (and even cut back) their SKUs has allowed them to focus more on quality of item." This typically includes healthier offerings—more options that are organic, non-GMO, and less processed.
On the other hand, Sam's Club carries more brand-name items, and they tend to be priced cheaper. Reviewers agree that Sam's Club has a wider selection of snacks than Costco, with a few inventive twists thrown in the mix—Nilla banana pudding with Nutter Butter pieces, Southern Comfort eggnog, and Cinnamon Toast Crunch popcorn, to name a few, according to SFGATE.com.
The pros and cons to each store's product assortment might meet your needs at opposite ends of the spectrum. If you're lucky enough to snag memberships to Costco and Sam's Club, you can have the best of both worlds.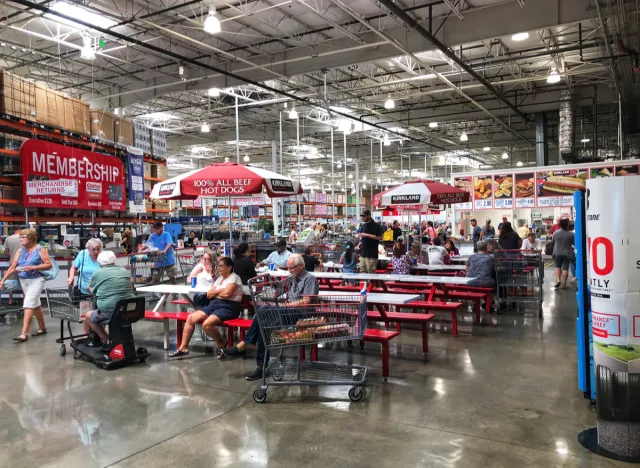 Ah, the food court, where you can relax after an arduous grocery haul for a few refreshments under $5. Costco-goers are always keeping tabs on the latest food court options, while Sam's Clubbers have their eyes peeled for the next secret menu item.
While they both have formidable menus with similar items like pizza slices, hot dogs, and berry sundaes, Sam's Club appears to have the superior fountain drink rotation. Reddit users were excited to see several zero sugar sodas, from iced tea to root beer to Pepsi. A fan favorite is the Berry Lime Mountain Dew, which is exclusive to the store. Commenter u/DragonMom81 said, "The berry lime Mountain Dew (zero sugar!) is my favorite thing ever. If they ever decided to sell it outside of the food court they'd have all my money (and I don't drink that much pop)."
But if you want to try out the Sam's Club cafe without giving up your Costco card, unlike the Kirkland food court, you don't have to be a member to visit!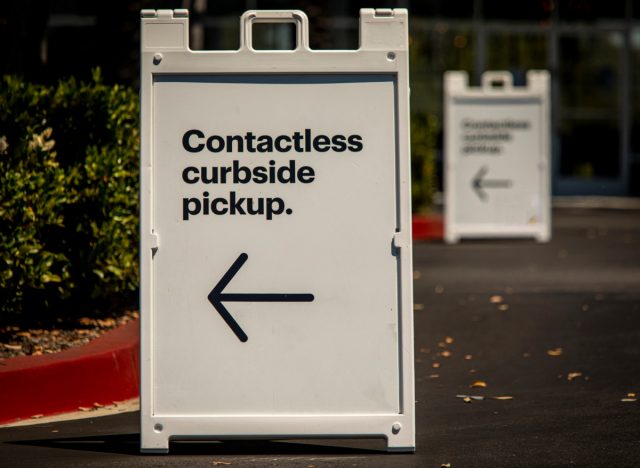 Back in the beginning of 2021, Costco joined the ranks of stores offering contactless shopping by teaming up with Instacart to pilot curbside pickup. They tried this at a few stores in New Mexico. But in July 2021, the company decided to end the program due to low demand for the service and high cost to provide.
Chief Financial Officer of Costco Richard Galanti said during the company's 2020 report conference call, "Somebody's paying for picking it and storing it and waiting for you to pick it up. I think that will shake out over time—somebody has to pay for it, either the company or the customer."
Meanwhile, Sam's Club offers curbside pickup for free if you have a Plus membership. Customers order online or through the app, receive a notification when their items are ready, and drive up to a designated pickup spot to retrieve their order.
One Redditor, u/FrankieMaddox, commented in the Summer of 2021, "I have Sam's Club and Costco memberships, and although I prefer the items at Costco, Sam's Club pickup is so handy…I would get rid of my Sam's Club membership altogether for Costco if they offered this as well."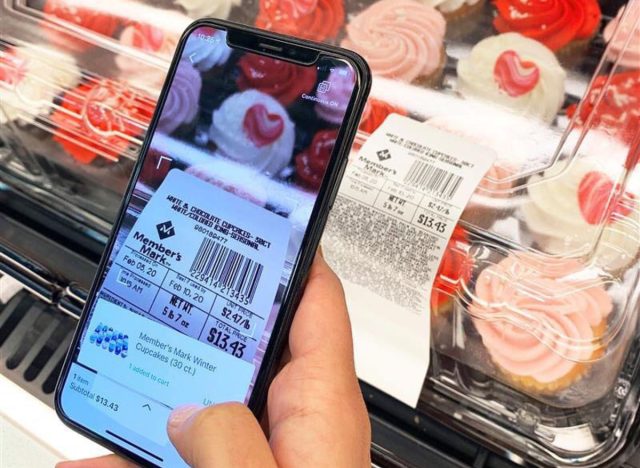 One thing Sam's Club has that Costco is missing? A self-checkout option on your phone.
Sam's Club debuted their Scan & Go technology in 2016, and today, they have a full-fledged mobile app to make shopping in-store and for delivery even easier. In addition to providing deals and coupons, prescription refills, and a digital membership card, the app allows customers to shop contact-free by scanning the items in their cart, paying online, and simply showing their digital receipt at the door on the way out.
Customers on Reddit expressed mixed feelings about this feature at Costco earlier this year. Some thought it would be a convenient addition, while others suspected it would encourage theft. One commenter speculated that introducing a similar checkout option would take a significant amount of resources without providing enough value for the retailer.6254a4d1642c605c54bf1cab17d50f1e
"I'm all for improving technology, but this will not happen at Costco. I realize Sam's Club has this feature as well as curbside pickup, but those features cost money…Sam's Club wages and benefits are not as beneficial as Costco – presumably because they are losing money with larger investments in these endeavors. Ultimately leading in 63 store closures while Costco has never closed a store," said u/jeremyski.
So for the time being, Costco members are still standing in line, waiting to hear if the Kirkland retailer will launch the same checkout experience in the near future.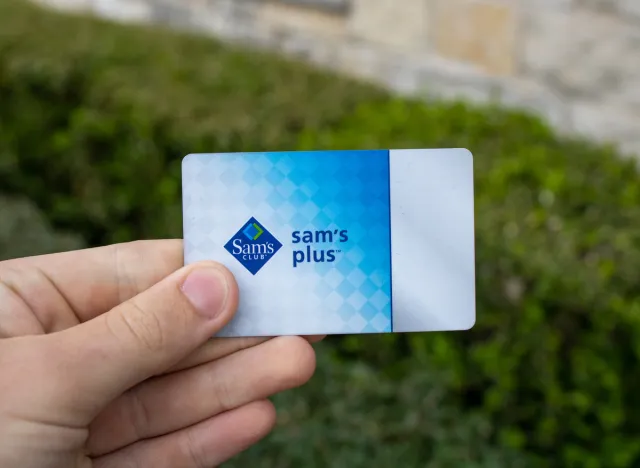 If saving is what you strive for, both companies have built-in rewards programs to offer. But only Sam's Club allows members to combine earnings with their Sam's Cash rollout. They can also now redeem these rewards each month, instead of cashing them in at the end of the year.
Sam's Club Plus members earn 2% on qualifying in-store or curbside purchases, and Sam's Club MasterCard holders can earn an additional 3% on those items, as well as 5% on gas and 3% on restaurants. The rewards can go toward a Sam's Club purchase or be converted to dollars at the register for cashback.
Currently, Costco has separate rewards programs for Executive members, which earns a 2% rebate on qualifying Costco purchases, and cardholders of their Costco Anywhere Visa, which includes 4% back on gas and 3% at restaurants. Both programs pay out annually, so you'll have to wait longer to use those rewards.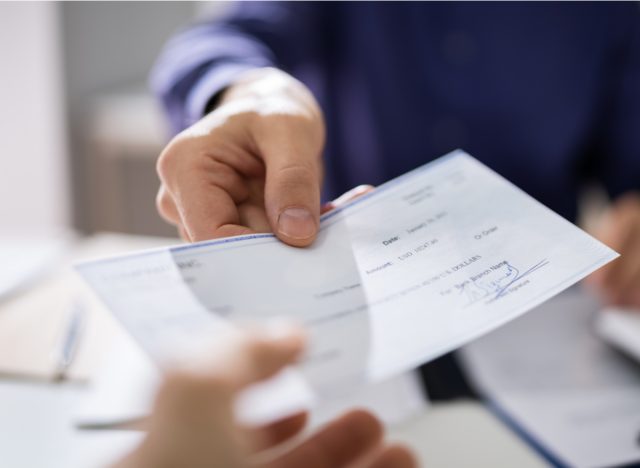 It's important to know if a business is providing fair pay and benefits to its employees, especially at a time when the grocery industry relies heavily on retail workers to keep the supply chain moving. In this category, Costco triumphs over Sam's Club.
The blogger of 20somethingfinance.com noted that, while both companies offer insurance, 401K plans with matching contributions, and employee stock purchase plans, the hourly wage for Costco starts 50% higher, at about $15 to $21, while Sam's Club is around $10 to $19.
By reputation alone, most people report that Costco retains workers by promoting a better working environment. "It's also been said that Costco pay increases happen more frequently and there is a much higher cap than with Sam's Club/Walmart employees…And then there's reputation. Costco has been said to treat employees very well, while Walmart has a long history of the opposite," the blogger wrote.
Another thing coming soon? Costco Is Adding This Much-Anticipated Feature to Its Website.
Sarah Wong
Sarah studied at Northwestern University, where she received a bachelor's degree in computer science and experimented with mixing tech and journalism.
Read more about Sarah
More content from
Groceries