10 Best Traditional Hanukkah Foods
These are the essential dishes of the holiday everyone should enjoy at least once.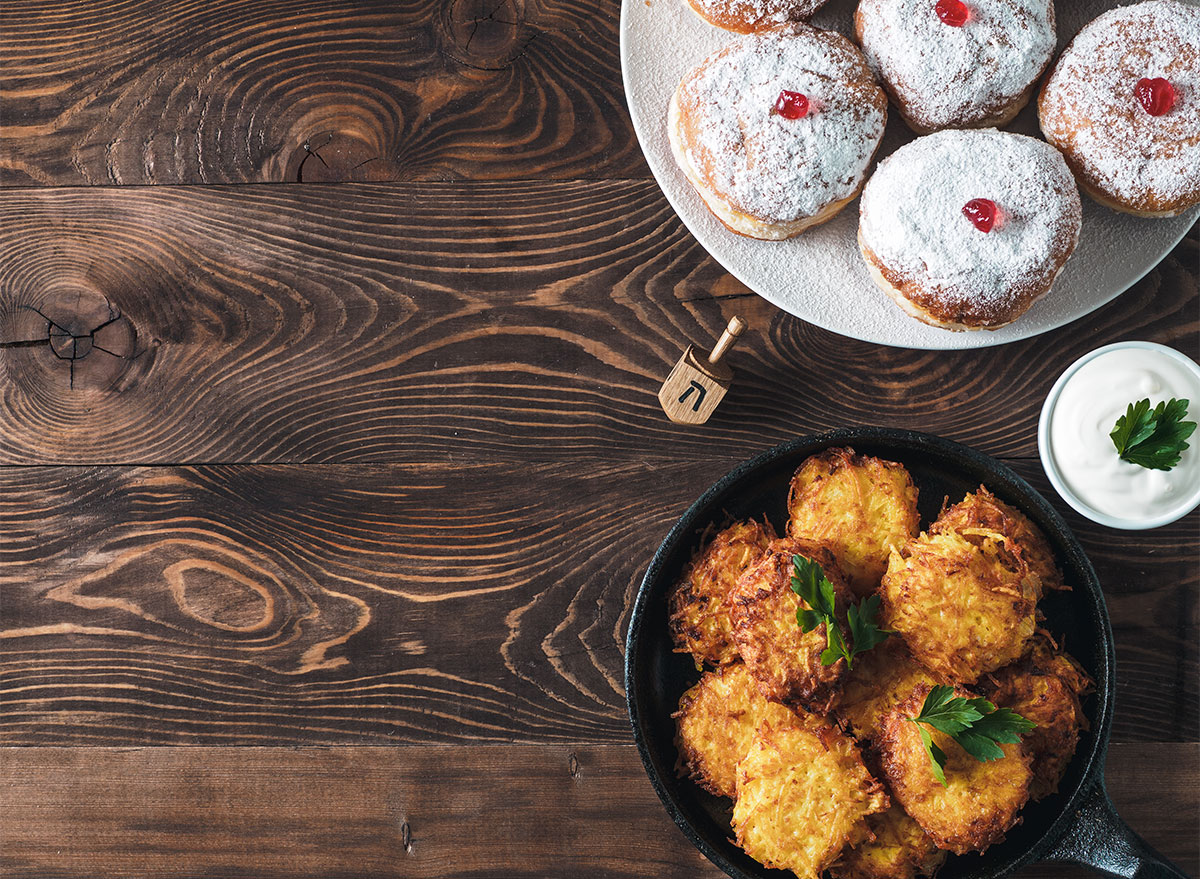 When you think of Hanukkah, eight days and nights of gifts and delicious food are often what come to mind. But the holiday symbolizes so much more than that. Those of Jewish heritage gather together eight nights in a row (this year it's December 10 until December 18) to yes, exchange gifts, but to also play dreidel, light the menorah, and, while they reflect on what the holiday means, of course, bond over traditional foods.
There are a plethora of essential dishes that are often present at every Hanukkah gathering. And even if you do not celebrate the joyous holiday, you should taste these 10 selections at least once in your lifetime. From latkes and brisket to kugel and jelly doughnuts, these foods—which commonly consists of fried foods or foods that are oil-based for Hanukkah—are not just delicious, but they make for great recipes that allow for a memorable Hanukkah celebration with family and friends.
Here, we've rounded up 10 traditional Hanukkah foods everyone should try at least once.
And for more, don't miss these 15 Classic American Desserts That Deserve a Comeback.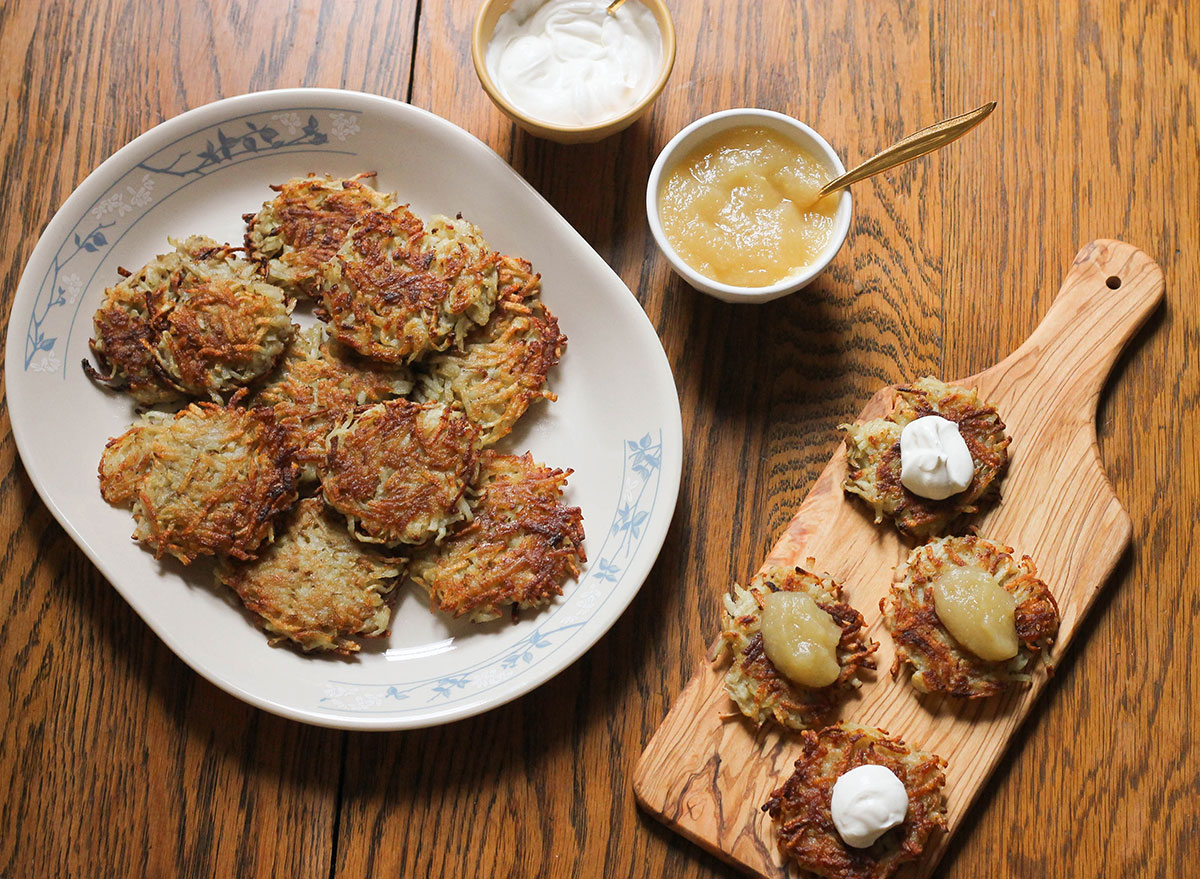 Latkes, also known as potato pancakes, are, as you can imagine, pancake-shaped and shallow-fried, and are traditionally made with ground potatoes. They are typically mixed with onion, egg, flour, and seasonings.
Nowadays, there are different creative recipes out there that call for zucchini and sweet potatoes as the base rather than white potatoes, if you want to go a bit out of the box. These fried treats are scrumptious when dipped in sour cream and/or served alongside some applesauce.
Want to try making them yourself? Check out this recipe for The Best-Ever Potato Latkes.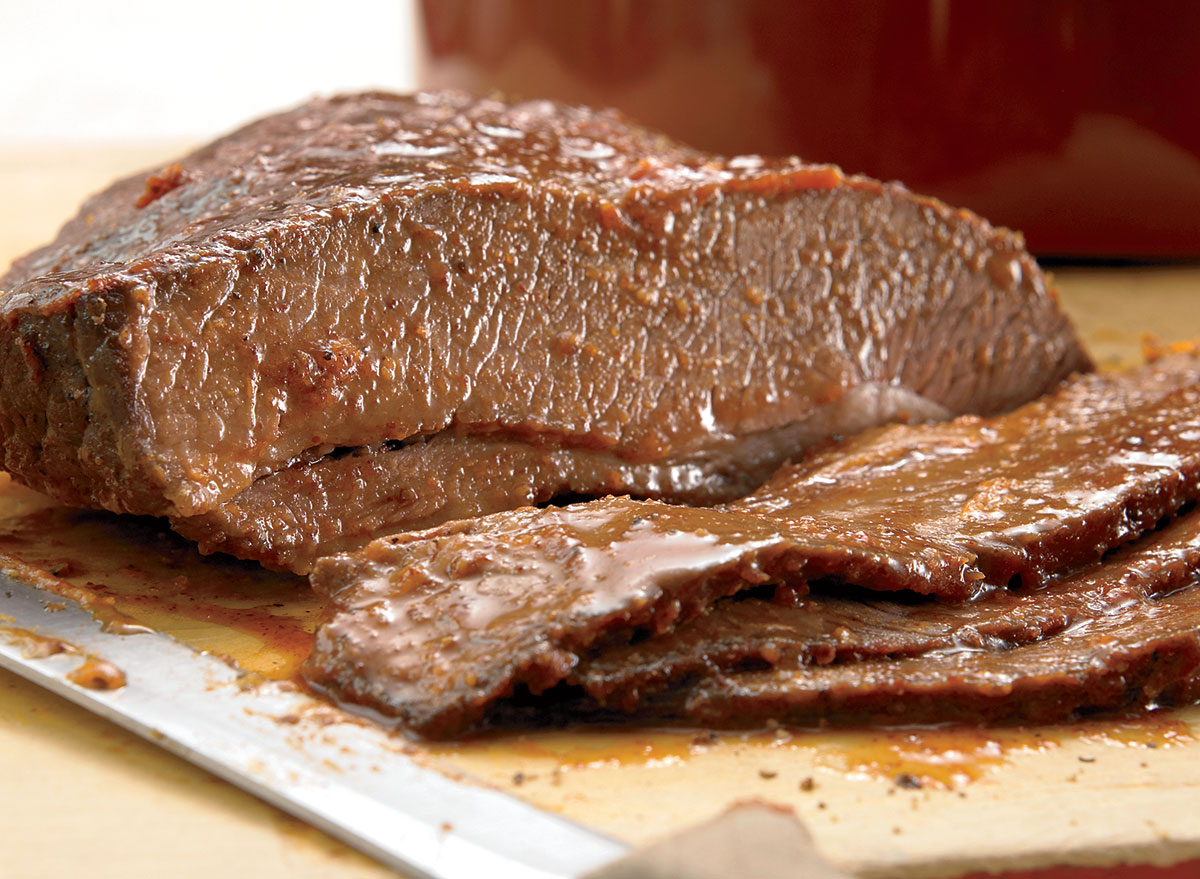 Because Hanukkah falls during the cooler months, beef brisket is a hearty, warm, and delicious meal to serve. Prepared in a dutch oven or roaster, beef brisket is oftentimes slated as the main dish.
Fortunately, there are several different ways to prepare it, whether it's with specific seasonings, vegetables, or sauces. As long as it's tender and served with other traditional sides, it's a win! We think this creative beer brisket recipe would make a fun new addition to your table.
And for more holiday food ideas, see these 20 Must-Make Hanukkah Recipes the Whole Family Will Love.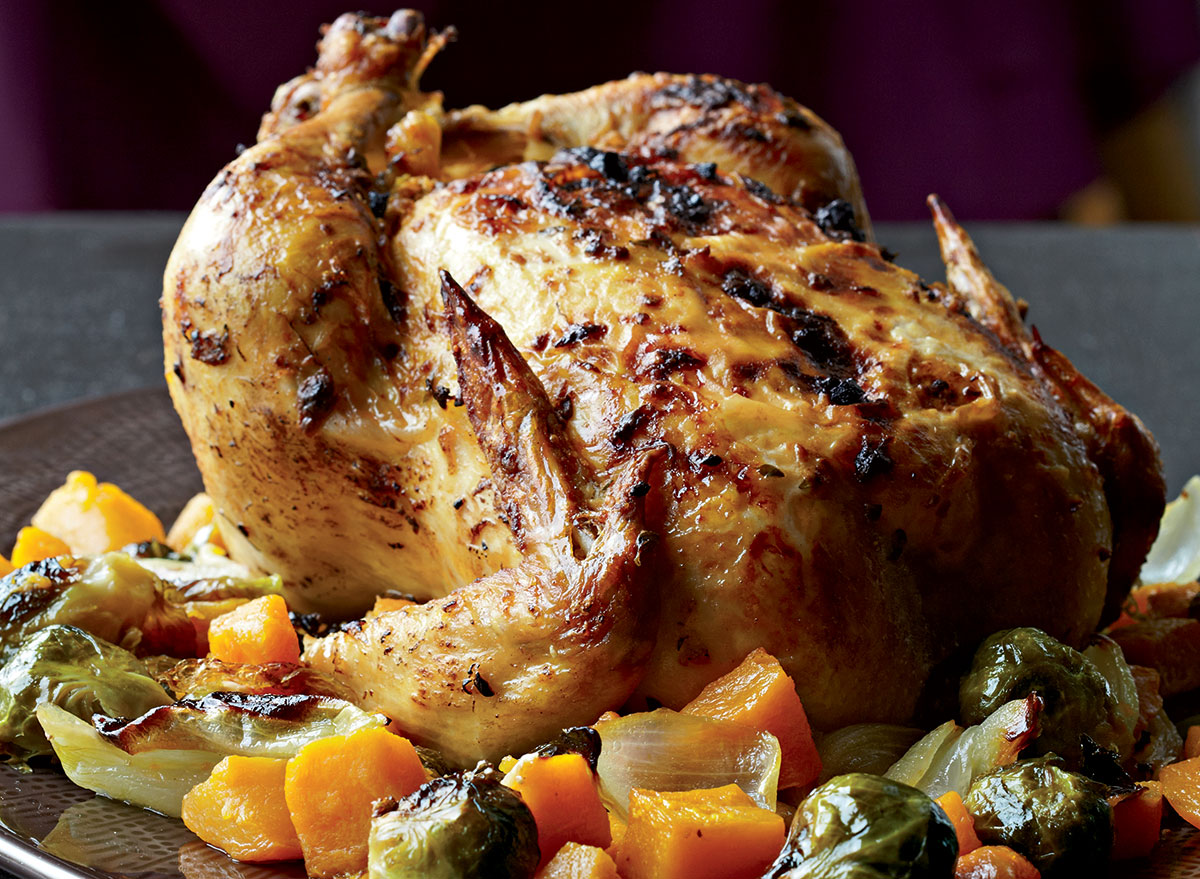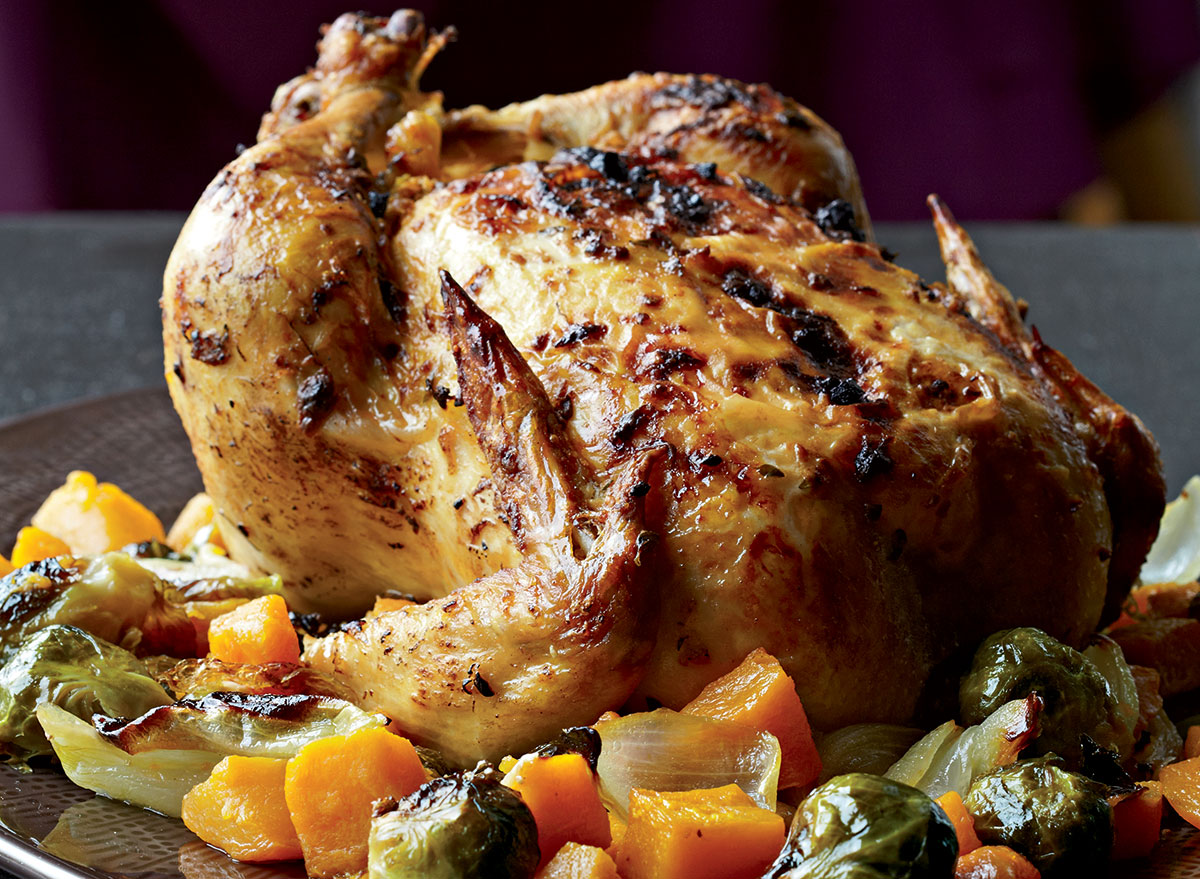 In addition to brisket, golden-brown whole roasted chicken is another familiar main course to serve at a Hanukkah gathering for those who may not eat beef.
The best part about the commonly-made poultry dish? It's an easy recipe that's delicious with a generous amount of seasoning and roasted vegetables. We like this tasty roast chicken recipe for an easy main course and vegetable combination.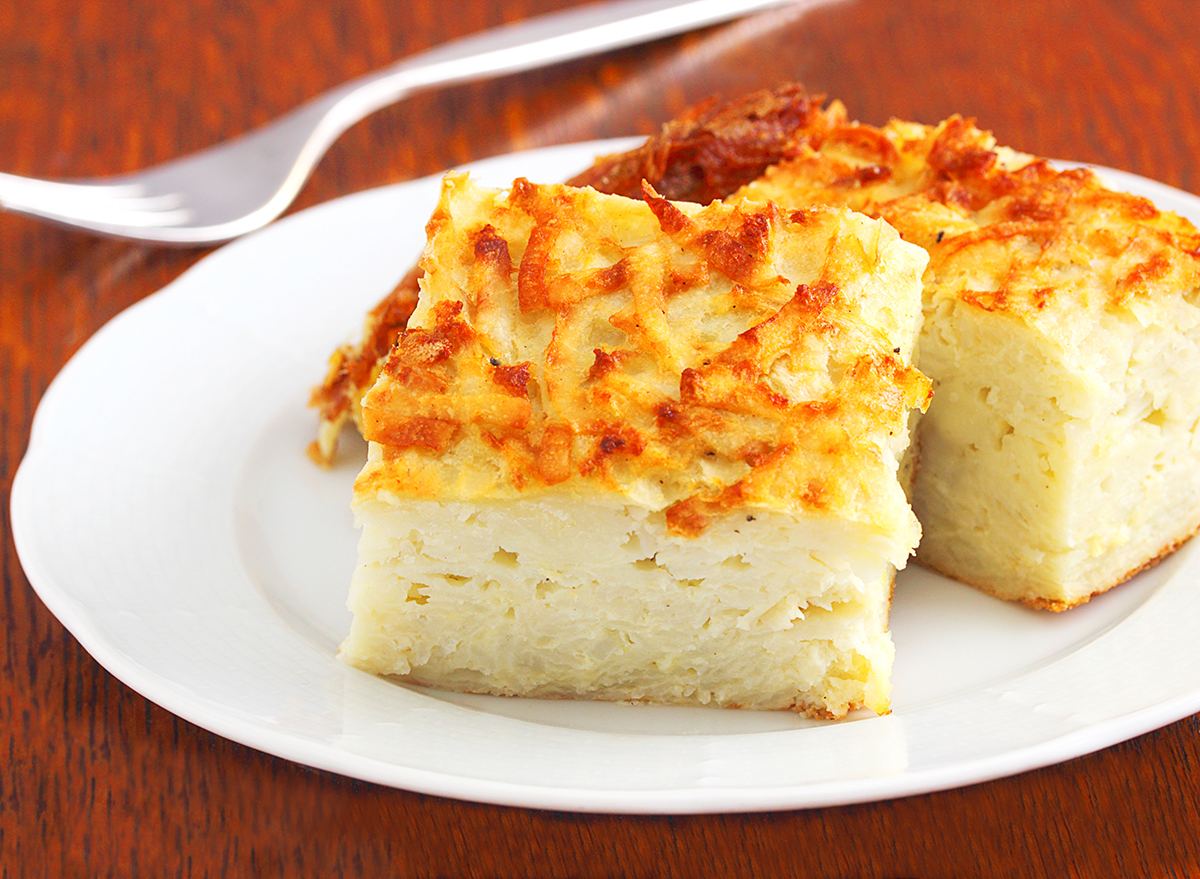 Kugel is an egg noodle pudding or casserole that is commonly served as a side dish at a Hanukkah celebration. The best part? The traditional meal can be made both savory or sweet.
Some ingredients to add to kugel on top of the common egg noodles, sour cream, eggs, butter, sugar, and cottage cheese include dried fruits, honey, cinnamon, and even cereal. We like this recipe from Savory Simple that takes the sweet route with a pecan topping.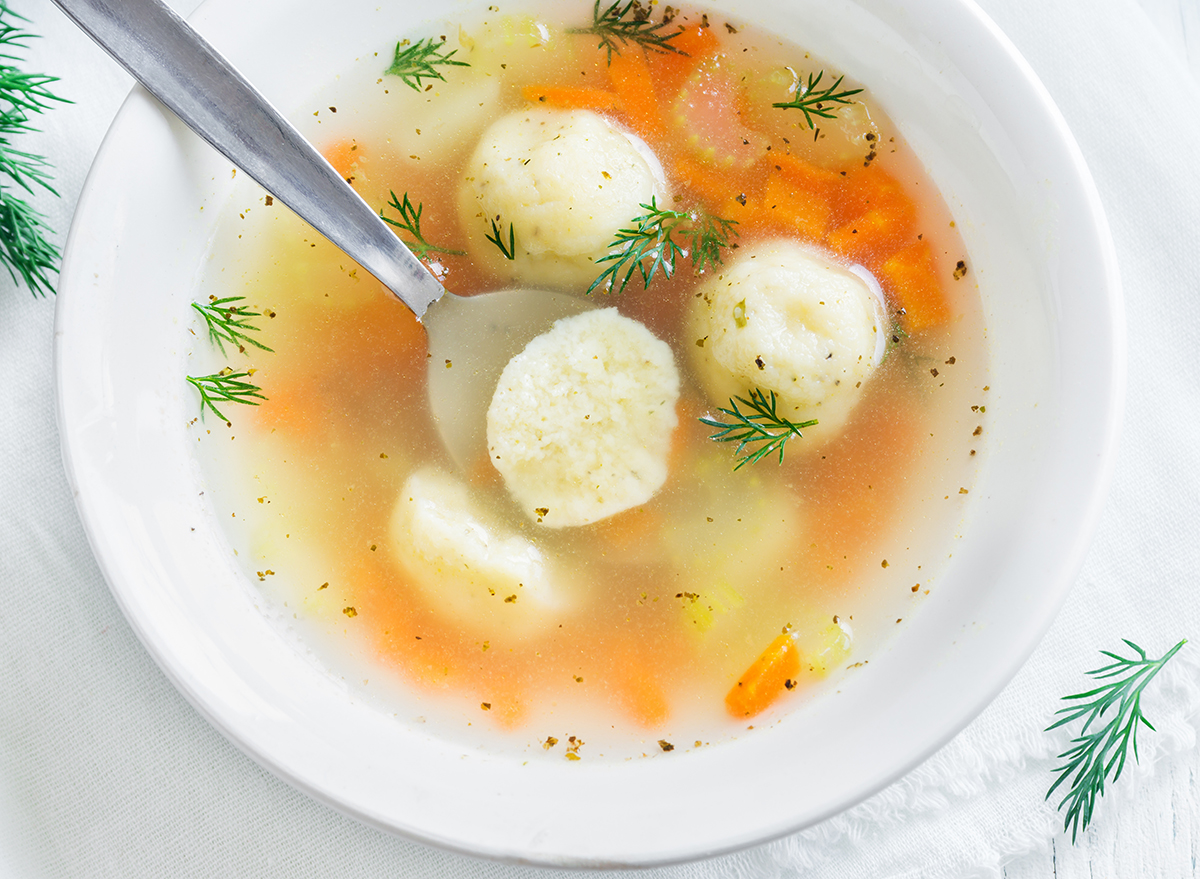 Matzo ball soup is hot, tasty, and a staple at Jewish celebrations. Matzo balls are soup dumplings that are typically made from matzo meal, eggs, water, and a fat such as butter, chicken fat, or oil.
The light and delicious balls are oftentimes placed in traditional chicken noodle soup or just plain chicken broth. You'll find yourself eating more than one bowl of the flavorful appetizer.
We like this recipe from Love & Olive Oil that you can use long after the holiday is over, too.
This pastry, which is filled with a sweet inside, is a deli-staple treat that is usually made into a triangle shape and served as a Hanukkah dessert.
The plethora of delicious fillings include raisins, cinnamon, chocolate, poppy seed, fruit preserves, and walnuts. We like this recipe from Sally's Baking Addiction that offers a sweet cinnamon surprise.
Sufganiyot (Jelly-Filled Doughnuts)
Jelly-filled doughnuts are a yummy dessert that is hard not to indulge in at Hanukkah. The treat is typically filled with jelly or custard,  deep-fried, and then coated with powdered sugar. When it comes time to serve them up, the warmer the better!
We like this recipe from My Name Is Yeh for the easiest way to make these delightful doughnuts.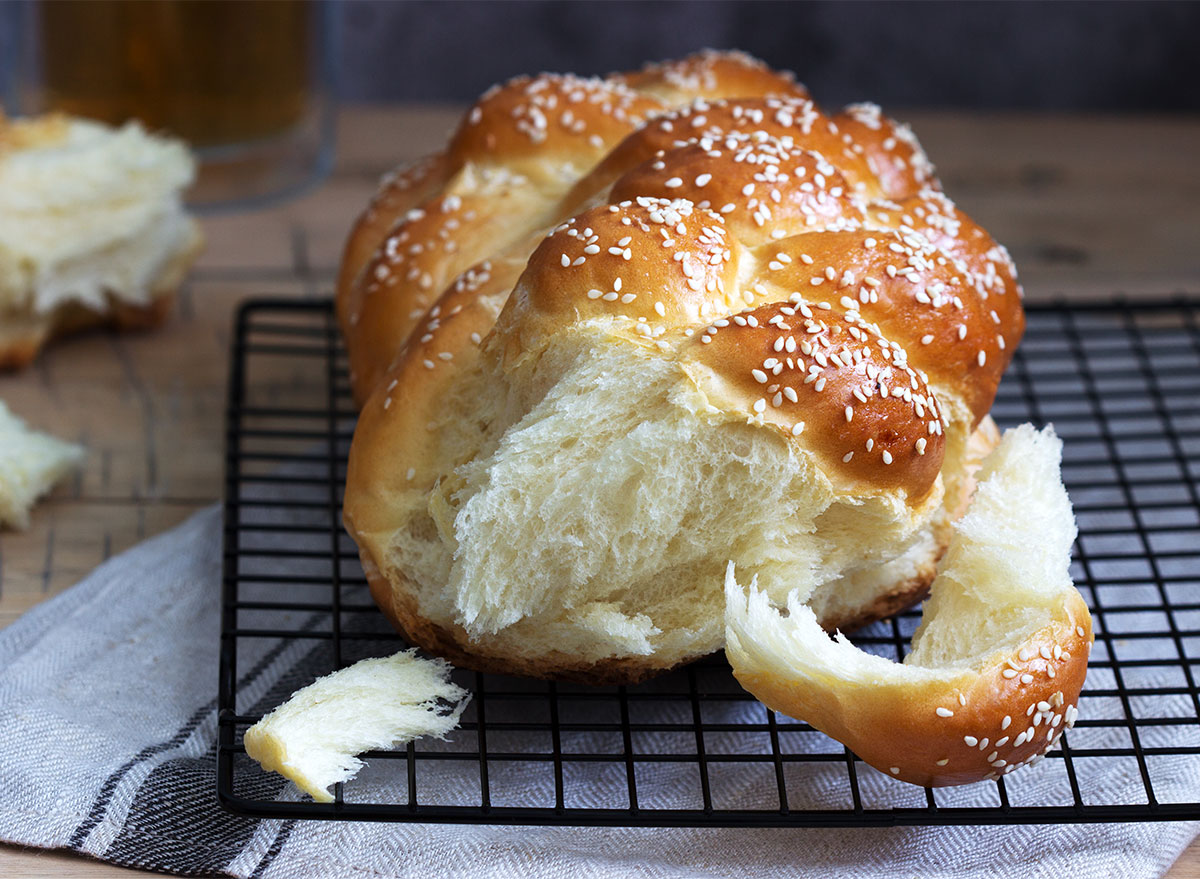 This braided masterpiece is a staple at Jewish celebrations, especially Hanukkah. The dough is oftentimes made with ingredients like eggs, water, butter, yeast, salt, sugar, and/or oil. After it's cooked, it can be topped with sesame seeds or poppy seeds for a salty flavor.
If there is leftover challah after a celebration, your dinner table will be wowed if you turn it into croutons, bread pudding, French toast, stuffing, or grilled cheese. The possibilities are endless!
We like this recipe from Half Baked Harvest for a golden, whole-wheat version.
Gelt are little chocolate coins typically used as money while playing a game of dreidel on Hanukkah—they're specifically a favorite of the children at the celebration. Instead of buying these chocolates this year, try making a homemade version with this recipe from Elana's Pantry.6254a4d1642c605c54bf1cab17d50f1e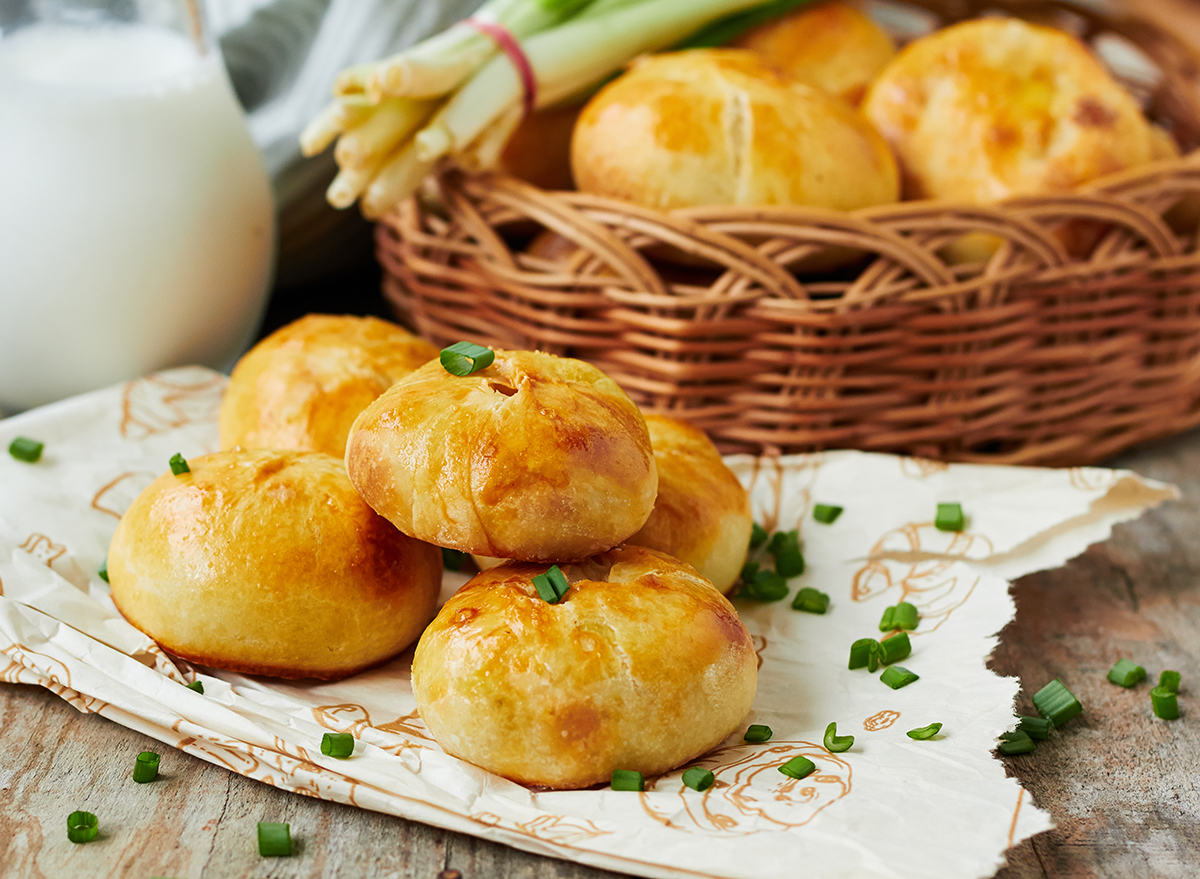 Knishes can double as an appetizer or a snack, and the fillings typically include mashed potatoes or cheese. Other options include sweet potatoes, spinach, or beans. While the golden-brown rectangular or square treats are extremely tasty, they are rather heavy, so don't overdo it on them before the main course—you'll want to save room.
We like this unique version from My Name Is Yeh, which is a mix between a knish and hamantaschen for a lighter take on the traditional food.
For more, check out these 108 most popular sodas ranked by how toxic they are.
Samantha Faragalli Younghans
More content from
Healthy Eating